Ossington is one of the city's trendiest strips with an influx of bars, restaurants, and boutiques. That's why people love to visit Ossington and enjoy their night out well-spent here.
If live music is more your jam, stop in at The Dakota Tavern for nightly Southern-style live music.
If good food is your goal, then scroll down to discover the 12 best Ossington restaurants to eat at.
1. Bernhardt's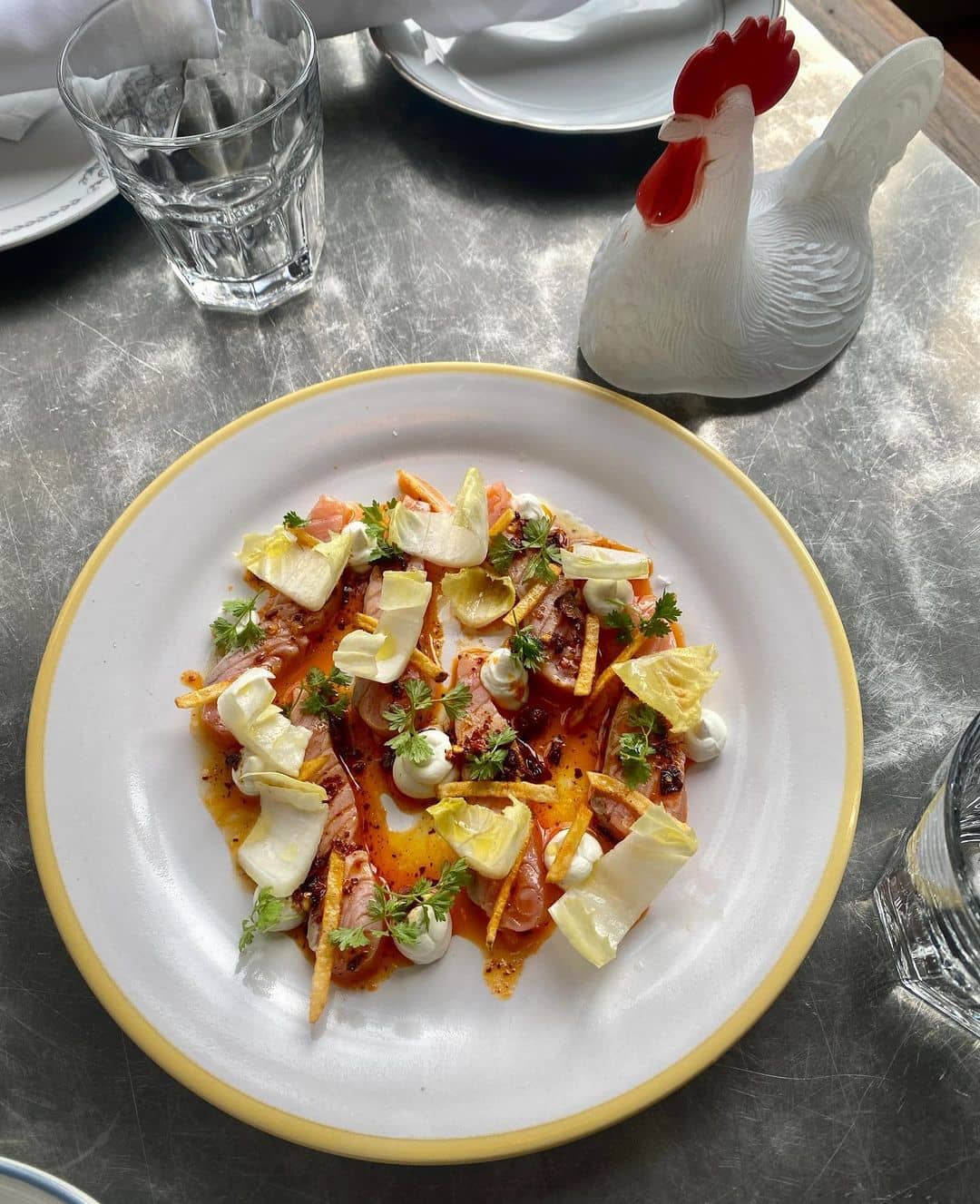 Serving up juicy chicken and vegetable dishes using local Ontario produce, Bernhardt's has long been a charming, laidback spot for the locals.
Once you're here, don't hesitate to check out their list of organic and low-intervention wine bottles.
You will find a variety of colourful, vegetable-forward dishes, and the highlight of the menu is definitely the much-loved Big Greenie.
This is a salad dish that features rotating squashes and seasonal veggies, which genuinely taste like they were picked right before serving!
For a more hearty one, go for their famous Rotisserie Chicken. Half or whole chickens are served with house gravy, Harbord Bakery buns, pickles, and a choice of fries or roasted garlic potatoes. Whatever you do, don't skip the fries!
What to order: Big Greenie, Rotisserie Chicken, Fish Stick Butty, Vegetarian BLT.
Address: 202 Dovercourt Rd, Toronto, ON M6J 3C8
Website | Instagram | Facebook
2. Cote De Boeuf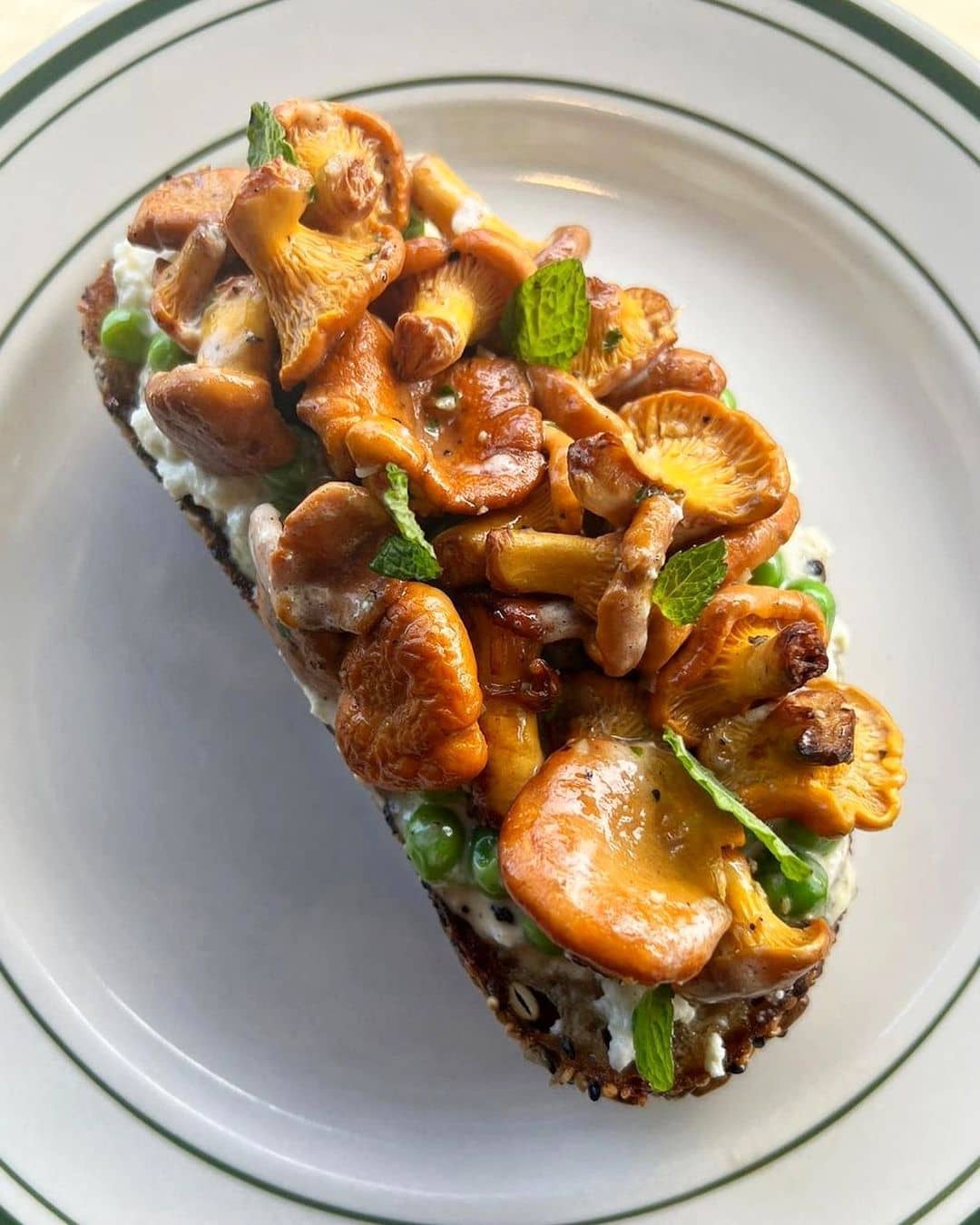 Being a butcher shop and bistro for quintessential French dishes like bone-in prime rib steak, Cote De Boeuf's tiny, wooden, vintage space will have your attention right away! Stepping into this hidden gem, you'll be admiring all the wine barrels and hanging chalkboards displaying lunch and dinner specials.
For dine-in, settle down with the Côte Ce Boeuf which has been dry-aged for 30 days and cooked in duck fat until medium-rare before making its way to your table.
This is definitely the specialty of the entire place, and most importantly, this dish is meant to be shared as its portion is no joke!
The latest item on the menu is Iberico Ham, a 40-month cured pork leg that gives out a nutty flavour. Or the all-time favorite Beef Tartare mixed with a truffle paste, and topped with egg yolk can do you good!
What to order: Côte de Boeuf, Iberico Ham, Beef Tartare, Escargot
Address: 130 Ossington Ave, Toronto, ON M6J 2Z5
Website | Instagram | Facebook
3. Soos
Craving some Malaysian goodies? Soos has got your back! Specializing in modern interpretations of Malaysian street food, you'll experience the exotic and complex flavours of Malay and Nyonya cuisines into popular staples with a twist.
From dhal with roti to rendang braised beef, the menu is varied and offers something for every diner, but the most popular of them all must be Char Kway Teow.
A dish with noodles tossed with tiger prawns, chives, bean sprouts, and egg, then seasoned with oyster sauce, fish sauce, and soy sauce. Tasty, packed with flavours, spicy with a hint of smokiness!
You can also try the Kapitan Chicken Tacos loaded with lemongrass, lime leaf chicken, shredded veggies, and tzatziki.
And don't forget to end your meal with Pisang Goreng as dessert. This is another favourite from Soos with fried banana, fried pineapple, and pandan-leaf infused coconut milk to create a subtle, distinct taste!
What to order: Char Kway Teow, Kapitan Chicken Tacos, Rendang Braised Beef, Pisang Goreng
Address: 94 Ossington Ave, Toronto, ON M6J 2Z4
Website | Instagram | Facebook
4. Bar Sybanne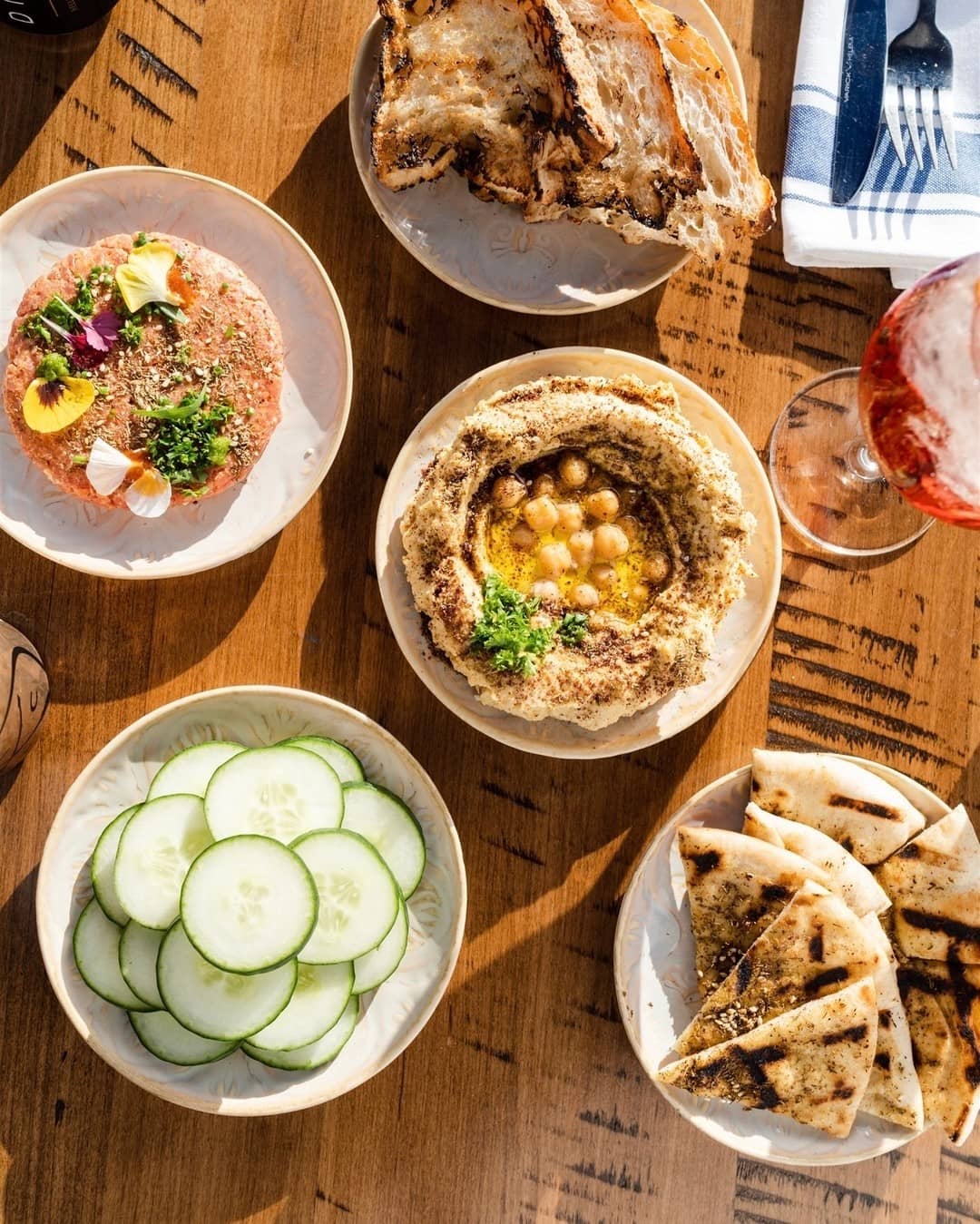 How to enjoy Israeli, Lebanese, and Moroccan cuisine in the same place? Come to Bar Sybanne and you have your answer! Bar Sybanne is a restaurant and bar serving tapas with an elegantly decorated dining room that carries a breathy sort of Middle Eastern boho feel.
Start with one of their most popular dips, The Labneh.
This is surely the closest item on the menu to a traditional dish with a hint of citrus and acidity are then added by way of pomegranate molasses before it's topped off with a house-made za'atar seasoning blend and fresh pomegranate.
Served with house-spiced pita, cucumbers, or both, it makes a light and fantastical way to kick off your meal!
Keep your meal going with The Mushrooms Five Ways, which highlights the different flavour profiles and textures of a variety of mushrooms. Each bite will provide a completely different mouthfeel and experience, unique and interesting as ever!
If you're in love with pasta, then Truffle Cacio e Pepe is a must-try.
What to order: Labneh, Mushroom Five Ways, Truffle Cacio e Pepe, Grilled Octopus
Address: 229 Ossington Ave, Toronto, ON M6J 2Z8
Website | Instagram | Facebook
5. Té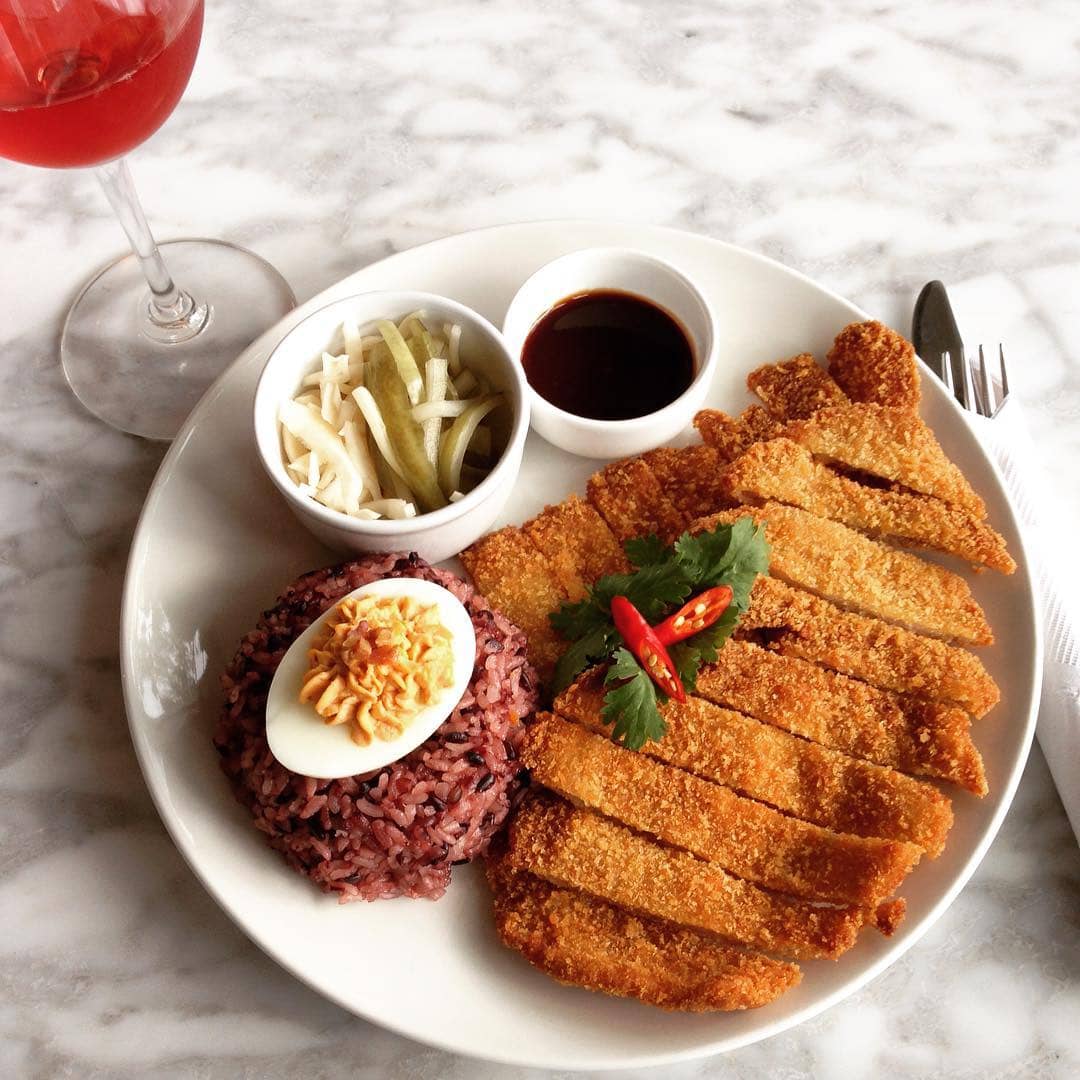 If you're a huge fan of Korean food, then you must not miss Té when coming to Ossington!
This contemporary restaurant serves up modern Korean dishes inspired by North American comfort food staples while being impressive with its bubbly jewel-toned bar and brass accents.
Once you're here, don't hesitate to have the Kimchi Deviled Eggs that are so tasty with creamy yolk mixed with kimchi paste and sesame. Some crumbly bacon bits add a nice hit of salt and create such a delightful dish!
Continue with Taiwanese Fried Chicken, which is nicely cooked and elegantly seasoned. Or the spicy, saucy Braised Pork Crostini with slow-cooked five spice-soy marinated Ontario pork belly and baguette slices.
What to order: Kimchi Devilled Egg, Taiwanese Fried Chicken, Braised Pork Crostini, Pizza Tteokbokki
Address: 70 Ossington Ave, Toronto, ON M6J 2Y7
6. Chiado Restaurant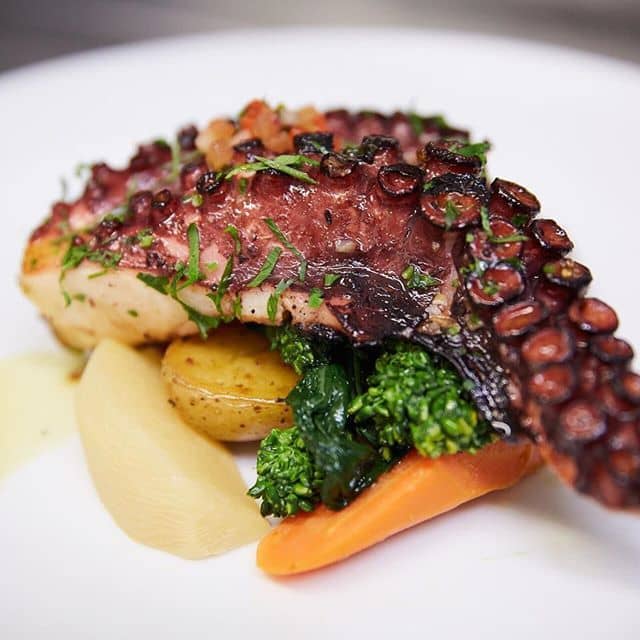 Bringing a taste of Portugal to Ossington, Chiado Restaurant is one of the must-try restaurants for its bold, progressive Portuguese flavours with eye-catching presentation.
From decoration to food quality, Chiado Restaurant offers you an unexpected experience that is hard to find elsewhere in the city!
Highlights of the menu include Grilled Octopus, Salted Cod, Lobster & Shrimp Bisque, and Goat Cheese Toast. Trust us, you'll never want to miss these goodies! Start your meal right with Goat Cheese toasted on eggplant, and portabella mushrooms then garnished with champagne vinaigrette.
They are just light enough to wake up your palate and get it ready for the Grilled Octopus with roasted sweet pepper salsa. Tasty, crisp on the edges, and smoky! Lobster & Shrimp Bisque is a creamy way to enjoy seafood with a herbal-ish aroma from saffron and a distinctive taste from aguardiente!
What to order: Grilled Octopus, Salted Cod, Lobster & Shrimp Bisque, Goat Cheese Toast
Address: 864 College St, Toronto, ON M6H 1A3
7. Salt Wine Bar Ltd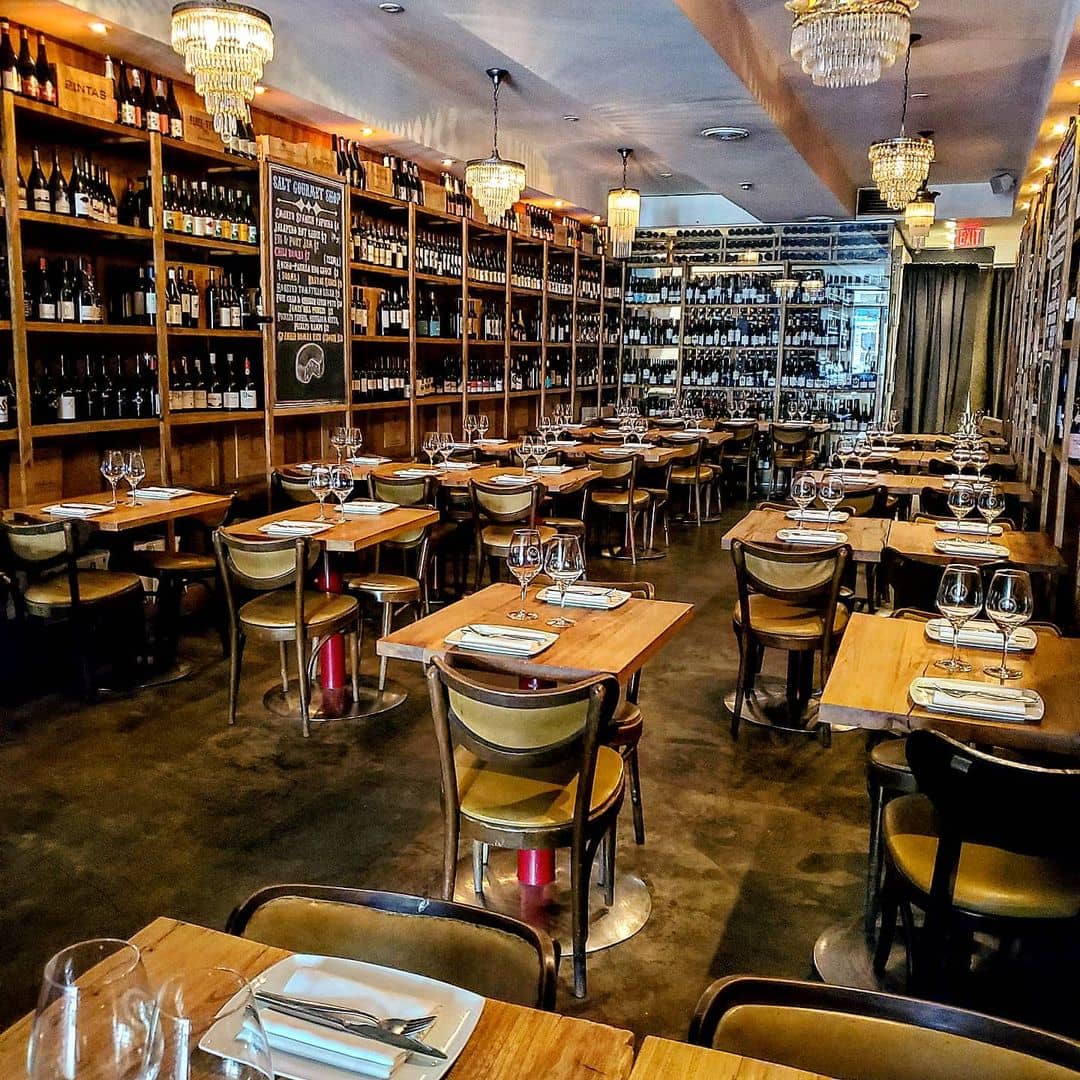 Salt Wine Bar, in short, is pure heaven for Portuguese and Spanish food lovers! Here, they offer a variety of tapas dishes and a decently sized wine list to match in a charming, cozy, all-wood space.
Must-try includes Oxtail Consomme, a rich dish with comforting broth and a mild sweetness from the sherry countered by a slight tanginess.
Next comes the Portuguese sardines, served on a grilled baguette with smoked tomato jam. The sweet and smoky tomato flavour paired with the meaty grilled sardines is a pleasant combination of textures and flavours!
Finish it up with Braised Wagyu Short Ribs, this goodie is fatty and indulgent, so tender it falls away from the bone with the slightest jab from a fork! Each piece sits on a small mound of warm, silky garlic mashed potatoes, and tiny cubes of lightly pickled vegetables add an extra little bite.
What to order: Oxtail Consomme, Portuguese Sardines, Braised Wagyu Short Ribs, Chocolate Tart
Address: 225 Ossington Ave, Toronto, ON M6J 2Z8
Website | Instagram | Facebook
8. Ossington Stop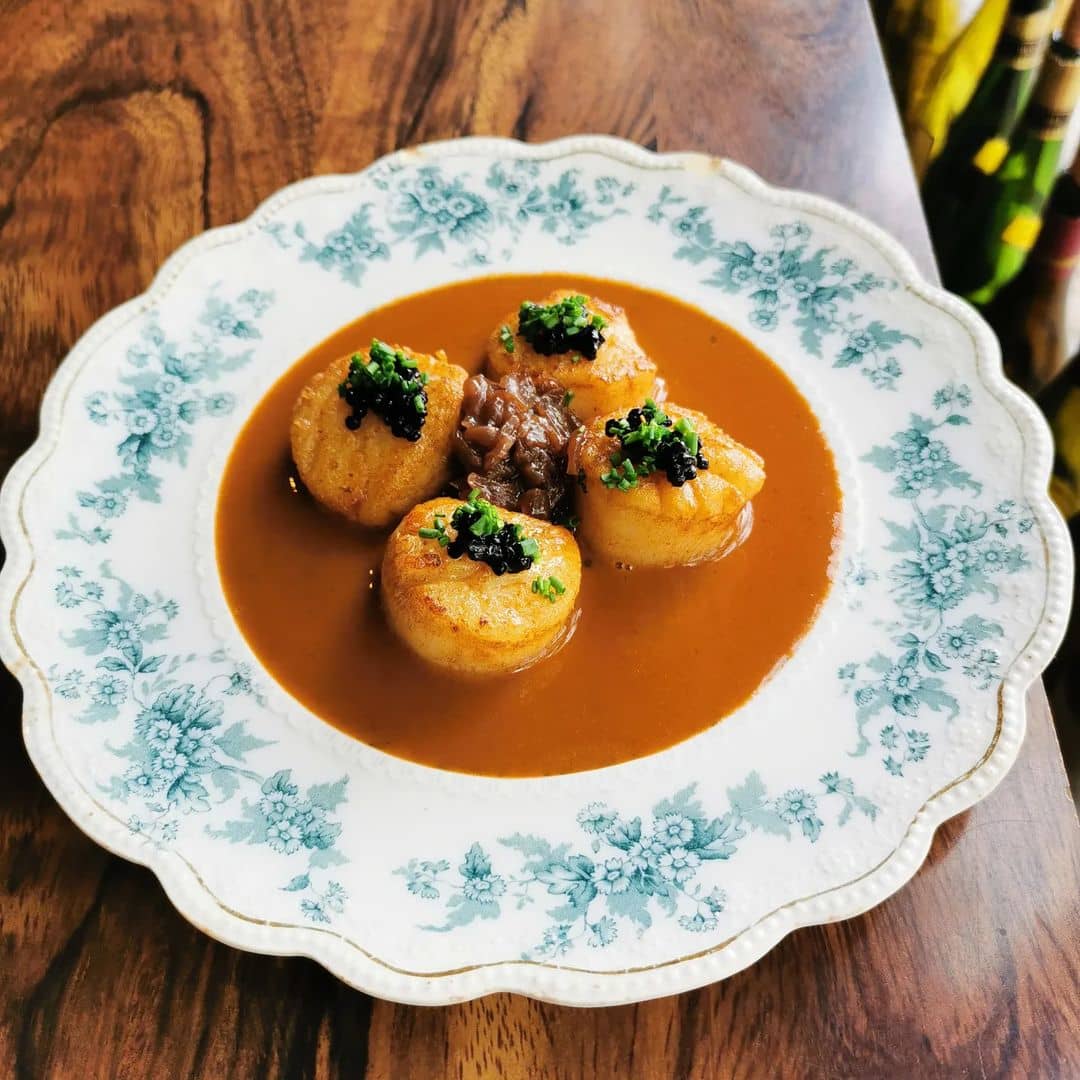 Offering traditional Russian cuisine along with an Eastern European-inspired drink menu, Ossington Stop is a place to unwind your day with delicious food, a vintage atmosphere, and Russian folk music playing in the background, which can transport you to another time and place
The Khinkali Dumplings often run out at Ossington Stop due to their popularity. Originally from the country of Georgia, those dumplings are hand-rolled and boiled upon ordering. 
A blend of beef and pork is used for the filling, along with onions and cilantro, and some pepper is dashed on top. Finally, they are served with a dollop of sour cream and red pepper relish made in-house. Juicy, tender, and flavoursome in every bite!
Pair those dumplings with Borsch, a Rusian soup made from a base of beef stock, beets are added to give the dish its deep red color and rich flavour, along with potatoes, carrots, bits of cabbage, and a touch of tomato.
Don't forget to dip some bread while enjoying the soup.
What to order: Cured Salmon, Khinkali Dumplings, Borsch, Cabbage Rolls, Beluga Vodka
Address: 1543 Dundas St W, Toronto, ON M6K 1T6
Website | Instagram | Facebook
9. Little Sito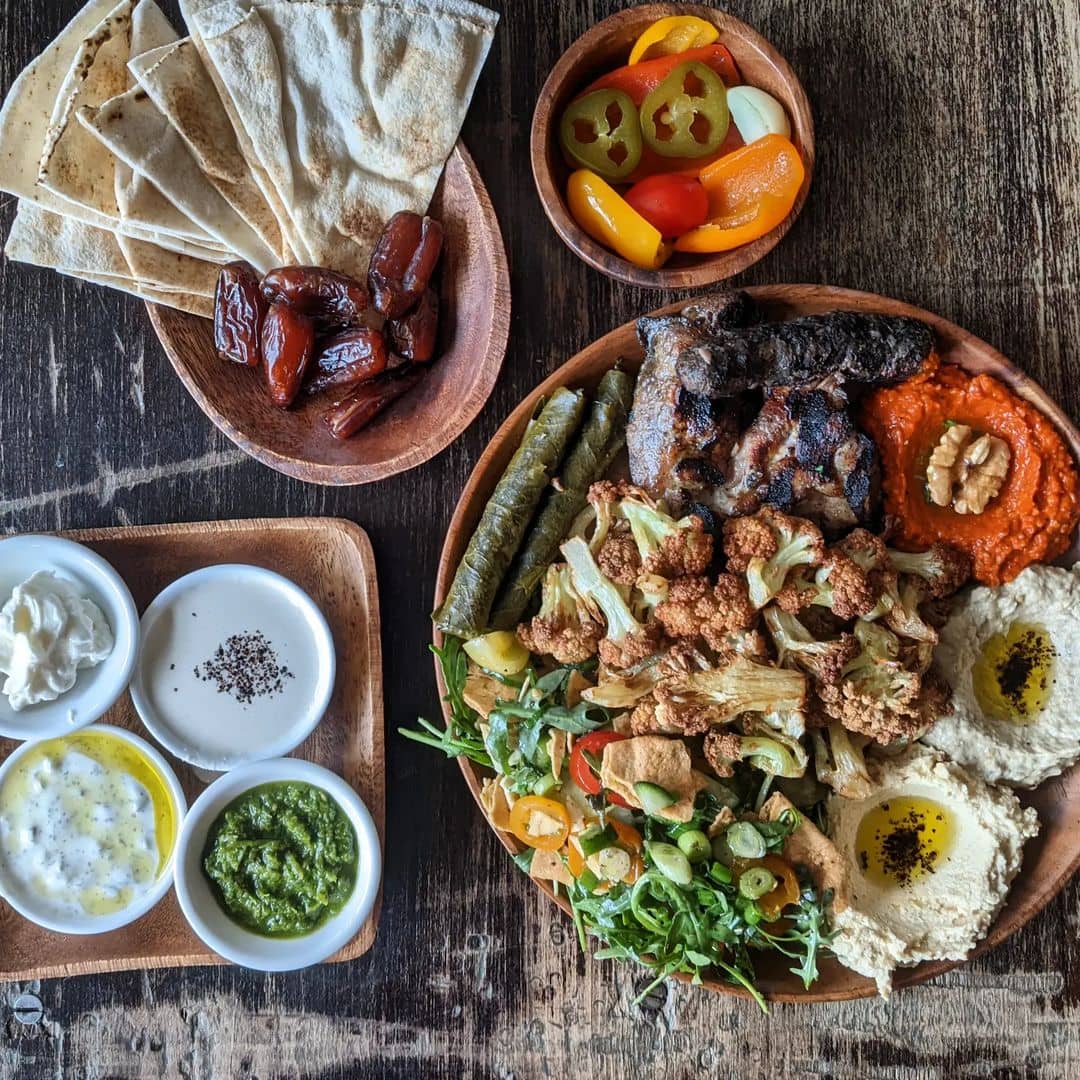 Located on Bloor about halfway between Ossington and Christie, Little Sito is a Lebanese restaurant with a spacious interior and modern setting that can be ideal for any casual dates, friend gatherings, or family meetings!
Start with the Mezza plate, which is a trio of creamy, tangy hummus and baba ganoujh with refreshing tabbouleh breaking it up in the middle, and served with soft and elastic pita bread. Perfect to share with a group of people!
Pair it with a bowl of salad, in this case, The Halloumi And Beet can't be more perfect! Salty, chewy cheese and the pan-fried halloumi combines well with the pickled beets, arugula, and light vinaigrette.
You can also try Sito Supreme if you're heading for a bigger meal, this dish is sure to please your palate and tummy!
What to order: Mezza Plate, Halloumi and Beet, Shish Tawook, Sito Supreme
Address: 840 Bloor St W, Toronto, ON M6G 1M2
Website | Instagram | Facebook
10. Actinolite Restaurant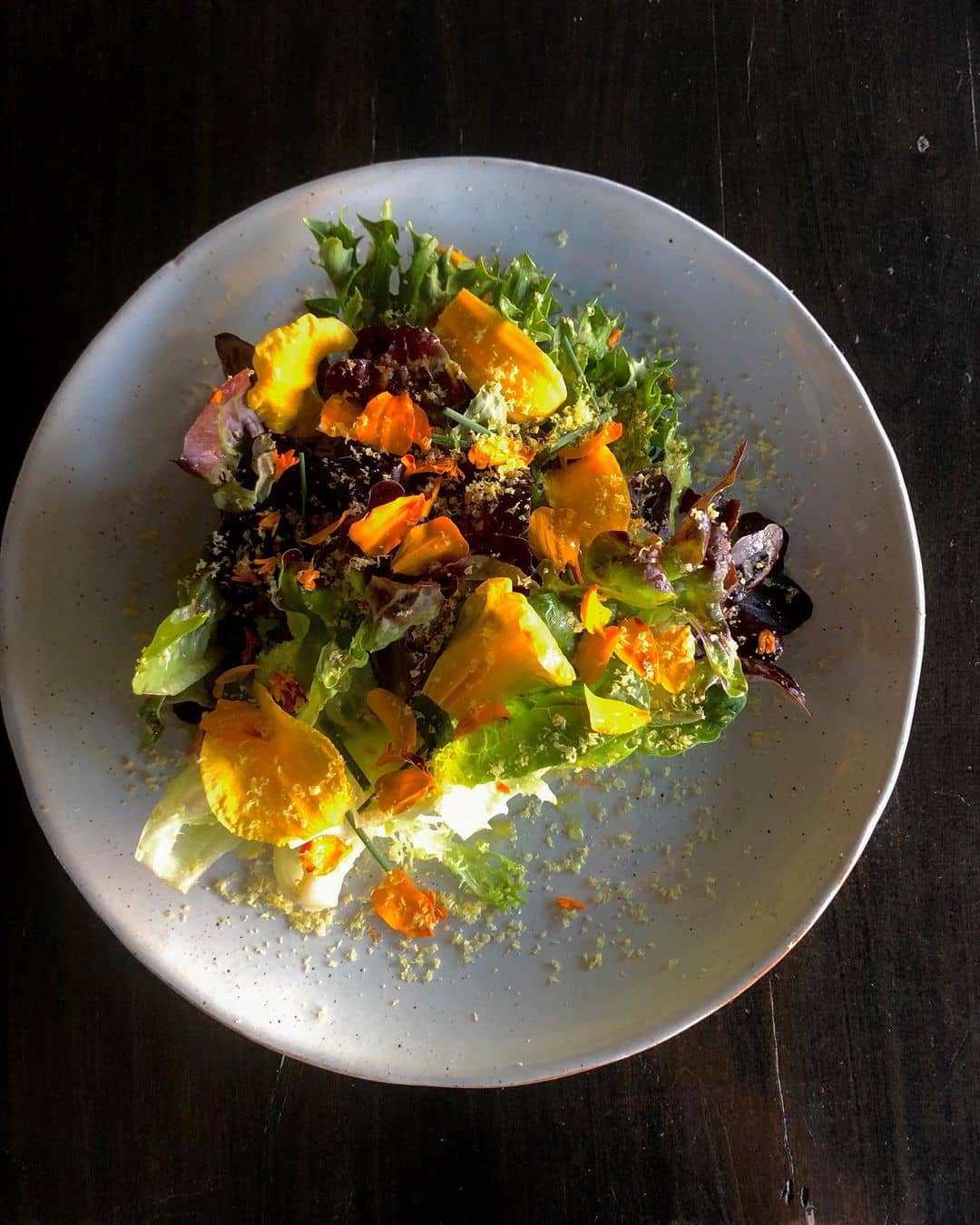 Actinolite Restaurant is the right place to showcase all of the best parts of being up North without actually leaving the city. Offering a large crackling fire and cooking station on the backyard patio, this hidden gem will cause you an instant crush from the first visit!
At Actinolite Restaurant, tables are set up around the fire to observe the process. Once the food is taken off the grill, it is promptly served to the tables just steps away from the flame.
Trust us, this culinary experience is one of a kind! The best part of this is being able to smell and be involved in every part of the cooking process.
They offer a tasting menu that changes every month. But whatever period of the year, their menus still reflect the strong relationships forged with Canadian suppliers and deep respect for the seasons.
Don't miss a chance to visit this place!
What to order: Seasonal Tasting Menu
Address: 971 Ossington Ave, Toronto, ON M6G 3V5
Website | Instagram | Facebook
11. ODDSEOUL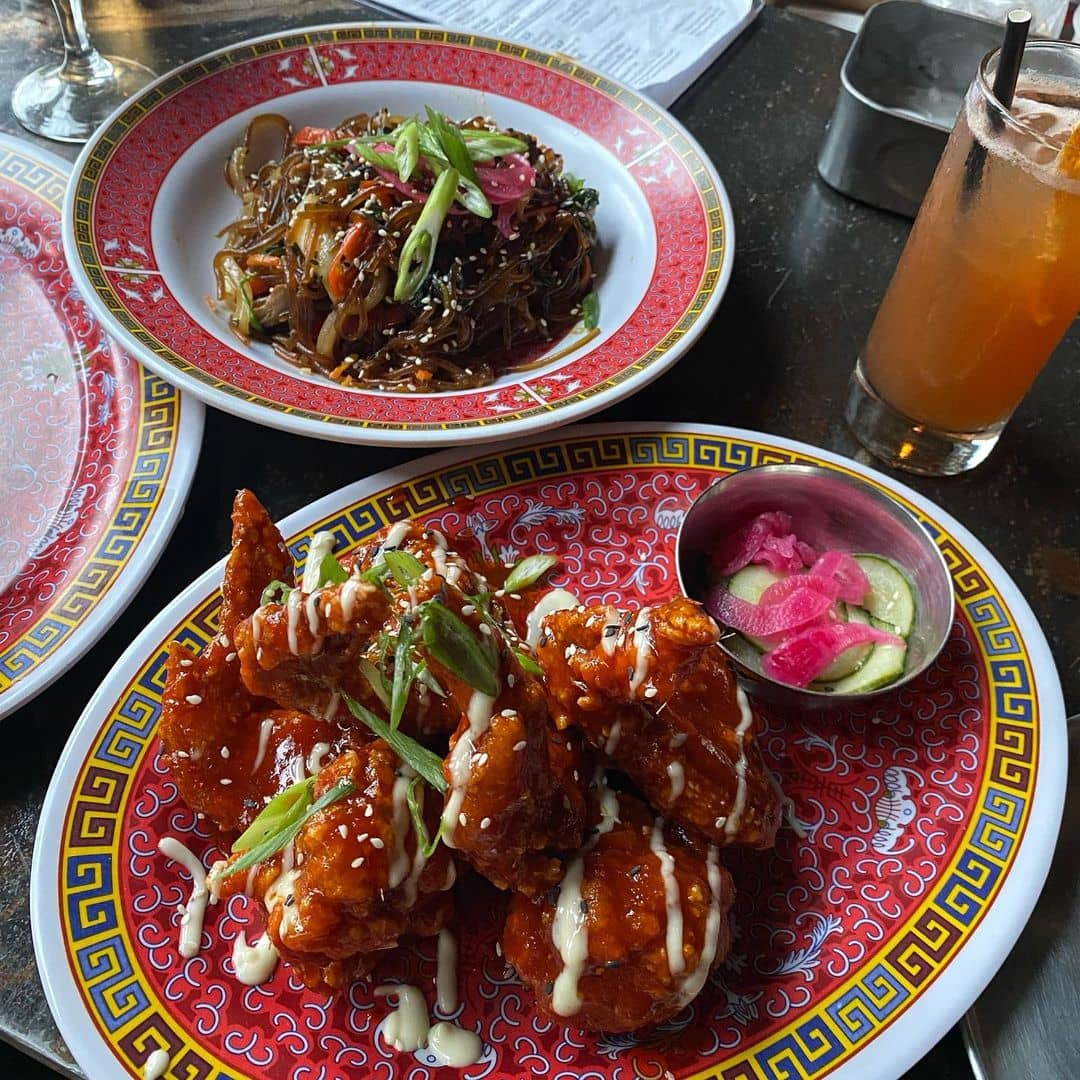 Hands up if you're craving all kinds of tasty Korean treats! Oddseoul is here to satisfy you! Being a late-night eatery offering classic Korean goodies with a twist, Oddseoul will seduce you with its wonderful dishes that showcase the best of East meets West cuisine.
Sharing dishes like Tempura Chicken with Devilled Eggs or greasy-spoon-inspired small plates like Bulgogi Cheesesteak are irresistible. If you're coming in a group, this is a must-have!
Next, try out The Loosey. A juicy, griddle smashed breakfast slider made of short rib and ground brisket cooked atop a pile of onions. This is then topped with Kimichi hollandaise and served on toasted challah. This baby will soon be your all-night favourite!
For a hearty, seasonal option, the Lamb and Potato Stew comes loaded with chunks of tender meat and packs impressive heat courtesy of the housemade chili paste and loads of cilantro and green onion kimchi.
What to order: Tempura Chicken & Devilled Egg, Bulgogi Cheesesteak, The Loosey, Lamb & Potato Stew
Address: 90 Ossington Ave, Toronto, ON M6J 2Z4
12. Pastiche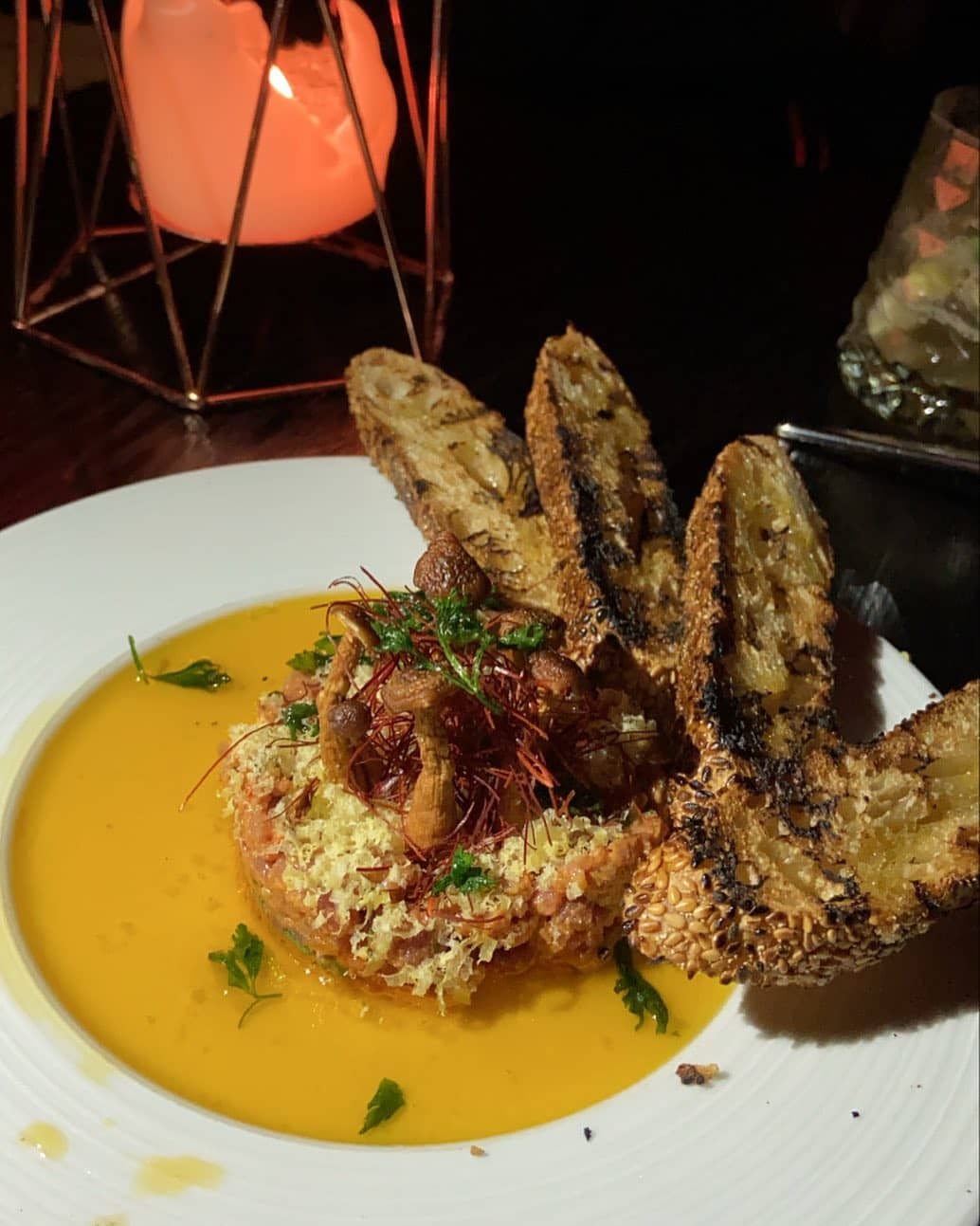 If one-of-a-kind cocktails, mouth-watering sharing plates, and unique wines sound wonderful to you, then Pastiche is your next go-to!
The space has been done to host a glitzy bar, statement chandeliers, and jewel-toned velvet booths surrounded by an eclectic mix of artwork.
For food, they offer a rotating menu of worldly shareable eats and they are not limited to any type of style. You can give it a try with Vegan Falafel Salad, a creative take on a meat-free staple with roasted oyster mushrooms and creamy avocado sauce.
Or The Braised Short Ribs with a kumquat soya glaze and torched chanterelle mushroom wafers.
For drinks, the stars are Pelon and Bittersweet Symphony. While Pelon is a strong tequila-based drink with smoky Creyente mezcal, poblano peppers, and pineapple, Bittersweet Symphony is made with Croatian Maraschino Luxardo and melted cooking chocolate, you'll feel the burn of this drink immediately, accompanied by a great sweet aftertaste. Lovely!
What to order: The Pelon, Vegan Falafel Salad, Bittersweet Symphony, Braised Short Ribs
Address: 59 Ossington Ave, Toronto, ON M6J 2Y9
Website | Instagram | Facebook
So you've got yourself some choices to visit when coming to Ossington, and there are still more to find out! Explore other top-notch restaurants in Toronto here with us!
How We Create Our "Best" Lists
All Noms Magazine's "best" lists are created using multiple factors and signals to help readers find the best restaurants, things to do, and places to stay at. Some of these factors and signs include personal experiences, correspondence with locals, and compiling experiences from review sites.
Each list is also created to be balanced (in terms of price, cuisine type, ambiance, and more) as possible. This means that the lists are not specifically created in ranking order. You should be comfortable picking from any of the spots on the list and generally have a good time. But of course, YMMV (your mileage may vary) and everyone may have different experiences/palates.