Looking for the best ramen in NYC? Well, you're in the right place!
New York City is a wonderful place with so many stellar restaurants, but do you know that this city also has a big love for Japanese cuisine – especially ramen? If the warm, hearty bowl of ramen is what you're looking for, the list we've compiled below is for you!
From all the absolute best and signature bowls of ramen to other Japanese traditional side dishes, we promise you won't be disappointed. Without any further ado, let's jump right in with the best ramen in NYC:
1. Tonchin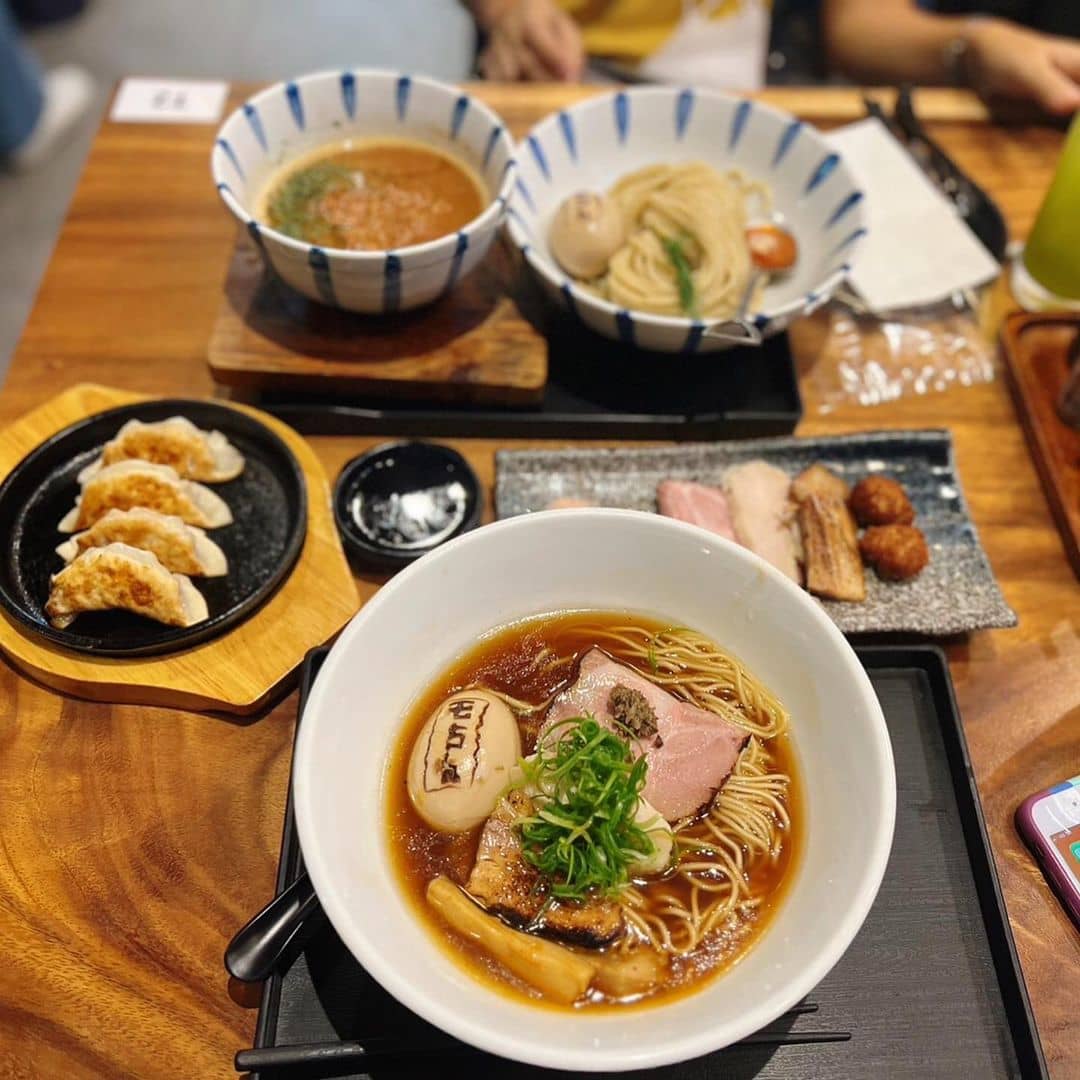 How good can a ramen place like Tonchin be to get a Michelin Bib Gourmand? Well, you'll find out when you get there. The brightly lit working kitchen feels like heaven as you wait for your food in a dark, intimate space.
With delicious handmade noodles, this is where you should get your next ramen fix and some of the best Japanese food in the city.
Every ramen place has its own Tonkotsu offering, but Tonchin makes them in Tokyo-style and extra, extra special. The broth is rich without being too salty, and the noodles allow a nice chew due to their amazing texture. Pair that with half an egg, bamboo shoots, chopped scallion, and thin slices of lean pork, and BOOM! It's ramen nirvana.
If you're a brave warrior who can brace spiciness, Tonchin's Spicy Tan Tan Ramen is the perfect combination of Chinese dan dan noodles and Japanese ramen. The Sichuan peppercorn oil swimming on top provides a mouth-numbing sensation but fret not; you'll be slurping this dish down to the last drop.
What to order: Tonchin Classic Tokyo Tonkotsu Ramen, Spicy Tan Tan Ramen,
Address: 13 W 36th St., New York, NY 10018
Website | Instagram | Facebook
2. Jin Ramen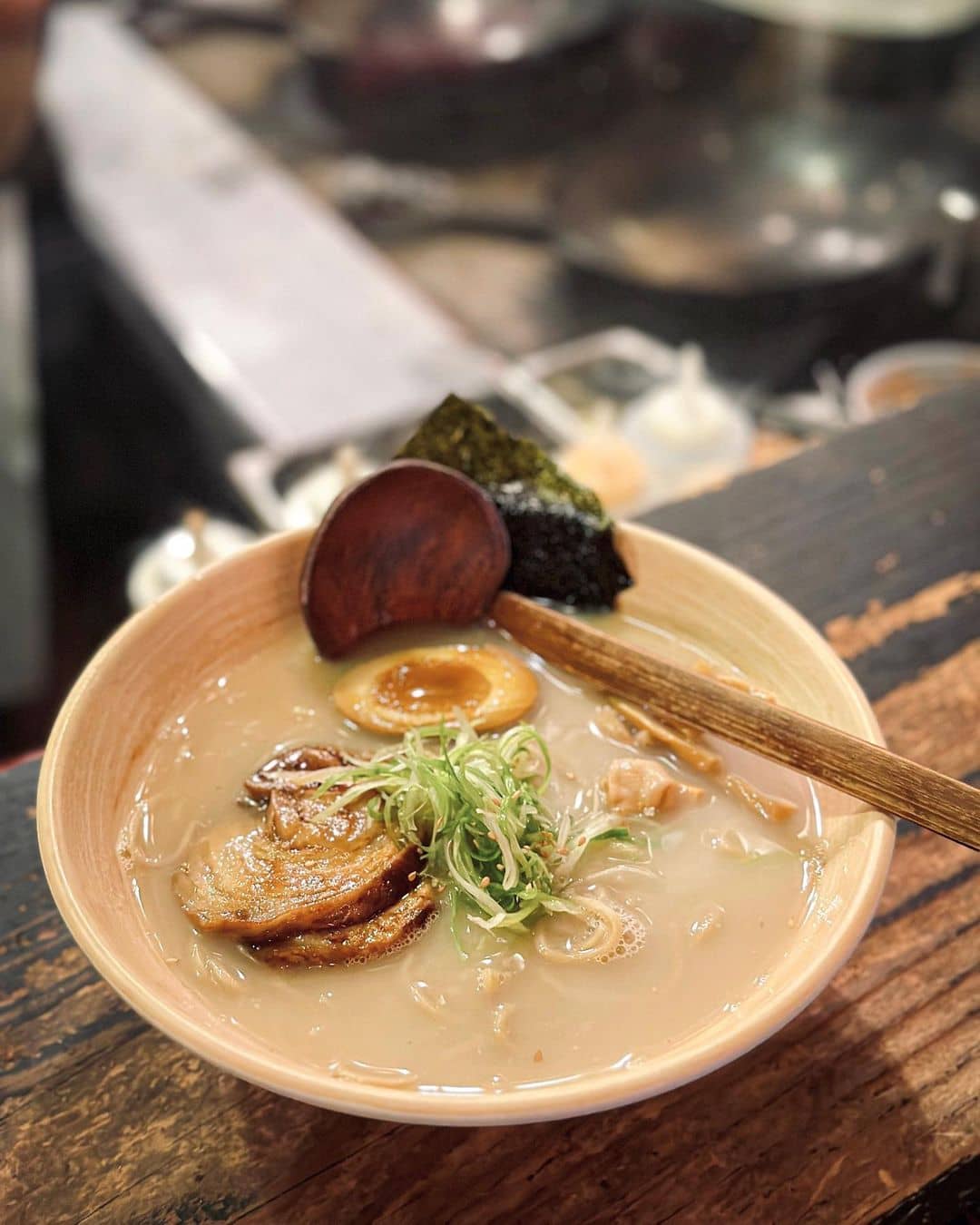 A bustling Upper West Side spot serving beloved Japanese rice bowls and ramen noodle dishes, Jin Ramen proudly boasts a Bib Gourmand from the Michelin Guide since 2013. One thing to note about Jin, they always deliver. Famous for its fresh noodles made daily, this will be your next go-to ramen spot for a quick fix.
A clear winner when it comes to starters, Jin Ramen's Steamed Gua Bao Pork Buns are worth every effort it takes to devour the two buns down without making it messy. Soaking up the hot sauce, you may want to use your hands for this one.
Tried and tested, nothing beats a classic Tonkotsu Ramen. What more if you make it spicy? Jin Ramen perfectly cooks its noodles by soaking them in ice-cold water when it's done to put a complete stop to the cooking process. How cool is that?
What to order: Steamed Gua Bao Pork Buns, Tonkotsu Ramen, Spicy Tonkotsu
Address:
-3183 Broadway, New York, NY 10027
-3599 Broadway (148th st/Broadway) New York, NY 10031
-462 Amsterdam Ave (82nd/Amsterdam) New York, NY 10024
Website | Instagram | Facebook
3. Jeju Noodle Bar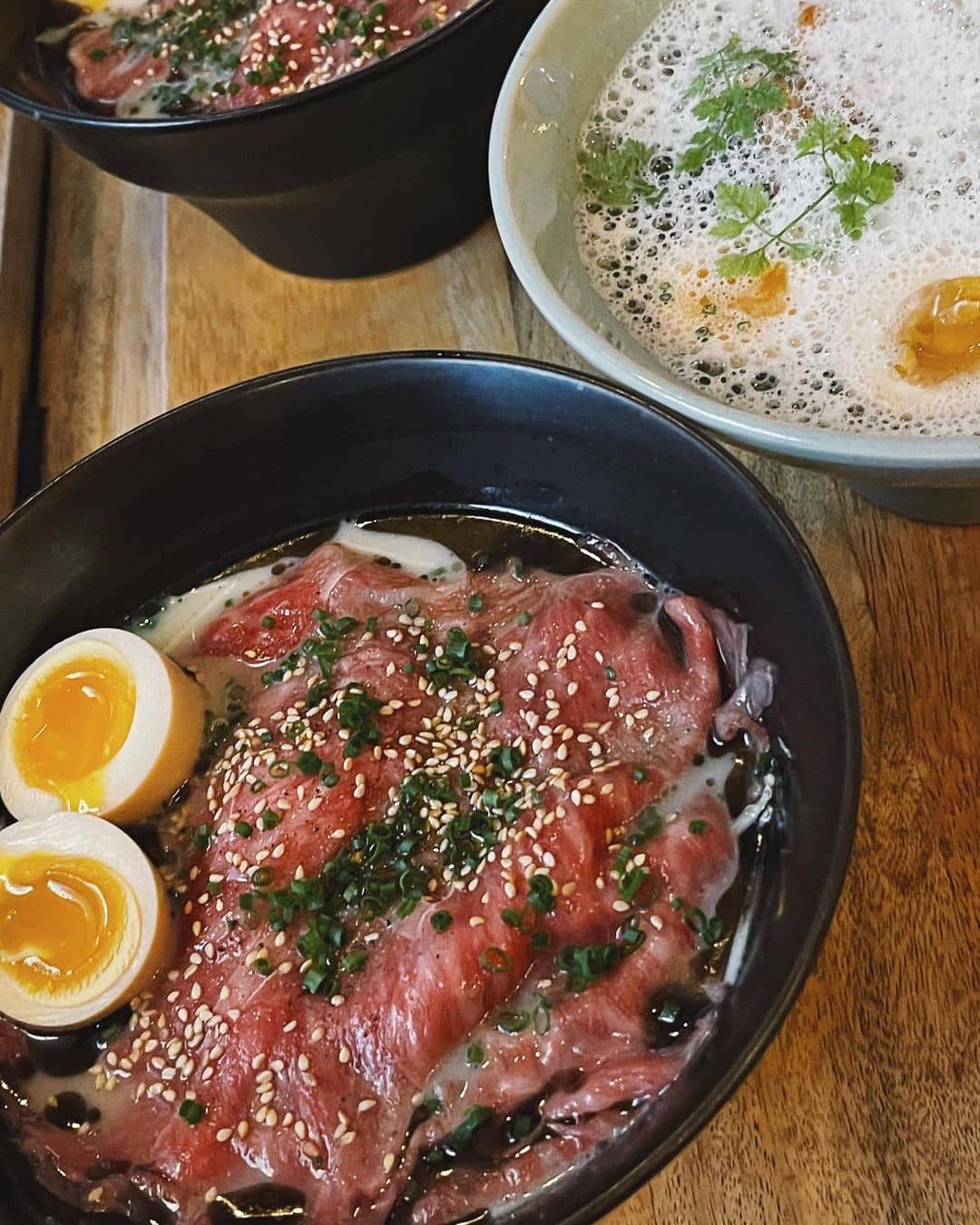 If you're looking for a place to experience and savor the distinct Korean flavor, Jeju Noodle Bar is the perfect spot! Entering the restaurant and you'll be embraced by the welcome ambiance and world-class service, which makes it a perfect cozy stop on a cold night!
Definitely ask for Family Ramyun – one of the customers' fav at Jeju. What makes the dish so special is the unbelievably rich pork bone broth that helps elevate the sweetness of the shrimp and the umami scent from the wood ear mushroom. Don't worry about getting satiated, the rich broth is balanced by the pickled jalapeno Worth every penny!
In the mood for some meaty, juicy option but don't know what to choose? Jeju got you covered with their ultimately phenomenal Wagyu Ramyun with the best-qualified Miyazaki Wagyu making every bite a party in your mouth. The meat is so moist, and tender that it almost feels like it's melting in your mouth. And the broth is so flavorful and well-balanced with enoki mushroom, chives, and scallion oil.
P.s.: It's tough to make reservations so make sure to check their schedule and do everything in advance. (It's easier to get a seat on weekdays!)
What to order: Family Ramyun, Wagyu Ramyun, Toro Ssam Bap, Domi Hwe
Address: 679 Greenwich St, New York, NY 10014
Website | Instagram | Facebook
4. Kin Ramen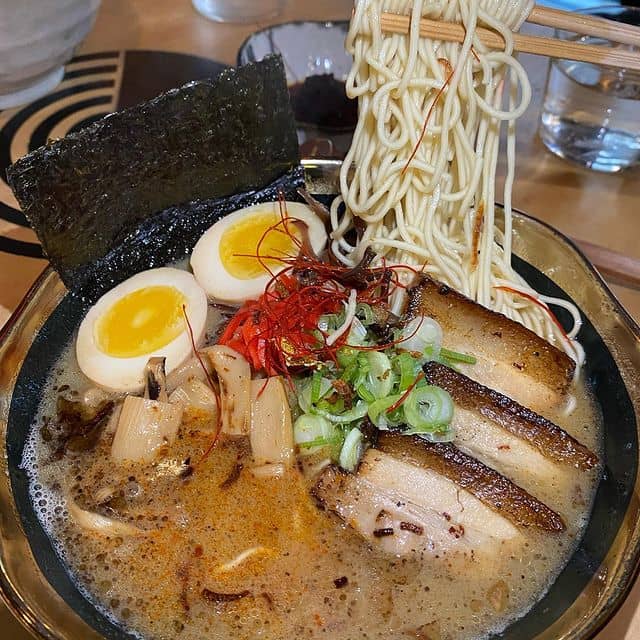 Kin Ramen is undoubtedly a hidden gem at the heart of New York! Not only serving you the best authentic Japanese dishes, but also the decor will remind you of Shibuya Crossing, with the traffic light by the door and the striped crossing markers on the floor as if you were transported to a Tokyo underground.
Remember to ask for the Miso Ramen with an egg, we promise you won't regret it. The broth is incredibly flavorful and robust with the help of juicy chashu, and the texture of the noodles is made nicely and cooked to perfection.
And how can we forget the runny, fatty yolk from the soft-boiled egg that was made so nicely?
The dessert – Green Tea Lava Cake! We can't say enough about it! Just the right amount of sweetness. The green tea ice cream is so refreshing and creamy that goes so well with the hot chocolate lava cake. No words can describe how phenomenal this combination is!
What to order: Miso Ramen, Green Tea Lava Cake, Chicken Ramen
Address: 129 W 56th St, New York, NY 10019
5. Ramen Ishida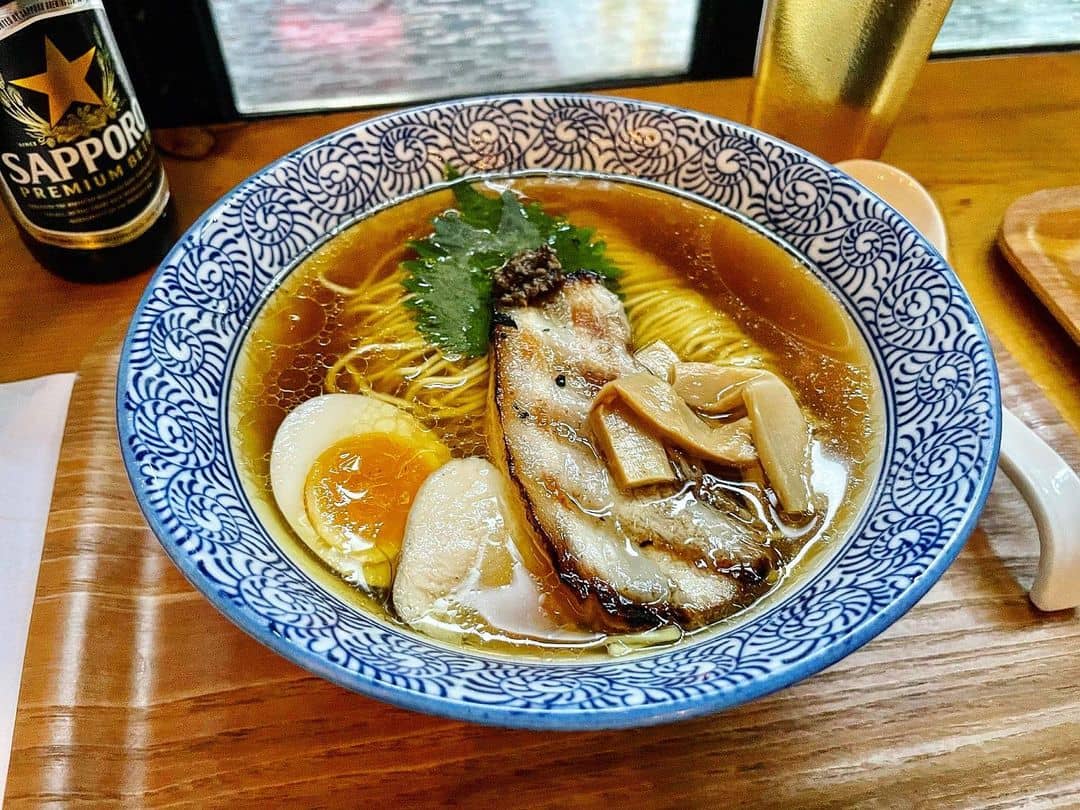 If you've only tried Tonkotsu Ramen – the most popular ramen, Tokyo Shoyu Ramen will show a new view of the Ramen world to any ramen lovers and be ready to be amazed. This hole-in-the-wall gem in East Village offers you the depth and richness hidden inside the clear broth and the absolute best ingredients that come along.
For our New York friends, Tokyo Shoyu Ramen is the most pleasant gift that you can get at Ramen Ishida with the fresh, sweet broth from chicken and earthy truffle covering the thin and smooth noodles. The chicken breast and chashu that come along are so finger-licking good with signature tenderness and juiciness. Delicious and approachable!
Spicy Mushroom Pork is another crowd-fav with an addictive aroma and savory broth, yet creamy texture due to the six different kinds of mushrooms used. The signature umami scent is nicely balanced with a kick of spice from the homemade chili oil. This ramen is a must for our mushroom lovers!
Oh, they do have a vegan option by replacing the pork with nutty tofu, too!
What to order: Tokyo Shoyu Ramen, Spicy Mushroom Pork/Tofu, Classic Shio
Address: 122 Ludlow St, New York, NY 10002
Website | Instagram | Facebook
6. Ramen Danbo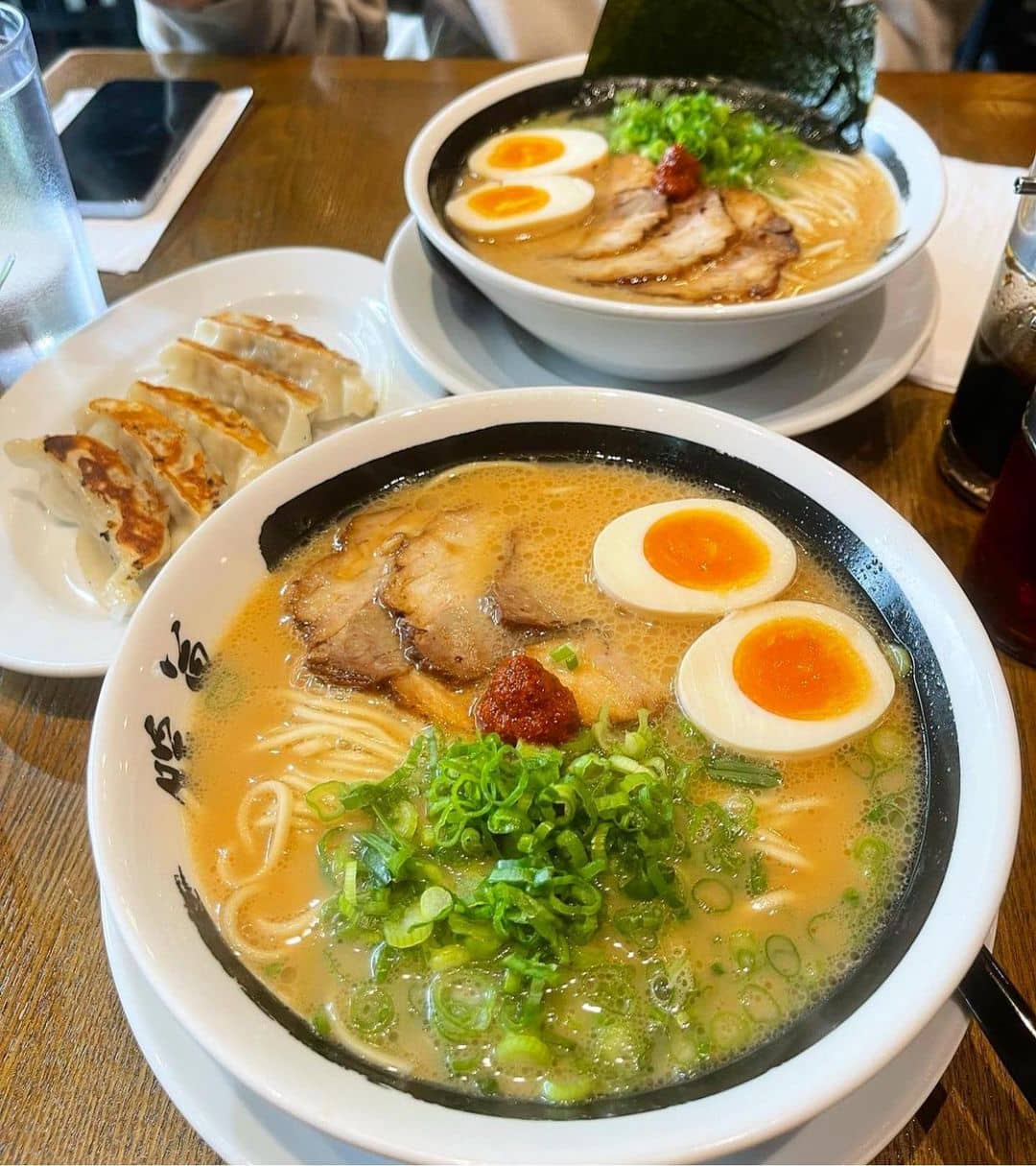 Warming your soul with authentic Japanese ramen, Danbo promises to win your heart with the signature Tonkotsu broth – simple but truly delicious makes you can't help slurping down a hot bowl of soup and endless amounts of carbs! They also provide 4 types of regular ramen that are all customizable from noodle type to topping selection, etc.
You know you can't go wrong with the top-notch Miso Chasu-men with two eggs. Chasu-men comes with six slices of mouth-watering braised pork belly so this dish is a must for chashu lovers! The eggs are perfectly marinated and jammy inside with the firm, chewy noodles elevate the flavor. Chef's kiss!
And here is the vegan top option for you – Classic Atsuage Ramen, which comes with six slices of thick-fried tofu that taste heavenly providing a tasty and nutritious boost of healthy protein. The broth is kept nicely with well-balanced seasoning and the noodles are made to perfection!
What to order: Miso Chasu-men, Classic Atsuage Ramen
Address:
-52 7th Ave., Brooklyn, NY USA 11217
-48 Carmine St., New York, NY USA 10014
Website | Instagram | Facebook
7. Ichiran NY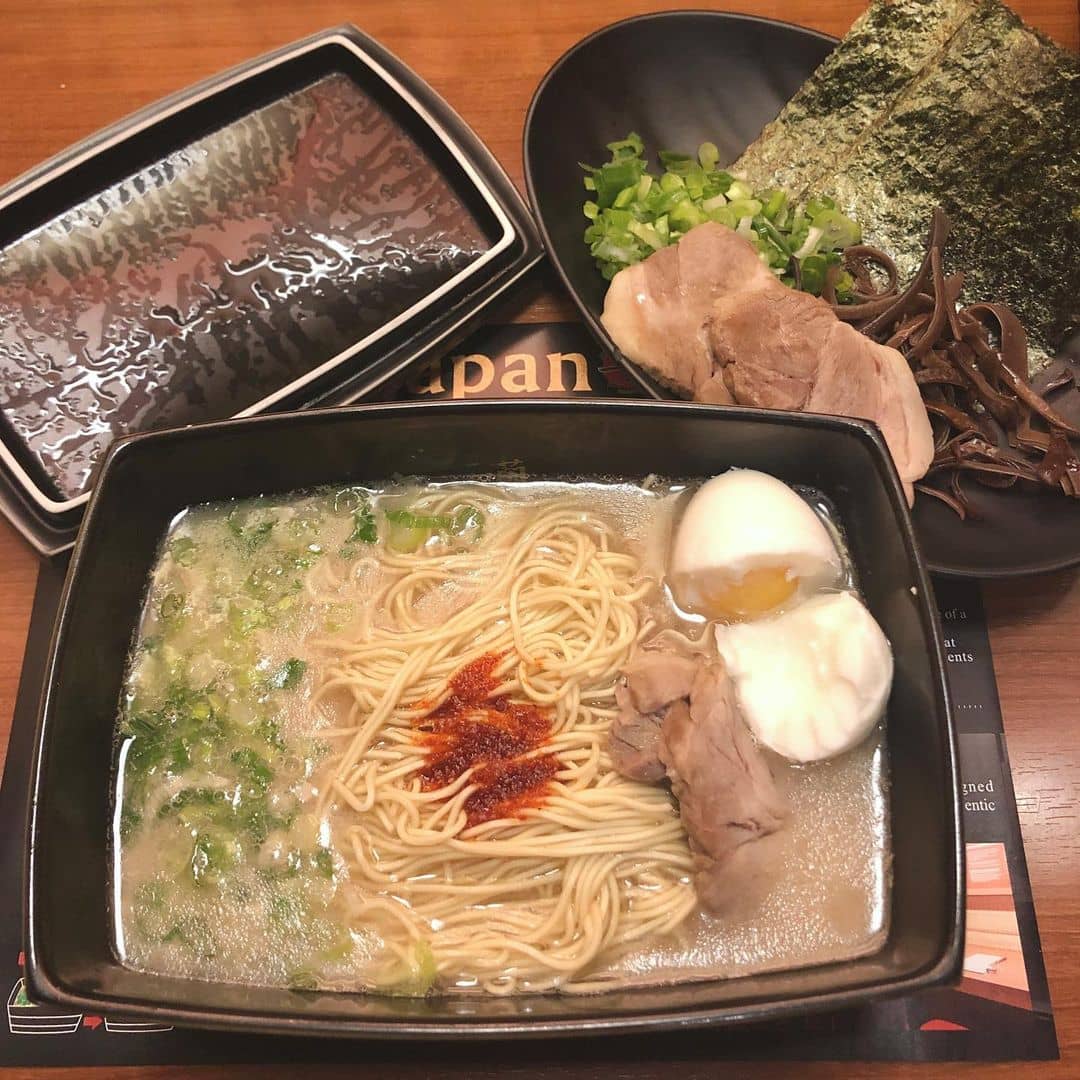 Introverts, rejoice! The famous Japanese chain offering individual booths for privacy is in New York. Ichiran is found in different places worldwide simply because they're so good. Not only are they known for their solo booths, but they also allow you to customize your Tonkotsu Ramen to your own liking. What else could be better than this?
When in doubt, nothing beats Ichiran's Classic Tonkotsu Ramen. The broth is simply golden, and everything will be sparkly in your eyes. You can tell they don't skimp out on the pork, either. Don't forget to order a side of Gyoza for the full ramen experience.
Good news for vegetarians, you can also enjoy the exquisite taste of Ichiran through their Veggie Ramen. No, this is not your typical bland veggie broth. This is a vegetarian-and-ramen lover's haven.
For dessert, end your meal with a Matcha Pudding to put a satisfying stop in your tour of Japanese flavors.
What to order: The Classic Tonkotsu Ramen, Ichiran Veggie Ramen, Matcha Pudding
Address:
-374 Johnson Ave, Brooklyn, NY 11206
-132 W 31st St, New York, NY 10001
-152 W 49th St, New York, NY 10019
Website | Instagram | Facebook
8. TabeTomo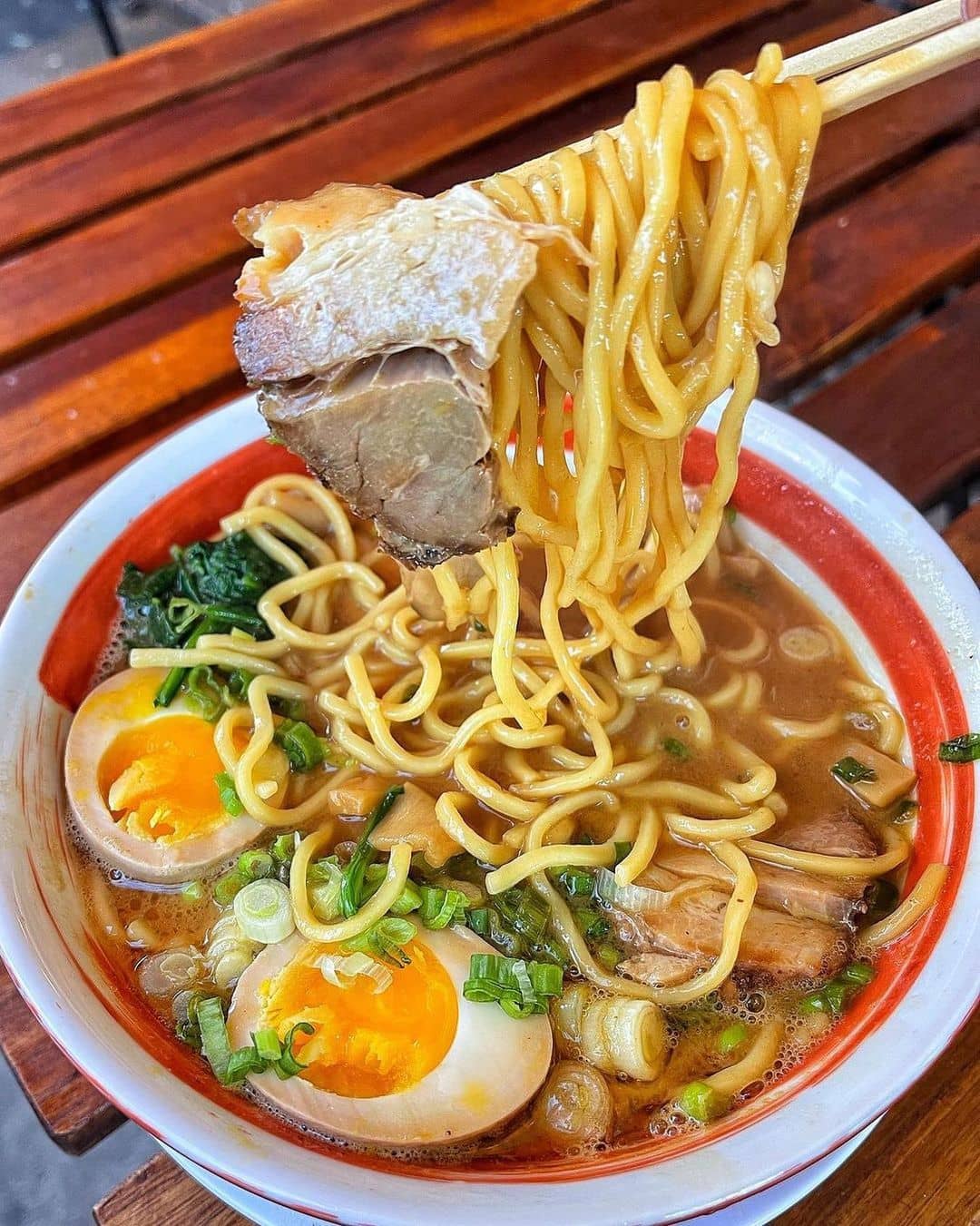 TabeTomo – is named after its founder Chef Tomo, Tabemoto means directly in Japanese "eating buddy" so no doubt their dishes are so appealing and additive that you can't help taking another bite. Located in the heart of Manhattan's East Village, on the busy cross streets of St. Marks and Ave A, Tabemoto is somewhere you would love to waste your night!
Tonkotsu Chasu Jiro Tsukemen is surely worth trying when you can experience having ramen differently. Tsukemen – also known as "dipping ramen" is a modern cousin of traditional Japanese ramen when the noodles are dipped into a separate bowl of broth.
So with this dish, you are able to enjoy firmer noodles and richer broth with a light touch of flavor by soft-boiled egg and chashu.
If you're in the mood for some sashimi, Salmon Don would satisfy your craving. The shiny, buttery salmon is prepared nicely and put on top of the soft, moist rice and covered in ikura – salmon eggs that give a small splash in your mouth with a savory taste. Take a big bite with everything placed together, we promise that you won't regret it!
What to order: Tonkotsu Chasu Jiro Tsukemen, Salmon Don, Karaage Chicken, Pan-Fried Gyoza
Address: 131 Avenue A, New York, NY 10009
Website | Instagram | Facebook
9. Totto Ramen Midtown East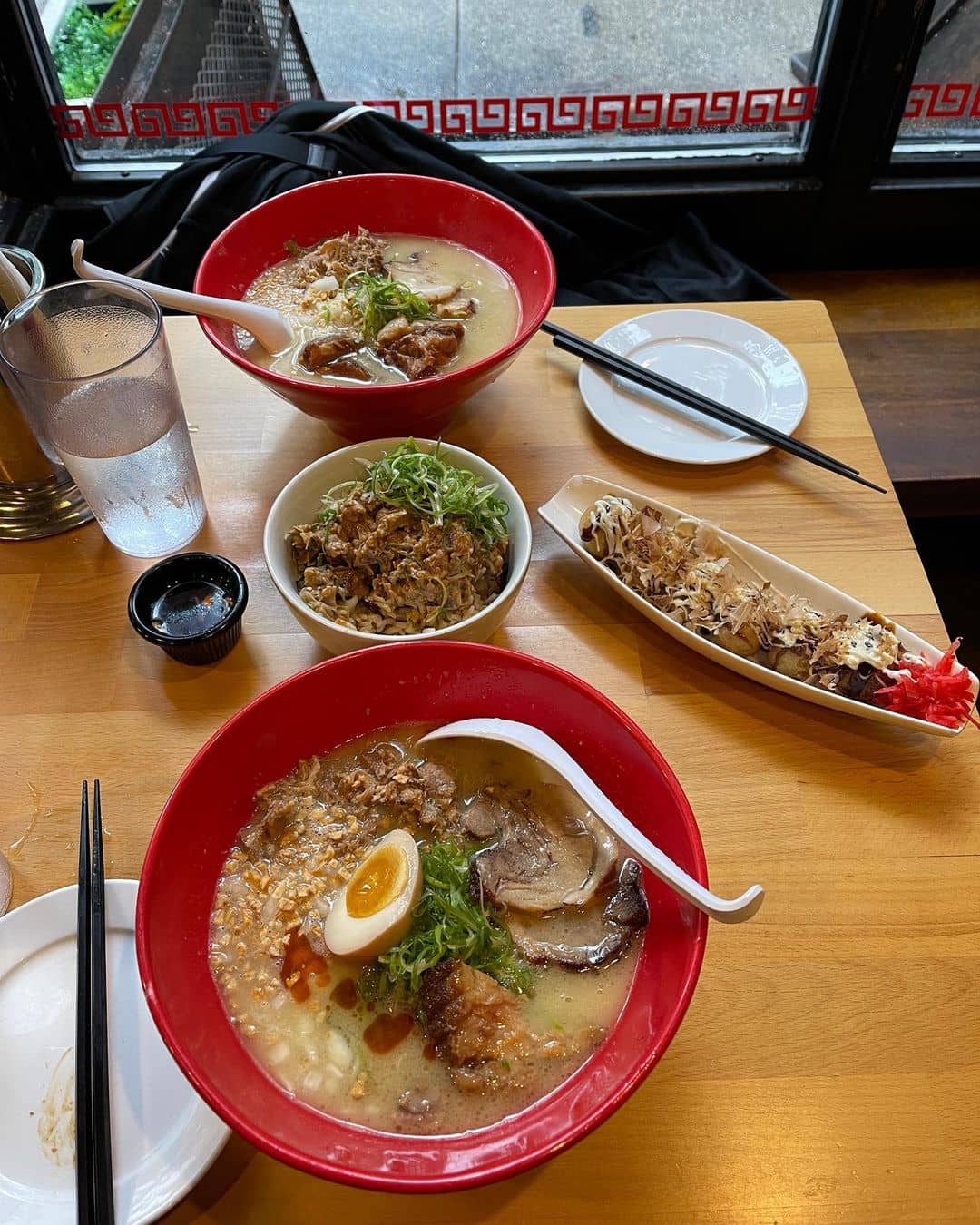 A cool tiny room with good music and friendly, welcoming staff that serves only the best Japanese cuisine – that's how Midtown's Totto Ramen gives an instant crush to its customers. It became clear that NYC was ready for chicken-based ramen instead of ordinary choices like tonkotsu or pork-based ramen, and at Totto, you will be able to experience the ultimate flavor that you can't have anywhere else.
Before jumping into any kind of ramen, let's talk about their incredible Tuna Don with cubes of fresh, shiny tuna on top of rice that is nicely covered in their signature soy sauce with sesame oil and a kick of flavor by scallions. The buttery, creamy texture is so addictive and unforgettable! Tuna Don promises to be a perfect option to fulfill your experience at Totto!
It's time for some ramen! And being famous for the chicken-based broth, you must ask for Fried Chicken Ramen to have a fully pleasant journey. The broth is flavorful with crispy fried-chicken skin and tender, moist chicken meat inside, and the veggies are also delicately placed without overwhelming the taste of ramen.
And for the rest, we would leave it to you. Make sure to ask for it to discover more flavor!
What to order: Tuna Don, Fried Chicken Ramen, Spicy Ramen
Address: 248 E 52nd St, New York, NY 10022
Website | Instagram | Facebook
10. Ivan Ramen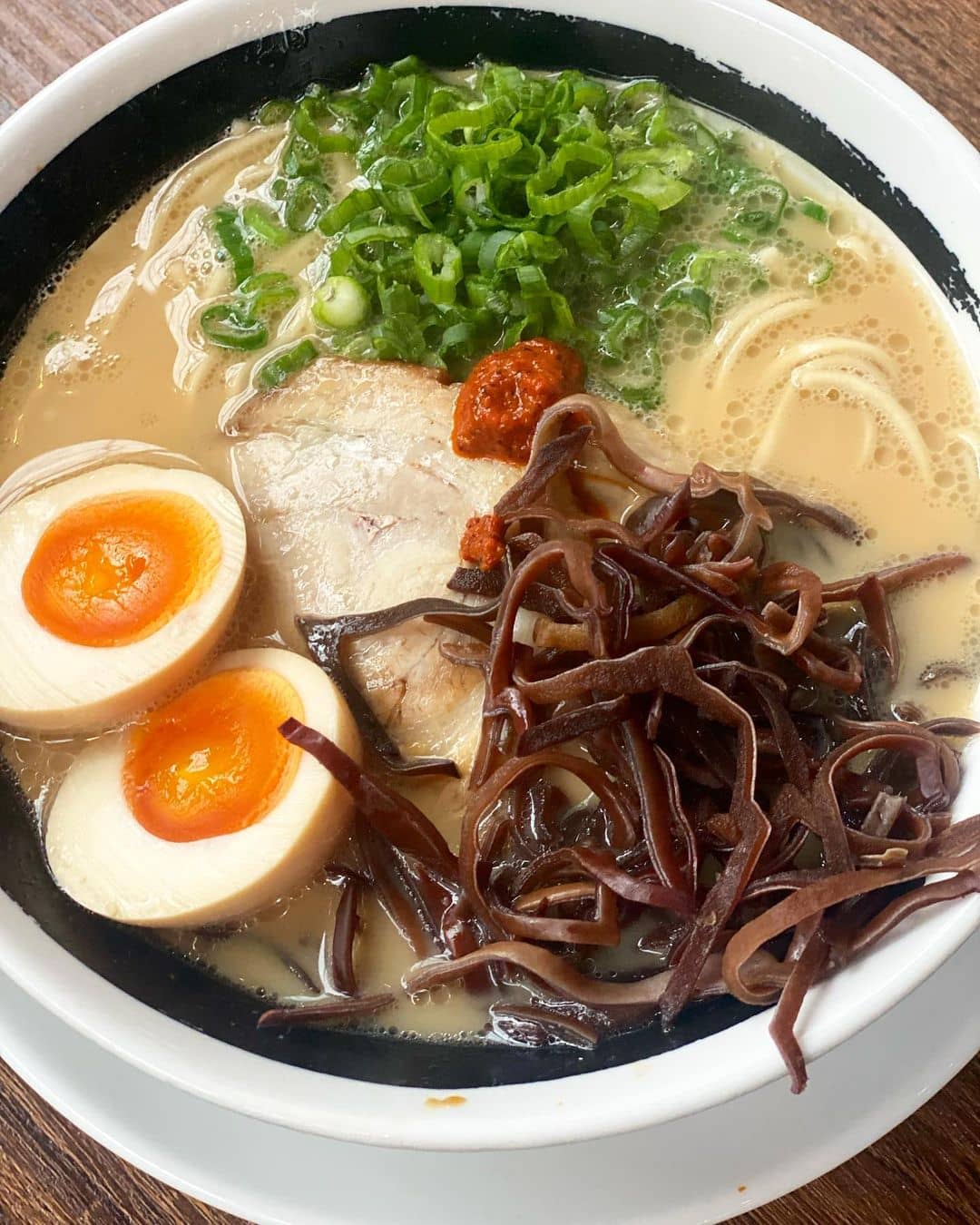 Entering the restaurant and you'll be embraced by the comfy atmosphere with a simple yet clean interior with a touch of color from paintings on the wall. Although the space is quite narrow, it's long and has outdoor seating in the front and the back so don't worry. The staff inside is super friendly so don't hesitate to ask them anything. And of course, the food is nothing but phenomenal!
Everyone is going crazy for the Chicken Paitan since it's so hella good! As paitan means hard-cooked for a long time, the broth is extremely flavorful and rich. The ramen comes with minced chicken, and crispy chicken skin and the star is the egg yolk on top. The creamy, tasty combination might make you speechless.
What made it even more of an interesting dish is that it's recommended to mix the egg in and then do a squeeze of lime! Try it yourself and be amazed!
Another star of the show is the Tokyo Shio – super dashi-forward ramen! The broth is concentrated and opaque featuring a layer of chicken fat on top. Every bite is filled with satisfaction with the tenderness of the pork, buttery egg, and roasted tomato adding sweetness and juiciness helps elevate the flavor to another level!
What to order: Chicken Paitan, Tokyo Shio, Katsu Curry Mazemen, Triple Pork Triple Garlic
Address: 25 Clinton St, New York, NY 10002
Website | Instagram | Facebook
11. Marufuku Ramen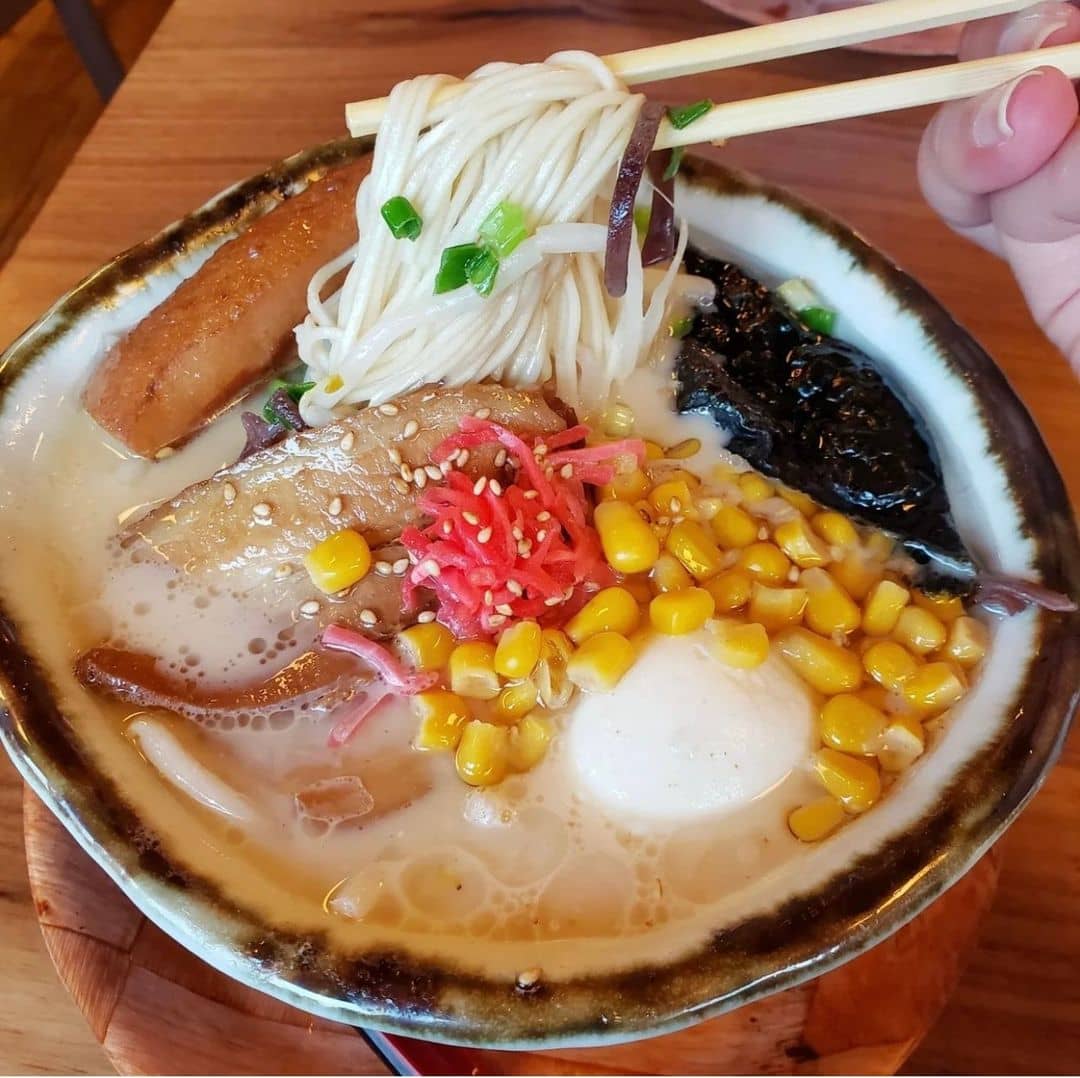 Marufuku is definitely a perfect place for a comfy date night. Leaning more on the fancy side with elegant decoration and brick walls, and the yellow light makes the place even more warm, cozy, and chill. At Marufuky, you are offered authentic ramen with perfectly made noodles.
Their signature Hakata Tonkotsu is TO DIE FOR! Featuring milky and umami-rich broth made from boiling pork bones for long hours, fresh thin noodles, and tender chashu, this dish promises to satisfy your hunger.
The broth is more on the creamy and thick side but still tastes phenomenal.
We also highly recommend Chicken Paitan Dx, which is a chicken leg that comes out sizzling with bean sprouts underneath. The chicken is really moist and soft with some smoky scent on the outside creating a joyful experience.
You can have this with Chicken Ramen as a combo at a more affordable price. The ramen itself is also so delicious and well-seasoned! (They give a lot of different toppings for the ramen!)
What to order: Hakata Tonkotsu, Chicken Paitan Dx, Chicken Ramen
Address: 92 2nd Ave, New York, NY 10003
Website | Instagram | Facebook
12. Ippudo NY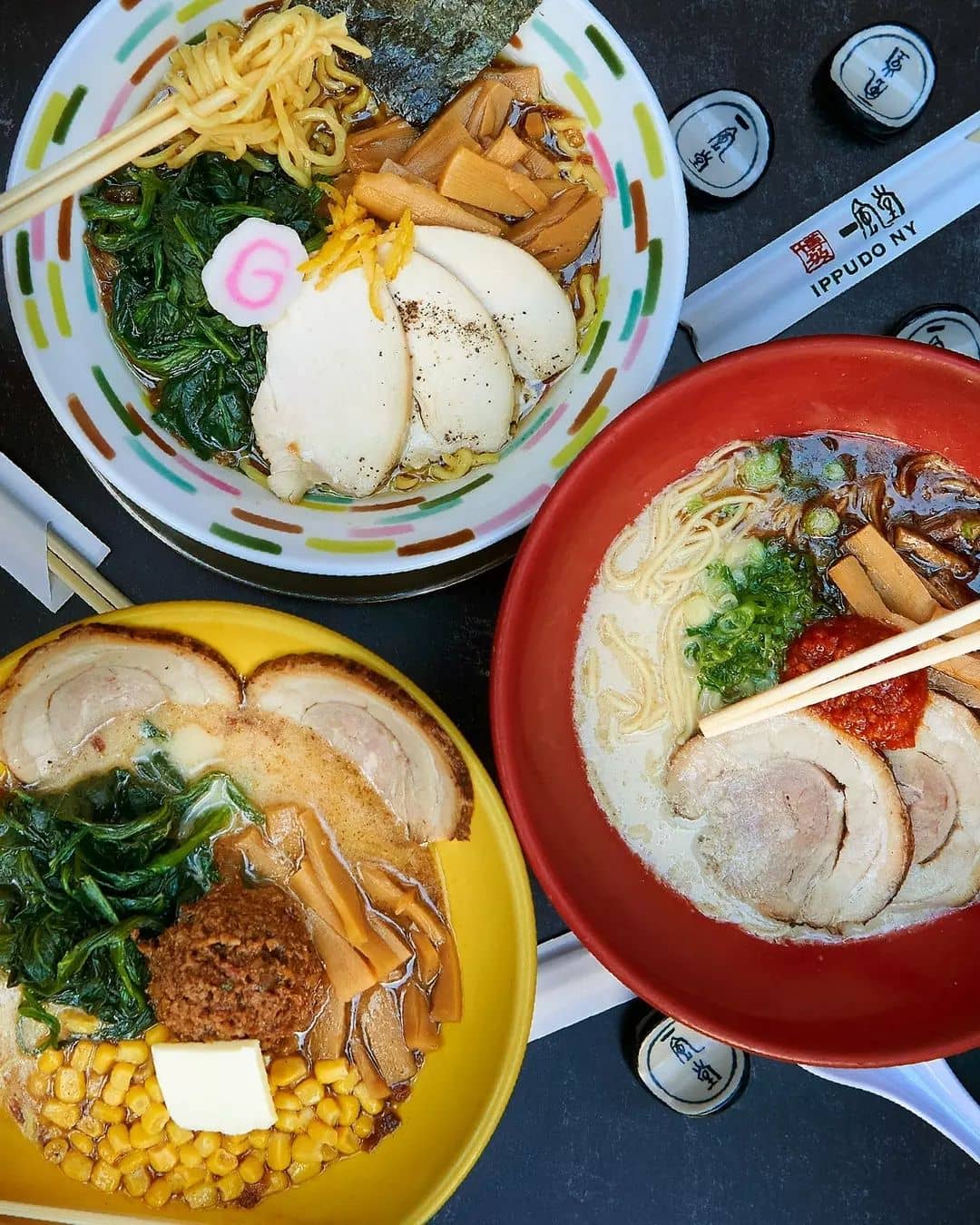 Being the first overseas location, and the birthplace of New York's ramen craze, Ippudo NY (East Village) boasts a spacious, lively atmosphere with an open kitchen format that allows customers to observe every delicious dish made with so much love and care.
The Pork Belly is a MUST when visiting Ippudo! The flavor is sophisticated, succulent, and rich with tenderness and juiciness in every bite. The soup that goes along has a delicate flavor, which nicely balances the rich taste of the pork belly. Perfect combination!
Another way to enjoy the taste of pork belly more is having it with Akamaru Modern Ramen – also one of the crowd-favs! The flavor really kicks in your mouth with thin, firm noodles covered in light, umami broth and sweet scallions. The ramen itself is a bomb, but having it with pork belly? Heavenly!
What to order: Pork Belly, Akamaru Modern Ramen, Pork Buns, Ramen Noodles
Address: 65 4th Ave (Between 9th and 10th Street) New York, NY 10003
Website | Instagram | Facebook
13. Jun-Men Ramen Bar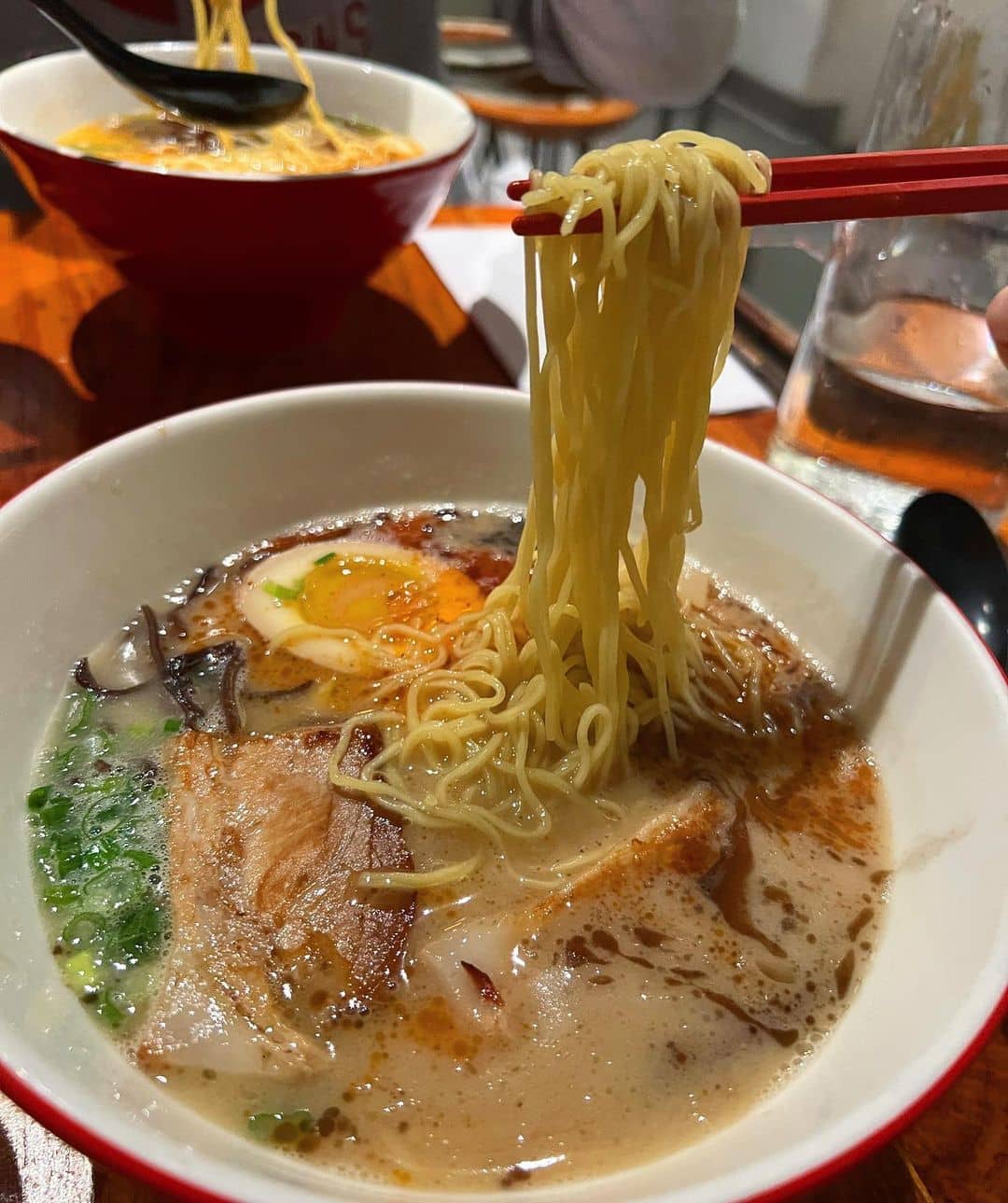 Really lives up to its name, Jun-Men – or "pure-noodle" provides you with the best noodles that are made to perfection with high-quality ingredients providing unique flavor in every dish. Located in Chelsea, Jun-Men Ramen Bar offers ramen lovers a charming dining experience perfect for any special occasion or casual get-togethers.
The Uni Mushroom Dry Ramen is truly an incredible bowl of noodles. The noodles are cooked to a perfect chewy consistency and complemented perfectly with other elements. The truffle oil is the star of the show when it adds great sophistication to the dish, while the fried shallots add some crunchier texture.
Some parmesan cheese on top makes the dish creamier and even more superb!
Another highlight is Spicy Pork Bone. Don't hesitate by the name since the spice is moderate and still comfy enough to enjoy the flavor fully. The broth is flavorful with a tender chashu and an umami scent from the kikurage.
What is special about the chili paste that goes along is that it helps add more flavor to the meat and broth, rather than just making it spicy so if you want some more, don't hesitate to ask the staff. This secret weapon is unlimited!
What to order: Uni Mushroom (Dry), Spicy Pork Bone, Poke
Address: 249 9th Ave, New York, NY 10001
Website | Instagram | Facebook
And that's the end of our top list of must-visit ramen in NYC. If you're still looking for more in Japanese cuisine besides ramen, check out our list of the Best Japanese Restaurants in NYC for more details!
Looking for a place to stay in New York?
This article includes affiliate links where we may get a small commission if you use our link. No extra cost is added to you.