Looking for the best Upper West Side restaurants in NYC? Well, you're in the right place!
Believe it or not, the Upper West Side in NYC will never run out of top-notch restaurants for you to explore. From classic Jewish delis and traditional Japanese restaurants to some of the city's high-end French restaurants, from a fancy menu to the most casual one, this neighborhood always has a spot for you.
Hesitate no more, and let's jump right into the best Upper West Side Restaurants that we have specially picked for you!
🍕Are you a foodie? Check out these NYC food tours!
1. Nice Matin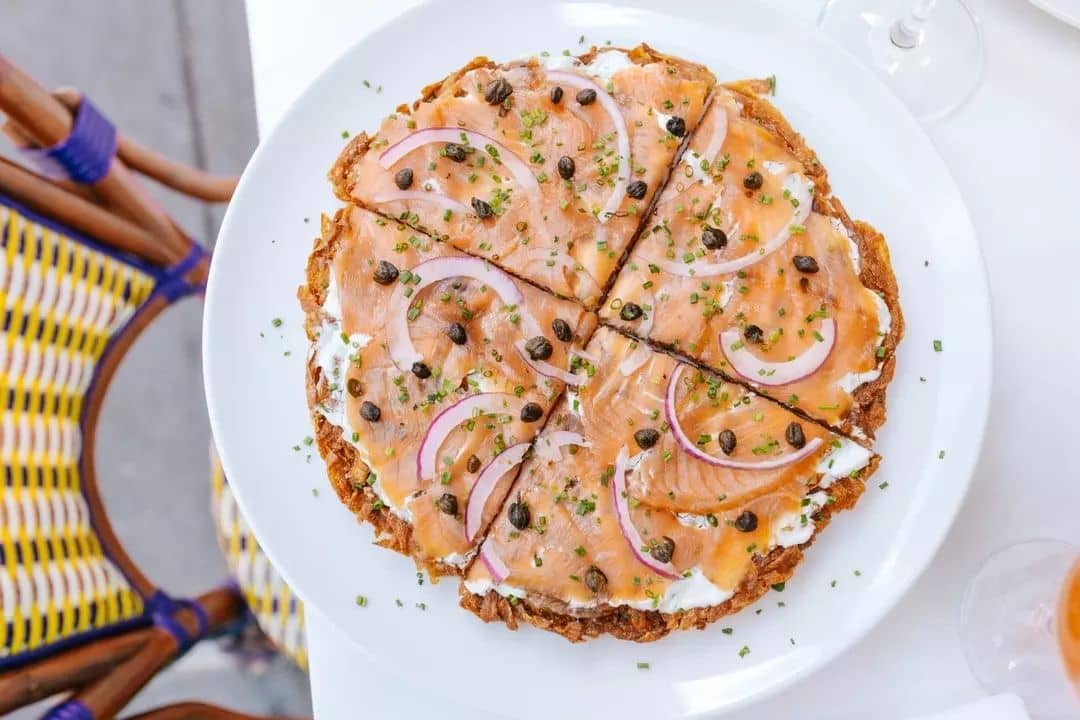 Nice Matin has been the Upper West Side's most elegant, beautifully designed, and sophisticated dining destination for nearly two decades. Come by and immerse yourself in their French-inspired menu and award-winning wine list, they can never disappoint you!
At Nice Matin, prepare to satisfy your hunger with their hearty Soupe Au Pistou. This delightful bowl of Nicoise vegetable soup is infused with the flavors of aromatic basil pesto and accompanied by tender elbow pasta. The result is a rich and herby soup that will warm your soul and leave you feeling nourished.
For a dish that excites the palate, indulge in their Tuna Tartare. Made with fresh tuna filet, this classic dish is expertly prepared and enhanced with a delicious Asian sauce. Each bite is a burst of flavors, further elevated by the addition of creamy avocado chunks. The combination of textures and tastes will captivate your taste buds and leave you craving more.
Truffle Cheddar Burger is also something to try. We're so sure that you'll adore the tender, succulent flavor of every bite. Feels like heaven all the time!
What to order: Soupe Au Pistou, Tuna Tartare, Truffle Cheddar Burger
Address: 201 W 79th St, New York, NY 10024
Website | Instagram | Facebook
2. Miriam
Being extremely famous for its stunning brunch dishes, Miriam has long been the locals' hidden gem and will keep people lining up for a seat on weekends! This Israeli spot serves some truly comforting and excellent brunch dishes in a homey but still lively environment. it's quite spacious at Miriam, so keep it in mind for group hangs!
Must-try includes Shakshuka, Croissant Sandwich, Herbed Eggs, and Burekas. While the Shakshuka is a simple dish made of soft cooked eggs, gently poached in a delicious chunky tomato and bell pepper sauce; the Croissant Sandwich is served hot and packed with flavors from bacon, fries, and roasted veggie!
Herbed Eggs are no less mouth-watering when wholesomely seasoned with parsley, cilantro, and scallion. You can choose to add Labneh cheese to your dish to make the flavor even more phenomenal!
What to order: Shakshuka, Croissant Sandwich, Burekas, Herbed Eggs
Address: 300 Amsterdam Ave, New York, NY 10023
Website | Instagram | Facebook
3. Dagon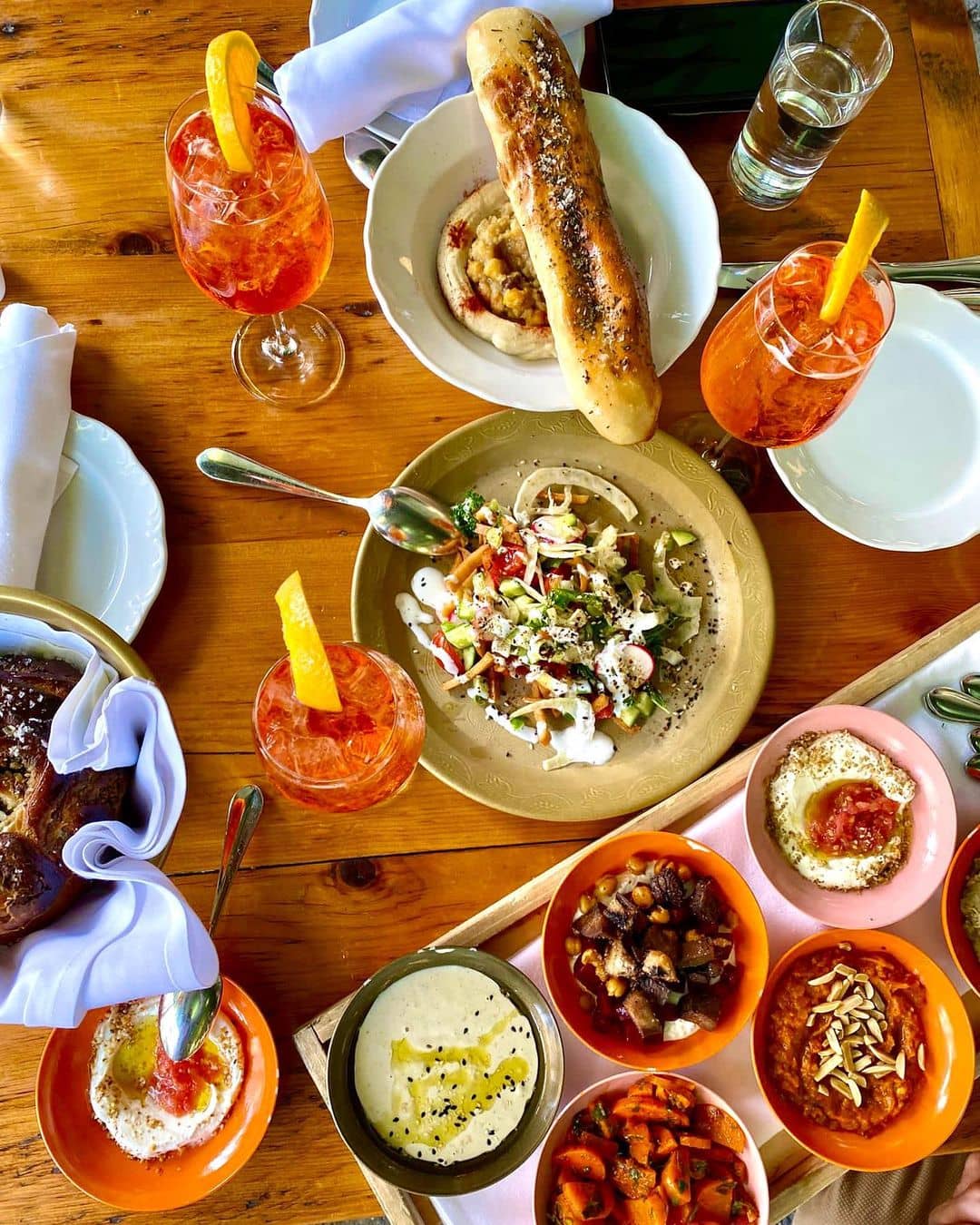 Dagon is one of the few places on the Upper West Side that serves equally delicious brunch, dinner, and late-night drinks. Once entered, the large bar with stunning decor, drinks, and menu items are impressive enough to make you a repeat customer!
Begin your culinary journey at Dagon with a delectable appetizer, the Sasso Chicken Liver Mousse. Indulge in the creamy and rich flavors of this exquisite mousse, perfectly balanced and bursting with deliciousness. It's the ideal way to start your meal on a high note.
For a taste of Lebanese cuisine, the Shish Barak is a must-try. These delectable dumplings are filled with flavorful mushrooms and cooked in a yogurt stew, creating a harmony of textures and tastes. Topped with aromatic mint, pine nuts, and a spicy herb sauce, this dish is a true delight for the senses.
To conclude your dining experience at Dagon, don't miss out on the Silan dessert. This heavenly creation features creamy vanilla ice cream and luscious tahini mousse layered with delicate vanilla sponge. Topped with caramel rice crisps, pistachios, and almonds, and drizzled with silan syrup, each bite is a symphony of flavors that will leave you in culinary bliss.
What to order: Sasso Chicken Liver Mouse, Shish Barak, Crispy Roasted Lamb, Silan
Address: 2454 Broadway, New York, NY 10024
Website | Instagram | Facebook
4. Sushi Kaito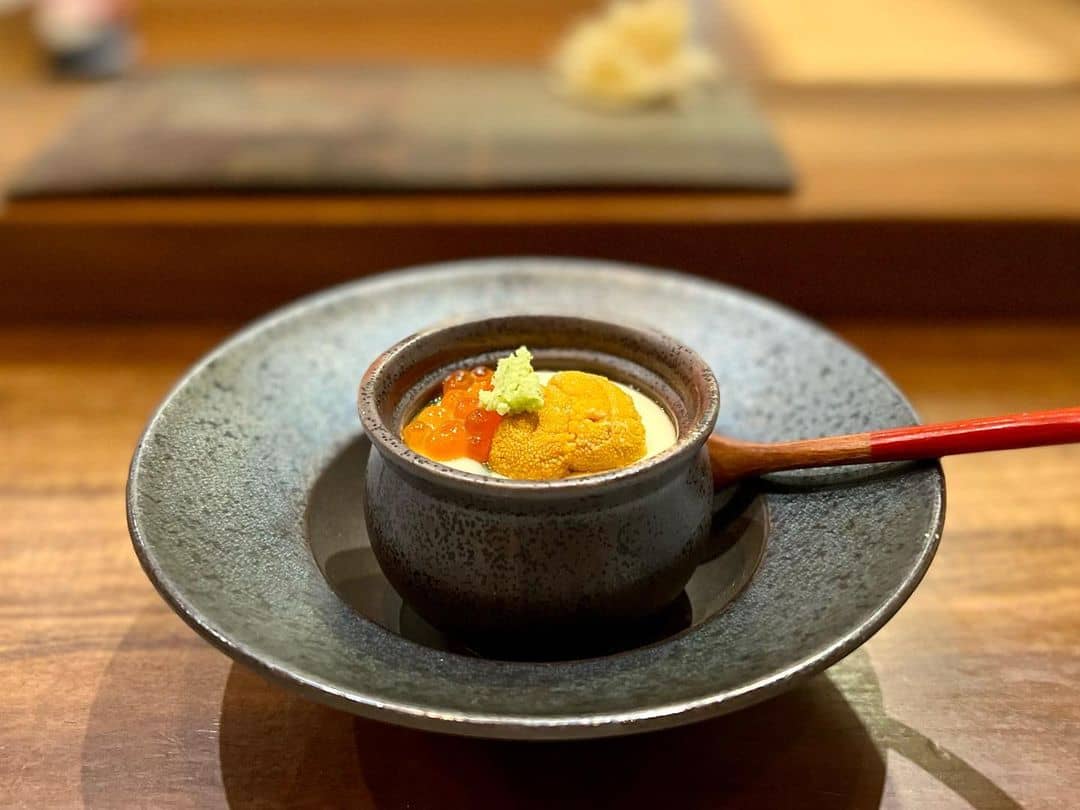 If you're searching for the best Omakase experience in the Upper West Side, then search for no more because Sushi Kaito is the spot! Drop by and get seduced by not only the food quality but the cozy ambiance and authentic Japanese decoration as well!
They only serve Omakase with the Classic option (13 courses) and the Premium option (17 courses). Every two or three nigiri rounds will be broken up by a cooked dish like tempura fried hake in a mushroom broth. If you're lucky enough, you can get a smoked goldeneye snapper collar too!
The sushi and sashimi are traditional-forward at Sushi Kaito, but we promise you, the more basic they prepare the dish, the better taste and texture you can get! With some ginger and yuzu zest on top of every piece, you're all set!
What to order: Kaito Omakase
Address: 244 W 72nd St, New York, NY 10023
Website | Instagram | Facebook
5. Bánh Vietnamese Shop House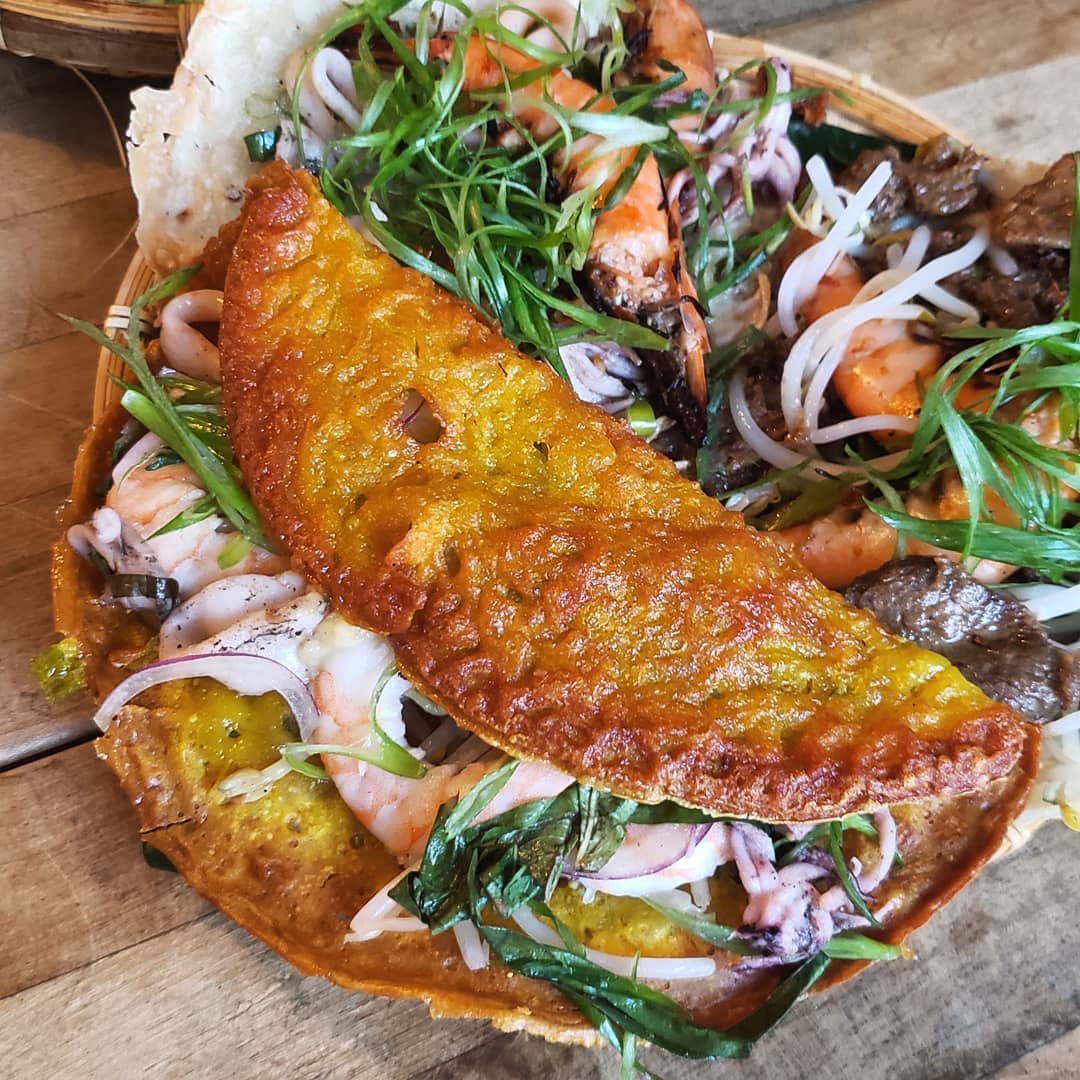 Since Bánh first opened its door in 2020, it's become one of the best restaurants to have graced the neighborhood. Serving signature Vietnamese dishes with a twist in a homey, friendly ambiance, Bánh Vietnamese Shop House is going to surprise you with its stunning dishes!
You can't go wrong with their Banh Mi filled with charbroiled pork belly that's crazy good, and a Crispy Rice Cake appetizer that's filled with ground mung bean & pork and comes with a tangy soy dressing. Oh my, you just can't resist them!
But the real star of the show is Bun Bo Bo with sizzling butter beef and Bun Cha with fire-charred pork skewers and patties, crispy roll, served with a noodle and veggie platter! They totally nail it!
What to order: Banh Mi O.G, Bun Bo Bo, Bun Cha, Crispy Rice Cake
Address: 942 Amsterdam Ave, New York, NY 10025
6. Barney Greengrass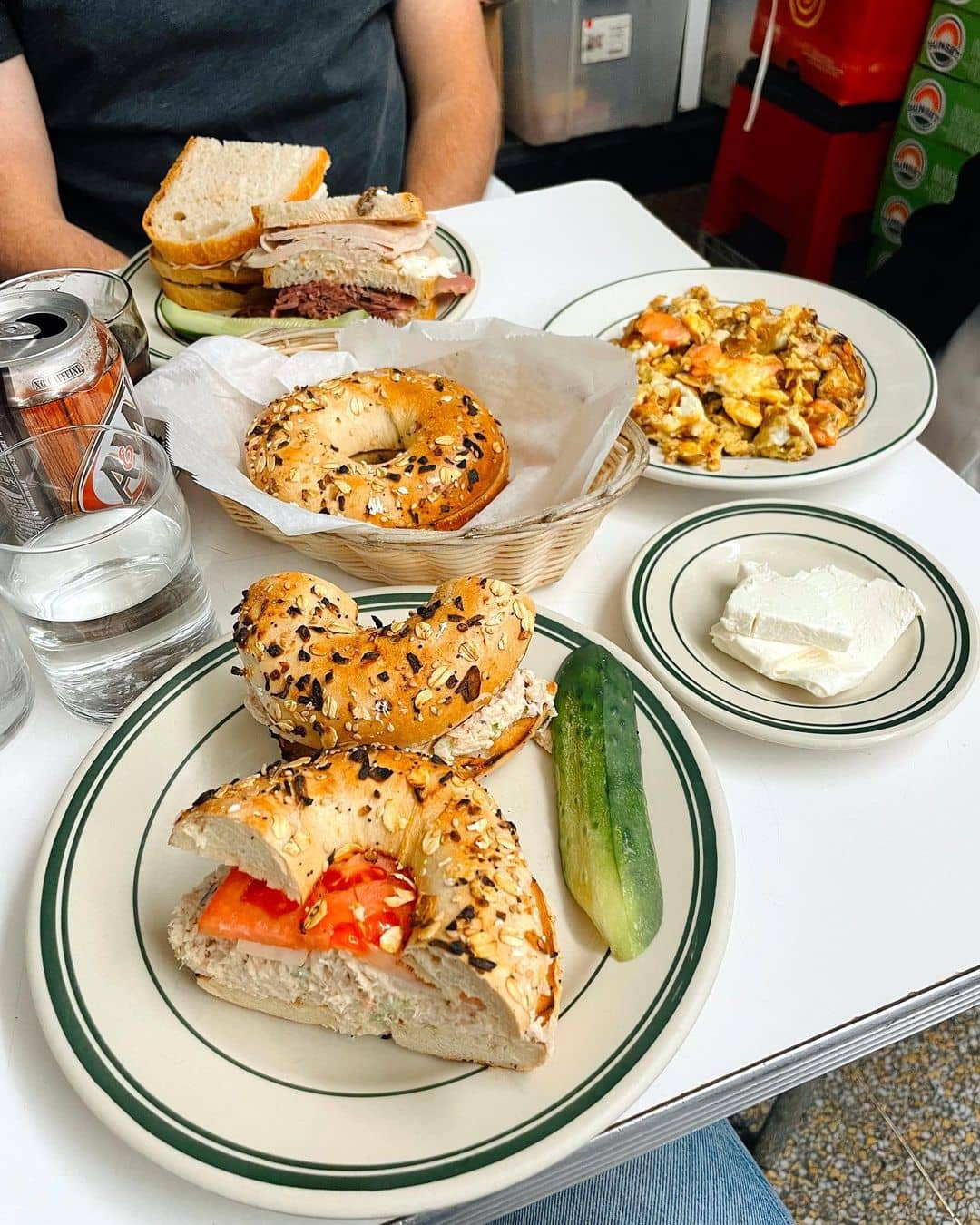 Barney Greengrass is an old-school Jewish brunch destination you shouldn't miss in the Upper West Side. Loyal fans routinely swing by for their craveable food and the menu with a roster of all-time favorites. Normally they have plenty of room to sit, but you will have to show up early for a table on weekends!
Start your day off on the right foot with Nova Scotia Salmon Scrambled Eggs. This fluffy, savory dish is to die for! Or you can pick Homemade Chicken Liver, smeared on a toasted bialy, with hard-boiled egg and caramelized onions can also do you good.
An overstuffed pastrami sandwich on soft rye served with mustard and crunchy half-sours is also a must-try. Salty, meaty, and saucy, you can't say no to that one!
What to order: Nova Scotia Salmon Scrambled Eggs, Pastrami Sandwich, Chicken Liver
Address: 541 Amsterdam Ave, New York, NY 10024
Website | Instagram | Facebook
7. Jing Fong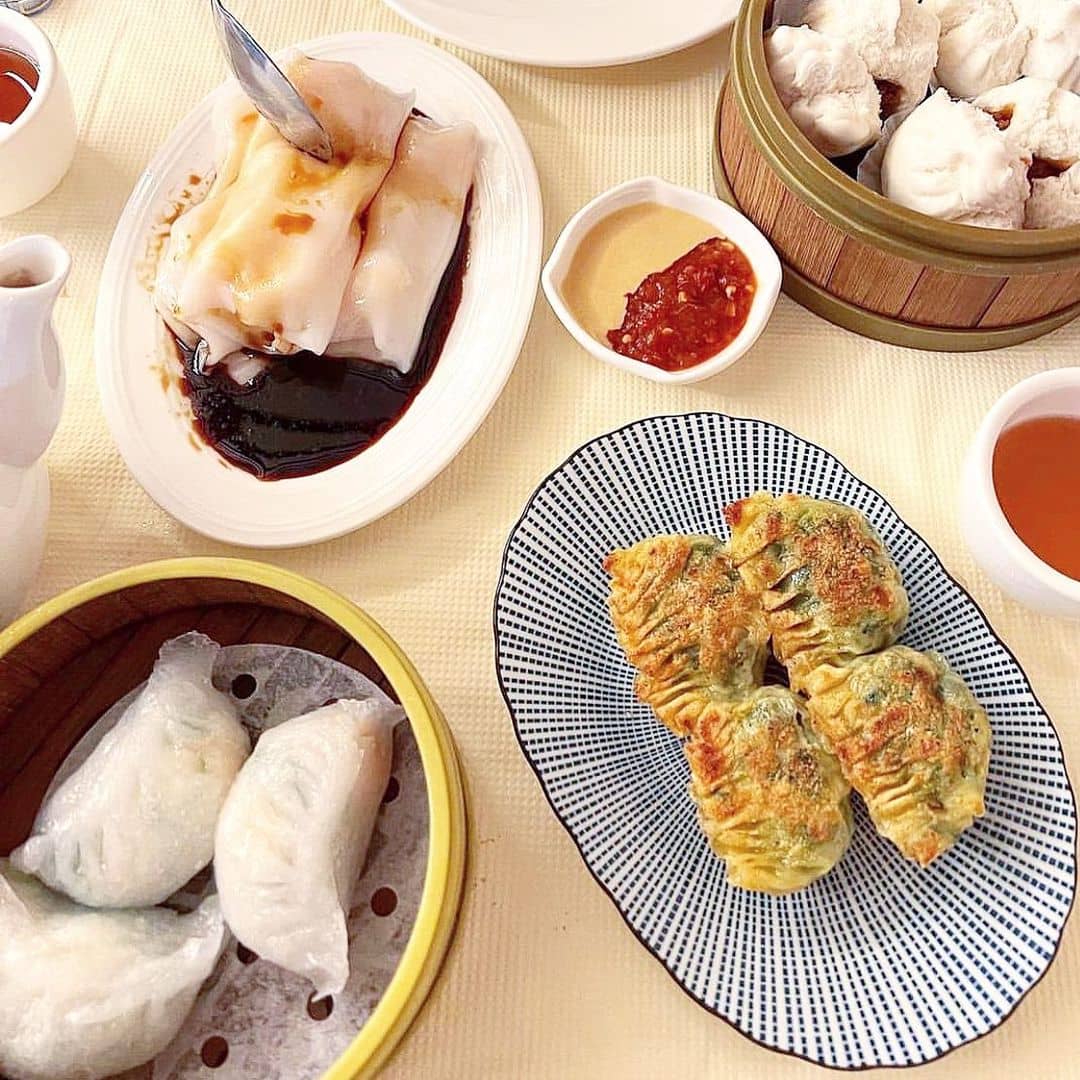 If you think of the best place in the Upper West Side to serve the best dumplings, think of Jing Fong. Upon entering, you'll be amazed by their bustling atmosphere and the stunning aroma of steamed dumplings in the air. Keep in mind that on weekends, arriving before 11:30 AM is recommended to avoid the long lines!
A must-try at Jing Fong is their Siu Mai Dimsum. These dumplings are filled with flavorful ingredients and have a subtle ginger taste. Dip them in soy sauce for an extra burst of savory goodness. Another highlight is the Shrimp Rice Noodle Rolls, where succulent shrimp is nestled within soft rice noodles, creating a delightful combination of textures.
In addition to their dim sum offerings, Jing Fong also serves non-dim sum dishes that are equally impressive. The Sesame Chicken is a standout, featuring juicy and tender pieces of chicken coated in a flavorful sesame sauce.
And for those craving a classic, the Sweet & Sour Pork is a heavenly choice, with each bite offering a perfect balance of sweet and tangy flavors.
What to order: Siu Mai Dimsum, Shrimp Rice Noodle Rolls, Sesame Chicken, Sweet & Sour Pork
Address: 380 Amsterdam Ave, New York, NY 10013
Website | Instagram | Facebook
8. Chick Chick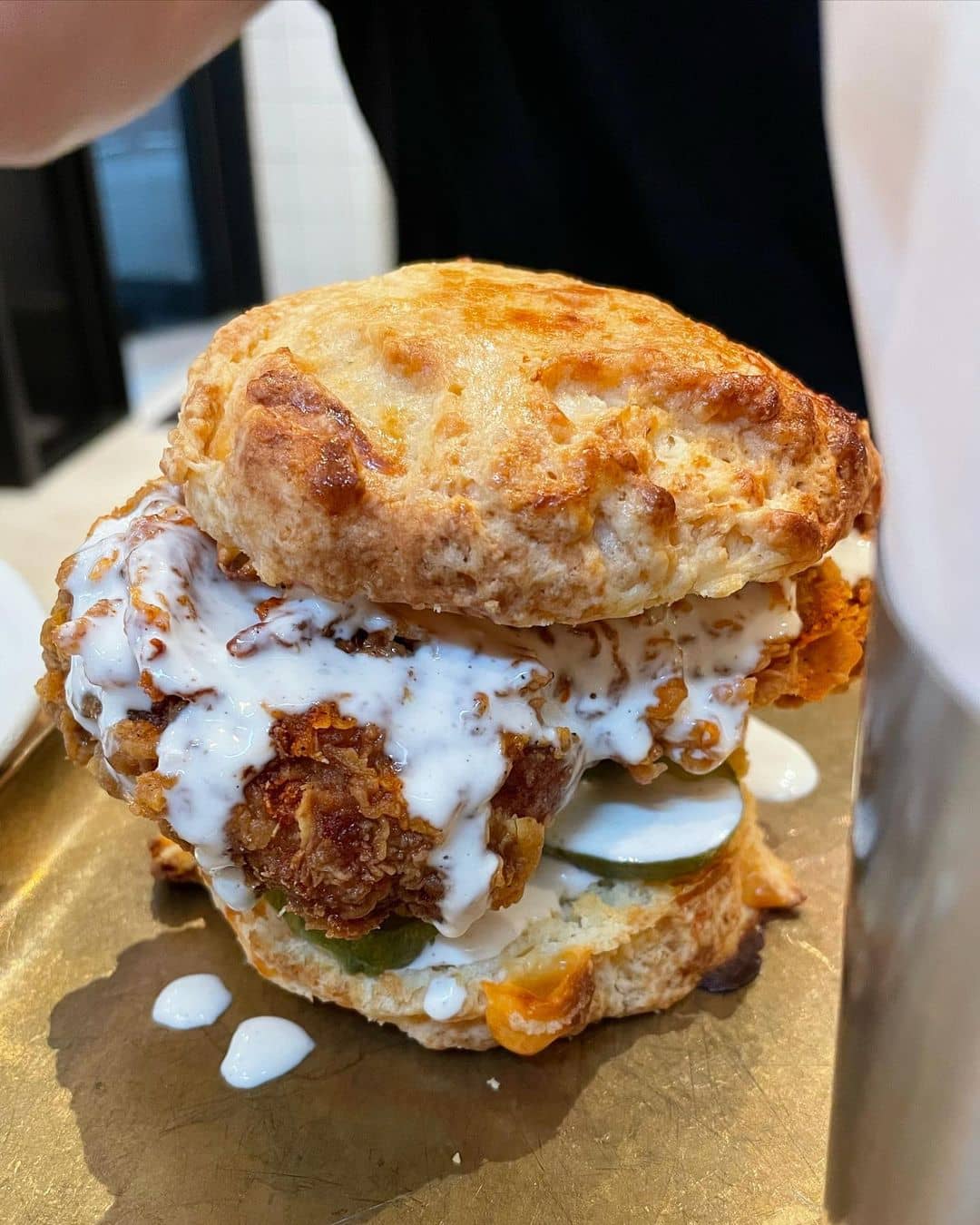 Chick Chick is a casual Korean restaurant on the corner of Amsterdam Avenue and 90th Street that serves surprisingly good fried chicken sandwiches, or any dish made from chicken. The combination of fat, salt, and spice makes any version so scrumptious!
People are usually here for one thing: the Hot Chicken Sandwich! With a blizzard of cayenne and paprika, and a twice-fried, flaky exterior, the sandwich is like a combination of Nashville version flavor and Korean fried chicken texture. You ain't gonna try this gem elsewhere but Chick Chick! And don't worry, it's not as spicy as its name might suggest.
For a mild yet flavorful one, don't hesitate to go for the Chicken Ramen. You know it is worth your money when you taste that garlicky, flavorsome, and rich broth, served with homemade noodles, caramelized soy chicken, and a ramen egg!
What to order: Hot Chicken Sandwich, Heavenly Crispy Chicken Bites, Chicken Ramen
Address: 618 Amsterdam Ave, New York, NY 10024
Website | Instagram | Facebook
9. Jin Ramen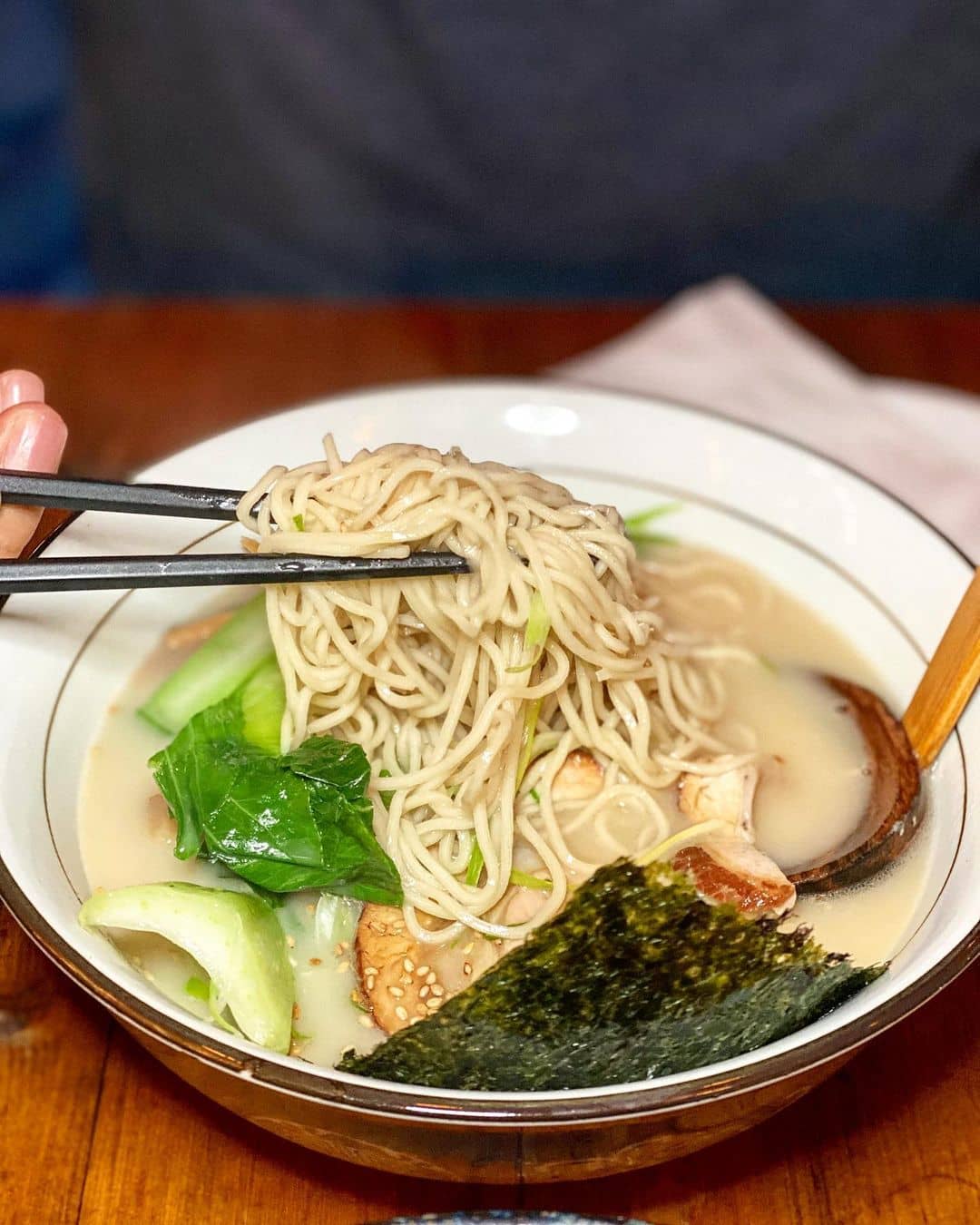 Jin Ramen is pure heaven for all ramen lovers in the Upper West Side, this is absolutely worth a trip if you're looking to satisfy your ramen cravings and your empty tummy. Trust us, the portion is huge!
Always have yourself a bowl of Tonkotsu Ramen when you're here. This extremely rich, fatty pork broth, fresh noodles, soft-yolk eggs, and tender pork belly that melts in the mouth can make you fall in love in just a bite!
If you (or your partner) are not in the mood for ramen, you can always get something like a Salmon Sashimi Rice Bowl, Chicken Curry, or Soba Noodles. Grab a bottle of Beer to wash them all down, and you're all set!
What to order: Pork Buns, Tonkotsu Ramen, Spicy Tonkotsu Ramen, Shoyu Ramen
Address: 462 Amsterdam Ave, New York, NY 10024
Website | Instagram | Facebook
10. The Ribbon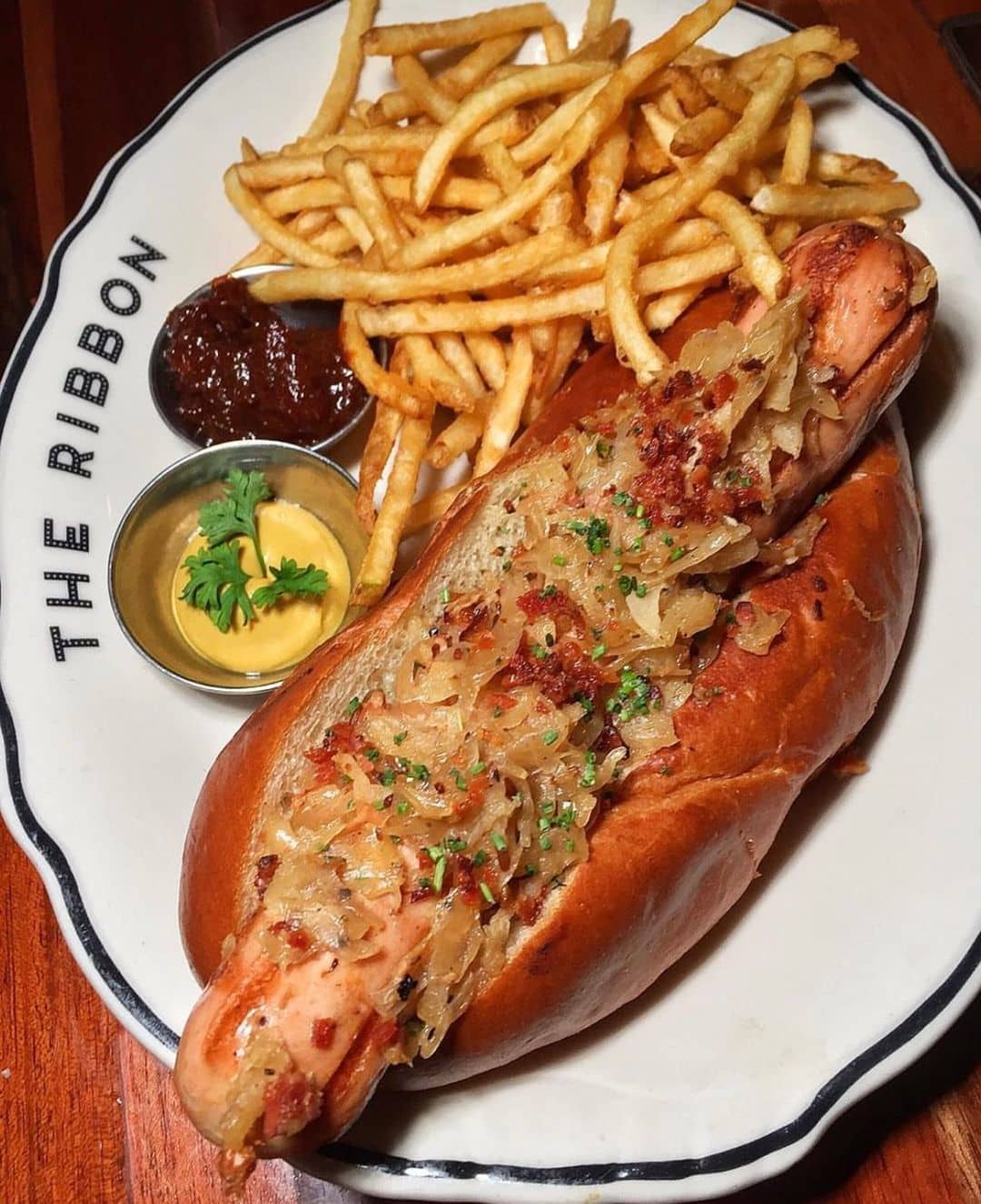 If you're in the mood for delicious oysters, roast chicken, bacon cheddar burgers, and generous plates of Caesar salad, look no further than The Ribbon. With its inviting atmosphere and warm service, The Ribbon is the perfect destination for a family dinner or a casual brunch with friends.
As you explore the menu at The Ribbon, you'll discover that they excel at serving classic dishes with a unique twist. One standout option is the Prime Rib Of Pork, a remarkably tender and buttery cut of meat that will melt in your mouth. For an extra burst of flavor, be sure to try it with the apricot and chile jam accompaniment.
Another delectable choice is The Fried Chicken Sandwich. The chicken is expertly breaded and fried to a perfect golden brown crisp, while maintaining a juicy and tender interior. It pairs beautifully with The Ribbon's own special sauce, creating a satisfying combination of flavors.
And if you're looking for a tasty vegetarian option, the Buffalo Cauliflower is a surprising delight that will have you thanking the culinary gods for such a creation!
What to order: Buffalo Cauliflower, Prime Rib Of Pork, Fried Chicekn Sandwich, Smoked Salmon & Egg Benedict
Address: 20 W 72nd St, New York, NY 10023
Website | Instagram | Facebook
11. Bar Boulud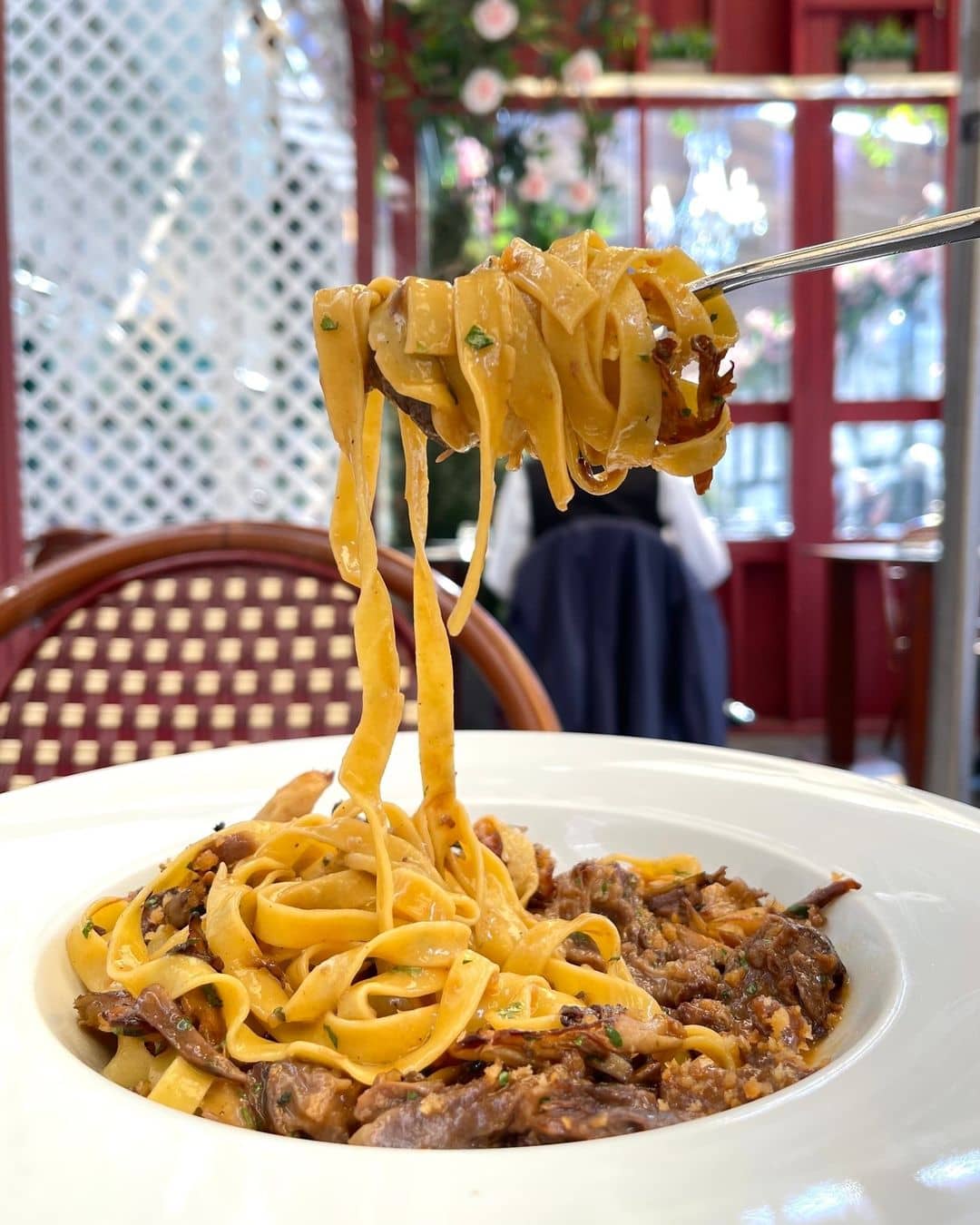 Located across from New York City's Lincoln Center, Bar Boulud is a fancy bistro and wine bar that draws inspiration from French cuisine. Whenever you feel like casually dining out or enjoying some really good wine with live music on weekends, Bar Boulud is the place!
Indulge in the classic Coq Au Vin, featuring chicken braised in red wine. This dish boasts tender and succulent chicken accompanied by smoky bacon lardon, earthy mushrooms, and pearl onions, all simmered together to create a rich and flavorful combination.
For a satisfying main course, savor their Steak Frites served with your choice of au poivre bearnaise or bordelaise sauce. The steak is cooked to perfection, offering juicy and flavorful bites with every forkful. Paired with the delectable sauces and a generous serving of crispy fries, this dish is a true delight for the senses.
In addition to their delightful offerings, the bar features a Parisian Beef Tartare made with premium Black Angus beef. This classic dish is prepared to perfection, combining finely chopped beef with tangy capers, crunchy cornichons, and zesty mustard for a burst of flavors. Served alongside refreshing baby gem lettuce, the Parisian Beef Tartare is a true testament to the art of French cuisine.
What to order: Coq Au Vin, Steak Frittes, Beef Tartare, Gateau Basque
Address: 1900 Broadway, New York, NY 10023
Website | Instagram | Facebook
12. Jacob's Pickles
When it comes to brunch with a big group, Jacob's Pickles is the ultimate destination. This spacious and casual eatery offers generous portions of mouthwatering brunch dishes that are sure to satisfy everyone's cravings. Prepare to indulge in a variety of delectable options!
A must-try dish is their Hot Chicken Biscuit, featuring buttermilk-fried chicken drenched in Nashville hot sauce, accompanied by tangy hot sour pickles, all nestled between a fluffy biscuit. The chicken boasts a satisfying crunch and just the right amount of spice, while the biscuit adds a delightful touch of fluffiness.
For seafood lovers, the signature Catfish Taco is a winner. With a hearty catfish filet coated in breadcrumbs and expertly fried, each bite is a delightful combination of crispy exterior and tender fish. The flavors will pleasantly surprise you.
To complement your meal, don't miss out on the refreshing Allagash White, a Belgian-style witbier. Its citrusy notes and subtle spices provide a perfect contrast to the richness of the dishes, creating a well-rounded dining experience.
What to order: Hot Hot Chicken Bisquit, Catfish Taco, Allagash White, Buffalo Chicken Mac & Cheese
Address: 509 Amsterdam Ave, New York, NY 10024
Website | Instagram | Facebook
We hope you have some favorite spots in your mind, don't forget to share with us your own experience dining at those places. Keep exploring our best restaurants in New York here!
Looking for a place to stay in New York?
This article includes affiliate links where we may get a small commission if you use our link. No extra cost is added to you.