To fully appreciate the beauty of Toronto, you must get a glimpse of the city from a different vantage point—with a glass of mimosa or wine in your hands.
Whether you're looking for a place to chill and enjoy scenic city views after a hectic day, catch up with friends over fun and casual vibes, or indulge with an upscale dining menu, there are a plethora of rooftop restaurants and patios in Toronto worth your while.
With that said, we've rounded up the best rooftop restaurants Toronto offers to let you soak in some priceless panorama!
1. Baro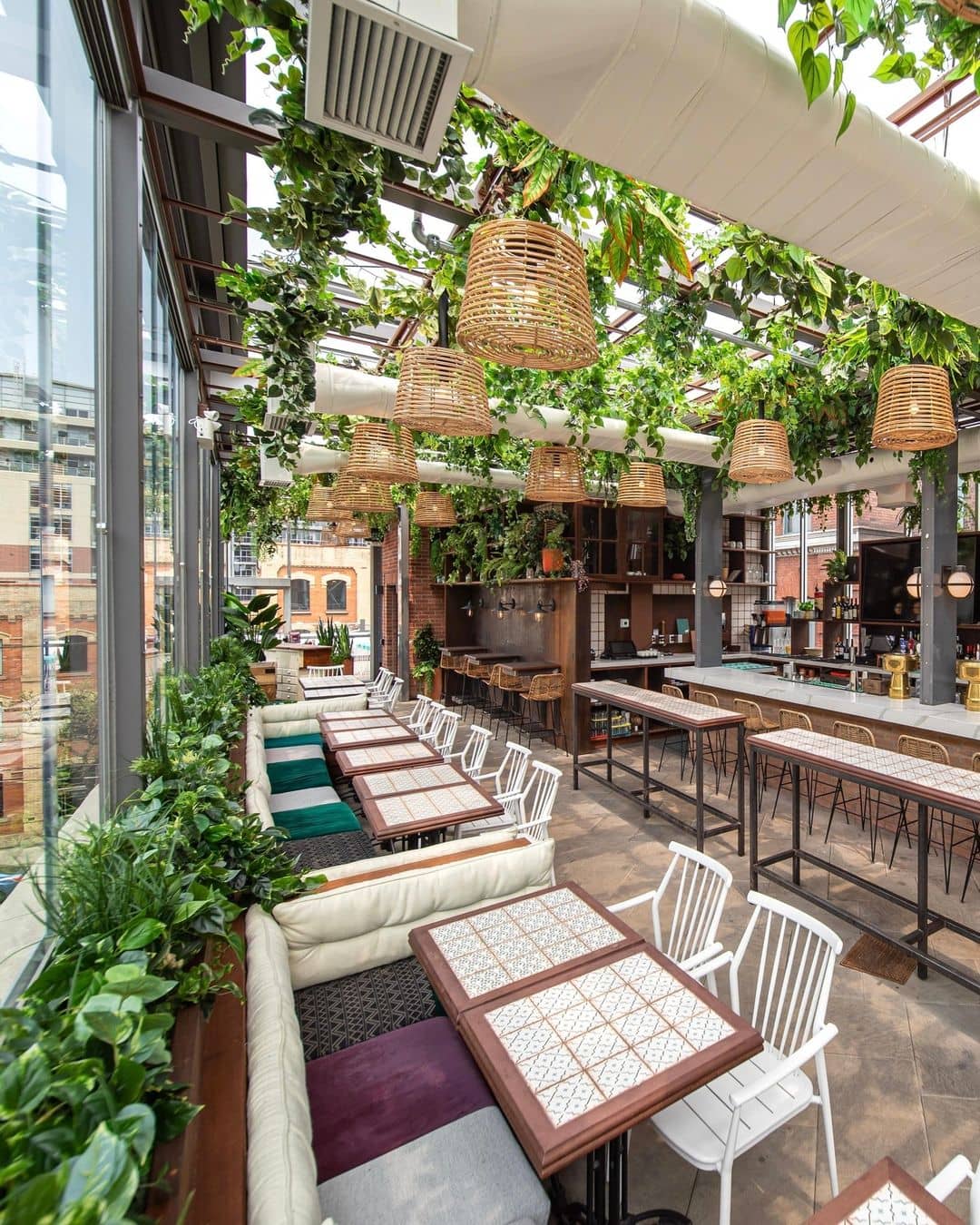 Located on the prestigious King street, Baro offers 4 floors of Latin-infused culinary experience, with its rooftop patio sitting atop this pantheon of amazing ambiance, fantastic food, and first-class service.
Rooftop dining is never the same with Baro at the forefront: with inventive cocktails in hand and great food in front, you and your friends will surely have a fantastic time catching up to your heart's content.
The intricately-designed rooftop patio is open for brunch reservations and has a 1.5-hour seating limit, so be sure to make the most out of it! And none other than their mac empanada, ceviche, big ass steak, and pulpo grande will help you achieve the perfect rooftop dining!
The Grande Mac Empanada is ground beef in a special sauce, made more delectable than lettuce, pickles, cheese, and sesame. Their Atun Nikkei Ceviche is a heavenly dish of yellowfin tuna, yuzu kosho ponzu, edamame, avocado, and more.
Baro Rooftop's Big Ass Steak and Pulpo Grande is your best bet if you're in for fine-dining steak and seafood. The steak is a 45-day-aged daily cut, melt-in-the-mouth perfection, while the pulpo grande is a half-grilled octopus in chili garlic oil, guasacaca, grilled lemon, cilantro, and chili–seafood lovers, drool!
What to order: Grande Mac Empanada, Atun Nikkei Ceviche, Big Ass Steak, Pulpo Grande
Address: 485 King St W, Toronto, ON M5V 1K4, Canada
Website | Instagram | Facebook
2. The Chase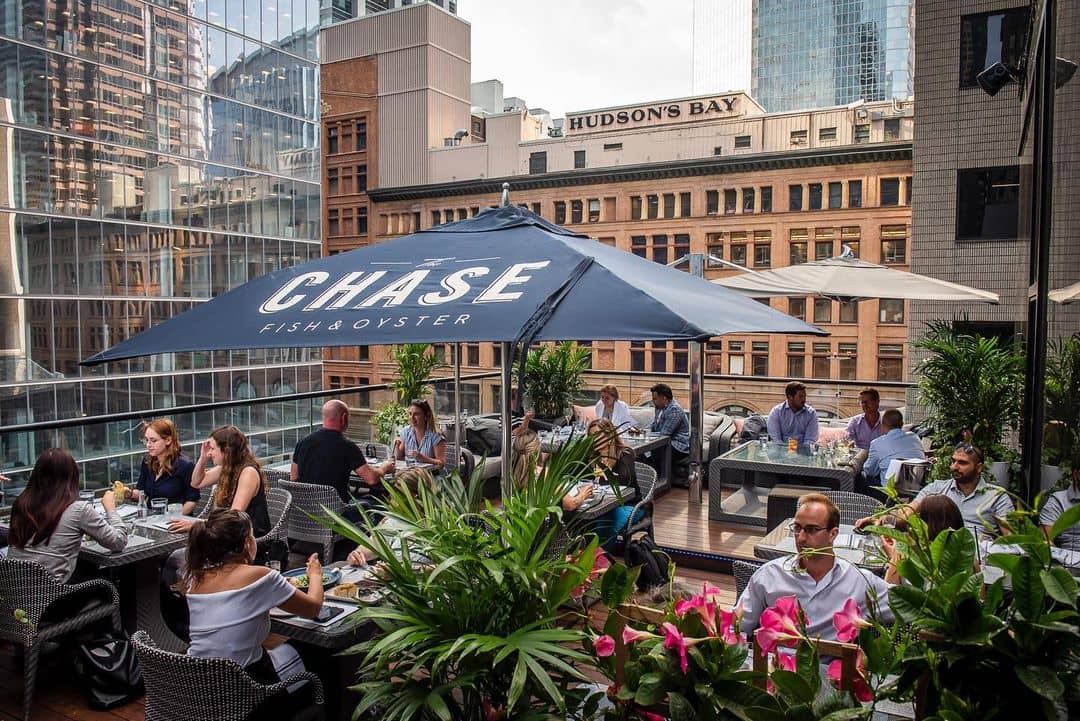 With a beautiful rooftop patio offering downtown Toronto's best views, The Chase is among the best al fresco dining in the financial district. With a warm ambiance and white-centric chic decor, the restaurant is the perfect venue for any occasion—be it dates, celebrations, or just a casual dinner with friends!
But what makes outdoor dining at The Chase is their candle-lit tables and umbrellas, chanting romantic spells all over the place. If you're looking for a place to take your loved ones and see their sweetest smiles, this is it!
You'll never go wrong with their bestselling raw oysters! Everyone who tasted it became an instant fan, including those who previously hated seafood!
Other stars in their creative menu are Hamachi ceviche with aji amarillo and citrus marinade; maritime lobster platter with cocktail sauce and horseradish aioli; and their mother of pearl platter, Canadian oysters chilled maritime, with an excellent selection of other seafood—a feast for your eyes!
What to order: Raw Oysters Platter, Hamachi, Maritime Lobster Platter, Mother of Pearl Platter,
Address: 10 Temperance St Fl 5, Toronto, ON M5H 1Y4, Canada
Website | Instagram | Facebook
3. The One Eighty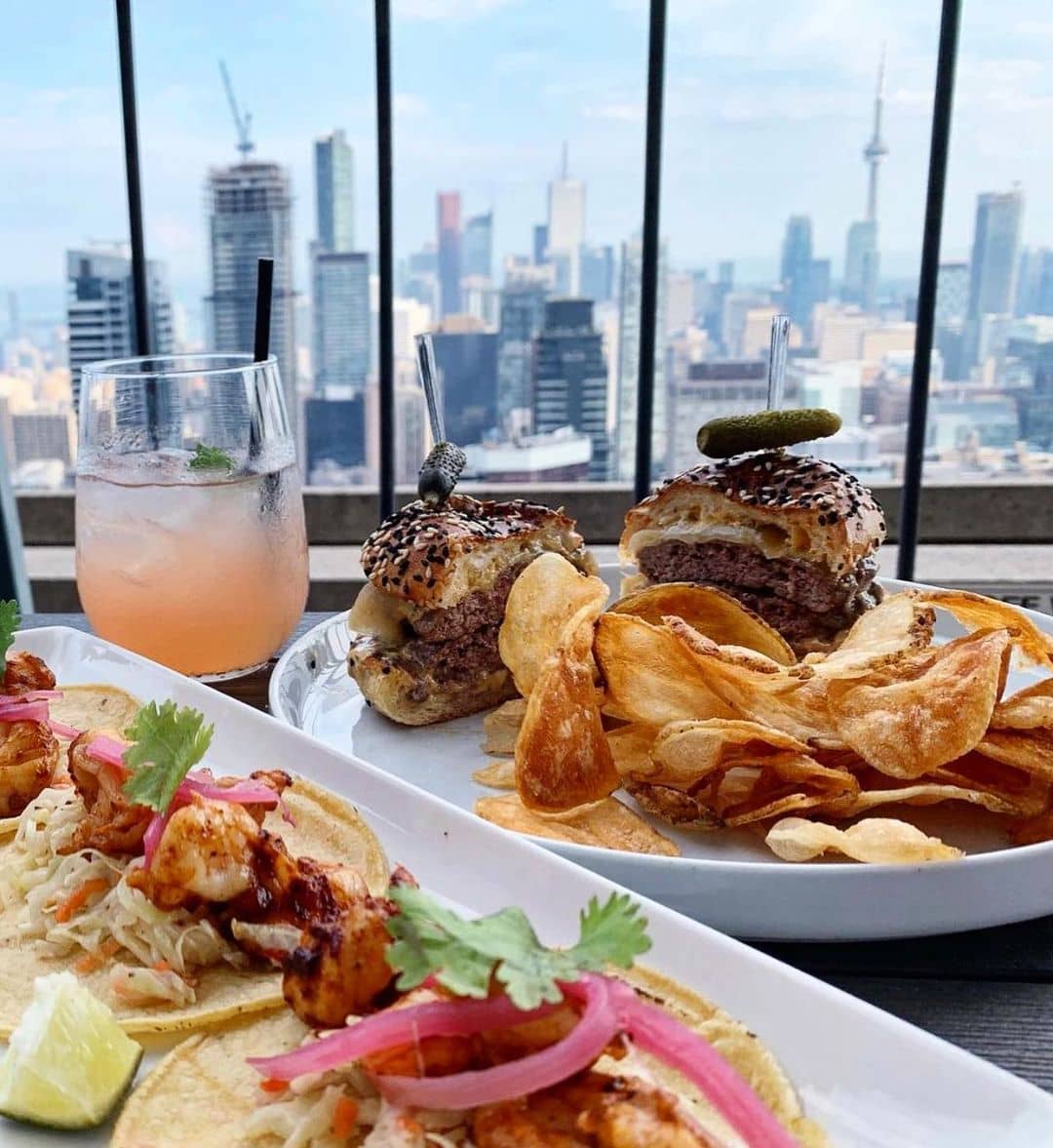 Bring city-viewing a notch up with The One Eighty restaurant on the 51st floor of the Manulife Centre. With patio seating that gives you a breathtaking day or night panorama of North Toronto, you know you're in for an epic time at The One Eighty.
You'll be taken to the restaurant via a private elevator, and once you reach the floor, prepare to be blown away by the spectacular sight! But that's not what The One Eighty offers. With a trifecta of flavoursome food, impressive menu, and a phenomenal atmosphere, the place is worth the ascent!
We highly recommend brioche + honey butter for starters, and a savory herb roasted half chicken with garlic whipped potatoes and pan-roasted root vegetables. While at it, you may also try their burger, white cheddar, caramelized onion, mushroom, lettuce, and roasted garlic aioli embraced by a sesame brioche bun.
Order a can't-miss death by chocolate dessert and the lychee royal cocktail for the sweetest finish to an unforgettable time!
What to order: Brioche + Honey Butter, Herb Roasted Half Chicken, 51st Burger, Death by Chocolate, Lychee Royal
Address: 55 Bloor St W 51st Floor, Toronto, ON M4W 1A5, Canada
Website | Instagram | Facebook
4. Writers Room Bar
Park Hyatt's hidden gem, Writers Room Bar, has over 50 years of stories, exceptionally stunning views of the city, and Instagrammable spots everywhere you look. You can take in and appreciate the scenery on their spacious patio while enjoying interesting cocktails and delicious light fare.
The interior boasts wooden and dark-colored elements, matched by minimal yet sophisticated lighting. What awaits you is an awe-inspiring Toronto city skyline you wouldn't experience elsewhere!
You should definitely order Writers Room Bar's beef tartare, grilled peas, wakame seaweed, lemon, and sourdough, and their foie gras doughnuts with crueller, spruce, and blueberry agrodolce.
Another set of must-tries is their Korean Fried Chicken with bibb lettuce, cauliflower kimchi and ssam sauce, and their sourdough pasta made extremely delicious with corn miso, cultured butter, and chanterelles.
What to order: Beef Tartare, Foie Gras Doughnuts, Korean Fried Chicken, Sourdough Pasta
Address: 4 Avenue Rd, Toronto, ON, Canada
Website | Instagram | Facebook
5. Gusto 501
Gusto 501 is another must-try restaurant in the city and is actually a sister-resto to Trattoria Nervosa. You can spot them from afar with a black glass exterior and contemporary facade! Sure, their service, food, and vibes are top-notch, but wait until you can make your dream al fresco dining with much gusto on the rooftop patio!
Before going up their stunning rooftop, you're going to ascend a flight of stairs. But you'll realize all your efforts are worth it as soon as you are seated and be mesmerized by the incredible display of modern architecture anywhere you look.
From their menu, the trio of calamari, mushroom pasta, and tagliata scores a lot of points on our checklist! The calamari fritti with chickpea flour and lemon aioli are drool-worthy!
On the other hand, we have their flavourful mafalde ai funghi, pasta with porcini, portobello, oyster mushroom, and truffle cream. Their tagliata is a melt-in-the-mouth prime striploin with a hen of the woods mushroom—an outburst of flavors, indeed!
Flush it all down with a sangria 501, and thank us later!
What to order: Calamari Fritti, Mafalde Ai Funghi, Tagliata, Sangria
Address: 501 King St E, Toronto, ON, Canada
Website | Instagram | Facebook
6. Trattoria Nervosa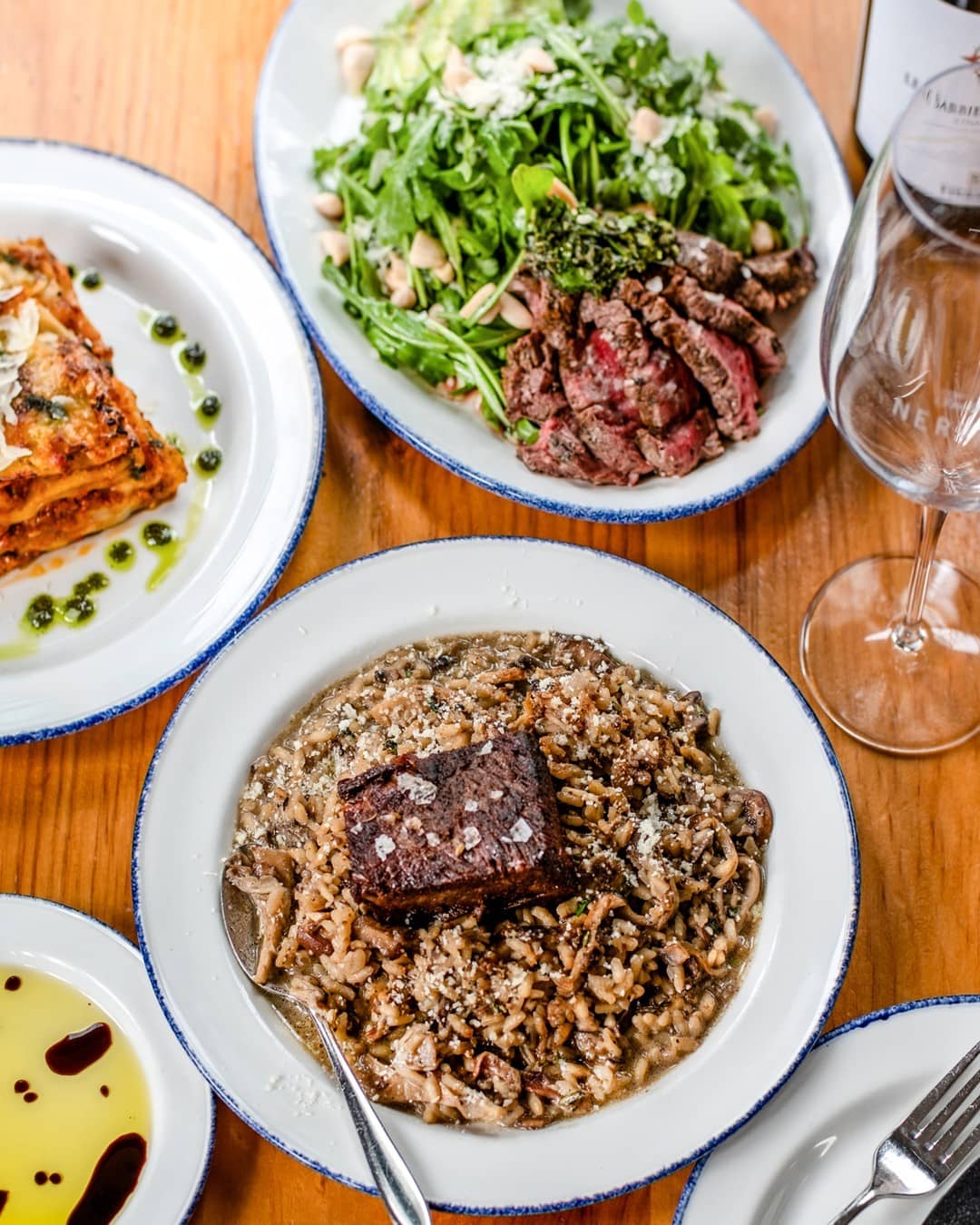 Trattoria Nervosa is an Italian restaurant where you can dine comfortably with the resto's casual atmosphere alongside a great view of Yorkville within your grasp from their 3rd floor open patio.
Though they only accept walk-ins, Trattoria Nervosa is always bustling with patrons and tourists! So if you want to avoid the long lines, come early and throw dibs at the stunning rooftop patio–white walls, black and white tiles, and elegant decorations making everything picturesque!
There's a lot of buzz on their Italian-centric menu, but the highlights are indeed their short rib Risotto Nervosa, mushroom pasta Mafalde Ai Funghi, grilled octopus Polipo, and kale salad Insalata Di Cavolo Nero.
Order any of them, and you'll be stunned by how Trattoria Nervosa pays very close attention to every little detail: taste, texture, presentation, and preference!
What to order: Risotto Nervosa, Mafalde Ai Funghi, Polipo, Insalata Di Cavolo Nero
Address: 75 Yorkville Ave, Toronto, ON M5R 1B8, Canada
Website | Instagram | Facebook
7. KŌST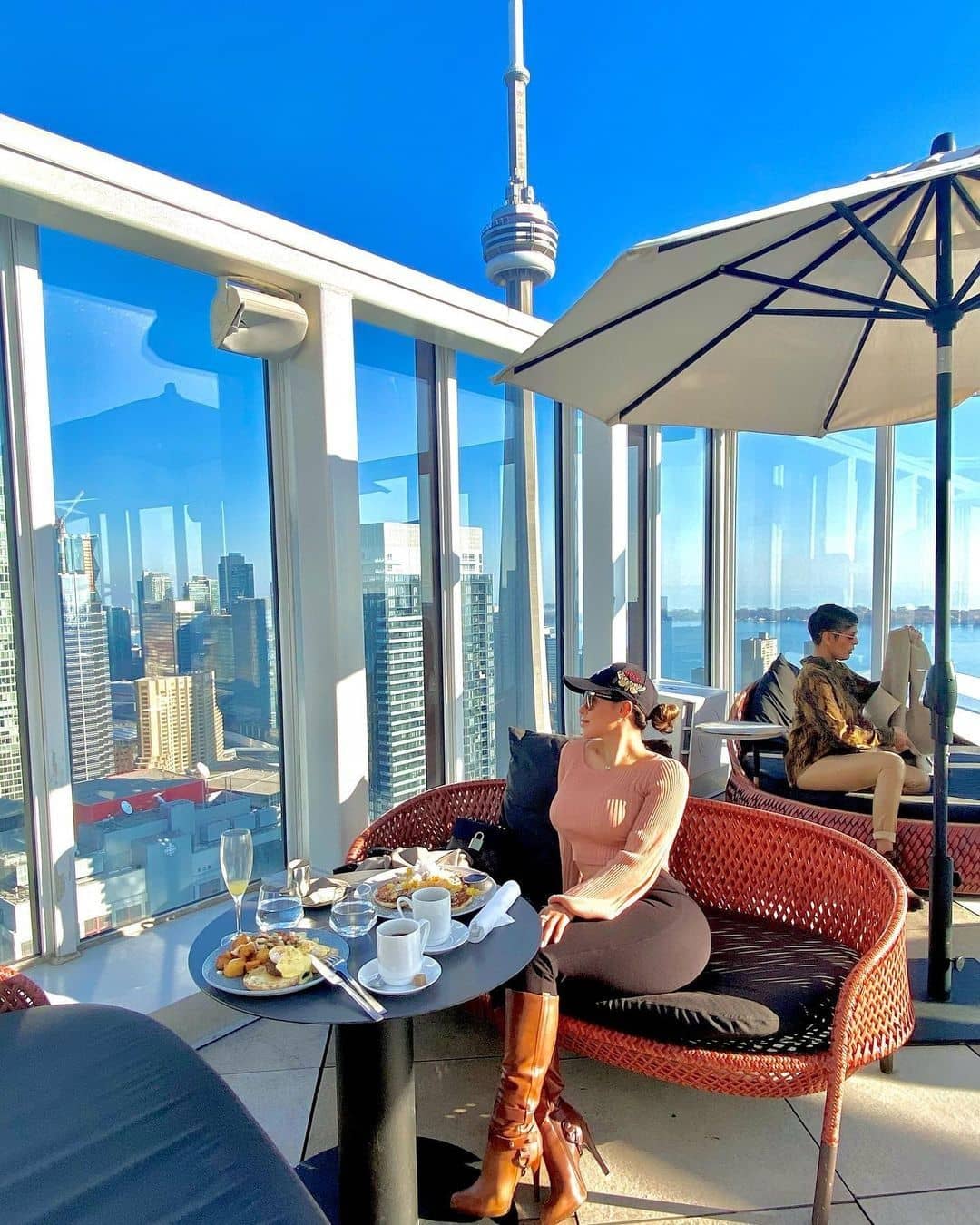 Bisha Hotel was made more exquisite with KŌST, an upscale restaurant giving you the best views of the iconic CN Tower and Toronto city from the 44th floor of the hotel.
Whether you're lounging inside a dining area of glass windows or just wanting to admire the stunning views of the skyline and a picturesque azure pool from their infamous patio, you're sure to have a great and memorable time at KŌST!
For brunch, their eggs on rib hash made with roasted potatoes, short rib barbacoa, and piquillo pepper, and coconut pancakes with passion fruit syrup and fruit salsa take center stage.
Meanwhile, take sunset viewing to a new level with a delectable lineup of KŌST's Ceviche, a decadent mix of hamachi, gooseberry tiger's milk, avocado, and sweet potato; a heavenly branzino with cipollini buttermilk dressing and fresh herb salsa.
Lastly, never miss their late-night star, the fan-favorite Tres Leches cake—dulce de leche, toasted almonds, and salted caramel gelato!
What to order: KŌST Eggs on Rib Hash, Whole Branzino, Ceviche, Tres Leches Cake
Address: 80 Blue Jays Way 44th Floor, Toronto, ON M5V 2G3, Canada
Website | Instagram | Facebook
8. Bar Hop Brewco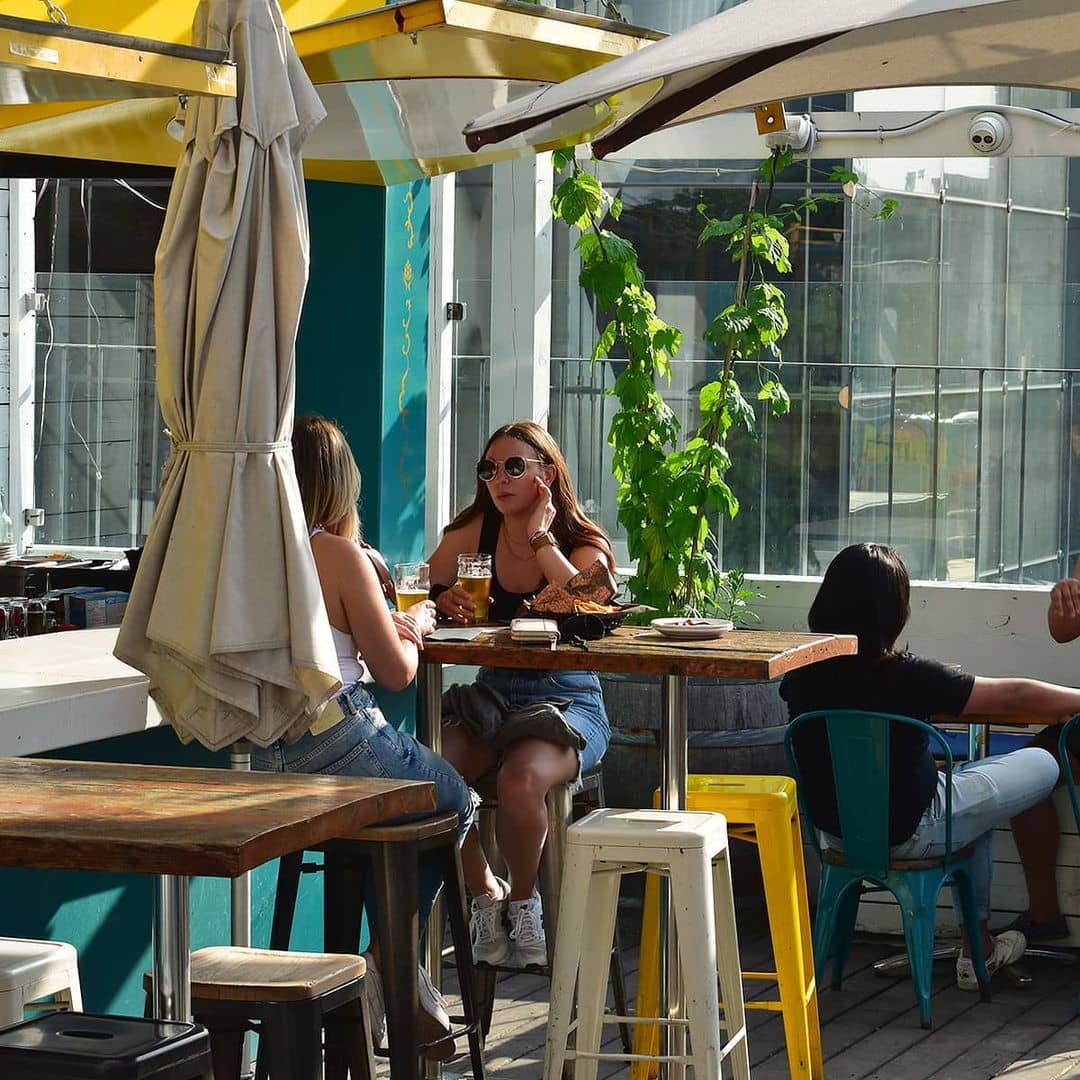 Bar Hop Brewco's Peter Street location is an all-black building with a contemporary black facade featuring an inviting rooftop deck. They're another restaurant offering a spectacular rooftop dining and bar experience!
Find yourself in awe of the perfect setting for al fresco dining: umbrellas, lights, wooden floors, and amazing vibes. You wouldn't be disappointed the moment you step in—you'll be greeted with friendly staff, a masterfully crafted menu, and an extensive beer selection.
Enjoy rooftop dining to the fullest with live music and impressive ambiance while taking a bite of their menu's highlights: bone marrow poutine, OG cheeseburger, pot pie, and beer.
The bone marrow poutine is to die for—24-hour beer-brined bone marrow roasted to order and served with piping hot fries and special in-house gravy and cheese curds. Their OG cheeseburger is a splendid combination of beef brisket patty, aged cheddar, lettuce, and more, tucked in a potato bun—talk about delicious!
If you're in for a surprise, ask for their savoury pot pie, a daily rotating pastry made locally by The Pie Commission. Cap everything off with an award-winning beer!
What to order: Bone Marrow Poutine, OG Cheeseburger, Daily Savoury Pot Pie, Beer
Address: 137 Peter St, Toronto, ON M5V 2H3, Canada
Website | Instagram | Facebook
9. Terroni Price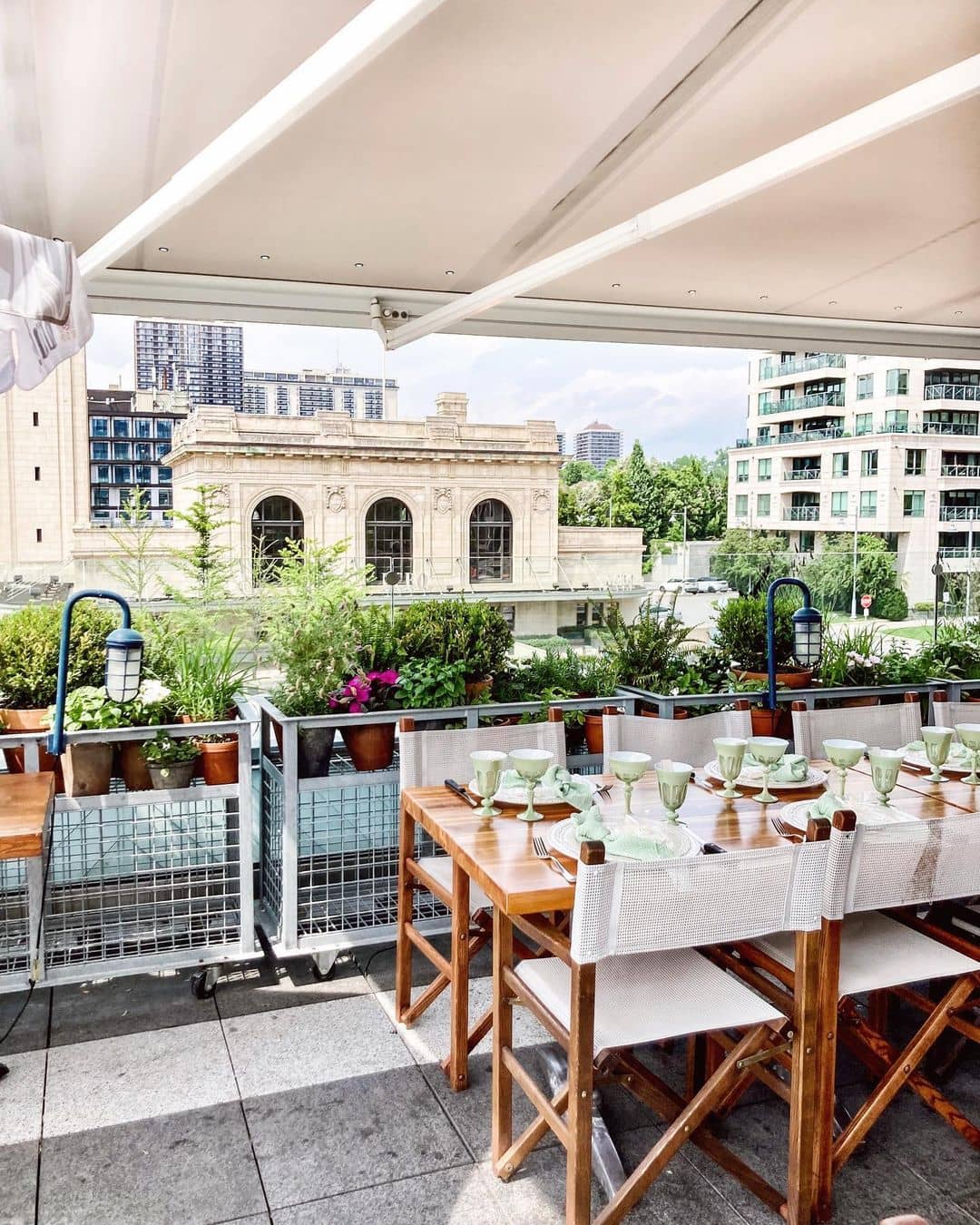 Terroni is a famous Toronto restaurant with several branches across North America. But while you can see several of their locations in the city, the one you shouldn't miss is Terrorini Price at Rosedale—that is, if you're looking for spectacular skyline views!
Just above Bar Centrale, Terroni Price offers a remarkable lineup of Italian dining and bar offerings, which you can enjoy on their large, spacious rooftop patio. So, if you want to travel to Italy while staying in Toronto, then start planning for your Terroni date!
The stunning view of the vast blue sky is best enjoyed with their Ravioli di Zio Paperone, Calamari Alla Griglia, and Margherita pizza—three of their head turners.
The grilled calamari is cooked to perfection, tender, soft, and tasty! On the other hand, savory duck confit, roasted butternut, squash, and mushroom are wrapped in Terroni's homemade ravioli.
Their version of the Margherita pizza is another perspective on this classic Italian staple. You wouldn't be disappointed! Oh, they also have special lactose-free, gluten-free, and vegan menus, making Terrorini Price an ideal place for rooftop dining even if you are on a special diet!
What to order: Calamari alla Griglia, Ravioli di Zio Paperone, Margherita
Address: 1095 Yonge St, Toronto, ON M4W 2L8
Website | Instagram | Facebook
10. Hey Lucy's Wood Oven Pizza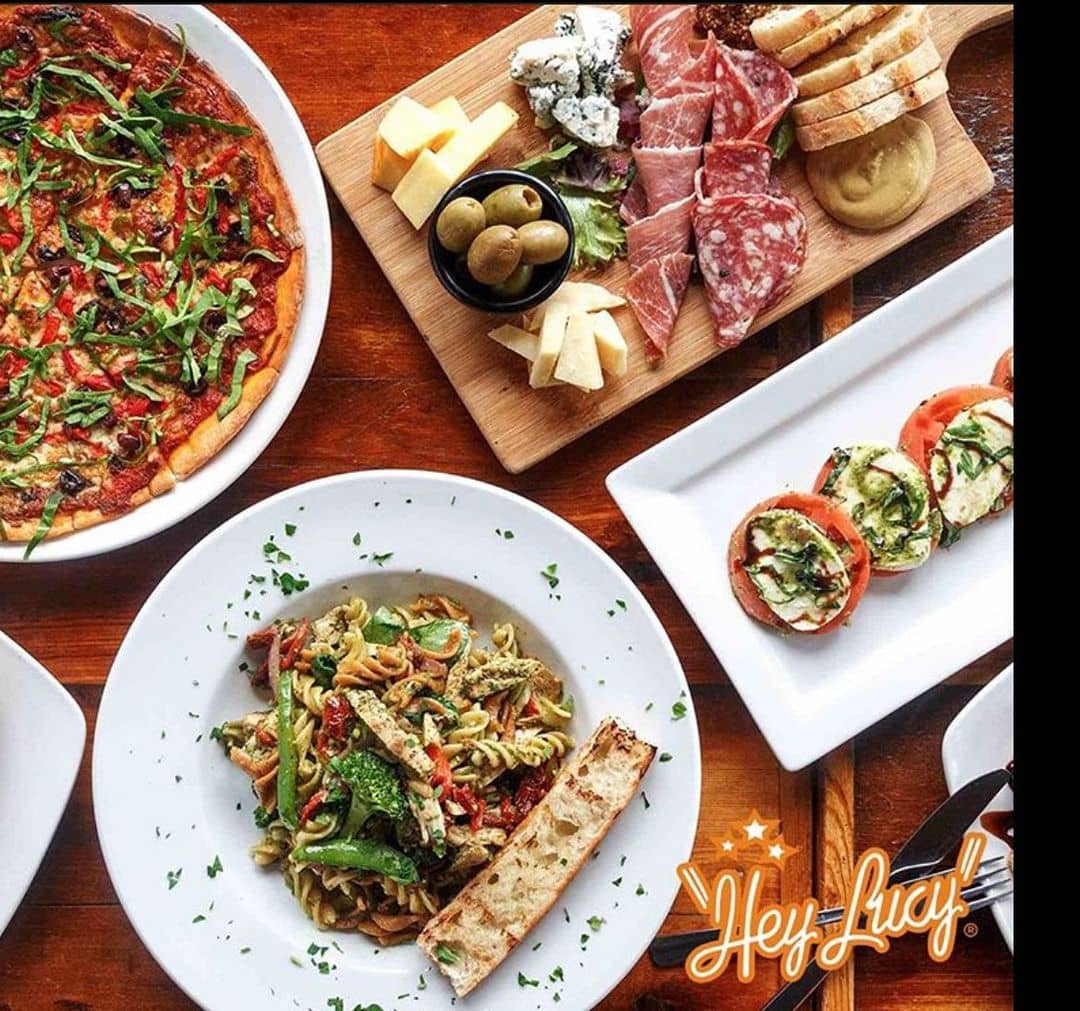 Looking for a rooftop patio with a quaint atmosphere, warm service, and amazing food? Hey Lucy's is your best bet! Located in King West Entertainment District, Hey Lucy's has been a community favorite serving the best hand-stretched pizza and Italian cuisine since 1987!
Famous for their extensive martinis, cocktails, and pizzas, everyone wants to dine on their rooftop patio to experience cozy city vibes while indulging in great Italian fare at affordable prices.
The patio is made more special, with plant decors and umbrellas giving the most beautiful shades. You'll surely enjoy an order of bruschetta with garlic herbed tomatoes, butternut squash ravioli with Lucy's special tomato sauce, and a sausage supreme hand-stretched pizza.
Seal your Hey Lucy's deal with a sip or two of their cocktails! Oh, they're dedicating the whole of Wednesdays to martinis. We highly suggest holding a Hey Lucy martini to make your rooftop dining one for the books!
What to order: Bruschetta, Butternut Squash Ravioli, Martinis, Sausage Supreme
Address: 295 King St W, Toronto, ON M5V 1J5, Canada
Website | Instagram | Facebook
11. District Restaurant and Bar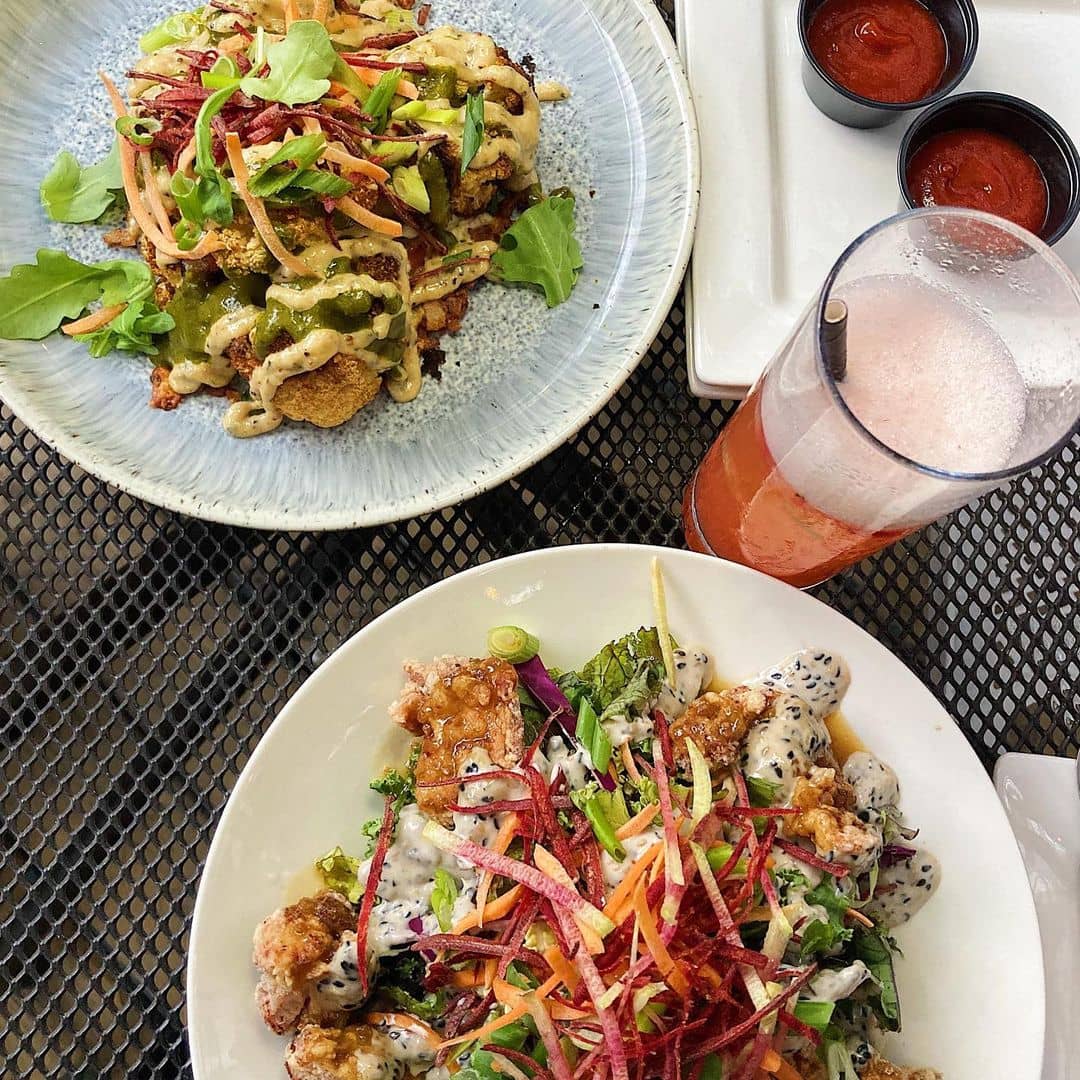 Award-winning restaurant with a massive rooftop patio offering healthy food options and impeccable service? That's District for you!
The patio is designed with a fully retractable awning to give you outstanding al fresco dining in the middle of the sun's raging heat. Everything falls perfectly in place: lush, wooden floors, colorful chairs and tables, and fun, welcoming vibes!
District Eatery is on to something when they declared they are Toronto's healthiest cocktail bar. And they clearly understood this assignment and put it to heart! As it turns out, you're in for a guilt-free indulgence while savoring their inventive food and drinking bottoms up!
Their Naan bread nachos highlight a pull-apart naan bread bathing in Makhani sauce with cheddar and mozzarella. Add in a cilantro crema, coriander pesto, tamarind chutney, onions, and more, and you'll have a mind-blowing dish!
Their bowl of zen is ahi tuna sashimi sourced locally, tossed in sesame oil, and topped with avocado, cucumber, fresh Thai chillies, and more. Straight from their creative beverages is their lavender lemonade, an exceptional fusion made with care!
What to order: Naan Bread Nachos, Bowl of Zen, Lavender Lemonade
Address: 303 King St W, Toronto, ON M5V 1J5, Canada
Website | Instagram | Facebook
12. The Queen & Beaver Public House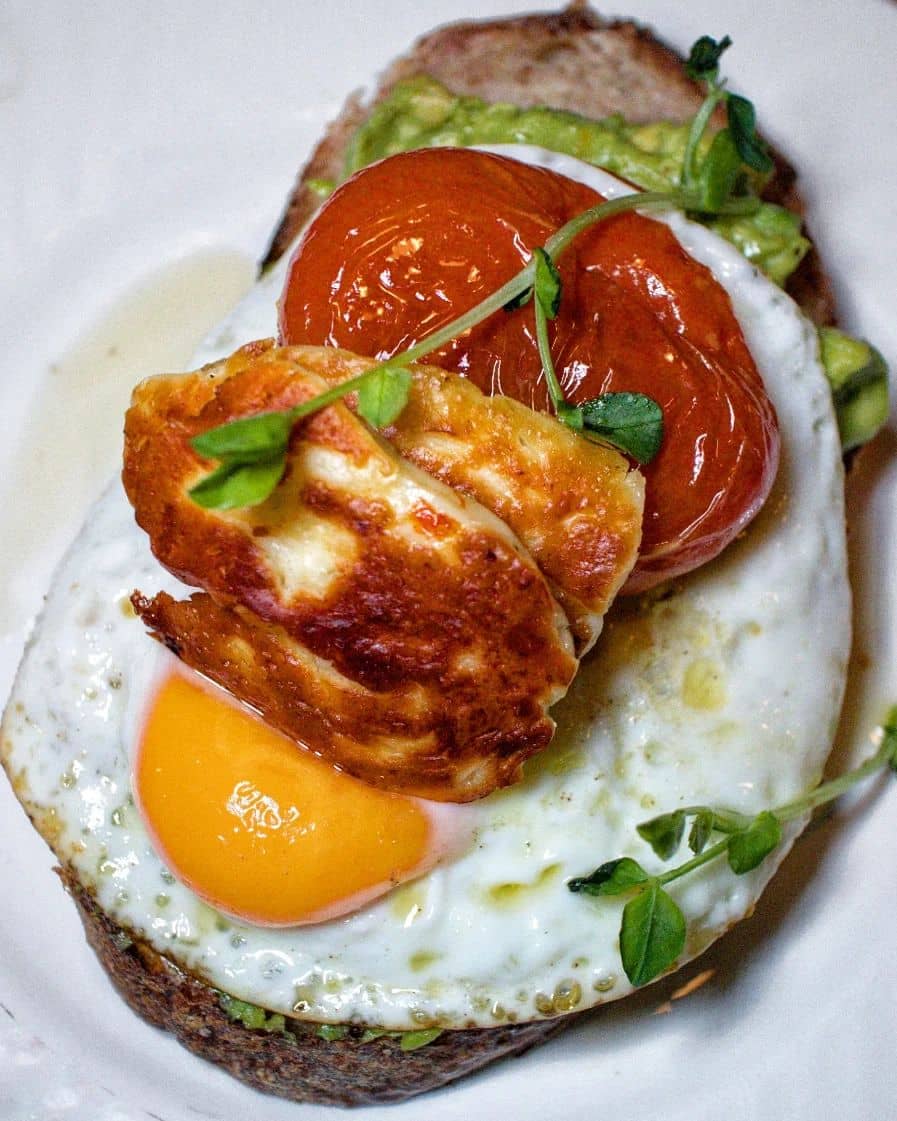 At the heart of downtown Toronto is The Queen & Beaver Public House, a British pub where you can enjoy from-scratch food and classic gastropub fare up their cozy rooftop patio and front terrace.
Experience London in Toronto with comfortable and peaceful outdoor dining. Plus, their patio is dog-friendly! So, you can bring in your fur babies as you wine and dine with clear blue skies and an amazing atmosphere.
So, don't hesitate to order their famous fish and chips, cheeseburger, and sticky toffee pudding! The Ale Battered Cod & Chips is arguably one of the city's best fish and chips!
Their hand-chopped cheeseburger and sticky toffee pudding are outrageously delicious! If you're visiting on a Sunday, don't miss their roast beef! Of course, complete your gastropub experience with a draft beer for a satisfying finish!
What to order: Ale Battered Cod & Chips, Q&B Hand Chopped Cheeseburger with Chips, Sticky Toffee Pudding with Vanilla Bean Ice Cream, Sunday Roast Beef, Beer
Address: 35 Elm St, Toronto, ON M5G 1H1, Canada
Website | Instagram | Facebook
13. Chula Taberna Mexicana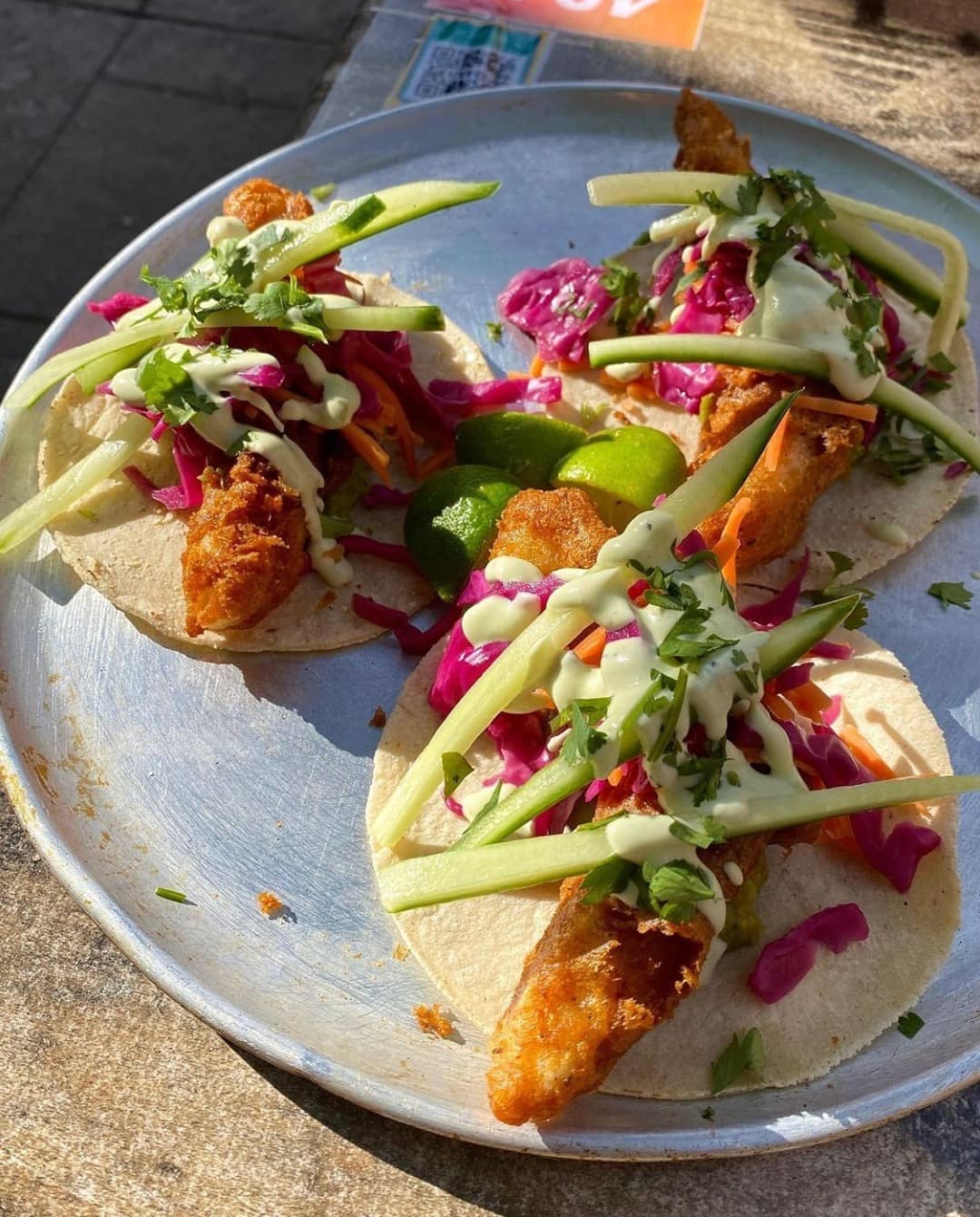 In the mood for Mexican food while enjoying cool vibes and a vibrant atmosphere? Chula Taberna Mexicana is a must-visit restaurant offering some of Toronto's best Mexican delights while sitting comfortably on their year-round heated patios.
Travel to Mexico the moment you step foot in the building. With decorations spreading the country's colorful culture and custom-made tiki bars on their decks, Mexican cuisine is more fun and enjoyable!
Their menu is simple yet particular. For example, the zucchini fritters with adobo mayo, corn, and pico de gallo are neither bland nor overwhelming, just the perfect ratio of the ingredients.
Chula Taberna's traditional shrimp ceviche is the flavorful combination of tostada, fresh lime, red onion, tomato, avocado, cucumber, and a special Mexican hot sauce. While at it, take our word and do try their Haddock tacos and kale salad—overloaded with all the divine toppings of what authentic Mexican delicacies should be!
And their cocktail menu has a wide range of margaritas, tequilas and mezcals, draught beer, wine, and more! Have fun choosing!
What to order: Zucchini Fritters, Traditional Shrimp Ceviche, Beer Battered Haddock Tacos, Kale Salad
Address: 1058 Gerrard St E, Toronto, ON M4M 1Z8, Canada
Website | Instagram | Facebook
There you go! That sums up our list of the best rooftop restaurants in Toronto. We know you're looking forward to visiting one of them soon!
But wait, al fresco dining isn't just the city's sole bragging rights! Here's a list of the best Toronto restaurants to give you more options. See you!
The following two tabs change content below.
Latest posts by Noms Magazine (see all)