Toronto is home to many diverse cuisines and restaurants of all types. And this city is not lacking any stunning, delicious vegan restaurants that is both flavourful and a joy to dine at.
So if you're looking for some great vegan spots, you're in luck. We've compiled the 13 best vegan restaurants in Toronto to eat at and what to order below:
1. PLANTA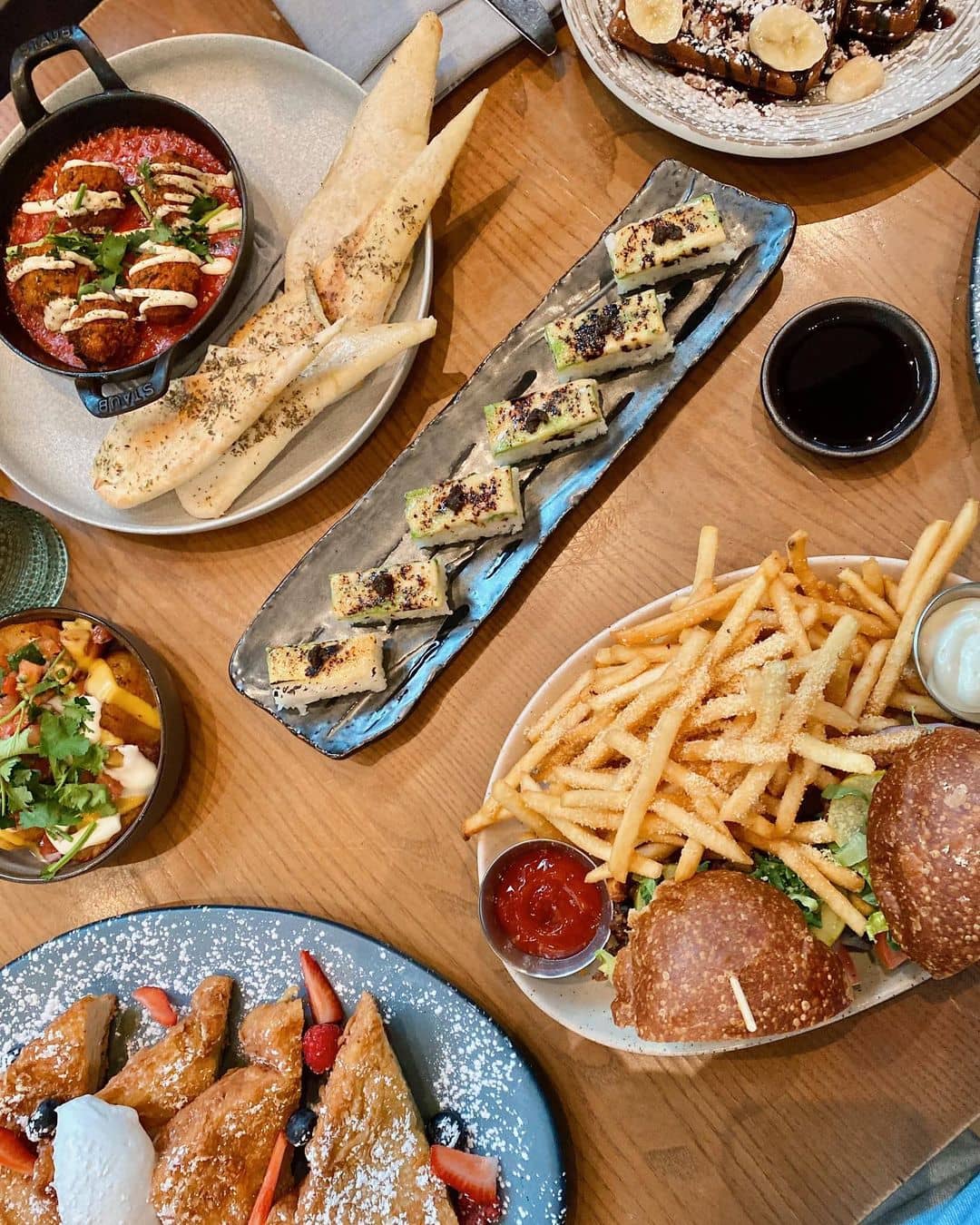 Planta is a famous Toronto vegan spot that serves up a range of global plant-based dishes, including sushi, dumplings, and pizza. So it literally means that Planta always has something for everyone. Plus, the airy space of Planta is done up with sleek woof, soft rose tones, and antique brass that can make you fall in love at the first sight!
If this is the first time you're coming to Planta, try the signature Mushroom-lentil Burger, Pizza topped with cashew mozzarella, ranch dressing, and cauliflower. You can also make a try at their Mushroom and Beetroot Vegan Tuna Tartare, which is surprisingly stunning and will make you a regular visitor!
If you're a fan of udon, don't forget to have the Udon Noodles in Truffles or Mushroom cream, they are flawless and irresistible! Wash it all down with their Thai-chili-infused cocktails, and your palate will thank you for doing that!
What to order: Pad Thai Slaw, Planta Burger, Spicy Lumaconi Pasta, Bianca Pizza, Torched And Pressed Roll
Address: 1221 Bay Street, Toronto, ON M5R 3P5
Website | Instagram | Facebook
2. Buddha's Vegan Restaurant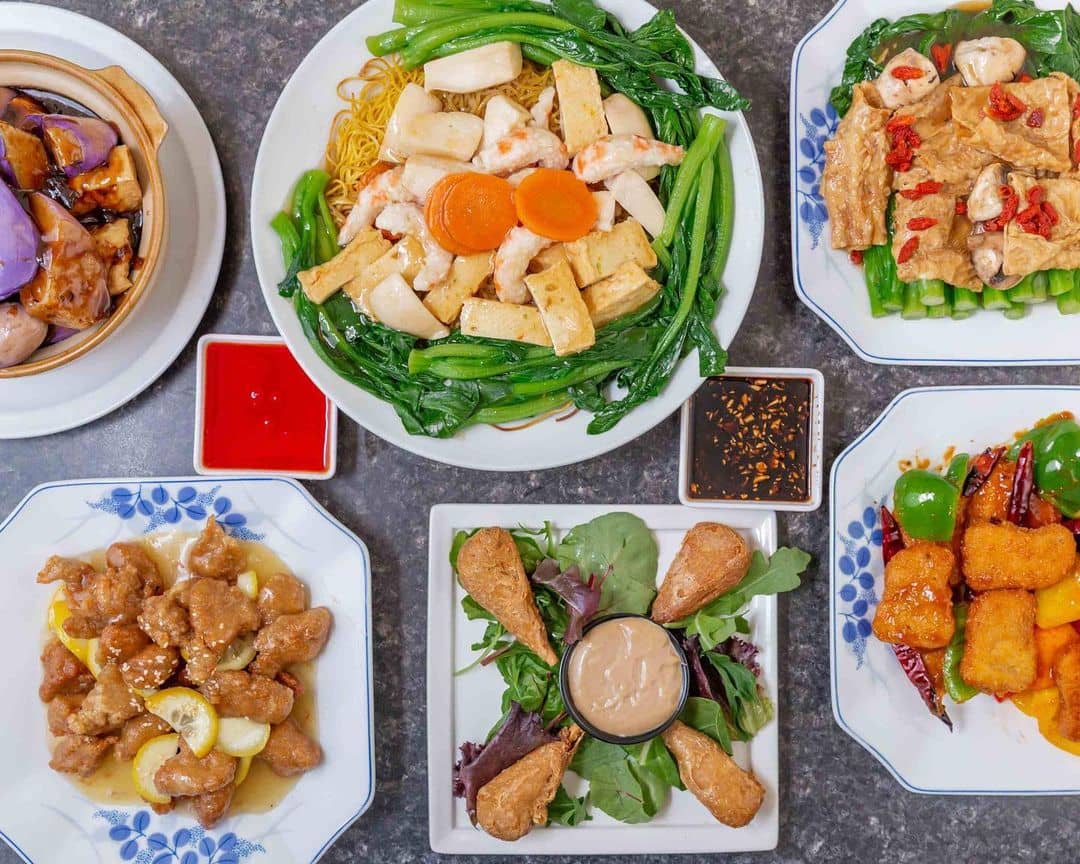 Buddha's Vegan Restaurant has been a low-key hidden gem in Toronto for 30 years, serving up Asian-inspired vegetarian food that is classic and traditional as ever. Here at Buddha's Vegan Restaurant, they offer such great vegetable dishes that range from beef and chicken to shrimp, lamb, drumsticks, sausage, and duck (actually bean curd sheet).
Some dishes have remained popular throughout time, including Veggie Shrimp & Veggie Chicken Fried Rice, Vegetable Curry, Sweet & Sour Veggie Ribs, and Veggie Lamb Skewer with Satay Sauce. So you bet you might want to start with these!
While the fried rice is not too dry, super flavourful, and has that funny, crunchy texture of veggie; the curry is creamy and rich as ever, which you can have some noodles to pair with. The ribs are finger-licking good, and the skewer tastes like a dream come true!
What to order: Veggie Shrimp & Veggie Chicken Fried Rice, Vegetable Curry, Sweet & Sour Veggie Ribs, Veggie Lamb Skewer with Satay Sauce.
Address: 666 Dundas St W, Toronto, ON M5T 1H9
Website | Instagram | Facebook
3. LOV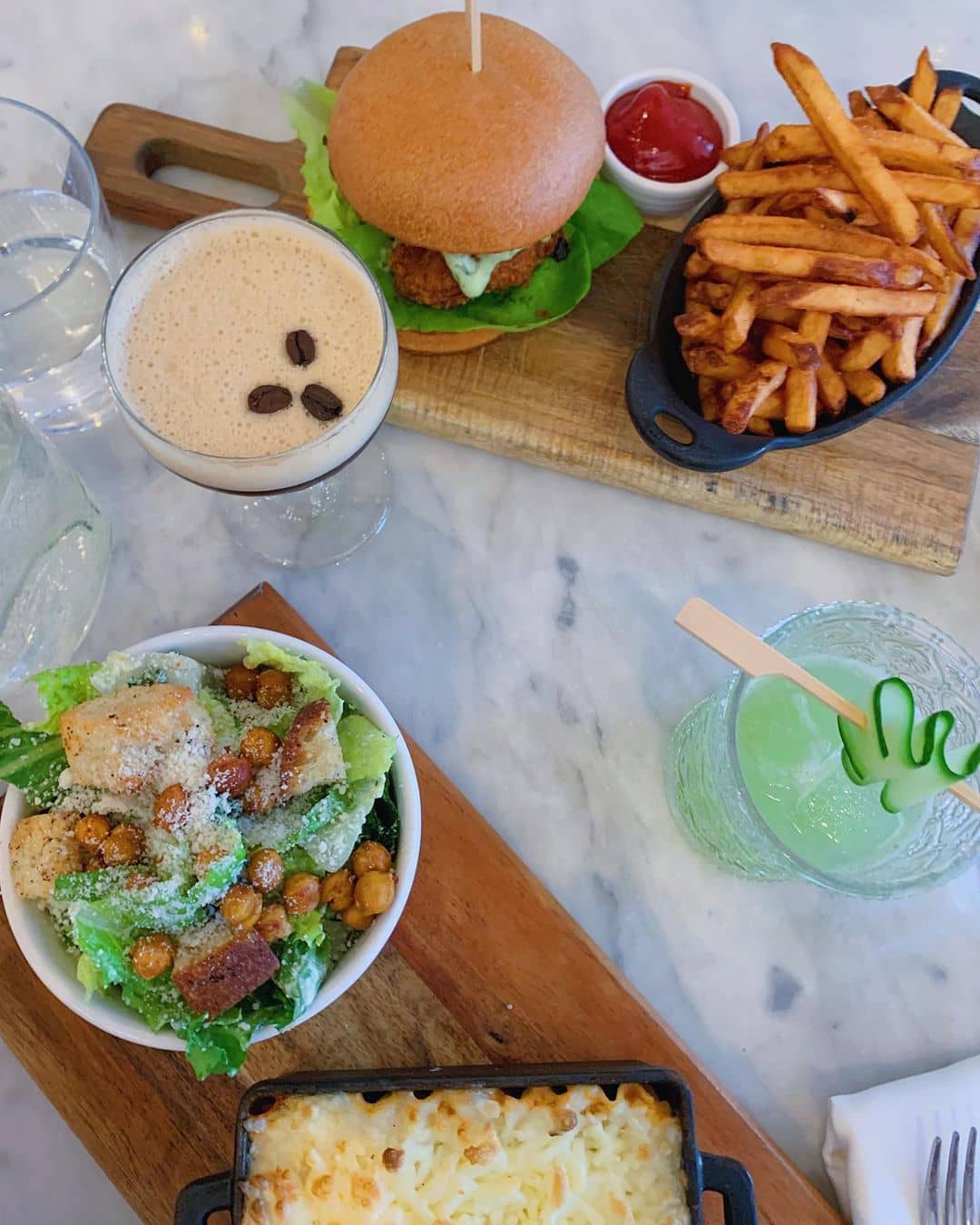 If you're wondering where the locals would prefer dining in for a casual night most, the answer might be LOV! Having an airy, textured, biophilic, chic but pretentious signature, LOV is not only the place for all vegetarians but Instagram lovers as well!
People love coming here for the Dumplings with veggie filling and almond butter kimchi dipping sauce, which absolutely knocks it out of the park! Served in a fair size, stuffed with mushroom, leek onion, and cabbage, then fried to perfection, no way that we can deny this baby!
Have yourself the LOV Wedge with tempeh bacon and gorgonzola made in-house out of coconut oil, tofu, and spirulina that both measure up to the real thing. Or the rich and creamy Coconut Cury with ginger, masala, and cinnamon, plated over basmati rice, and heaped with squash, potato, cashew, and steamed kale.
What to order: Dumplings, The LOV Wedge, Summer Bowl, Coconut Curry, Crispy Mushroom Burger, LOV Tacos
Address: 620 King St W Suite 102, Toronto, ON M5V 1M6
Website | Instagram | Facebook
4. Hawker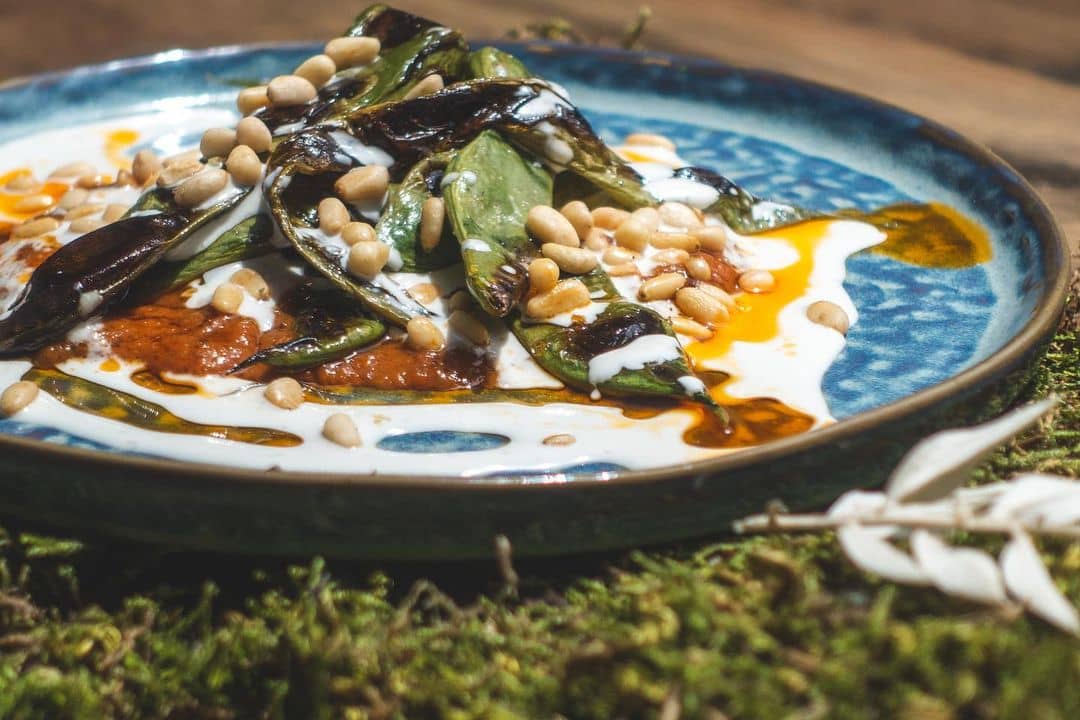 Hawker is a hip, vegan spot that offers artfully plated plant-based dishes with a Southeast Asian influence. With stunning food, an upbeat vibe, and fancy decoration, no doubt why this place is the new hidden gem of Toronto!
Since their menu is quite extensive, we suggest you try Colours. The dish comes with seared radicchio, dotted with tangy fermented cashew, dressed with an intensely sweet-and-smoky red pepper oil, and garnished with fresh marjoram. This is just beyond any standard!
Continue with God – charred runner beans that are piled on red pepper paste and finished with pine nut cream, toasted pine nuts, and red pepper oil accented with aromatics. Oh god, this is so creamy, vegetal, and deeply savory!
What to order: Colours, God's Work, Roots, Spring, Starry Night, Creek Bed, Bushfire
Address: 291 Augusta Ave, Toronto, ON M5T 1N9
5. Fat Choi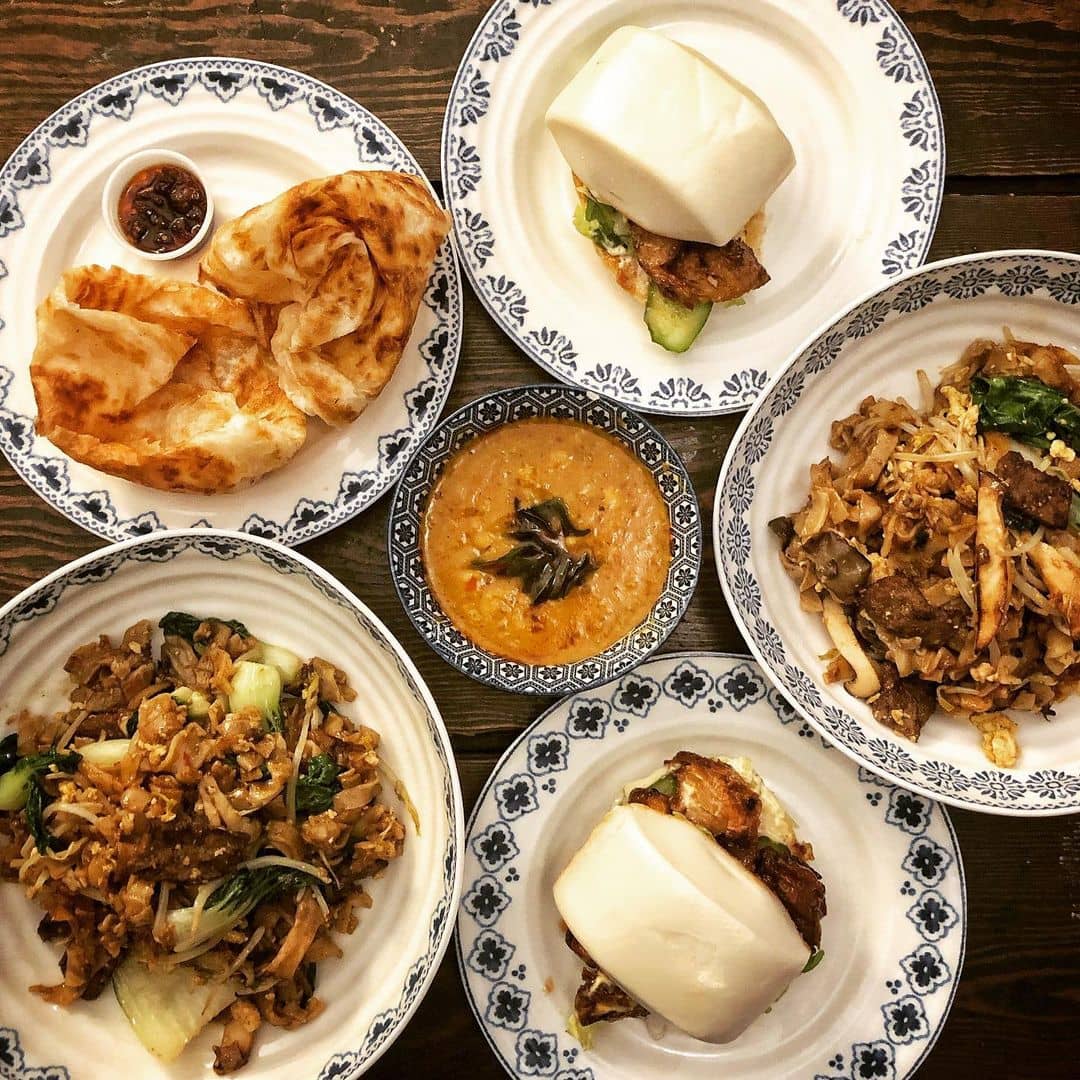 Being a plant-based, Asian-style restaurant situated right in the heart of the Ossington neighbourhood, Fat Choi is where to head when you crave a meatless Malaysian feast! They serve vegan dishes like michee lettuce wraps, sambal dhal & roti, vegan chili, and custom cocktails that are sure to please your palate. So, hesitate no more!
The must-try here is Rendang, which is made with pulled oyster mushrooms, so perfectly seasoned that every bite will make you burst into tears for happiness. And the aromatic Curry, which is made with lemongrass, coconut, and Malaysian chili. Their curry is mild yet mind-bogglingly delicious that is really worth trying, to be honest!
Another standout is The Murtabak, Rotis sandwich with spiced chickpeas and onions. Don't forget to add some creamy garlic sauce on top to see the flavour bomb!
What to order: Rendang, Murtabak, FC Char Kway Teow, Spring Tofu, Pisang Goreng
Address: 94 Ossington Ave, Toronto, ON M6J 2Z4
Website | Instagram | Facebook
6. Hello 123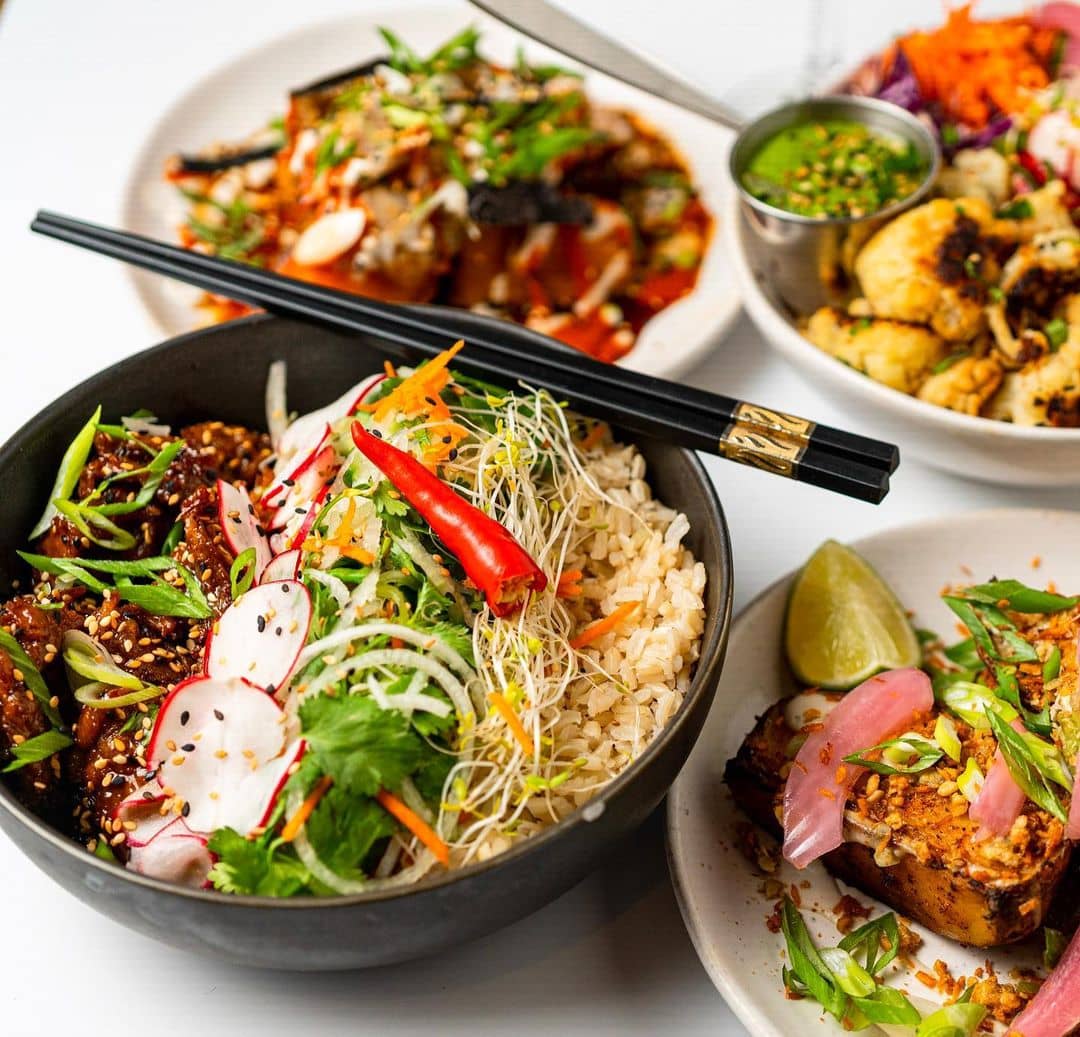 Located close to the Drake Hotel and the Gladstone Hotel, Hello 123 is an adorable Toronto vegan restaurant that you can visit for a quick, delicious meal on a busy day. Cozy and limited as the space is, beware if you're coming in a group, and booking in advance is preferred.
Settle down with the Lettuce Wrap Paleo Party, from which you can make your own lettuce wraps with hemp, sunflower balls, cauliflower hummus, za'atar salsa, cucumber salad, roasted eggplant, rutabaga mash, carrots, chimichurri, and tahini. What a lovely way to either start or end a day!
If you're searching for a heartier one, Chana Chaat with brown rice, chickpea chana, and veggie can do you good. Or the Superfoods Soup with tofu, kale, veggie, and spices is no less delicious!
What to order: Lettuce Wrap Paleo Party, Chana Chaat, Superfood Soup, Messy Potatoes
Address: 1122 Queen St W, Toronto, ON M6J 1H9
Website | Instagram | Facebook
7. Rosalinda Restaurant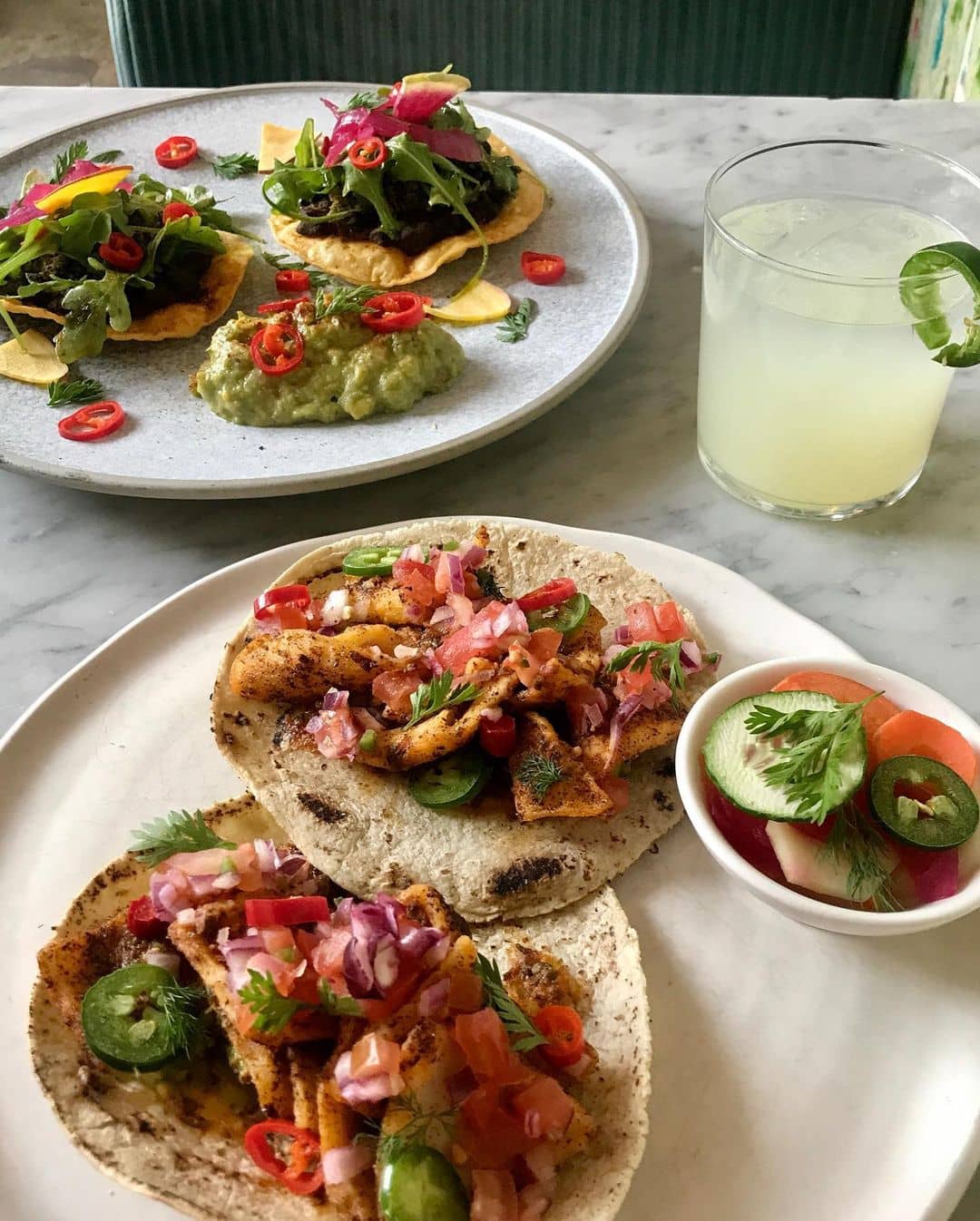 Rosalinda Restaurants is one of the most vibrant Mexican vegan restaurants in Toronto where lively wines and seasonal produce come together. Once entering this place, you'll discover a chic industrial garden where the sun splashes through overhead windows and create an outstanding greeny space in the neighbourhood.
You can start with Roasted Cauliflower Tostada, a part of a small selection of items on grilled tortillas made with Oaxacan corn. You'll be amazed by the charred cauliflower providing caramelized earthiness and roughly chopped toasted almonds that add some crunch.
Don't leave without trying their Rosaburger Sandwich with black bean, beet, chipotle mayo, pasilla-based BBQ sauce, and avocado salsa. We have to admit that Rosalinda has been so successful in crafting this stunning veggie burger, soft, spongy, saucy yet crispy, and crunchy from the lettuce and eggplant chips.
What to order: Roasted Cauliflower Tostada, Rosaburger, Roasted Japanese Eggplant
Address: 133 Richmond St W, Toronto, ON M5H 2L3
8. Veggie D'Light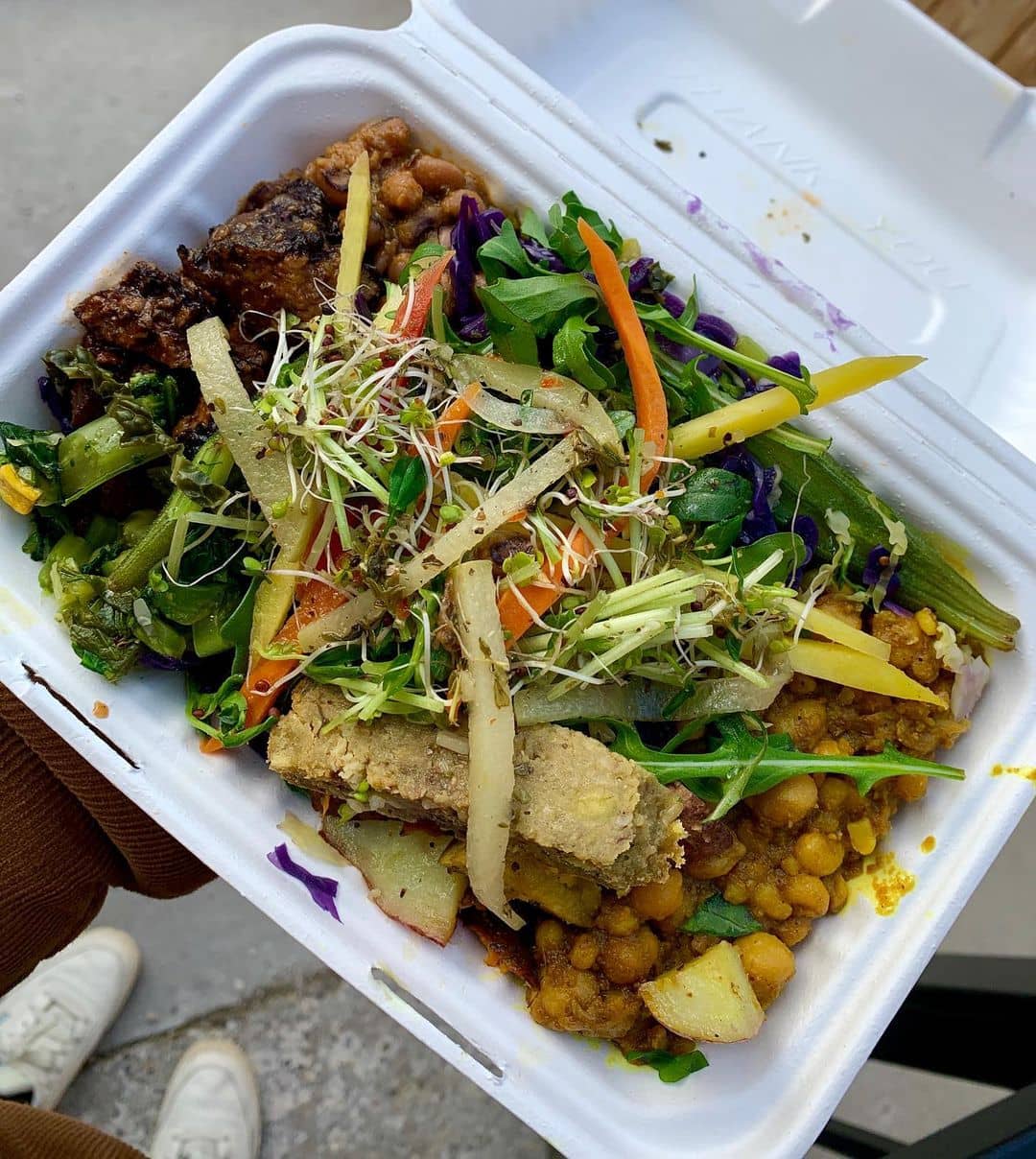 Located in a retail storefront on Baldwin near Spadina, Veggie D'Light offers an entirely meat-free, egg-free, and dairy-free eatery rooted in Caribbean cuisine that fits the bill to a tee. Pass by and get seduced by this cozy lovely place!
The main attractions are wraps and combo plates over rice and peas, plus, you can choose to have them with house-made seitan dressed in jerk sauce, curried chickpeas, or moringa loaf. Especially the combo plates that come in two sizes, is the classic combination of quinoa rice and peas, only here they stir fry it, so essentially it's "fried rice and peas." Stunning!
The wraps are offered with roti or naan and packed into a sturdy dhal puri roti with a seasoned ground split pea center. Or you can try something pretty unique at Veggie D'Light – Savory Pizza Cake with homemade focaccia bread crust made with yams, cassava, brown rice, and loaded with vegan Caribbean toppings.
What to order: Combo Plates, Wraps, Savory Pizza Cake.
Address: 160 Baldwin St #3, Toronto, ON M5T 3K7
9. Eat Nabati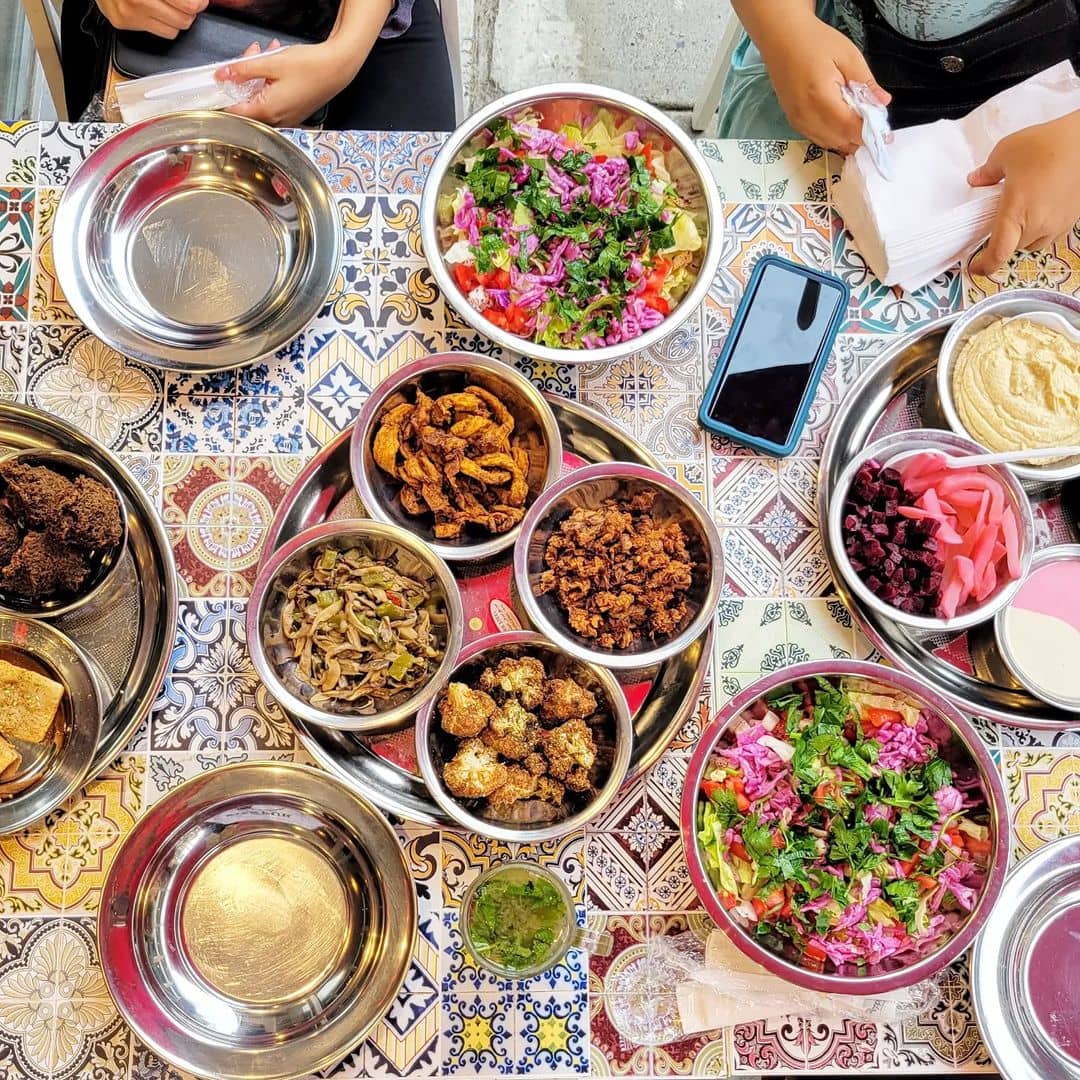 Eat Nabati is an affordable vegan restaurant that serves up Middle Eastern cuisine in Toronto. One thing so special about this place is that you have the freedom to build your own pita bowl with a choice of fillings and fixings, including vegetables, legumes, and grains. Come and treat yourself right to their food while sitting beneath the bright, flowery neon sign inside the restaurant.
Highlights of the menu include the Mama Shawarma Pita, Za'atả Cauliflower Bowl, and Cairo Kofta. The pita is their best-seller item for a reason when being made with seasoned soy-based vegan chicken, garlic sauce, pickled radishes, and cabbage. Every bite is packed with flavours and tastes like heaven!
The Za'atar Cauliflower Bowl is super hearty and easy on the budget for the size, with large chunks of cumin-tossed cauliflower with a za'atar spice blend. And Cairo Kofta in a bowl forgoes ground beef and uses a heavily-spiced blend of grains with parsley, onion, sumac, and nutmeg. Ask for some hummus and drizzles of tahini to truly see the beauty of this dish!
What to order: Mama Shawarma Pita, Za'atar Cauliflower Bowl, Cairo Kofta
Address: 160 Baldwin St, Toronto, ON M5T 3K7
10. Mugi plant-based Thai restaurant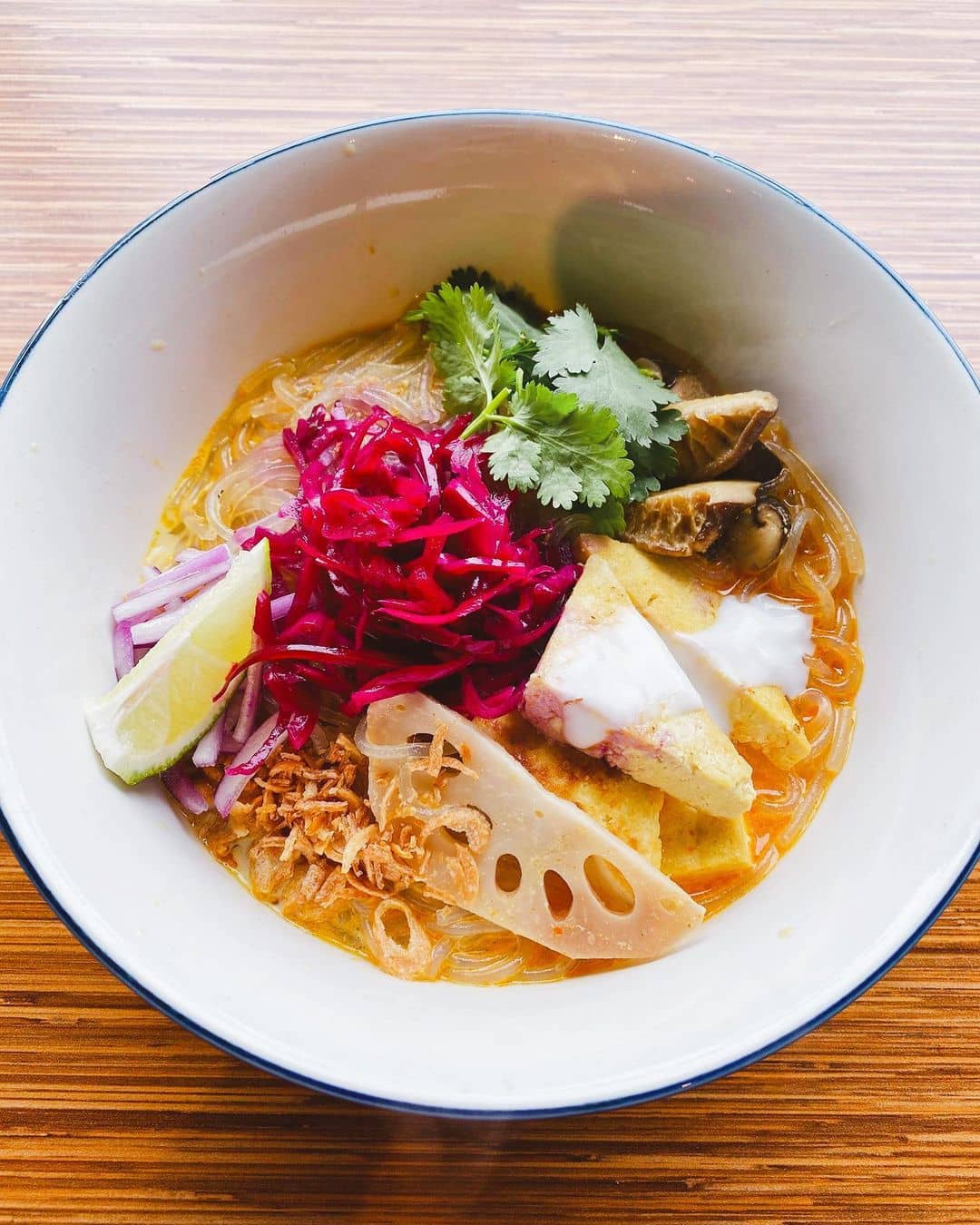 Being a low-key takeout spot specializing in Vegan Thai restaurants located just steps from Bathurst station, Mugi is the place to cherish traditional Thai recipes in plant-based versions. It's hard to imagine Thai food without the flavourful fish sauce and shrimp paste, but Mugi know just how to make them stunning without skimping on the flavour!
Mugi serves up hearty bowls of curries, noodles, and rice with nearly everything made from scratch. To start with, take the Jackfruit Lard Salad, which is typically served with a spicy serving of unsweet young jackfruit, wood-ear mushrooms, and zucchini. Fresh but still bursting with flavours!
Continue with the Hang Leh Jackfruit Curry, a non-viscous curry that utilizes the jackfruit with cauliflower, tempeh, ginger, and curry leaf. Or the Khao Soy, soft-served potato noodles with coconut milk sauce. Yummy!
What to order: Jackfruit Larb Salad, Hang Leh Jackfruit Curry, Mango Salad, Pad See Ew
Address: 793 Bathurst St, Toronto, ON M5S 1Z5
Website | Instagram | Facebook
We hope you've had yourself your new favorite spots in town. Keep yourself updated with us by checking out those top-notch restaurants in Toronto. They are sure to please you at once!
How We Create Our "Best" Lists
All Noms Magazine's "best" lists are created using multiple factors and signals to help readers find the best restaurants, things to do, and places to stay at. Some of these factors and signs include personal experiences, correspondence with locals, and compiling experiences from review sites.
Each list is also created to be balanced (in terms of price, cuisine type, ambiance, and more) as possible. This means that the lists are not specifically created in ranking order. You should be comfortable picking from any of the spots on the list and generally have a good time. But of course, YMMV (your mileage may vary) and everyone may have different experiences/palates.