Looking for the best Vietnamese restaurants in Toronto? Well, you're in the right place!
The rich diversity of Vietnamese food, combining distinct flavours, textures, and fresh components, makes it not only filling and flavorful but also wholesome.
The Vietnamese restaurants in Toronto are ready to satisfy your appetite with an abundance of offerings.
Prepare yourself for a delightful experience with rice noodles and wraps as we present to you our picks of the best Vietnamese food spots in the 6ix.
1. Pho Tien Thanh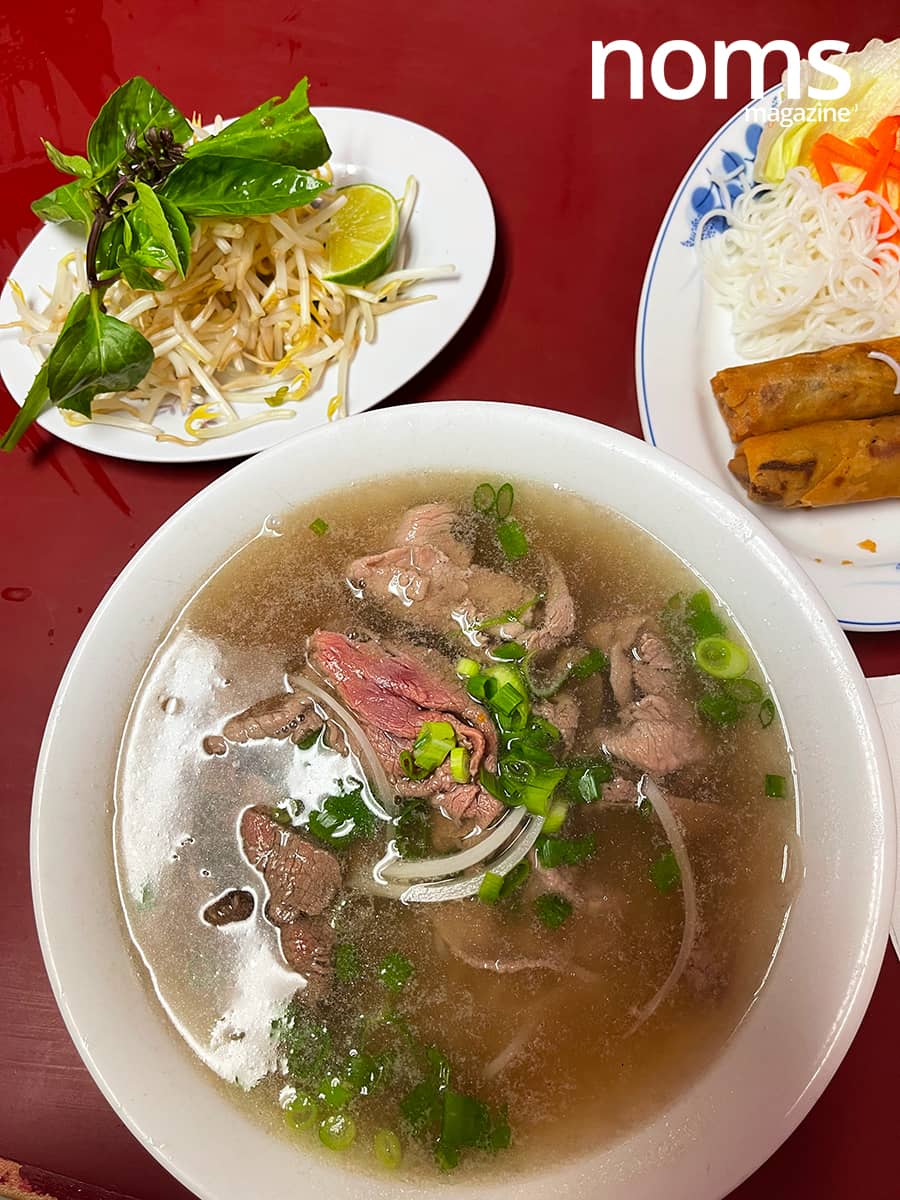 Nestled in Toronto's Ossington areas, Pho Tien Thanh is a MICHELIN Recommended spot that offers Vietnamese food at its best.
This humble little nook provides a cozy experience that centers on the food.
The no-frills decor adds to the charm, making it a hit with locals and visitors alike.
Swift service keeps the focus on what's important: the delicious, authentic cuisine.
The restaurant's menu is extensive, but some dishes stood out and thus became customer favorites.
First, the Pho Bo Ga, a rare beef pho, has excellent quality with a clear broth, yet super tasty and heartwarming.
Next is their Spring Rolls or Cha Gio fried to perfection with a nice and crisp outer layer, a juicy, soft pork filling, and a salty fish sauce for dipping.
Also, try their Bun Bo Hue for a spicy bowl packed with beef flavor.
What to order: Pho Tai, Cha Gio, Bun Bo Hue
Address: 57 Ossington Ave, Toronto, ON M6J 2Y9, Canada
2. Vit Beo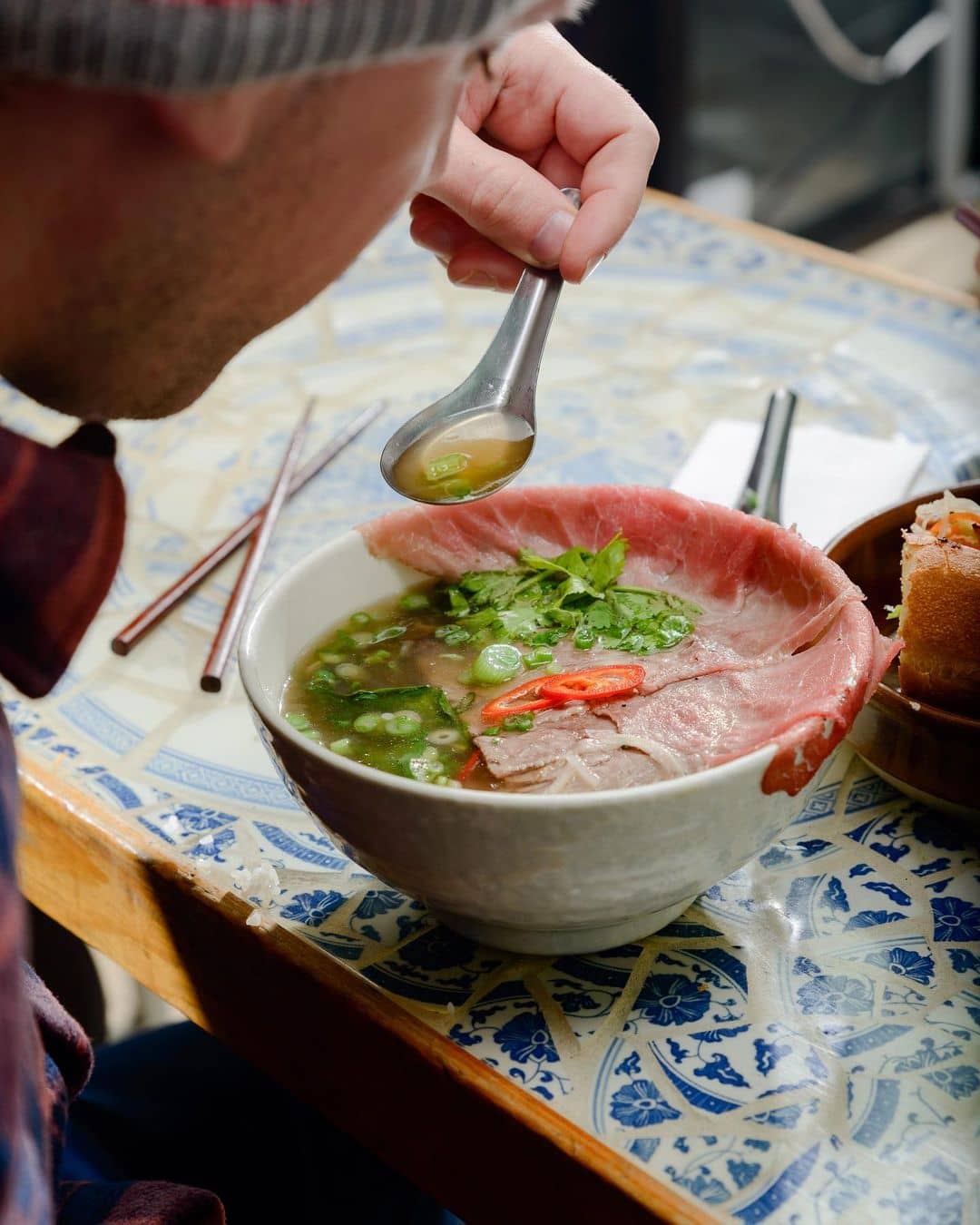 Vit Beo is a unique Vietnamese restaurant in Toronto's Bloorcourt neighbourhood. Opened in January 2018 by David Huynh, a former bartender, they offer a fresh take on everyday Vietnamese food.
The restaurant has an intimate and chill setting allowing you to relax and enjoy your meal without any distractions, along with a very friendly and attentive service.
This Asian fusion restaurant takes Vietnamese cuisine to another level while maintaining its authentic taste.
Like their Beef Pho, a comforting bowl filled with flavourful and soft noodles and fresh beefy meat.
Also, check out their Pork Belly Banh Mi sandwich filled to the brim savoury with BBQ pork belly, head cheese, pate, kewpie, cucumber, cilantro, pickled carrot, and papaya.
What to order: Beef Pho, Pork Belly Banh Mi, Shaking Beef
Address: 858 Bloor St W, Toronto, ON M6G 1M2, Canada
3. Pho Linh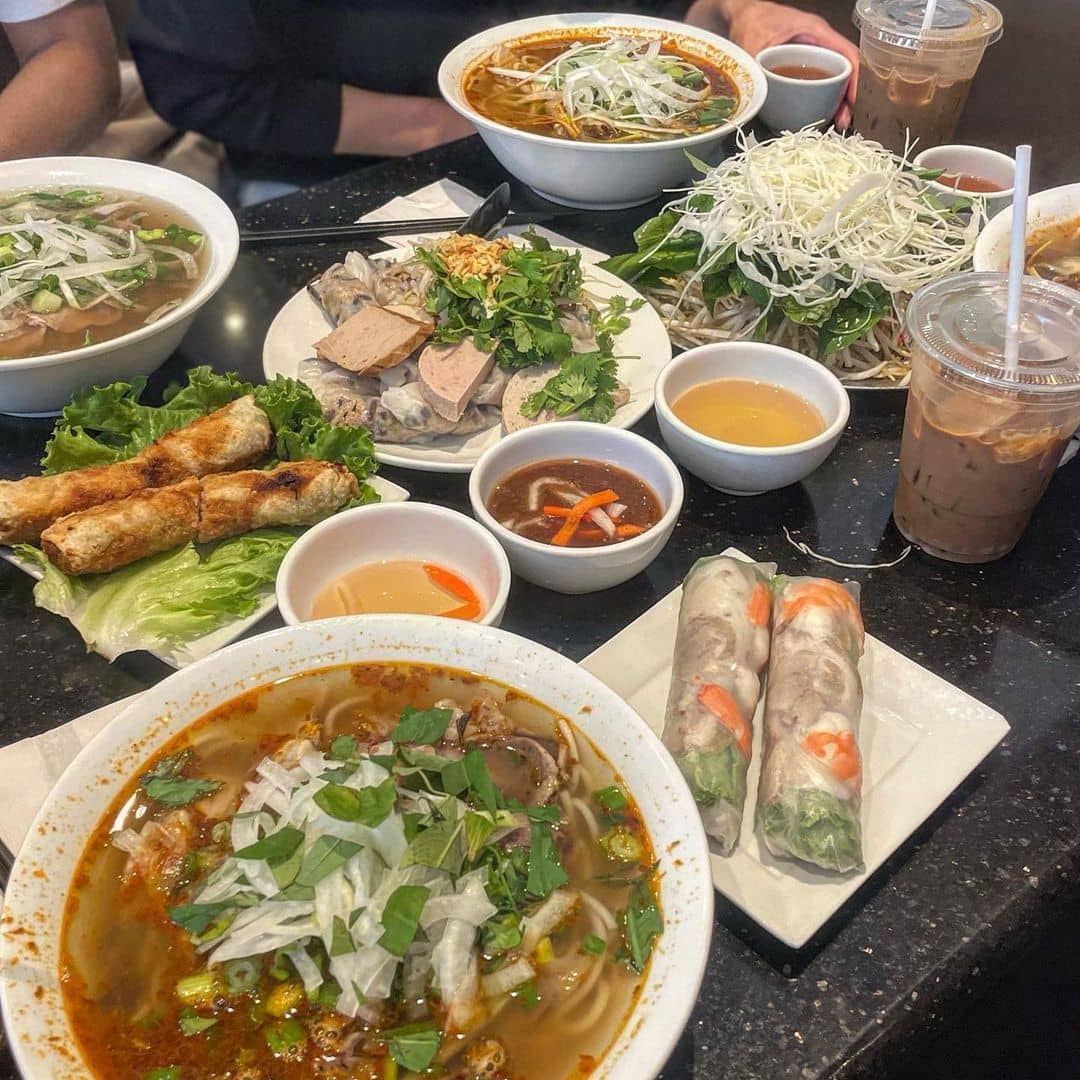 Pho Linh, located in the Brockton Village of Toronto, is a go-to spot for Vietnamese cuisine lovers or those just craving some.
Their restaurant has a welcoming and warm vibe due to its rustic and no-frills decor, allowing you to relax and enjoy your meal.
They are also known for their quick and attentive service, ensuring you get what you order as quickly as possible.
The menu at Pho Linh heavily favors pork and beef, so if you are craving some Vietnamese pork and beef cuisines, they will satisfy your palate!
Like their Bun Bo Hue, for instance, not only does it fill your stomach with its rich soup with a hint of lemongrass flavour and noodles cooked to perfection, but it also gives a kick due to its spiciness.
For a light yet filling meal, get the Banh Cuon, a Vietnamese rice roll filled with fresh herbs and bean sprouts.
Also, try their juicy Grilled Pork Chop if you want a rice meal, and don't forget to get some crispy Spring Rolls that will fit with any of their dishes.
What to order: Bun Bo Hue, Banh Cuon, Grilled Pork Chop, Spring Rolls
Address: 1156 College Street W Toronto, ON M6H 1B6
4. 源香 Banh Mi Nguyen Huong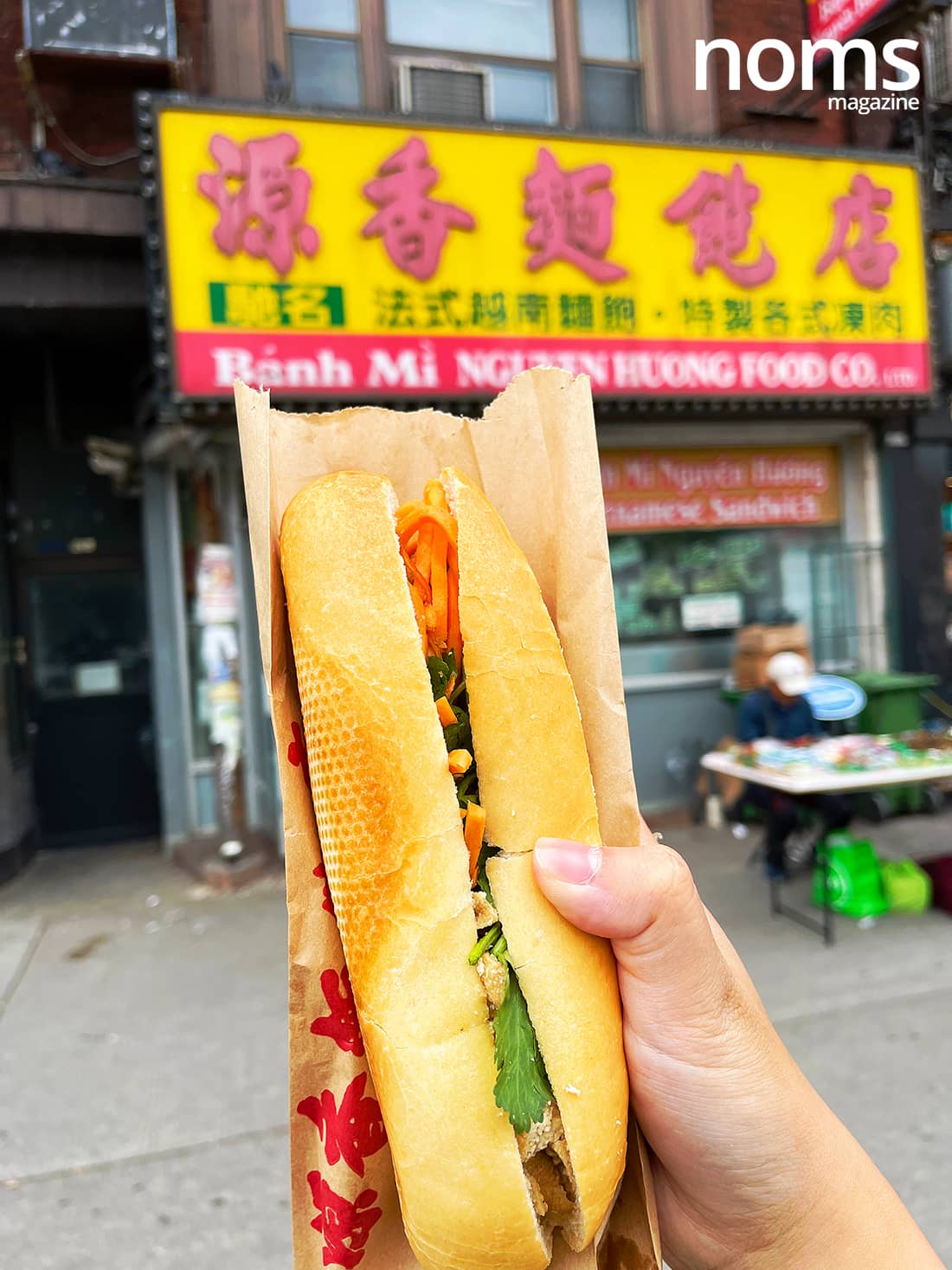 源香 Banh Mi Nguyen Huong is a beloved Vietnamese bakery in Toronto's Chinatown, known for its authentic flavours and fresh bread.
The bakery has been serving the community for years (since 1986), offering the cheapest Banh Mi in the city. But nostalgia and $4 banh mi isn't the thing that only gets people excited, their Vietnamese sandwiches are actually top-notch!
The place's ambiance is simple and traditional, reflecting the authenticity of its food and lightning-quick service – your order arrives as fast as possible.
Their most popular items include the Lemon Grass Bahn Mi Sandwich and the Assorted Cold Cut.
The Assorted Cold Cut is loved for its variety of textures and flavours, all packed into a single sandwich.
Each Banh Mi can be made spicy – but know that it will really pack some heat!
What to order: Lemon Grass Bahn Mi Sandwich, Assorted Cold Cut
Address: 322 Spadina Avenue Toronto, ON M5T 2G2
5. Hanoi 3 Seasons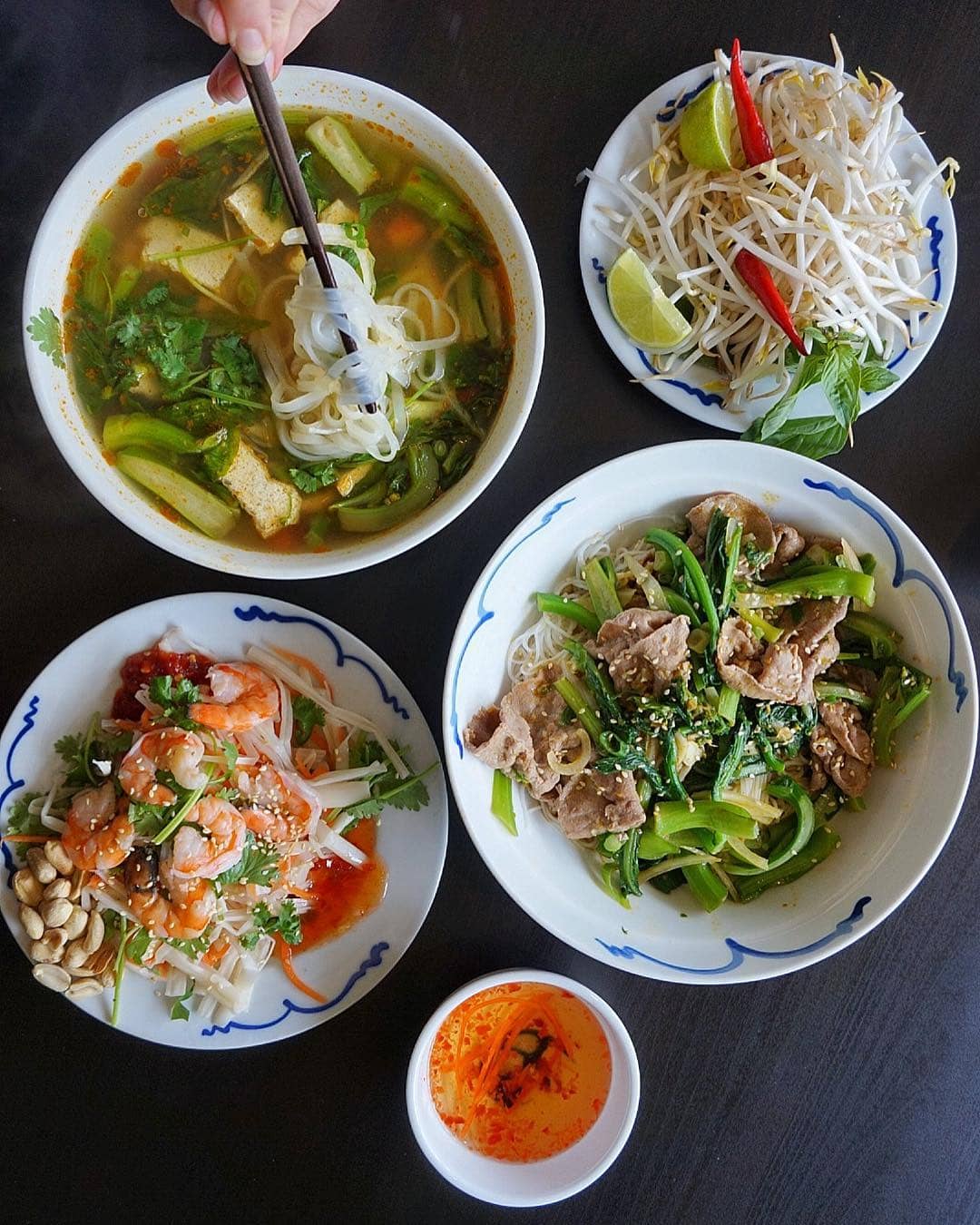 Hanoi 3 Seasons is a North Vietnamese eatery known for its compact menu of classic dishes.
Its bright green walls and casual and inviting vibe make this the perfect place for those who want to enjoy Vietnamese cuisine or are new to it.
Their menu includes classic Vietnamese dishes like Pho, spring rolls, and more.
The Spicy Shrimp or Bun Canh Tom Hanoi is a revitalizing noodle soup with a kick as it uses lemongrass as its broth.
The Cha Ca – Hanoi 3 Seasons is another must-try dish and is their specialty. It is a grouper lightly dusted with flour and dill, then fried for a crispy edge and served on a bed of vermicelli noodles.
What to order: Spicy Shrimp or Bun Canh Tom Hanoi, Cha Ca – Hanoi 3 Seasons, Spring Rolls
Address: 588 Gerrard St E, Toronto, Ontario M4M 1Y3
6. Mi Mi Restaurant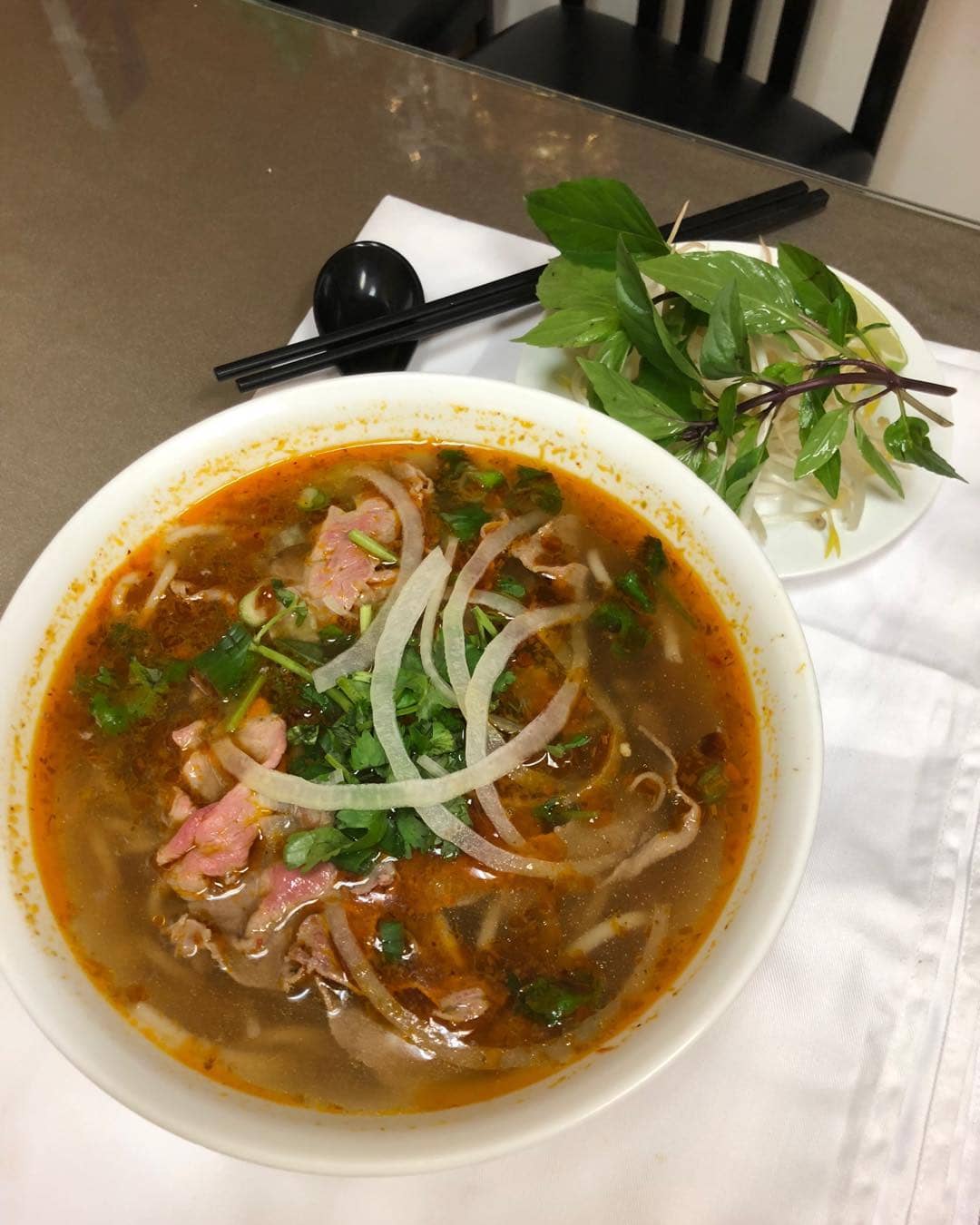 Mi Mi Restaurant is a family-owned gem that has been serving authentic Vietnamese cuisine for over 20 years.
Although they have been renovated and have recently moved, the restaurant has never failed to deliver some of the best Vietnamese food in Toronto.
The warm and welcoming atmosphere and unassuming decor offer a cozy retreat where you can unwind for a delicious meal.
The menu at Mi Mi has classic Vietnamese dishes, but they are known for their BBQ vermicelli dishes.
Like their BBQ Sugarcane Shrimp and Beef, a vermicelli noodle dish with salads and peanuts complemented with the char from the BBQ shrimp and beef adds a smoky taste.
Their Bun Rieu is exquisite, a slightly sweet and acidic soup due to its tomato broth topped with minced pork and succulent crabs.
What to order: BBQ Sugarcane Shrimp and BBQ Beef Vermicelli, Bun Rieu, BBQ Pork, BBQ Boneless Chicken Leg.
Address: 688 Gerrard St E, Toronto, ON M4M 1Y3
7. Pho 90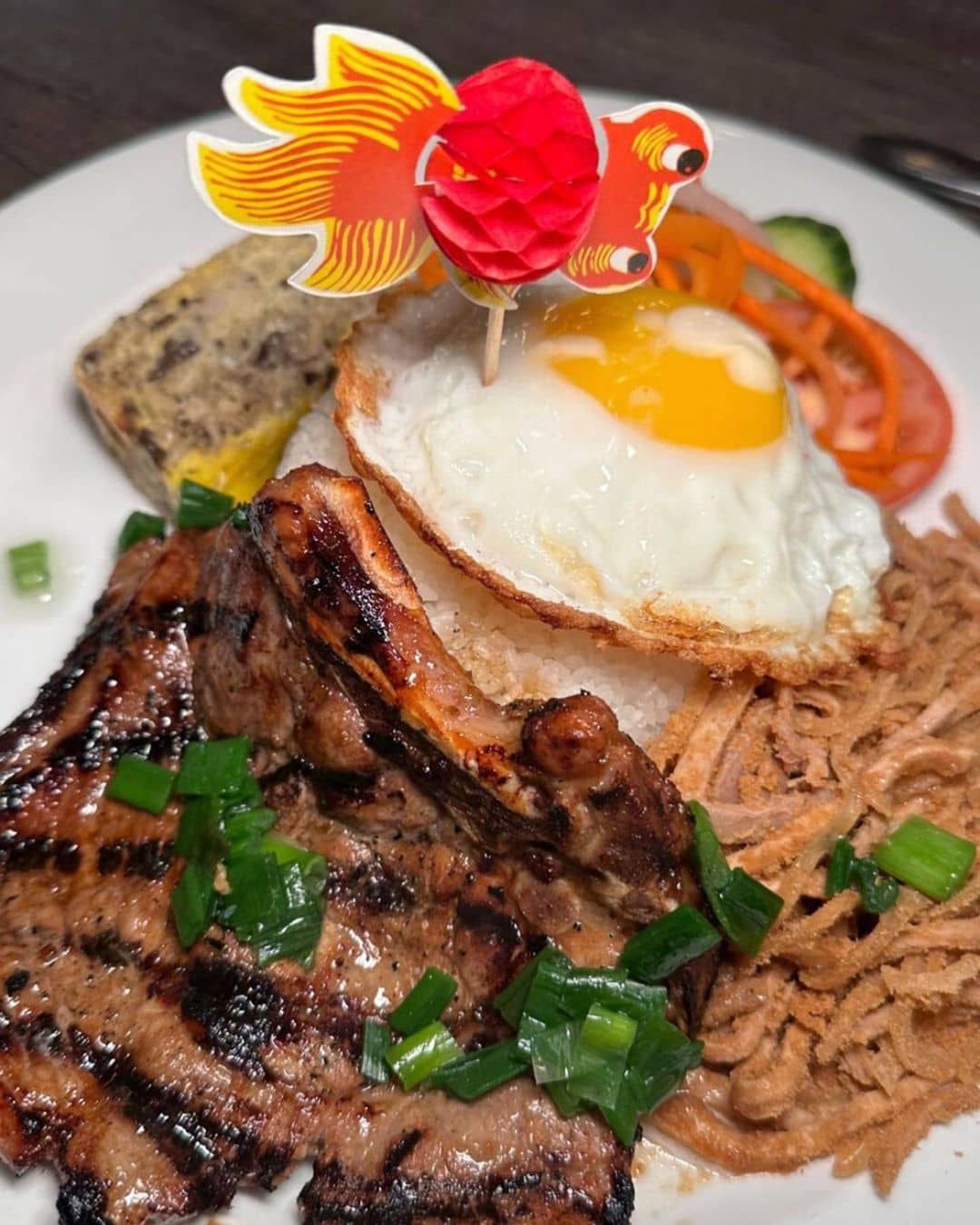 Chic and modern, Pho 90 is fast becoming a local favorite in Toronto. The décor is as appealing as the service, creating a cozy dining atmosphere.
With a variety of Vietnamese cuisines, including veggie options, there's something for everyone.
The Banh Mi is a divine, crunchy, toasted Vietnamese baguette with housemade pate and loads of the meat of your choice.
For soups, Bun Bo Hue and Pho Tai are exquisite and authentic.
You can never go wrong with any of the two as they let you leave with a happy and filled stomach.
They also have a variety of appetizers like Crispy Spring Rolls and refreshing Shrimp Mango Salad.
What to order: Banh Mi, Bun Bo Hue, Pho Tai, Crispy Spring Rolls, Shrimp Mango Salad
Address: 90 Weston Rd, Toronto, ON M6N 0A7
8. Anh Dao Restaurant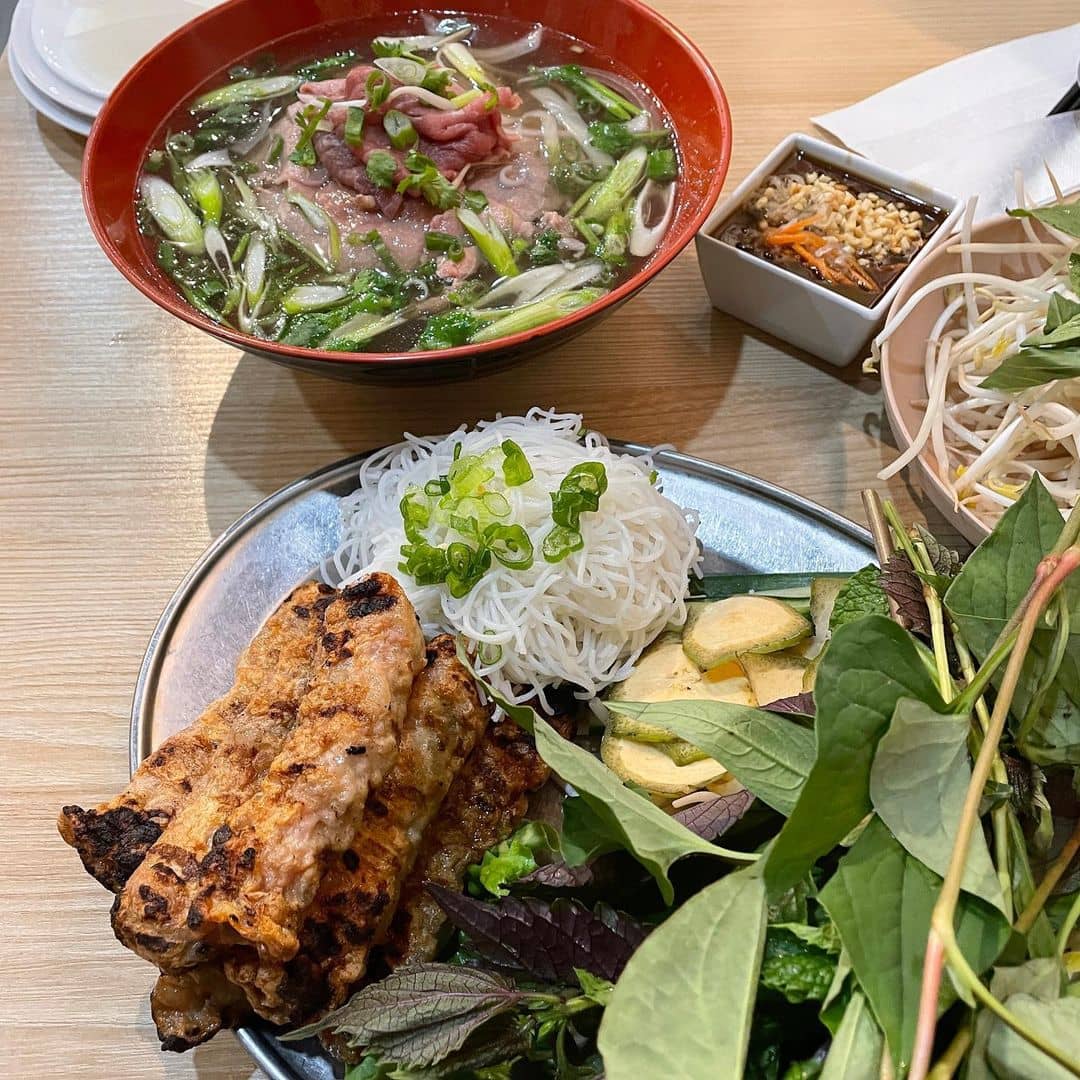 Situated in busy Chinatown, Anh Dao Restaurant is a long-standing Vietnamese eatery.
This family-owned restaurant has a simple and unpretentious interior that exudes a comfy, inviting vibe and kind and attentive service.
The menu at Anh Dao serves a plethora of mouthwatering Vietnamese dishes, but two that stood out were the Nem Nuong and Banh Xeo.
The Nem Nuong, or Grilled Pork Sausages, is their specialty, and it is tender, chewy, garlicky, and slightly sweet that comes with an abundance of lettuce, mints, and vermicelli.
The Banh Xeo or the Vietnamese Crepe is super crispy and filling with your choice of protein, so make sure you share it with someone, as you might need help to finish it.
What to order: Nem Nuong (Grilled Pork Sausages), Banh Xeo
Address: 383 Spadina Ave, Toronto, Ontario M5T 2G6, Canada
9. Banh Mi Huy-Ky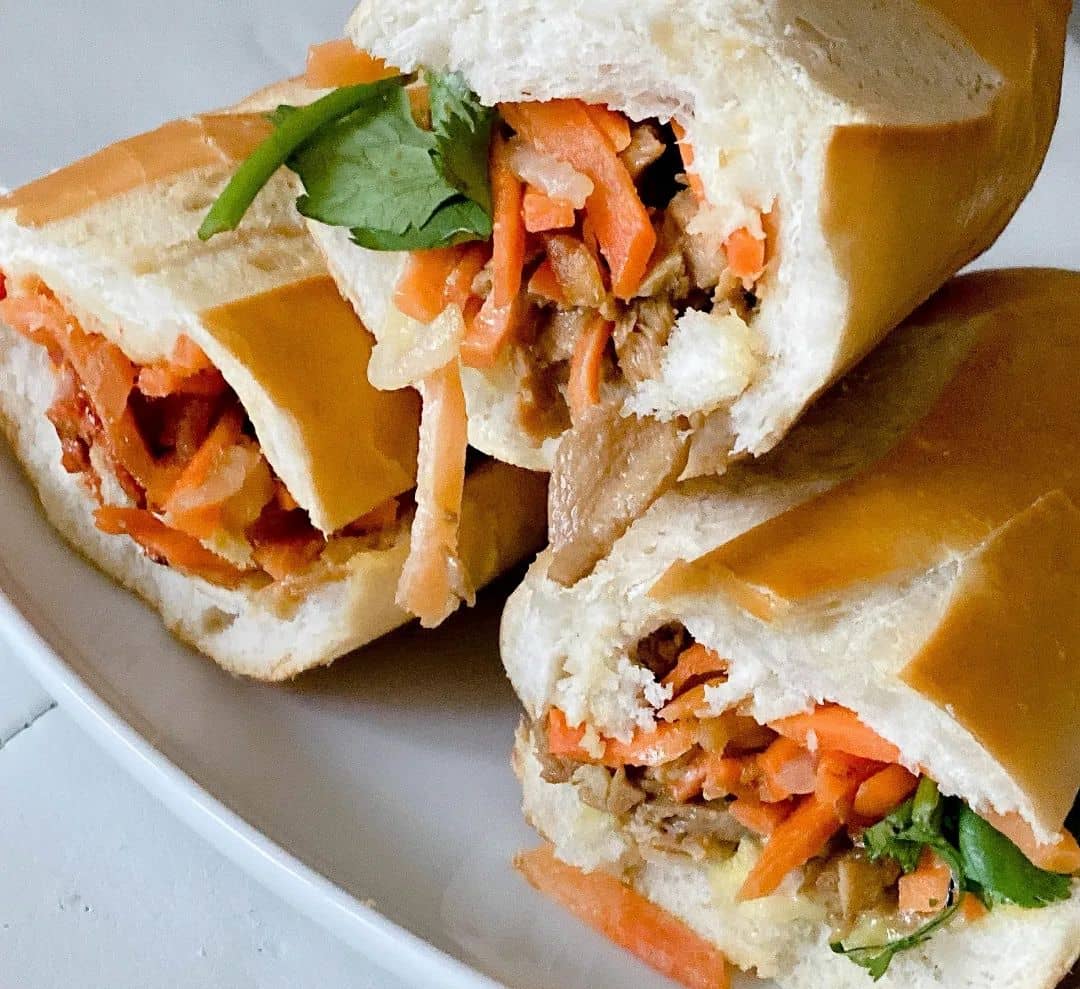 This small unassuming eatery located a block away from Gerrard Square is famous for its quick service, fresh ingredients, and savoury Vietnamese delights.
Like other longtime Vietnamese joints, the place screams simplicity – with a single long table and a few chairs against the wall.
Their Banh Mis have amassed their own fanbases (happens when you're around for 12 years!), but the BBQ Pork, Assorted, and Meatball variants are the most stellar choices.
The BBQ Pork features juicy and smoky pork you can't resist.
The Assorted Banh Mi is delish for its variety of filling, while the Meatball Banh Mi is a phenomenal dish with a generous serving of vegetables.
Not to mention, the bread used for the sandwiches is crispy and crunchy – talk about adding a delightful texture to your hearty meal!
What to order: BBQ Pork Banh Mi, Assorted Banh Mi, Meatball Banh Mi
Address: 1046 Gerrard St E Toronto, ON M4M 1Z6
10. Tâm Vietnamese Street Food and Café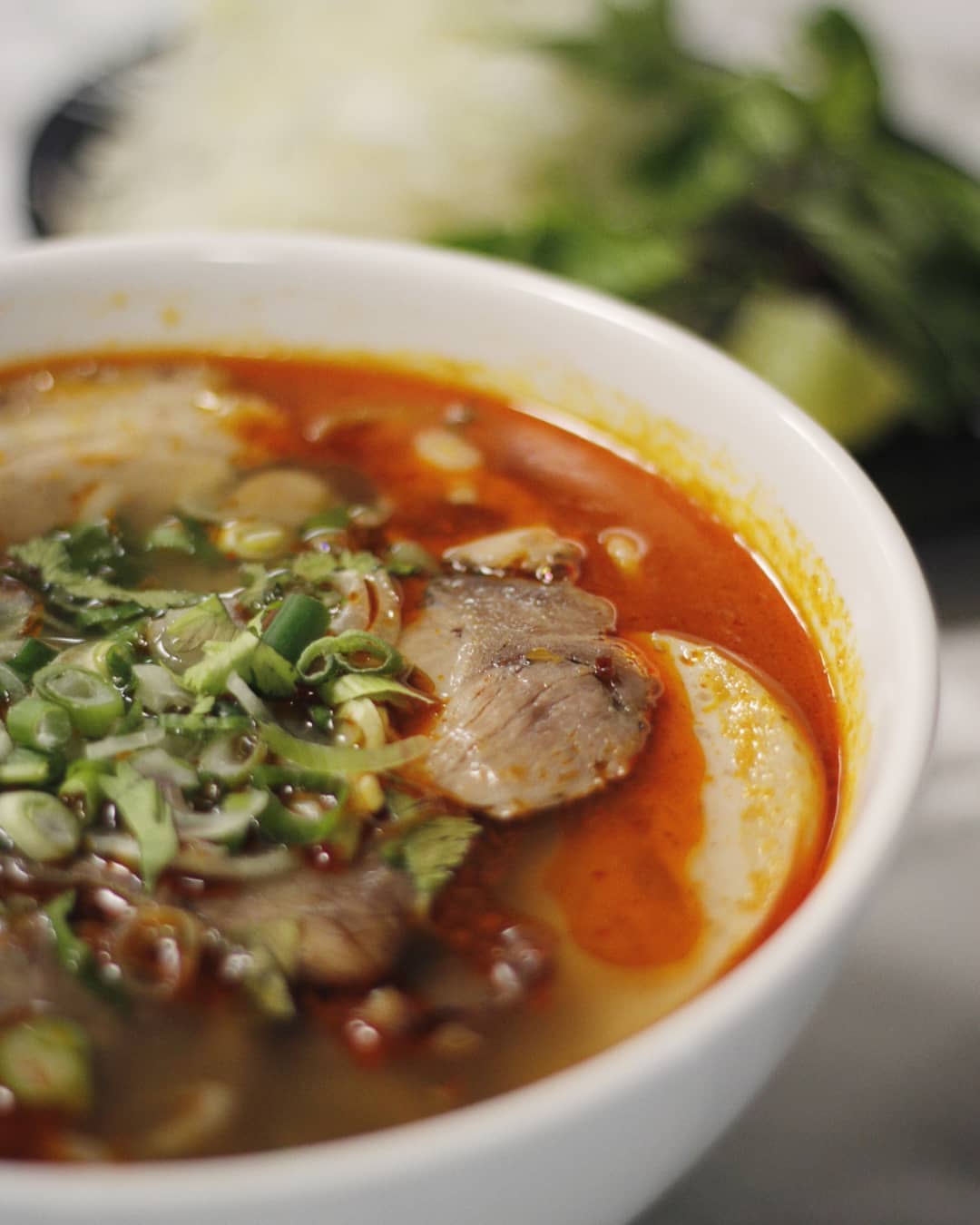 Tâm Vietnamese Street Food and Café is a famous family-owned modern Vietnamese eatery and cafe in Toronto's Junction neighbourhood.
It has a relaxing and inviting vibe with its cafe-style interior, making it an excellent spot for casual dining with friends or family.
Their masterfully crafted menu features authentic Vietnamese fare and coffee, but they are known for their Banh Mi and Banh Cuon.
Their Banh Mi is outstanding as its baguette is crispy on the outside and soft on the inside, filled with moist and flavorful pate, along then packed with pickled vegetables.
Their Banh is light yet fragrant and bursting with flavors, especially if you slather it with fish sauce and chili oil.
What to order: Banh Mi, Banh Cuon, Ca Ri Ga or Chicken Curry
Address: 369 Keele St, Toronto, ON M6P 2K6, Canada
Website | Instagram | Facebook
11. Hem Social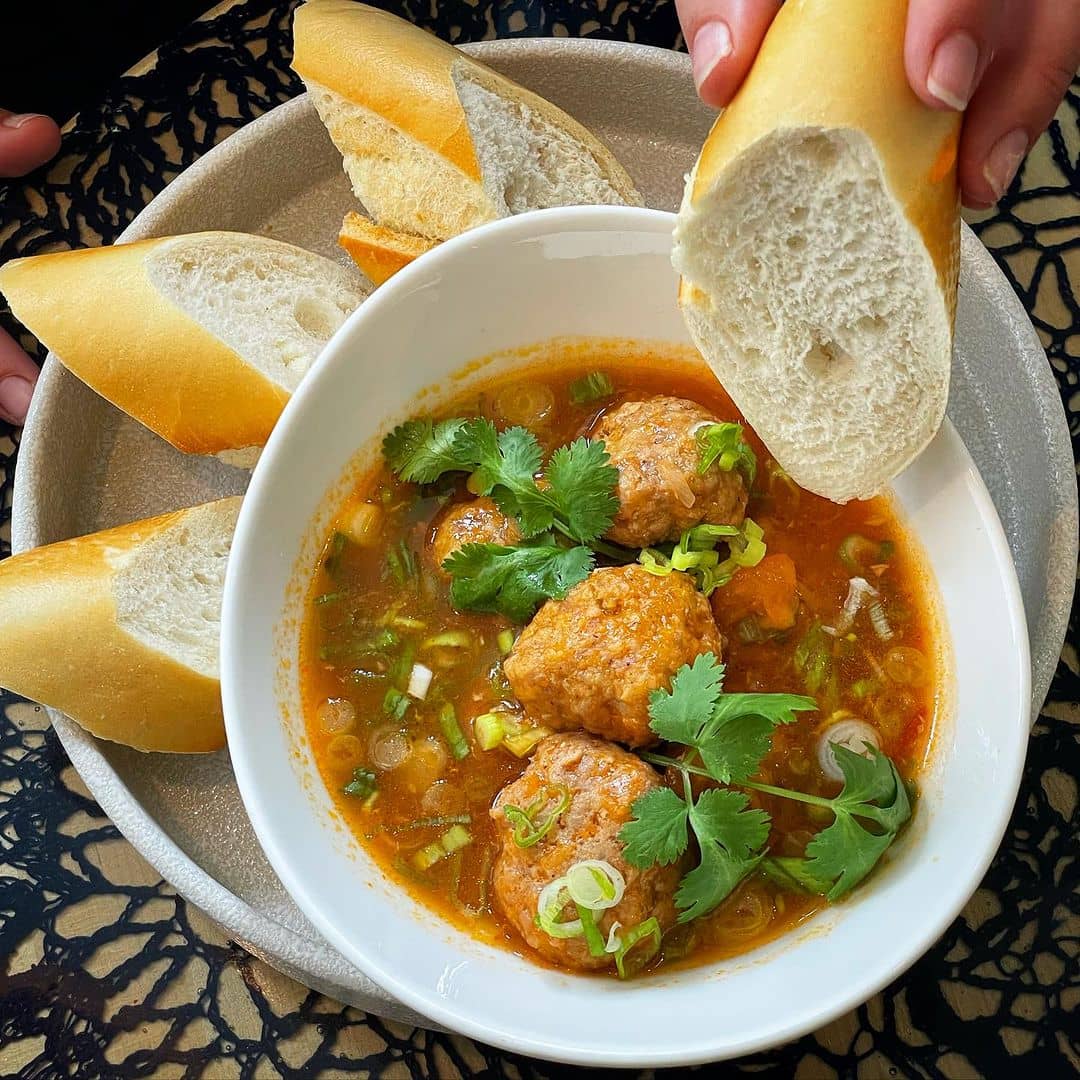 Hem Social is a newcomer in Toronto's dining scene, offering a unique fusion of traditional and modern Vietnamese flavours.
Run by a sibling duo, the restaurant is simple yet beautifully decorated, blending contemporary and traditional Vietnamese elements like the Non-La or the palm leaf conical hat.
There are a lot of must-orders in their menu, but we've fallen in love with their Papaya Slaw, refreshing and crunchy papaya, umami shrimp, and crunchy peanuts.
The Lemongrass BBQ Chicken and Saute Tofu & King Oyster Mushrooms are two must-try Banh Mis!
The Lemongrass BBQ Chicken is enticing and mouth-watering, while the Saute Tofu & King Oyster Mushrooms may be for vegetarians but can contend with the bbq chicken banh mi.
What to order: Papaya Slaw, Lemongrass BBQ Chicken Banh Mi, Saute Tofu & King Oyster Mushrooms Banh Mi
Address: 1424 Dundas St West, Toronto, ON M6J 1Y5, Canada
12. Little Banh Mi Shop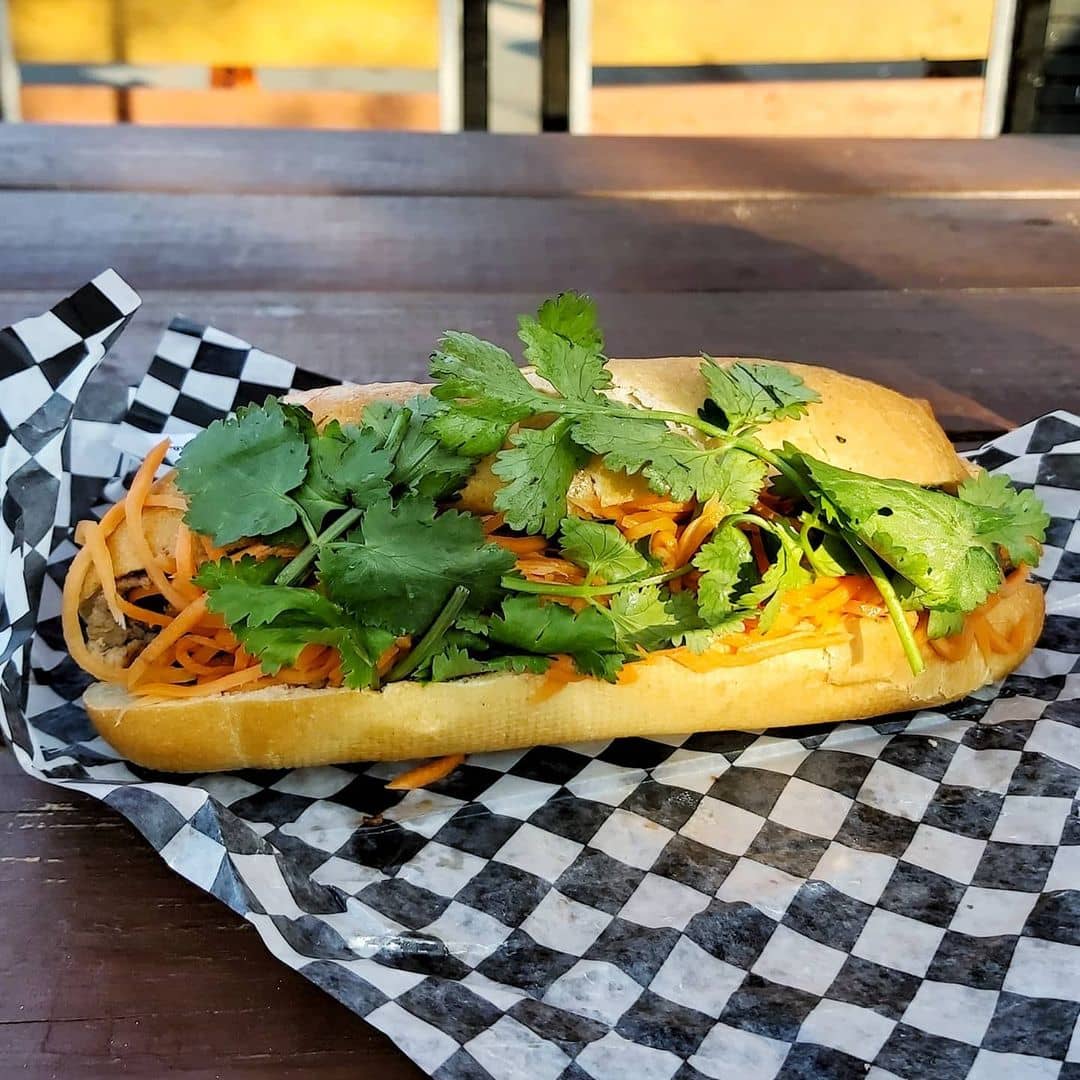 Little Banh Mi Shop is a charming Vietnamese sandwich stall in Market 707.
The simple and cozy ambiance makes the place an excellent spot for a quick lunch or takeaway, combined with an amiable owner who will talk to the customers and even offer a to-go container to keep your Banh Mi fresh.
The shop's menu centers around Banh Mi, spring rolls, and Fresh Wrap Rolls. But as the name implies, locals come back for their Banh Mi.
The Tofu Banh Mi is a popular choice among customers. It is praised for its flavourful tofu and the perfect balance of fresh garnishes.
Another standout item is the Lemongrass Chicken, which is highly recommended for its succulent chicken and aromatic lemongrass flavor.
What to order: Tofu Banh Mi, Lemongrass Chicken
Address: 707 Dundas St W Unit 4B, Toronto, ON M5T 2W6, Canada
And there you have it!
That is all for the best Vietnamese Restaurant in Toronto! Each restaurant on our list will surely satisfy your cravings for Vietnamese cuisine or may even let you have a taste of home.
Looking for more great food? Check out our picks of the best restaurants in Toronto!
How We Create Our "Best" Lists
All Noms Magazine's "best" lists are created using multiple factors and signals to help readers find the best restaurants, things to do, and places to stay at. Some of these factors and signs include personal experiences, correspondence with locals, and compiling experiences from review sites.
Each list is also created to be balanced (in terms of price, cuisine type, ambiance, and more) as possible. This means that the lists are not specifically created in ranking order. You should be comfortable picking from any of the spots on the list and generally have a good time. But of course, YMMV (your mileage may vary) and everyone may have different experiences/palates.