Looking for the best Waterloo restaurants? You're in the right place!
Waterloo region is famous for producing some of the most prestigious think tanks in a tri-city that's riddled with a penchant for arts and history.But beyond this mid-sized community that's known for picturesque buildings, the Grand River, and more lies restaurants showcasing exemplary dining experiences you wouldn't see elsewhere.
With that said, we've rounded up the best Waterloo restaurants to make your trip to the region extra special!
1. Korner Kitchen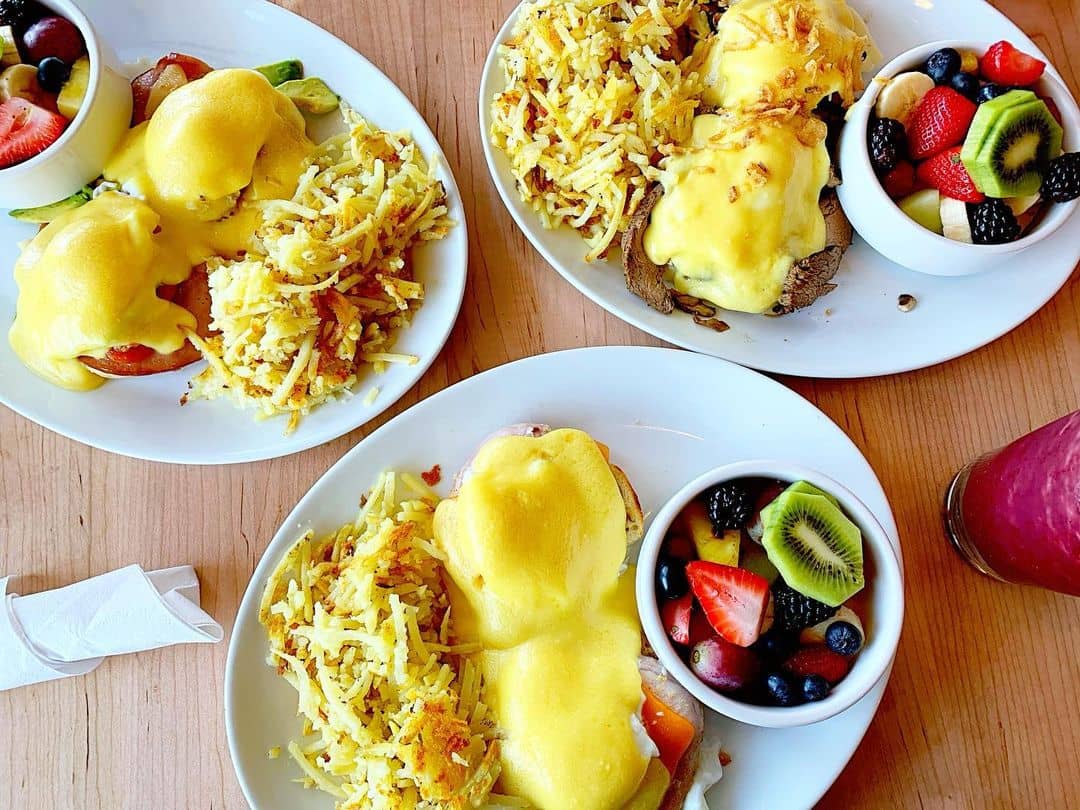 If you're looking forward to breakfast with a blast, you ought to visit Korner Kitchen, a community favourite famous for their flavourful food served in huge proportion since 2015. What awaits you inside is a large space, friendly staff, homey vibes, and a wide variety of food choices working together to give you the most comfortable dining experience!
As a testament to their popularity, Korner Kitchen caters to long lines of guests during the weekends! So, if you're thinking of coming over during those days, it's either you visit early or prepare to wait for available seats.
There are a lot of unique options from their extensive menu, but we're sold with their eggs benedict, steak skillet, and oatmeal!
The eggs benedict are heavenly goodness of English muffins topped with poached eggs and hollandaise sauce. Then you have the steak skillet with mushroom, onions, sweet peppers, hash brown, and Provolone cheese.
What to order: Classic Benedict, Philly Cheese Steak Skillet, Oatmeals, Triple Decker Sandwich
Address: 183 Weber St N, Waterloo, ON N2J 3H3, Canada
Website | Instagram | Facebook
2. Mediterraneo Family Restaurant
If you're in the mood for some Mediterranean cuisine, you should definitely head to Mediterraneo to satiate your cravings. This family-owned restaurant has always been a go-to for locals looking for authentic Greek fare.
Everything in Mediterraneo is worth praising. From impeccable service and delectable food to amazing vibes—you are in for some blissful dining! Pair it up with dishes prepared with drool-worthy presentations; your visit will be one for the books!
All items on their menu are splendid, but we're kind of biased towards their calamari, chicken souvlaki, gyro plate, cheesecake, and of course, the famous Greek salad!
The tenderness of the chicken in the souvlaki and the beef in the Gyro plate take these Greek staples to the next level of deliciousness! Your Mediterraneo experience won't be complete if you're going to miss out on this heavenly goodness!
What to order: Calamari, Greek Salad, Chicken Souvlaki, Strawberry Cheesecake, Gyro Plate
Address: 425 University Ave, Waterloo, ON N2K 4C9, Canada
3. Bao Sandwich Bar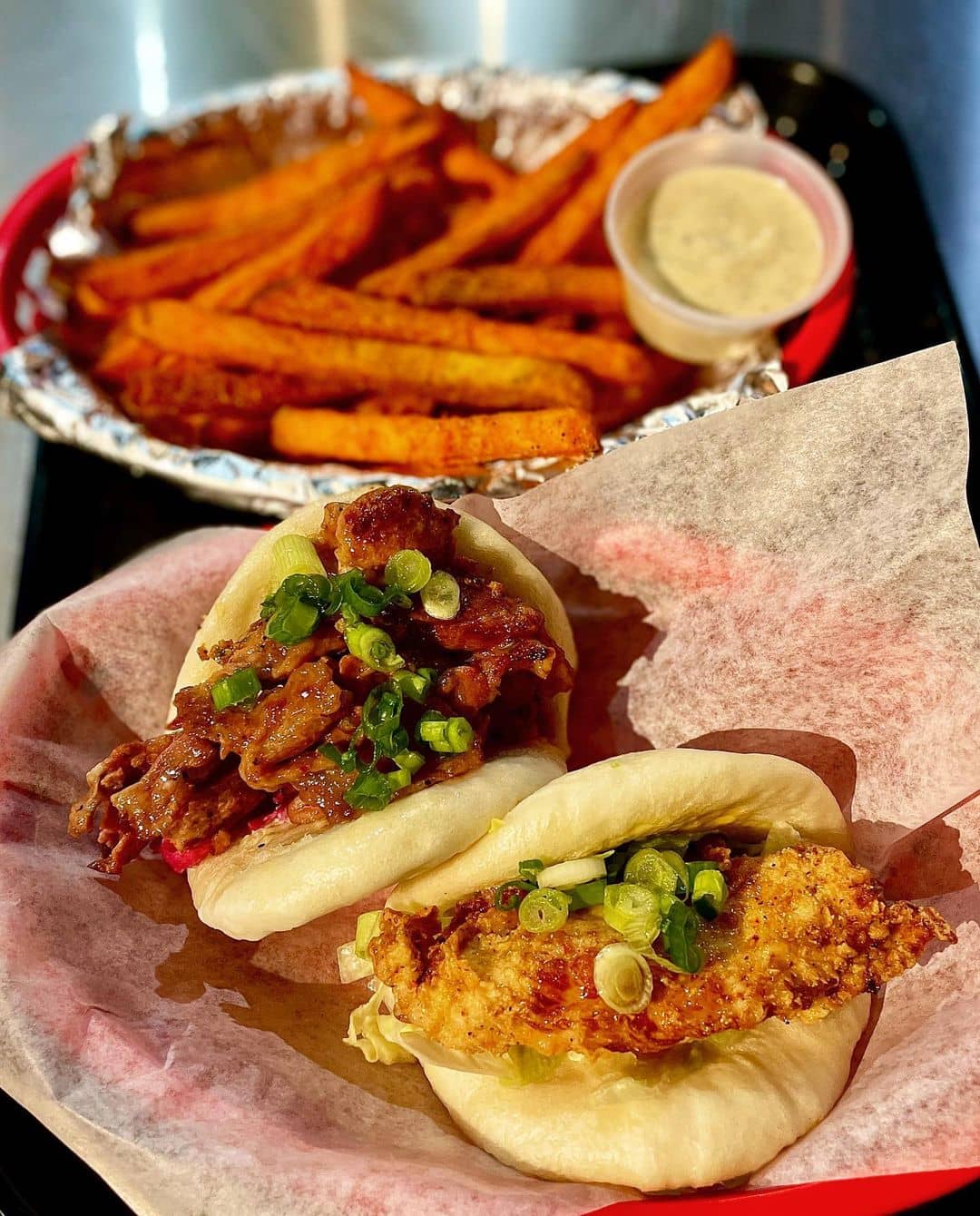 A prime example of a hidden gem, Bao Sandwich Bar, is your best bet at having some of Waterloo's best baos, banh mi's, and sandwiches. They take on a modern approach to a wide array of Asian cuisines, offering select traditional staples adjusted to satiate the Canadian palate.
But since they're tucked away in an alley, it's easy to miss the restaurant — so be extra attentive if you want to get your sandwiches ASAP.
Their menu highlights baos, baguettes, sides, and everyday combo deals, but we're biased towards their spicy pork bao, chicken katsu bao, and great chicken bao. These are three of the many reasons why locals and tourists are attracted to this Asian-centric sandwich bar in Waterloo's university district.
Hey, you really can't blame us! The great chicken bao is fried chicken, lettuce, and green onions, hugged in house-made steamed buns and special bao sauce. On the other hand, the chicken katsu is Japanese-style chicken made particularly good with tonkatsu sauce, garlic mayo, and togarashi flakes.
What to order: Spicy Pork Bao, Chicken Katsu Bao, Great Chicken Bao
Address: 62 Balsam St B106, Waterloo, ON, Canada
4. Wildcraft Grill + Long Bar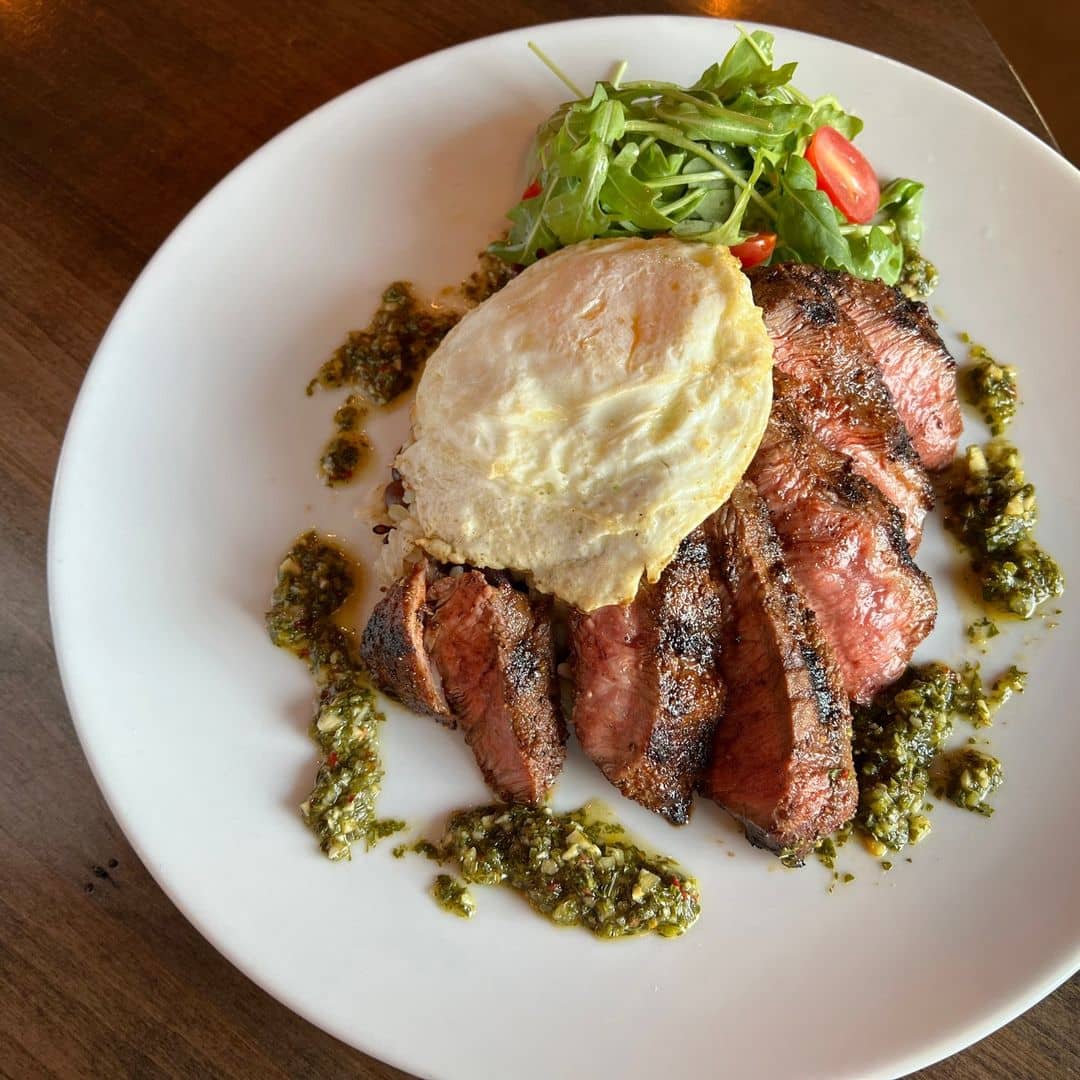 Wildcraft is one of the most picturesque restaurants in Waterloo, with various spots to make your Instagram feed aesthetically pleasing. They're famous for offering a trifecta of intricately designed interiors, first-class service, and divinely prepared food by artisan chefs!
With an interior highlighting wood and earth tone colors, such a rustic setting makes this place the perfect venue for group celebrations, intimate dinner with loved ones, or just a good ol' catching up with friends!
Wildcraft hosts various events, including the crowd favourite IN CONCERT event that will take your visit up a notch! It's where music, beer, and food, converge to create the ultimate culinary experience.
You'll never go wrong with Wildcraft's Thurston Howell, a black truffle mashed Yukon potatoes with charbroiled beef tenderloin, prawns, shallot, and buttered asparagus. Another item you shouldn't forget is their tiny duck tacos, pulled duck, crushed peanuts, cilantro, and gochujang warmly embraced by the goodness of tacos!
Lastly, their braised boneless short rib is to die for! The marriage between a truffle, pecorino polenta, arugula, sticky sweet onion, and balsamic gravy is an inventive dish you can't simply ignore!
What to order: Thurston Howell, Tiny Duck Tacos, Braised Boneless Short Rib
Address: 425 King St N, Waterloo, ON N2J 2Z5, Canada
Website | Instagram | Facebook
5. Red House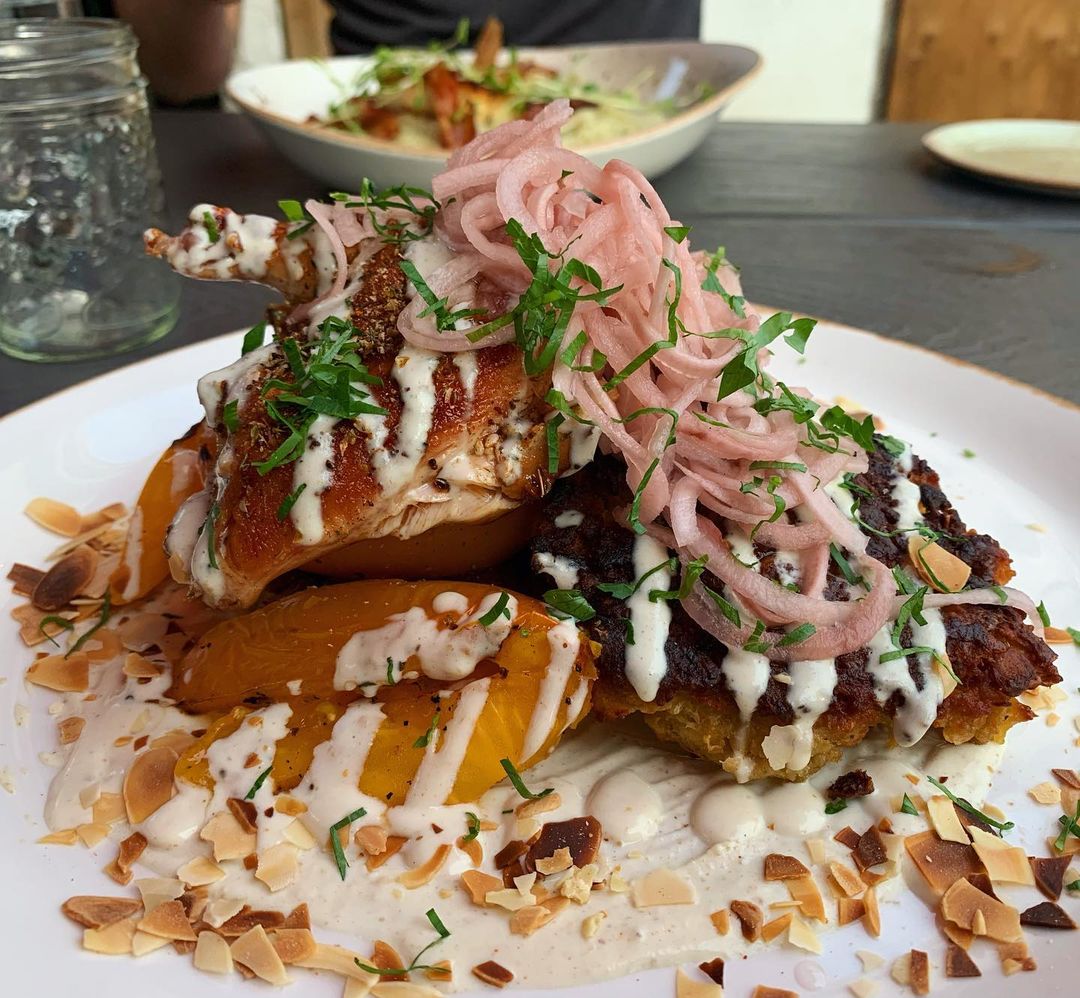 Red House is an intimate restaurant in Uptown Waterloo offering a unique dining experience highlighted by expertly designed dishes you wouldn't find anywhere. They boast a creative menu showcasing inventive Canadian cuisine from locally sourced ingredients and freshly grown herbs.
Red House pays close attention to customer satisfaction. They make sure you're comfortably seated and well-attended. If you don't know what to order, Red House's critically acclaimed Chef Dan would gladly showcase his expertise and recommend some of their bestsellers based on your preference.
But whether you're lounging inside the main dining hall or appreciating their backyard patio, your visit to this small-yet-cozy restaurant wouldn't be complete without tasting these dishes: Chef's soup, lamb spaghetti, Guyanese chow mein, beef n' blue, and broken lemon meringue pie.
With the Chef's hands, you can be sure these dishes are masterfully crafted to showcase an outburst of flavors with every bite. Cap everything off with a Tipsy latte, bear face, Whisky, spiced syrup, steamed milk, espresso, and cinnamon in one glorious drink—talk about creativity!
What to order: Chef's Soup, Lamb Spaghetti, Guyanese Chow Mein, Beef n' Blue, Broken Lemon Meringue Pie, Tipsy Latte
Address: 30 William St W, Waterloo, ON N2L 1J4, Canada
Website | Instagram | Facebook
6. Exclamation Waterloo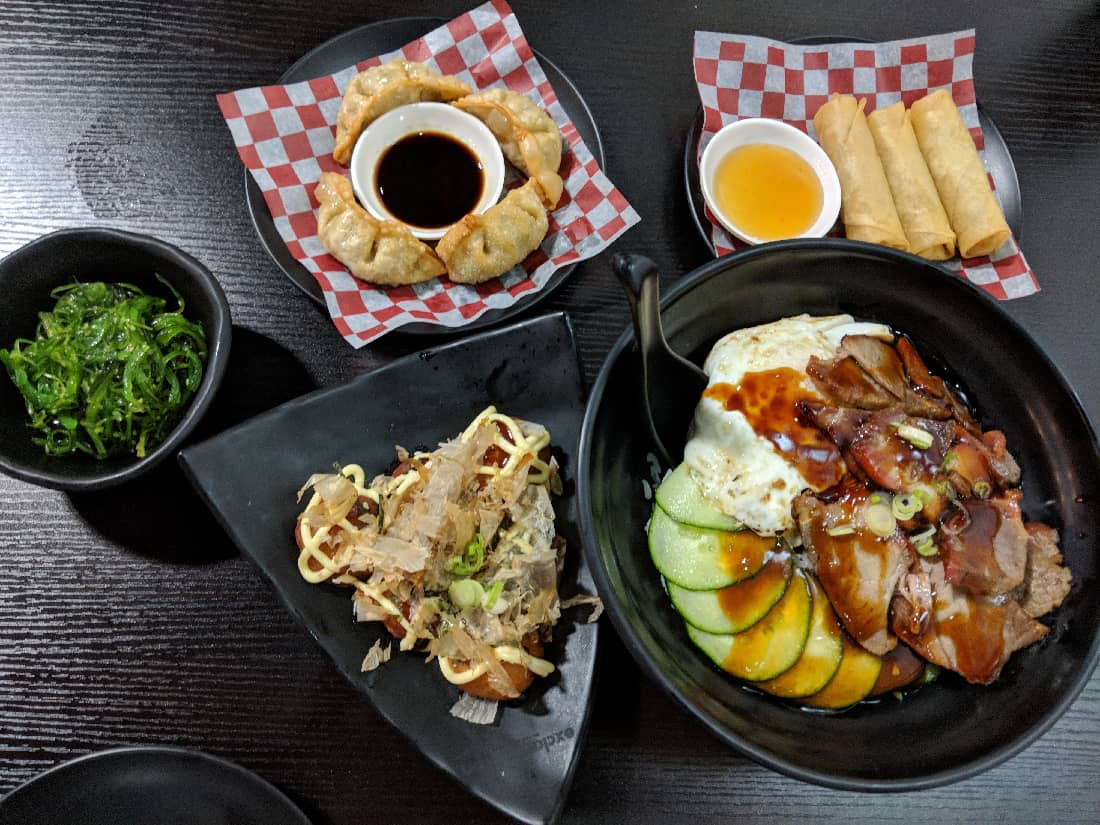 You might think you wouldn't find a Waterloo restaurant that dares to try Asian fusion displayed in a wide variety of contemporary dishes, but that's where you're wrong. Exclamation Waterloo does not only excel at creating creative fusion dishes, they also made it their brand.
Their extensive menu offers traditional Eastern dishes infused with various other Asian delights. From teas and fruits to Japanese yakiniku, Chinese siu mai, and Korean kimchi, you have it here at Exclamation—and more!
We highly recommend you try their Exclamation ramen—fresh homemade Japanese ramen noodles dancing together with prawns, chashu, beef, crab meat, and other ramen toppings in creamy tonkotsu broth and black garlic oil.
Another one you shouldn't miss is their chicken Katsu Bento—fried chicken topped with teriyaki sauce and Kewpie mayo, and comes with nitamago, corn, lettuce, gyoza, and more mouthwatering delicacies!
What to order: Exclamation Ramen, Chicken Katsu, Chicken Katsu Bento, Fresh Pan Fried Bao, Sukiyaki Beef Don, Cheese Stuffed Chicken
Address: 63 Hickory St W, Waterloo, ON N2L 3H2, Canada
7. Kinaku Izakaya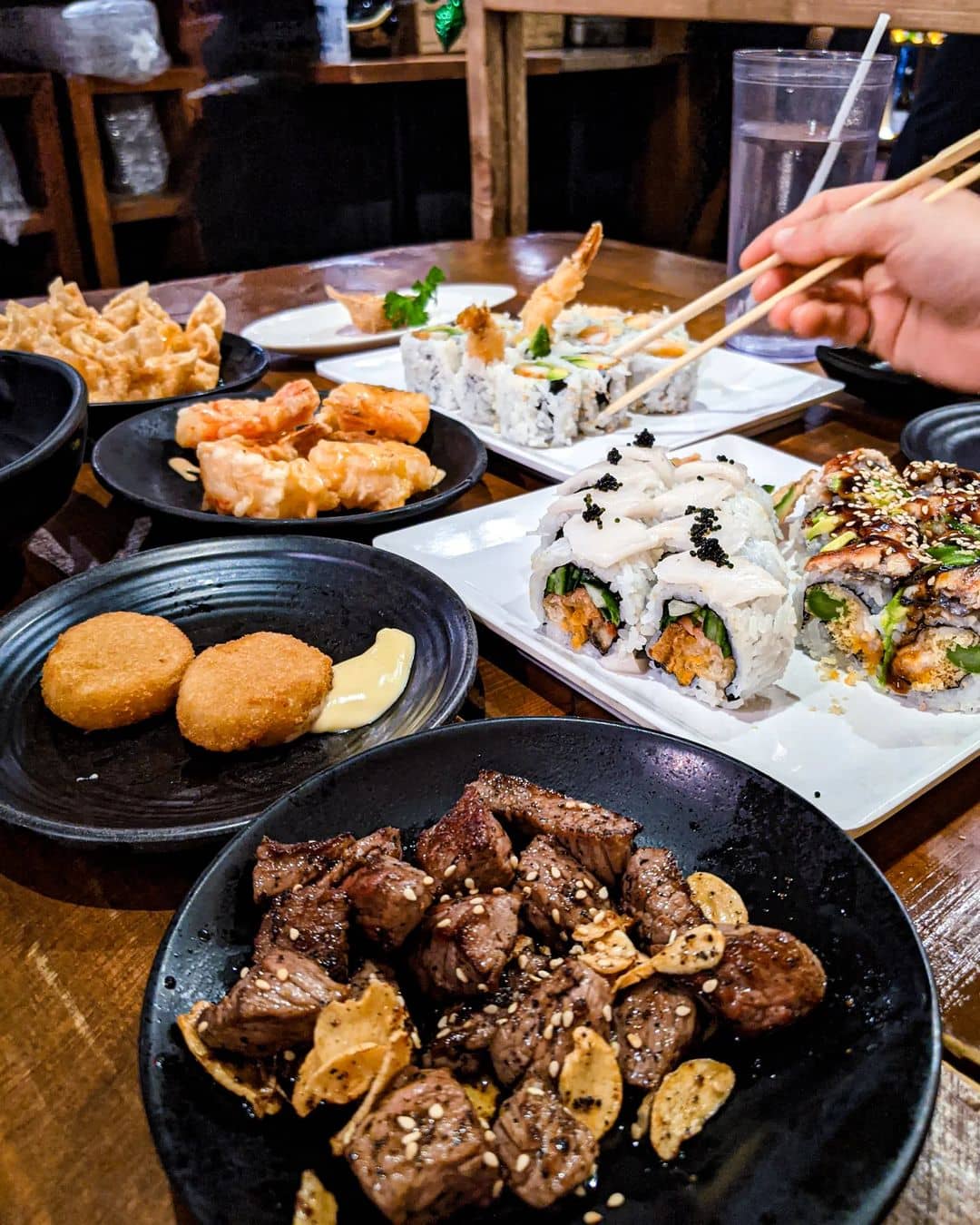 Craving for sushi, yes? Kinaku Izakaya is the fix you're looking for!
There may be several Japanese restaurants around Waterloo, but Kinaku is just built different! They're one of the few places offering an All You Can Eat (AYCE) experience that both checks the quality and quantity aspects of AYCE.
Ask the locals and they'd agree; Kinaku's extensive lineup has some of the most savory sushi, rolls, sashimi, and other Japanese delights. So, be sure to be extra early if you can, since the place is always packed with hungry foodies who want to enjoy an unlimited amount of delectable food with friends and family.
Once seated, you are given a 90-minute limit of pure bliss. Take the time to indulge to your heart's content, but don't forget to try their Godzilla roll, beef carpaccio, Ebi mayo, karaage, and spicy salmon hand roll!
What to order: All You Can Eat: Beef Carpaccio, Ebimayo, Chicken Karaage, Spicy Salmon Hand Roll, Godzilla Roll
Address: 217 King St W, Kitchener, ON, Canada
Website | Instagram | Facebook
8. Meetpoint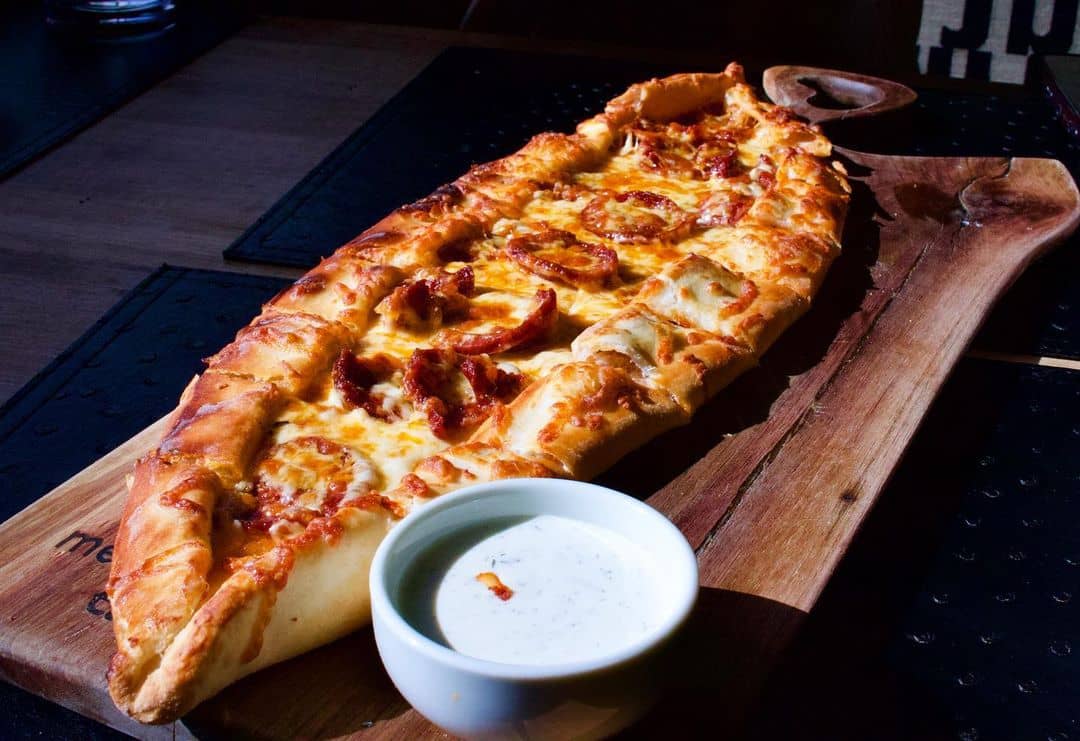 Restaurants whose goal is to spread the owner's beautiful culture are bound to attract locals and tourists alike. Waterloo's Meetpoint is proof of this reality—they have successfully shared the goodness and greatness of Turkish cuisine with their impressive menu and warm service.
On the outside, Meetpoint has a simple facade with the restaurant name glued onto reddish bricks. But once you enter, you'll be transported into an intricately decorated interior with a round counter at the center.
Meetpoint is perfect for dinner with friends over hearty conversations and amazing food. Which is why you must not miss their cigar borek, Adana kebab, shish kebab, and ground beef pide.
For the shish kebab, you can choose between lamb, beef, and chicken variations! But any choice is made extremely flavoursome with a special marinade!
What to order: Cigar Borek, Adana Kebab, Shish Kebab, Ground Beef Pide
Address: 1 The Boardwalk #400, Waterloo, ON N2T 0A6, Canada
Website | Instagram | Facebook
9. The Crazy Canuck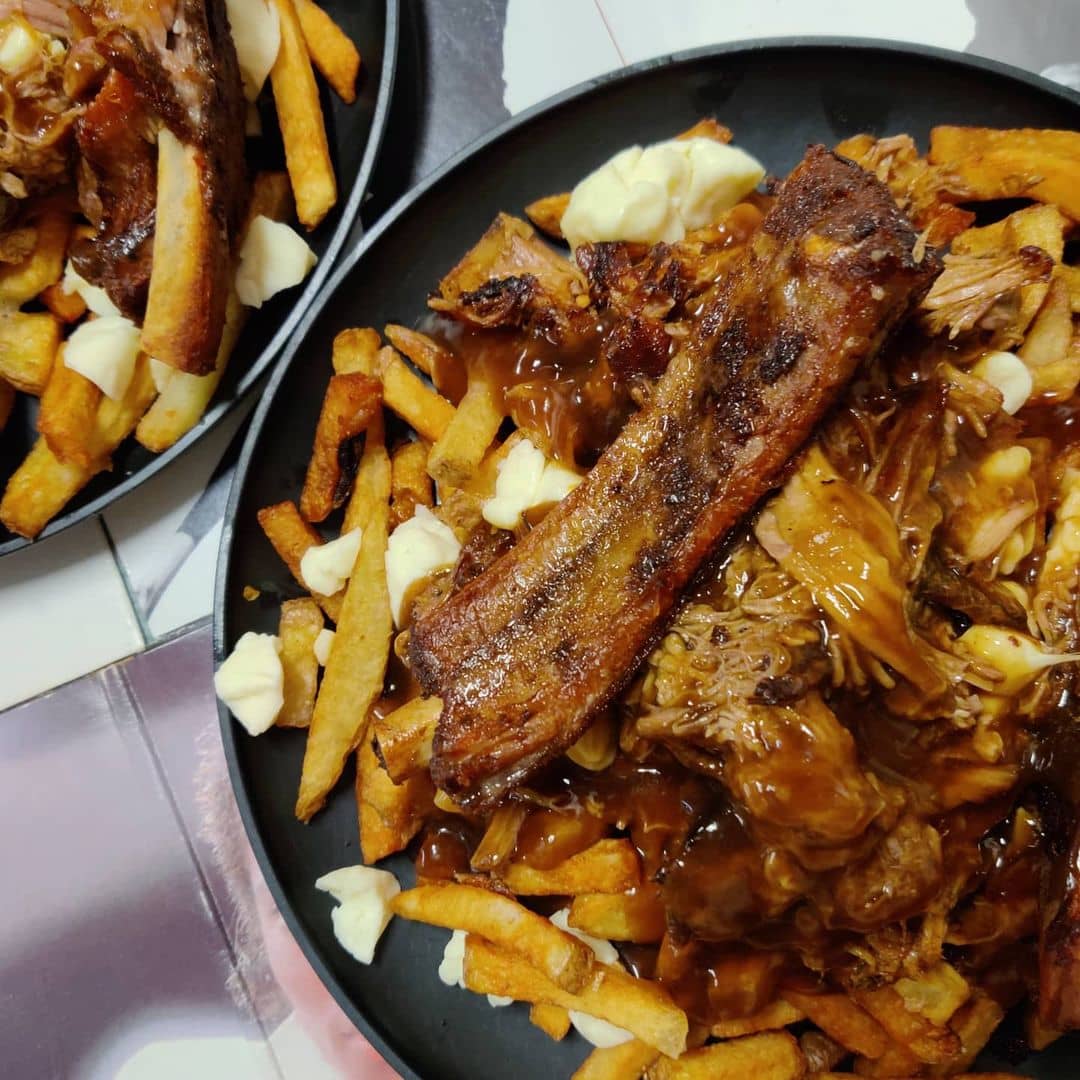 Located beside an antique shop, The Crazy Canuck is your go-to restaurant offering a vast assortment of Canadian dishes, including pizzas, poutines, and burgers. Everything screams Canada, from their name and menu to their friendly service and red-and-white-centric layout.
But if we are to summarize the Crazy Canuck craze in one sentence, it goes something like this: generous food portions with reasonable prices enjoyed inside a funky Canadian-themed space.
They have a lot of flavourful items on their menu, but here are some items that exceeded our expectations: classic poutine, crazy canuck poutine, BBQ pulled pork on a bun, and boneless dry ribs.
Honestly, we can't put into words how crazy we are for these choices. The poutine has the perfect ratio of cheese, gravy, fries, and other toppings, while the pulled pork and dry ribs are out-of-this-world. Finishing everything off with a Crazy Canuck bear means you're making one of the best decisions of your life!
What to order: Classic Quebec Cheese Curd Poutine, Crazy Canuck Poutine, Famous Apple BBQ Pulled Pork On a Bun, Boneless Dry Ribs
Address: 845 Weber St N, Waterloo, ON, Canada
Website | Instagram | Facebook
10. Jane Bond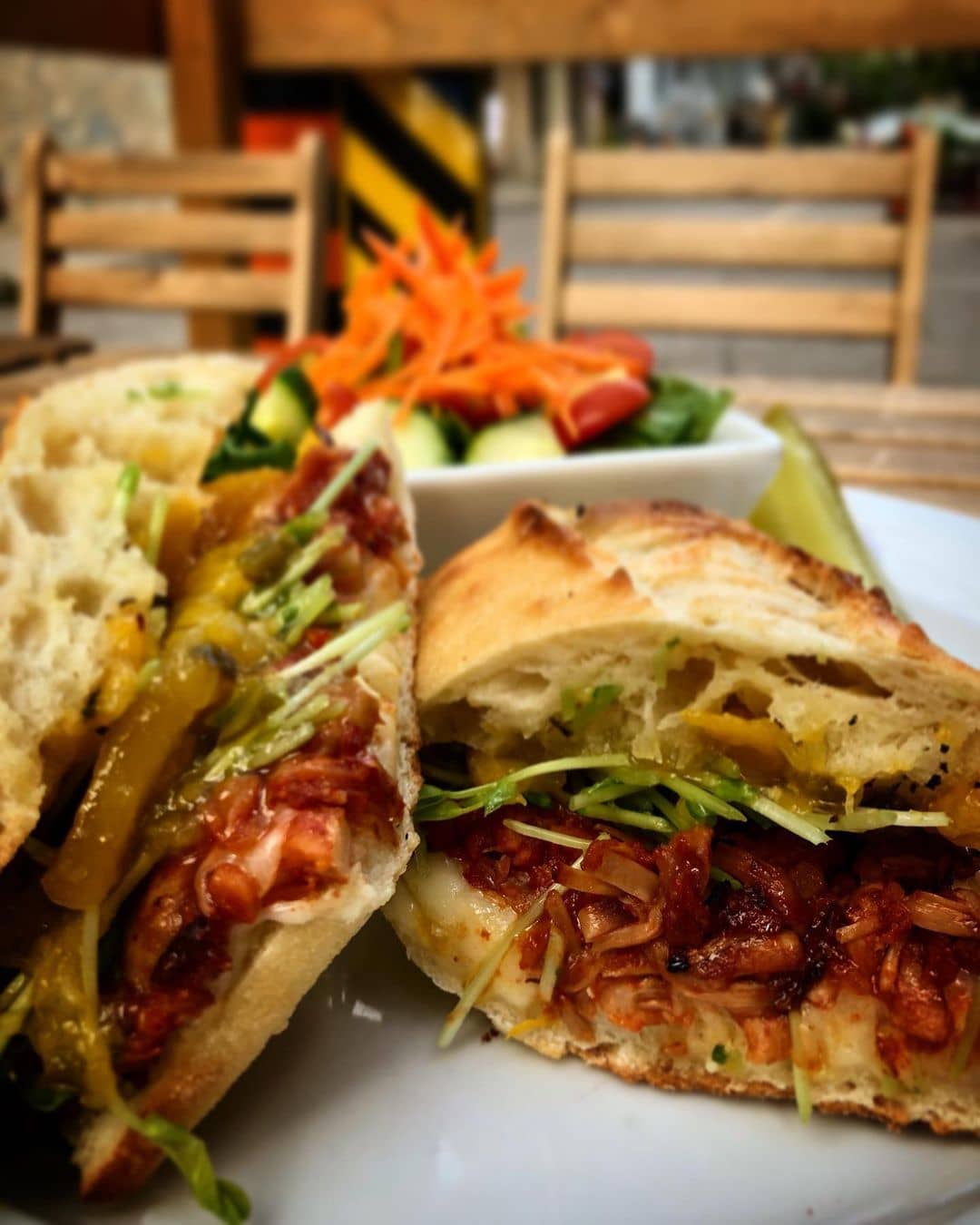 Jane Bond, one of the vegan-friendly places in Waterloo, is where music, vibes, and healthy options work together to give you an eclectic night you can't forget. If you're looking for a place to chill, relax, and just enjoy the night, this bar should be on your list of must-visit places!
Jane Bond offers flavourful and fresh dishes you can enjoy without guilt and worry. Their vegan and vegetarian menu is so fantastic that even regular items would be embarrassed!
Jane Bond's menu has few items compared to other restaurants on the list. But with food appealing across the board, attracting even the meat lovers, makes up for the limited menu.
And proof of this greatness is their antojitos, Big Jack, and munch wrap supreme. The antojitos are tortillas rolled with cream cheese, bell peppers, and kalamata olives—healthy tacos, anyone?
Jane Bond's Big Jack is a Bourbon BBQ jackfruit patty embraced by a sesame seed bun. Equally impressive is the munch wrap, a pan-fried tortilla stuffed with chipotle black beans, tomato, lettuce, sour cream, and cheddar cheese.
What to order: Antojitos, Big Jack, Munch Wrap Supreme, Barncat Smudge, Merit Waves Cherry Lime Banana
Address: 5 Princess St W, Waterloo, ON N2L 2X7, Canada
Website | Instagram | Facebook
11. Gol's Lanzhou Noodle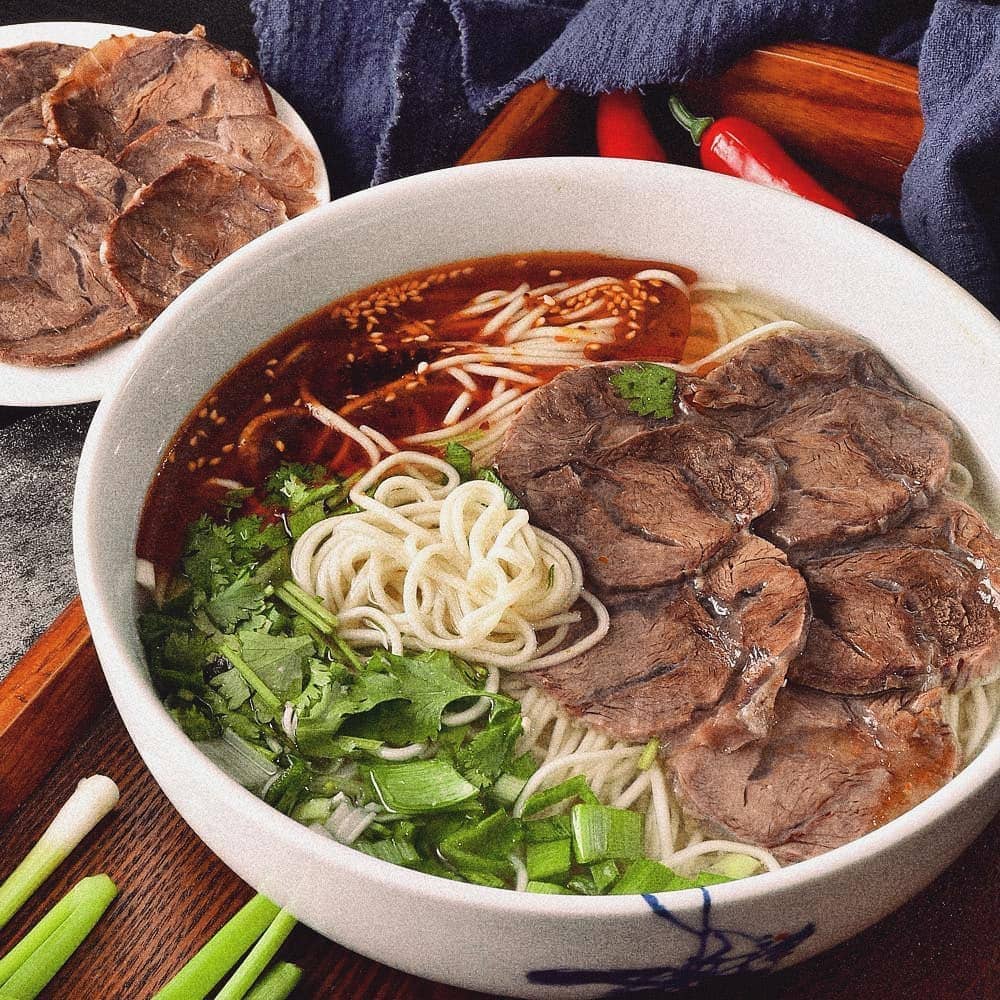 Gol's Lanzhou Noodle is a hidden treasure offering hand-made in-house noodles fresh from scratch. First established in Montreal four years ago, this Chinese restaurant has solidified their presence in the Waterloo region since 2018, thanks to bringing authentic Lanzhou recipes straight from China!
Prepare to be amazed at how they make their famous noodles in front of your very eyes, behind a glass-covered counter where the noodles are made with care.
From their main menu, it would definitely be a loss if you're going to miss out on their beef tendon noodles, where you can choose a type of Lanzhou noodle. Other dishes you can try are the stir-fried tomato beef noodle and Lanzhou-style Liang pi.
For BBQ lovers, Gol's BBQ lamb skewers and BBQ pork feet are waiting for you!
What to order: Beef Tendon Noodle, Stir-Fried Tomato Beef Noodle, Lanzhou Style Liang Pi, BBQ Lamb Skewers, BBQ Pork Feet
Address: 150 University Ave W Unit 6B, Waterloo, ON, Canada
Website | Instagram | Facebook
12. Homestyle Diner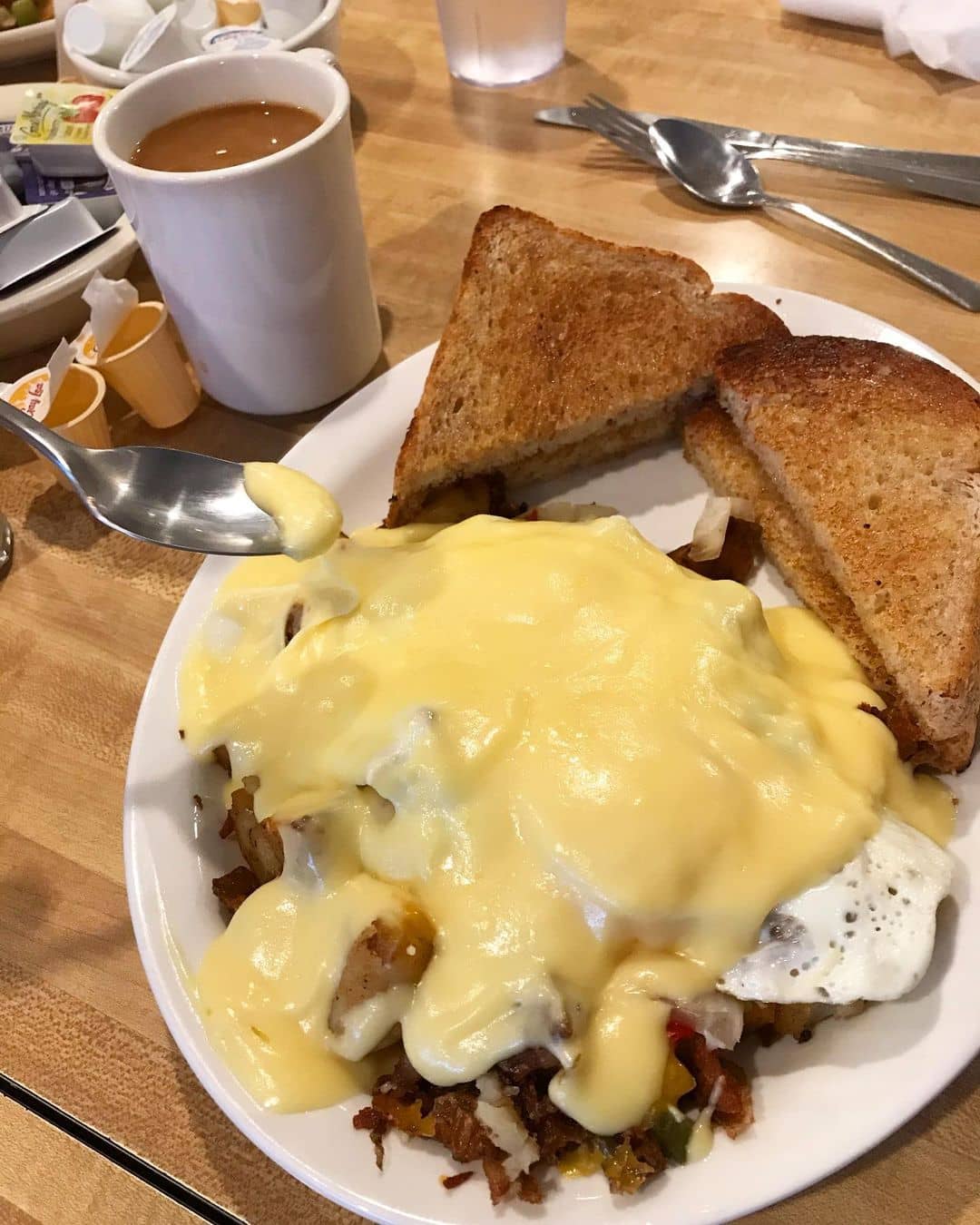 Homestyle Diner first opened their doors in 1987, and decades later, they're still continuously improving by serving homemade comfort food from best-kept secret recipes passed down from one generation to another.
With warm homey vibes and a decadent selection of sandwiches, bennies, and other breakfast delights, Homestyle Diner is arguably one of the best breakfast places in the KW area. You can choose from a range of freshly cooked dishes carefully made with passion and love.
Go for their Homestyle favorite benedict—poached eggs, peameal, sauteed mushrooms, and cheddar cheese atop a savory English muffin with hollandaise sauce. Their cinnamon raisin french toast is another breakfast gem to start your day right!
But while Homestyle Diner is famous for their breakfast offerings, their lunch and dinner menu has some equally phenomenal dishes you just can't simply ignore. Two of these must-orders are their original schnitzel, pork hand-breaded in fresh seasoned crumbs with sauerkraut and potato; and classic poutine with piping hot home fries topped with cheddar and beef.
What to order: Homestyle Favorite Benedict, Cinnamon Raisin French Toast, Original Schnitzel, Poutine
Address: 504 Albert St, Waterloo, ON N2L 3V4, Canada
Website | Instagram | Facebook
13. Princess Cafe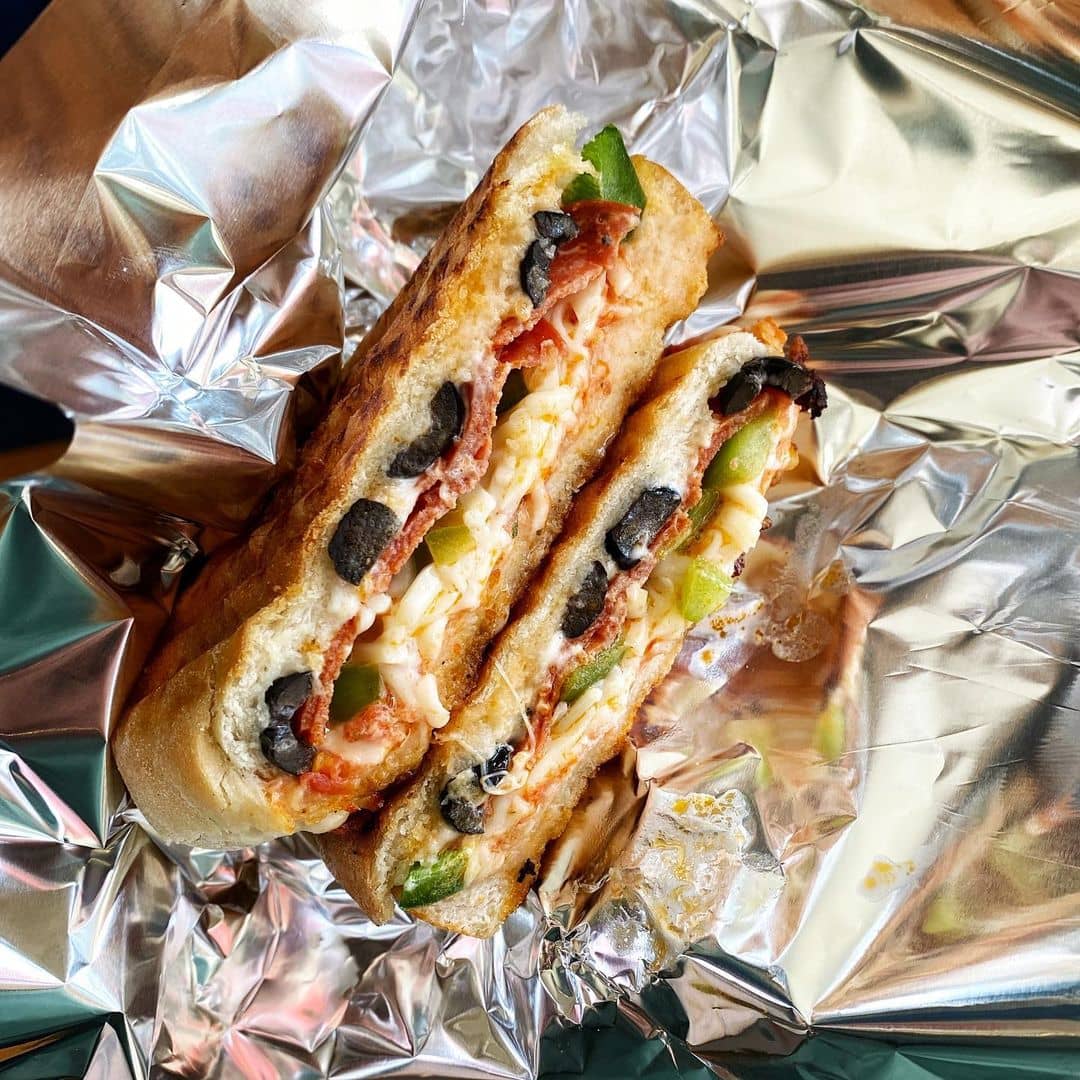 For some of the best paninis and craft beers in Waterloo, you ought to head over to Princess Cafe in Uptown. This cute little restaurant is perfect for quick bites during lunch or if you want a quick serving of a delicious quality meal.
You can order any panini, since any option is outrageously good, but we highly recommend their Big Marc sandwich, grilled halloumi, lettuce, and pickles in a sesame seed bun with special sauce; turkey panini with spinach, tomato, red onion, tomato pesto, garlic mayo, and goat cheese; and carried tuna melt with fresh seasoned tomato and cheddar.
Princess Cafe features a Sidewalk Beer Shop, a takeout beer window with an extensive list of beer. With over 100 items, you can say that they take their beer game seriously! You can also opt for their coffee and non-beer beverages for a full-house experience.
You wouldn't regret taking our word for it! Pro-tip: don't miss their rotating soup!
What to order: Big Marc Sandwich, Turkey Panini, Carried Tuna Melt Panini, Soup, Latte, Beer
Address: 46 King St N, Waterloo, ON, Canada
Website | Instagram | Facebook
There you go—that sums up the best restaurants Waterloo offers! We hope you can visit one or two of them soonest. While you're at it, you might want to check out our list of best Toronto restaurants and our cheat sheet of Kingston restaurants to help you plan your next trip!
How We Create Our "Best" Lists
All Noms Magazine's "best" lists are created using multiple factors and signals to help readers find the best restaurants, things to do, and places to stay at. Some of these factors and signs include personal experiences, correspondence with locals, and compiling experiences from review sites.
Each list is also created to be balanced (in terms of price, cuisine type, ambiance, and more) as possible. This means that the lists are not specifically created in ranking order. You should be comfortable picking from any of the spots on the list and generally have a good time. But of course, YMMV (your mileage may vary) and everyone may have different experiences/palates.