You're wondering why you have to aim for an Airbnb and not a hotel when in Ontario? Well, because those insanely cool Airbnbs in Ontario can awaken your inner adventure! Those gigantic freshwater lakes, thriving forests, and thousands of waterways are ready to accompany your high-energy adventure.
Knowing you're seeking a dreamy getaway in Ontario, we're happy to share ten of our favorite Airbnbs below to make your bucket list!
This article includes affiliate links where we may get a small commission if you use our link. No extra cost is added to you.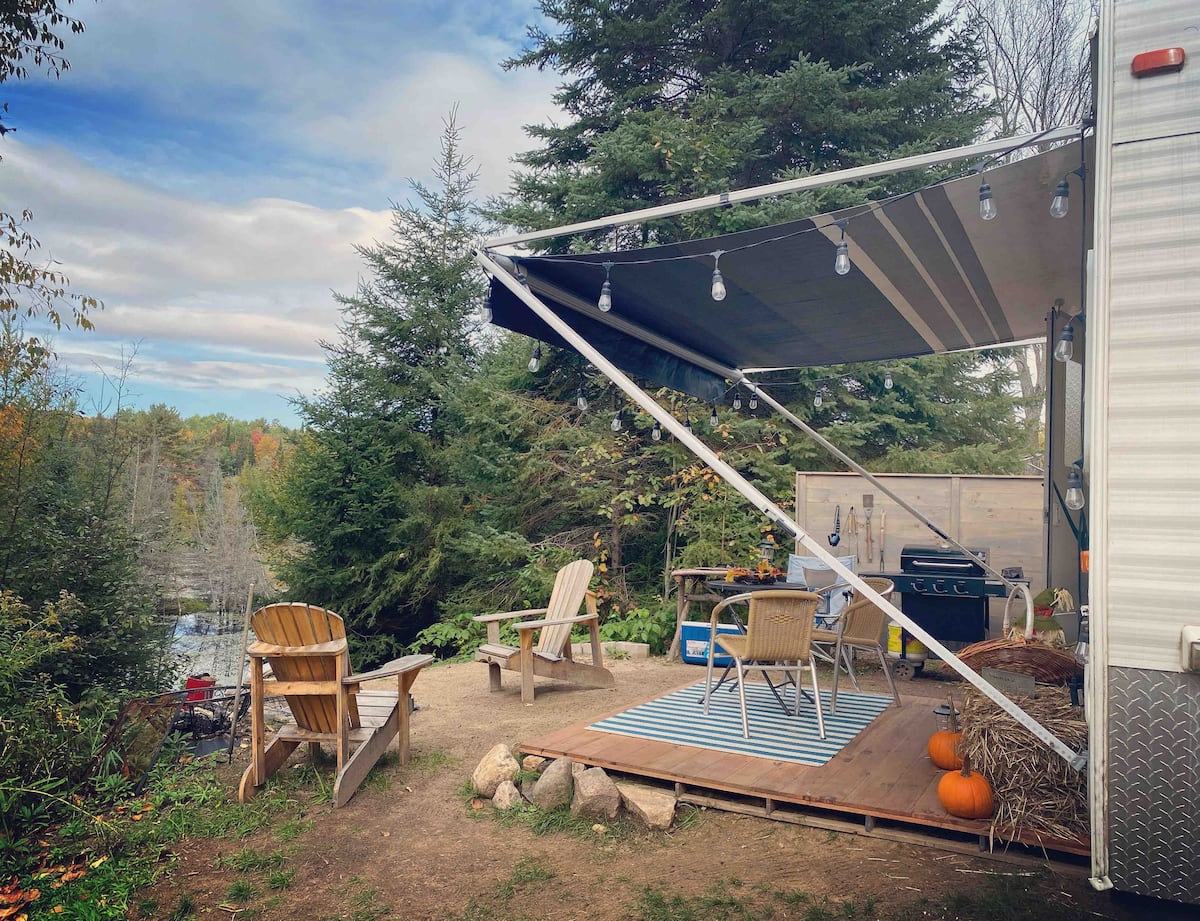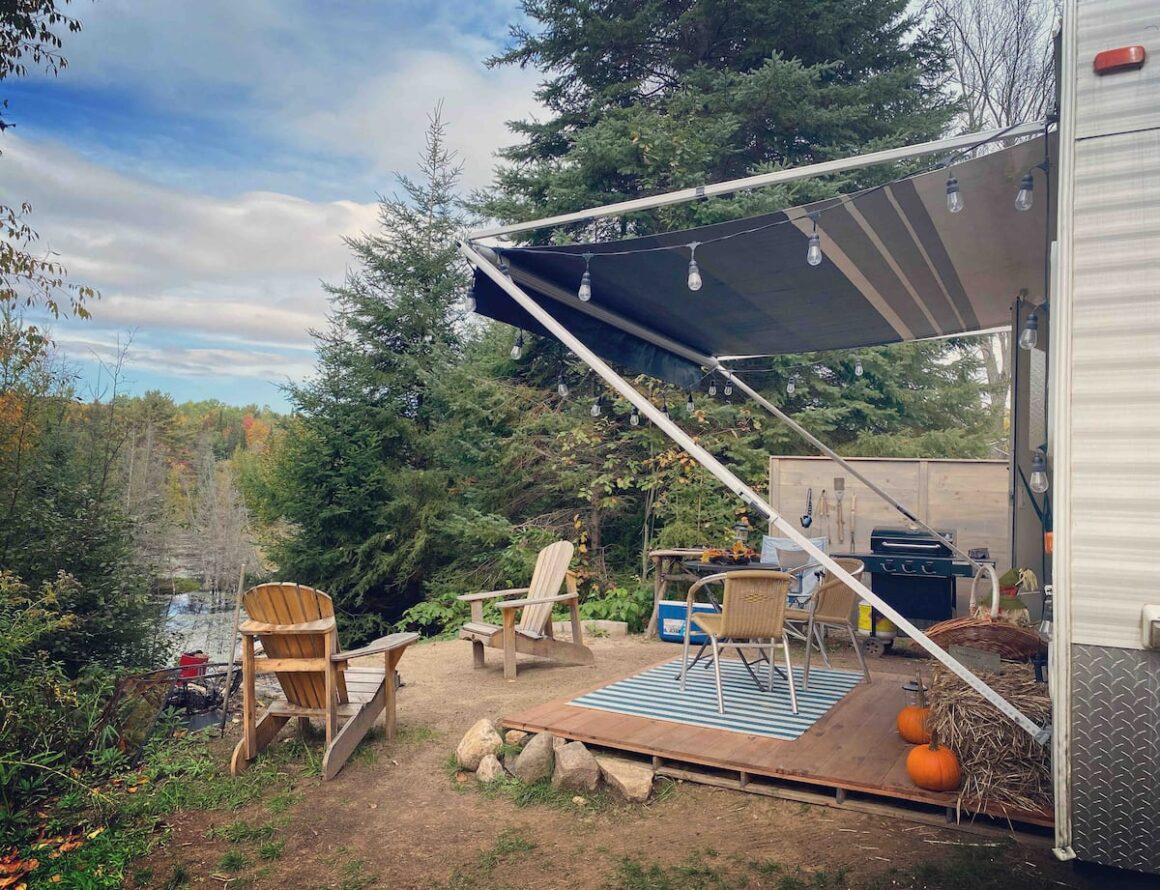 Price: $
No. of bedroom: 1
Octavio's campsite is a perfect example of living small indoors and large outdoors. This 18-feet trailer opens a gateway to a little escape from reality. Octavio calls this trailer Atlas, a tiny camper snuggled in a rural setting of Kawartha lakes.
This exclusive space goes beyond the benefit of eating s'mores, communing with nature, and removing yourself from the daily grind. It's a perfect spot to stargaze, catch geo, go ATV-ing, and take on countless hiking trails into the woods. Atlas may seem off the radar, but it's only steps away from the beach, grocery store, chip truck, and LCBO within five minutes of driving.
Make sure to clear out the whole weekend when booking with Octavio because the outdoor recreational possibilities come across the board that you don't want to miss out on anything! Kayaking, hiking, fishing, forest bathing, and dunking in the sauna are just a few to be named. Atlas has a half kitchen for two people, a private bath with a toilet and shower, and a private area for an outside shower experience.
2. Cottage On Lake Simcoe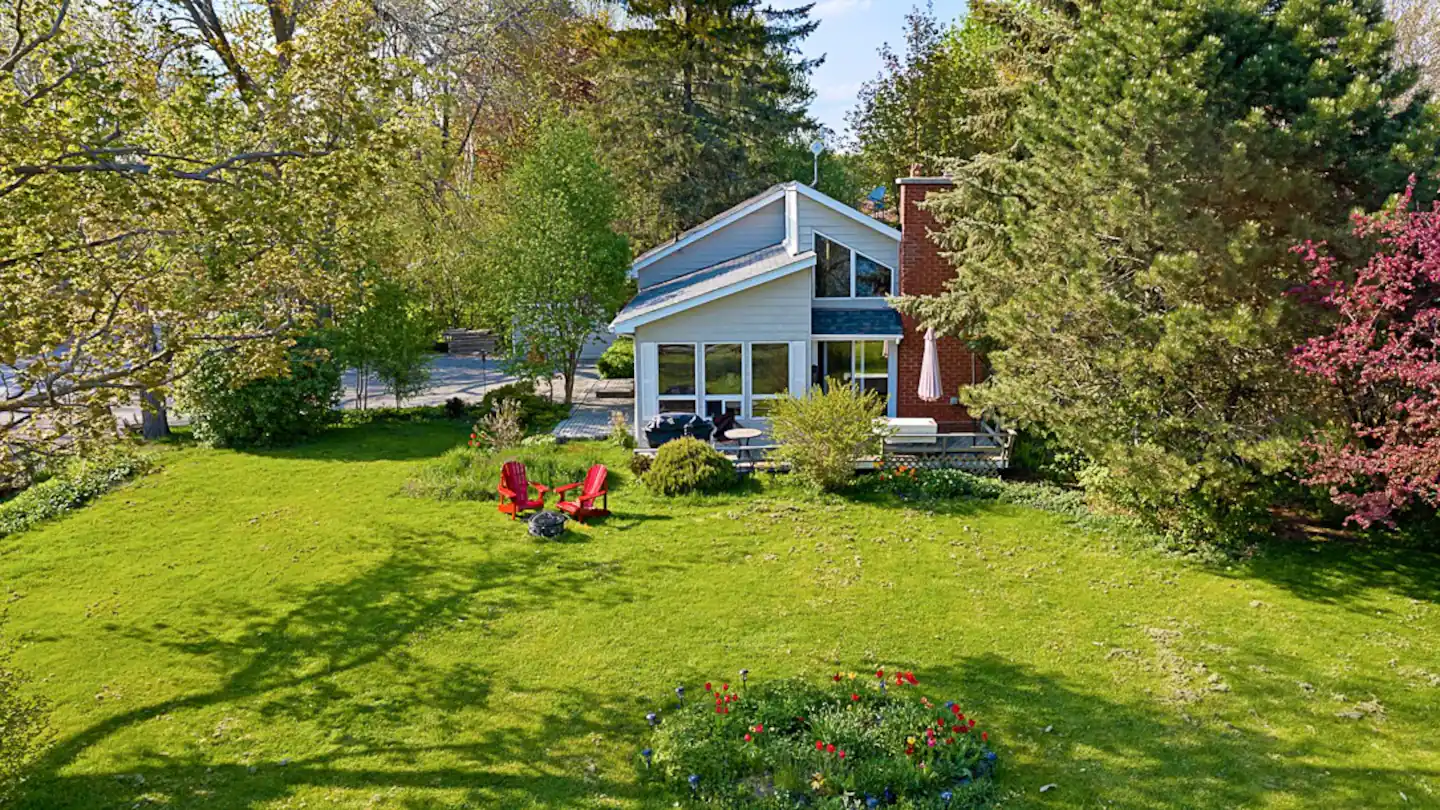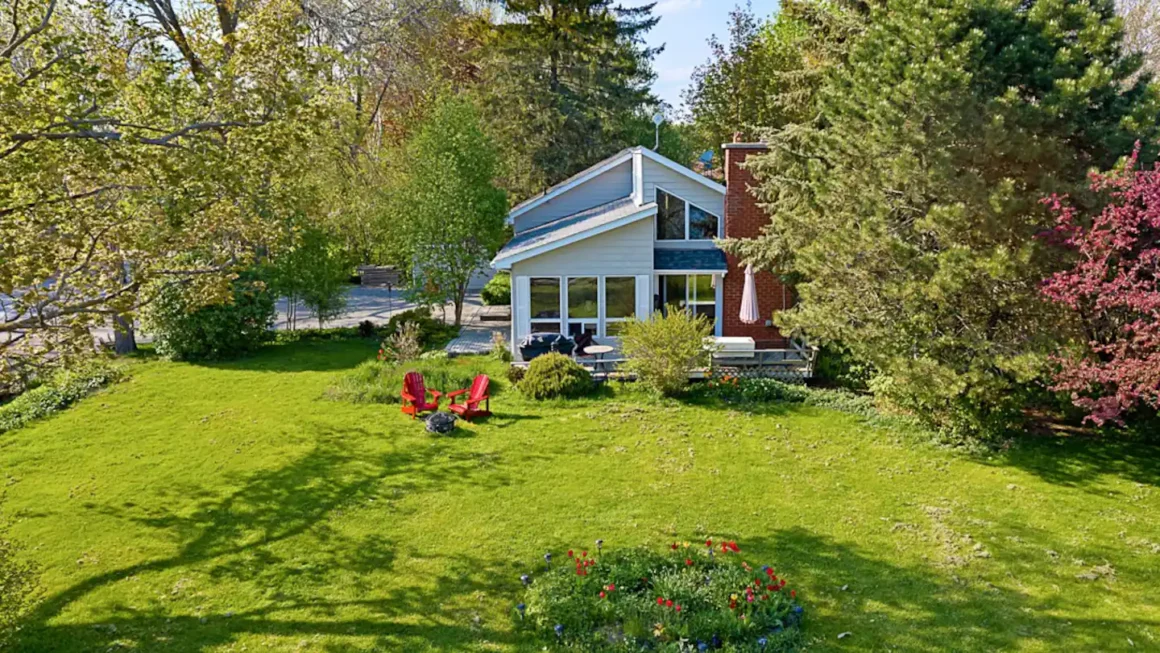 Price: $$
No. of bedroom: 4
Lourdes, the local host, brings the finest colors of Lake Simcoe to your eyes. Setting foot on a sun-kissed rolling hill steps away from the lake, Lourdes's four-bedroom house can host up to 10 guests. Surrounded by a dream-like landscape, her Airbnb is lucky to welcome some of the best sunrise and sunset in town.
Walk across the street and you should be at the dock in no time. This is where you can go kayaking and canoeing or bask in plenty of other water activities. Other than enjoying the lake, you don't want to miss out on a network of well-paved trails in the area.
Then on the next day, stay put around the house grilling up some BBQ or kicking back by the fire pit on the grassy knoll watching the sky turning golden when the sun beams down.
3. The Cabin at Hunter Grey House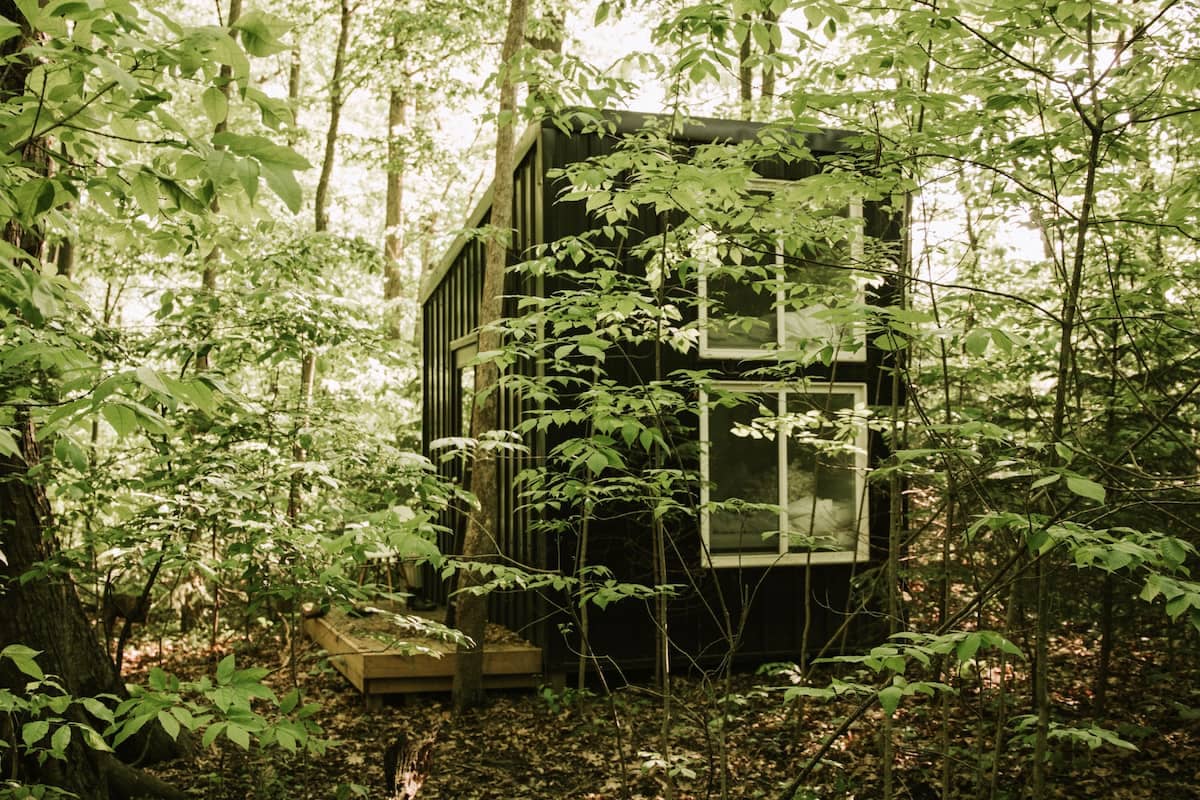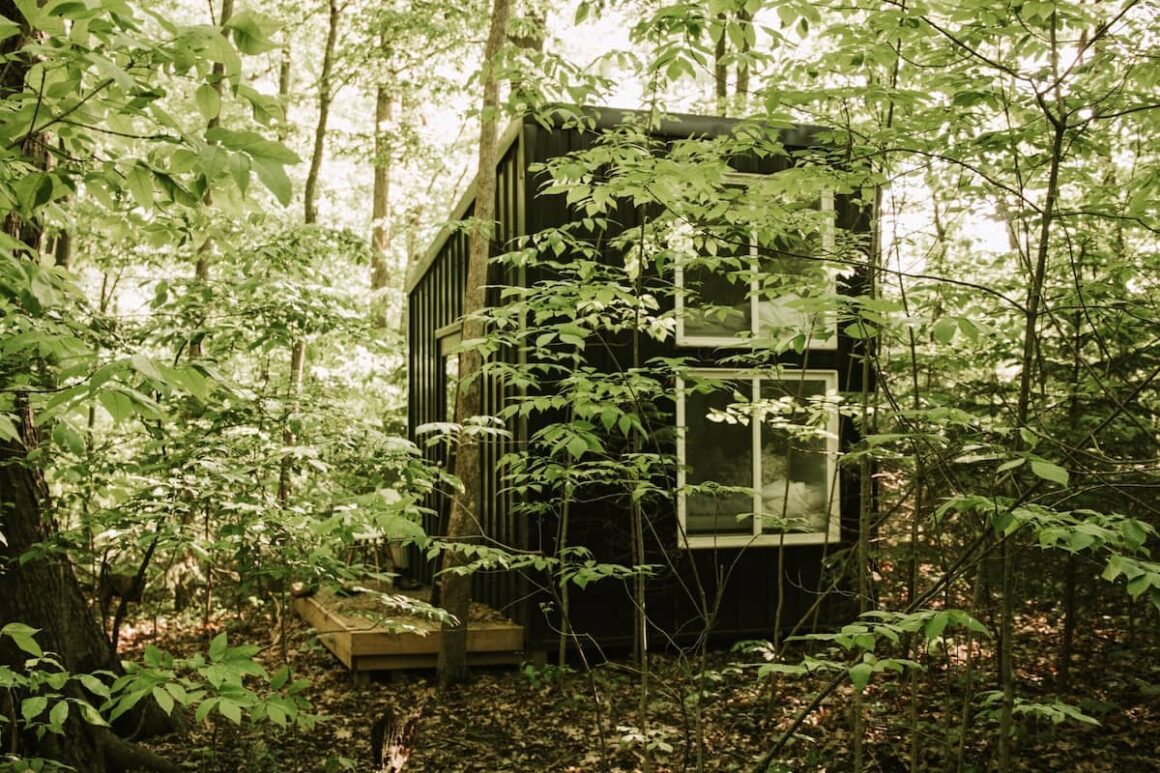 Price: $$
No. of bedroom: 1
Tucked in the core of a forest in Petrolia, Lindsay and Jordan's tiny cabin comes out with lots of surprises! This lovely cabin is exactly what you were dreaming of – a tiny lodge straddled in the woods of your childhood fairytale.
We call this a glamping at its finest because each bedding comes with a stylish foam mattress and duvets lying by a great bush view. Lindsay and Jordan have done such a good job in impressing you with their tasteful minimalistic decoration, providing the lodge a lot more to make up for the small area.
How to tell if this Airbnb is the right call for you? Just close your eyes and ask yourself whether or not you need a glamping day to recharge! If that's a nod, go ahead and claim a stay at this tiny house right now! Or even better, come in snowfall to seize a slice of Canadian winter in your own way! The Airbnb has a minimum rent-out period of two nights and can host up to four guests.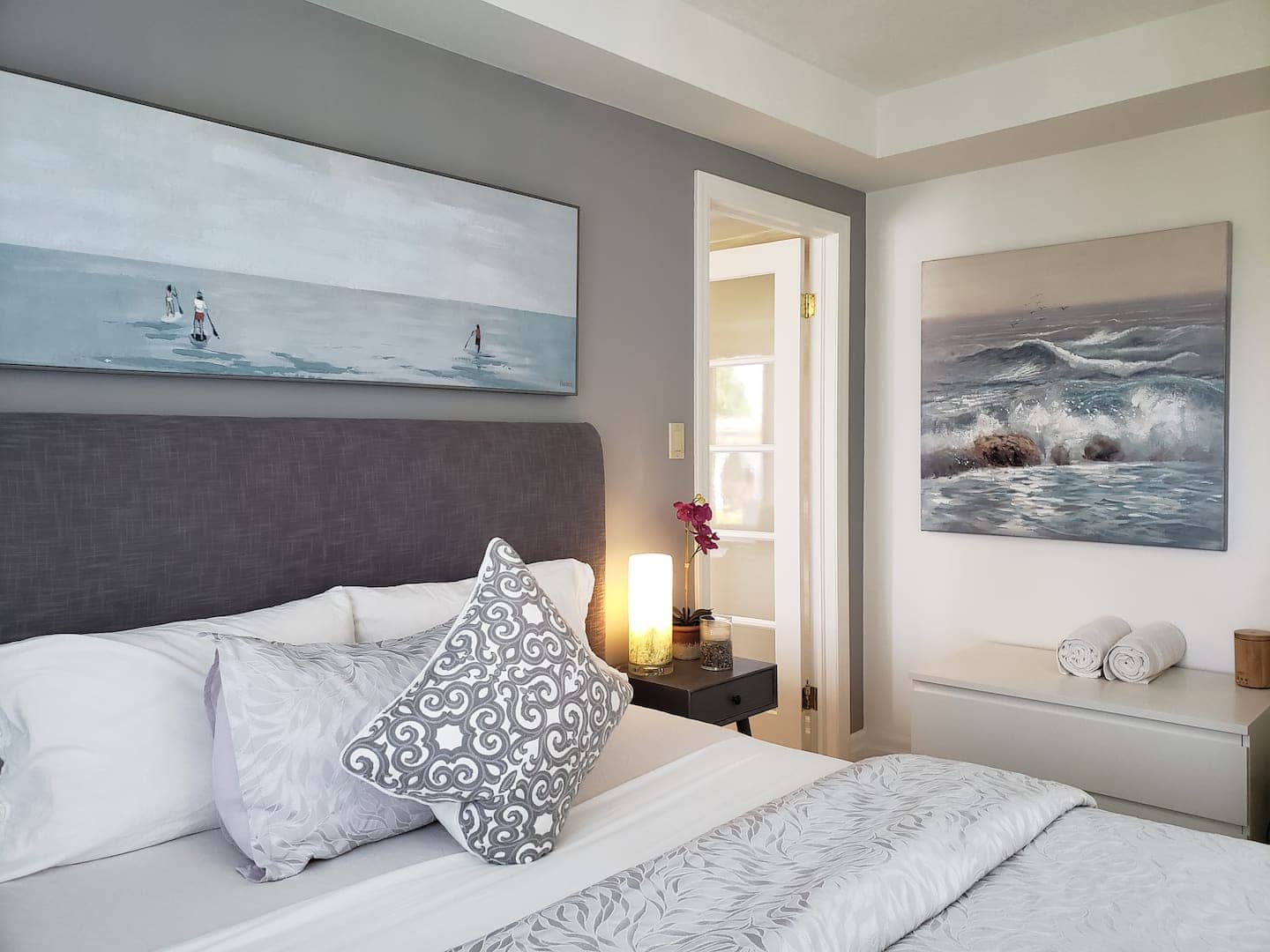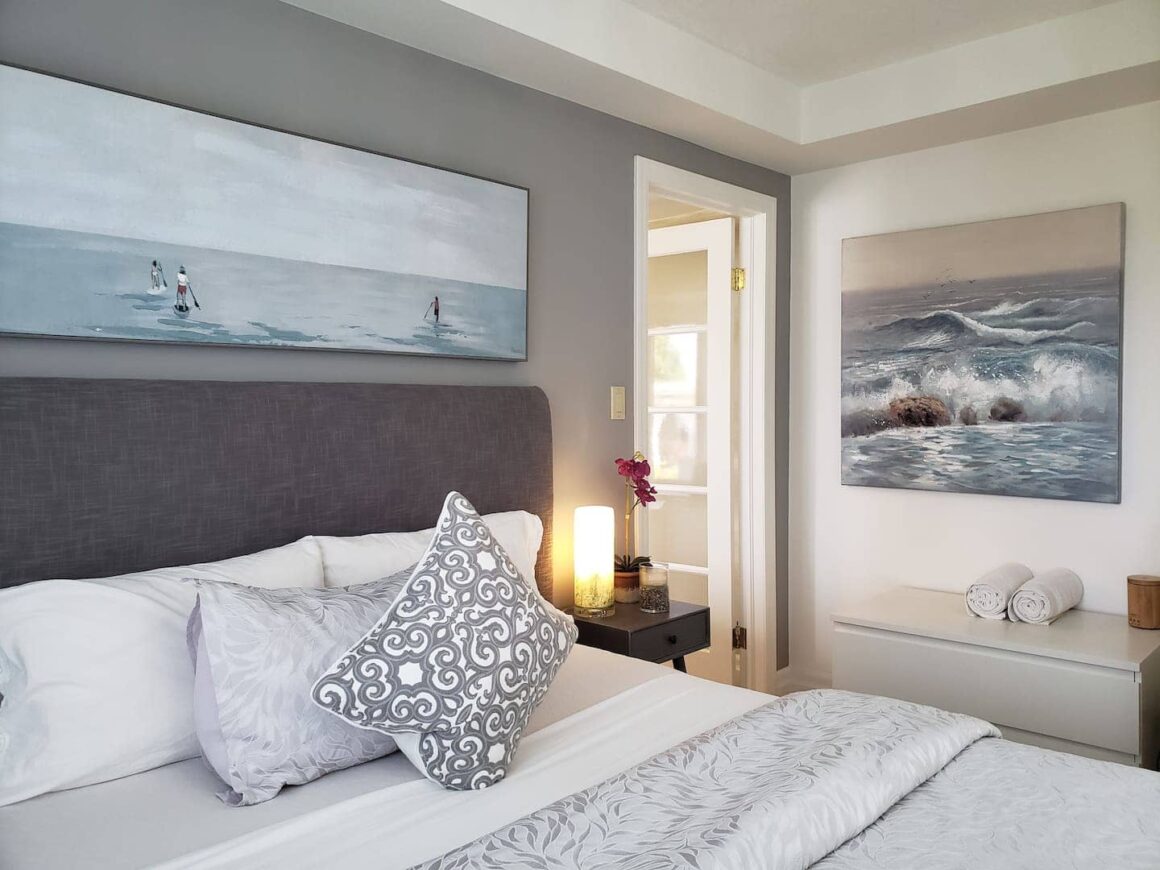 Price: $$
No. of bedroom: 1
A posh resort may be a good call on a leisure vacation but that's not always the case! Book a stay with Darlene and Bert to soak in the stunning scenery and culture of Conestogo! Perched on a cliff facing the Grand River, Darlene and Bert's Airbnb is a curation for your unique retreat. No matter if you're on a travel purpose or a business trip, this Airbnb is a perfect getaway to pair with your health-conscious vacation.
The accent is the year-round spa facilities that you can avail yourself of its exclusive availability. A spacious outdoor cold plunge shower is adorned with a pebbled carpet. The prime location allows you to hit the Elora Village and Elora Gorge within a matter of minutes, and the list goes on. All amenities and facilities are top of the line to ensure you're rewarded with a lavish retreat!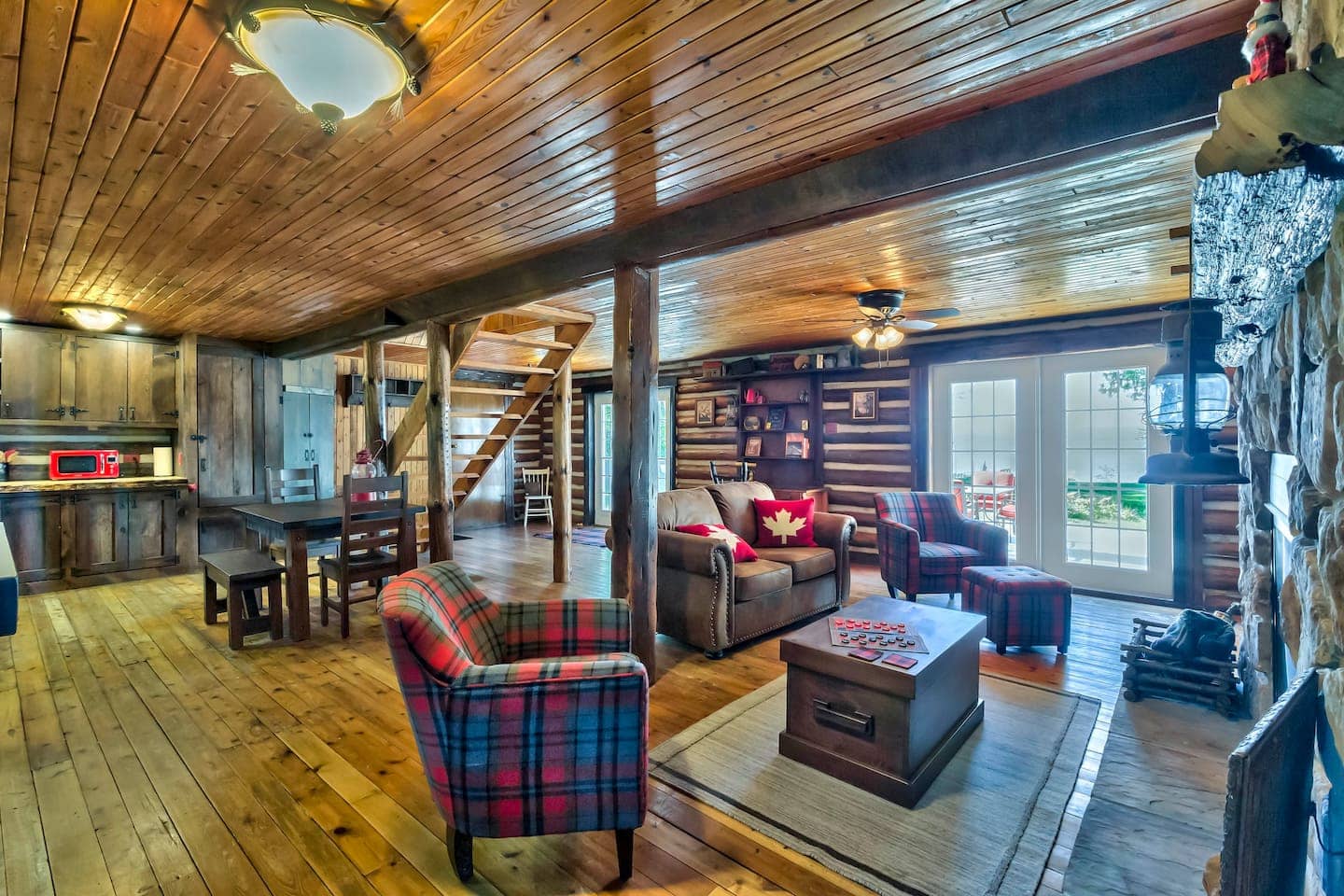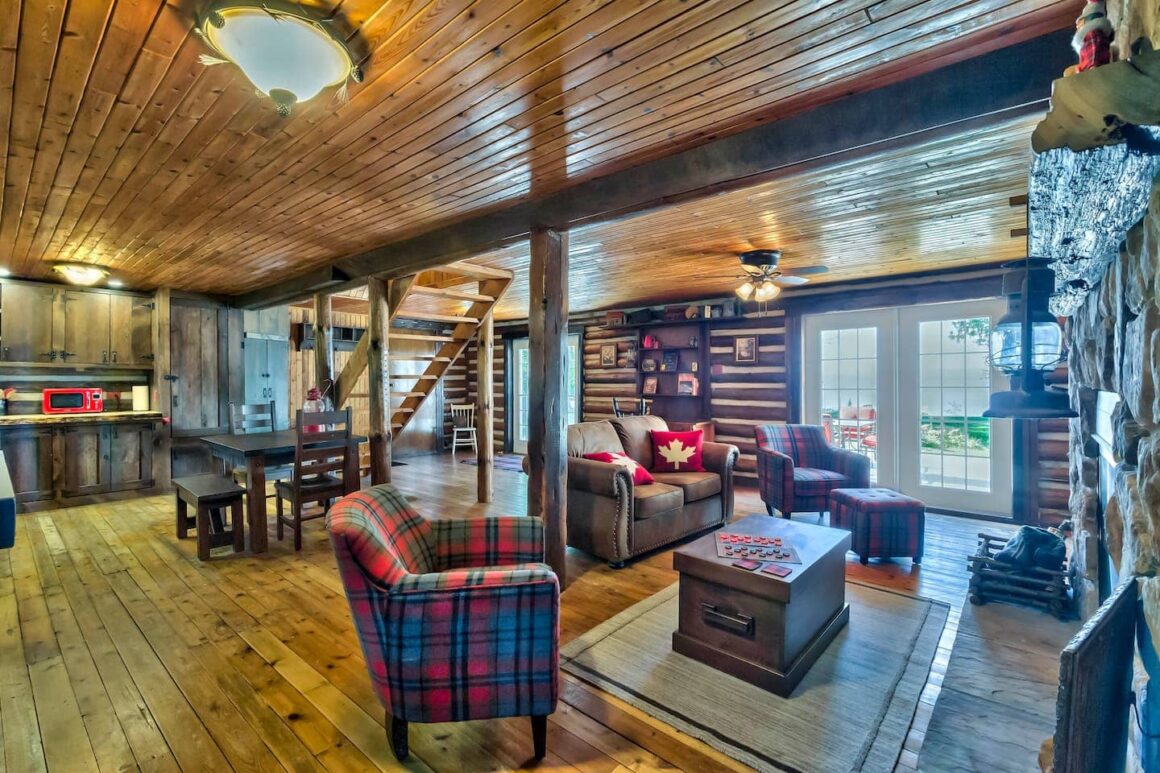 Price: $$$
No. of bedroom: 1
Featuring panel woods with stoned walls as an accent, Desmond's cozy Airbnb in Golden lake delivers such a cozy vibe to spruce up your restful stay. The interior design is an example of how glossy red works perfectly fine with bright cedar color. Perched by the rim of the lake, the cabin makes it so easy to ice skate on the lake, grill by the campfire, or enjoy a nature photography session in a chilly winter.
The view over the woods is unmatched, which inspires a hot chocolate time on a lazy day. Desmond's Airbnb is available for a minimum booking window of two nights.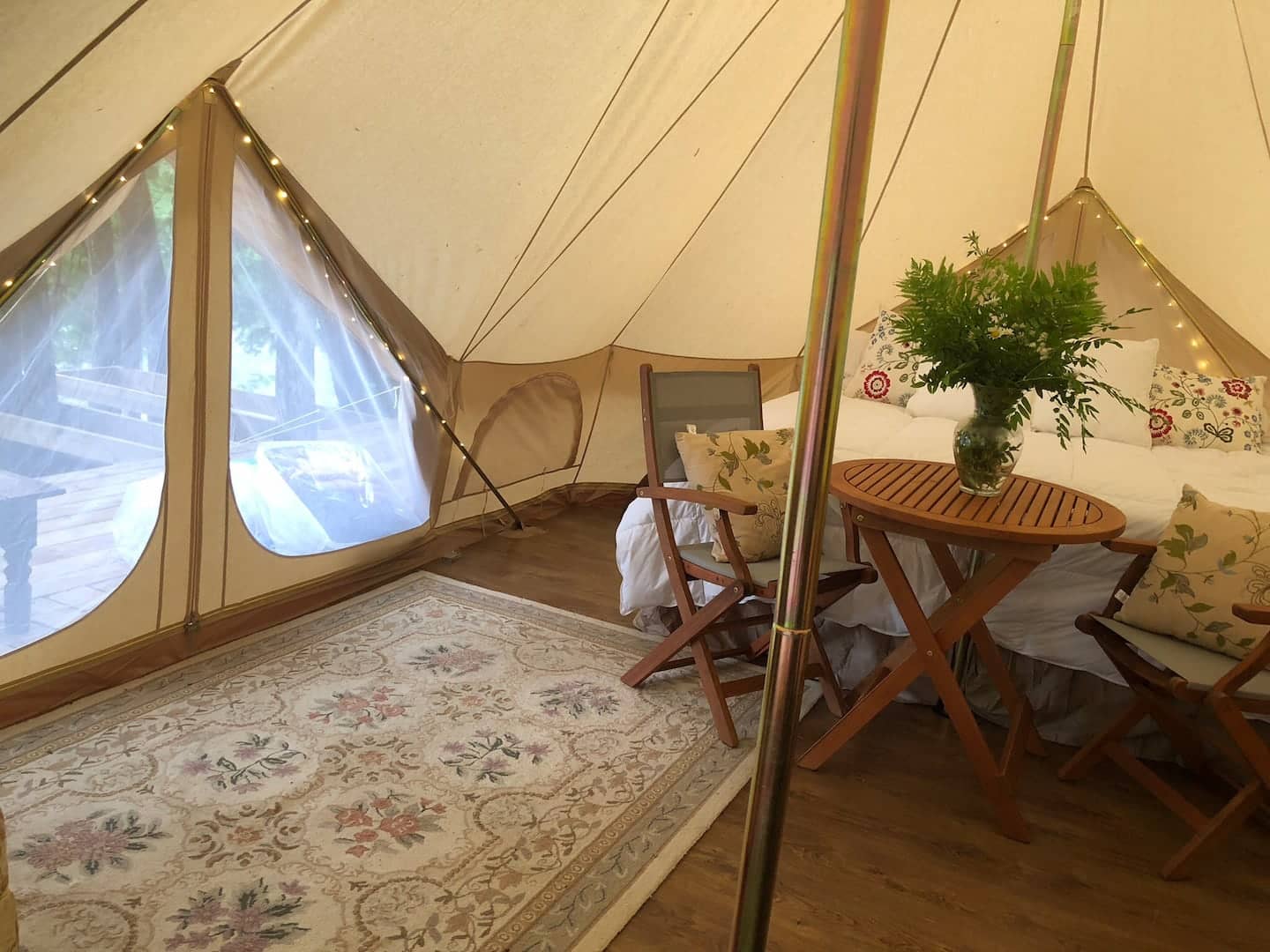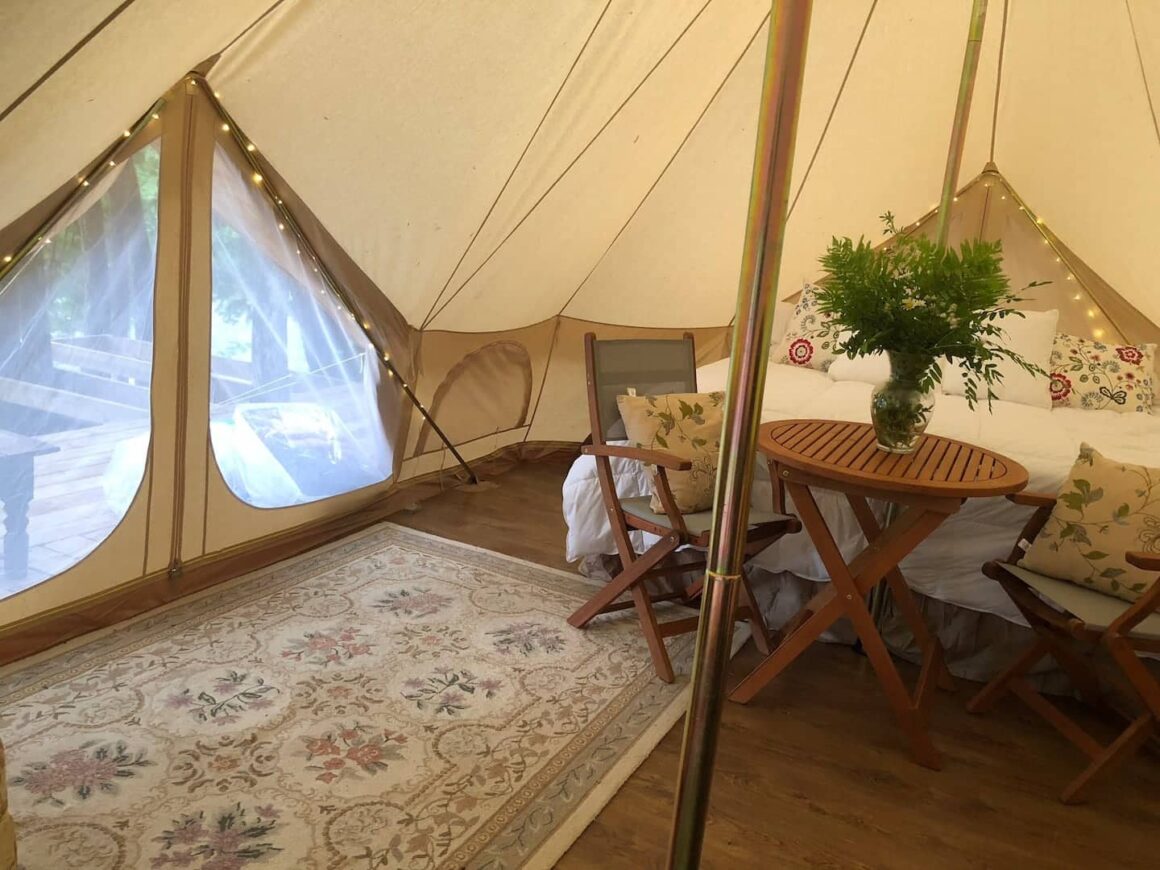 Price: $$
No. of bedroom: 1
Here's another top-rated glamping site to put on your bucket list! Snuggled in the heart of the Mississippi River in Lanark, this Airbnb shows up as a spacious tent hovering on the water. Falling fast to sleep by the sound of the rapids is a great charm that keeps pulling in those travelers seeking a complete hideout.
La Isla-Safari tent is the answer to your need for a reconnection with the wild without forcing yourself for a busy traveling day. This little piece of heaven transports you to the good old days of childhood when you're soaked in the water on a swimming day and munching on a hearty gourmet meal afterward. La Isla-Safari tent is available for a minimum length of stay of one night and can host two guests per booking.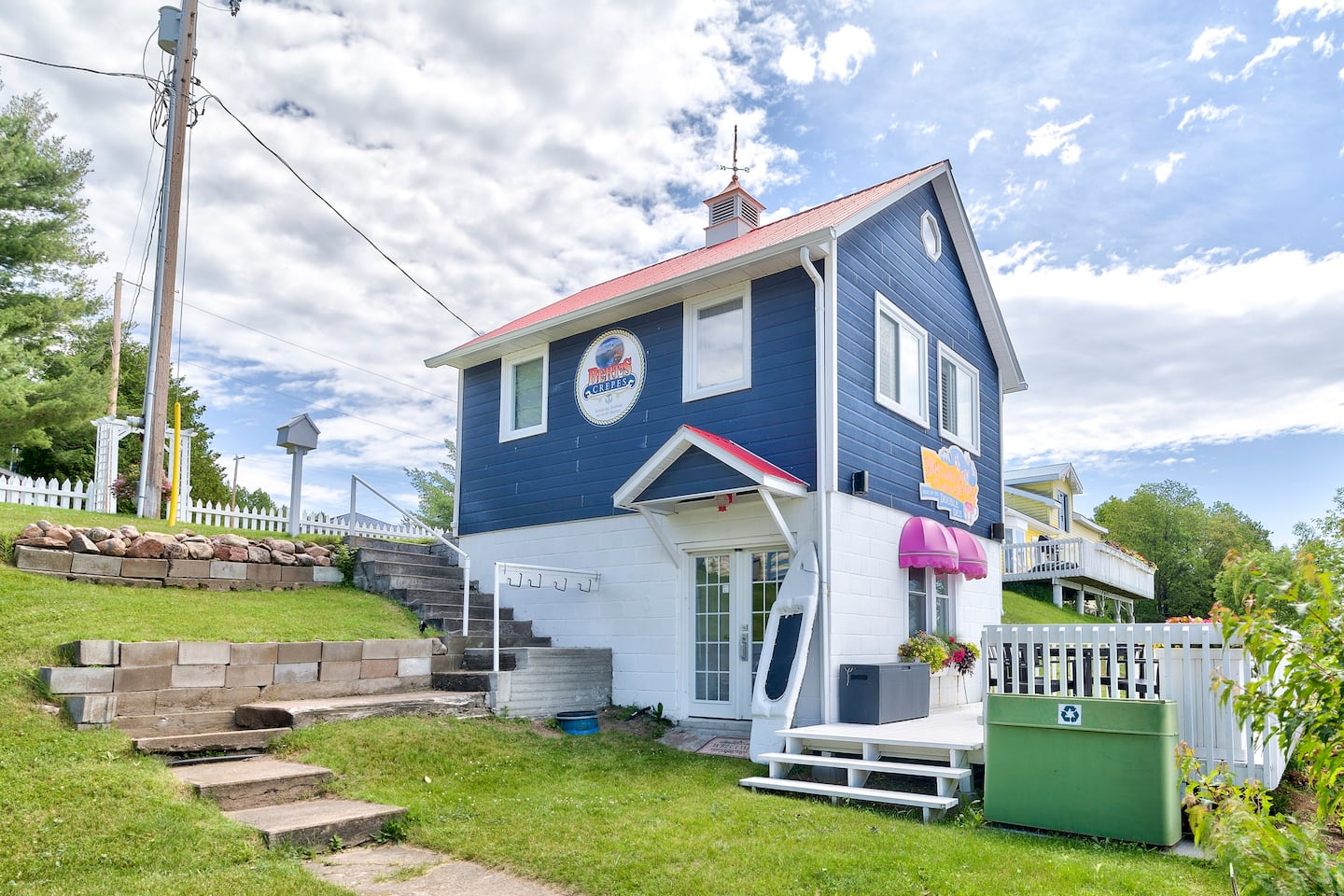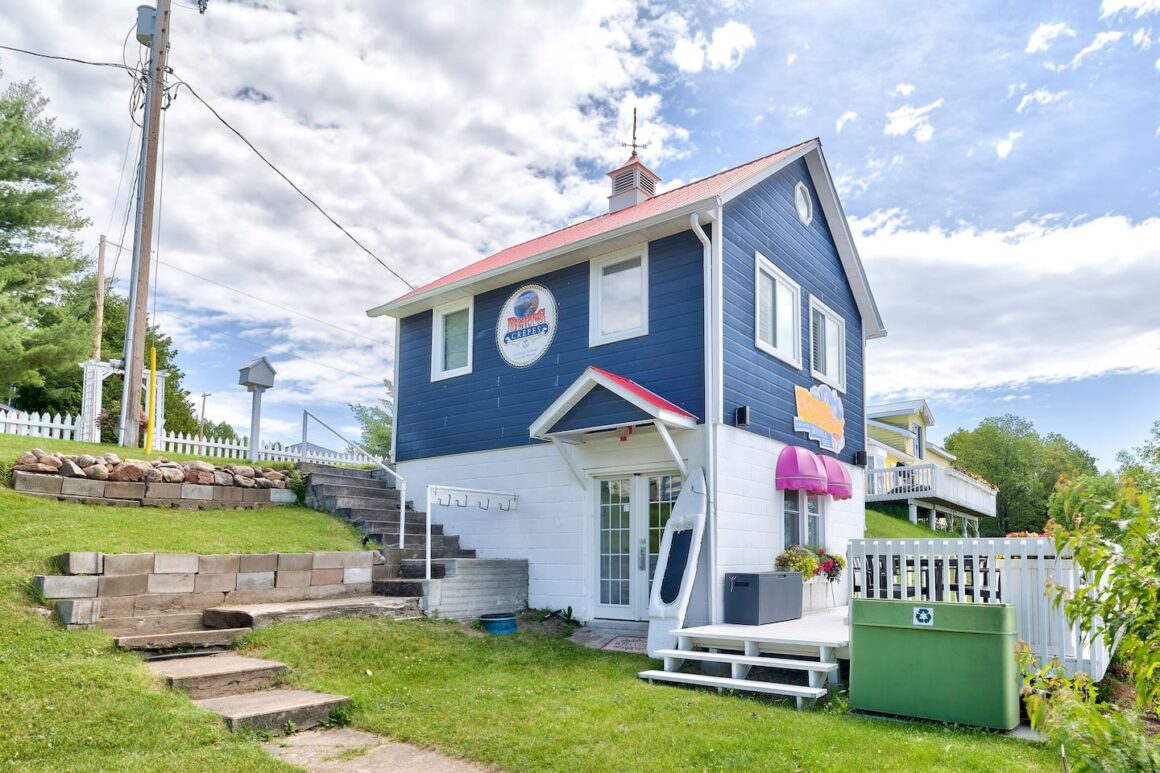 Price: $$
No. of bedroom: 1
Cindy's one-bedroom boathouse sends you to a complete wilderness to be Robinson Crusoe for a day (or two). However, in Cindy's chapter, you're gonna be surrounded by a sleek and comfy living space, resort-rated amenities, and a wraparound vista over the magnificent Golden Lake.
The boathouse sits on the edge of a grassy knoll that's slapped by the mild waves day and night. Boasting a chic seaside influence, the interior is brightened up by coastal accents, with the bold wooded highlight on the ceiling and the floor.
Head out from the door and you'll see a fire pit on the bench to watch the sunset, stargaze, and toast some marshmallows for the s'mores. Each guest is provided with snowshoes, a free Algonquin Park Pass, free kayaks, canoes, and sup rentals to help you conquer the great outdoors.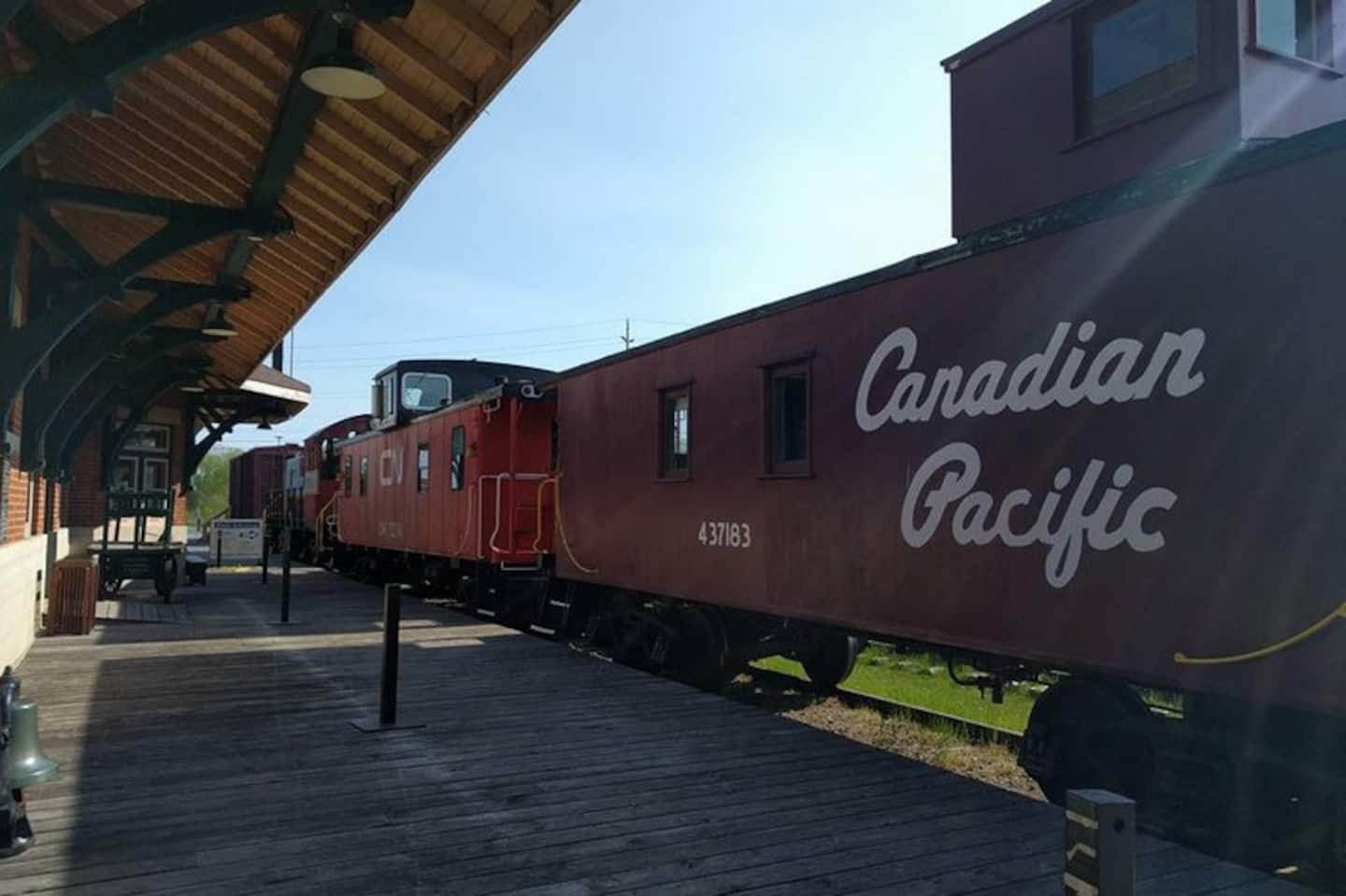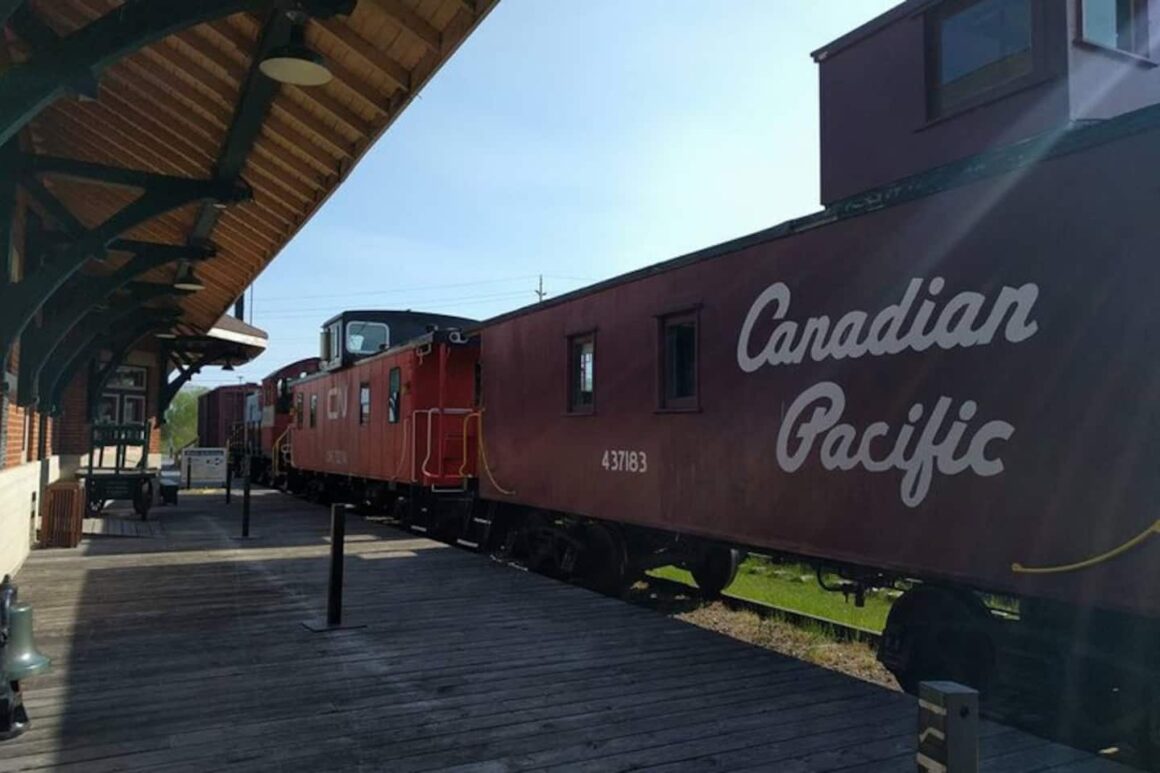 Price: $
No. of bedroom: 1
Tents, yurts, and huts have been dominating the glamping industry for years. However, glamping in a caboose is surely a game-changer to peak your bucket list! Come over to Smiths Falls and spend a night in one of the most unique Airbnbs in Ontario – a 1945 post-war caboose! Not only can you game up your travel experience but also get a slice of history with only a night stay or two.
If you're a train enthusiast, don't ever let this plywood train slip out of your hand as you're about to have a flavor of what it's like to be a train conductor. What a great call to revive your childhood dream! To claim a stay in this caboose, you only need a minimum booking period of one night!
9. Cronk Farmhouse | With Heated Pool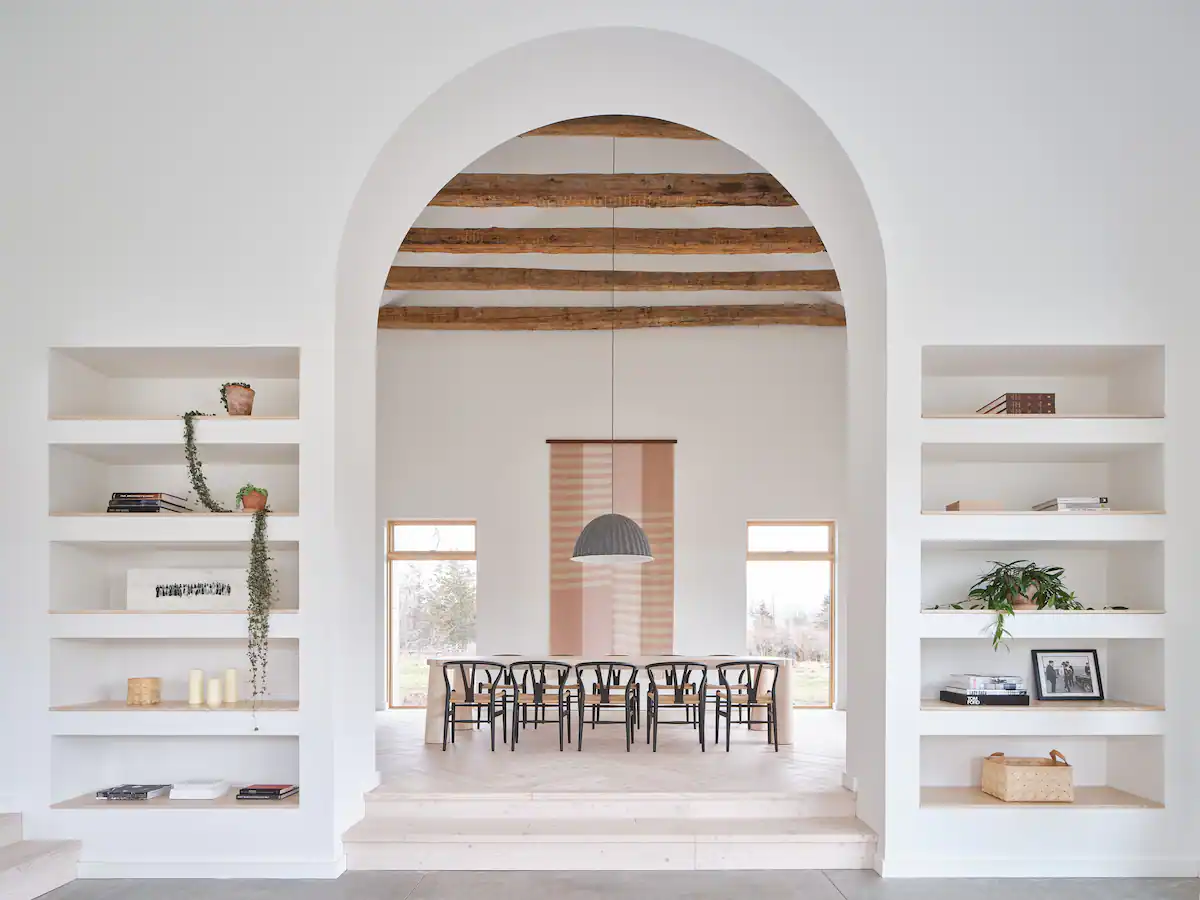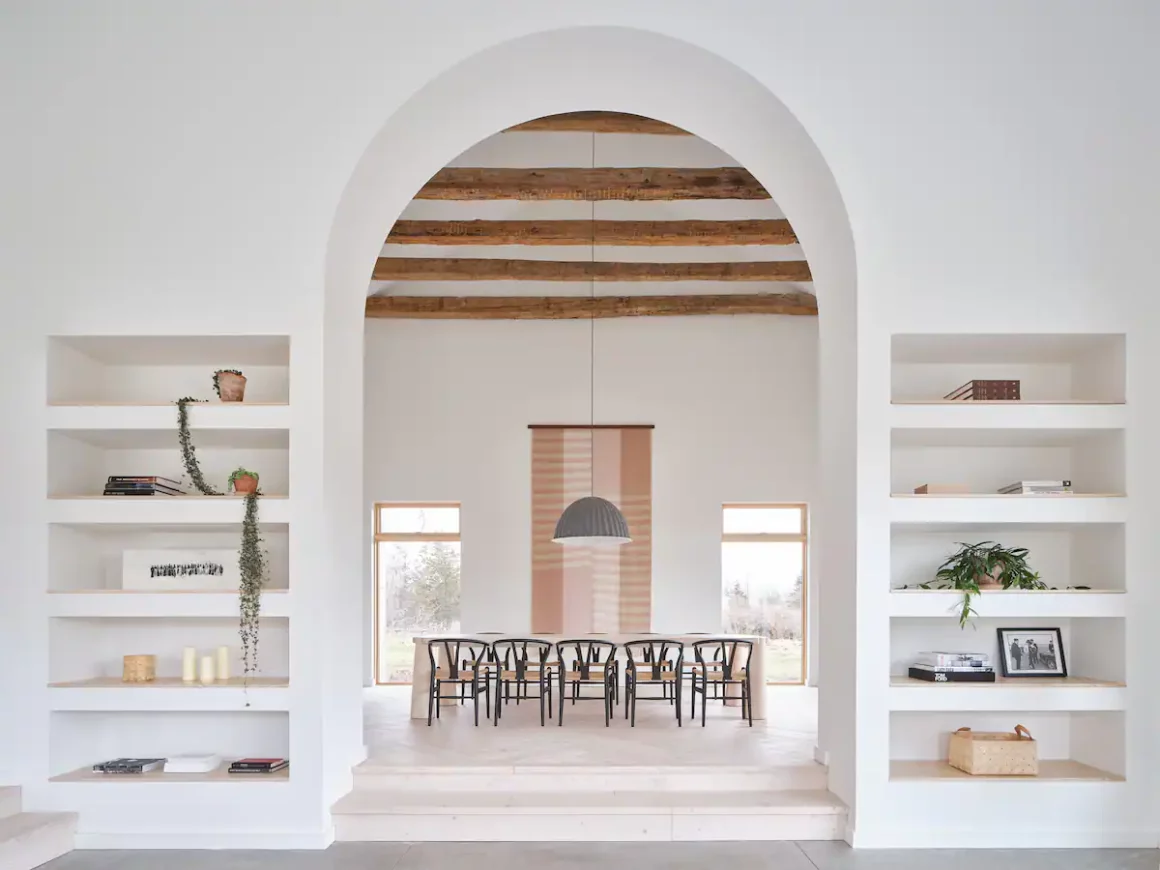 Price: $$$
No. of bedroom: 4
If Kim Kardashian ever decided to make a miniature farmhouse of her giant minimalist mansion, this Airbnb would be exactly what she'd be doing.
Converted from the skeleton of a heritage 1802 property, The Cronk Farmhouse successfully translates underlying hints of affluence through a modern minimalist design. Power pink accents, grey velvet upholstery, and a straight-up white wall make a perfect trio that shapes the feel of this open-concept living chamber.
The spacious ranch is designed with the idea to accommodate a whole family or group of friends in Prince Edward County of Ontario. For that reason, sharing a big house with four bedrooms and six beds has never been easier.
The Cronk Farmhouse is your chance to steer clear of the glitz and glamour. Walk the sun-kissed Bay of Quinte shoreline, see the life of the local farmers, eat out at the roadside stands, and drink lots of good wine. Even better, all guests will receive a day pass to the Sandbanks National Park which is only 16 minutes away from the house.
10. The Frontenac: A Curated Cabin Retreat with Sauna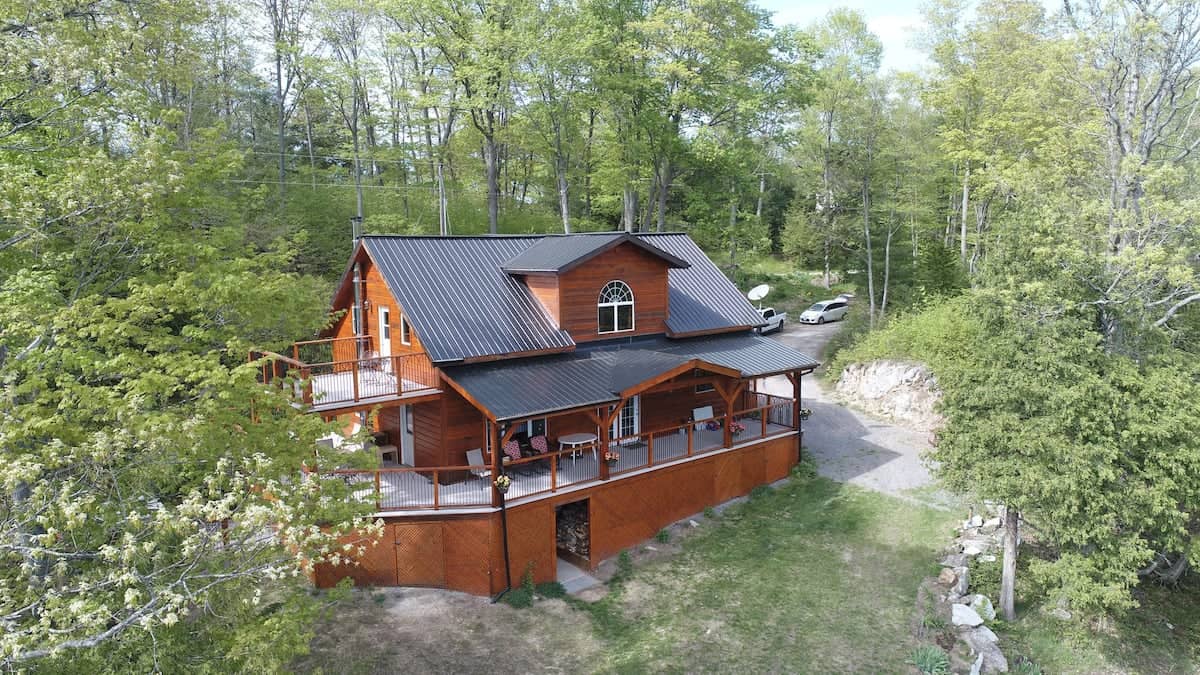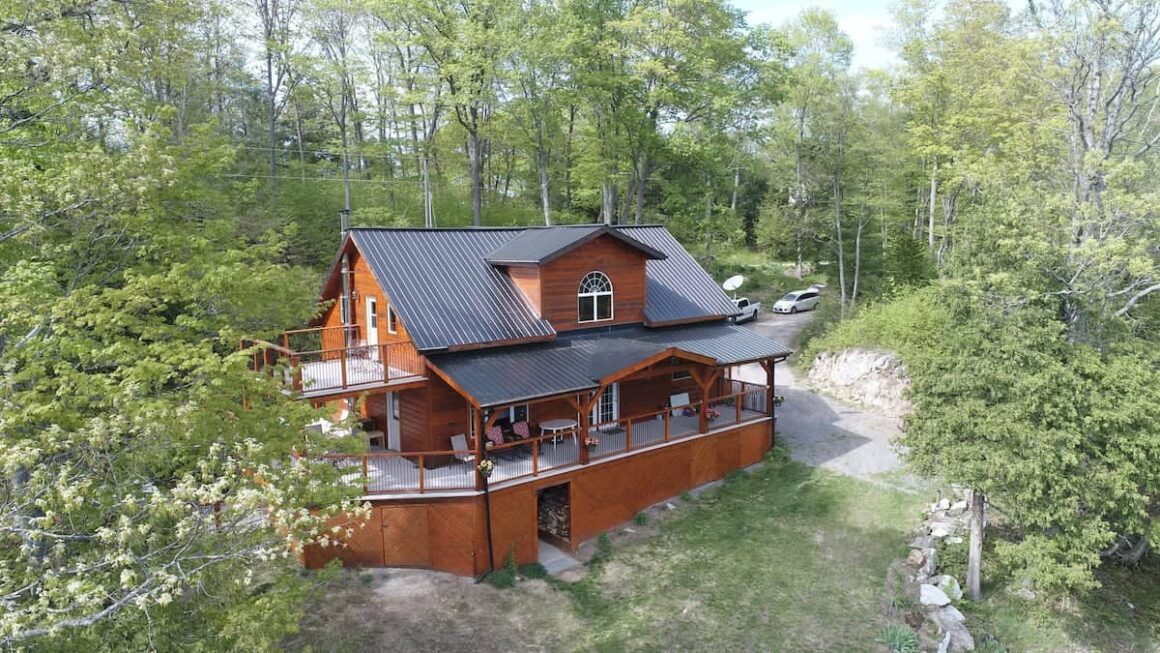 Price: $$$
No. of bedroom: 4
Neat, stylish, relaxing, and tastefully appointed are the first things that spring to our minds when talking about Michael's Airbnb. The house is indeed a boutique mansion overlooking the waters of a private bay on Thirsty Island Lake, Godfrey. If you're planning an ideal family get-together, look no further because this little mansion is all you need!
Boasting a range of hotel-standard bedding and amenities, the house is tucked within a deserted forest where deer, beavers, and herons are your neighbors. And guess what? You even have a giant barrel sauna directly looking out onto the romantic scenery! Where else can you get a refined idea like that?
The cottage is a well laid out gem with many lovely touches. Get your coffee fix in the morning while hovering on the hammock by the water's edge. Continue kicking back in the sauna before paddleboarding in the lake. That is how you experience Michael's Airbnb to the fullest!
If you're looking for something similar in Quebec for an upcoming vacation, have a look at our curated list of Canada's 10 Coolest Airbnbs right here! We did a good digging to select our favorite cabins, tree houses, condos, and even a dome stay to quench your thirst for a special retreat!