Choosing the best neighbourhood to stay in British Columbia's most populous city is not a walk in a park, let alone moving in! Vancouver hosts over 2.26 million residents within 22 neighborhoods. Therefore, picking the right base for your stay can be the crux of the matter.
What is there to do?
Is it safe to walk alone at night?
What should I eat?
Is this the right place for me?
We will shed light on your doubts with a complete breakdown of the best neighborhoods in Vancouver. We curated ten coolest areas in Vancouver based on safety, attractions, and atmosphere catered to your certain needs!
Best Neighborhoods in Downtown Vancouver
Best for Luxury and Sports Nuts: Yaletown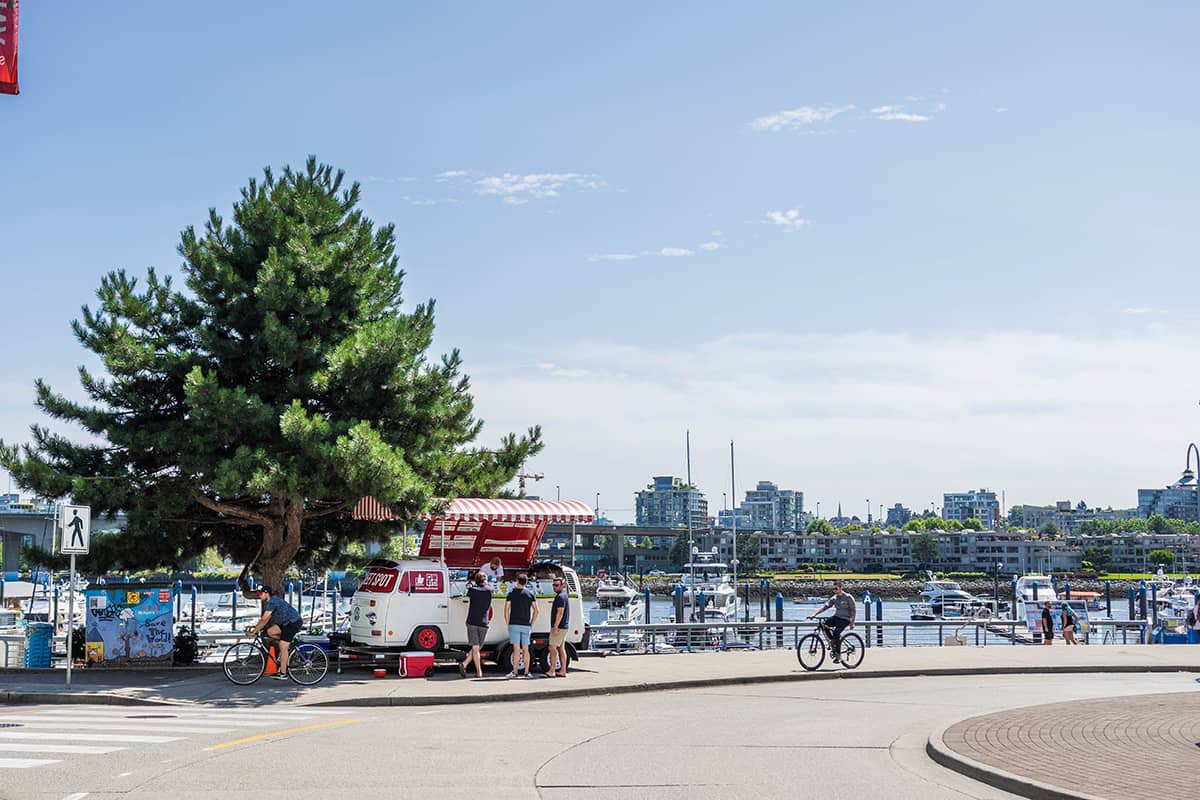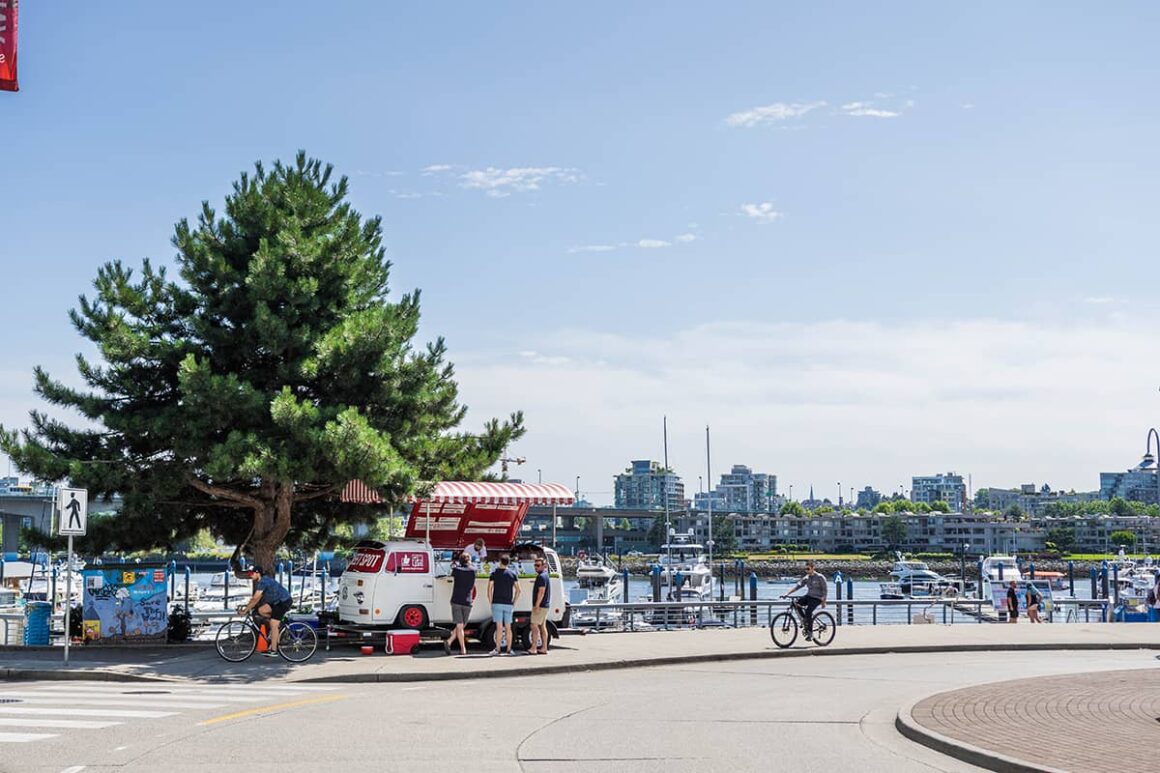 Yaletown seems to be one of the most talked-about neighborhoods when it comes to the best places to live in Vancouver. Its trendy and luxurious appearance today gives a big contrast to the rough-and-tumble, industrial history.
Warehouses and sawmills used to dominate the scene. However, these heritage buildings today paved the way for chic lofts, high-end restaurants nestled in between divine properties. These upscale apartments and dining houses are constructed on the skeleton of these heritage buildings, giving Yaletown a vibrant blend of the old and the new.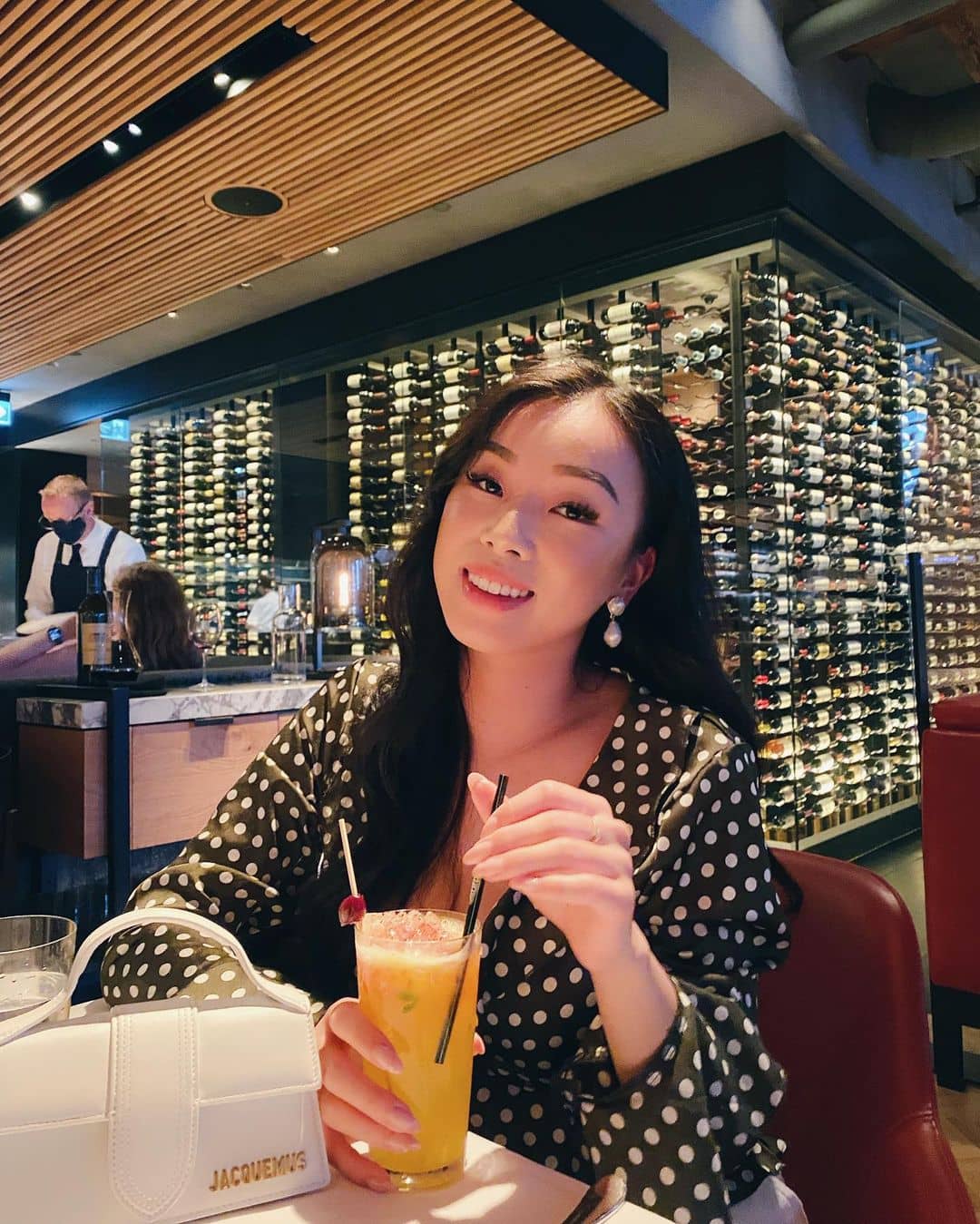 If you like to keep up with the main happenings in downtown Vancouver, Yaletown should be the first name popping into your mind. Take a short walk down the streets and you'll crash into hordes of boujie cocktail lounges and bars and boutiques lining the streets.
Yaletown is also a mecca for art lovers with an expansive network of art galleries. The lively and busy surrounds of Yaletown doesn't take away the importance of green space! David Lam Park and George Wainborn Park hugging Yaletown's southwest border are two of the most popular green oases.
Whenever you've had enough of the hustle and bustle, enter one of these green spaces to freshen your inner soul in the blue mind.
For sports enthusiasts, BC Place stadium on the Pacific Boulevard is a bustling hub of sports events including Major League Soccer and football.
According to many tourists and even locals, Yaletown still has room for improvement when it comes to accommodations. Expensive, luxurious, and high-end hotels dominate the portfolio, pushing low-cost, affordable vacation rentals outside of the Yaletown bounds.
Best Hotel in Yaletown: JW Marriot in Parq.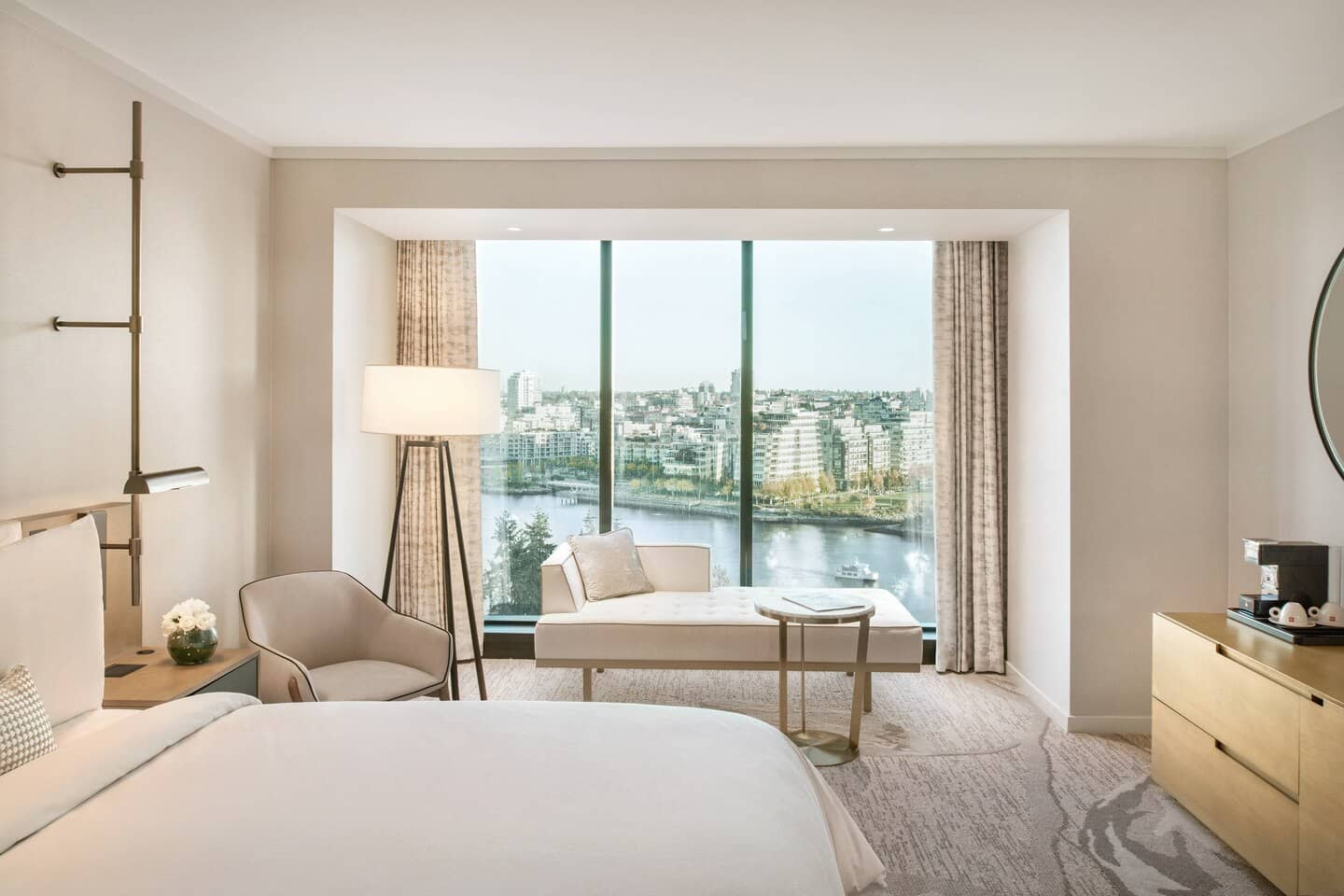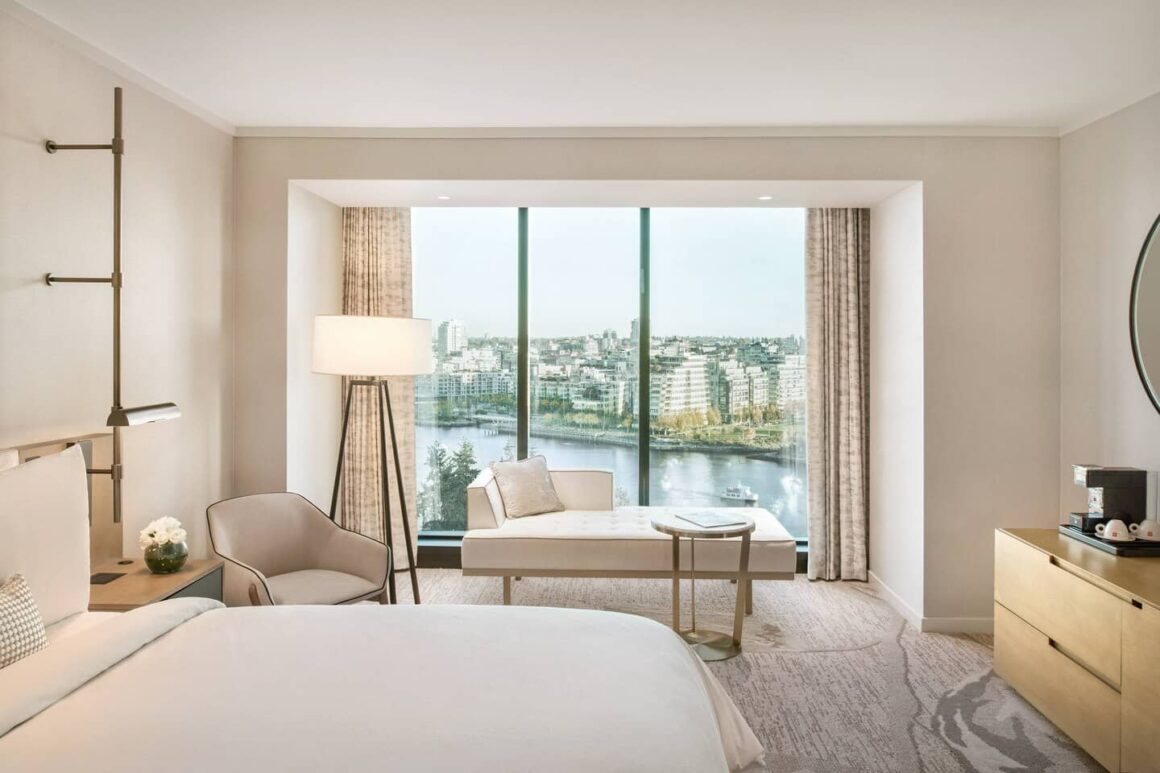 Best VRBO in Yaletown: Premium Yaletown Waterfront Complex.
More Accommodations In Yaletown
A rundown of all the best restaurants, cafes, drink spots, shops, and places to stay in the Yaletown area.
Best for Economical Stays, Foodies and History Lovers: Gastown and Chinatown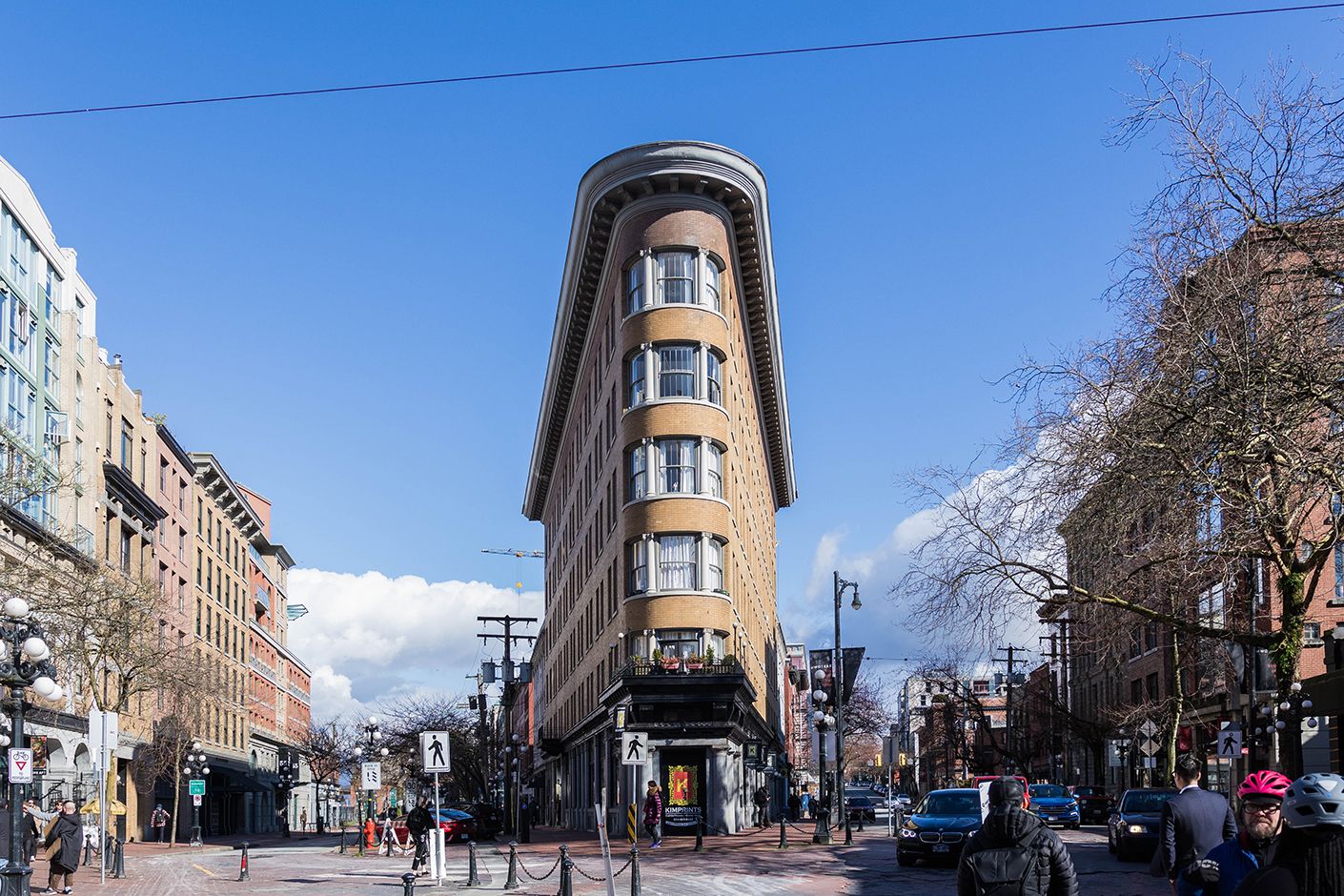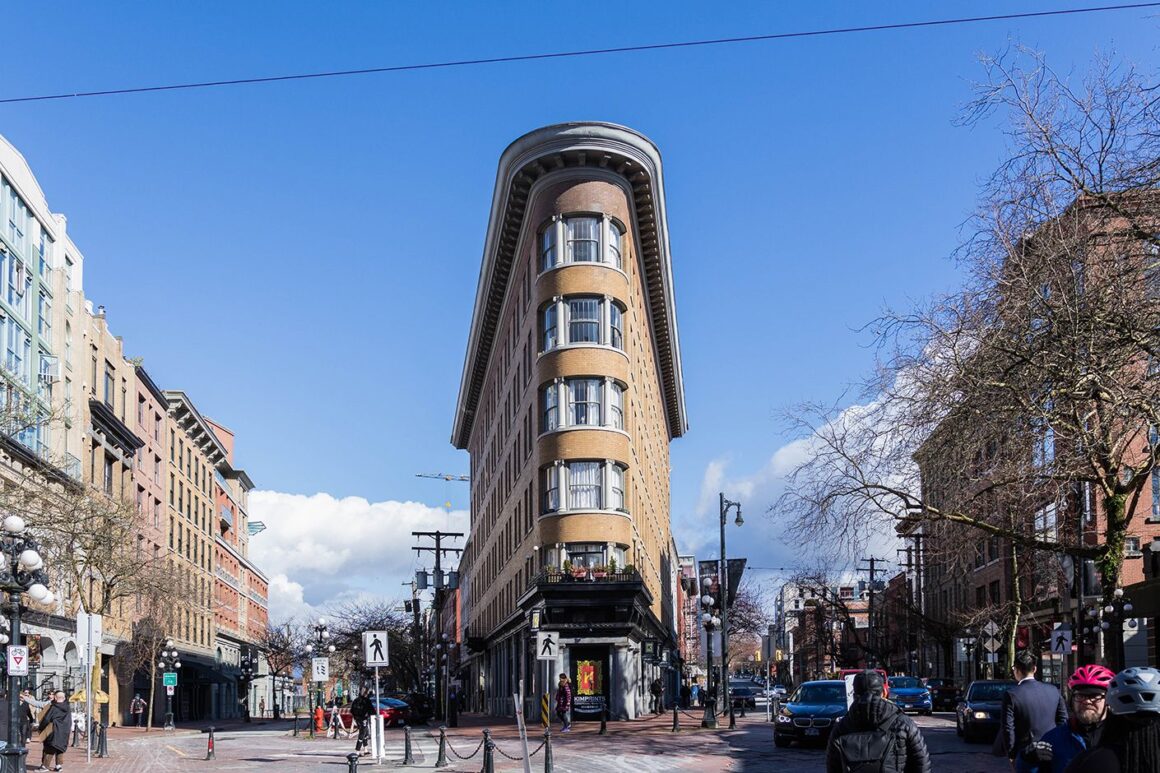 Gastown and Chinatown are next doors to one another. Compared to Yaletown, Gastown and Chinatown have a bigger touch of history which is still greatly preserved in the modern days. The hotels you find in these two areas are also smaller, which have been around for such a long time.
Chinatown's history dates back to the 19th century when the Chinese laborers were employed at the Canadian Pacific Railway and local mines. This historical precedent inspired thousands of Asian immigrants within the next decades. Today, Vancouver's Chinatown is known as the third largest of its kind in North America.
Walking around these zen-like pathways, you will be hypnotized by the vibrant assortment of century-old shopfronts and grocery stores. Chinatown is part of downtown Vancouver, which means traveling between the city's highlighted attractions is feasible.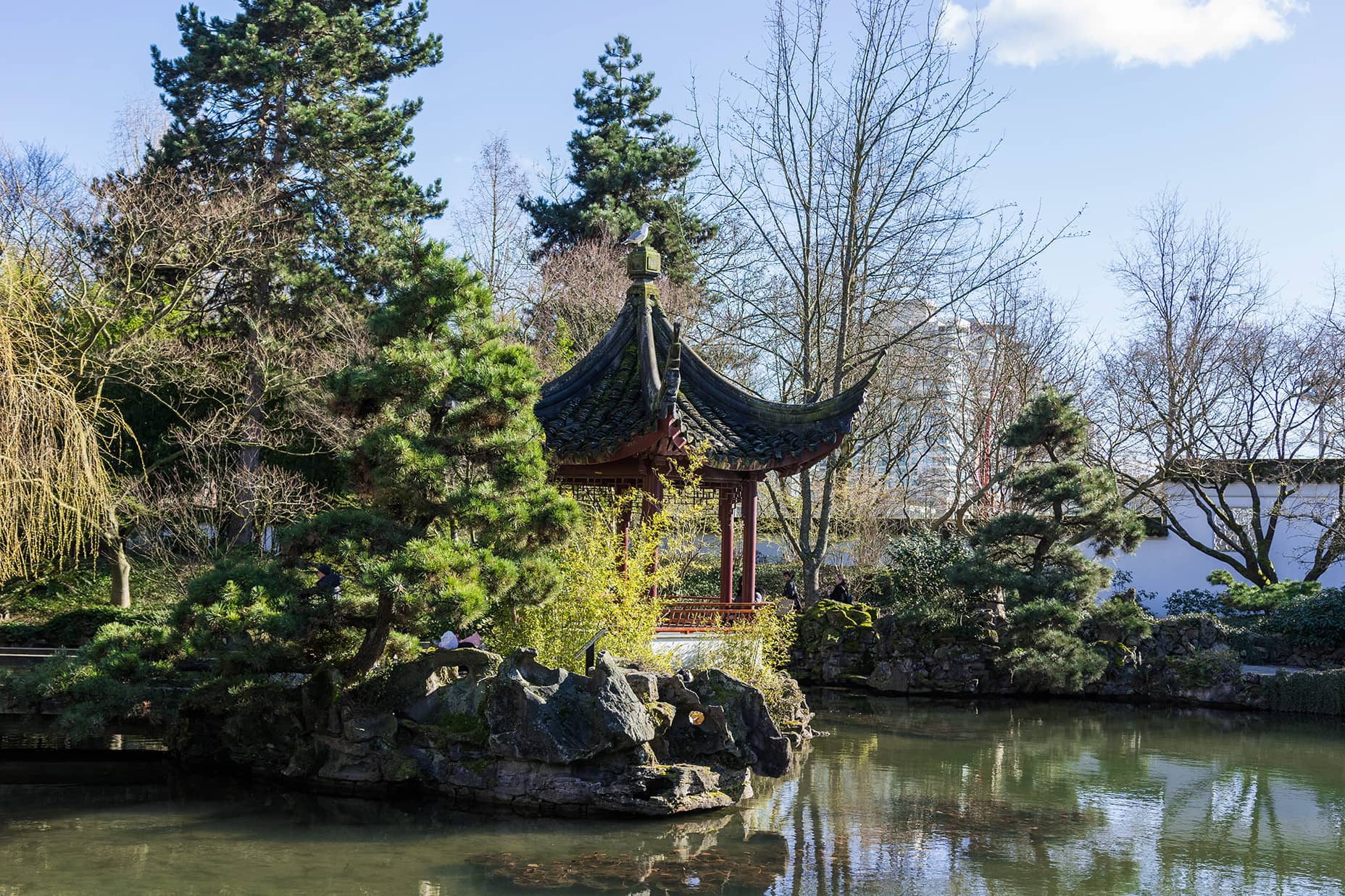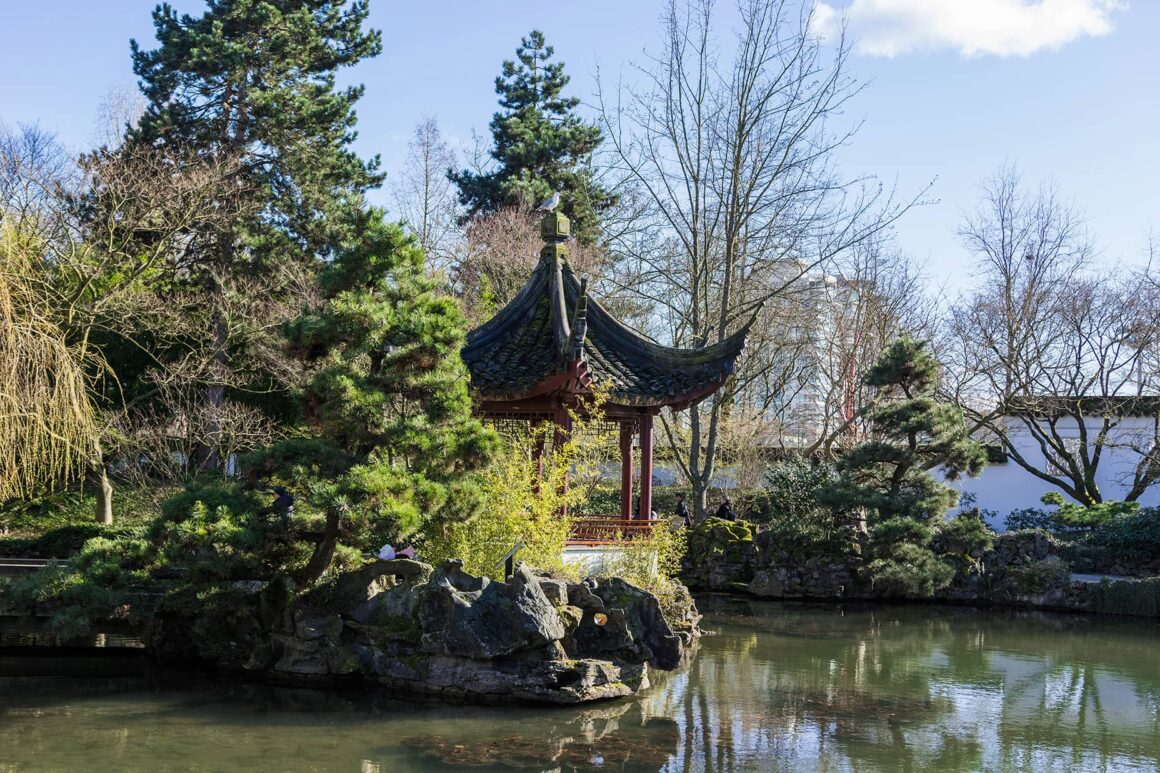 This quaint neighbourhood is home to one of the highly-visited parks in the city – Dr. Sun Yat-Sen Classical Chinese Garden.
Just like any other Chinatown in the world, the eclectic food scene plays a big role in defining the special charm of Vancouver's Chinatown. Its authentic Asian restaurants reflect a fusion of traditional and modern flairs.
Adjoining Chinatown to the north, the heritage vibe of Gastown is defined by the European charm. Gastown is the oldest neighbourhood in Vancouver. Many of its cobblestone streets and brick buildings play a big role in endorsing Gastown's history. The beauty of Gastown is strongly attached to its vintage air, architecture, souvenir shops, and art galleries.
Gastown by day has a big contrast against Gastown by night. One of the biggest hooks for visitors is the budding chain of art galleries and souvenir stores. Meanwhile, shutterbugs want to make time for the photo-ops around the old buildings as well as the famous Gastown Steam Clock.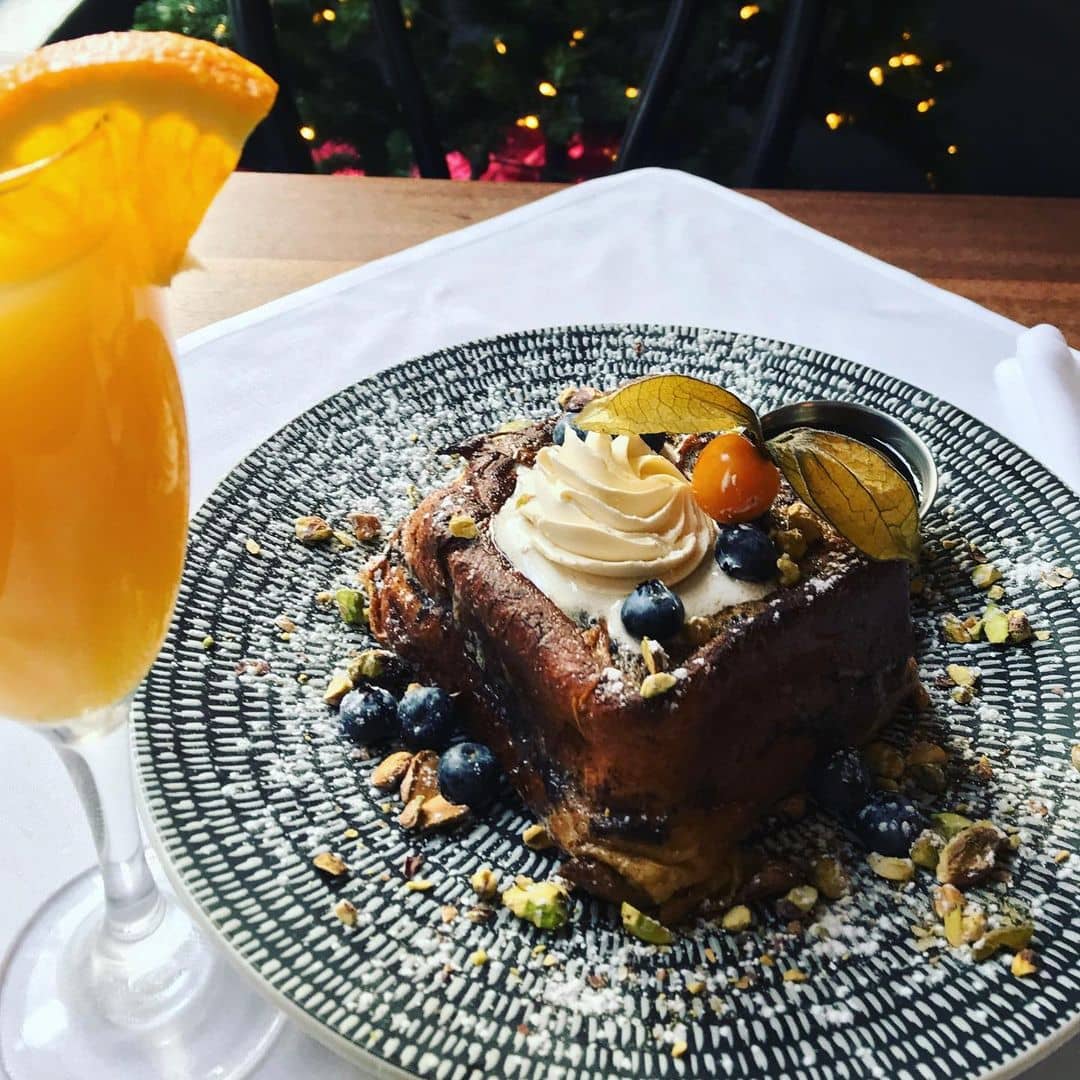 Daylight adds a romantic vibe to your sightseeing trip with lots of the city's top coffee shops in the area, but sunset makes way for energetic wine bars, clubs, and restaurants.
---
Friendly reminder: Make sure to stick with the core of Gastown after dusk! Don't set foot to downtown eastside alone if you don't want to encounter people with abuse issues and mental illness.
---
Lodgings in both Chinatown and Gastown include historic boutique properties. You can choose to stay in a small room filled with charm or spend a few more bucks for a high-rise apartment and take in the city view.
Best Hotel: Skwachàys Lodge
Best VRBO in Chinatown: Designer 2 Bedroom, 2 Bath Suite in Chinatown.
Best VRBO in Gastown: Stunning Brick & Beam Gastown Heritage Loft.
More Accommodations Near Gastown
A rundown of all the best restaurants, cafes, drink spots, shops, and places to stay in the Gastown area.
Best for Families and Nature: West End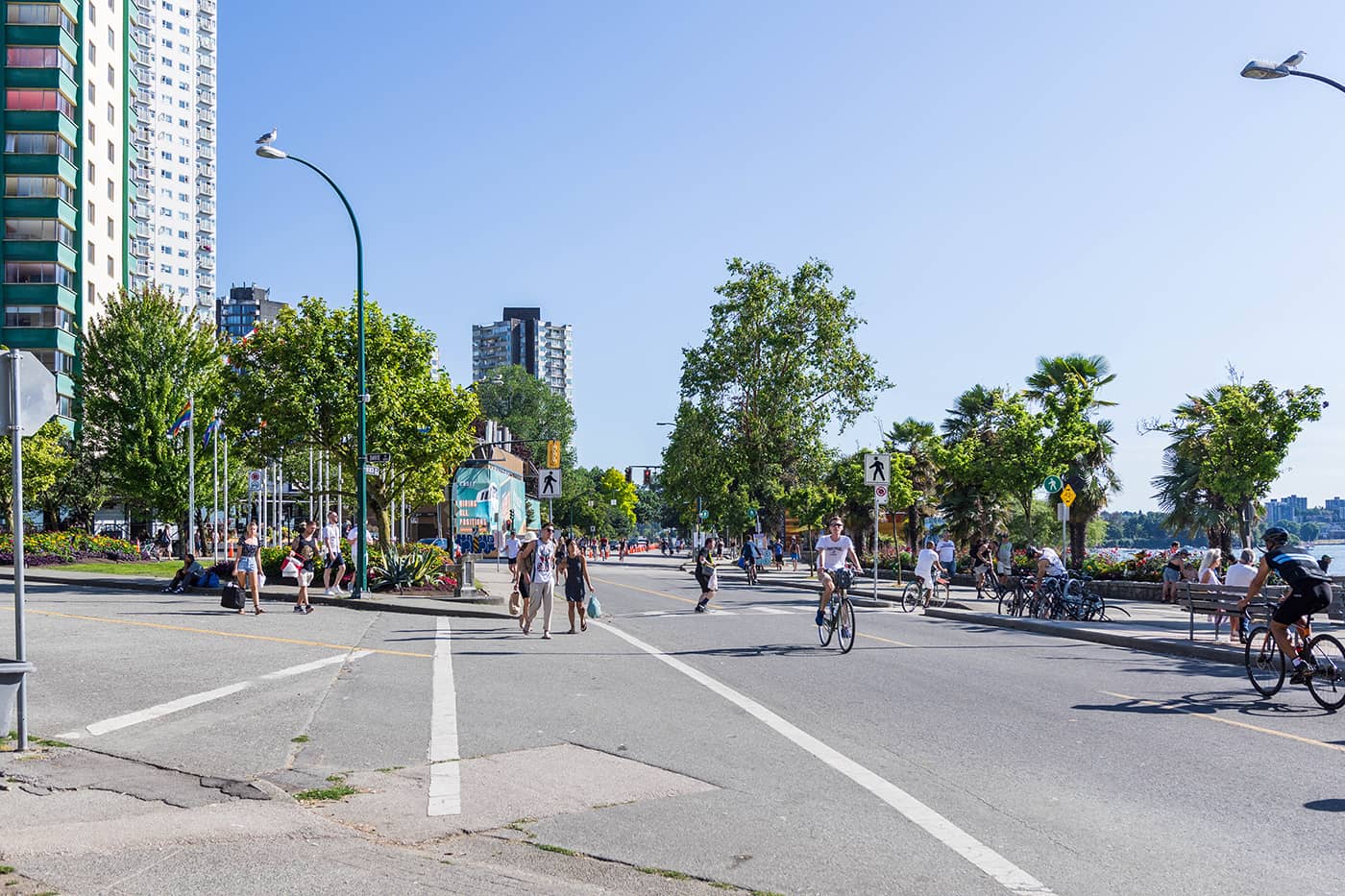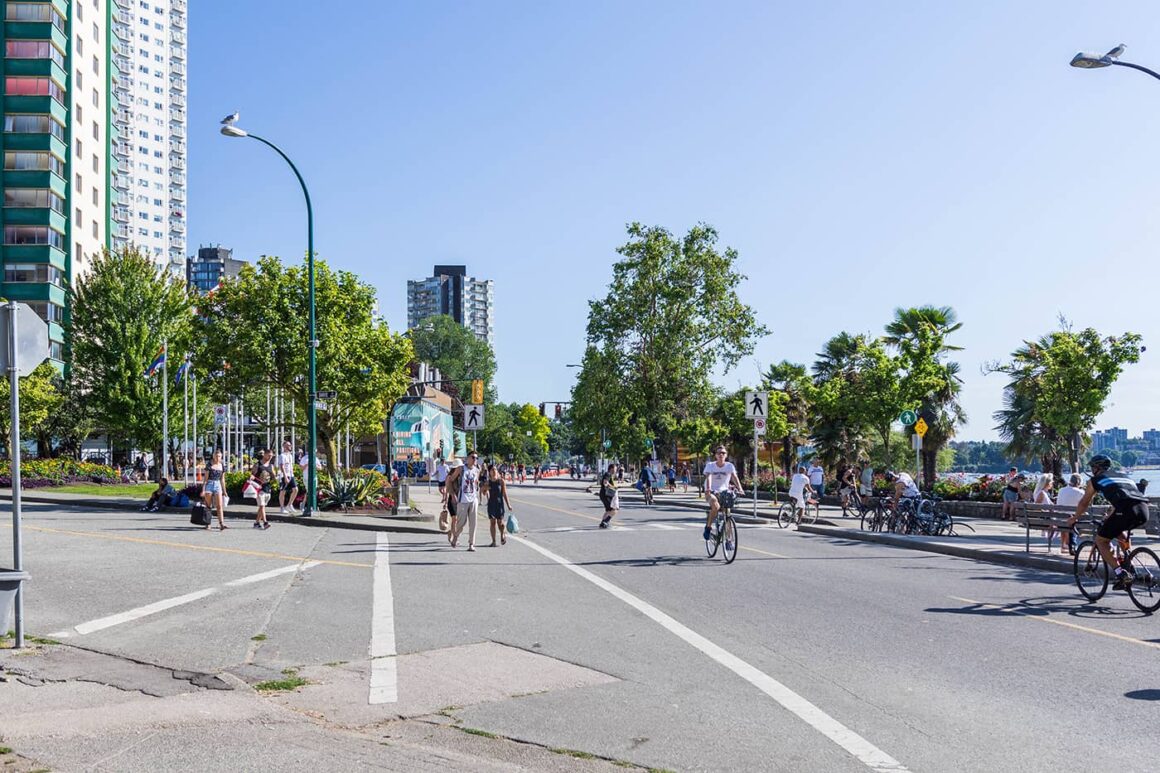 Those wishing to engage more with nature and regain their inner peace should not overlook West End. Dotted with lively tree-lined residential streets and mid-century buildings, West End is the most affordable area to enjoy and stay in compared to other "siblings" in downtown Vancouver.
The spectacular geographical area of West End is fed by nature, with English Bay and Second Beach on one side and Vancouver Harbor on the other side. West End is also home to the most famous park in Vancouver, Stanley Park. It juts out as an appendix of West End and reaches out to the sea. This prime location turns West End into the eco-friendliest neighbourhoods in Vancouver with lots of outdoor possibilities and water sports to enjoy.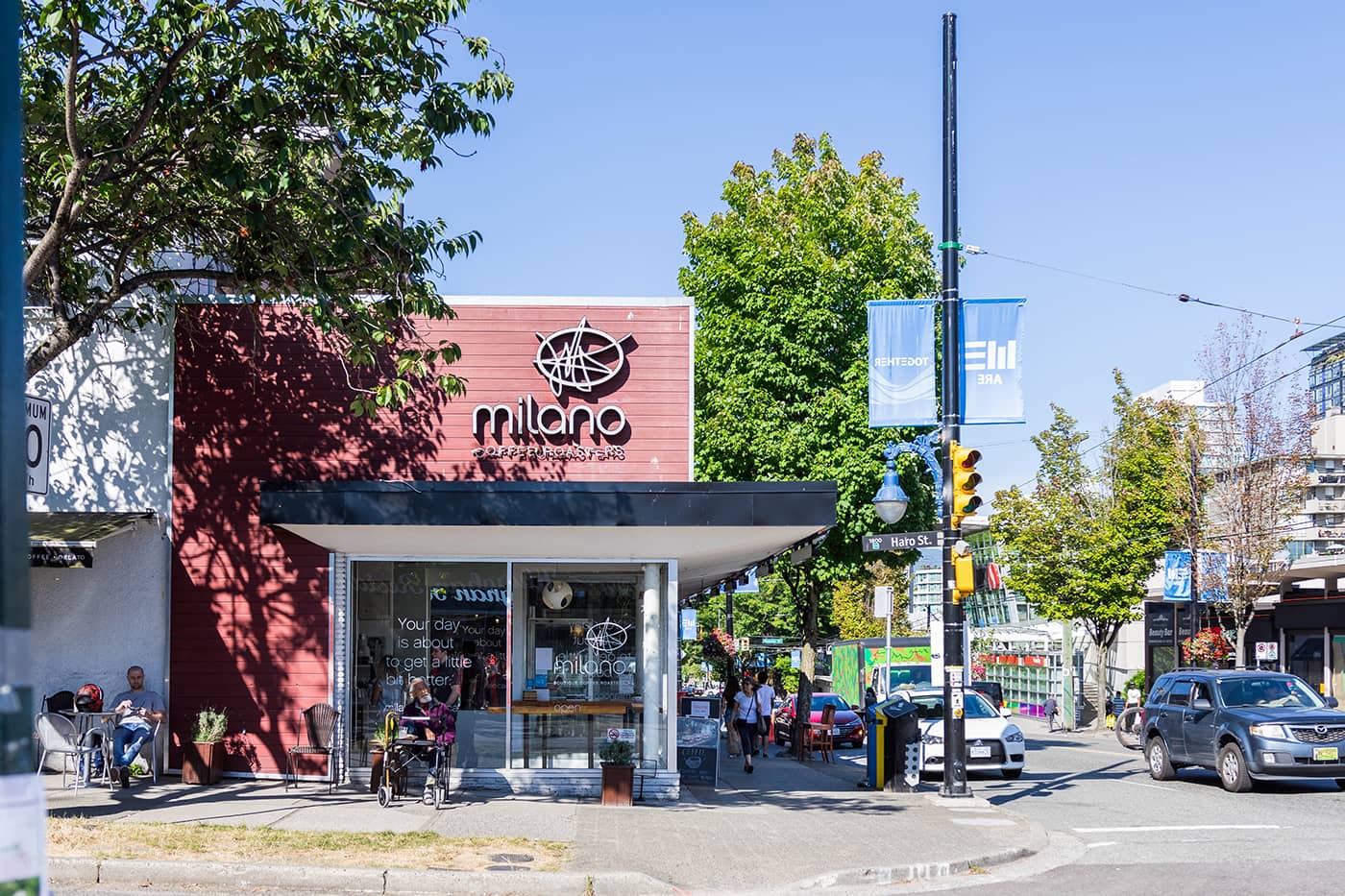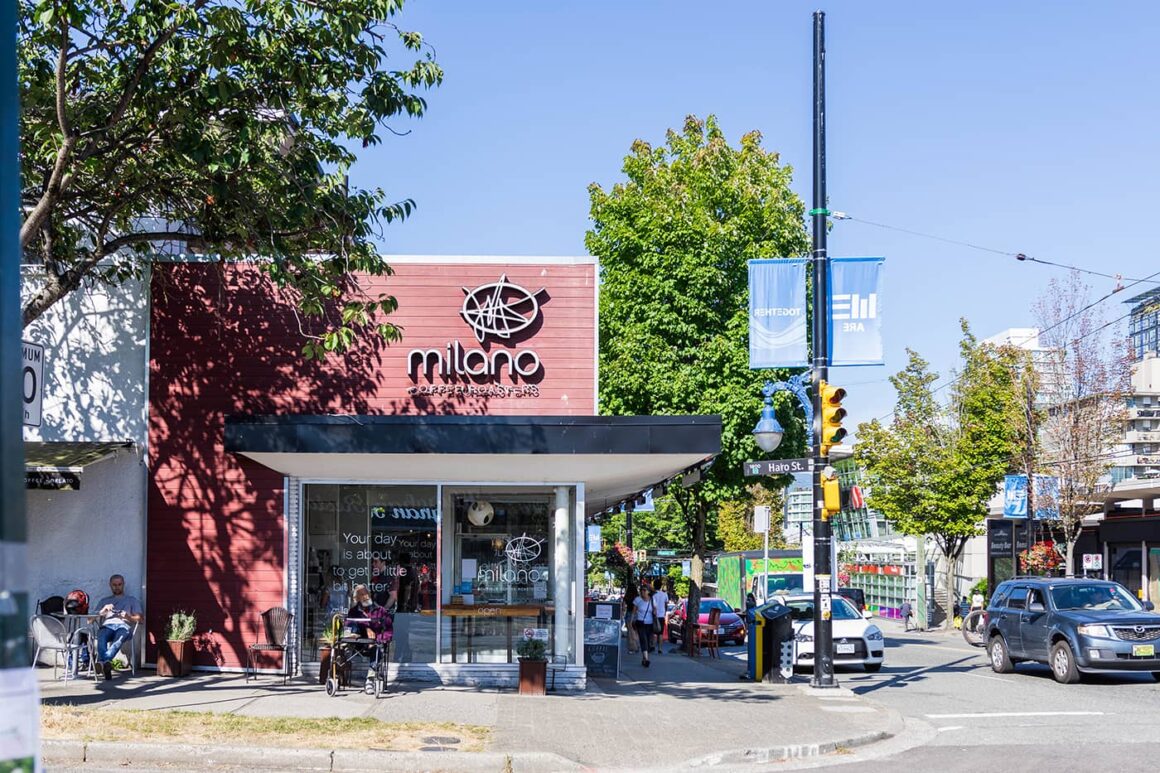 Travelers and locals alike refer to West End as the most diverse neighbourhood in the city. Other than the offers of nature, West End has a touch of history with many wooden buildings that stand the test of time. For example, Roedde House Museum is a great stop for history buffs.
Natural endowment paves the way for a thriving mix of residents of different backgrounds and ethnicities. You will see a great mix of both local and international residents of all ages. The locals, immigrants, and also LGBT community contribute to this eclectic blend.
This lively community sense of West End speaks for a family-friendly destination. Davie and Denman's streets are some of the most popular places for dining out and people-watching. Likewise, those seeking a lodge in West End will pump into many B&Bs that have been transformed from heritage buildings.
Best Hotel in West End: Shangri-La.
Best VRBO in West End: Sonder | Suite + Terrace Near Stanley Park.
More Accommodations in Downtown Vancouver
A rundown of all the best restaurants, cafes, drink spots, shops, and places to stay in the West End area.
Peaceful Getaway in Daytime and Nightlife after Dark: Coal Harbor
Lying adjacent to West End on the northwest, Coal Harbor is like no other! It has a perfect balance between the peaceful daytime and a bustling vibe at night.
Coal Harbor is the top choice for business travelers and newly-residing residents. Hugged by the stunning mountain views and marina, Coal Harbor wins the title of Vancouver's quietest neighbourhood.
Nestled under the shadow of gleaming condos is a chain of distinctively upscale waterfront hotels. These high-end lodgings are just a stone's throw from the popular Seawall and trails.
Coal Harbor has a great concentration on waterfront activities, including dining out with a view and cruising along the harbor. The exclusive and refined surrounds of Coal Harbor lingers past sundown and gather around the night bars, clubs, and pubs. All in all, if you are considering a peaceful retreat with excellent views and services, Coal Harbor is definitely a top cal!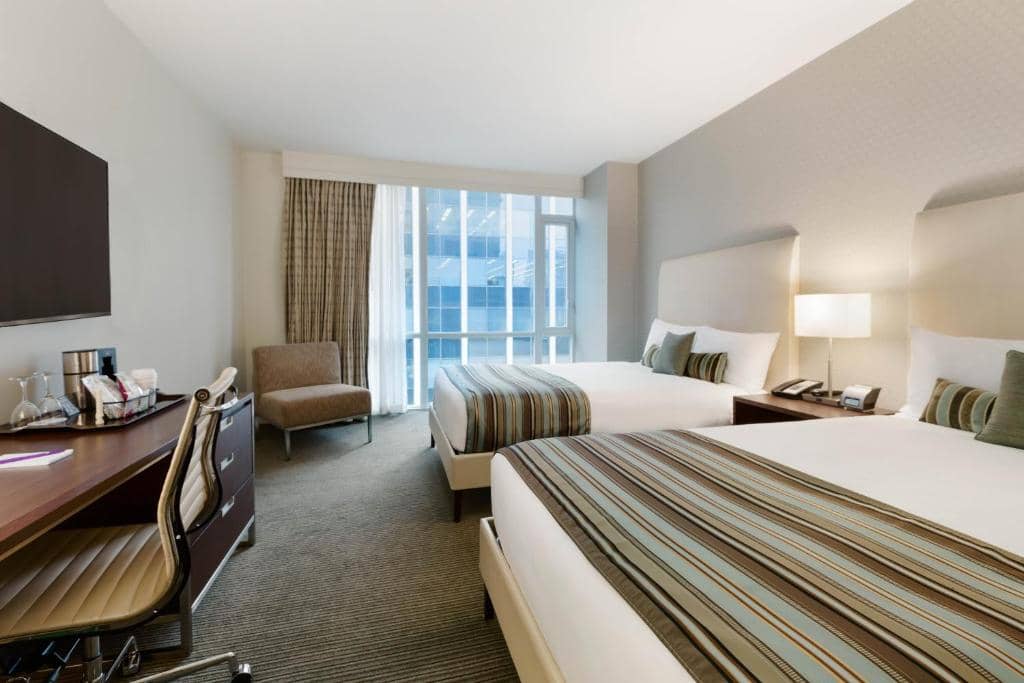 Best Hotel in Coal Harbor: Coast Coal Harbor Vancouver Hotel by APA
Best VRBO in Coal Harbor: Luxury, Modern, Immaculate Prime Downtown Waterfront with Gorgeous View.
Best Neighborhoods in Vancouver West
Best for Families with Kids and Beach Lovers: Kitsilano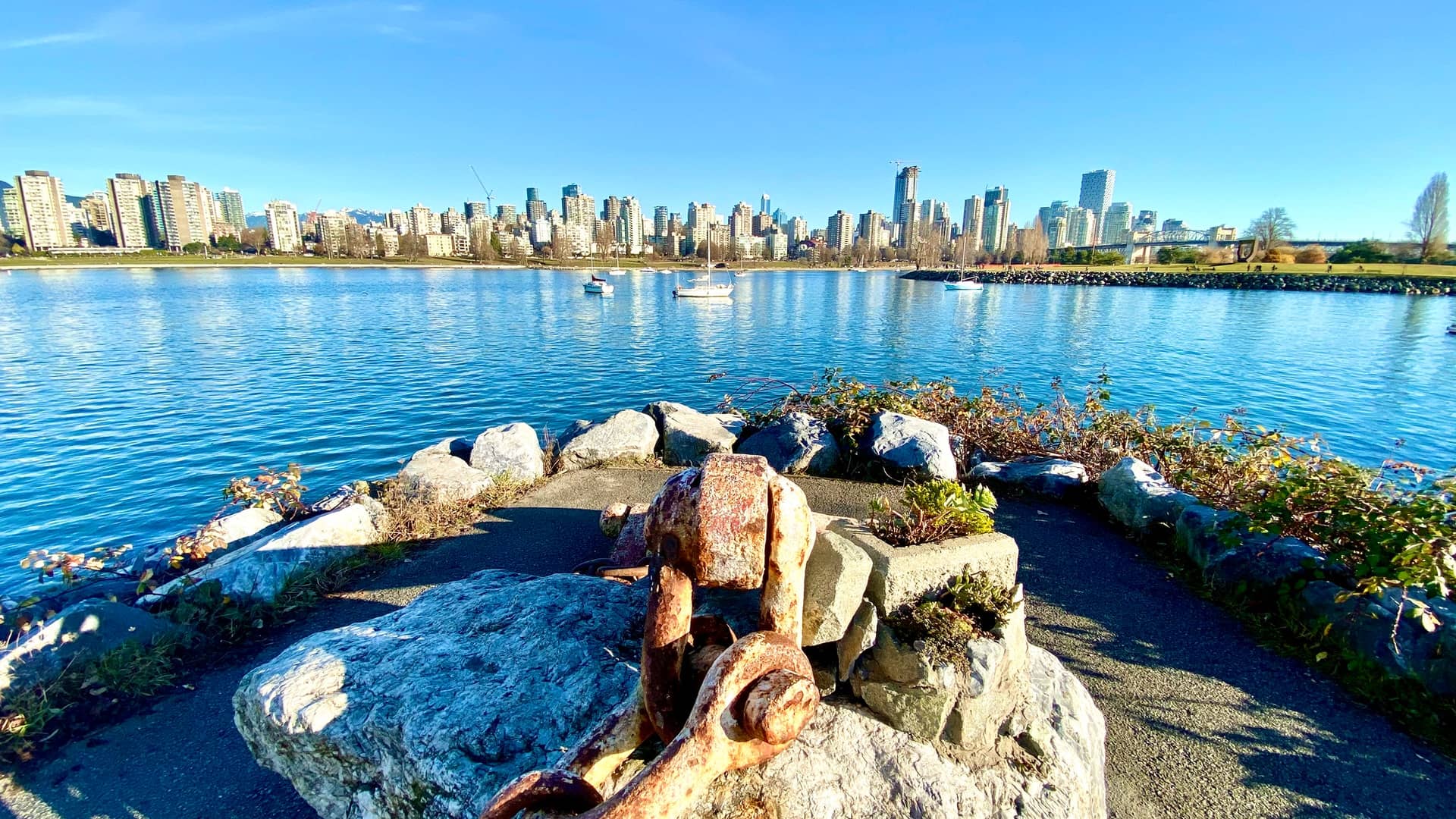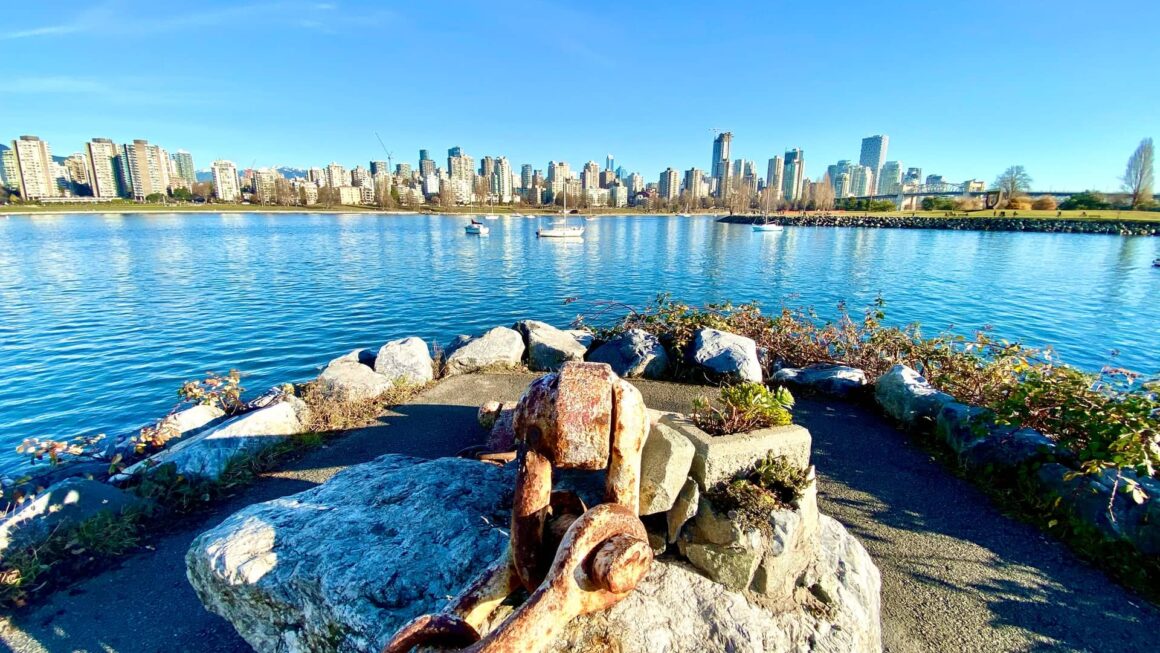 While Coal Harbor is the star of downtown Vancouver, we have the same thing for Vancouver West called Kitsilano. Known as "Kits" for short, this is an equivalent to Coal Harbor with the expansive sun-kissed seaside hugging its extremely pricy neighborhood.
Kits has a lot to do with high-end restaurants and stores. It is also a paradise for families with kids who want to settle down in single-family condos with proximity to the waters, parks, and commercial districts.
First-time visitors can choose between Yaletown or head southbound to Kitsilano. This is home to real headliners such as the Museum of Vancouver, H.R. MacMillan Space Centre, and the Vancouver Maritime Museum.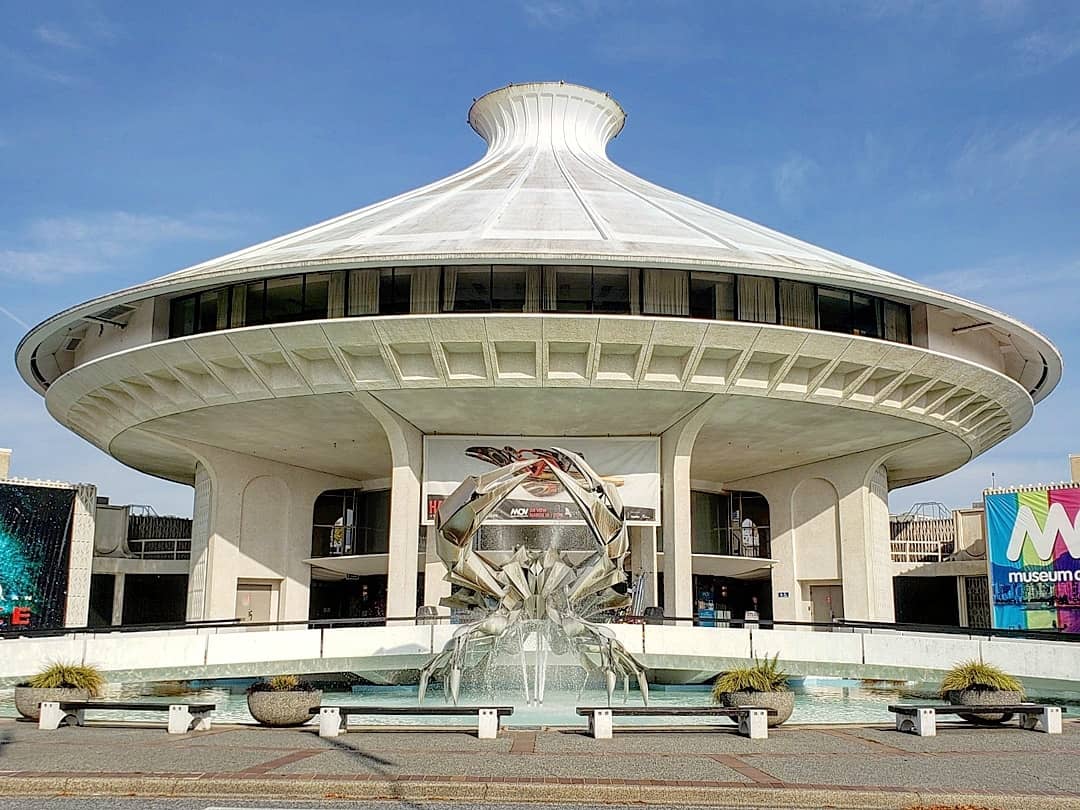 Meanwhile, Vanier Park falls into the list of one of the coolest green oases in Vancouver. We also have Kits Beach and Kits Pool being the showstoppers for junior visitors who love to make some splash and beat the summer heat.
Along these sandy shores, seafood halls, farm-to-table bistros, and Mediterranean restaurants on West Broadway line up to satisfy foodies with the freshest and delightful servings. There's no wonder why this is home to a prominent Greek community in Vancouver West. All of these brilliant features turn Kitsilano into a great call for young urban professionals as well.
Trendy B&Bs and inns share a big slice in the pie of Kitsilano accommodations, which is in conformity with high-rise, luxury condos, and ocean-view apartments.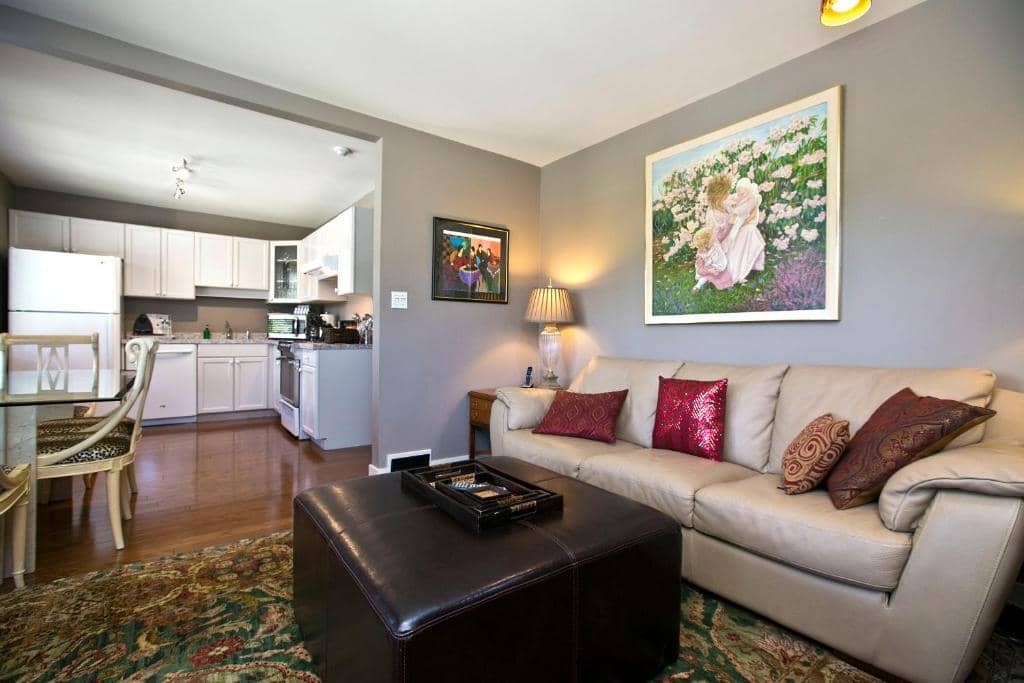 Best Apartment: Alma Beach Manor Apartment
Best VRBO: A TRUE HOME – Blocks to Kits Beach.
More Accommodations Near Kitsilano
A rundown of all the best restaurants, cafes, drink spots, shops, and places to stay in the Kitsilano area.
Best to Stay Near the Water and Island Hopping: False Creek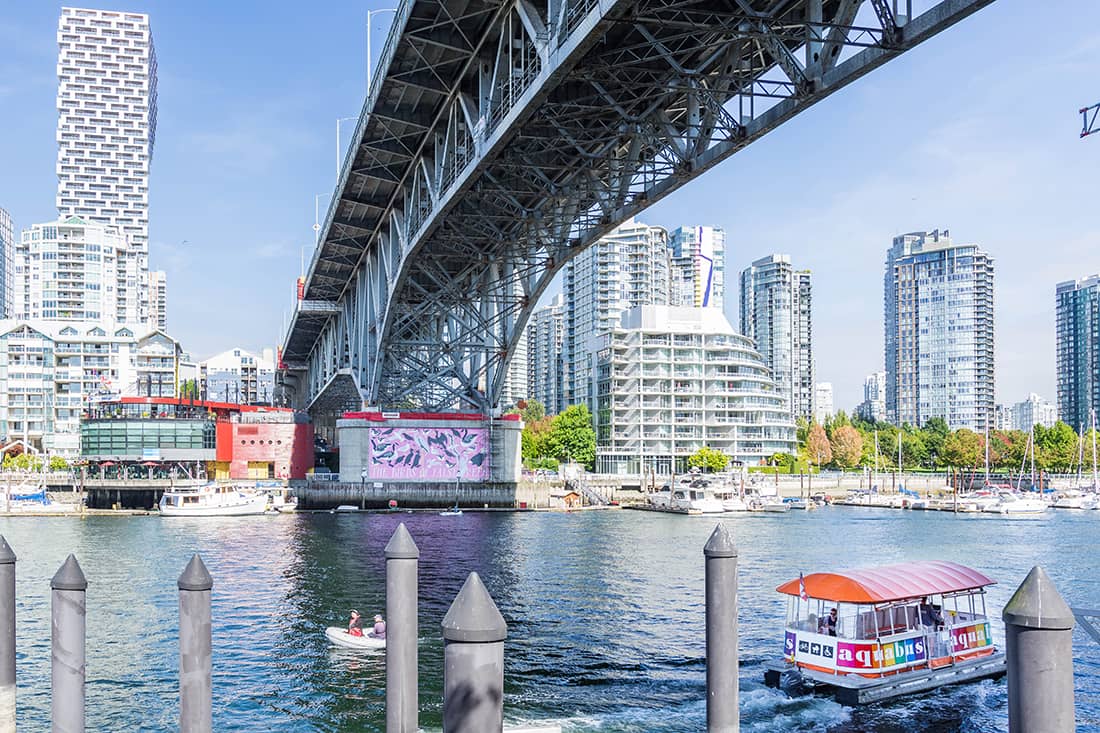 False Creek is considered as a new face compared to Vancouver standard. Emerging from poverty-stricken industrial land, False Creek today becomes one of the most coveted and well-designed urban neighbourhoods in Vancouver.
Staying along False Creek means you are surrounded by the waters all the time. Island hopping and shopping for fresh gourmet produce on a daily basis are never a problem. Therefore, get ready to immerse into a lively, breezy sea-scape along with other water sports enthusiasts!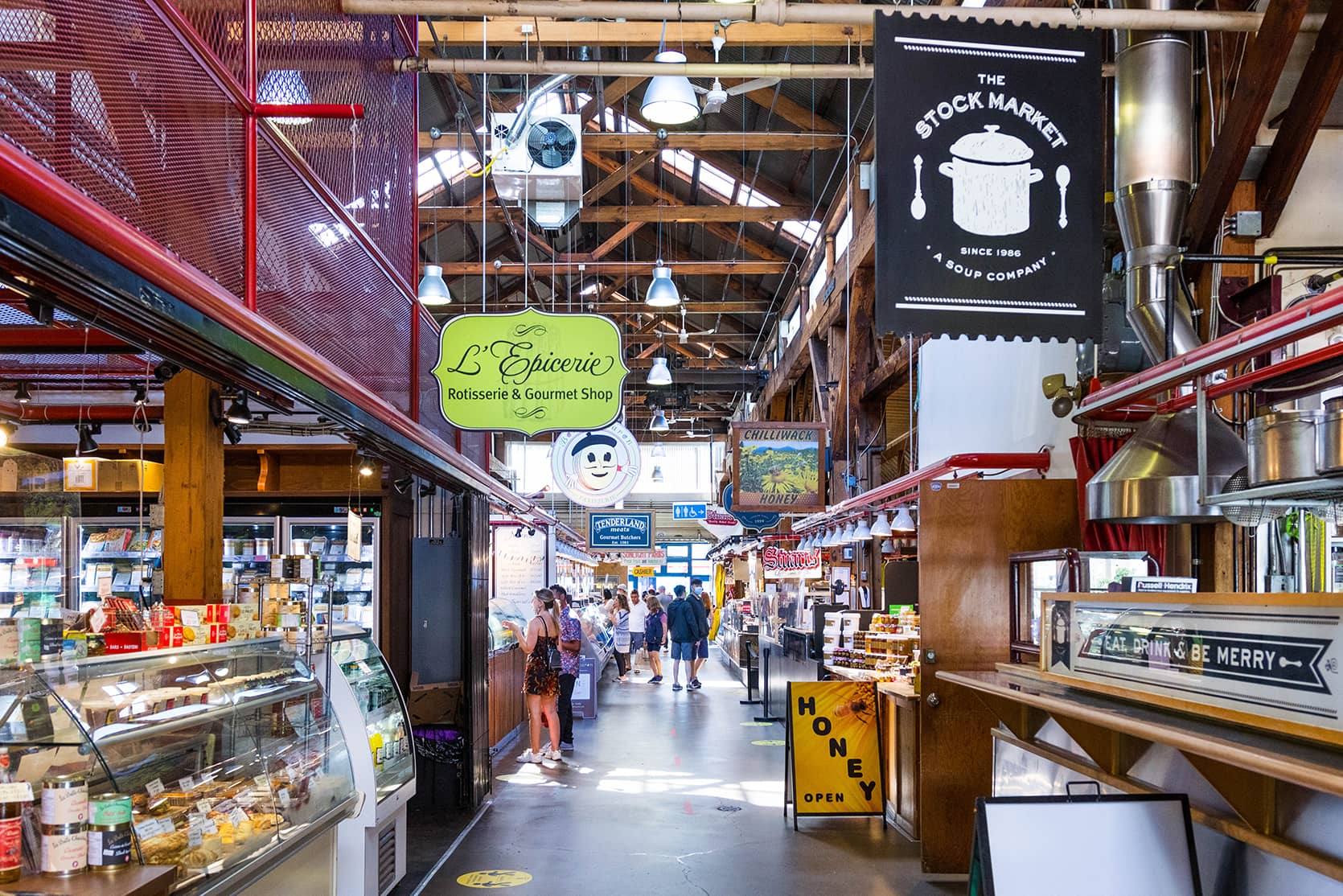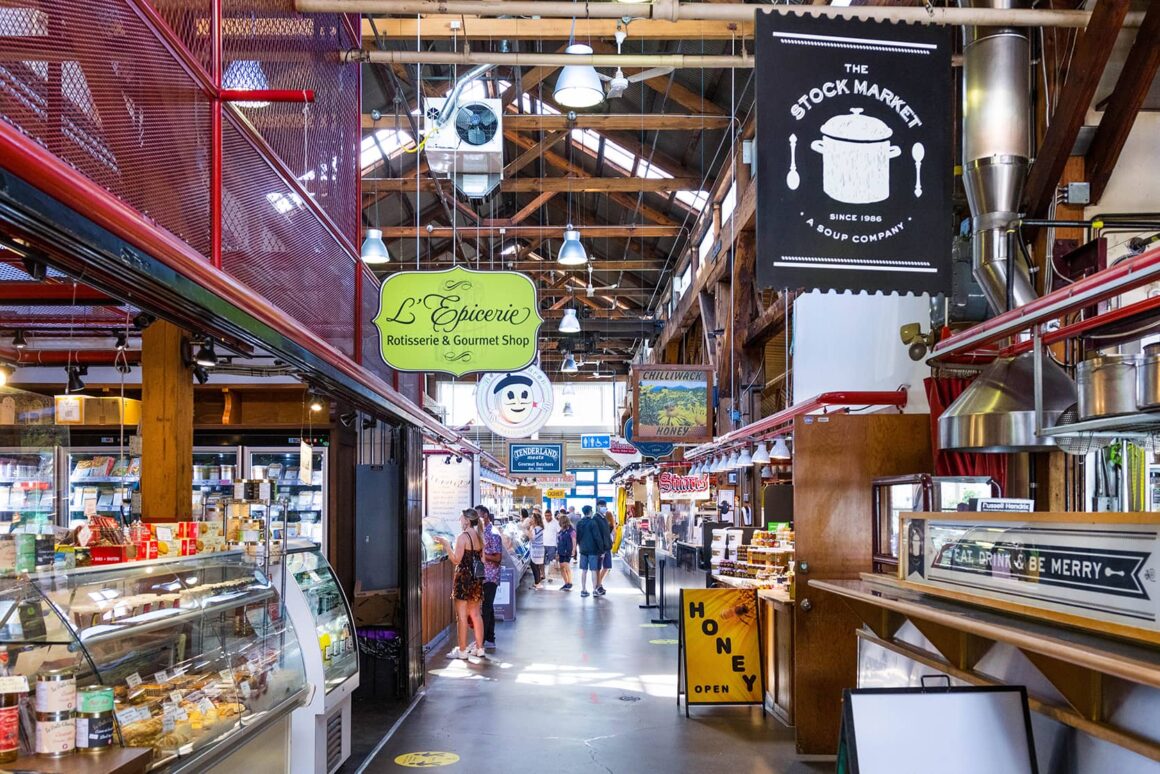 Imagine waking up with boredom on the weekend, so you decide to hop on Granville Island, pop into Ecomarine Paddlesports Centre, and get a kayak for yourself! If paddling down this narrow inlet is where your heart is, then False Creek is a dream come true!
Speaking of things to do in False Creek, you will never run out of ideas! Dipping in the ocean, paddleboarding, browsing a gallery, and biking along the marina line up to occupy your day.
Feeling hungry? Pop into Craft Beer Market and enjoy Vancouver's best craft breweries! Want to cook up a family's dinner? It's time to ditch supermarkets and fill your cart with the freshest, home-grown farmer's stocks!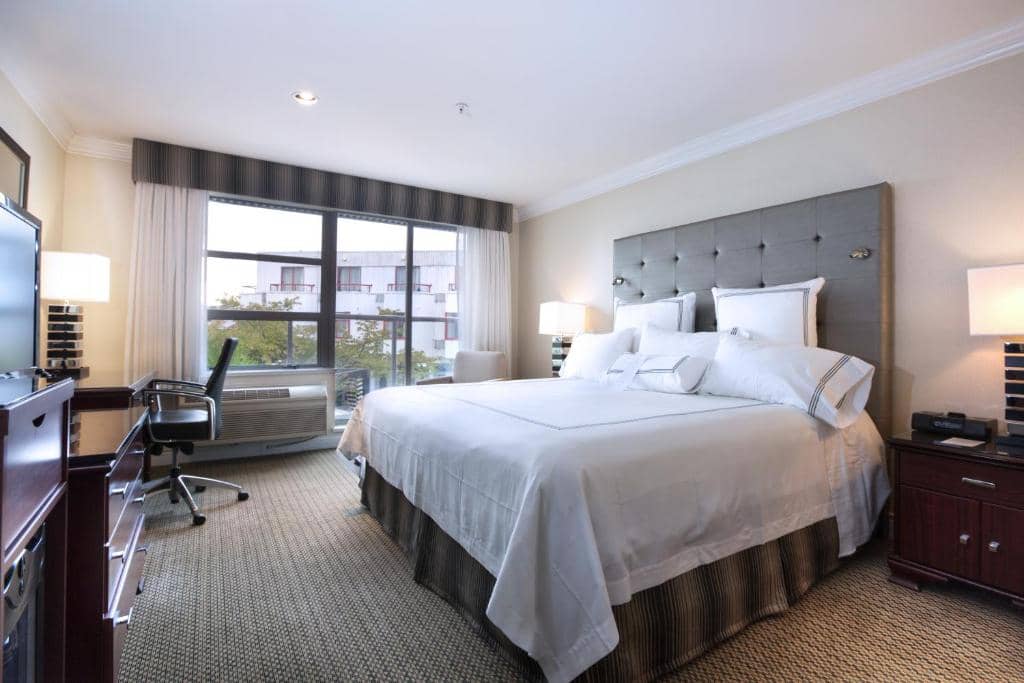 Best Hotel: Granville Island Hotel
Best VRBO: Charming Apartment near the Sea Wall.
Best for Seniors and UBC Students: Kerrisdale
Kerrisdale is the second-best neighborhood that wants your attention in Vancouver West. Kerrisdale may not be the first place that wins travelers' attention, but nothing can beat the vibrant and busy shopping vibe it has to offer. Kerrisdale is the main shopping area in Vancouver West with lots of quaint stores nestled along the tree-lined streets.
This residential neighborhood sees a large community of the ultra-wealthy population living in the high-rise condos. Likewise, retired seniors live in gorgeous manor houses, especially around the Shaughnessy area of Kerrisdale Village. Meanwhile, affordable apartments are also in keeping with these well-maintained villas and apartments, which are favored by a majority of UBC students.
Kerrisdale has an easy traveling route with other main towns around Vancouver. Therefore, you inherit a sense of a getaway and don't have to commute further afield.
As a verdant plotted part of the city, Kerrisdale is covered by a large footprint of green space so you can communicate with nature and engage your core on a trail. The famous VanDusen Botanical Garden is also part of this incredible neighbourhood!
Even though Kerrisdale today witnesses a surge of modern homes, there is surely no lack of heritage houses. These historical buildings preserve the iconic architecture from the Tudor revival, English Storybook, and Craftsman.
Best VRBO: Holiday Oasis in the Heart of Vancouver with a Private Swimming Pool.
Best Neighborhoods in Vancouver East
Best Area to Stay Near the Airport with a Unique Touch of Hipster and Arts: Mount Pleasant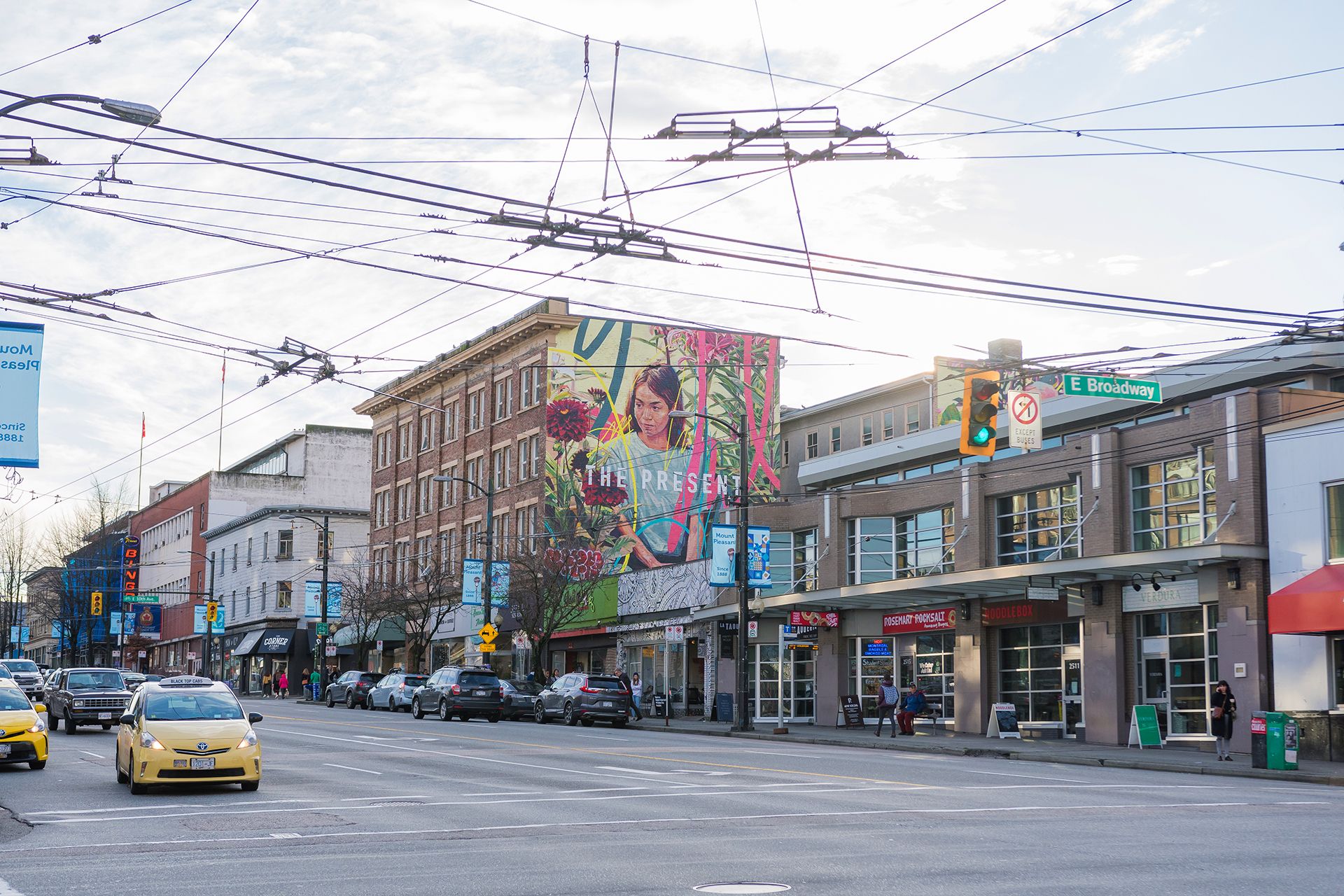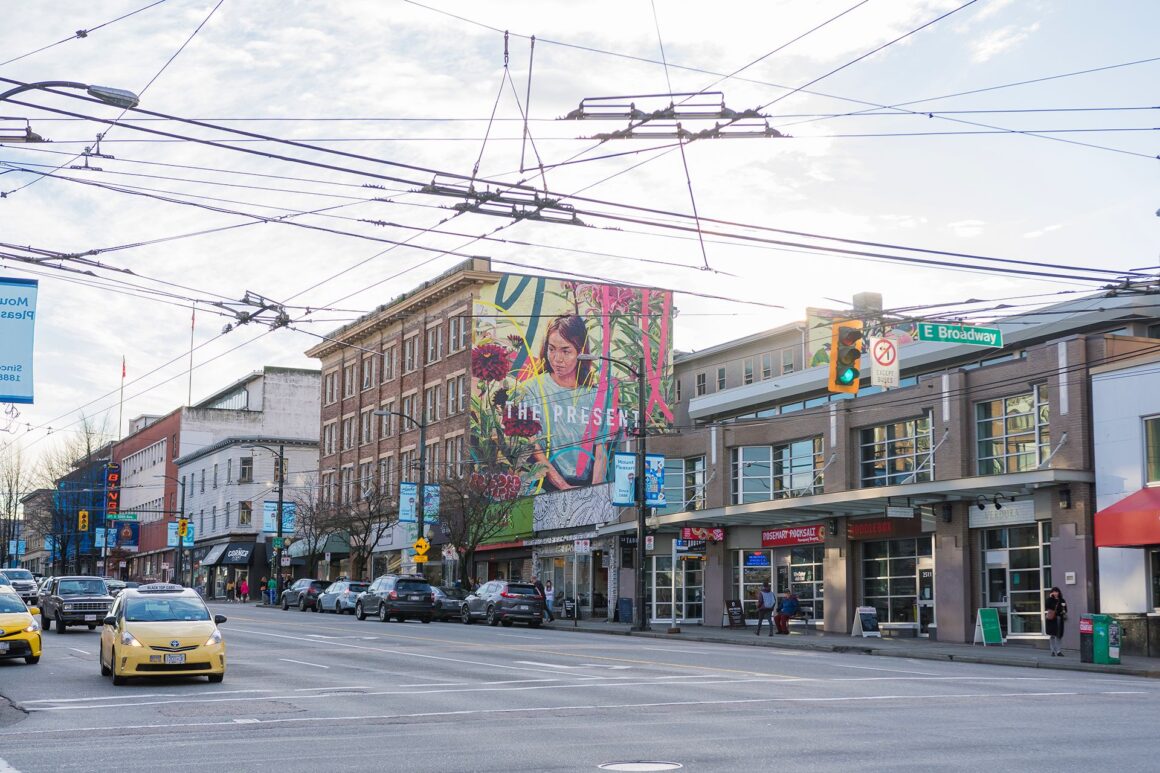 As we're moving on from the west, Vancouver East has its torch on a hipster and trendy neighbourhood – Mt. Pleasant. With Main Street being its bloodline, Mt. Pleasant is the top call for those who want quick and easy access to the airport mid-way of the transit.
The breezy air of sun-kissed beaches and leisure walk around big parks or the Seawall are not some things you should expect from this neighbourhood. However, you can enjoy a busy walk in and out of local clothing designer stores, buy your favourite book or find a local keepsake from an artisan shop.
Mt. Pleasant is well connected to downtown within a 25-minute drive so you can keep up with the main happenings. Those who'd rather stay here for a quick rest overnight before heading back to the airport tomorrow can pop into a craft beer brewery, cute café, or dine out at a restaurant. The eclectic food and beverage scene surely makes up for the lack of tourist attractions.
Best Hotel: Best Western Premier Chateau Granville Hotel & Suites & Conference Centre
Best VRBO: Super Central, Spacious Lux 2BR, 2 Bath
More Accommodations Near Mount Pleasant
A rundown of all the best restaurants, cafes, drink spots, shops, and places to stay in the Mount Pleasant area.
Growing Neighborhood with Unique Character: Commercial Drive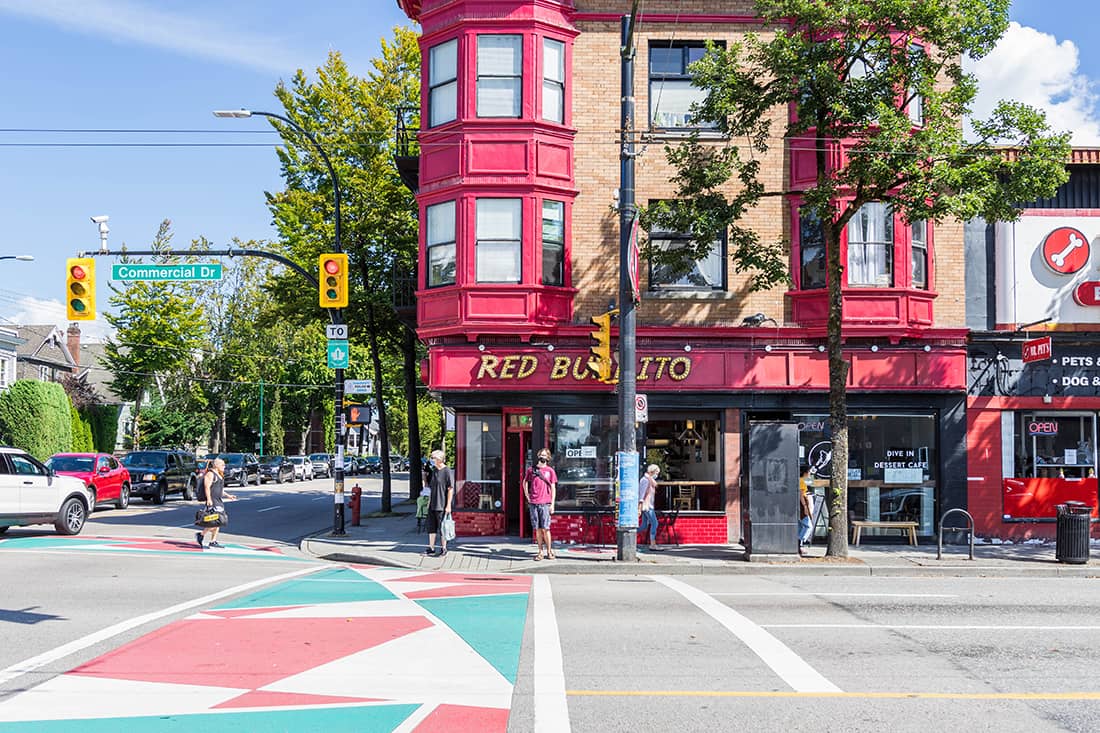 The Drive wraps up your list of Vancouver's best neighbourhoods as a prominent, culturally rich town of the east. Hundreds of eclectic restaurants, bars, pubs, cafes, and theaters collectively keep you young all day and night.
The Drive is specifically famous for its diversity of residents of multiple ethnicities. Therefore, you'll have a chance to live up to a wide range of international cuisines, specialty food stores, and bakeries.
The food scene at The Drive has a strong Italian flair. That's why you won't have a hard time when craving a wood-fired pizza, pasta or need an espresso fix in the morning. Other than Italian cuisines, Caribbean, El Salvador, Nepal, and Mexican cuisines are in the scene to diversify the food portfolio.
Those who like to have fun around the kitchen can visit Trout Lake Farmers' Market at the south end of The Drive. This bustling trading hub is connected with John Henry Park where you can grab some breakfast on the go while strolling around this green space.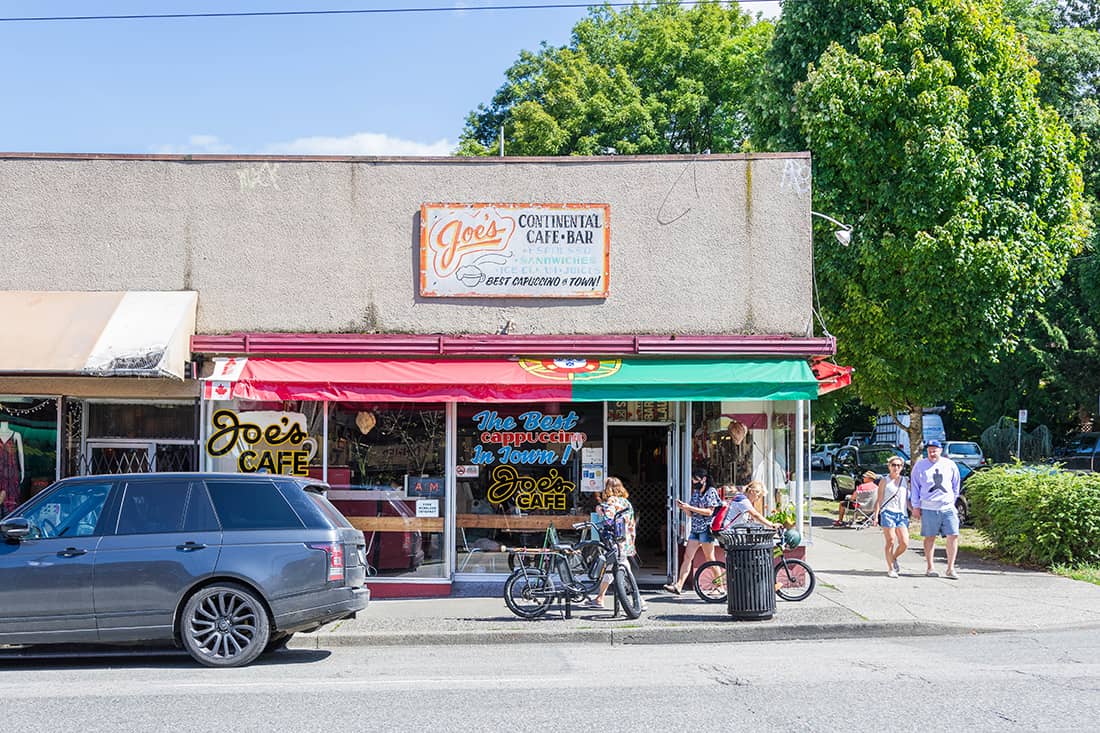 The shopping scene at The Drive has a distinctive bohemian air which is reflected through unique souvenirs such as bongo drums, beaded curtains, arts, and incense. If you're looking for a special keepsake, keep up with the local vibe and connect with these craftspeople, The Drive will be your paradise.
Last but not least, the exceptional atmosphere of The Drive lingers to some of its unique events. Car Free Month is a one-of-a-kind festival that fosters community spirits, clears off vehicle blockages on the main thoroughfares, and makes space for pedestrians to enjoy the city. The annual festival of Italian Day is another special event that makes the city's headlines, promoting Italian culture, heritage, and community.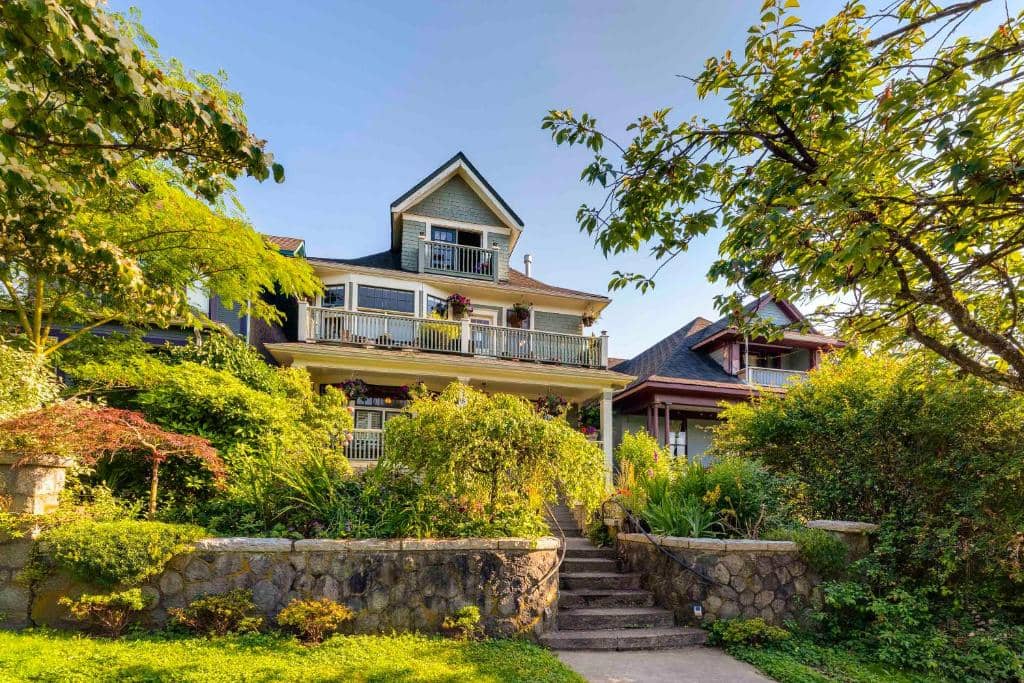 Best Inn: The Bee and Thistle.
Best VRBO: Quiet Retreat Near Trendy Commercial Drive.
More Accommodations Near Commercial Drive
A rundown of all the best restaurants, cafes, drink spots, shops, and places to stay in the Commercial Drive area.
We hope this complete guide and review can help you pick your favorite neighborhood in Vancouver for your upcoming trip! Don't forget that we also put together a detailed and insightful local handbook covering all the main neighbourhoods in Vancouver!
In this directory, we introduce our favorite eating holes, cafes, drink spots, and stays so you don't have to look them up yourself!
---
This article includes affiliate links that give us a small commission if you use our links, but at no extra cost to you. All funds will be used to support our team and create more content for you.
The following two tabs change content below.
Latest posts by Noms Magazine (see all)