Vancouver is known for its rain, jacket-piercing wind, and random snow days. It rains so frequently during Fall and Winter that the city has been aptly nicknamed "Raincouver" by locals.
Since you can no longer engage in outdoor activities, you will have no other option but to find activities that you can do indoors. But, it's not that easy to find interesting indoor activities you can do with your partner and bestie, is it?
Well, fret not! We bring to you a long list of indoor date ideas in Metro Vancouver that you and your partner/close friend can partake to get through the wet & cold months. Let's get to it!
1. Make Your Own Wine At The Wine Factory
If you both love wine, then what could be a better way for an indoor date than making your own wine?
The Wine Factory in New Westminster offers a one-of-a-kind experience by allowing you to make your own wine from scratch. They give you all the tools necessary and you get to customize your wine the way you like – increase sweetness, reduce tannins, etc. to make it truly yours!
The whole process takes two sessions to complete. After 4 – 6 weeks, your second session will be the bottling process. Here you cork your own bottles of wine and add a custom label to make it your own! Not only do you get your own bottles of wine to take home, but it is a memorable activity to do together.
Address: 649 Front Street, New Westminster, BC V3M 1A2
Website | Instagram | Facebook
2. Make Your Own Hard Seltzer
Another exciting offering from The Wine Factory, an indoor date where you can make your own cans of hard seltzer.
You and your partner/friend can make this naturally fermented sparkling beverage uniquely you by adding your fav flavourings (you can do flavour combinations too!) to meet your taste preferences – a completely fun indoor date activity.
Address: 649 Front Street, New Westminster, BC V3M 1A2
Website | Instagram | Facebook
3. Make Your Own Cup At A Pottery Class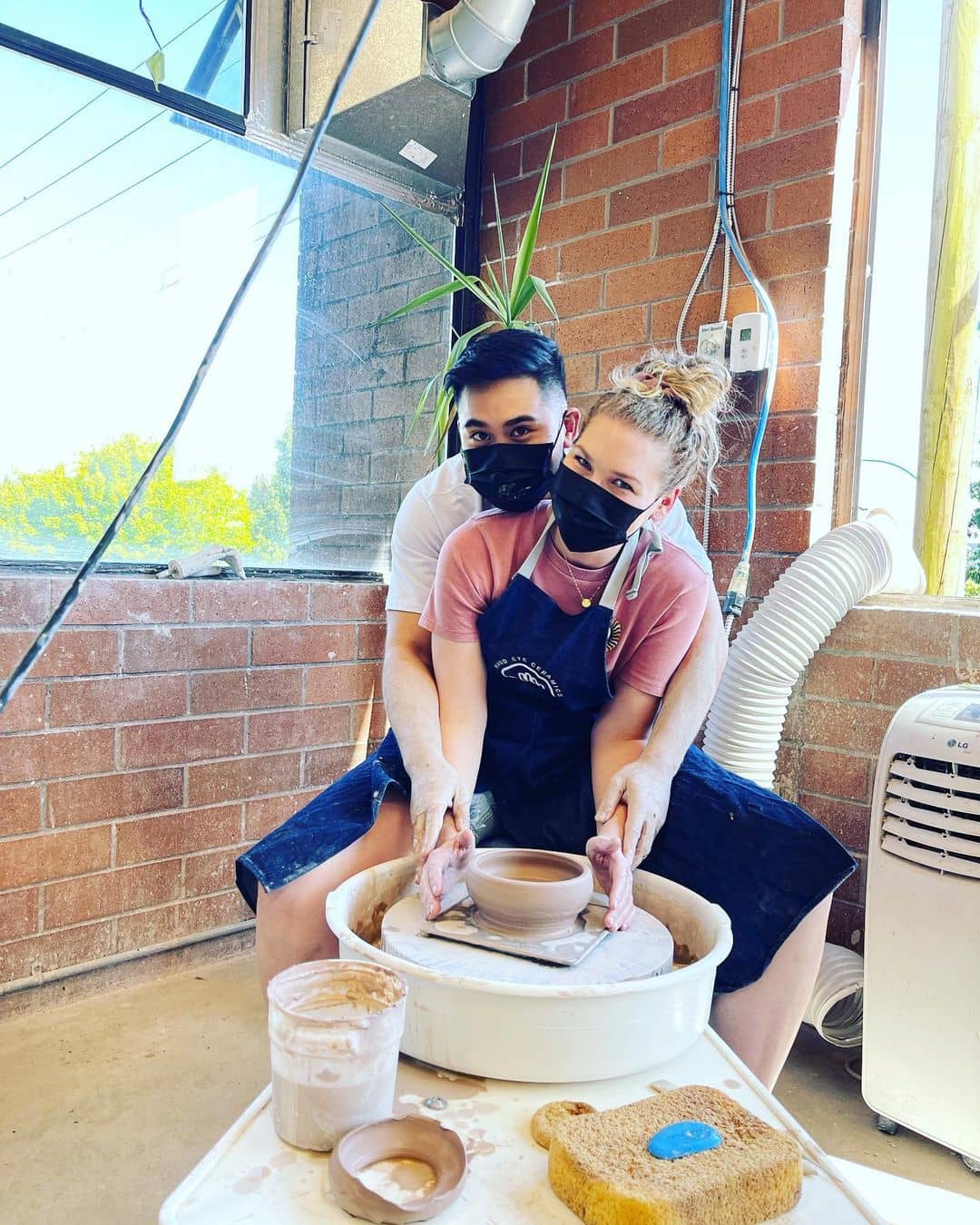 We dare say that the best kind of date activities are ones that are both memorable and allows you to create something practical to use everyday.
Well a pottery class can check all those boxes! Imagine making your very own mug or bowl together?!
Hand Eye Ceramics offers both beginner and intermediate pottery classes for adults, which means even if you've never touched clay in your life, you can sign up for a class and find joy in building something yourself.
Address: 739 Gore Avenue, Vancouver, BC V6A 2Z9
4. Creative Arts Workshop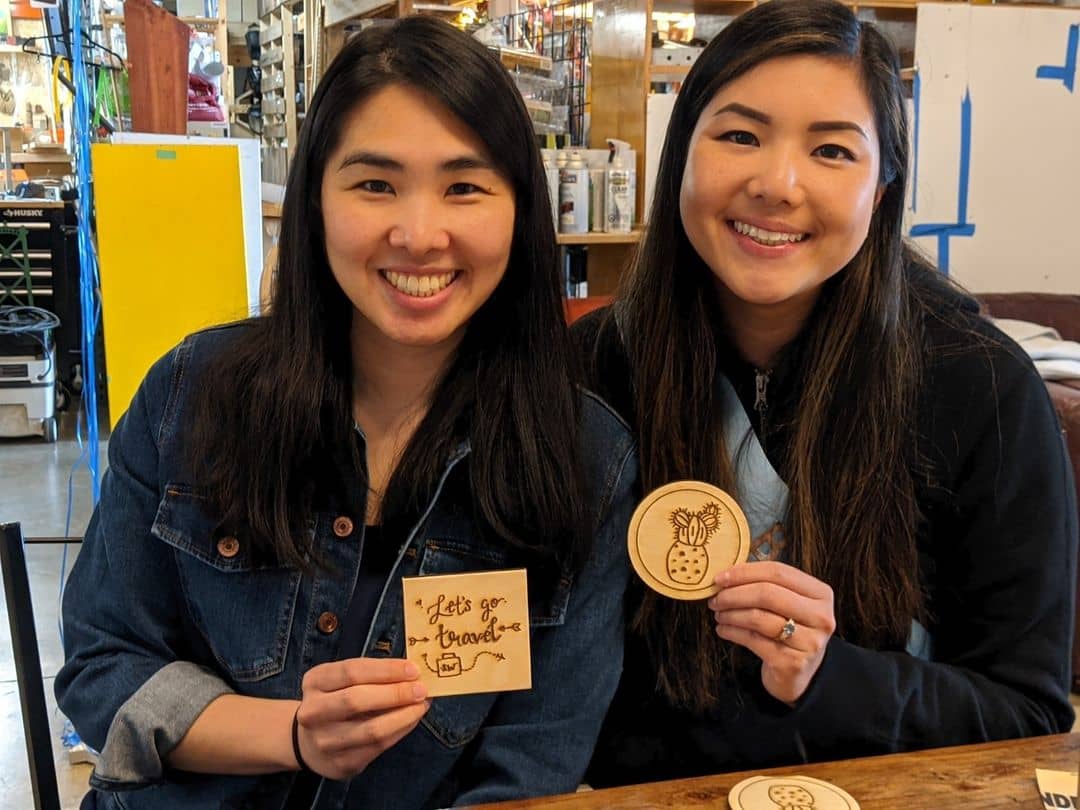 MakerLabs, a popular make space in Vancouver, brings to you project-based workshops. These workshops involve a wide variety of amusing activities, from basket weaving to cutting board woodwork to ceramic making to painting, and more.
This gives you and your friend/partner an excellent opportunity to learn more about each other's interests, learn a new skill, and make something to take home.
Address: 780 East Cordova Street, Vancouver, BC V6A 1M3
Website | Instagram | Facebook
5. Stroll Around The Art Gallery Or Museum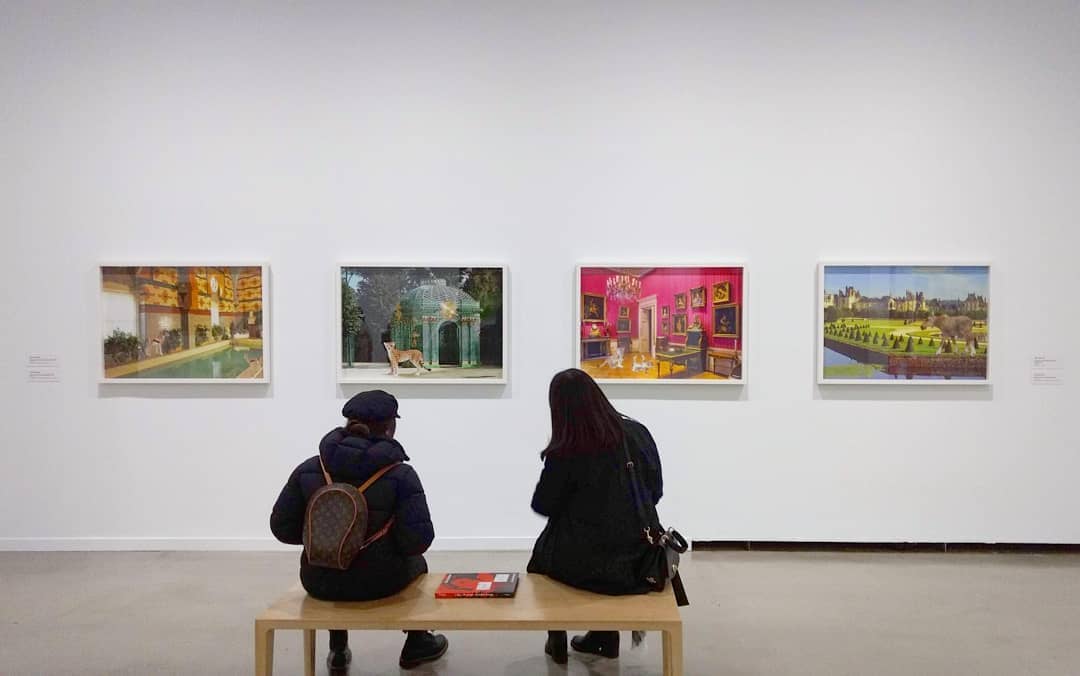 Even if you aren't an art snob, everyone can benefit from connecting to their creative selves. Whether it be embracing abstract art or getting a glimpse of the past via. historical exhibitions, there's a lot to learn and experience at one of the many art galleries and museums in the city.
For instance, the Museum of Vancouver has a whole exhibition on the experiences of the early Chinese Canadians in BC and the evolution of Vancouver from the 1900s.
Or you can hit up Vancouver Art Gallery for one of their rotating art exhibitions.
And if you want to make it a whole day trip at one of the museums, you gotta think about food! Take a peek at our post on food spots near the most popular art galleries and museums in the city here.
6. Hit Up The Arcades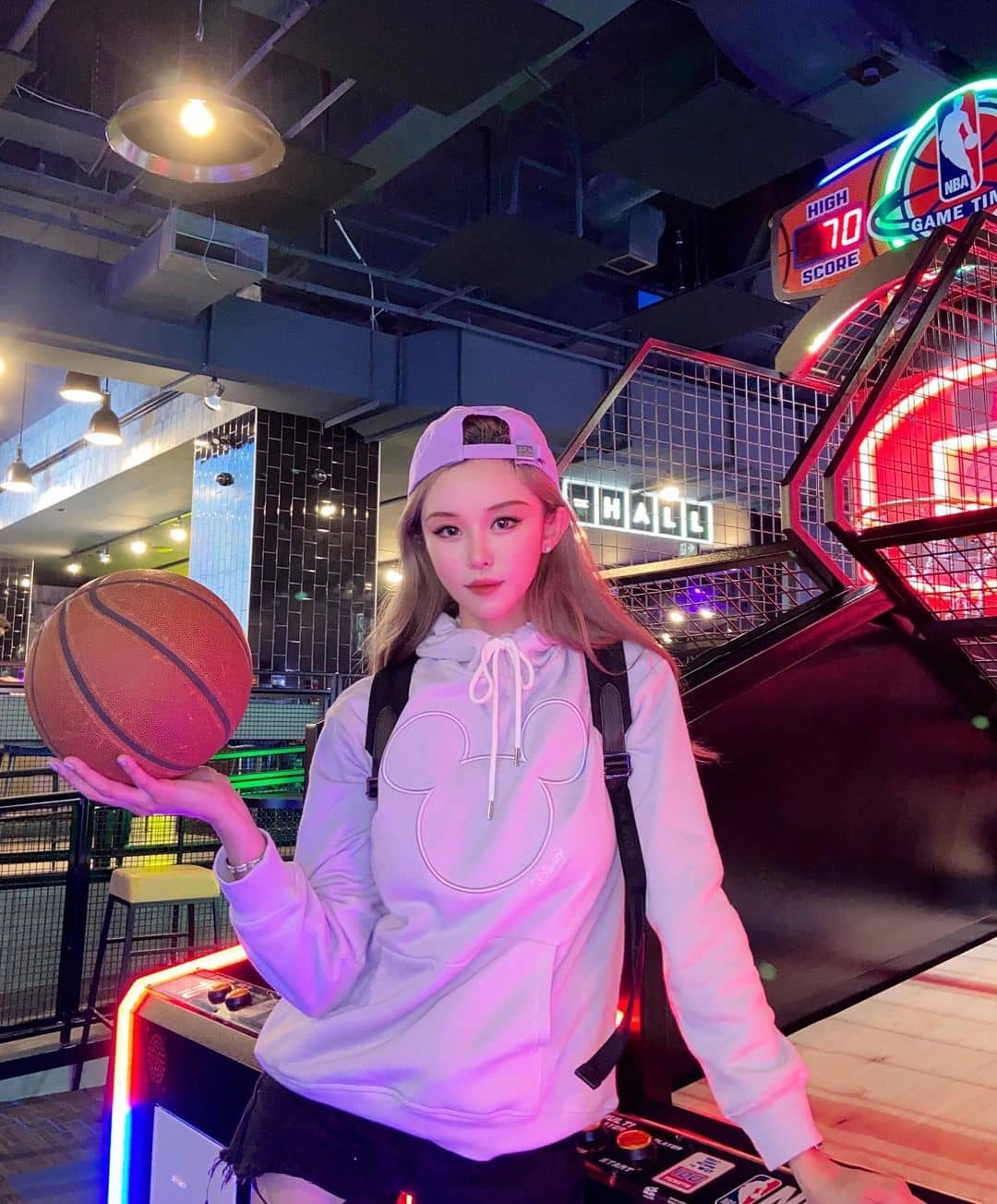 The next item on our list of indoor date ideas is a classic one: the arcade!
There's two types of way to tackle the arcade: You can work your way to getting high scores together in every game you come across (and win those prizes). Or if you both have a competitive soul, compete against each other and try to outdo each other's score!
And ofcourse while you two duke it out in air hockey or DDR, there will be many chances to break the awkwardness, flirt, and make some great memories together.
There are numerous arcades in and around Metro Vancouver; but for the best time, you'll want to hit up espot or Brentwood's The Rec Room.
espot Richmond
Address: 8181 Cambie Rd. #1000, Richmond, BC
The Rec Room (Amazing Brentwood)
Address: 1920 Willingdon Ave Unit 2106, Burnaby, BC
Website | Instagram | Facebook
7. Hit Up The Board Game Pizzeria
Here at Pizzeria Ludica, board games marry comfort food to create an ideal, exciting solace everyone craves for when they you want to run away from the rain.
Spend hours enjoying stone oven-baked thin-crust pizzas with some cheesy goodness add-ons, fizzy San Pellegrino, and compete against your partner and friends over hundreds of board games.
Fun fact – they have games in different difficulty levels – light-weight, medium-weight, heavy-weight, quick games, and children's games as well.
Address: 189 Keefer Pl, Vancouver, BC V6B 6L4.
Website | Facebook | Instagram
8. Break A Sweat At The Climbing Gym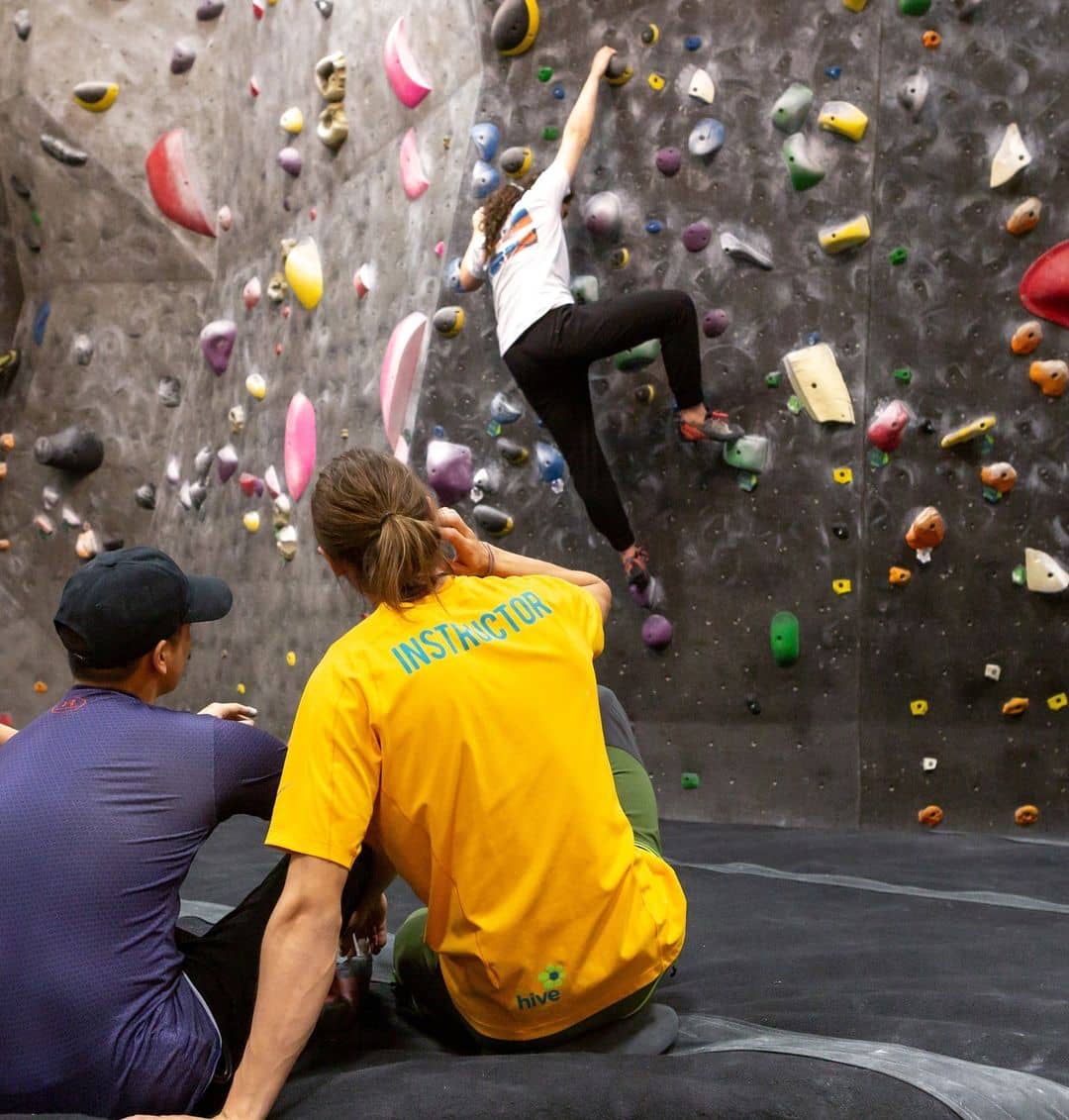 If you're a fitness fanatic but want an alternative to the gym – then making a visit to the climbing/bouldering gym may be what you're looking for.
At the climbing gym, you can take your partner along to learn all about rock climbing and have an amazing time doing it together. It's also a great way to work up a sweat, get a full-body workout, and bond with each other! Plus there's still time to chat in between climbs 😉
It's the perfect way to stay active while staying indoors!
Address: The Hive Bouldering Gym – 520 Industrial Avenue, Vancouver, BC V6A 2P3
Website | Instagram | Facebook
9. Attend A Cooking Class At Dirty Apron
Whether you're a toast burner or a passionate home cook, a fun-filled and educational cooking class makes for a great indoor date filled with delicious memories.
You can sign up as a couple or even make it a double date and bring along another couple to join in! At the end of the class, you'll even get to taste all your hard work. Plus, this is a great way to bond, learn new things about each other and see what your teamwork is like.
Address: The Dirty Apron – 540 Beatty Street, Crosstown, Vancouver, BC V6B 2L3
Website | Instagram | Facebook
10. Decorate Your Own Phone Case
If painting or pottery isn't your thing and want to lean into something more cute…well consider signing up for a phone case decoration session.
At Meow Handmade, you are given a plain phone case for you to fully deck out. Choose from various colours of piping and dozens of cute charms to make your case truly unique. From rainbows to flowers to cartoon characters, there are tons of charms for you to add to your case.
Whether you plan to do matching phone cases or not, this is a fun, creative, and simple activity to do together with your bestie or partner!
Address: Meow Handmade – Aberdeen Square, 4000 No. 3 Rd #3155, Richmond, BC V6X 0J8
11. Make A Ring Out Of A Coin
Did you know you could make beautiful rings from coins?
In this ring-making workshop, you'll be taught how to work with metal, including how to soften it, bend and stretch it, polish it, and use a rotary tool. At the end of the session, you'll have your very own ring made from your coin!
Whether it be couple rings or bestie rings, this is an activity that will no doubt be memorable!
Address: Soigne – 393 Powell Street, Vancouver, BC V6A 1G5
Website | Instagram | Facebook
12. Go VIP At The Movie Theatre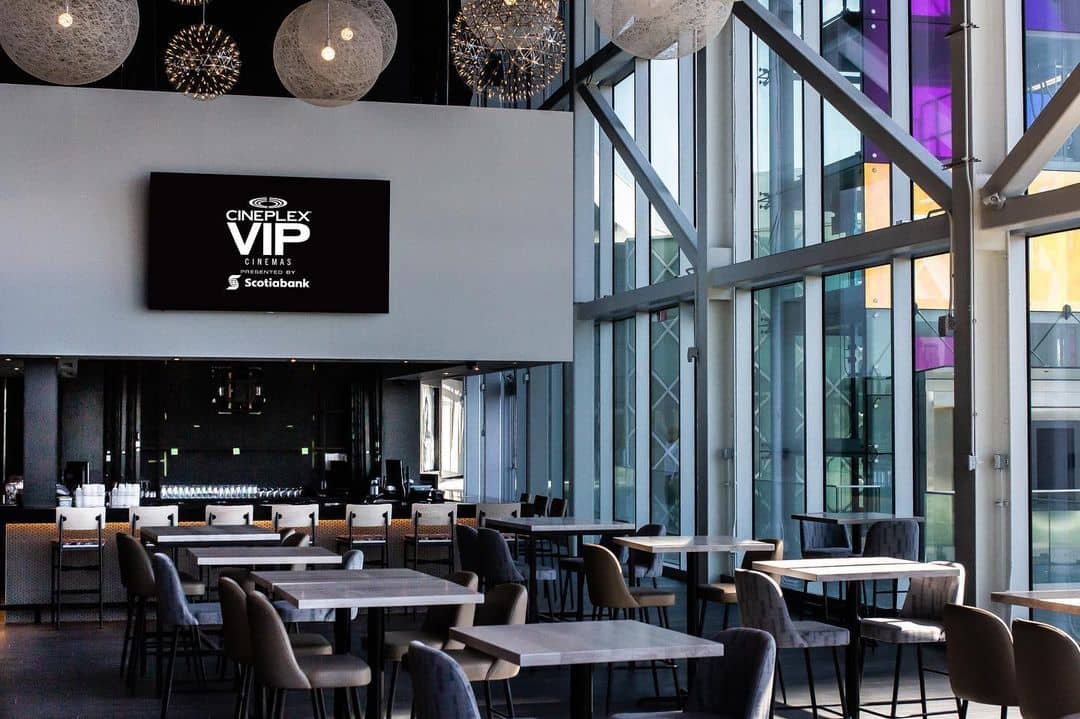 A classic date at the movies is always a great back up plan. But if you want to jazz it up a bit, consider going VIP instead.
So instead of the old meh chairs, the VIP experience at select Cineplex theatres upgrades you to a polished leather lounger, which comes with a side table so you can enjoy your meal and watch a movie in the best comforts. Whether it be a salad bowl or juicy burger or wine, they've got you at the VIP Cineplex.
And best of all – since VIP Cineplex is licensed to sell alcohol, only visitors of 19 and above are allowed in.
Address:
-Amazing Brentwood Cineplex 3106, 1920 Willingdon Ave Unit 31-06, Burnaby, BC V5C 0K3.
-Marine Gateway Cineplex 452 SW Marine Dr, Vancouver, BC V5X 0C3
13. Sign Up For A Leather Workshop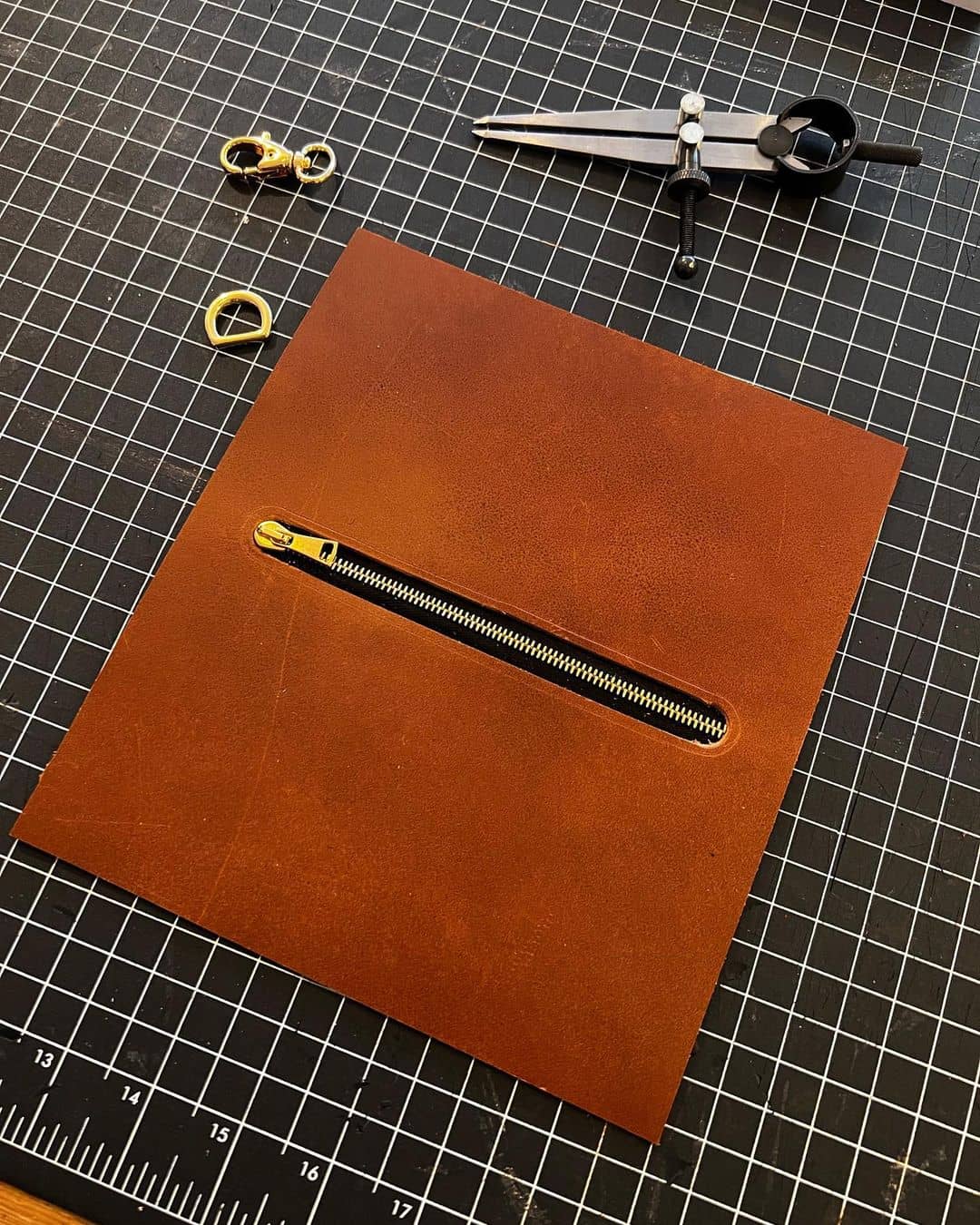 Imagine telling people that you're rocking your very OWN custom tote bag or shoes…well, you can if you pop into the leather workshop in Lonsdale. There are even classes on making your own wallet, belt, and backpack!
Grab your partner or bestie and be introduced to the world of leathermaking!
Address: Lonsdale Leather – 76 West 6th Avenue, Vancouver, BC V5Y 1K1
Website | Instagram | Facebook
14. Take A Dance Class
If you're looking for a way to get closer without pushing boundaries, signing up for dance lessons is the perfect way! Whether it be flirty salsa or cool hip hop or the graceful waltz, it is an opportunity to be intimate and bond with your partner.
Address: Harbour Dance Centre – 927 Granville Street, 3rd Floor, Vancouver, BC V6Z 1L3
Website | Instagram | Facebook
15. Try An Escape Room
Imagine getting locked up in a fictional scenario and the only way you and your partner can get out is by solving a string of problems before the time runs out?!
How well do you two work together and under pressure?
Well, escape rooms are exactly that – an immersive experience that is fun and exciting, that will keep you on your toes and test your problem-solving skills.
For the best escape room experience, we recommend E-EXIT as they have variety of themes and locations in the Metro Vancouver area. So test your skills in a mafia, space, viral outbreak, or stranded airplane crash-themed rooms.
Address:
-West Broadway 309 W Broadway, Vancouver, BC
-Richmond 9111 Beckwith Road, Richmond BC
-Gastown #100 – 289 Abbott Street, Vancouver, BC
-Burnaby 4035 North Road, Burnaby, BC
16. Reserve A Self-Portrait Session
A professional photoshoot can be nerve-wracking. But you want those cute photos, don't you? Well, the new trend of professional self-portrait studios is here to help!
With a whole professional studio to yourselves for 30 mins and a remote clicker to snap that stellar picture, you get this intimate and private experience. At the end of the session, take home with you physical prints and digital files of the cute photos you took. Perfect for couples and besties!
Address: Nami Studio – #12 – 306 Abbott, Vancouver, BC V6B 2K9
17. Go On A Bowling Night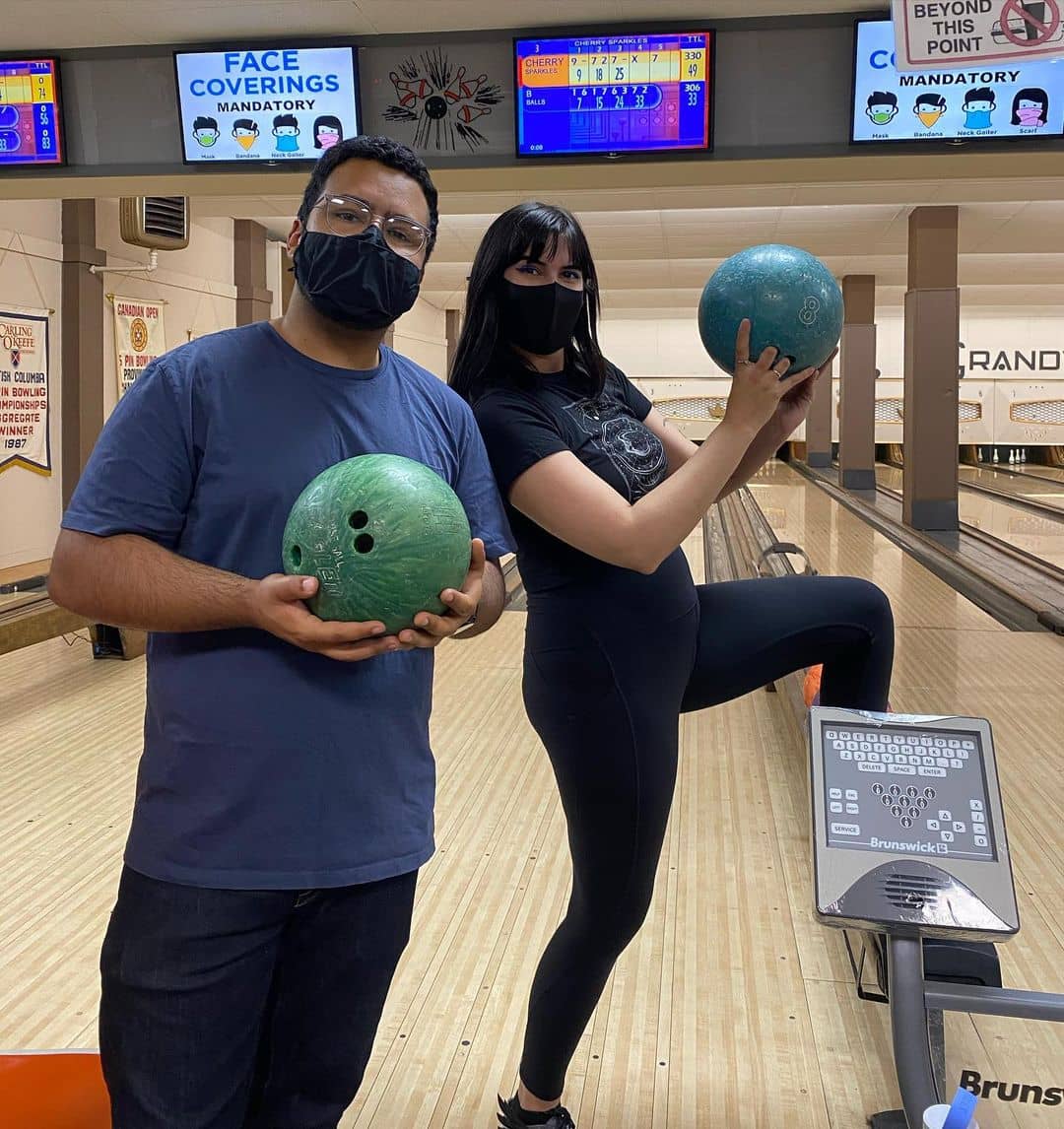 One thing we can attest to: bowling is fun, even if you suck at it! And it is one of the most underrated indoor date activities.
Why? Well, there are many reasons.
First, it is an activity that can bring out that playful competitive soul out. Does the winner buy dessert? Light trash-talking ends up flirting? Yup, you got it.
Second, it is super casual. No need to dress up. Everyone around you is having a good time slinging back some pop (or beer) and munching on some pizza.
And bowling won't put a huge dent in your wallet!
Metro Vancouver has some great bowling centres, and one of the most visited facilities at Riverport is Lucky 9 Lane, a popular bowling complex offering both 10 and 5 pin bowling lanes. It turns into a cosmic bowling venue at night with glowing neon lights and fluorescent bulbs.
Website | Facebook | Instagram
18. Try Your Luck At The Casino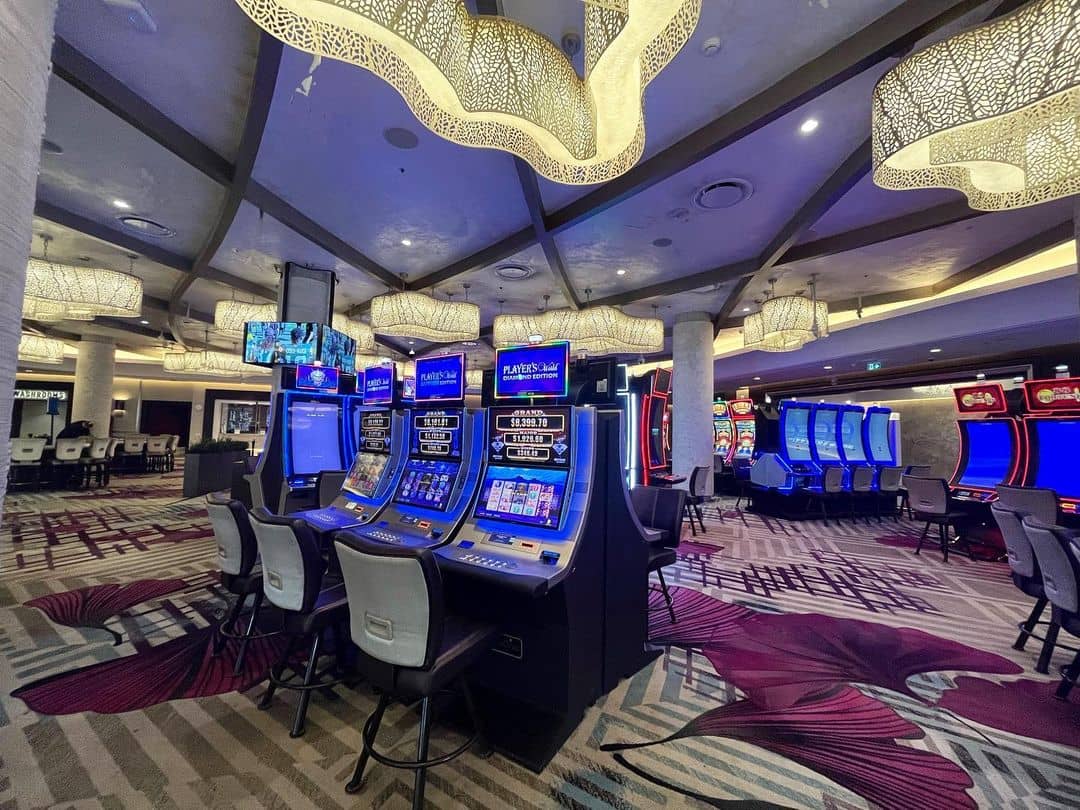 If you stick to the rules of low-budget casual gambling, the casino makes for a great indoor date spot. That is, stick to set budget (ie. $100 with no top-up) and be completely ok with losing it all.
Even with a low budget, there's a lot of places for you and your partner to play together. For instance: the many diverse slot games (there are a ton of interesting themed slots nowadays), low buy in Blackjack and Poker tables. And even if you decide NOT to do partake in any of the games, it is always exciting to watch the high stake tables and roulettes.
Yes – gambling is a huge part of a casino's offering. But a casino tends to have way more than that! From live entertainment to food & drinks (hello to the buffets!), and events to enjoy. So don't think that you NEED to gamble when you are thinking of visiting a casino.
NOTE: The casino isn't for everyone – especially those who may have an addictive personality or are sensitive to noise. Always check with your partner first.
Address:
-Parq Vancouver Casino Resort – 39 Smithe Street, Vancouver, BC V6B 0R3
-River Rock Casino – 8811 River Rd, Richmond, BC V6X 3P8
19. Learn About Sea Creatures At The Aquarium
Another classic spot is the Aquarium! And it is a classic for a reason!
With so much to see, do, and talk about, aquariums make a fantastic indoor date venue. At the Vancouver Aquarium, there are more than 70,000 animals and 30 exhibits, ranging from species in the Tropics to the Artic for you to explore. More specifically, you can see upclose and in person sea lions, sea otters, jellyfish and many colourful B.C. animals.
This is an ideal spot if your partner is into aquatic life and animals.
And for the most intimate experience without all the screaming kids around…Vancouver Aquarium offers After Dark events for couples; you can indulge in a three-course meal in an intimate setting, among more than 65,000 animals. You can also explore the aquarium before or after your meal.
Address: Vancouver Aquarium – 845 Avison Way, Vancouver, BC V6G 3E2
Website | Instagram | Facebook
20. Explore Science World
There's a big chance that you've been to Science World a long time ago. -probably as a child. And we would argue that this OG attraction is just as fun when you're older and when you're with someone that is willing to be silly with.
While the venue offers a lot of interesting things to explore, watch, and play with during the day, they also host a special monthly event called Science World After Dark, for adults to take over. Apart from exploring the galleries and exhibits, you can also enjoy music, food, drinks, and more – an extraordinary night out for couples and friends.
Address: 1455 Quebec Street, Vancouver, BC V6A 3Z7
21. Explore The Catalogue At The Public Library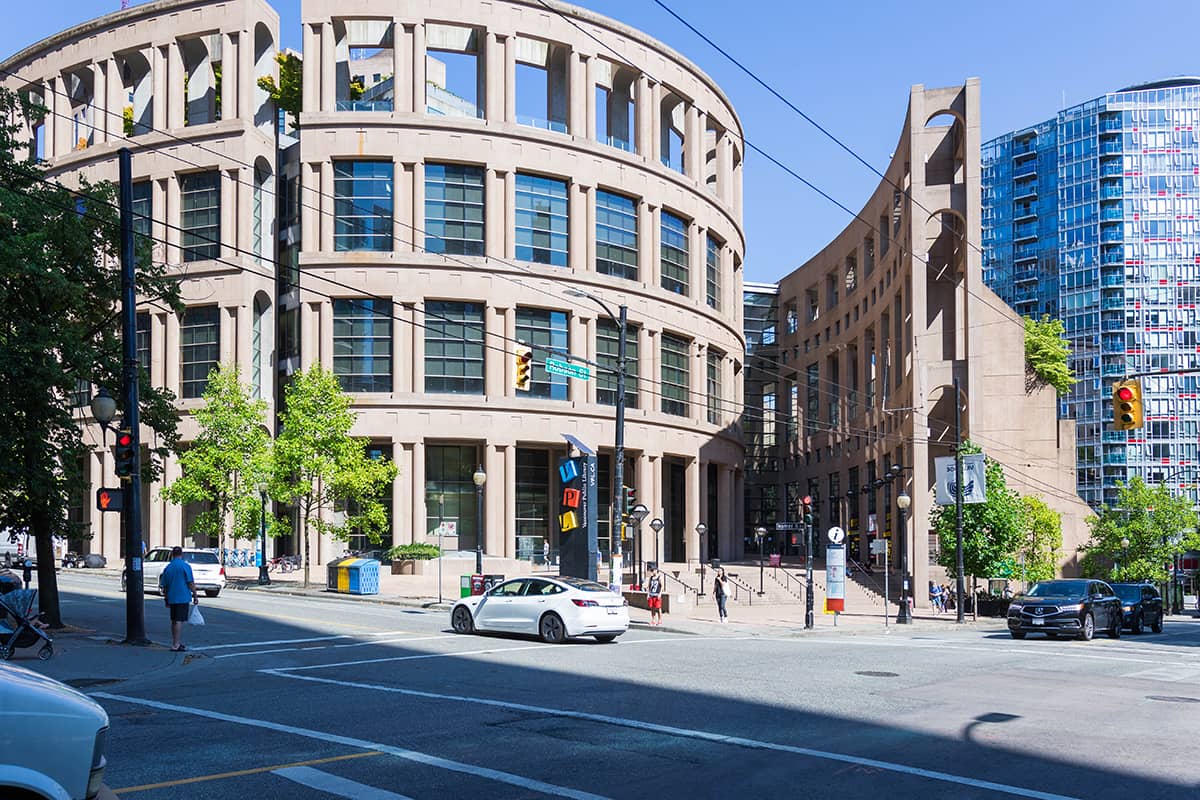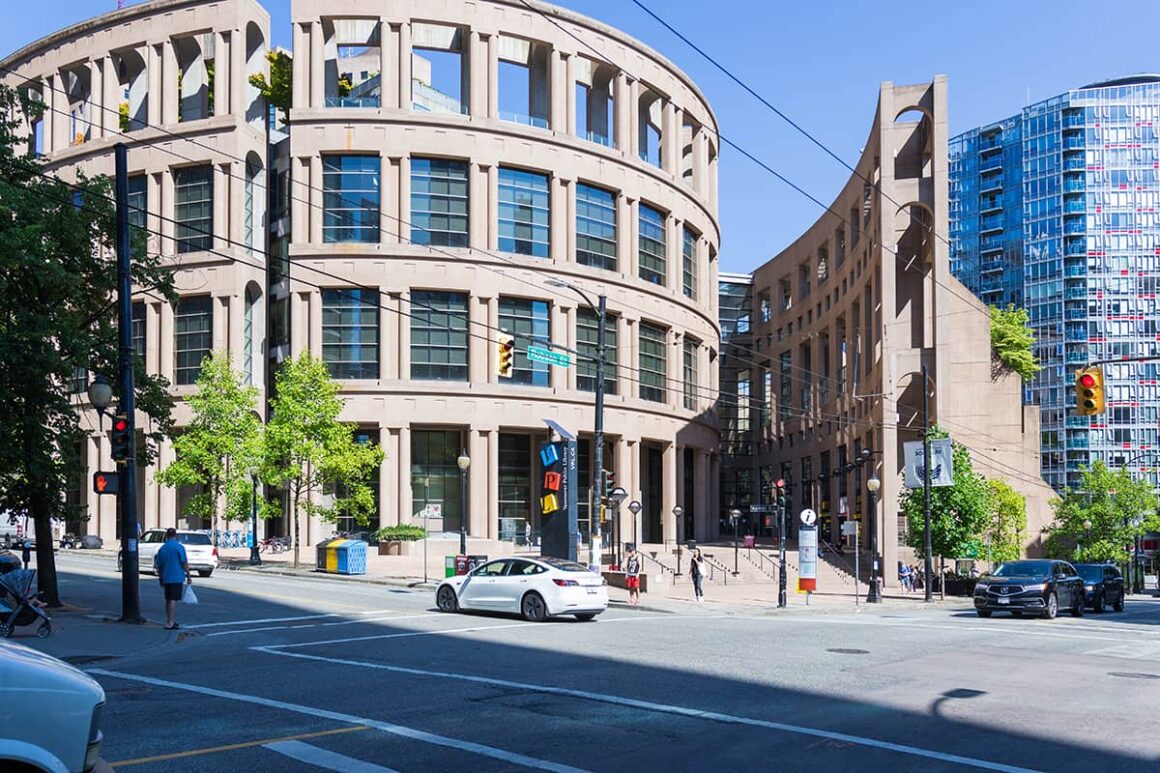 The downtown central library is a great place to spend a rainy afternoon if you want to have a quiet date.
You can browse the thousands of shelves together, explore the library's unique collections, or attend one of the many classes and workshops (ranging from writing consultations to podcast editing to job search tours).
Best of all, the library is free to use and enjoy!
Address: Vancouver Public Library – 350 W Georgia Street, Vancouver, BC V6B 6B1
Website | Instagram | Facebook
22. Hit Up The Best Cafes In The City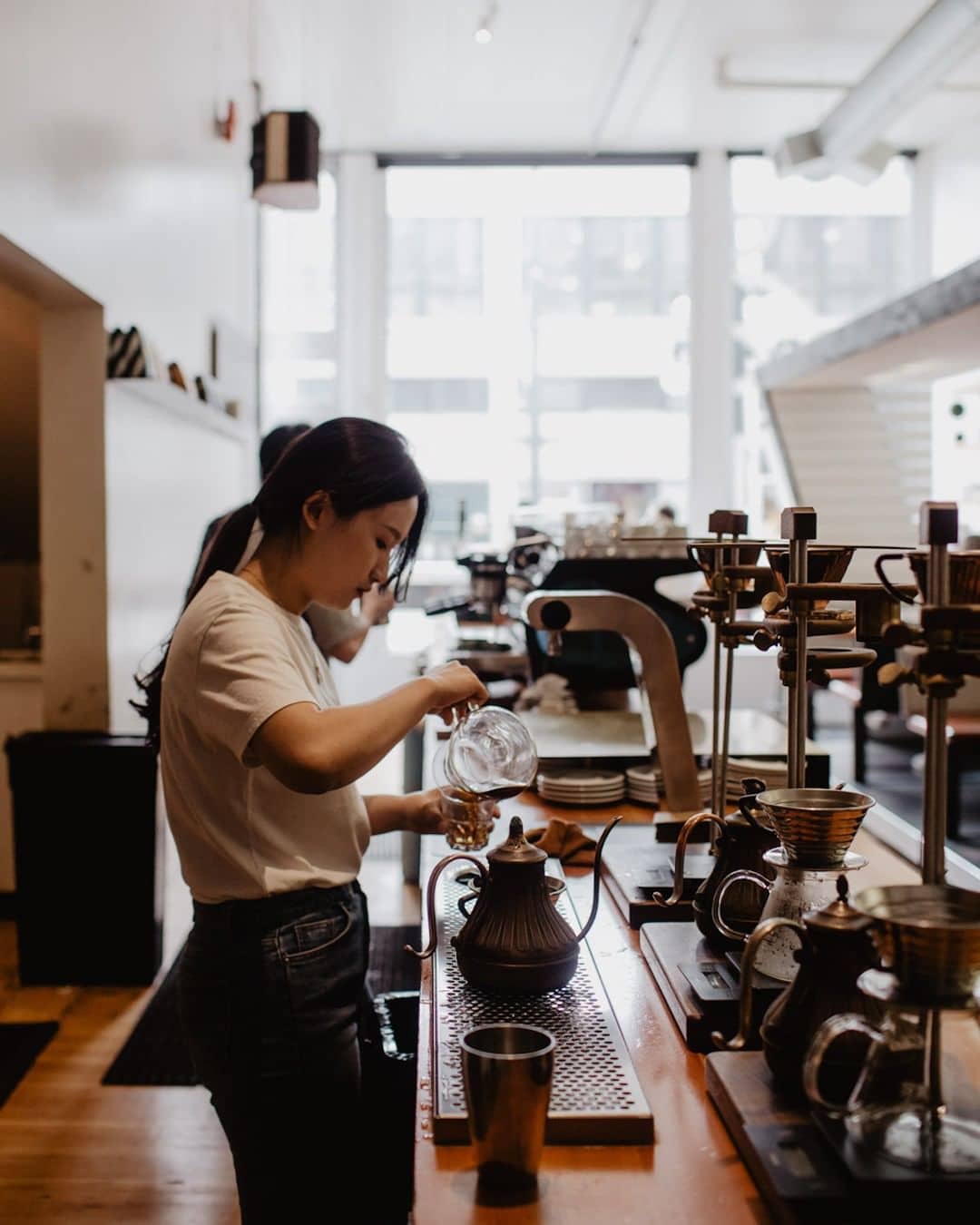 Vancouver can be called a haven for caffeine addicts. Whether you're planning your first date and would like to get to know your date better, or looking for a less expensive indoor date idea with your long-time partner, you'll find a Vancouver cafe that meets your expectations.
Even better, suggest a cafe crawl – start at one cafe by ordering something to eat and drink, and then move on to another cafe and try something new off the menu there. With so many amazing coffee shops in Vancouver, you can easily cover as many as you like.
To help with your cafe date, we have several neighbourhood specific suggestions for you:
23. Go Furniture Shopping At IKEA
IKEA is a great place to go if you're looking for an indoor date idea that's both fun and practical. It is easy to spend 2 hours just browsing all the well-displayed furniture together and find things that you both like.
And of course – end your trip with the famous IKEA Swedish meatballs and froyo.
Address: IKEA Richmond – 3320 Jacombs Road Unit 1, Richmond, BC V6V 1Z6
24. Go Ice Skating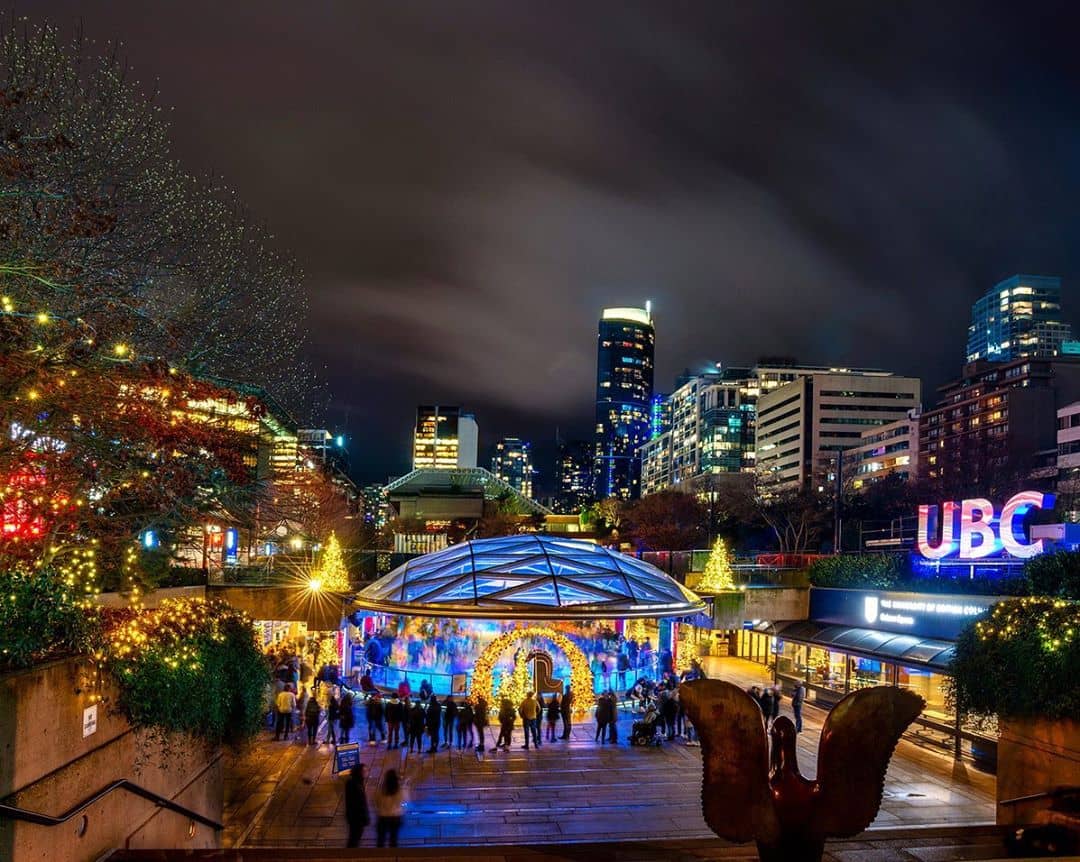 Ah the classic date at the ice rink. Just like bowling, ice skating is a great way to spend some time together indoors because it's a fun activity that will get you moving and laughing. But it also has some room for some intimacy regardless of skill level.
Vancouver is home to many ice skating rinks. Below is a list of community centres that offer public drop-in ice skating:
25. Relax With A Spa Day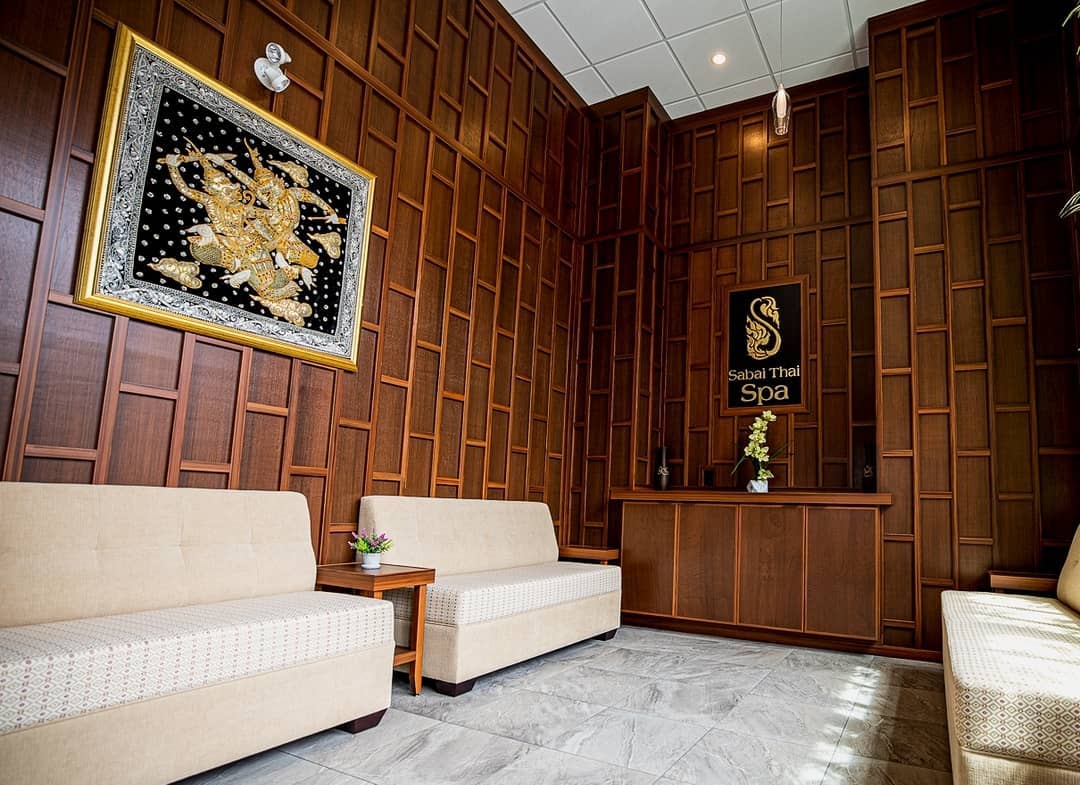 A couple spa session is a fantastic indoor date idea to celebrate a special occasion or just to relax and rejuvenate together. Vancouver is home to many stellar spas; from ones with extremely calming zen vibes to those with breathtaking views, you are spoilt for choice.
One of our favorites is Sabai Thai Spa, which needs no introduction!
Address: Sabai Thai Spa – 571 Cardero Street, Vancouver, BC V6G 3L2
Website | Instagram | Facebook
26. Try Out The Macaron Workshop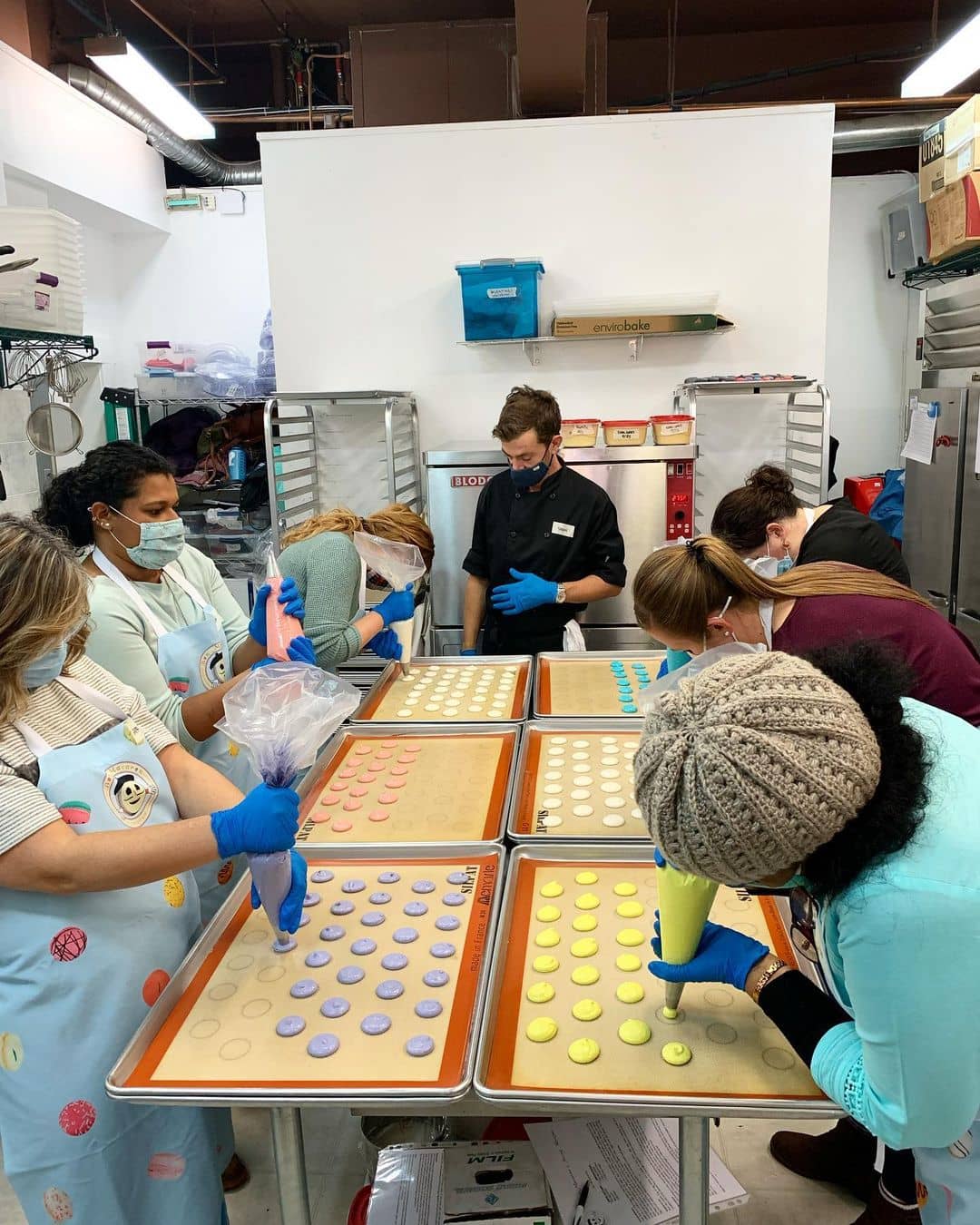 If your group of friends loves baking, attending a baking class together will be a great way to learn some new techniques while enjoying each other's company. The Macaron Workshop by Bon Macaron Patisserie is also a good choice to build a connection and spark conversations with your date.
Address: Bon Macaron Patisserie – Unit 4 – 1224 Cartwright Street, Vancouver, BC V6H 3R8
Website | Instagram | Facebook
27. Learn How To Make Gelato At The Gelato 101 Workshop
An ice cream date night with your love is always a welcoming idea; but, what if you could make your fav frozen dessert together?
With the Gelato 101 Workshop, you and your partner can become "cone-noisseurs" by learning to make seasonally themed gelato and sorbetto. You also get to take a pint of your gelato creation back home for an extended romantic date night-in.
Address: Uno Gelato – 2579 West Broadway, Vancouver, BC V6K 3T3
Website | Instagram | Facebook
28. Go Karting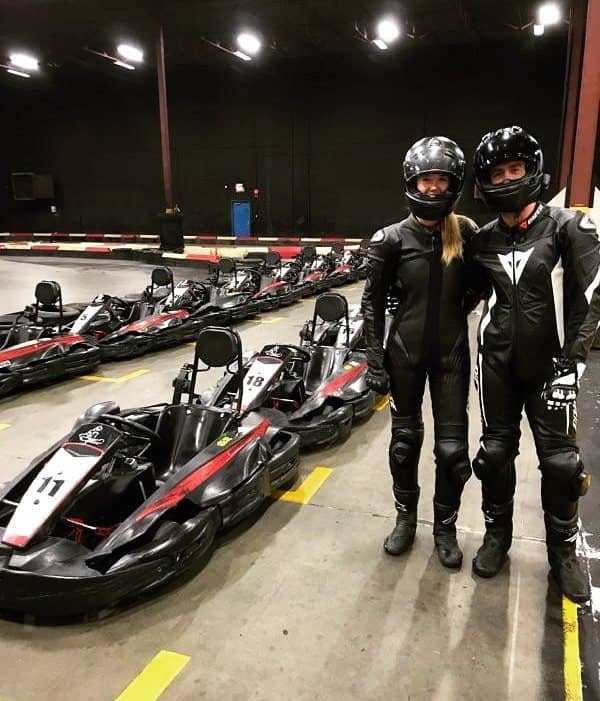 From team building to birthday parties, go karting is a popular indoor activity, which is also suitable for a friends day out or a group date. Experience the exhilaration of driving in high-performance karts, and have a friendly competition to see who wins.
TBC Indoor Racing is all about exhilaration. Racers can speed up to 75 kilometers per hour and turn the course into their own Formula 1 Grand Prix.
Address: 2100 Viceroy Pl, Richmond, BC V6V 1Y9.
Website | Facebook | Instagram
29. Play With Some Cats At The Cat Cafe
If your date is a cat person, an easy way to impress them would be to take them on a date to a cat cafe.
Socializing and bonding with cats also serve to be an efficient way to destress. Who knows, you could also end up finding a new companion to take home with you!
Address: Catoro Cafe – 666 East Broadway, Vancouver, BC V5T 1X6
Website | Instagram | Facebook
30. Billiards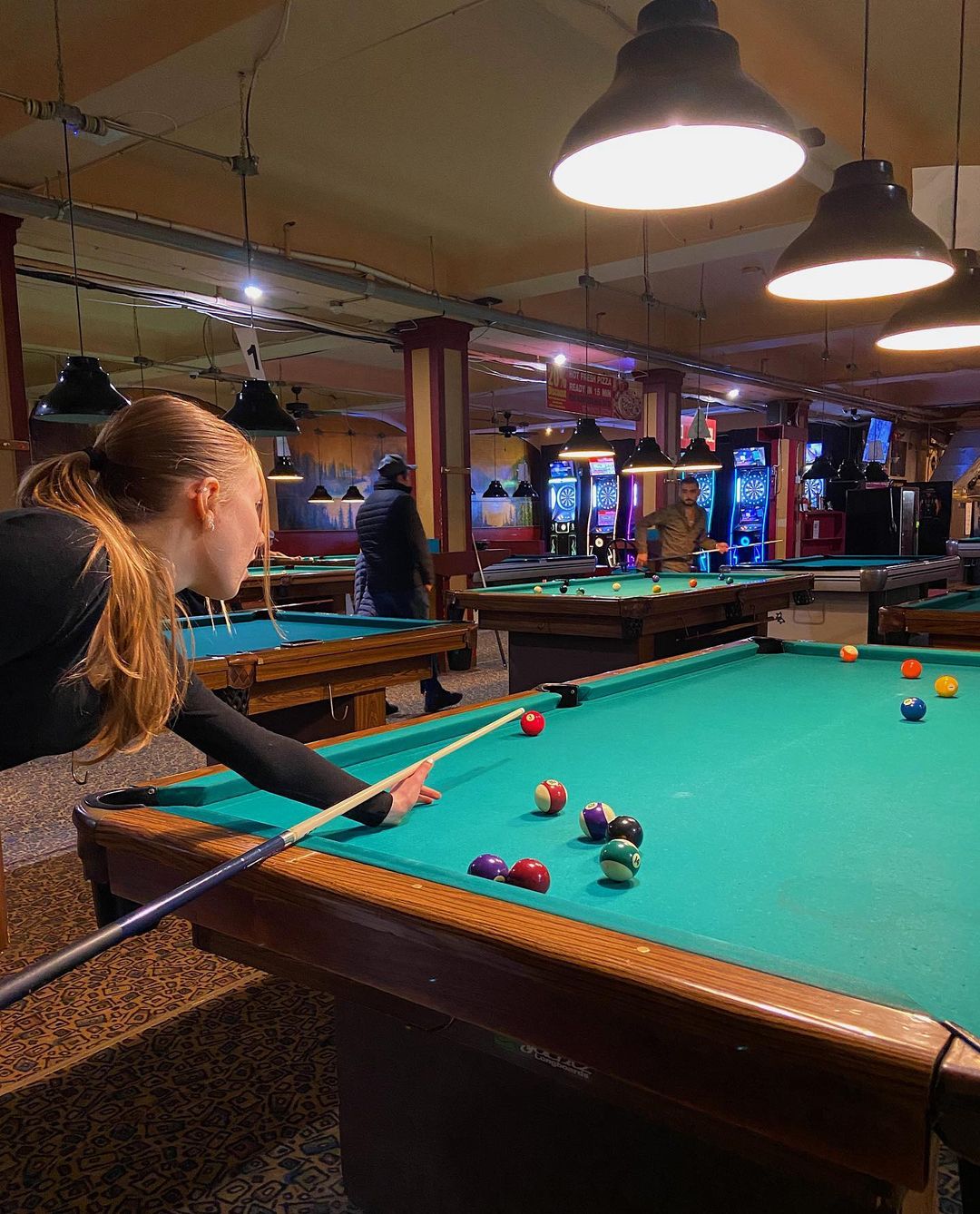 A low-key indoor date idea, other than hitting the bar or a coffee shop, is billiards. This is a simple enough game that anyone can play; so, all you need to do is grab a drink for each other and start playing. You will have plenty of time for small talk and flirting, which can naturally proceed to great conversations.
Billiard Spots in Vancouver:
Commodore Bowling & Billiards – 838 Granville Street, Vancouver, BC V6Z 1K3
Soho Bar & Billiards – 1283 Hamilton St, Vancouver, BC V6B 6K3
Marstin billiards club – 2211 Kingsway, Vancouver, BC V5N 2T6
Metro Coffee Bar & Billiards – 3175 Kingsway, Vancouver, BC V5R 5K2
Sneaky Pete's Pool Café – 424 McLean Dr, Vancouver, BC V5L 0C1
31. Sing Your Heart Out At Karaoke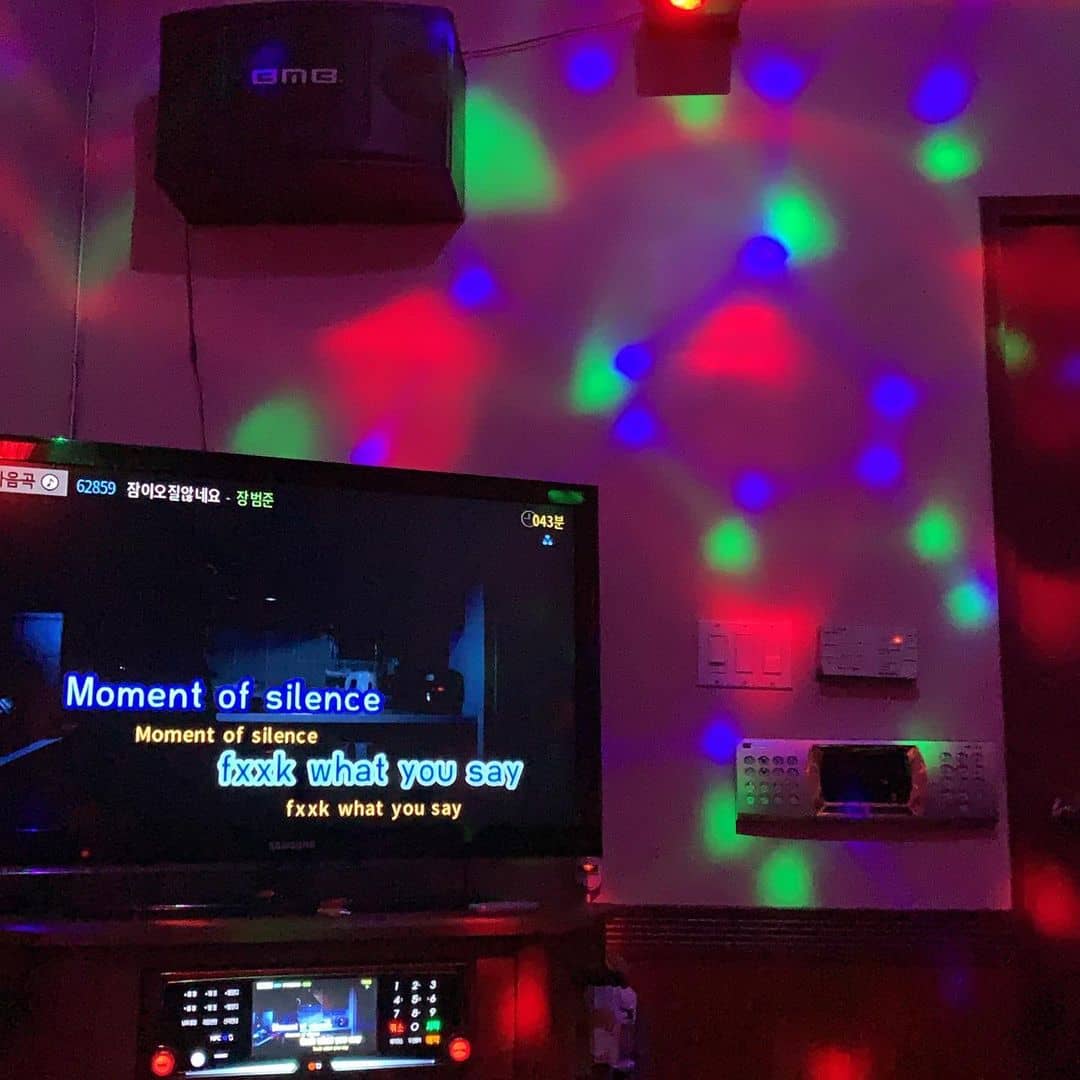 Is karaoke your fav activity to do with your friends? Then why not invite your date for the next karaoke night you have planned? It is a great way to avoid typical first-date questions but still break the ice with some active fun. With sweet eye contact and embraces every now and then, and your friends to cheer you on, you're sure to score yourself a second date.
There are many karaoke lounges in the city to sing your heart out and relieve stress. Millennium is one of the most visited karaoke rooms in Richmond where you can swing with your favorite jams, play darts, and ping pong.
Address: 4451 No. 3 Rd #201, Richmond, BC V6X 2C3.
Website | Facebook | Instagram
K-Fever is another top call if you want to see the latest songs on Spotify appear on the screen.
Address: 8300 Capstan Way, Richmond, BC V6X 4B7.
For those seeking a lavish place to sing with style, check out Deco Nova! This is an upscale karaoke and dining lounge splashed with the captivating, bold, and nostalgic design of Art Deco.
Address: 4000 No. 3 Rd unit 3300, Richmond, BC V6X 0J1.
Address: Millennium Karaoke – #201 – 4451 No. 3 Road, Richmond, BC V6X 2C3
Website | Instagram | Facebook
33. Play Golf in the Dark at West Coast Mini Putt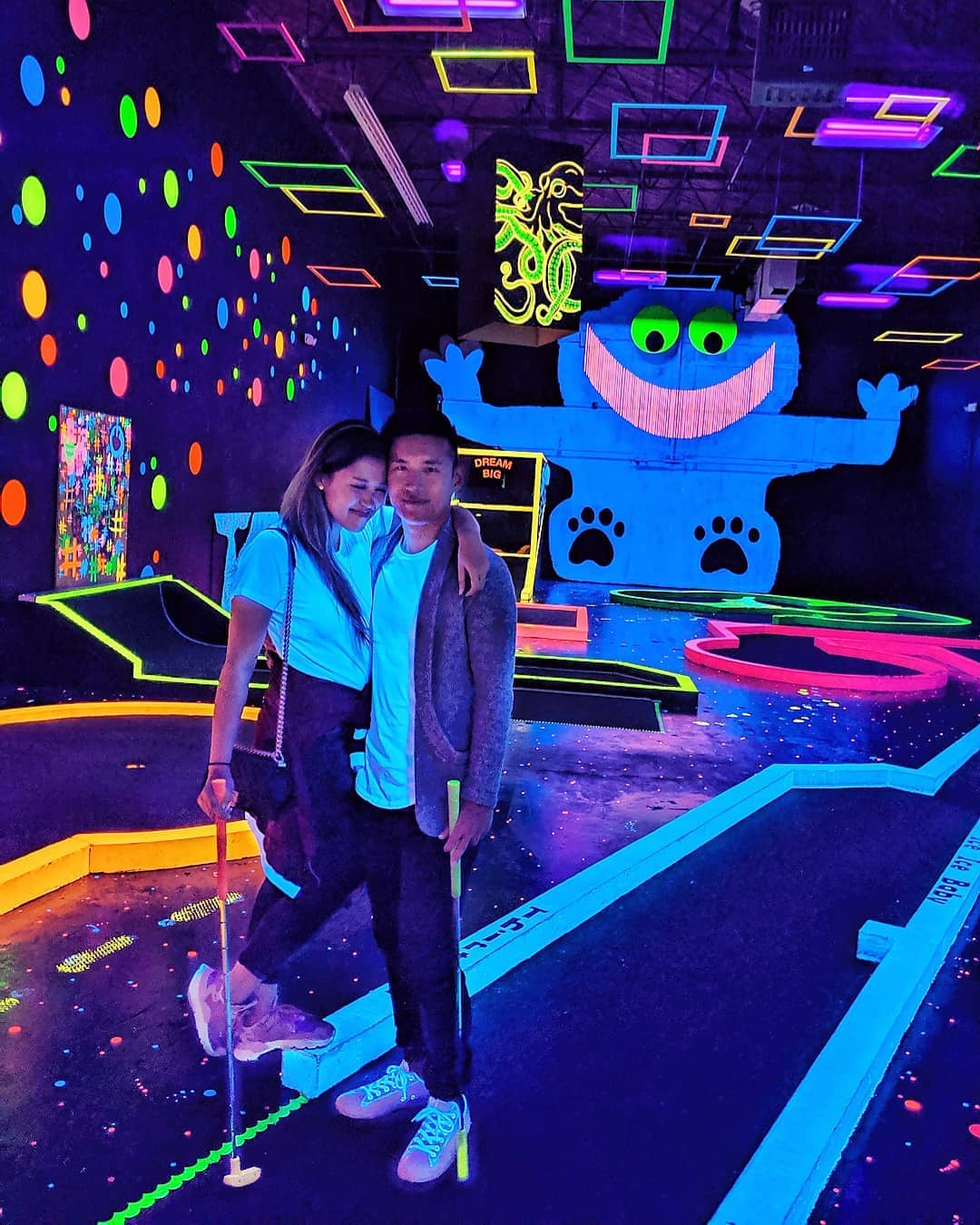 Since miniature golf sets an innocent fun atmosphere, it makes for a terrific first or group date. In addition to relieving you of the typical first date pressure, this indoor date activity also lets everyone be comfortable, a little goofy at times, and also implants a slight competitive spirit during the game.
West Coast Mini Putt is an 18-hole course split into two halves. The first room has a simple concrete design with nine holes and well-decorated artworks on the walls. Once you complete the first section, move on to the black room with neon lights.
Address: 7391 Elmbridge Way, Richmond, BC V6X 1B8.
Website | Facebook | Instagram
34. Make Your Own Embroidered Shirts
Did you know that you could customize your shirt from scratch, and you could make a date out of it?
Now, make custom matching shirts with your partner, all by yourself; choose any type of shirt you like, and choose from a wide array of designs and charms to add. You could also have your names, your fav quotes, or a special message/date printed on your shirts to make them even more special.
Address: NoEmo DIY Artspace – 2190 Aberdeen Square, Richmond, BC V6X 0J8
35. Make Your Own Candles , Perfume or Diffuser
DIY candle making or perfume making workshop is an unusual private indoor date you can experience with your significant other. Make custom gel & soy candles, diffusers, and perfumes by choosing different unique scents, and decorate the candles with fresh, dry, preserved, or soap flowers.
A one-of-a-kind indoor date experience that you will both remember for a long time to come!
Cost: $55 – $70 per person
Address: Aromatears – 4341 North Road, Burnaby, BC V3N 4N3
Website | Instagram | Facebook
36. Extreme Air Park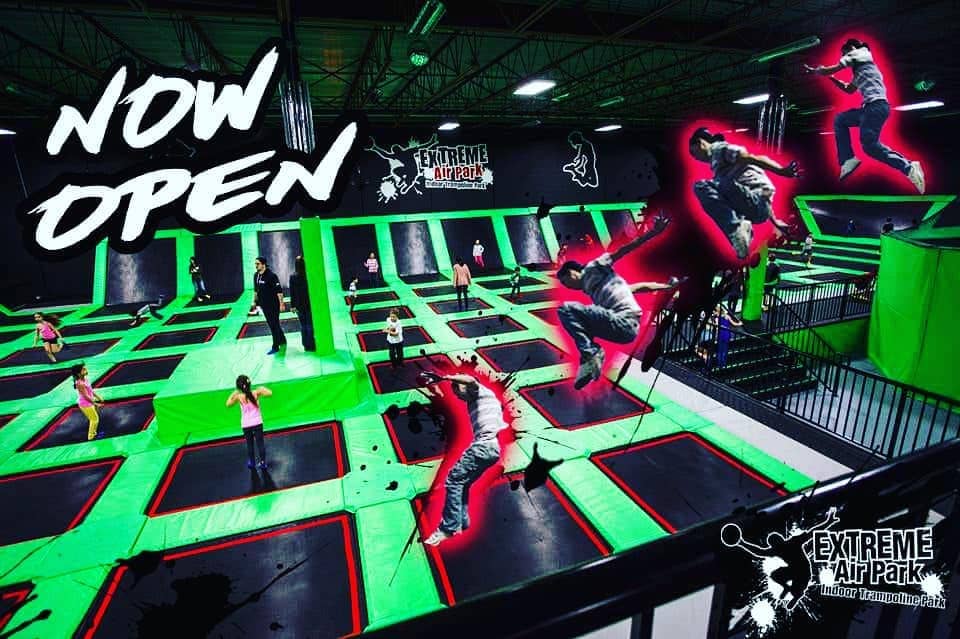 Having too much energy from the day and looking for a way to wear it out? Pop into Extreme Air Park and bounce off the walls at the largest indoor trampoline park in Canada!
Spreading out over an 42,000-square-feet footprint is a wide diversity of enclosed interlocking trampolines. However, trampolining is not the only kind of fun you can enjoy. A freestyle court, a slam dunk basketball court, dodgeball area, or ninja warrior course – you name it!
Extreme Air Park takes your indoor recreation experience beyond the ordinary. No need to hit the gym after dark anymore! Extreme Air Park will take your evening workout session to the fullest.
Website | Facebook | Instagram
37. Go For Some Laughs At The Comedy Club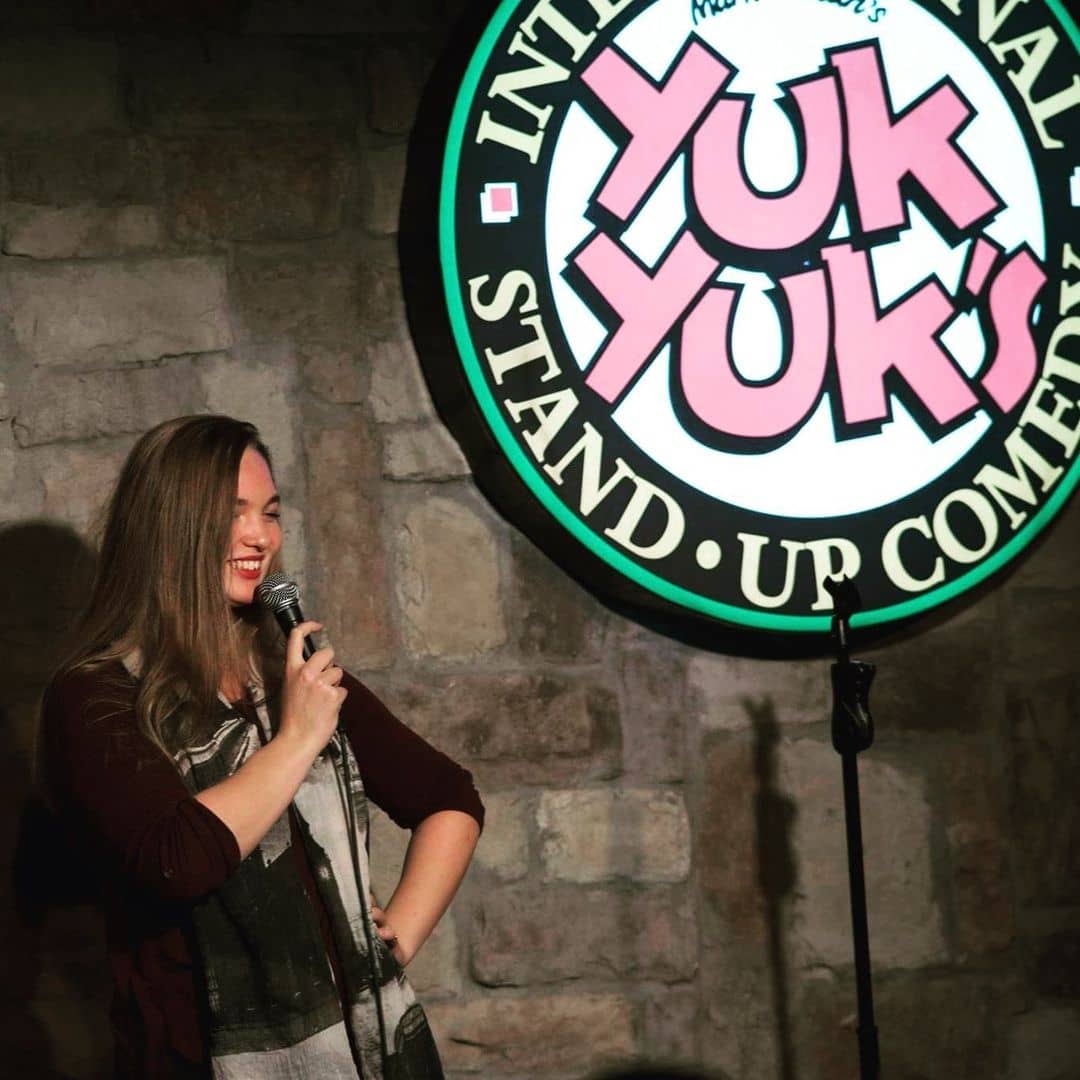 Sit and indulge in some laugh actions with our local and international jokesters! Home to a myriad of venues where you can catch both big names and amateur talents ready to crack you up with just a few lines.
Yuk Yuk's Comedy Club and The Comedy Mix are some of the best venues in town where you are entertained by the top stand-up comedians. At the end of the day, a good sense of humor that goes along with a professional service and some good drinks are totally worth your time!
Yuk Yuk's Comedy Club
Address: 2837 Cambie St, Vancouver, BC V5Z 3Y8.
Website | Facebook | Instagram
The Comedy Mix
Website | Facebook | Instagram
See, indoor dates do not just revolve around date night-in and fine dining, there is a lot more to do indoors, with your loved ones. Fortunately, Vancouver has all of your interests covered, from cooking to shirt making to go karting to ice skating, and loads more.