Looking for the best bars in Seattle? Well, you're in the right place!
From unforgettable cocktails to cold beers that call your name, there are a lot of bars in the rain city that serve the best spirits.
In this list, we compiled 12 of the best bars in Seattle for you to drink to your heart's content.
After all, Seattle is not just about rainy days— the city is buzzing with culture and the most fascinating bars!
1. Canon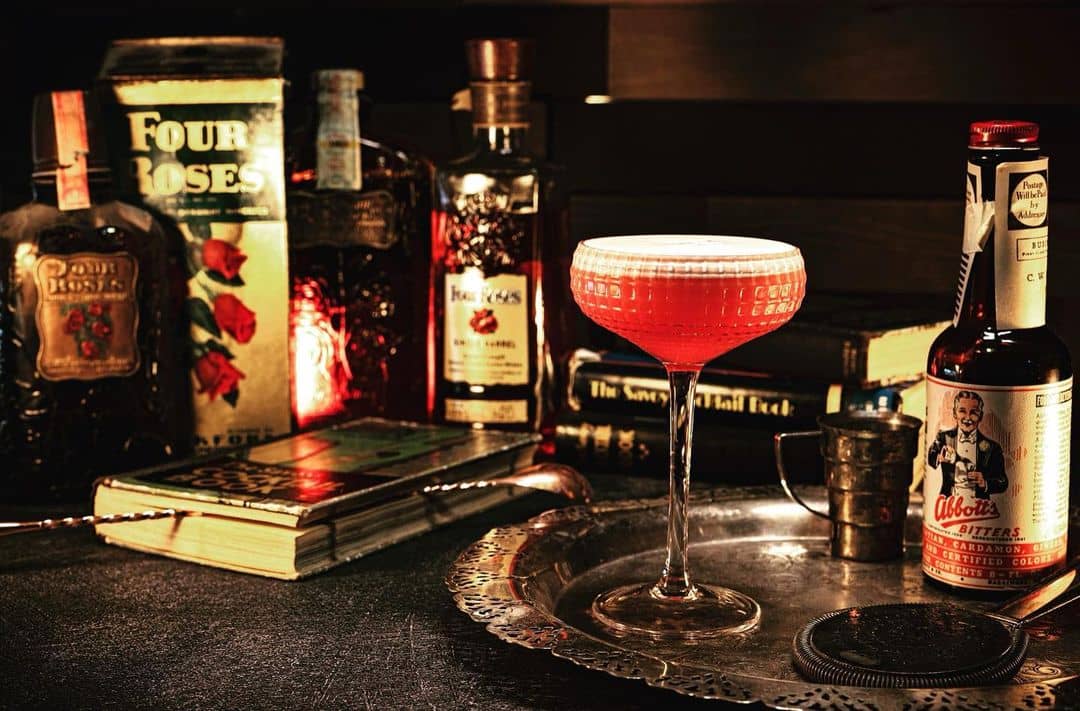 A bar that encourages you to embrace creativity and try something new, Canon has a unique menu with pages upon pages of classic mixed drinks with complicated add-ons.
They are served in quirky ways and may come in a shopping cart, a paintbrush palette, or more! Canon is the place to be for people who appreciate cocktails of all kinds.
If you plan on only ordering one cocktail in Canon, the Whole Paycheck is a must-try. A mix of vodka, bourbon, peach, and fresh lemon creates a potent drink that is enough to finish off the day.
For risk-takers who don't mind going with the bar's theme, order an "I Don't Know: Surprise Me!" for a more fun experience.
The bartender will ask you about your preferences and make a special drink only for you!
What to order: Whole Paycheck, I Don't Know: Surprise Me!
Address: 928 12th Ave, Seattle, WA 98122
Website | Instagram | Facebook
🍕 Are you a foodie? Check out these top-rated Seattle food tours!
2. Unicorn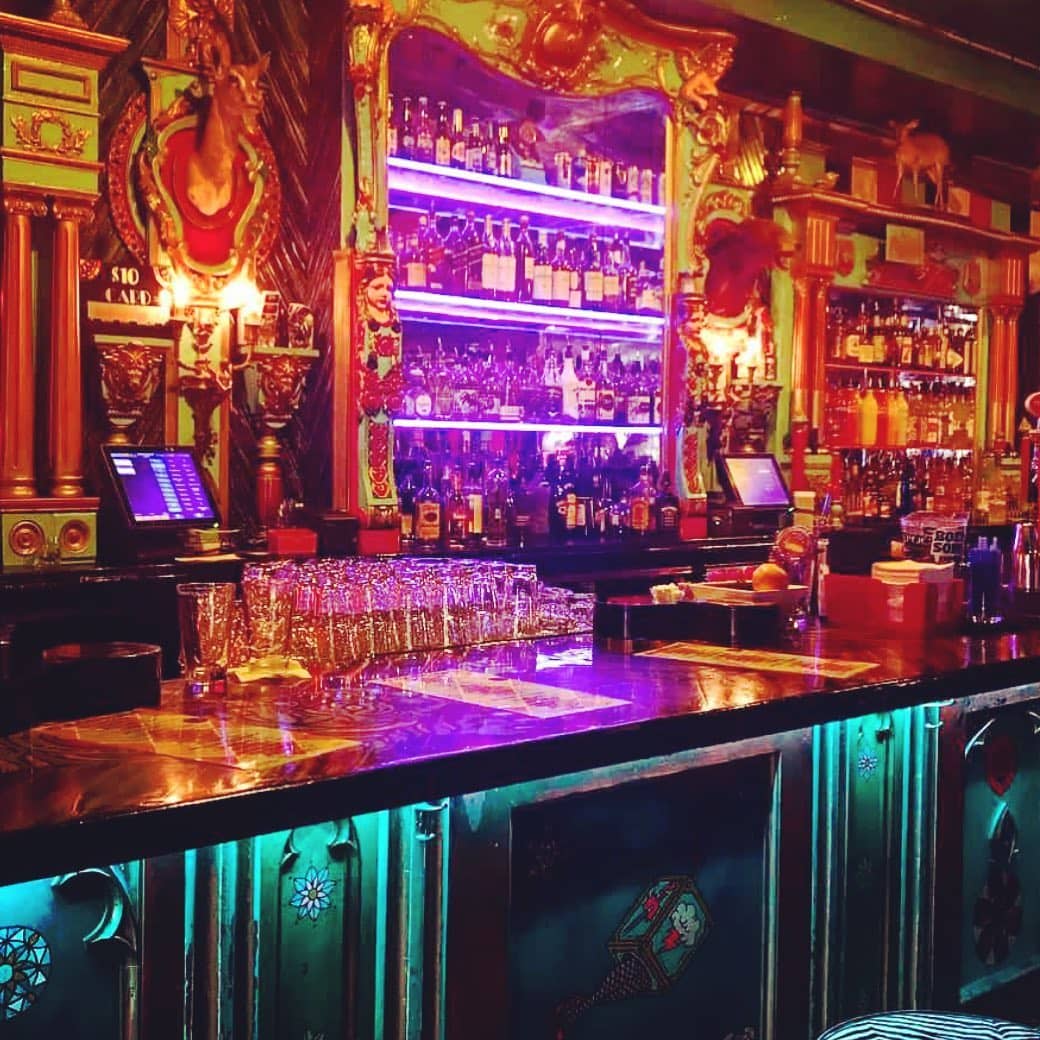 Unicorn is a carnival-themed bar with lots of fun arcade games like pinball machines, claw machines, and more.
They have a lot going on, from decorations, to the crowd, to the cocktail drinks. It's easy to loosen up and feel young again in this bar.
Everywhere your eyes set, there's something to look at. 
The Gourmet Jell-O Shot is a great drink to start your evening. It has rotating flavors like lychee, raspberry, and sometimes strawberry that all have their respective fruity taste accompanied by a strong alcohol aftertaste.
Another popular drink is their Unicorn Jizz cocktail.
You need to exercise caution while drinking this one, as the sweet taste can make it seem like it has no alcohol. It has a slight sourness to it but the perfect mango-ey goodness.
What to order: Gourmet Jell-O Shot, Unicorn Jizz
Address: 1118 E Pike St, Seattle, WA 98122
Website | Instagram | Facebook
3. Bathtub Gin & Co.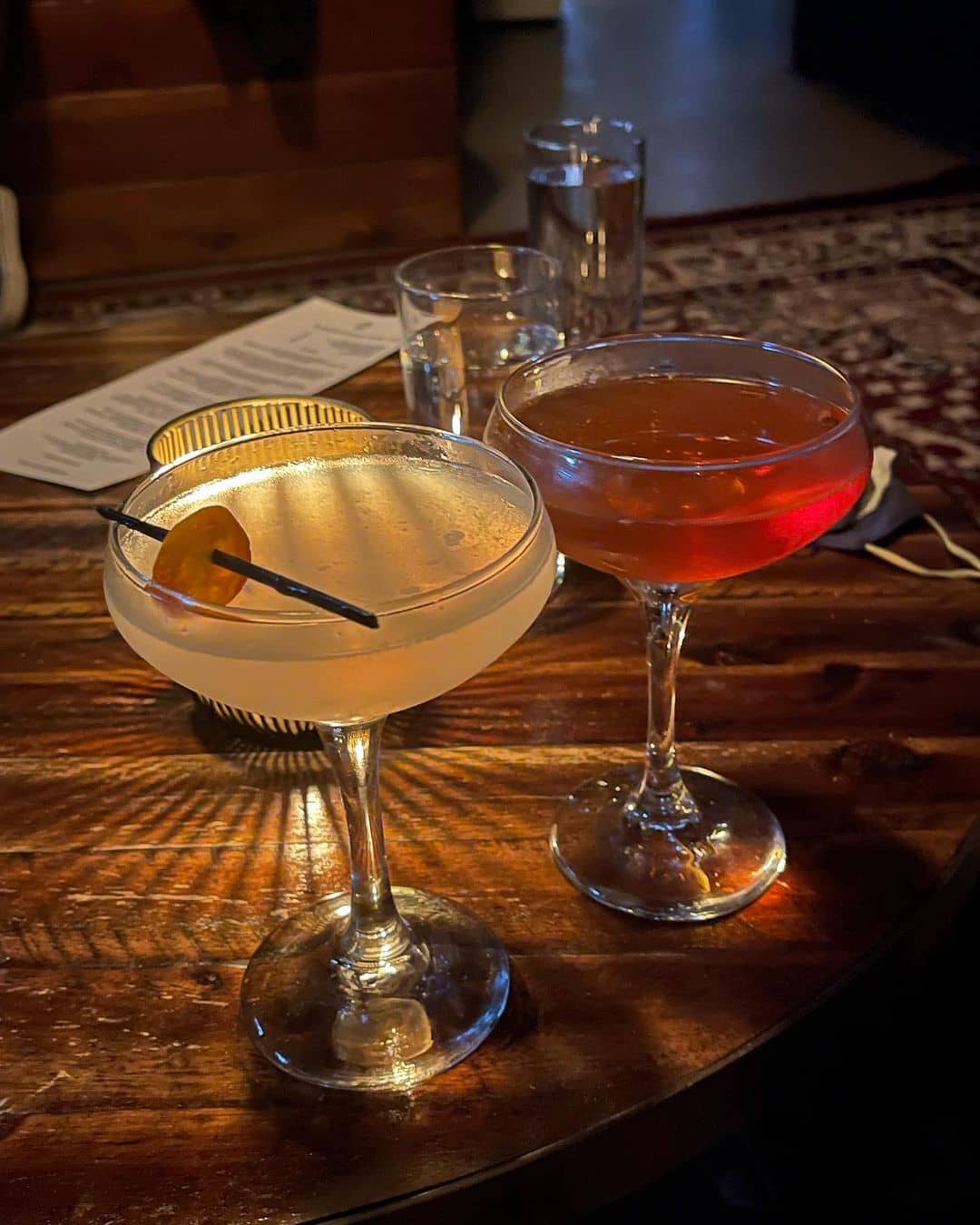 If you're familiar with speakeasies as a bar enthusiast, Bathtub Gin & Co is a cozy, intimate, prohibition-style cocktail bar perfect for rainy nights in Seattle.
The bar is nestled in the basement of an old brick building, and the entrance is located in an alley across a parking lot and dumpsters.
They promote a tranquil and close ambiance with minimalist decor, dim lighting, and shelves brimming with bottles of different types of booze. 
Light and refreshing, the Diamond Hands is a lovely summer cocktail that we highly recommend.
A mix of gin and kumquat, it has a citrusy taste that feels like a warm hug on a cold summer night. If you like grapefruit, this one should be your drink of choice.
The Jellyfish Sting is the perfect sting for a drink. The name and description on the menu nails it.
With a flawless union of smoky, bitter, and spicy flavors, this drink makes you forget all your problems since your mind will be occupied with the sting.
What to order: Diamond Hands, Jellyfish Sting
Address: 2205 2nd Ave #310, Seattle, WA 98121
Website | Instagram | Facebook
4. Revolver Bar
Was there ever a time you went into a bar and got free music lessons?
With vinyl records on the walls and music playing in the background, Revolver Bar transports you to a garage where all the cool kids used to gather and chill back in the 60s.
From the best classic albums of all time to the hippest new artist, Revolver has a vast collection of records and some of the best drinks to exist.
Grab a drink, relax, and enjoy the music.
A true classic, Revolver Bar serves one of the best Old Fashioned cocktails in Seattle. Lightly sweetened with sugar and garnished with an orange zest twist, this cocktail is a must-try for whiskey lovers.
The Fireball Hot Toddy is a warm, soothing, delicious cocktail drink perfect for Seattle's gloomy weather.
Tasting more like tea than an alcoholic beverage, this drink has a strong cinnamon finish with a subtle hint of spice.
What to order: Old Fashioned, Fireball Hot Toddy
Address: 1514 E Olive Way, Seattle, WA 98122
5. Rob Roy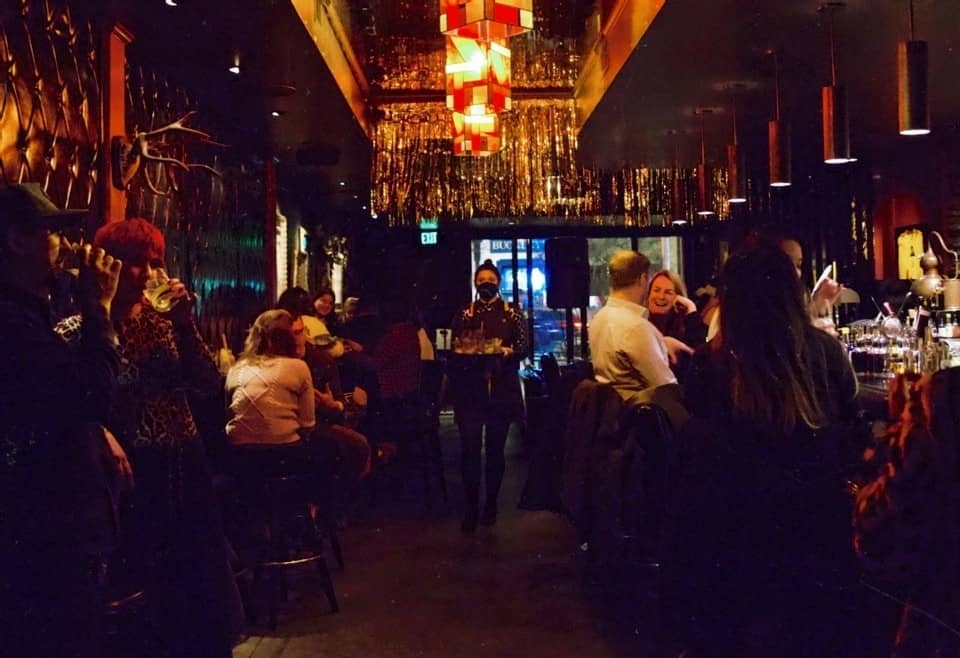 A classy throwback to cocktail lounges of the 1940s, Rob Roy is one of Seattle's best drinking spots.
Backed up by a vintage stereo system and dim lighting in a small area, the darkness gives an intimate and sexy vibe.
The classic prohibition-era cocktail Bee's Knees tastes particularly outstanding in Rob Roy. With gin, lemon juice, and honey, it's a delightful drink for those who like something sweeter than most cocktails.
A unique drink where you can actually taste the ingredient, the Gunpowder Punch contains real gunpowder.
Imagine walking through the streets during the New Year with your mouth open and all the firecrackers going off— it feels exactly like that. Don't be discouraged by the ingredient; this cocktail will blow you away.
When it's the holiday season, the Bad Santa takeout cocktail is an incredibly phenomenal drink. Try to get your hands on one for a naughty yet sweet holiday experience.
What to order: Bee's Knees, Gunpowder Punch, Bad Santa
Address: 2332 2nd Ave, Seattle, WA 98121
6. Needle & Thread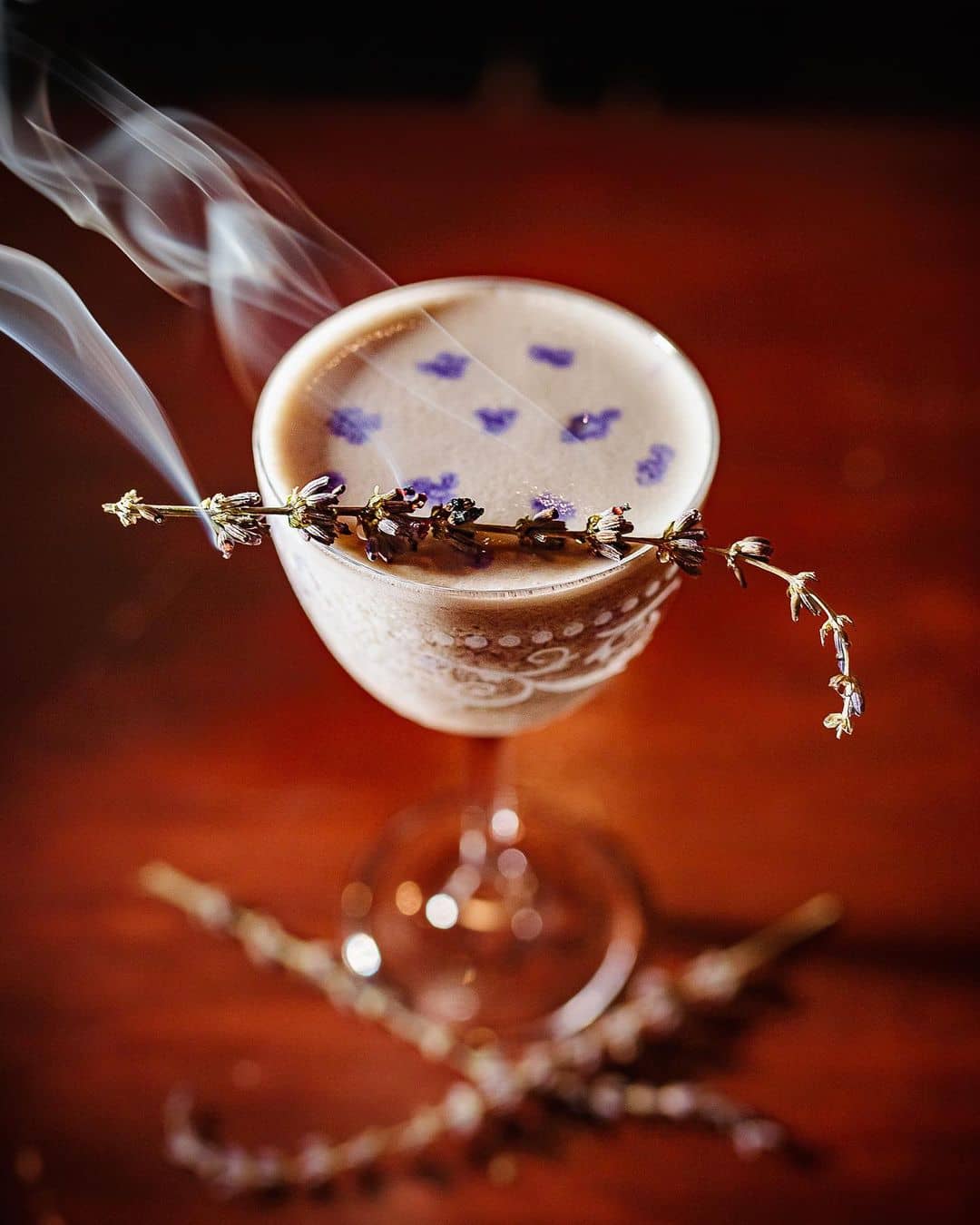 The ultimate speakeasy in its purest form, Needle & Thread has no menu that gives total prohibition-era vibes.
The ambiance is vintage and cozy, with tons of candlelight. For the smoothest and most enjoyable experience, make reservations beforehand and discover this hidden bar behind the phone above Tavern Law.
Sticking to their bespoke cocktail program, Needle & Thread takes pride in crafting cocktails that match the individuality of their guests.
With no menu, servers will ask you what type of alcohol you like and which flavors you prefer. You'll be surprised with a special hand-crafted drink made only for you. 
If you'd like to order food to accompany your custom cocktail, try out their Popcorn Chicken which tastes absolutely divine.
It's a tender and juicy Karaage-style bite-sized chicken that goes well with cocktails.
What to order: Custom Cocktail, Popcorn Chicken
Address: 1406 12th Ave, Seattle, WA 98122
Website | Instagram | Facebook
7. Suite 410 Bar & Lounge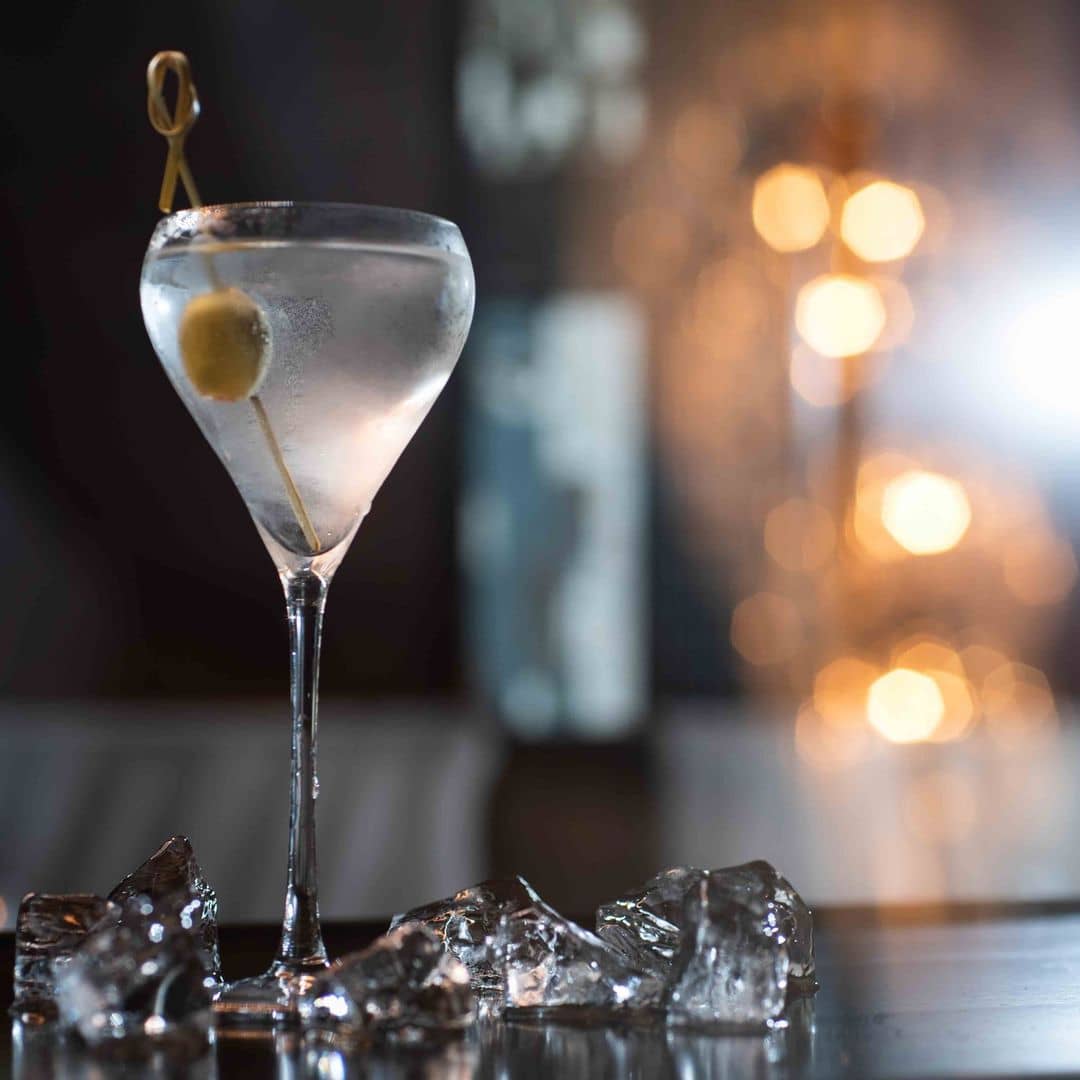 Suite 410 Bar & Lounge is widely known in Seattle for its impressive cocktail crafting.
All of their spices, syrups, and specialty flavors are created from scratch! A relatively small space with an intimate setting, this spot is a great place to go with a couple of friends or on a romantic date night.
Probably the most intriguing and eye-catching drink on their menu, the Adult Children contains cognac, passion fruit liqueur, lime, and cava that hits all the right spots.
We don't know why it's named Adult Children, but it's pretty well-balanced and highly recommended.
Another interesting drink is their Fine Mess cocktail. This one is only made with three ingredients: scotch, dry curacao, and lemon.
We all know most citrus fruits go well with whiskey. The lemon adds a sweet tang that compliments the whiskey's bitterness.
What to order: Adult Children, Fine Mess
Address: 410 Stewart St, Seattle, WA 98101
Website | Instagram | Facebook
8. Percy's & Co. Seattle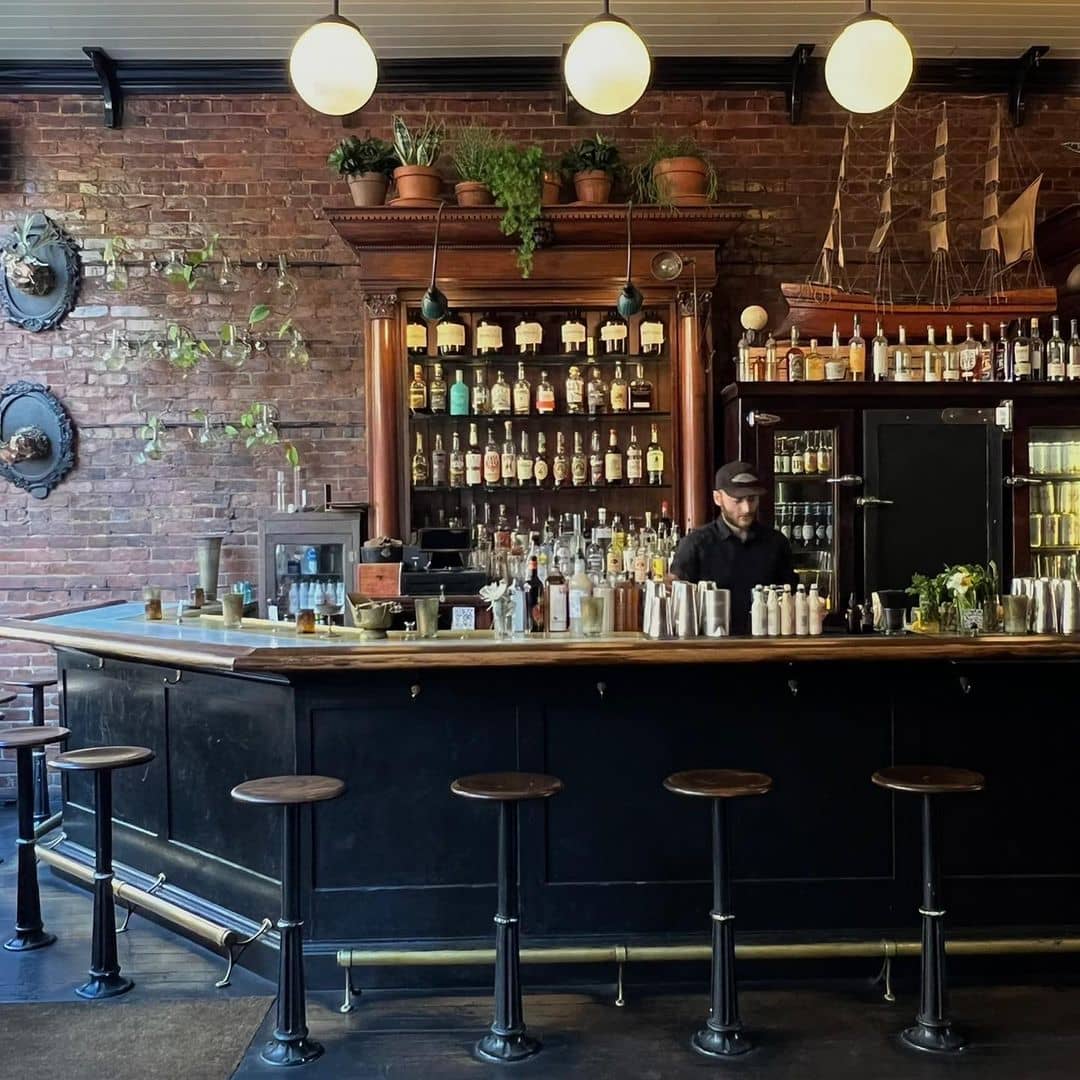 A rustic, quaint, kind of outdoorsy chill spot in Ballard, Percy's & Co. is a cool hipster bar that serves unique drinks infused with various herbs and flowers.
The interior is composed of lots of plants complimented by wood furnishings. They have a beautiful back patio and an intimate indoor setting that's perfect for a date night or a girl's night out.
Percy's version of the classic Spencer is a highly recommended drink for those who don't like the strong taste of booze due to its sweet and citrusy flavor.
You can immediately taste the banana liqueur with just one sip.
The Honeybee is a deadly drink in a good way. It is a rosemary-infused drink with lavender bitters that smells just as amazing as it tastes.
A flawless blend of sweet and sour zest, you need to try this drink if you're in Percy's.
What to order: Spencer, Honeybee
Address: 5233 Ballard Ave NW, Seattle, WA 98107
Website | Instagram | Facebook
9. Some Random Bar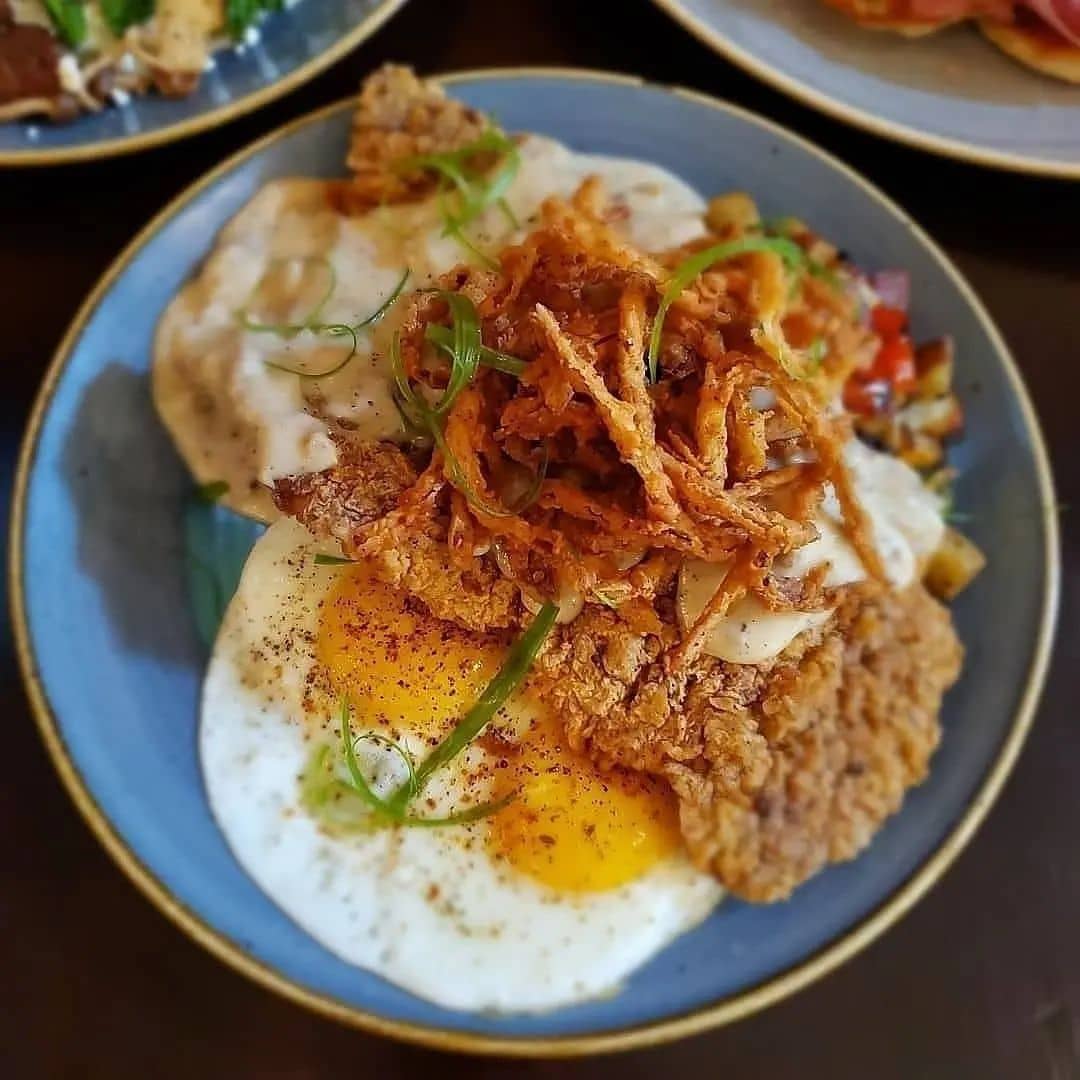 Contrary to its name, Some Random Bar is definitely more than just a random bar— it's one of the best bars in Seattle!
Considered a Belltown legend by locals, this place is uniquely good in a way that makes you want to live near it.
The food is bomb, the drink selection is on point, and the staff is wonderful; what more could you ask for?
When it comes to drinks, the #CancunCruz is their version of a spicy mango margarita that is phenomenal. This drink is the best choice if you like to spice the night up.
Pair it with their famous Crab Nachos, which are unbelievably good and always a unanimous hit among newcomers.
If spicy isn't your cup of tea and you prefer something sweet, The Devil's Margarita is an exquisite combo of Carmenere red wine and Some Random Bar's own scratch margarita.
It delivers a strong flavor but goes down quickly.
What to order: #CancunCruz, Crab Nachos, The Devil's Margarita
Address: 2604 1st Ave, Seattle, WA 98121
Website | Instagram | Facebook
10. Foreign National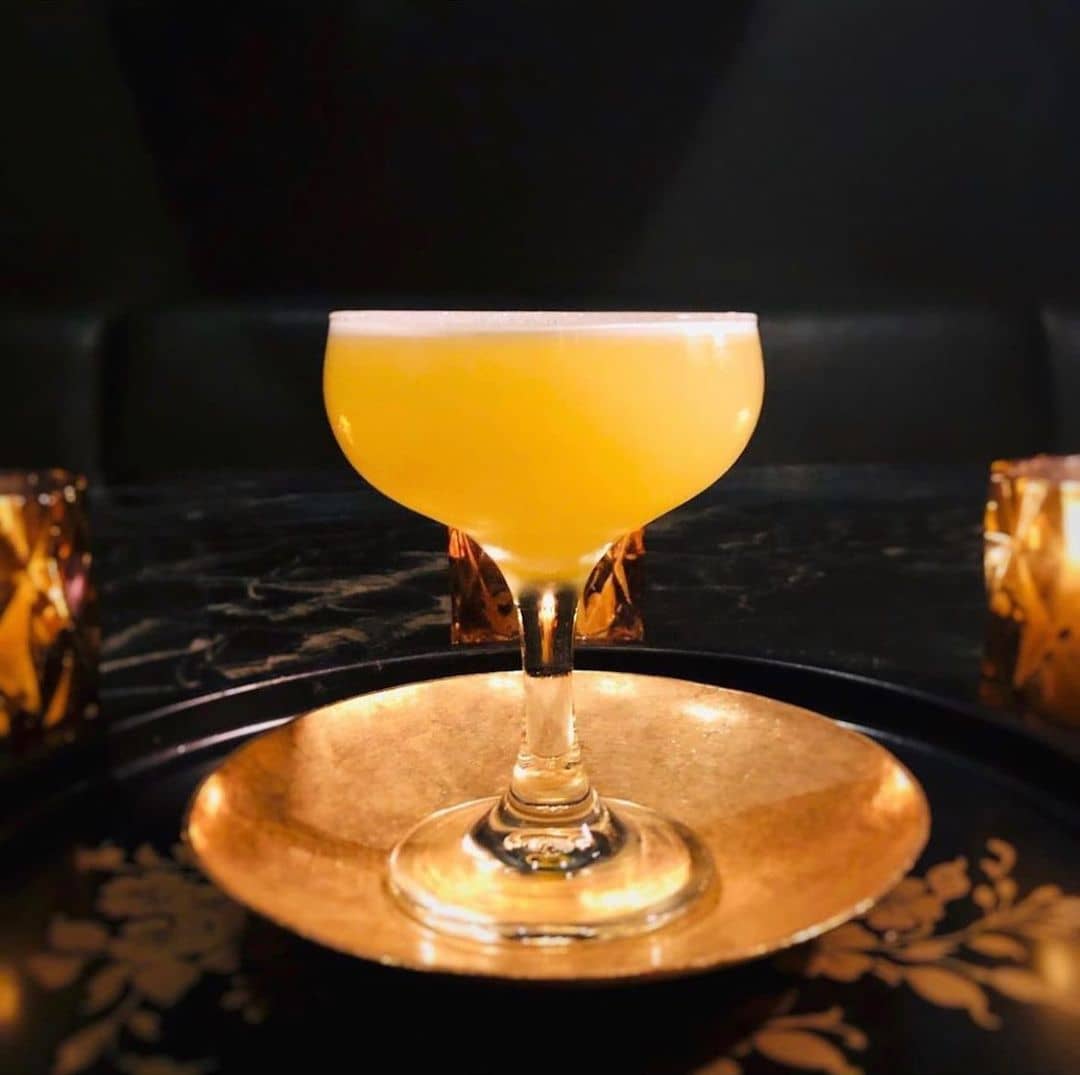 A small and cozy speakeasy with a Southeast Asian flair and intimate vibes, Foreign National, is perhaps the only place in the city where you can get a cocktail with wasabi as an ingredient.
Does it taste good? Absolutely!
Despite its barely visible entrance door, you can easily spot it due to the long lines of people waiting to get in on a weekend night.
We highly recommend coming earlier or going on a weekday.
A very eccentric drink that tastes like curry, Silk Road is one of the most popular items on their menu.
Who knew a curry-flavored cocktail could taste so incredibly good? The drink tastes just like a trip to the equator and back.
Sweet and smoky in the right amounts, the Osaka #1 cocktail has lots of layers and exciting flavor combinations that have a party of their own when they enter your mouth.
Once you finish your sip, you'll feel like a true liquor connoisseur with this one.
What to order: Silk Road, Singapore Sling
Address: 300 E Pike St, Seattle, WA 98122
Website | Instagram | Facebook
11. Deep Dive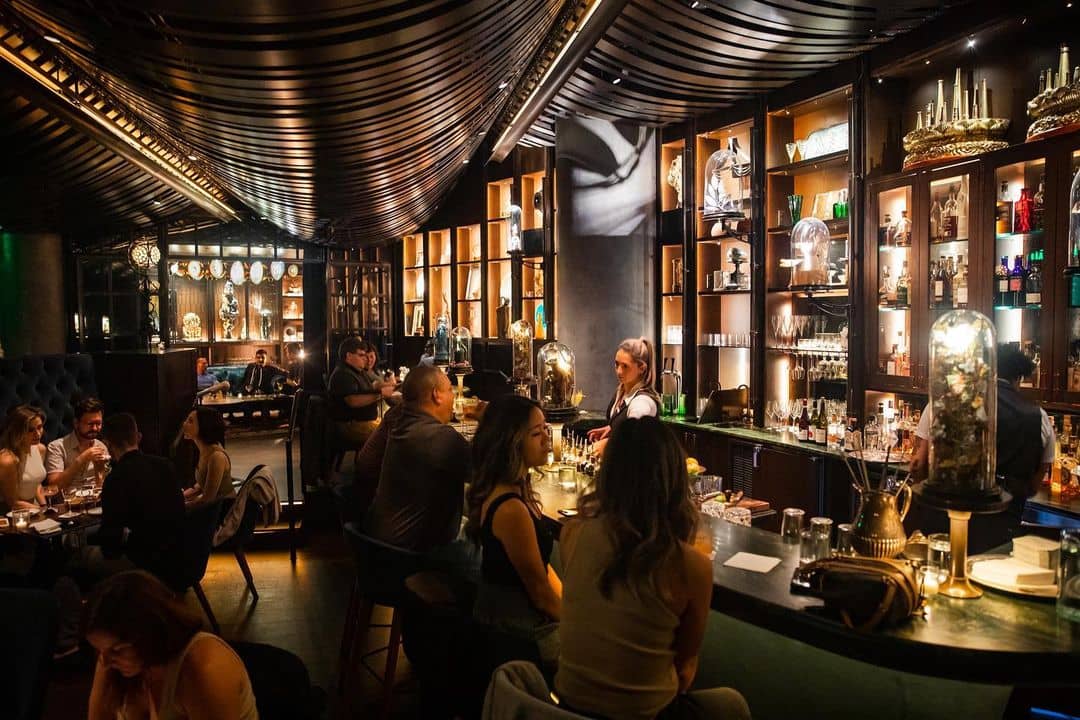 An absolute gem of a bar in downtown Seattle, Deep Dive, feels like an elegant secret under the Amazon Spheres. From the moment you step inside the dark door of Lenora St, you'll immediately know you'll be having a good time.
The bar has an intimate atmosphere, great for small groups or a sultry date night.
If you're a fan of the mellow grassy taste and the natural sweet nuttiness of matcha, No More Parties in LA gives you exactly that but with other tropical flavors mixed along with it.
The sweetness of pineapple and coconut evens out the earthy bitterness of matcha, creating a well-balanced cocktail.
Deep Dive's Nonino Brown with pineapple and walnut-infused cognac is hands down one of the best rums you'll ever taste in the entire world.
It has bold and complex flavors with delicate notes of a tiki.
What to order: No More Parties in LA, Nonino Brown
Address: 620 Lenora St, Seattle, WA 98121
Website | Instagram | Facebook
12. The Whisky Bar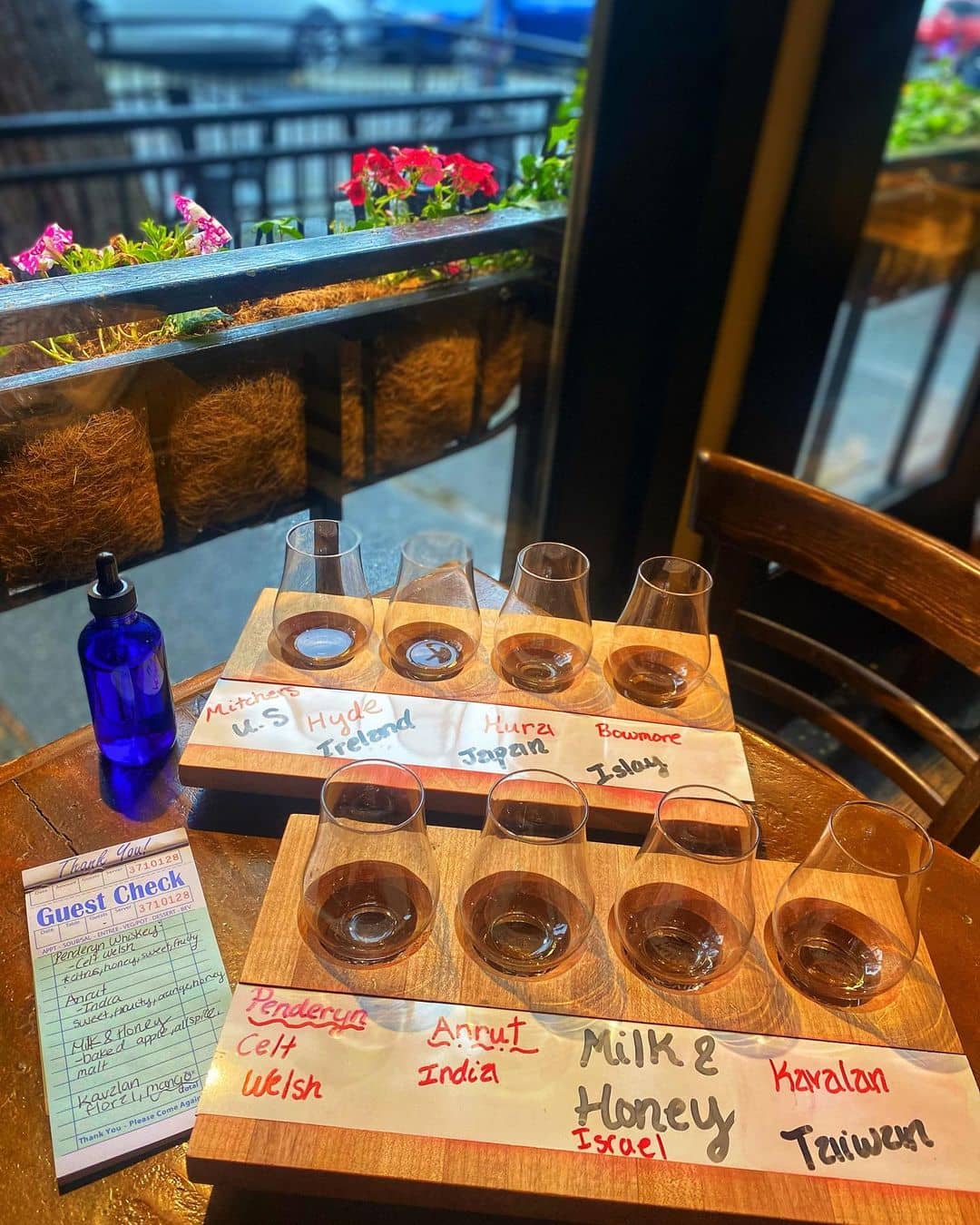 Coming from the name itself, The Whisky Bar specializes in all things whiskey and has almost 600 options.
With wall-to-wall displays of whiskey bottles from around the world, this place may seem intimidating for those who don't like whiskey but trust us when we say you'll appreciate whiskey more once you leave.
The Whisky Bar is an excellent spot to relax and unwind after a stressful week.
A fancy Whisky Sour shaken to perfection with a delicately detailed dropper of bitters and egg white, you'll be surprised such a classic drink could taste so good.
Potentially the best Whiskey Sour in the whole of Seattle, this drink is a must-have!
If you're a whiskey aficionado, who likes to try out different kinds of whiskey catered to your preferences, ask the bartender for Custom Flights.
The bartender will help you select which one best suits your tastes and even tell you about new whiskeys that are not yet available on their extensive menu.
What to order: Whiskey Sour, Custom Flights
Address: 2122 2nd Ave, Seattle, WA 98121
Seattle is a city with an understandably laid-back nightlife scene, with more chill and relaxing lounges. When you feel thirsty, there are plenty of choices for you to consider.
Keep in mind that drinking alcohol on an empty stomach is always a bad idea.
If you haven't had a meal yet, check out our list of the best restaurants in Seattle for recommendations.