In the past couple years, Korean fried chicken has sent the rest of the world into a delicious mania. Thanks to the skyrocketing popularity of the Hallyu wave, almost everyone fell head over heels with this dish to the point that it has become a classic food staple.
Roaming around Vancouver you'll find a ton of Korean fried chicken spots for a reason – Vancouverites love it. Compared to the usual American style fried chicken, the Korean ones tend to have a skin that is lighter and crispier.
Combine that with some Korean flavours like soy garlic, sweet & spicy, or honey…and you're set for a good time.
So if you're craving for some juicy Korean fried chicken, you've come to the page. Below we've compiled the 9 best Korean fried chicken spots in Vancouver and what to order at each.
*Noms Members are part of our exclusive paid membership. Only food spots we personally recommend are accepted as members. 
1. Frying Pan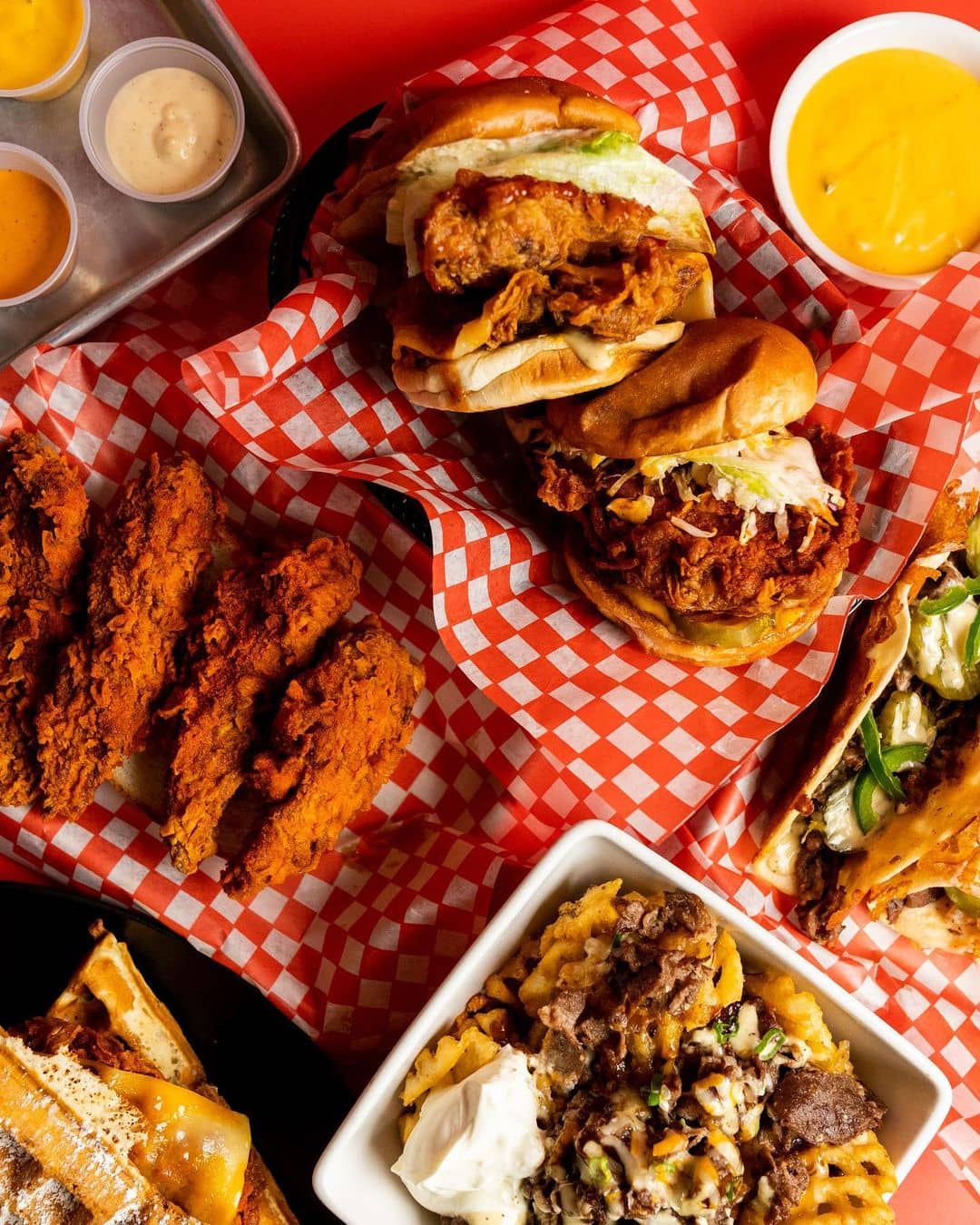 With only a goal in mind which was serving the best fried chicken sandwiches, the Frying Pan embarked on a journey (quite literally) to be one of the best food trucks in the city. And they indeed succeeded in this endeavor—amassing a loyal base of diners, they finally opened a dine-in restaurant at the heart of Gastown.
You know, we've been a Frying Pan fan ever since! In fact, they're included in our lists of the best fried chicken and best food trucks! And we're pretty sure everyone who tasted their food would agree with our verdict.
For the best dining experience, try Frying Pan's famous chicken sandwich! All flavorus are delectable, but we like their hot chicken and double-decker the most. Flavourful chicken wrapped in toasted buns, house mayo, and a plethora of goodness—plus, you can choose a spiciness level!
If you're hungry for more, like us, grab a bite of their signature Korean Yangnyeom boneless chicken and prepare to be mind blown by the perfect mix of sweet, sour, and spicy. Not too overwhelming and not so bland, just a suitable ratio for creating one of the best Korean fried chickens in town.
Lastly, you may want to set your eyes on Frying Pan's bulgogi fries. Fries oozing with aromatic teriyaki sauce, cheese, and the sweetness of bulgogi, balanced out with sour cream.
What to order: Waffle Hot Chicken Sandwich, Double Decker Sandwich, Boneless Chicken Bites – Korean Yangnyeom, Smoked Beef "Bulgogi" Fries
Address: 60 W Cordova St, Vancouver, BC V6B 1C9, Canada
Order delivery: Uber Eats
Website | Instagram | Facebook
2. NeNe Chicken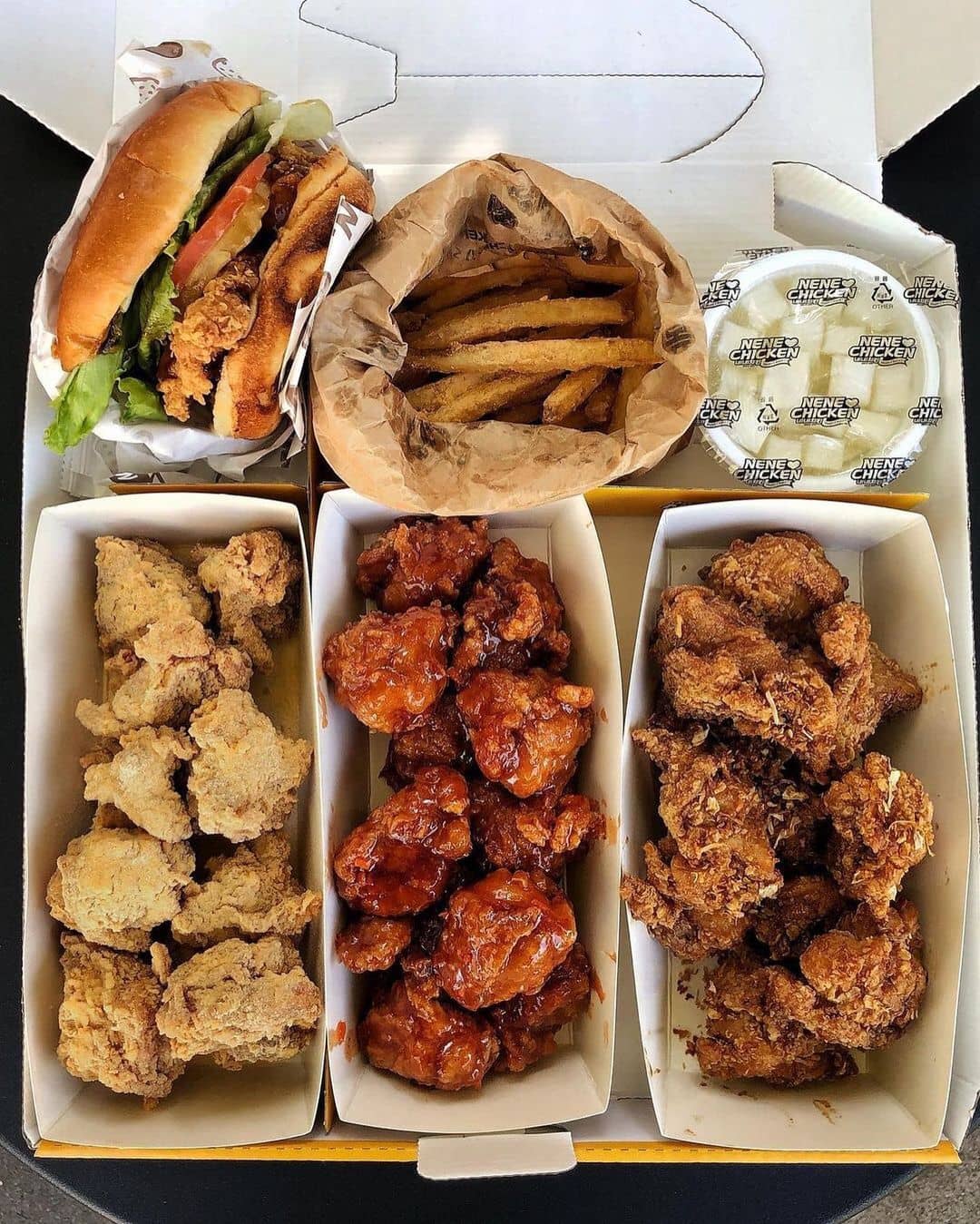 If you're wondering whether the hype about NeNe Chicken is real, we'll tell you a secret: they sell arguably one of the tastiest Korean fried chickens in Vancouver.
We don't know how NeNe Chicken did it, but their chickens are always crispy and tender, even if you take them out for a ride home. This consistency extends to the taste—all of their food is tasty regardless of where you eat them.
NeNe offers all things chicken—from drumstick and wings to boneless tenders and burgers—with an array of flavors to choose from. Everything from their menu is a must-try, but we suggest you prioritize getting their swicy or snowing cheese chicken and spicy burger.
For their chicken, you can customize as much as you want. You can either mix and match with their half & half flavored option or opt for wings, drumsticks, classic, or boneless. They're giving you the freedom to enjoy their mouthwatering chicken however you want.
Fan of spicy food? Don't hold back and order NeNe's hot-bling chicken burger to satisfy your hot and spicy cravings!
What to order: Swicy Chicken, Snowing Chicken, Original, Soy Garlic, spicy burger
Address:
-1070 Kingsway, Vancouver, BC V5V 1N9, Canada
-1231 Davie St, Vancouver, BC V6E 1N4
Website | Instagram | Facebook
3. Kosoo Korean Restaurant Chicken & BBQ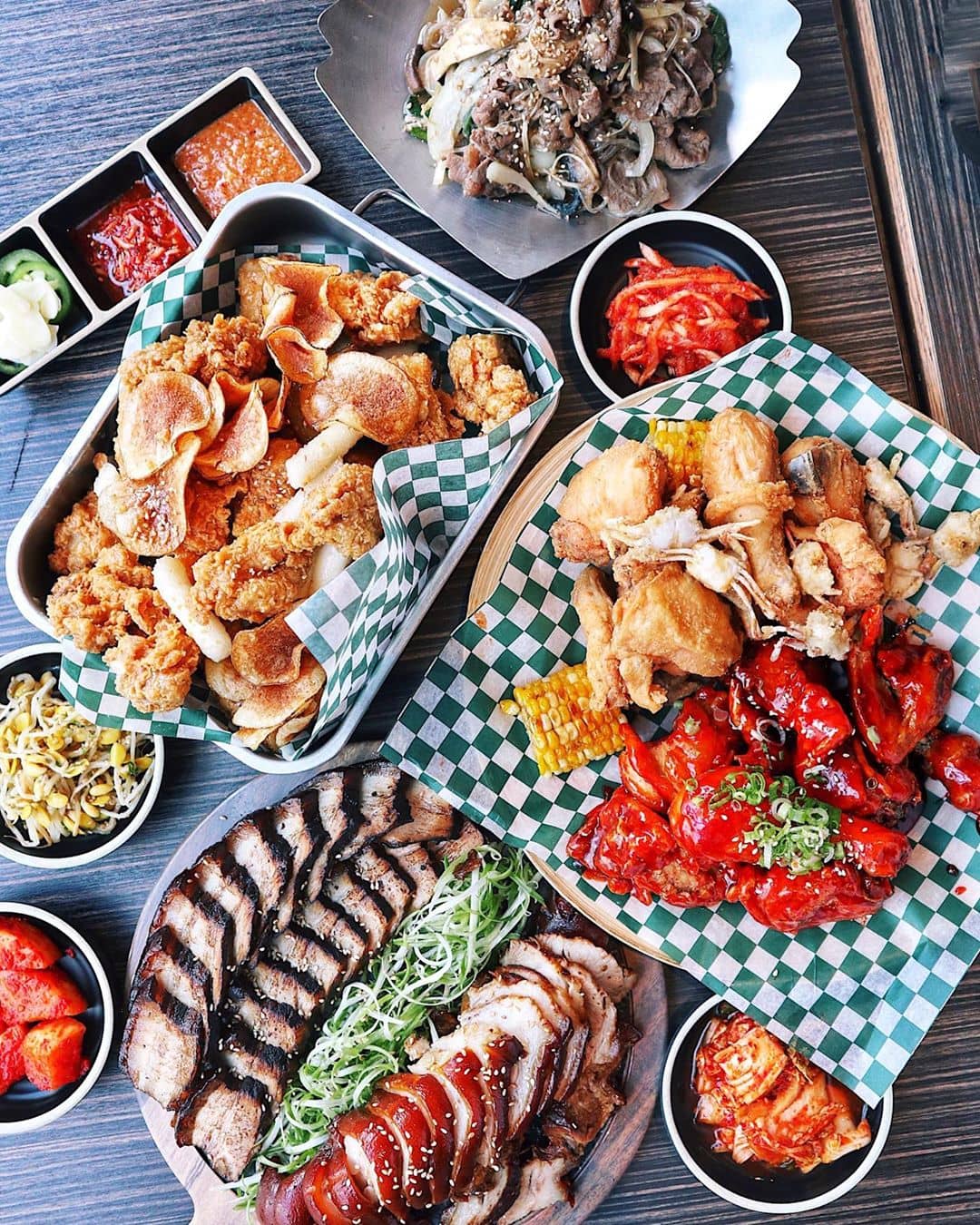 Kosoo has a philosophy to deliver the highest quality & innovative Korean food, while upholding the traditional flavours that have been around for centuries. There is a unique modern flair to their way of cooking, that is based on Seoul's food style. Both their restaurants are upscale in appearance, with a cozy ambience and warm welcoming staff.
Kosoo is a famous choice among locals; we also included them in selecting the best Korean restaurants. They enjoy a reputation for providing high-quality and creative Korean food made to satiate all kinds of palate.
With a spacious upscale dining area and a cozy ambiance, you'll indeed have a memorable date night at Kosoo. In fact, Korean locals would agree—their dishes bring back memories!
Surrender yourself to their bone-in chicken. You can choose from various flavours, but we really like their honey butter. For soups, don't miss their doenjang jjigae or soybean soup, special soybean paste stew with beef and rice, and their wang galbi-tang, a soulful premium beef short rib dish.
Rumor has it that these food items will instantly transport you to Korea!
What to order: Honey Butter Bone-In, Doenjang Jjigae (Soybean Soup), Wang Galbi-Tang
Address:
-Kosoo Cardero – 832 Cardero St, Vancouver, BC V6G 2G5
-Kosoo Robson – 1128 Robson St, Vancouver, BC V6E 1B2
Website | Instagram | Facebook
4. Damso Modern Korean Restaurant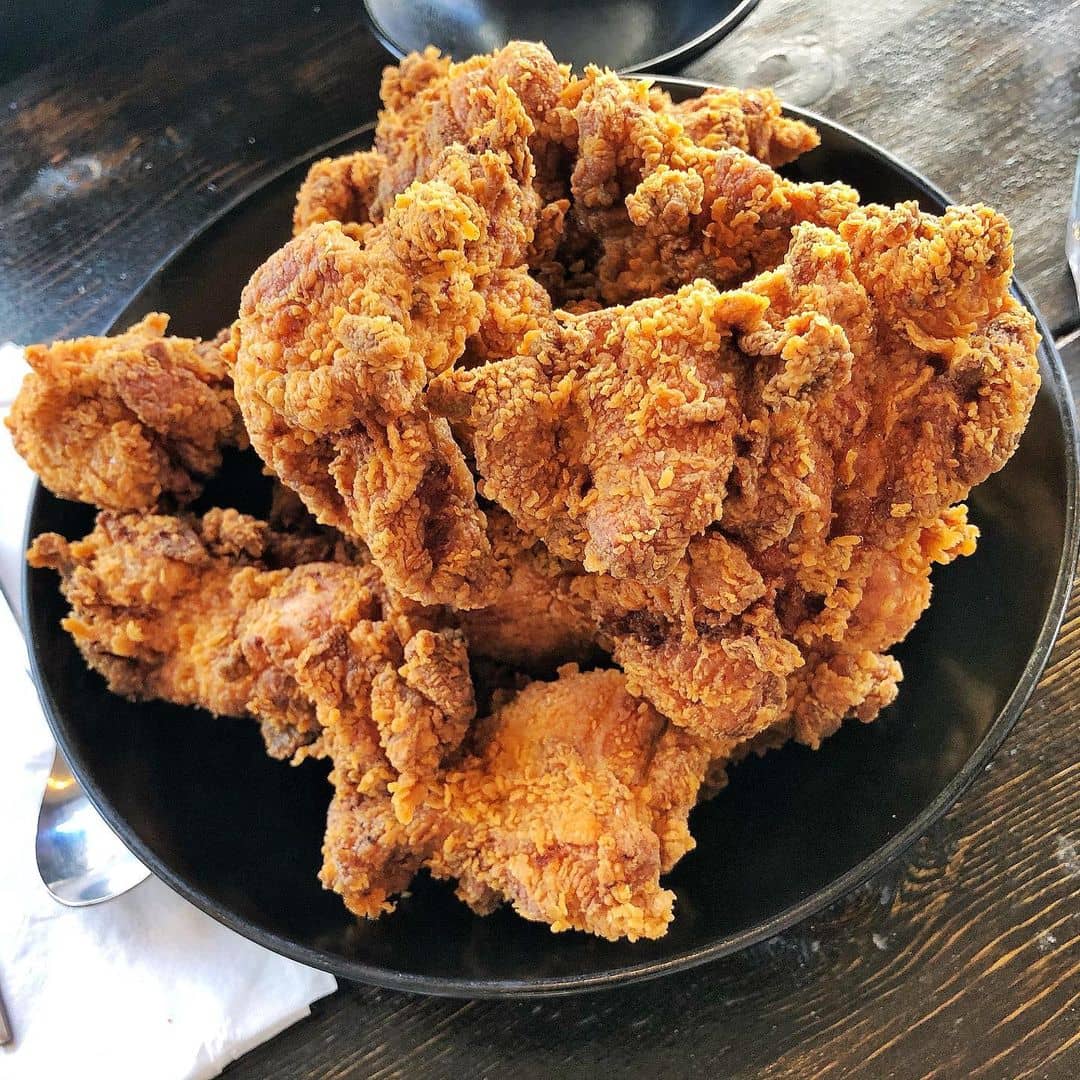 Good food with large proportions, trendy ambiance, and great staff? Seems rare, but you got them at Damso, another renowned K-restaurant in the metro.
A hole-in-the-wall, Damso may be a small joint that seats around 20 people, but the place is perfect for making memorable dinners with friends. Plus, you get to enjoy authentic and flavorsome Korean dishes at reasonable prices!
Their menu highlights some of the most popular usual Korean bites, but if we're to recommend some, it's definitely their tacos, pork belly, and fried chicken. Their tacos showcase the Korean version of the Mexican delicacy, while their chicken boasts savory hints of their special seasoning.
Damso's pork belly…is simply heavenly! They're actually so good we're kind of lost for words. BUT! You'll agree with us the moment you take a bite.
We believe Korean food is best consumed with friends, so plan ahead and bring the squad with you to Damso.
What to order: Korean Tacos, Pork Belly, Fried Chicken
Address: 867 Denman St, Vancouver, BC, Canada
5. RIB & CHICKEN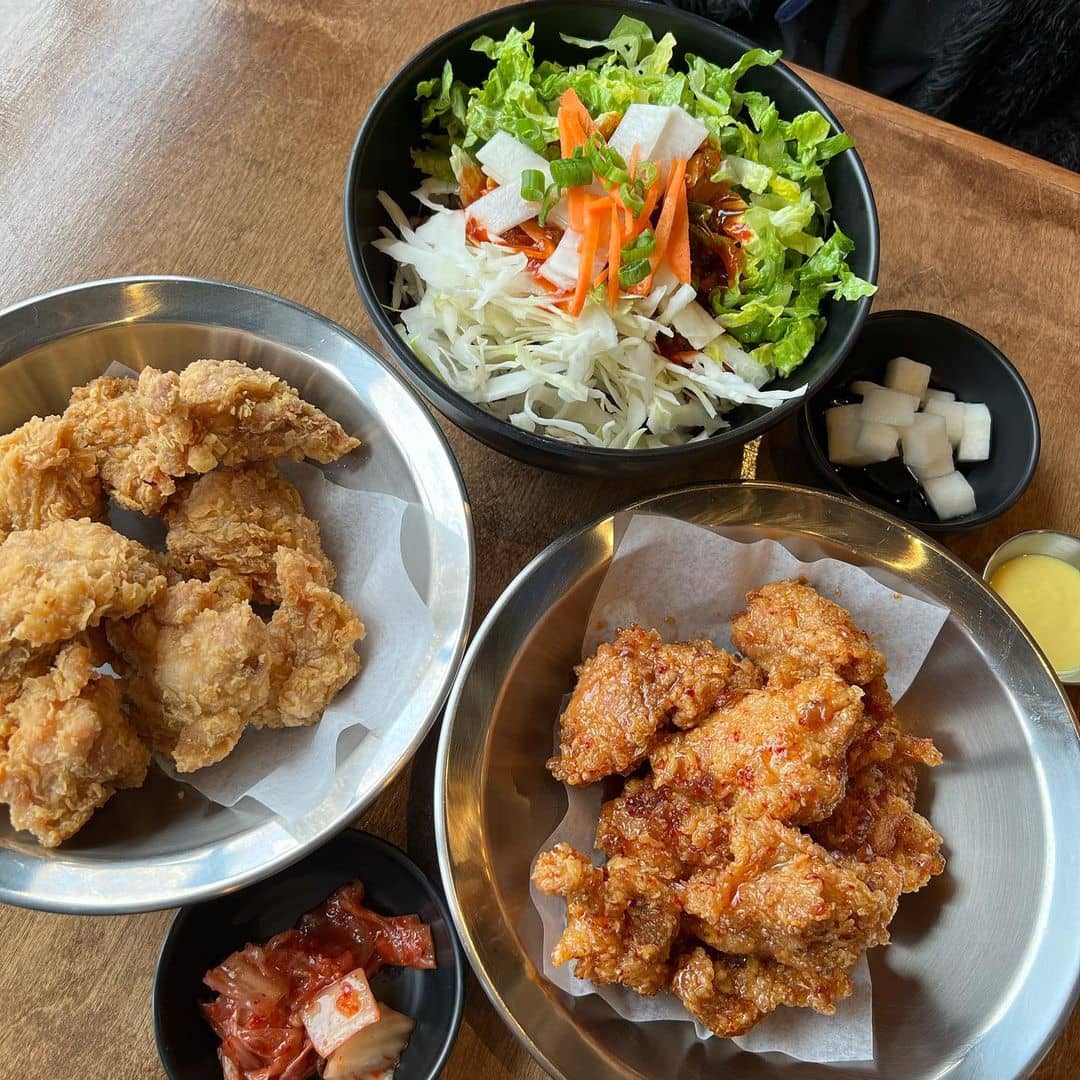 Craving for affordable late-night Korean food? Simply go to RIB & CHICKEN. They have an extensive menu offering K-BBQ, fried chicken, rice bowls, hot pot, etc.
You'll see a small restaurant on the outside—nothing out of the ordinary. But what awaits you inside are friendly staff, fantastic food, and warm vibes!
RIB & CHICKEN has multiple branches across BC, with three in Vancouver. The success of each of these joints is pretty much thanks to a consistent streak of serving stellar fried chicken.
You'll never go wrong with their soy garlic chicken—moist, tender, and crispy classic Korean chicken masterfully crafted to perfection. Their mouth-watering beef back ribs are paired with creamy melted cheese for an outburst of flavors.
What to order: Grilled Pork Chop Rice Bowl, Beef Back Ribs, Soy Garlic Chicken
Addresses:
-Renfrew: 1660 Renfrew St., Vancouver, BC, Canada
-Granville: 8167 Granville St., Vancouver, BC, Canada
-Point Grey: 4443 W 19th Ave., Vancouver, BC, Canada
Website | Instagram | Facebook
6. bb.q Chicken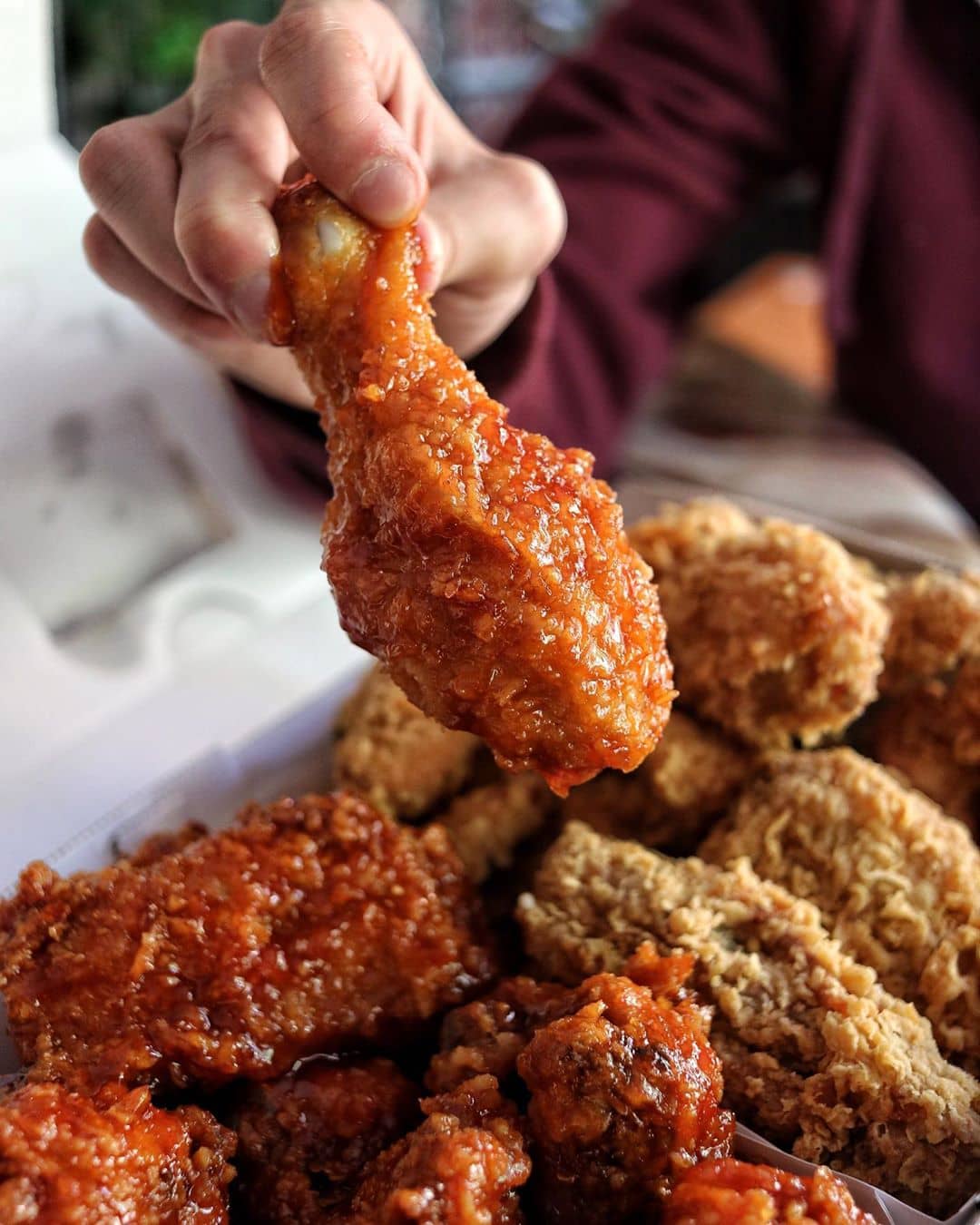 Are you fond of Kdramas like Crash Landing On You? Then you must have seen bb.q Chicken making their cameo in the award-winning series!
Bb.q Chicken is a popular franchise with over two thousand branches worldwide. Their Vancouver pubs serve some of the best Korean dishes in the city.
All items on their menu are awesome, but here are our top three: cheese buldak, secret sauced chicken, and golden fried chicken sandwich.
The cheese bul-dak is skillfully created with a special house spicy sauce, covered with cheese on top. With different flavors dancing and teasing your taste buds, you'll agree that it's a must-have!
It beats the purpose, but we're really dying to know the secret to their bestselling secret-sauced chicken! According to the restaurant, about 20 natural ingredients work together to create a blissful dish. *gasps*
Oh, and you should give their golden fried chicken sandwich a try! It's a signature flavor, so expect a unique and delicious take!
What to order: Cheese Bul-dak, Secret Sauced Chicken, Golden Fried Chicken Sandwich
Addresses:
-Robson: 1517 Robson St, Vancouver, BC V6G 1C3, Canada
-Main St.: 4470 Main St, Vancouver, BC V5V 3R3, Canada
Website | Instagram | Facebook
7. Tå Bom Korean Cuisine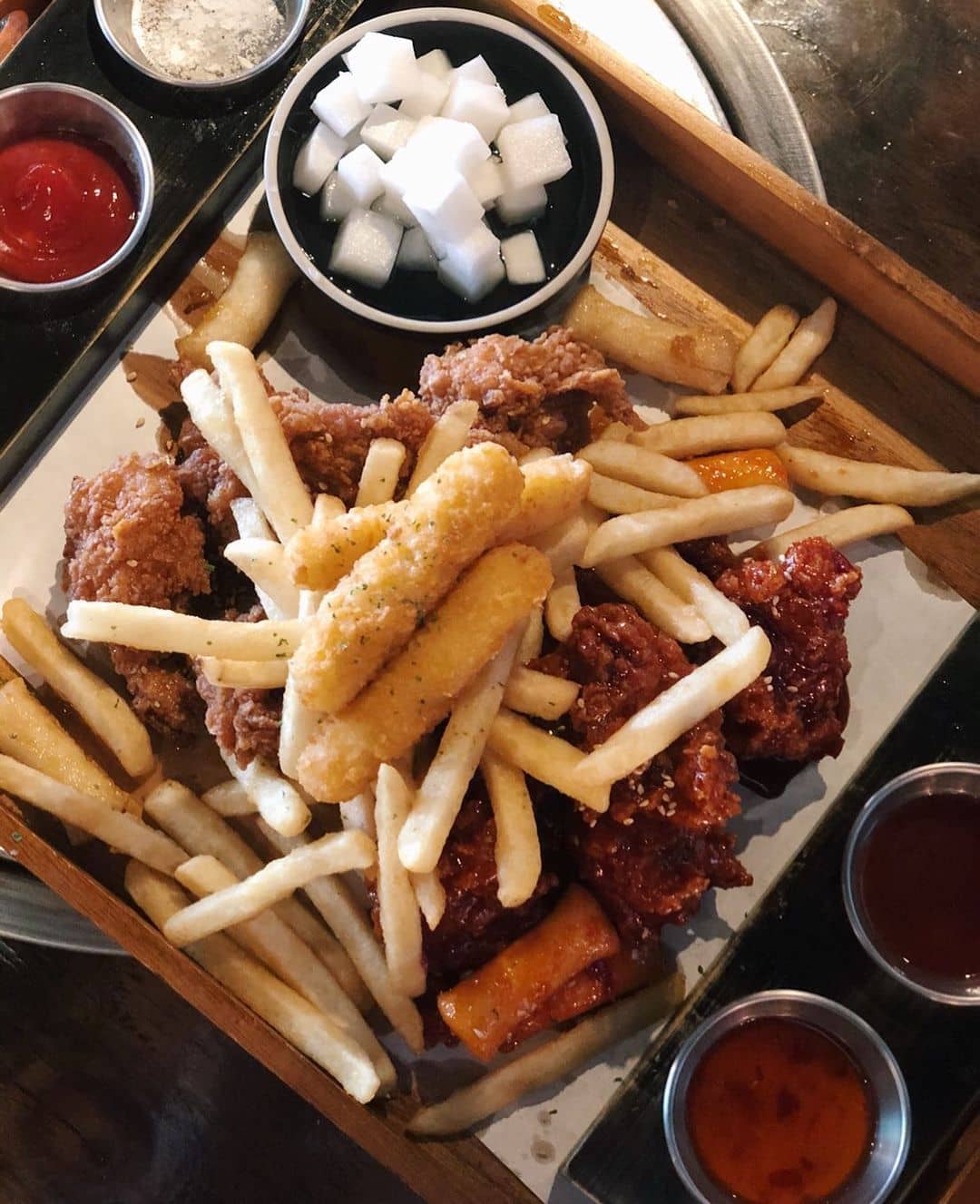 Next on the list is another favorite go-to Korean restaurant for locals. They have been providing nothing but a unique culinary experience since they first opened their Downtown branch in 2018.
Tabom's excellence can be attributed to the owner's 30 years of experience in Korean cuisine. In fact, some of you may be familiar with Norbu, their previous name.
The rebranding brought an outpour of support from the community, thanks to Tabom's keen attention to detail, be it in food, service, and ambiance. You'll also catch them on our list of the best Korean BBQ in the city; that's how prominent Tabom is.
To truly experience the finest Korean dining, order their signature hot pot and indulge in a wide selection of meat and other delectable delights. You may also want to try their lunch special, featuring a few selections of bibimbap with different main dishes.
Tabom's spicy chicken is next to none when it comes to spiciness and tang. But don't just stop there! You MUST grab yourself an order of their samgyeopsal. Seeing it grilled to perfection in front of your eyes makes it more enjoyable.
Indeed, the best time to visit Tabom is anytime!
What to order: Spicy BAAAAM Chicken, Signature Hot Pot, Hansang Lunch Special, Samgyeopsal
Address: 1536 Robson St, Vancouver, BC, Canada
Website | Instagram | Facebook
8. ChiMec Fried Chicken & Burger Vancouver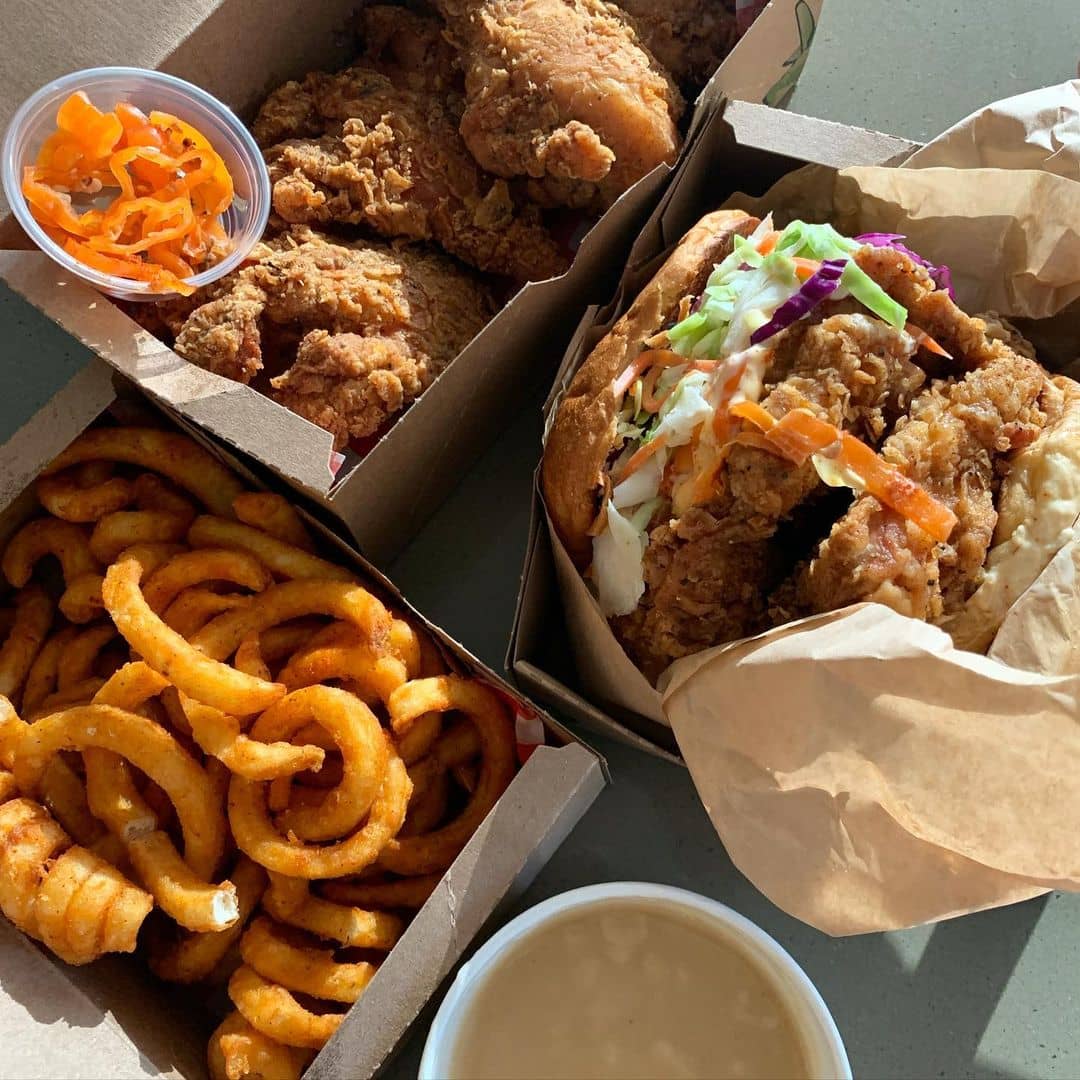 This hidden neighbourhood gem is where you'll find the juiciest fried chicken and monstrous chicken burgers! ChiMec's food is famous for all the right and drool-worthy reasons.
Loved by locals and tourists alike, this diner may be small, but you'll be surprised at how large their proportions are. Much of the hype comes from ChiMec's chicken breast burger, which may be one of the biggest in the city.
The monstrous, full-breast chicken of their Yangnyeom burger sits prettily and delectably well with their special sauce and fluffy buns. ChiMec's chicken is just as impressive—tender, crispy, and freshly cooked!
Seal your ChiMec deal with some side dishes and local beer, and you're good to go!
What to order: ChiMec Yangnyeom Burger, Chicken Legs & Thighs, Fried Wings
Address: 835 Denman St, Vancouver, BC V6G 2L7, Canada
Website | Instagram | Facebook
9. Rorimomo Restaurant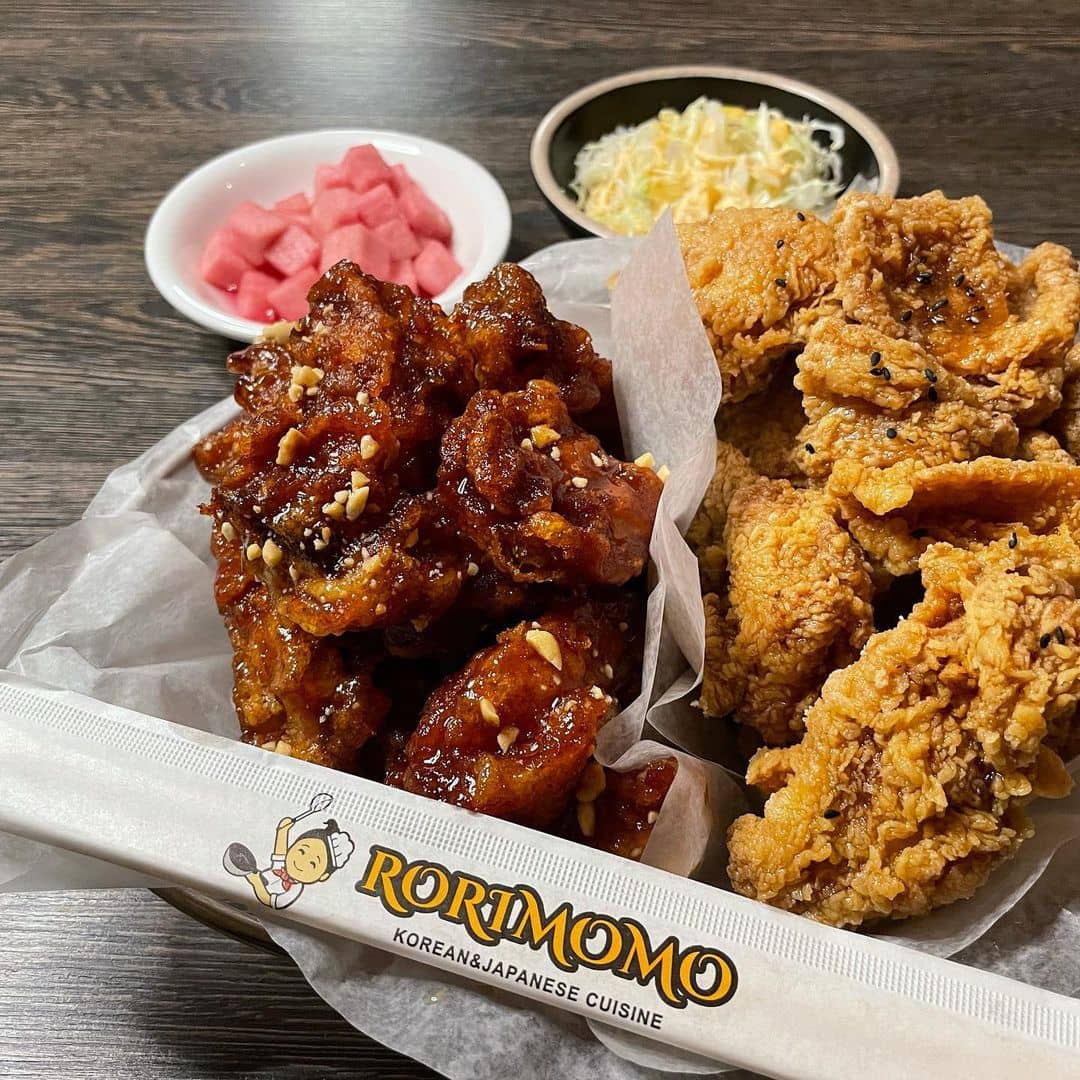 Established in 2019, Rorimomo is a family-owned community favourite specializing in Japanese and Korean food. This renowned fusion restaurant offers amazing food on top of impeccable service.
Some may think the flavours of these two cuisines may clash with one another, but that's entirely wrong. Rorimomo mastered the art of combining and merging various tastes to create their own unique versions of popular dishes.
Rorimomo's fried chicken, tonkatsu, and tofu jjigae are three reasons why customers keep on coming back for more. Nobody can resist this trio of great food.
The chicken and tonkatsu are really crispy outside but ooze with juiciness inside. On the other hand, Rorimomo's tofu soup has the right levels of spiciness.
You might want to try ordering these three for a hearty and fulfilling meal with family and friends!
What to order: MOMO Fried Chicken, Pork Cutlet (Tonkatsu), Soft Tofu Jjigae
Address: 781 Davie Street, Vancouver, BC V6Z 2S7, Canada
There you have it, that sums up our recommendations for the best Korean fried chicken in Vancouver. Listen, we know you're hungry just by reading this list. And while you're at it, you might want to check out the best Vancouver restaurants!
The following two tabs change content below.
Latest posts by Noms Magazine (see all)