Vancouver is a city with a ton of incredible neighbourhoods that shine like gems and has their own flare. The West End in downtown Vancouver is one such neighbourhood, and perfect for a visit and adventure!
This neighbourhood is predominantly residential, has a relaxed and easy-going vibe, hosts a range of chic fashion stores, versatile dining, and sits proudly as the gateway to the famed Stanley Park. It is known for its LGBTQ culture, inclusivity, great food, bars, tourist spots, and stunning views from forested trails to the Seawall waterfront, and all the way to English Bay.
If you're looking to grab a bite in this neighbourhood, make sure you visit one of these stellar spots. Below you'll find the list of the best West End restaurants to eat at and what to order!
1. Tom Sushi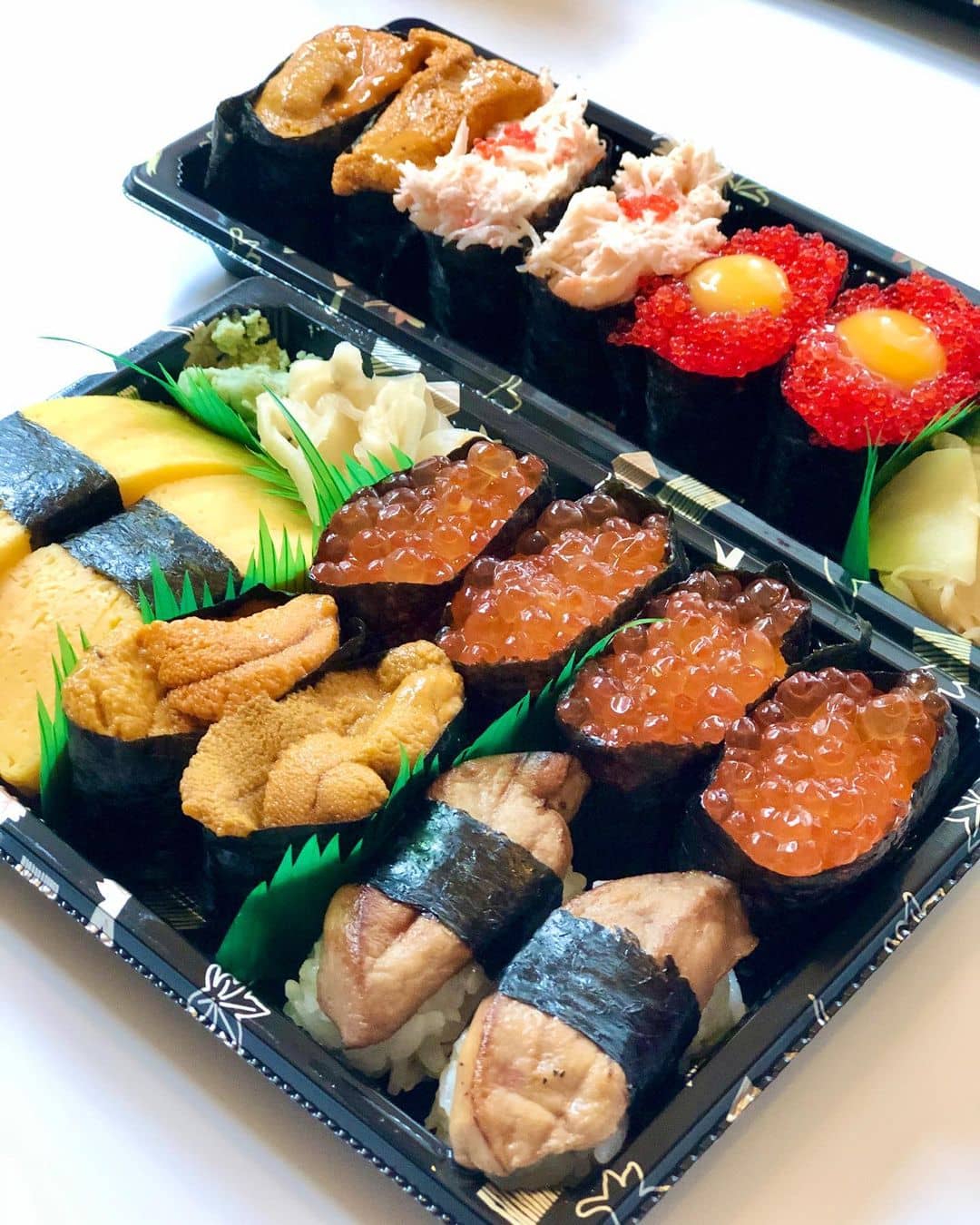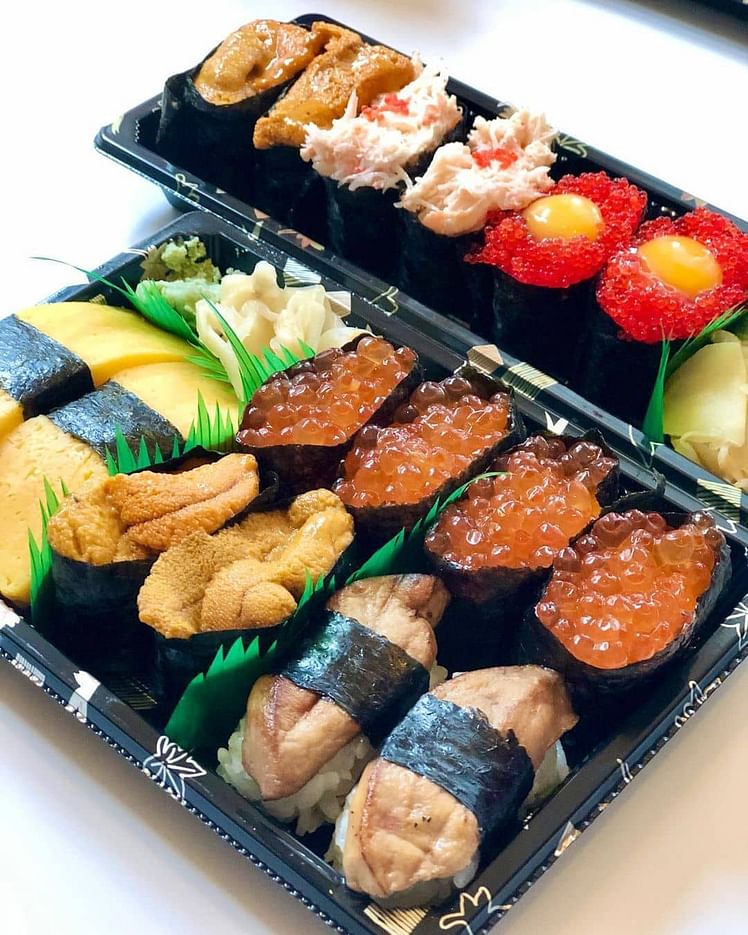 Vancouver has some incredible sushi spots, and the one place that has managed to reach the no. 1 spot on our Best Sushi Restaurants in Vancouver list is Tom Sushi. Having won the hearts of Vancouverites within a short period, this place is where traditional Japanese flavors meet local, west coast elements, leading to a unique dining experience.
Tom Sushi has quickly carved a name for itself as the sushi bar that carefully considers texture, nuance, and flair in fresh ingredients. And best of all – they offer it all without really breaking the bank.
We recommend for nirigi: tokiko w/quail egg, shima-aji, hotate, and toro. And if you're one of the lucky people to get your hands on their daily limited donburis – go for the bluefin or uni ones.
What to order: tokiko w/quail egg, shima-aji, hotate, toro nirigi, bluefin, uni donburi
Address: 1175 Davie St, Vancouver, BC V6E 1N2
Order Online: Website | Uber Eats
2. Marutama Ra-men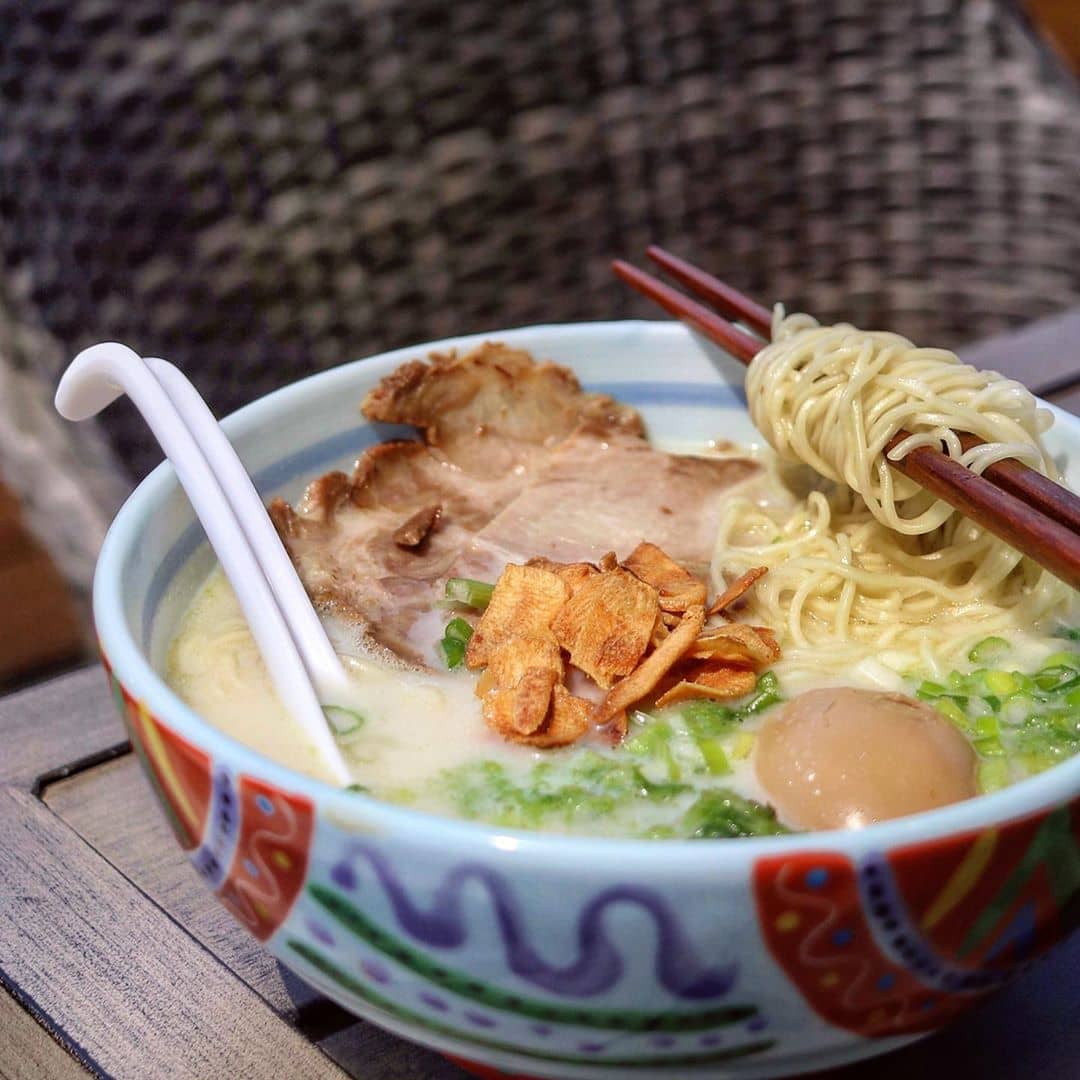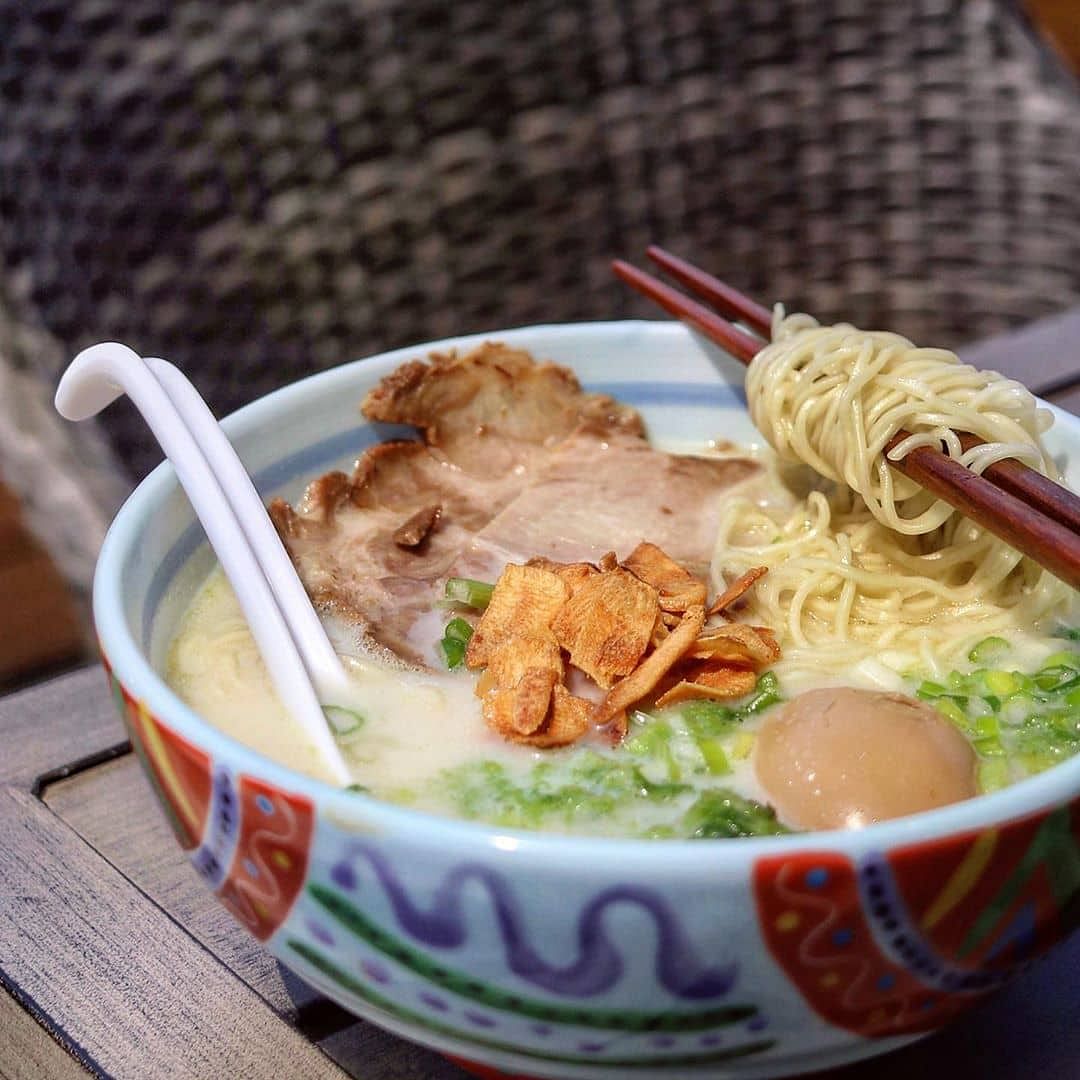 Ever tasted ramen that virtually took you straight to the streets of Japan? Marutama Ra-men will give you that surreal experience! Specializing in simple yet flavourful ramen, this place makes everything fresh and from scratch every morning at 6AM, which contributes significantly to the taste.
Their Tamago Ramen is a crowd favorite. The chicken broth is light and creamy, and the pork cha-su is tender and delicious. The thin noodles come cooked to perfection and soaked in the flavourful broth, and all the elements create a flavour bomb in your mouth.
Pro-tip: When you receive your bowl of ramen, always add the garlic chips. You will never be the same again after trying it.
What to order: Tamago Ramen, Veggie Curry Ramen
Address: 780 Bidwell Street, Vancouver
Instagram | Facebook | Website
3. Kingyo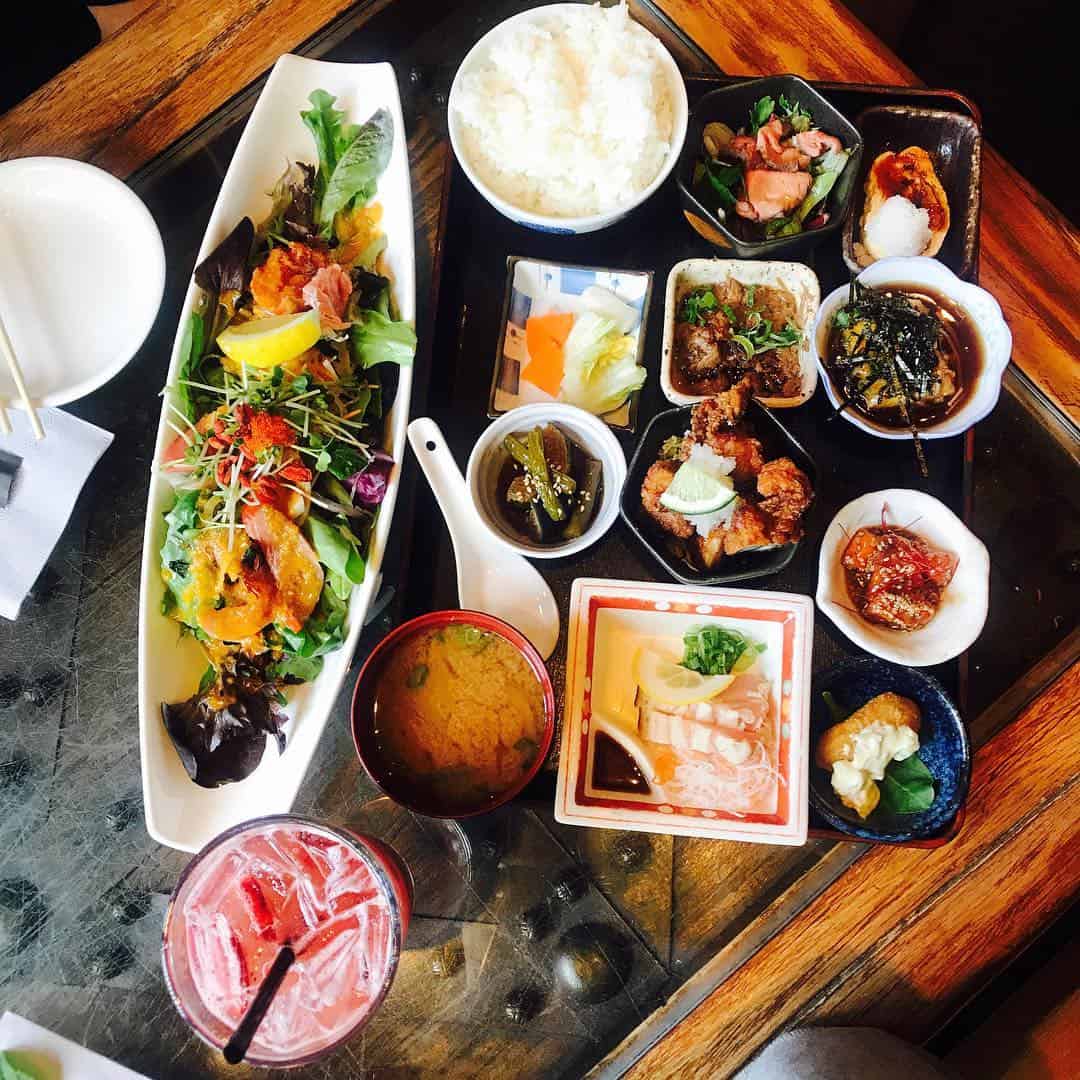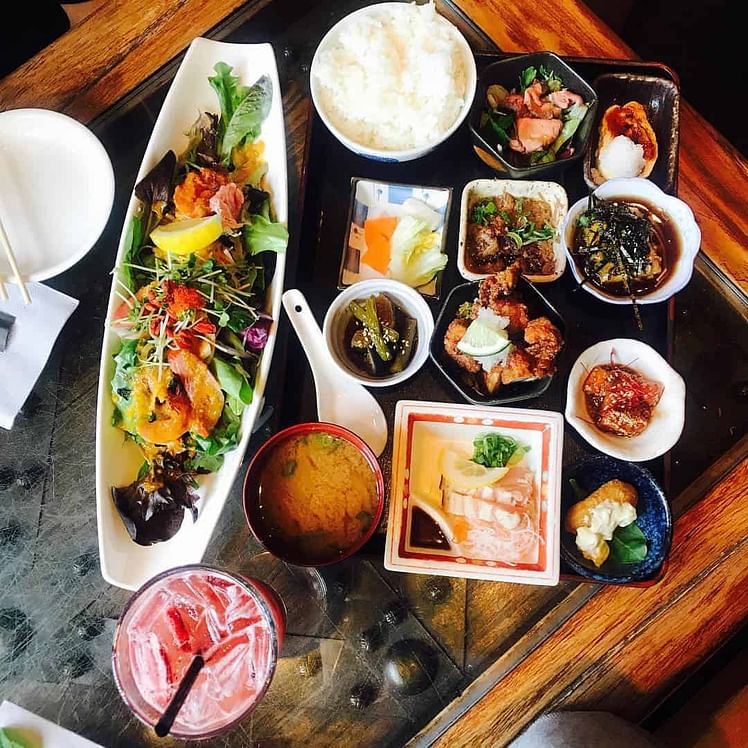 With multiple accolades from well-known magazines and diners, Kingyo is known to be one of the more popular izakayas in Downtown Vancouver. With authentic decor, historic photographs, wood carved art pieces, and bamboo panels on each table, Kingyo is all-in when it comes to providing an authentic and genuine Izakaya dining experience.
Order the Stone-Grilled Kobe Beef and you can have fun cooking the most exclusive beef yourself on the hot stone. What elevates the experience is the melt-in-the-mouth tender beef, which goes well with the Kingyo original sauces but also tastes incredible on its own.
When their menu says "Our Famous Invincible & Undefeated Tan-Tan Noodle", how can you go without trying the dish?! The pork bone and shrimp broth is the mesmerizing element of this dish – rich, spicy, and so flavorful that it is reminiscent of Japan. The noodles are perfectly chewy, and one bowl of the Tan-Tan Noodle will make you full.
What to order: Stone-Grilled Kobe Beef, Tan-Tan Noodle
Address: 871 Denman Street, Vancouver, BC V6G 2L9
Website | Instagram | Facebook
4. Sura Korean Cuisine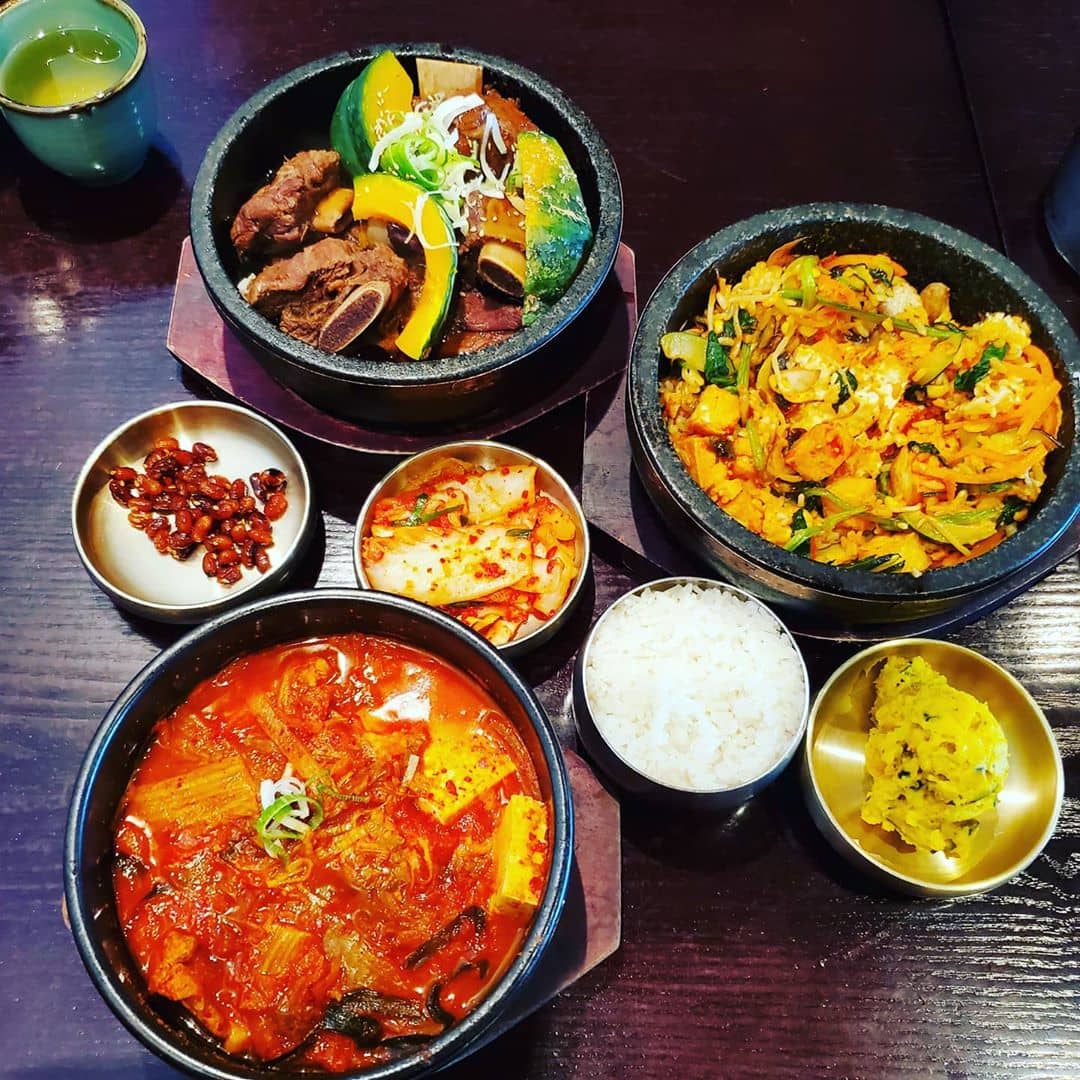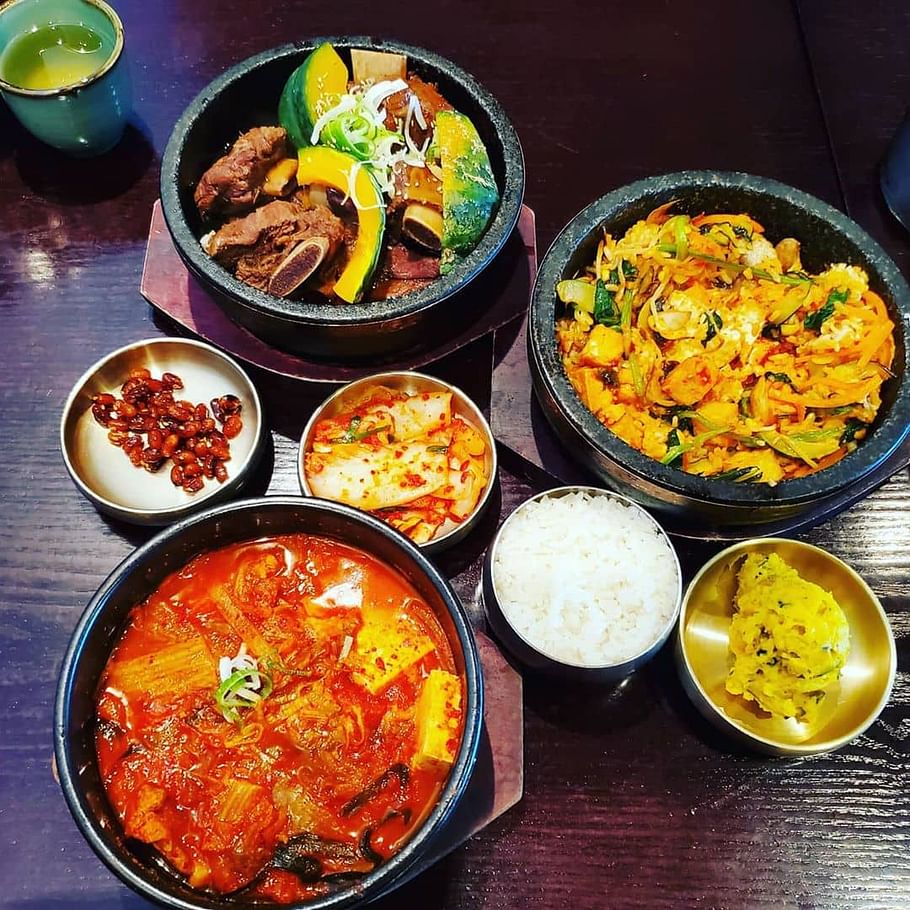 An award-winning Korean restaurant located in the heart of Downtown Vancouver, Sura gives diners a glimpse into the true culinary craft of Korean Royal Cuisine. The combination of Korean traditions and modern design aesthetics makes Sura a sophisticated dining space and the most preferred Korean dining destination for locals and visitors alike.
The most enjoyed dish here is perhaps the Sliced Pork Belly (Bossam). Simmered in herbs, the pork belly emanates the flavors beautifully, and the fact that the pork slices have a good bite to them without being too fatty makes the dish more appetizing.
From their Barbecue menu, the Galbi, or Grilled Beef Short-Ribs, will make you want to go for seconds. Marinated in traditional Korean barbecue sauce, the ribs are cooked to be tender yet still retain a bite.
What to order: Daeji Galbi, Kimchi Jjigae, Japchae, Bossam, Kimchi Fried Rice
Address: 1518 Robson Street, Vancouver, BC V6G 1C3
Website | Instagram | Facebook
5. Ramen Danbo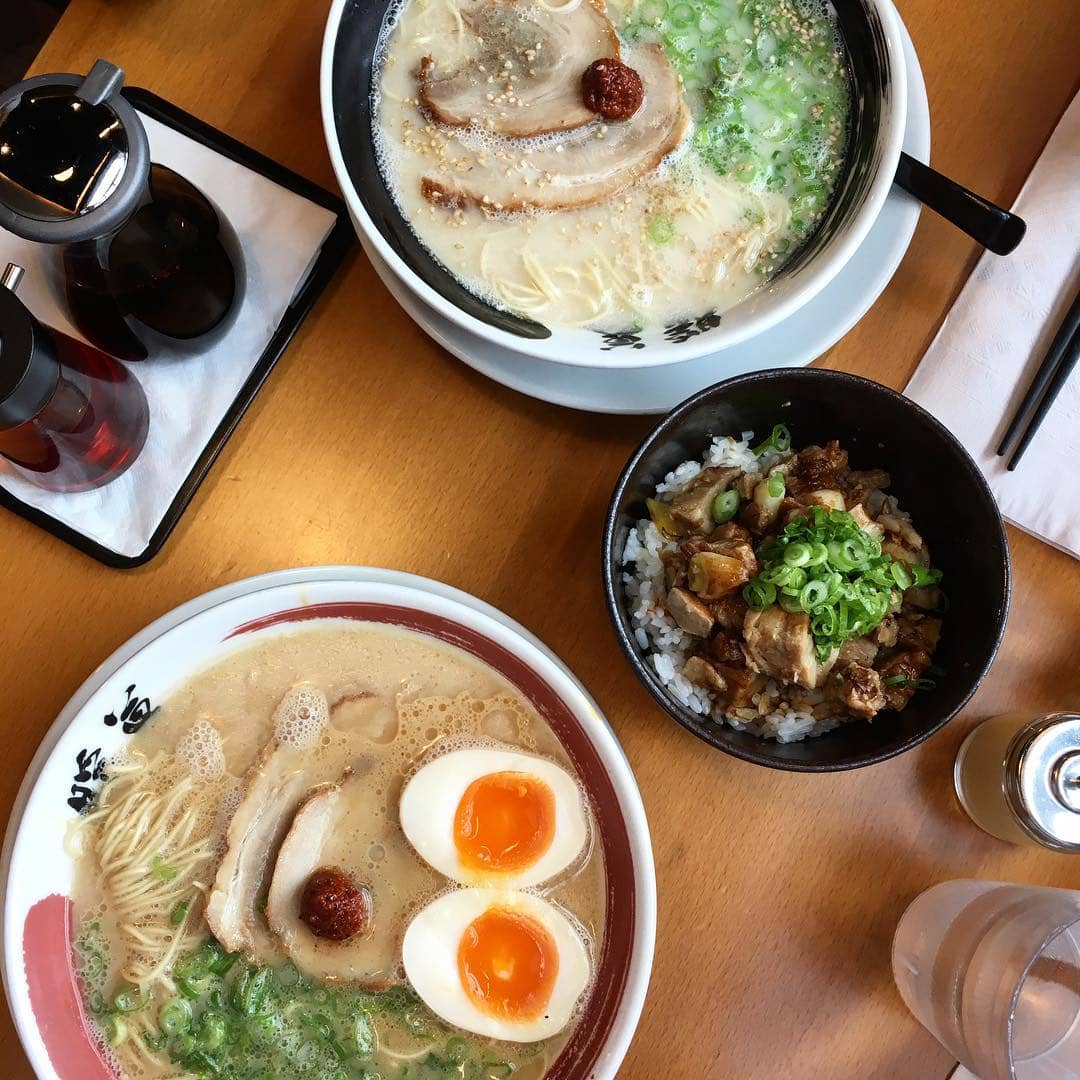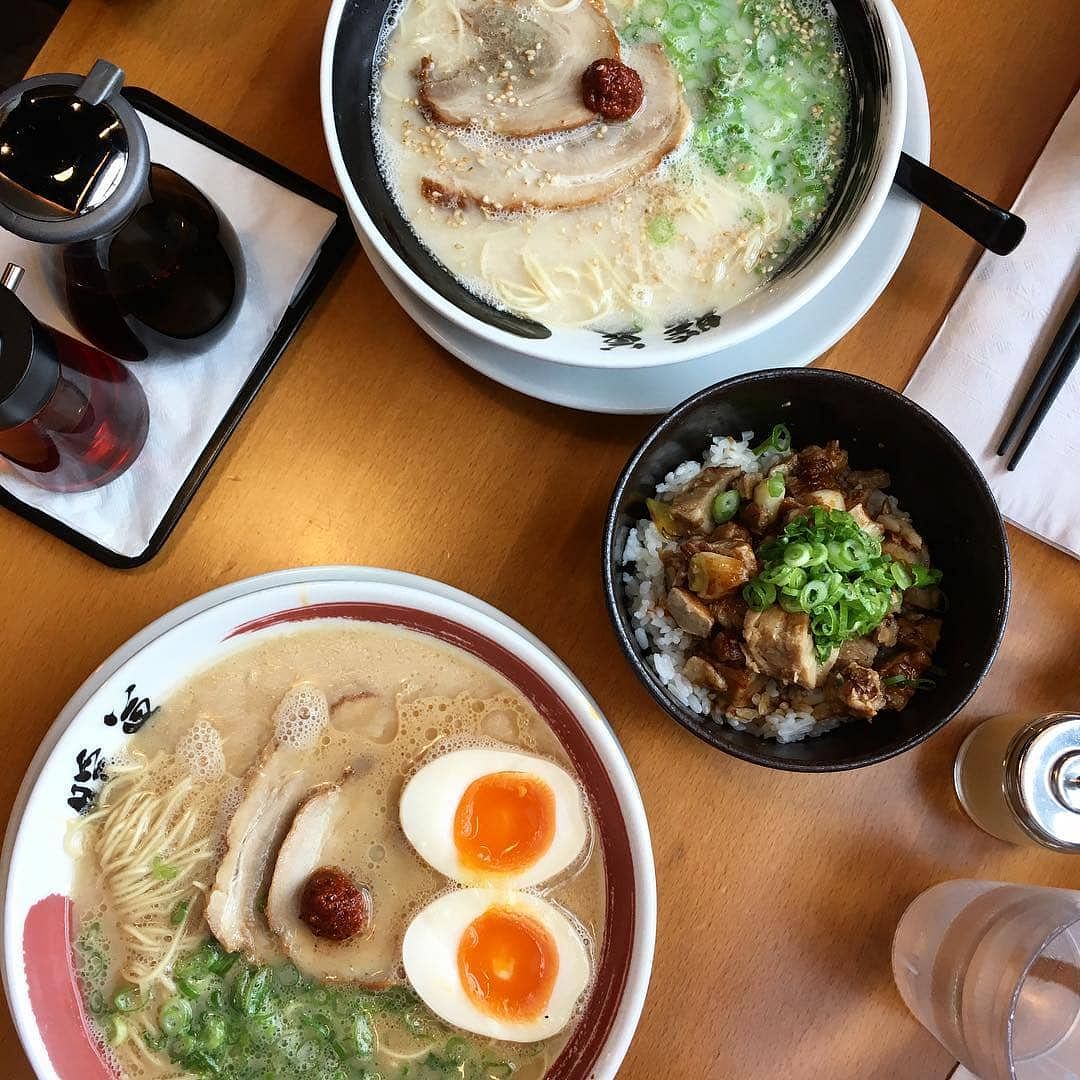 With more than 20 locations in Japan, Ramen Danbo is one of the top ramen shops in Canada, serving traditional Fukuoka Tonkotsu Ramen, which is rare to find even in the most diverse Vancouver food scene. In addition, people can also customize their ramen and choose from a variety of delicious toppings to make their own unique ramen.
Whether it is your first or umpteenth visit to Ramen Danbo, you have to have their Signature Tonkotsu Ramen. Of course, what makes this ramen bowl as delicious as it is is the signature Tonkotsu pork broth.
For all the vegan foodies out there, Ramen Danbo offers some delicious vegan options. Their classic vegan broth packs in tons of flavor, and has a texture similar to their famous Tonkotsu Ramen. The vegan version has slices of mouth-watering thick-fried tofu – a yummy and healthy protein to complete your meal.
You can choose the level of spiciness in your ramen, the thickness, and firmness of the noodles, and also the thickness and richness of the broth.
What to order: Signature Tonkotsu Ramen, Classic Vegan Ramen, Miso Rekka Ramen
Address: 1333 Robson Street, Vancouver, BC Canada V6E 1C6
6. Nook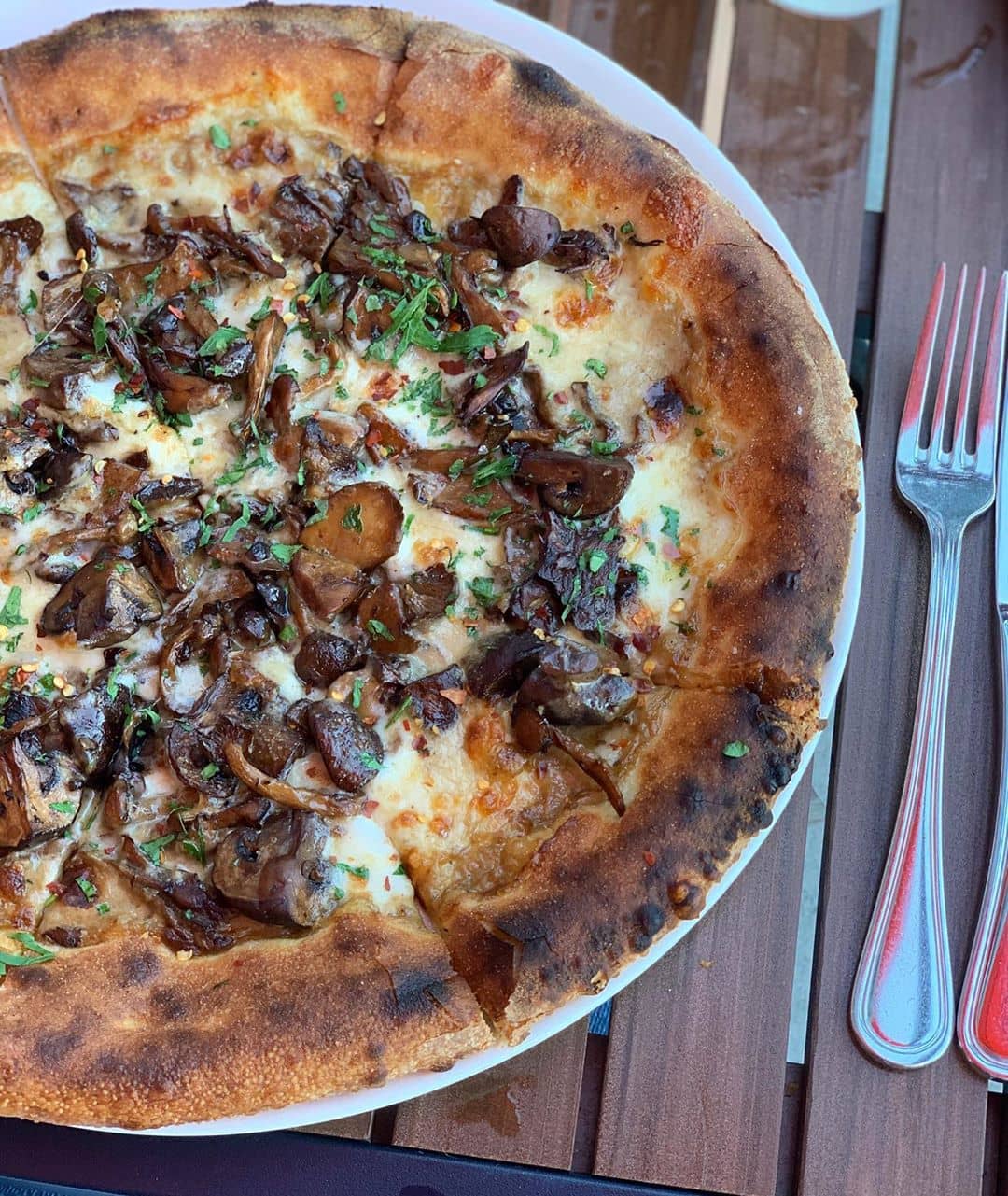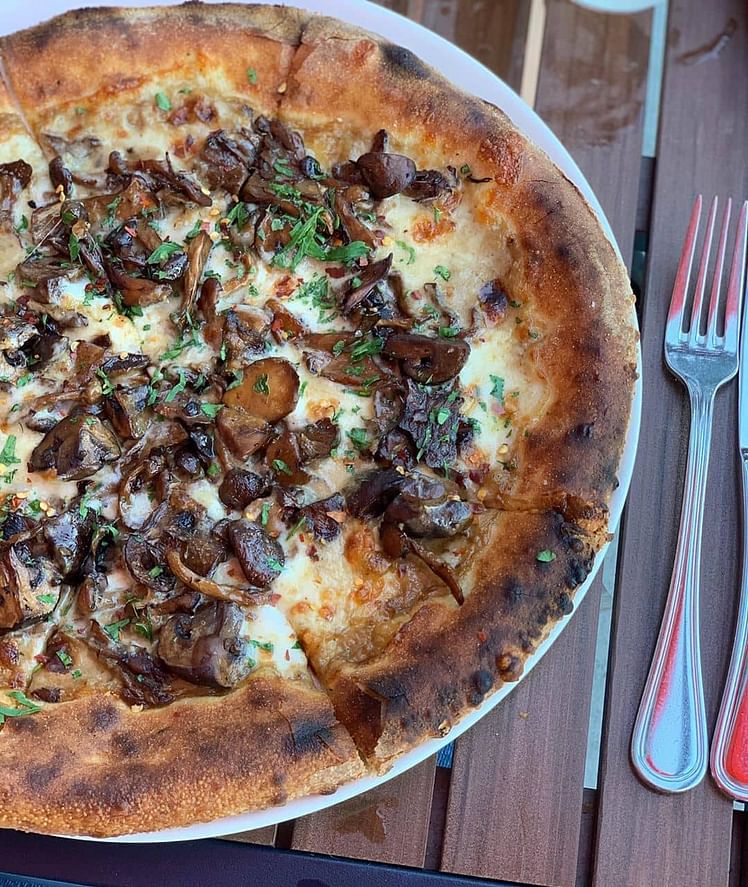 Good pizza, pasta, and antipasto with good wine in a fun atmosphere. What more could one ask for in a restaurant? Nook is a well-known name that delivers exactly what it promises. The food is amazing, and this is one spot that keeps hustling and bustling. It's perfect for a night out with family, or friends, and even date night.
Start your meal with a Nook Caesar salad, and follow that with some Antipasto. We recommend the meatballs, and also the olives. Try the house-made pasta. The Orecchiette is the perfect blend of Italian sausage, rapini and fennel seeds. All the pizzas here are seriously good, so go ahead and indulge yourself. Leave some room for dessert, because you do not want to miss their panna cotta and tiramisu.
What to order: Nook Caesar salad, Antipasto, meatballs, olives, house-made pasta, Orecchiette, pizzas, panna cotta, tiramisu
Address: 867 Denman St, Vancouver, BC V6G 2L9
Website | Instagram | Facebook
7. Davie Dosa Company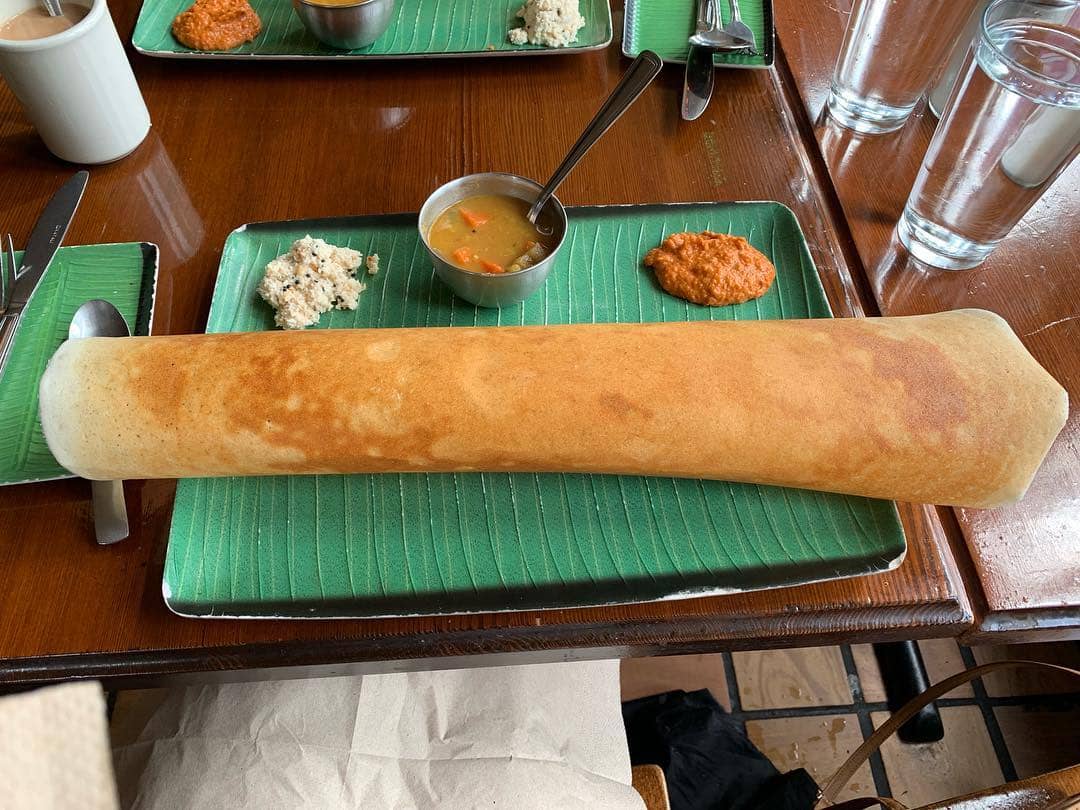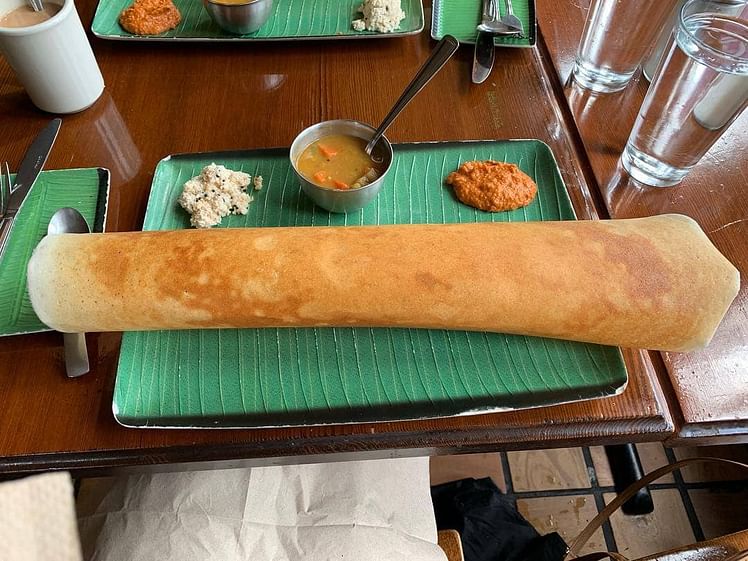 Get your desi on, and get some Dosa at Davie Dosa Company. This easy-going and friendly spot offers up classic Indian cuisine, and a full service bar to pair off those flavorful dishes. Take a trip to the east, and enjoy the hospitality, the fun, and of course the food.
Start off with a mild soup to get your taste buds going. The Rasam (tomato and peppercorn broth) is tangy and will get you craving for more flavor. Try the mixed vegetable Dosa, or a Cheesy Garlic one. Other yummy options include beef, fish, prawn and lamb. If you're still not done, and want to indulge, yes they've got Butter Chicken too!
What to order: Rasam, mixed vegetable Dosa, Cheesy Garlic Dosa, beef, fish, prawn, lamb, Butter Chicken
Address: 1235 Davie Street, Vancouver, BC, Canada
Website | Instagram | Facebook
8. SAKU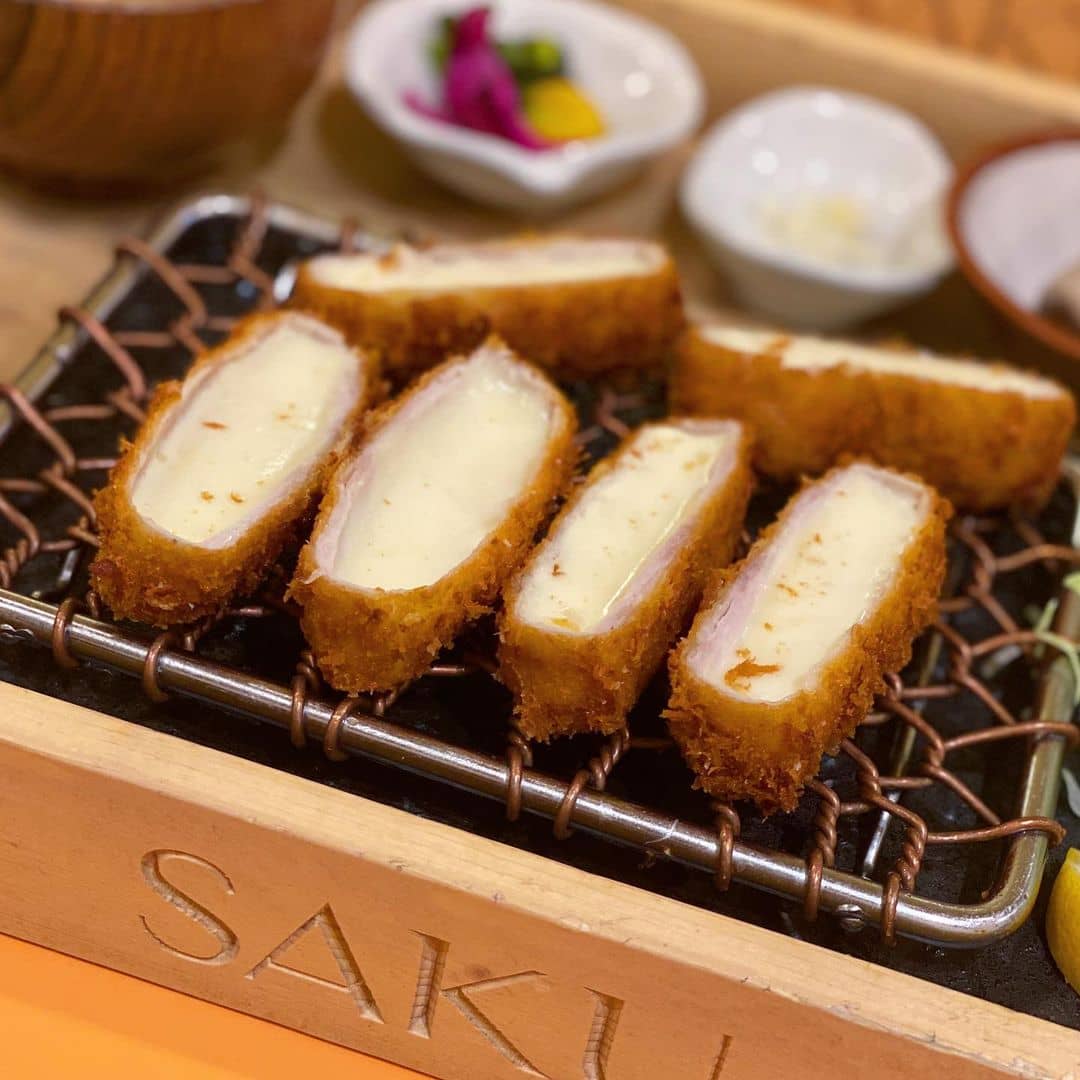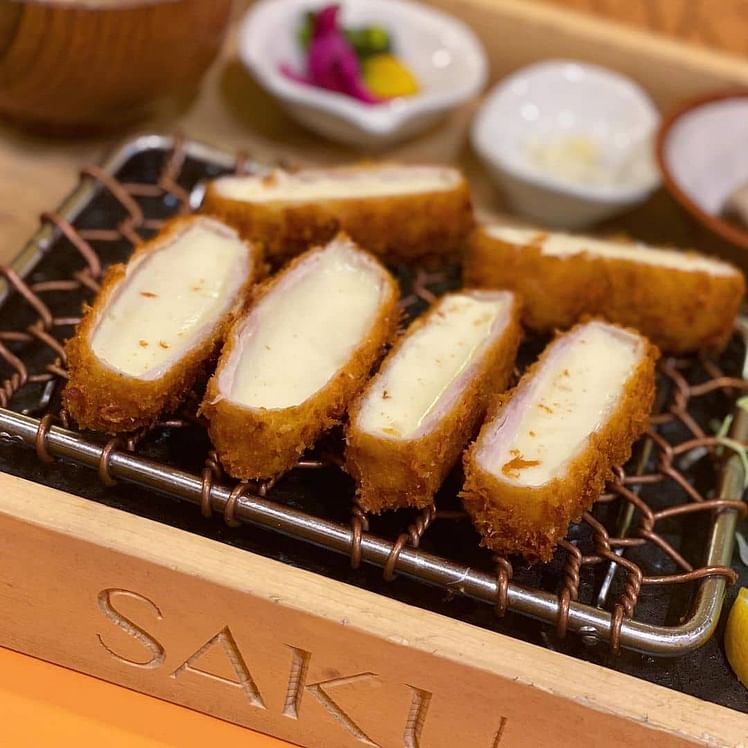 For the real deal in tonkatsu (fried pork cutlet,) Saku is where you go! This spot cannot be missed, and is well worth a visit for experience, great taste, and friendly service. A perfect place to hit up for an evening out with friends.
Each katsu set is accompanied by unlimited rice, tonjiru and shredded cabbage, so get ready to chow down! Our absolute fav and recommendation is to go for the cheese katsu. You'll be singing in joy when you take a bite when it is piping hot.
What to order: cheese katsu
Address: 1773 Robson St, Vancouver, British Columbia V6G 1C9
Website | Instagram | Facebook
9. Olympia Pizza & Pasta Restaurant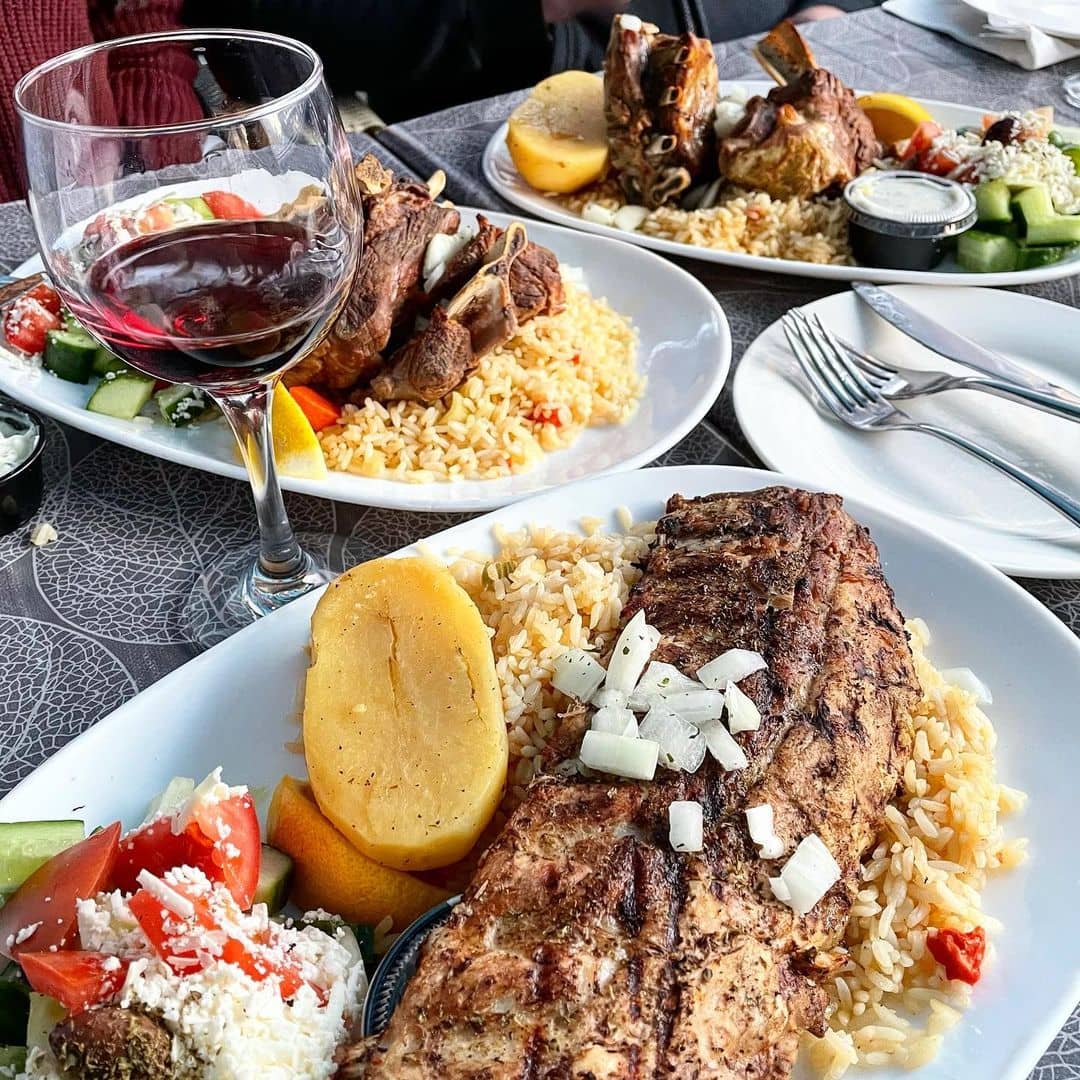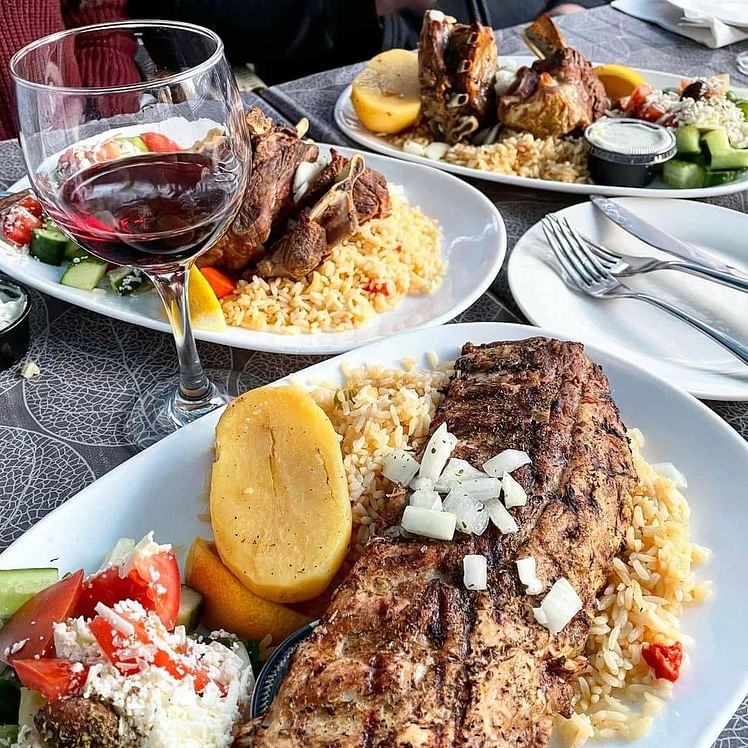 Steeped in history, Olympia Pizza & Pasta is one of those charming old-school neighbourhood spots offering up an array of hearty baked pastas and Greek cuisine. A great place to stop for a bite of lunch with friends and family.
The menu at Olympia is extensive, and packed with fabulous fare that will really get your taste buds going. Start off with some deep fried Fantail Shrimp with lemon & cocktail sauce, or go for the Appetizer Plate that is loaded with all their best appis. For your main, try the baby back Greek-style ribs, BBQ Chicken & Ribs, or their signature Moussaka.
What to order: Fantail Shrimp, Appetizer Plate, Greek-style ribs, BBQ Chicken & Ribs, Moussaka
Address: 998 Denman St, Vancouver, BC V6G 2M1
10. Kintaro Ramen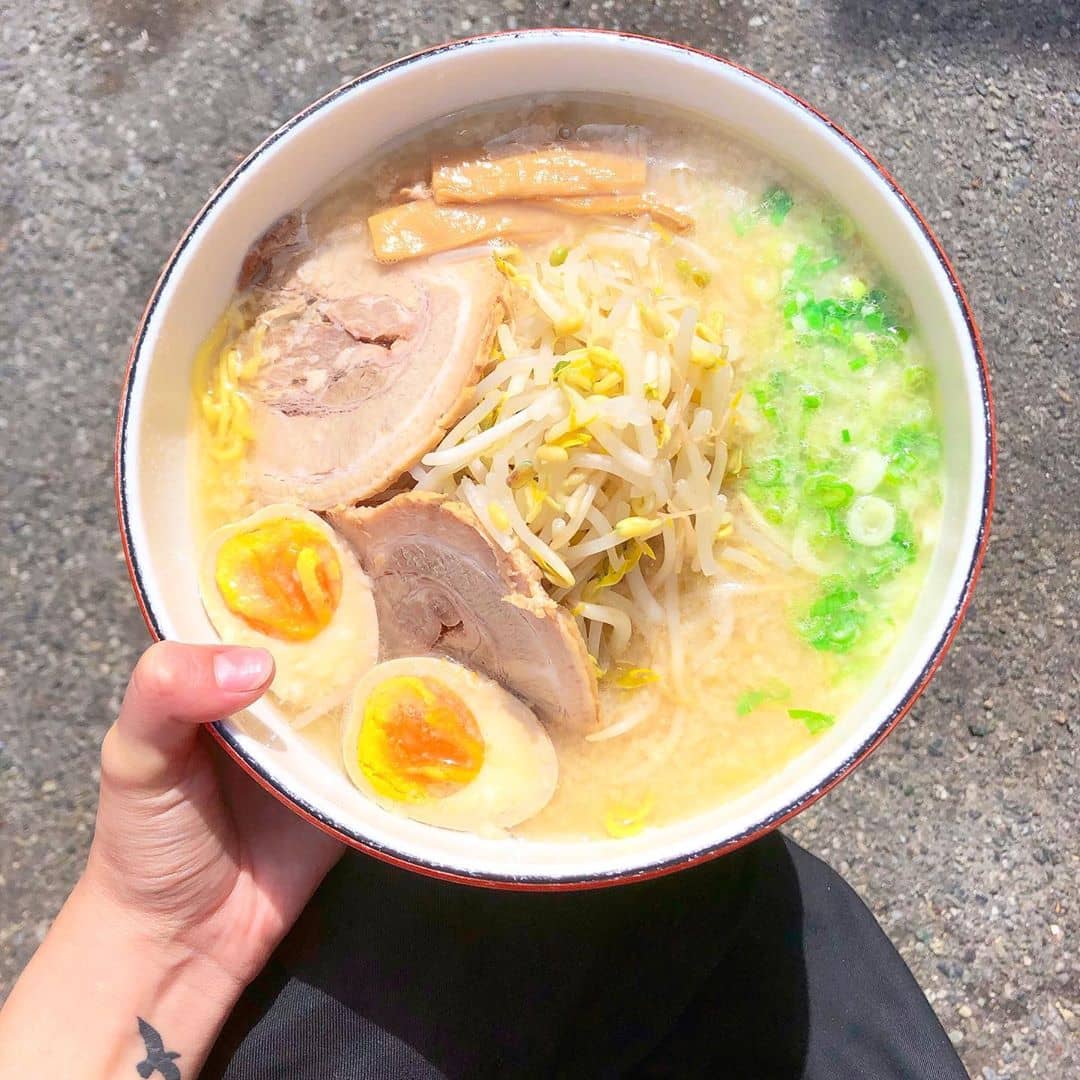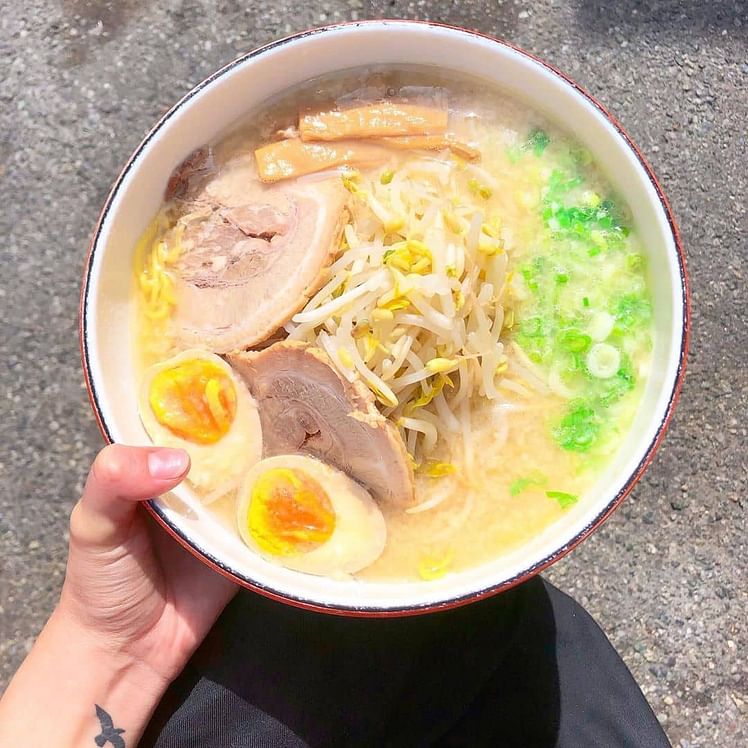 No fuss, no frills. Just ramen! Kintaro is that well-known, old-school spot that everyone loves if they want to be transported to Japan. They made it to our Best Ramen List, and for good reason. Their portions are generous, their ingredients are fresh, and slurping satisfaction is the name of the game.
Dive straight into a hearty bowl of their signature Miso Ramen, and you will not be sorry. The Shoyu is another hit, steeped in a delicious pork-bone broth that is divine! Get a side of barbecue pork, gyoza, or kimchi to round off your meal, and soak up each flavorful item.
What to order: Miso Ramen, Shoyu, barbecue pork, gyoza, kimchi
Address: 788 Denman St, Vancouver, BC V6G 1C9
11. Tetsu Sushi Bar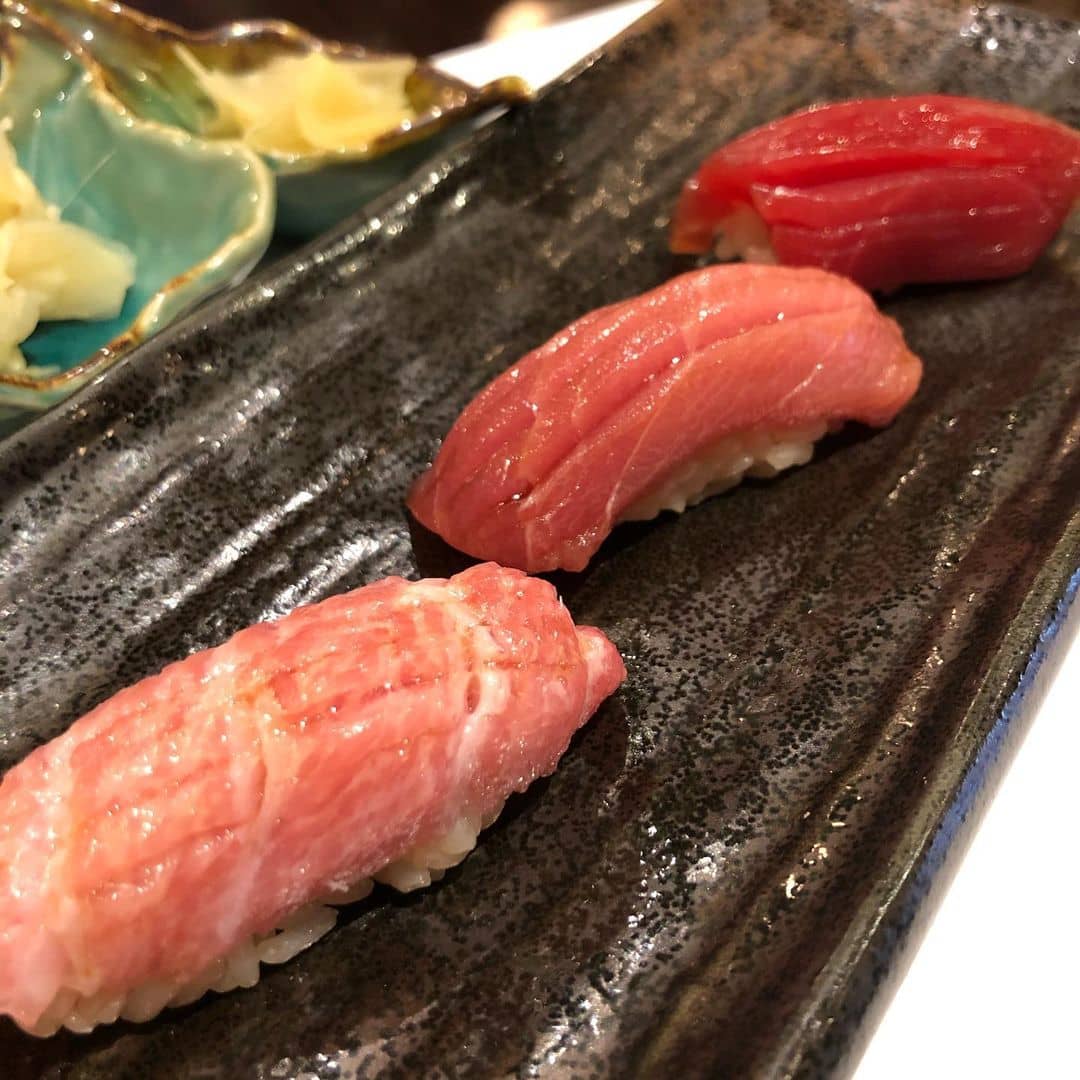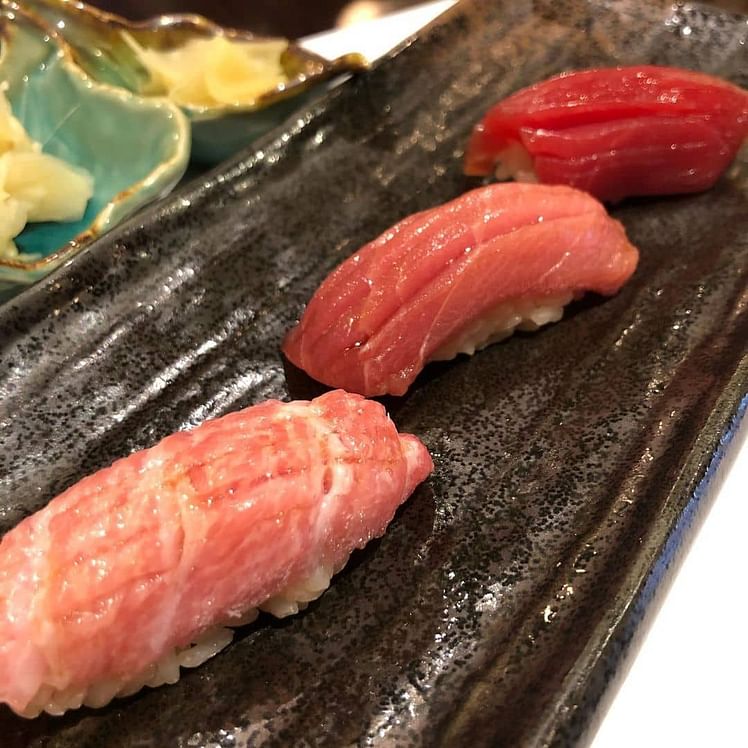 Aside from being an age-old artisan cuisine, sushi is also a big favourite among foodies everywhere. Great taste quality go hand in hand for the perfect sushi meal, and Tetsu Sushi Bar offers that up in spades! Drop by for a great meal, and just dive into delicious goodness.
Go for the pan-seared King Salmon Teriyaki Don, or some yummy Unagi. The Aburi is fantastic, and their rolls are super fresh and delicious. We recommend the Spicy Tuna, Real Crab, and definitely the Bluefin Negitoro.
What to order: King Salmon Teriyaki Don, Unagi, Aburi, Spicy Tuna, Real Crab, Bluefin Negitoro
Address: 775 Denman St, Vancouver, BC V6G 2L6
12. Papi's Seafood and Oyster Bar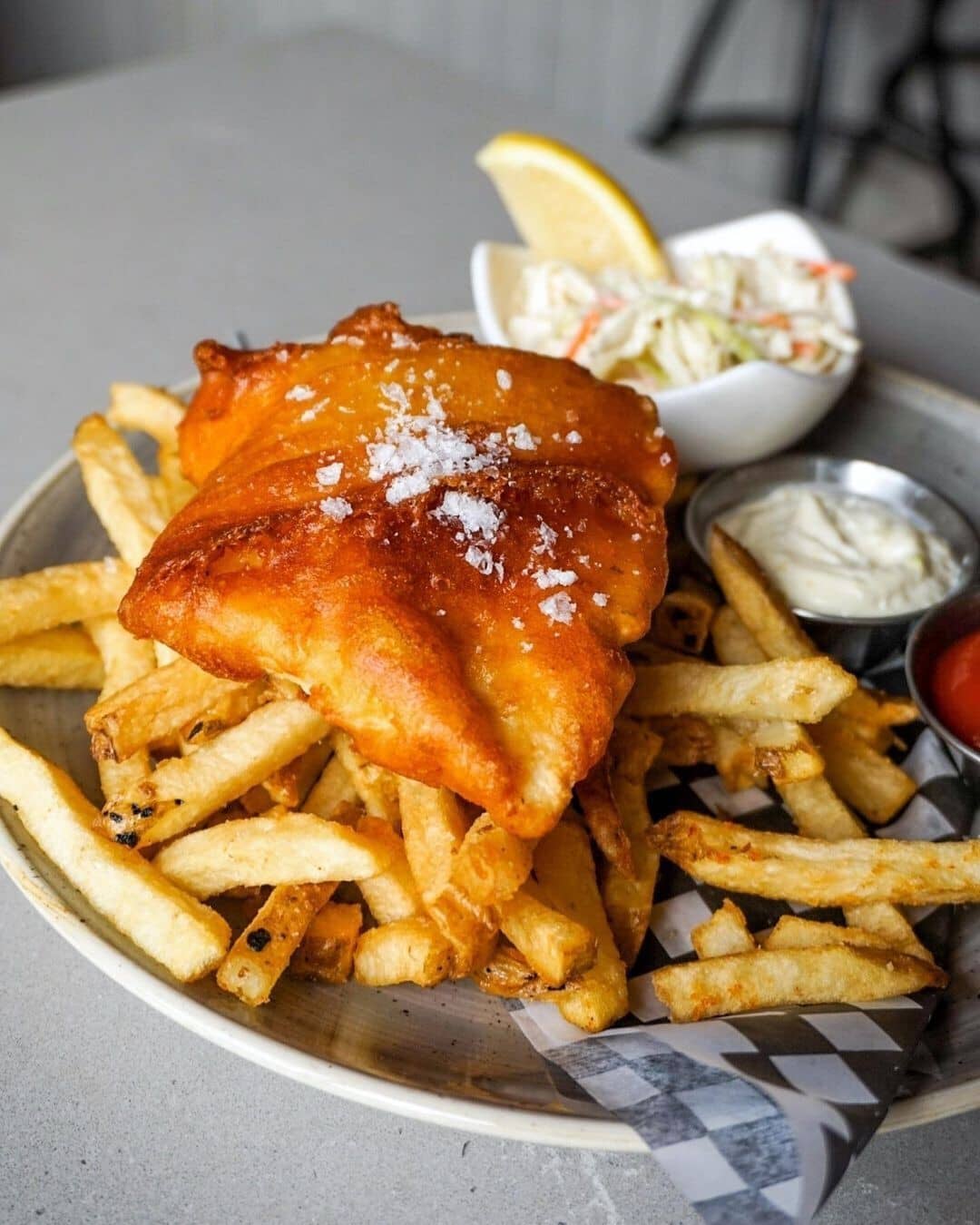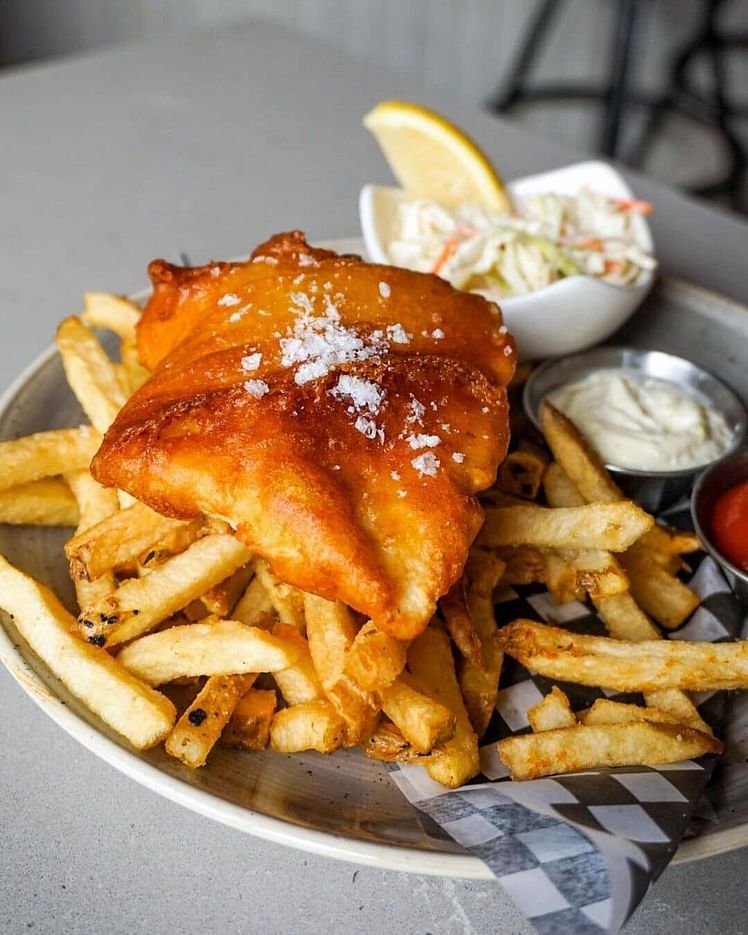 Set in the heart of West End, Papi's is a seafood-focused casual restaurant that offers a great atmosphere, beautiful patio views overlooking English Bay beach, fantastic service, and amazing food. If you're looking for a perfect outdoor brunch or lunch experience, this is it!
Shucked with love, and served with lemon, horseradish, and mignonette, the oysters here cannot be missed. The Rockfish Croquettes make a perfect appi, and the calamari is delish too. Dig into a flavorful Thai-style Seafood Curry, or go classic with some Fish & Chips, or Mussels & Chips. Did you say 'Tacos?" – They've got those too!
What to order: oysters, Rockfish Croquettes, calamari, Thai-style Seafood Curry, Fish & Chips, Mussels & Chips, Tacos
Address: 1193 Denman St, Vancouver, BC V6G 2N1
Website | Instagram | Facebook
13. Ukrainian Village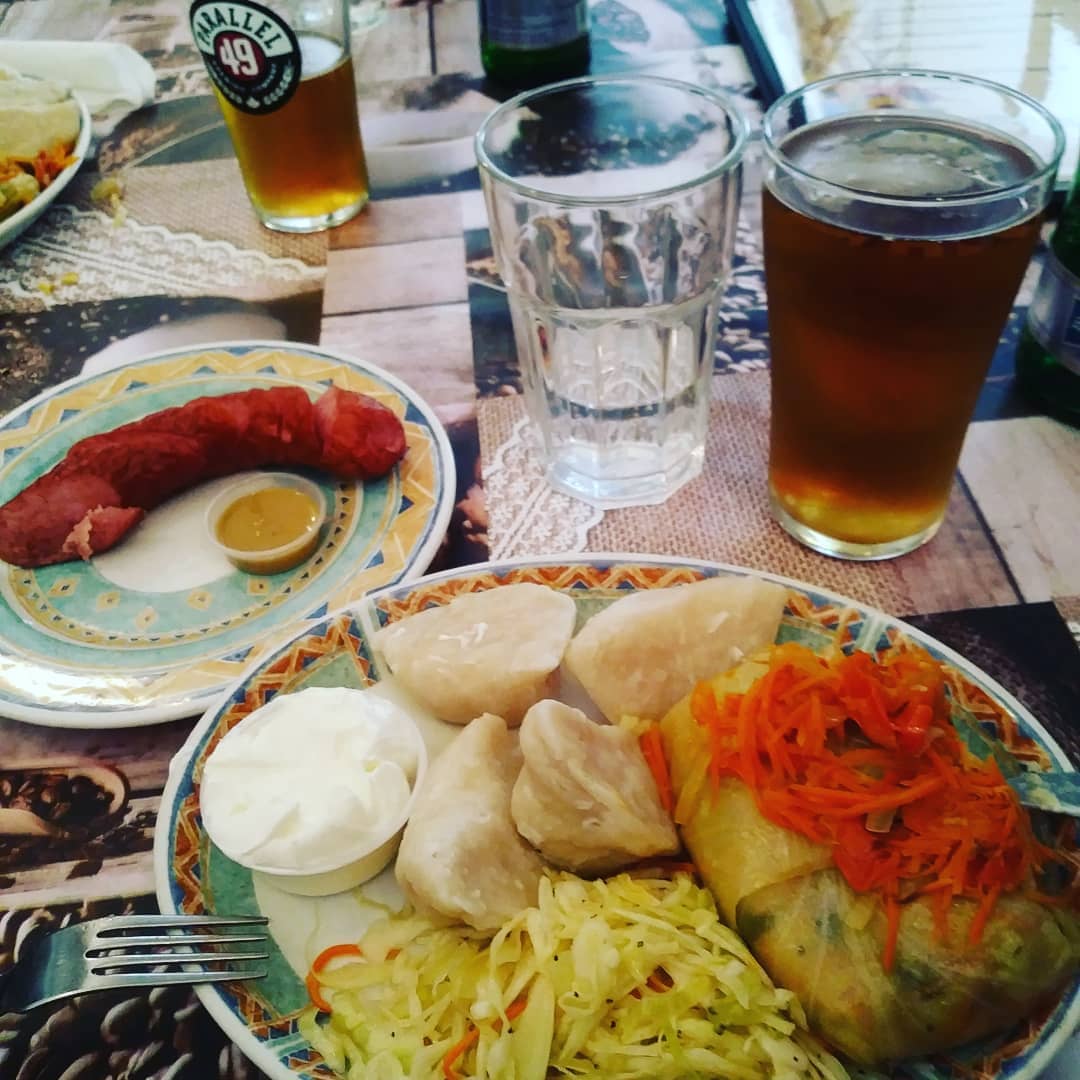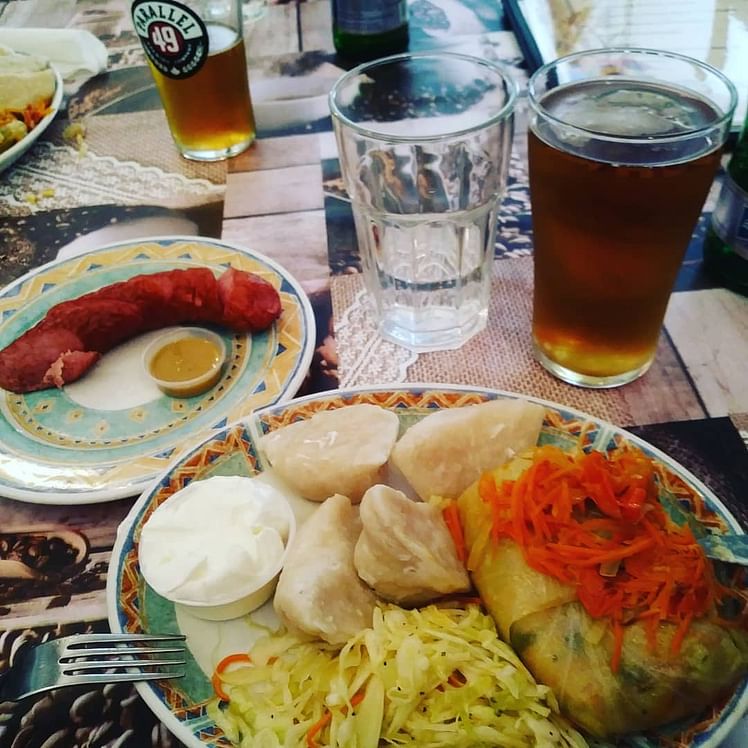 Step back in time at the Ukranian Cultural Village in the West End. This lively and happening spot is more than just an eatery. There is an open-air museum steeped in cultural history, and worth spending some time exploring. After that, stop for a bite of great homestyle Ukranian cuisine, and enjoy the folksy atmosphere of this beautiful restaurant.
Try some succulent lamb shank, oven-roasted with red wine sauce, a hearty Meatloaf, or dig into an authentic Kiev Cutlet, deep fried to perfection. If not, then go for their signature Cabbage Rolls, or share a platter of their Ukranian Dinner. For dessert, brownies with ice-cream!
What to order: lamb shank, Meatloaf, Kiev Cutlet, Cabbage Rolls, Ukranian Dinner, brownies with ice-cream
Address: 815 Denman St, Vancouver, BC V6G 2L7
14. Stepho's Souvlaki Greek Taverna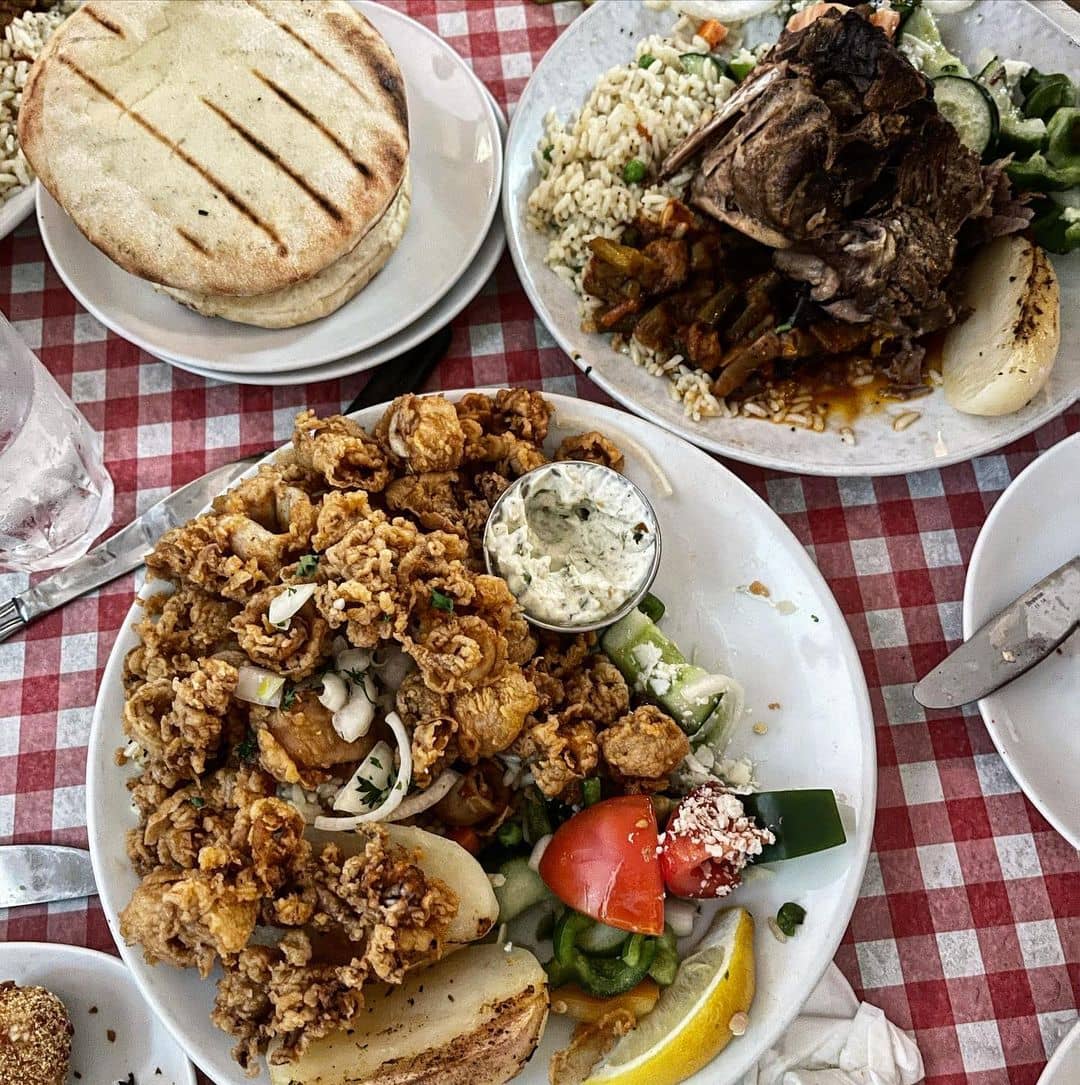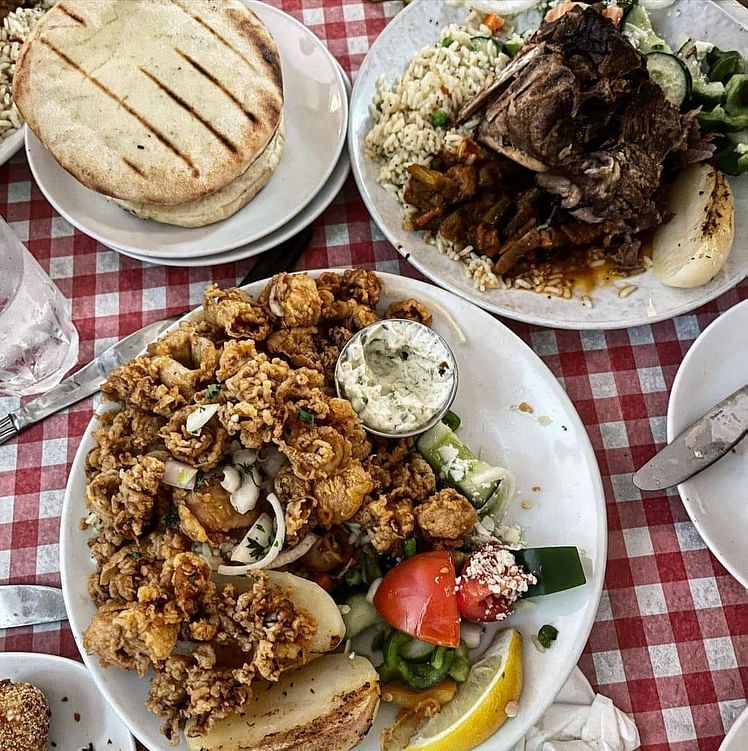 Excellent prices, generous portions, and amazing service. Stepho's Souvlaki Greek Taverna pulls out all the stops to give you a dining experience you soon won't forget. Their food is made from the freshest ingredients, and brings the best of Mediterranean cuisine right to your table.
Begin your journey with some steamed clams and mussels, and enjoy a big bite of some Saganaki (Fried cheese served with Pita.) For your main, dig into some succulent roast lamb, Mousaka, or a deep dish of Youvetsi (Greek Pasta.) For dessert. Baklava, naturally!
What to order: steamed clams and mussels, Saganaki, roast lamb, Mousaka, Youvetsi, Baklava
Address:
-1124 Davie Street, Vancouver, BC
-1359 Robson Street, Vancouver, BC
15. Nero Belgian Waffle Bar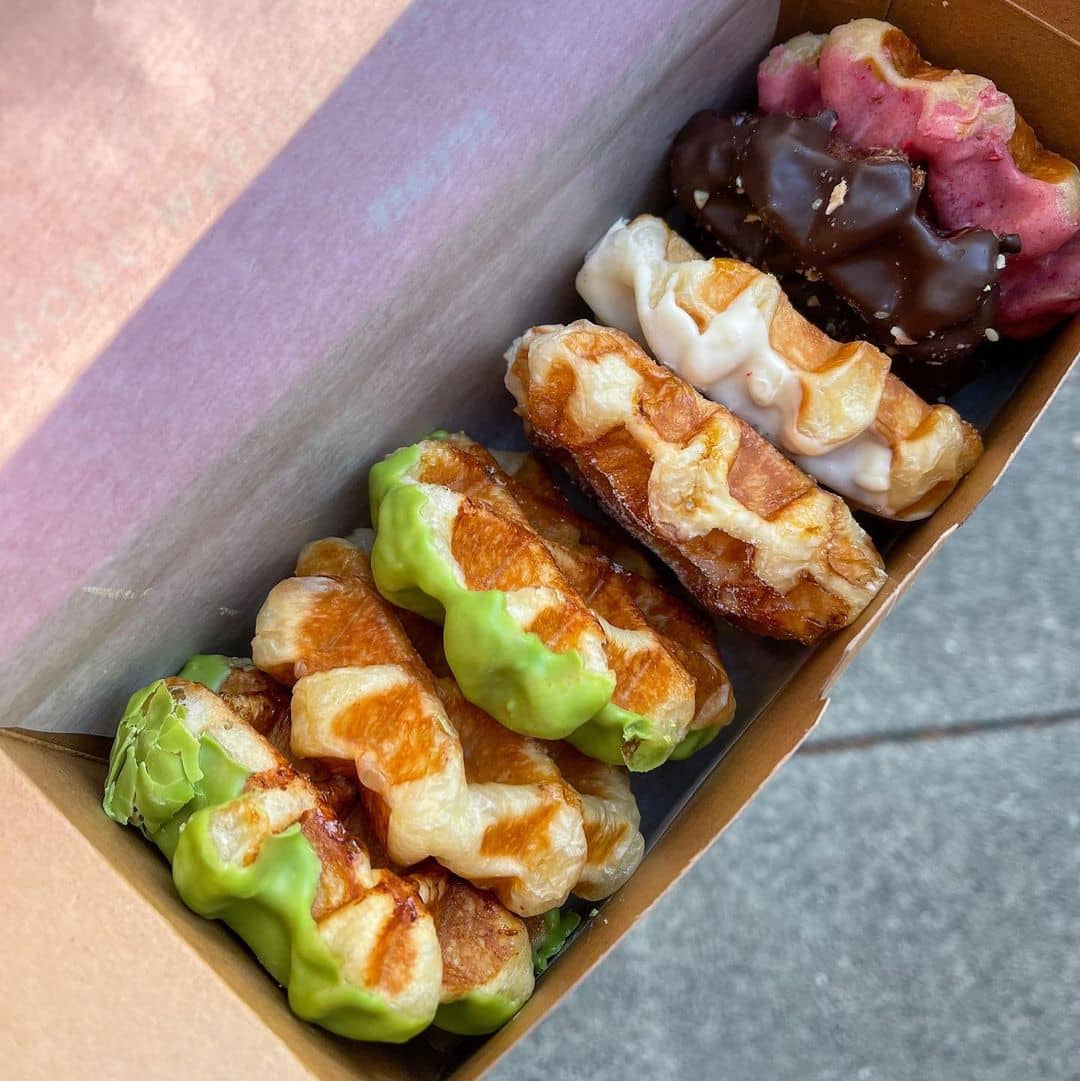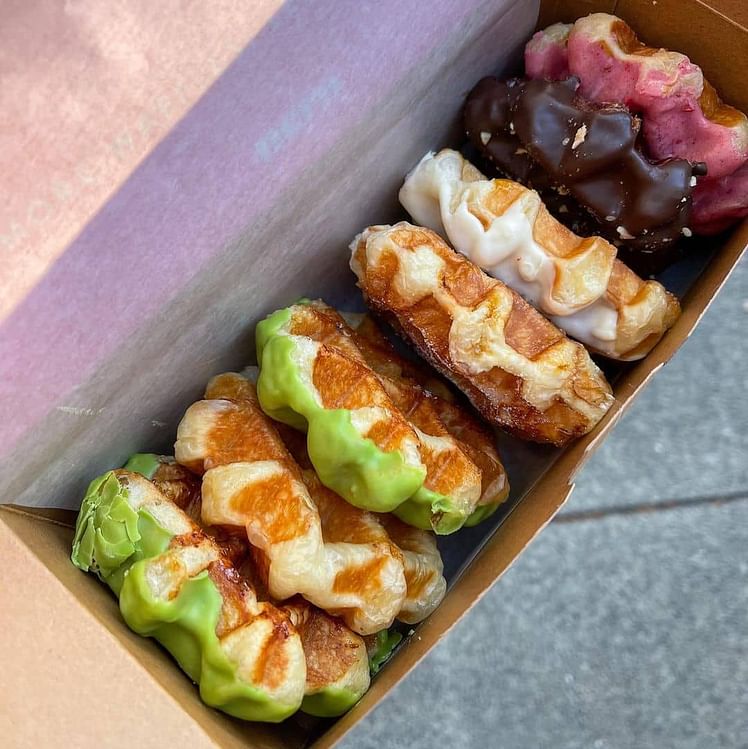 They focus on one thing and do it darn right. Yes, you won't find anything else besides amazing waffles at Nero, but you can be assured that they do all they can to make you the best waffles in the city.
BC raspberries are made into a delectable glaze for their mini waffles and finished with a crunch of raspberries. Their chocolates are the real Belgian deal. All their custards and fillings are made in-house from scratch.
Beauty in simplicity should be their motto. That's where it all starts. Made from scratch their dough is hand-rolled and slowly fermented for maximum flavour. Baked fresh and served, just how we like them.
What to order: mini waffles
Address: 1703 Robson St, Vancouver, BC V6G 1C8
Website | Instagram | Facebook
16. The Three Brits Public House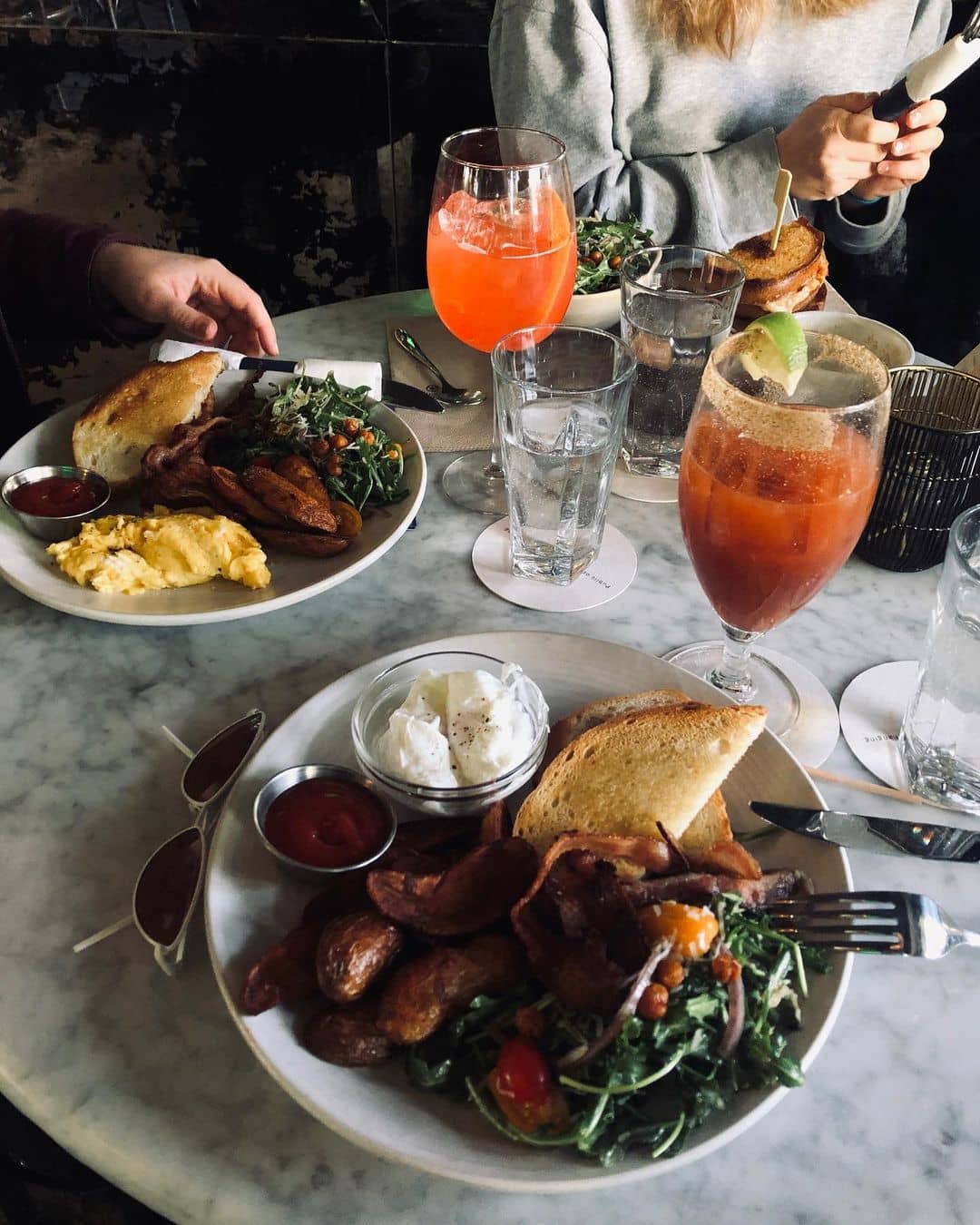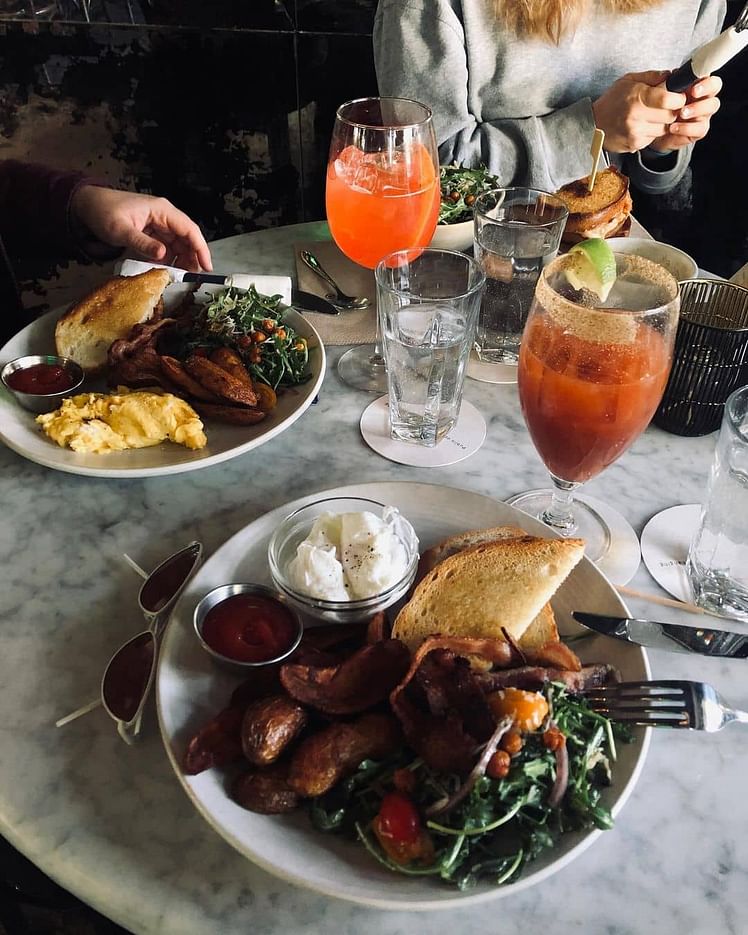 For more than a 100 years, The English bay has paid host to a delightful beachfront hangout called the Three Brits. With great comfort food, beer on can and tap, an amazing view of the harbour at sunset, and the warmest staff, the Three Brits is a must visit for everyone.
You cannot go to any eatery that has "Brit" in its name and not try their Fish and Chips. Their dirty fries, chicken bites and mozzarella sticks are a great go-to option to pair with your drinks. A reasonably priced and extensive wine list is one of the reasons the Three Brits is never empty, and you will always find this "Public House" as they call themselves, bustling with customers.
Tip: If it's your first visit, try and go just before sunset to get a truly breathtaking vision as the sun dances on the waterfront.
What to order: Fish and Chips, dirty fries, chicken bites, mozzarella sticks
Address: 1780 Davie St, Vancouver, BC V6G 1W2
Website | Instagram | Facebook
17. Craft Beer Market English Bay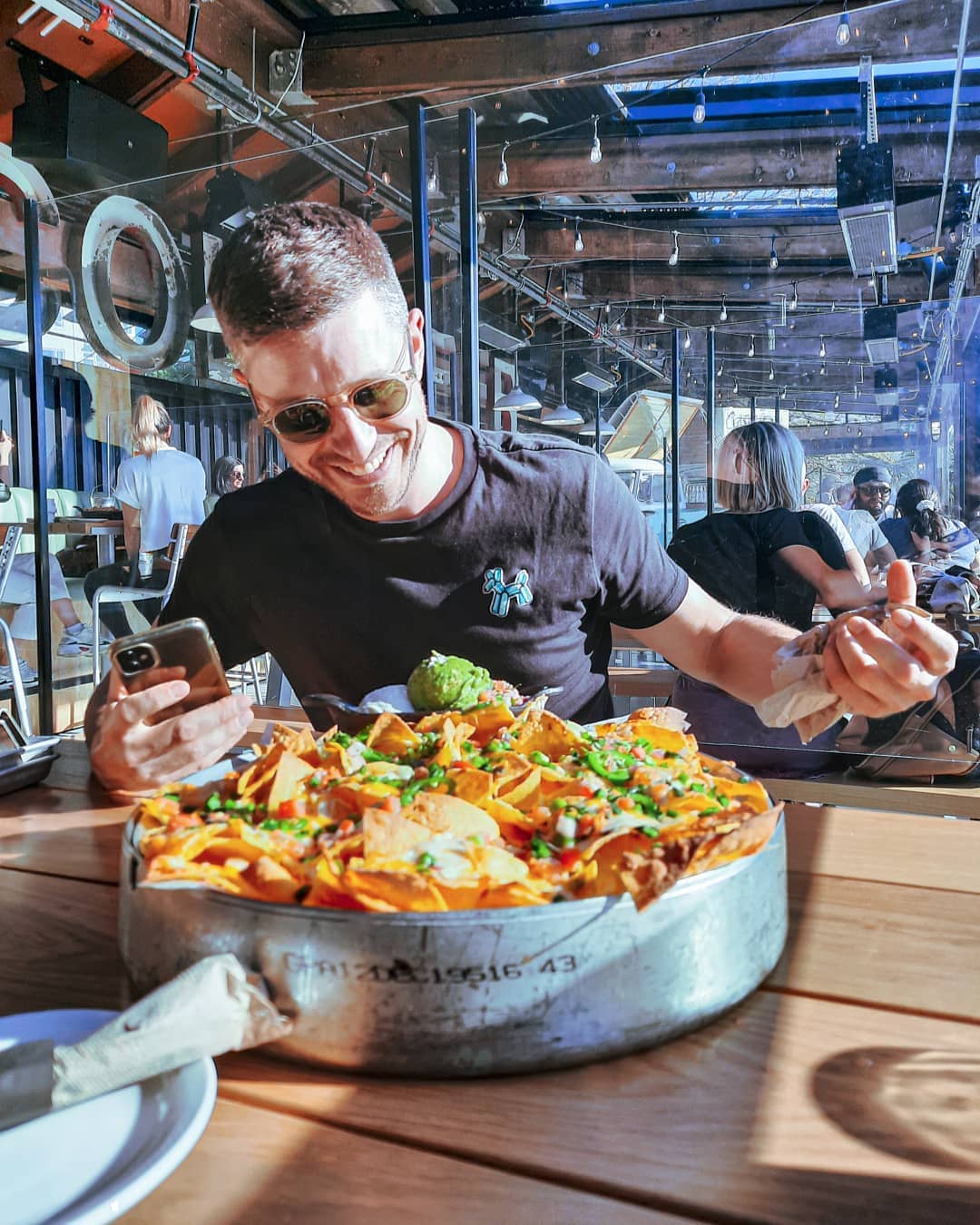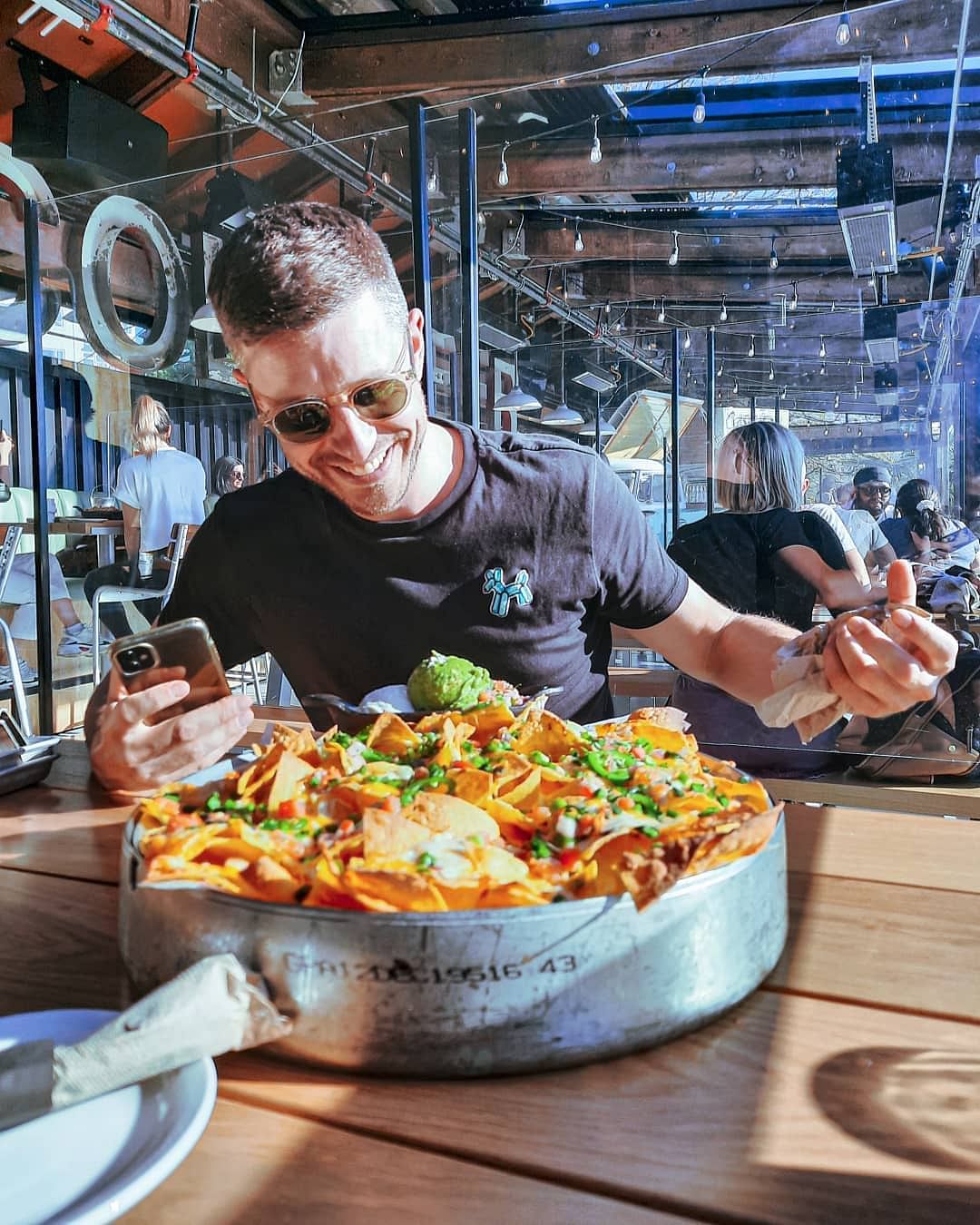 Overlooking the English Bay and offering breathtaking views, the Craft Beer Market is probably one of the best spots to enjoy a relaxing drink. Whether you pop by for Happy Hour, some pre-dinner cocktails, or to spend a while over good drinks and good food, you won't regret your decision.
The drinks menu here includes everything from rotating taps, lagers, ales, coolers, wines, and cocktails. Enjoy a delicious Blackberry Mojito, or a Passion Fruit Paloma. If you've had a rough day, and need a shot, go for it. They promise they won't judge. If you're hungry, there's fried pickles, sliders, and they make a mean Cheddar Bacon Burger too. Want more? Get the Baja Fish Taco.
What to order: Blackberry Mojito, Passion Fruit Paloma, Cheddar Bacon Burger, Baja Fish Taco
Address: 1795 Beach Avenue, Vancouver BC, V6G 1Y9
There you have it – the best West End restaurants to grab a bite at and energize you for your next adventure. If you're looking for more great food options, peek our list of the absolute best restaurants in Vancouver!
The following two tabs change content below.
Latest posts by Noms Magazine (see all)