Looking for the best restaurants in Markham? Well, you're in the right place!
Located northeast of downtown Toronto, the city of Markham is a booming city with a diverse community and a brilliant variety of yummy dining options.
The food landscape of Markham is constantly growing, possibly making it difficult for you to find the best Markham restaurants.
Well have no worry – we've compiled a list of the 13 best Markham restaurants to dine at below for you!
1. Smash Kitchen and Bar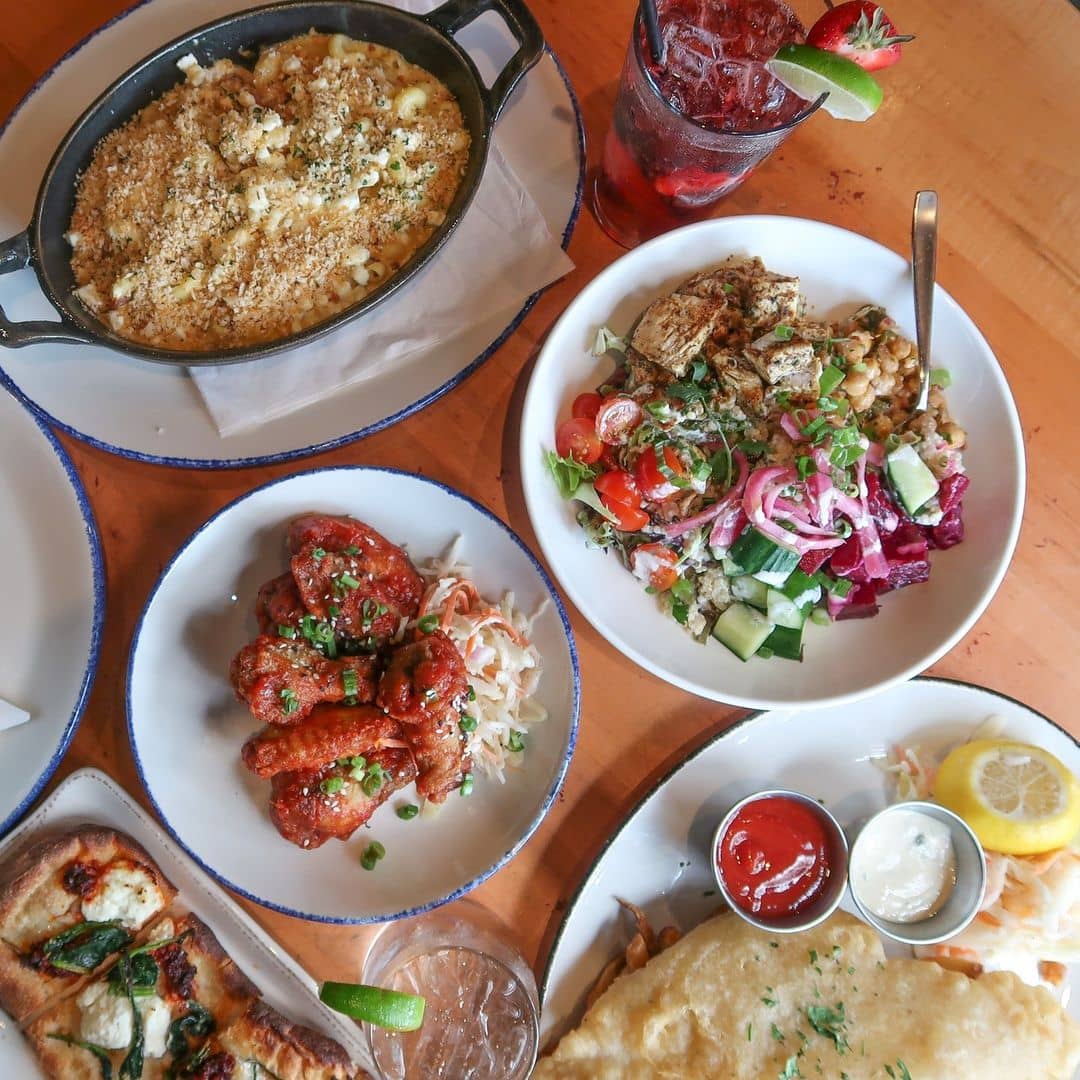 Smash Kitchen & Bar serves southern-inspired comfort cuisine in an upscale casual atmosphere. This stylish restaurant also features a patio – a beautiful setting perfect for those planned and unplanned date nights. From pizzas and burgers to pastas and desserts, this place is where you can find comfort food at its best.
The Seafood Cakes Benedict comes with seafood cakes as the base instead of traditional English muffins, which is a pleasant change.
Poke the poached eggs on top and you will notice the perfectly orange yolks oozing out; the hollandaise sauce ties everything together well, and the hash browns (sm'hash browns) are just how they're supposed to be – crisp on the outside and soft inside.
Smash Kitchen and Bar truly "smashed" it out of the park with their Smash Burger. The two beef patties come well seasoned and grilled to perfection, and the caramelized onions, pickled cucumbers, and especially the smash sauce make the burger easily one of the best you might have had.
Looking for some true comfort? Try the L.A. Mac & Cheese. Wait, we have a better idea – Mushroom Mac & Cheese with truffle cheese sauce!
Though the traditional version tastes absolutely divine, the addition of truffle in the latter along with roasted mushrooms tastes so rich and heavenly without being overwhelmingly cheesy.
Finish your meal with their famous Smash Donuts – you wouldn't regret the extra calories!
What to order: Seafood Cakes Benedict, Smash Burger, L.A. Mac & Cheese, Mushroom Mac & Cheese, Smash Donuts
Address: 4261 Hwy 7 E., Unionville, ON L3R 9W6
Website | Instagram | Facebook
2. Inspire Restaurant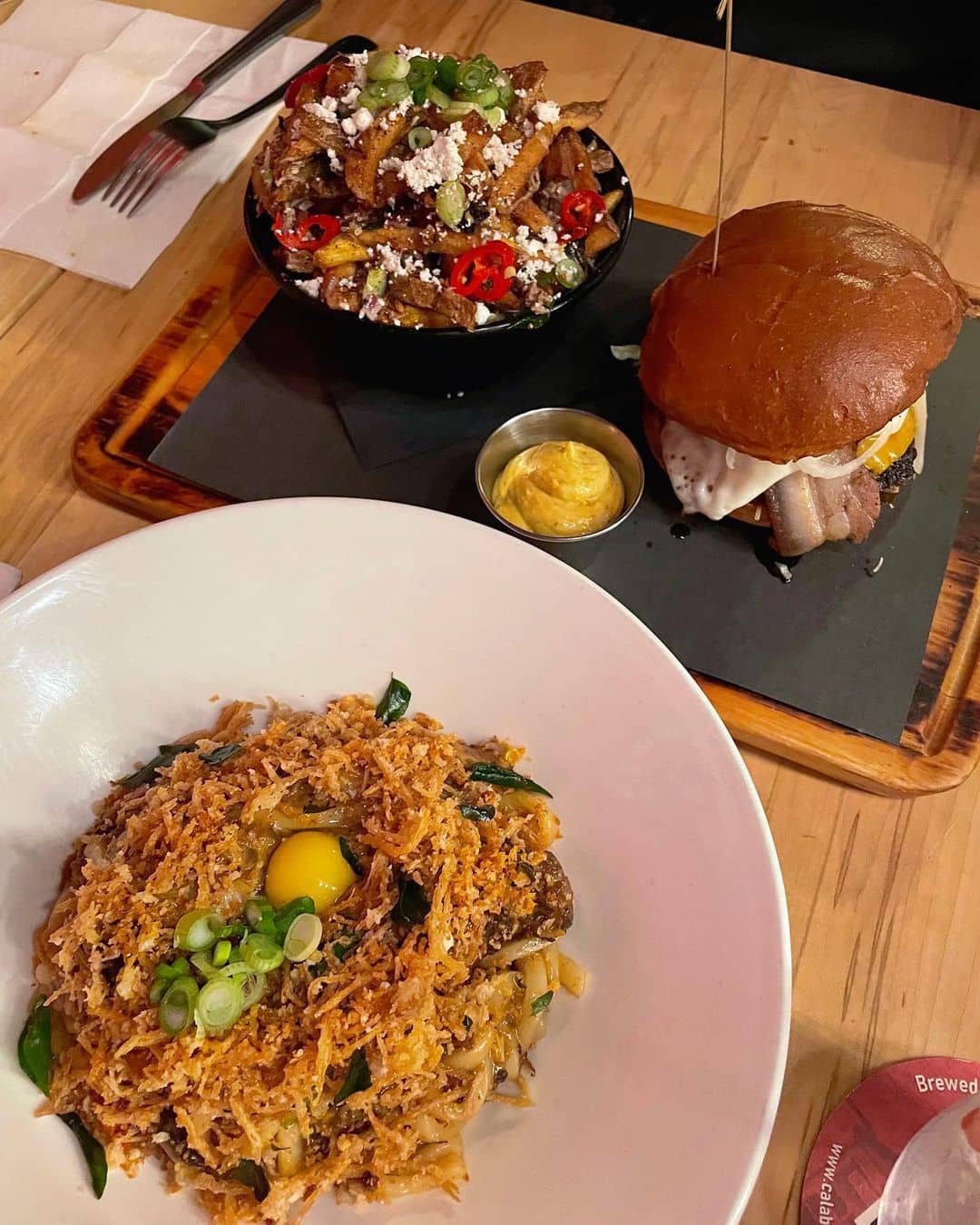 Inspire is an Asian fusion restaurant serving some interesting dishes in generous portions and extraordinary flavours. The space is trendy and intimate with a full bar, and the food is nothing short of incredible.
The Shiitake Udon Carbonara is a delicious twist to the popular pasta dish. This contains applewood smoked bacon, braised beef, creamy shiitake sauce, and cheese, topped with a quail egg. The portion is pretty huge, and the dish itself tastes as amazing as the original if not better.
The O.G. INSP Burger comes with high-quality prime beef patties, seared pork belly, cheddar, fried egg, and tarragon aioli. The patties are huge and juicy, and so is the pork belly. The cheese melts with the oozing egg yolk, creating a finger-licking good combination along with the herby tarragon aioli.
When you get fries with your burger, upgrade it to Duck Confit Frites; topped with Thai chilis for a nice spice kick and creamy curried salted egg aioli, the pulled duck confit tastes out of this world!
Waff Out Loud is the kind of dish that requires two persons on duty! Yes, it's that HUGE! Inspire's house-made cheese waffle comes topped with steak, crispy chicken, mango raspberry compote, and ginger maple butter.
Despite all these yummy toppings, the waffle still remains crisp on the outside and soft on the inside, and each element adds a specific flavour to the dish.
What to order: Shiitake Udon Carbonara, The O.G. INSP Burger, Duck Confit Frites, Waff Out Loud
Address: 144 Main Street N, Unit 1, Markham, ON L3P 5T3
Website | Instagram | Facebook
3. Ding Tai Fung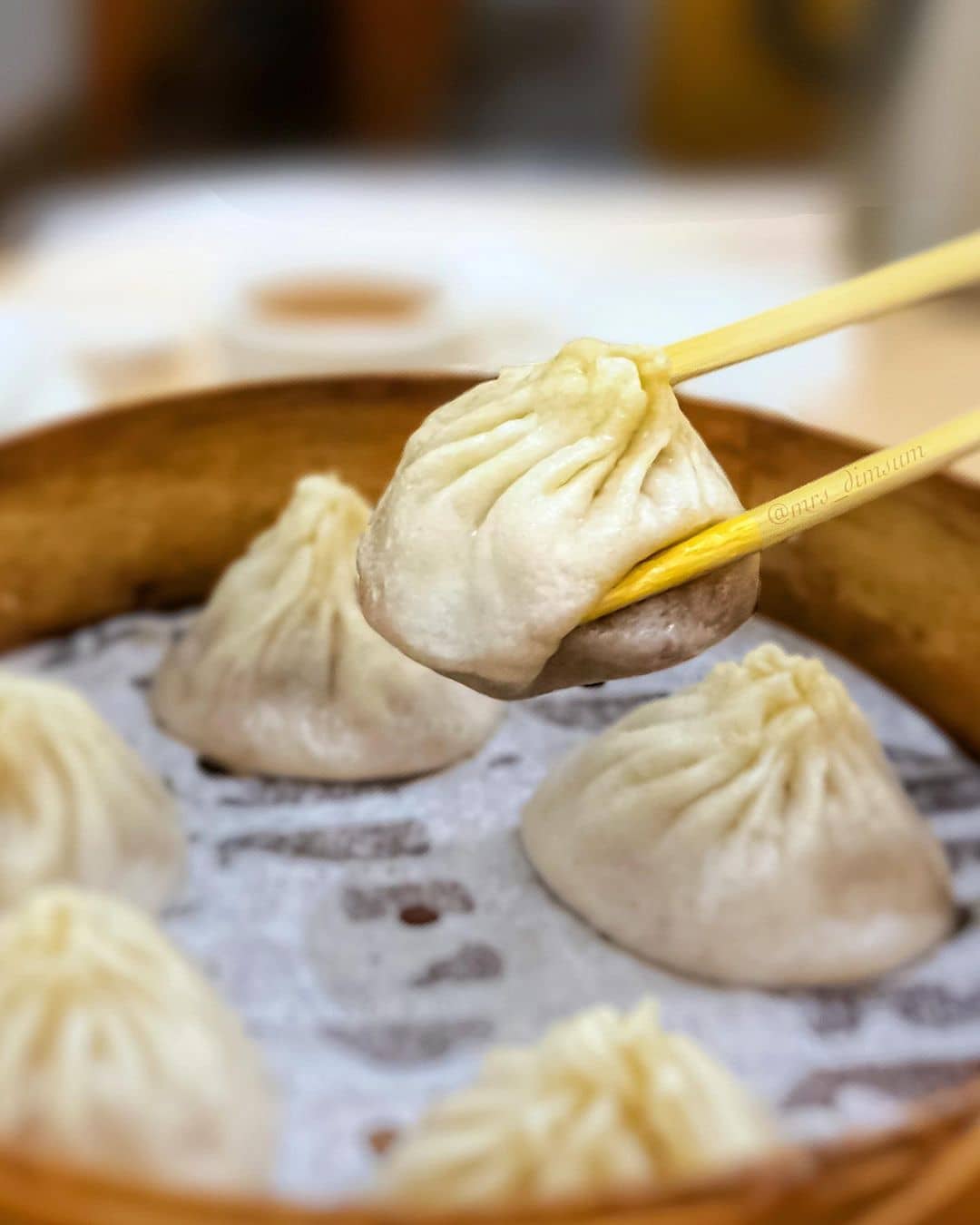 Before you go on raving about how you love the food from this Taiwanese restaurant chain, let's make one thing clear – this is NOT Din Tai Fung, but Ding Tai Fung.
Yes, it's a knock-off of the popular brand but nevertheless manages to satisfy Shanghai-style noodle and dumpling fanatics.
The Steamed Soup Dumplings at this shopping-plaza eatery are mouthwatering. You can choose from a pork filling (Xiao Long Bao), which is one of the most ordered versions, or a mix of crab and pork or scallop and pork.
Of course, the meat filling is as you expect it to be – soft and tender, and the wrapper is super thin, allowing you to enjoy it bursting inside your mouth.
Their Braised Beef Noodle Soup is filled with tender pieces of beef, flavourful broth, and slightly chewy noodles – a bomb combination!
If you like buns, do try the pillowy soft Pan Fried Pork Buns here.
What to order: Steamed Soup Dumplings, Xiao Long Bao, Braised Beef Noodle Soup, Pan Fried Pork Buns
Address: 3235 Hwy 7 #18B, Markham, ON L3R 3P9
4. Markham Sushi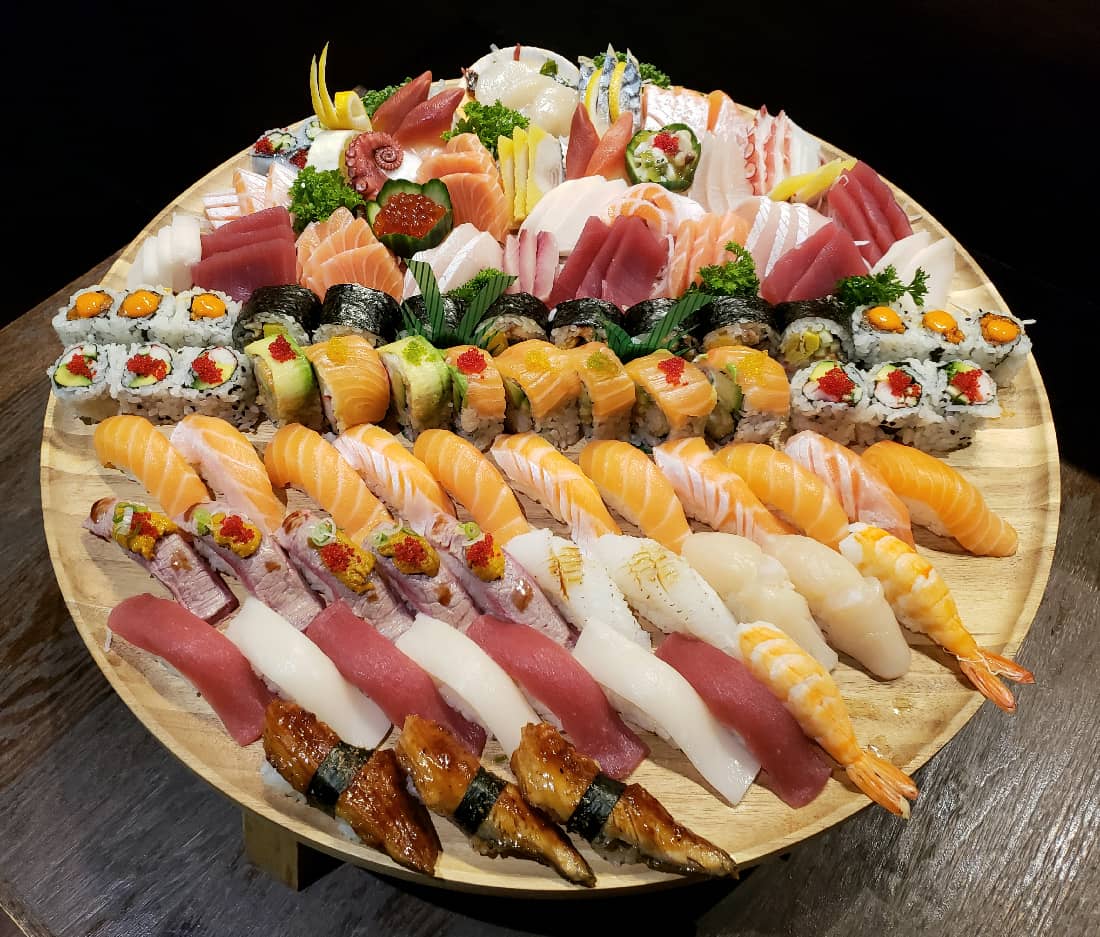 A true hidden gem that cannot be easily spotted when you drive by! Markham Sushi is a humble family-run restaurant serving quality and tasty Japanese food paired with great service.
The dimly lit interior matches its hidden gem vibe, where you can taste some of the best specialty rolls, tempura, and teriyaki in the region.
Typically the same, their Black Dragon Roll and Green Dragon Roll contain the same elements – shrimp tempura, avocado, crab, and cucumber. Simply put, you cannot go wrong with the rolls here at Markham Sushi; they always come out fresh and warm.
If you enjoy spicy food, and a good sushi roll, you'd be delighted with the Diablo Roll. Top the crab, avocado, and cucumber rolls with spicy mayo, jalapeno, and spicy salmon to enjoy a flavour burst in your mouth!
The Seafood Udon, with shrimp tempura, fresh seafood, and veggies comes with a smoky, savory, and satisfying aroma and taste.
What to order: Black Dragon Roll, Green Dragon Roll, Diablo Roll, Seafood Udon
Address: 17 Wootten Way N, Markham, ON L3P 2Y2
5. Azyun Restaurant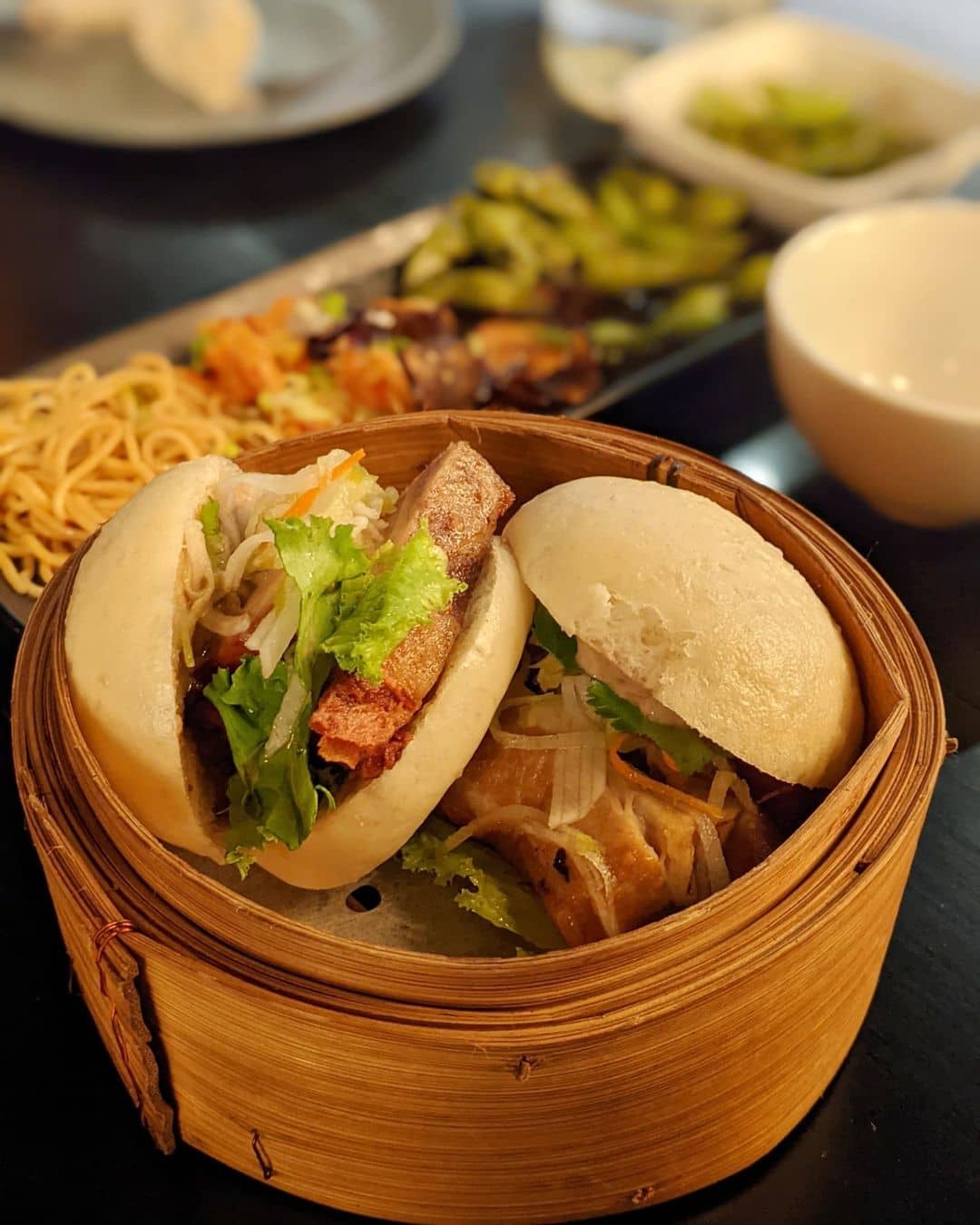 Azyun serves contemporary Chinese cuisine, focusing on dishes that are meant to be shared. The recipes of their sharing plates are modern, and so is their decor.
Enjoy some unique and modern Chinese sharing plates with good company in a cozy and contemporary environment.
Azyun Restaurant is believed to have the best Truffle Fried Rice in town. The rice has a nice medley of mushrooms and they are not frugal with the truffle either; you get a prominent truffle flavour from the rice, and there is also a soft-poached egg on top.
There is a high chance that the Azyun Buttermilk Fried Chicken would be nothing like anything you've tasted before. Here, the chicken is marinated in adobo for two days, which infuses it with flavour, and is then cooked to crispy and juicy – just exquisite!
What to order: Truffle Fried Rice, Azyun Buttermilk Fried Chicken
Address: 144 Main Street N #17, Markham, ON L3P 5T3
6. NextDoor Restaurant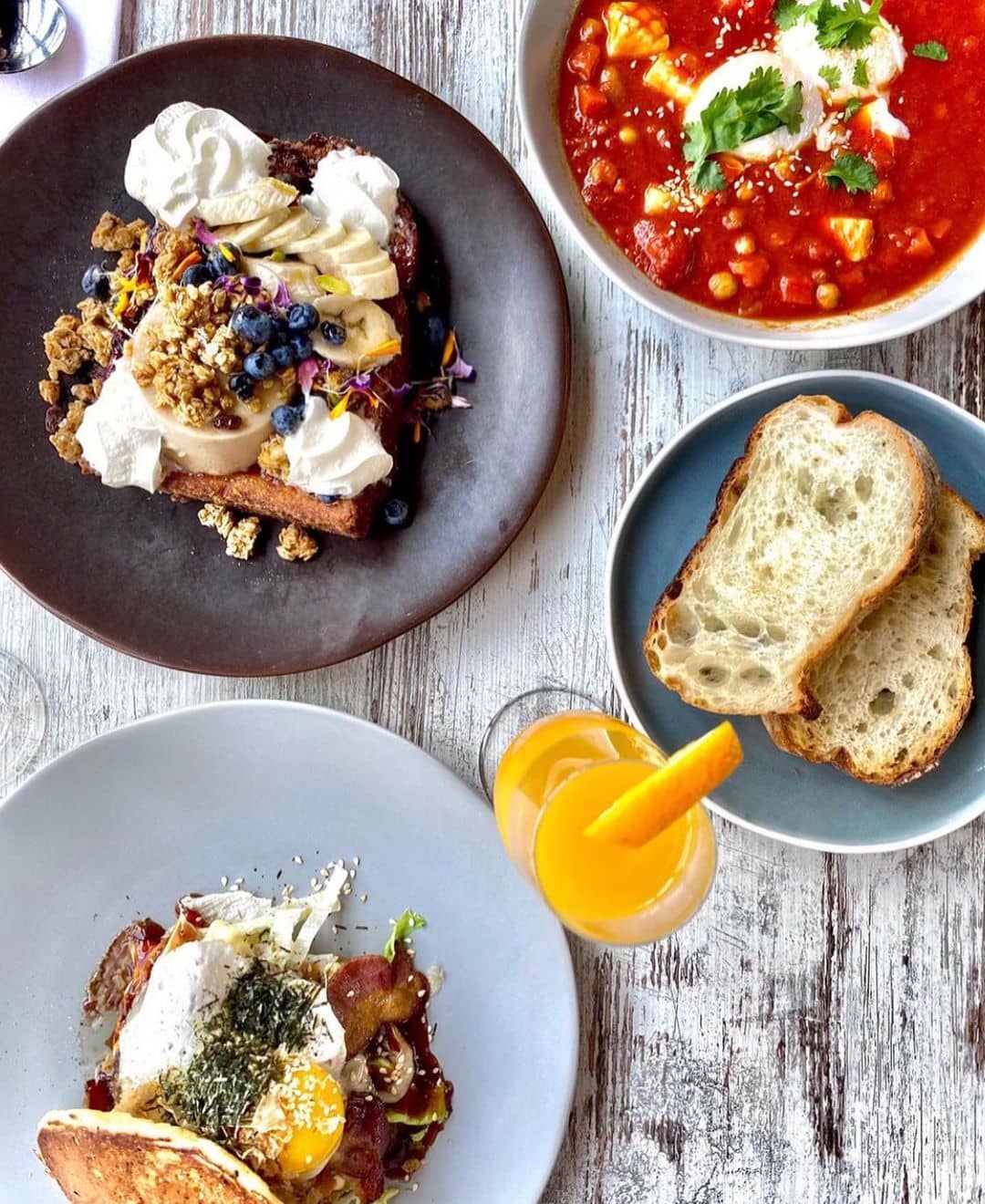 NextDoor Restaurant is a tavern-style eatery that features modern Canadian seasonal cuisine. Sourcing the freshest ingredients, their menu changes seasonally and consists of not just thoughtfully created plates but also modern classic cocktails and craft beers.
When you visit NextDoor for dinner, their dairy-free Duck Wings make for an excellent appy to start with. Served with sweet chili and honey sauce, the duck wings are the perfect size, perfectly seasoned and cooked, and taste great with the sauce.
Visit the place for brunch and you cannot forget to order the Avocado Toast. Note – this is not your regular avocado toast; this comes with a Japanese twist, with torched sashimi salmon, ramen egg, togarashi aioli, and more Japanese-flavoured elements that work deliciously well together.
The Beef Tartare is very light and comes nicely flavoured and seasoned. Served with crostinis, this dish feels light on your stomach as well.
What to order: Duck Wings, Avocado Toast, Beef Tartare
Address: 139 Main Street, Unionville, Markham, ON L3R 2G6
Website | Instagram | Facebook
7. Sansotei Ramen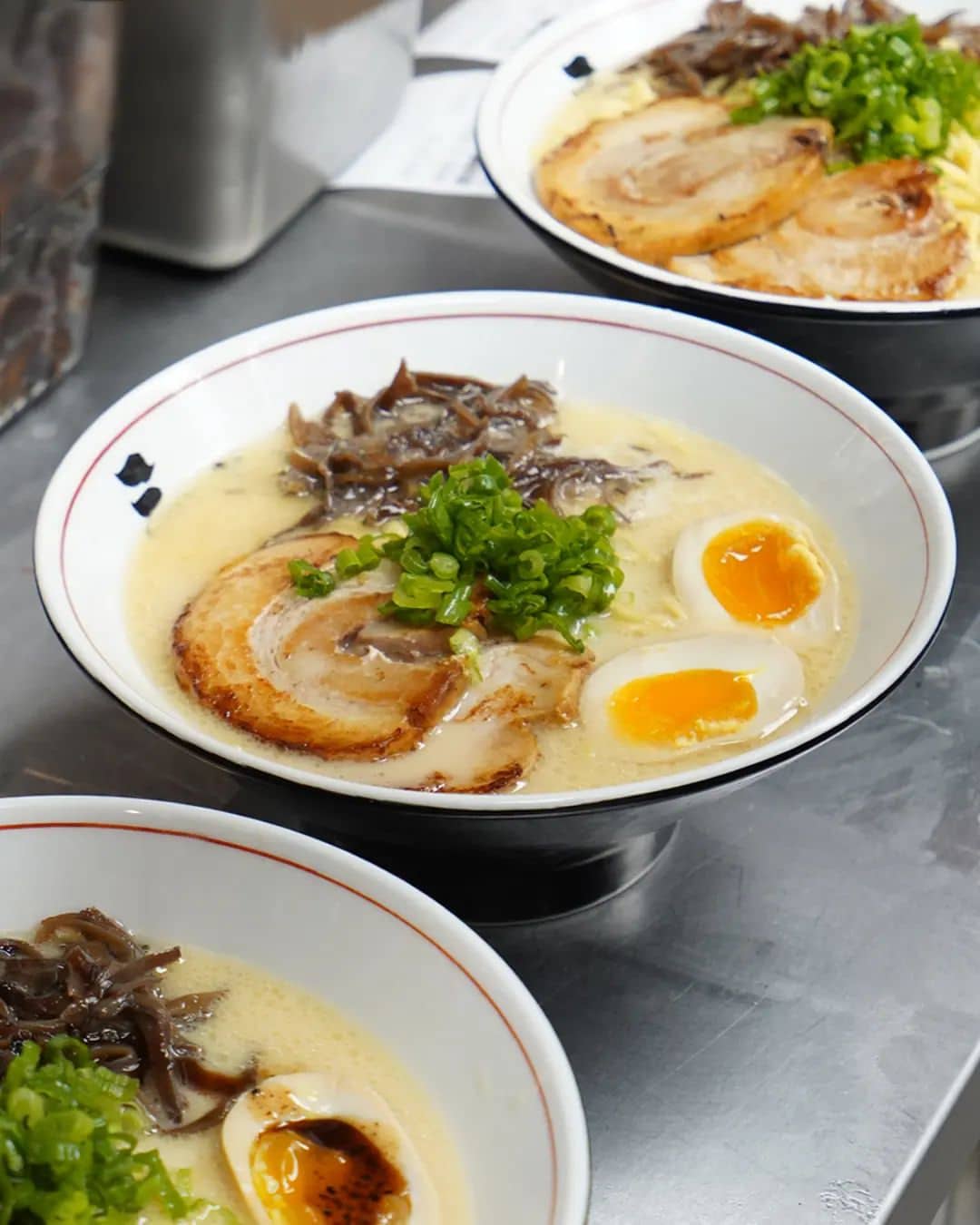 A Canadian brand specializing in authentic Tonkotsu ramen, Sansotei is known for its modern Japanese dishes and sides.
The place itself is modern and elegant, suitable for business dinners, family get-togethers, and everything in between.
The Tonkotsu Black is a crowd favourite here. You get to choose between thick and thin noodles to have in the delicious, rich, thick, and flavorful broth with just the right level of porkiness. The noodles are cooked spot-on – a little bit on the chewy end.
Go for the Spicy Tantan if you can handle heat pretty well. Again, the broth is thick, rich, and extremely flavorful, and they have managed to achieve a good balance of the spice level to the richness of the broth.
Zangi is a popular side dish at Sansotei. This is basically Japanese fried chicken that gets to your table hot and juicy. Squeeze some lemon on top and devour this classic goodness.
What to order: Tonkotsu Black, Spicy Tantan, Zangi
Address: 3987 Hwy 7 #4, Markham, ON L3R 5M6
Website | Instagram | Facebook
8. Peter's Fine Dining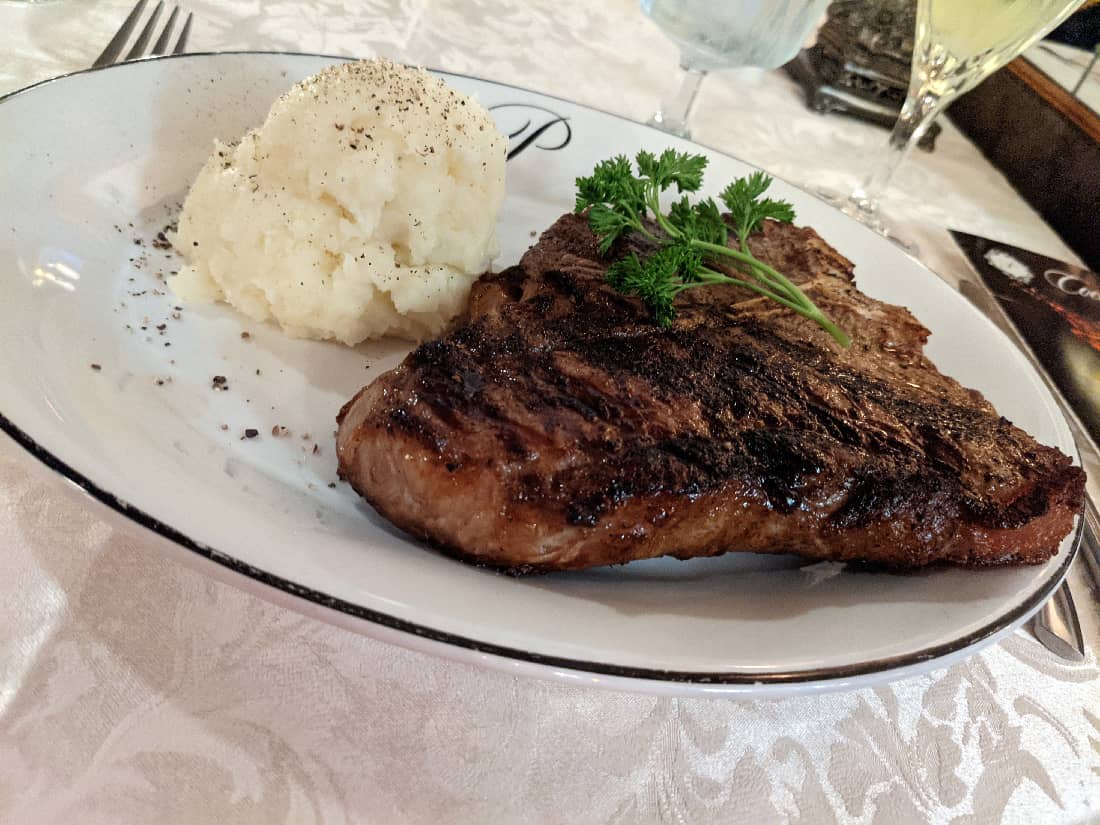 Peter's is a Steak & Seafood House that has been serving Markham and its surroundings true culinary delights in a fine dining setting.
Open year round for dinner, there are some unforgettable drool-worthy choices you can get here. With dim lighting, wood panels, and a carefully chosen wine list, Peter's Fine Dining stands true to its name.
While you warm up with the classic French Onion Soup, be sure to order the Classic Caesar Salad as well, which is prepared tableside with the freshest of ingredients.
Moving on to the main course, their signature dish is Peter's Famous Prime Rib. Made from USDA prime beef, the steak comes perfectly cooked to your preference and is juicy every single time. You can taste the quality of the meat with just one bite!
The Prime Rib is available in three different sizes – Lady's Cut, Regular Cut (14 oz.), and Peter's Cut (24 oz.).
End your meal with a shot of espresso and their famous Bananas Foster dessert – outrageously delicious!
What to order: French Onion Soup, Classic Caesar Salad, Peter's Famous Prime Rib, Bananas Foster
Address: 5701 Highway 7, Markham, ON L3P 1B1
Website | Instagram | Facebook
9. Zen Japanese Restaurant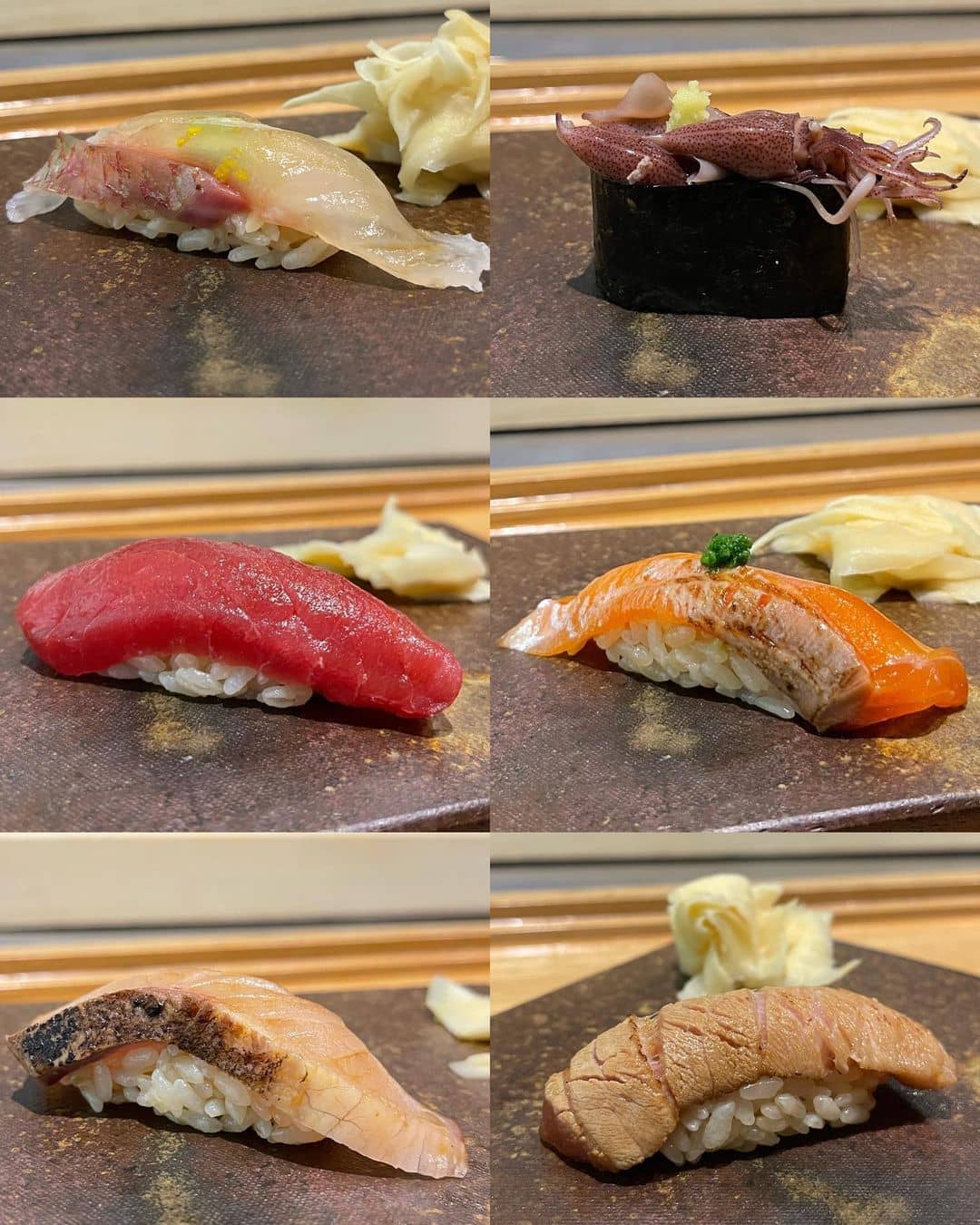 With fresh and quality ingredients and impeccable presentations, Zen Japanese Restaurant sets the "gold" standard for refined sushi selections.
Take a seat by the sushi bar to watch the chefs deliver their magic, or choose a table to enjoy your favourite sushi in a simple and relaxed ambience.
Omakase Sushi is a must when you visit Zen Japanese Restaurant. You can choose from different variations of the course, all of which will contain several hand rolls, sushi, and more. Not to mention, you can expect top-notch food on your table.
From the a la carte menu, try the Gindara Saikyo Yaki. This miso flavoured black cod is grilled to absolute perfection that you will drool just thinking about it even after several days.
The deep-fried Soft Shell Crab tastes yummy with the citrusy, tart, and tangy ponzu sauce.
What to order: Omakase Sushi course, Gindara Saikyo Yaki, Soft Shell Crab
Address: 7634 Woodbine Avenue, Markham, ON L3R 2N2
Website | Instagram | Facebook
10. Cafe KK!NN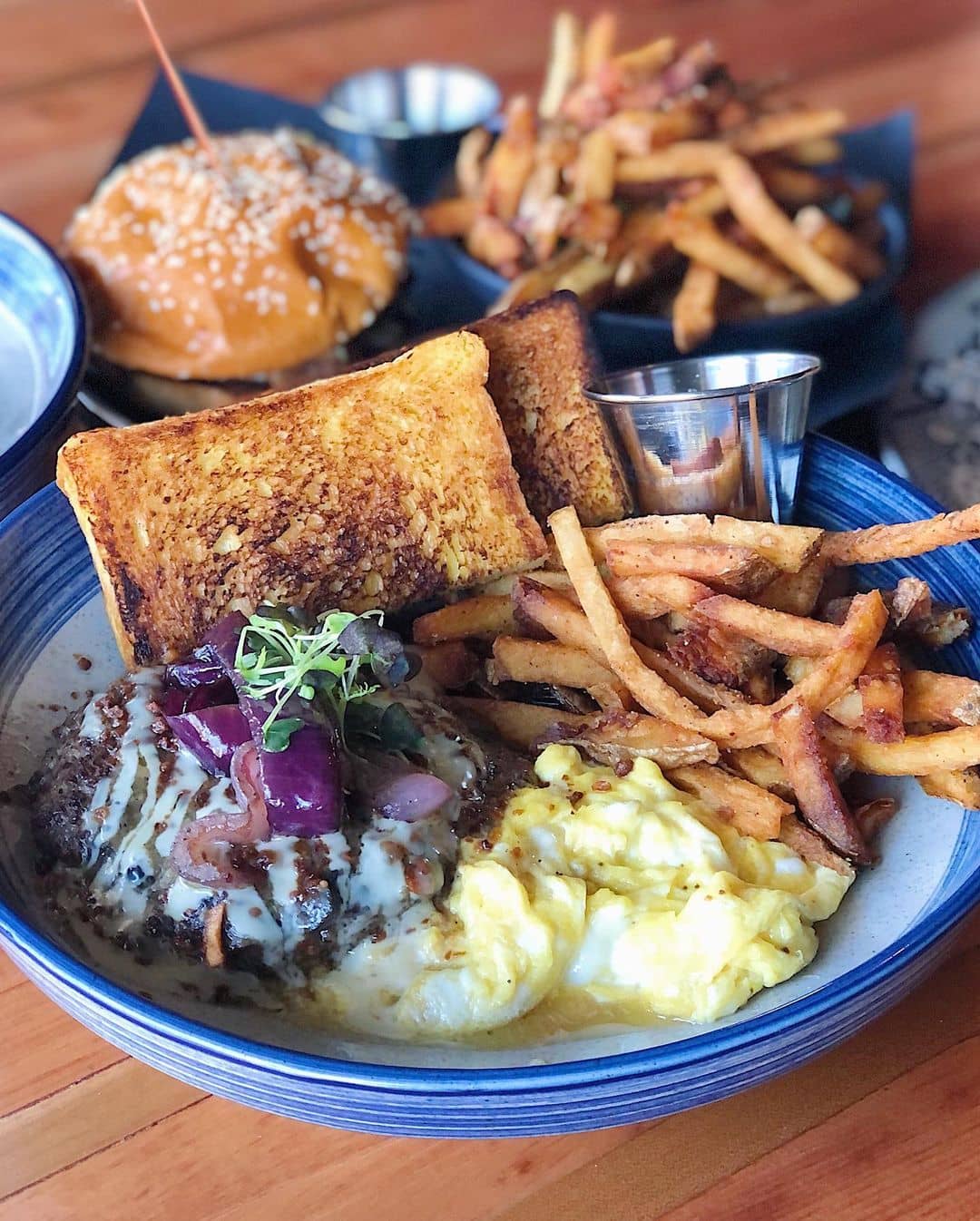 Sister restaurant to Inspire, Cafe KK!NN is a cosy little spot known for its burgers, fried chicken, and everything meat.
If you're a sucker for fusion cuisine, this place will not disappoint you, and it's a given that you can enjoy great food in an amiable setting.
The Short Rib Curry Udon is one time-honoured dish and a popular item here at Cafe KK!NN. The bowl contains stewed boneless short rib, which is so tender and simply melts in your mouth. Mix it in with the pasta and you have a topper!
Their Wood Fire Cornish Hen & Rice is another gratifying dish. The sous vide hen is meaty and cooked to be tender and juicy; the coconut rice is so fragrant and subtle and pairs well with the fresh chimichurri and smoky and zippy romesco.
What to order: Short Rib Curry Udon, Wood Fire Cornish Hen & Rice
Address: 76 Main Street N, Markham, ON L3P 1X5
Website | Instagram | Facebook
11. Providential 9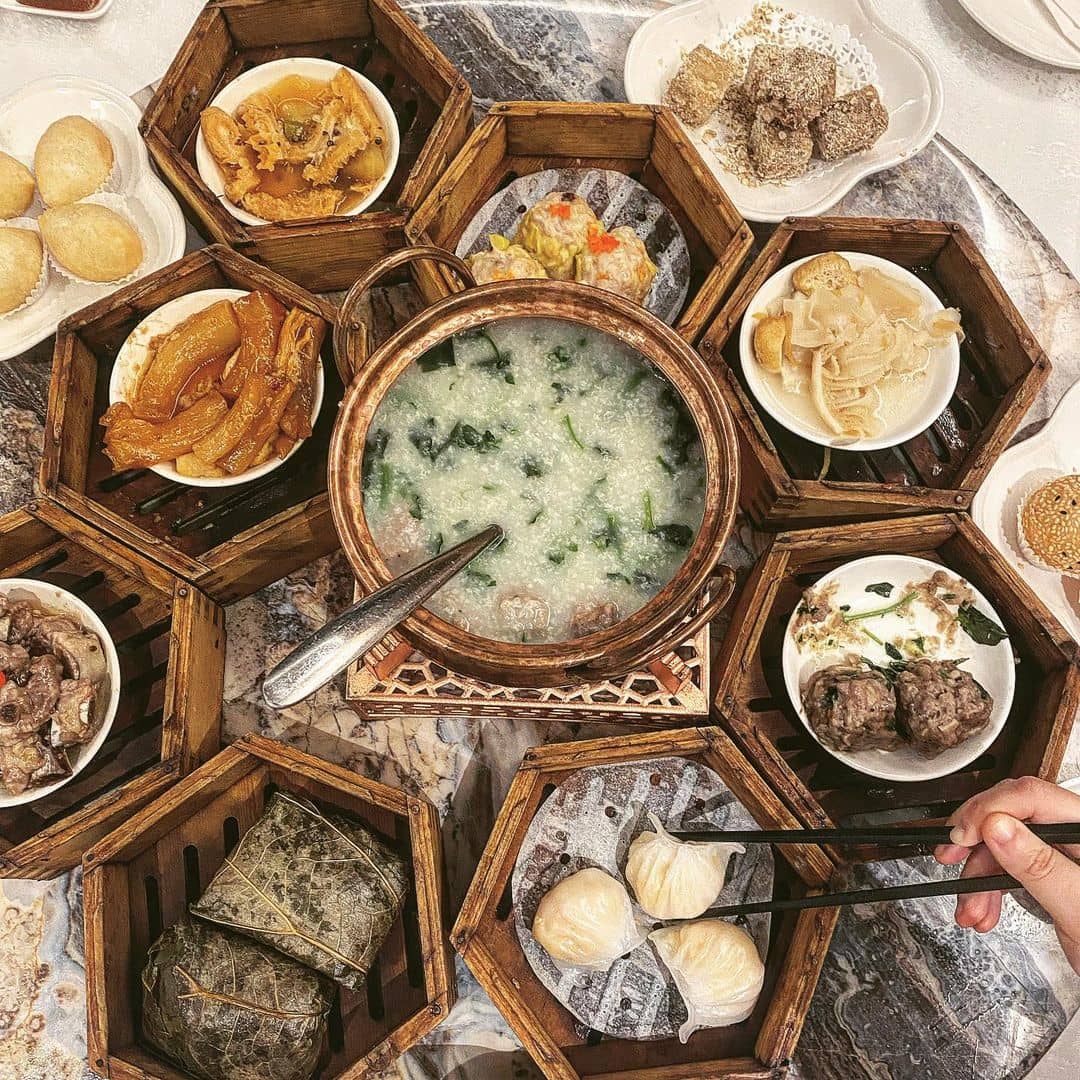 Providential 9 is a lowkey spot offering a variety of dim sums and other Cantonese dishes. The dining area is elegant and traditionally furnished. This is one of those establishments where people don't mind lining up for a table during a busy weekend lunchtime.
Their Crispy Seafood Roll with Special Red Rice Roll is one of the highly loved dishes here.
You get to enjoy fresh and plump shrimp and other seafood along with veggies inside your rolls, and the rolls themselves are chewy and sticky, which is surprisingly an addicting texture.
The Spring Rolls with Taro & Chicken is just golden fried bliss! The outer shell of the spring rolls is so thin and crispy that it almost resembles a wafer, whereas the filling inside remains nice and juicy. This is an indication that the spring rolls are fried to order, and they aren't greasy too.
Among the many unique offerings you can find at Providential 9, perhaps the most raved about dish is their Baked Almond Buns. Imagine sweet almond cream/juice oozing out of your bun when you bite into it – this is heaven on a plate!
What to order: Crispy Seafood Roll with Special Red Rice Roll, Spring Rolls with Taro & Chicken, Baked Almond Buns
Address: Unit A 8425 Woodbine Avenue, Markham, ON L3R 2P4
Website | Instagram | Facebook
12. Copper Branch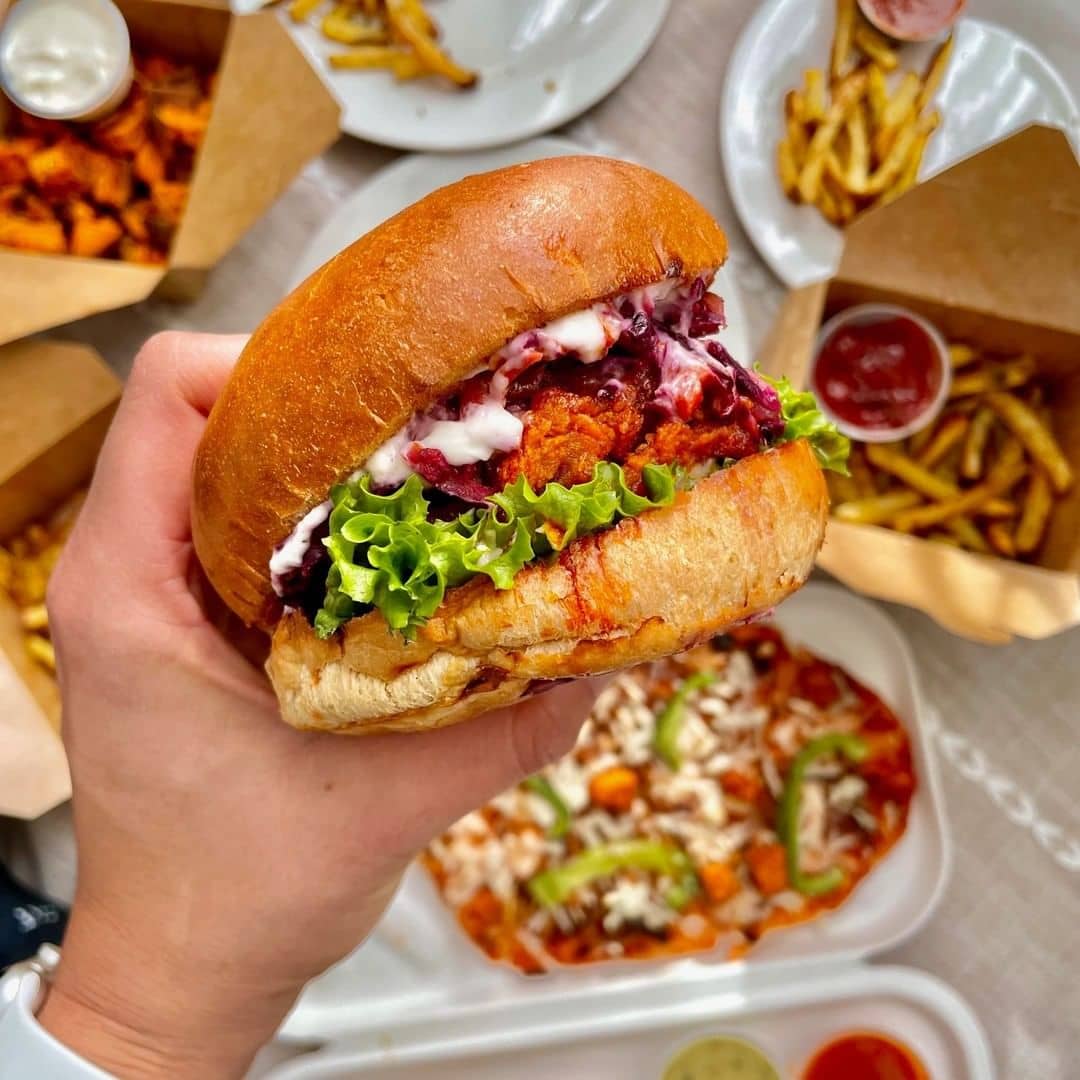 Whether you're vegetarian, vegan, trying to eat healthier, or preparing to make the big leap to follow a plant-based diet, Copper Branch caters to all your requirements.
From smoothies to burgers to power bowls, everything here is fresh and delicious, to suit everyone's diet and preference.
The Spicy Black Bean Burger here is just phenomenal. While the patty contains everything healthy, as much as a plant-based burger can hold, it is the southwest sauce that enhances the overall flavour with its smoky and spicy taste.
The vegan poutine at Copper Branch will most likely be the best you've ever tasted! Whether you go with the regular Poutine with Mushroom Gravy or the Sweet Potato Poutine, it is the restaurant's poutine sauce that makes your mouth water and crave more.
Buffalo Wings! Yes, Buffalo Wings at a vegan restaurant; these are tofu wings served with your choice of aioli sauce or hot sauce. The wings are so meaty and juicy that they make for a satisfying appetiser, and the aioli is perfectly creamy and perhaps the best of the two sauces.
What to order: Spicy Black Bean Burger, Poutine with Mushroom Gravy, Sweet Potato Poutine, Buffalo Wings
Address: 180 Enterprise Blvd., Markham, ON L6G 0G4
Website | Instagram | Facebook
13. Bellafornia Restaurant & Bar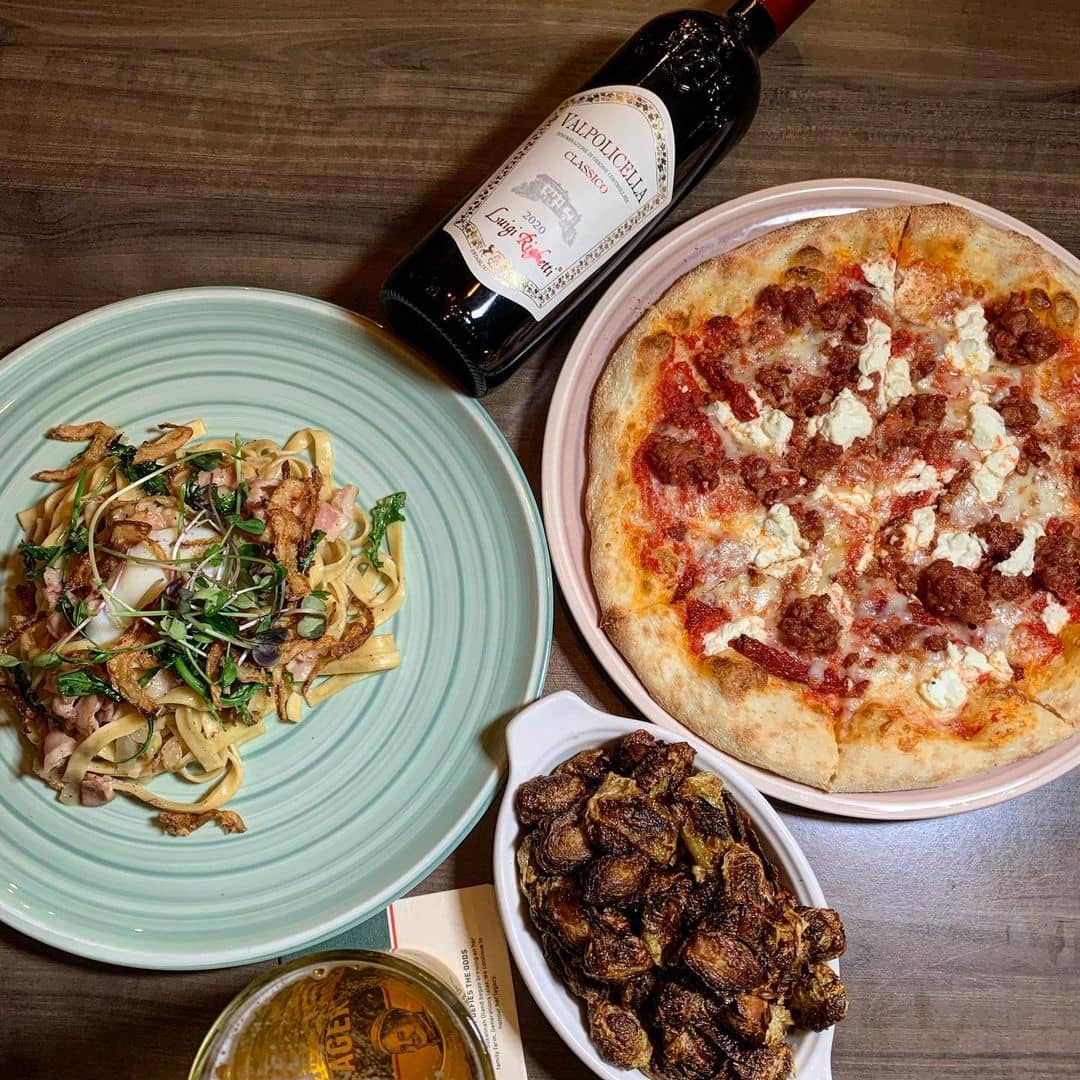 Bellafornia is a restaurant, bar, and lounge serving Italian cuisine, made with fresh and high-quality ingredients, in a welcoming and calming environment.
With its farm-to-table approach, the restaurant uses organic produce, thereby delivering crisp, clean, and unprocessed dishes, which are all Insta-friendly as well.
The Burrata Tradizionale would be a true, authentic, and pleasing antipasto to your Italian meal at Bellafornia. Creamy, soft, delicate, and heavenly burrata served with fresh tomato and basil – it cannot get any more Italian!
Bellafornia serves amazing pizzas, and the Pesto di Pollo is one of the popular ones. The crust is nice and thin, and crispy and airy that you could eat just that and feel satisfied.
You get a peppery taste from the kale pesto, which tastes unique and delicious. This pizza will definitely make you want to come back and try more.
What to order: Burrata Tradizionale, Pesto di Pollo
Address: 7181 Yonge Street, Unit 11, Markham, ON L3T 0C7
Website | Instagram | Facebook
If you're pumped to explore the most diverse food scene in Canada, there is no better place than Toronto. From ramen to jerk chicken to French delights to local Canadian fare, our best restaurants in Toronto list covers it all.
How We Create Our "Best" Lists
All Noms Magazine's "best" lists are created using multiple factors and signals to help readers find the best restaurants, things to do, and places to stay at. Some of these factors and signs include personal experiences, correspondence with locals, and compiling experiences from review sites.
Each list is also created to be balanced (in terms of price, cuisine type, ambiance, and more) as possible. This means that the lists are not specifically created in ranking order. You should be comfortable picking from any of the spots on the list and generally have a good time. But of course, YMMV (your mileage may vary) and everyone may have different experiences/palates.