If there's one food you can never go wrong with, it's definitely pizza! There is nothing more delicious than that hot, cheesy pie with your favorite toppings. Pizza is a universal language— it's great with friends, lovers, family, colleagues, everyone!
You're in luck because Toronto is home to some of the best pizza spots! Now, the biggest question is: where should you start? In this list, we've compiled 12 of the best pizza spots in Toronto for pizza lovers like you!
1. Conzo's Pizza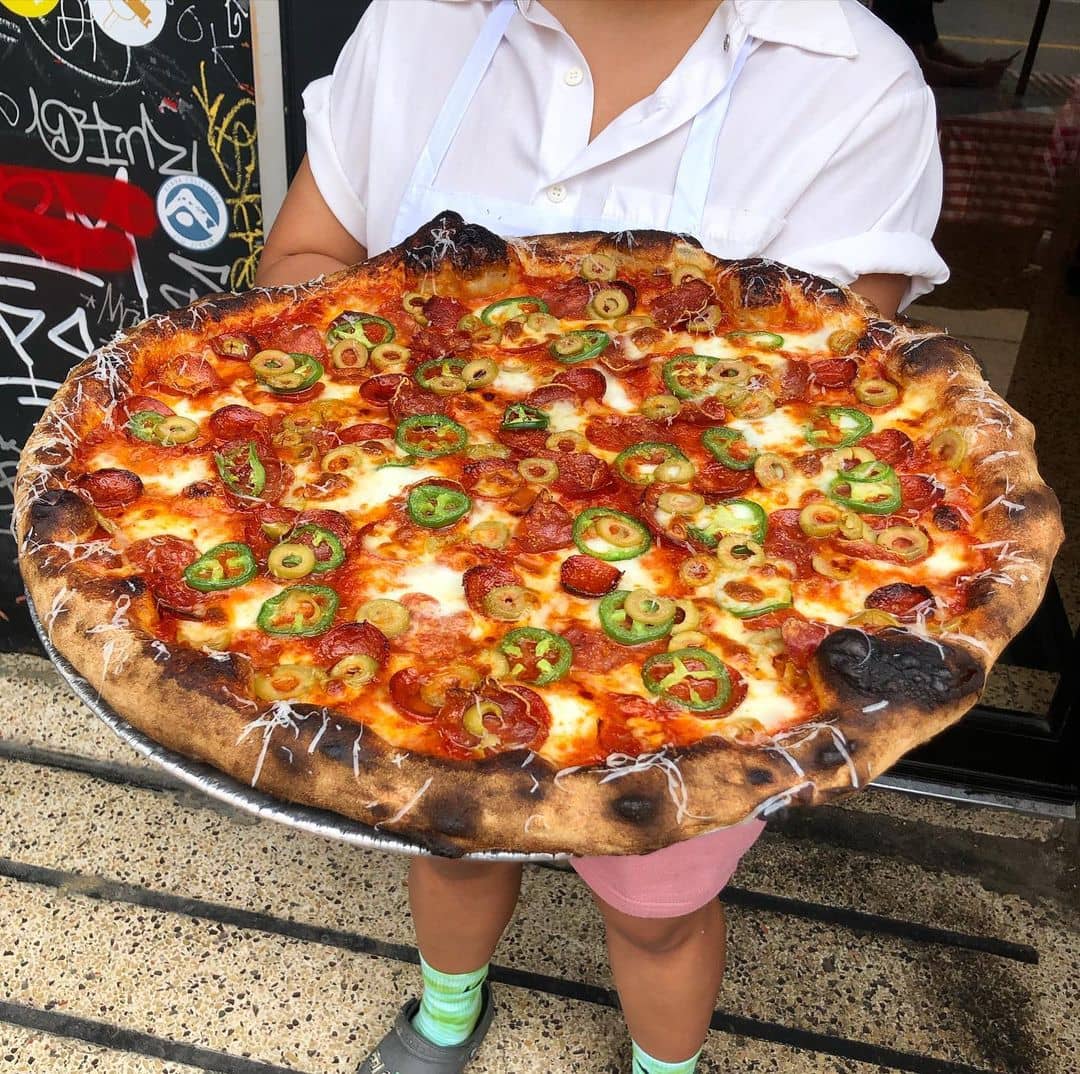 If you think you've already found your favorite pizza, Conzo's Pizza will definitely prove you wrong. Situated on Bloor Street, this one has a mixed bar, table, and high-table seating with a lively resto-bar feel. Aside from delectable pizza, Conzo's serves huge, ginormous pies, which pretty much explains the huge space and wider tables— excellent for larger crowds.
Serving one of the best pizzas in the city, Conzo's Pizza doesn't disappoint with their Gigi Pizza filled with meaty pepperoni, chili, crunchy onion, and basil.
Another pizza made with the freshest ingredients, their Zucchini Pizza is best for pesto fans! We recommended asking for the dipping sauces to pair with your pizza as they can add a distinct and stellar flavor!
For dessert, the Tiramisu is amazing and a must-have to conclude your meal.
What to order: Gigi Pizza, Zucchini Pizza, Tiramisu
Address: 1279 Bloor St W, Toronto, ON M6H 1N7
Website | Instagram | Facebook
2. North of Brooklyn Pizzeria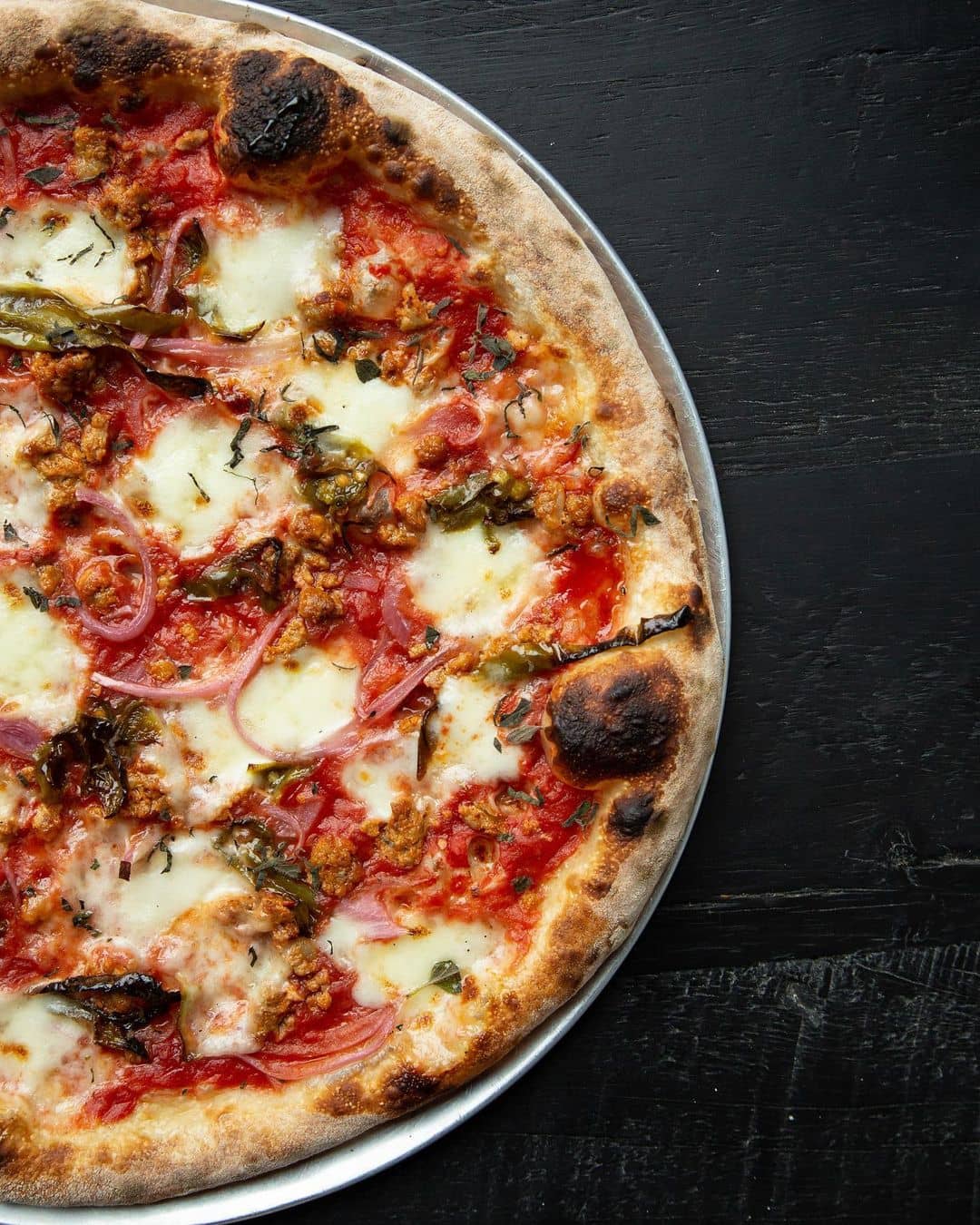 New York is known for their astounding pizzas, so North of Brooklyn took one for the team and brought them to Toronto! With big broadway-like lights on their exterior, you can easily spot this pizzeria on Church St. The place is rather small with black and wooden interiors, giving off a classic and simple vibe. Designed for on-the-go pizzas, North of Brooklyn is best for take-outs, but you will surely feel welcomed with its comfortable atmosphere.
If you want the perfect union of sweet and spicy flavors, the Killer Bee pizza might be to your interest. Served with juicy calabrese sausage, jalapeños, pickled red onions, oregano, and sweet honey, this pizza will take you places.
Just when you think you have the best combination, pair it with garlic dip and be prepared to be taken to another dimension. Yup, it's that good! With crisp and crunchy kale, their Kale & Bacon pizza is an excellent alternative for those who can't handle spicy food.
What to order: Killer Bee, Kale & Bacon
Address: 469 Church St, Toronto, ON M4Y 2C5
Website | Instagram | Facebook
3. Fresca Pizza and Pasta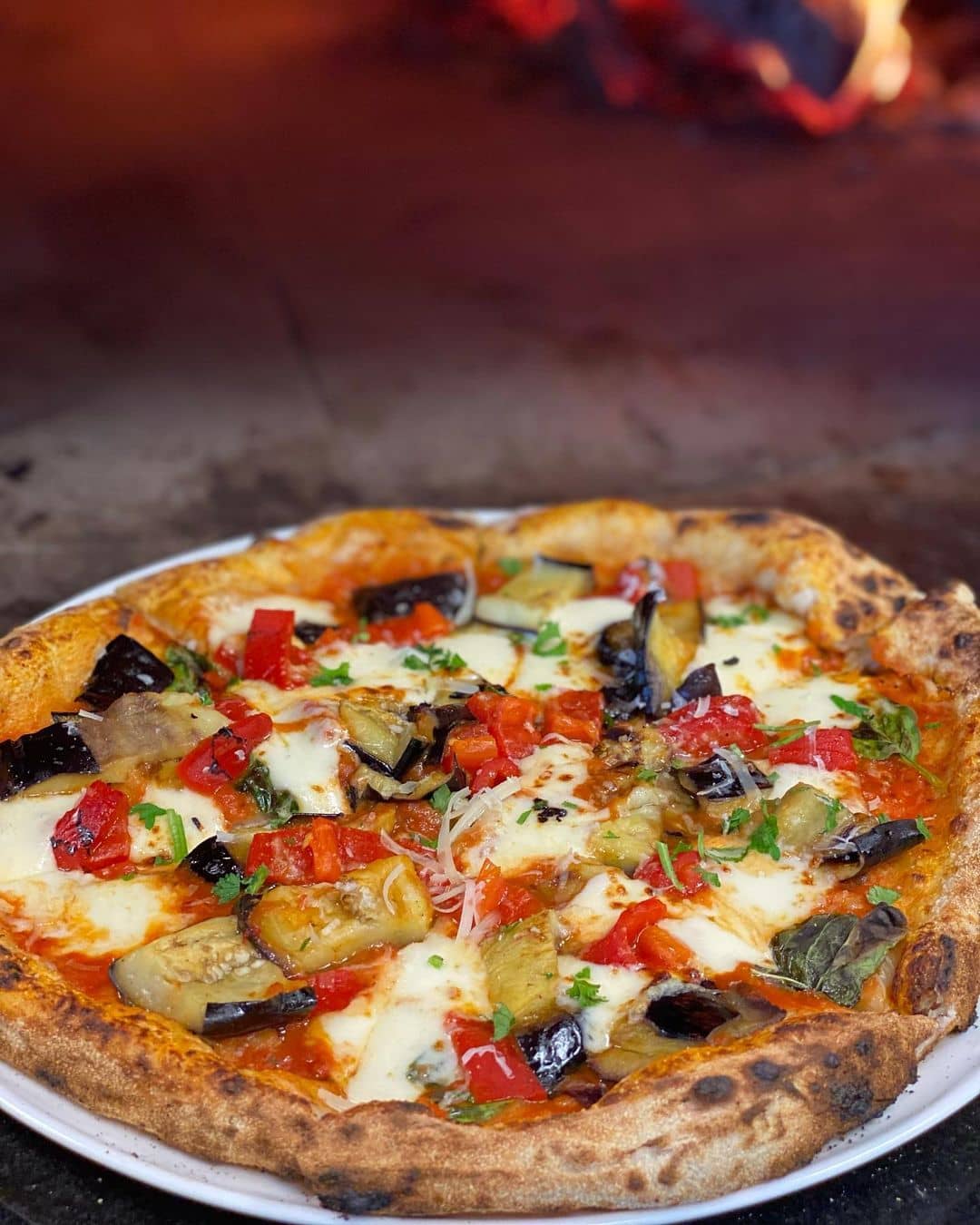 Fresca Pizza and Pasta is the epitome of the famous saying, "Don't judge a book by its cover." With picnic tables outside and limited seating, this one is good for a quick bite. Although not the fanciest, Fresca is popular among the locals, especially students in College St. You know the place is good when people keep coming back for more.
Probably the most underrated pizza place in the city, Fresca serves one of the most affordable yet mouthwatering Toronto-style pizzas.
The pizzas in Fresca are so good that they no longer require additional dipping sauces. However, their Margherita slathered with their homemade garlic oil on top is heaven-sent! The fresh basil and rich tomato marinara combined with the oomph of garlic is perfection.
Their Pizza Deluxe with pepperoni is a classic favorite for its salty, tangy flavor. If you love their pizzas, you'll also love their Calzone Primavera! Made fresh to order and with big servings, this one is more than enough to satisfy your hunger.
What to order: Pizza Margherita, Pizza Deluxe, Calzone Primavera
Address: 302 College St, Toronto, ON M5T 1R9
Website | Instagram | Facebook
4. Blaze Pizza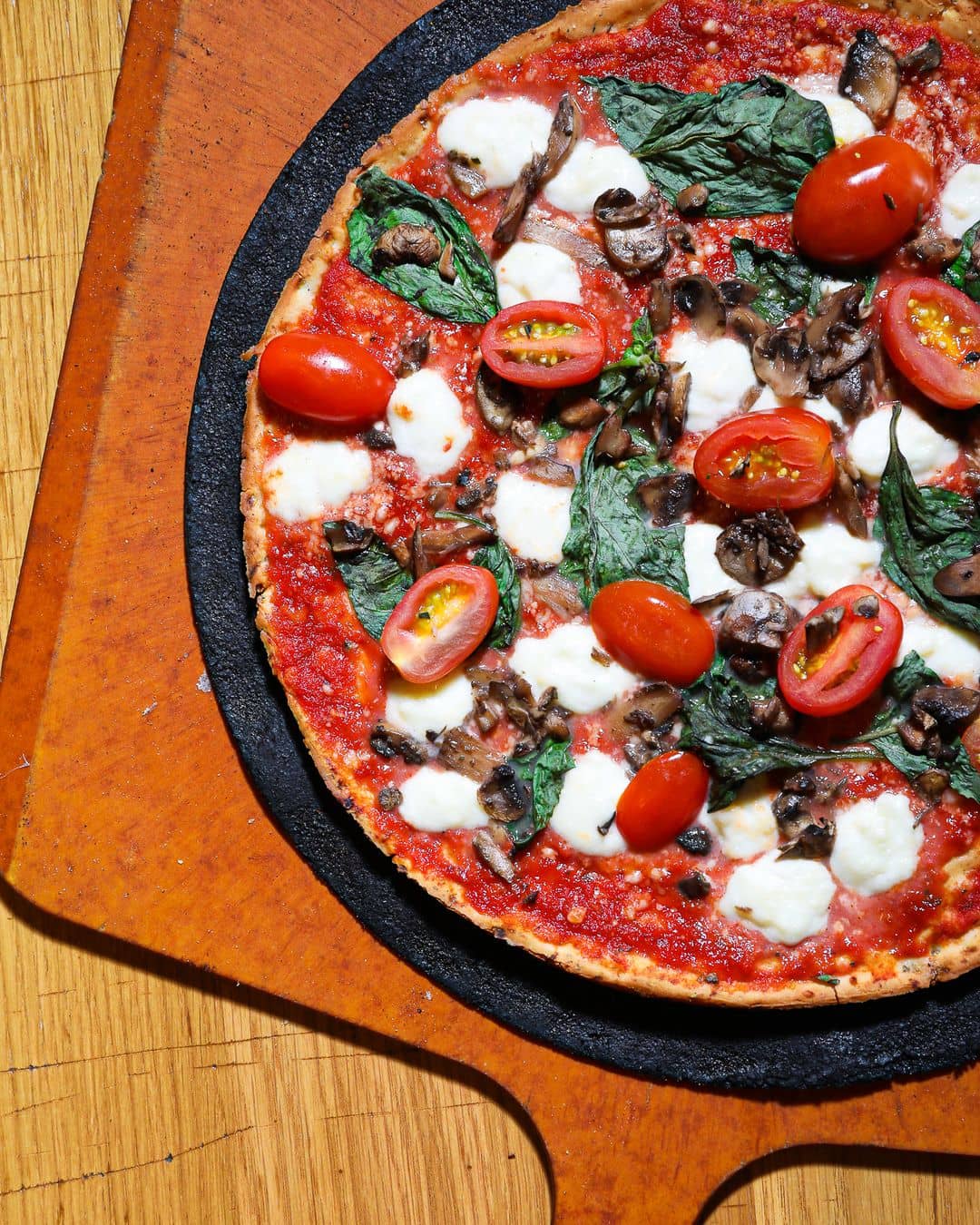 Located right next to Cineplex at Dundas Square, Blaze Pizza is a go-to pizza place for movie-goers. Offering a delightful and spacious ambiance, this fast-paced oven bake pizza joint allows customers to completely customize their pizzas! The staff is extremely friendly, and they'll be the ones to add any toppings you like with no limits. Here, you can make the pizza of your dreams!
Blaze Pizza offers a variety of sauce, cheese, meat, and vegetables. If you're building your own pizza, we highly recommend asking for an extra mozzarella cheese on top! Overall, the selection of toppings and quality of ingredients are top-notch. You can also choose to order on their menu if you're not into customizable pizzas.
The Red Vine Pizza is their own version of a Margherita, and you can add a few toppings of your own.
Here's a pro tip: ask them to coat your crust with the pesto garlic sauce, and your pizza will be golden!
What to order: Build Your Own Pizza with extra mozzarella cheese, Red Vine Pizza
Address: 10 Dundas Street East, Toronto, ON M5B 2G9
Website | Instagram | Facebook
5. Slice Of Toronto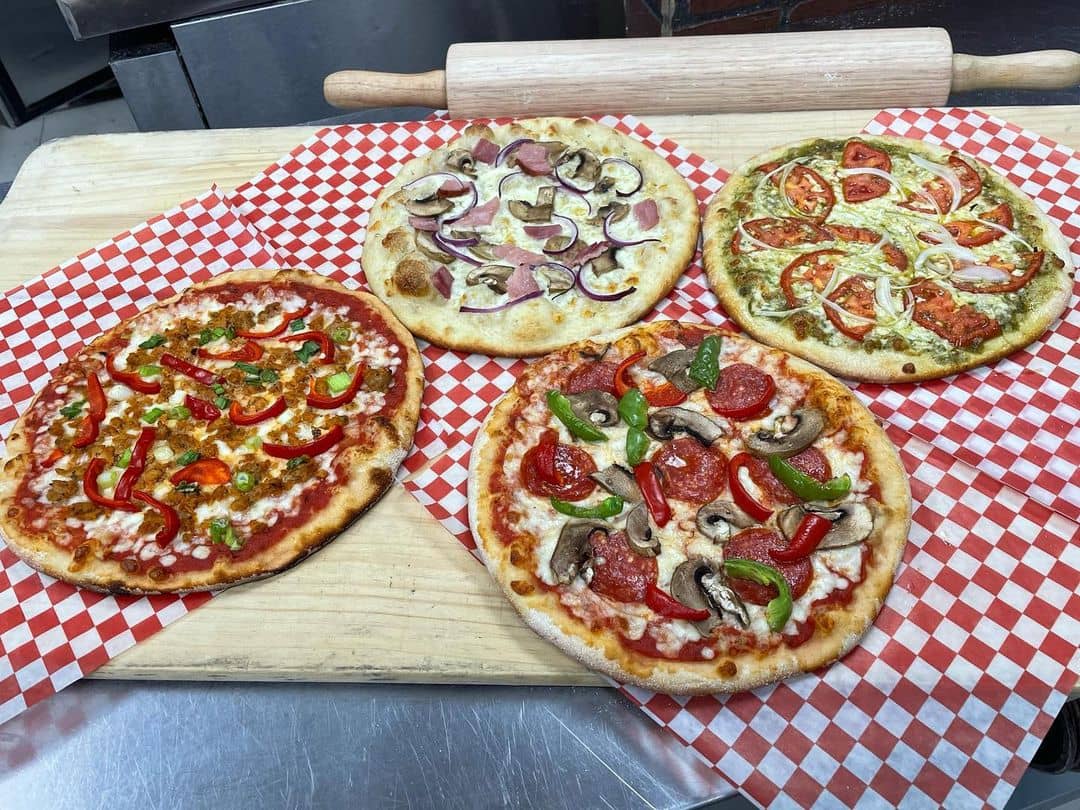 A hidden little pizza spot in St. Clair, Slice of Toronto will have random strangers ask you where you got your pizza from! If you like supporting local establishments, this is the place to be. Don't let the small space intimidate you; their pizza is dubbed the BEST in Toronto by their regular customers! Top that with friendly owners who are passionate about their work, and you'll know you're in very good hands.
Baked fresh every day, Slice of Toronto serves homemade pizza with the finest ingredients. Their Mushroom Pizza with the balsamic glaze on top is terrific and one-of-a-kind. If you're not into veggies, every bite of their classic Pepperoni Pizza will take you to Italy!
Before ending your meal, ask for their Tiramisu Cake that has just the right amount of sweetness.
What to order: Mushroom Pizza, Pepperoni Pizza, Tiramisu Cake
Address: 968 St Clair Ave W, Toronto, ON M6E 1A1
Website | Instagram | Facebook
6. PAPA CEO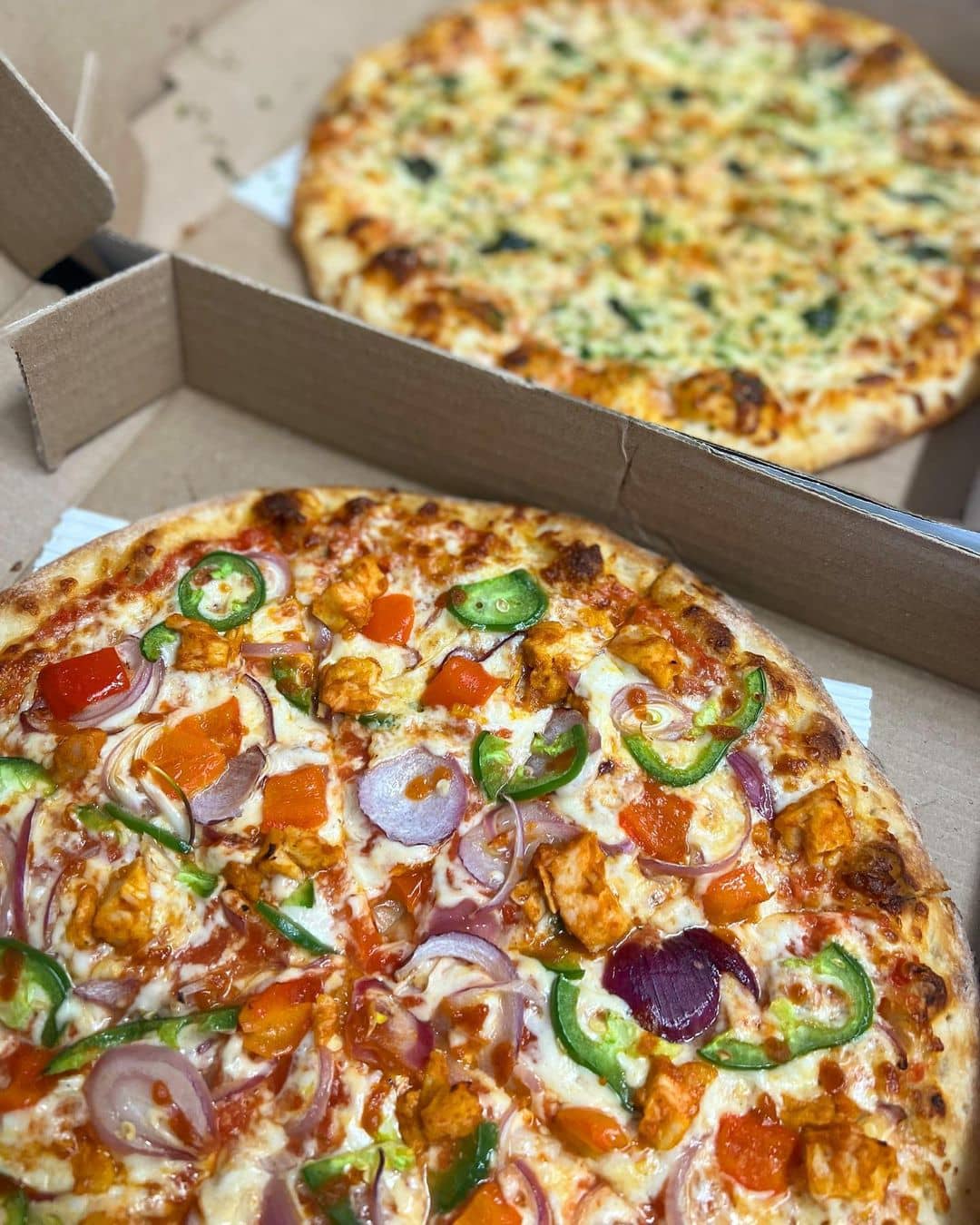 A family-owned restaurant, PAPA CEO has been around for so long and is famous among University of Toronto students. Metal tables and chairs welcome you as you enter the place, emitting a retro feel. The place is open until 4 in the morning— great for satisfying your late-night cravings! A downtown pizza classic, this place is going to be your new go-to pizza spot if you're around the area.
A convenient location for students, PAPA CEO serves generous servings at a fair price. Their Tai's Margherita is a consistent favorite due to its soft, rich, and pillowy texture— so light yet incredibly tasty! This pizza will have you wishing they deliver to your area just in case you might get a random craving in the middle of the night.
We also recommend their Blue Jays Meat Lovers filled with pepperoni, ground meat, and crisp bacon bits that will instantly fill you up.
What to order: Tai's Margherita, Blue Jays Meat Lovers
Address: 654 Spadina Ave., Toronto, ON M5S 2H7
Website | Instagram | Facebook
7. Pizzeria Libretto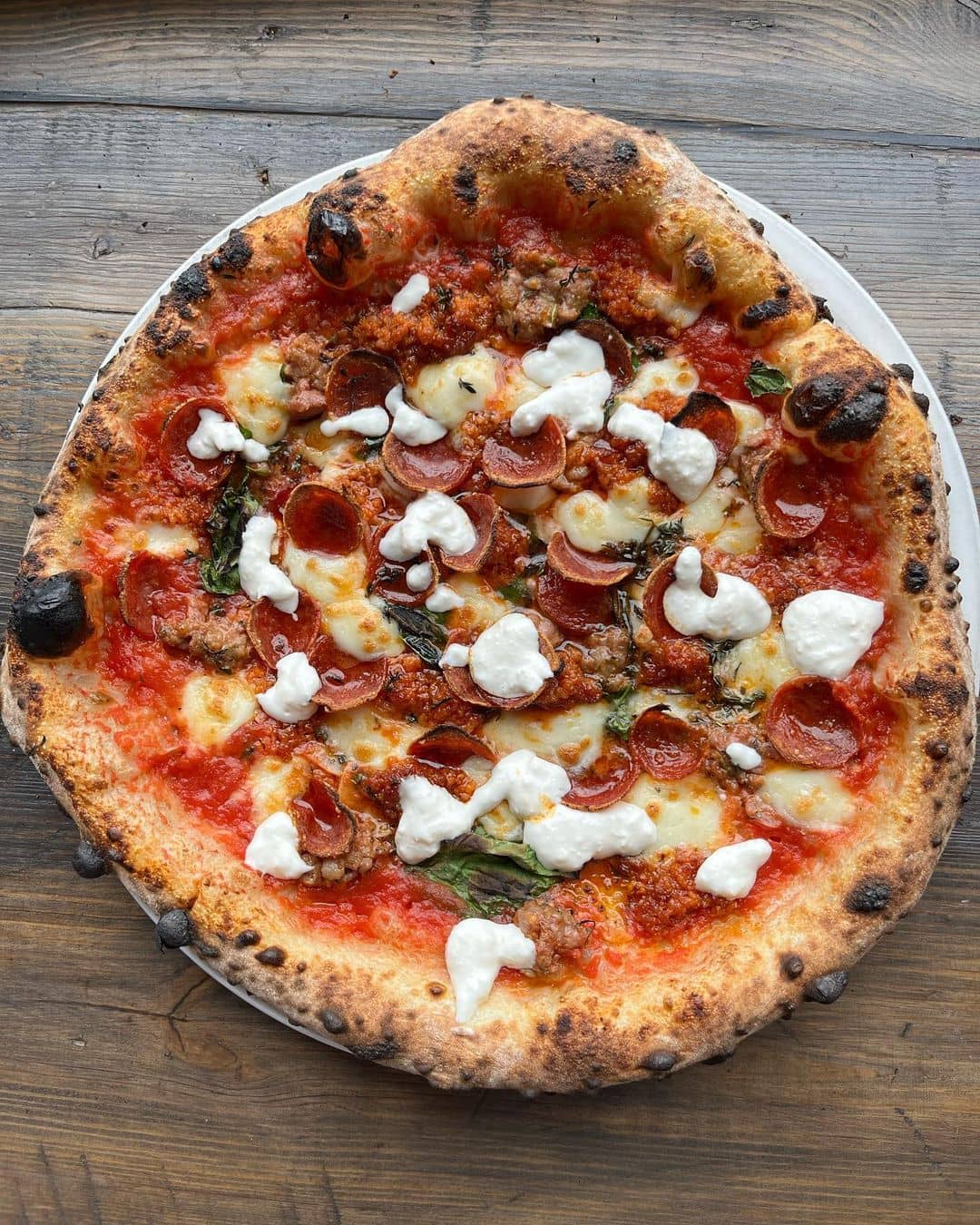 When it comes to Neapolitan-style pizzas, Pizzeria Libretto is one of the best in the city! The interior pours out a peaceful and calming vibe with a mixture of soft brown leather, wood, and a white brick wall. The place is so cozy it could pass as a cafe if you didn't know any better. If you want to enjoy pizza while relaxing yourself, it's Libretto or nothing!
In Pizzeria Libretto, you can certainly see the quality and effort put into each pizza. If you want something unique and their most popular pizza, the Diavola has a spectacular cheese and sauce combination topped with spicy salami, tomatoes, and fresh basil. We also highly recommend their Funghi pizza. Made with mushrooms, gorgonzola, thyme, garlic, and rosemary, everything just works harmoniously!
Aside from pizza, it's worth mentioning their Buttermilk Calamari that is so good it melts in your mouth.
What to order: Diavola Pizza, Funghi Pizza, Buttermilk Calamari
Address: 155 University Ave. Toronto, ON M5H 3B7
Website | Instagram | Facebook
8. Amico's Pizza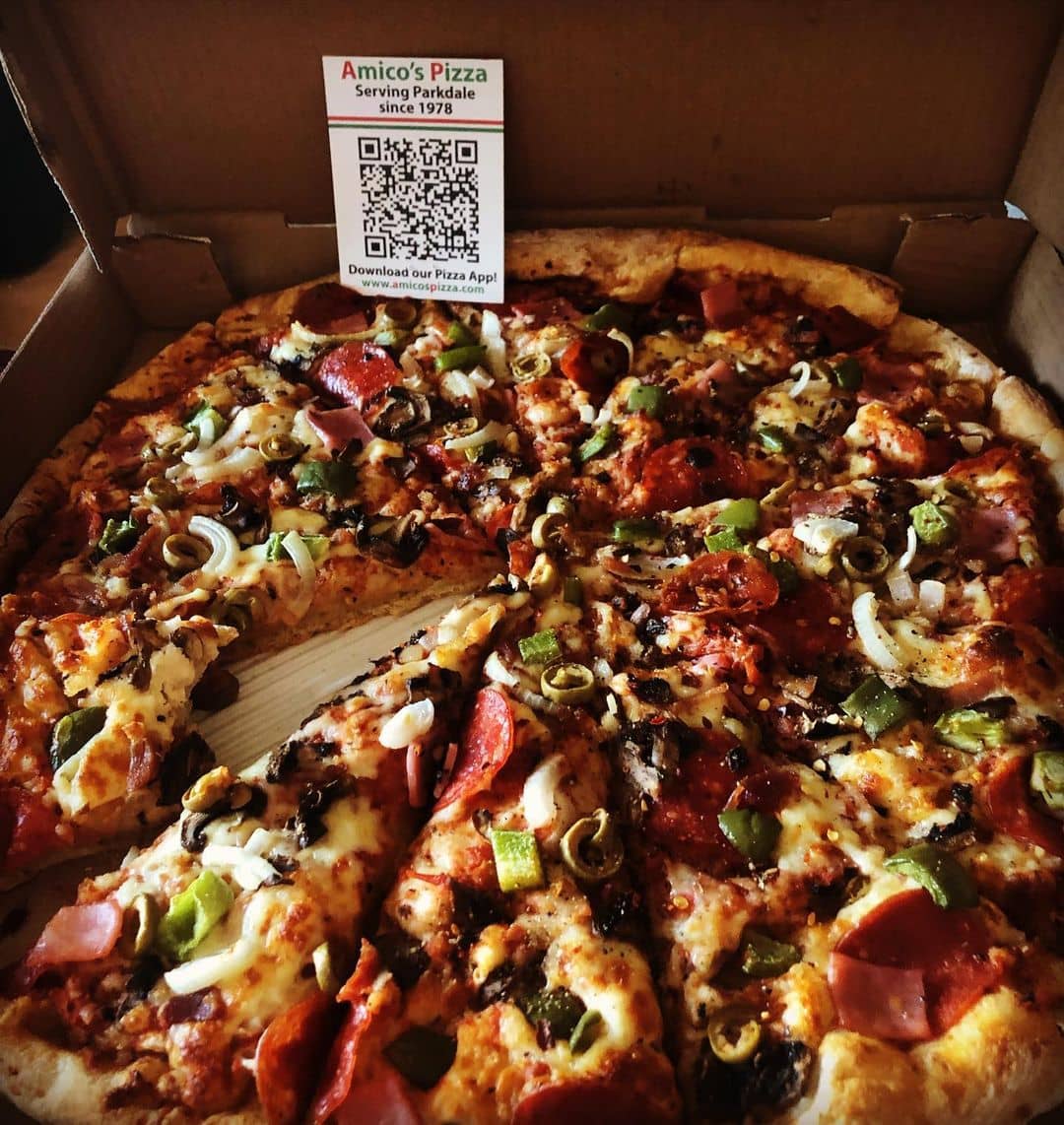 On Wednesdays, we eat at Amico's! Where else can you eat amazing pizza at only half the price? Yup, only at Amico's! However, you should be aware that their pizza will have you craving any day, not just Wednesdays. Amico's has a very nice backyard patio, but it doesn't really matter where you sit. The only thing on your mind will be their out-of-this-world pizza!
Honestly speaking, Amico's Pizza needs no endorsement, and this article is just the cherry on top. Their Amico's Deluxe comes with bacon, pepperoni, mushrooms, green peppers, and tomato. The ingredients blend in so perfectly that you won't think of ordering anything else. Not even water.
The Vegan game in Amico's is so strong that they have a separate menu only for Vegans! Their Vegan Pizza comes with one topping you can choose from their menu, but you can also add extra choppings to your liking.
What to order: Amico's Deluxe, Vegan Pizza
Address: 1648 1/2 Queen St. W. Toronto, ON M6R 1B2
Website | Instagram | Facebook
9. Pizzeria Via Mercanti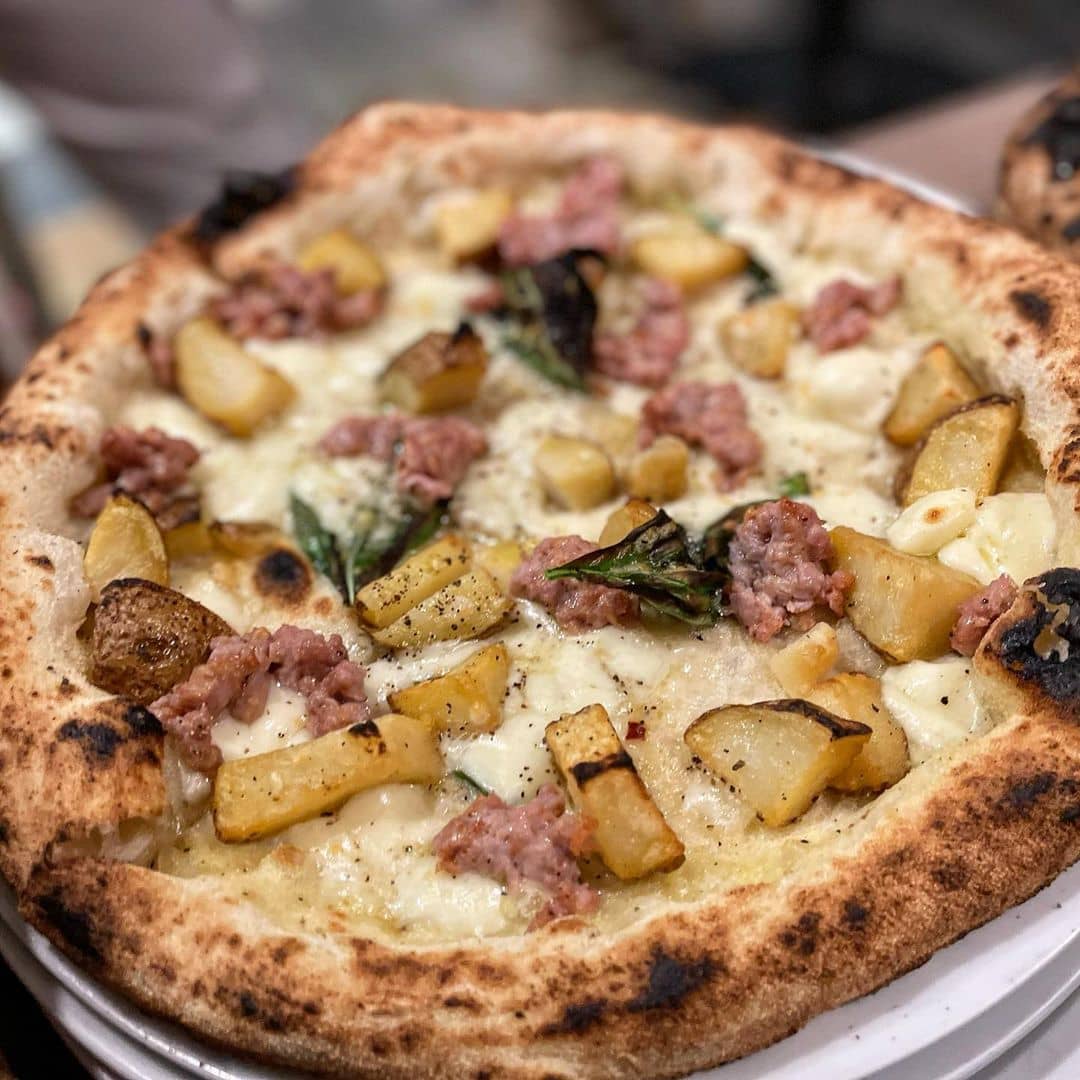 Snuggled in the middle of Kensington Market, Pizzeria Via Mercanti is by far one of the best pizza spots in Toronto. The general vibe of the restaurant feels like a real Italian experience! Inside, there are plenty of tables and space for you to eat with your friends or loved ones. If you'd like the best seats, we recommend going for the ones near the large windows overlooking the Kensington area.
With an extensive menu that can satisfy even the most experienced pizza connoisseurs, Pizzeria Via Mercanti serves high-quality and the most authentic pizza in Toronto. You will never go wrong with their Capricciosa with briny olives, juicy cuts of meat, and sweet tomato sauce.
The Ciambella Ripiena, a hot sopressata and ricotta-filled margherita pizza, are full of flavor. We recommended asking for chili oil if you want to add some spiciness to your pizza.
What to order: Capricciosa, Ciambella Ripiena
Address: 188 Augusta Ave Toronto, ON, M5T 2L4
Website | Instagram | Facebook
10. Pizzeria Defina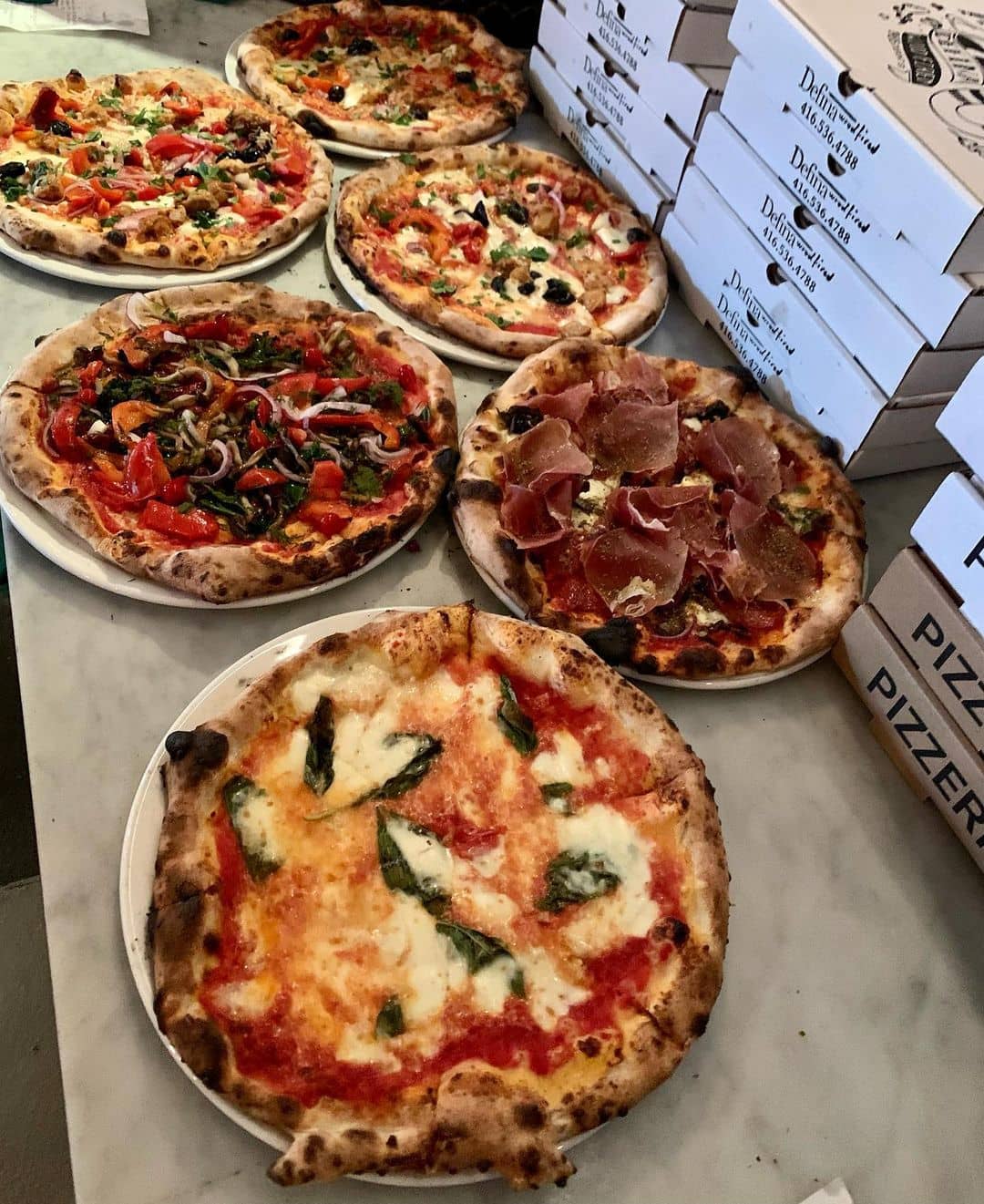 Pizzeria Defina arguably serves the best wood-fired pizzas in the city! Entering the restaurant, you can immediately tell a lot of love was put into each section as each spot has its own unique feel. The ambiance is warm and friendly, accentuated by stone wood ovens in the open kitchen. From the ambiance to the food to the service, everything is so well thought out that ordering take-out wouldn't do it justice!
If Pizzeria Defina was a tourist spot, pizza would be its main attraction. They have their own unique twists in classic flavors. The Campbell Park with roasted mushrooms, basil, oregano, and red onions is a must-have. You could easily tell the basil is cooked properly when it doesn't have a bitter taste, and Pizzeria Defina takes pride in that.
If you like something sweet and savory, their Roncy contains caramelized shallots, double smoked bacon, and Yukon gold. You know it's good when it has a caramelized ingredient. To end the meal, order something on their vast cocktail menu as a digestif and you're good to go!
What to order: Campbell Park, Roncy
Address: 1485 Dupont St, Toronto, ON M6P 3S2
Website | Instagram | Facebook
11. Pizza e Pazzi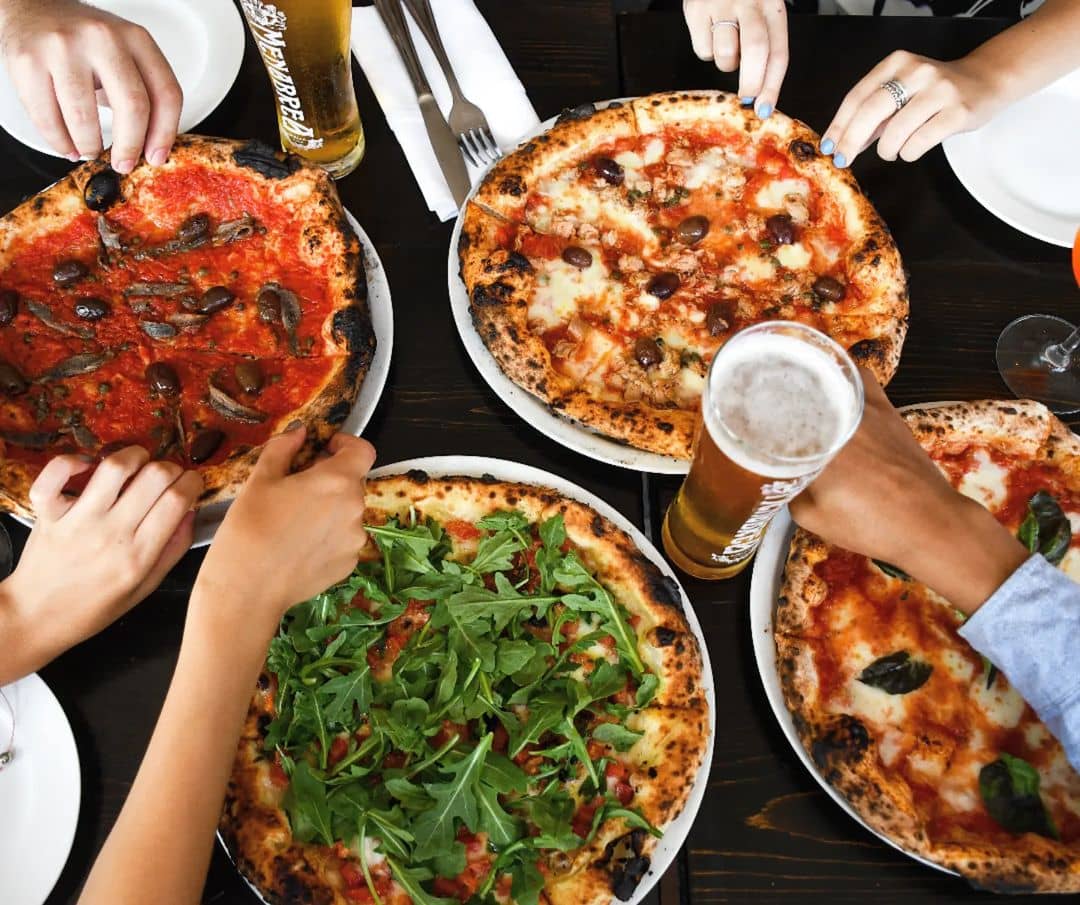 If you are looking for authentic Neapolitan-style pizza, Pizza e Pazzi is one of the realest! This gem of a restaurant has a pleasant atmosphere and absolutely appetizing Italian Cuisine. Owned by a family, this place boasts a welcoming and homey ambiance. They have an area with tables put together for larger crowds— completely taking advantage of their small space. Good pizza + good company, what else could you possibly ask for?
They say the best way to judge a pizzeria is through their Margherita. Well, Pizza e Pazzi's Margherita feels like an angel descended from heaven and handed you a pizza. It's absolutely divine!
Their Napoletana and Diavola are a close second, and they're so good you won't be able to pick one above another, so why not both? However, we recommend going for the Diavola if you like your food spicy. This place is definitely worth a visit for their outstanding food!
What to order: Margherita Verace, Napoletana, Diavola
Address: 1182 St. Clair Ave. W, Toronto, ON, M6E 1B4
Website | Instagram | Facebook
12. CiCi's Pizza & Wings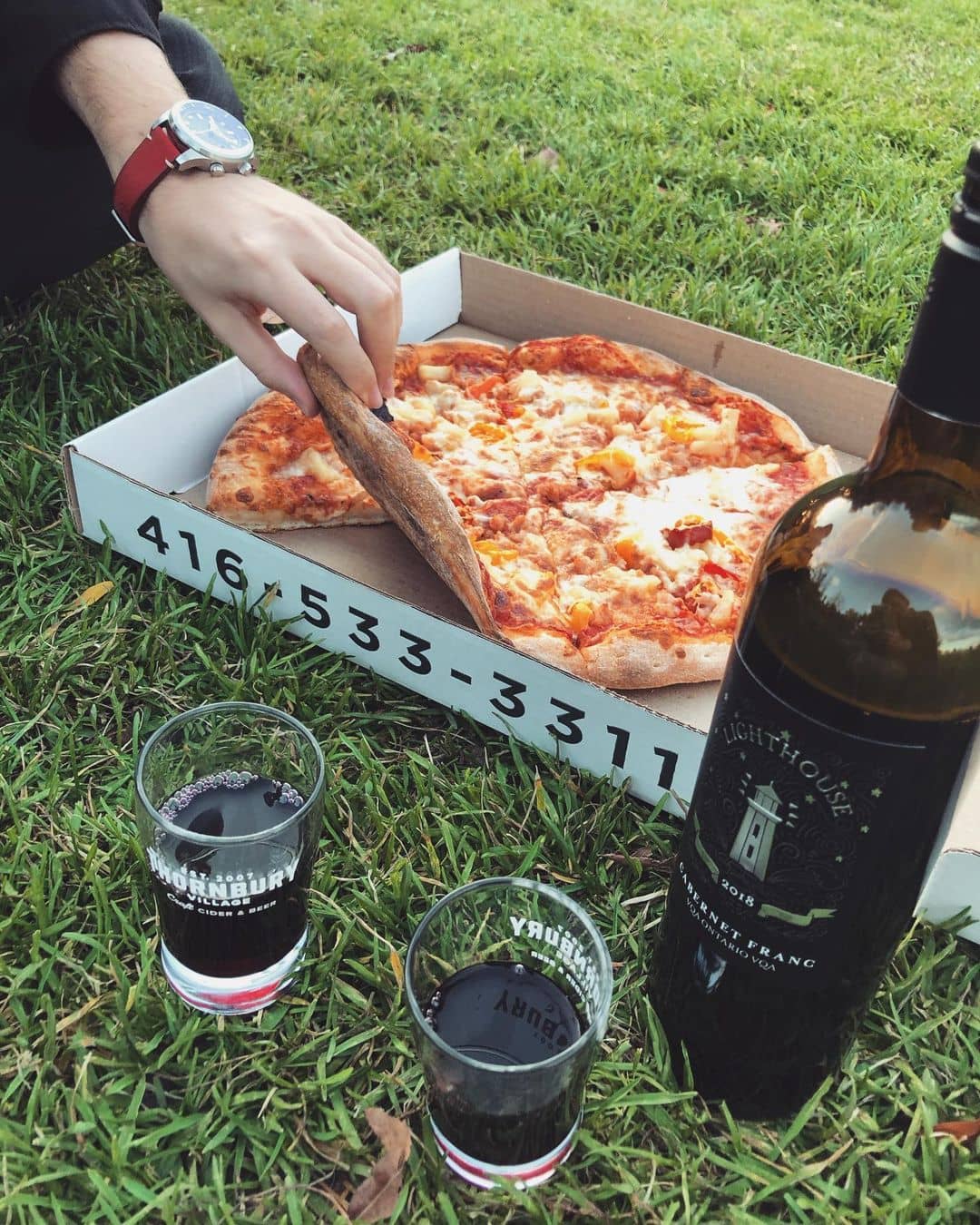 As a child, do you remember wondering what that gooey, cheesy pizza you see on most cartoon movies tastes like? CiCi's will fulfill that childhood dream of yours. With fresh and perfectly cooked pizza, you'll end up contemplating how they made such magnificence. The secret is in their crust! Using a spiked rolling pin, CiCi's serves the ultimate airy and crispy crust! If you haven't tried pizza in CiCi's, you are clearly missing out.
CiCi's is cherished by people in Parkdale, and you can tell why just from their menu. Gunnar's, a pesto-based pizza with chicken, mushrooms, and garlic, was actually created by a customer! That's unquestionably top-level customer service.
If you want something ageless, CiCi's Supreme has withstood the test of the times with an abundance of deliciously greasy cheese. Seriously, CiCi's will have you wishing you lived right next to them so you could eat their pizza every day.
What to order: Gunnar's, CiCi's Supreme
Address: 1618 Queen St. West, Toronto, ON
Website | Instagram | Facebook
From street foods to fancy restaurants, everything is good in Toronto! If you're hungry and looking for the best restaurants in the city, we've got you covered. Check out our Best Toronto Restaurants list for more recommendations.
How We Create Our "Best" Lists
All Noms Magazine's "best" lists are created using multiple factors and signals to help readers find the best restaurants, things to do, and places to stay at. Some of these factors and signs include personal experiences, correspondence with locals, and compiling experiences from review sites.
Each list is also created to be balanced (in terms of price, cuisine type, ambiance, and more) as possible. This means that the lists are not specifically created in ranking order. You should be comfortable picking from any of the spots on the list and generally have a good time. But of course, YMMV (your mileage may vary) and everyone may have different experiences/palates.