Welcome to the dazzling heart of New York City – Times Square! Known for its bright lights, bustling energy, and endless entertainment, Times Square is a must-visit destination for anyone looking to experience the Big Apple.
If you're looking for things to do in Times Square, you've come to the right place! Whether you're a first-time visitor or a seasoned New Yorker looking for something new, we always have something for you!
Wait no more, let's explore the top 15 things to do in Times Square, from mouthwatering food to thrilling live performances, iconic landmarks, and hidden gems.
Grab your walking shoes and Times Square, here we come!
This article contains affiliate links where we may get a small commission if you click on the link and purchase. No extra cost is added to you.
---
Find Cheap Flights To New York:
---
1. Bright Lights, Big City: Times Square's LED Displays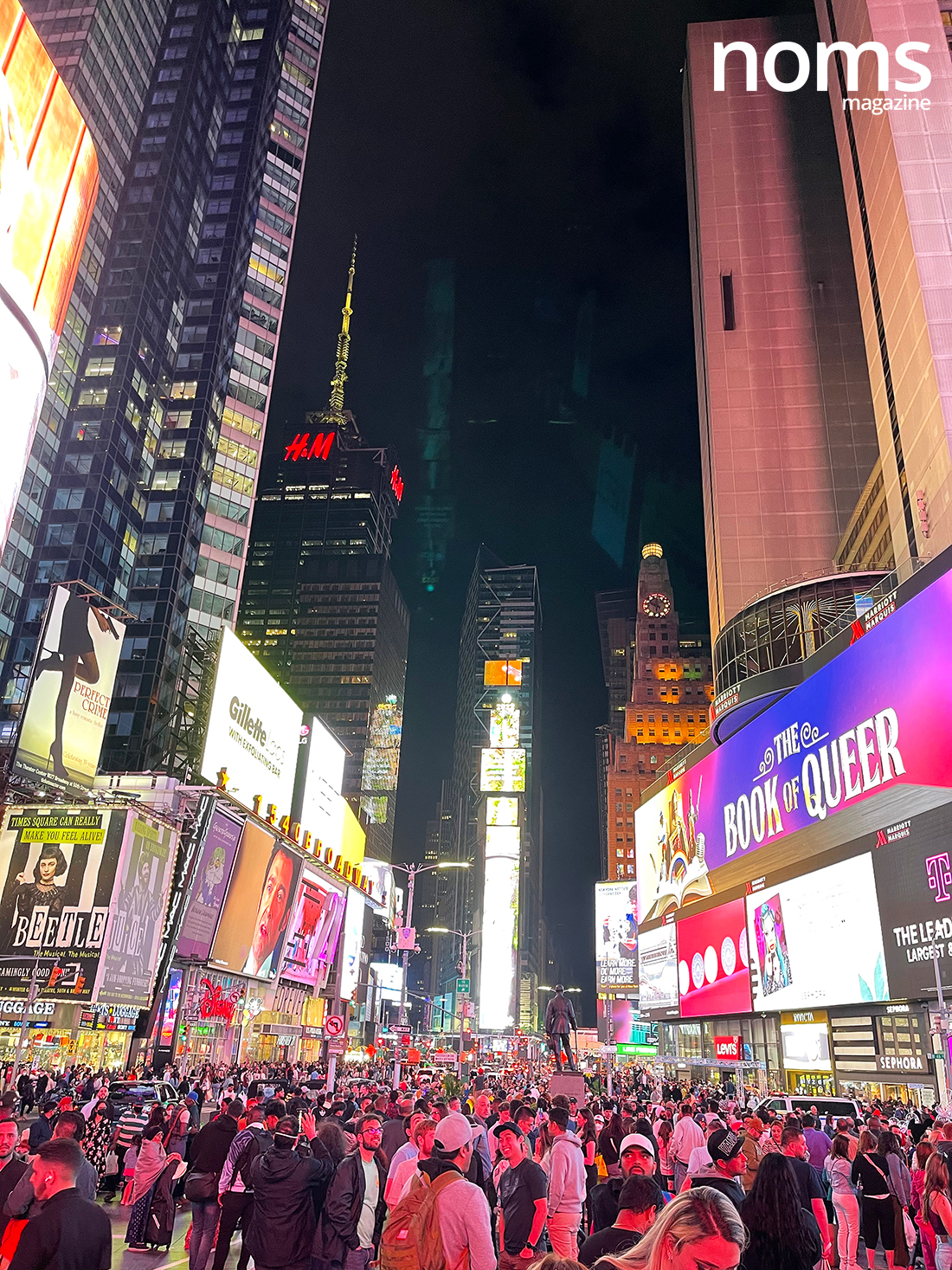 You know you're in Times Square when all those LED displays and neon glow are all around you!
They are just iconic as the Big Apple itself!
Whether you're a first-timer or a seasoned New Yorker, the dazzling billboards never fail to impress.
What to Expect: As you step into Times Square, prepare to be mesmerized by the towering screens flashing with colors, advertisements, and news.
From the famous Coca-Cola sign to the NASDAQ ticker, these displays are a symbol of the city's energy and creativity.
Why You Should Visit: It's a free visual feast that captures the essence of New York. Whether it's your first visit or your hundredth, the lights of Times Square are a must-see.
Plus, they are very Instagram-y too! Some of the most beautiful shots are taken here, so don't be shy to dress your best!
🗽 Pro Tip: For the full effect, visit Times Square at night when the lights truly come to life. And don't forget your camera – this is a photo opportunity you won't want to miss!
💡 See more things to do in Times Square at night!
2. Broadway Shows: A Must-See Experience
No trip to Times Square is complete without checking out a Broadway show!
The amount of effort that goes into a single show is impressive, to say the least. All of the glitz, glamor, and unforgettable performances are made here.
If Times Square is the heart of New York, then Broadway is its soul!
What to Expect: From musicals to dramas, Broadway offers a show for every taste.
There are 41 official Broadway theaters in NYC and at any given time, more than half of them are putting on shows.
This means there are plenty of plays and showtimes to choose from. Whether you're a fan of "Hamilton" or "The Lion King," there's a show waiting to sweep you off your feet.
Why You Should Visit: There's nothing quite like the magic of live theater. The energy, the music, the acting – it's an experience that stays with you long after the curtain falls.
Plus, a lot of shows offer lotteries so you might get a chance to test your luck!
🗽 Pro Tip: Tickets for popular shows can sell out quickly, so be sure to book in advance. Many theaters also offer last-minute rush tickets at a discount, so keep an eye out for those if you're feeling spontaneous!
3. Foodie Heaven: Street Food and Fine Dining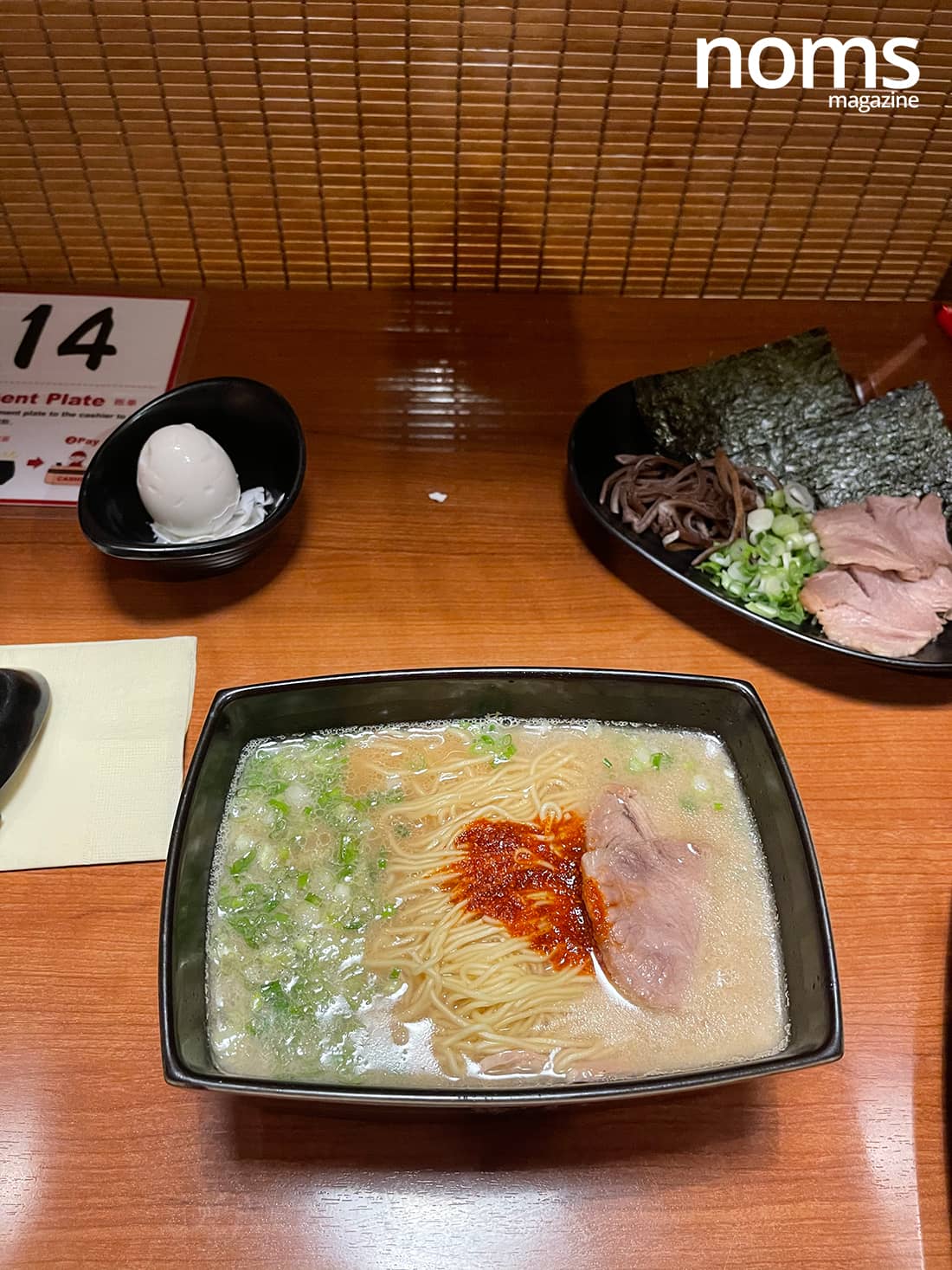 Times Square is a melting pot of flavors, offering everything from classic New York hot dogs to gourmet meals at Michelin-starred restaurants.
For those staying in the area or catching a Broadway show, it is an ideal locale for a meal or snack.
Whatever budget you have, there's a choice for you!
What to Expect: Tasty bites like pretzels and hot dogs are widely served along the street, and you'll be surprised to see all the international delights represented on the streets thanks to the city's famous multiculturalism.
You can even find classic Italian pasta dishes to avant-garde Asian foods as well!
For a sit-down meal, you'll find restaurants serving cuisines from around the world. Here are five must-try spots:
Joe's Pizza: A must-visit for the authentic New York pizza experience. Thin crust, tangy sauce, and perfect cheese blend make it a slice of heaven.
Shake Shack: The place to be for mouthwatering burgers, crispy fries, and thick shakes. Comfort food at its best.
Sardi's: Step into Broadway history with timeless American dishes and caricatures of famous faces. A glamorous dining experience.
Ichiran: Well-known ramen chain for authentic Japanese flavors and being an introvert's paradise.
Junior's Cheesecake: The go-to place for the best cheesecake in the city. A dessert lover's dream comes true. Don't go home without trying some!
Why You Should Visit: Times Square's food scene is as diverse as the city itself. It's a chance to taste the flavors of NYC, all in one place.
From rustic street vendors to elegant dining rooms, there's something to satisfy every craving.
🗽 Pro Tip: If you are not attending a Broadway show, avoid Times Square restaurants near performance times. If you are attending a Broadway show, allow no less than 90 minutes for service. Anything less will be a rushed and less-than-ideal meal.
4. Hop-On Hop-Off Bus Tour: See the Sights
Ready to see the city like a true New Yorker?
Hop on a bus tour and explore the sights and sounds of NYC, all from the comfort of a double-decker bus. It's sightseeing made easy!
What to Expect: Guided tours take you through the city's famous landmarks, including Times Square, Central Park, the Empire State Building, Times Square, the Rockefeller Center, and the Statue of Liberty. You can hop on and off at various stops, exploring at your own pace.
Why You Should Visit: It's a fun and convenient way to see the city, especially if you're short on time.
Plus, the guides are full of local knowledge and fun facts. You can get a feel for all things NYC in one fell swoop!
We just love how we pass through a combination of choreographed actors, musicians strumming along on their instruments, and acrobats strutting their stuff too!
🗽 Pro Tip: Look for combo deals that include other attractions like museums or boat tours. And don't forget your camera – the views from the top deck are picture-perfect!
5. Madame Tussauds: Snap a Selfie with Celebs
Seeing celebrities in NYC is common, but there is an unspoken rule about never approaching them and just letting them be.
If you are just dying to snap a picture with your favorite star, head to Madame Tussauds!
At Madame Tussauds in Times Square, you can do just that (well, almost)! This famous wax museum brings stars to life in a way that's fun for the whole family.
What to Expect: Lifelike wax figures of famous people, from movie stars to historical figures.
Pose, snap selfies, and enjoy themed experiences. Some of the life-like celebrities you'll find at Madame Tussauds in Times Square:
The Avengers
The Royal Family
Rhianna
Taylor Swift
Jennifer Lopez
Selena Gomez
Indiana Jones
Jimmy Fallon
Marilyn Monroe
The Kardashians
Former presidents
Why You Should Visit: It's interactive and fun for all ages, with photo ops that feel like the real deal.
🗽 Pro Tip: Ticket prices depend on the experience and package you choose, but all tickets give you access to nine floors of life-like wax figures and over 80,000 sq. feet of interactive fun. Since this place is one of the most popular spots in Times Square, we suggest you purchase tickets in advance to skip the line!
6. Shopping Spree: Retail Therapy in Times Square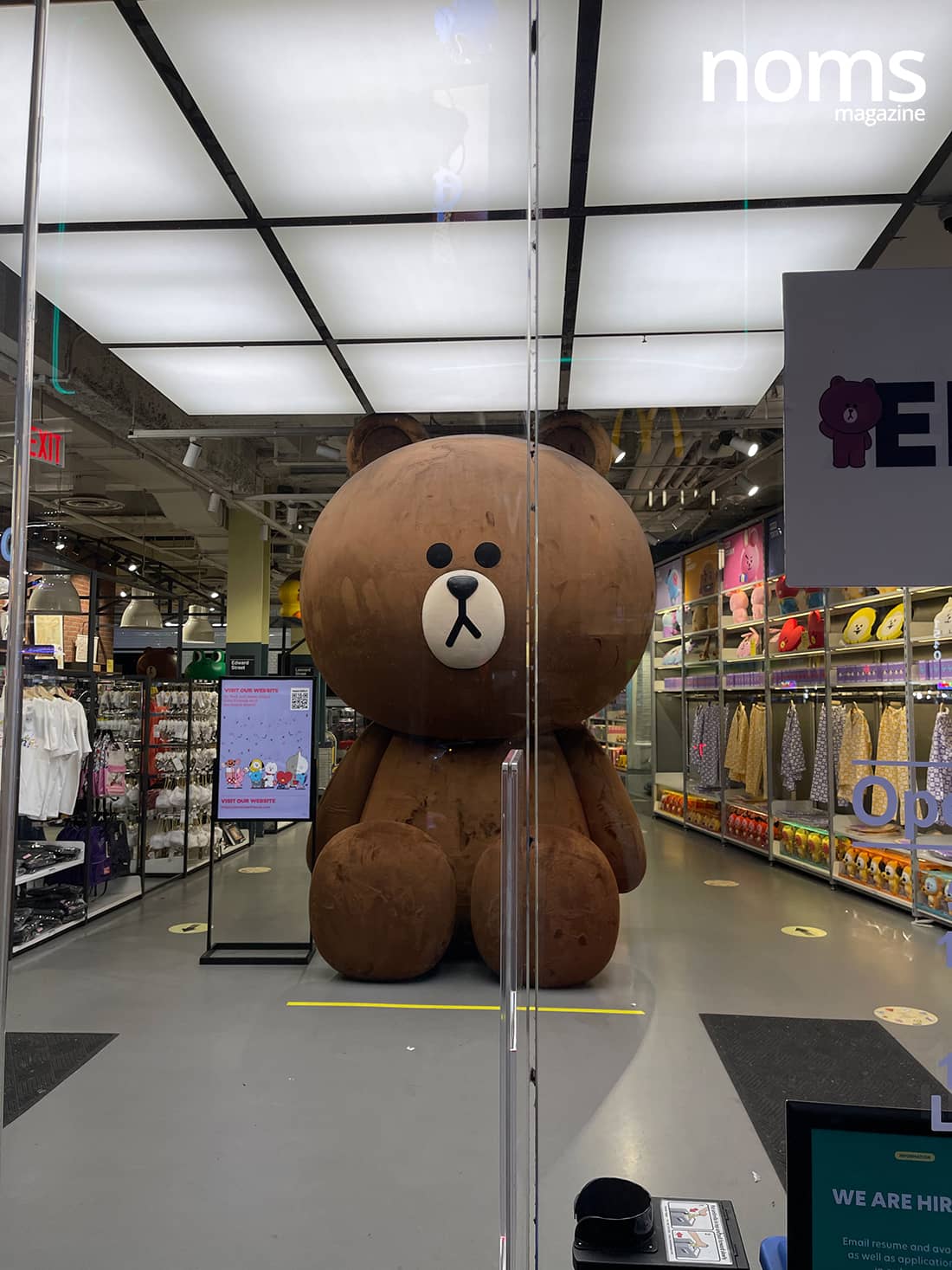 Ready for a shopping adventure?
Times Square is where big-name brands meet unique boutiques.
From the latest fashion finds to tech gadgets, Times Square has something for every shopper.
What to Expect: time Square is made up of three major components; giant TV screens, restaurants, and shops.
You can't walk more than a few steps before making it to the next store
Explore flagship stores like H&M, Forever 21, Sephora, Disney Store, Levi's, Swatch, and more.
Don't miss M&M's World for a colorful treat, and check out Hard Rock Cafe's Rock Shop for music-themed souvenirs. No seriously, Times Square has everything!
Why You Should Visit: With a mix of international brands, iconic stores, and one-of-a-kind finds, Times Square offers a shopping experience that's as vibrant as the city itself. Whether you're hunting for the latest trends or a special New York memento, you'll find it here.
🗽 Pro Tip: Keep an eye out for seasonal pop-up shops and street vendors for unique treasures. And don't forget to explore the multi-level shopping centers for even more options!
7. Rockefeller Center: Skating and Views
No experience is as classic as ice skating at Rockefeller Center!
This world-famous ice skating rink is located right in the middle of Rockefeller Center, accompanied by the iconic backdrop of the famous Prometheus statue.
Visit the Rink at Rockefeller Center to enjoy once-in-a-lifetime skating under the stars or gaze out over the city from high above.
What to Expect: During the winter, the famous Rockefeller Center Ice Skating Rink is a magical experience. In warmer months, explore the beautiful Channel Gardens or take a tour of NBC Studios.
Don't miss the Top of the Rock Observation Deck for breathtaking views of the city.
If you're new to ice skating, don't worry as they also offer basic skills classes for anyone looking to learn the fundamentals of skating in an engaging group environment!
Why You Should Visit: Rockefeller Center is a hub of culture and entertainment. Whether you're gliding on ice, laughing at a live TV show taping, or soaking in the skyline, it's a quintessential New York experience.
🗽 Pro Tip: For the best experience at the ice rink, go early in the season or during off-peak hours to avoid crowds. And book your Top of the Rock tickets online to skip the line. They also decorate the surroundings during holidays, and we have to say it's simply phenomenal!
8. Live TV Show Tapings: Be Part of the Audience
If you're looking for more unique things to do in Times Square consider being part of a live audience for a TV taping.
Here, you'll be seeing what happens behind the scenes of your favorite TV shows, like "Good Morning America," "The Late Show with Stephen Colbert," and more.
What to Expect: Join the excitement of live television by attending a taping of a talk show, game show, or morning news program.
Feel the energy of the studio, see how shows are made, and maybe even catch a celebrity guest.
Most shows and guests on the show change nightly. That's why you can do this hundreds of times and have a different experience after every show!
Why You Should Visit: It's a unique opportunity to see television magic up close and personal. Plus, it's often free – you just need to reserve tickets in advance.
🗽 Pro Tip: Plan ahead, as tickets can go quickly, especially for popular shows. Check the show's official website for ticket information as each show has a different booking method, and remember to arrive early on the day of taping to ensure your spot.
9. New York Public Library: A Historic Treasure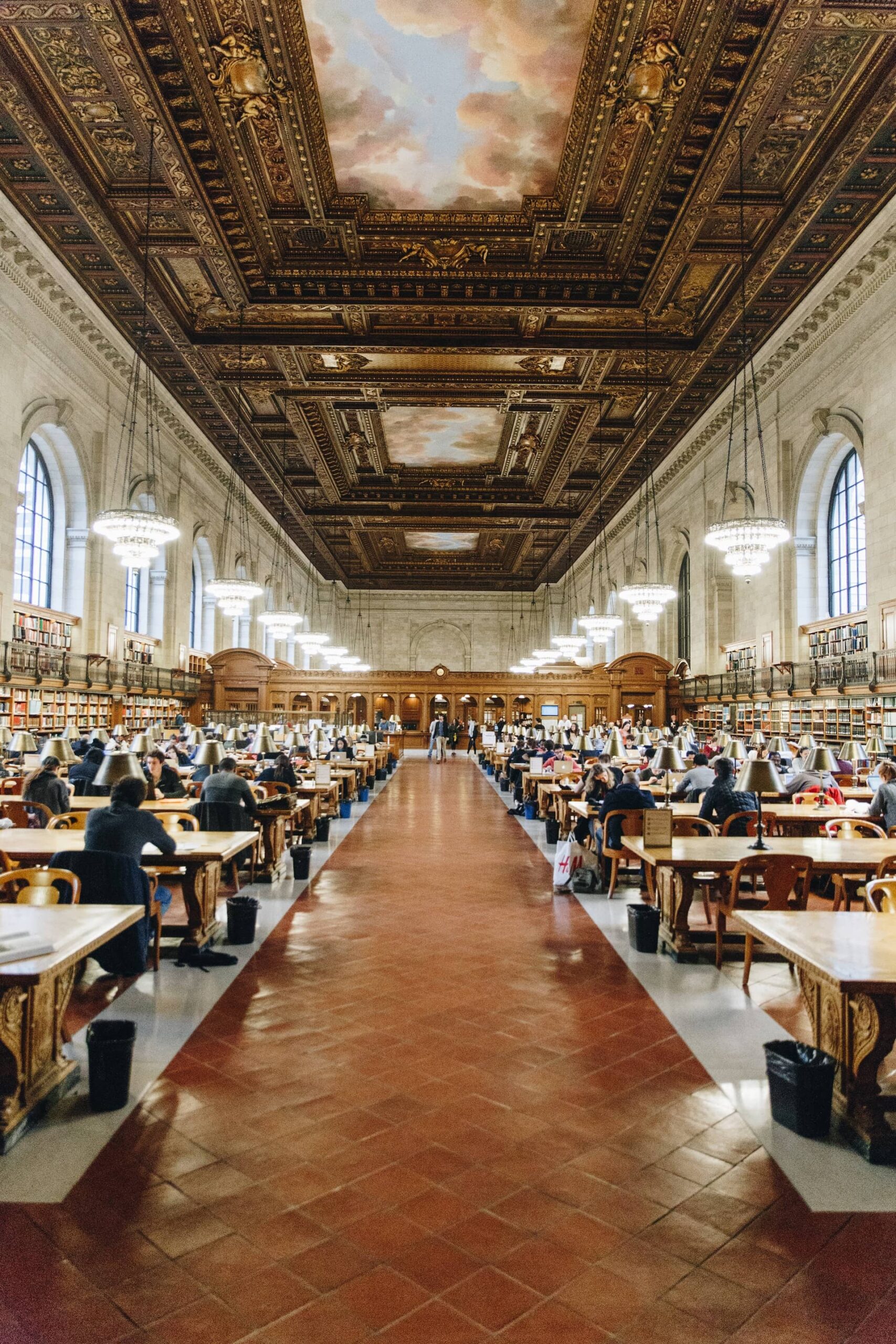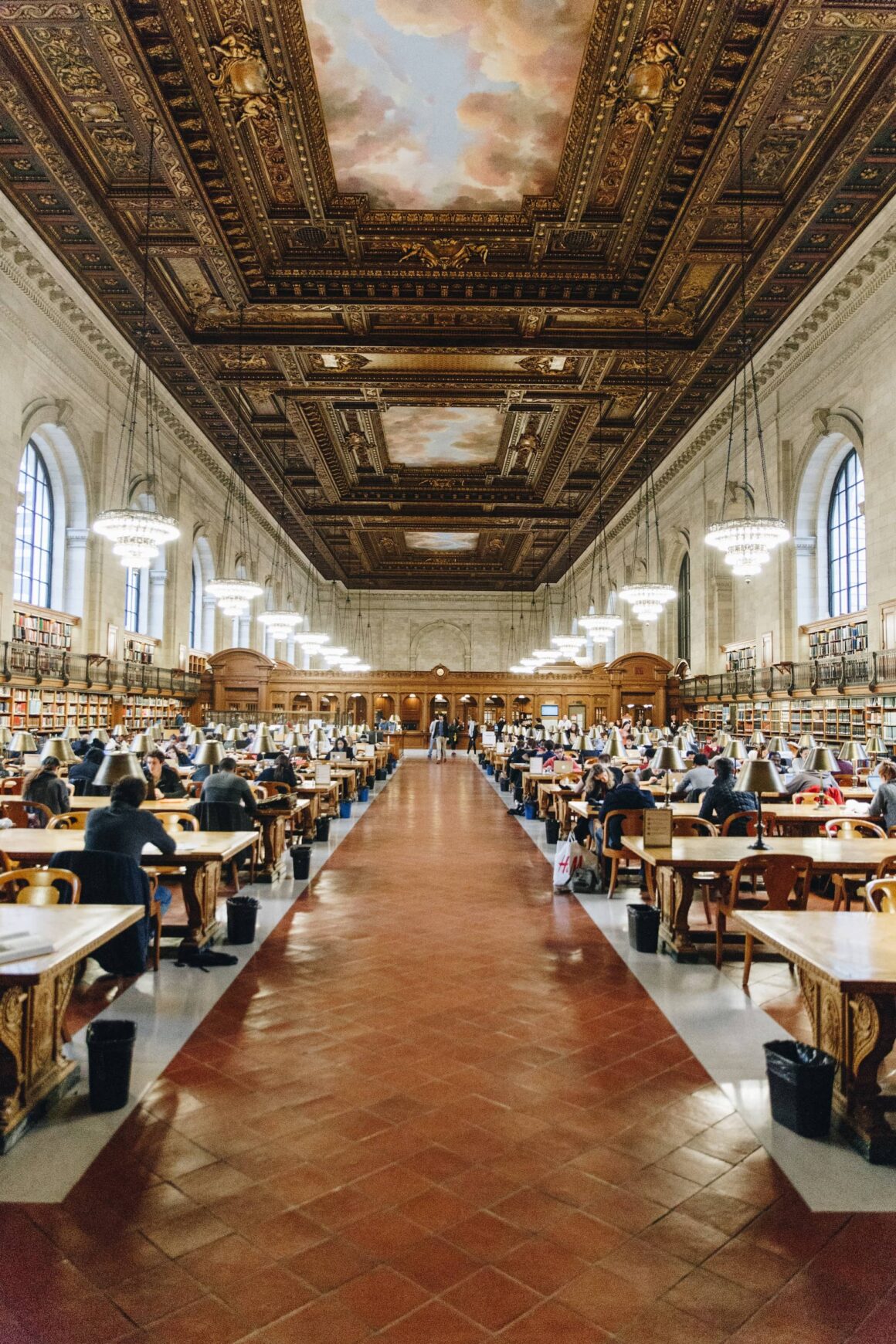 Just a stone's throw from Times Square, the New York Public Library's main branch is an architectural marvel and a haven for book lovers!
With its iconic lion statues and stunning reading rooms, it's a peaceful escape from the city's hustle and bustle.
What to Expect: Explore the grand Rose Main Reading Room, check out rotating exhibits, or simply wander through the majestic halls. Don't miss the library's hidden gems like the original Winnie-the-Pooh stuffed animals.
The best part is to admire the exhibition, which tells the stories of people, places, and moments spanning 4,000 years—from the emergence of the written word through to the present day!
During the visit, you'll be experiencing manuscripts, artworks, letters, still and moving images, recordings, and more that bring vividly to life voices of the past!
Why You Should Visit: It's not just a library; it's a piece of New York history. Whether you're a bibliophile or just appreciate beautiful architecture, it's a must-visit.
🗽 Pro Tip: Join a free guided tour to learn about the library's history and secrets. And don't forget to visit the gift shop for unique literary souvenirs.
10. Music and Dance: Catch a Live Performance
Times Square is the beating heart of New York's entertainment scene, which allows theater and music fans to see top-notch performances, free of charge!
Whatever you're fond of, jazz music or dance performances, there's always something happening that will get your toes tapping!
What to Expect: Catch a live music show at iconic venues like Birdland Jazz Club or see breathtaking dance performances at the New York City Ballet.
You'll be enjoying all sorts of music and dance, from classical to contemporary, the ambiance is going to be super lively and kicking!
Why You Should Visit: Experience the rhythm of the city through live performances that showcase incredible talent and creativity.
Plus, you will have the chance to enter 80 free, open-air events across two stages, including DJ sets, live concerts, dance workshops, and more! How cool!
🗽 Pro Tip: Check local listings for upcoming shows and book tickets in advance, as popular performances can sell out quickly.
11. Bike Tours: Pedal Through the City
For those looking to experience Times Square like the locals, hop on two wheels and join the bike tour!
This is a fun and active way to see the sights, especially if you're going with a group of friends.
This special activity is going to leave unforgettable memories!
What to Expect: Rent a bike or join a guided bike tour that takes you through Times Square, Central Park, and other iconic locations.
Enjoy the fresh air and freedom of exploring at your own pace.
Why You Should Visit: It's a unique way to see the city and cover more ground than walking. Plus, it's a great way to get some exercise while sightseeing.
There are stops at some iconic sightseeings so you can take some time to rest and capture the moment!
🗽 Pro Tip: Wear comfortable clothing and bring water. If you're joining a guided tour, book in advance to secure your spot. Most of the tours provide you with the necessary tools but don't hesitate to double-check before hopping on!
12. The Museum of Modern Art (MoMA): A Modern Masterpiece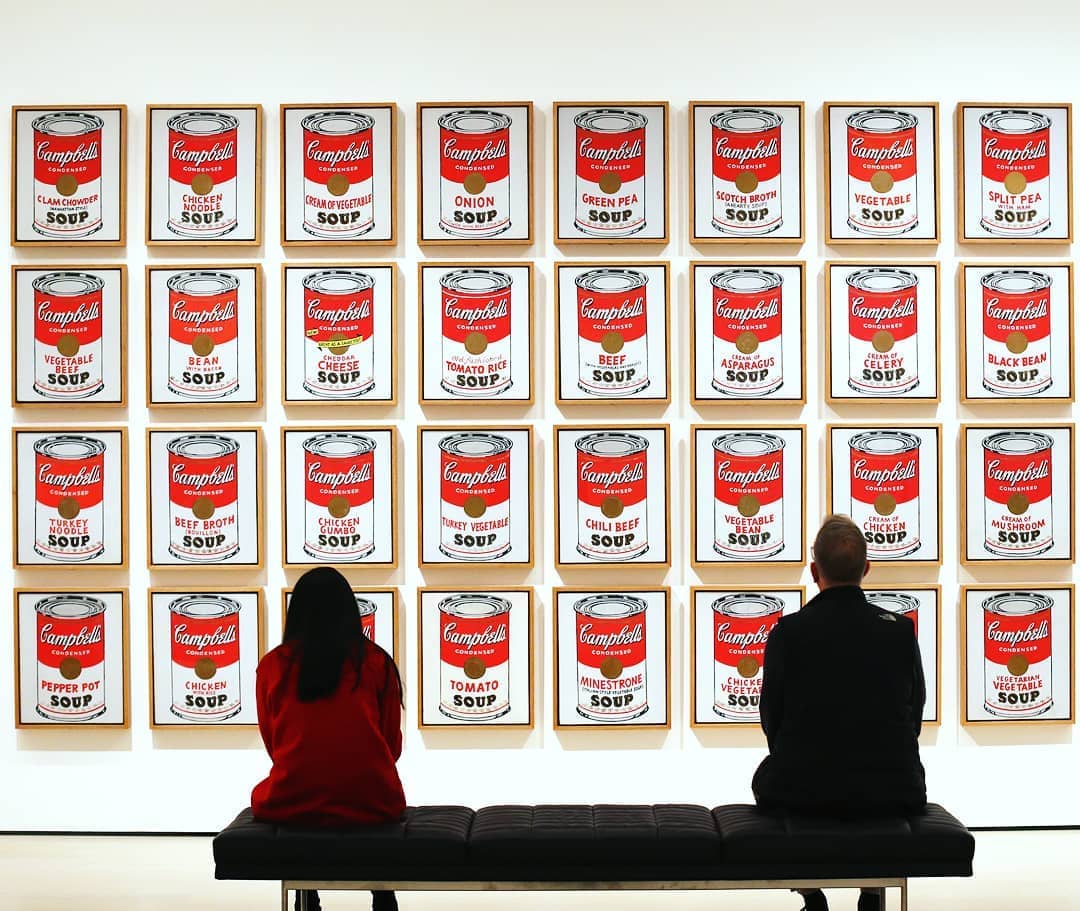 Located in the heart of Manhattan, just a short walk from Times Square, MoMA is home to the world's greatest collection of modern and contemporary art.
The collection features Vincent van Gogh's "The Starry Night," along with works by Claude Monet, Pablo Picasso, Frida Kahlo, Andy Warhol, Salvador Dalí, and many other great artists of our time, which makes it a visual feast that inspires creativity!
What to Expect: MoMA showcases paintings, sculptures, photography, and even performance art for you to admire.
The most iconic works like Van Gogh's "Starry Night" and Monet's "Water Lilies" shouldn't be missed!
Besides all the artistic works, you can also enjoy the flagship MoMA Store and a range of high-quality dining options.
Why You Should Visit: It's a must-see for art enthusiasts and anyone looking to experience the cutting edge of creativity.
🗽 Pro Tip: Visit on a Friday evening for free admission, but arrive early to beat the crowds. They are closed on holidays like Thanksgiving and Christmas.
13. Dave & Buster's: Games and Fun
Looking for some family-friendly fun in Times Square?
Dave & Buster's offers a lively mix of arcade games, delicious food, and entertainment!
Here, you can play hundreds of the hottest new arcade games in their Million Dollar Midway and win tickets for epic prizes. Invite all your friends or family members for an unforgettable event!
What to Expect: Play everything from classic arcade games to virtual reality experiences.
Don't forget to try their mouth-watering, chef-crafted creations in their American restaurant, featuring from wings to steaks, they've got whatever suits your appetite!
The sports bar also offers a wide range of cocktails, wine, and craft beers to assure you're satisfied!
Why You Should Visit: It's a great place to unwind and have fun with friends or family, no matter your age. And we promise you, the food here is chef-kiss, and the lively ambiance is exciting as ever!
🗽 Pro Tip: Look for special deals on game credits and food combos to make the most of your visit.
14. Bryant Park: An Urban Oasis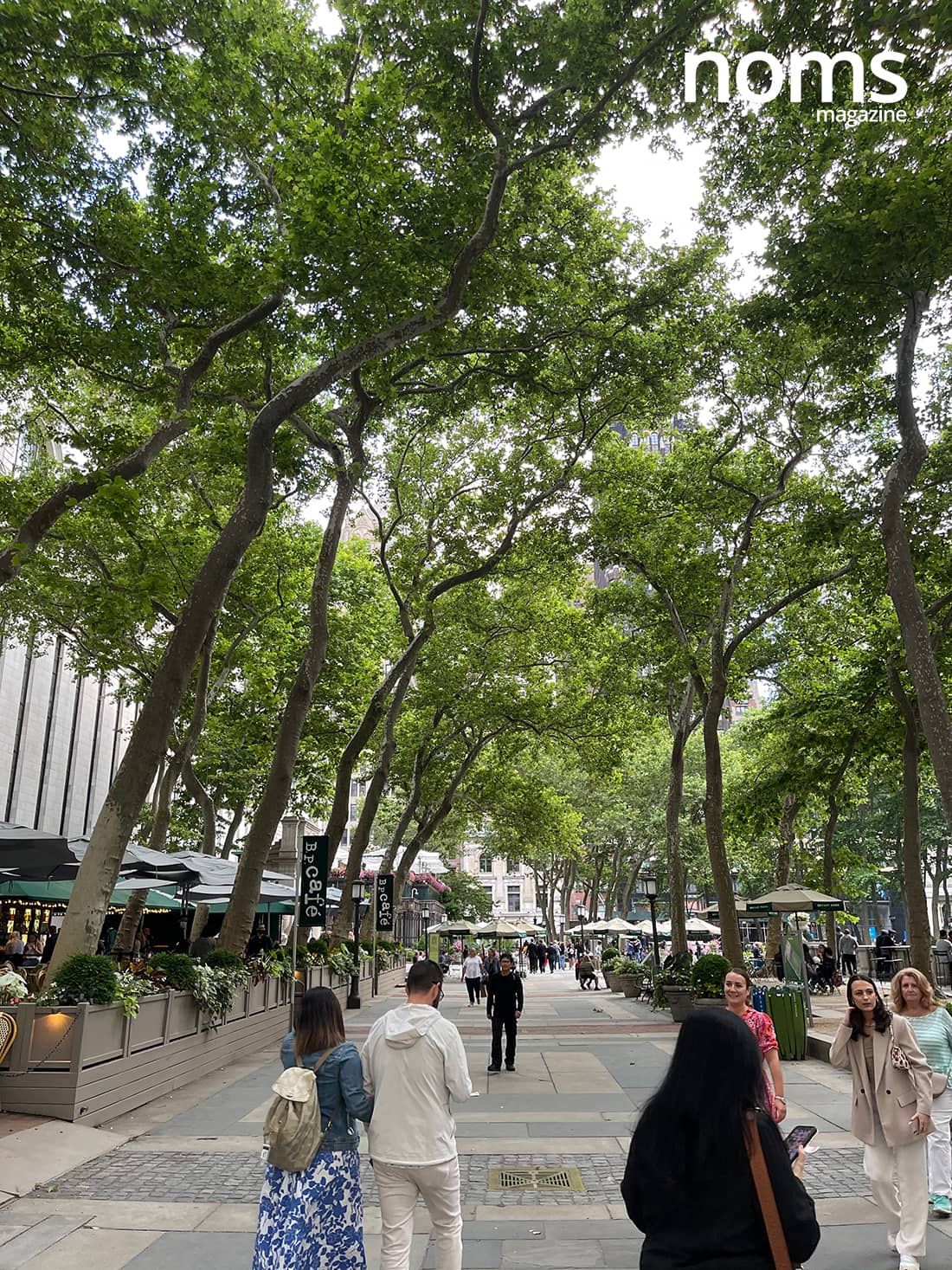 Nestled near Times Square, Bryant Park is an urban oasis that features landscaping, monuments, Le Carousel, various restaurants, concerts, and free summer outdoor movie nights!
This place has long been a favorite spot to both locals and tourists thanks to its lush lawns, beautiful gardens, and year-round events.
Whether you need to go for a walk and need some fresh air, or go for a spin under the stars, Winter Village at Bryant Park is the perfect destination.
What to Expect: Enjoy outdoor movies in the summer, ice skating in the winter, and free Wi-Fi all year round. Grab a bite from food kiosks or simply relax on the lawn.
To learn more about the park's recent history, origins, and architecture, you can join their public tour of the park every Wednesday.
This is going to be a pretty informative yet enjoyable trip for the family!
Why You Should Visit: It's a peaceful escape from the city's hustle, offering a taste of nature amidst the skyscrapers, while taking part in excitingly seasonal events.
🗽 Pro Tip: Check the park's event calendar for free concerts, yoga classes, and other community events. But note that the rink may be closed for special events too!
15. Movie Magic: Famous Film Locations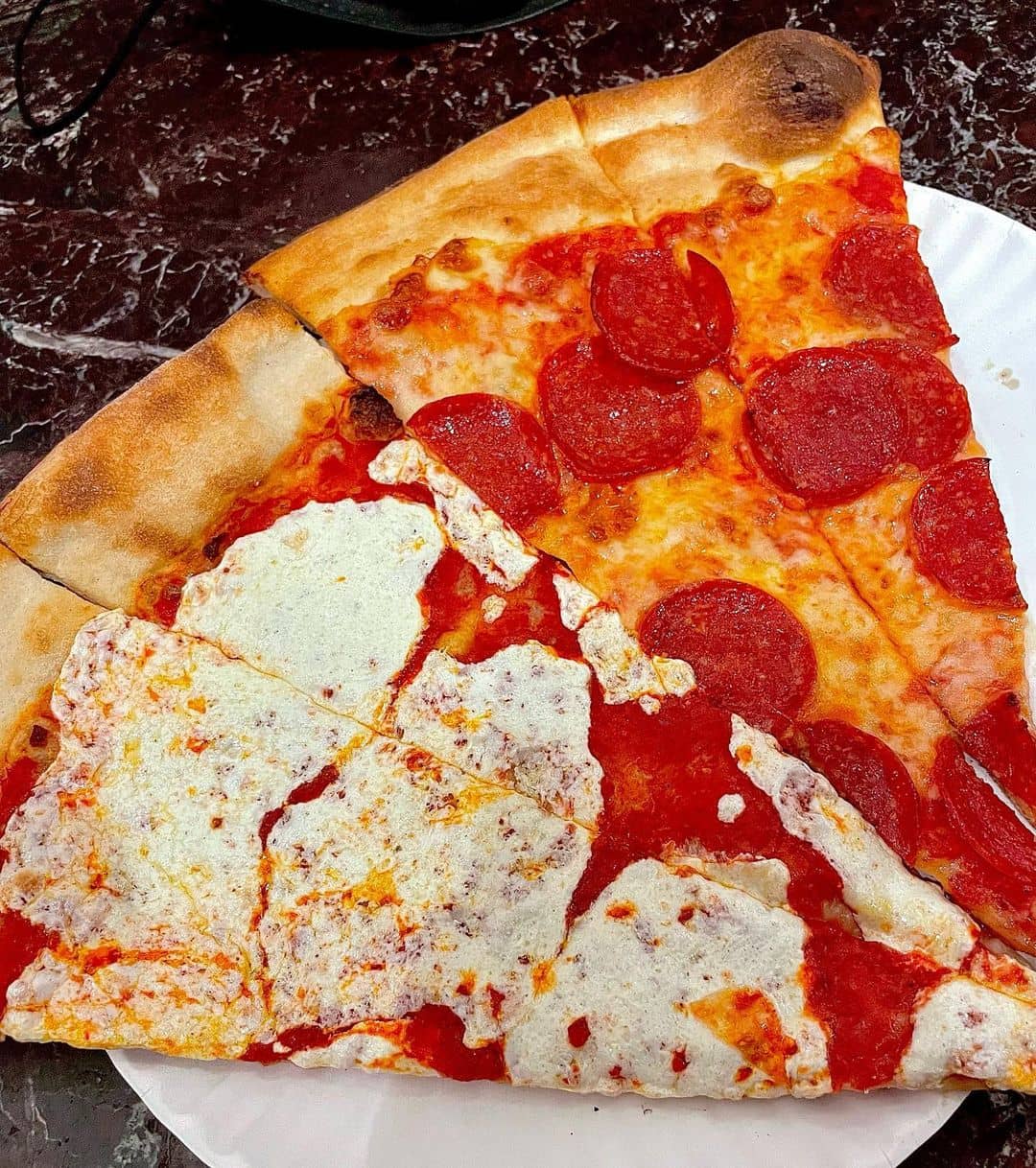 New York City is a hub for creativity and entertainment, with some of the world's most iconic films and television series being shot on its bustling streets and at some of the city's most recognizable landmarks.
And Times Square has been a backdrop for countless movies and iconic TV shows!
Why not take a self-guided tour of some of the most famous film locations? We're sure they will leave you spellbound!
What to Expect: Spot locations from movies like "Spider-Man," "Vanilla Sky," "New Year's Eve" and more! Relive cinematic moments and see the city through a director's lens.
Spider-Man 2: Grab a slice at Joe's Pizza on Carmine Street, just a short walk from Times Square, where Peter Parker worked as a delivery guy. It's a must-visit for Spidey fans!
Vanilla Sky: The surreal scene where Tom Cruise runs through an empty Times Square is a cinematic masterpiece.
New Year's Eve: Experience the excitement of Times Square's legendary New Year's Eve celebration, just like in this star-studded romantic comedy.
Enchanted: Times Square's vibrant energy was the perfect setting for this fairy tale adventure, with key scenes filmed in and around the area.
Why You Should Visit: It's a fun way to explore Times Square and see familiar sights from a new perspective. And who knows, you might even encounter a filming location in action!
🗽 Pro Tip: Research online for a list of film locations or join an organized movie tour for a guided experience.
Times Square is more than just a tourist hotspot; it's a vibrant and diverse part of New York City that offers something for everyone. From world-class art and entertainment to unique shopping experiences, outdoor adventures, and delicious dining, we just can't get enough of exploring this wonderful place!
Looking to get the best of NYC? Take a look at these top rated NYC city tours!