There's an upbeat bustle around you, the glimmer of lights, the intoxicating combination of luxury brands and classy eateries, posh hotels and charming cafes. If this is your first visit to Robson Street, or you're back for more, one thing is for certain. – You're ready to indulge your senses.
From way back in the late 1800's, Robson Street; once simply known as Robsonstrasse, has upheld its rein as Vancouver's star commercial hub. Robson boasts over 100 stores, scores of elegant and comfortable restaurants with an impressive mix of multicultural cuisine, and captivating imagery in its architecture. There is much to do, tons to see and discover, and even more to enjoy, be it for an evening out, or a week-long visit.
To help you in selecting from the best of Robson Street's restaurants, cafes, shops, and places to stay, we've put together a list of 'must-visit' places on your next stop there.
Robson Street Virtual Walking Tour
Good & Bad Of Robson Street
Each neighbourhood has its good and its bad side. Namely – what the area is known for better or for worse. We worked with Robson Street Team to bring you what this neighbourhood is known for:
The Good Part
Home to fashion and beauty flagships, lifestyle stores, cafe patios and fine dining – all in one location
At the heart of downtown Vancouver, super easy to get to via public transit, walking or driving!
Perched just off the bustling Robson Street, Bute-Robson Plaza is the perfect place to gather, lounge, and relax. As a part of the City of Vancouver pilot program, is one of the alcohol-friendly public spaces in Vancouver
The Bad Part
Perception of there being a lack of street parking, but there are multiple hidden parking lots – all listed here!
As Robson Street transitions and evolves, colour and life is being added to the neighbourhood through artwork (3 new murals as a part of Vancouver Mural Festival)
Best Restaurants on Robson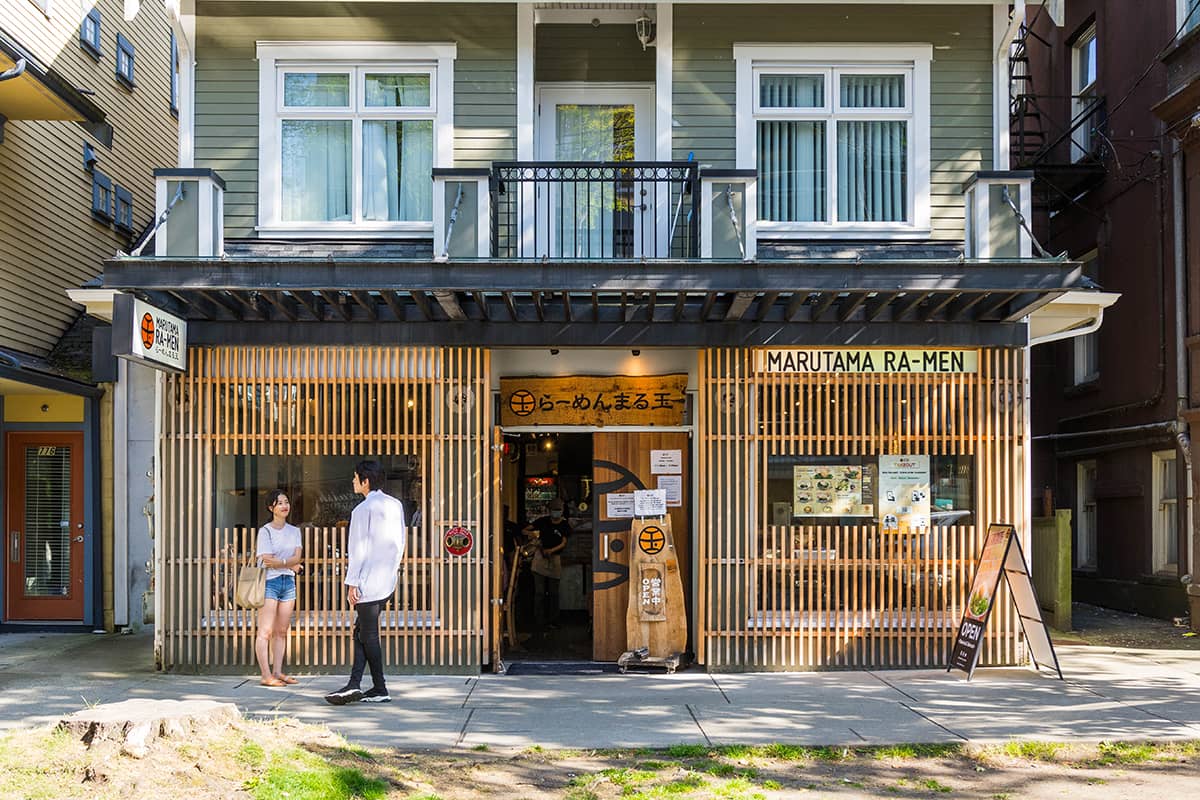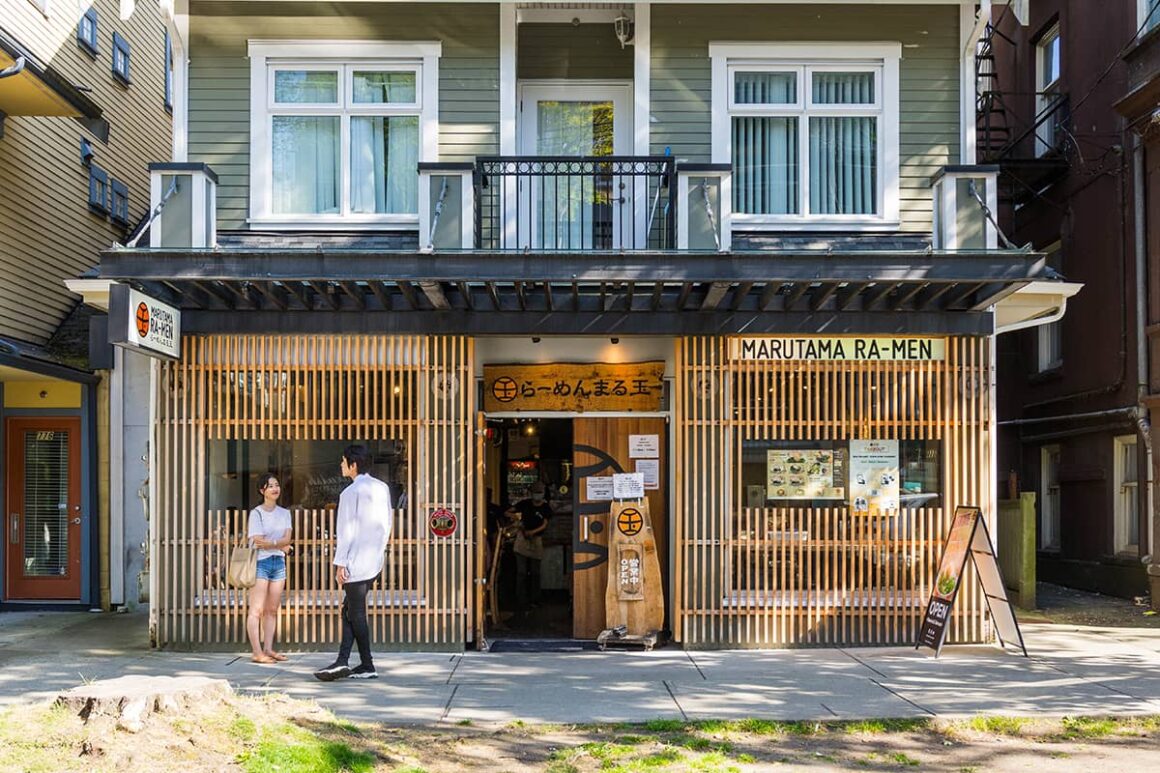 When you're ready for a memorable dining experience, jump right in and sample from the appetizing buffet of restaurants on Robson Street. From warm, hearty Ramen broths and seasoned-to-perfection Italian pastas, steaks, wings, and even Tapas, there is something designed to satisfy every palate and then some, making Robson Street in Vancouver one of the best places to indulge your food cravings.
Marutama Ra-men
#bestinvancouver #bucketlist #popular #recommended
Originating in Kawaguchi Japan, Marutama Ra-men first opened its doors in Vancouver in 2014. Under the skilled hands of founder Tetsuya Kudo, this cozy restaurant on Robson Street tugs at one's Ramen-loving heartstrings.
The menu is comfort food at its finest. Give in to the delicious goodness of their signature Tamago Ramen steeped in a rich, creamy chicken broth (Toripai tan,) or opt for crisp Gyoza just bursting with tender pork and vegetables. And, you definitely must not miss out on the house's specialty Garlic Chips, which are practically a staple at every regular diner's table.
What to order: Tamago Ramen, Gyoza, Garlic Chips
Locations:
-270 Robson St, Vancouver, BC V6B 0E7
-780 Bidwell St, Vancouver BC
Order Online: Uber Eats
Boulevard Kitchen & Oyster Bar
#awardwinning #seafood #recommended
Right in the heart of downtown Vancouver, Boulevard Kitchen & Oyster Bar is a seafood connoisseur's paradise. Combining tradition with a modernist style, this award-winning eatery showcases its expertise in a celebration of delectable cuisine, service, and class. Make yourself comfortable at the seated oyster bar, the coveted wrap-around patio, or maybe in the classic vintage private dining room, for an intimate gathering.
Boulevard's extensive menu will let you experiment to your heart's content. Their Seafood Tower is an experience few can resist, and the Shrimp Ceviche will leave you wanting for more. But, if simple elegance is more your style, try the Albacore Tuna Tataki and leave with no regrets. Shall I go on? Clam Chowder, Foie Gras, and the Sablefish.
Have fun dining in style!
What to order: Seafood Tower, Shrimp Ceviche, Albacore Tuna Tataki, Clam Chowder, Foie Gras, Sablefish
Location: 845 Burrard St, Vancouver, BC V6Z 2K6
Joe Fortes Seafood & Chop House
#awardwinning #bestinvancouver #popular
If a nice relaxing brunch is on your mind, you should head on over to Joe Fortes Seafood & Chop House on Robson Street. What awaits you there is an array of delicious cuisine and genuine Vancouver warmth. Named after a local legend, Joe's is one of the most happening hotspots on Robson. From the large comfy booths and live music, to the superb service, you will immediately feel right at home there.
The menu at Joe's is vast, and you can dig into their famous Lobster Roll, a Chicken Waffle, some Cajun Crab, and definitely the renowned Pork Chop. Go right ahead and enhance your meal with a glass of red or white from their award-winning wine list.
Take your time with your selection, order another round of mussels, and keep your eyes peeled for a celebrity spotting.
What to order: Lobster Roll, Chicken Waffle, Cajun Crab, Pork Chop
Location: 777 Thurlow St, Vancouver, BC V6E 3V5
Kosoo Korean Restaurant Chicken & BBQ
#friedchicken #recommended
Within walking distance of the harbor, and a popular hangout for Vancouverites, Kosoo Korean Restaurant Chicken & BBQ makes it to every 'must visit' list. The casual natural wood ambiance draws you in, and the traditional Korean cuisine and fusion delights make you stay.
Whether you go for Kosoo's Original Fried Chicken, or the Jokbal & Bossam, a satisfying serving of Bibim Naengmyeon (spicy cold noodles,) you really should not leave before you try the Half & Half (Yangnyeom & golden crispy) accompanied by crunchy deep-fried mini-crabs.
What to order: Fried Chicken, Jokbal & Bossam, Bibim Naengmyeon, Half & Half
Location: 1128 Robson St, Vancouver, BC V6E 1B2
Order Online: DoorDash | Uber Eats | SkipTheDishes
CinCin Ristorante & Bar
#awardwinning #recommended
When it comes to celebrating special occasions, we all look for that one epic place to make the evening memorable. And, what better way to do that, than to climb some magical winding stone stairs and step into an unforgettable experience in Italian fine dining.
Under the unparalleled skill of Chef Andrew Richardson, CinCin breathes old-world charm, offers the best of authentic Italian cuisine, and exceeds every culinary expectation.
The menu at this fabulous establishment is crafted to blend with every season, and creates many of its dishes on a fruitwood charcoal grill. Try the Charred Octopus, the wood-grilled Sea Scallops, or even a classic grilled beef. The Risotto shouldn't be missed, and the Alberta Rack of Lamb comes highly recommended. Besides that, pastas, bolognese sauce, linguini and fine wines round off what this award-winning restaurant is all about.
What to order: Charred Octopus, Sea Scallops, grilled beef, Risotto, Alberta Rack of Lamb
Location: 1154 Robson street (between thurlow + bute)
Ramen Danbo
#bestinvancouver #bucketlist #popular #recommended
For meat-eaters, vegetarians, and vegans alike, there is something for everyone at Ramen Danbo on Robson Street. You may have to wait a short while for a table, but trust me when I say, it will be worth your time.
This undeniably Japanese Ramen eatery offers its diners not just an abundant menu, but also a customizable one. Have fun requesting toppings of your choice, choosing the thickness of your broth, and even the spice levels to make your soup or noodle bowl richer.
Opt for a bite of Pork Gyoza, indulge yourself with some Miso Ramen with Chashu & Nori, or a melt-in-your mouth Ramen with pork. Add an egg, or not, and wash it all down with an icy beverage.
What to order: Pork Gyoza, Miso Ramen, Ramen with pork
Location: 1333 Robson St, Vancouver, BC V6E 1C6
Order Online: DoorDash | Uber Eats
Forage
This place is one of those finds that will leave you with fond reminisce long after you've left. A trendy and upbeat spot focused on locally sourced products and sustainability, Robson Street's Forage restaurant provides casual comfort, great service, and exceptional flavor in every one of its dishes.
The menu gets your attention with its categories of snacks, soil, land, sea, and sweets. Try the BBQ Duck Chowder, the Butter Fried Gnocchi, or the Bison Steak which may become your favorite item on the menu, and don't forget to really go to town on the warm, delicious bread served directly from the oven in a cast-iron pan.
What to order: BBQ Duck Chowder, Butter Fried Gnocchi, Bison Steak
Location: 1300 Robson St, Vancouver, BC V6E 1C5
Stepho's Souvlaki Greek Taverna
#goodportions
If you're in the mood for some scrumptious Mediterranean fare, you'll need to head over to Stepho's Souvlaki Greek Taverna. Living up to its cozy name, this lively family-run Taverna is a rustic haven for Greek food enthusiasts.
The portion sizes at Stepho's will bowl you over, and don't worry about the price, because every item on the menu is extremely pocket friendly.
Dishes to sample at this eatery are the Moussaka, Roast Lamb and Calamari, Pork and Prawn Skewers, BBQ Spareribs, Lamb Chops, or Chicken, and for a refreshing dip, you can't go wrong with the Tzatziki.
What to order: Moussaka, Roast Lamb and Calamari, Pork and Prawn Skewers, BBQ Spareribs, Lamb Chops, Chicken, Tzatziki
Location: 1359 Robson St, Vancouver, BC V6E 1C6
EBISU on Robson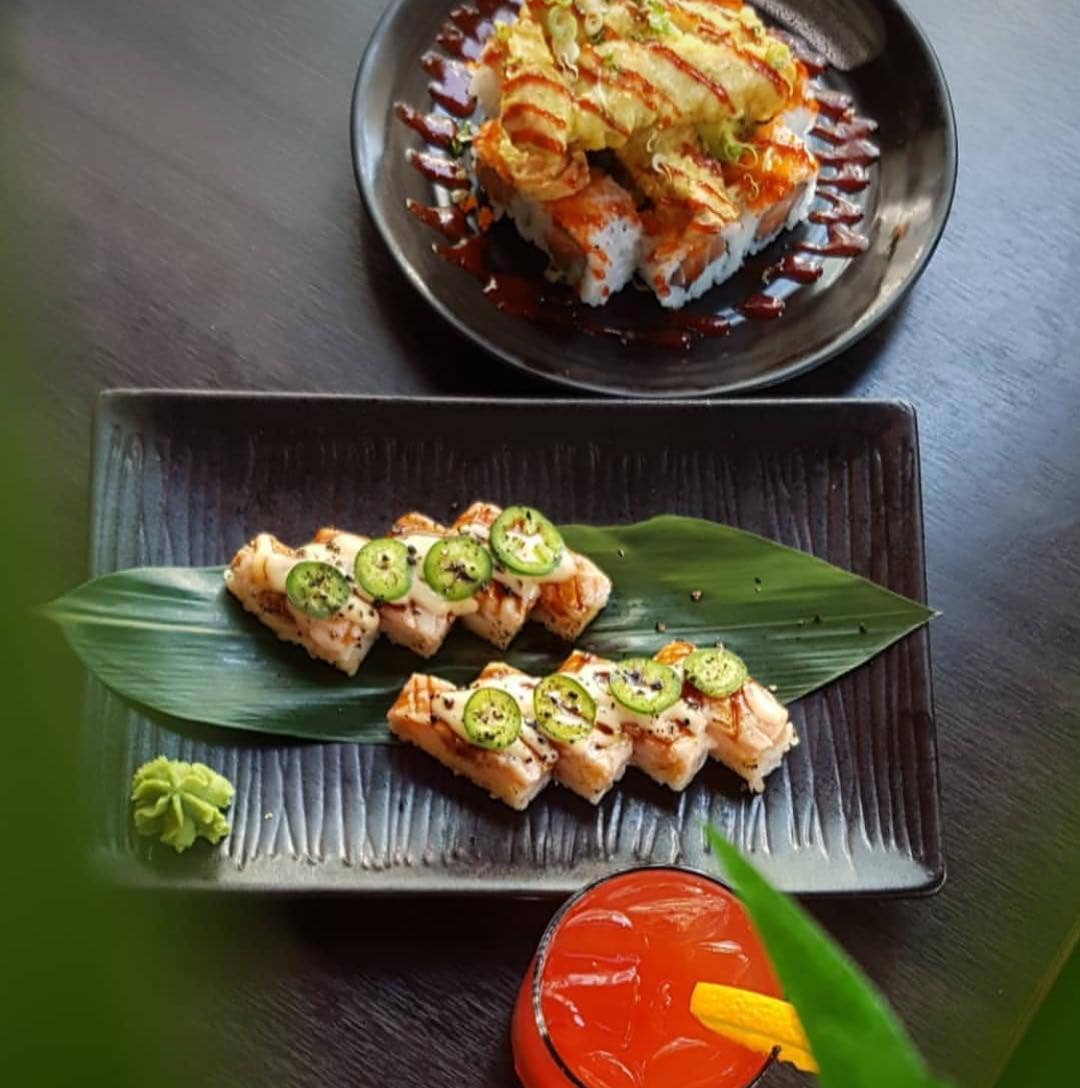 There are so many of us who often crave a good serving of sushi. So, where does one go for that in downtown Vancouver?
High on the list of Robson Street's trendy and happening places is EBISU, an Izakaya style Japanese Restaurant Lounge which serves its patrons original sushi prepared by trained chefs from Japan. The vast interior is stylish and perfectly suited for power-lunches, intimate dinners for two, and even large gatherings.
Stop by for Happy Hour and dig into a delectable seafood and sashimi platter. Or, if you're here for dinner, the sushi is divine, so are the Truffle fries, and the Chicken Karaage. An extensive cocktail menu will quench your thirst, especially the Sake infused drinks, which are a must try.
What to order: sushi, Truffle fries, Chicken Karaage
Location: 827 Bute Street Vancouver, V6E 3Y4
Order Online: DoorDash | SkipTheDishes
Uncle Tetsu Japanese Cheesecake
So, you've eaten a delicious dinner and you're stuffed to the brim. But, no meal is complete without a little dash of sweetness. Who can't make some room for that? For dessert, you'll find plenty of encouragement on Robson Street, and especially at Uncle Tetsu Japanese Cheesecake.
Enriched with a history in sweet making that dates back more than 50 years, and spans the globe, Uncle Tetsu's handmade Japanese-style cheesecake is always freshly baked, pillowy soft, and packed with flavour.
Treat yourself to some unique goodness. We promise it will be worth your while.
What to order: Japanese-style cheesecake
Location: 1151 Robson Street Vancouver, V6E 1B5
Hmart Food Court
#cheapeats #korean
If you're out grocery shopping in Robson Street and looking for Asian ingredients, you'll most likely be directed to Hmart. When you're there, a quick and affordable lunch or snack might enter your mind.
If so, then make your way up to the second floor food court and pick from a variety of Chinese, Japanese, and Korean fare. Things to try are their Grilled Salmon, Kimbap, Soondubu Bibbimbap, and spicy rice cakes.
Wash it down with a cool Watermelon drink from the store itself.
What to order: Grilled Salmon, Kimbap, Soondubu Bibbimbap, spicy rice cakes, Watermelon drink
Location: 590 Robson St #200, Vancouver, BC V6B 2B7
Website | Instagram
JAPADOG
#recommended #popular #awardwinning #bucketlist
Is there anything better than a dream that turned into a success story? There's this one in Vancouver about a young Japanese couple who started a hotdog stand back in 2005, and unapologetically fused east and west together. What they presented to the world was the sheer genius they called JAPADOG. Today, they're a chain of food stands, food trucks and storefronts that only keeps growing.
Make it a point to stop by their storefront spot on Robson Street. When you're there, you don't want to miss out on the Kurobota Terimayo, which is their hottest seller, or you can try the Yaki Soba Hotdog too. Although, I promise you won't say no to the Butter and Shoyu, or the Schichmi and Garlic Fries.
Need something sweet after? Try the ice-cream sandwich and takoyaki, or a parfait.
What to order: Kurobota Terimayo, Yaki Soba Hotdog, Butter and Shoyu, Schichmi and Garlic Fries
Location: 530 Robson St, Vancouver, BC V6B 2B7
Order Online: DoorDash | Uber Eats
Tractor Foods
No list of eateries in any place would be complete without healthier food options. For the ones looking to stay true to their clean eating habits, Robson Street provides the perfect healthy eating spot at Tractor Foods.
From soups and stews, to wraps and sandwiches, the menu selection at this restaurant is bursting with variety and flavor. Dig into a Grilled Avocado Bowl, or a hearty Moroccan Chicken Stew. If not that, then there's their fabulous Short Rib Sandwich marinated in red wine and rosemary and served in a sourdough.
And, if just one item is not what you think will fill you up, go for the Half Sandwich- Half Stew or Soup, maybe with a side of Kale & Roasted Mushroom with Quinoa and crunchy shallots drizzled with a blackcurrant vinaigrette.
What to order: Grilled Avocado Bowl, Moroccan Chicken Stew, Short Rib Sandwich, Half Sandwich- Half Stew or Soup, Kale & Roasted Mushroom
Location: 547 Robson St, Vancouver, BC V6B 1A6
Order Online: DoorDash | Uber Eats
Best Cafes on Robson
The hustle of any street is only perfectly complemented if there is a host of tranquil cafes punctuating the atmosphere.
We've selected the best cafes for you to stop by during your visit to Robson Street. You can while away time sampling refreshing snacks, or just linger over one of many richly aromatic coffee and tea blends.
Faubourg Paris
Defining elegance, aesthetic, detail, and taste is the Parisian way of life. So, when you think of cafes, the essence is always better enhanced by some authentic French flair.
Faubourg Paris will tantalize your taste buds with its incredible display of handcrafted Choux pastries, macaroons in precious flavors like Raspberry Rose and Earl Grey Lavender, aromatic breads, and buttery croissants. Delve deeper with a savoury quiche, some Crème Brulée, or a classic Peach Melba.
What to order: Choux pastries, Raspberry Rose and Earl Grey Lavender macaroons, croissants, quiche, Crème Brulée, Peach Melba
Location: 769 Hornby St, Vancouver, BC V6Z 1S2
Ladurée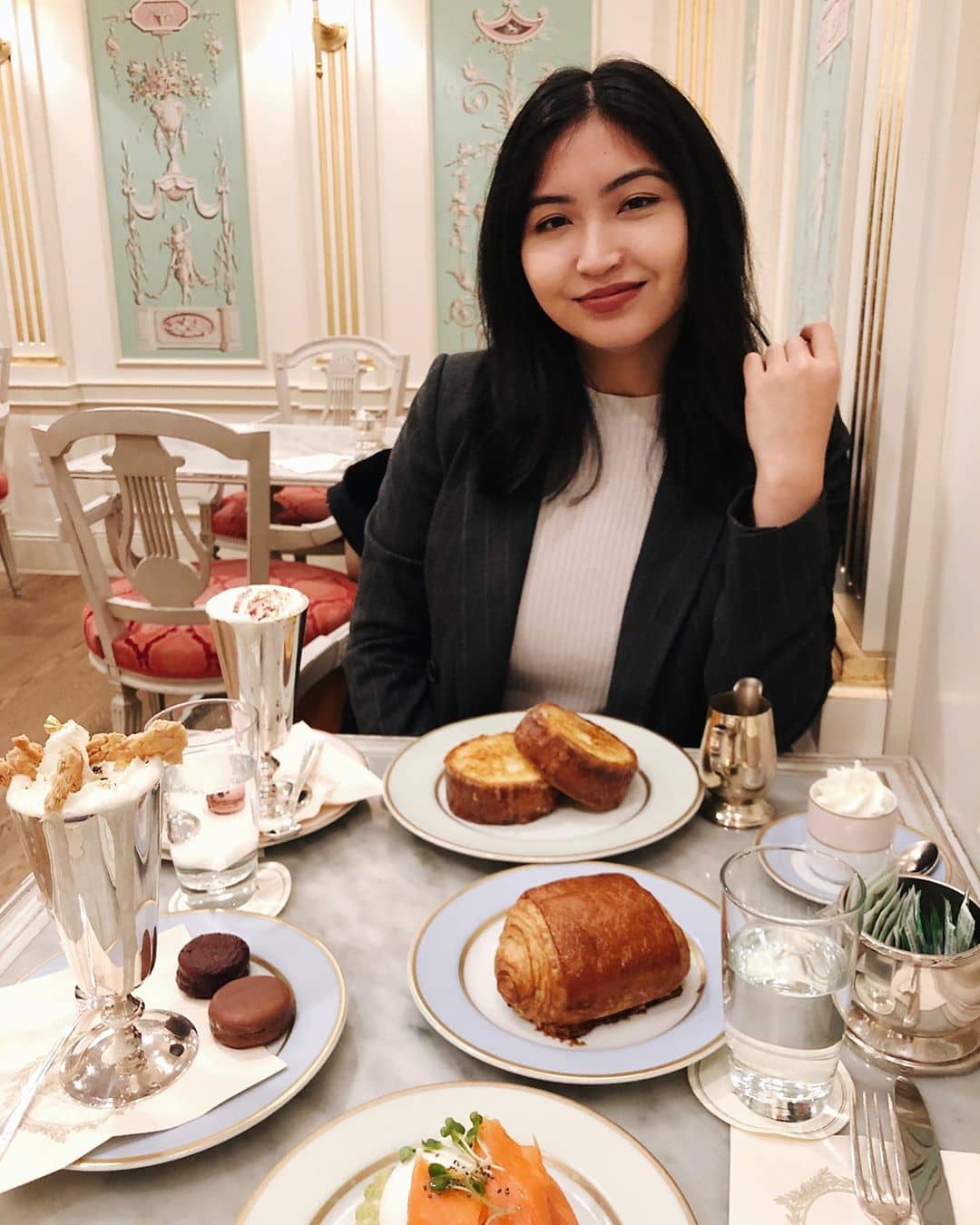 Immerse yourself in elegance and class at yet another one of Robson Street's fine eateries. Ladurée is renowned for its ritual afternoon tea (and high-teas) with confectionary and scrumptious savoury items that will delight you.
Mille Feuille, Biscuits, Madeleines, Finger sandwiches, golden croissants, and a range of chocolates, tarts and gorgeous sweet treats to choose from, makes this exquisite cafe a must-visit for everyone.
What to order: Mille Feuille, Biscuits, Madeleines, Finger sandwiches, golden croissants, chocolates, tarts
Location: 1141 Robson St, Vancouver, BC V6E 1B5
Breka Bakery & Cafe
#bestinvancouver #open24/7 #recommended
For the late night crowd (or the early morning larks) looking for a place to hit the books, or just catch up with friends, Robson Street has just the place for you. Breka Bakery & Cafe located in the heart of downtown Vancouver, keeps its doors open to guests round the clock.
The atmosphere is classic casual comfort, while the menu takes care of those midnight and late afternoon hunger pangs alike. Opt for a simple grilled cheese, or a fancier Bocconcini & Pesto Baguette. They also serve soup, hot pockets, and an array of donuts, cookies, and cakes by the slice. Coffee, tea, iced lattes and smoothies too.
Still craving something sweet for later? Take home one of their delicious tortes or strudels.
What to order: grilled cheese, Bocconcini & Pesto Baguette
Location: 812 Bute St, Vancouver, BC V6E 1Y4
Meet Fresh
We've talked about many treasures that exist on Robson Street, but we'd be remiss if we left out the highly coveted Meet Fresh cafe.
Take an after-dinner stroll to this traditional Taiwanese dessert place and indulge in pure decadence. Order some Taro Balls and Grass Jelly, or the Tofu Pudding, and you wouldn't want to skip the refreshingly crisp Shaved Ice options in Mango, Strawberry and Red Bean.
If you prefer a sweet drink instead, go for the Herbal or Fresh Milk Teas which are soothing and satisfying. 
At Meet Fresh, the servings are more than generous, and can easily be shared between two people.
What to order: Taro Balls and Grass Jelly, Tofu Pudding, Mango, Strawberry and Red Bean Shaved Ice, Herbal or Fresh Milk Teas
Location: 1232 Robson St, Vancouver, BC V6E 1C2
Order Online: Uber Eats
Best Shops on Robson
There's nothing quite like a good dose of retail therapy while visiting any place or district. Be it a token tourist purchase, or a foray into high-end brand buying, the shops on Robson Street cater to every whim of both serious and casual shoppers.
We're happy to present you with some of our best picks for shops to browse through when you're out and about next.
CF Pacific Centre
Just a two minute walk from the Vancouver Art Gallery, is one of the city's incredible buried treasures. Literally! Pacific Centre mall is one of the largest in the country, and ranked among the Top 5 malls to visit. A shopper's delight, and perfect for spending an afternoon indoors, yet with lots to do and experience.
Shop till you drop, or just stroll around amidst retail giants like Nordstrom, H&M, Apple, Harry Rosen, kate spade new york, Disney, and tons more. Stop for lunch at the food court, and then, maybe shop some more. You know you'll want to.
Location: 1232 Robson St, Vancouver, BC V6E 1C2
Indigo
Readers, writers, and stationery collectors. This one's for you! Nestled in the heart of downtown, Indigo on Robson Street (aside from being Canada's biggest bookstore) is hands down one of the best places to spend some quiet time getting in touch with yourself.
Pick a book, and indulge in a quiet read over a hot cup of coffee in the tranquil atmosphere. You can also browse around the store and check out the new styles in their clothing section, or trendy gadgets in electronics. Maybe, pick up a little gift for that special someone in your life. This store offers products from children's toys and beauty creams, to pretty paper, gorgeous throw pillows, jewellry, and wall decor. And, of course books!
P.S. there is a Starbucks on the second floor!
Location: 1033 Robson St, Vancouver, BC V6E 1A9
Konbiniya Japan Centre
If you're looking for authentic Japanese ingredients and products, drop by for a visit to Konbiniya Japan Centre on Robson Street and get instantly transported to Japan itself. It's an experience you will not forget anytime soon.
Walk the aisles and help yourself to an assortment of products that will captivate and delight you, be it Bento Boxes, miso soup packets, or even Japanese KitKat.
And, you simply cannot leave without checking out the little dessert shop in the market itself. Don't hesitate, and go directly for the Soft serve, and a couple of super soft and moist crepes.
Location: 1232 Robson St, Vancouver, BC V6E 1C2
Couturist
Shopping trips are sort of incomplete without checking out the latest in fashion trends. If that's what you enjoy doing, then Couturist, located in the heart of Robson Street is a versatile boutique you should definitely take a peek into.
From chic to unique, there is variety here that will not overwhelm you. Browse through on-trend tops and stylish dresses, skirts, shorts and raincoats, all from renowned brands like Moon River, RAINS, Cello Jeans, and plenty more. The accessory section is loaded with amazingly priced handbags, jewelry, hats, and glamorous eyewear.
Couturist is reviewed to be one of the most affordable clothing outlets in the city.
Location: 1232 Robson St, Vancouver, BC V6E 1C2
Best Stays on Robson
When it comes to hotel stays, comfort, service and affordability usually top every visitor's list. Whether you're returning to Robson Street for a weekend of entertainment, or visiting for the first time and plan to stay a week, you'll be looking for the best accommodation this place has to offer, without putting a massive dent on your wallet.
We're going to give you our carefully curated top 3 places to stay in Robson, to suit your home-away-from home needs.
Blue Horizon Hotel
Within walking distance of the business district, and local attractions, this 31 story high-rise hotel is ideally suited for the business traveler and tourist alike. From architecture to decor, the Blue Horizon Hotel on Robson Street enriches the landscape with a mid-century modern feel, and oozes serene comfort reminiscent of home.
Every guest is accommodated in a beautifully appointed corner room, with an attached private balcony overlooking the city. The amenities here include free Wifi and docking stations, in-room safes, pay-per-view movies, and fluffy bathrobes. There is also a lovely indoor pool and fitness centre for guests to relax and workout.
If you'd like to hold a business meeting, or entertain your colleagues, the hotel has you covered. Book one of their meeting or banquet rooms on the penthouse level, and enjoy working with magnificent views of the English Bay, the mountains, and Stanley Park as your backdrop.
Location: 1232 Robson St, Vancouver, BC V6E 1C2
The Burrard
Whether you're a couple looking for that well-deserved getaway, or a family vacationing with their pet, you'll find The Burrard on Robson Street to be the perfect fit. This 72 room motel-style hotel will dazzle you with its retro decor and outstanding service. Your room will overlook a lush green courtyard, complete with a sparkling water fountain in the center. Inside, you'll find a Nespresso machine, a mini-fridge stocked with lots of free water, a flatscreen TV with HD channels, and free wifi.
One of the highlights of The Burrard is their Container Cafe, which serves quick meals, sweet treats, and speciality coffees. Besides that, you can hop on over to the bar and enjoy the Happy Hour festivities, or just hang out in the courtyard and breathe in the serenity.
Added perk: The on-site Brooklyn Bike rentals are free for hotel guests, so indulge yourself and have fun!
Location: 1232 Robson St, Vancouver, BC V6E 1C2
The Westin Grand Vancouver
Comfort, elegance and award-winning service, The Westin Grand on Robson Street needs no introduction. Their newly redesigned rooms and suites offer a high standard of convenience, stunning views of the city, flexible occupancy, and generous amenities. Rooms are equipped with International Cable/Satellite TV, premium movie channels, iPod docks, and high-speed internet (both wired and wireless) at no extra charge.
The hotel provides its guests a host of other facilities, including in-house dining, a state-of-the art fitness studio, and a stunning outdoor roof-top pool and whirlpool surrounded by a gorgeous hidden patio, perfect for relaxation.
Location: 1232 Robson St, Vancouver, BC V6E 1C2
Or if you're looking for something more casual, take a peek at all the accommodations available nearby Robson Street:
That pretty much sums up this Robson Street Guide for now, and we hope you'll find it useful on your next visit there. We encourage you to try out as many hotspots listed here as you can, and make your visit more enjoyable.
You'll find there's always something to do and experience in Vancouver, and to prove that, here's a little something more for you to have fun with.
---
This article contains links that may pay us a small commission if you choose to use our links, but at no extra cost to you. All funds will be used to support our team and to create more content for you.