Toronto undoubtedly is home to plenty of exceptional restaurants, but there is a whole of choices when you consider your eating and drinking options: bars. From the most luxurious one to savor to classy taste, to the speakeasy, hidden bar that is famous for having no menu, we have it all!
Jump right in our suggestion on the 13 best bars in Toronto to get tipsy. Save this list now or you'll regret it later!
1. The Cloak Bar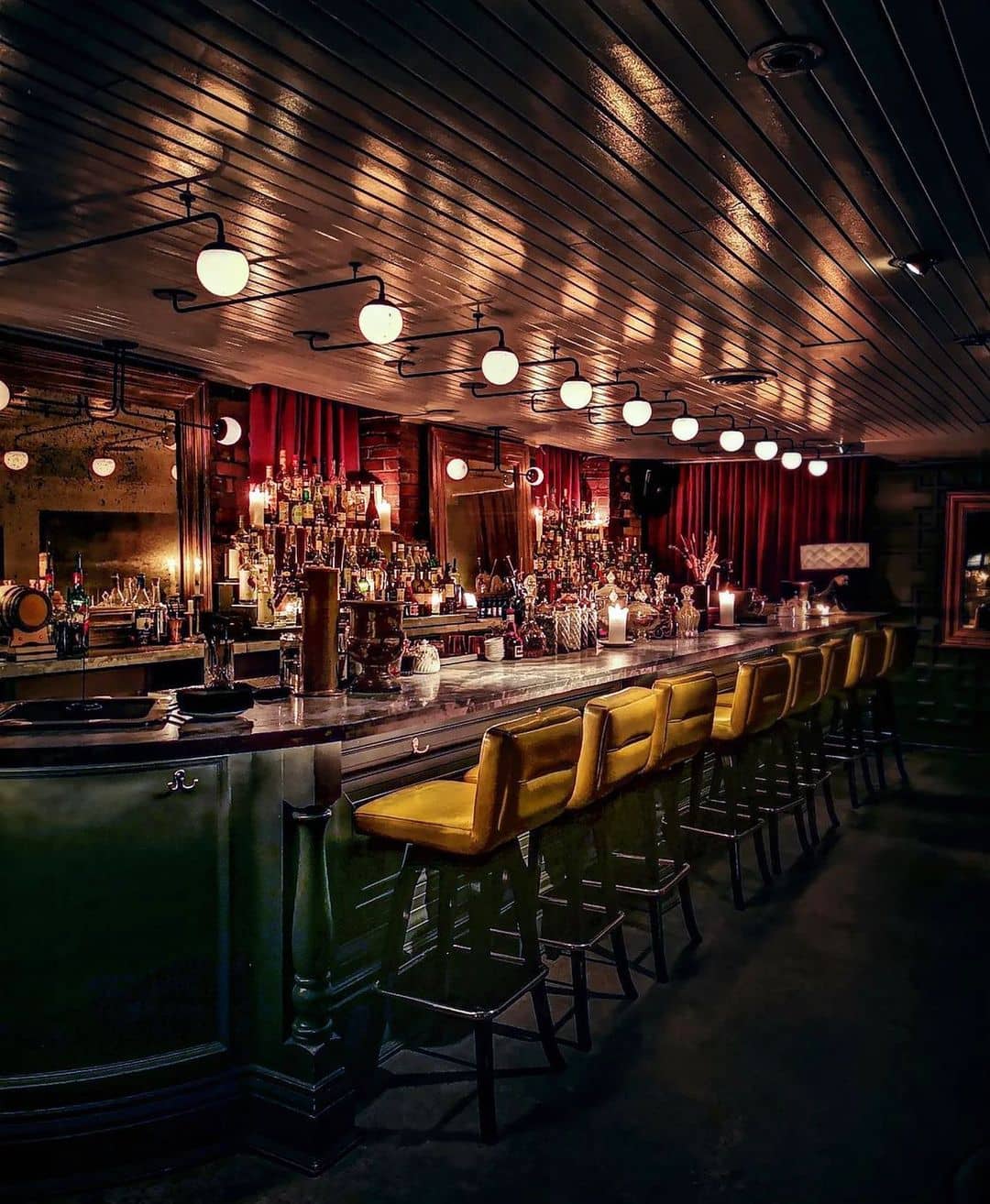 Located beneath Marben, The Cloak Bar is the hidden, beloved speakeasy bar that you're invited to envelop your senses in this intimate and sophisticated space. The Cloak Bar has you covered when you're celebrating your big day or need a space for an after-work moment, The Cloak Bar has you covered!
They've been known to craft some of the best cocktails and snacks until late. So you can softly start your night with Pushing Daisies, the fresh, floral, and lovely Chamomile Infusion, Elderflower Liqueur Yellow Chartreuse, and drops of lime. a delightfully refreshing drink served over pebble ice.
Or let Hidden In Plain Sight, a milk punch, surprise you with its smooth, multisensorial notes of vanilla, lavender, and cachaça. Keep your night going with some of their very stunning dishes like Japanese Pancake or Quinoa Tots, they are finger-licking good!
What to order: Pushing Daisies, Hidden In Plain Sight, Short Pisco Fizz, Japanese Pancake, Quinoa Tots
Address: 488 Wellington St W, Toronto, ON M5V 1E9
Website | Instagram | Facebook
2. BarChef
Nestled in the space that used to house the Opal Jazz Lounge, BarChef is the place where you'll find the most complex recipes to create drinks you'll remember. Owned and run by Frankie Solarik – a pioneer and champion of the contemporary, modernist cocktail – you will be seduced by his skill and invention behind the bar!
The cocktail menu is divided into Punchbowls, Sweet & Sour, Sipping, and Molecular, which means you have plenty of choices. Start with the famous Martini Three Ways, a masterful molecular with a list of ingredients that includes tobacco-infused bourbon, lavender foam, and gin tonic 'air'.
Go on with Paloma Quemada, a citrus-driven peated tone of charred grapefruit juice and Island scotch with undertones of braising herbs and white stone fruit. Bright, herbaceous, and complex as ever.
There's also a small menu of snacks to keep you fortified as you make your way through the cocktails, so don't hesitate to try some!
What to order: Paloma Quemada, Oud, Sunset Rose, The 1875, Strawberry & Basil Spritz
Address: 472 Queen St W, Toronto, ON M5V 2B2
Website | Instagram | Facebook
3. Bar Raval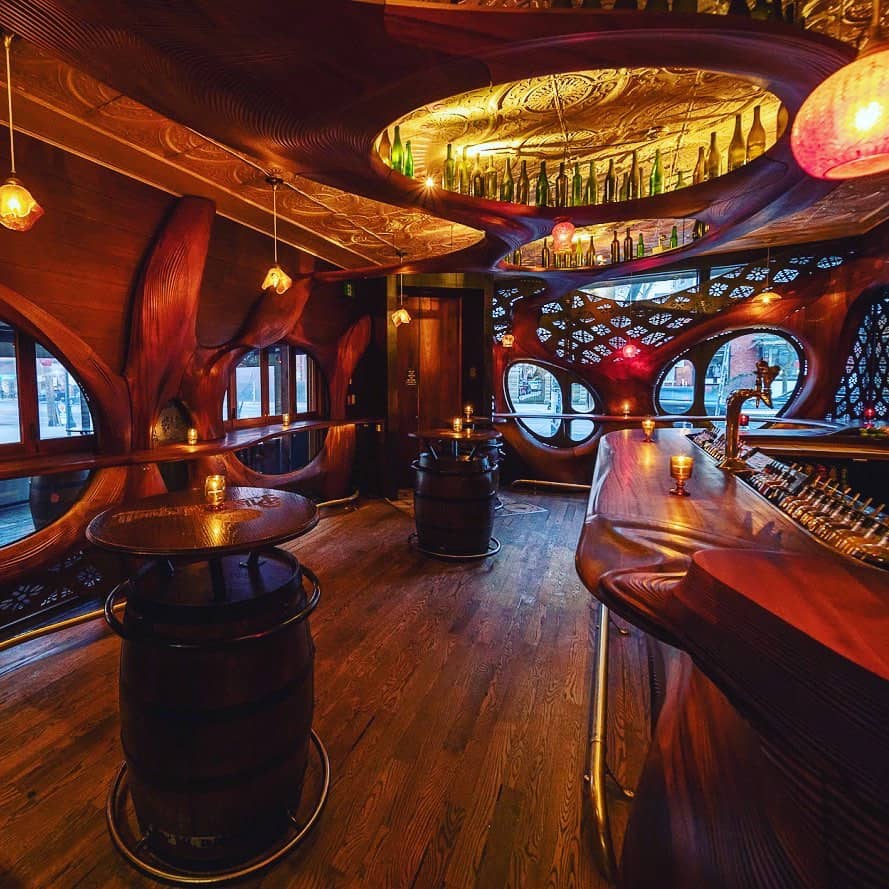 Bar Raval is a Barcelona-inspired pintxo bar serving a variety of cocktails, beer, wine, and super stunning snacks throughout the night long. Along with its Gaudi-Esque organic, skeletal decor, and authentic tapas-bar vibe, Bar Raval has become one of the most famous bars in Toronto!
Classic with a twist? Raval Martini might satisfy you with olive oil-washed gin, balsam fir liqueur, vermouth, and an orange tincture. You can also try some of their creative ones like Say Less, See U Never, or Magic City. They are just as amazing as the bar decoration!
While Say Less has a fresh and sour taste with hints from herbs like coriander and celery, See U Never is lighter yet more elegant with basil gin, yuzu juice, peach syrup, and Fino Sherry.
What to order: Raval Martini, Say Less, See U Never, Magic City, Under The Bridge
Address: 505 College St, Toronto, ON M6G 1A5
Website | Instagram | Facebook
4. Mahjong Bar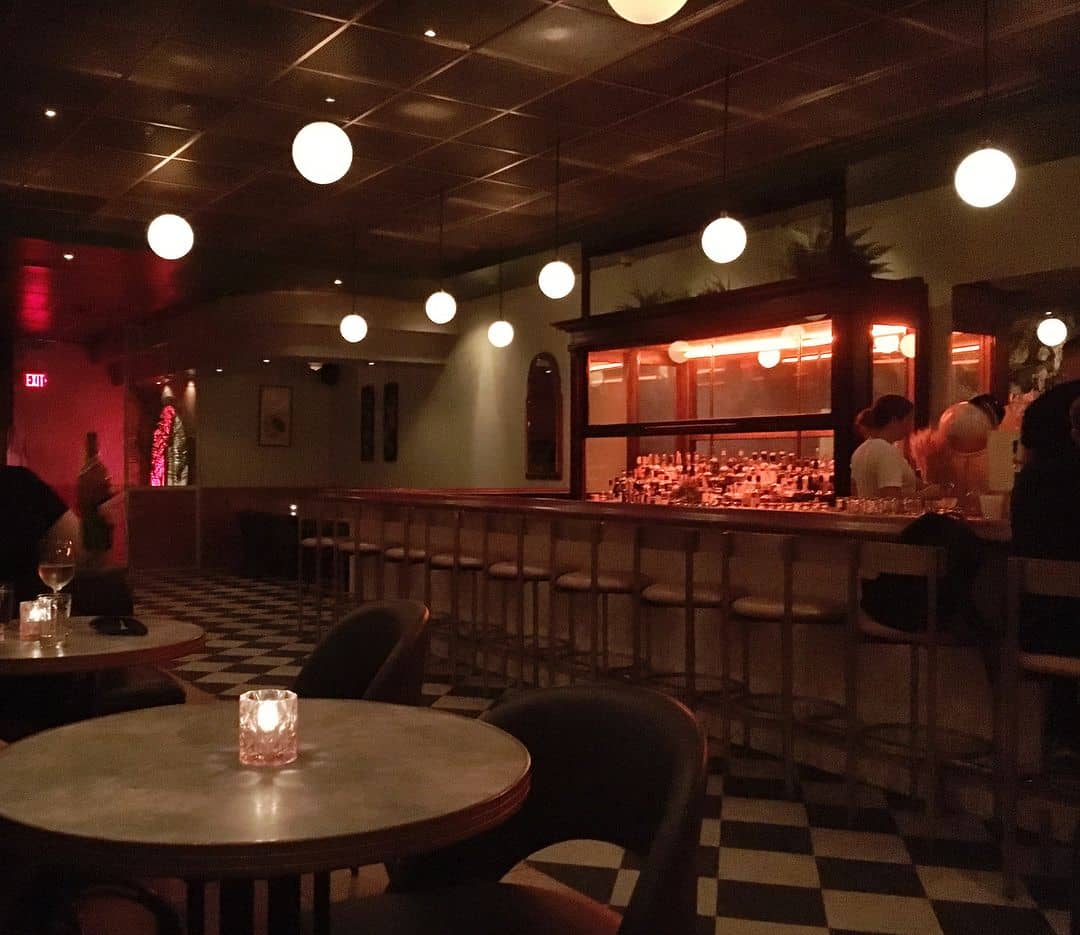 For one of the most stylish bars in Toronto, you can't go without a speakeasy like Mahjong Bar! Through a plastic curtain, you'll find an illuminated entranceway, where a glowing light will lead you into grandeur. Mahjong Bar in its pink glowing haze is seriously stylish with Chinese-inspired wallpaper and an intricately designed pink marble bar.
The menu is inspired by Chinese food with a more sophisticated and contemporary flare. Most of them are shareable and made to be enjoyed ideally with crafted cocktails. Especially the flavorsome, sweet-spicy Shanghai Chicken. You'll love it!
For drỉnks, go for Rosemary's Baby made with Roku, strawberry rosemary, lemon, and topped up with soda. Fresh, easy-going, and perfect to start with. Choose Blacker The Berry for a stronger taste, or simply have a glass of Mahjong Lager, can't go wrong for a hot summer day!
What to order: Rosemary's Baby, Blacker The Berry, Mahjong Lager, Shanghai Chicken
Address: 1276 Dundas St W, Toronto, ON M6J 1X7
Website | Instagram | Facebook
5. Bar Hop Brewco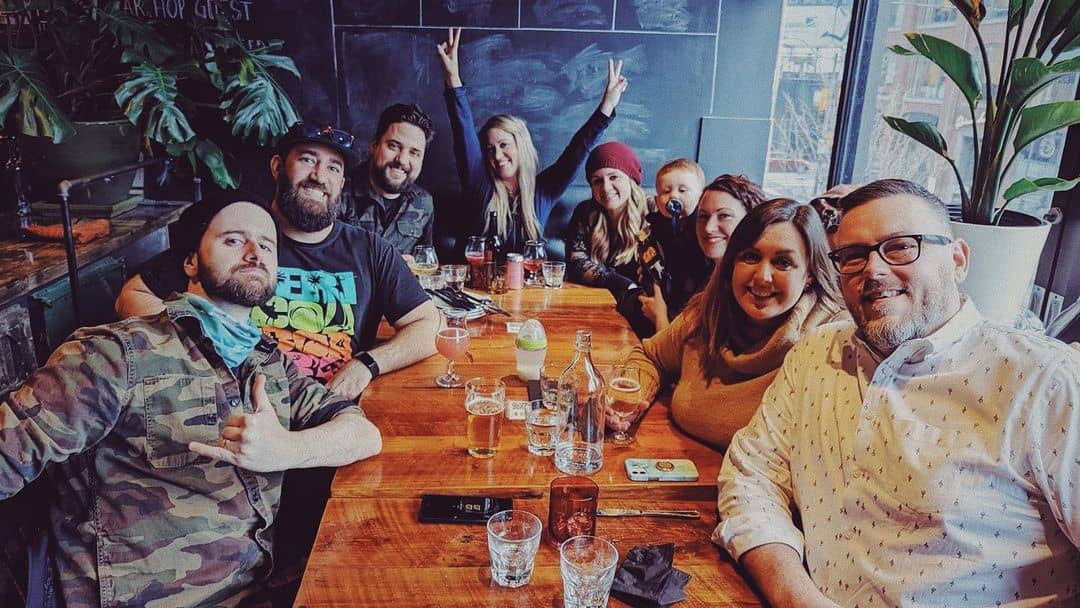 Bar Hop Brewco is one of the most perfect places in Toronto for friend gatherings, as they have a super large space with the main floor, second floor, and a rooftop patio. And the beer selection, obviously their highlights, offers at least 36 taps on each floor along with their wine menu and local craft bottles. Gather up your buddies and pay a visit to Bar Hop Brewco, they can never let you down!
Must-try is Bellwoods Jelly King, a dry-hopped sour ale with the scent and taste of tangerine and pineapple, easy to drink and super refreshing to enjoy. There's Merit Chanan, a dry-hopped Saison with that same sour taste, but stronger, and is added in a hint of herbs from coriander.
For cocktails, try Welcome To Dramrock which is made with spiced rum, Fernet-Branca, pineapple, lime, and Peychaud's bitter. And don't forget to have something to eat! Best for a group to share must be the Fries Supreme includes everything fried that you can ever imagine.
What to order: Bellwoods Jelly King, Merit Chanan, Welcome To Dramrock, Mezcal Mule, Fries Supreme
Address: 137 Peter St, Toronto, ON M5V 2H3
Website | Instagram | Facebook
6. Sweaty Betty's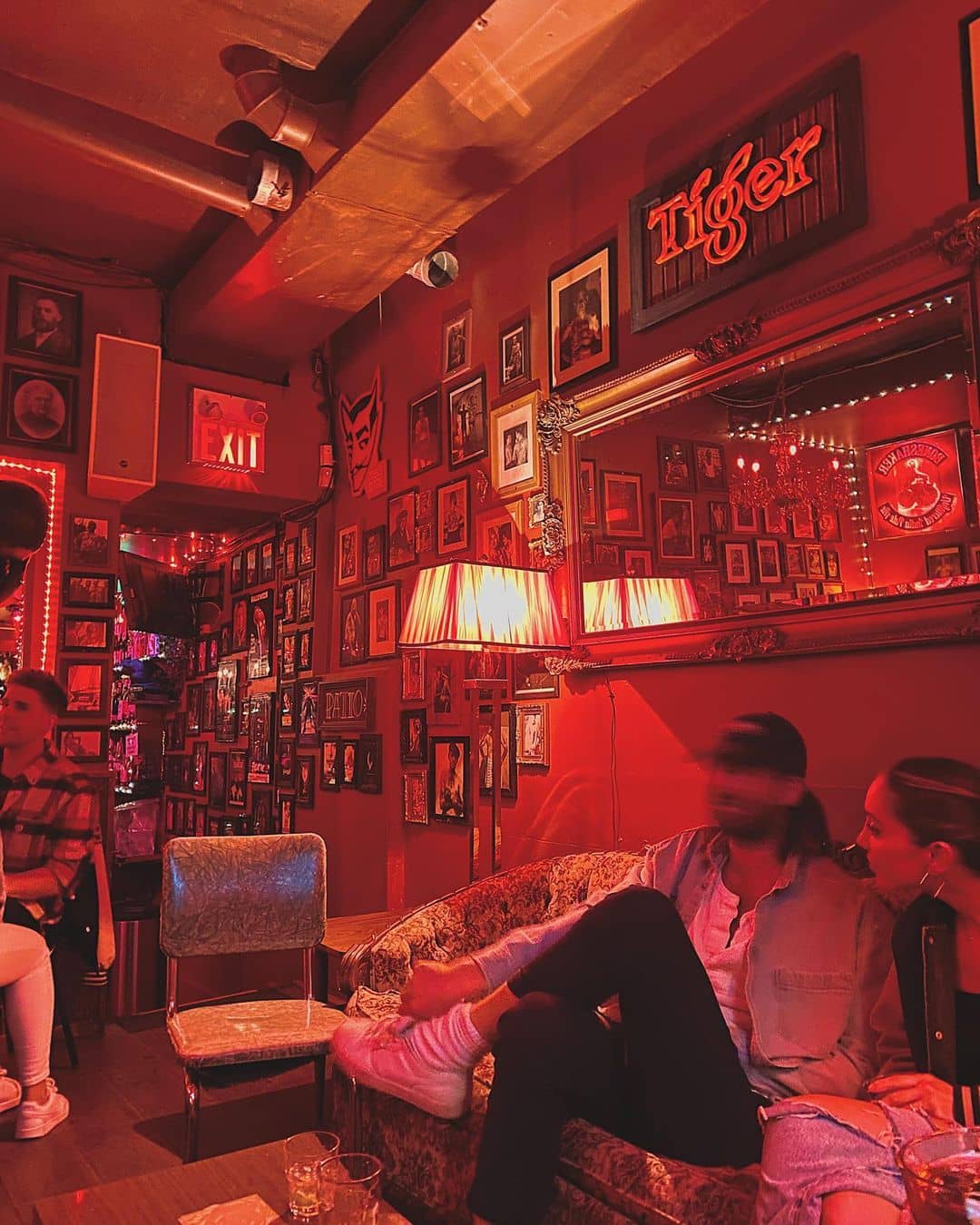 If you're in the mood for some great bar tunes, classic cocktails, blue jazz, and mismatched furniture after work, then Sweaty Betty's is the place. Having been one of Toronto's most notoriously packed dive bars for over 20 years, Sweaty Betty's is kept a secret by the locals for a reason. Once you're here, you can choose to enjoy the chilling, romantic ambiance inside, or get to the heated and covered patio in the back.
Classic drink like Dark & Stormy is pretty popular here, with rum and ginger beer simply combined for a spicy take on the iconic cocktail. Or you can order a Negroni or Old-Fashioned, and try adding some notes like "with a twist" or "in an unusual way" to see how the bartender surprise you!
Some specialties like Black Betty and Poison Heart are also the stars of the bar. Black Betty tastes just like how it is said, dark and powerful with scotch, scented with black tea and chai bitters. And Poison Heart is surprisingly easy to drink with gin, Campari, and topped up with blood orange soda.
What to order: Dark & Stormy, Old Fashioned, Black Betty, Poison Heart, Smoke On The Border
Address: 13 Ossington Ave, Toronto, ON M6J 2Y8
Website | Instagram | Facebook
7. Civil Liberties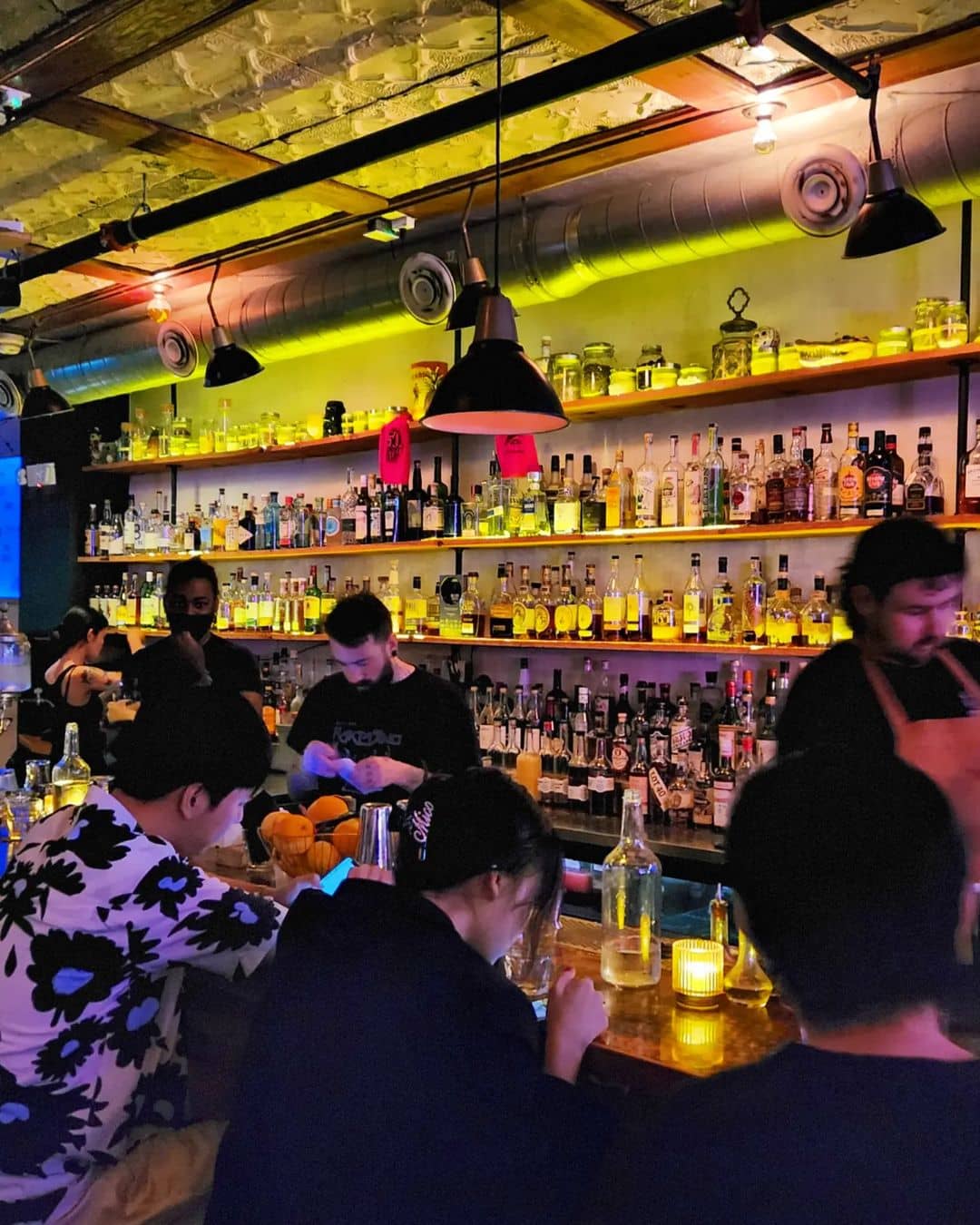 Located on Bloor Street near Ossington, Civil Liberties is best known for its no menu, drink-to-match-your-story, pre-prohibition vibes, and top-notch mixologists. Combined with a warm, vintage decor theme, Civil Liberties is a cozy bar that has become a popular venue for some special romantic dates.
What is most interesting about choosing drinks at Civil Liberties is you can have a friendly chat with their skilled bartenders, they'll help you figure out what are your likes and dislikes for a drink, and offer you a whole new recipe just to fit your liking! For this reason, cocktail newbies and connoisseurs alike will find themselves at home at Civil Liberties.
They also have a small menu for snacks that are reasonable in price, highlights include hummus made with lemon and paprika, and served with plain tortilla chips. Or a simply grilled cheese toast served with regular old ketchup.
What to order: Custom Drink, Hummus & Tortilla, Cheese Toast, Cured Trout
Address: 878 Bloor St W, Toronto, ON M6G 1M5
Website | Instagram | Facebook
8. Northwood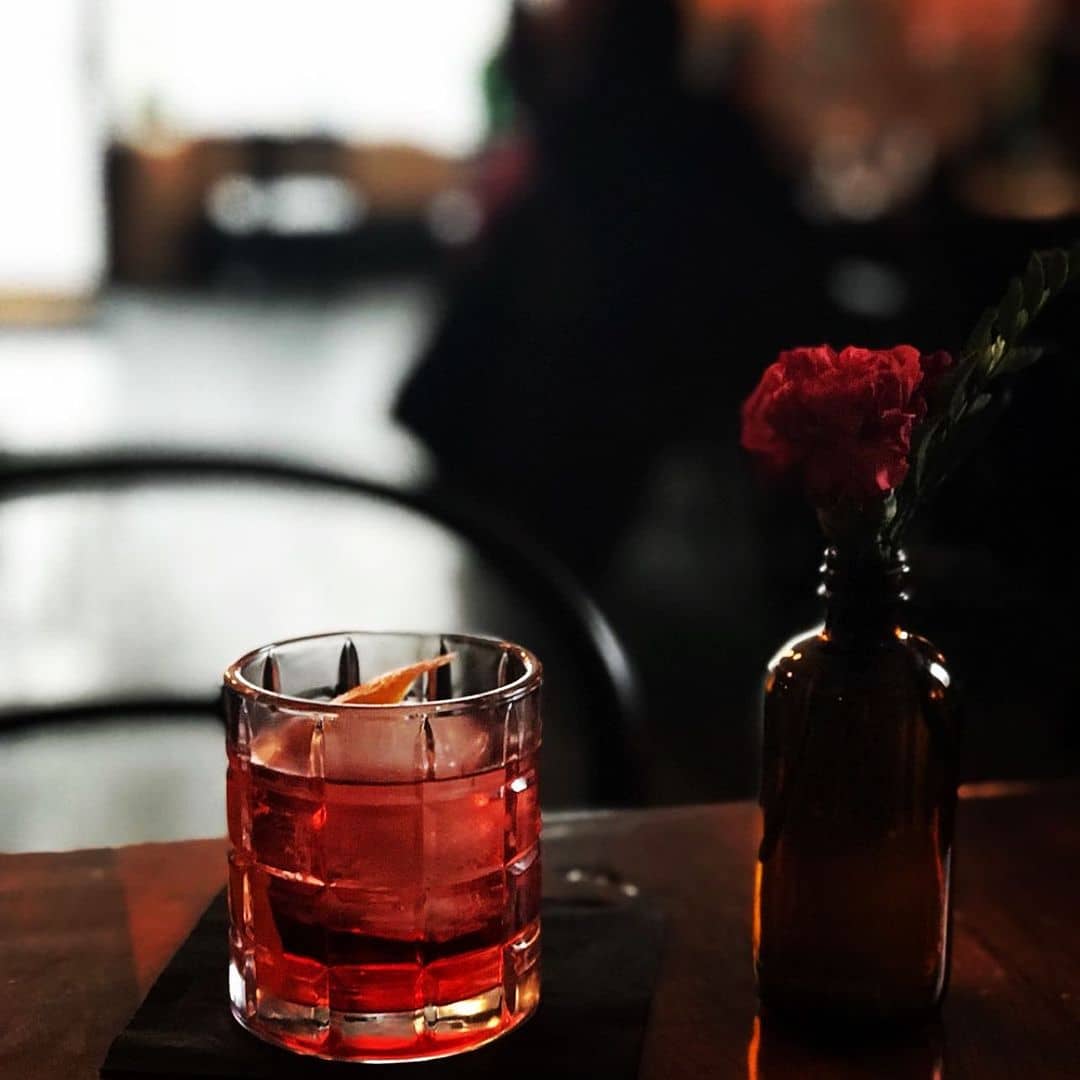 Northwood is the place where you can spend all day in, sipping their specialty coffee in the morning, omelet or sandwiches for lunch, and transitioning to craft cocktails and local beers at night. In warmer months, an outdoor patio will be expanded, adding a breezy vibe to this casual, cool neighborhood hangout.
The cocktail menu is always changing, accessible, and pretty much relied on seasonal products. In winter, you might see a lot of drinks showcasing rye, scotch, bourbon, and warm flavors like maple and clove. Tastes like citrus, cherries, and watermelon, sourced locally where possible, will be featured more in the summer.
Besides recognizable classics like the Manhattan and Old-Fashioned, the most popular signature cocktail at the moment is Lady Grey Sour with earl grey infused rye, lemonade syrup, lemon, and bitters. The drink is very refreshing, and crisp, and the added touch of ground pepper as a garnish balanced the citrus and added some warmth.
What to order: Lady Grey Sour, Manhattan, Old-Fashioned, Queen's Highway, Red Velvet
Address: 815 Bloor St W, Toronto, ON M6G 1M1
Website | Instagram | Facebook
9. Mother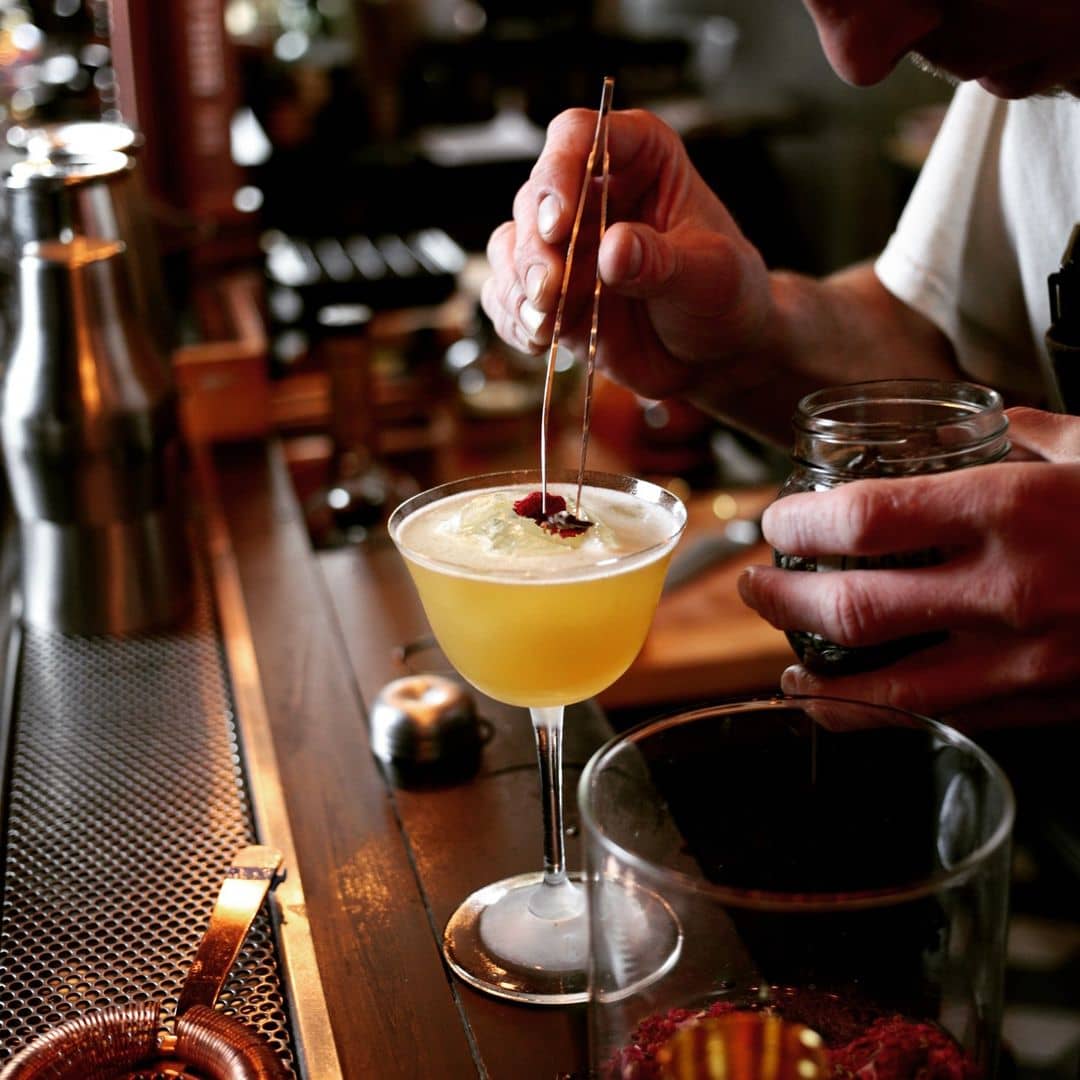 Mother is a stylish little bar located on Queen Street, which gains its reputation for an innovative cocktail menu that showcases the very best, hyper-seasonal products. Nestled in a pretty cozy and limited space, you'll be amazed by how wide their menu is. They change the menu every one or two months, so get ready to be a repeat customer!
The menu is split into 3 sections: "Yesterday", with drinks focused on the principles of classicism or minimalism; "Today", all quirky house creations; and "Tomorrow", a lucky dip of brand new, house-made drinks laced with cordials and kombuchas. It would be perfect if you can try each of 3 sections in a night to truly feel the vibe of Mother.
The two most popular drinks are Galangal & Lemongrass Pina Colada, a drink from "Yesterday" with lemongrass rum, coconut sorbet, galangal house pineapple juice, and a curry leaf goat milk blend buzzed together for a very complex yet smooth drink.
And Mother Gibson from "Today" represents the extremely clean and minimal approach to cocktails here, made with Old Tom gin, grapeseed Gentian fortified wine, and a homemade smoked pickle.
What to order: Salted Negroni, Lemongrass Pina Colada, Mother Gibson, The Woodland Old Fashioned
Address: 874 Queen St W, Toronto, ON M6J 1G3
Website | Instagram | Facebook
10. CLOCKWORK Champagne & Cocktails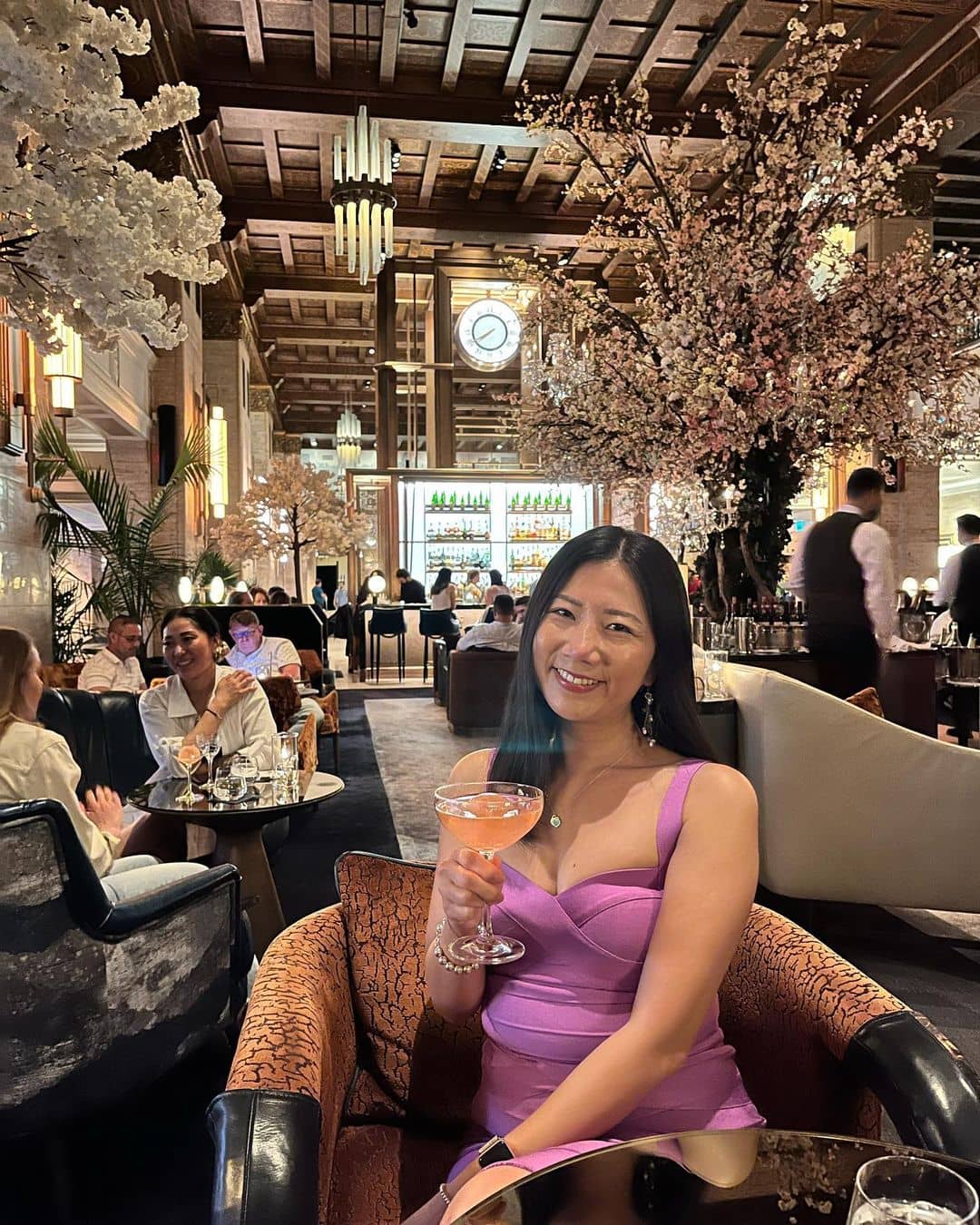 If you're searching for the city's brightest and most luxurious bar to get tipsy in Toronto, Clockwork Champagne & Cocktails is your go-to. Here, you can immerse yourself in the pop or corks, the buzz of the party, and the sounds of cheerfulness, all gathered together at Clockwork. Classy and sassy as ever! We all need a bit of glamour once in a while, so why not?
The cocktail and champagne list is a real deal, along with beer and wine. Some highlights can be mentioned like the Golden Palace, a refreshing yet elegant drink with lemon, fig & cinnamon bitters, curry spice, lime leaf, and Bombay Gin. Or Meet Me At The Clock, beautifully presented and perfectly made with Frose Ice Sphere, Hendrick's Gin, Veuve Clicquot Brut Champagne, and Absinthe.
The menu also consists of some small plate items such as Cheese Plate, Chicken Liver Pate, and Warm Ontario Brie. Spots are limited in this bougie new venue, you have to make reservations if you want to have a classy evening.
What to order: Golden Palace, Front Street Punch, Meet Me At The Clock, Cheese Plate
Address: 100 Front St W, Toronto, ON M5J 1E3
Website | Instagram | Facebook
11. The Shameful Tiki Room
No one in Toronto doesn't know The Shameful Tiki Room – a trendy spot with an extensive exotic drink menu, decorated with carved wooden masks and cane furniture. Fantastic in every detail. Stepping into The Shameful Tiki Room is no different from escaping into another world, so whenever you want to run away from reality, come and enjoy.
They have very signature drinks, such as Jungle Bird, one of the rare 1970's exotics that is made with Campari, Appleton Signature Blend Rum, lime, and pineapple. Frankie's Special is just as special as its name, a house original featuring a complex balance of ginger, guava, passionfruit, Appleton Signature blend, and Rum.
There are drinks to share as well, and Mystery Bowl – a mysterious blend of juice, rum, and secret spices – is the most beloved one. Fabulous dishes from the kitchen include Crab Rangoon (a truly vintage Tiki side plate), Maui coconut shrimp, and Signature Pupu Platter.
What to order: Jungle Bird, Frankie's Special, Mystery Bowl, Volcano Bowl, Suffering Bastard
Address: 1378 Queen St W, Toronto, ON M6K 1L7
12. Bar Volo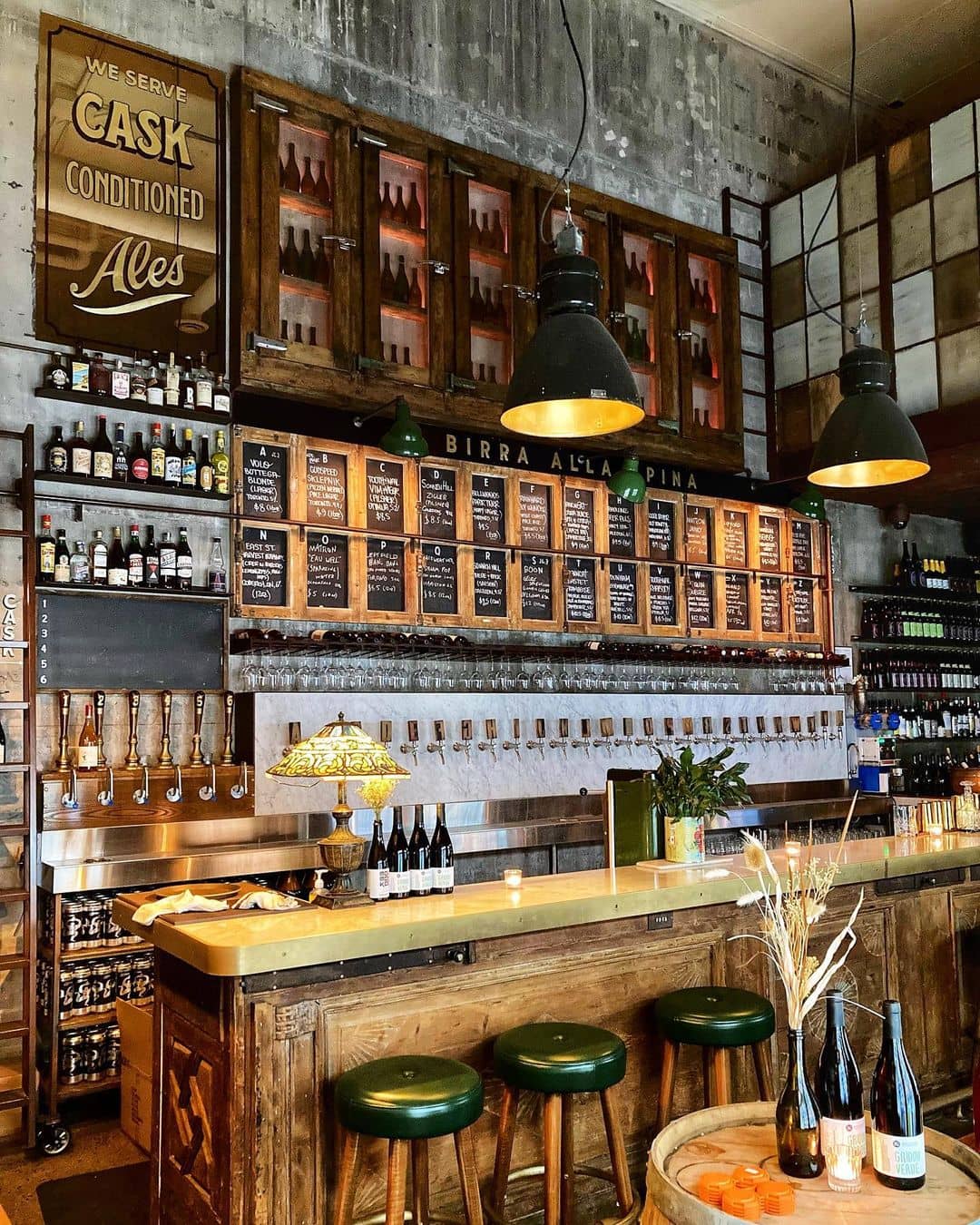 Being one of Toronto's first craft beer bars, Bar Volo has made a name for itself among the city's ale aficionados. As a beer lover, you'll fall for their variety of beers on tap that ranges from barrel-aged sours to imperial stouts. Along with a wide selection of cocktails and a true southern Italian-inspired snack menu, this place is so ideal for an unwinding evening.
Some cocktails you can't miss are the Negroni Rossa, a twist on the classic Negroni, with Gin Aperol, Cappelletti, and Sherry. And the Paloma with Tequila, Campari, and grapefruit juice. Pair them with the typical tapas fashion at Bar Volo. With olives and other antipasti, as well as hand-pulled mozzarella with pesto, spices nuts, and charcuterie, you really can't go wrong!
For beers, Volo Marigold, Matron Sunblind, and Tooth & Nail Fortitude have remained on tap since the beginning for a reason. Don't miss them!
What to order: Negroni Rossa, Paloma, Mozzarella & Garlic Crostini, Meat & Cheese, Volo Marigold, Matron Sunblind, Tooth & Nail Fortitude
Address: 17 St Nicholas St, Toronto, ON M4Y 3G4
13. Get Well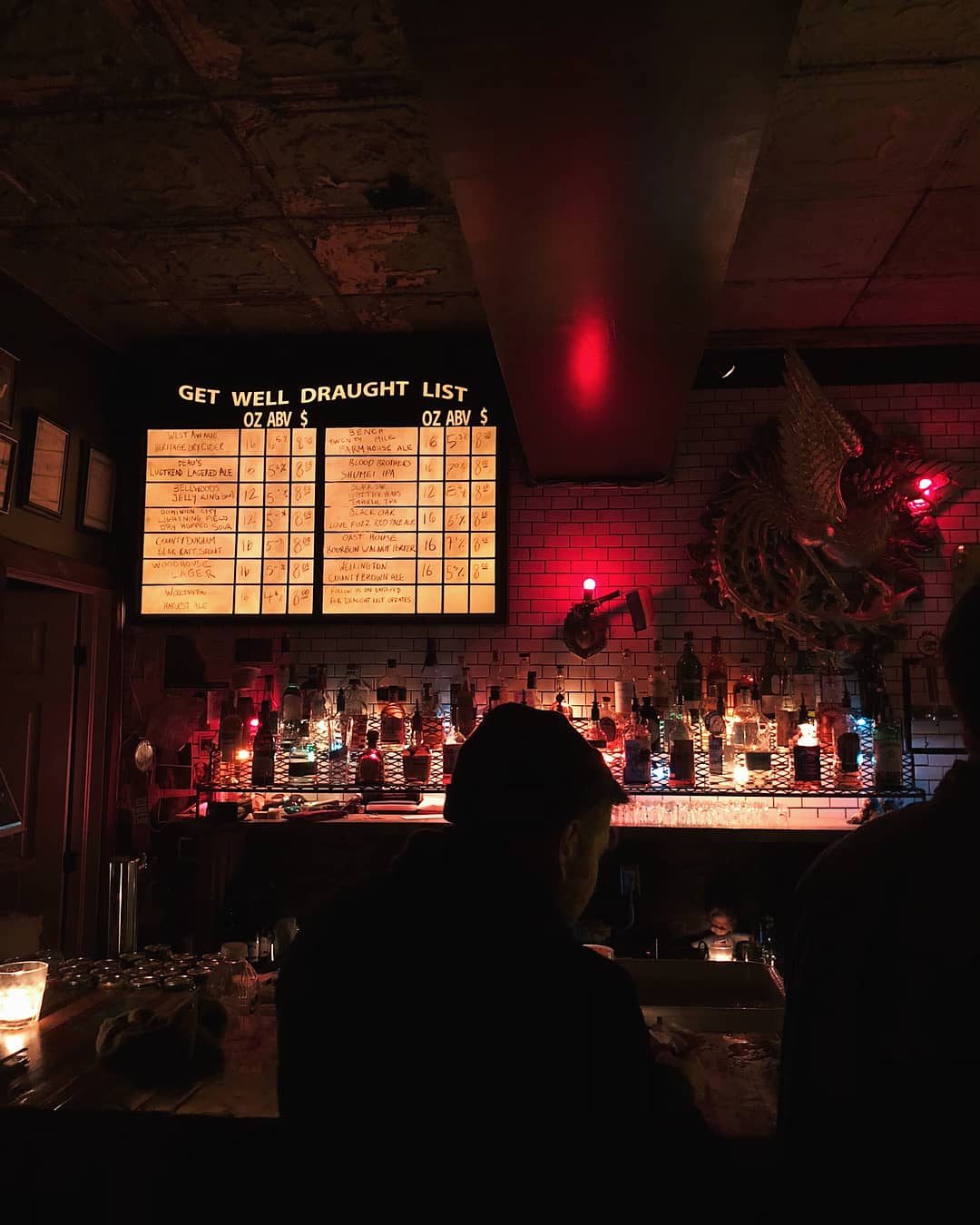 Get Well is most known for its craft beer selection, but it is most loved for its quirky decor, mismatched look that is simply unique, and old-school game machines like Space Invaders, Tetris, and pinball. Definitely not a place to relax or for a romantic, but if you need a new wind of change, then you might love it.
To start with, some fresh, light, and crisp taste will do you good. Take a try with Fairweather Dream Pop Dry-Hopped Sour with a hint of malt and saltiness, and Fairweather Agua Fresca Flower Sour for a floral scent and more bitterness in taste.
A fan of stouts and dark ale? Deschutes Black Butte Porter and Fairweather Silky Porter have got you covered! For a silky mouthfeel, Fairweather Silky Porter is a better fit.
What to order: Fairweather Dream Pop Dry-Hopped Sour, Fairweather Agua Fresca Flower Sour, Deschutes Black Butte Porter, Fairweather Silky Porter
Address: 1181 Dundas St W, Toronto, ON M6H 1Y3
We hope you have a great time choosing the best bar of all to visit. In case you're searching for a restaurant just before jumping into the bars, here are the best restaurants in Toronto that you must not miss!
How We Create Our "Best" Lists
All Noms Magazine's "best" lists are created using multiple factors and signals to help readers find the best restaurants, things to do, and places to stay at. Some of these factors and signs include personal experiences, correspondence with locals, and compiling experiences from review sites.
Each list is also created to be balanced (in terms of price, cuisine type, ambiance, and more) as possible. This means that the lists are not specifically created in ranking order. You should be comfortable picking from any of the spots on the list and generally have a good time. But of course, YMMV (your mileage may vary) and everyone may have different experiences/palates.