Many say that breakfast is considered the "most important meal of the day." And so many restaurants in New York City make magic happen before the clock strikes 12 noon. From paper bags filled with the most satisfying bagels to fruity and fluffy pancakes, starting the day right can set you up to do amazing things.
If you are an early riser or someone who craves breakfast, here are some of the best breakfast restaurants in NYC that will start your day off RIGHT!
1. Banter NYC
A home away from home, Banter is an authentic Australian restaurant with the best breakfast meals in NYC. Not only that, all of their staff are Australian. Talk about Aussie pride. If you want a piece of Australia, do yourself a favor and banter over good food with good friends at Banter.
There's something about Banter's Avocado Toast that makes it so irresistible even just by its looks. The best-smashed guacamole with grain and seed mix, alfalfa sprouts, and basil oil are all combined in one satisfying toasted bread.
The softest scrambled eggs with a pillow-like texture, their Golden Folded Eggs are your reminder to take it easy as you start the day. The bacon on the side adds a nice touch of smokiness and saltiness.
What to order: Avocado Toast, Golden Folded Eggs
Address: 169 Sullivan St, New York, NY 10012
Website | Instagram | Facebook
2. Community Food & Juice
Community Food & Juice is a go-to gem in the neighborhood that is always swamped for a reason. A few blocks away from Columbia's campus, this spot is basically the unofficial breakfast spot for Columbia University students. Serving upscale American breakfast cuisine, a meal here will bring you back to your university days.
Two huge slices of tender brioche served with caramelized bananas, walnuts, and maple butter, Community's Brioche French Toast is a must-have breakfast meal. This dish will not only fill you up, but it will also satisfy your taste buds to the core.
Biscuit Sandwich, anyone? Composed of the softest eggs and the juiciest housemade chicken apple sausage with a side of carrot hashbrowns, this dish will wake you up in an instant. The spicy tomato jam spread gives you the kick you need for the morning.
What to order: Brioche French Toast, Biscuit Sandwich, Banana Walnut Pancakes
Address: 2893 Broadway, New York, NY 10025
Website | Instagram | Facebook
3. Cafe Sabarsky
Inspired by great Viennese cafes, Cafe Sabarsky is a one-of-a-kind breakfast experience in NYC. Prepare to feast your eyes on the fanciest banquettes, light fixtures, period objects, and furniture here. A grand piano graciously sits on one corner of the cafe, occasionally playing cabaret, chamber, and classical music.
A dish that screams Austro-German, the Bavarian Sausage with Warm Pretzel & Sweet Mustard is the perfect combination of spicy and savory. This one melts in your mouth instantly.
The Chilled Smoked Trout Crepes & Horseradish Creme Fraiche will have you nostalgic for your first time in Austria, even if you've never been there. The presentation is absolutely gorgeous, and the taste is just phenomenal.
What to order: Bavarian Sausage with Warm Pretzel & Sweet Mustard, Chilled Smoked Trout Crepes & Horseradish Creme Fraiche
Address: 1048 5th Ave, New York, NY 10028
Website | Instagram | Facebook
4. Sunday In Brooklyn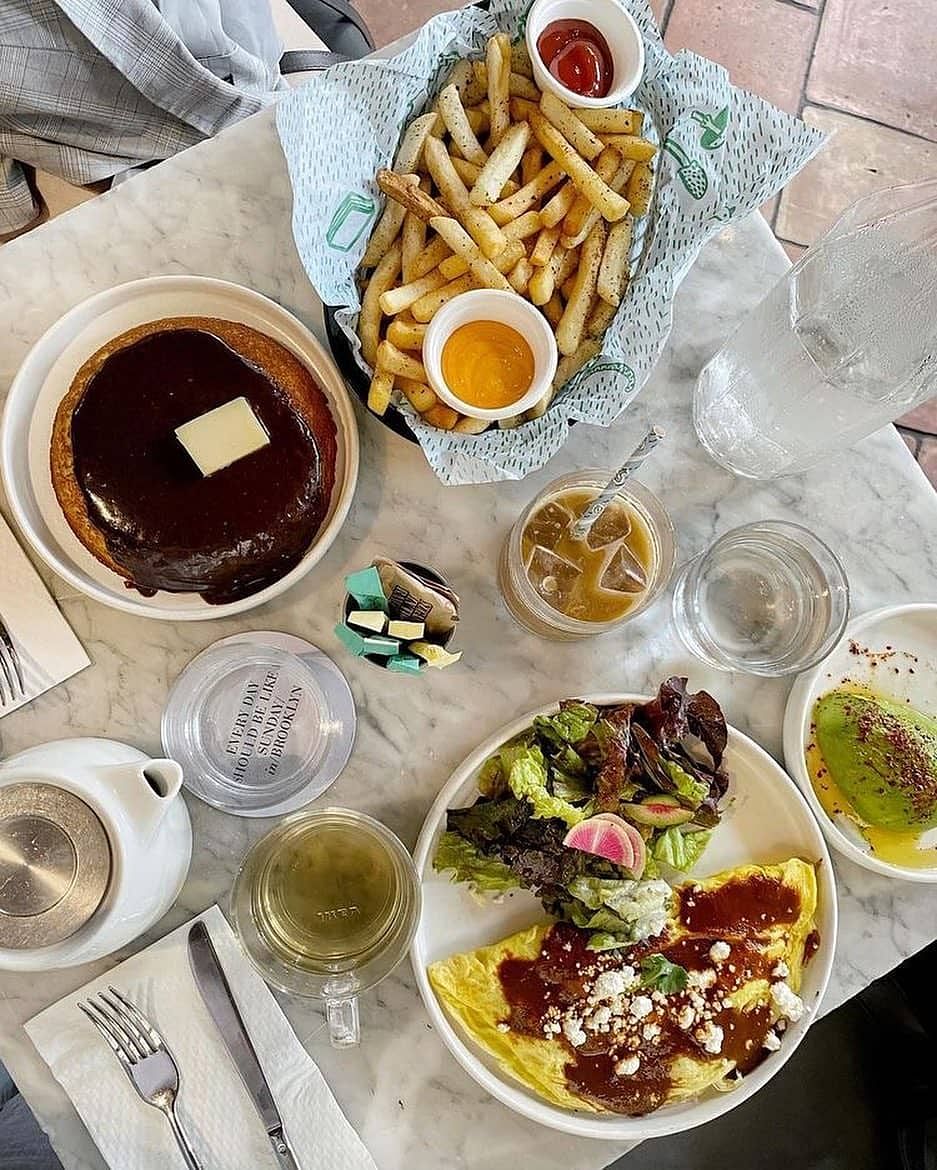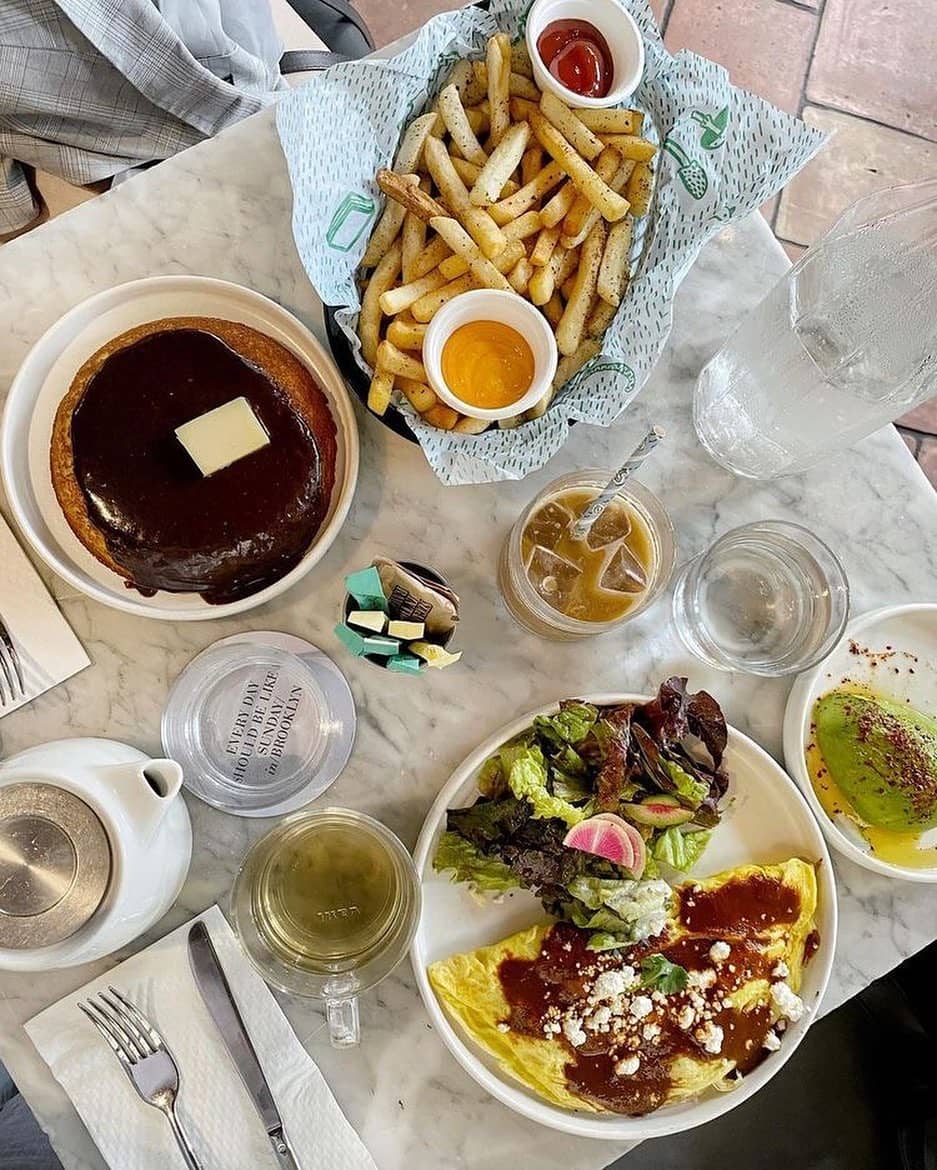 Sunday in Brooklyn is a neighborhood restaurant in Williamsburg that cares deeply about food and people, so every delicious dish is made with so much love and care. The three-story sun-drenched corner building offers a multitude of experiences for each season and time of day. Meet your loving family and friends here to enjoy the warm welcome, like neighbors, on a beautiful Sunday morning.
There's no doubt why Sunday Pancakes is always the top option for every customer. The thick, buttery, and fluffy pancake is topped with a unique maple taste to the syrup creating a very balanced and addictive sweetness that makes you feel so pleasant just like a Sunday morning.
Another crowd-fav is Cheddar Scramble – a standard nutritious and delicious breakfast for everyone. The smooth, flavorful scrambled eggs are served with some fries, multigrain toast to give that nutty flavor to the dish, and some crispy, savory bacon and sausage. Chef's kiss!
What to order: Sunday Pancakes, Cheddar Scramble, Smoked Salmon Toast, Shakshuka
Address: 348 Wythe Ave, Brooklyn, NY 11249
Website | Instagram | Facebook
5. Edith's Eatery & Grocery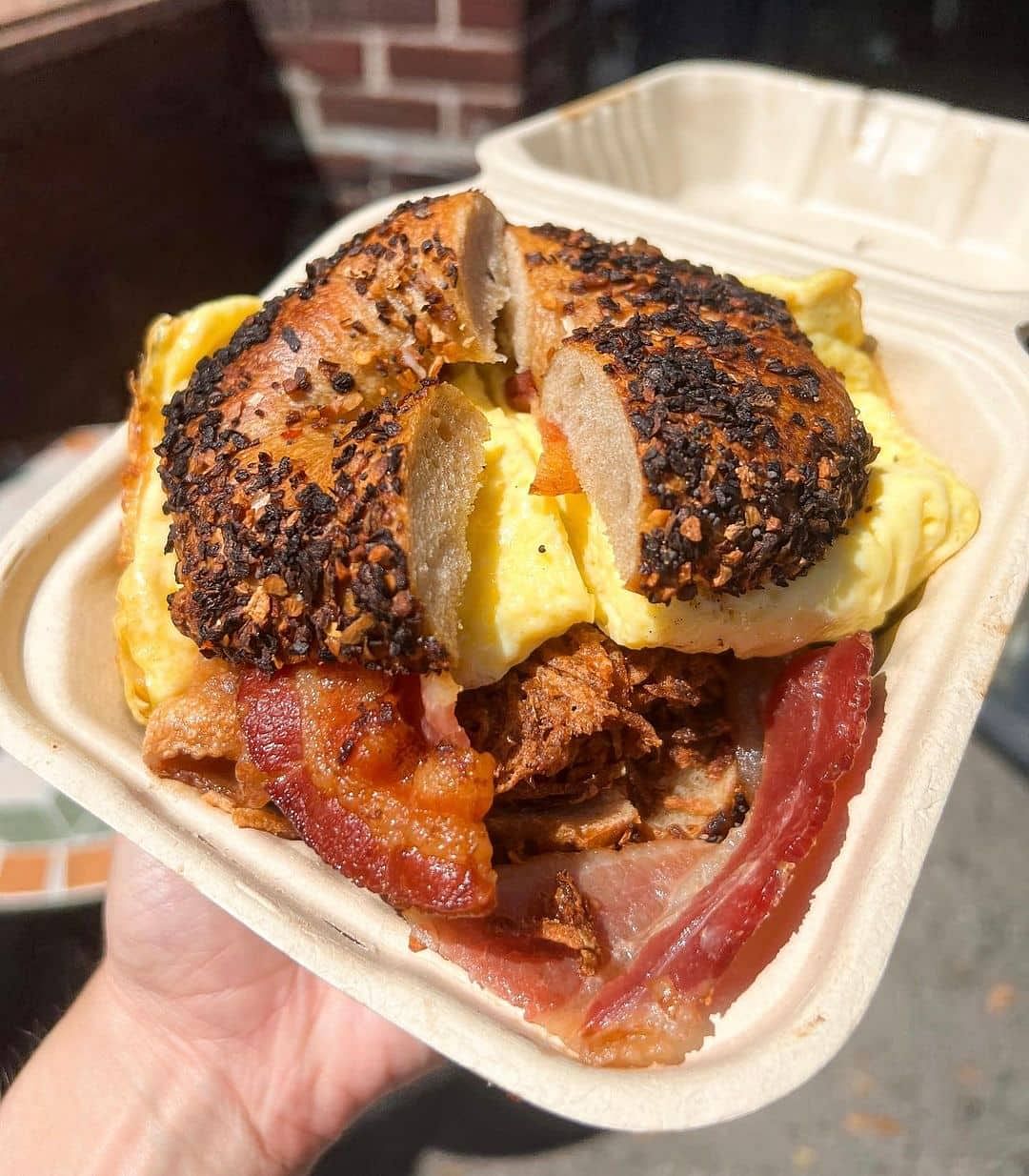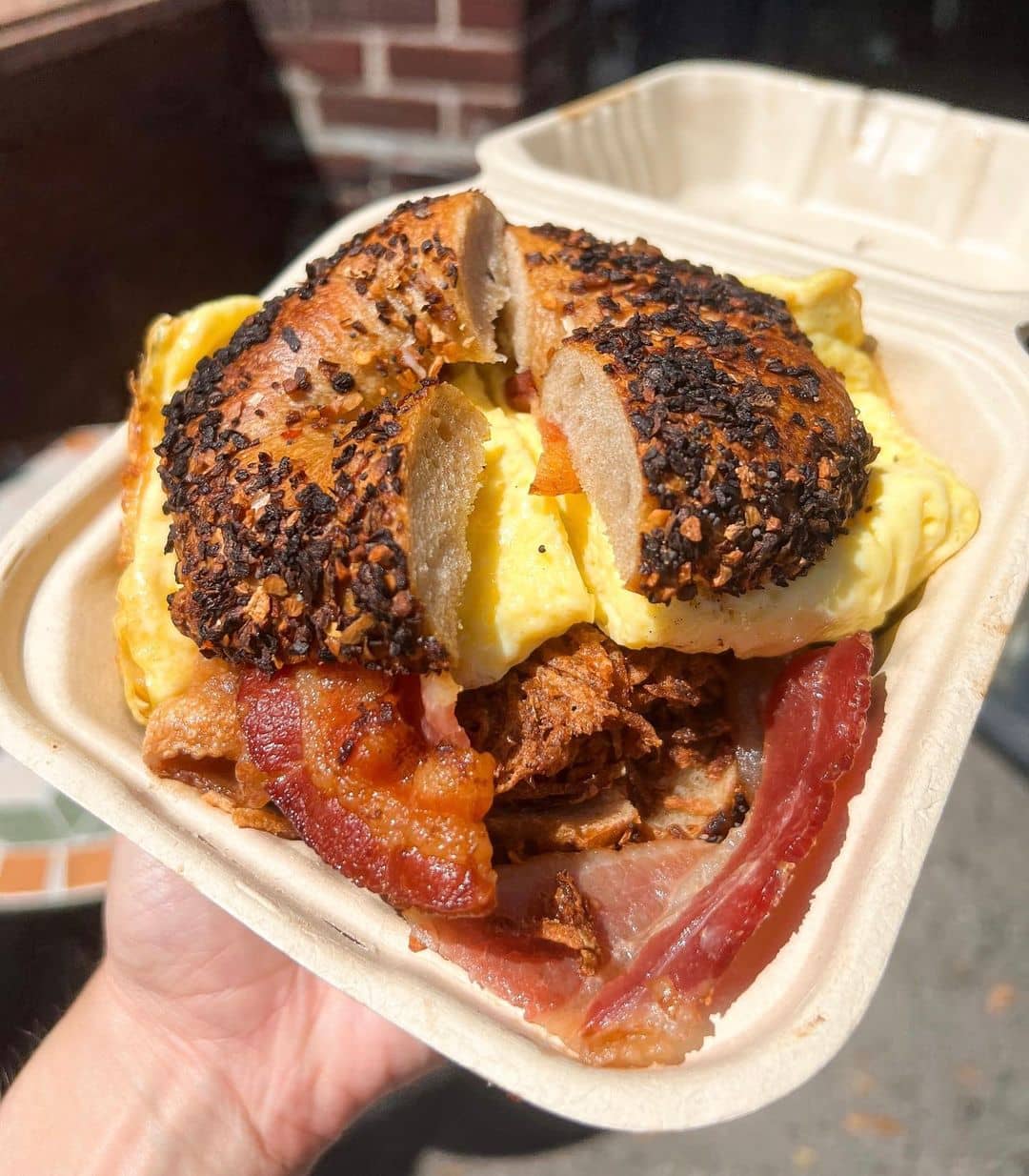 Edith's Eatery & Grocery is one of the few places in New York where food is so outstanding you wish you lived next door to have a taste every day. This sweet lunch neighborhood spot has a cafe and grocery in one, as well as a deli counter with meats and various deli fare. After you enjoy your meal, you can browse the grocery section for stuff you may want to take home.
Addictive, flaky, and hits all the right spots, their Homemade Malawatch with soft-boiled eggs tastes heavenly. One bite of this dish will have you wishing you could have this for breakfast every day.
Edith's Syrniki Russian Pancakes are a dream. Dense yet soft with an obvious tangy farmer's cheese flavor, you could eat this one all day. The tart currant sauce takes the pancake to a whole new level.
What to order: Homemade Malawach, Syrniki Russian Pancakes
Address: 312 Leonard St, Brooklyn, NY 11211
Website | Instagram | Facebook
6. Johny's Luncheonette
Welcome to Johny's Luncheonette, an old-school New York hotspot that everyone loves. This small breakfast place is known for its long dining counter that runs the length of the place. That's right, no tables or booths here. It's just one single counter with the kitchen right in front of you.
Johny's pancakes are a whole different level of pancakes. The Banana and Chocolate Chip ones will make you wish you had an extra stomach to devour all of it. Even if you don't like pancakes, these will steal your heart.
A toast fit for a king, the King Kong French Toast is made from a hero bun with all the breakfast classics like eggs, bacon, bananas, and cinnamon. This may be a different route from the usual breakfast meals, but trust us when we say it's crazily good.
What to order: Banana Pancakes, Chocolate Chip Pancakes, King Kong French Toast
Address: 124 W 25th St, New York, NY 10001
Website | Instagram | Facebook
7. Little Collins
Little Collins is the epitome of caramelized sugar, vanilla, coffee, and the most Instagrammable brunch food. This trendy Aussie cafe is one of the few places open in the mornings of midtown NYC. Paying homage to the bustling street in Melbourne, every corner of this cafe reminds you of Australia.
You can tell one has a sophisticated taste when they have Chorizo Baked Eggs for breakfast. Eggs baked in a tomato sauce with onion, the yummiest chorizo, and pita bread to the side; this one is like Shakshouka but in chorizo form.
Good old avocado feta toast, Little Collin's The Smash is a hit indeed. Simple, solid, delicious— what more could you ask for? If you're craving avocado toast first thing in the morning, head to Little Collins and thank us later.
What to order: Chorizo Baked Eggs, The Smash
Address: 708 3rd Ave, New York, NY 10017
Website | Instagram | Facebook
8. Balthazar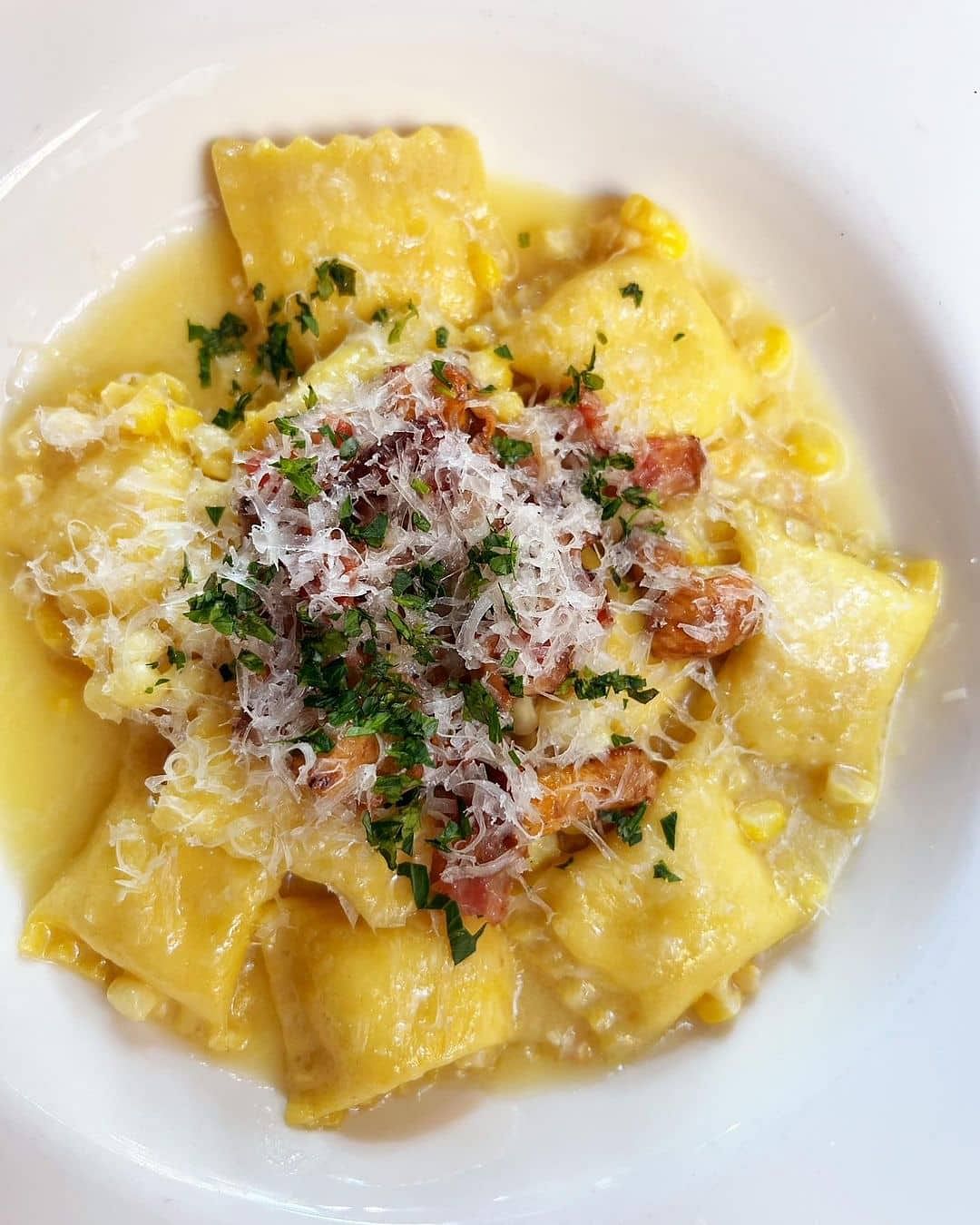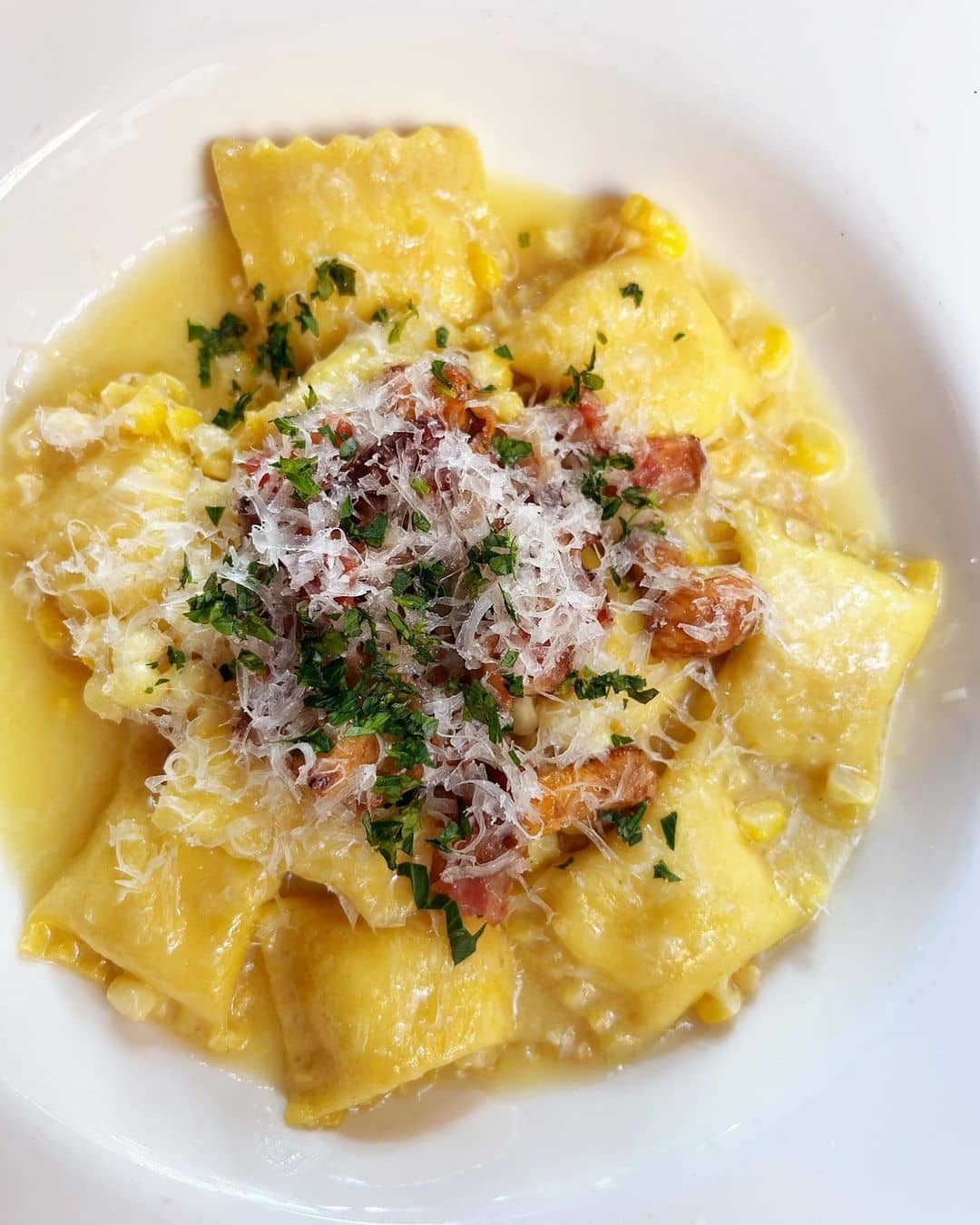 A quintessential eatery in Soho known for its French cuisine, Balthazar is the breakfast spot of the rich and famous people. With exceptional service despite the bustling atmosphere, you'll be greatly taken care of at Balthazar. This restaurant has earned its status as an all-time New York favorite, and you'll know why when you get there.
Balthazar's French Onion Soup is a favorite among many with its strong baked aroma and plenty of melted cheese. You might spot the same order on two or three tables near you because it's just that good.
Steak Frites, anyone? Balthazar makes them crazily good that it feels like you've been transported to Paris. Their french fries, in particular, are the best you'll ever taste in town. If you want a killer meal, this one is a no-brainer.
What to order: French Onion Soup, Steak Frites
Address: 80 Spring St, New York, NY 10012
Website | Instagram | Facebook
9. Sadelle's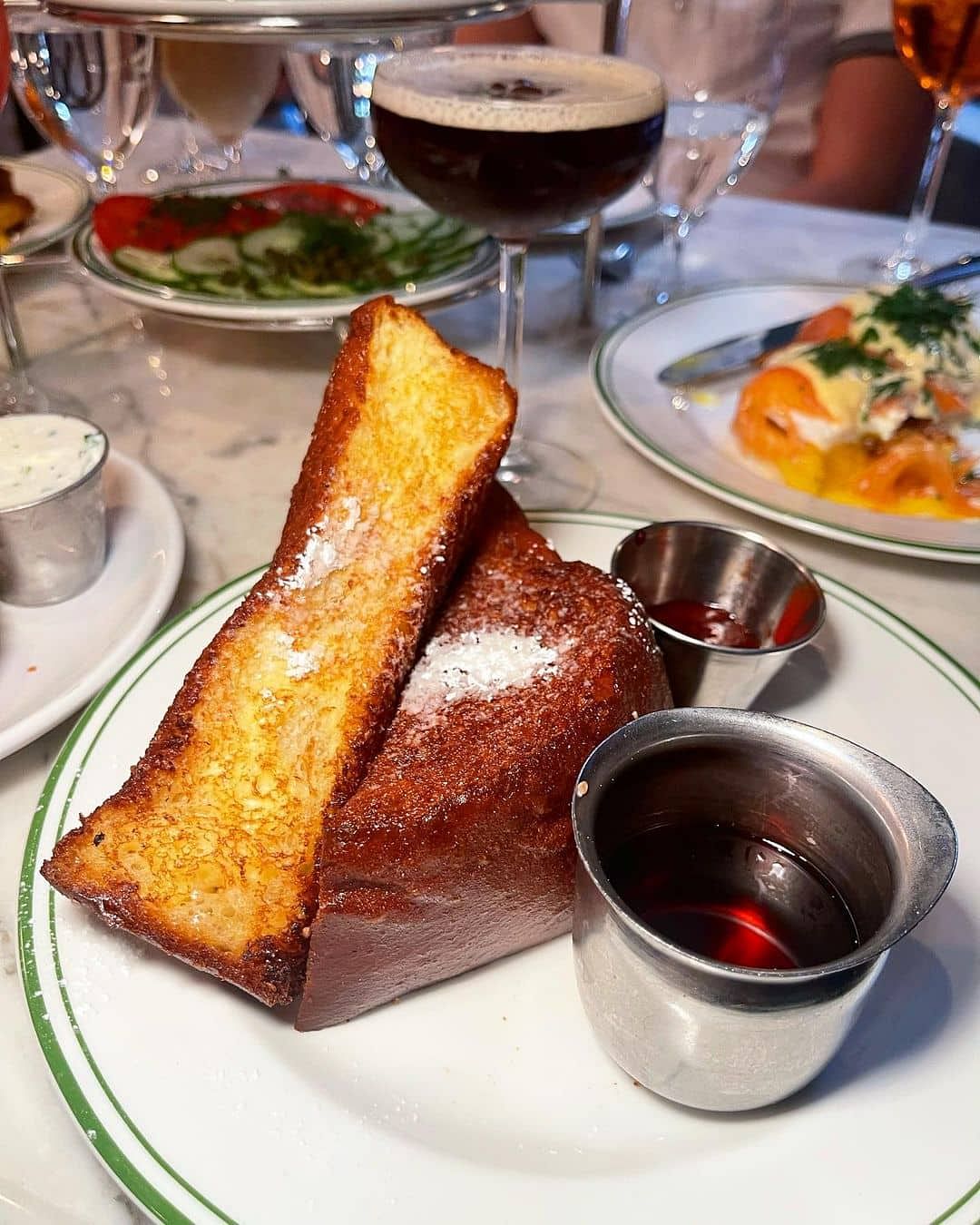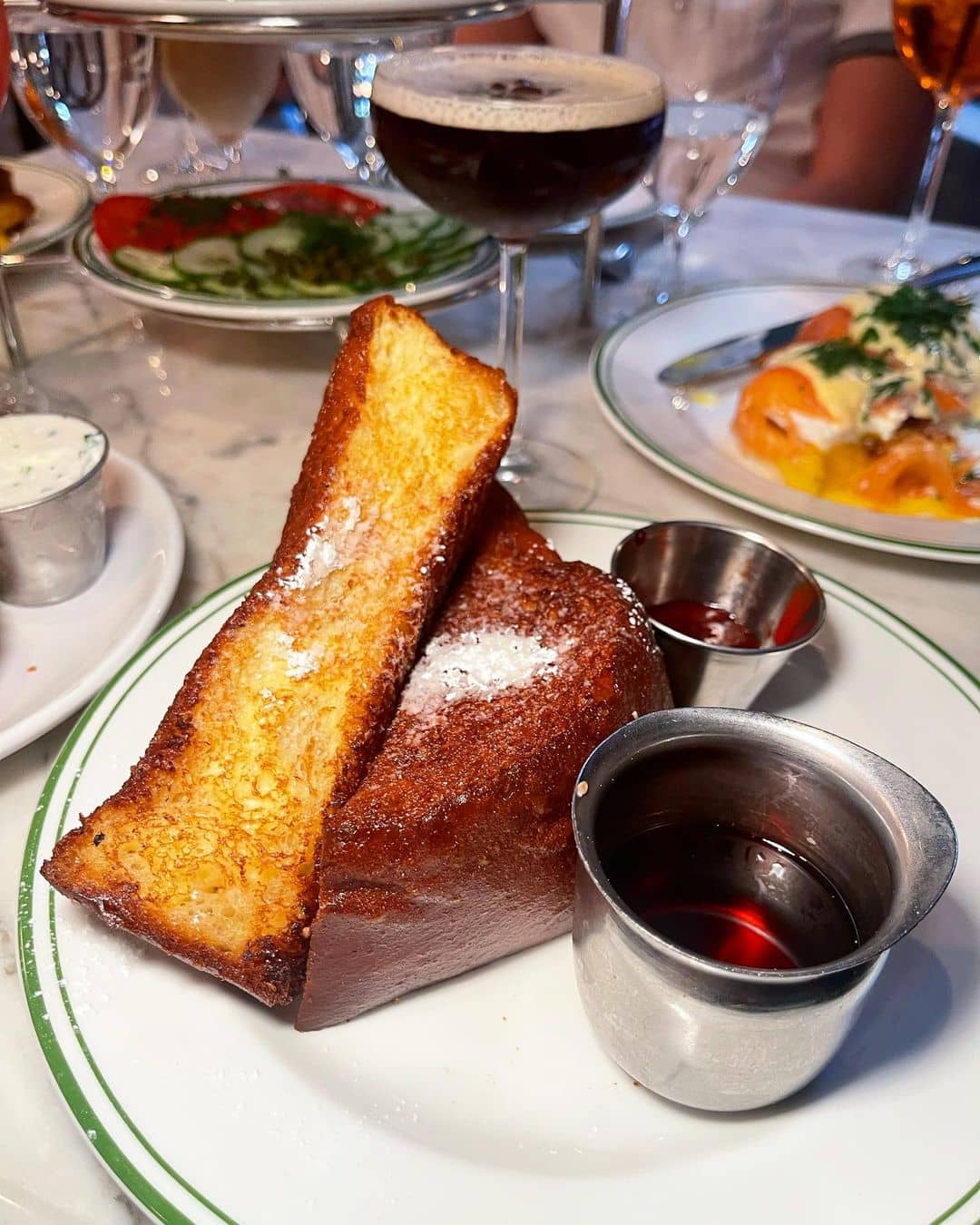 A cute and trendy Soho spot that you always see on social media, Sadelle's is healthy breakfast nirvana. With brick walls, steel interiors, and floral arrangements scattered around for the perfect gram shot, there's no wonder this place is popular. Sadelle's has everything you want for breakfast, brunch and some of the best bagels in NYC.
Who knew a simple French Toast could taste so mind-blowingly good? This one is thick and crispy on the outside while flawlessly soft and moist on the inside. Even if you don't usually like french toast, you will eat this all day if you can.
Thin, delicate, and made with all the right seasonings, Sadelle's House Salmon is *chef's kiss*. The dill, capers, cucumbers, and tomatoes accompanying the dish are the perfect garnishes one could think of.
What to order: French Toast, House Salmon
Address: 463 W Broadway, New York, NY 10012
Website | Instagram | Facebook
10. Hole In The Wall Cafe
Hole In The Wall is a well-known brunch spot in New York City with three other locations and another one in Williamsburg. The cafe is chic and stylish, filled with warm lighting from the floor-to-ceiling windows surrounded by plants. Good vibes, great food, friendly staff— what better way to start the day?
Mustard seeds, burnt butter hollandaise, and popcorn all together create interesting flavors and texture in the form of Hole In The Wall's Pulled Pork Benedict. Forget about the usual eggs benedict; this one will bring you to a new dimension.
Scrambled eggs but make it spicy, and you're in for an adventure. With perfectly cooked eggs that are not too dry, the Chili Scrambled Eggs pass the test even for those with the most particular palates.
What to order: Pulled Pork Benedict, Chili Scrambled Eggs
Address:
-15 Cliff St, New York, NY 10038
-445 E 35th St, New York, NY 10016
-37 W 24th St, New York, NY 10010
Website | Instagram | Facebook
11. Ess-a-bagel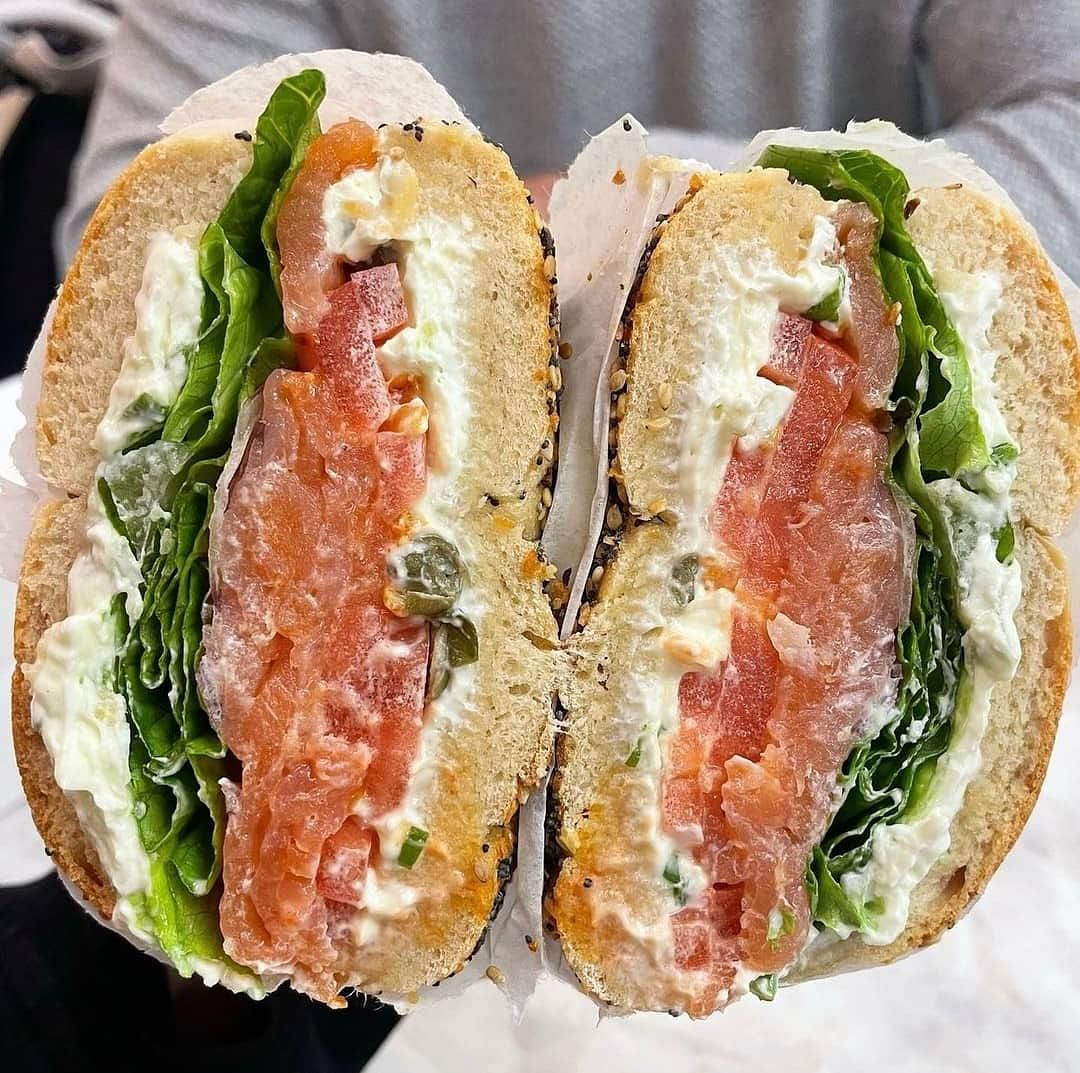 Ess-a-bagel is a classic New York bagel shop, which has been the local's favorite since 1976. So, if you want a bagel with as much puff as it has history, head to Ess-a-bagel. This is a must-visit bagel spot in New York!
Start your own adventure with a doughy, fluffy everything, pumpernickel, or cinnamon raisin bagel, and schmear it with all manner of decadent cream cheese options. Especially the Cinnamon Raisin Bagels are extremely soft on the inside and crunchy on the outside, with a delicious taste you can't resist!
You choose the Jalapeno Cream Cheese, a spicy and savory take on regular cream cheese – just a touch of heat to make it perky, to spread on. Or go for a sandwich from their curated menu of NYC faves, any of them!
What to order: Half Dozen Bagels, Strawberry Cream Cheese, Jalapeno Cream Cheese
Address: 831 3rd Ave, New York, NY 10022
Website | Instagram | Facebook
12. Barney Greengrass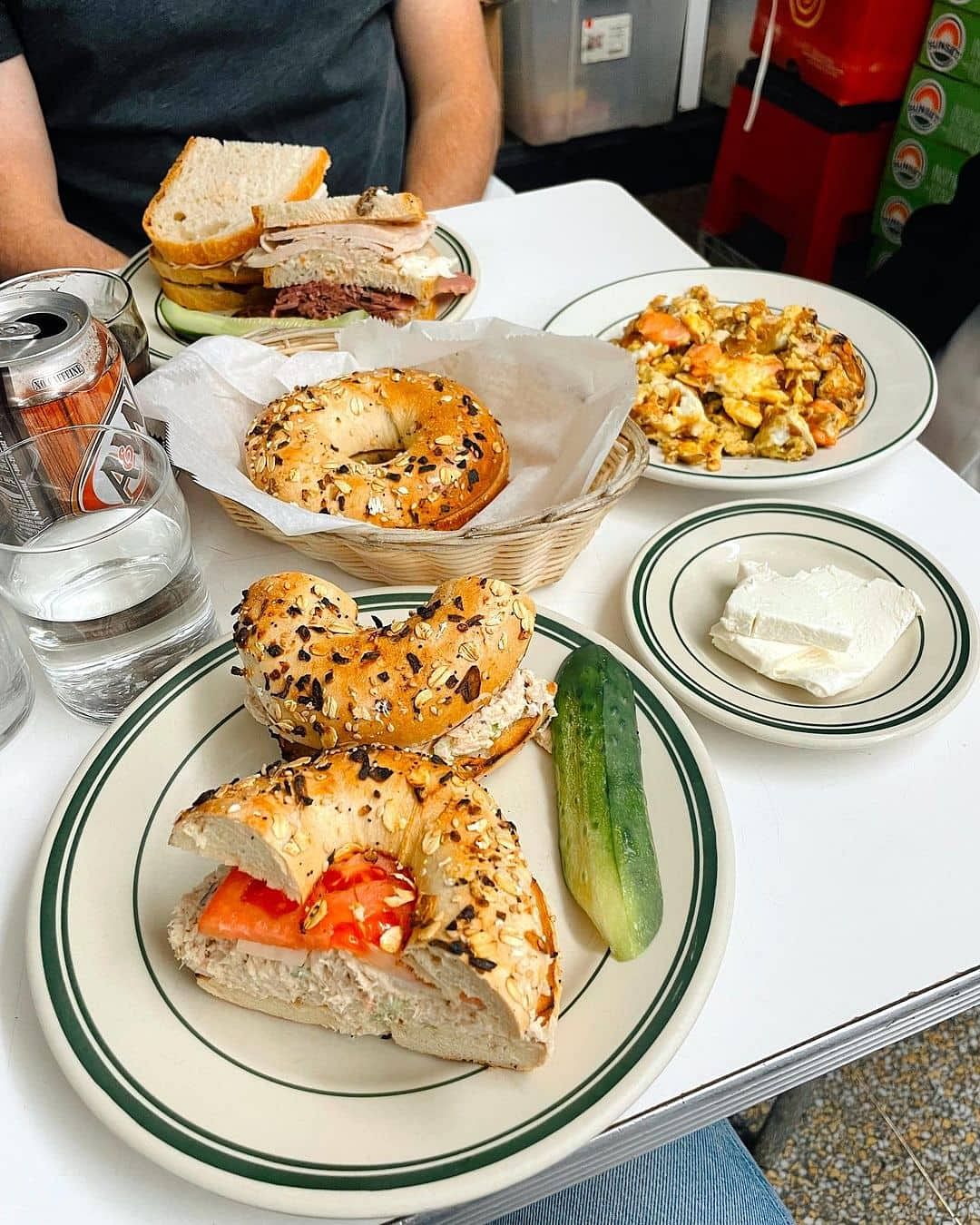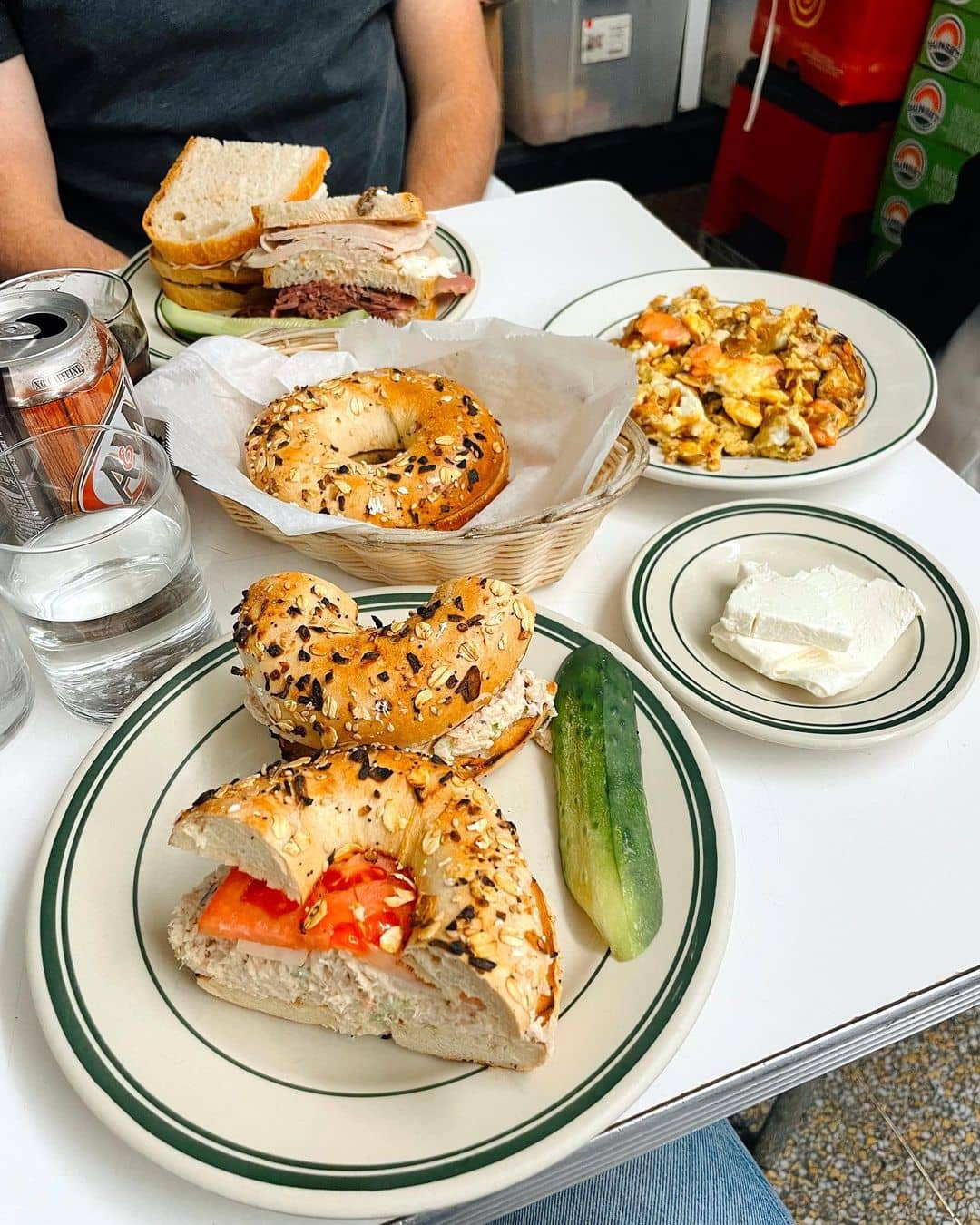 Barney Greengrass is an old-school Jewish brunch destination you shouldn't miss in the Upper West Side. Loyal fans routinely swing by for their craveable food and the menu with a roster of all-time favorites. Normally they have plenty of room to sit, but you will have to show up early for a table on weekends!
Start your day off on the right foot with Nova Scotia Salmon Scrambled Eggs. This fluffy, savory dish is to die for! Or you can pick Homemade Chicken Liver, smeared on a toasted bialy, with hard-boiled egg and caramelized onions can also do you good.
An overstuffed pastrami sandwich on soft rye served with mustard and crunchy half-sours is also a must-try. Salty, meaty, and saucy, you can't say no to that one!
What to order: Nova Scotia Salmon Scrambled Eggs, Pastrami Sandwich, Chicken Liver
Address: 541 Amsterdam Ave, New York, NY 10024
Website | Instagram | Facebook
13. Westway Diner
A local diner with Greek and Italian options, Westway Diner, is an absolute gem. When you wake up feeling extra sad in the morning, and you need that one big comforting hug from a diner booth, Westway got you covered. This is the comfort of all comfort foods and having it for breakfast is a great start.
If you're left with no choice but to eat only one breakfast meal for the rest of your life, Westway's Challah French Toast will be the first thing that comes into your mind. You can't go wrong with french toast for breakfast, but the one in Westway is just *chef's kiss*.
Descended from the heavens, the Belgian Waffle here is flawlessly divine. This isn't your typical cardboard-tasting waffles; this is THE real deal. With the perfect crunch on the outside and the knee-shaking softness on the inside, you'll wish every Belgian Waffle in the world tasted like this.
What to order: Challah French Toast, Belgian Waffle
Address: 614 9th Ave, New York, NY 10036
Website | Instagram | Facebook
14. Russ & Daughters
Russ & Daughters has been offering top-notch bagels and bialys since 1914. Until now, people still keep coming back for more of their soft and chewy bagels filled with mouth-watering cream cheese, smoked fish, or pastrami-cured salmon!
The Russ & Daughters bagel experience should not exist without smoked fish, so hesitate no more, order a bagel with any choice of fish toppings! You can either choose Smoked Salmon or Lox to start with, they are both surprisingly tasty and you're going to be their repeat customer because of them!
For sweeter ones, go for Cinnamon Bagel and Salted Caramel Bagel. While the Cinnamone bagel has complex flavors and nuanced sweetness from the raisins, balanced out with the warming spice of cinnamon, the Salted Caramel has a perfectly smooth seasoning with deep caramel flavor and just the right amount of savory!
What to order: Cinnamon Bagel, Horseradish-dill Cream Cheese Bagel, Salted Caramel Bagel, Smoked Salmon Bagel
Address:
– 141 Flushing Ave Building 77, Brooklyn, NY 11205
– 179 E Houston St, New York, NY 10002, United States
– 127 Orchard St, New York, NY 10002, United States
Website | Instagram | Facebook
15. Veselka
A New York City staple, Veselka is a popular and bustling Eastern European restaurant where you can get the most mind-blowing breakfast. There's always a long line in this place, and it is regarded as an East Village favorite.
Their Weekday Breakfast is a must-try for those who love a hearty meal at the start of their day. Potato pierogies topped with eggs and a choice of bacon, sausage, or kielbasa (highly recommended); having this one for breakfast makes you feel like you're back at your grandma's place.
Egg fried to your heat's content, the carb-heavy Classic Fried Egg Sandwich always hits the spot for breakfast. The grilled smoked ham, gruyere, and all the arugula goodness are worth ditching your usual diet.
What to order: Weekday Breakfast, Classic Fried Egg Sandwich
Address: 144 2nd Ave, New York, NY 10003
Website | Instagram | Facebook
16. MORNING STAR CAFE
Whenever you need a hardcore New York breakfast that feels like a slap to the face to wake you up in a good way, Morning Star always delivers. Who cares if you eat breakfast at 3 am in the morning? Apparently, Morning Star does. Offering diner classics 24/7, Morning Star shines with its massive breakfast selection, and you'll love every single one of them.
This place has a lot of varieties when it comes to omelets, but our favorite has got to be its signature Morning Star Omelette. Fresh spinach, feta cheese, and tomato are just the perfect combination.
Morning Star's Eggs Benedict sets itself apart from others by its irresistible taste. Their eggs will have you dreaming of them at night. Actually, you might lose a lot of sleep thinking about this one.
What to order: Morning Star Omelette, Eggs Benedict
Address: 949 2nd Ave, New York, NY 10022
If you're contemplating skipping breakfast next time, think of all the yummy meals you'll miss out on. Surely, you've found one that gets you up in the morning in this list. Woke up later than usual? Head on over to our list of the best brunch spots in NYC.