Looking for the best breakfast restaurants in Seattle? Well, you're in the right place!
Seattle – is a true heaven for foodies and coffee lovers. Wandering around in the early morning and you'll be overwhelmed by countless restaurants and coffee shops.
Let's dive into our list of the 11 best breakfast restaurants in Seattle for a hearty meal gathered all just for you:
This article contains affiliate links where we may get a small commission if you click on the link and purchase. No extra cost is added to you.
---
Find Cheap Flights to Seattle
---
1. Morsel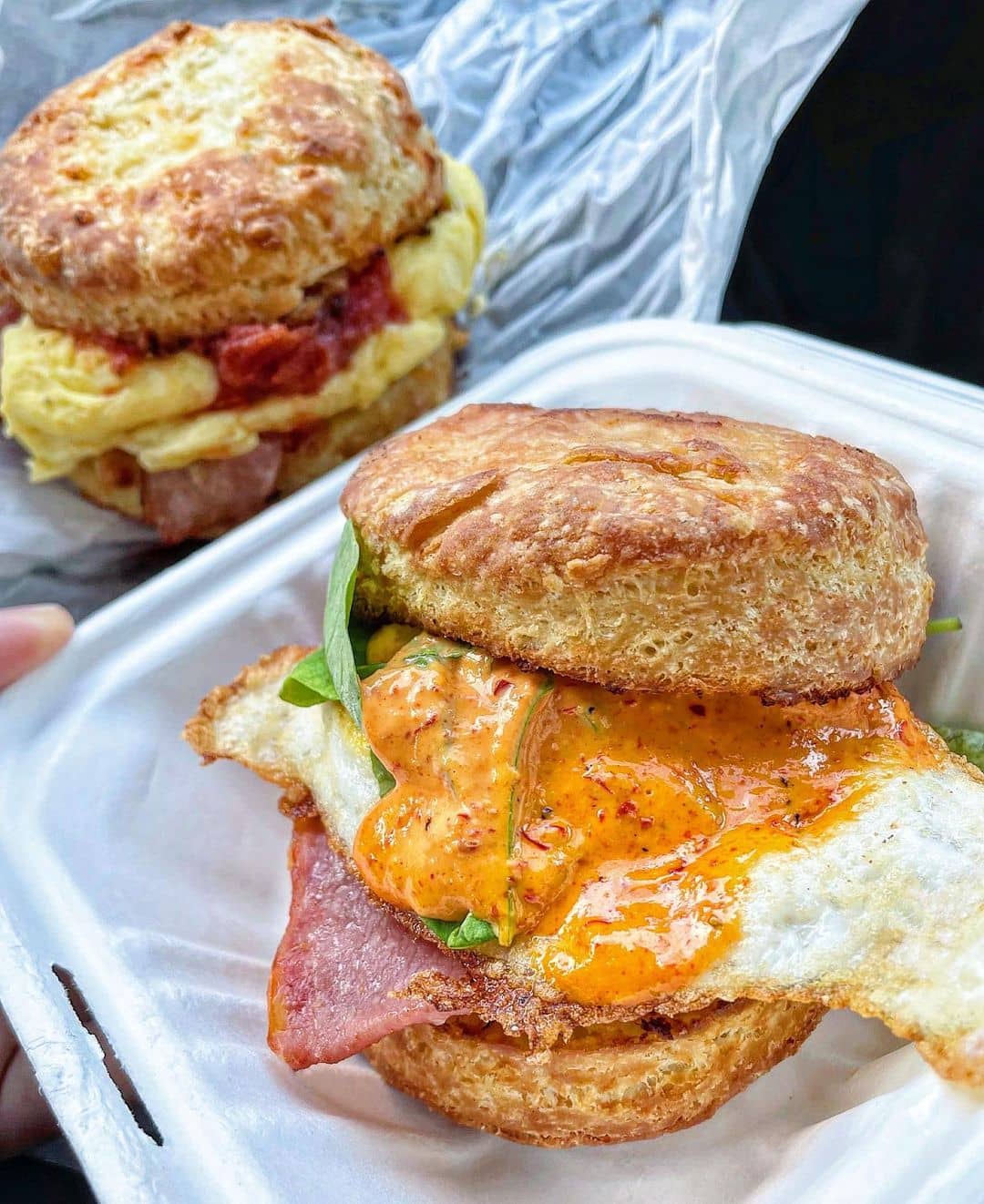 Located in Seattle's University District, Morsel is a biscuit and coffee shop well-known for its craft biscuit sandwiches.
This is the kind of place that people want to stop by for breakfast or brunch at least once whenever they're in the city.
With quiet corners, board games, sofas, and delicious food, Morsel is a homey spot that everyone will enjoy!
While all of their biscuits are heavenly, the Cheddar Chive one has earned its spot as the crowd-favorite.
The biscuit is soft, buttery, and delicate, without too much crunch, and with just the right level of warmth.
A favorite sandwich here is The Spanish Fly. With pork prosciutto, manchego cheese, fried egg, and pepper aioli, it is subtly yet enjoyably flavorful.
They offer a wide selection of "fixins" or toppings, everything made in-house. While many selections are seasonal, their bacon jam tastes great with all their biscuit offerings.
P.s: They don't take reservations so make sure to be in the line early!
What to order: Cheddar Chive biscuit, The Spanish Fly, Bacon Jam with biscuits
Address: 5000 University Way NE suite d, Seattle, WA 98105
Website | Instagram | Facebook
2. Glo's Pop Up at Captain Blacks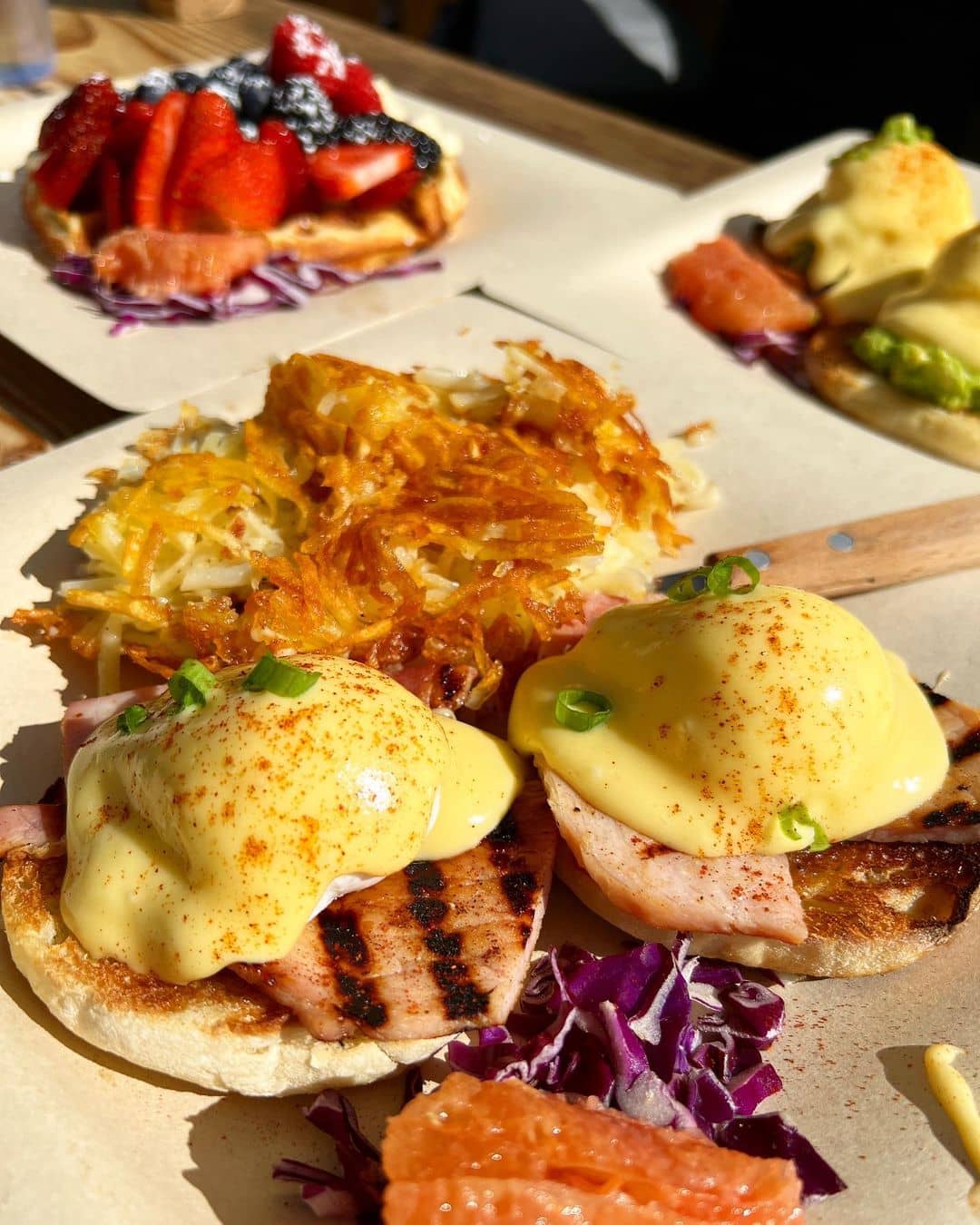 At GIo, you are offered the absolute best breakfasts full of flavor while enjoying the warm welcome from the staff and relaxing atmosphere.
Although they only have a limited menu at Captain Blacks, the passion and care in every dish are there and you still can enjoy delicious meals with your loving family and friends.
Eggs Blackstone is a must to start your day with a standard combination but promises to win your heart.
Coming with two savory bacon strips and perfectly poached medium eggs with creamy runny egg yolk on soft and buttery English muffin halves, topped with homemade hollandaise sauce.
Craving for some authentic homemade buttermilk biscuit? Biscuits and Gravy are for you!
What to order: Smoked Salmon Benedict, Eggs Blackstone, Biscuits and Gravy, Aaron's Special
Address:
-928 East Barbara Bailey Way, Seattle, WA 98122
-928 East Denny Way, Seattle, WA 98122
Website | Instagram | Facebook
🍕 Are you a foodie? Check out these top-rated Seattle food tours!
3. The Fat Hen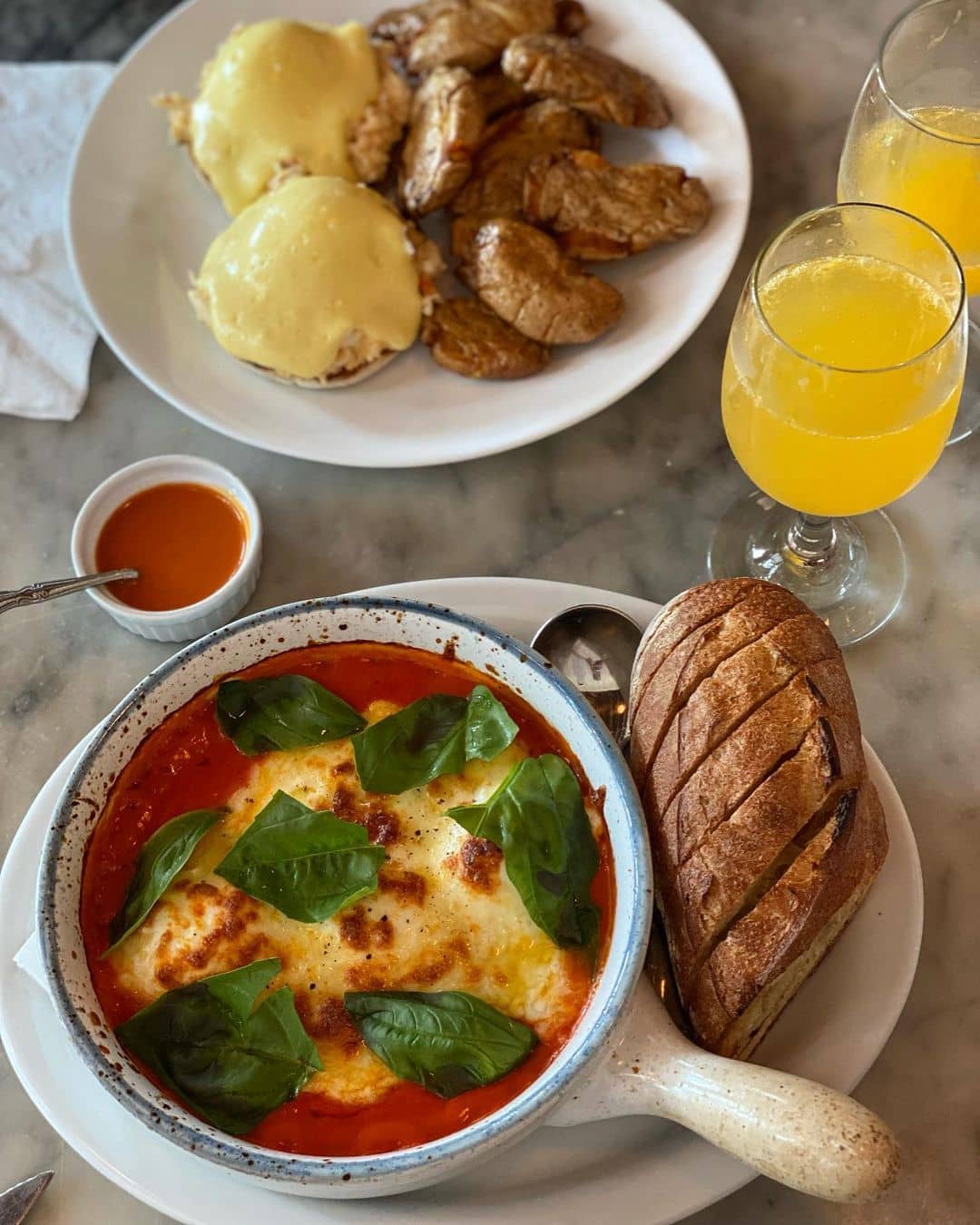 Looking for something more neighbor-friendly and more local? Don't miss out on The Fat Hen.
It is a teeny, tiny neighborhood café serving phenomenal breakfast & lunch along with authentic handcrafted coffee drinks.
If you're a benedict-for-brunch kind of person, The Fat Hen has some incredible options like European-style Smoked Salmon and Pancetta Eggs Benedict.
Both the dishes are wonderful tasting, but a special mention to the delicious hollandaise that is made in-house from scratch.
The smashed fingerling potatoes on the side are golden brown and crispy on the outside and soft and fluffy on the inside.
There are only two words to describe The Fat Hen's Camicia Skillet: breakfast bliss.
This heavenly dish comes with local cage-free eggs cocooned in a bed of house tomato sauce, crowned with a melty blend of mozzarella and house ricotta, and adorned with fragrant fresh basil.
What to order: Breakfast Smash, Eggs Benedict, Camicia Skillet, Sweet Toast
Address: 1418 NW 70th St, Seattle, WA 98117
Website | Instagram | Facebook
Looking for a place to stay in Seattle?
4. Bacco Cafe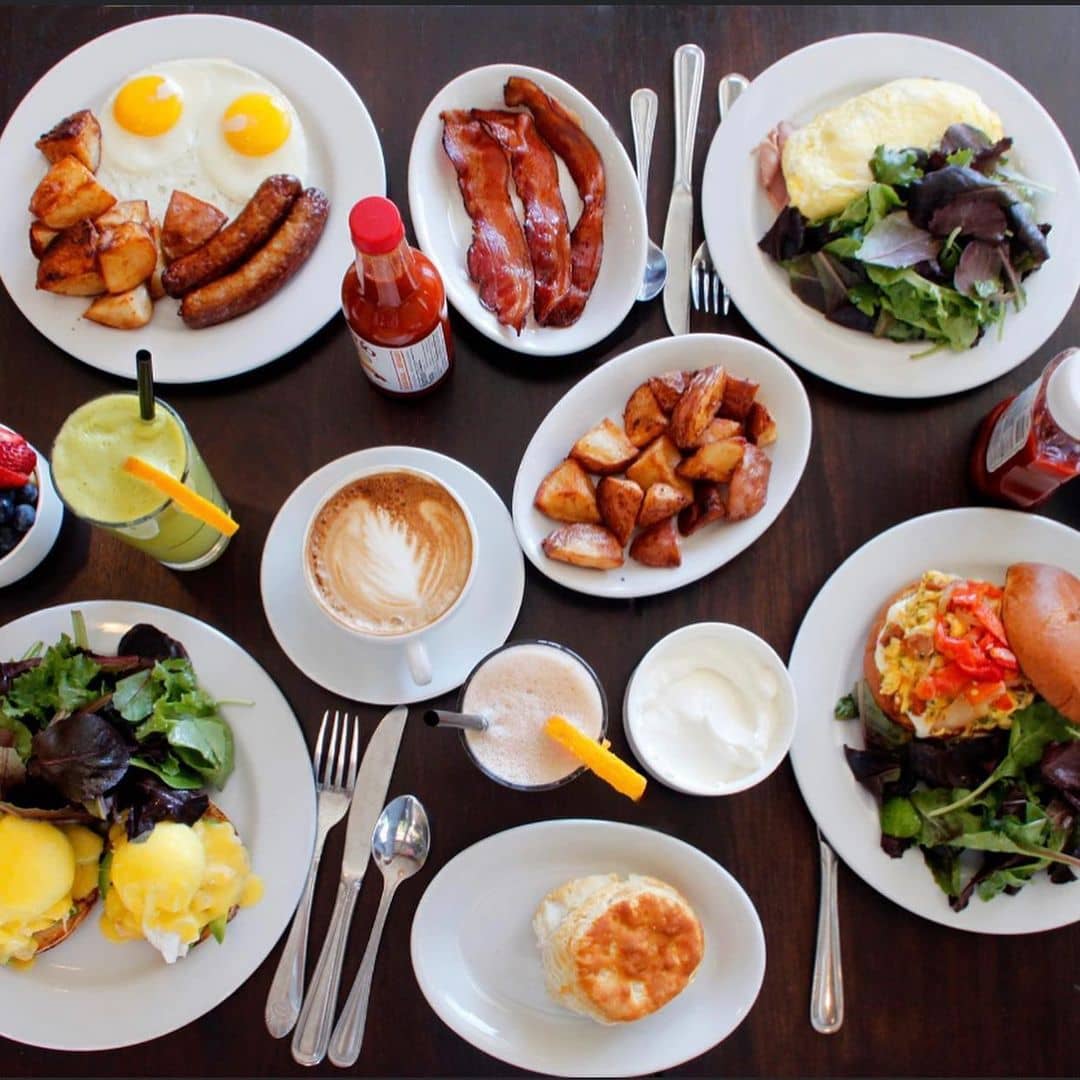 Located at Pike Place Market, Bacco Cafe specializes in local food and beverages, with a variety of choices for everyone's taste.
They also have a fresh juice bar, and serve organic coffee as well. Grab a seat on their patio and enjoy brunch with a view.
A big YES for the French Toast. Very light and airy crunchy toast with a light layer of powdered sugar on top helps elevate the nutty flavor.
But what makes this dish so addictive is the juicy, light sour berries that come with it making every bite so pleasant to enjoy.
Another recommendation is Dungeness Crab Benedict. The fresh crab meat is so tender with a delicately sweet taste, combined with the rich, creamy, lemony butter hollandaise sauce.
From Bacco's famous juice bar, Verona is the no. 1 drink to try. A medley of pineapple, orange, and banana, the drink tastes fresh and energizing.
What to order: Bacco Breakfast, French Toast, Dungeness Crab Benedict
Address: 86 Pine St, Seattle, WA 98101
Website | Instagram | Facebook
5. Pete's Eggnest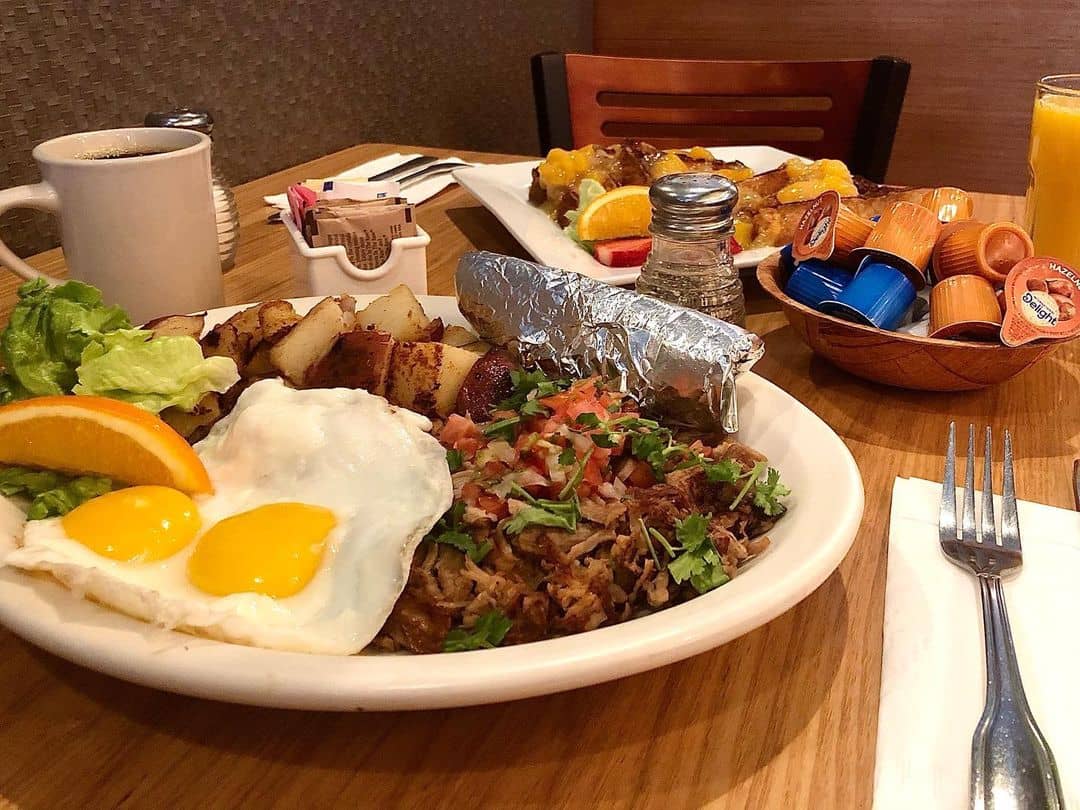 Pete's Eggnest, also known as The Egg & Us, is a friendly family-owned restaurant specializing in cozy and comforting breakfast food!
This place is the best bang for your buck breakfast and brunch spot with aesthetic decoration and full of green plants.
Have you ever wondered what a morning in Athens feels like? The Athenian Greek Scramble will give you a taste of it.
This dish features succulent gyro meat, tangy Creek olives, sun-kissed tomatoes, fresh spinach, green onions, and feta cheese, all luxuriously topped with tzatziki and served with warm pita bread.
Start your day right with the Breakfast Burrito at Pete's Eggnest. This one comes with fluffy scrambled eggs, melted cheddar cheese, creamy avocado, and your choice of ham, bacon, chorizo, or sausage links.
Their Philly Cheesesteak is another irresistible dish that features tender, thinly sliced beef topped with melted Swiss and American cheeses, sautéed onions, and a vibrant mix of green and red peppers.
What to order: Athenian Greek Scramble, Breakfast Buritto, Philly Cheesesteak
Address: 7717 Greenwood Ave N, Seattle, WA 98103
Website | Instagram | Facebook
6. Sabine Café & Market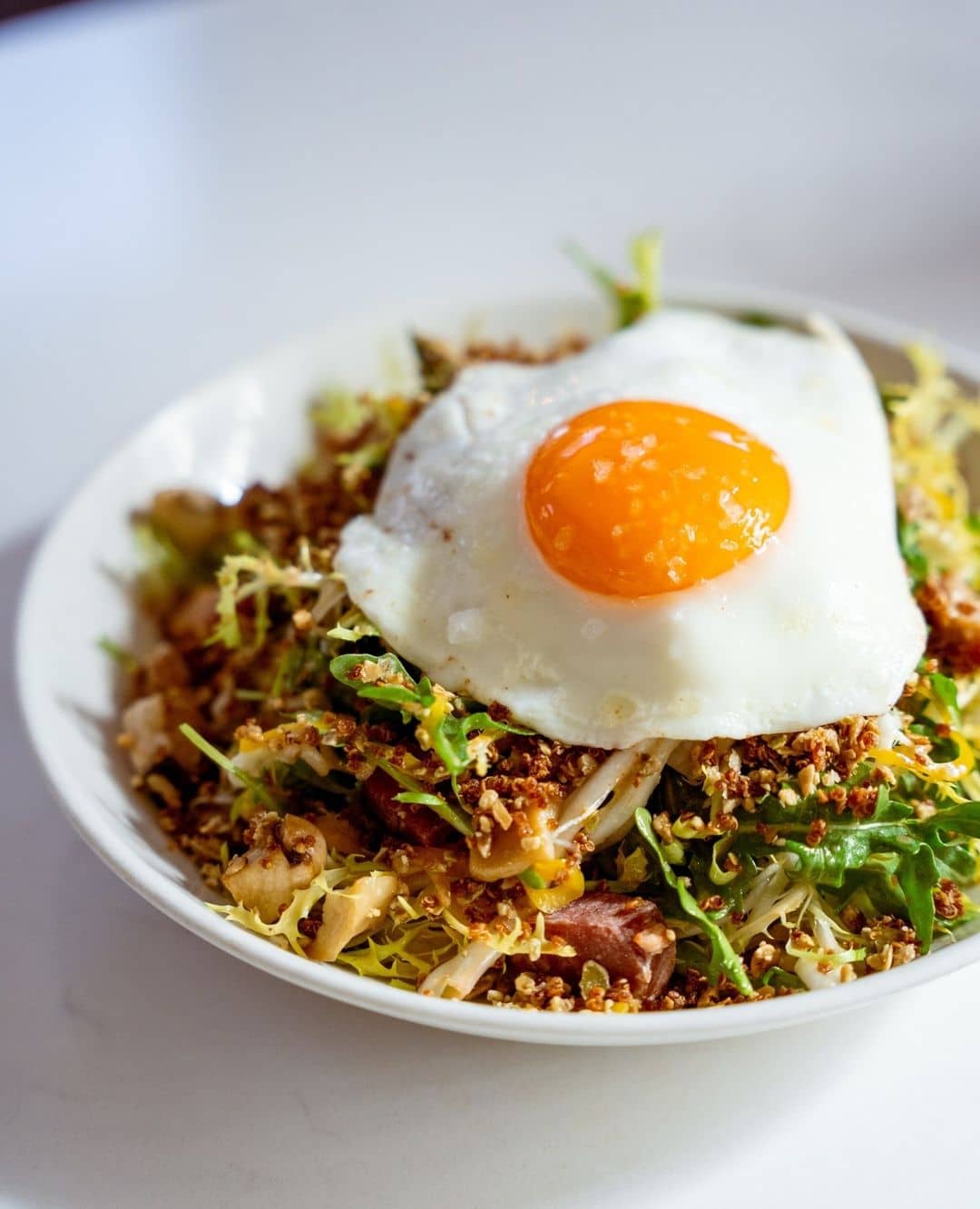 Sabine is part of the Weimann Maclise family of restaurants, which also counts among its collections Ballard's Stoneburner and MacLeod's hot spots.
Experience breakfast like never before with Sabine Cafe & Market's remarkable signature sandwich. This star of a dish includes pastrami jam, luscious caramelized onion aioli, a perfectly fried farm egg, vibrant arugula, and all nestled within slices of delectable brioche.
The fried farm egg adds a velvety richness, while the peppery arugula brings a fresh and invigorating touch.
An all-time fav – the Avocado Toast with creamy and fresh avocado with some olive oil and seasoned with some flake salt. It is a must-try. Sometimes, this breakfast classic is all you need.
Sabine Cafe & Market's Tahini Caesar is a refreshing spin on the classic salad, combining a vibrant mix of artisan lettuce, grana padano cheese, crispy chickpeas, and a zesty lime-tahini dressing.
What to order: Sabine Breakfast Sandwich, Avocado Toast, Tahini Caesar
Address: 5307 Ballard Ave NW, Seattle, WA 98107
Website | Instagram | Facebook
7. Hi-Spot Cafe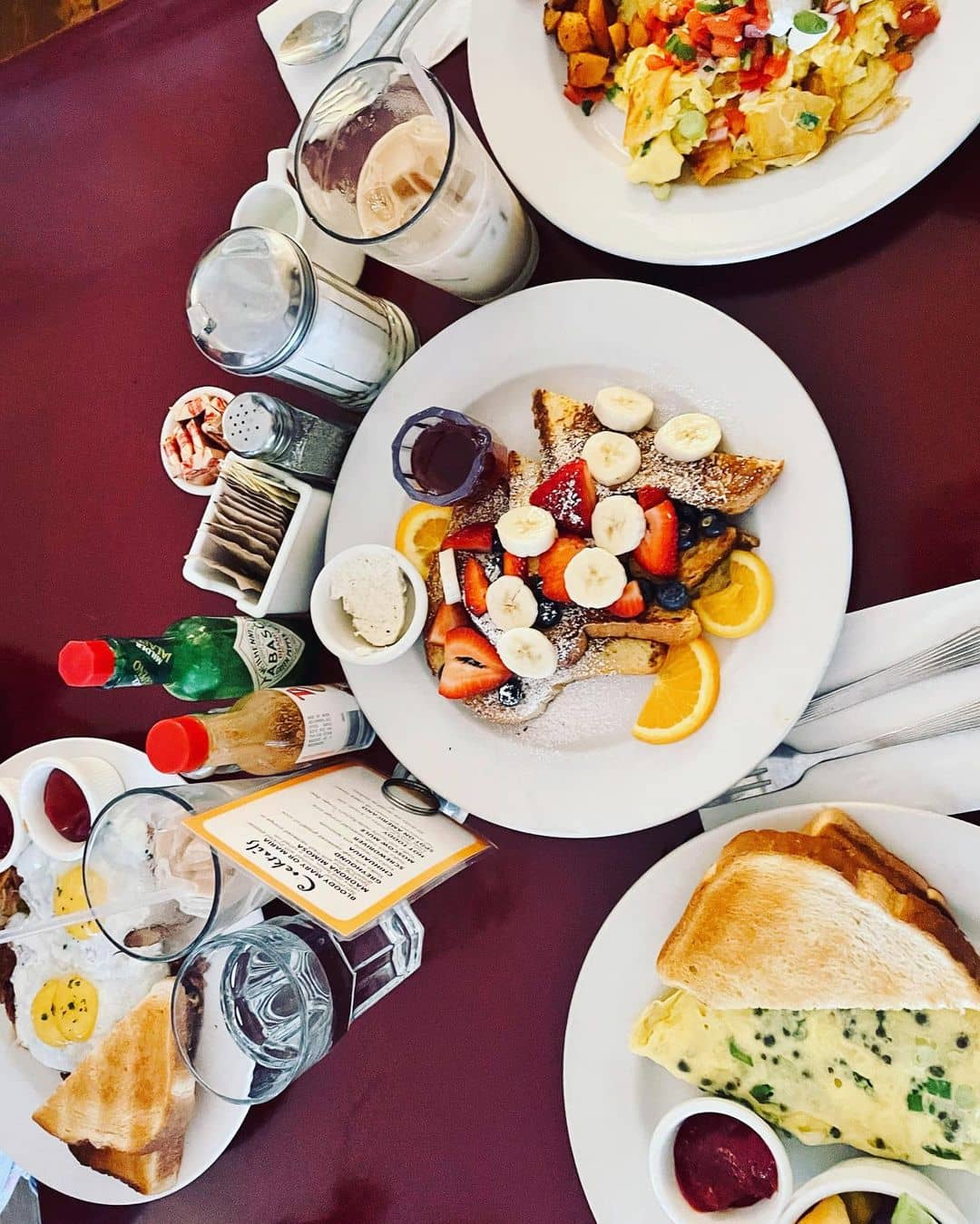 Located in a beautiful 1904 Victorian building that housed the family business back in 1904, Hi-Spot has been a neighborhood institution for 31 years now.
To the locals, ​​Hi Spot is an adorable gem in Madrona when it appears to be a home that was converted into a restaurant and it has that cozy, homey feel with a charming and alive atmosphere.
Everyone always asks for Green Eggs and Ham so make sure to check it out! The smooth and creamy scrambled egg is so tasty with some fries on the side and nicely toasted bread that gives a perfect crunch.
If you're into Mexican flavor, try their Huevos a La Mexicana and be amazed by the combination of spices. The eggs are scrambled with bits of crispy tortilla and topped with cool sour cream and pico making every bite so worthy.
What to order: Green Eggs and Ham, Huevos a La Mexicana, Chorizo Scramble
Address: 1410 34th Ave, Seattle, WA 98122
Website | Instagram | Facebook
8. Lost Lake Cafe & Lounge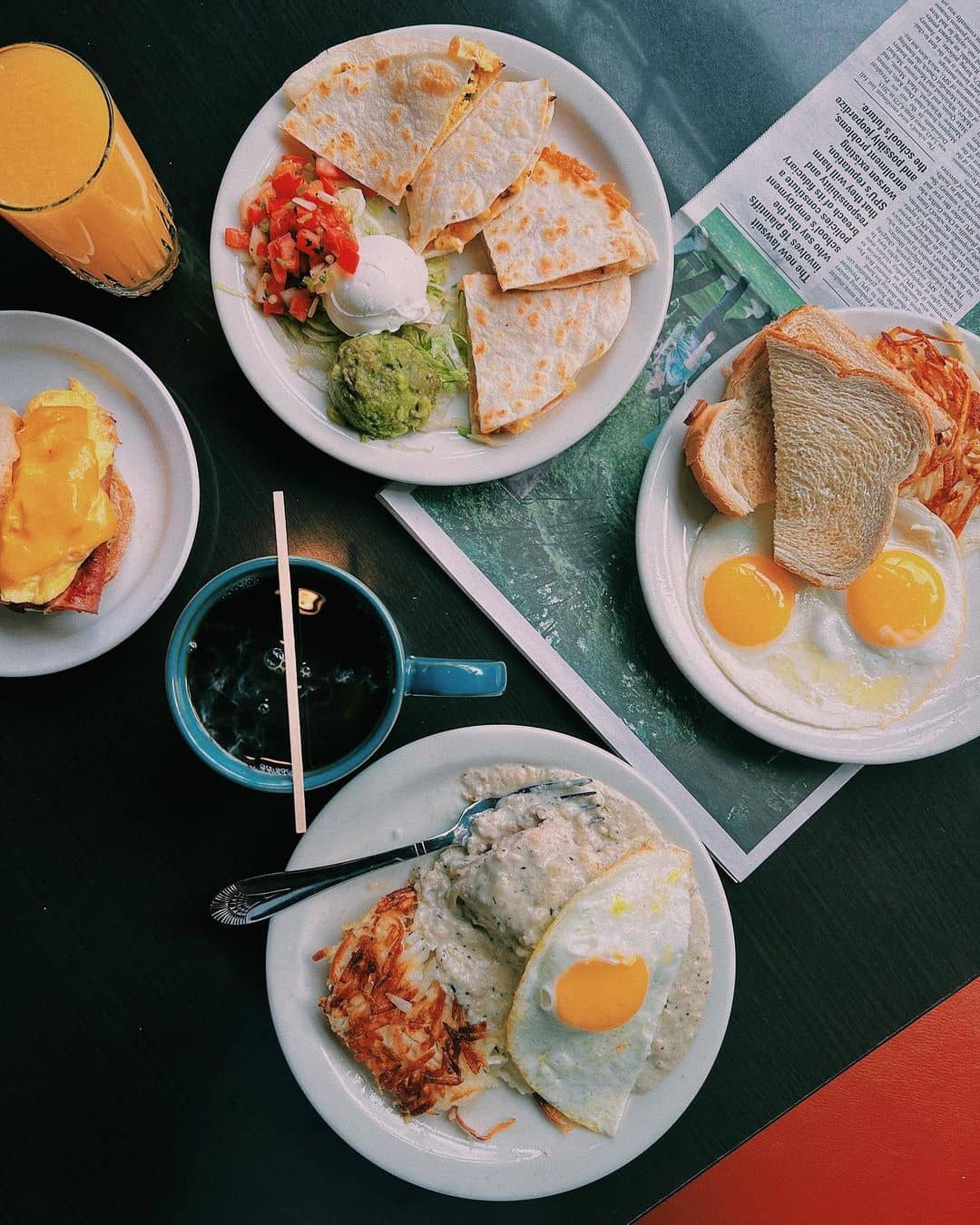 This is one of the best breakfast places near Capitol Hill with outdoor patio seating. If you're looking for a place where you'll feel welcome while enjoying your breakfast, you can't go wrong with Lost Lake Café.
You'll be greeted with smiles and a generally laid-back and warm atmosphere when you walk into this café. The café's interior style gives you the impression that time has come to a standstill in the café.
Tired of plain cereal or that dry slice of toast you have for breakfast every day? Ask for some Philly Omelette and be ready to start your enjoyable day with an outstanding dish.
The thin slice of rib-eye steak is so juicy, tender, and flavorful combined with the umami sense from the mushroom and savory American cheese nestled in a creamy omelet.
If you're in the mood for a hearty breakfast, try their absolute best Carnitas Breakfast Burrito. No way you can deny the tasty pulled pork with a buttery omelet, topped with salsa and sour cream.
What to order: Corned Beef Hash, Philly Omelette, Carnitas Breakfast Burrito
Address: 1505 10th Ave, Seattle, WA 98122
Website | Instagram | Facebook
9. Madison Kitchen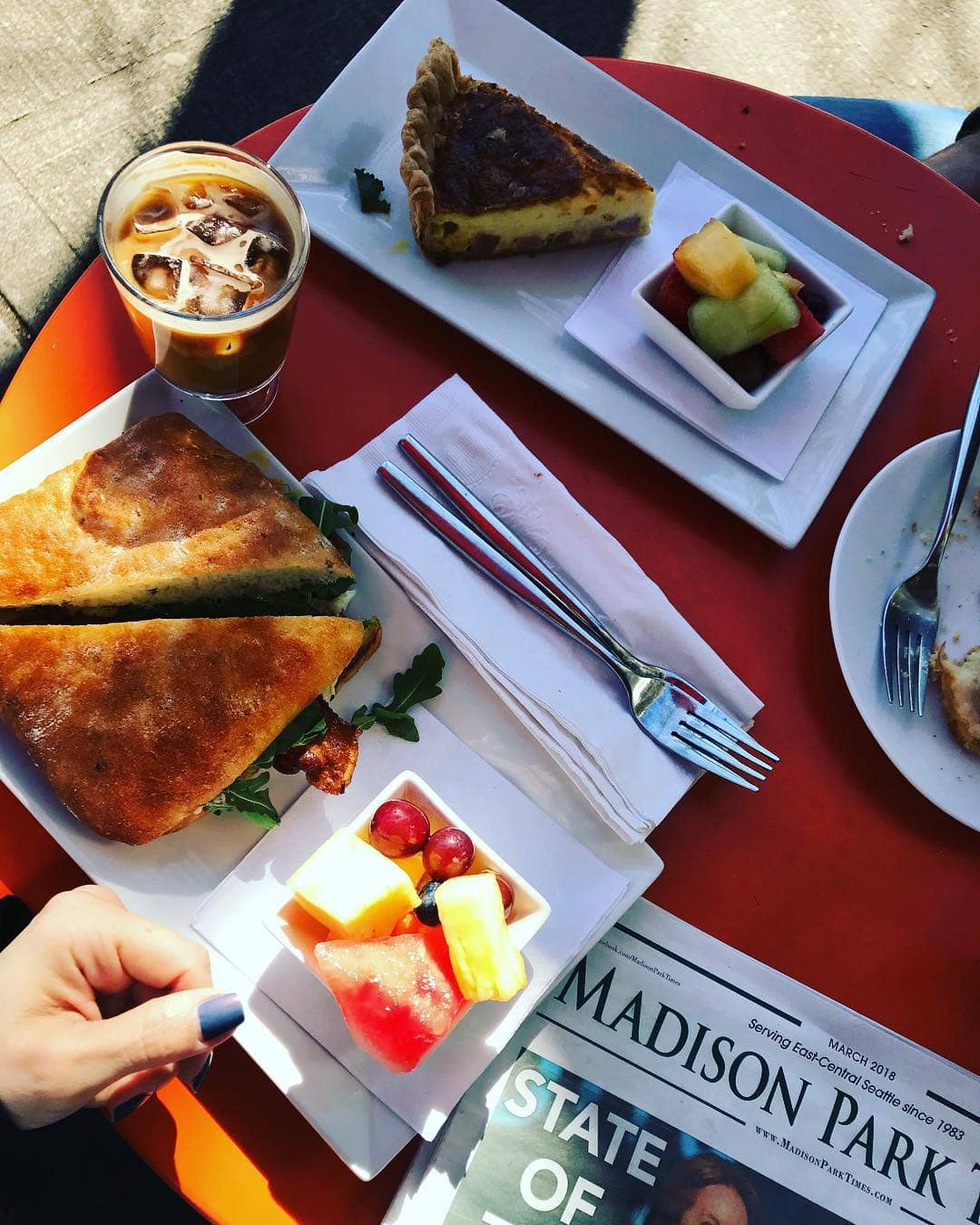 From scratch cooking and baking for wholesome and delicious treats, wandering along Maddison Park and you'll find this hidden gem in Seattle – Madison Kitchen.
A perfect place to stop by and grab some finger-licking good food while enjoying a beautiful sunny day.
Always been a crowd-fav – Madison St Special with nicely seasoned smoked turkey breast and savory Vermont white cheddar and crisp Apples for sweetness.
What makes the dish unforgettable is the fresh and creamy basil aioli Cranberry sauce. Delish! Oh, when you get the sandwich whole, it will come with a bag of crunchy chips.
Mk Egg Sandwich with toasted Macrina potato roll is also so darn good.
It is so crunchy, buttery and so moist at the same time with crispy strips of bacon, the signature basil aioli, and 2 eggs that are made to perfection.
What to order: Madison St Special, Mk Egg Sandwich, Yukon Gold Potato Frittata
Address: 4122 E Madison St, Seattle, WA 98112
10. Konvene Coffee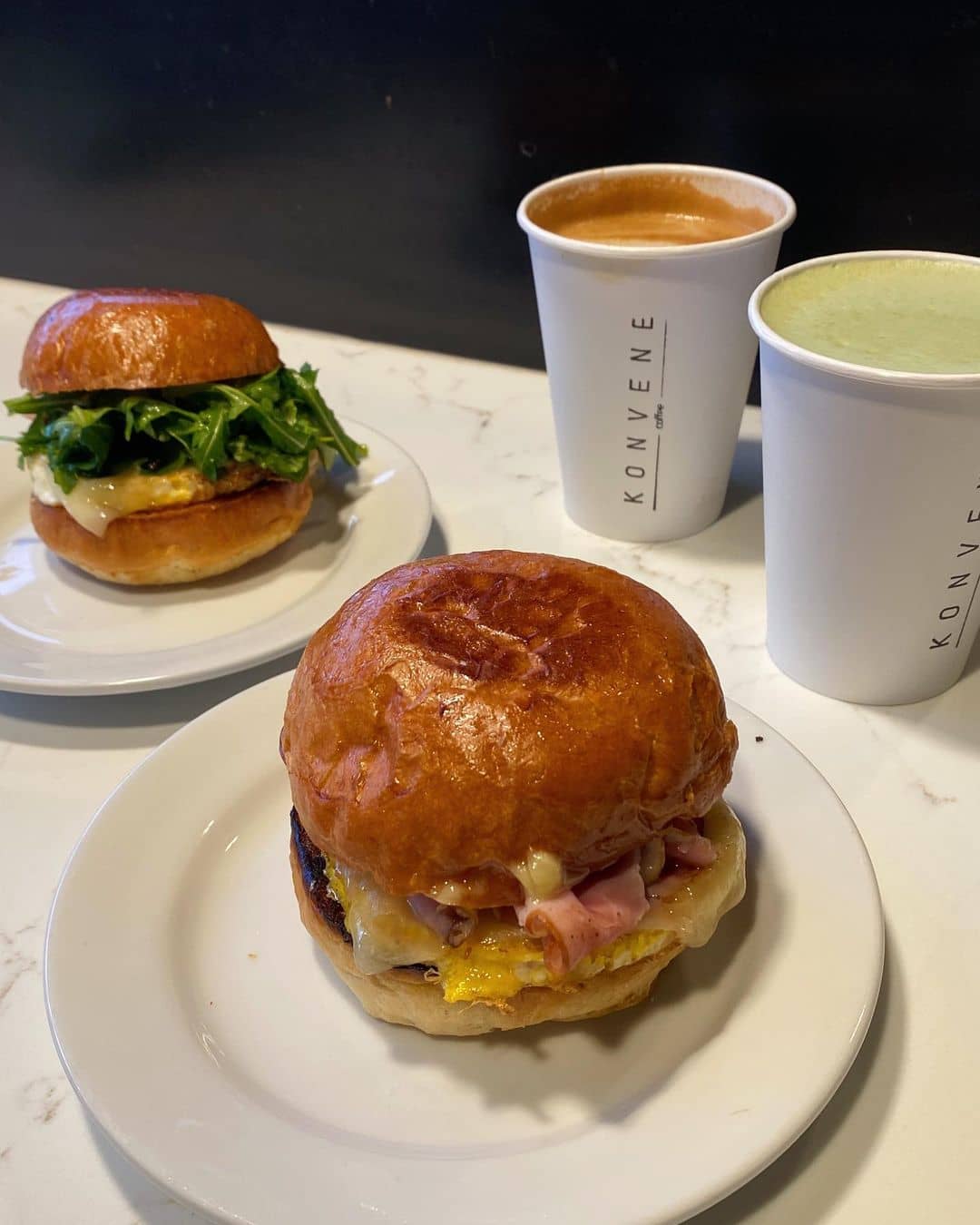 We promise you won't leave this place without a smile. Konvene Coffee is definitely a labor full of love, warmth, and friendliness.
It's a nice little coffee tucked away above the QFC (go into the QFC entrance then take the stairs or elevator up one floor- you'll see it right there) that serves pleasantly flavorful dishes to light up your day.
The Egg Sandwiches with Sausage are always asked for since it is SO GOOD!
The housemade sausage is so fresh and tasty when it was spiced with all kinds of wonderful herbs that nicely balance the fatty grilled egg, white cheddar, and their absolute best aioli.
How can we forget the Burrito Bowl?
A masterpiece with so many flavors from savory to buttery taste, and even some heat to spice the dish up! Eggs are made to perfection with mama lil's peppers, sweet shallots, and of course, white cheddar.
What to order: The Egg Sandwiches with Sausage, Burrito Bowl, Avocado Toast
Address: 500 Mercer St Floor 2, Seattle, WA 98109
Website | Instagram | Facebook
11. Bebop Waffle Shop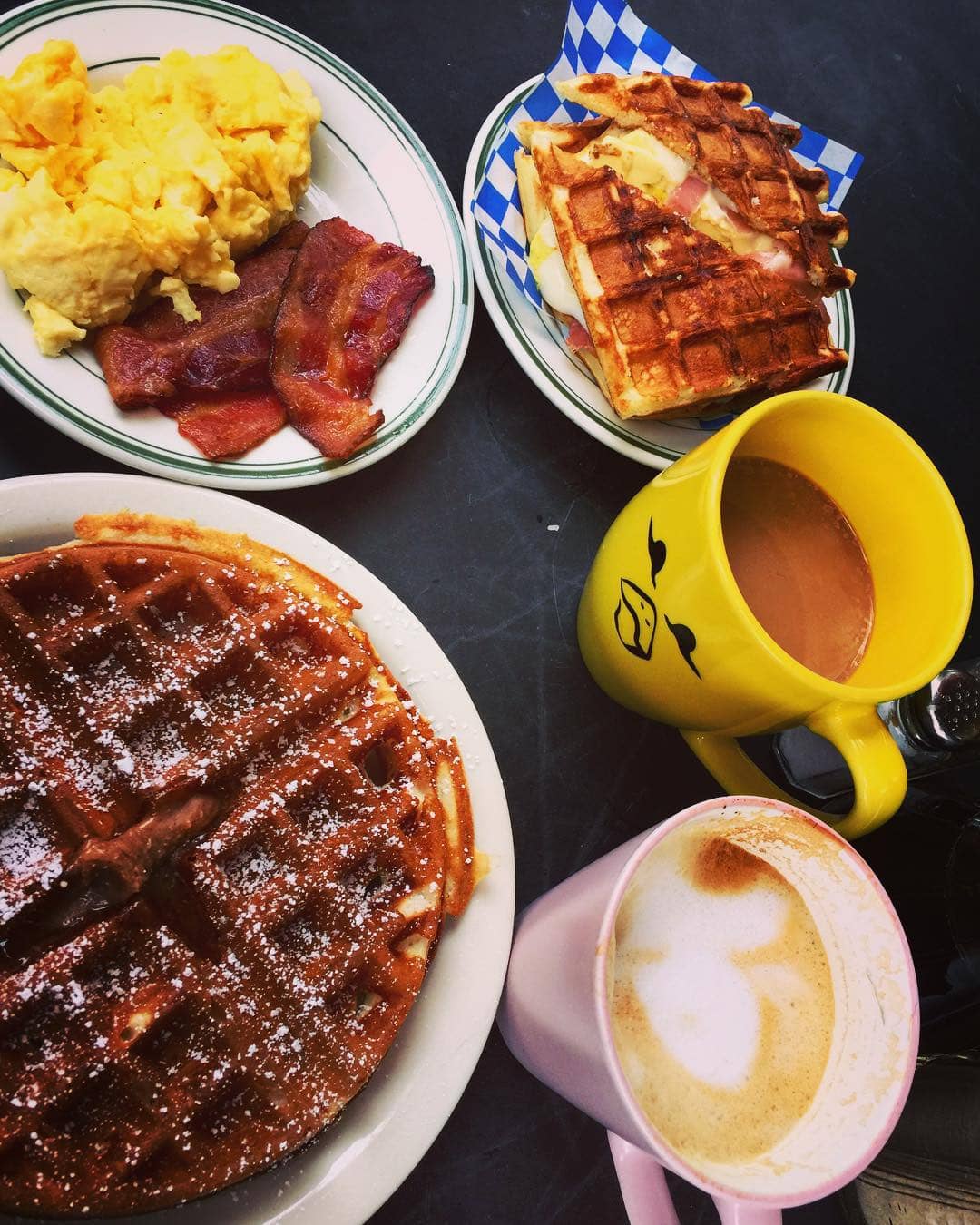 Not just any waffle joint mind you, a queer and women-owned café that offers organic coffees, craft beers and ciders, and perhaps the most creative all-day breakfast menu in West Seattle, filled with new and unusual ways to serve and enjoy waffles.
With Bebop (formerly Admiral Bird Cafe) Corina has created a safe, respectful, and friendly space where everyone in the community can come to meet.
Maple Bacon Waffle is driving everyone insane.
Worth every sugary bite! The soft and buttery waffle is spread with butter and sweet maple syrup, topped with thick salty pieces of bacon spread throughout the waffle. A sweet and salty dream come true!
Think vegan breakfast is boring?
Well, their Breakfast Chili is going to change your mind forever. We would recommend this for a warm and filling meal any time of day. Topped with arugula, cheddar, dill dressing, and scrambled eggs, the dish was enjoyable and filling for a small bowl.
What to order: Maple Bacon Waffle, Breakfast Chili, Vegan Field Roast Waffle
Address: 2600 California Ave SW, Seattle, WA 98116
Website | Instagram | Facebook
Above are our recommendations for you. After having a delicious breakfast and enjoying your day with joy, you might want to start thinking about where to get the same experience for your dinner.
Without letting you wait any longer, check out our Best Restaurants in Seattle for more various options.