Looking for the best coffee shops in NYC? Well, you're in the right place!
From artisanal brews to Instagram-worthy interiors, the Big Apple has it all. However, finding that perfect coffee spot can take time and effort.
Fortunately, we made a list of the best coffee shops in New York.
So keep your caffeine levels low and prepare your tastebuds for an explosion of bitter, sweet, nutty, and toasty flavors as we give you the 13 best coffee shops in New York!
1. Culture Espresso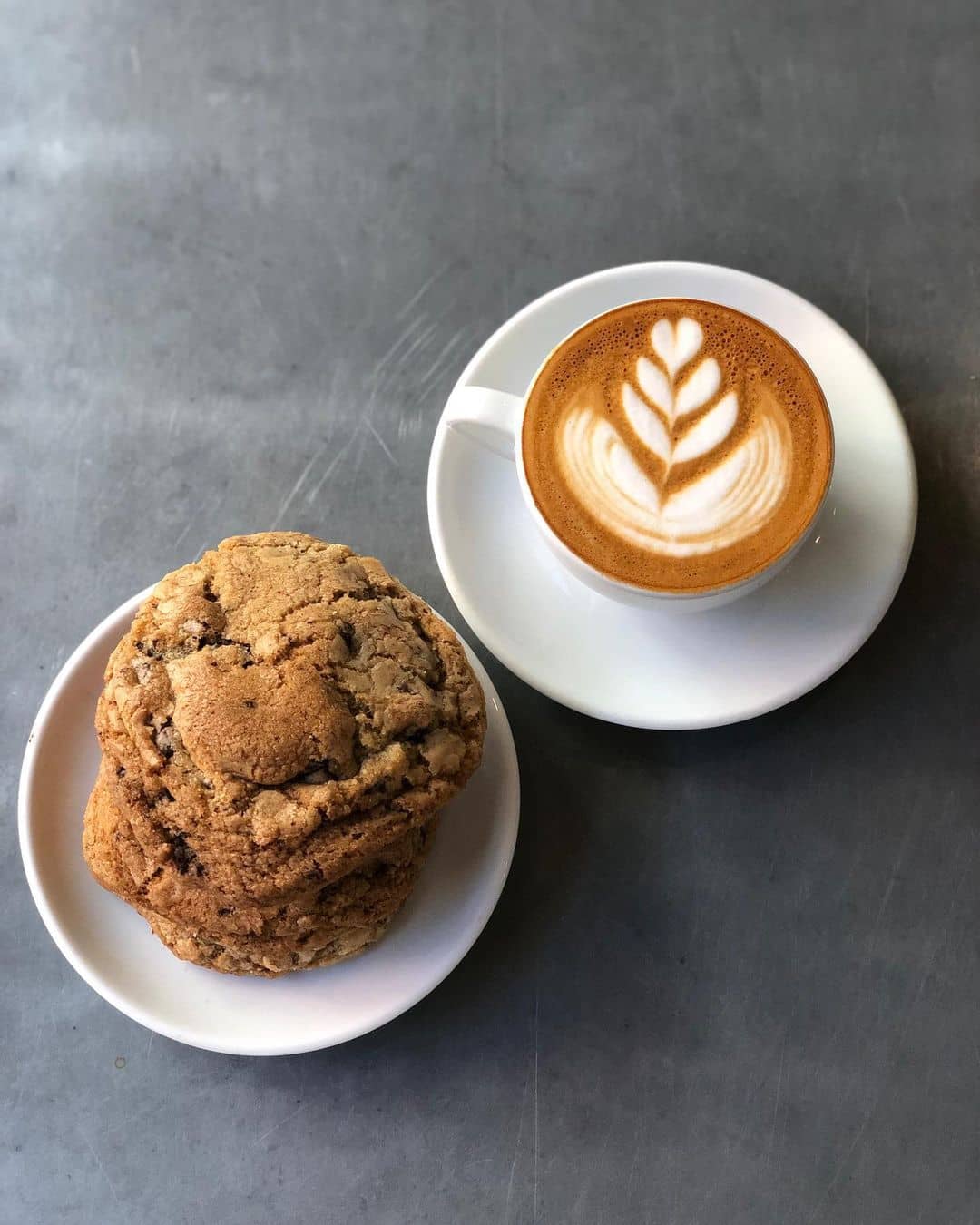 If you're looking for a coffee shop that combines the art of coffee-making with a cozy atmosphere, Culture Espresso is your go-to spot.
Chill in Midtown Manhattan in this cafe with a warm and inviting interior adorned with local art, making it the perfect workplace or just to unwind.
In addition to that, their baristas are skilled artisans capable of crafting intricate latte art that's almost too beautiful to drink.
However, Culture Espresso is about more than just coffee; they offer various pastries, including their famous oatmeal cookies.
Speaking of oatmeal cookies, have a Vanilla Latte with it for a silky and milky combo. You can also have an amazing Flat White to wash down the sweetness of their pastries.
What to order: Oatmeal Cookies, Vanilla Latte, Flat White
Address: 72 W 38th St, New York, NY 10018
Website | Instagram | Facebook
2. Grind The NYC Coffee Shop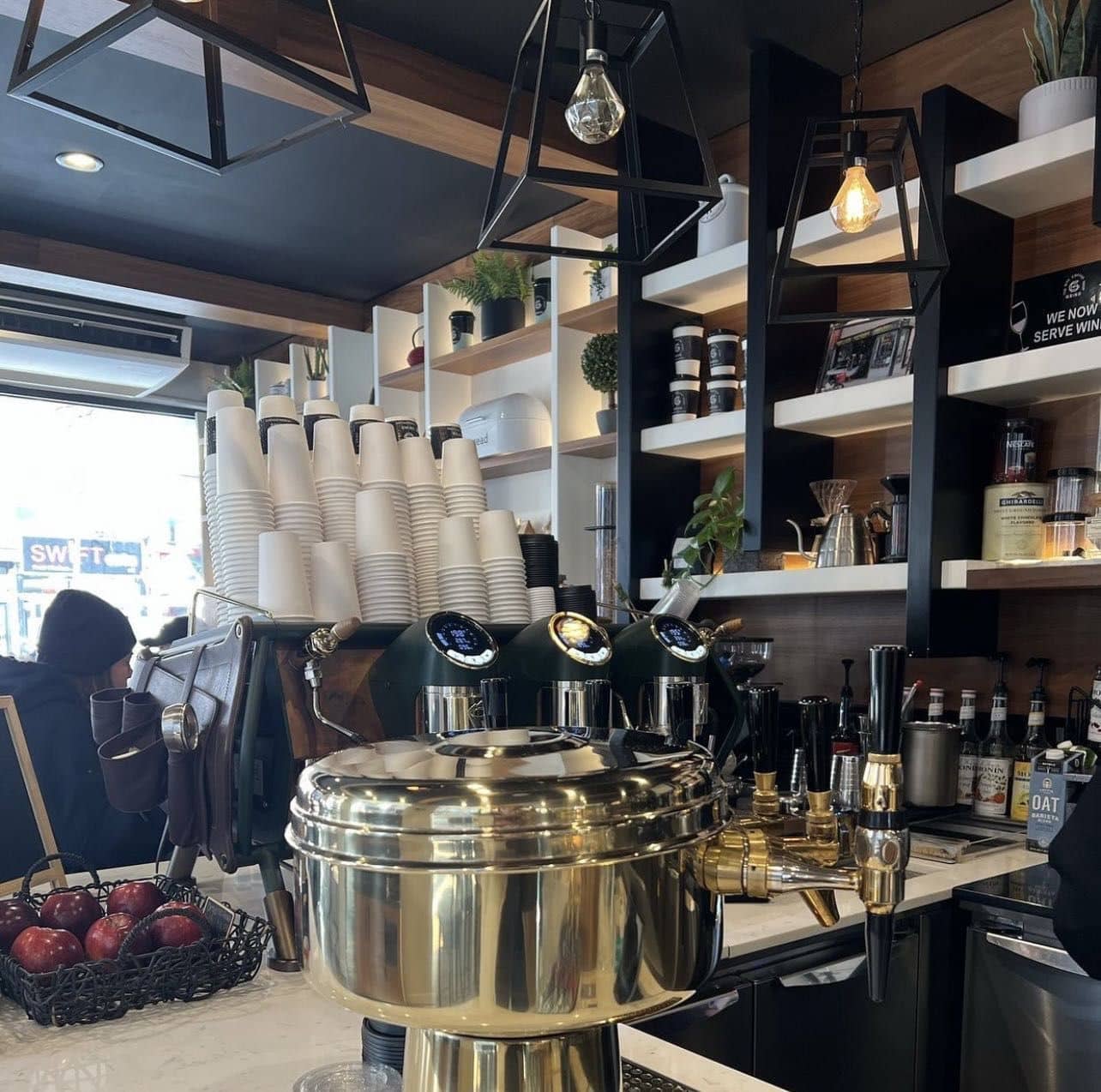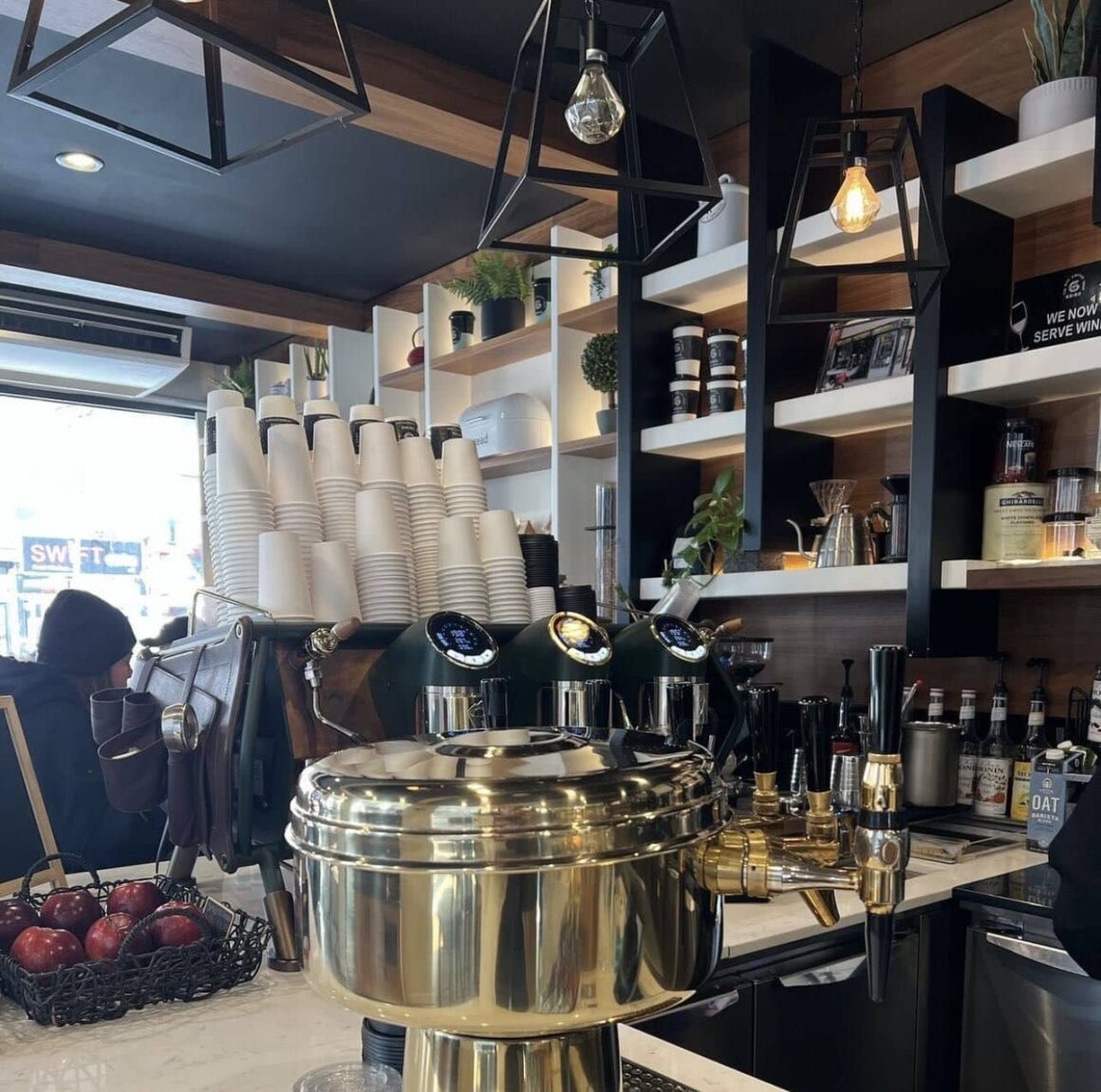 Grind The NYC Coffee Shop is a haven for coffee enthusiasts and remote workers, especially if you are looking for a coffee shop that opens as early as 7 a.m.
The café prides itself on serving the entire Tri-state area with freshly roasted aromatic coffee made with perfectly grounded beans. It has a relaxed ambiance with comfortable seating.
Still, it can be bustling and lively because it is located in Times Square.
Aside from coffee, they also serve hefty and filling pastries and sandwiches you can enjoy as breakfast. The menu at Grind The NYC Coffee Shop is designed to cater to a wide range of coffee preferences with a selection of vegan and gluten-free pastries.
Get their Cappuccino with oat milk for a rich espresso and nutty flavor.
You can also try their Pour Over, a single-origin coffee that changes daily. For the pastries, their Greek Orange Pie is divine! It is grainy but has a similar consistency to pudding with a citrusy and sweet taste.
Their Everything Bagel w/ Bacon Scallion Cream Cheese is a hearty sandwich that will surely fill your stomach with the amount of bacon scallion cream cheese added.
What to order: Cappuccino with Oat Milk, Pour Over, Greek Orange Pie, Everything Bagel w/ Bacon Scallion Cream Cheese
Address: 602 9th Ave, New York, NY 10036
3. Coffee Project New York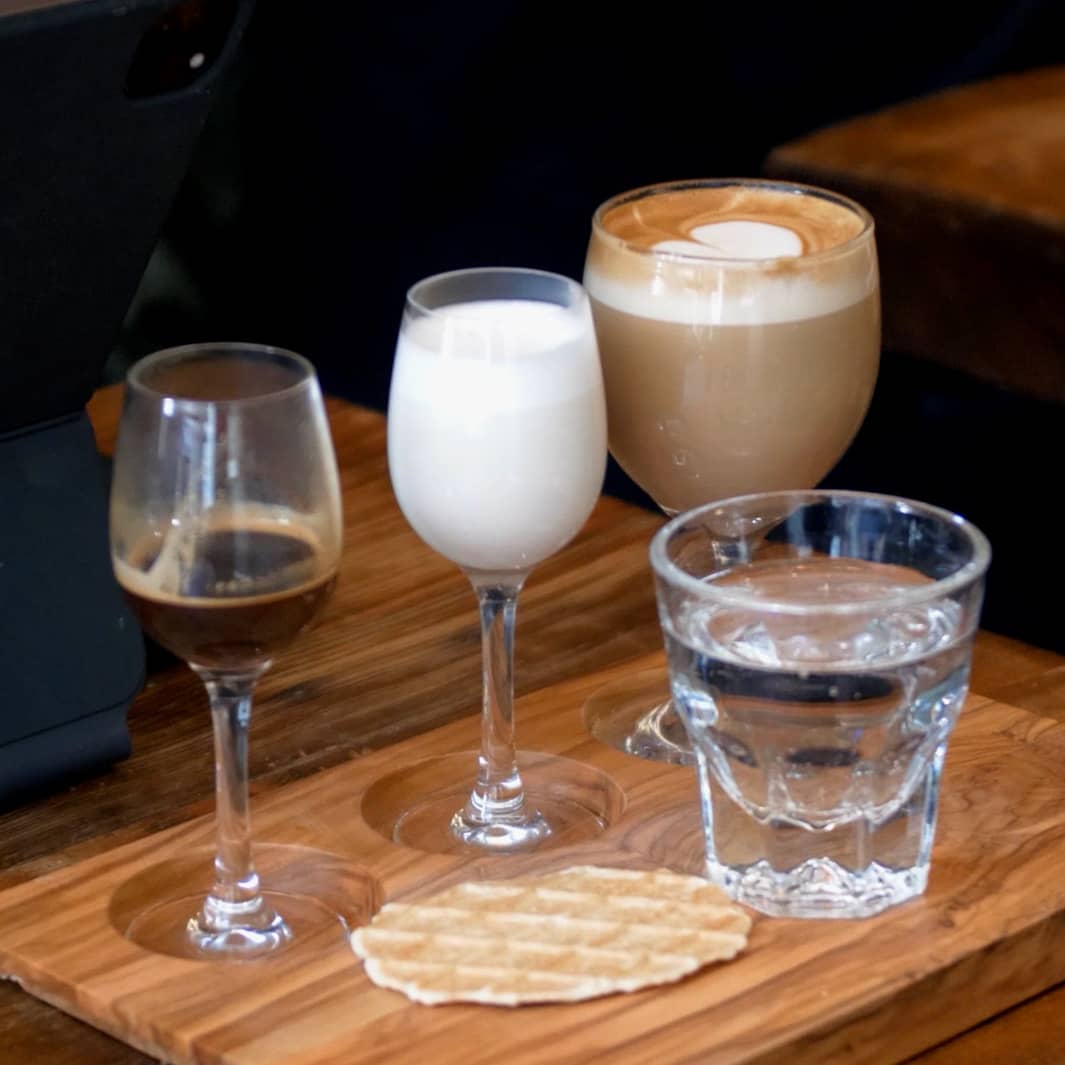 Coffee Project New York in East Village is not just another café; it's an experience. The café sources its beans from ethical and sustainable farms, ensuring that each cup is delicious and responsible.
The atmosphere is relaxed yet vibrant, featuring rustic wooden tables and an open-concept design that invites conversation and community. Their coffees have the perfect balanced flavors of sweet, bitter, and acidic notes.
This award-winning coffee shop is known for its "Deconstructed Latte," a unique presentation that allows you to taste each element of the latte separately before mixing it all together.
Another fantastic experience is the Nitro Flight. It comes with 3 different glasses and a small waffle cookie.
What to order: Deconstructed Latte, Nitro Flight
Address: 239 East 5th St, New York, NY 10003
Website | Instagram | Facebook
4. Bird & Branch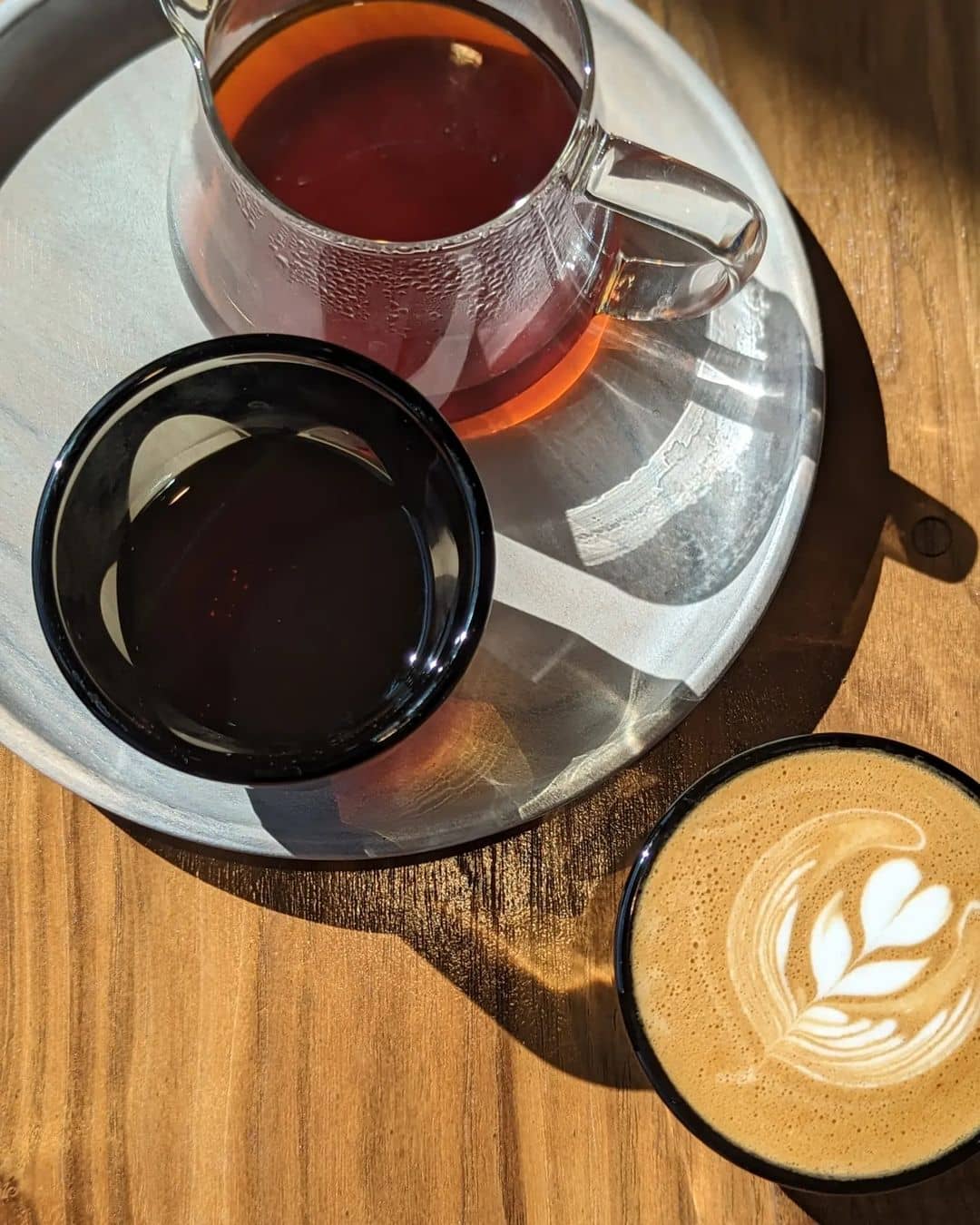 Bird & Branch in Hell's Kitchen is a coffee shop with a mission. Beyond serving excellent coffee, they aim to provide opportunities for at-risk youth, making each cup you buy contribute to a greater cause. 
Their shop has a modern interior with plants and natural elements, which exude a charming and peaceful vibe, making it the perfect place to study or talk leisurely with a friend.
The café offers a variety of unique drinks, each crafted with care and precision and made from high-quality coffee from Saint Frank.
Their Matcha Latte is phenomenal and is from Ippodo, ensuring you will have that authentic matcha taste from Japan. 
If you want something out of the norm, try The Blackbird, a creative coffee made with espresso, blackberries, and thyme. They also serve delicious pastries and sandwiches, especially the Egg Sandwich and the Nori Avocado Toast.
What to order: Matcha Latte, The Blackbird, Egg Sandwich, Nori Avocado Toast
Address: 359 West 45th St, New York, NY 10036
Website | Instagram | Facebook
5. Stumptown Coffee Roasters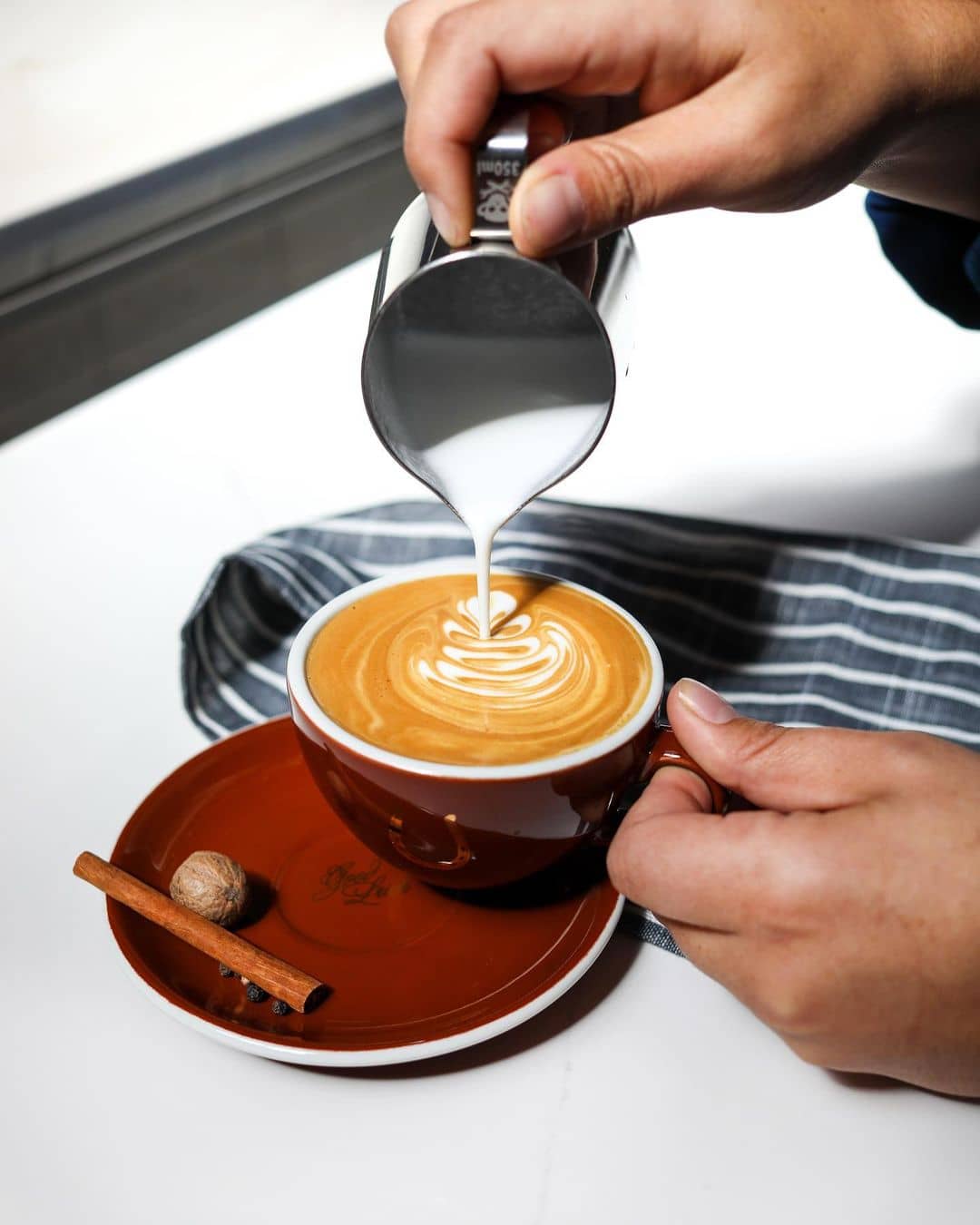 Stumptown Coffee Roasters is a Portland-based coffee chain that has made ripples in New York. It has numerous locations in New York and is known for its direct trade coffee sourcing, ensuring that each cup is as ethical as it is flavorful. 
Their café is spacious and modern, with a stylish and comfortable industrial-chic design that exudes a warm and inviting vibe.
Especially the spot at Cobble Hill, where the interior is decorated well and has an area for those who want to quietly enjoy their coffee or study and those who want to enjoy the hustle and bustle of people coming and going.
They offer various brews, from classic espressos to innovative nitro cold brews. Their Matcha Latte is superb. It has a thick consistency with a good matcha flavor and sweetness balance.
Also, try their Draft Nitro Cold Brew, a smooth and strong coffee with low acidity that will keep you up for the day.
What to order: Matcha Latte, Draft Nitro Cold Brew, Iced Pomegranate Latte
Addresses:
212B Pacific St, Brooklyn, NY 11201
30 W 8th St, New York, NY 10011
20 W 29th St, The Ace Hotel, New York, NY 10001
Website | Instagram | Facebook
6. Abraço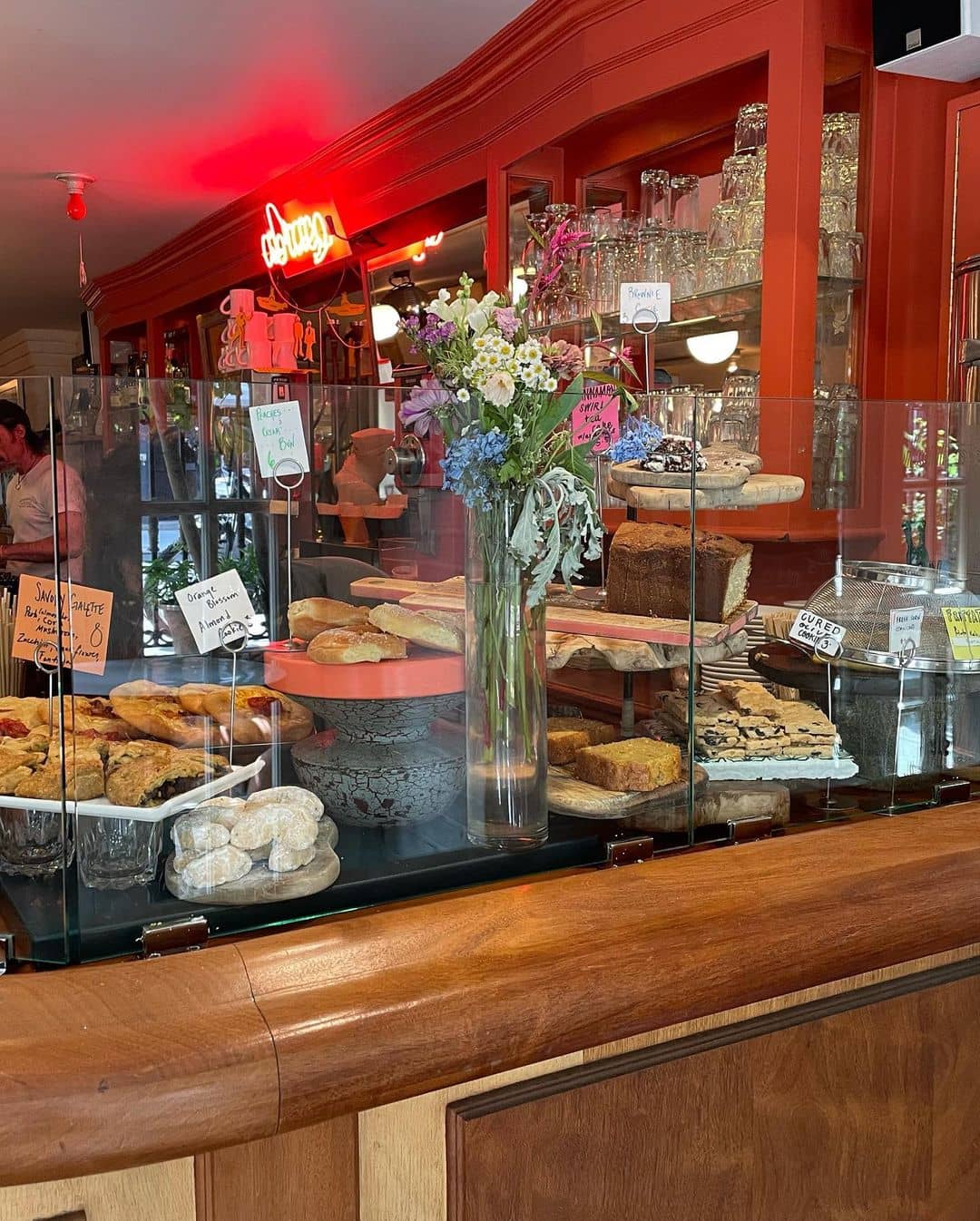 Abraço is not just your typical coffee shop, as it means hug in Portuguese, and that's precisely how you'll feel—embraced by the warm, welcoming atmosphere and the rich aromas of freshly brewed coffee.
Located in the East Village, this small but mighty café has served some of the city's best coffee for years, especially their espresso drinks and olive oil cake.
The café is a no-frills coffee shop with a cozy vibe accompanied by background music via vinyl records, adding a vintage vibe.
They have a wide selection of drinks as they serve coffee, juices, cocktails, wine, and baked goods. Get their Pour Over Drip Coffee if you want a strong coffee that packs a punch.
Their Espresso is also strong and perks you up for the day. For a silky and smooth coffee, you can opt for the Cortado. Pair any of your coffee with their Olive Oil Cake, a delightful cake that is richly moist with a subtle sweetness that balances the taste, making the olive oil not that overpowering.
What to order: Pour Over Drip Coffee, Espresso, Cortado, Olive Oil Cake
Address: 81 East 7th St, New York, New York 10003
Website | Instagram | Facebook
7. Intelligentsia Coffee High Line Hotel Coffeebar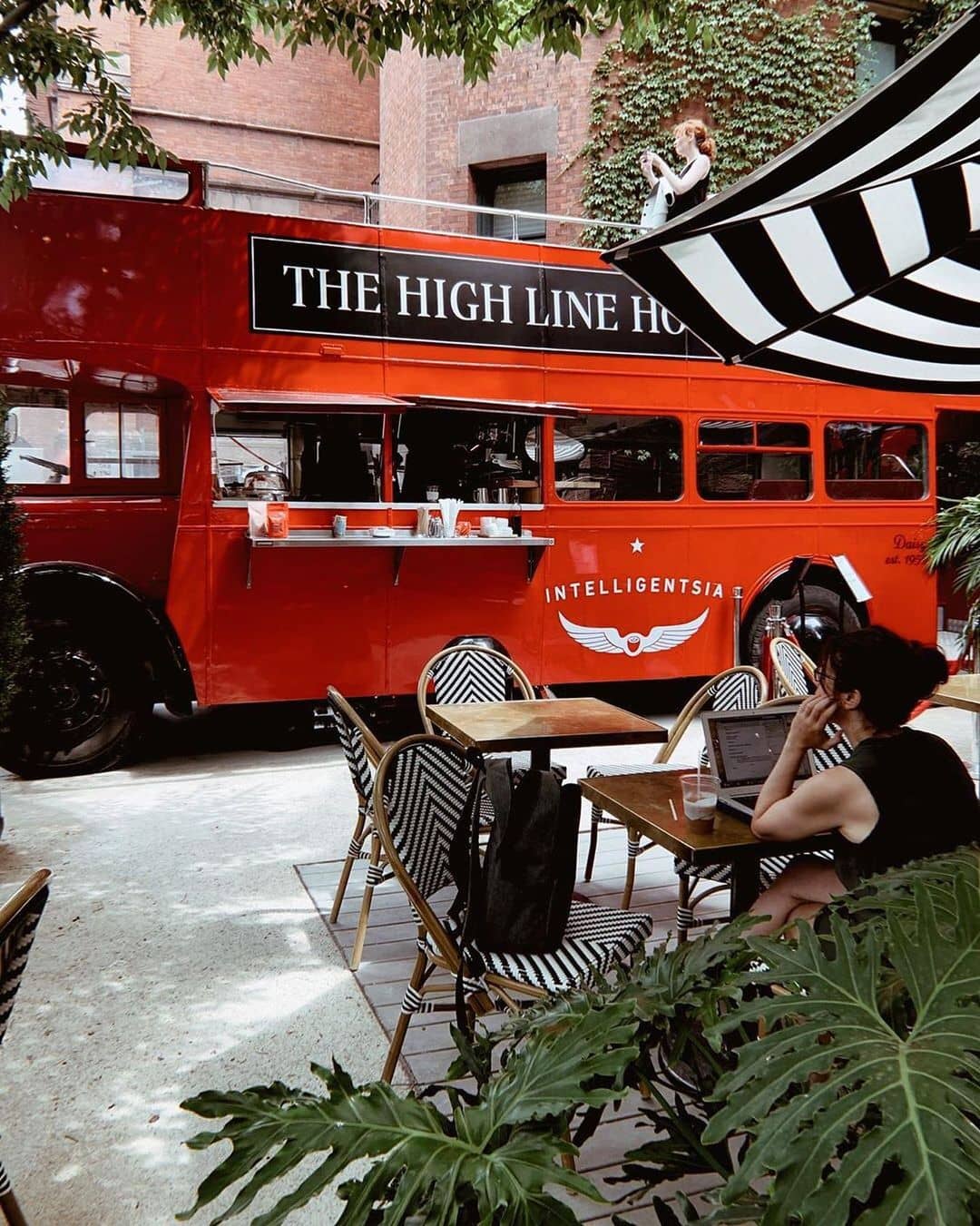 Intelligentsia Coffee is located in the High Line Hotel and offers a unique blend of historic charm and modern sophistication.
It has both indoor seating and an outdoor patio, where the indoor seating has a vintage design, including a typewriter, giving off a rustic and cozy vibe. 
On the other hand, you will be welcomed with a beautifully decorated floral arch and a vintage French truck parked in the hotel's courtyard on the outdoor patio, providing a unique and picturesque setting for your coffee experience.
The menu offers a variety of brews, from single-origin pour-overs to classic lattes, all served in an atmosphere that feels both luxurious and relaxed due to the combination of the seating and the trees.
They have a fantastic Iced Latte that is not acidic and super smooth, and the milk can be swapped with almond milk. The Barista's Choice is also an excellent pick as it has a potent coffee flavor but changes daily, so keep that in mind.
What to order: Iced Latte, Barista's Choice, Cold Coffee
Address: The High Line Hotel, 180 10th Ave, New York, NY 10011
Website | Instagram | Facebook
8. Frisson Espresso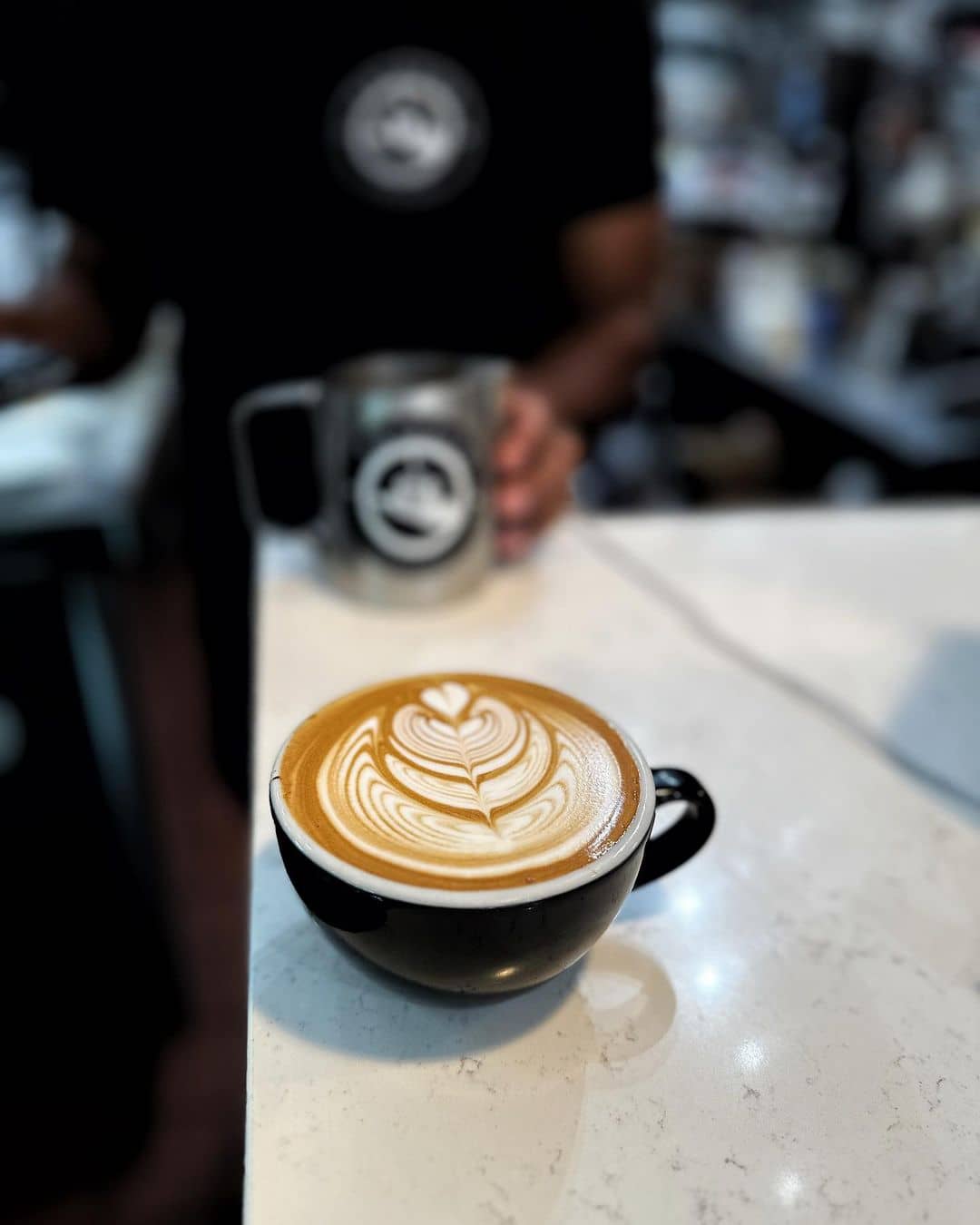 Frisson Espresso, located in Hell's Kitchen, is a hidden gem that lets you unwind and relax in the bustling and lively life of the city. It has a small space but is cozy, with minimalist décor that creates a serene and chill atmosphere.
 They take their coffee seriously, ensuring you get that perfect cup, using high-quality beans and precise brewing techniques.
And let's not get started with their masterfully crafted menu – which  includes a selection of pastries and light bites that complements well with your coffee. 
Their Flat White has great temperature, smooth milk texture, and is made with a good shot of espresso. The Cortado is your cup if you want a more potent espresso taste.
For those wanting a sweeter drink, the Vanilla Latte is frothy and has the right amount of sweetness. Their drinks have artistic and gorgeous latte art that you might be afraid to destroy, so take a quick snap before you sip!
What to order: Flat White, Cortado, Vanilla Latte
Address: 326 W 47th St, New York, NY 10036
9. Little Collins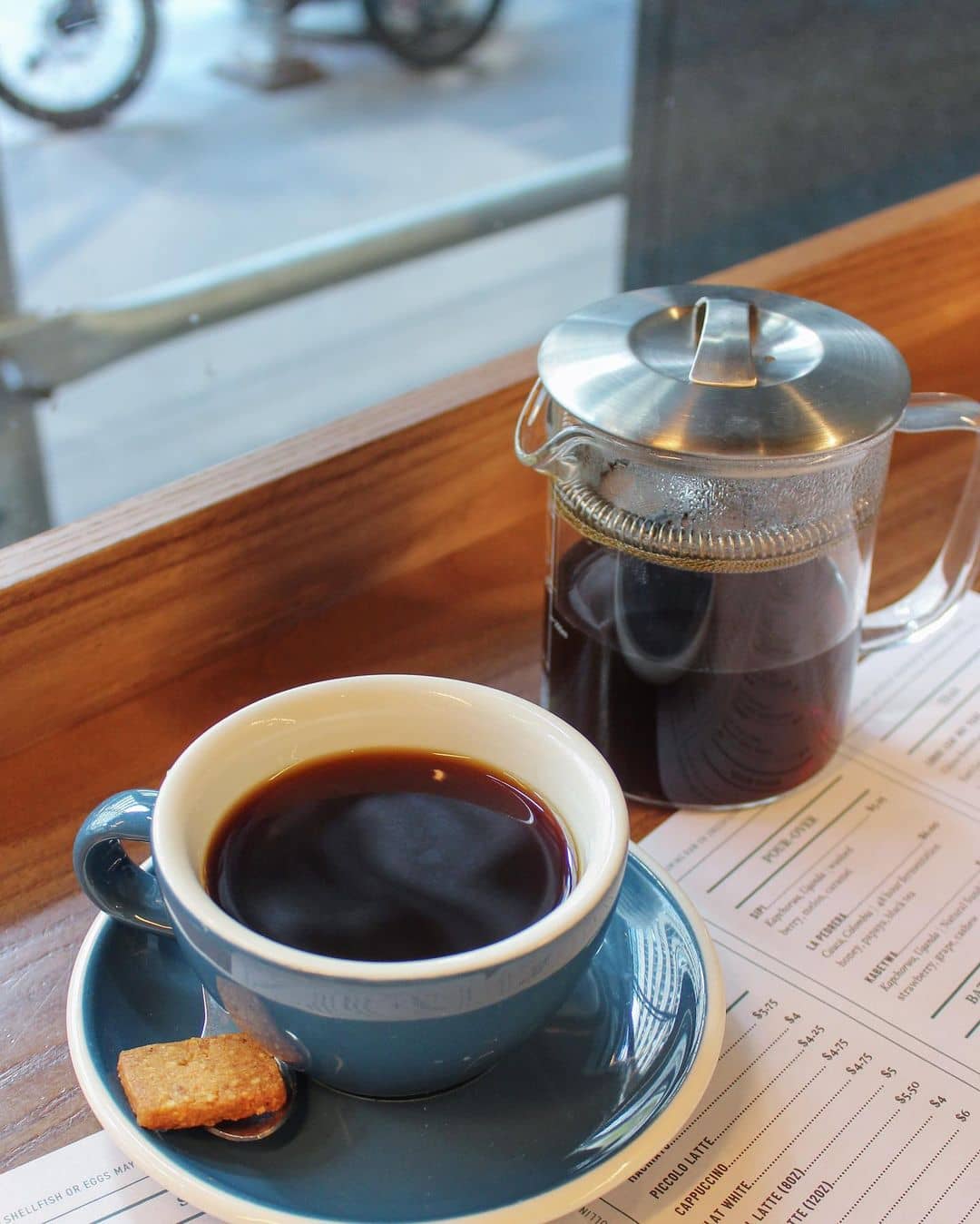 Named after a street in Melbourne, Australia, Little Collins brings the Aussie coffee culture to the heart of New York City. Located in Midtown, the café is known for its solid, flavorful flat whites and cortados.
The interior is modern and sleek, with communal tables that encourage socializing.
In addition to coffee, Little Collins offers a menu of "brekkie" items, including the famous "The Smash" — avocado toast with feta and pumpkin seeds. They serve outstanding coffee, especially their Americano, that you can enjoy both hot and iced.
Also, try their Cappuccino for a nice toasty flavor. 
To accompany your coffee, get The Sweet Uncle Fred, toasted banana bread with walnuts, ricotta, fresh berries, almond brittle, and drizzled with honey for a sweet finish.
They also serve a unique and healthy dish called Green Eggs N' Damn!
Yes, it is green. It is a spinach and basil omelet stuffed with Meredith's feta, microgreens, and olive oil on sourdough.
What to order: The Smash, Americano, Cappuccino, The Sweet Uncle Fred, Green Eggs N' Damn!
Address: 708 3rd Ave, New York, NY 10017
Website | Instagram | Facebook
10. The Lazy Llama Coffee Bar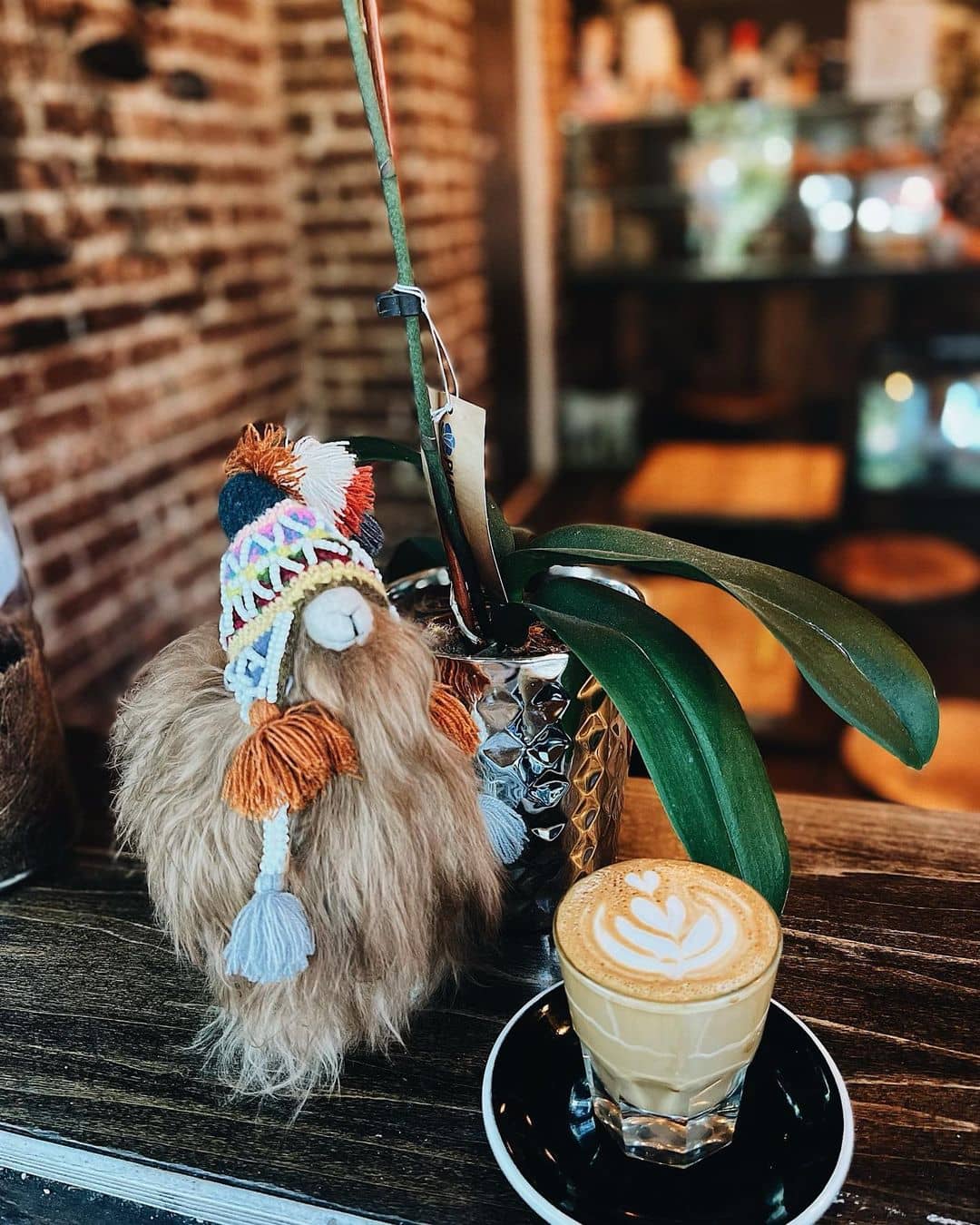 The Lazy Llama Coffee Bar is a whimsical and cozy spot offering a unique New York City coffee experience.
This cute café is adorned with colorful décor and llama-themed art from the pillows to stuffed toys, exuding a relaxing yet playful atmosphere. 
They source their beans from local roasters and have an excellent, friendly, and polite service. Coffee is not the only thing you can order at the Lazy Llama Coffe Bar, as they also have teas, pastries, and light bites.
Their Ice Vanilla Latte is like a sip of heaven, not too sweet and not too strong, but you might complain as it does not have a larger size. The Iced Lavender Latte is also impressive, aromatic, and soothing but not over the top.
What to order: Iced Vanilla Latte, Iced Lavender Latte, Flat White
Address: 72 E 1st St, New York, NY 10003
11. Voyager Espresso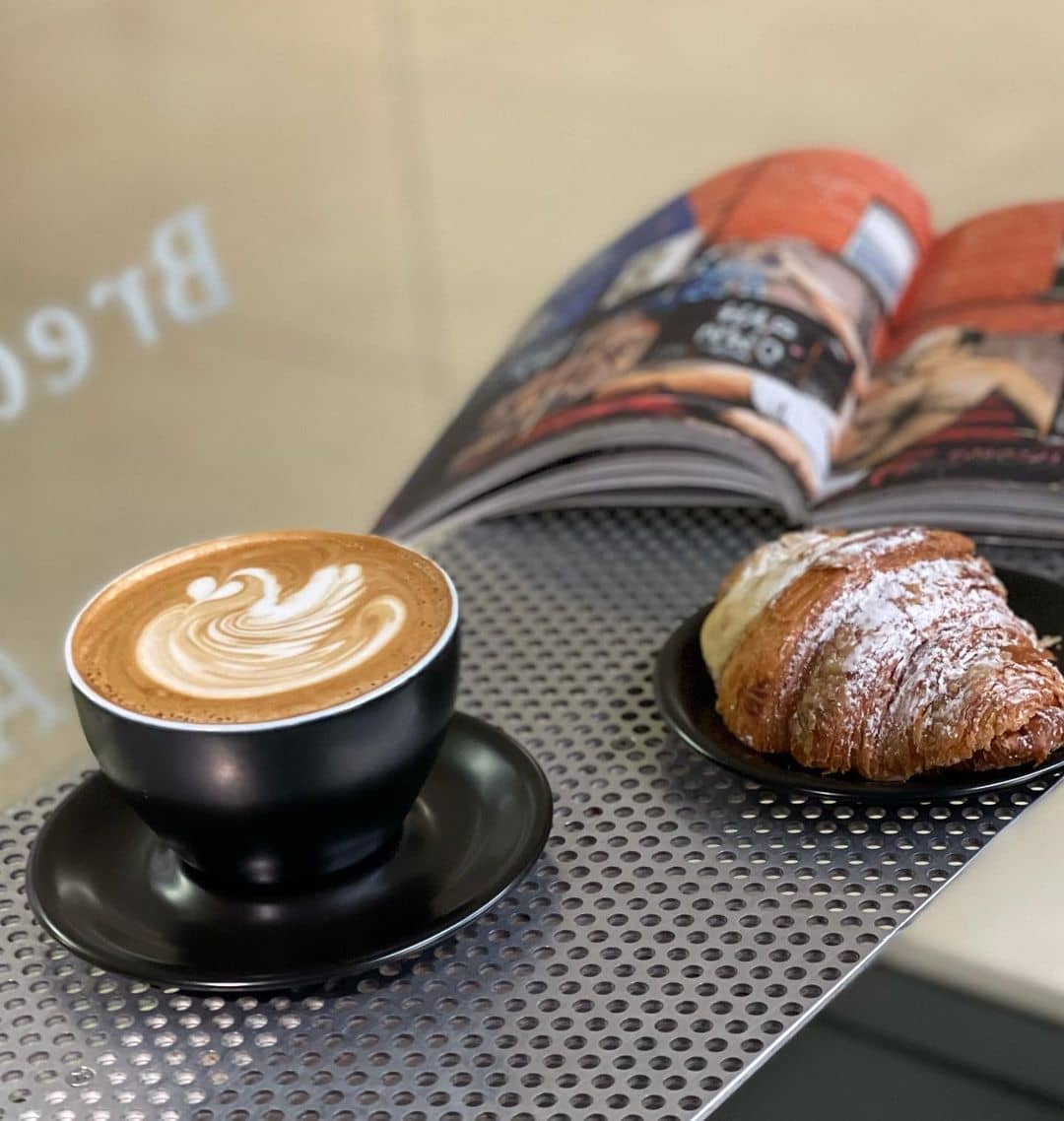 Located in the Financial District, Voyager Espresso is a modern, science-themed coffee shop that will satisfy your caffeine cravings.
 This cafe is tucked away in a subway station with a sleek and futuristic interior, stainless steel accents, and a minimalist design with a chill atmosphere.
They are known for serving coffee in beakers and Erlenmeyer flasks as if you are drinking an experimental concoction.
Their menu is compact with classic espressos, pour-over drinks, pastries, and sandwiches, so you can enjoy a quick meal or have a leisurely brunch.
The Iced Latte is like having a little experiment of your own. It comes with an espresso in a little glass bottle with a cork and a giant beaker with sweetened milk and ice.
On the other hand, the Lavender Latte has an incredible layer of cream with a distinct flavor due to its homemade lavender syrup.
If you want something to nibble on, their Avocado and Nutella Toast are excellent. Their Avocado has a generous portion and a hefty amount of Avocado that will surely leave your stomach satisfied. If you want a sweet pair with your coffee, the Nutella Toast is the food to go.
What to order: Iced Latte, Lavender Latte, Avocado Toast, Nutella Toast
Address: 110 William St, New York, NY 10038
Website | Instagram | Facebook
12. Variety Coffee Roasters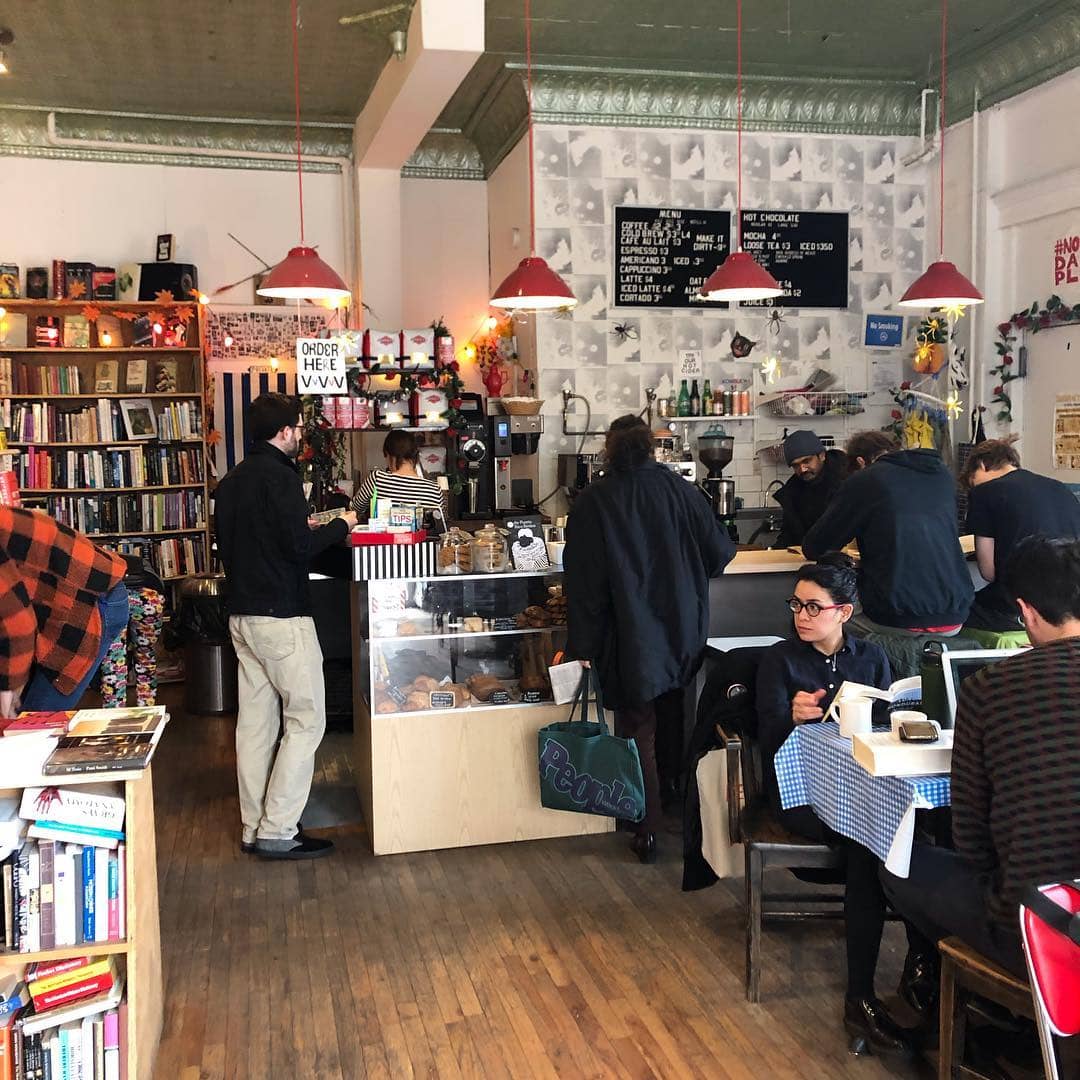 Variety Coffee Roasters is a Brooklyn-based coffee shop that has reached the bustling city of New York.
 The various locations of Variety Coffee Roasters have a peaceful and cozy environment with plenty of seating for you to enjoy a quick caffeine fix or just relax and enjoy every sip.
Variety Coffee Roasters has a wide selection of coffee drinks and baked goods, including alternatives for those who want vegan or gluten-free, like their Pumpkin Bread, which is moist, bursting with flavors, and vegan.
Their Latte with Oat Milk does not need a sweetener as it is already sweet, rich, and refreshing.
Also, their Cold Brew is superb and can have a light flavor, yet it is still a strong coffee that will awaken your mind.
What to order: Pumpkin Bread, Latte w/ Oat Milk, Cold Brew
Address: 261 7th Ave, New York, NY 10001
Website | Instagram | Facebook
13. % Arabica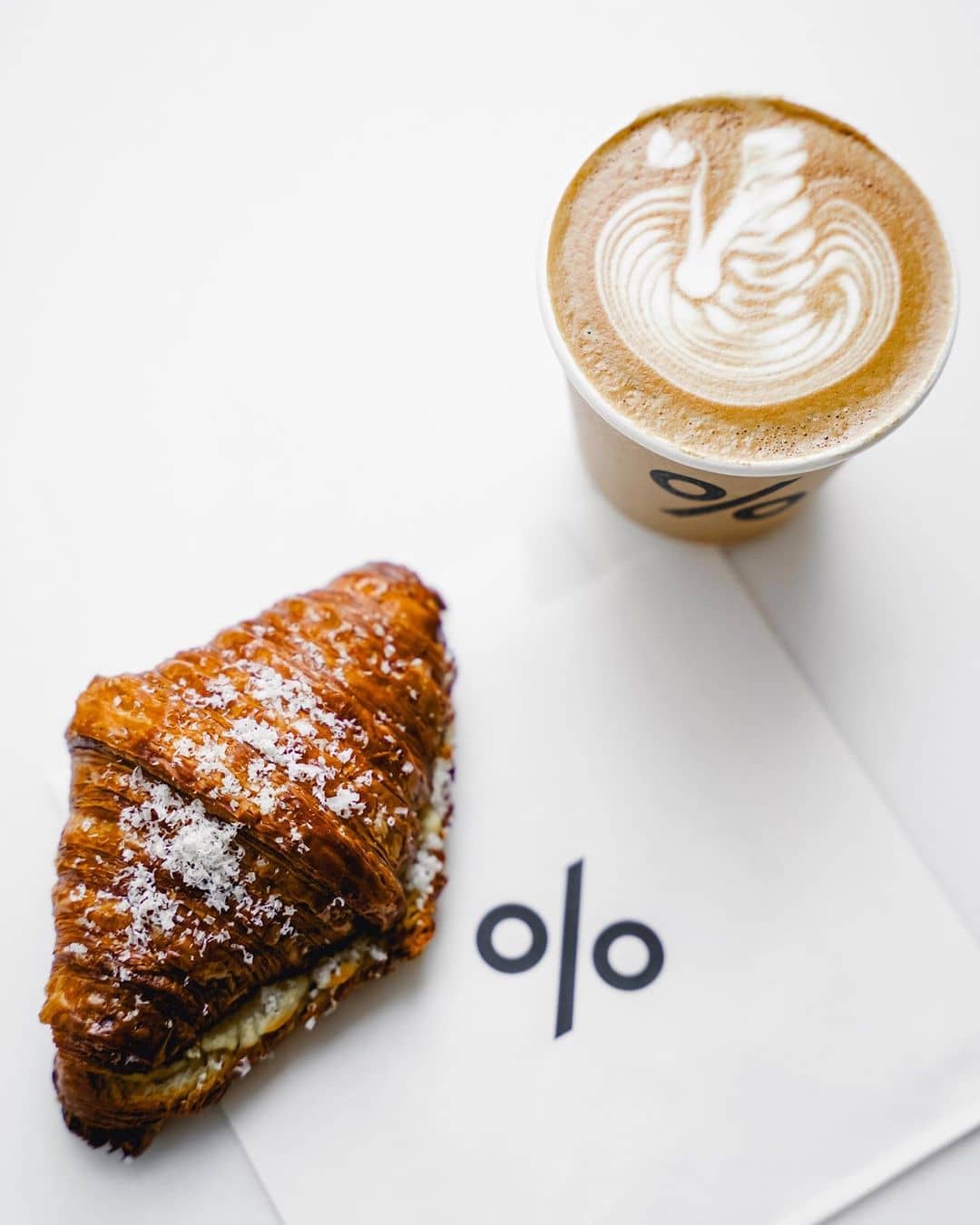 % Arabica is a global coffee chain that started in Kyoto, Japan. The café is known for its sleek and minimalist design. It features clean lines and a neutral color palette that exudes a vibe as if you are in Japan.
% Arabica is particularly famous for its single-origin coffees, sourced from various parts of the world and roasted to perfection.
Their Spanish Latte is a must-try, a blend of espresso and condensed milk, offering a rich and creamy experience perfect for those looking for something different from the usual coffee options. 
Speaking of out-of-norm coffee options, their Kyoto Latte is also superb, a coffee with a unique tea flavor.
If you want an authentic Matcha Latte, % Arabica has your back!
What to order: Spanish Latte, Kyoto Latte, Matcha Latte
Address: 20 Old Fulton St, Brooklyn, NY 11201
Website | Instagram | Facebook
There you have it! Whether you're a local New Yorker or a visitor exploring the city, coffee will always be vital for everyone.
Looking for more food recommendations? Well, check out our picks of the best Brooklyn restaurants!
How We Create Our "Best" Lists
All Noms Magazine's "best" lists are created using multiple factors and signals to help readers find the best restaurants, things to do, and places to stay at. Some of these factors and signs include personal experiences, correspondence with locals, and compiling experiences from review sites.
Each list is also created to be balanced (in terms of price, cuisine type, ambiance, and more) as possible. This means that the lists are not specifically created in ranking order. You should be comfortable picking from any of the spots on the list and generally have a good time. But of course, YMMV (your mileage may vary) and everyone may have different experiences/palates.