Looking for the best Gastown restaurants? You're in the right place!
It began with just a saloon founded by the legendary 'Gassy' John Deighton in the 1870s, and today Gastown is a thriving hub of art galleries, historic sites, music venues, bars & cocktail lounges.
And of course amazing restaurants serving everything from comfort food to authentic ethnic cuisine.
Just for you we've compiled our list of the best restaurants in Gastown below!
1. Water Street Cafe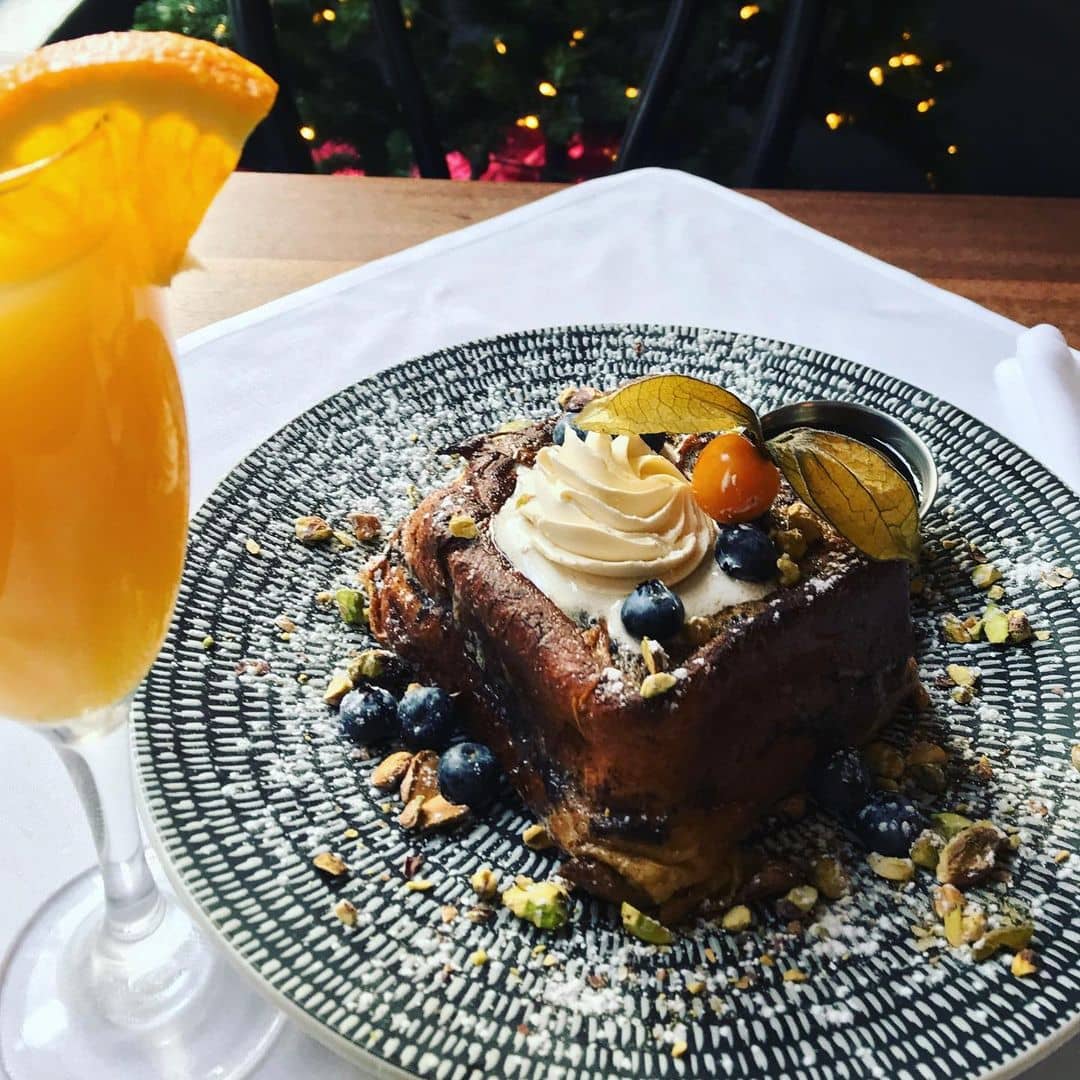 This is one of Gastown's most popular check-in spots, where you can also enjoy some live music along with your meal. Need to take someone on a date? This would be a good spot to start with.
The Water Street Cafe has a view of Gastown's famed Steam Clock, an antique-style clock that was built during the 1970s; it's authentic since it runs on steam and it whistles when it gets to tell what time it is.
Here they serve some fantastic seafood and Italian dishes. Two must-order items are their popular Mushroom Gnocchi and French Toast.
Drinks: they have tasty wine here, but you can also opt-in for cocktails such as Raspberry Mule or Ginger Cosmopolitan.
What to order: Mushroom Gnocchi, French Toast, Raspberry Mule, Ginger Cosmopolitan
Address: 300 Water St, Vancouver, BC V6B 1B6
Instagram | Facebook | Website
2. L'Abattoir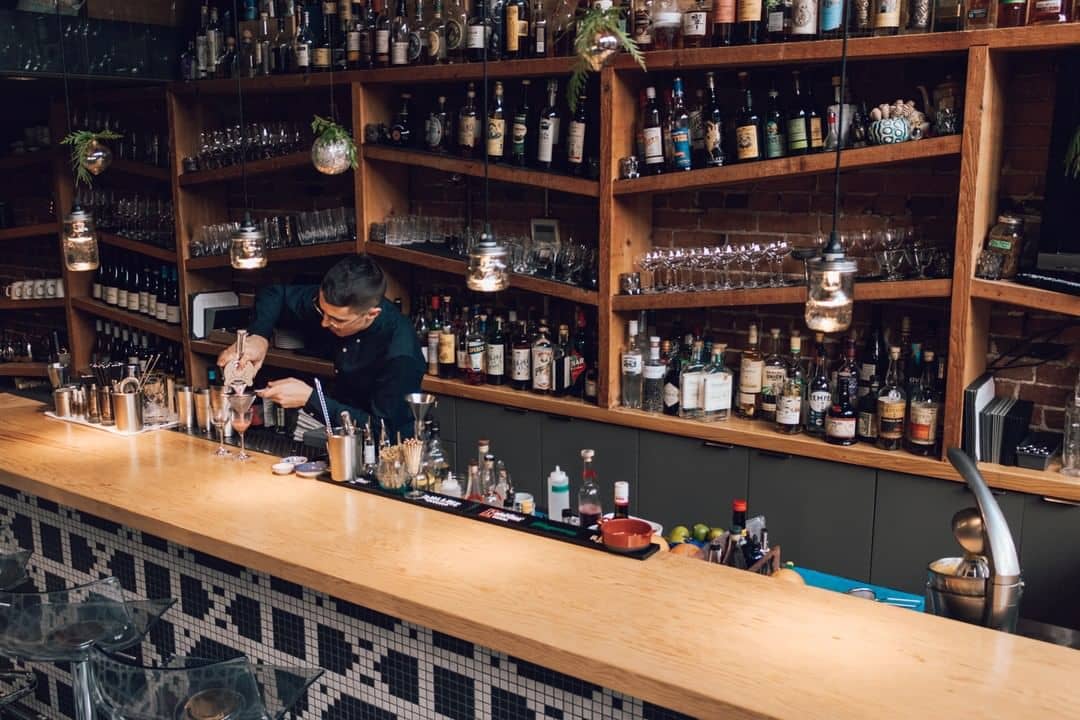 L'Abattoir is a French-inspired restaurant that first opened in 2010, and is an award-winning and Michelin recommended spot.
You'll find it in a refurbished brick-and-beam building in the heart of Gastown, with classic tiles, driftwood sculptures, and industrial fittings.
The menu, under executive chef and owner, Lee Cooper, is sophisticated, as are the drinks you'll get at the bar.
Order their bread basket, which contains different pieces of bread; it's an amalgamation of rich tastes… ham, cheddar, and even anchovy. It's crispy and delicious.
From the main dishes, have the divine steak Diane, or opt-in between cod or lamb. Whichever order you have, it's perfectly cooked meat, with nice sauces and veggie pairings.
Whether you want to go with chef Cooper's favorite dish, it's baked Pacific oyster with truffle purée, mushroom marmalade, and whipped garlic butter.
Combine your order with some of the L'Abattoir diverse wine options or equally good and stunning cocktails.
What to order: bread basket, steak Diane, cod, lamb, baked Pacific oyster
Address: 217 Carrall St, Vancouver, BC V6B 2J2
Instagram | Facebook | Website
3. Di Beppe Restaurant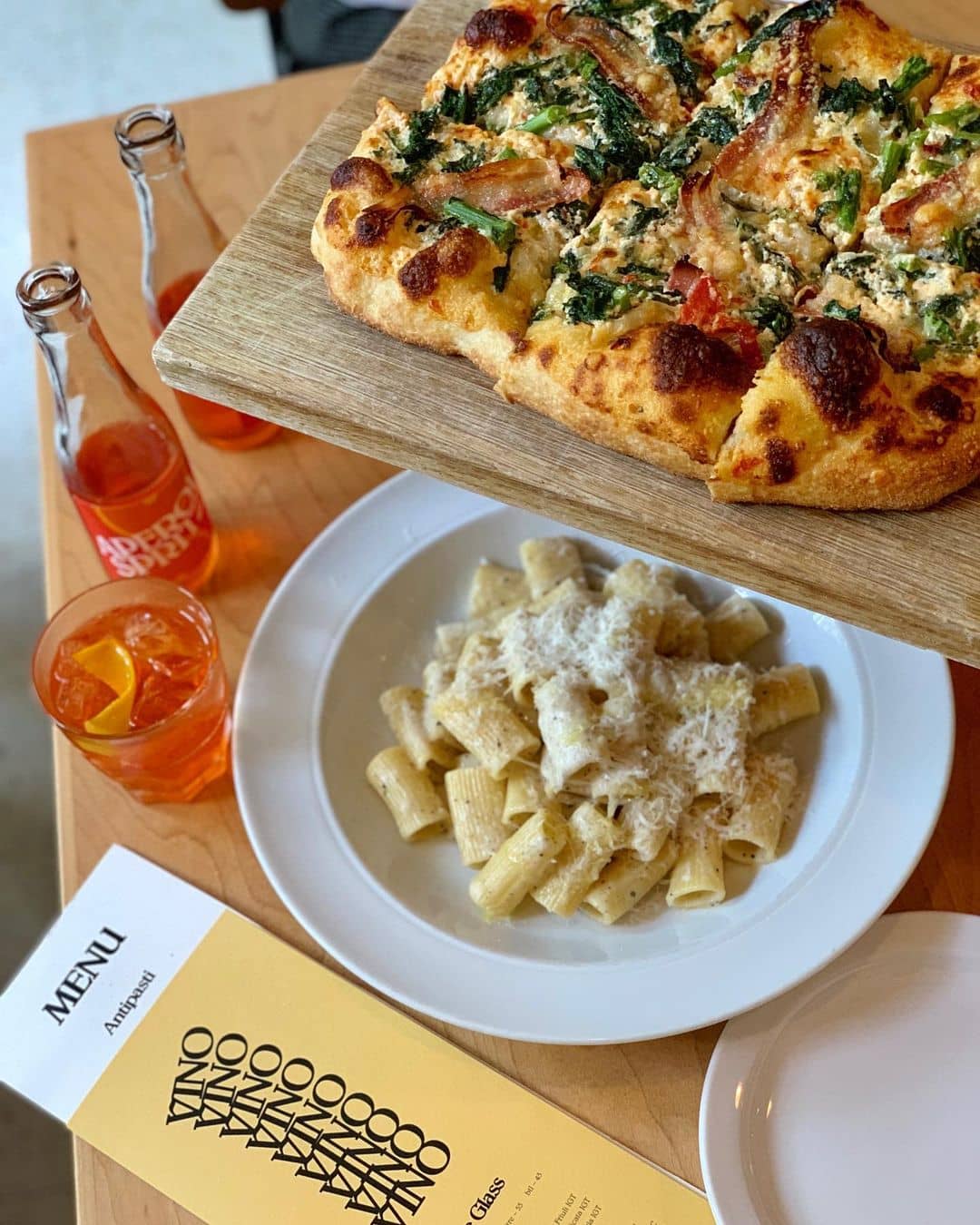 For a bite of exceptional Italian food in Gastown, we recommend you try Di Beppe. You'll also like their interior, with exciting vintage Italian posters that add to the great vibe of the place.
The venue functions both as a daytime cafe where you can take a sip of true Italian coffee, and as a sit-down restaurant where you can grab lunch or dinner.
On their menu you'll find always fresh seasonal salads and some fantastic selection of pizzas, pasta, and antipasti.
You want to try their pizza Margherita with Fior Di Latte, although you also want to try their Margherita with Mozzarella Di Bufala, which takes it to the next level with its luscious mozzarella chunks made from buffalo milk.
The dough is chewy and they always put plenty of cheese as well as a lot of tomato sauce. In case you are up for pasta, have their creamy and peppery Cacio e Pepe.
What to order: Margherita with Fior Di Latte, Margherita with Mozzarella Di Bufala, Cacio e Pepe
Address: 8 W Cordova St, Vancouver, BC V6B 1C9
Instagram | Facebook | Website
🍕 Foodie? Check out these top-rated Vancouver food tours!
4 Jules Bistro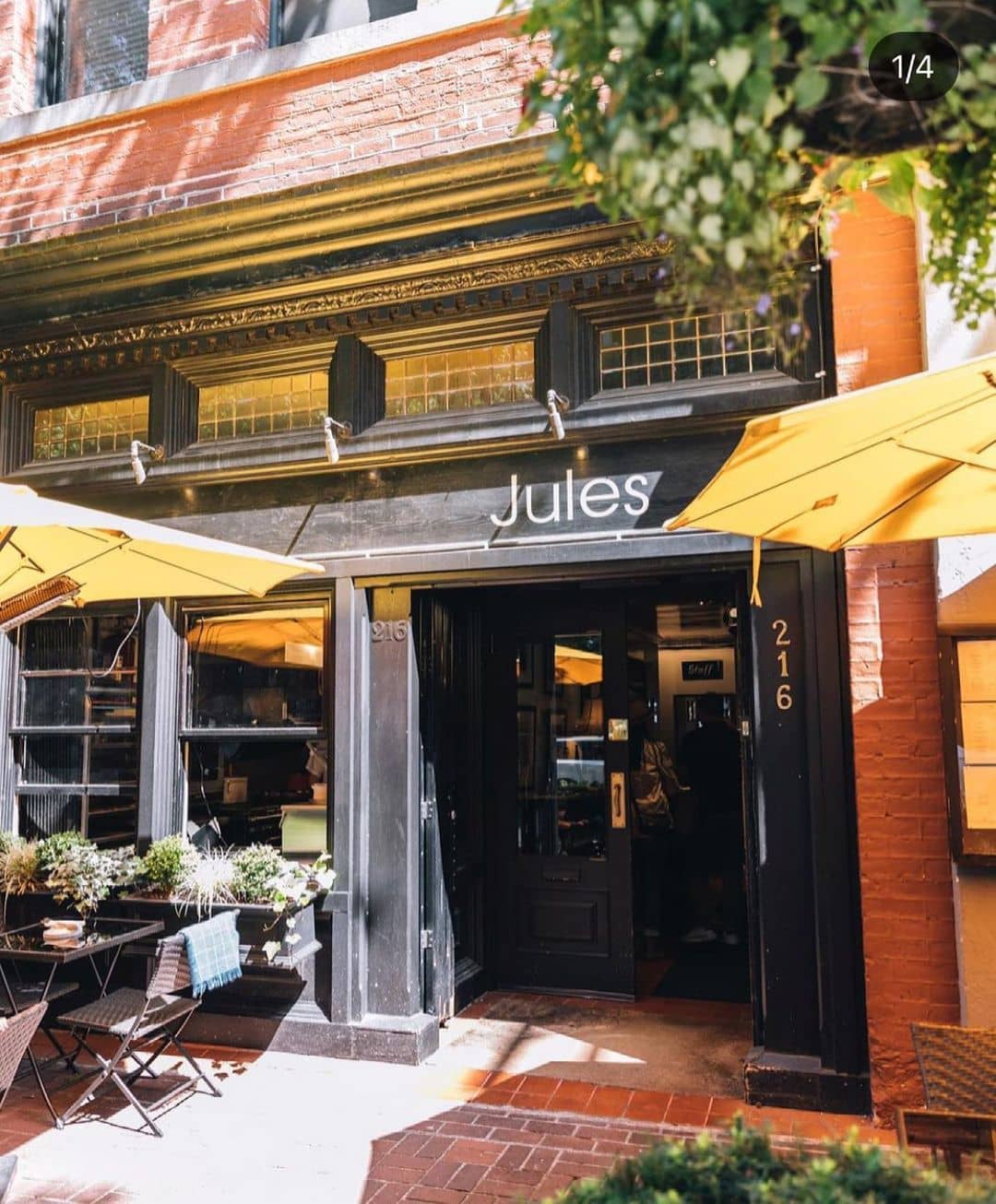 Tucked away deep in the heart of Gastown, this charming French Bistro is a must-visit for a cozy weekend brunch.
At Jules the atmosphere is serene and pretty, and the service is fast, friendly and attentive. You can also choose to be seated inside, or enjoy the weather outdoors on their patio.
If you're looking to sample some really delicious fare bursting with French flavor, opt for the Garlic and Black Prawns with Egg Fried Rice, or maybe some traditional French Onion Soup, and an order of escargot.
There is also an array of other dishes to choose from. Crab Cakes, Moules Frites, or their signature Duck Confit Cassoulet.
What to order: Garlic and Black Prawns with Egg Fried Rice, Onion Soup, escargot, Crab Cakes, Moules Frites, Duck Confit Cassoulet
Address: 216 Abbott Street Vancouver, BC, Canada
Website | Instagram | Facebook
5. Tacofino Gastown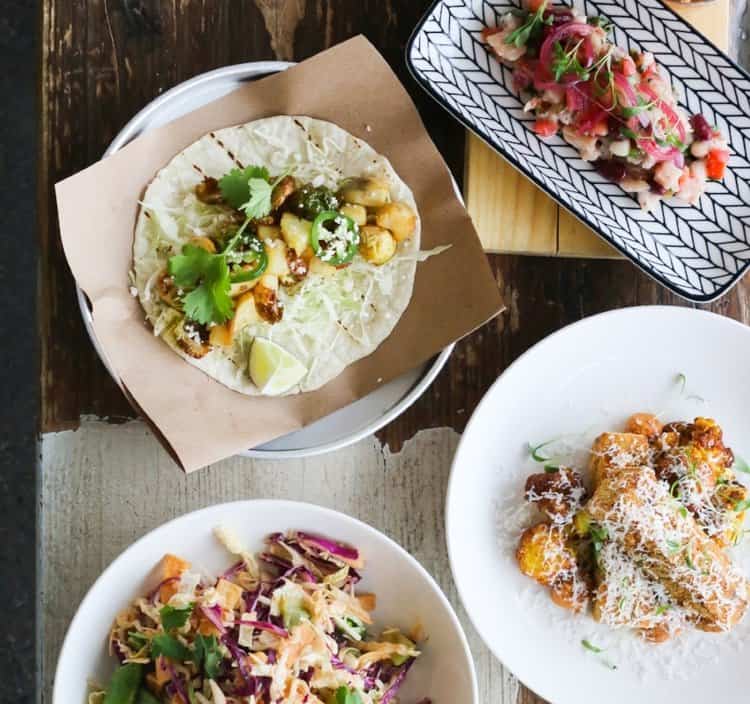 Another uber popular hot spot for hanging out and Mexican food in Gastown is Tacofino. They have several locations in town and are absolute favourites among locals for the atmosphere and the tacos.
Tacofino indeed has some of the best tacos in Vancouver. Their Pescado Fish Tacos are a MUST-HAVE. It's a good, flavourful portion of crispy fish on a soft taco stirred with a good amount of vegetables that compliment the dish.
If you're with company, go for the nachos and you'll get one full with salsa, cheese, and extra chorizo, and the chips are super crunchy.
This Gastown location also has a take out burrito bar. You won't be wrong to order their Crispy Chicken Burrito or perhaps a more veggie option of Spinach Cauliflower Burrito.
And the very special recommendation we have for you–our absolute favorite from this place–it's their chocolate diablo cookie.
What to order: Pescado Fish Tacos, nachos, Crispy Chicken Burrito, Spinach Cauliflower Burrito, chocolate diablo cookie
Address: 15 W Cordova St, Vancouver, BC V6B 1C8
Instagram | Facebook | Website
6. Meat & Bread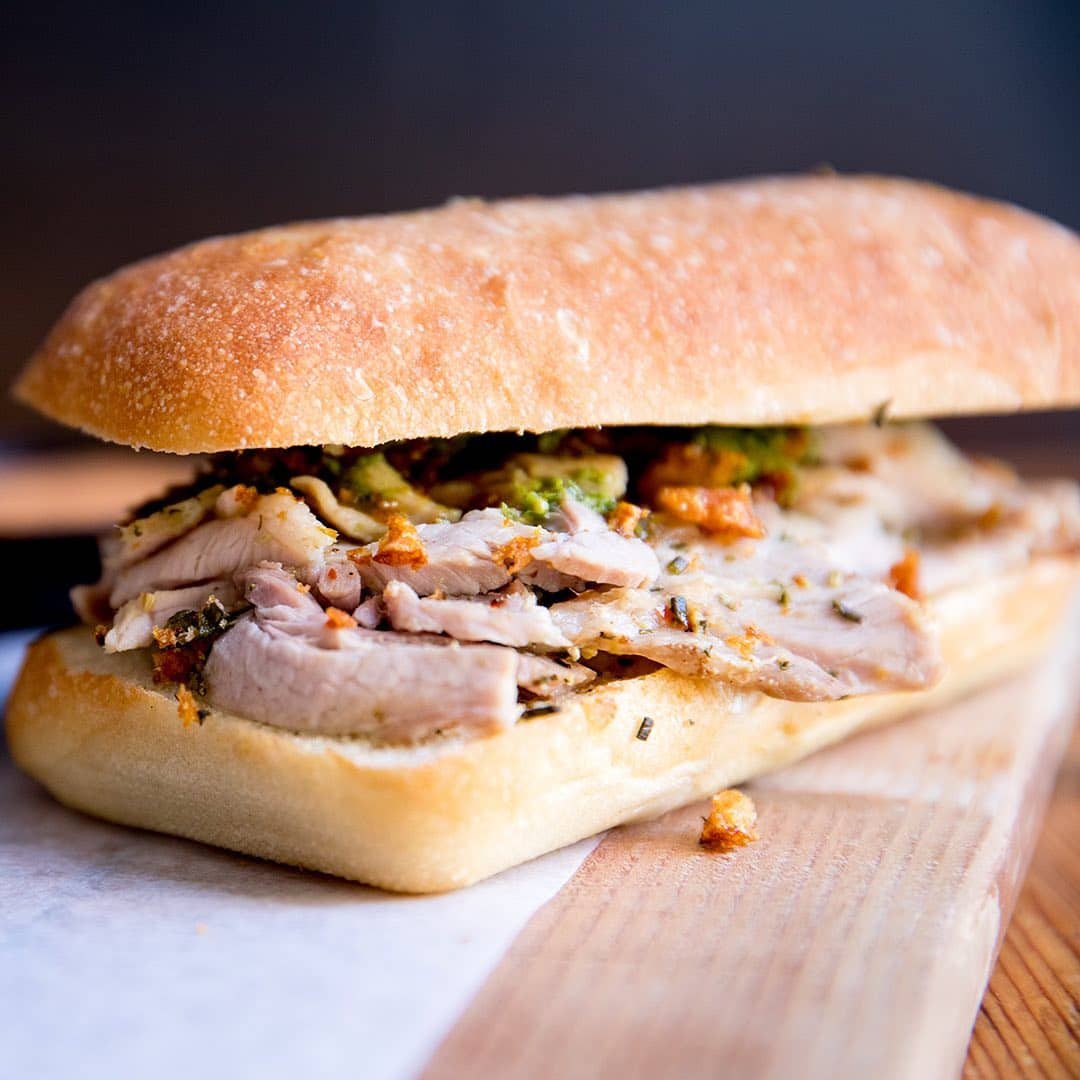 Meat & Bread is one more popular eatery that we recommend for your Gastown endeavours. They have several locations around Vancouver, although they're an original Gastown brand, having opened their first venue in this hood in 2010.
They are famed for their sandwiches and you can pair them with some great soups and salads. It's the perfect quick bite and a break from your urban trekking the Gastown area.
The must-try is the Porchetta Sandwich. It's the juicy and tender king of the Gastown sandwiches.
The bread is soft, and it contains salsa Verde and succulent pork crackling which gives such a special crunch and savory flavor to the sandwich that it will immediately win your heart.
Alternatively, you can order the Meatball sandwich. The meatballs are gigantic and absolutely delicious.
What to order: Porchetta Sandwich, Meatball sandwich
Address: 370 Cambie St, Vancouver, BC V6B 1H7
Instagram | Facebook | Website
7. Pourhouse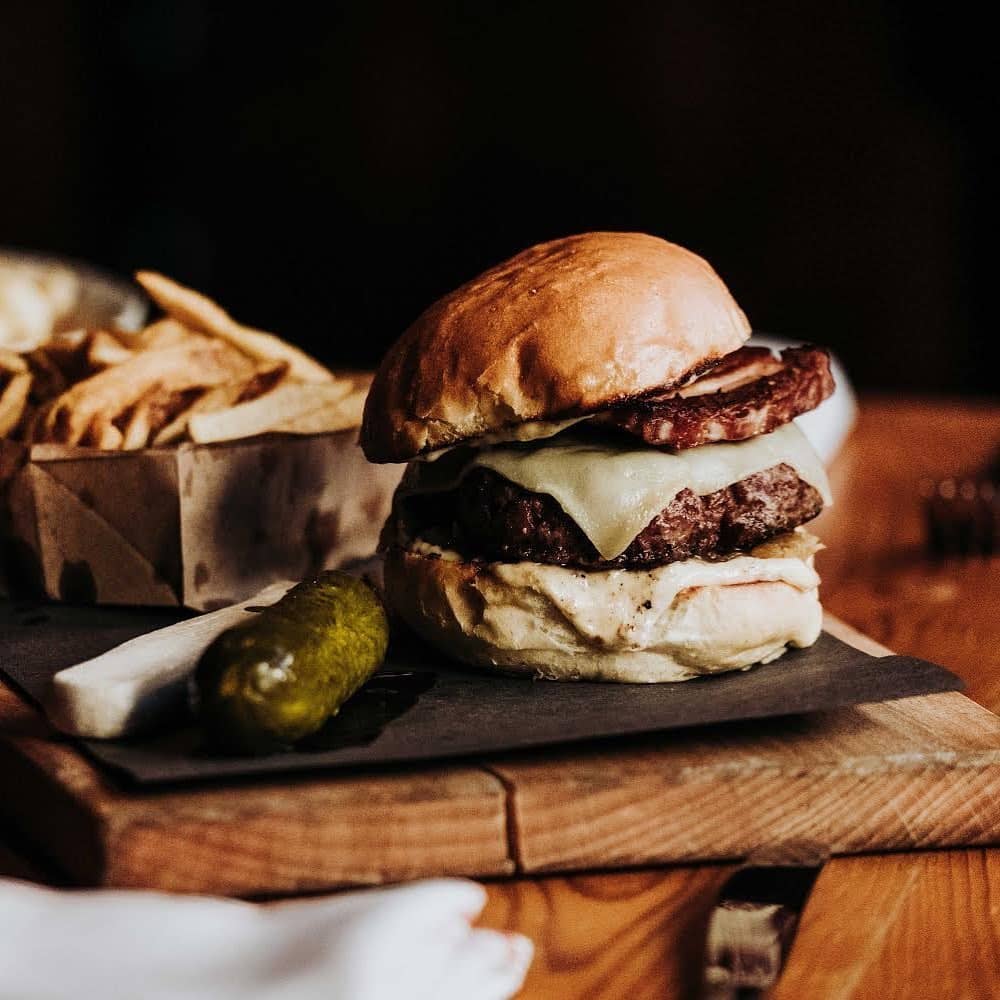 Pourhouse is inside a century-old warehouse; the atmosphere here is always lively and entering inside might feel like time-traveling in the past.
They are well-known for their striking cocktails, such as their "bootlegged cocktails" (a clear hint to the roaring 1920s and the infamous Prohibition).
Even the food evokes feelings of the past. Such as their Scotch Egg, which looks as if it was taken straight out of a 1960s vintage cookbook.
Give the Scotch Egg a bite, and it will be something you'll want to come back to, craving and asking for some more.
Another staple of the house is the Pourhouse burger which comes with spaghetti and meatballs.
You should also have some of their liver with toast, seared tuna, or roasted bone marrow. Any of this will fill your mouth with lots of pleasant sensations.
What to order: Scotch Egg, Pourhouse burger, liver with toast, seared tuna, roasted bone marrow
Address: 162 Water St, Vancouver, BC V6B 1B2
Instagram | Facebook | Website
8. MeeT in Gastown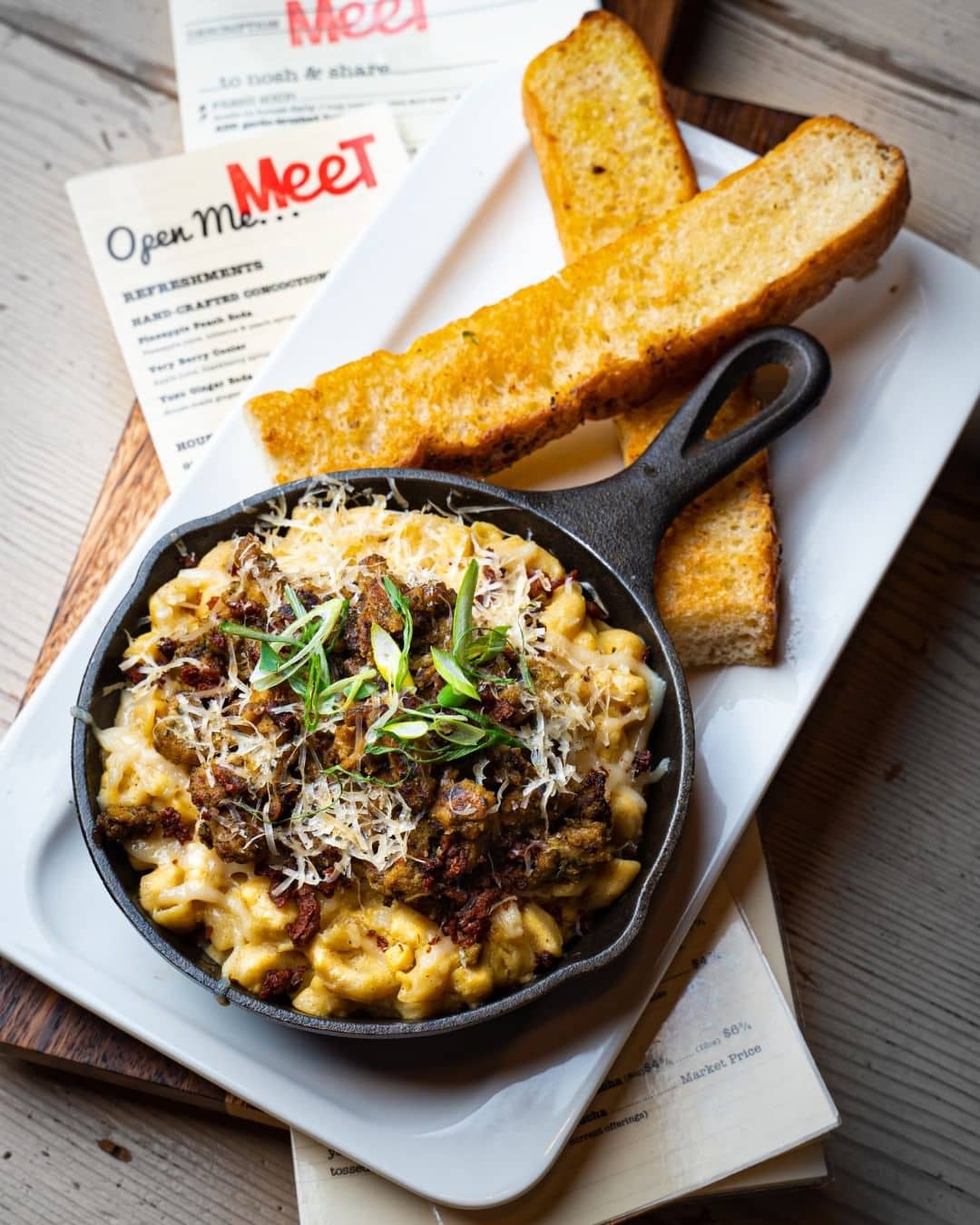 A hidden gem situated in the heart of a historic neighbourhood, MeeT in Gastown offers MeeT classics and a mouthwatering brunch menu in a courtyard atmosphere.
If you want to eat less meat or you're looking for the best vegan comfort food in town, this place is your best bet.
MeeT's The Big Yum is full of the best ingredients, texture, and flavour. The combination of roasted yams, organic kale, shredded red cabbage, beets, corn, tempeh, edamame, and hemp hearts makes a perfect dish that will satisfy your taste buds.
Served on organic brown rice topped with an umami tahini sauce, this one will blow your mind away!
Sometimes, all you need is a good old mac and cheese to lift your spirits. Macaroni noodles smothered in a delicious cashew cheez sauce— what more could you ask for?
Cravings satisfied, indeed!
What to order: The Big Yum, Mac N' Cheez Bowl
Address: inner Courtyard, 12 Water St, Vancouver, BC V6B 4K7
Website | Instagram | Facebook
9. Robba da Matti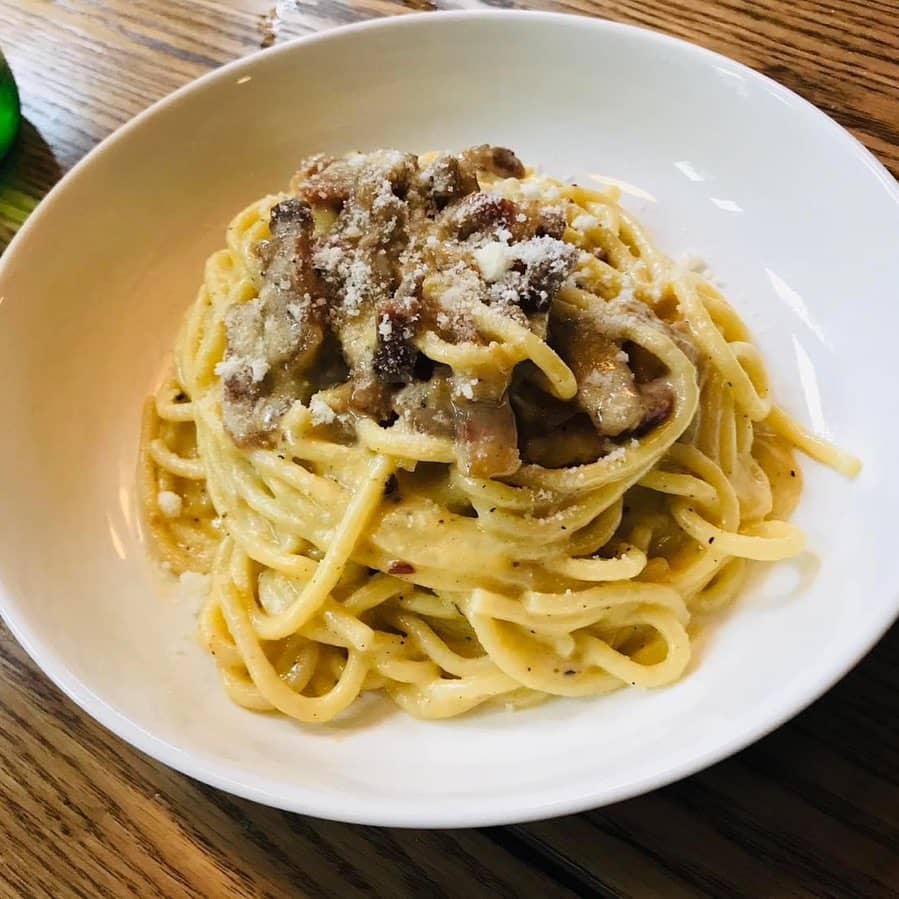 A gorgeous hole-in-the-wall where you'll find primarily locals eating, Robba da Matti gives a new definition to comfort food with big bowls of hearty pasta.
With an open kitchen to provide more space in their small restaurant, every corner of this place smells like pasta.
Tasty with a strong lobster and crab flavour, Robba da Matti's Lobster & Crab Ravioli is a must-try if you love seafood.
This one is stuffed to the max, making sure not to skimp on the seafood. Covered in a delicious sauce, you'll end up craving this all the time.
Robba da Matti's Spaghetti Allo Scoglio is the true star of the show. The spaghetti is fresh and cooked just right.
Served with tons of seafood like scallops, prawns, calamari, and mussels, take one bite, and there'll be a seafood party in your mouth.
What to order: Lobster & Crab Ravioli, Spaghetti Allo Scoglio
Address: 12 Powell St, Vancouver, BC V6A 1G1
Website | Instagram | Facebook
10. PiDGiN Restaurant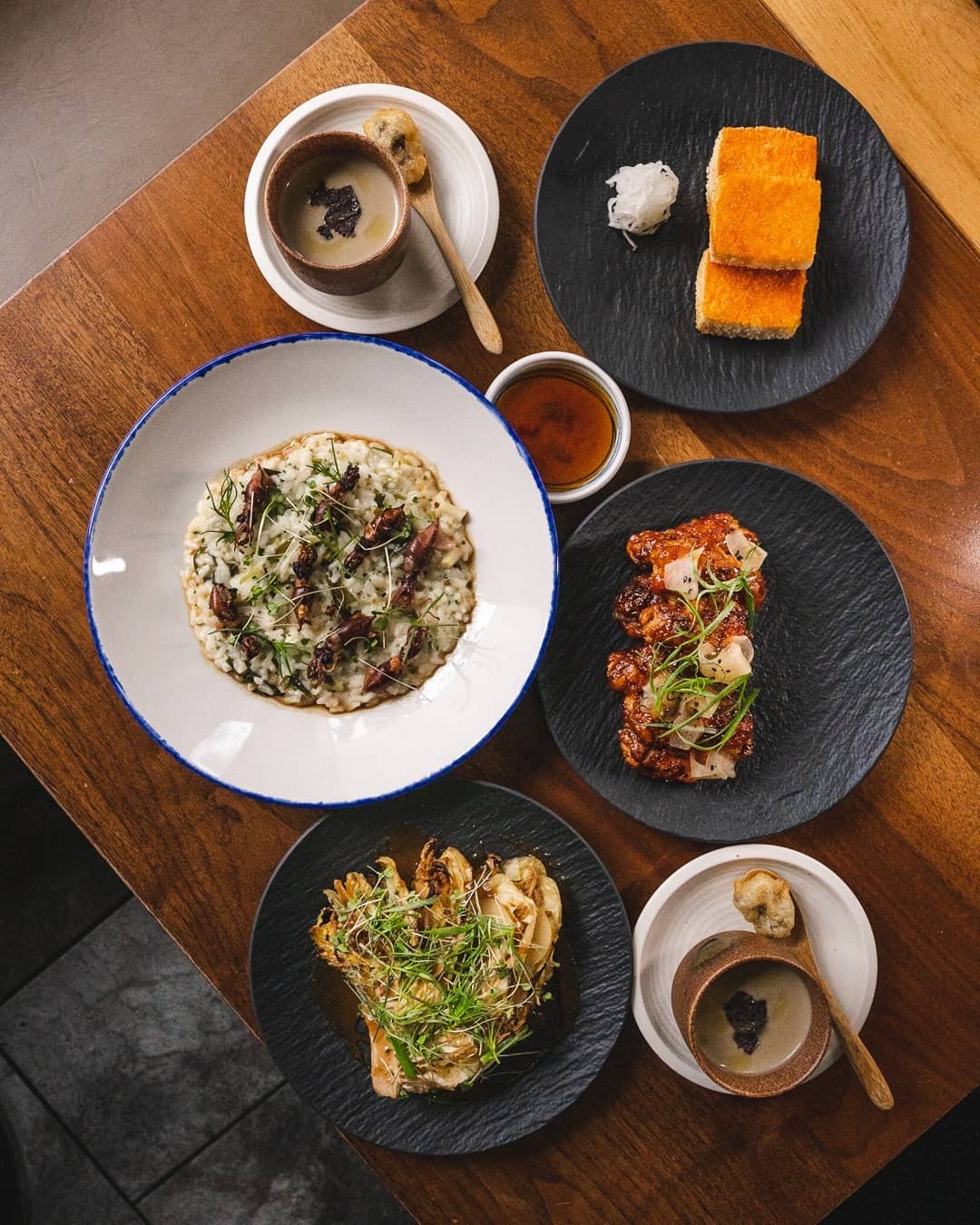 PiDGiN Restaurant is one of the most sought-after culinary destinations in Vancouver.
Offering a French-influenced take on Asian fare set in a stylish city-chic space, this is where you want to go if you want a fun and mind-blowing dining experience.
If you like to be surprised, the Tasting Menu at PiDGiN's is nirvana for any foodie adventurer.
With dishes like roasted delicata squash, maitake tempura, and Hokkaido scallop, the combination of Asian and Pacific Northwest cooking styles aims to wow your taste buds.
Ordering a la carte? The Foie Gras Rice Bowl is one of PiDGiN's must-haves! Seared to perfection, this one will convert you to a Foie Gras lover if you aren't one yet.
The sauce and chestnuts go so well with the Foie Gras.
What to order: Tasting Menu, Foie Gras Rice Bowl
Address: 350 Carrall St, Vancouver, BC V6B 2J3
Website | Instagram | Facebook
11. Zoomak Korean Tavern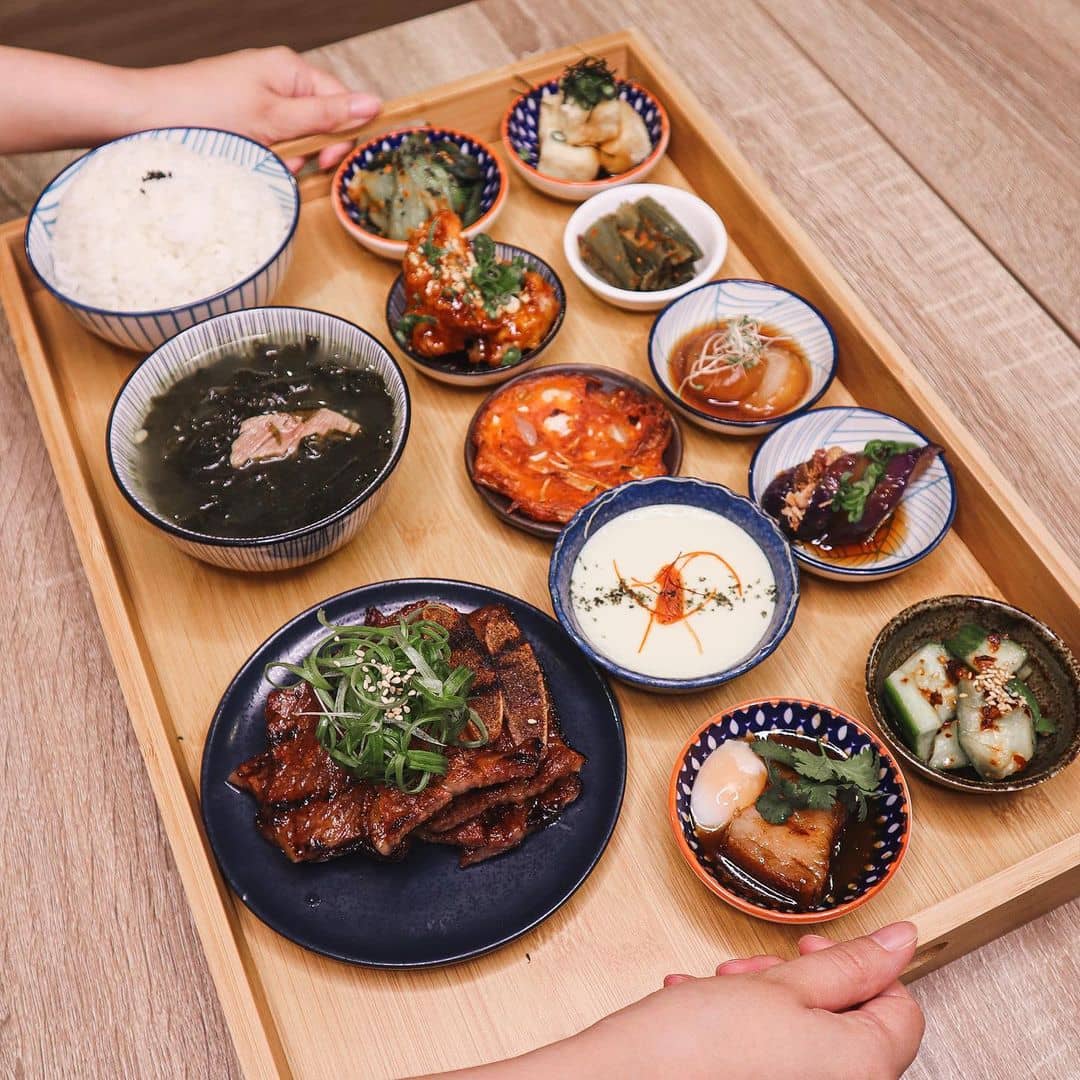 Considered one of the best Korean restaurants in Vancouver, Zoomak Korean Tavern aims to satisfy your Korean comfort food cravings.
With a light and minimalist interior, you'll be having a more intimate and refined dining experience here.
Popular for their Special Lunch Set, having lunch at Zoomak is worth every effort. With a huge variety of Korean dishes at a reasonable price, you'll be ecstatic to know that every dish tastes absolutely amazing.
Zoomak's Pork Cheek is one of the must-haves on their menu. Well-seasoned and crispy outsides with a tender and fatty inside that melts in your mouth when you take a bite— what else could be better than this?
If you're a fan of pork, order this one at this instant.
Who doesn't love Korean Fried Chicken? Crispy, lightly sweet, and juicy, all it takes is just one bite to make you fall in love with this dish.
Served piping hot and with rice cakes, you'll understand why you can see this dish on almost every table.
What to order: Special Lunch Set, Pork Cheek, KFC Popcorn
Address: 52 Alexander St, Vancouver, BC V6A 1B4
Website | Instagram | Facebook
That wraps up our list of Best Gastown Restaurants and we hope you have a blast trying out every one of these fabulous spots. When you're done, why not stop for a coffee in one of Gastown's fantastic cafes?
Or if you're looking for more food spots, take a peek at our picks of the best restaurants in Vancouver!
How We Create Our "Best" Lists
All Noms Magazine's "best" lists are created using multiple factors and signals to help readers find the best restaurants, things to do, and places to stay at. Some of these factors and signs include personal experiences, correspondence with locals, and compiling experiences from review sites.
Each list is also created to be balanced (in terms of price, cuisine type, ambiance, and more) as possible. This means that the lists are not specifically created in ranking order. You should be comfortable picking from any of the spots on the list and generally have a good time. But of course, YMMV (your mileage may vary) and everyone may have different experiences/palates.