Looking for the best Seattle restaurants with a view? Well, you're in the right place!
Seattle is a beautiful city with stunning views of Puget Sound, Lake Washington, and the Olympic Mountains. What better way to incorporate such magnificence than with equally sensational food?
If you're looking for the best Seattle restaurants with a view, we have the perfect list for you!
1. Six Seven Restaurant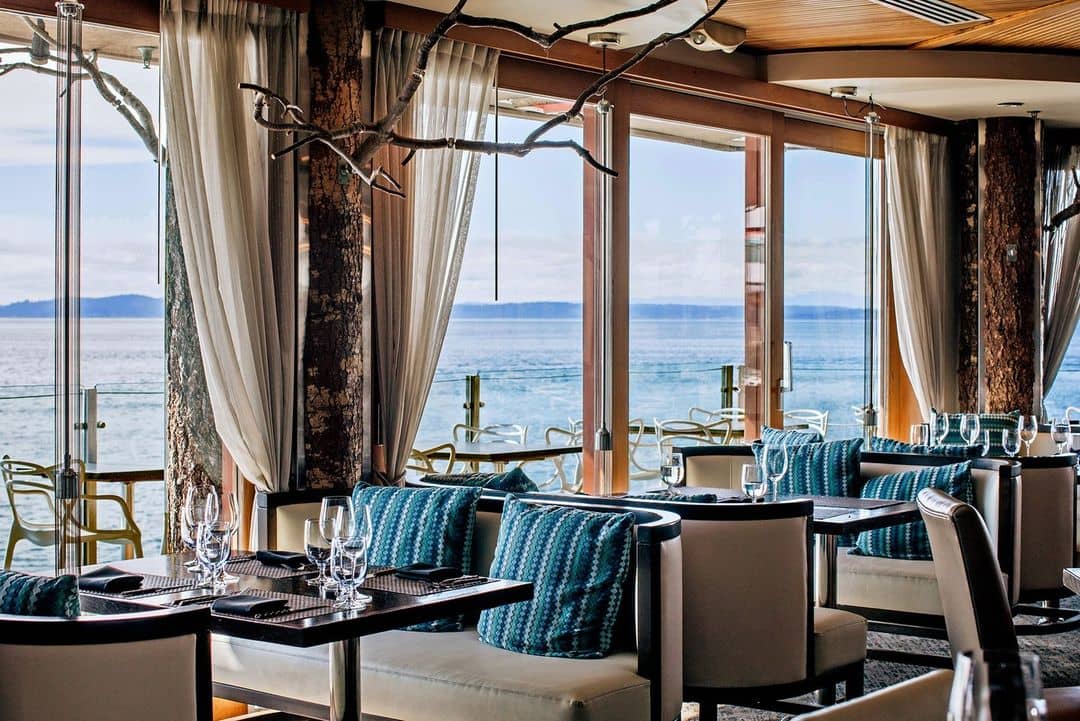 An award-winning restaurant featuring seasonally inspired cuisine with the freshest organic ingredients, Six Seven Restaurant boasts breathtaking views of Puget Sound and the Olympic mountains.
The restaurant has a cozy and romantic vibe, with fresh flowers on every table. Whether you choose to dine indoors or out, you won't miss out on the gorgeous scenery due to their huge glass windows.
Fresh from the sea, their Fish & Chips are citrusy with a unique and splendid tartar sauce. The batter is light and fluffy with a solid 10 out of 10 Cod that has a satisfying crispy coating on it.
Do you like crab and eggs? If you do, Six Seven's Dungeness Crab Benedict is the perfect dish for you.
The crab has a subtle buttery flavor to it that goes so well with their Hollandaise sauce.
What to order: Fish & Chips. Dungeness Crab Benedict
Address: 2411 Alaskan Way, Pier 67, Seattle, WA 98121
Website | Instagram | Facebook
2. Ray's Boathouse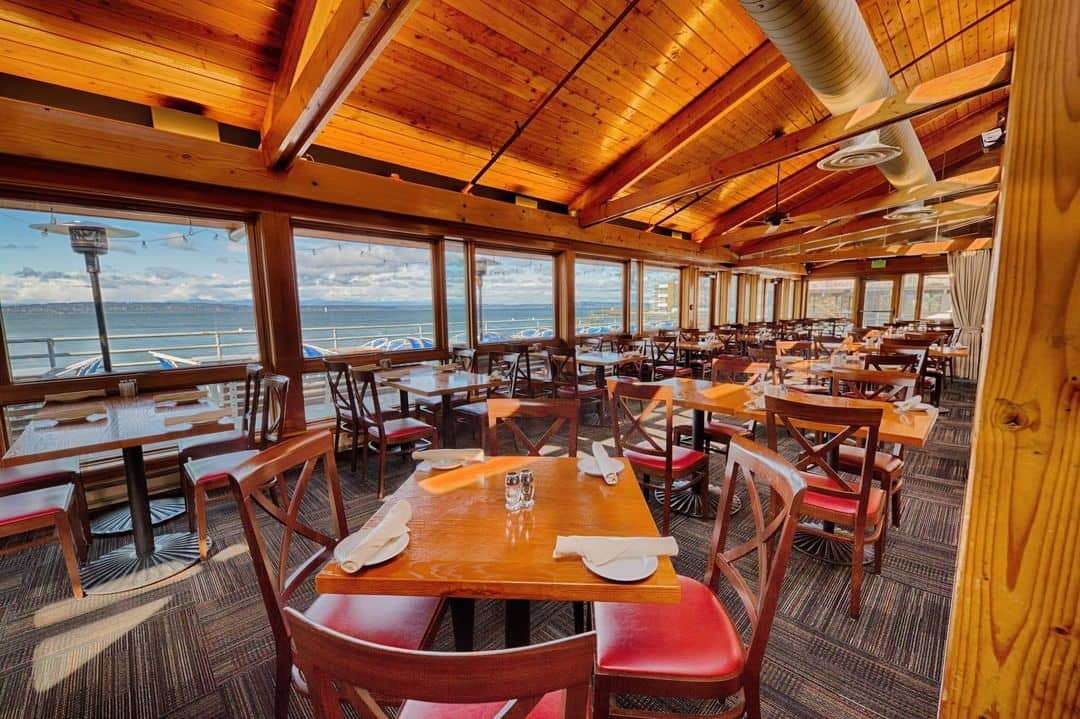 A great scenic restaurant for local Pacific Northwest Seafood lovers, Ray's Boathouse feels like a dream.
The restaurant's patio commands an impressive view over Puget Sound. While indulging in good quality seafood, you can enjoy watching the clear water in the sunshine while watching the boats pass.
Ray's Pacific Northwest Sablefish in Sake Kasu is a must-try. The honey soy sauce that comes with the dish creates an excellent combination of smokey, sweet, and tangy flavors.
This particular sablefish in Ray's is the best one you'll ever taste.
Their Smoked Scallop & Bay Shrimp Salad is a bed of mixed greens topped with the most delicious ingredients.
The smoked sea scallops have that familiar pleasant rubbery texture and a subtly sweet, refreshing flavor.
What to order: Pacific Northwest Sablefish in Sake Kasu, Smoked Scallop & Bay Shrimp Salad
Address: 6049 Seaview Ave NW, Seattle, WA 98107
Website | Instagram | Facebook
3. Canlis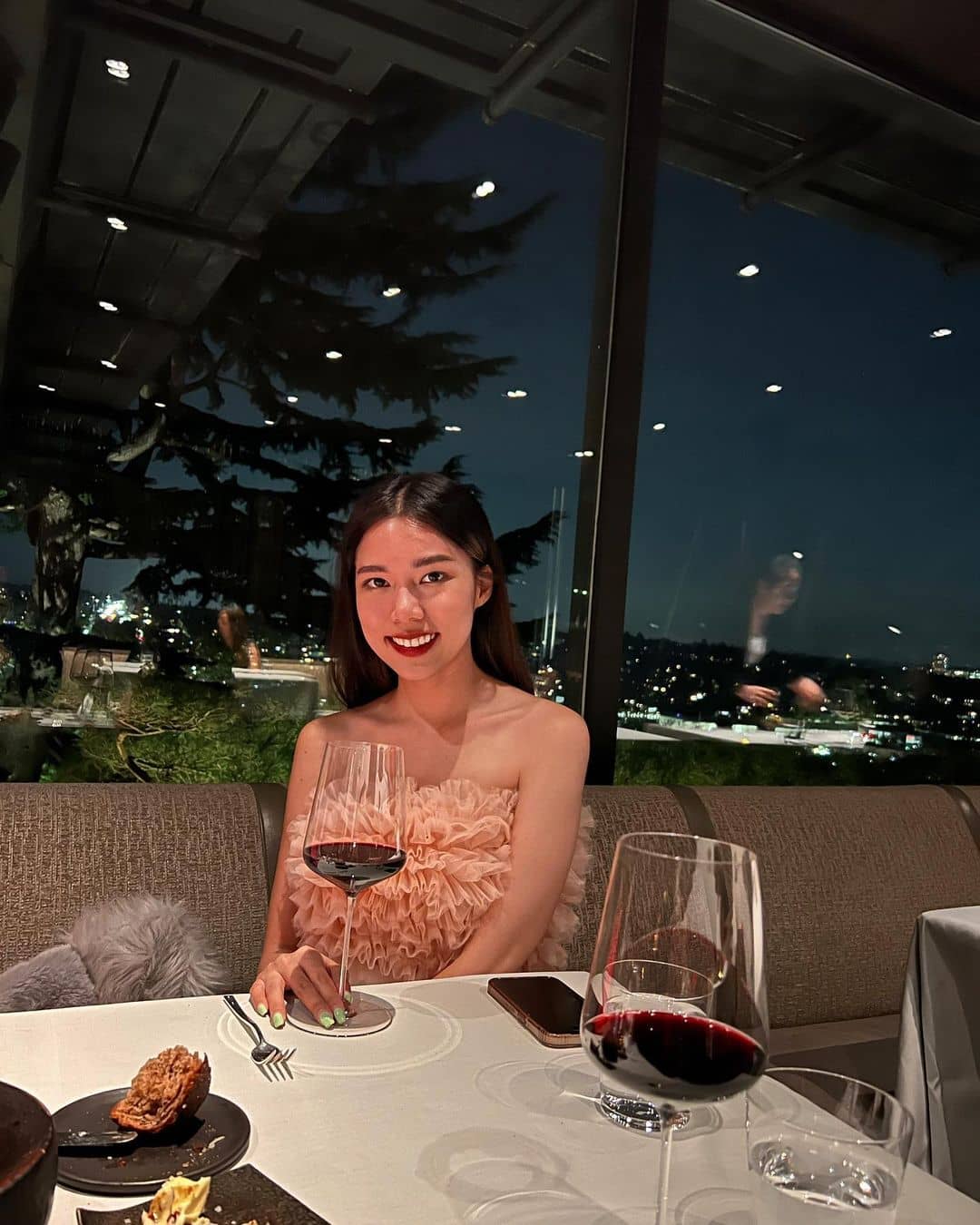 Canlis is an award-winning fine-dining magnificence for special occasions and wowing visitors.
Whether you dine here during the day or night, you will be awe by the stunning views of Seattle cityscape, Lake Union, and the Cascade mountain range.
And once entering the 71 year old legacy restaurant, you'll be experiencing a whole new level of seafood with a Japanese influence on the menu.
Canlis is serving a multi-course dining experience where you choose three of the available courses, and of course, they'll surprise you with some unexpected side dishes as well!
Some highlighted items include Manila clams, grilled sablefish with matsutake mushrooms, Dungeness crab salad, winter luxury pumpkin, and so on.
Enjoy your meal paired with appropriate glasses of wine from the spectacular Canlis cellar as they are one of only 85 restaurants worldwide to have received the "Grand Award" for its wine collection.
What to order: Multi-Course Dining Set
Address: 2576 Aurora Ave N, Seattle, WA 98109
Website | Instagram | Facebook
4. Aerlume Seattle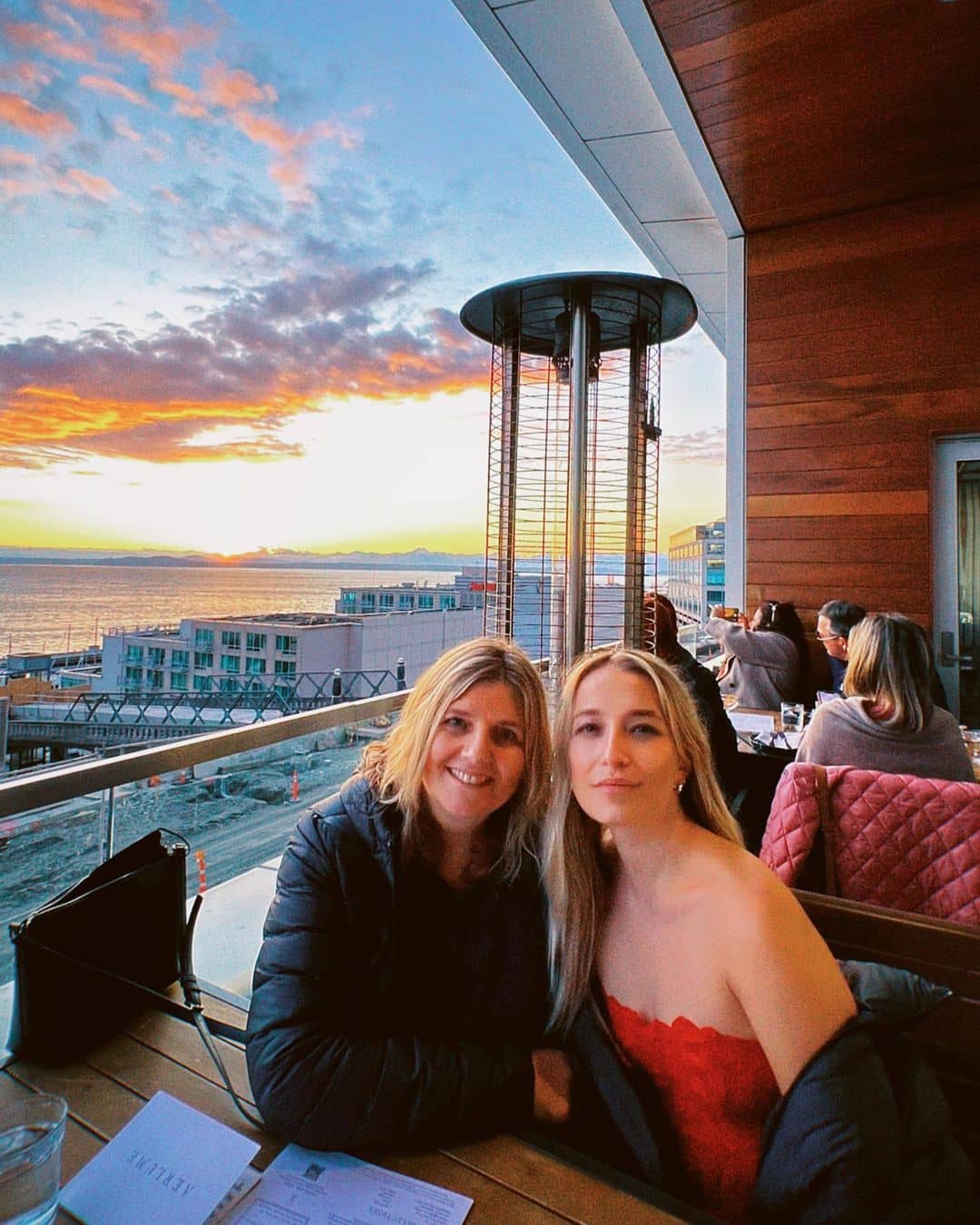 A quaint patio with the most magnificent views of Puget Sound, Aerlume Seattle brings you the ultimate fine dining experience. This restaurant proudly partners with local farms, using only the most refined ingredients.
They have a romantic, modern, and cozy vibe— complete with glass fire pits. We highly recommend visiting at around sunset to enjoy a fantastic view.
The Heritage Berkshire Farms Pork Shank is tender in its purest form. It's so soft that the meat instantly peels off the bone. Once you taste it, this dish will have you dreaming of it every night.
Another stellar dish that people rave about, their Dungeness Crab Lettuce Wraps come in generous portions that will fill you up with a salty, sweet flavor.
What to order: Heritage Berkshire Farms Pork Shank, Dungeness Crab Lettuce Wraps
Address: 2003 Western Ave Suite C, Seattle, WA 98121
Website | Instagram | Facebook
5. Place Pigalle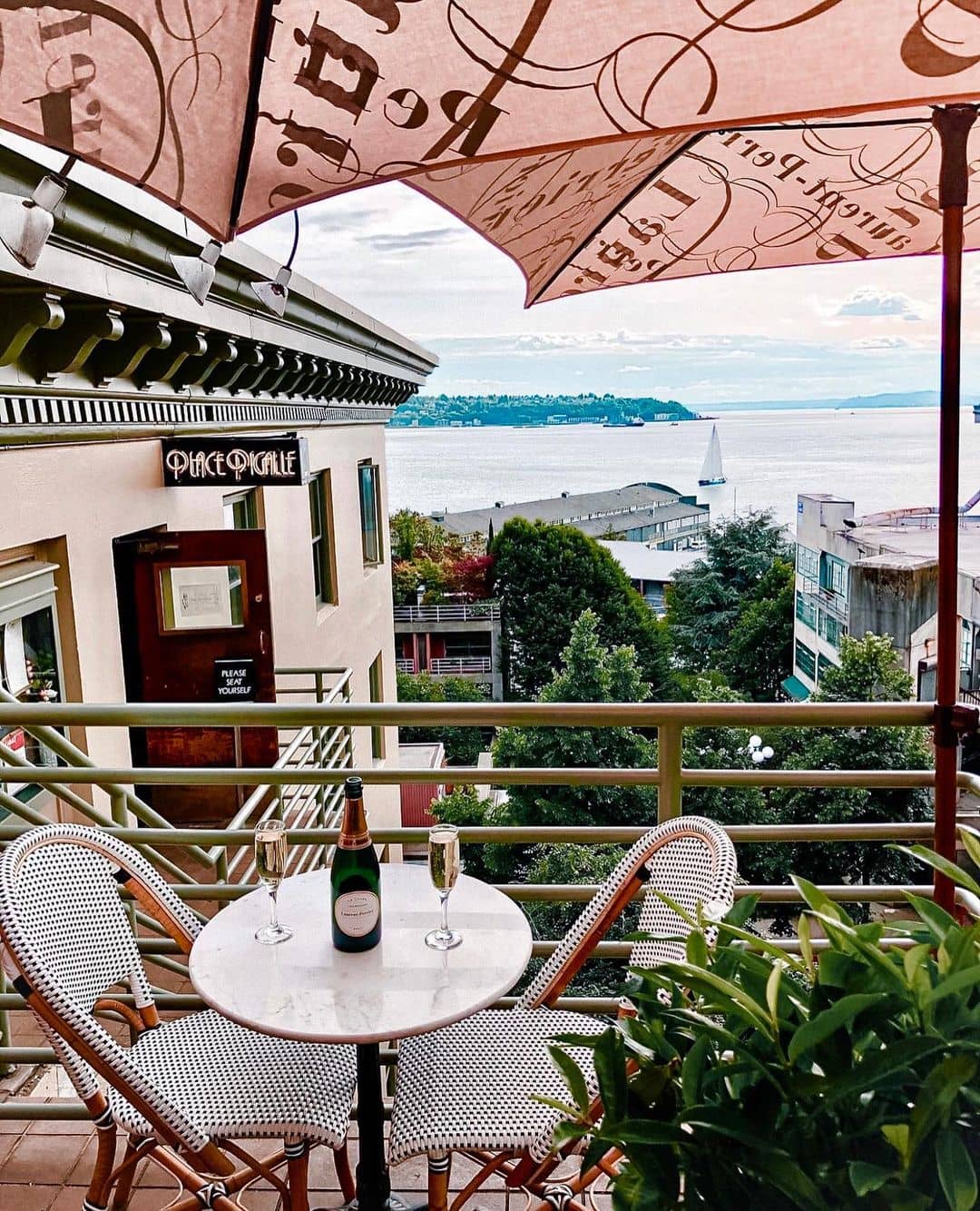 Offering one of the best views in Pike Place Market, Place Pigalle is a beautifully tucked
French restaurant overlooking the waterfront. The place is small, cozy, and quaint— just the perfect setting for someone who wants to breathe in Seattle's beauty.
The stunning view of the south lake and the Ferris wheel creates a romantic atmosphere, especially during sunset. Come on a weekday to cop the best seats in the patio area.
A Place Pigalle classic, the Steamed Mussels Pigalle has the perfect lemon-butter sauce and the freshest, juiciest mussels you'll ever encounter in town.
Order some bread on the side to soak up the juices, and make every bite count with this dish.
Not a lot of French restaurants in the area have the impeccable Bouillabaisse dish that Place Pigalle makes exceptionally well.
Prawns, clams, mussels, fish, crab, and all sorts of seafood are deliciously put together in a tomato-based broth; it's like they're having a party!
What to order: Steamed Mussels Pigalle, Northwest Bouillabaisse
Address: 81 Pike St, Seattle, WA 98101
Website | Instagram | Facebook
6. The Nest Rooftop Bar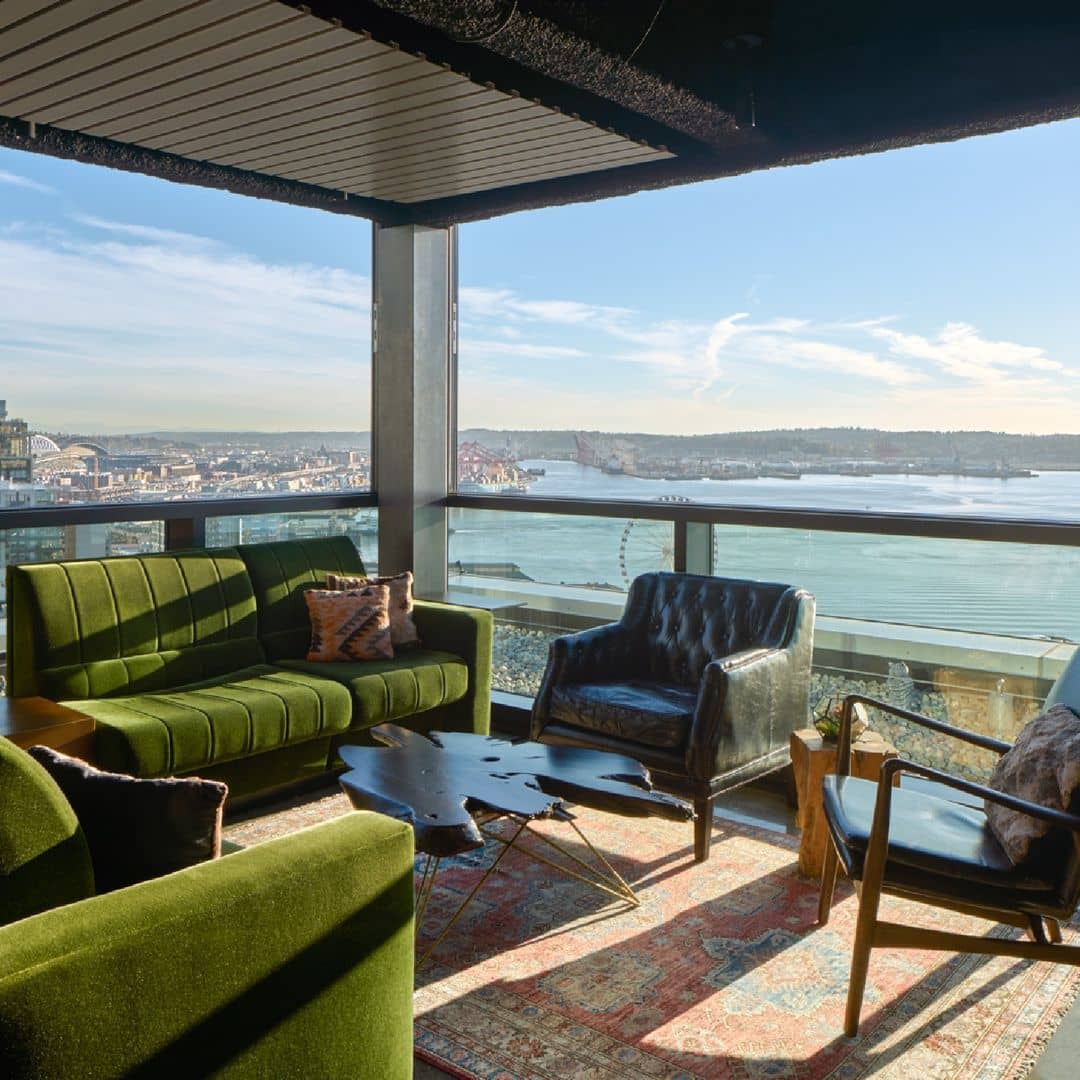 A high-class bar with high-class drinks located on the roof of the Thompson Seattle Hotel, The Nest Rooftop Bar is an exquisite lounge with gorgeous views of Elliott Bay.
They have a small indoor area, with most seats situated outdoors to take advantage of the scenic view.
The Nest Rooftop Bar redefines comfort food with their Lobster Grilled Cheese. This delectable dish combines tender lobster, flavorful pimento cheese, and a buttery brioche.
The richness of the pimento cheese perfectly complements the sweetness of the lobster. Get ready to taste the heavens when you take a bite of this Lobster Grilled Cheese!
Cookies may be the last thing you think of while at a rooftop bar, but The Nest's Warm Housemade Cookies are so good and full of warmth.
Order this when it gets too chilly, ask for a blanket, and enjoy the amazing view.
For drinks, the Naughty & Spice is more than a cocktail—it's an experience that will leave you longing for cozy evenings with its comforting blend of Santa Teresa 1796 Solera Rum, Nux Alpina Walnut Liqueur, cinnamon syrup, and pumpkin-infused oat milk.
What to order: Lobster Grilled Cheese,, Warm Housemade Cookies, Naughty & Spice
Address: Thompson Seattle, 110 Stewart St, Seattle, WA 98101
Website | Instagram | Facebook
7. Charlotte Restaurant & Lounge
A lovely restaurant situated on the 16th floor of the Lotte Hotel, Charlotte Restaurant & Lounge offers magnificent views of the Smith Tower and Seattle's waterfront with a warm and welcoming ambiance.
From the sleek interior to top-tier service to the delicious locally sourced foods— Charlotte definitely did their assignment.
A no-brainer pick on their breakfast menu, the Eggs Bernard is Charlotte's own twist on the classic eggs benedict.
You can tell the dish is thoughtfully prepared, from the presentation to the taste of each bite. The cilantro salsa verde gives the eggs a uniquely zesty and tangy flavor.
Revel in the tender perfection of the expertly cooked Filet Mignon, accompanied by a luscious twice baked potato purée, vibrant mustard greens, and grilled plums that offer a delightful burst of flavor.
What to order: Eggs Bernard, Filet Mignon
Address: LOTTE HOTEL SEATTLE, 809 5th Ave 16th Floor, Seattle, WA 98104
Website | Instagram | Facebook
8. The Loupe Lounge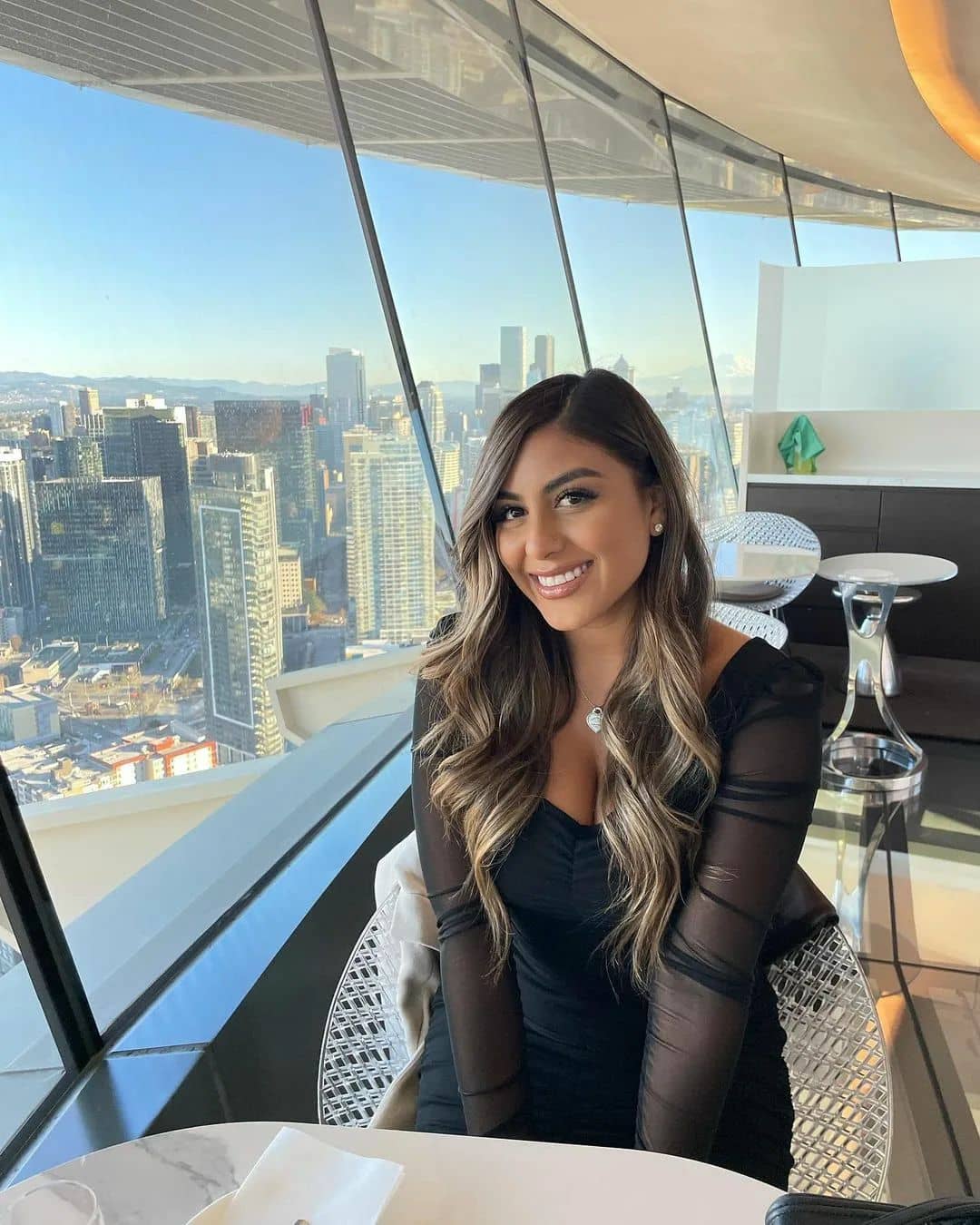 The Loupe Lounge serves up show-stopping mixology combined with delicacies of the Pacific Northwest while perched 500 feet above the city with unrivaled views.
The lounge offers the only revolving glass floor in the entire world, giving you a full 360-degree panorama of the Emerald City.
A popular place for tourists and locals alike, make sure to book ahead and cop the best seats.
With their "Taste of Washington" package, wagyu beef sliders and deliciously hand-cut truffle fries are served with locally grown Washington wines.
You might think a simple burger and fries are too basic, but the presentation is so well executed that this will not only make your mouth water but also your taste buds happy.
An excellent pair to their list of cocktails and champagnes, their Charcuterie Board selection is far different from the average charcuterie board.
The crackers, salami, and cheese magically go well with the wine pairing they pick for you.
What to order: Taste of Washington, Charcuterie Board
Address: 400 Broad St, Seattle, WA 98109
Website | Instagram | Facebook
9. Pink Door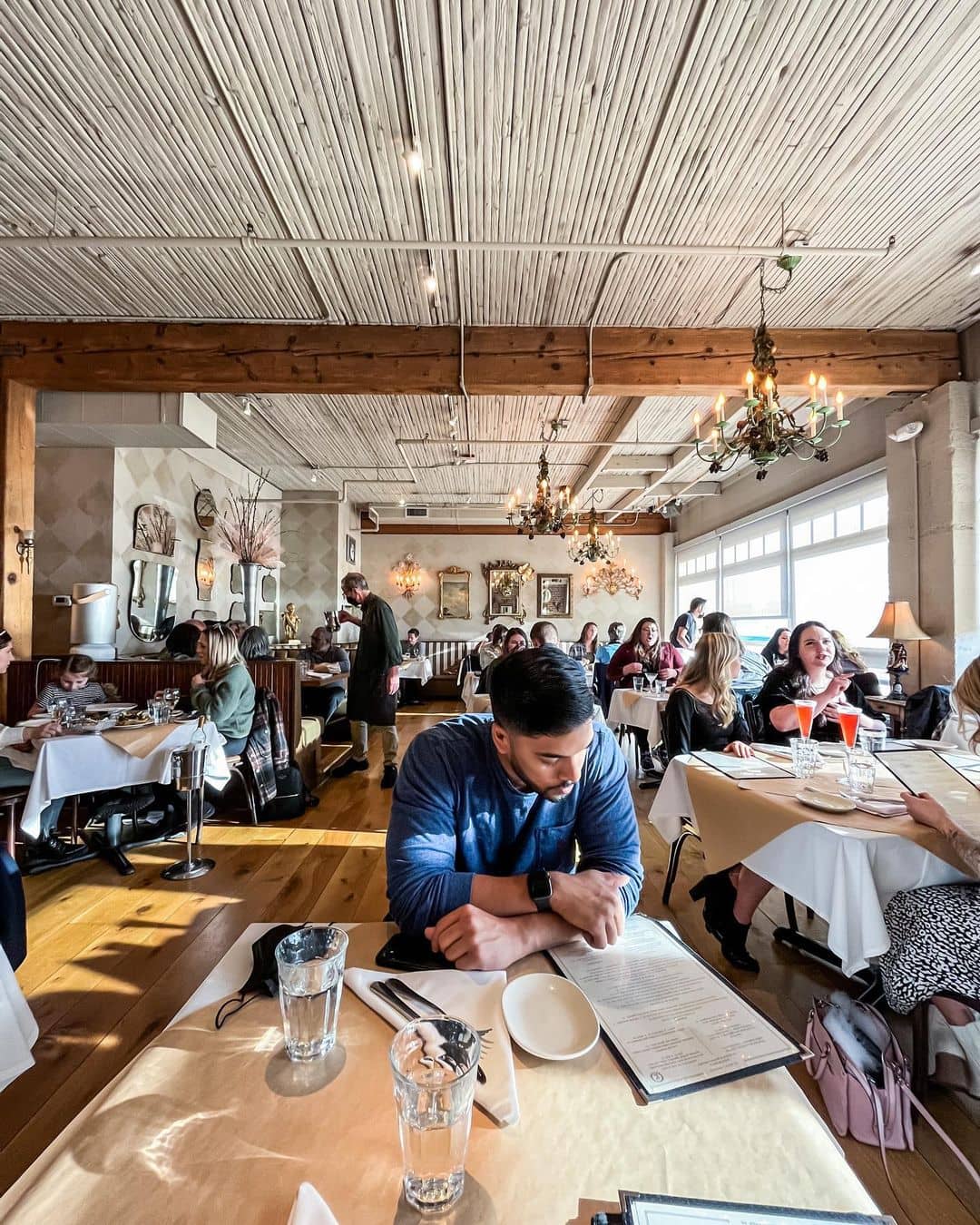 Think of The Pink Door when you need a special place to enjoy your favorite Italian dishes in Seattle.
Here inside The Pink Door, you'll find an elegant circus-restaurant mashup, with low lighting, a mural of a court jester, thick curtains, and nightly acrobatic talent swinging on silks above you.
The Pink Door has some of the best dishes like Cheese Board Supreme with a daily selection of Italian cheeses and housemade crackers, and Pink Door Caesar with fennel-dusted croutons and grilled chicken.
For a heartier one, go for the Arancini made with rice balls fried and stuffed with caciocavallo and mozzarella.
Don't hesitate to try them with their signature Calabrian chili dipping sauce, they taste phenomenal together!
What to order: Arancini, Cheese Board Supreme, Linguine Alle Vongole, Pink Door Caesar
Address: 1919 Post Alley, Seattle, WA 98101
Website | Instagram | Facebook
10. AQUA by El Gaucho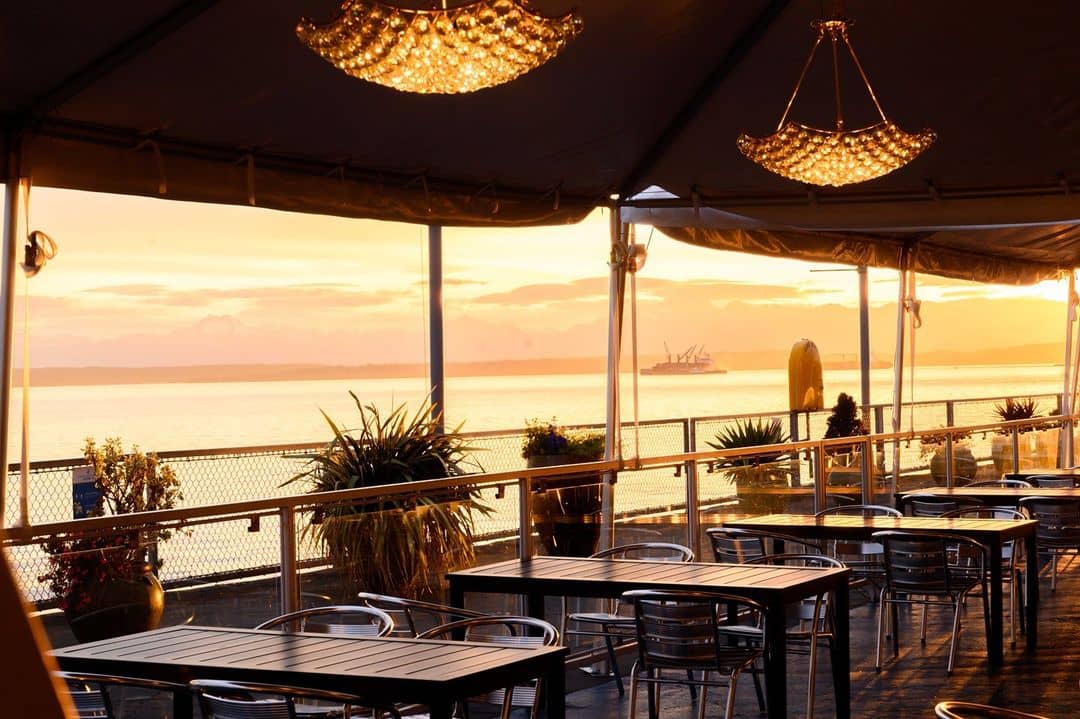 AQUA by El Gaucho provides Seattle's finest waterfront dining experience featuring the finest quality seafood paired with exceptional service.
In addition to fresh seafood selections, their menu also features dry-aged and custom-aged Certified Angus Beef.
The ambiance – dimly lit, elegant, high-end, and has fantastic views.
A classic, crowd-pleasing dish at AQUA, also recommended by the chef, is their Wicked Shrimp.
There is a slight sweetness from the prawns that tastes nice with the spicy hot veloute.
You also get grilled bread on your plate, so you don't miss even a drop of the mouthwatering sauce.
Are you up for a challenge? The Tenderloin Diablo will captivate you with its bold flavors.
The cajun cream sauce is a fiery delight that goes well with the tenderness of the meat. This dish will ignite your senses, truly living up to its name.
The Grilled Spanish Octopus takes center stage with its perfectly charred exterior and tender, succulent meat.
Each bite you take will reveal a delightful balance of smokiness and natural sweetness.
What to order: Wicked Shrimp, Tenderloin Diablo, Grilled Spanish Octopus
Address: 2801 Alaskan Way, Pier 70, Seattle, WA 98121
Website | Instagram | Facebook
11. Smith Tower Observatory Bar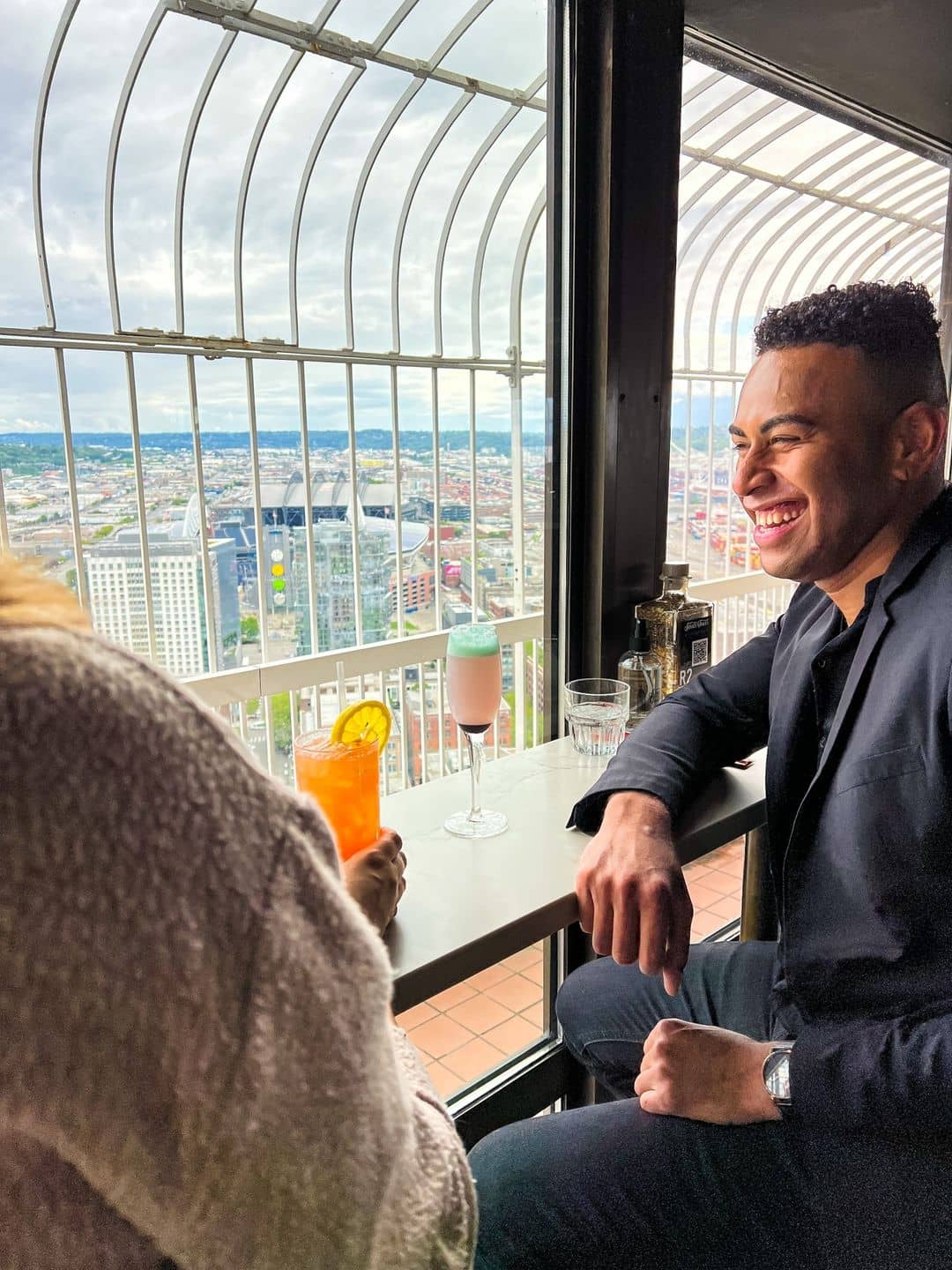 Who doesn't love great food and skyscraper views? The iconic and world-famous Smith Tower offers the best of both worlds with its Observatory Bar. This place has an amazing 360-degree view of Seattle, including Mount Rainier.
We highly recommend doing a tour of the tower first before getting a table.
Charcuterie boards always go well with drinks, and Smith Tower's Charcuterie and Cheese Box is one of the prime examples of that.
The box has lots of tasty things, including various meat, cheese, olives, and dips. Pair it with any drinks on their extensive menu, and you're all set.
For dessert, the Mexican Onyx is a must-have. The chocolate ganache and ancho-caramel combined with toasted meringue is heaven on earth for those who have a sweet tooth.
What to order: Charcuterie and Cheese Box, Mexican Onyx
Address: 506 2nd Ave #35, Seattle, WA 98104
Website | Instagram | Facebook
Great food tastes even better with great views. Seattle is one of the most picturesque cities in the United States, and its culinary scene is equally splendid.
If you want more restaurant recommendations in the city, head on over to our list of the best restaurants in Seattle to see if you'll find something you might like.