Looking for the best Vegan restaurants in Seattle? Well, you're in the right place!
Believe it or not, Seattle is a city full of vegan-friendly restaurants as demand grows for this type of food.
Whether you're looking for a filling vegan breakfast, lunch, dinner, or even a snack – there's a place in the city that will satisfy you!
Below we've compiled a list of 12 the best vegan restaurants in Seattle, which promises to win your heart with nutritious and delicious dishes:
1. Cafe Flora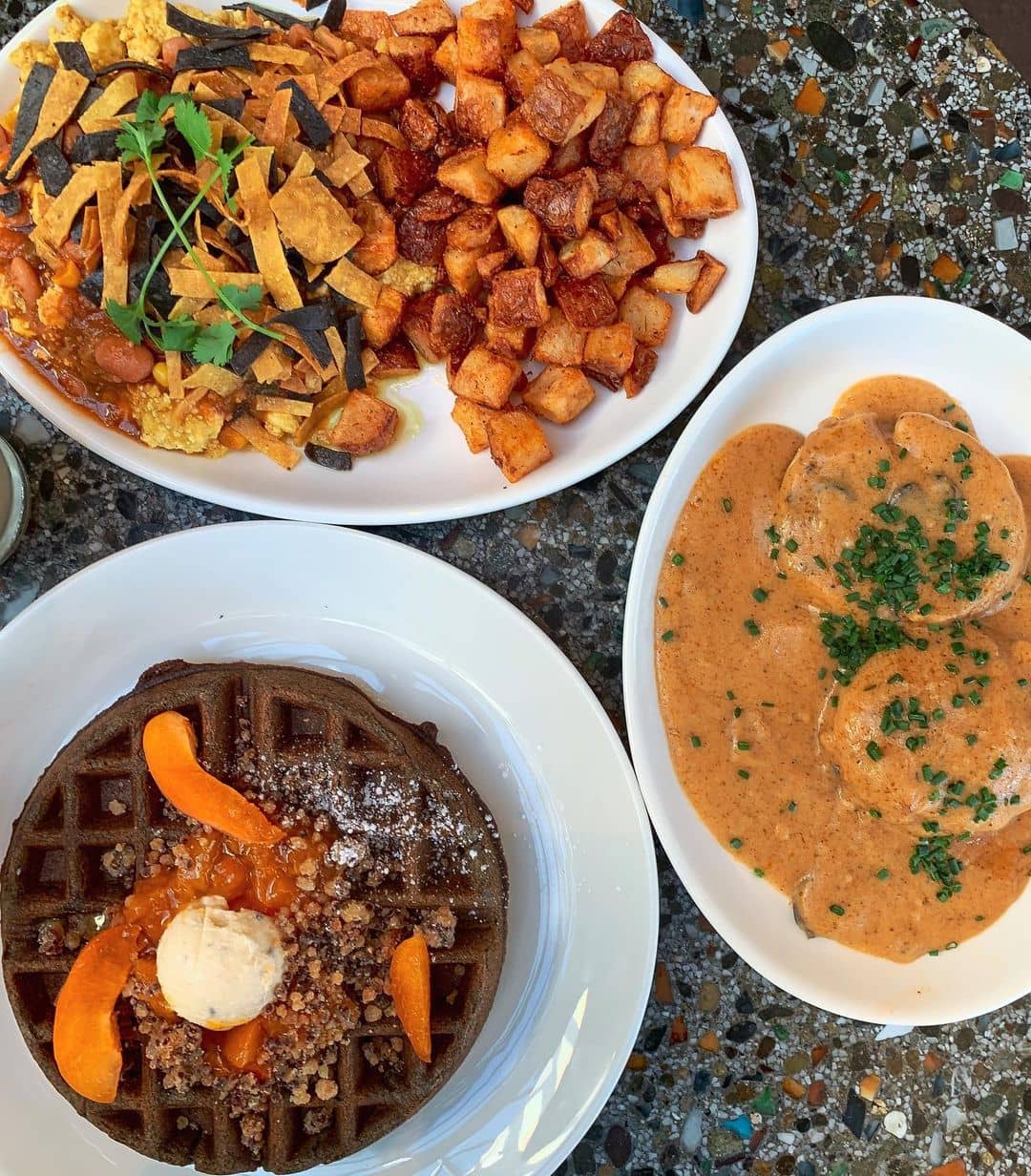 If you are a photographer or a foodie, be ready to fill up your camera roll of the beautiful art and food in this place! The ambiance is bright, bustling, and the employees are extremely kind.
The French Dip is to DIE FOR! The smoky and umami sense from grilled portobello mushrooms is undoubtedly addictive with sweet caramelized onions and swiss cheese on a freshly baked demi baguette.
The flavor is explosive and nicely balanced between all the elements. Delish!
Autumn Panzanella Salad is a must when visiting Cafe Flora! The nutty and creamy roasted butternut squash is superb with fresh spinach, sweet apples, and buttery gorgonzola.
Or ask for Cinnamon Roll topped with cream cheese frosting and maple toasted pecans and be ready to be amazed by the delicate sweetness and creaminess of this absolute best dessert.
What to order: French Dip, Autumn Panzanella Salad, Cinnamon Roll, Chocolate Hazelnut Coffee Cake
Address: 2901 E Madison St, Seattle, WA 98112
Website | Instagram | Facebook
2. Eggs and Plants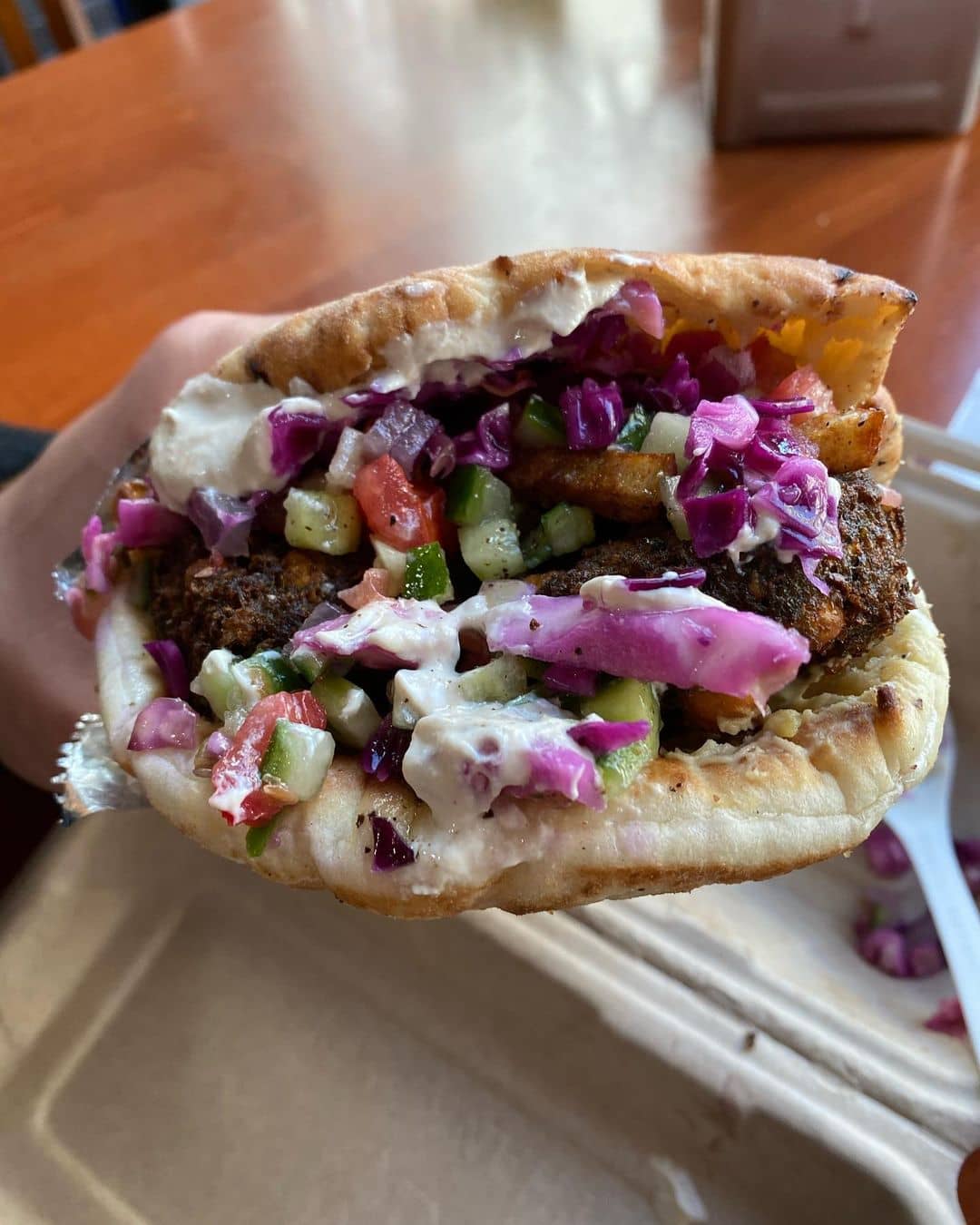 Egg and Plants offers a simple menu that includes authentic Mediterranean street food, that is exactly like the food you would find in a street market in Egypt, Morocco, or Iraq.
The Sabich Sandwich has driven everyone crazy lately because it is so delicious that you can't help taking bites continuously.
With crunchy and nutty fried eggplants-sliced, perfectly cooked eggs with a runny yolk and fresh Israeli salad adding an earthy and herby taste, this Iraqi Sandwich is born to be a star!
If you're looking for something saucier, try Shakshuka and be ready to enjoy the crowd-fav breakfast.
With nicely poached eggs in their special tomato sauce, crunchy fries, hummus, and some pickles, the Shakshuka brings a phenomenal flavor that promises to be finger-licking good!
What to order: Sabich Sandwich, Shakshuka, Turkish soup, Fresh made smoothies
Address: 2229 5th Ave, Seattle, WA 98121
3. Loving Hut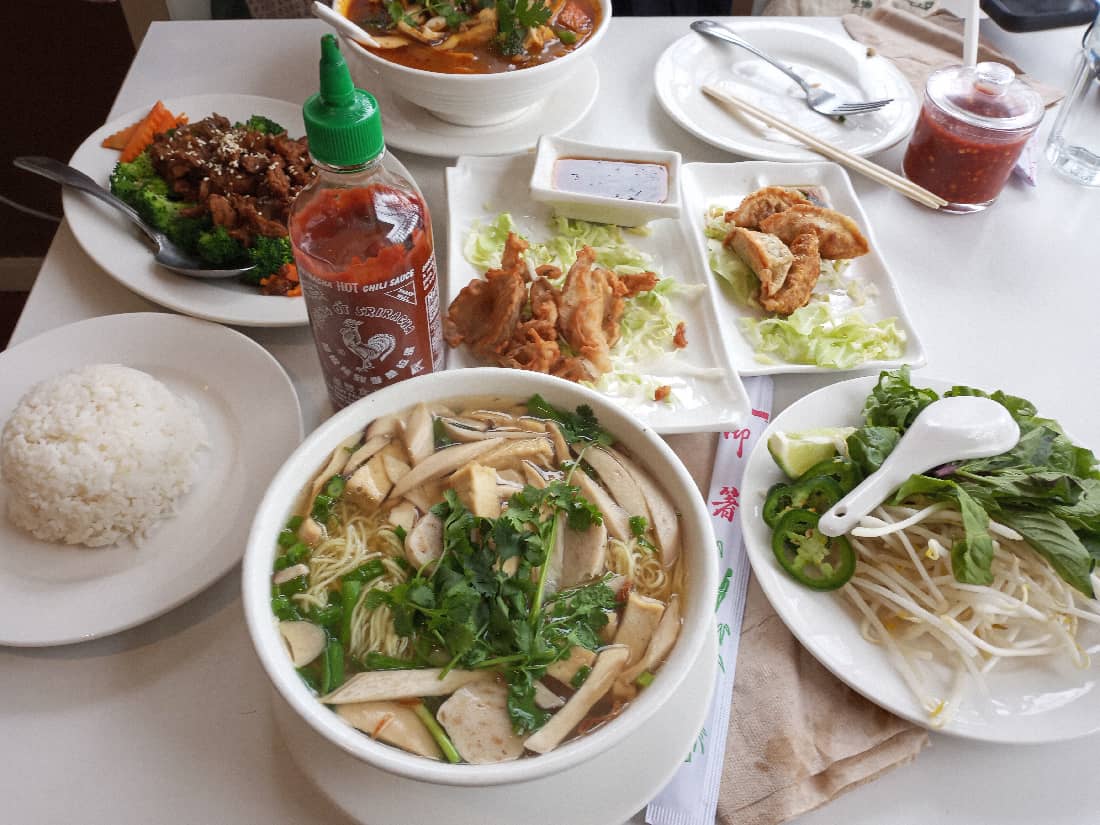 Loving Hut was created with a vision: all beings could live in peace, love, and harmony with each other and the planet.
It is an invitation to gourmet cuisine made with wholesome vegan ingredients, offering diverse appetizing dishes with explosive flavor.
Charming Salad definitely lives up to the name when the flavor is undoubtedly fascinating with shredded soy protein tossed with tiger mint creating a nutty and fresh taste.
The crispy cabbage adds a light touch of crunchiness and delicate sweetness and is balanced with tangy vinegar sauce. Worth every penny!
Looking for more hearty dishes?
Try the Royal Noodle and experience the addictive seasoning from Mid-Vietnam with a unique salty taste from soybean paste and chewy rice noodles.
What to order: Charming Salad, Royal Noodle, Pumpkin Soup
Address: 1226 S Jackson St, Seattle, WA 98144
4. Plum Bistro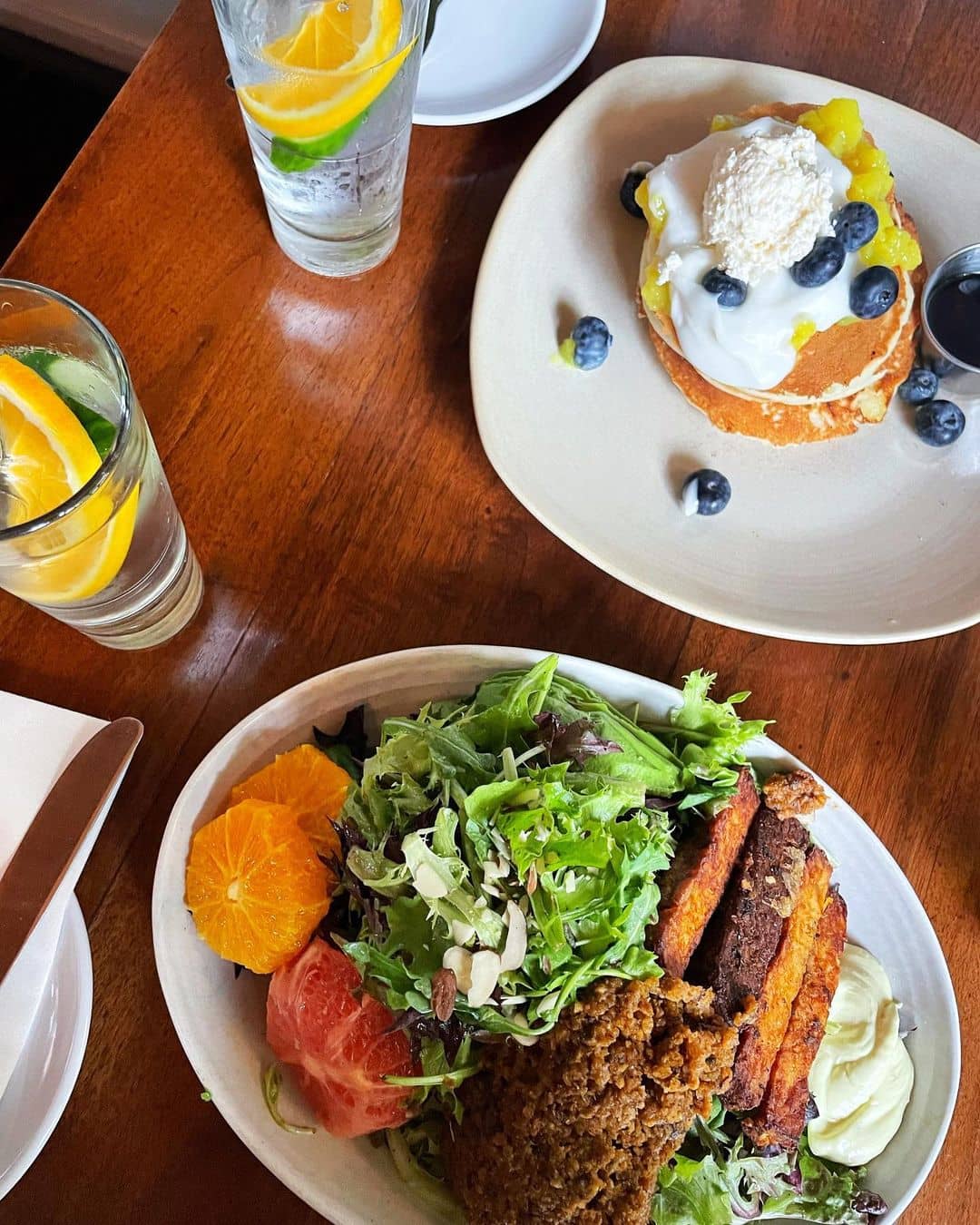 Plum Bistro will undoubtedly knock your socks off every freaking time with its tasty food and comfy ambiance.
What a delightful vegan restaurant located in the heart of Capitol Hill! With an airy atmosphere of chic sophistication, top-notch service, and various options for everyone makes Plum Bistro one of the best vegan restaurants!
Their BBW Seasoned Fries is a big YES. If you like smoky/Cajun fries, this is for you!
Crunchy on the outside but soft and nicely made inside, and dip in special ranch dipping sauce makes every bite so worthy!
Make sure to ask for this superb dish! It might look simple, but the taste is definitely on point!
Another star is Black Truffle Sweet Potato Gnocchi with savory vegan sausage, a citrusy taste from lemon olive oil, almond basil pesto, and cheesy parmesan.
This dish may be small, but those flavors were mighty!
What to order: BBW Seasoned Fries, Black Truffle Sweet Potato Gnocchi, Black Pepper Fried Chick'n Burger
Address: 1429 12th Ave, Seattle, WA 98122
Website | Instagram | Facebook
5. Pi Vegan Pizzeria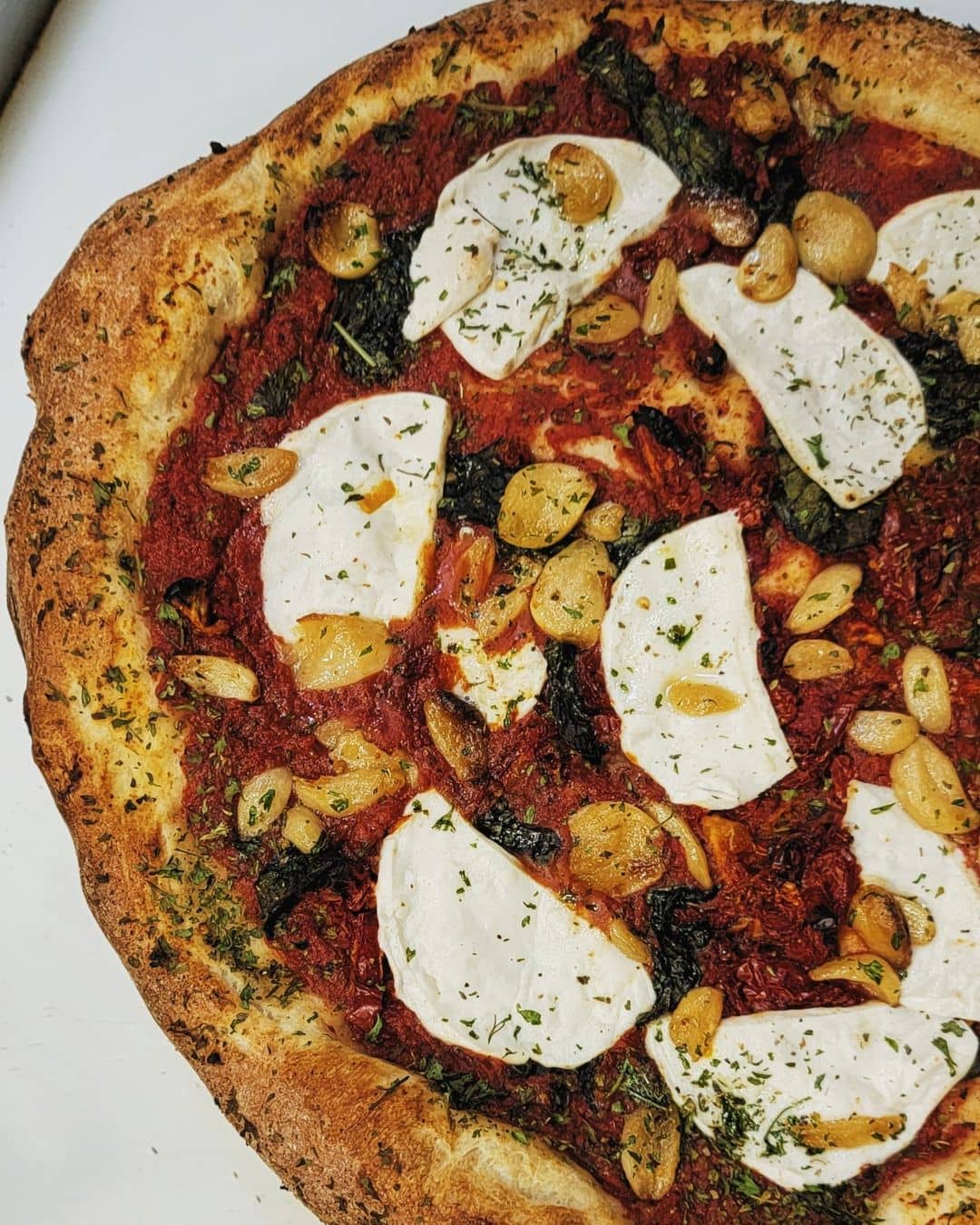 Specializing in complete vegan cuisine with gluten-free and soy-free options available, Pi Vegan Pizzeria offers a nice selection of pizzas, salads, appetizers, and desserts with rich flavor.
They are also one of America's oldest all-vegan pizzeria.
Try the Magic Mac Pizza and experience the fascinating magic in the seasoning and the fresh ingredients.
It is hard to tell if this dish is vegan or not since the flavor is top-notch with cheesy Mac 'n' Cheese and their signature creamy white garlic sauce just complete the taste perfectly.
You can't leave without asking for Sunny Day with Cashew Ricotta. The sun-dried tomato cream sauce is SO GOOD and makes the creamy potatoes, fresh black olives taste even better.
What to order: Magic Mac Pizza, Sunny Day with Cashew Ricotta, Thai Chicken, Chef Salad
Address: 5301 Roosevelt Way NE, Seattle, WA 98105
Website | Instagram | Facebook
6. Broadfork Cafe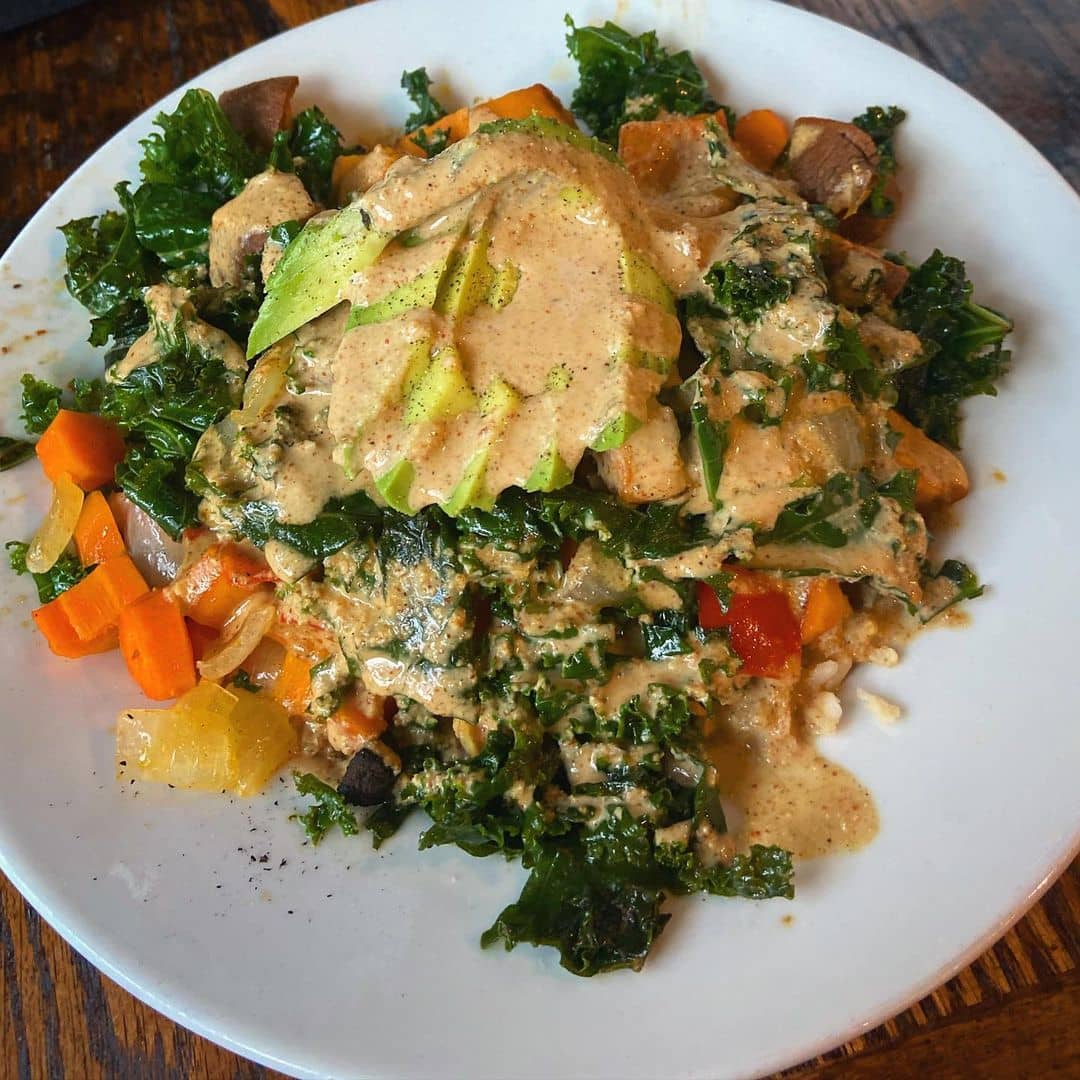 Looking for a vegan place to enjoy exquisite dishes with fresh ingredients and addictive seasoning? Broadfork Cafe has everything you need!
Don't worry if you don't know what to choose from the menu, Broadfork is a place where everyone can get something great that is made with so much love and care.
Wanna try some grilled cheese? This is not your typical grilled cheese!
The Grilled Kim-Cheese Sandwich offers even more than the ordinary savory taste with the flavorful Cashew cheesy sauce on Macrina sourdough bread.
But what makes this dish signature is the kick of spice from the fresh and crunchy Firefly Kitchen Kimchi with explosive seasoning makes every bite so worth it!
How can we forget their famous Veggie Kick Bowl, where you get your veggies with a kick of spice?
The sweet carrots, red pepper, onions with creamy and nutty black beans, and avocado on brown rice make the flavor phenomenal!
What to order: Grilled Kim-Cheese Sandwich, Veggie Kick Bowl, Hummus Wrap
Address: 4757 12th Ave NE, Seattle, WA 98105
Website | Instagram | Facebook
7. Harvest Beat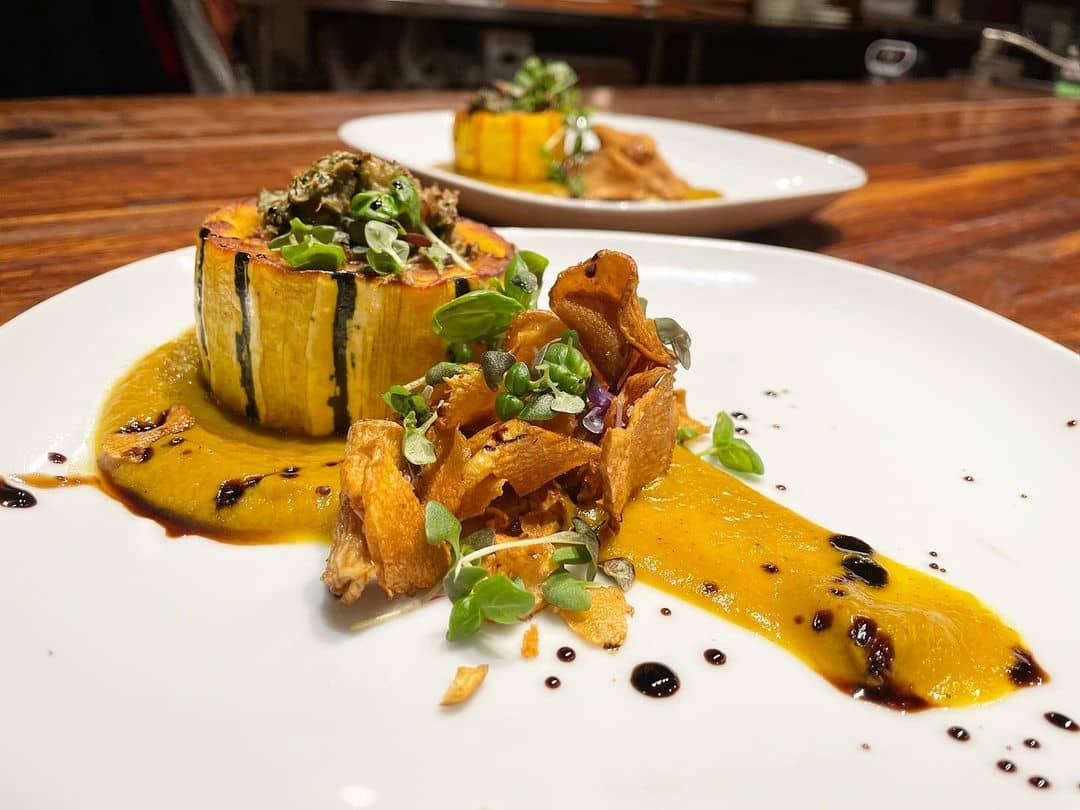 Here at Harvest Beat, you'll get to enjoy the great ambiance with the aesthetic art, elegant furnishing, and calming background music creating a perfect place to enjoy loving moments with your family and friends while having healthy, vibrant food.
Oh, there is a pre-fixed menu that changes every month, so you will never know what you would get for your next meal!
Their 5-course meal is balanced nicely with addictive flavor, which makes every bite so pleasant to enjoy.
The highlight of the menu is Pumpkin Urfa Bieber Soup topped with shaved wild forage Matsutake mushroom and Parsley garlic gremolata. Creamy, delightful, and nutty taste in every sip.
There is a lot to enjoy in this 5-course menu, but we can't help talking about the sweet treat, which comes with a lovely Cheese Cake with fatty toasted almond crust rosemary with a light sweetness and sourness from the cider poached honey crisp apple, finished with fascinating maple caramel sauce.
What to order: 5-course menu
Address: 1711 N 45th St, Seattle, WA 98103
Website | Instagram | Facebook
8. Kati Vegan Thai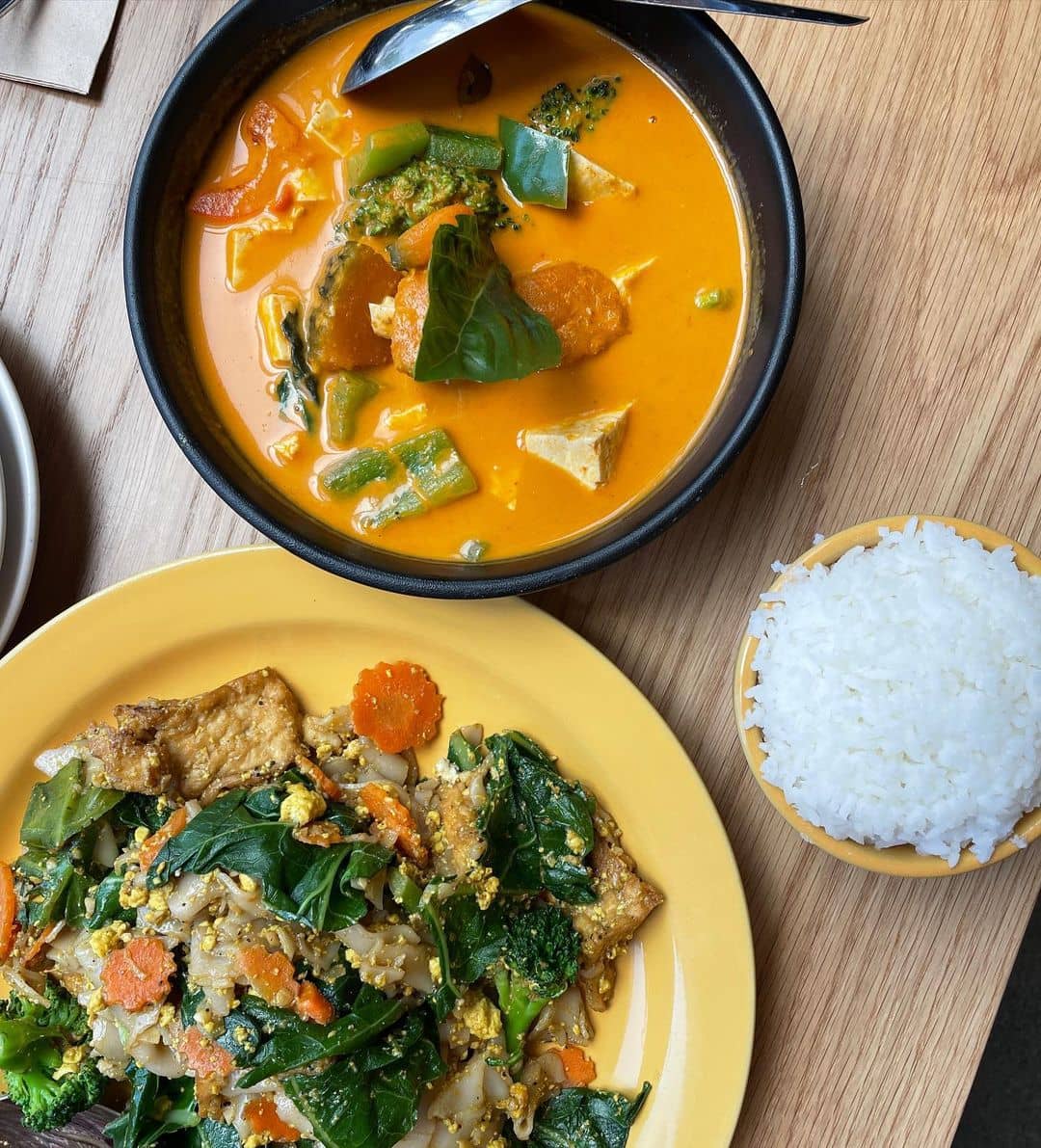 Kati Vegan Thai, pronounced Kah-Tee, offers you the beauty of Thai cuisine with creativity, tradition, and sustainability at its heart.
Natural flavors are emphasized by staying true to traditional cooking techniques and the use of only fresh ingredients, essential Thai herbs creating an aromatic sense, and explosive spices.
Enjoy new and familiar recipes you won't find anywhere else!
Looking for something hearty and soupy? Try the Katy Phở and enjoy the flavorful broth with a light sweetness from the veggies.
You will be surprised by how real their plant-based meat tastes and the sautéed garlic imparts a rich umami taste to complete the dish.
One of the most signature dishes in Thai cuisine, and in Kati Vegan Thai – Mango Delight! It's a unique and interesting dish with hot steaming sweet sticky rice and cold coconut ice cream with fresh slices of mango on top, creating an unforgettable experience.
What to order: Katy Phở, Mango Delight, Khao Soi
Address: 1190 Thomas St, Seattle, WA 98109
Website | Instagram | Facebook
9. Cycle Dogs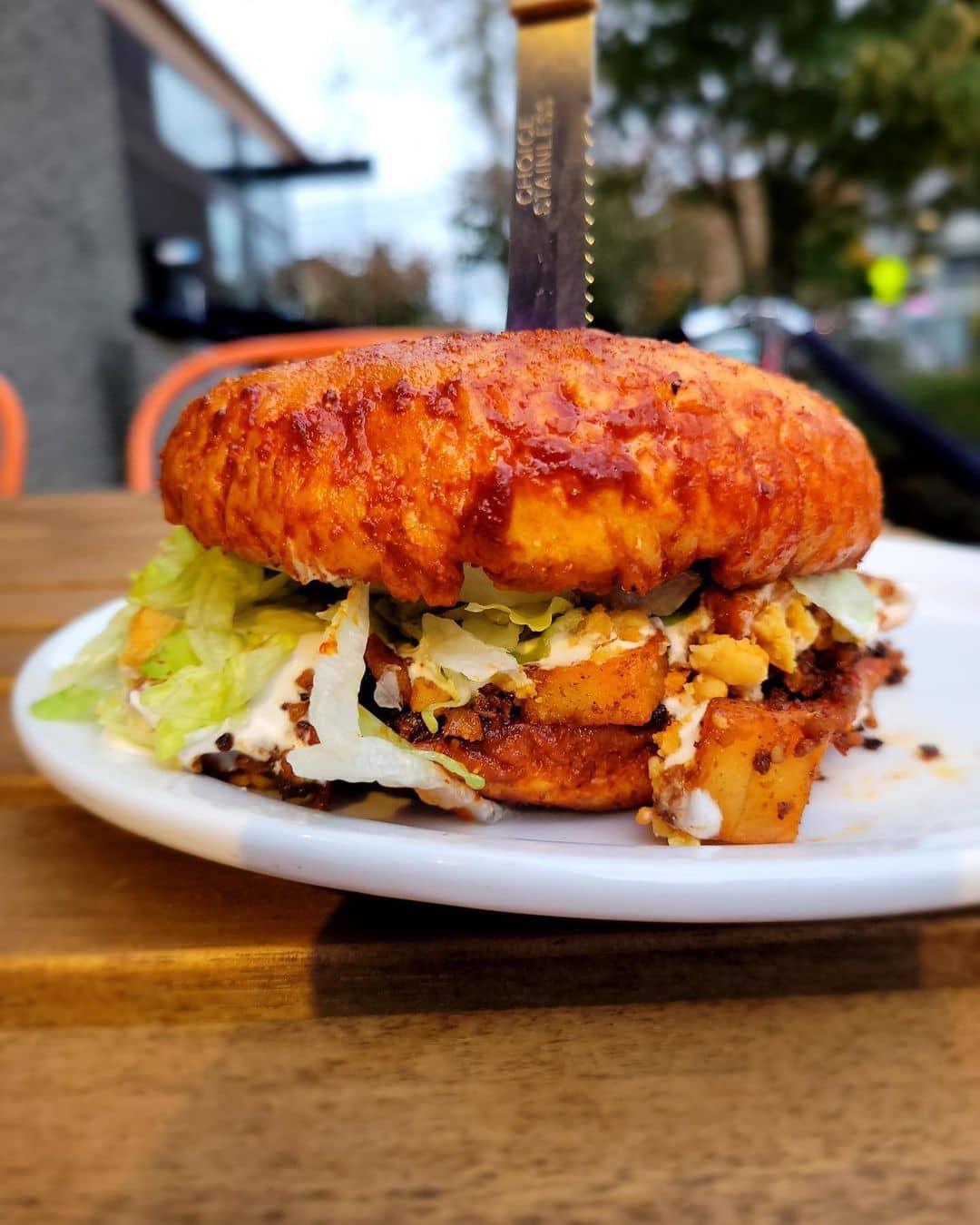 Cycle Dogs started as a one-man operation, with a hot dog cart pulled behind a tricked-out custom bicycle.
People know them as the mighty vegan food truck that could, with a small crew.
After almost 4 years as a food truck, they have moved into a restaurant space in Ballard with help from their customers and Kickstarter and continue to amaze people with their absolutely tasty vegan hot dogs.
The Richard's Deluxe is the star of the show by featuring the juicy Beyond Meat patties with two slices of cheezy cheddar, special tartar sauce giving the creamy and buttery flavor to the dish, and some fresh and crunchy lettuce to finish.
What to order: Caesar Salad, Richard's Deluxe, Smothered Hangry Fries
Address: 5410 17th Ave NW, Seattle, WA 98107
Website | Instagram | Facebook
10. El Borracho Pike Place Market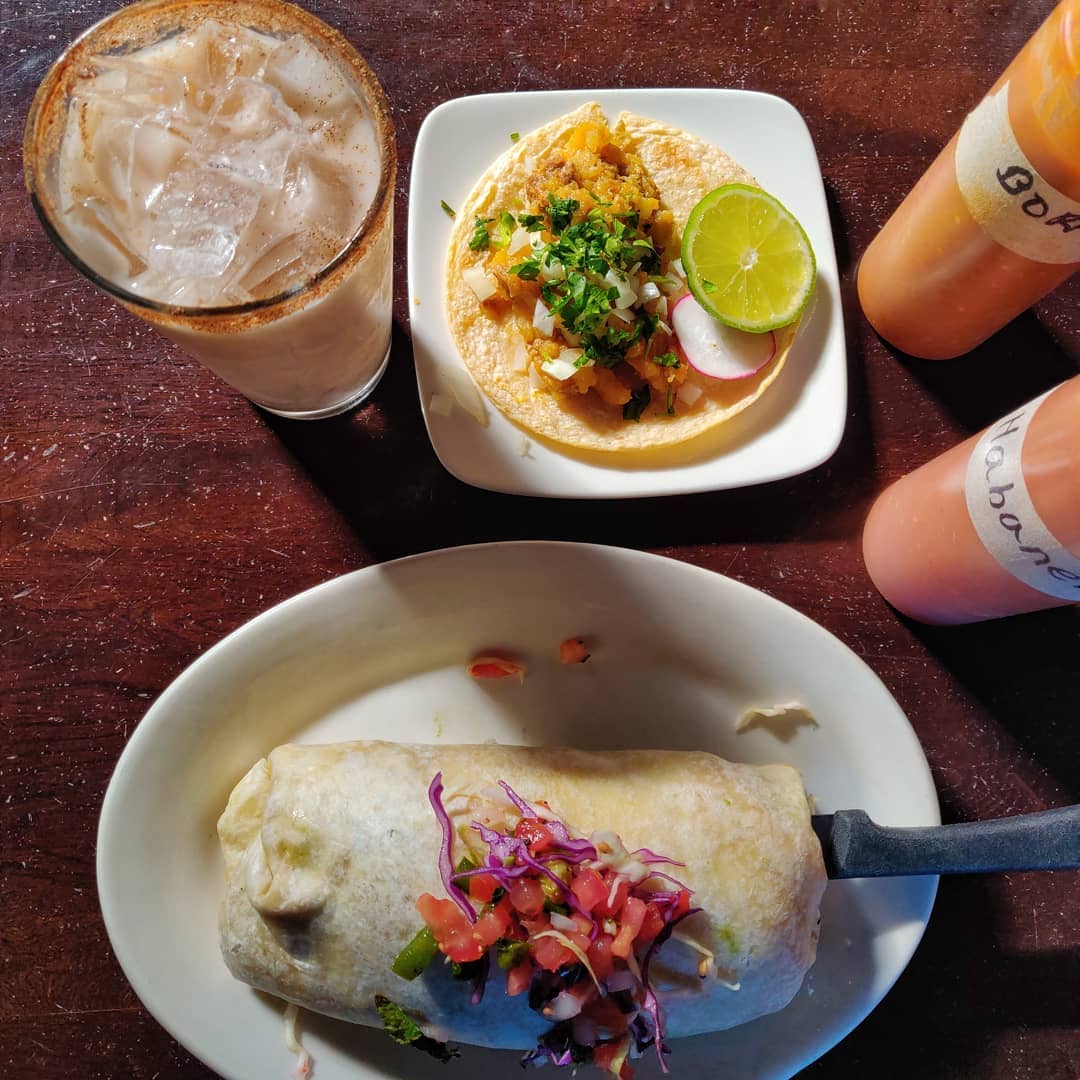 Holy moly – if you're a vegan and you're craving that explosive seasoning in Mexican food, El Borracho is for you.
At El Borracho, you are offered to enjoy the best vegan Mexican dishes while enjoying good vibes either inside or outside and a warm welcome from the employees.
Always ask for the Nachos! Serves with nacho cheese, signature Mexican salsa – pico de gallo, creamy sour cream, crunchy picked jalapeno gives a kick to the dish and nutty black beans make every bite full of flavor, and promises to satisfy your hunger.
Also go for the tasty Tortilla with soyrizo, smooth scrambled egg, and creamy potato with a smoky taste from the sausage spiced with garlic paprika and red pepper to spice the flavor up!
What to order: Nachos, Tortilla, Burritos
Address: 1521 1st Ave, Seattle, WA 98101
Website | Instagram | Facebook
11. Moonlight Cafe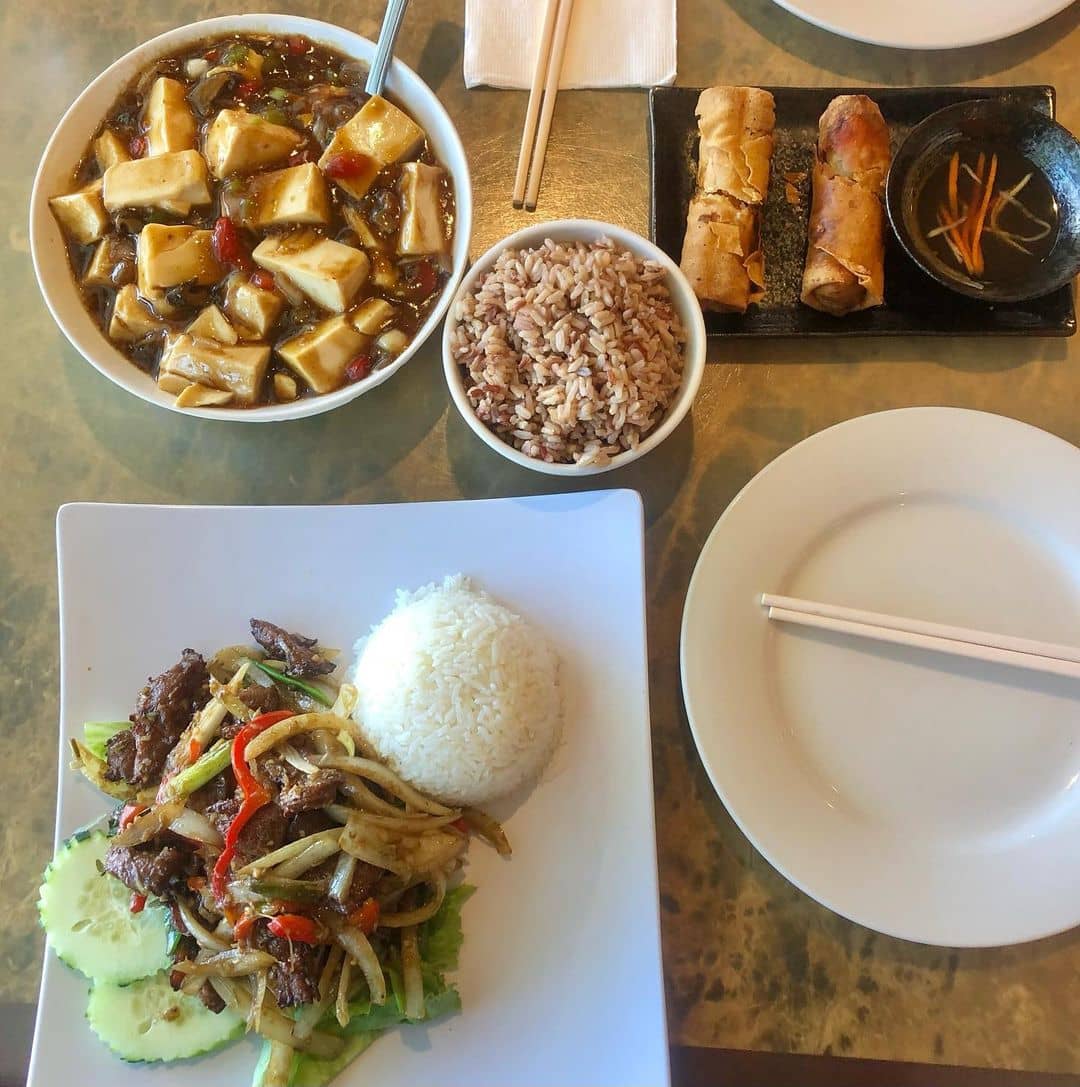 Moonlight Cafe – is a hidden gem featuring Vietnamese cuisine located south of Pratt Park on Jackson Street. The restaurant is well known for its appetizing vegan/vegetarian menu.
Embracing you with a relaxing and comfy atmosphere with fun music playing, Moonlight promises to complete your joyful experience here.
The Vegan Mongolian Beef is a 10/10 – so saucy, tender, and juicy with nice seasoning makes every bite full of flavor.
If you're more into the nutty taste of beans, try the Fermented Bean Curd with a slight crispiness on the outside but overall still get that moist and soft feeling.
Talking about Vietnamese food, you can't miss Bun Bo Hue. The rich flavor is irreplaceable with chewy noodles and flavorful broth.
And yes, their vegan version is not disappointing at all when all the flavor is kept perfectly with a light touch of sweetness from veggies.
P.s: Their menu is diverse for both vegans and meat eaters, so don't worry, they have everything for everyone!
What to order: Vegan Mongolian Beef, Fermented Bean Curd, Bun Bo Hue Chay, General Tso's Chicken Plate
Address: 1919 S Jackson St, Seattle, WA 98144
12. Meskel Restaurant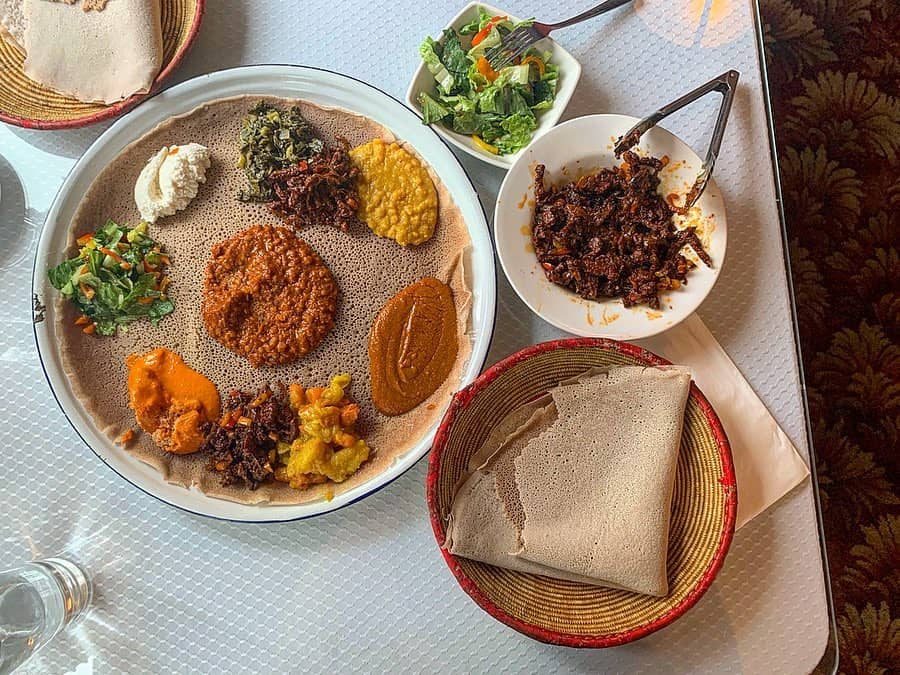 Seattle has one of the largest Ethiopian populations in the U.S., and of the many restaurants in Little Addis Ababa, none are as homey as Meskel.
After all, it's in a converted house that makes you feel like you in an East African home eating mom's Injera and Tibbs.
The Vegetable Combination no doubt makes Meskel's reputation for its rich and nicely balanced flavor.
Comes with red lentils, cabbage, carrot, potato, greens, tomato, and Shero, Meskel has offered you the best veggies feast that you've ever had.
Another Ethiopian favorite dish is Doro Wot with juicy and tender chicken simmered in various spices with garlicky flavor to complete the dish.
What to order: Vegetable Combination, Doro Wot, Kitfo
Address: 2605 E Cherry St, Seattle, WA 98122
Website | Instagram | Facebook
Above are our best options for your new experience of trying vegan food.
If you're looking for the same thing for your ordinary meals: comfy places, a warm welcome, and of course, superb dishes, check out our list of Best Restaurants in Seattle for more recommendations!
How We Create Our "Best" Lists
All Noms Magazine's "best" lists are created using multiple factors and signals to help readers find the best restaurants, things to do, and places to stay at. Some of these factors and signs include personal experiences, correspondence with locals, and compiling experiences from review sites.
Each list is also created to be balanced (in terms of price, cuisine type, ambiance, and more) as possible. This means that the lists are not specifically created in ranking order. You should be comfortable picking from any of the spots on the list and generally have a good time. But of course, YMMV (your mileage may vary) and everyone may have different experiences/palates.