Downtown Vancouver is always bustling with tourists and locals. With a population of downtown dwellers that exceeds 70,000 people, there are plenty of opportunities for everyone to get out and enjoy the best downtown Vancouver restaurants in town!
Below, we compiled the 20 best Downtown Vancouver restaurants that you must try at least once.
*Noms Members are part of our exclusive paid membership. Only food spots we personally recommend are accepted as members. 
20. Joe Fortes Seafood & Chop House
#bestbrunch #bestseafood #robsonstreet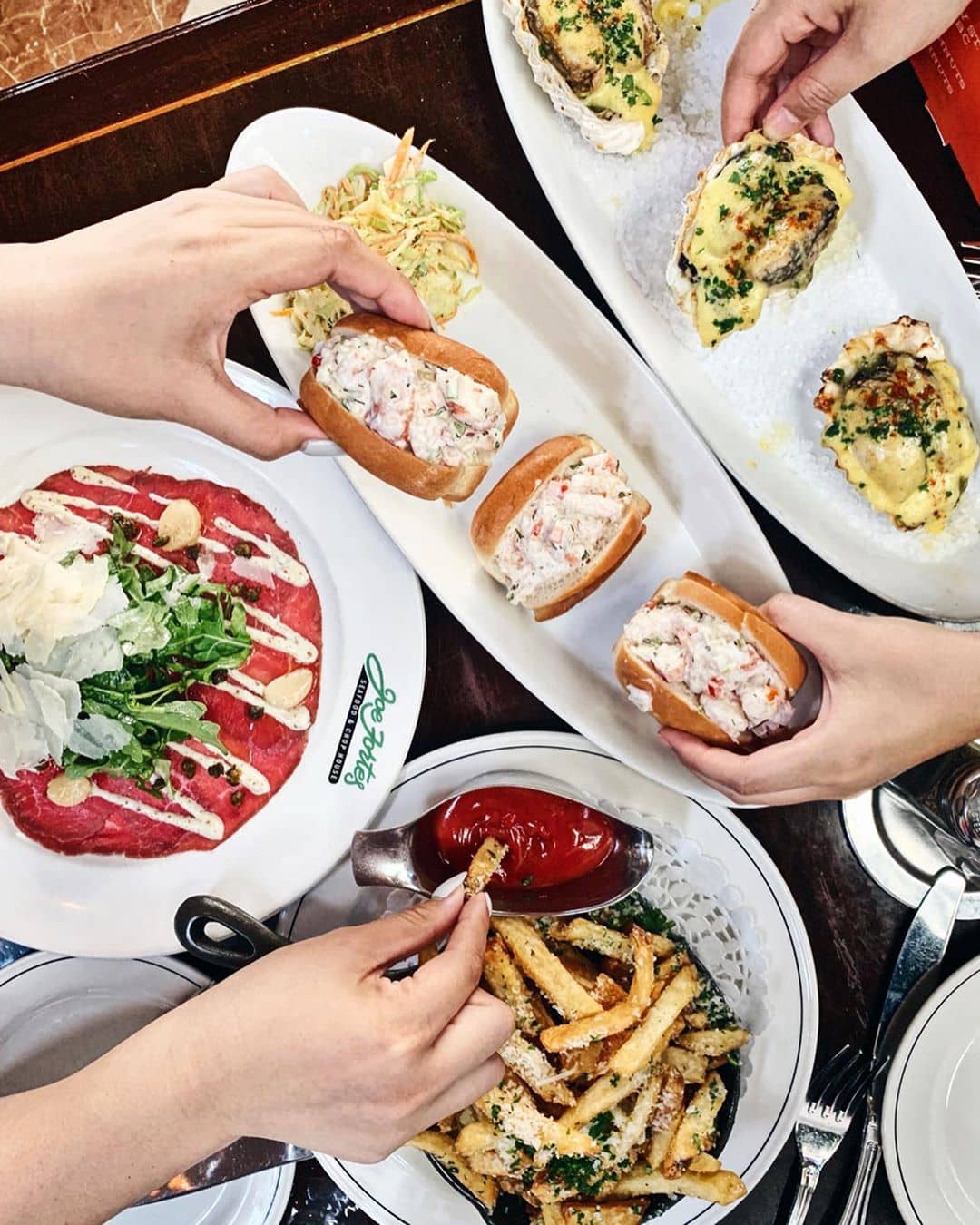 Joe Fortes is a family-owned restaurant known for their seafood and oysters. The turn-of-the-century-inspired restaurant features 30 foot ceilings, six unique dining venues that include an exquisite rooftop patio garden, and some of the best seafood around!
Start off with the lobster bisque and fresh oysters followed by a bowl of seafood linguine which includes clams, mussels, mushrooms, peas, and white wine cream sauce. And make sure you don't skip out on their lobster roll.
Address: 777 Thurlow Street, Vancouver, BC
Website | Instagram | Facebook
Looking for the best seafood spots in Vancouver? Here are top 10 picks!
19. Do Chay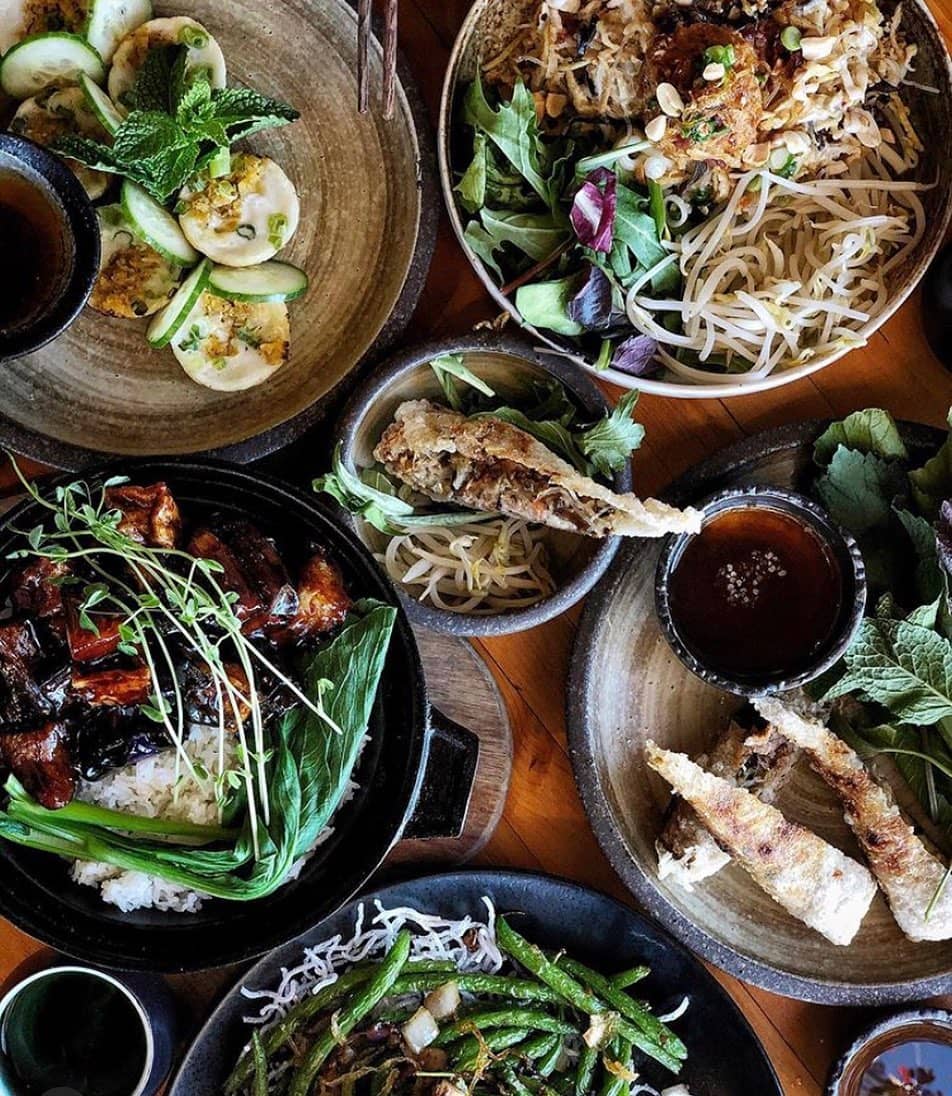 Vietnamese street food gets a veggie upgrade at Do Chay. Taking traditional Vietnamese dishes and adding vegetarian versions, the restaurant also creates new 'vegetarian-friendly' Vietnamese foods.
Do Chay's menu is both modern and traditional, making it the perfect place for locals and tourists to experience Vancouver Vietnamese food.
You cannot go wrong with their bún bò huế or spring rolls.
Address: 1392 Kingsway, Vancouver, BC V5V 3E4
Food Delivery: Uber Eats | DoorDash | Skip The Dishes
Website | Instagram | Facebook
18. Pholicious
The best restaurants doesn't always have to be the fancy schmancy spots – it could be just a really affordable place that just makes your stomach content.
That's what Pholicious is, a tiny hole in the wall Vietnamese food joint across from Simon Fraser University Harbour Centre. There's literally only 2 bar seats and a small table outside. Definitely not one to stay around at. But even with its unique set up, we comeback and recommend Pholicious to our downtown Vancouver friends all the time.
All the items on their menu are super affordable. For us, we always get the House Special Pho, which has a bit of everything in terms of toppings. And if you're extra hungry, the salad rolls are another hitter.
Address: 550 W Hastings St, Vancouver, BC V6B 1L6
17. Brunch Vancouver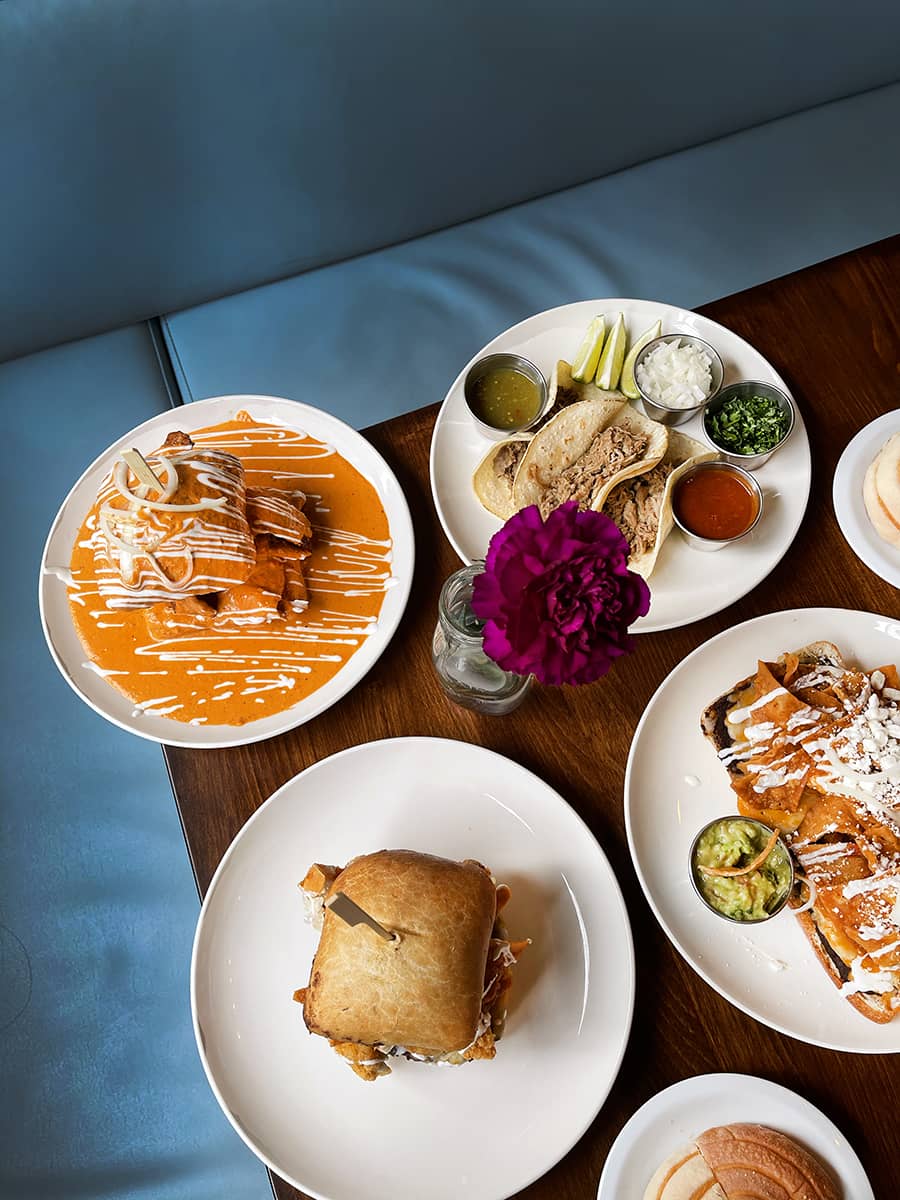 Brunch serves up the best Mexican cuisine and is popular among foodies. It's a great place to gather with friends on the weekend or spend the afternoon drinking cocktails.
The best part about Brunch is that it is a carefree spot to explore Mexican dishes that is beyond just the usual tacos. That may be trying chilaquiles or mole for the first time!
Try their incredible Monte Cristo Sandwich, combining turkey and Swiss between French toast; or go for the popular chilaquiles with red salsa.
Address: 1147 Granville St, Vancouver, BC V6Z 1M1
Order Online: SkipTheDishes
Website | Instagram | Facebook
16. Cafe Medina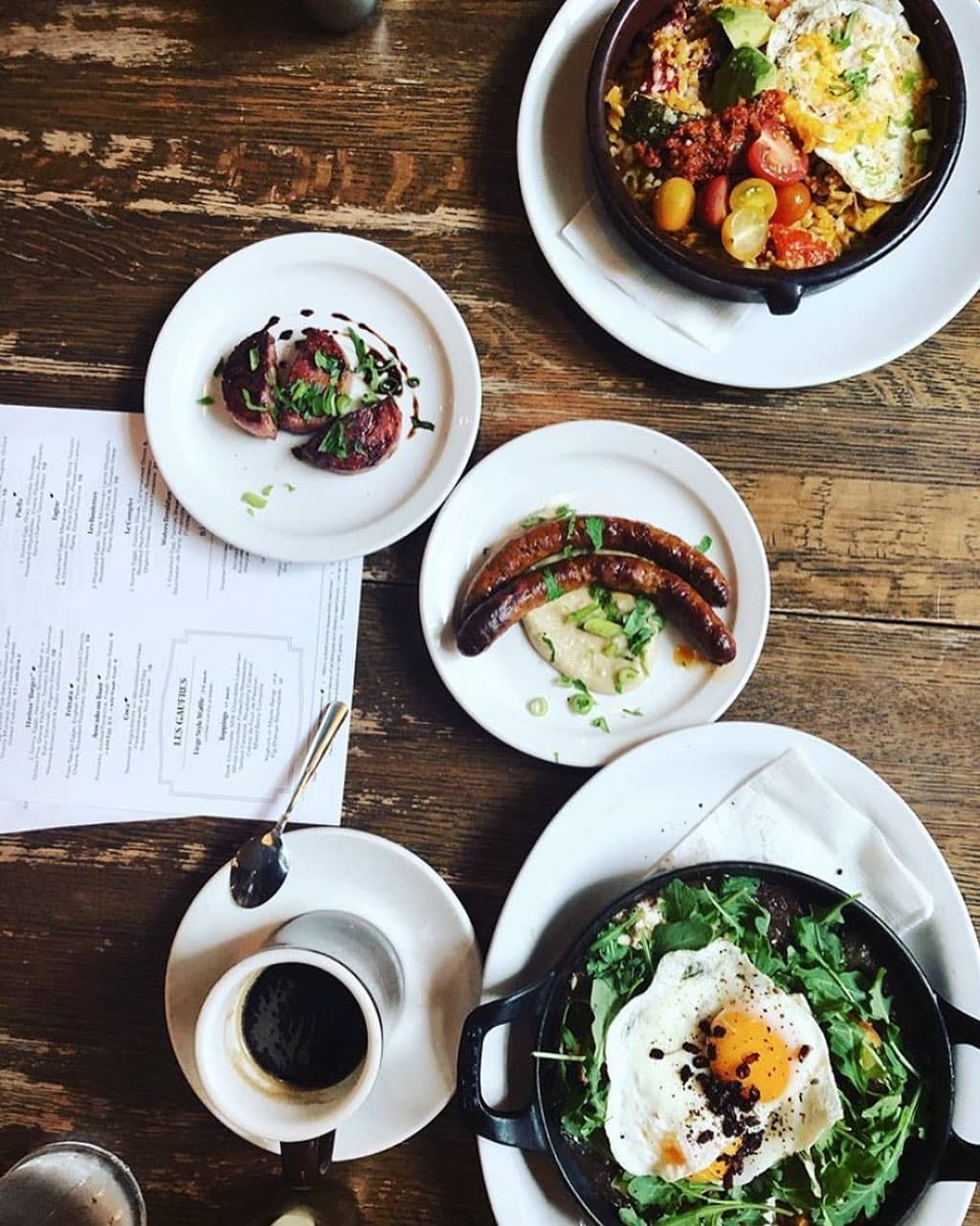 Definitely one of the most popular eateries in downtown Vancouver, Cafe Medina is a great place to enjoy good food and company. The cafe has been the talk of the town since its opening in 2014, with tons of rave reviews from locals and tourists alike. Although it is perfect for brunch on Sundays, this restaurant is also a trendy spot for lunch and dinner.
This restaurant, which offers a variety of delicious dishes, would be best for those who enjoy eggs and beef. The Wolves Breakfast includes poached egg, Flatiron Steak, Medina Bacon, and Merguez Sausage with pickles available on the side.
And if you're making a stop at Cafe Medina, their signature Liège Style Waffles is a MUST. We even put them on our Vancouver food bucket list, because they are that good.
Address: 780 Richards St, Vancouver, BC V6B 3A4
Order Online: DoorDash | Uber Eats
Website | Instagram | Facebook
15. Marutama Ra-men
#bestramen #westend #bucketlist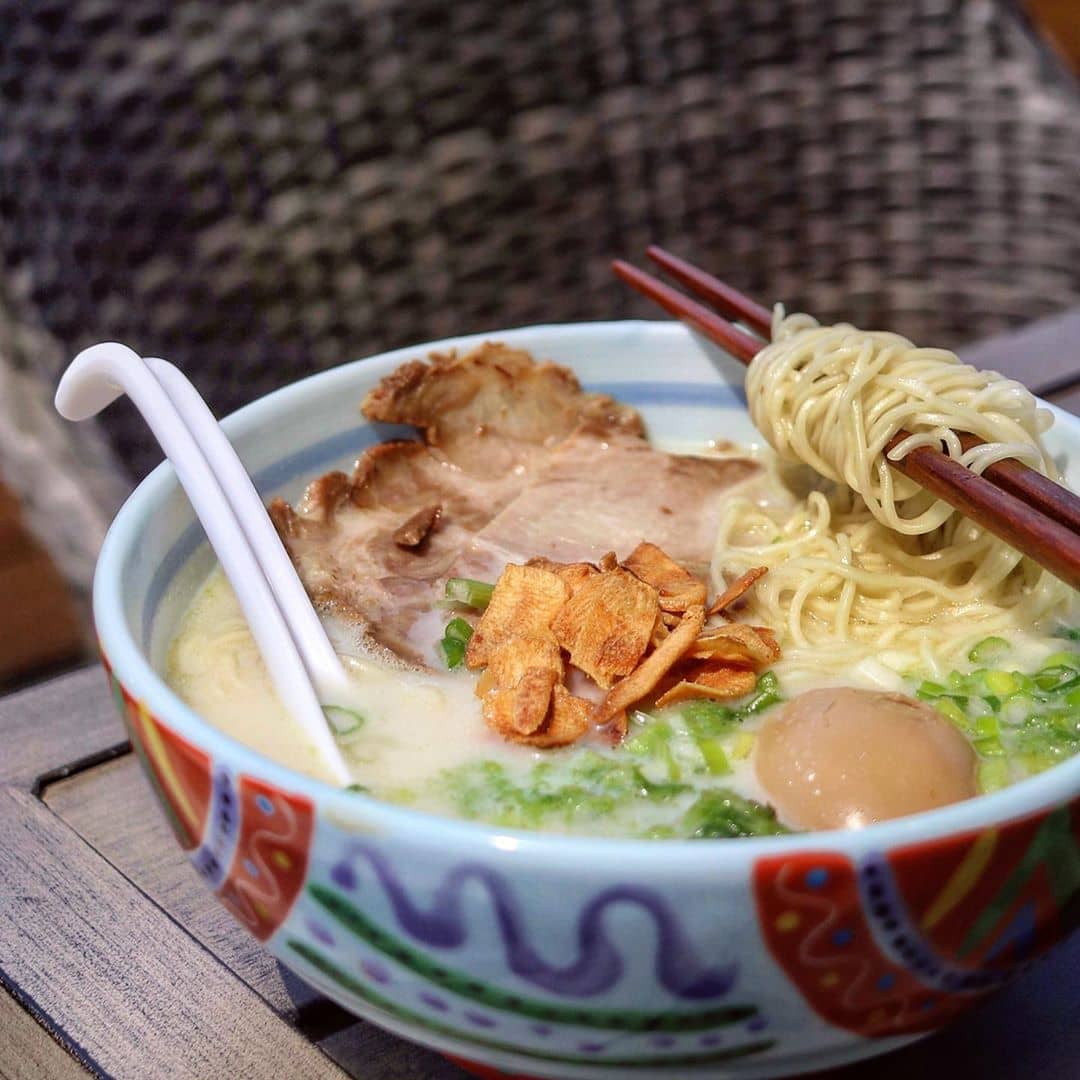 Marutama Ra-men is a must-visit spot for a great bowl of noodles and for anyone craving the same flavour that could be found in Tokyo. They specialize in simple and light ramen atop a chicken broth base, with ingredients coming from all over Japan.
In the morning at 6:00 AM, their team prepares a soup and chewy ramen noodles from scratch. Each day they make 1500 batches of noodles and still sell out before closing.
Their Tamago Ramen is a crowd favourite, with all the ingredients (cha siu & the a perfectly cooked ramen egg) that make for one delicious bowl of ramen.
Pro-tip: When you receive your bowl of ramen, always add the garlic chips. You will never be the same again after trying it.
Locations:
– 780 Bidwell St, Vancouver, BC V6G 2J6
– Near Central Library – 270 Robson St, Vancouver, BC V6B 0E7
Order Online: Website | DoorDash | Uber Eats
Instagram | Facebook | Website
14. OEB Breakfast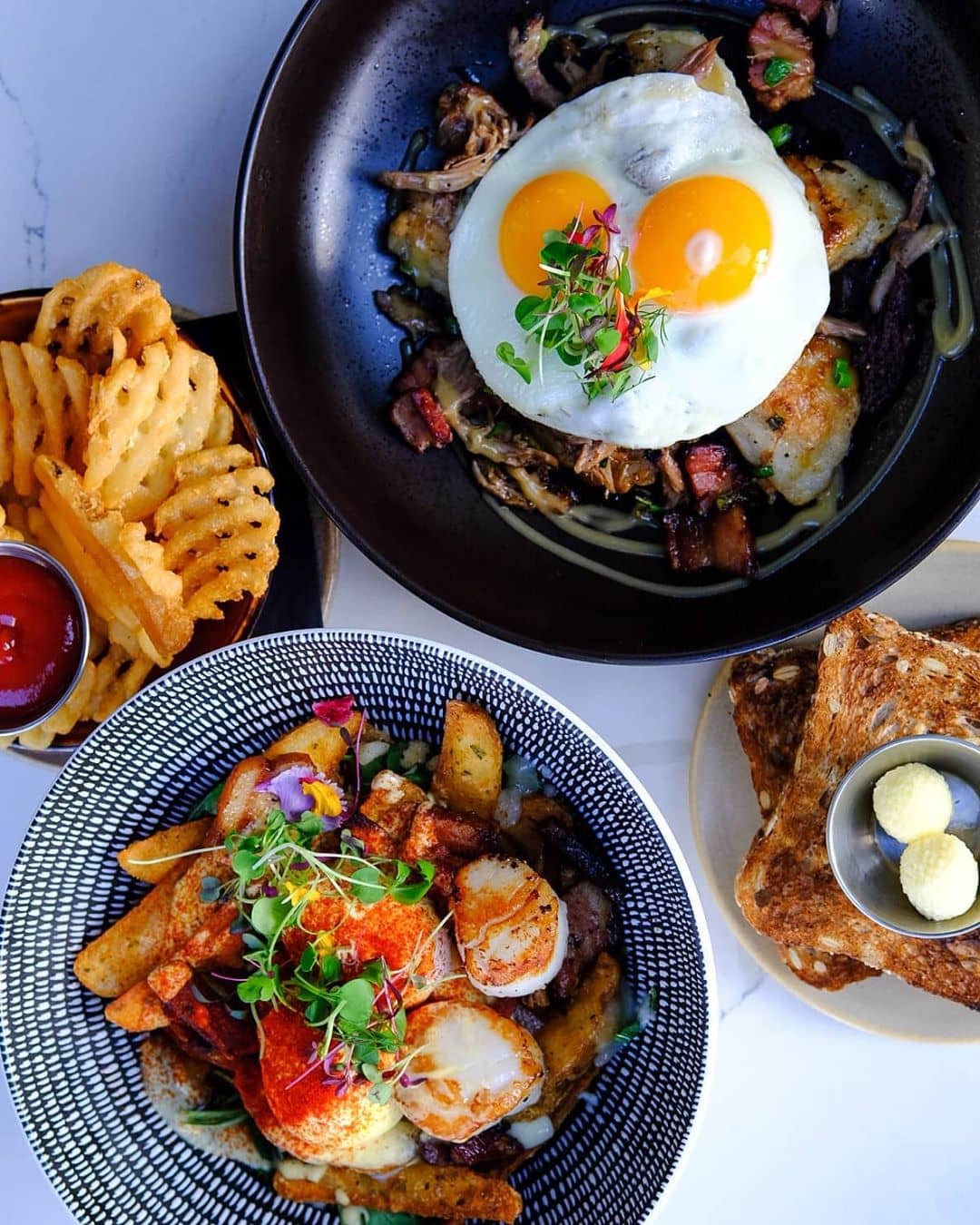 Right by the water in Yaletown, OEB Breakfast Co is one of those perfect brunch spots no one should miss out on. Stop by for a weekend morning and enjoy not only their hearty meals but also the stylish surroundings located right next to picturesque water.
The menu at OEB is extensive and it was difficult for us to pick out just a few items from all the dishes we wanted. But, we recommend giving these dishes a try – Hog & Scallop Poutine, Canadian Lobster & Shrimp Crepe, Pierogies & Duck or French Toast Trifle.
Address: 1137 Marinaside Crescent Vancouver, BC V6Z 2Y3
Order Online: DoorDash | Uber Eats | SkipTheDishes
Website | Instagram | Facebook
A rundown of all the best restaurants, cafes, drink spots, shops, and places to stay in the Yaletown area.
13. Miku Restaurant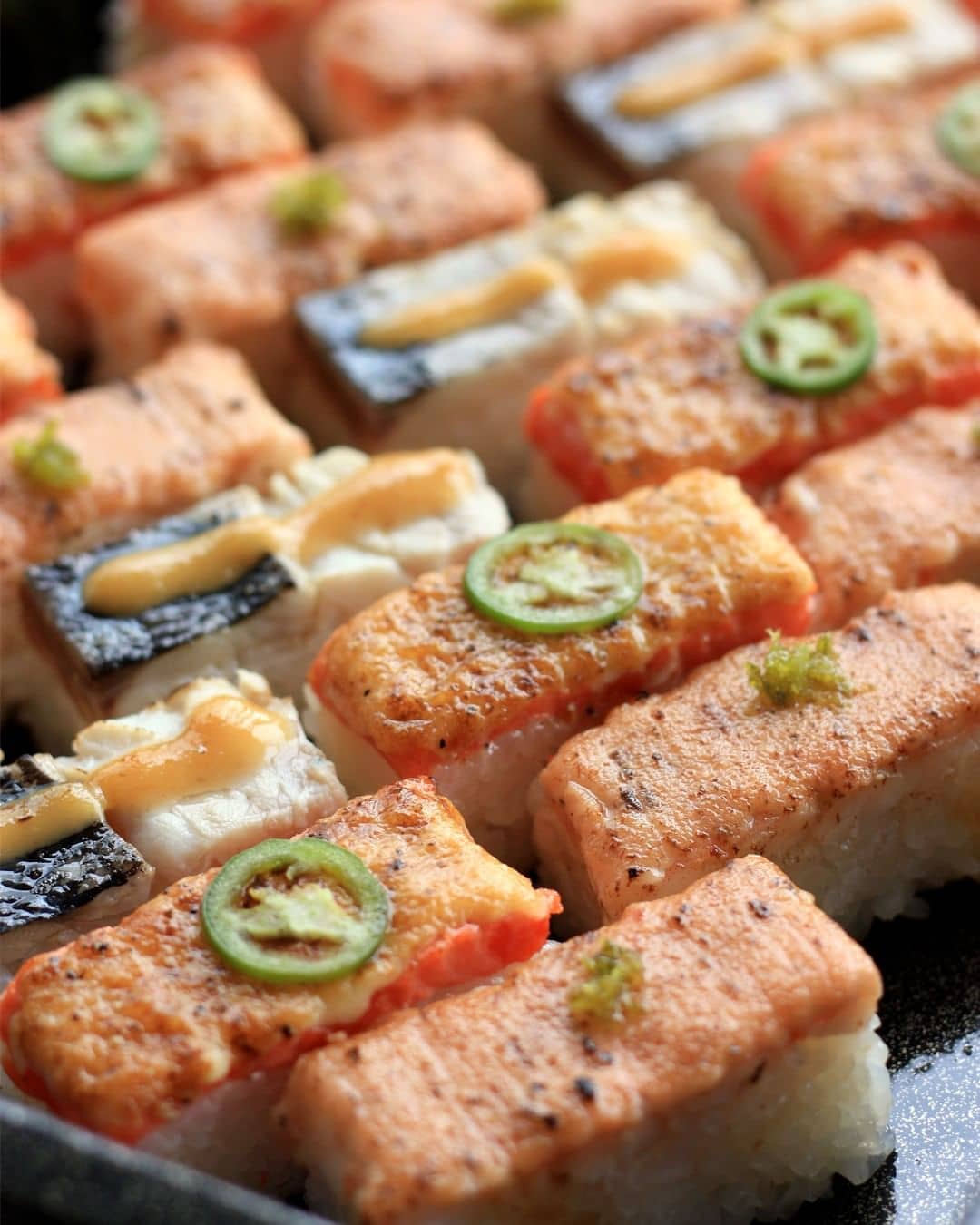 When talking about sushi restaurants in Vancouver, there's one you can always expect to be mentioned: Miku. The restaurant's location right on the Vancouver waterfront and its upscale atmosphere make it an ideal spot for business lunches and special occasions.
Miku is popular among locals and tourists for its fresh, flame-seared aburi sushi. Try the salmon oshi sushi, nigiri sampler or any of the innovative aburi recipes.
Fun fact: When Queen Beyonce and Jay Z were in town for their concert, they dined at Miku.
Address: 70-200 Granville Street, Granville Square (Canada Place Way and Howe Street) Vancouver, BC Canada V6C 1S4
Order Online: Uber Eats
Instagram | Website | Facebook
12. Brix & Mortar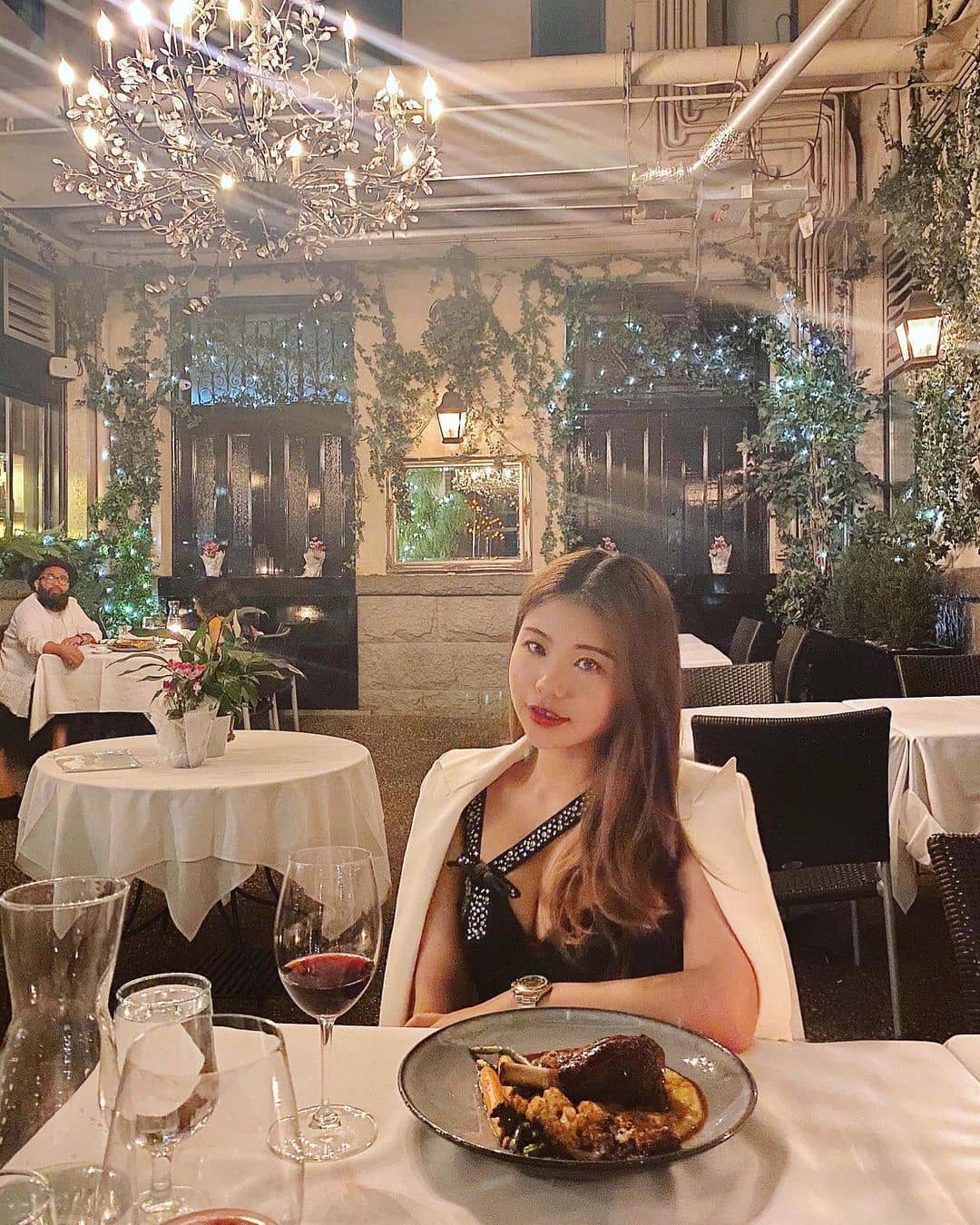 One of the best spots for any downtown visitor is this restaurant that proudly occupies a 1917 heritage building. Walk inside and you'll feel like you're entering a castle.
When you're in the mood for a hearty meat dish, try their Thunder Creek pork ribs. For something lighter, have some of their Wild Salmon for dinner. Brix and Mortar also has an extensive wine list, as well as cocktails that are sure to grab your attention.
This is a great place for a small gathering – be it dinner with friends, an intimate cocktail hour, or catch up on their stunning patio.
Address: 1269 Hamilton St, Vancouver, BC V6B 6K3
Order Online: DoorDash | SkipTheDishes
11. Sura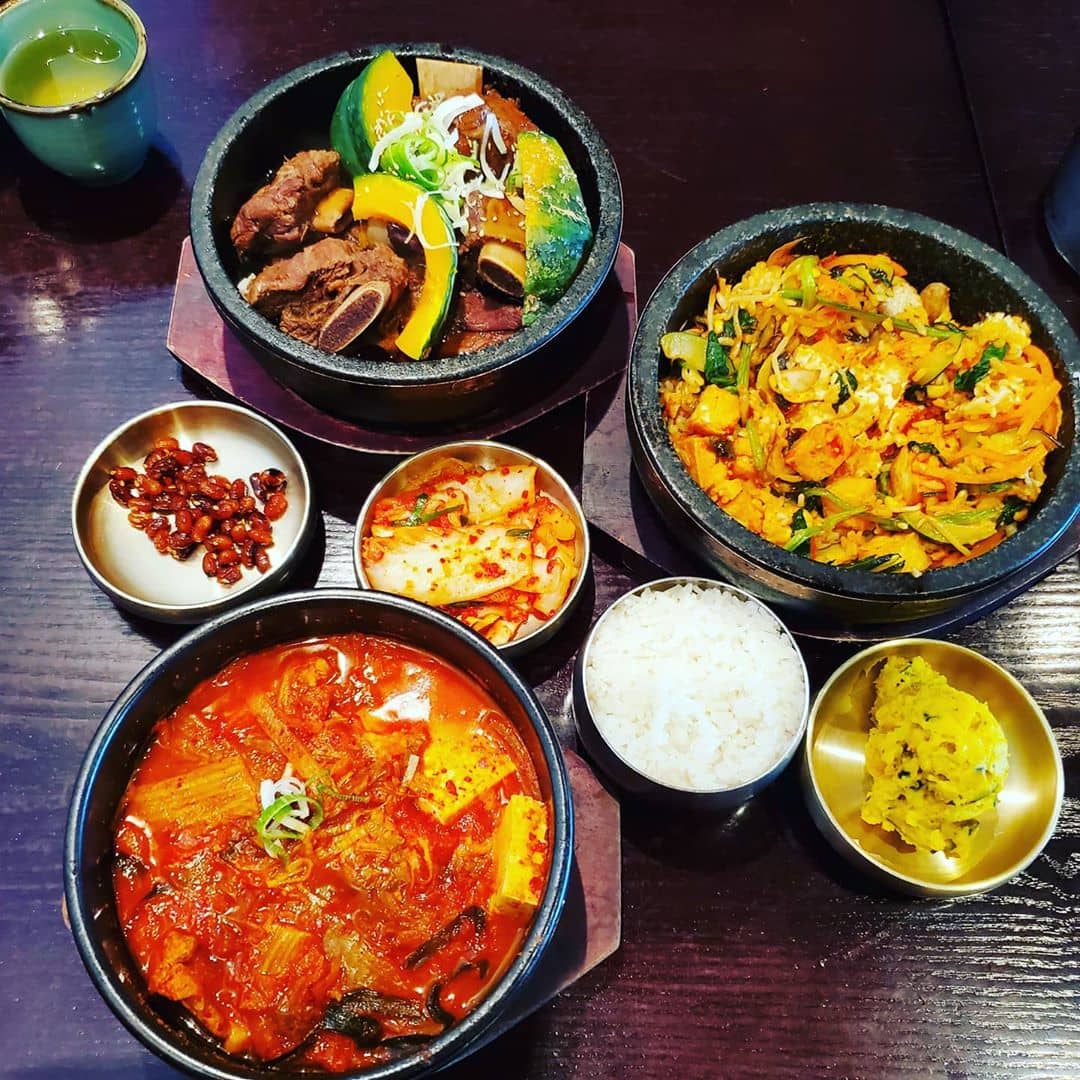 If you love Korean cuisine, then Sura should be your next stop. Renowned for its stylish ambiance and excellent service as well as a diverse menu that features traditional dishes, this West End restaurant is one of Vancouver's favourite spots for Korean food among Vancouverites.
Try their famous Daeji Galbi with its flavourful house sauce, a steaming bowl of Kimchi Jjigae, or heaping plate of Japchae. Pair off your meal with Korean Rice Wine or soju cocktail and enjoy it all in this modern setting
And if you're looking for great Korean food in Richmond, you'll find Sura at Aberdeen Centre as well. That location also has Korean BBQ on their menu!
Tip: They get busy so go early if you can.
Address:
-1518 Robson Street, Vancouver, BC V6G 1C3
-4151 Hazelbridge Way, Aberdeen Centre, Richmond, BC V6X 4J7
Order Online: DoorDash | Uber Eats | SkipTheDishes
Website | Instagram | Facebook
10. Dosanko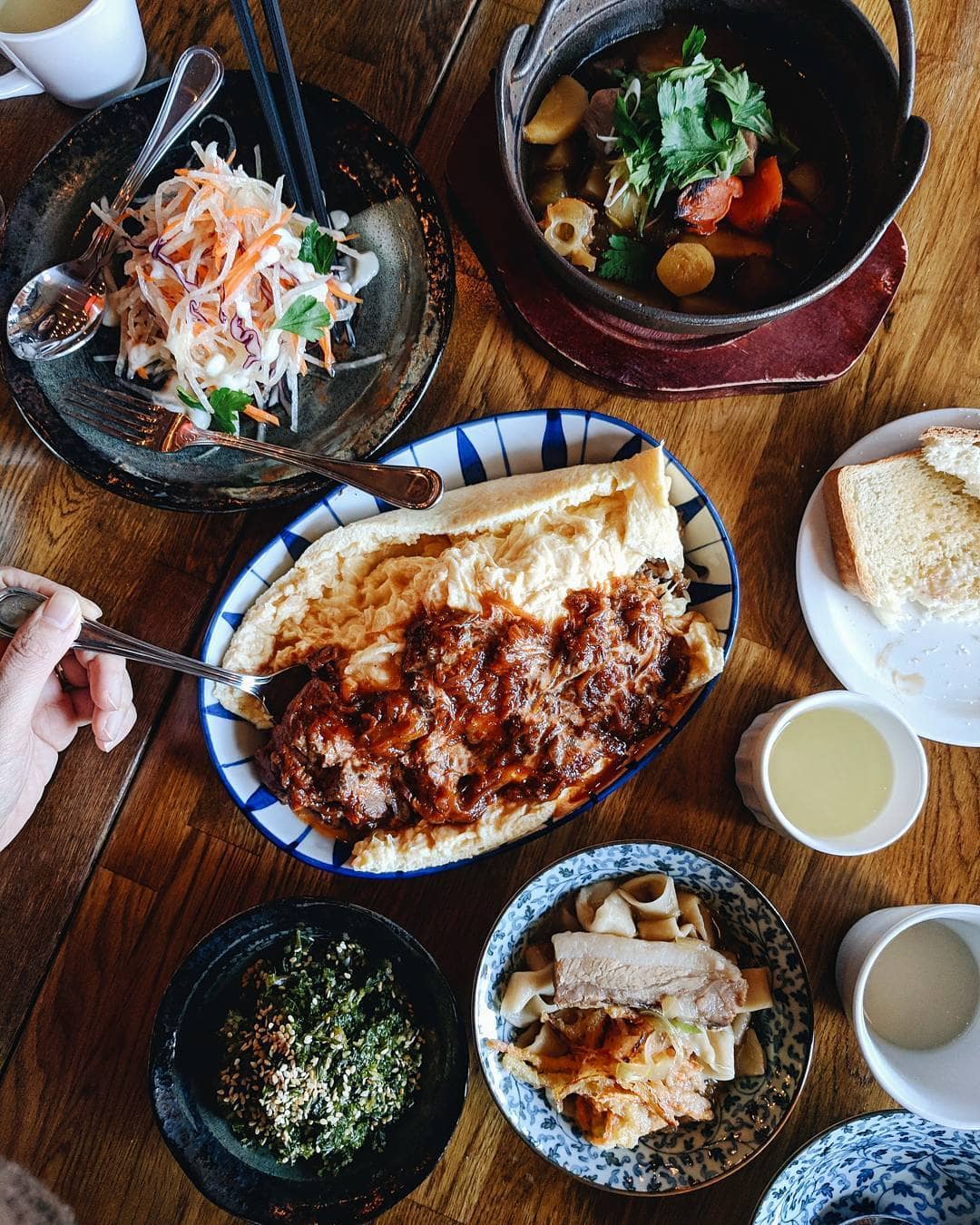 Dosanko is a homey Japanese restaurant that offers "Yoshoku-style" comfort food in the heart of downtown Vancouver Strathcona neighbourhood. As Chef Nathan Lowey describes it, the food is similar to what a Japanese Grandma would make for their family.
Two items you got to get are the Omurice with Hayashi Sauce and the Beef Belly Katsu Sandwich. Both hit the spot and you won't be disappointed.
Address: 566 Powell St Unit #100, Vancouver, BC V6A 1G9
Order Online: Uber Eats
9. Jam Cafe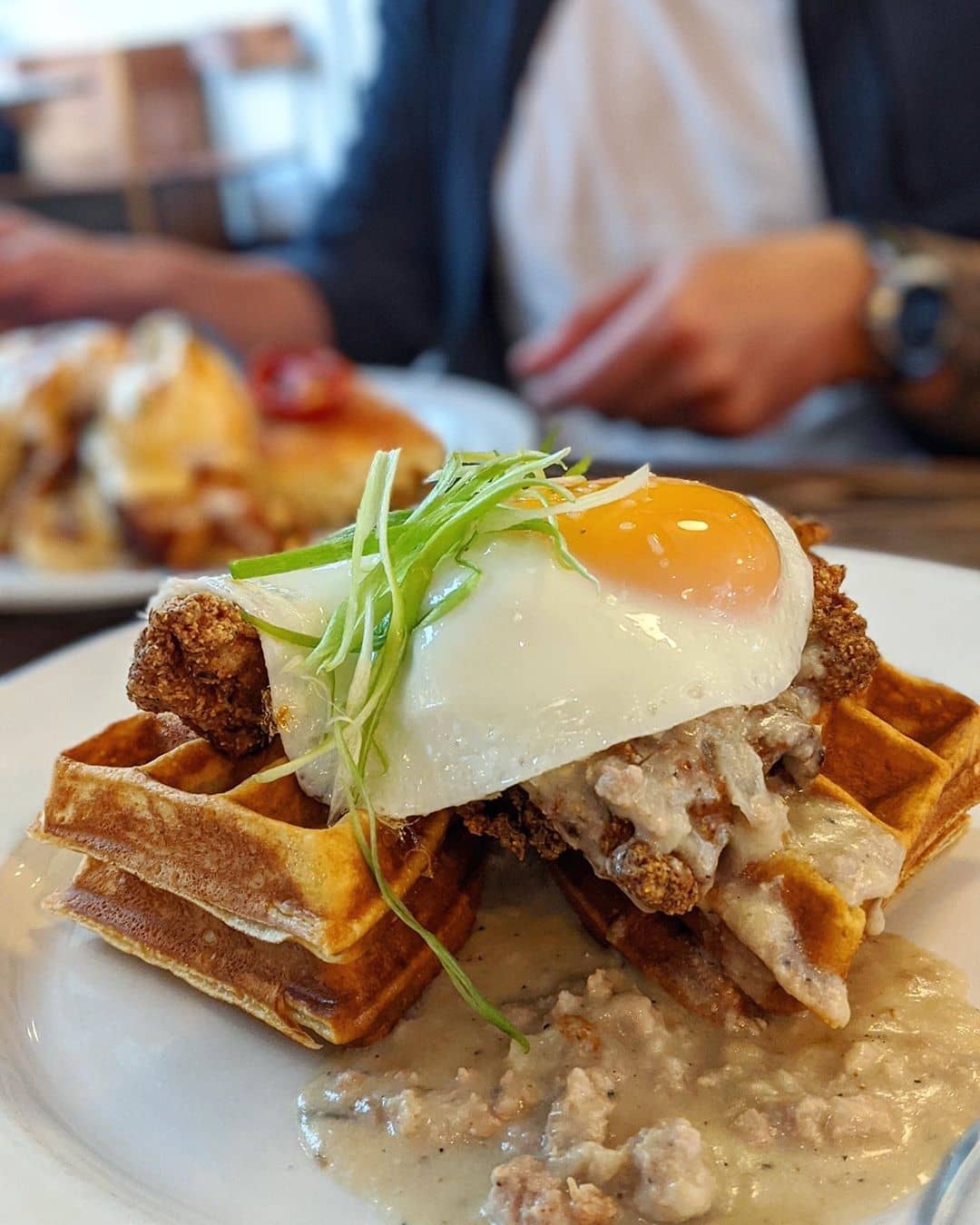 Comfort food in a rustic atmosphere! Jam Cafe is an unpretentious family-run diner with a Canadian-esque atmosphere and mouthwatering dishes for breakfast, brunch, or any time of day.
Come in and try their famous Charlie Bowl, a biscuit dish with bacon, hashbrowns, ham and will have your stomach wishing you had ordered two! If you're looking for something lighter but don't want to sacrifice great taste then order the Chicken French Toast. You won't regret it.
FYI: The restaurant doesn't accept reservations, so be prepared to wait in long-ish lines.
Address: 556 Beatty Street Vancouver, BC V6B 2L3
Website | Instagram | Facebook
8. L'Abattoir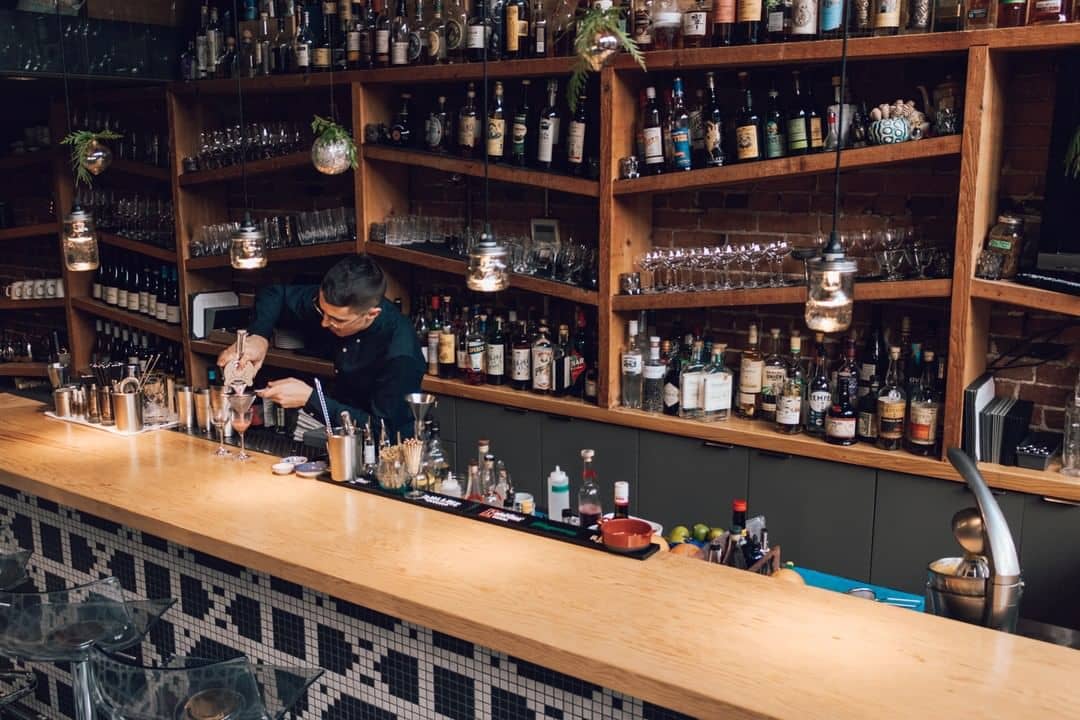 L'Abattoir is a French-inspired restaurant, boasting an emphasis on fine food and drinks. The restaurant is located in a refurbished brick-and-beam building, with classic tiles and driftwood sculptures. The restaurant, which is under the stewardship of Executive Chef and Owner Lee Cooper, offers sophisticated options for diners.
There is not a bad meal to be had from the menu. The steak Diane is divine, and you can opt for either cod or lamb. Or opt for Chef Cooper's favourite dish-baked Pacific oysters with truffle purée, mushroom marmalade, and whipped garlic butter.
You also won't be disappointed if you're looking for something boozy. L'Abattoir offers a wide selection of wines and stunning cocktails.
Address: 217 Carrall St, Vancouver, BC V6B 2J2
Order Online: Uber Eats
Instagram | Facebook | Website
7. Boulevard Kitchen & Oyster Bar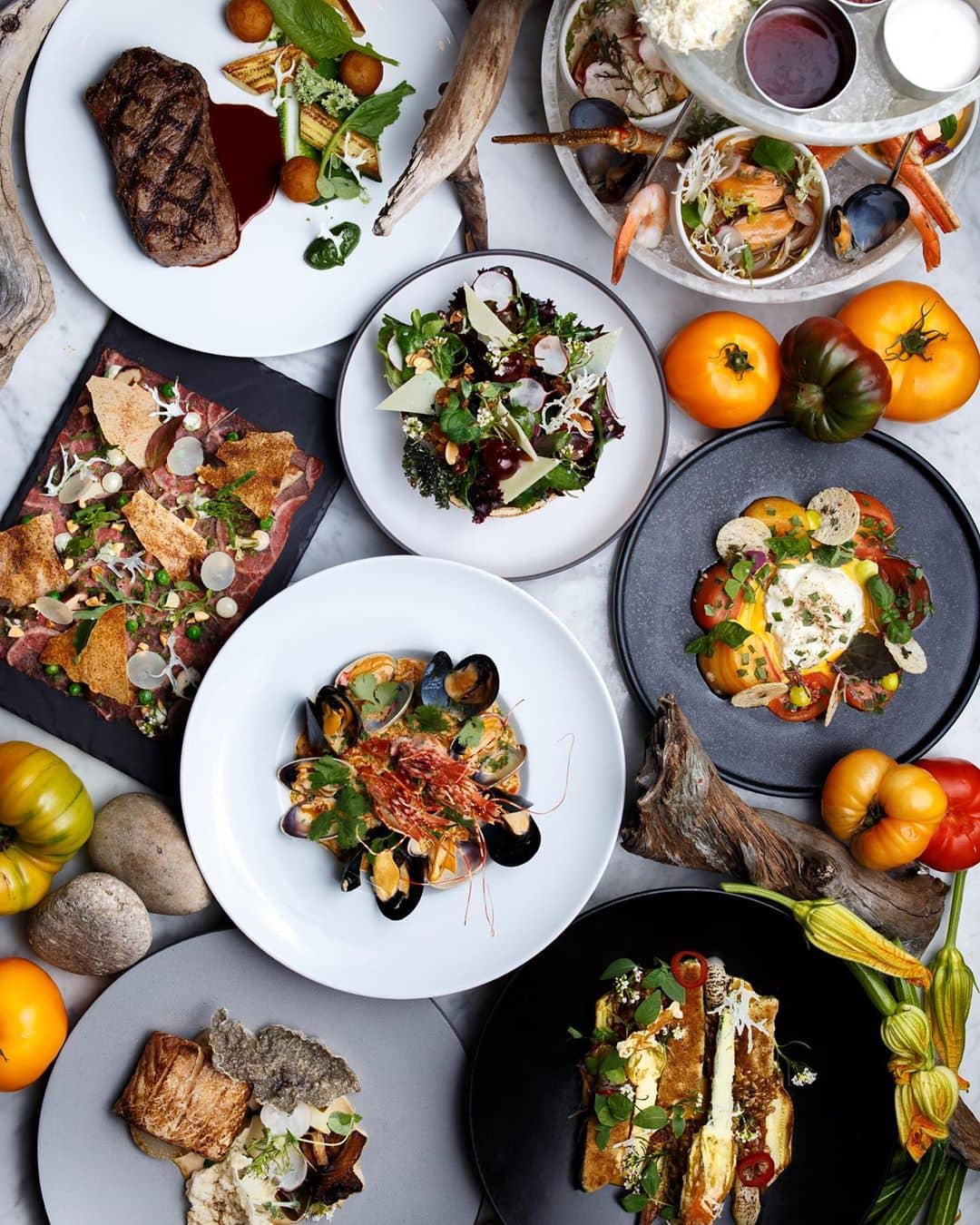 For the best seafood around at a modern and comfortable establishment, Boulevard Kitchen & Oyster Bar is your place. There are lots of options on seating ranging from oyster bar or patio dining to private rooms depending on what you're looking for.
Come experience Boulevard's extensive menu for yourself. Seafood Tower will satisfy all your cravings, while the Albacore Tuna Tataki is a simple dish with no regrets. Their Clam Chowder and Foie Gras make my mouth water just thinking about them!
Address: 845 Burrard St, Vancouver, BC V6Z 2K6
Order Online: DoorDash
6. Ramen Danbo
#bestramen #westend #bucketlist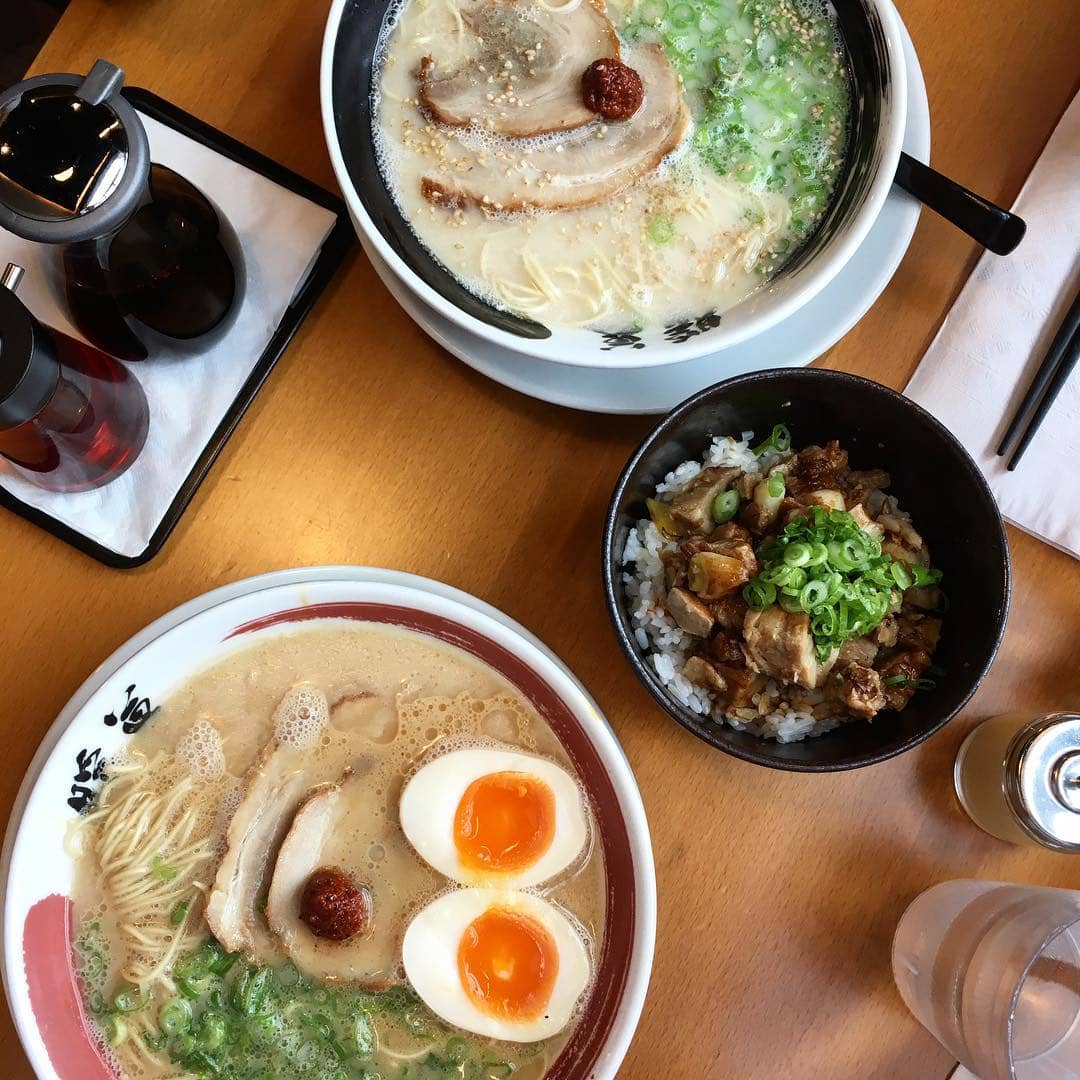 When it comes to ramen in downtown Vancouver, the most popular and delicious are Marutama and Ramen Danbo. But unlike Marutama, Danbo specializes in Fukuoka-style Tonkotsu ramen and lets you build your bowl of ramen from the bottom up. That means: choosing the firmness of the noodle, type of broth, the amount of lard in your broth, the thickness of the noodles, and the spiciness. There is no other ramen shop in Vancouver that lets you do that.
When you're there, we recommend their simple, traditional and wholesome Shio ramen. And ofcourse you get to then customize how you like your bowl of ramen.
Since they are a local and tourist favourite in a West End food area, expect a line. But the Ramen Danbo is worth the wait as they offer some of the best ramen in Downtown Vancouver and in the city.
Locations:
– 1833 West 4th Avenue, Vancouver, BC Canada, V6J 1M4
– 1333 Robson Street, Vancouver, BC Canada, V6E 1C6
Order Online: DoorDash | Uber Eats
5. Phnom Penh
#bestvietnamese #bucketlist #chinatown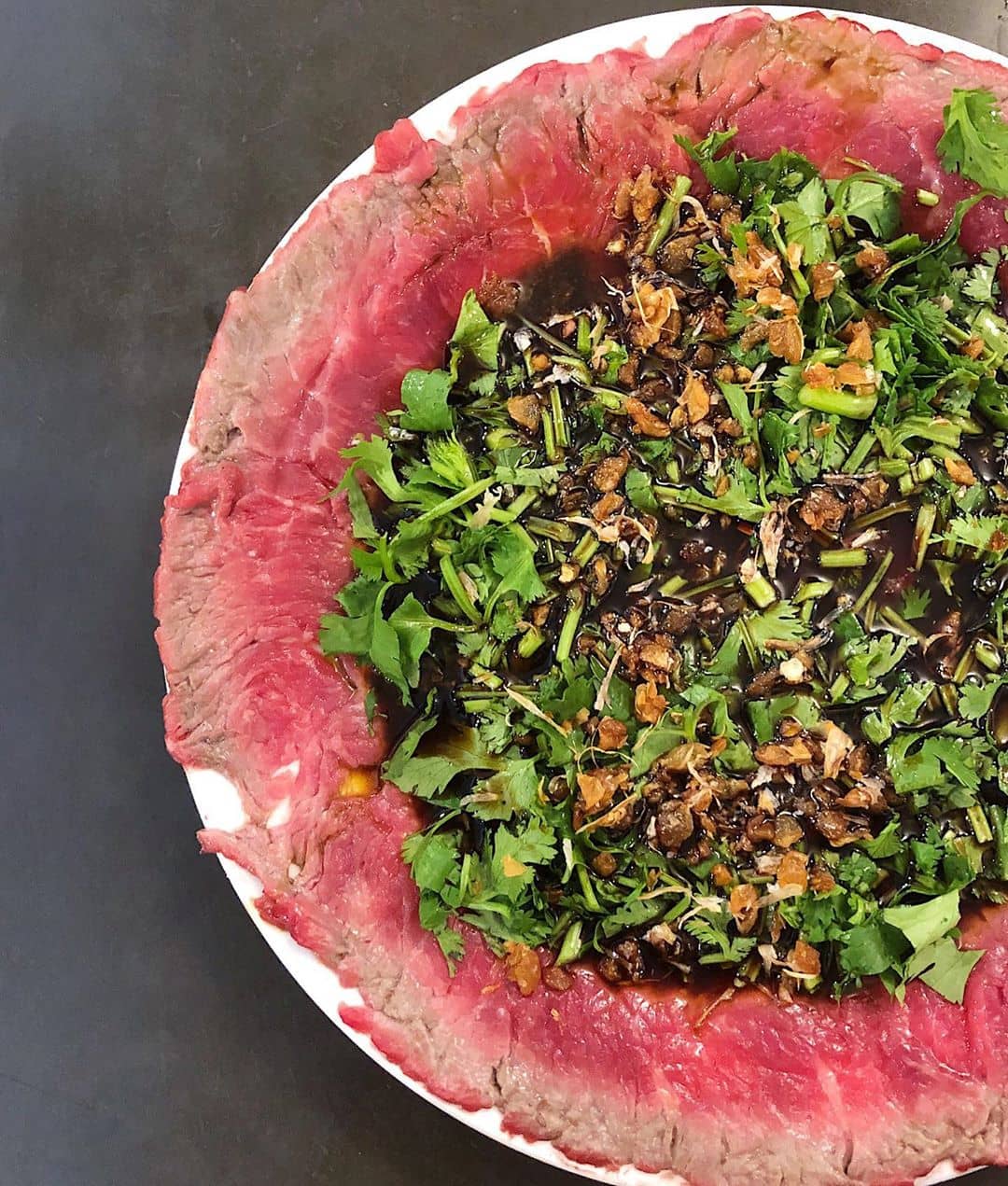 For some of the best Asian food in town, don't think twice but head to Chinatown's Phnom Penh whose dishes are both Cambodian and Vietnamese. We highly recommend it and we have it featured on our ultimate Vancouver food bucket list.
Phnom Penh is most well known for its "Holy Trinity" items – the Butter Beef, Deep-Fried Chicken Wings, and Beef Luc Luc. You'll find Instagram littered with photos of these 3 items and on each table when you're there. The Butter Beef is fresh and light with a hint of seasoning beef carpaccio. The chicken wings has the perfect seasoning and saltiness that will make your taste buds sing (and lust for more), while the Beef Luc Luc – when mixed with the rice – is a saucy beef heaven.
Address: 244 E Georgia Street, Vancouver, BC V6A 1Z7
All the food spots we personally recommend to our relatives and friends when they come to Vancouver.
4. Blue Water Cafe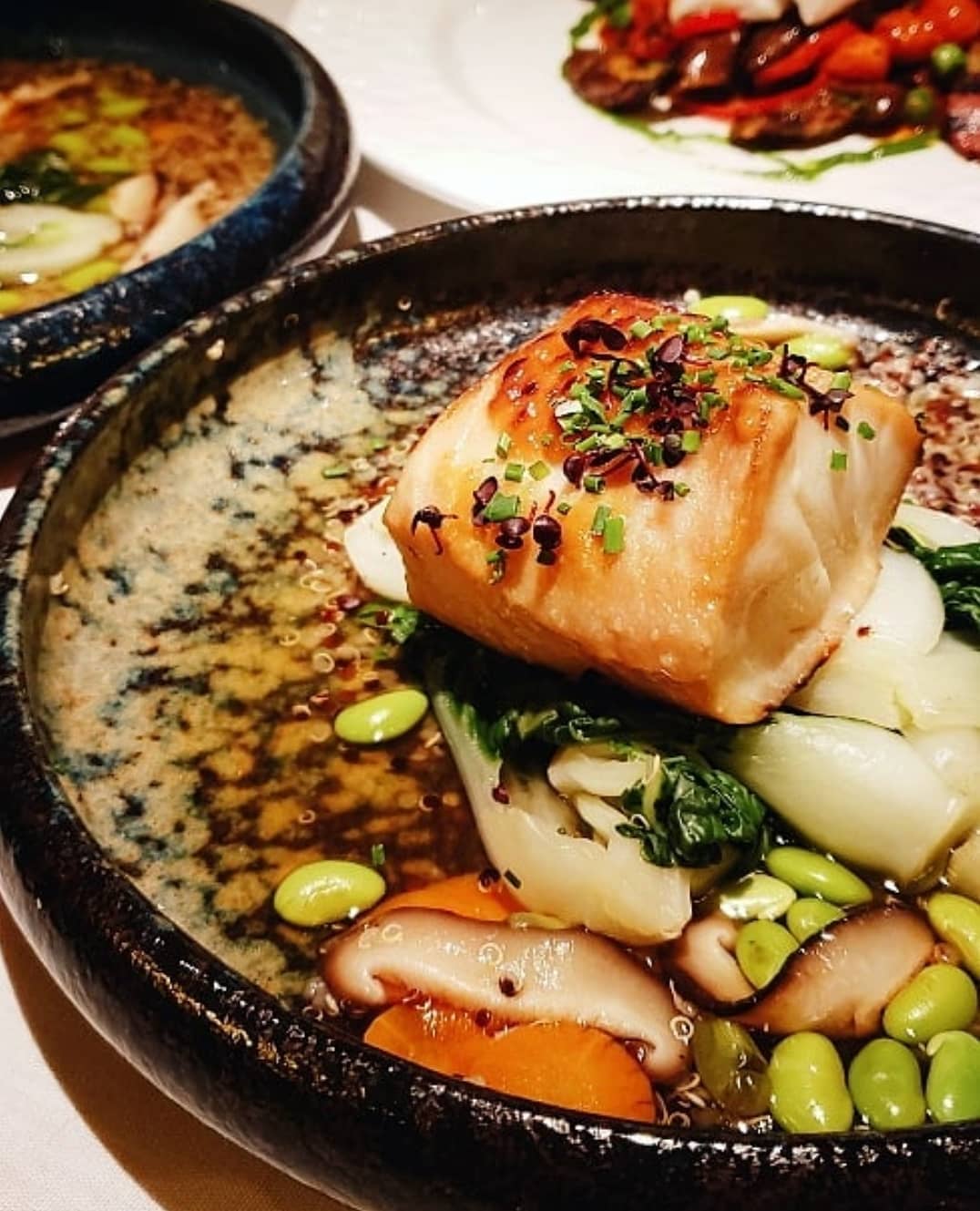 From live tanks to a raw bar and seafood on ice, Blue Water Cafe is one of the most prestigious and highly rated Yaletown restaurants in the city for seafood lovers.
Sample halibut tataki, yellowfin tuna, or sablefish. Enjoy fresh oysters with iced vodka or order nigiri, sashimi and rolls including Tosa shoyu sauce. Pair off with wine from their impressive selection or indulge in a sweet treat from their cocktail bar.
Address: 1095 Hamilton St, Vancouver, BC V6B 5T4
Website | Instagram | Facebook
Looking for the best seafood spots in Vancouver? Here are top 10 picks!
3. Tom Sushi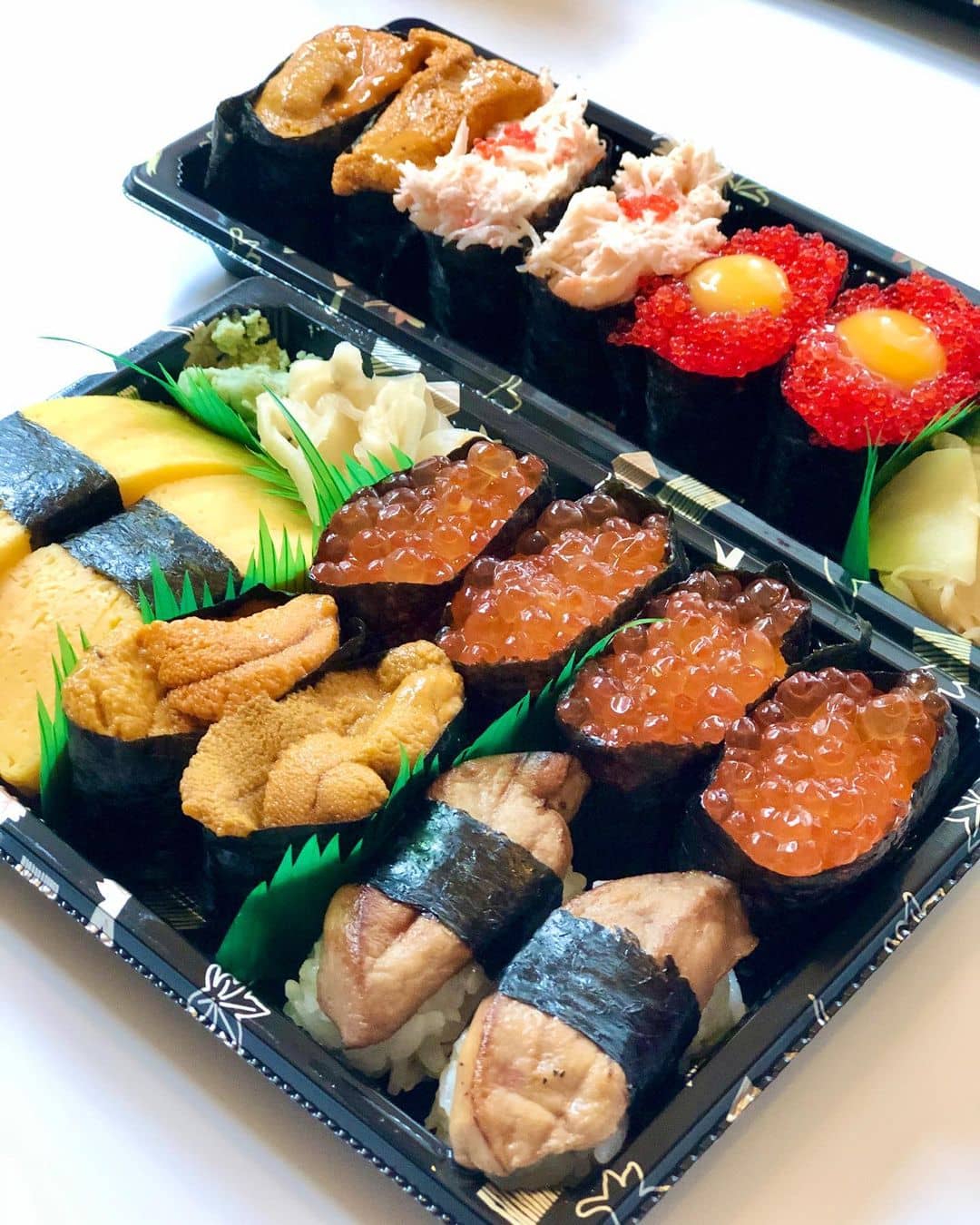 For downtown Vancouver's best sushi, Tom Sushi is the place to go. This West End restaurant has traditional Japanese flavours on one side and modern twists that will have your tastebuds dancing in delight with every bite!
Tom Sushi has quickly carved a name for itself as the sushi bar that carefully considers texture, nuance, and flair in fresh ingredients. And best of all – they offer it all without really breaking the bank.
We recommend for nirigi: tokiko w/quail egg, shima-aji, hotate, and toro. And if you're one of the lucky people to get your hands on their daily limited donburis – go for the bluefin or uni ones.
Address: 1175 Davie St, Vancouver, BC V6E 1N2
Order Online: Website | Uber Eats
2. Elisa Steak House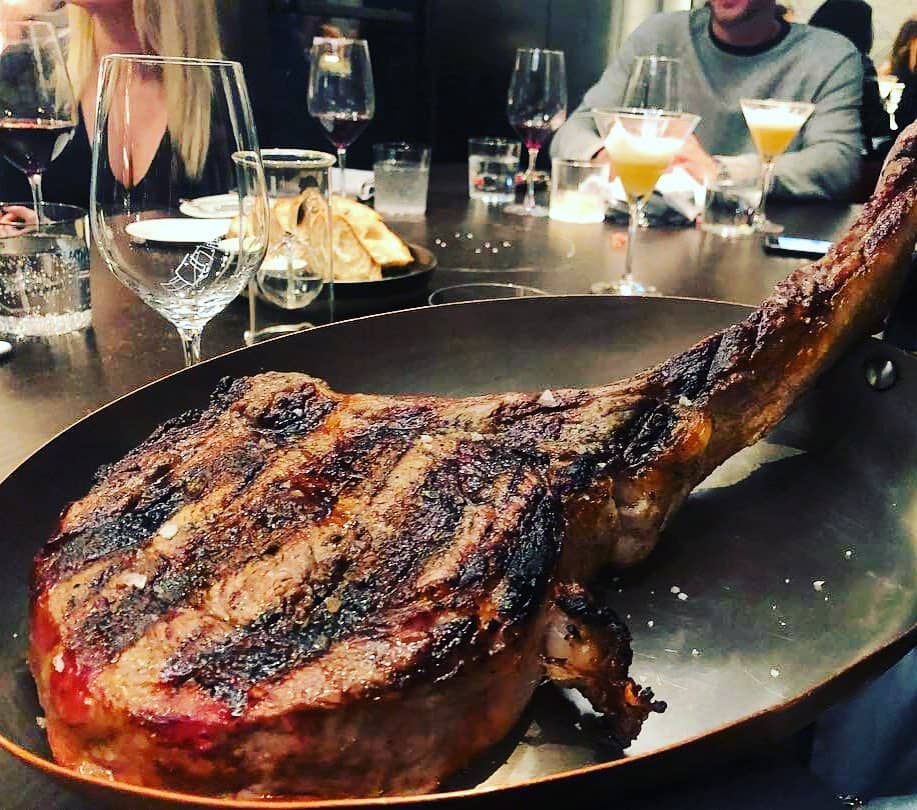 If you want to have a great night out and be pampered, Elisa is a perfect destination in Yaletown. You will feel exquisitely taken care of in this restaurant's subdued lighting which offers intimacy while dining. Enjoy fine gourmet food from one of Yaletown's top restaurants and cocktail bars.
The Tartare Tasting Trio is the perfect appetizer, then enjoy a fresh herb salad with Tender Leaf Greens. For your entrée try the Angus Reserve or Bluedot Ribeye with an award-winning wine from their incredible list.
Address: 1269 Hamilton St, Vancouver, BC V6B 6K3
1. St. Lawrence Restaurant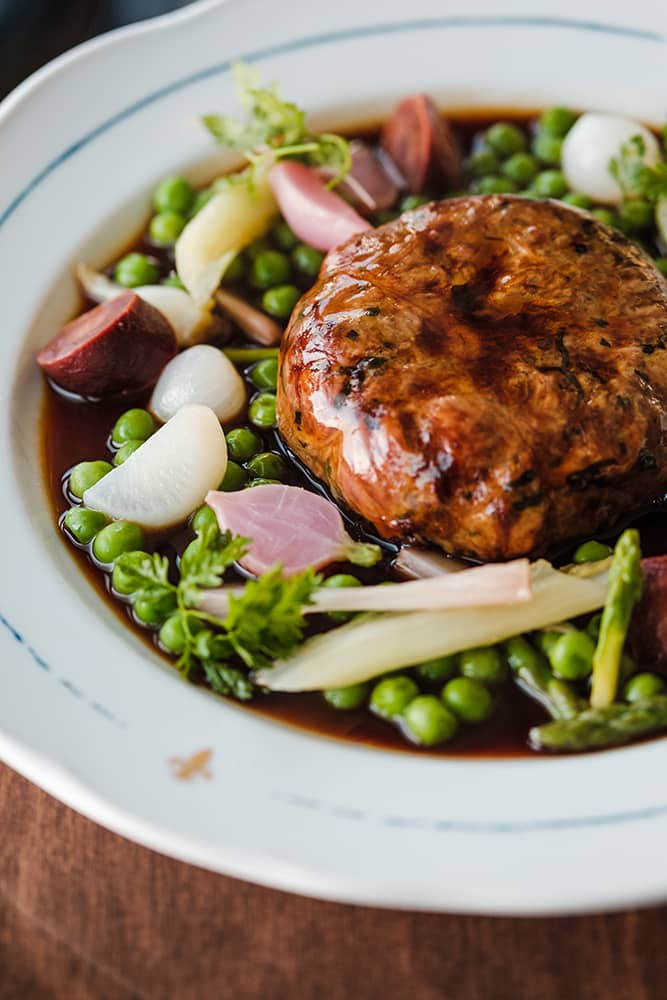 Looking for an award-winning restaurant (2nd in Canada's Best 100 Restaurants) to enjoy fantastic food in an intimate setting? Well, Strathcona's St. Lawrence Restaurant is the gastronomic heaven that certainly fits that bill.
They serve up classic French Quebecois cuisine, with dishes that are always changing to reflect the season or theme they are featuring. So you're in luck if you're part of their tasting menu tour!
Address: 269 Powell Street, Vancouver, BC V6A 1G3
Website | Instagram | Facebook
The downtown Vancouver restaurants mentioned above are just a few of the many that must be tried at least once for any tourist or local. From French cuisine to prime steak, downtown Vancouver has something for everyone!
For more food suggestions, we recommend checking off a new spot on our Vancouver food bucket list.
The following two tabs change content below.
Latest posts by Noms Magazine (see all)