Looking for the best waterfront restaurants in Vancouver? Well, you're in the right place!
These dining spots offer panoramic vistas of the river or sea and chance to watch boats, wildlife, or planes pass by serenely.
Imagine enjoying your meal with a breathtaking backdrop that lets you appreciate the beauty of the world around you. Simply immaculate!
That said, here's a list of the best waterfront restaurants Vancouver has to offer — be ready to treat yourself to flavoursome food, good company, and spectacular scenery!
1. Ancora Waterfront Dining – Downtown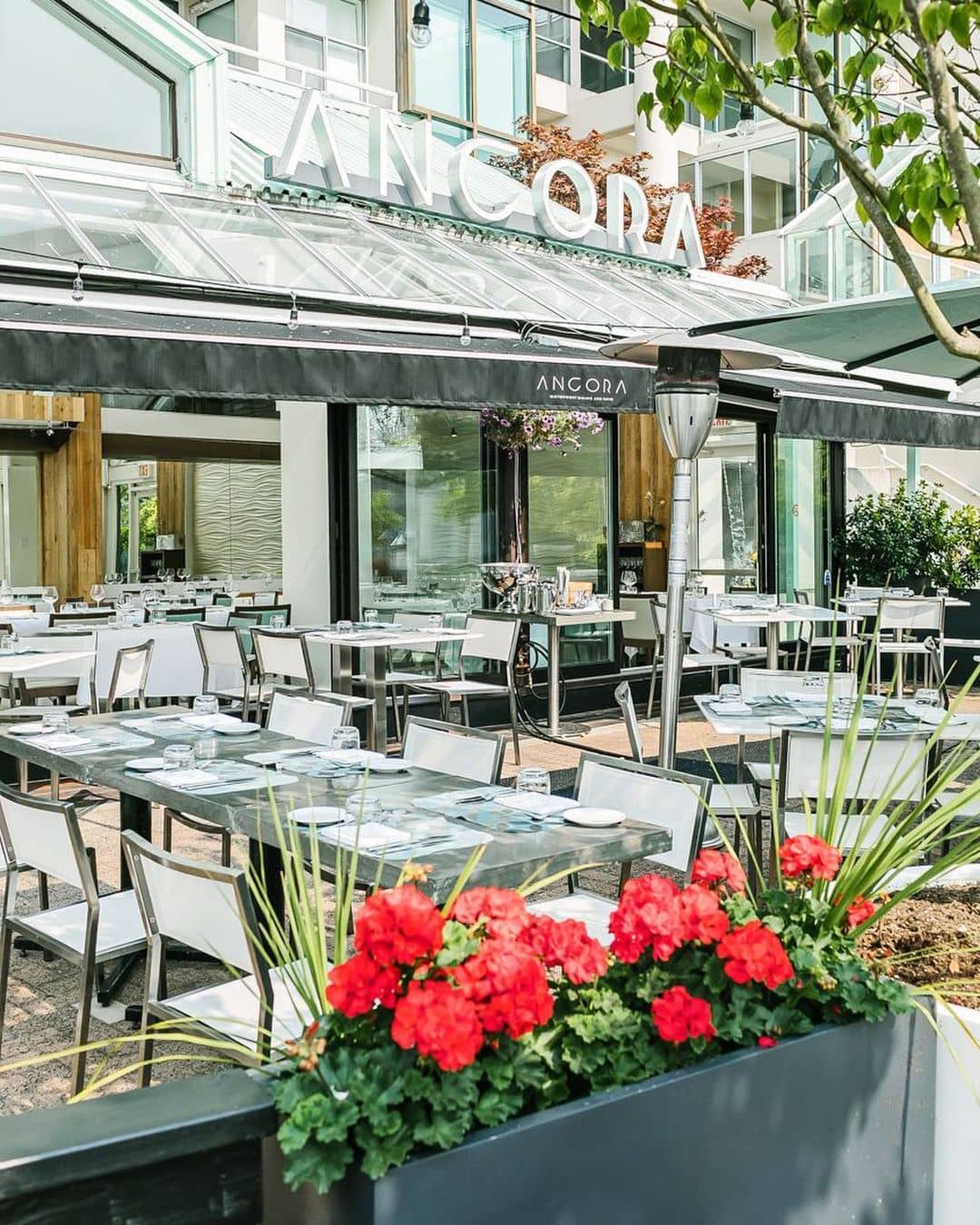 The name truly says it all. Set along Vancouver's picturesque False Creek seawall, Ancora Waterfront Dining offers every diner gorgeous outdoor views and patio, and scrumptious seafood.
It's a must-visit spot if you're looking for those breaths of fresh air, and a solid seafood meal too.
Enjoy some fresh oysters, or a vegetarian ceviche. Their spicy tuna rolls are amazing, so give them a try, or share the soft-shell crab tacos.
For your main, we recommend the Lobster and Shrimp Risotto. Basically…come here if you're feeling seafood.
P.S. look across the waters and you'll see Granville Island!
What to order: fresh oysters, vegetarian ceviche, spicy tuna rolls, soft-shell crab tacos, Lobster and Shrimp Risotto
Address: 1600 Howe Street, Vancouver BC
Website | Instagram | Facebook
2. OEB Breakfast Co. – Yaletown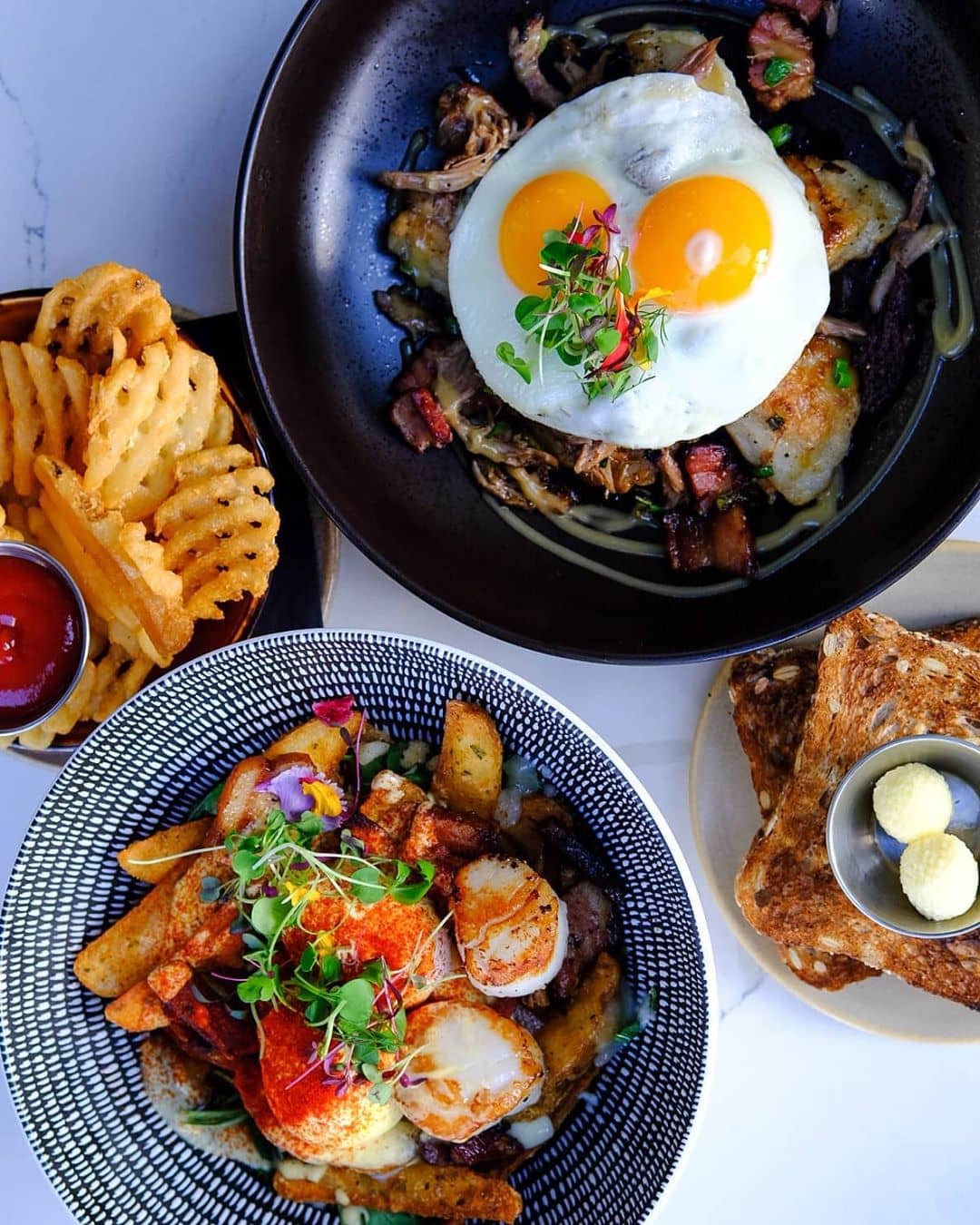 Touted as the one-star Michelin brunch joint, OEB Breakfast in Yaletown has the patio and food that will make anyone's day.
Their brunch is stellar, yet creative. And the marina view lets you enjoy a dose of people-watching and the outdoor view of the water.
Dig into a Traditional Benny, or their Get Shorty Rib Poutine. Try the Chunky Lobster Scramble, or go for gold with some Hog and Scallops.
If you're in the mood for a hearty sandwich, go for The Big Ahi Tuna. You won't regret it.
And if you fancy for a pick-me-up, their mimosa flight will do the trick.
What to order: Traditional Benny, Get Shorty Rib Poutine, Chunky Lobster Scramble, Hog and Scallops, The Big Ahi Tuna
Address: 1137 Marinaside Crescent Vancouver, BC V6Z 2Y3
Website | Instagram | Facebook
3. Provence Marinaside – Yaletown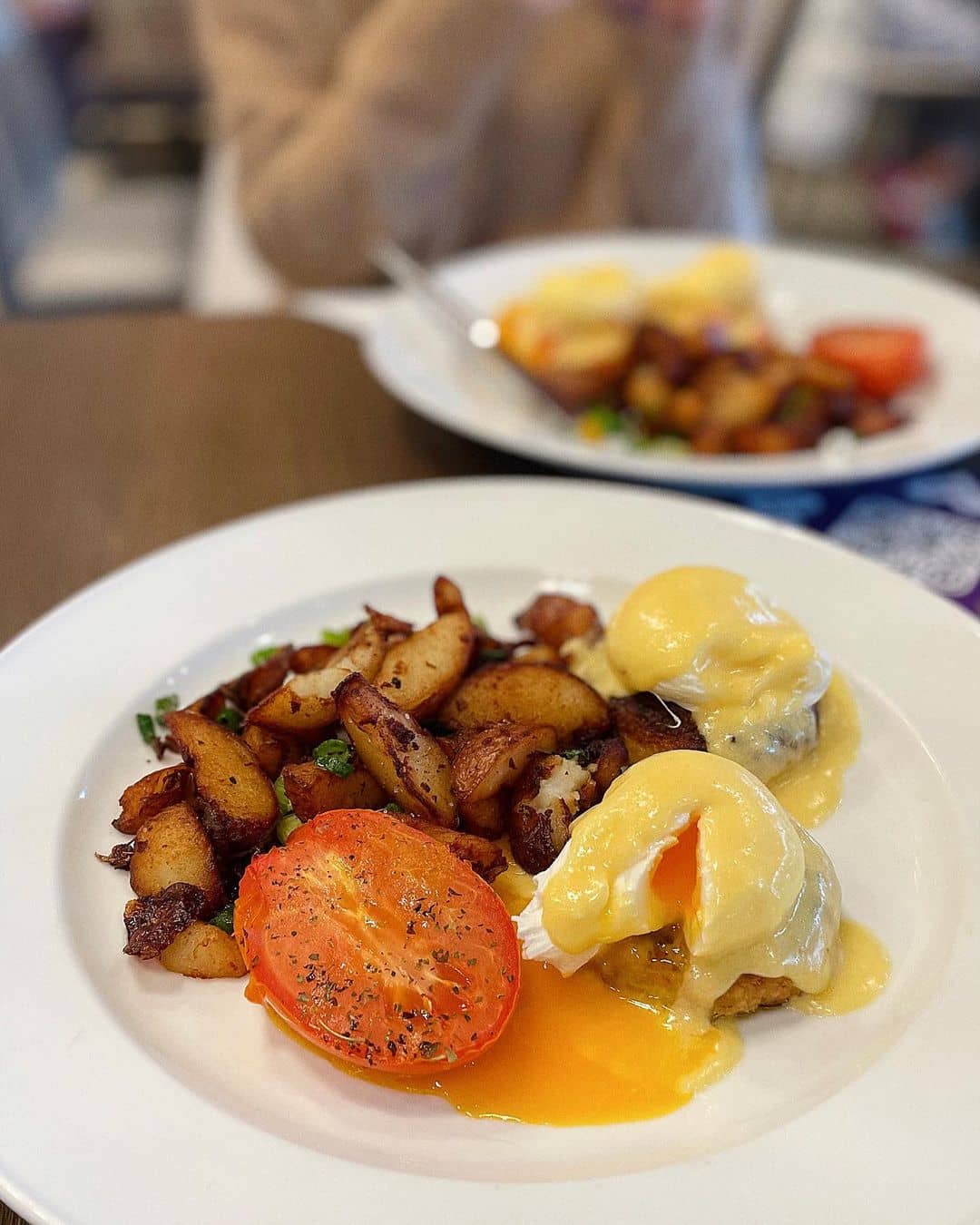 Enjoying fresh seafood and sipping wine while soaking in the sunny patio with waterfront views of the Marina always sounds so phenomenal, doesn't it?
Then visit the award-winning French restaurant Province Marinaside to actually have that refined, elegant dining experience yourself.
Settle down with their Seafood Linguine, a combination of shrimp, scallops, crab, and chunks of lobster, then topped with tomatoes, a lot of garlic, and dry white wine.
You will love how flavorful it is without being overwhelmed! A straight 10-out-of-10 dish!
You might also want to try Grilled Avocado with Baby Shrimp as a side dish, which comes up with refreshing shrimp ceviche with a spicy kick, spooned into grilled avocado, and creamy cilantro sauce.
What to order: Crab Cake Benedict, Seafood Linguini, Seared Smoked Sable Fish, Grilled Avocado with Baby Shrimp, Wild Mushroom Ravioli, Bouillabaisse
Address: 1269 Hamilton Street, Vancouver, BC V6B 6K3
Website | Instagram | Facebook
4. Cardero's Restaurant – Coal Harbour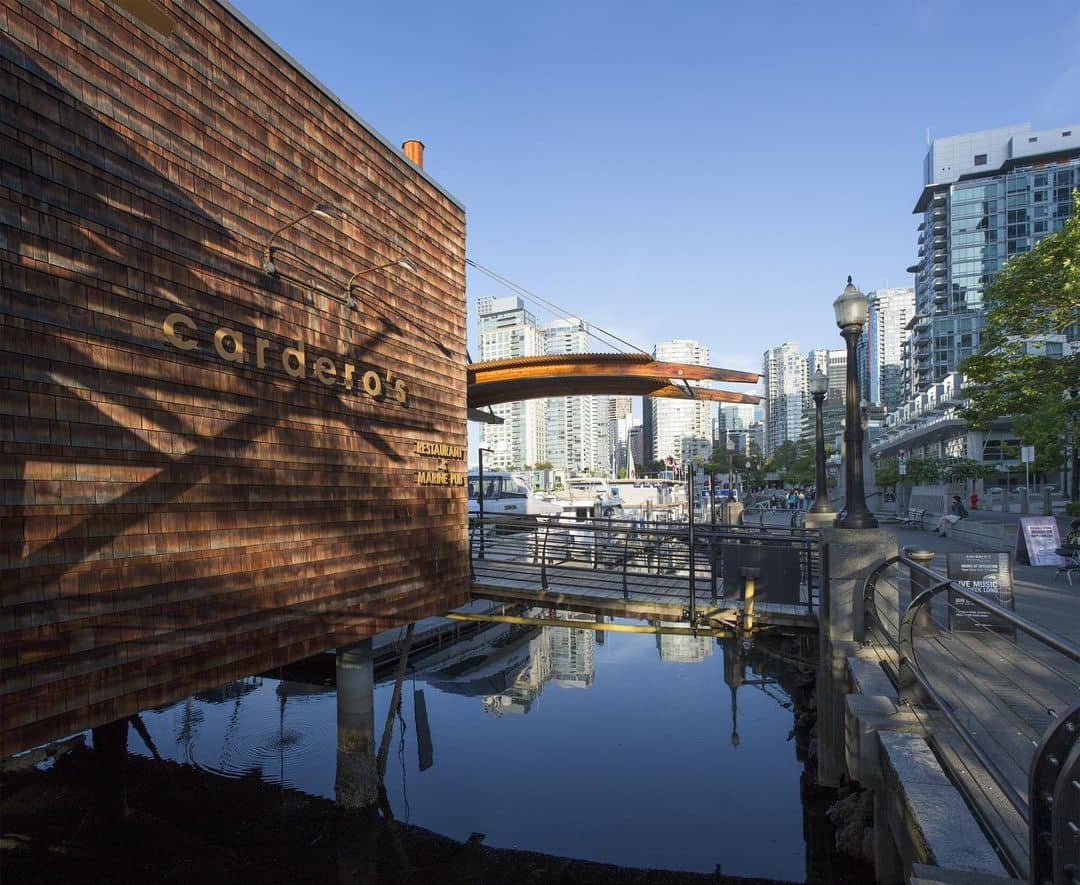 Cardero's Restaurant, nestled among the boats in Coal Harbour, offers stunning views of the water and mountains from its main dining room and outdoor patio.
The restaurant's dim lighting creates an intimate and cozy atmosphere, especially at night.
With friendly and attentive staff, you will surely have a great dining experience from start to finish.
Their menu boasts an impressive offering of wok dishes, steaks, tap beer, and an extensive wine list to compliment any selection.
So, be sure to try their fresh and juicy Salmon Burger for a savory meal; it's a mistake to not do so!
And if you're feeling adventurous, don't miss out on their Signature Wok Squid — a mouthwatering dish that's tender, well-seasoned, and sure to leave you wanting more!
What to order: Salmon Burger, Signature Wok Squid
Address: 1583 Coal Harbour Quay, Vancouver, BC V6G 3E7, Coal Harbour, Downtown
Website | Instagram | Facebook
5. SeaHouse Restaurant – Yaletown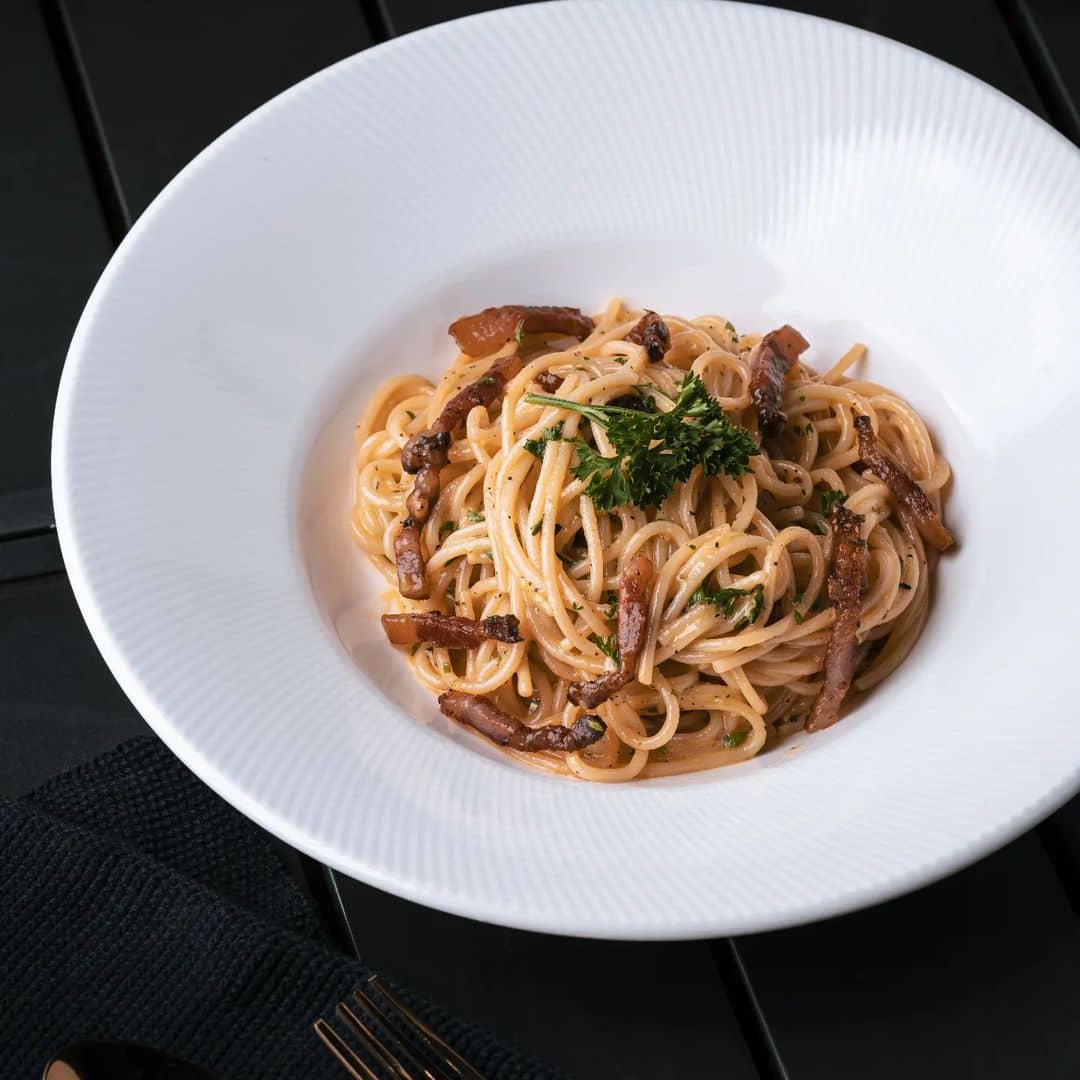 SeaHouse Restaurant is the perfect spot for a romantic dinner date, a hearty breakfast with the family, or a place to enjoy drinks with friends while taking in the serene waterfront view.
The restaurant exudes an intimate and inviting atmosphere inside, while the cozy outdoor patio, complete with fireplace tables, is perfect for chilly evenings or if you simply want to bask in the glorious sunshine.
Their masterfully crafted menu features authentic Neapolitan-style pizza and Italian pasta that will transport you straight to Italy.
We highly recommend their Margherita pizza, which boasts a fantastic crust and a sweet and tangy sauce — not all Margherita are created equal.
And if you're in the mood for cured meats, don't pass up on their Quattro Salami pizza for a unique blend of spicy and sweet flavours that will tantalize your taste buds.
What to order: Margherita Pizza. Quattro Salami Pizza
Address: 1089 Marinaside Crescent, Vancouver, BC V6Z 2Z4
Website | Instagram | Facebook
6. Dockside Restaurant – Granville Island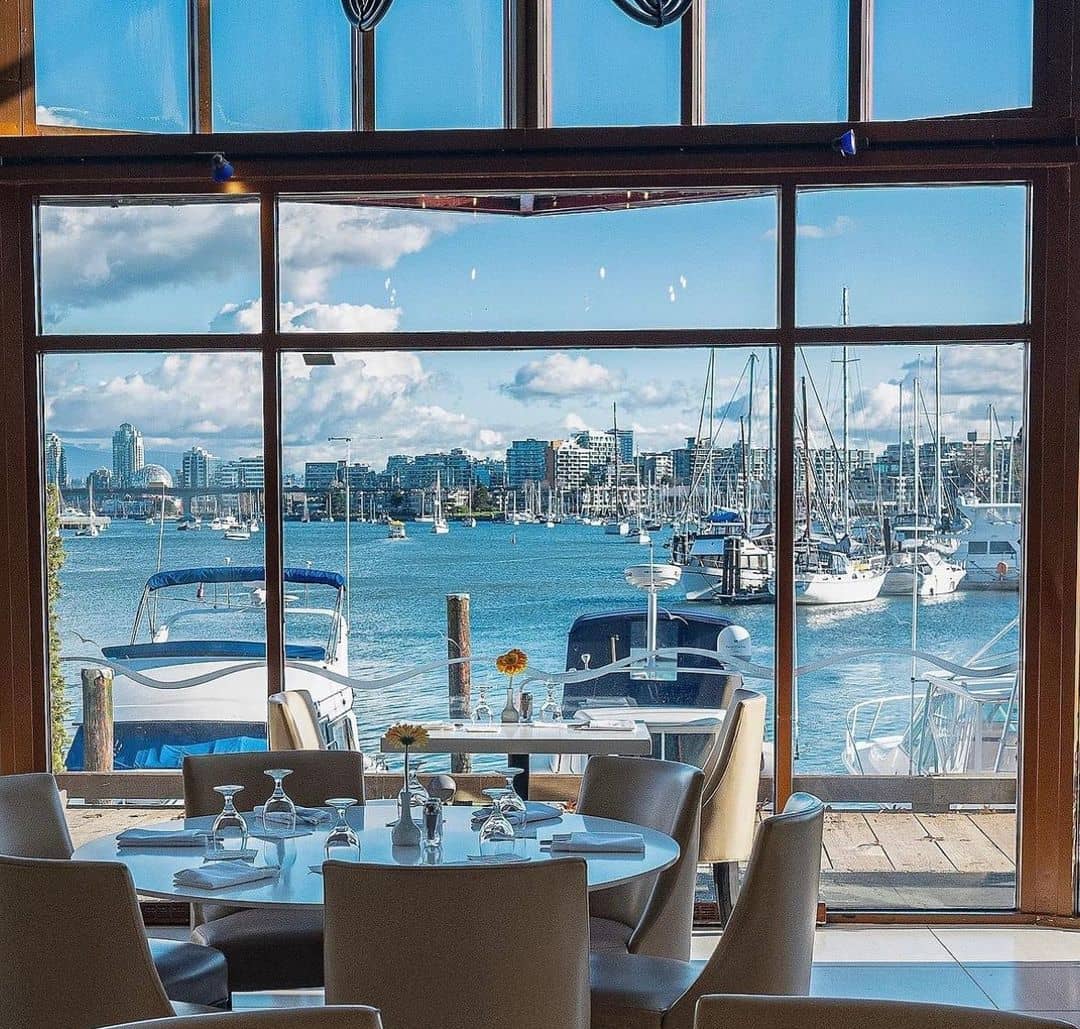 Enjoy the best of both worlds at Dockside Restaurant: stunning views and incredible cuisine.
This place boasts a gorgeous view of False Creek, which you can fully appreciate on their cozy patio or in their elegant indoor dining area.
The restaurant is chic, with floor-to-ceiling windows across most of the space, creating an inviting atmosphere that's great for conversations of all types.
Food-wise, their menu features a wide selection of breakfast, brunch, and dinner seafood classics, but what truly stands out are their Crab Cakes, Mussels, and Chili Squid.
The Mussels are simply amazing, fresh, and tasty. The Crab Cakes are perfectly moist, bursting with flavor, and just outrageously good.
Their Chili Squid, on the other hand, is a favourite of those who want a bit of a kick — crispy, hot, and oh-so-spicy, it's a dish that's not to be missed.
What to order: Mussels, Crab Cakes, Chili Squid
Address: 1253 Johnston Street, Vancouver, B6 V6H 3R9, Granville Island
7. Sandbar – Granville Island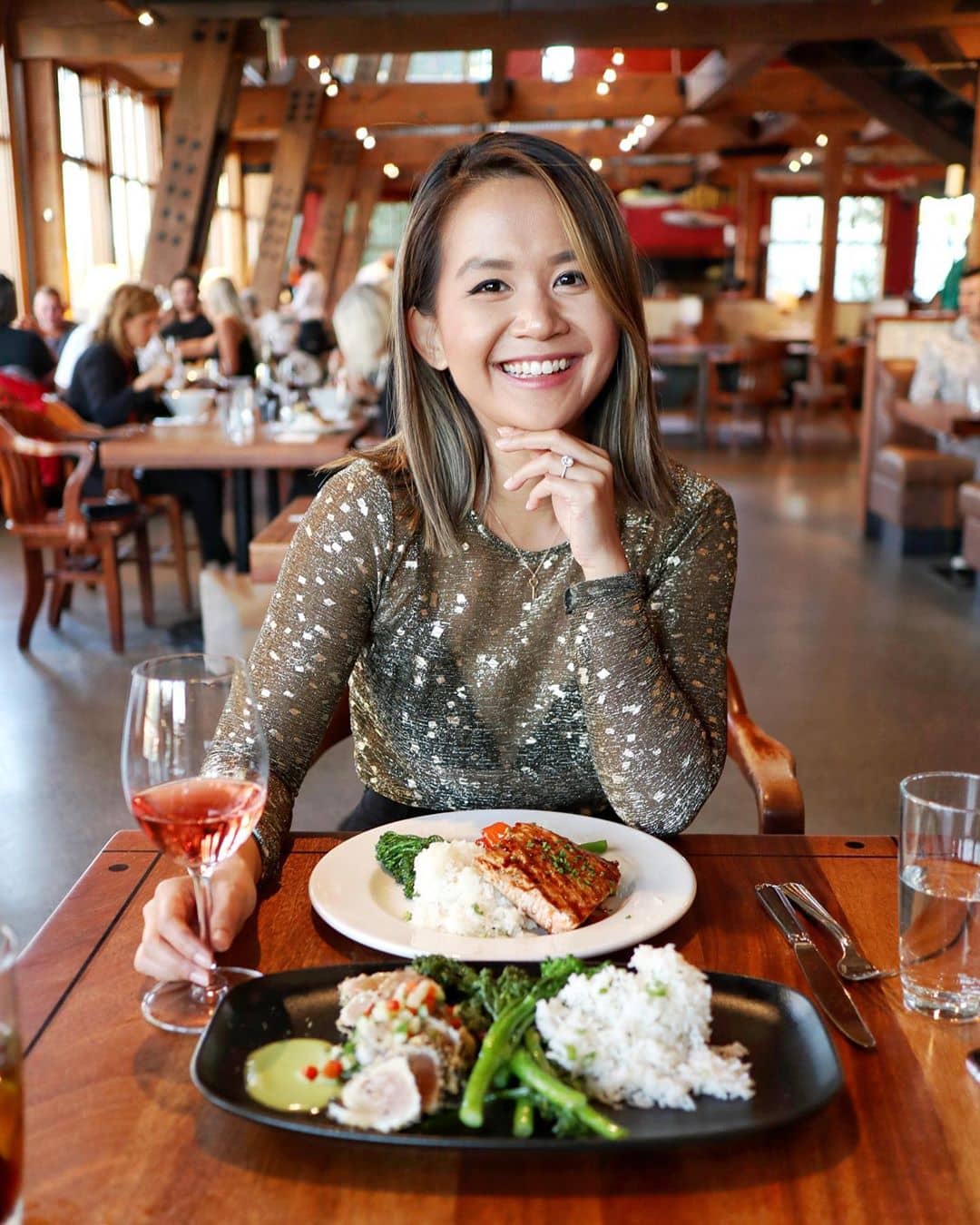 Dinner and dancing? Then, Granville Island's Sandbar is for you! So, put on your dancing shoes, grab your partner and go.
Enjoy your meal out on their covered and heated patio, with a beautiful view of Yaletown and False Creek, or opt for a cozier table on one of their three dining floors.
Try the Tuna Bowl, or go for their Special Hoshi Roll packed with tuna, salmon, unagi, ebi, crab, avocado, and unagi sauce.
Share some Wok Squid or Mussels, or a hearty Seafood Hot Pot.
What to order: Tuna Bowl, Special Hoshi Roll, Wok Squid, Mussels, Seafood Hot Pot
Address: 1535 Johnston St. Creekhouse #102, Granville Island, Vancouver, BC
Website | Instagram | Facebook
8. Miku – Downtown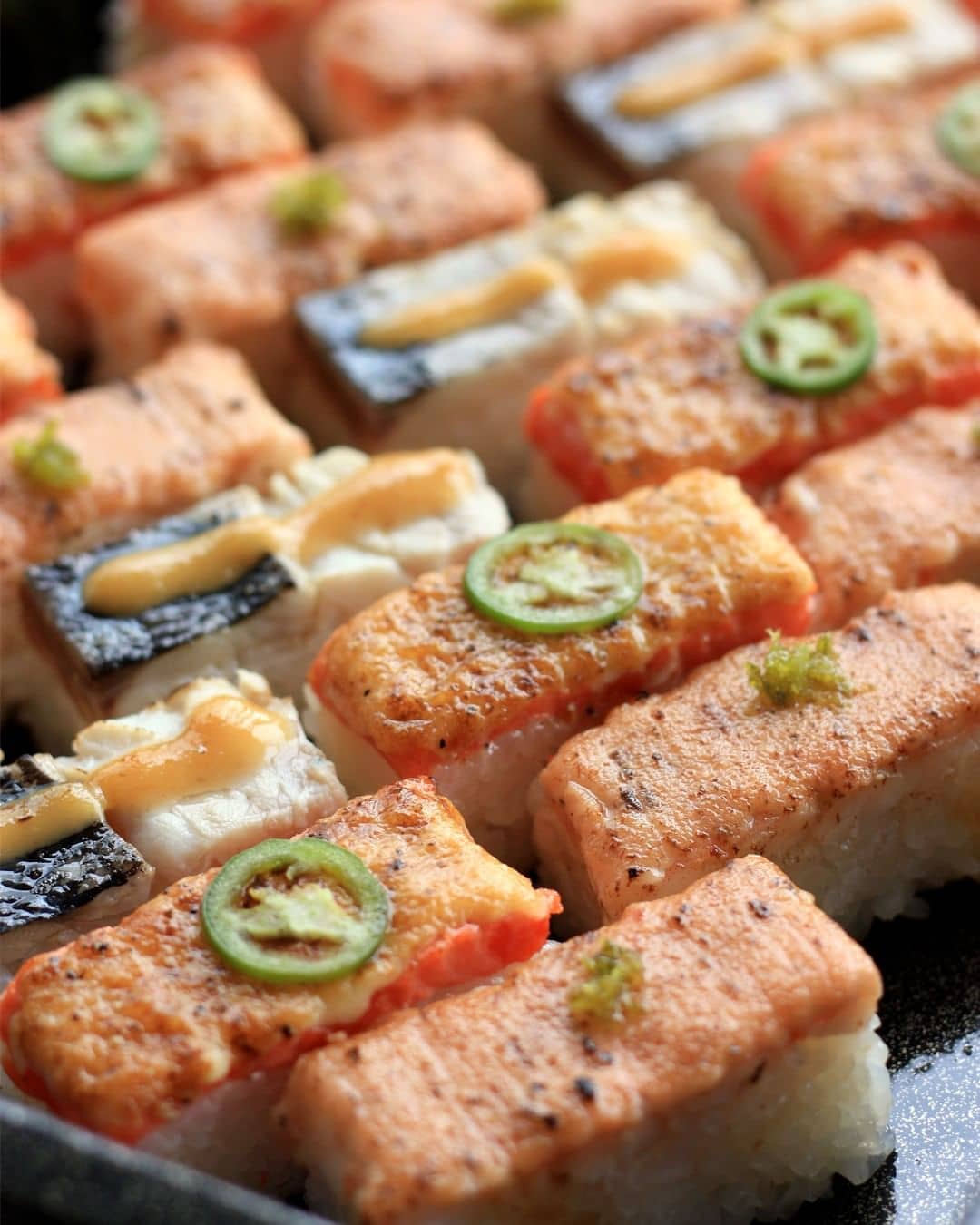 Rated among the top on our Best Sushi Restaurants in Vancouver list, Miku is the pioneer of flame-seared sushi (Aburi sushi) in Canada.
You can rest assured that you will experience new textures, natural flavors, and an exciting culinary experience on the whole.
In addition to serving incredible food, Miku also boasts jaw-dropping views of snow-capped mountains, whether you choose to dine inside or on the patio.
Of course, you should try Aburi sushi when at Miku, and there is nothing better than their Salmon Oshi Sushi.
The richness of the salmon is balanced by the smokiness from the flame sear, and the Miku sauce is a delightful surprise.
After enjoying all the Aburi sushi, the best way to end your meal will be with the Green Tea Opera dessert.
Though the beautiful presentation makes you want to keep admiring the dessert, you have to dig into it to understand its worth.
Fun fact: When Queen Beyonce and Jay Z were in town for their concert, they dined at Miku.
What to order: Salmon Oshi Sushi, Nigiri sampler, Green Tea Opera, Paper Crane cocktail
Address: 70-200 Granville Street, Granville Square, Vancouver, BC, Canada V6C 1S4
Instagram | Website | Facebook
9. Five Sails – Downtown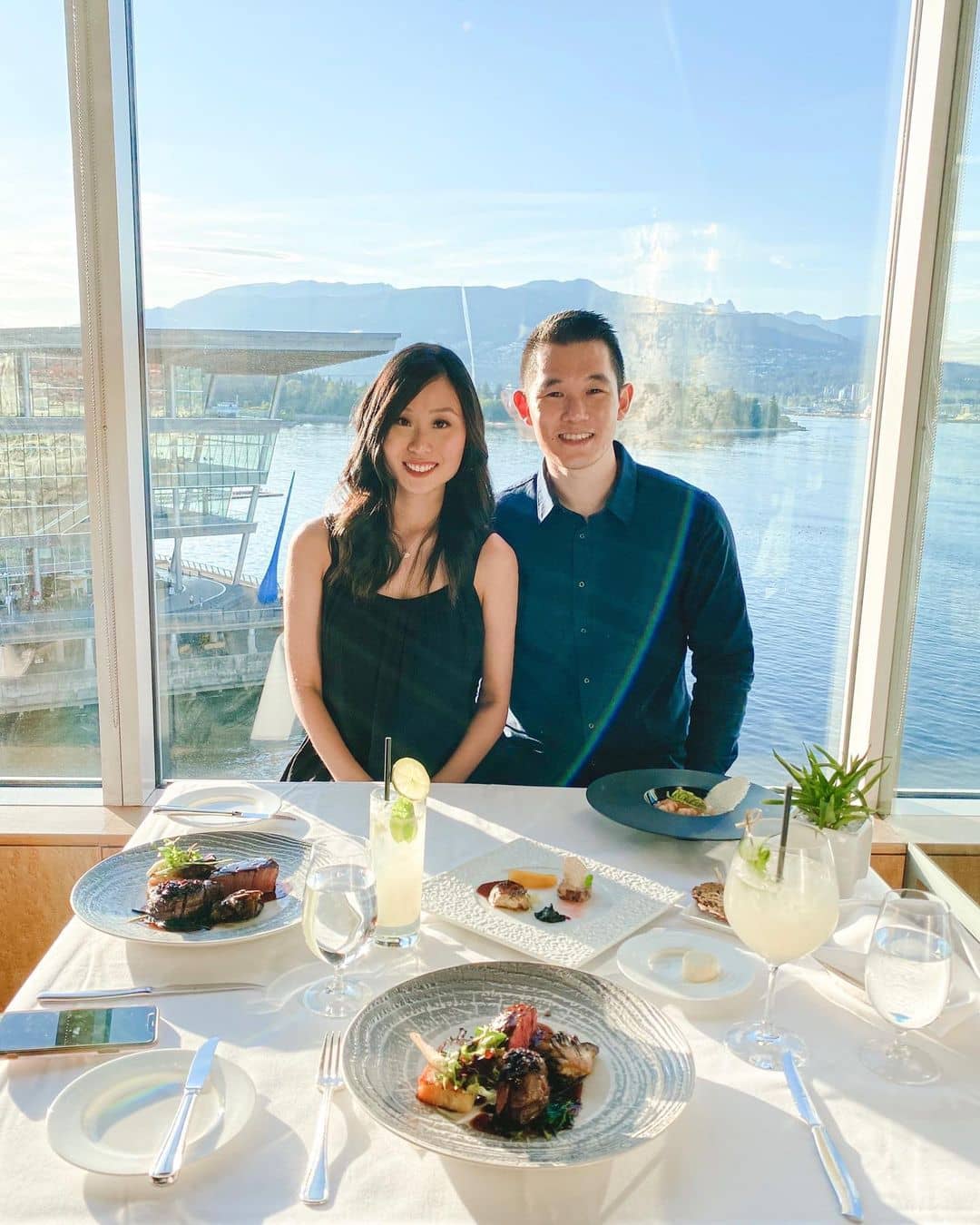 Located on the "R" level of the Canada Place Convention Centre adjacent to the Pan Pacific Hotel, Five Sails is a romantic gourmet adventure to savour while you enjoy breathtaking waterfront views.
Fine dining is key here, as the owner/head chef incorporates European influences showcasing his Austrian heritage with a modern twist on classic and seasonal West Coast fare.
If you're in the mood to unwind or just relax, try out The Five Sails Beverage Program offering the best of British Columbia as well as famous labels from around the world.
For dinner, order their signature Whole Atlantic Lobster poached in citrus butter, their popular Pan-seared Sea Bass Piccata or the slow-cooked halibut in red beet purée.
What to order: The Five Sails Beverage Program, Whole Atlantic Lobster, Pan-seared Sea Bass Piccata, slow-cooked halibut
Address: 401-999 Canada Place Vancouver, BC V6C 3E1
Website | Instagram | Facebook
10. Lift Bar Grill View – Coal Harbour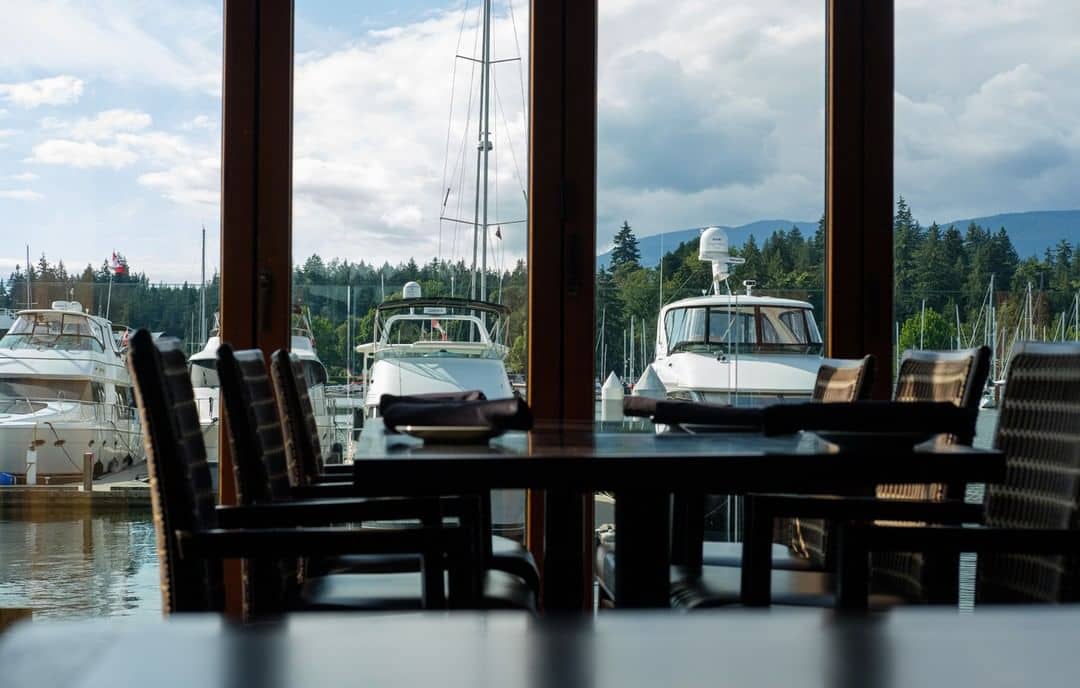 Lift Bar Grill View elevates your dining experience with the awe-inspiring landscape of the Coal Harbour, Stanley Park, and coastal mountains.
Whether you're on their oceanfront rooftop deck or lower-level patio, you will be mesmerized by the phenomenal panorama right in front of your eyes. It gives off elegant vibes and excellent service that goes well with it.
Lift Bar has brunch, lunch, dinner, and happy hour options, but we highly suggest their Spicy Tuna Roll, Halibut & Chips, and Crab Cakes.
The Spicy Tuna Roll is both delicious and fresh and beautifully presented — a worthy entry for your gram aesthetics.
Their Halibut and chips are another dish you shouldn't miss. The batter is light, and the fish is always fresh and flaky, perfectly seasoned to bring out the natural flavors.
And when it comes to the Crab Cakes, you'll be treated to mouthwatering flavor and an ample amount of crab that will leave you feeling completely satisfied!
What to order: Spicy Tuna Roll, Halibut & Chips, Crab Cakes
Address: 333 Menchion Mews, Vancouver, BC V6G 3H5, Coal Harbour
11. Cactus Club Cafe – Coal Harbour & West End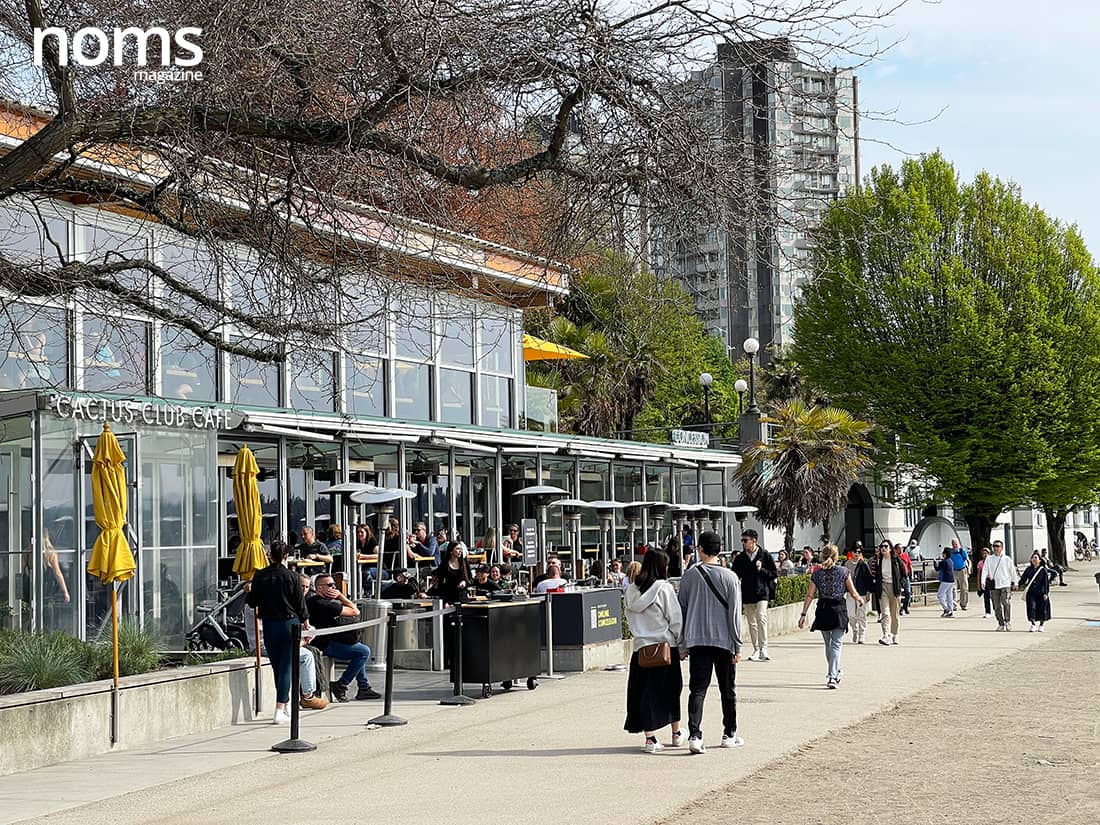 For those seeking modern Canadian cuisine with a fine and casual dining experience, the Cactus Club Cafe says hi.
Located in the heart of Coal Harbour and West End, the popular chain restaurant offers stunning scenery of the ocean blue and a trendy and hip vibe.
That said, a dish you shouldn't dare miss is the Butternut Squash Ravioli, which highlights the sweet and nutty flavours of butternut squash paired with creamy Italian cheese.
This delectable combination will surely satiate any palate.
Another star of their menu is the Mini Crispy Chicken Sandwiches, featuring flawlessly cooked juicy panko-crusted chicken tucked in a mouthwatering embraced by soft buns! Yum!
What to order: Butternut Squash Ravioli, Mini Crispy Chicken Sandwiches
Address: 1085 Canada Place, Vancouver, BC V6C 3E1, Downtown, Coal Harbour
Website | Instagram | Facebook
12. Mahony's Tavern Convention Centre – Coal Harbour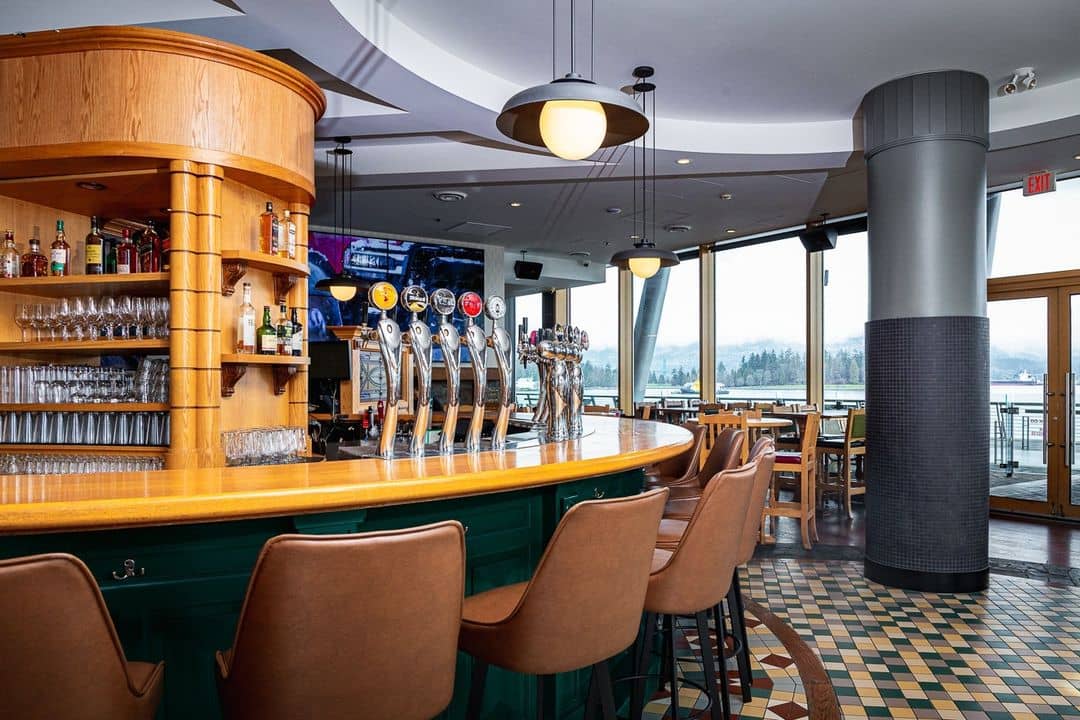 Mahony's Tavern at the Convention Centre lets you indulge in delicious food with a splendid backdrop of the North Shore and Stanley Park, a setting you don't want to miss out on.
This pub offers a comfortable and inviting vibe with excellent and friendly service. Not only do they have delectable dishes, but they also serve beer on tap and an extensive wine selection.
Their Mahi Mahi Tacos have fresh and perfectly battered fish and fantastic salsa that goes well with beer.
Another dish you should look forward to is Pacific Seafood Chowder, loaded with a hefty amount of seafood and ravioli for your hungry stomach. Talk about a truly indulgent treat!
Oh, and it gets busy during the weekends here. So if you're planning to go, you might as well place a reservation in advance.
What to order: Mahi Mahi Tacos, Pacific Seafood Chowder, Fish and Chips
Address: 1055 Canada Pl, Unit 36, Vancouver, BC V6C 0C3, Downtown, Coal Harbour
Website | Instagram | Facebook
13. Hoshi Japanese Cuisine – Yaletown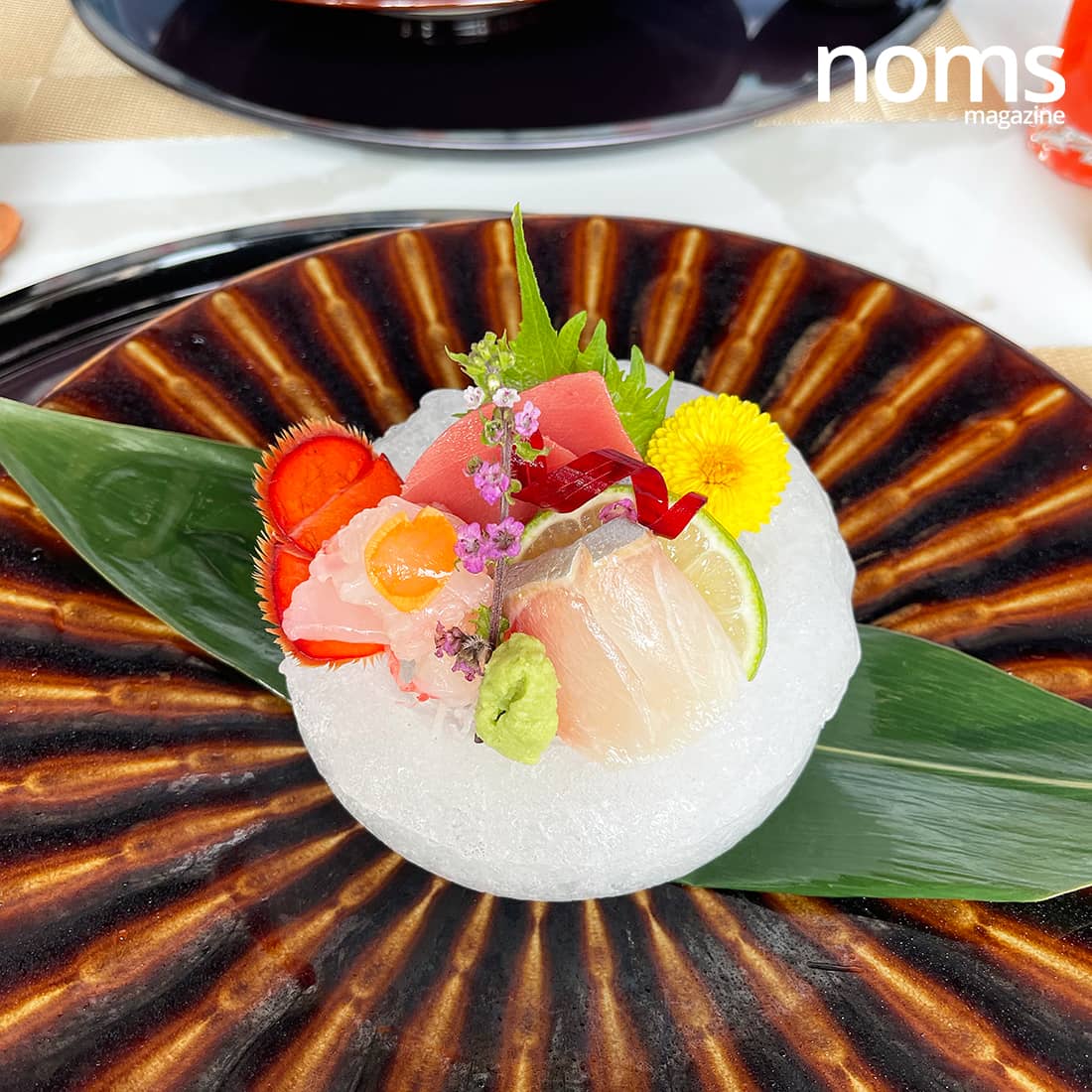 Hoshi Japanese Cuisine, situated in Beach Avenue Marina, allows you to savor delectable Japanese cuisine while basking in the captivating view of the marina and enjoying a picturesque sunset on their cozy patio.
Their interior offers an intimate and comfortable setting, perfect for indulging in their attentive and informative service.
As a Kaiseki-style restaurant, they offer a Matsu Set Menu, consisting of 10 courses of fresh seafood, including some unique imports from Japan.
We love how they carefully curated and presented each in a beautiful and artistic manner, showcasing the harmony and balance of flavors.
But do remember that you need to pre-order in advance for their Kaseki menu.
From their a la carte menu, we highly recommend trying their Kaiseki Bento, a chef's pre-selection of small dishes, offering a flavorful culinary journey through Japan.
For something truly exceptional, their Wagyu Sukiyaki is made with premium A5 wagyu from Miyazaki, slow-cooked in a sweet and savory broth with vegetables, and served with Konjac noodles and egg for a decadent experience.
What to order: Matsu Set Menu, Kaiseki Bento, Mizayaki A5 Wagyu Sukiyaki
Address: 1010 Beach Avenue, Unit 3, Vancouver, BC V6E 1T7, Downtown
Website | Instagram | Facebook
14. H2 Kitchen + Bar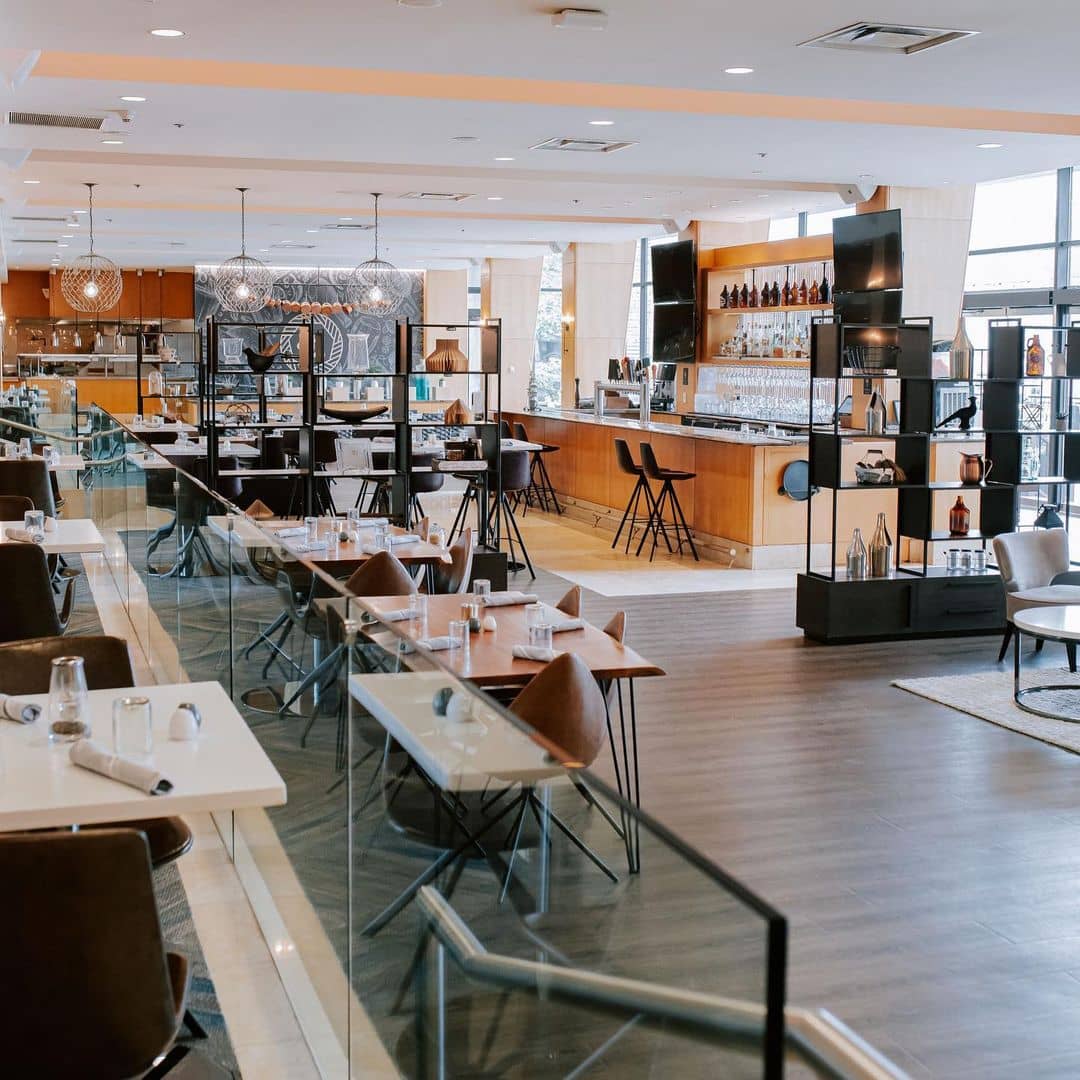 Head to the Westin Hotel and relish Southern-style cuisine, beer, and the captivating sight of the marina at the H2 Kitchen + Bar.
This restaurant has a classy and bright ambiance with friendly and attentive service.
You can dine inside and bask in the high ceilings and beautifully decorated interior or outside their large patio with outdoor fireplaces to heat you up.
They have a lot of noteworthy items on their menu, but we have fallen head over heels for their Rotisserie Chicken and Fish and Chips.
The Rotisserie Chicken is their flagship dish and is juicy and bursting with flavors.
On the other hand, the Fish and Chips have well-seasoned fries with fresh and tender fish.
H2 Kitchen + Bar also hosts buffet events for special occasions, so if you want an epic spread of mouthwatering indulgence, be sure to check them out!
What to order: Rotisserie Chicken, Fish and Chips
Address: 1601 Bayshore Drive, Vancouver, BC V6G 2V4, Coal Harbour, Downtown
Website | Instagram | Facebook
15. Tap & Barrel Olympic Village + Tap & Barrel • Convention Centre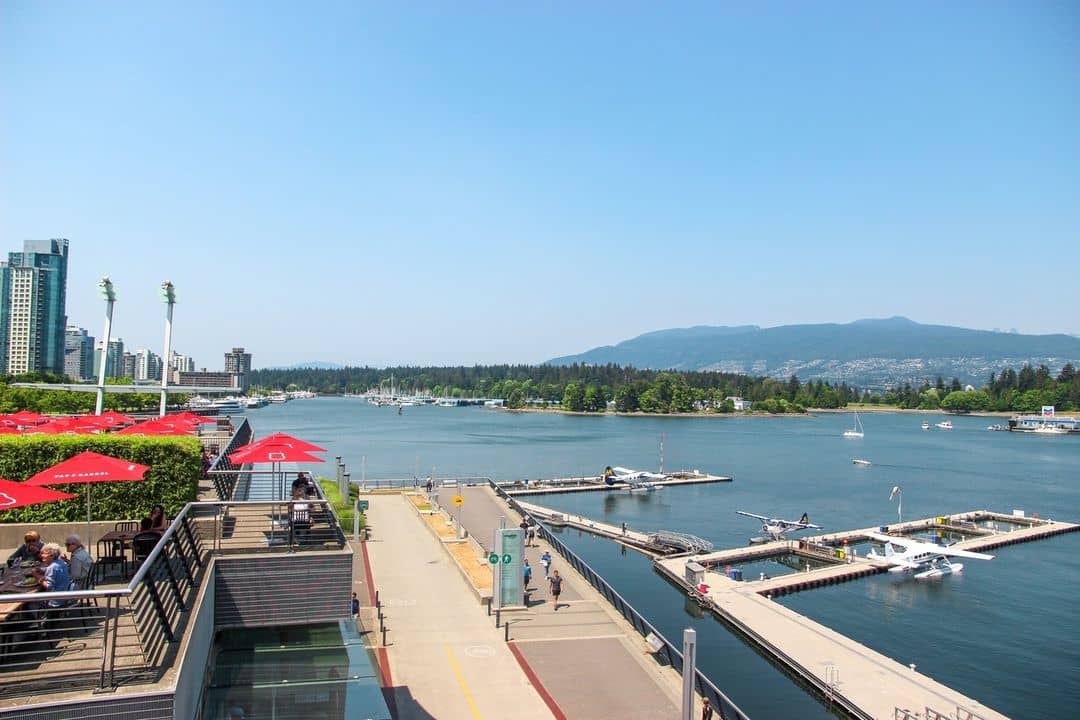 Looking for the perfect spot to take a break and soak up some beautiful lake views? Then Tap & Barrel branches in Olympic Village and Convention Centre are your options!
With a heated patio overlooking the beautiful lake and mountains, they are the ideal spots to unwind, enjoy the scenery, and think of all the good things life offers.
And if you prefer to stay indoors, you can still bask in the scenic viewpoint while enjoying the cozy and inviting atmosphere.
The service at both restaurants is pleasant and helpful, with staff who are more than happy to suggest local hotspots and must-see attractions, particularly for tourists.
Their menu features comfort food classics made with exceptional quality ingredients. But you should definitely try their Famous Fried Pickles, PB&J Burger, and Poke Bowl.
The Famous Fried Pickles are a must-try with savory, crispy coating, while the PB&J Burger is a unique and delicious take on the classic burger — talk about being inventive!
Lastly, the Poke Ball is a harmonious mix of ahi tuna, yuzu ponzu, jasmine rice, avocado, and a whole lot of other delectable goodness. The best choice if you want something light and soulful!
What to order: Famous Fried Pickles, Poke Bowl, PB&J Burger
Addresses:
-Olympic Village: 75 Athletes Way, Vancouver, BC V5Y 0B1, Granville Island/False Creek
-Convention Centre: 76-1055 Canada Pl, Vancouver, BC V6C 0C3, Canada
Website | Instagram | Facebook
16. Yasma – Coal Harbour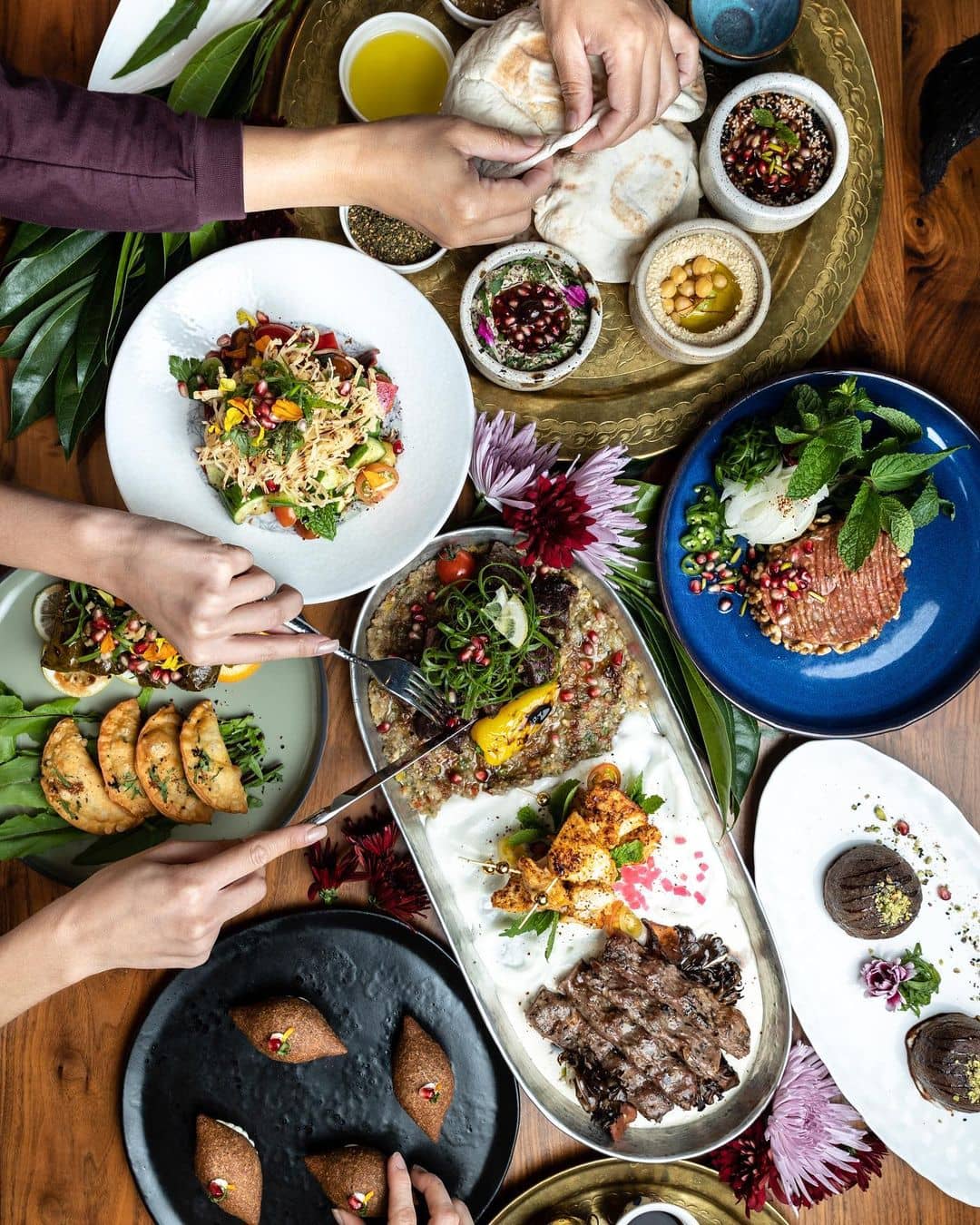 There's something fantastic about Syrian and Lebanese cuisine that will leave you heavily interested. That's what Yasma is all about, to share the beautiful culture through food and company.
It is an upscale restaurant with a luxurious, warm vibe, thanks to the personable staff on top of an interior that reflects the warmth and hospitality of these two cultures, with comfortable seating and soft lighting for a cozy ambiance.
Outside, just a few steps away, you can immerse in the view of boats on the waterfront, perfect for enjoying authentic Syrian and Lebanese favorites.
So, don't miss the opportunity to try their Shish Tawouk, chicken marinated in yogurt and grilled to perfection. If you want a healthier meal, their Fattoush Salad is a fresh and flavorful option.
Yasma's Baba Ghanoush is also highly recommended, made with oven-fresh pita bread and roasted eggplant, and tahini.
And the best ending to this wonderful gastronomic journey? A glass of wine that matches the flavors of the food.
What to order: Shish Tawouk, Fattoush Salad, Baba Ghanoush, Wine
Address: 550 Denman Street, Vancouver, BC V6G 3H1, Coal Harbour Downtown
Website | Instagram | Facebook
17. Go Fish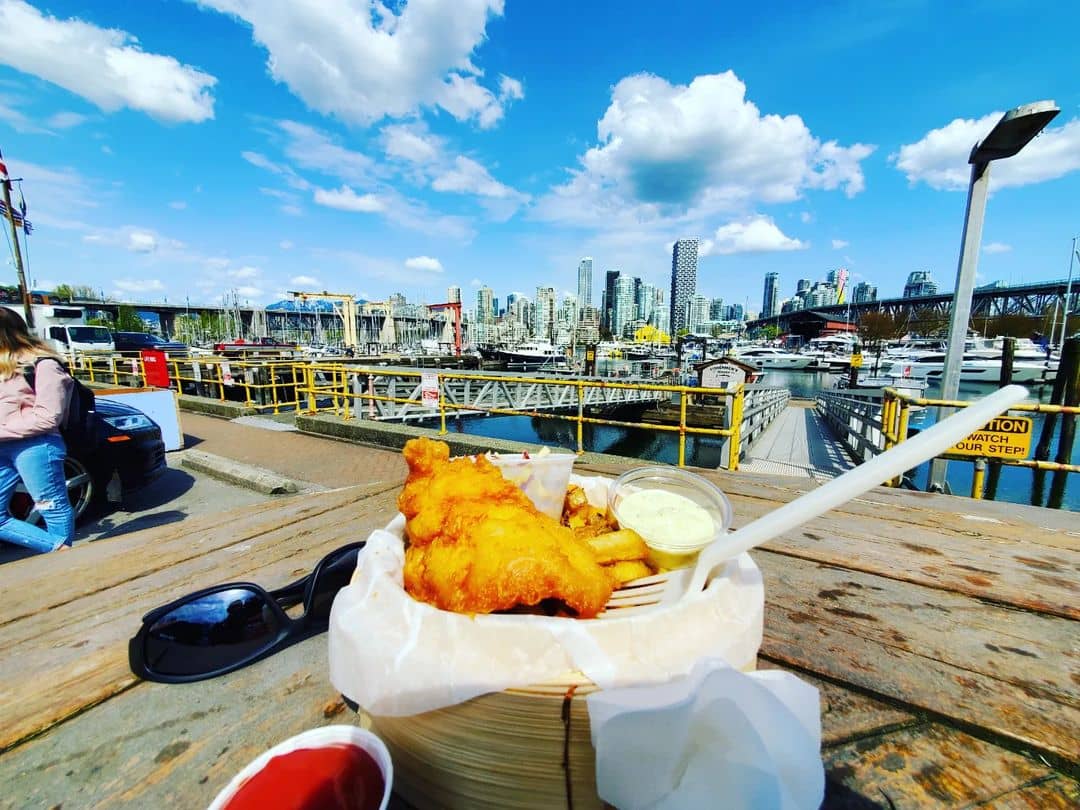 For seafood lovers who crave delicious fish and chips, Go Fish is a must-visit destination by False Creek.
This popular spot offers a lively and bustling atmosphere, and you get to have a free ticket to the magnificent outlook.
And while seating can be limited, you can always find a spot along the seawall to enjoy your meal. So, don't let that deter you from trying their mouth-watering seafood staples!
The Halibut and Chips are exceptional, with perfectly cooked and tender halibut paired with crispy homemade chips. For those who prefer a different option, the Salmon Sandwich is a flavorsome and refreshing choice, featuring grilled salmon and fresh greens and vegetables.
What to order: Halibut and Chips, Salmon Sandwich
Address: 1505 W 1st Avenue, Vancouver, BC V6J 1E8, Canada, Granville Island/ False Creek
And that's a wrap! There are a plethora of great restaurants in the city, but we're confident that these restaurants will satisfy your craving for both delicious food and stunning waterfront views.
Looking for more great spots to eat? Check out our picks of the best restaurants in Vancouver!