Whether you crave an intimate garden escape, a journey into international flavours, a tropical paradise for your taste buds, or an oasis of craft cocktails, West End's restaurant patios aim to impress.
From hidden gems that whisk you away to distant lands to stylish terraces that boast breathtaking views, these food havens redefine the art of outdoor dining.
Join us as we unveil 15 of the most remarkable West End Patios, each one a gateway to culinary bliss. Get ready to indulge in delectable dishes while basking in the invigorating ambiance that only outdoor dining can provide.
1. Joe Fortes – Robson Street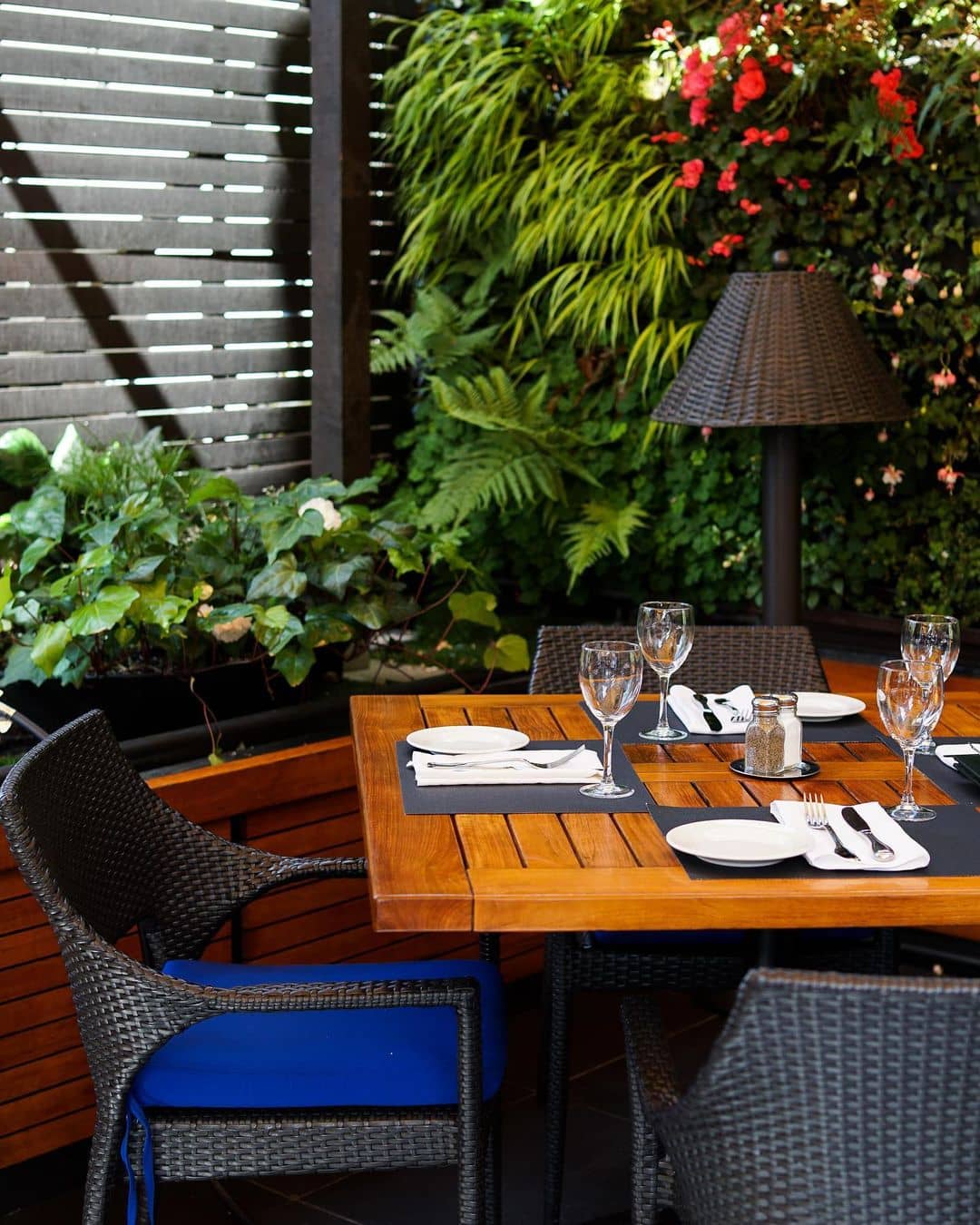 A place that needs no introduction. Joe Fortes, as everyone knows, is not just a Robson Street seafood eatery, it's an institution that rests in the very heart of Vancouver's dining scene. So, go enjoy a satisfying meal up on their outdoor rooftop garden, that just bursts with color and life.
The menu here is huge, but don't get overwhelmed. Just go for the Lobster Roll, or some Cajun Crab. We wouldn't miss out on the Chicken Waffle either. Pair your meal with a glass of wine, or a delicious cocktail.
P.S. their rooftop patio is only partly covered and may not be available due to poor weather. Check their social media for updates.
What to order: Lobster Roll, Cajun Crab, Chicken Waffle
Address: 777 Thurlow St, Vancouver, BC V6E 3V5
Website | Instagram | Facebook
2. Hook – Denman Street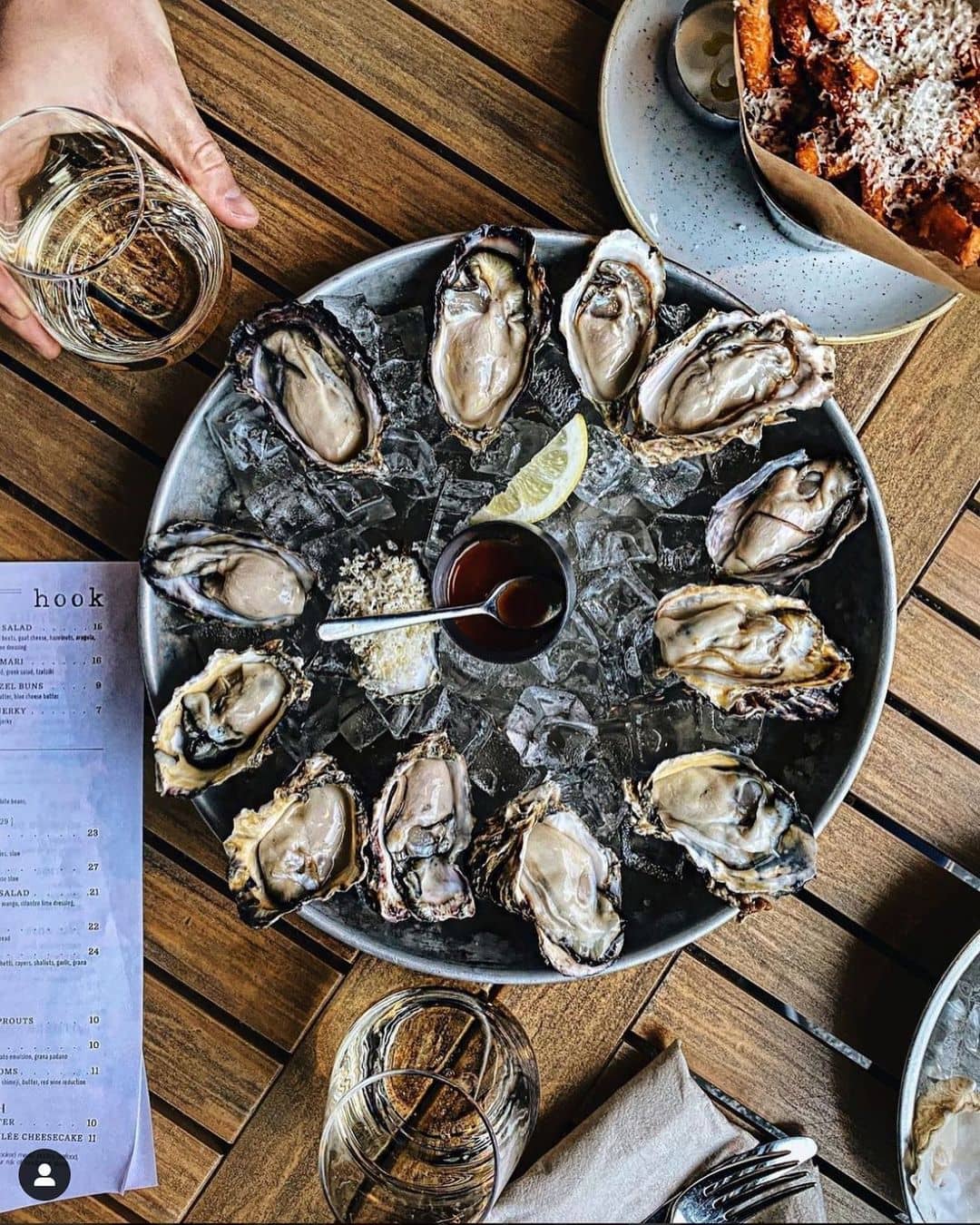 Nestled on Denman Street, Hook offers more than just delicious seafood—it provides a dining experience with breathtaking waterfront views and unforgettable sunsets. This seafood haven specializes in serving fresh and sustainable dishes, showcasing the best coastal flavours. With their inviting patio overlooking the ocean,
Hook's Lobster Roll is a seafood lover's dream come true. This glorious meal includes fresh lobster tossed in creamy garlic aioli and nestled within a soft potato bun alongside a delightful blend of celery and chives. Served with sea-salted kettle chips, this dish is a harmonious medley of flavours that celebrates the ocean's bounty.
Another standout on their menu, the Westcoast Salmon Bowl, is a must-have! This one comes with BC wild salmon, nourishing brown rice, nori, creamy avocado, protein-rich edamame, tangy pickled daikon, refreshing cucumber, and crunchy cabbage. With each bite, you'll savour the vibrant freshness of the salmon melting in your mouth.
What to order: Lobster Roll, Westcoast Salmon Bowl, Fish & Chips
Address: 1210 Denman St, Vancouver, BC V6G 2N2
Website | Instagram | Facebook
3. Saku – Robson Street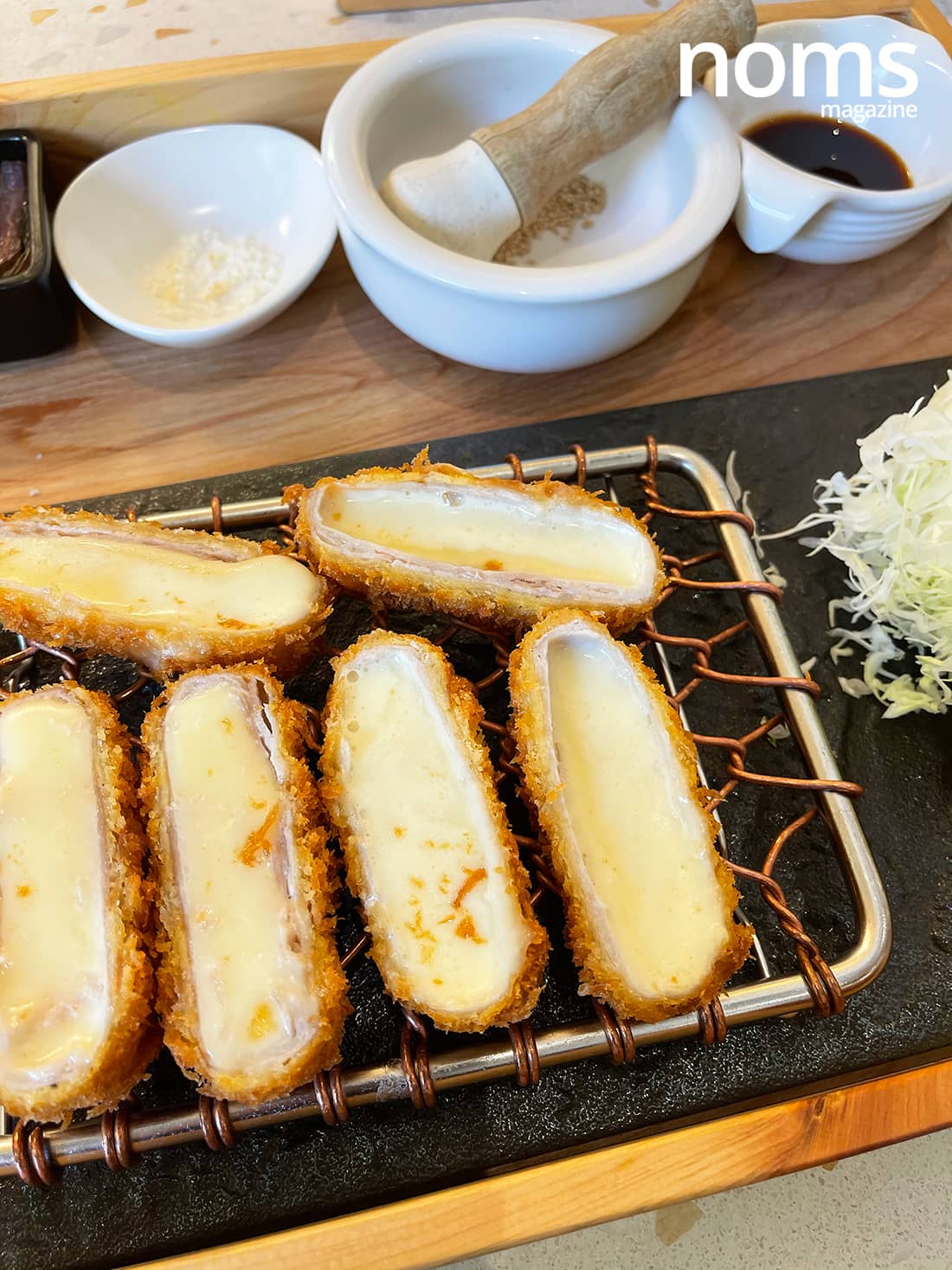 Tucked away in the bustling neighbourhood of Robson, Saku captivates diners with its captivating blend of Japanese culinary delights. This culinary haven takes pride in its tonkatsu and soba. With a chill and relaxing patio, Saku invites you to indulge in a remarkable experience where traditional flavours and modern creativity collide.
Saku's Cheese Katsu is potentially the greatest discovery of all time. This amazing dish encases a treasure trove of gooey aged mozzarella, adding a delightful cheesy twist to the classic katsu concept. Served with a side of tangy tonkatsu sauce and a refreshing cabbage slaw, you'll wish you lived near the area so you could have this every day.
Their Rosu Katsu is another must-have for lovers of Japanese food. The dish features a generous portion of tasty pork loin, perfectly breaded and deep-fried to achieve a crispy and golden exterior. As you take a bite, the tender and juicy meat inside will take you to the heavens.
What to order: Cheese Katsu, Rosu Katsu, Hire Katsu
Address: ​​​1588 Robson St, Vancouver, BC V6G 2G5
Website | Instagram | Facebook
4. Tabom – Robson Street
Tabom is a vibrant and welcoming Korean fusion restaurant that seamlessly blends the delicate flavours of Western and East-Asian cuisines. Their menu highlights the beautiful marriage of spices and ingredients from both worlds. This place is your best bet if you're craving amazing Korean food that will wow your mind.
Known for its hot plates, Tabom's Beef Bulgogi is a true star of the show. This sizzling dish is a harmonious blend of tender beef bulgogi, eggs, and corn. Whether you opt for the less spicy, original spicy, or extra spicy version, you can expect a burst of flavours that will redefine your tastes.
Up for a challenge? Tabom's Spicy BAAAAM Chicken is a fiery flavour explosion that is not for the faint of heart! This mouthwatering dish includes Korean spicy chicken, rice cake, cheese stick, and crispy fries.
WARNING: The intense spiciness will awaken your taste buds!!
What to order: Beef Bulgogi, Spicy BAAAAM Chicken, Spicy Cheese Samgyeopsal
Address: ​​1536 Robson St, Vancouver, BC V6G 1C2
Website | Instagram | Facebook
5. Guu on Davie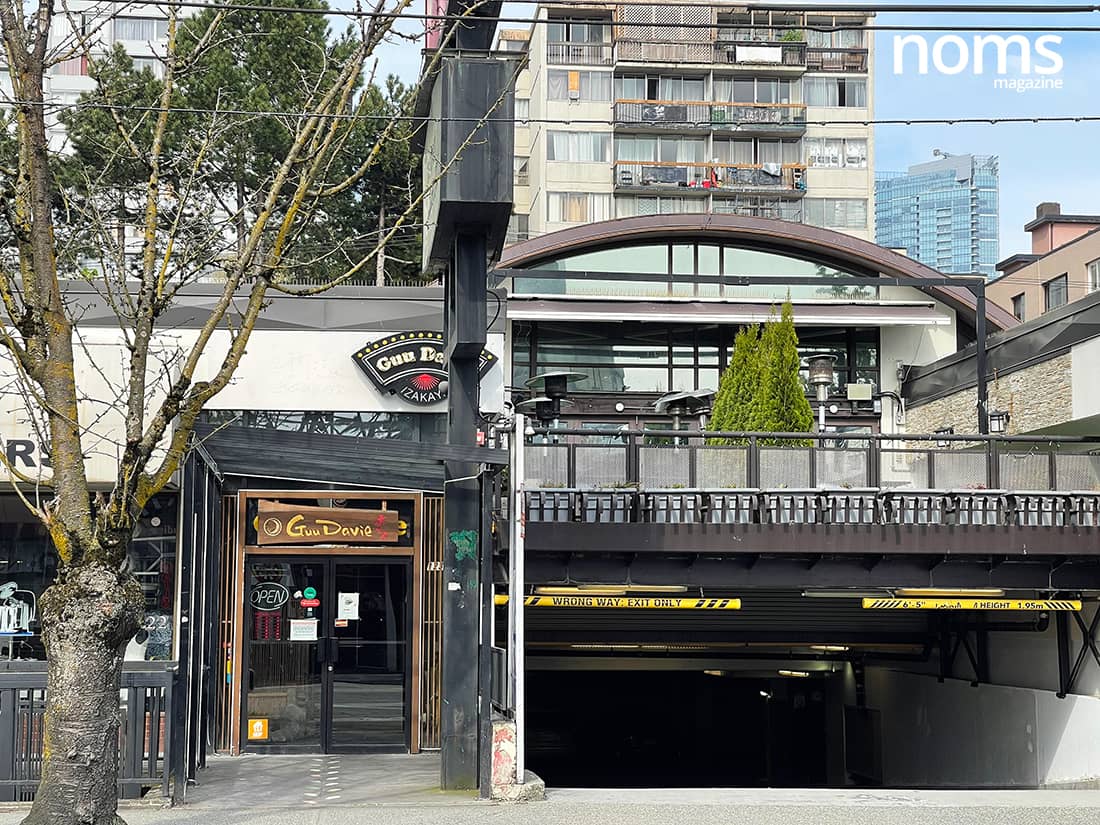 Guu is a popular Japanese izakaya in Davie St. that delights diners with its energetic ambiance and mouthwatering dishes. Their menu includes fresh sushi, sashimi, yakitori skewers, and comforting ramen, inviting you to indulge in Japan's rich flavours and culinary traditions.
Guu's Beef Yaki Udon is a clear winner. This dish comes with pan-fried udon noodles, beef, mushrooms, green onions, and a sprinkle of bonito flakes dancing on top. The noodles are cooked to perfection, boasting a satisfying chewiness that pairs beautifully with the dish's tender beef and umami-rich flavours.
Their Chicken Karaage is another sensational dish that showcases Guu's mastery of flavours. This one will enchant your taste buds with heavenly chicken thigh marinated in a mesmerising blend of sea salt and rice-malt. The chicken is skillfully deep-fried to achieve a crisp and golden exterior, while the interior remains tender and juicy. Complemented by a luscious garlic mayo, you'll be dreaming of this 24/7.
What to order: Beef Yaki Udon, Chicken Karaage, Grilled Salmon
Address: 1239 Davie St, Vancouver, BC V6E 1N4
Website | Instagram | Facebook
6. Papi's Oyster Bar – Denman Street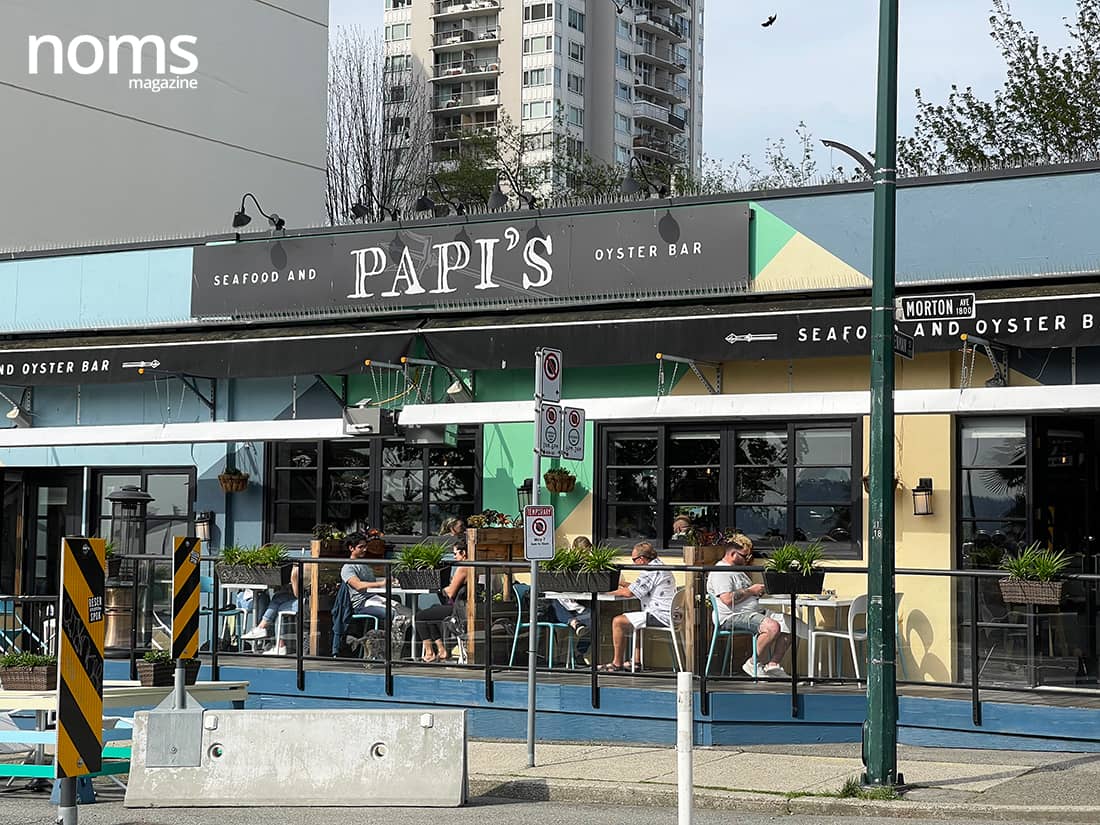 Seeking a taste of the coast? Papi's Oyster Bar is a haven for seafood enthusiasts. With a rich background rooted in coastal traditions, this charming restaurant is known for its exquisite selection of fresh oysters and a diverse menu featuring various delectable seafood dishes.
The inviting ambiance will instantly draw you in as you step into Papi's. For those who crave an alfresco setting, their charming patio provides the perfect spot to enjoy your meal while savouring the English Bay ocean breeze.
Papi's Oyster Bar's Calamari is a sensational dish that combines crispy calamari with a fiery twist of crispy jalapenos and vibrant pico de gallo. The perfectly golden exterior gives way to tender rings, creating a delightful textural experience.
Accompanied by a creamy tzatziki sauce, this seafood fiesta is a must-try for those seeking a flavour-packed adventure to transport them to a coastal paradise.
Their Lobster Roll is a delectable treat that showcases the finest Atlantic lobster nestled in a toasted Vienna roll. The combination of delicious lobster meat and the refreshing crunch of shredded iceberg creates a textural symphony that makes the dish sing. The creamy garlic aioli and the vibrant freshness of fresh dill further enhance the roll.
What to order: Calamari, Salmon Burger, Lobster Roll
Address: 1193 Denman St, Vancouver, BC V6G 2N1
Website | Instagram | Facebook
7. Babylon Cafe – Denman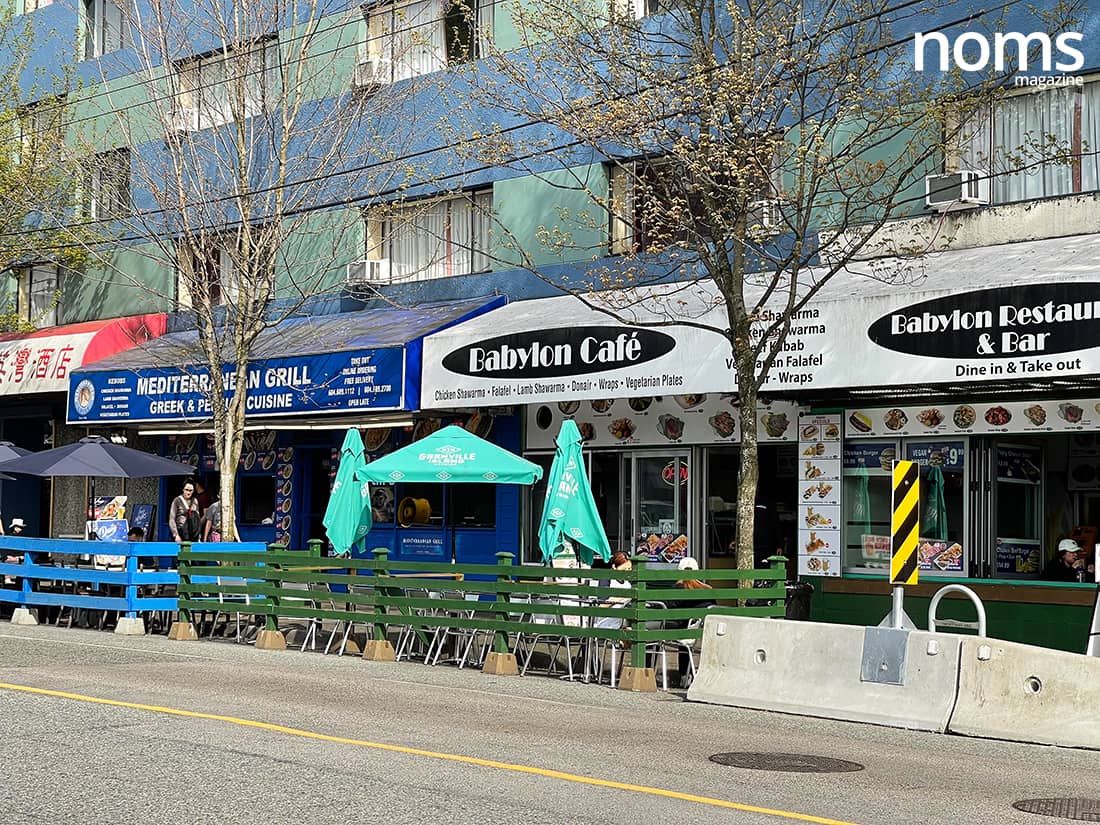 Babylon Cafe stands out as an longtime local gem. With its meticulous attention to detail, the restaurant transports guests on an enchanting culinary journey that leaves a lasting impression.
Discover a slice of Middle Eastern paradise at Babylon Cafe, where the captivating flavours of Lebanon are beautifully complemented by a charming and inviting outdoor patio.
Try their irresistible Falafel Wrap which is a burst of flavours in every bite. his culinary creation features perfectly seasoned and crispy falafel nestled in a soft pita, accompanied by fresh lettuce, tomatoes, red onion, cucumber, and a drizzle of tzatziki, tahini sauce, and hot sauce. The flavours create an addicting experience, with the falafel's crispness contrasting with the creamy sauces and refreshing crunch of the vegetables.
Babylon Cafe's Chicken Shawarma Wrap is another gastronomic adventure you shouldn't miss out on! The succulent, exquisitely seasoned chicken shawarma is encased within a warm, fluffy pita bread. The crispness of the lettuce, the juicy burst of tomatoes, the tangy notes of red onion, and the refreshing crunch of cucumber will blow your mind away.
Drizzled with creamy tzatziki, velvety tahini sauce, and a dash of fiery hot sauce, this wrap will transport your taste buds to a world where the vibrant essence of the Mediterranean awaits.
What to order: Falafel Wrap, Chicken Shawarma Wrap, Greek Salad
Address: 1156 Denman St, Vancouver, BC V6G 2M9
8. Banana Leaf – Davie & Robson Street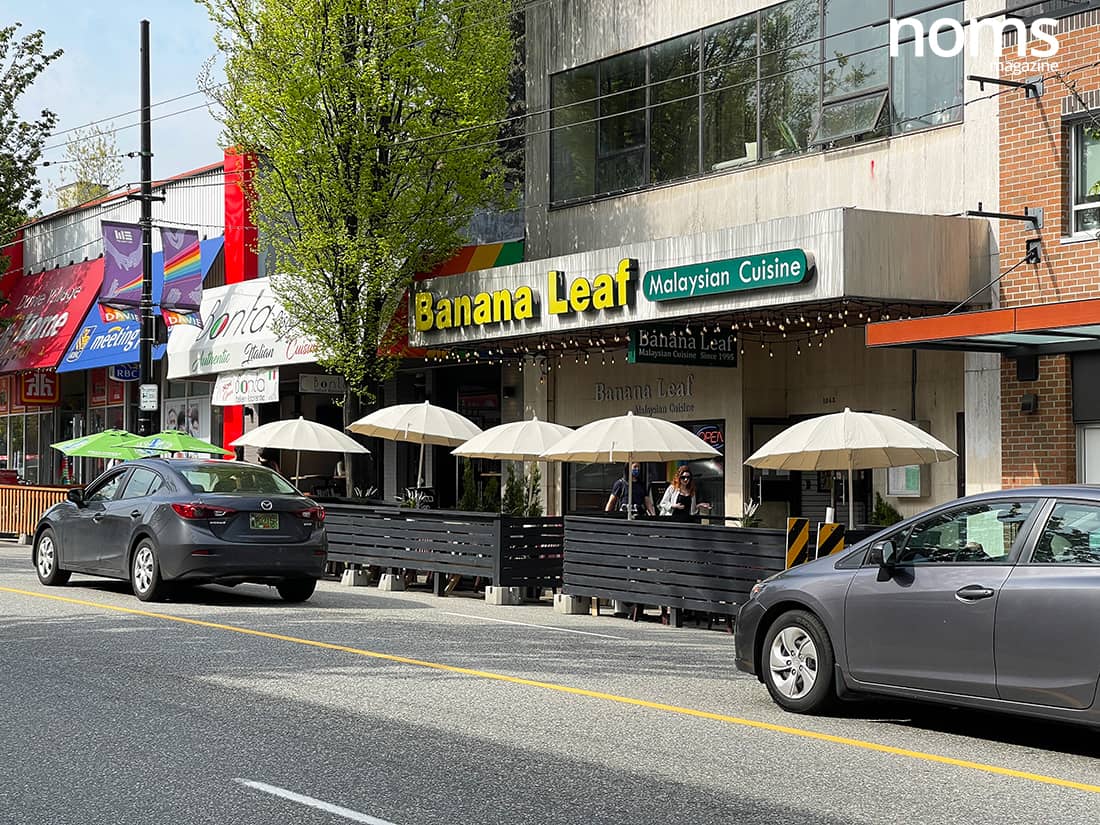 Get ready to transport your taste buds to the tropical flavours of Southeast Asia at Banana Leaf! This lively spot showcases the diverse cuisines of Malaysia, Thailand, and Indonesia. With a menu filled with fragrant curries, sizzling stir-fries, and more, Banana Leaf will immerse you in a world of bold flavours you can't find anywhere else.
Dining alone? Embark on a Solo Adventure through Southeast Asia at Banana Leaf. This specially crafted menu set showcases diverse dishes, from the refreshing Asian Salad with pineapple and papaya to the succulent Satay Chicken skewers. Indulge in the iconic Roti Canai flavors, the spicy Sambal Fish Fillet, and the aromatic Rendang Beef Curry, accompanied by the creamy Sayur Lemak and fragrant Ginger Garlic Jasmine Rice.
Finish your adventure with the delightful Pandanus Coconut Panna Cotta— the perfect sweet ending to a remarkable meal.
What to order: Solo Adventure, Tasting Menu
Address: 1043 Davie St, Vancouver, BC V6E 1M5
Website | Instagram | Facebook
9. Olympia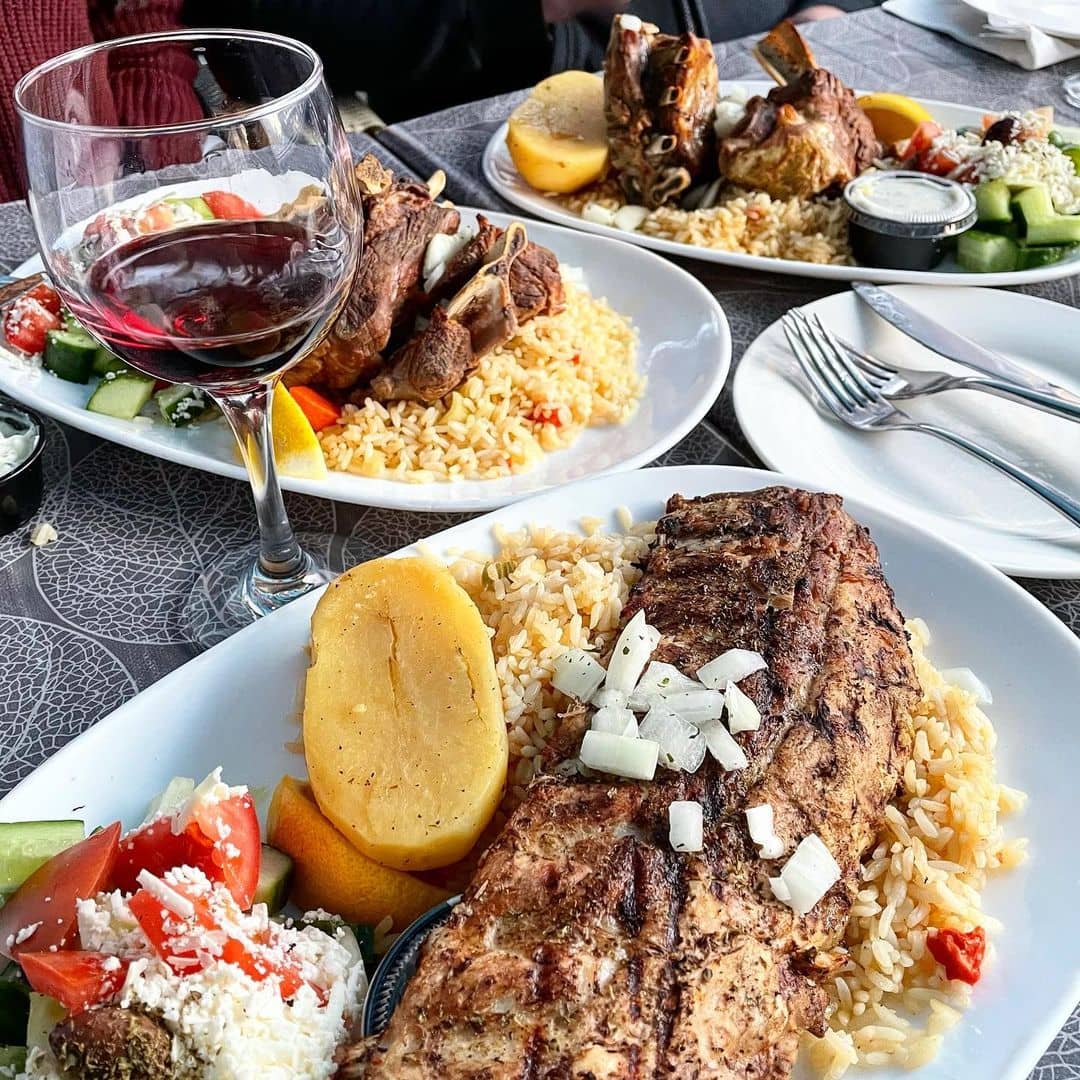 Be transported to a Mediterranean culinary haven when you step into Olympia. With a rich background steeped in Mediterranean traditions, this spot captivates guests with its warm ambiance and enticing menu filled with authentic delights. From mouthwatering Greek classics to flavorful seafood dishes, Olympia offers everyone a phenomenal array of options.
Olympia's Roast Lamb has everyone raving about its tenderness. This simple dish defies expectations and delivers a classic experience that satisfies even the most discerning palates. Beyond its delicious taste, the portions are generously sized, ensuring that each bite fully satisfies you. This Roast Lamb is where simplicity meets excellence, and flavour knows no bounds.
The Greek Salad is a true delight for salad enthusiasts and lovers of Mediterranean cuisine. This comes with a gorgeous blend of crisp cucumbers, onions, green peppers, briny olives, and juicy tomatoes. It is topped off by a generous sprinkling of feta cheese, adding a creamy and tangy element that your taste buds will absolutely love.
What to order: Roast Lamb, Greek Salad, Chicken Souvlaki
Address: 998 Denman St, Vancouver, BC V6G 2M1
10. Cactus Club Cafe – English Bay Beach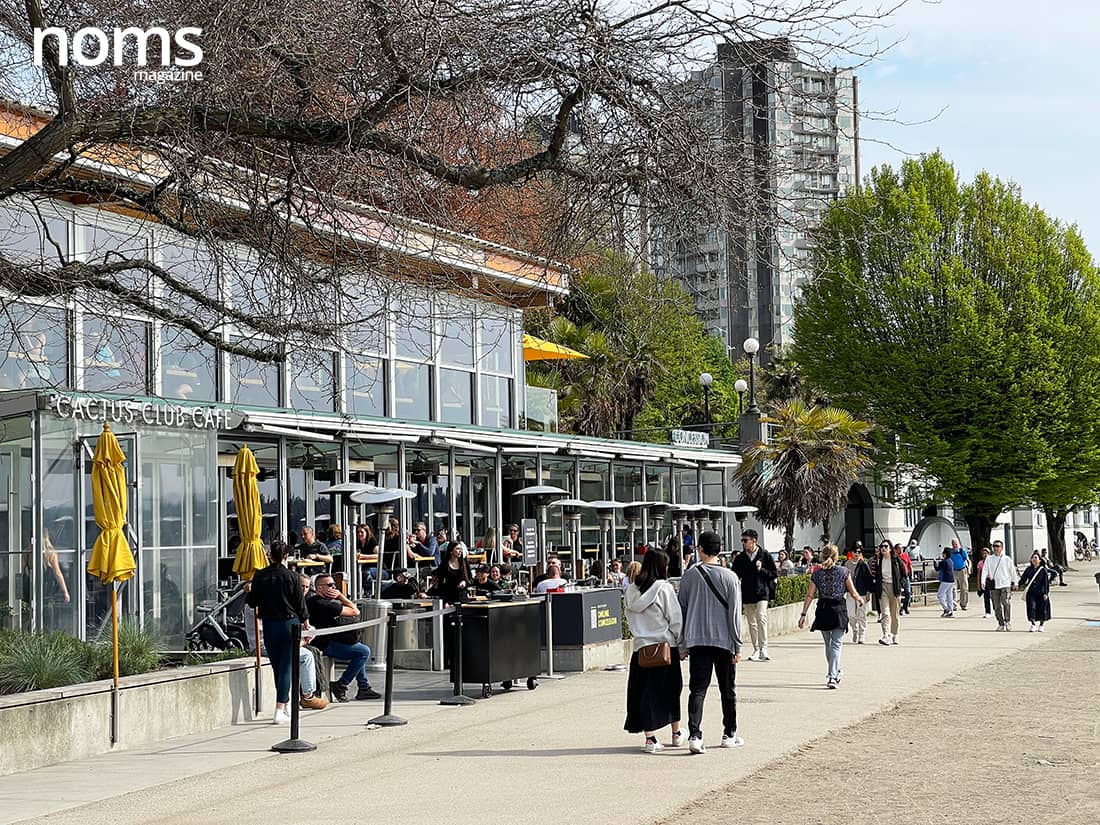 For those seeking modern Canadian cuisine with a fine and casual dining experience, the Cactus Club Cafe says hi. Located right on English Bay Beach, this location offers stunning scenery of the beach and English Bay.
That said, a dish you shouldn't dare miss is the Butternut Squash Ravioli, which highlights the sweet and nutty flavours of butternut squash paired with creamy Italian cheese. This delectable combination will surely satiate any palate.
Another star of their menu is the Mini Crispy Chicken Sandwiches, featuring flawlessly cooked juicy panko-crusted chicken tucked in a mouthwatering embraced by soft buns! Yum!
What to order: Butternut Squash Ravioli, Mini Crispy Chicken Sandwiches
Address: 1790 Beach Ave, Vancouver, BC V6E 1V3
Website | Instagram | Facebook
11. Vonns – Denman Street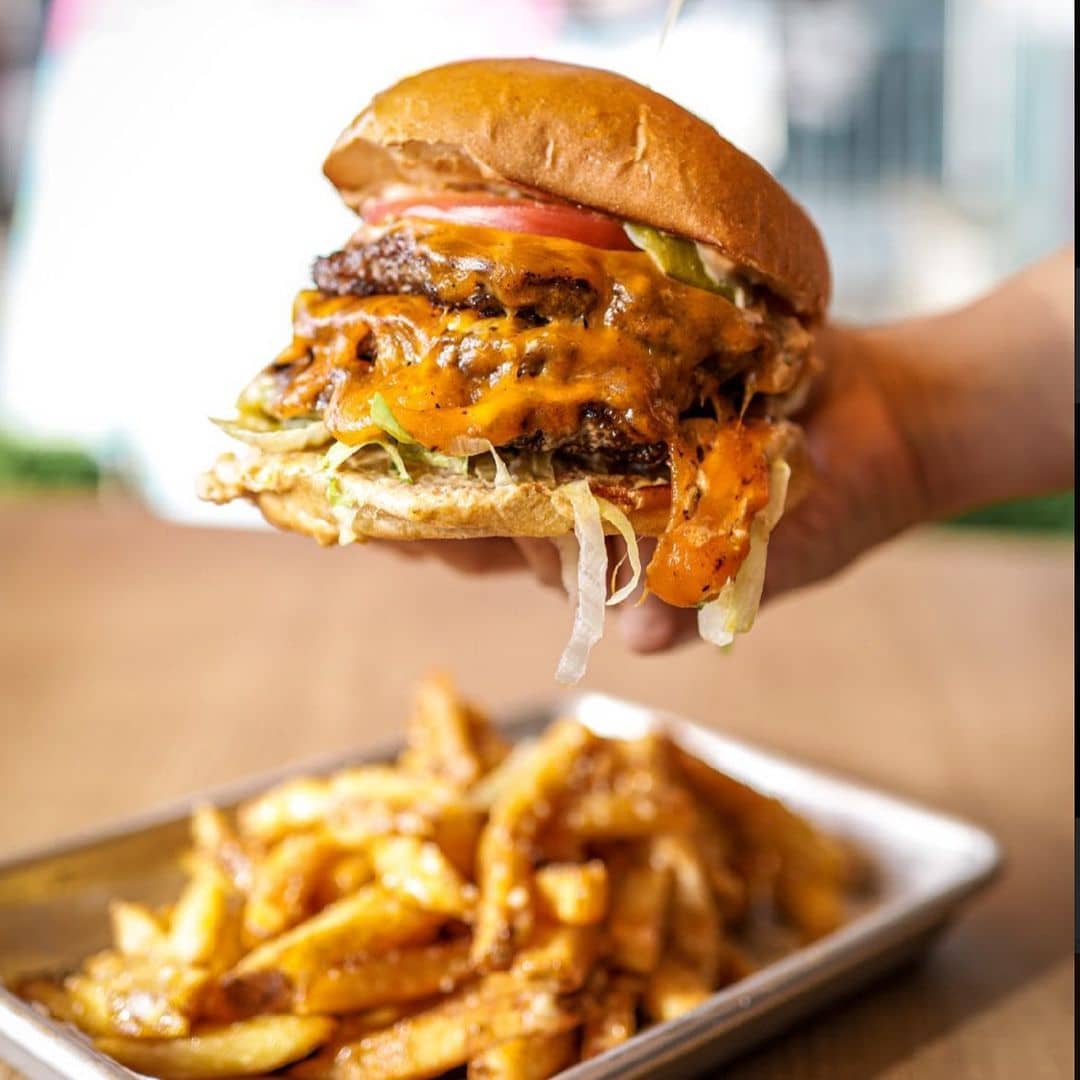 Vonns is a laid-back spot that is home to one of the best burgers in town. With a focus on hearty chicken dishes and mouthwatering burgers, this culinary gem caters to those seeking satisfying comfort meals. What sets Vonns apart is not only its delectable menu but also the breathtaking views of English Bay that can be enjoyed from its cozy patio.
Whether you're in the mood for a juicy chicken creation or a satisfying burger, Vonns invites you to unwind, indulge in delicious comfort food, and soak in the picturesque vistas of English Bay.
Ignite your senses with the Top Gun at Vonns. This dish is a signature creation featuring a secret house blend of ground beef, grilled onions, mushrooms, peppers, jalapeños, and fresh tomatoes. The crowning glory is the perfect combination of melted cheese and their stellar house sauces, adding an extra layer of decadence. Served on hand-cut potato scoops, every bite will blow your mind away.
The Dusted Chicken Tenders is another must-have on their menu. These crispy, breaded delights are like culinary treasures, offering 6-7 pieces of pure chicken bliss. The real magic happens when you dust them with your desired heat level, be it the zesty and refreshing lemon & herb, medium, or the bold and fiery "holy heat."
What to order: Top Gun, Dusted Chicken Tenders, Classic Burger
Address: 1184 Denman St #104, Vancouver, BC V6M 2M9
12. Score on Davie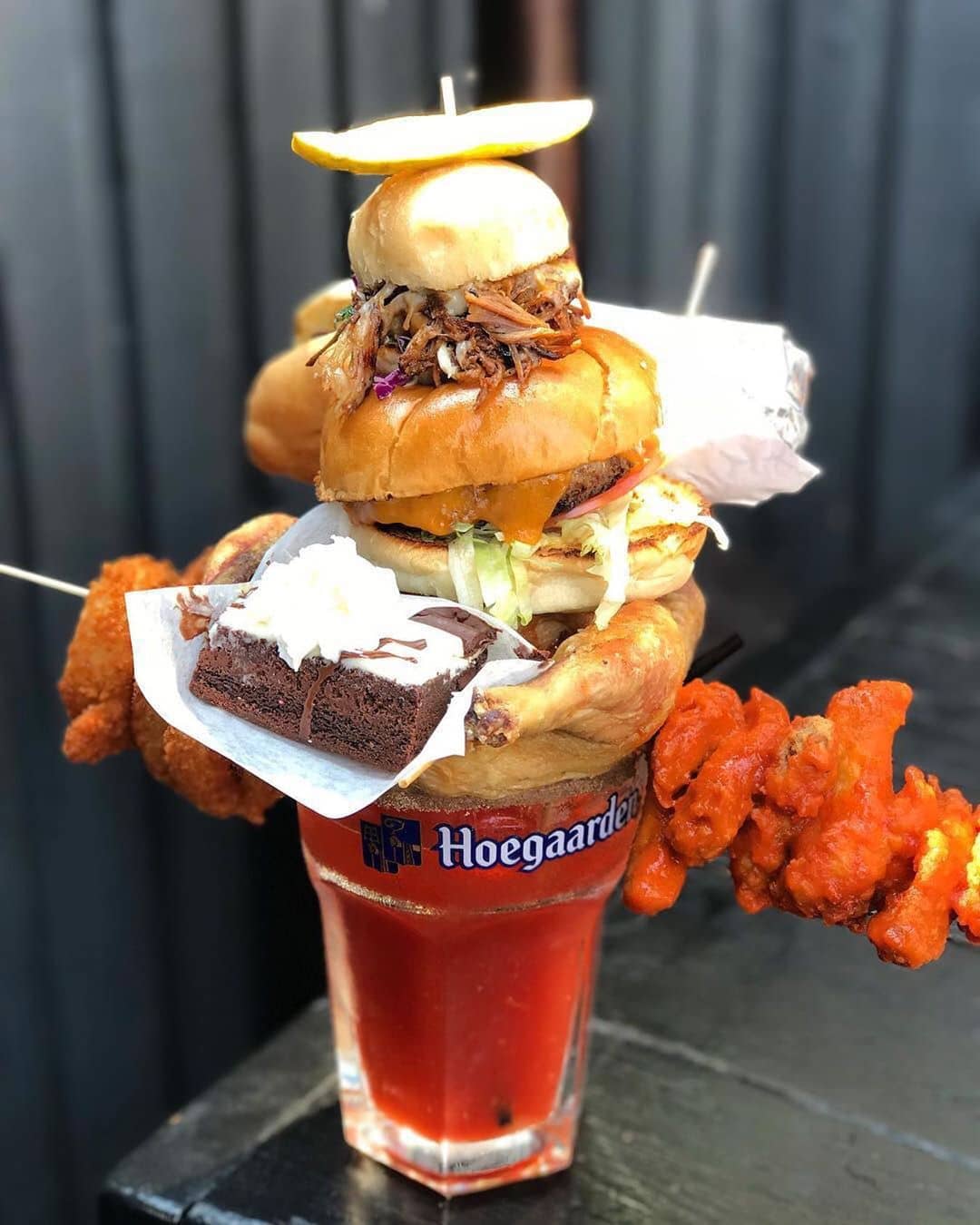 Located in the heart of Davie Street, Score is a welcoming establishment that caters to sports enthusiasts and food lovers. With a diverse menu spanning loaded gourmet burgers to epic brunch items, Score on Davie offers a fusion of comfort food and inventive twists.
Adding to its charm, the restaurant boasts a fantastic patio where patrons can soak up the lively street ambiance while indulging in delicious pub fare.
Allow your taste buds to do a victory dance with Score on Davie's Pulled Pork Mac and Cheese. This dish combines the smoky braised BBQ pulled pork with the velvety embrace of cavatappi noodles bathed in a white wine cheese sauce.
As you savour every bite, don't forget to pair it with the accompanying garlic toast, which adds a delightful crunch to the experience. Score on Davie's Pulled Pork Mac and Cheese is the perfect marriage of classic comfort food and daring creativity.
Vegetarian or not, you're in for a treat with their Cauliflower Wings. These delectable bites feature tempura-battered cauliflower, perfectly cooked to achieve a satisfying crunch. Tossed in your choice of original, hot, honey garlic or Sriracha Pineapple sauce, these wings deliver a punch of flavor that will keep you coming back for more.
The addition of crispy kale adds a delightful textural contrast, while the spicy garlic aioli on the side adds a creamy and zesty element.
What to order: Pulled Pork Mac and Cheese, Cauliflower Wings, Fried Chicken Bao Buns
Address: 1262 Davie St, Vancouver, BC V6E 1N3
Website | Instagram | Facebook
13. The Three Brits Public House – Denman Street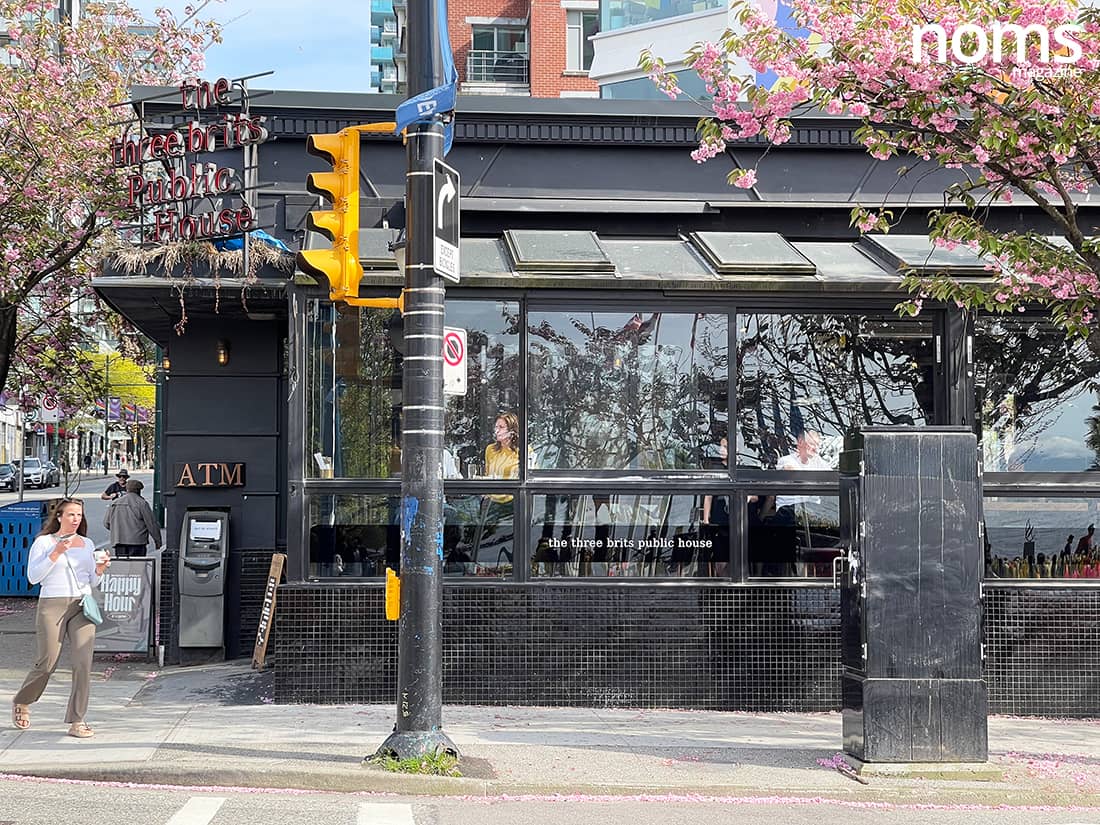 Smashing views, late-night food and drinks, laid-back atmosphere, good music, friendly service, and extraordinary food – this is everything that signifies The Three Brits Public House. This fish and chips place is one of the most preferred hangout spots for the locals, and the fact that it is only a few steps from English Bay beach is a huge plus.
The Fish & Chips here is classic at its best! A large piece of fresh cod comes fried in a beer batter, which gives it a crispy and crunchy coating, and the fish inside remains juicy and flaky, falling apart in your mouth as you enjoy it with the house tartar sauce.
Get a glass of cold beer on the side, and enjoy your time in heaven on earth!
Take your taste buds on an adventurous ride with the Tuna Tartare. Served on crunchy rice croutons is sriracha spiced tuna and marinated cucumbers; it's not just the combination of flavours that does the trick but the combination of textures that largely contributes to the magic.
For something snack-worthy by the beach, you have multiple options on The Three Brits' menu, like Dick's Handmade Dumplings, and Red Chili Wings.
What to order: Fish & Chips, Tuna Tartare, Dick's Handmade Dumplings, Red Chili Wings
Address: 1780 Davie Street, Vancouver, BC V6G 1W2
14. The Junction – Davie Street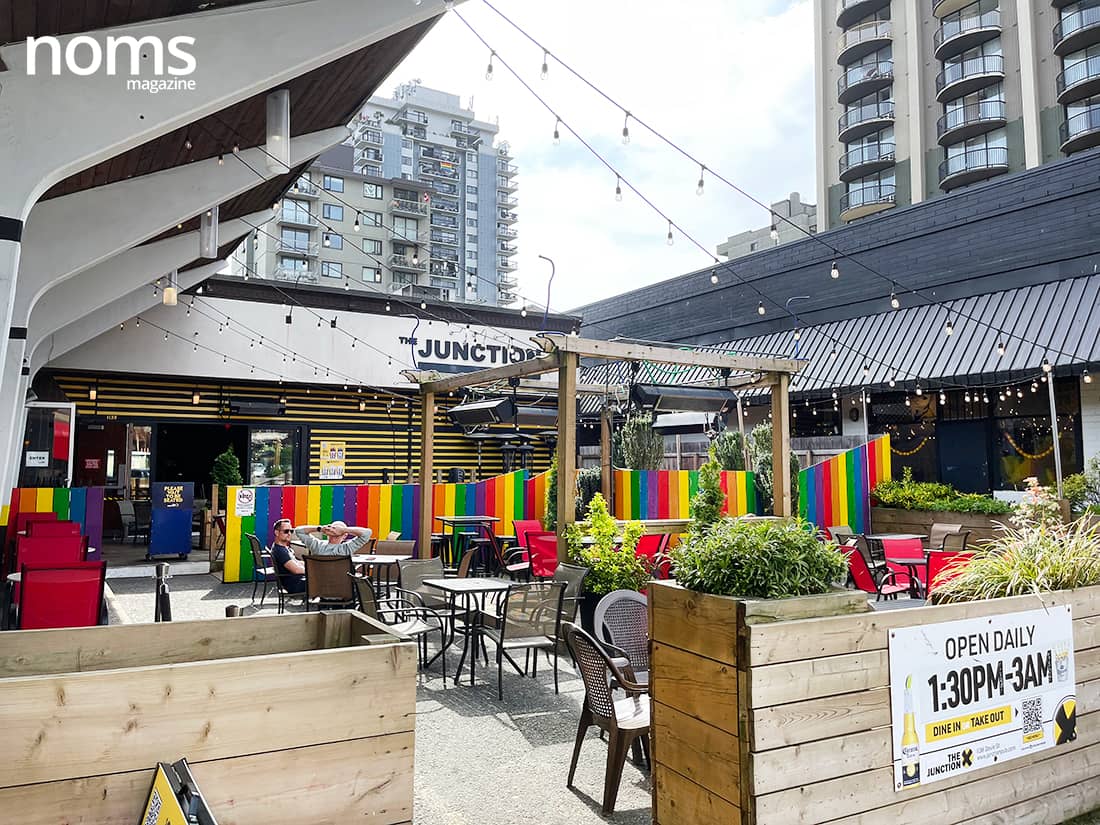 The Junction is a beloved neighbourhood pub that exudes warmth like a comforting embrace. With a menu full of pub classics and international dishes, they have something to offer everyone! The Junction's large and inviting patio is a hidden gem, providing an expansive outdoor oasis perfect for basking in the summer sun while enjoying a delightful meal and drinks with friends.
The Junction's signature burger is a must-have for burger lovers. This one includes a juicy 7oz Butcher Cut Basic Beef Burger cooked to perfection. Topped with smoked garlic dijonnaise, fresh lettuce, tomato, red onion, and a dill pickle, you'll find yourself coming back here for more Served with your choice of fries or a tossed salad, this burger is a must-try for those seeking a delicious and satisfying meal.
The Junction's irresistible Quesadilla is a consistent crowd-favourite that comes with a warm and perfectly grilled flour tortilla that wraps around cheddar and jack cheeses. As you take a bite, the cheeses ooze and mingle with a corn and black bean medley, adding a delightful crunch and a burst of savoury goodness.
The Quesadilla is perfectly complemented by the addition of red onion, adding a touch of tanginess to each mouthwatering bite. Served with salsa and sour cream, prepare yourself for a cheesy bliss that will leave your taste buds dancing.
What to order: The Junction, Quesadilla, Southern Fried Chicken Strips
Address: 1138 Davie St, Vancouver, BC V6E 4L7
Website | Instagram | Facebook
15. Peaked Pies – Denman Street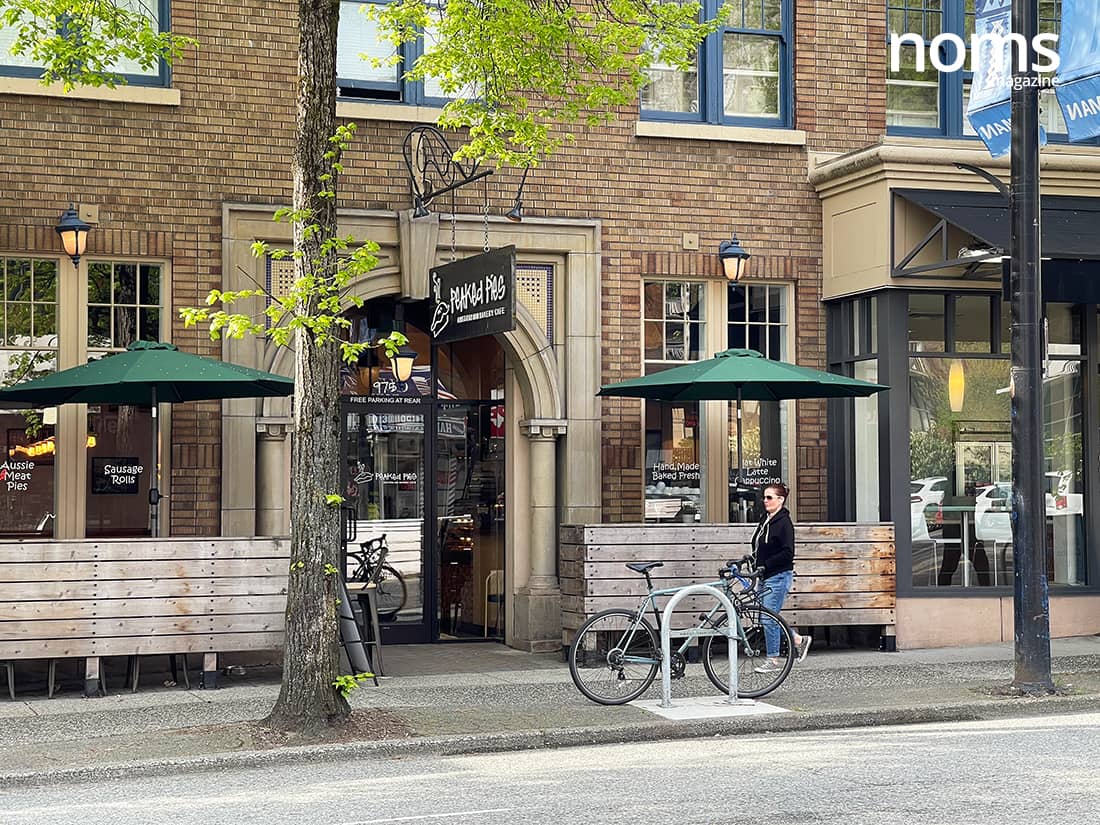 Peaked Pies is a hidden gem that brings the flavours of Australia to the heart of the city. This charming eatery serves up delectable Australian meat pies, a true culinary delight for locals and visitors alike. Step into their cosy and inviting space, adorned with rustic accents that transport you to the land Down Under.
If you prefer to enjoy your pie outdoors, their patio offers a serene and relaxed atmosphere where you can savour your meal while soaking up the vibes.
One bite of Peaked Pies' Traditional Aussie, and you'll be transported to Australia. This meat pie masterpiece features a hearty filling of perfectly seasoned ground beef, sautéed onions, and rich, savoury gravy. The flaky and buttery crust adds a delightful crunch to each bite, creating a satisfying texture combination.
Vegetarian or not, the Mentil Lentil at Peaked Pies is something you should try at least once in your life! This one comes with hearty lentils and a medley of fresh vegetables, including zucchini, carrot, and celery. Everything is simmered in a tasty chili basil tomato sauce. The creamy Parmesan ricotta mix adds a luxurious touch, balancing the flavors with its velvety texture.
What to order: Traditional Aussie, Mentil Lentil, Chunky Steak & Mushroom
Address: 975 Denman St, Vancouver, BC V6G 2M3
Website | Instagram | Facebook
West End boasts a vibrant culinary scene with multiple exceptional restaurants offering delightful patio experiences. If you're looking for more options, Downtown also has some of the best restaurant patios where you can enjoy great food in a relaxing atmosphere.