Whether you've been strutting your way to Kitsilano Beach or doing some casual shopping in the Kits hood, if you're here, it means that you're now scrolling through the web for some good food near you in Kitsilano.
Well you've come to the right place as this neighbourhood is home to some of the most loved and highly rated food joints in the city. So look no further as we compiled the best Kitsilano restaurants you should dine at and what to order at each below!
*Noms Members are part of our exclusive paid membership. Only food spots we personally recommend are accepted as members. 
1. Oddfish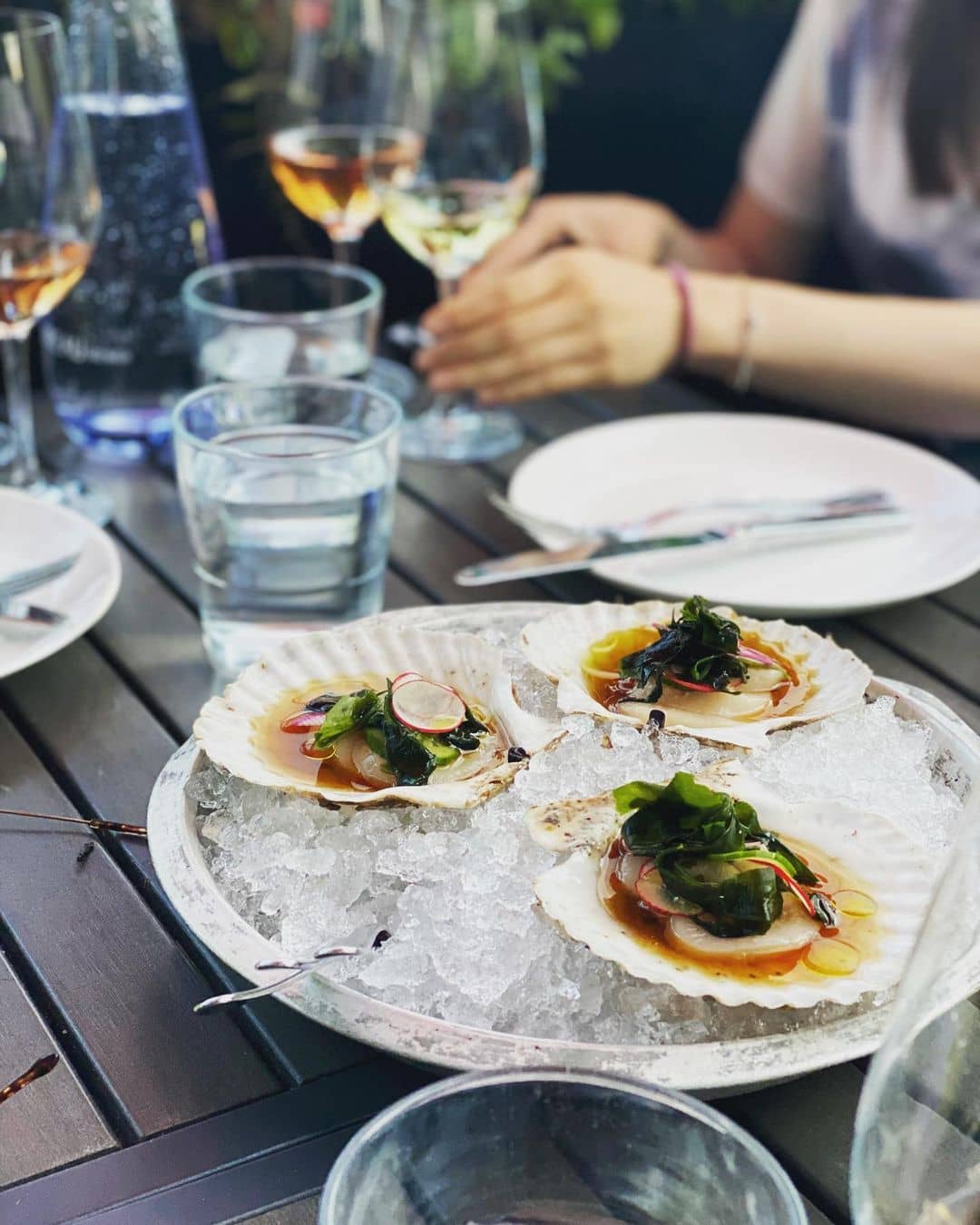 For those of you looking for absolute fresh mouthwatering seafood in Vancouver, Oddfish comes highly recommended. With a menu that changes based on the catch of the day and what local farmers bring in, Oddfish is a creative, casual and classy restaurant in Kitsilano to bring a date or a group of friends and be prepared for exciting new dishes popping up on their handwritten chalkboard.
At Oddfish, most of their meals are meant to be shared so you get to try a variety of their offerings. The burrata is highly recommended, and their handmade fresh pasta accompanied by your choice of clams or prawns is a delight. They also do great fresh vegetarian dishes and their Roasted Broccoli or Grilled Asparagus is not to be missed.
"Let's see what the sea brings us…" is their adage and is sure to lead to an exciting and captivating seafood extravaganza.
What to order: burrata, Roasted Broccoli, Grilled Asparagus
Address: 1889 W 1st Ave, Vancouver, BC V6J 5B8
2. Ramen Danbo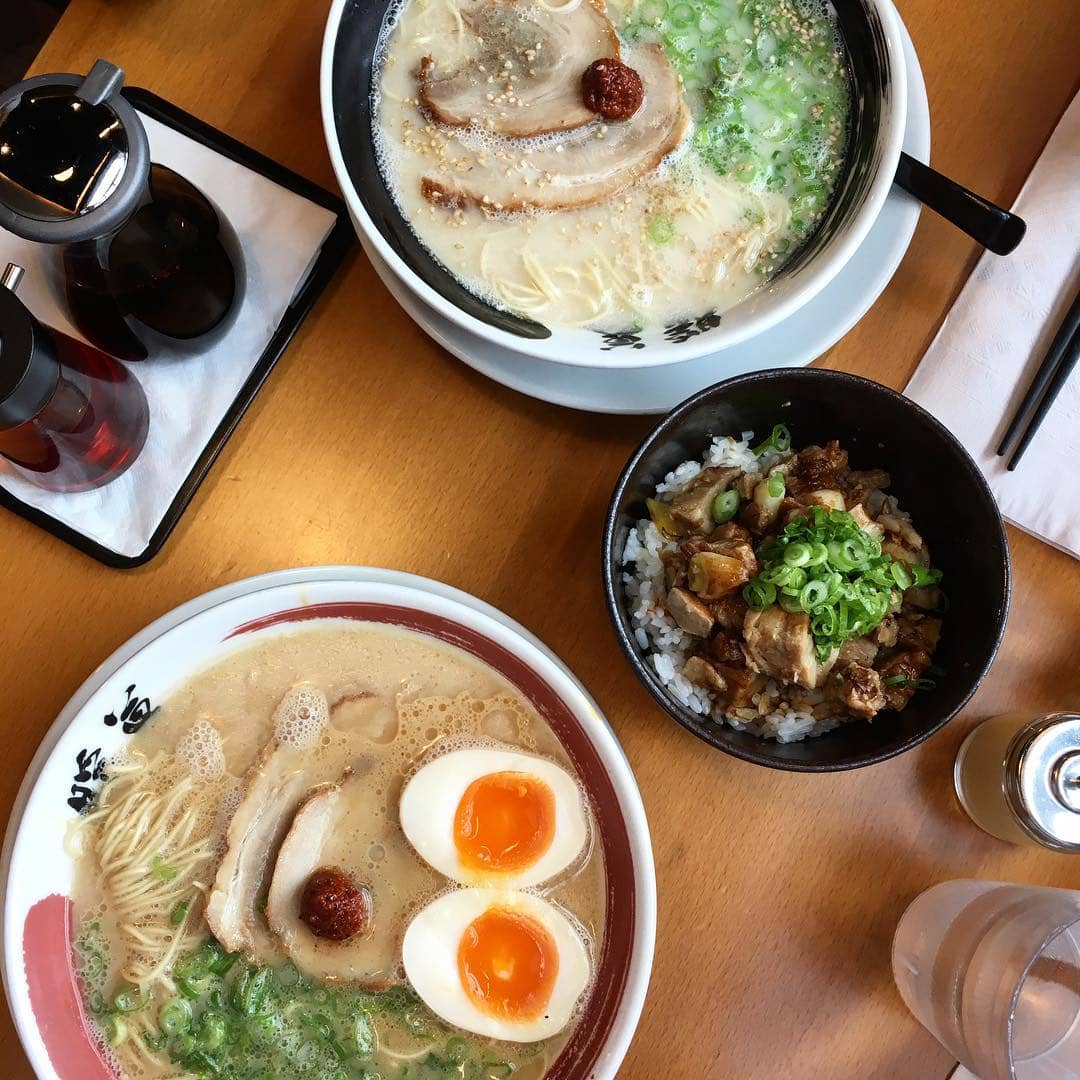 On the bucket list for any Ramen lover should be Kitsilano's Ramen Danbo. This highly recommended eatery is popular for using local as well as imported ingredients. Their versatility allows you to customize the noodle thickness and firmness, the broth and spice. Danbo is considered by Ramen lovers to be among the best in Vancouver for their unique and original signature broths and artisan crafted noodles.
To start off, there's a choice of four types of Ramen; Classic, Shio (salty), Miso (soy) and Negi-goma (sesame). You get to choose basic toppings like Chashu-men (pork belly), or tofu. Traditional toppings like boiled eggs, nori, kikurage and karashi takana are also available. Definitely try out their side dishes; the pan-fried Yaki Gyoza and Pork Donburi are just too delicious to be overlooked.
Protip: There is always a waiting line outside due to its popularity. Turnover is pretty fast though!
What to order: Classic, Shio, Miso, Negi-goma, Chashu-men, Yaki Gyoza and Pork Donburi
Address: 1833 W 4th Ave, Vancouver, BC V6J 1M4
3. Raisu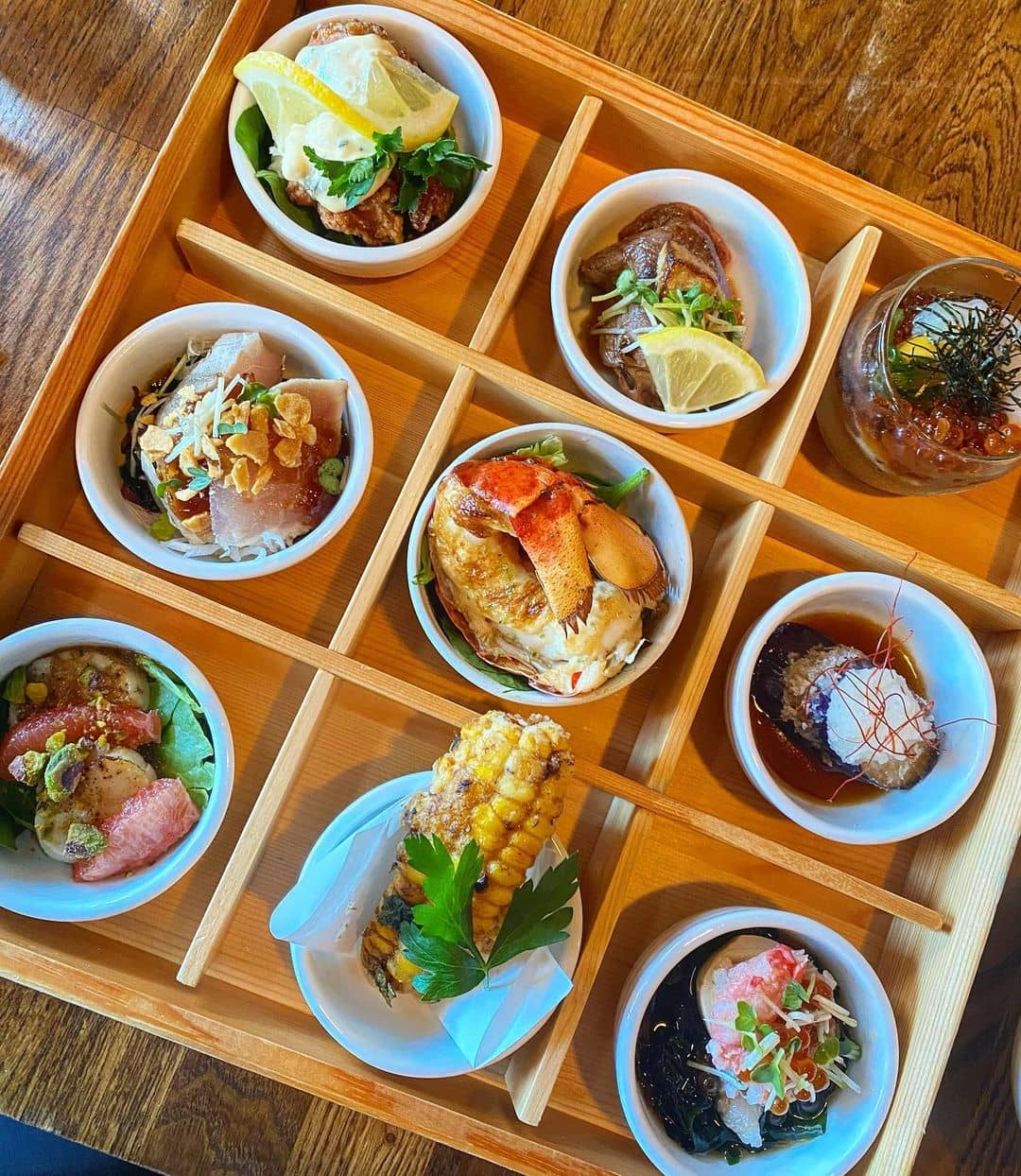 Raisu's name mimics a Japanese pronunciation of "rice," fittingly so as it prides itself in sake, or Japanese rice wine. If you are looking for a place in Kitsilano that has an extensive sake menu and knowledgable staff, Raisu is the place to go. Boasting a sake menu of nearly 50 different kinds, you can be sure to find a sake that matches your preference.
But they aren't just a sake spot, their food menu holds its own, complete with Bento, Tapas, Udon, Sushi, and Teishoku. Teishoku is a type of Japanese set meal, "derived from humble fare served at Zen temples," as described in their website. It include a main dish, rice, miso soup, and pickled dishes. Their Bento boxes, such as the Sho Ka Do and the Zen, come in limited quantity daily, and can be ordered ahead of time on the phone.
One of their most popular dishes is their Wagyu Beef Shabu Shabu Udon – the broth is poured into the noodles as it is served, allowing you to watch as the thinly-sliced wagyu beef cook.
From the meticulous décor consisting of art pieces made from teacups and chopsticks to the careful garnish on each dish, Raisu can be described as nothing less than elegant.
What to order: Sho Ka Do, Wagyu Beef Shabu Shabu Udon
Address: 2340 W. 4th Avenue, Vancouver, BC
Website | Instagram | Facebook
4. Au Comptoir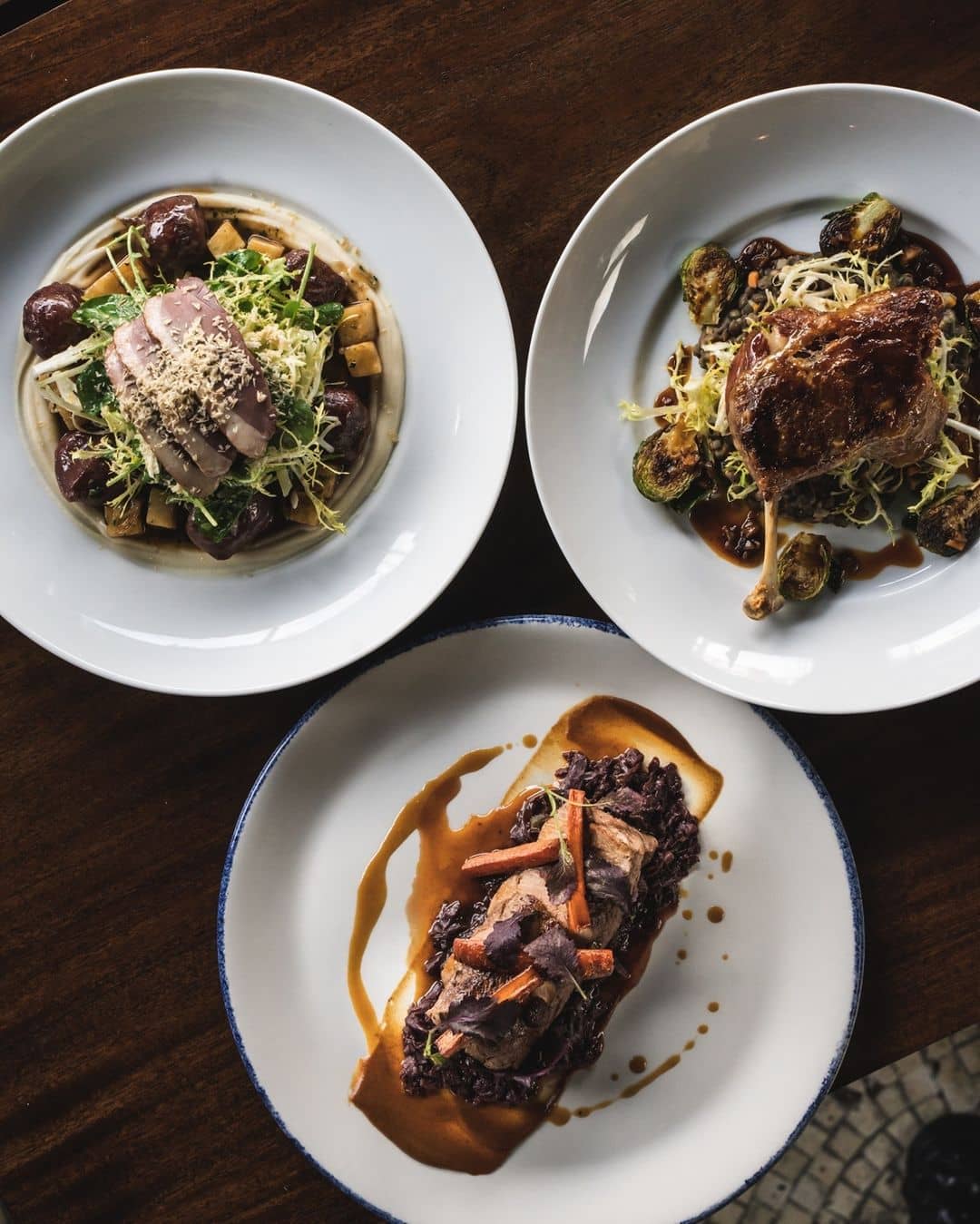 Located on 4th Avenue in Kitsilano, this delightful French restaurant is quaint and intimate with the servers and decor doing a wonderful job to give the place a real French vibe. Open for breakfast, lunch, brunch and dinner, Au Comptoir brings a little bit of France to Vancouver. They constantly change their menu with the seasons to accommodate local produce, ensuring fresh and delightful cuisine is always available.
For breakfast, try out their Croque-madame which consists of parisian ham, gruyère, fried egg on country bread or their Assiette De Saumon Fumé, which is house smoked salmon, chive crème fraîche on toasted country bread. Another favorite at Au Comptoir is their home made beef burgers. Grilled to perfection on homemade buns with the exact right amount of condiments, this burger has customers coming back for more.
For dessert, the pastry Chef brings forth fresh and exciting creations that are perfect for starting your day or ending your meal.
What to order: Croque-madame, Assiette De Saumon Fumé, beef burgers
Address: 2278 W 4th Ave, Vancouver, BC V6K 1N8
5. Annalena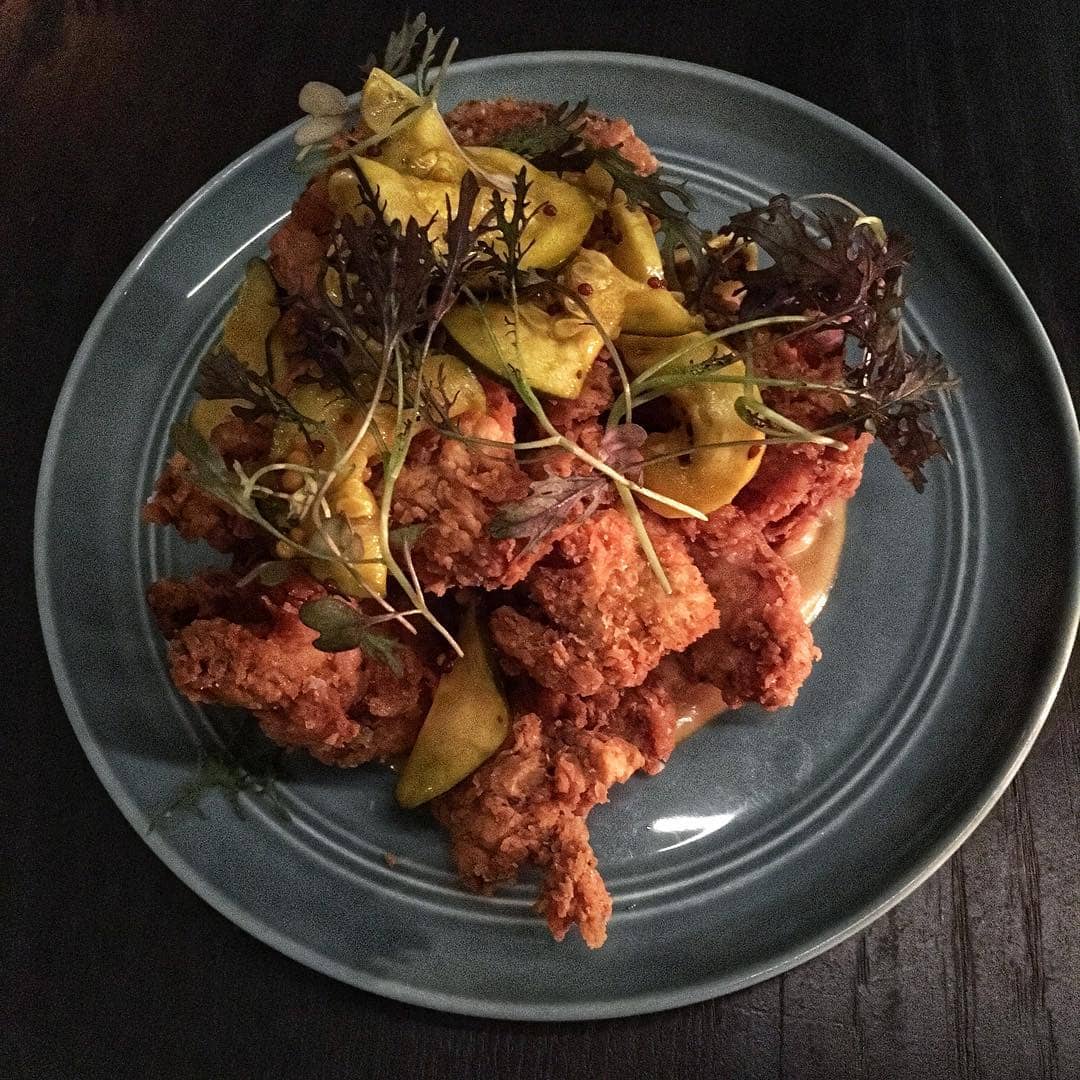 For amazing French fine dining you should visit Annalena, regarded by many to be the best in Vancouver for French-inspired cuisine. There are amazing cocktails on offer and the soft music and attentive staff contribute towards a wonderful ambiance that makes Annalena the perfect place to unwind. The food here is firmly French, influenced by the Pacific Northwest.
They have a delightful tasting menu that changes every month, featuring at least beautifully presented dishes that are balanced and palatable. For the latest tasting menu deets, hop on to their website for full info.
Annalena comes highly recommended if you're looking for a fancy, upscale fine dining experience with wonderful service and superior food.
What to order: fried chicken skin covered in chocolate, spot prawn with morel and aerated porcini and bisque, brie with black truffle, mussels out of their shells
Address: 1809 W 1st Ave, Vancouver, BC V6J 5B8
6. Sophie's Cosmic Cafe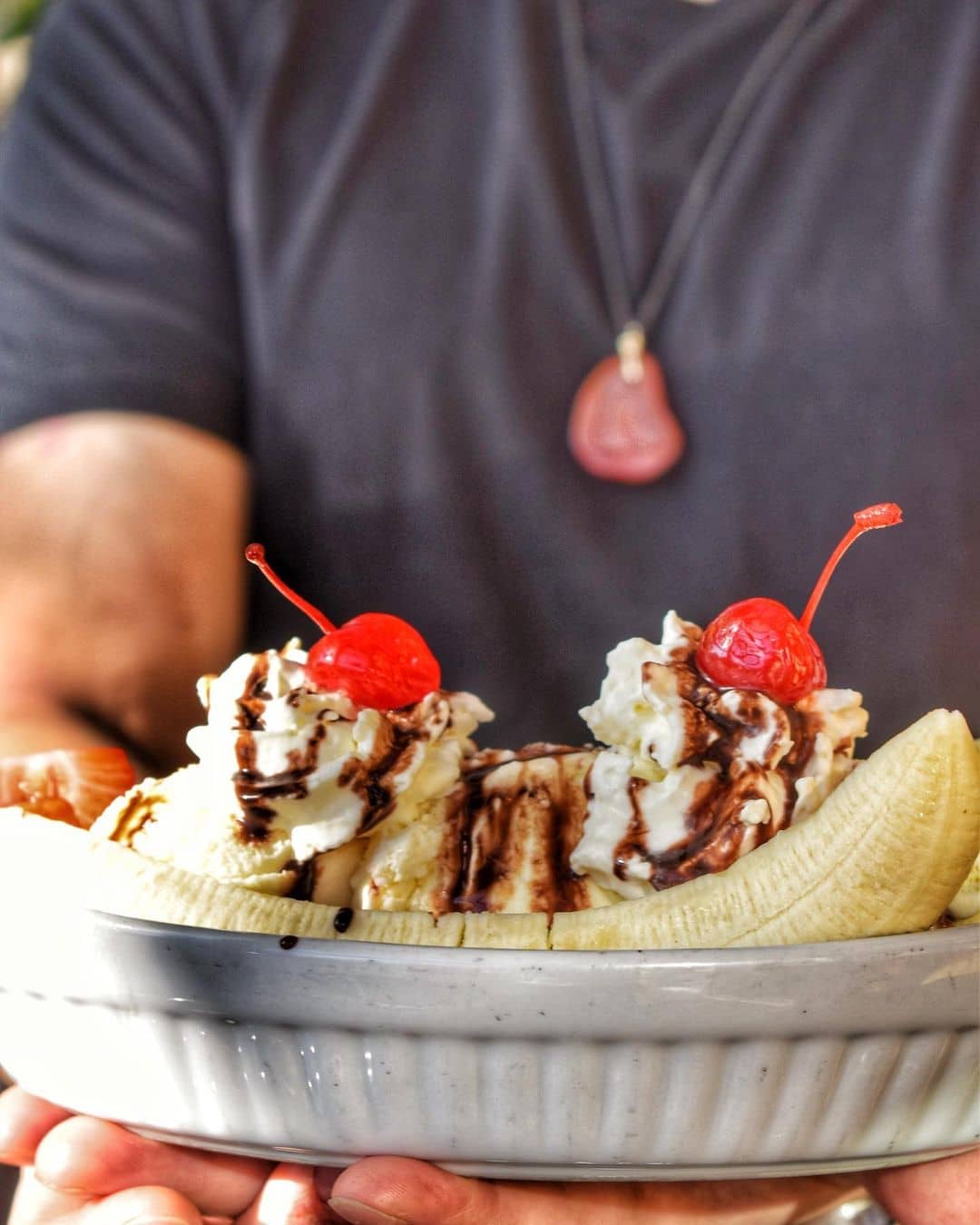 Sophie's has been the mainstay "mom and pop" diner since 1988 and has gone from strength to strength in Kitsilano. This is the spot you go for quality comfort dining. With welcoming owners, a funky dining room and spacious exterior, Sophie's also boasts original artworks of national and international artists.
Try their famous 4th Avenue Lumberjack (eggs, bacon, ham, sausage and pancakes) or their popular Santa Fey's Egg Benny. There is a huge selection of beef, salmon, chicken and vegetarian burgers, that are fresh and come with Sophie's special sauce. They even have a deep-fried breaded Oyster Burger that you should definitely try out.
Finish off with their homemade Cosmic apple Pie or the favourite of all diners, their Cosmic Banana Split.
What to order: 4th Avenue Lumberjack, Santa Fey's Egg Benny, Oyster Burger, Cosmic apple Pie, Cosmic Banana Split
Address: 2095 W 4th Ave, Vancouver, BC V6J 1M7
7. Maenam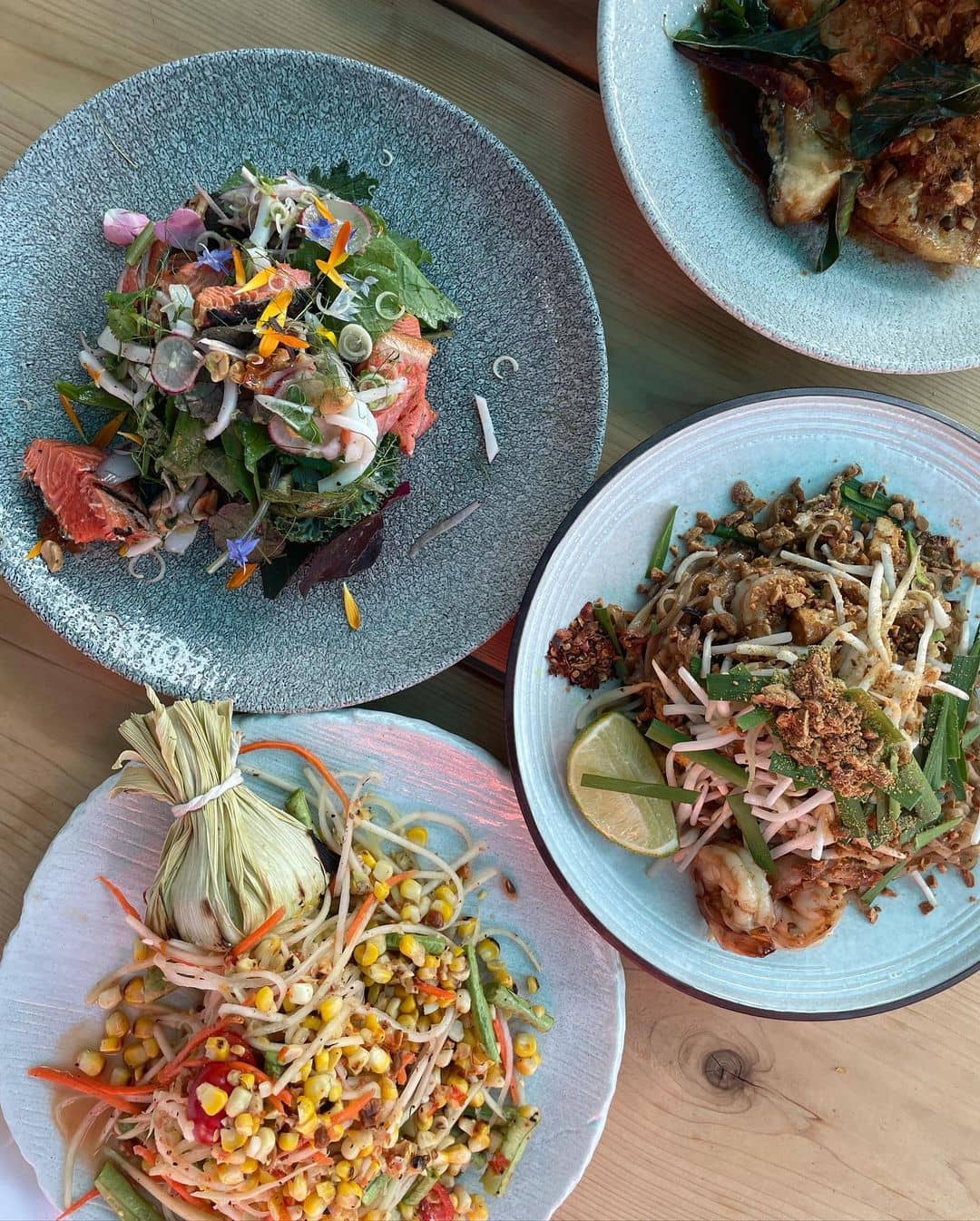 If you are in the mood for some spicy and authentic Thai food, try the award winning Maenam in Kitsilano. This popular restaurant serves an incredible range of wonderful Thai cuisine that is built on technique, balance, tradition, and innovation, from award-winning chef Angus An. With a tasteful and thoughtful decor, pleasant ambience and hardworking and friendly staff, be prepared to transport your culinary experience to another level.
Their more popular dish is the Pad Thai. Hands down one of the best you can get anywhere in the world. With fresh rice noodles, tamarind, peanuts, tofu, egg, and prawns this dish is meant for those who appreciate high quality gourmet food. For starters, give their Grilled Thai Sausage and Crispy Rice Salad, or their Hot & Sour Seafood Soup a try. The Green, Red and Yellow curry found in all good Thai restaurants are flavourful and should be sampled. Their Shaved Ice Pandan Dessert is so good that you probably will order more.
Tip: If the tasting menu option is available and is highly recommended if you would like the whole Thai cuisine experience.
What to order: Pad Thai, Grilled Thai Sausage, Crispy Rice Salad, Hot & Sour Seafood Soup, Green, Red and Yellow curry, Shaved Ice Pandan Dessert
Address: 1938 W 4th Ave, Vancouver, BC V6J 1M5
8. Trattoria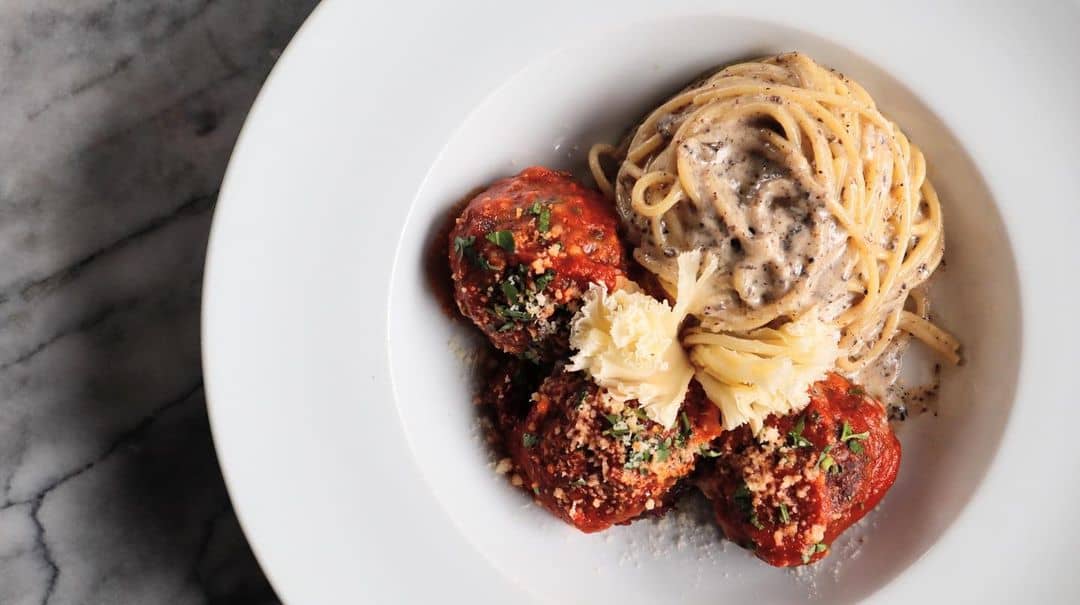 Trattoria is Kitsilano's Italian connection. It's the place you should go for simple, fresh and traditional pizzas, pasta and other Italian delights. They have different deals throughout the week that change regularly and a Happy Hour. The staff is friendly and attentive and can be counted on to give you vegan and gluten free options. Perfect for a romantic date, casual hangout or a group booking.
There are two items on the menu that you will probably not expect many customers to order, but at Trattoria, they do. The first is their amazing take on Bruschetta. Served on flatbread, with a chickpea sauce, burricotta, spiced walnuts, and marinated olives, this simple blend of textures and flavors will have you salivating in anticipation for the rest. The second is more unique, and their most popular dish, Brussel Sprouts! Not kidding. Deep fried and seasoned with lemon, capers, chilies and parmigiano-reggiano. Just amazingly delish!
What to order: Bruschetta, Brussel Sprouts
Address: 1850 W 4th Ave, Vancouver, BC V6J 1M3
9. Jam Cafe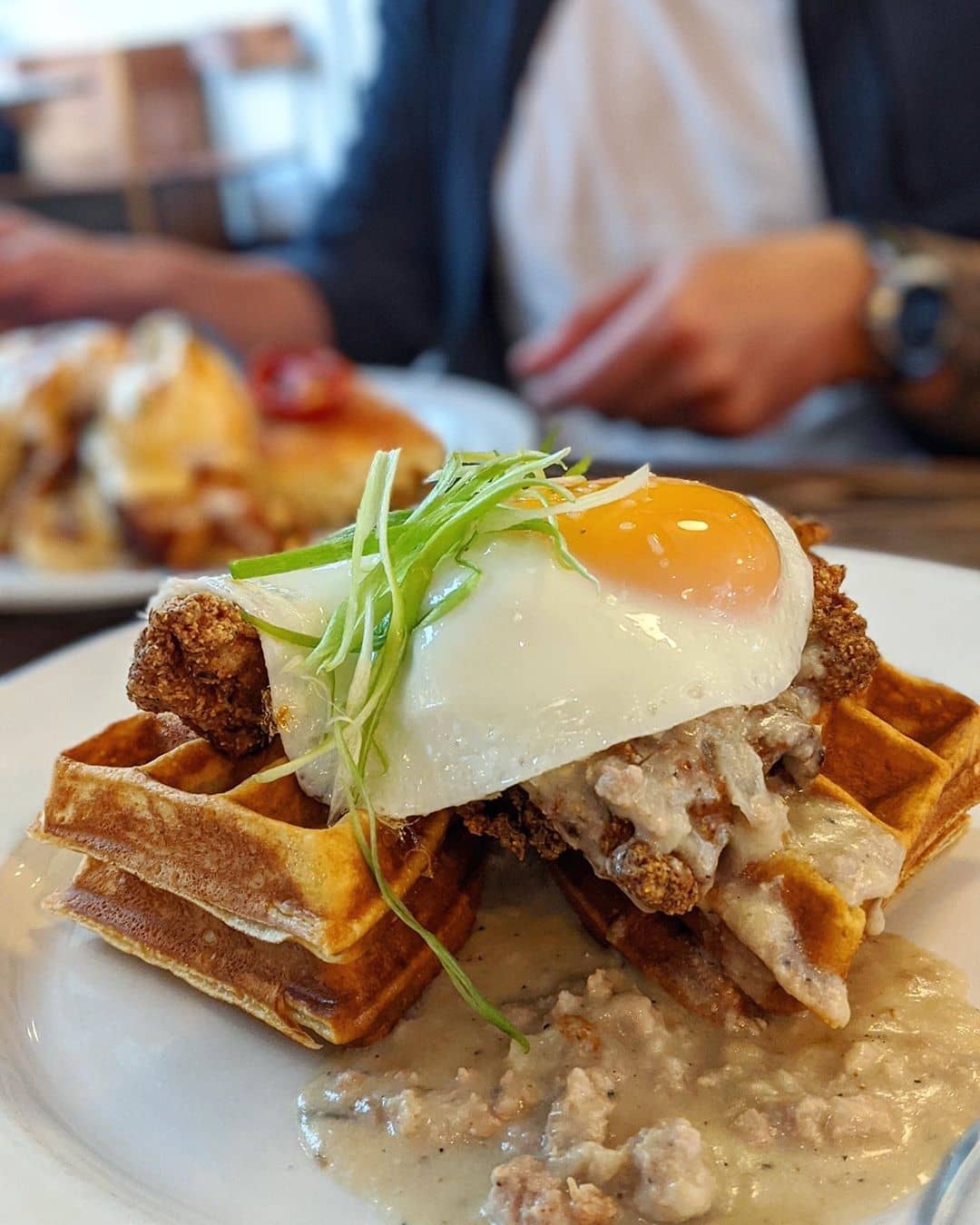 Comfort food in a rustic-city atmosphere! Jam Cafe is a delightful family-run eatery, with lots of energy and mouth-watering food that makes it a favourite brunch spot for many Vancouverites. If you're looking to really dig into a generous portion of delicious fare on an easy Sunday morning, don't think twice.
The menu here is extensive, and packed with options to suit any hungry bruncher. We highly recommend you try their famous Charlie Bowl, which is biscuit, bacon, hashbrown and ham heaven! If that sounds like too much for you, go for the Chicken French Toast. You won't be disappointed.
FYI: The restaurant doesn't accept reservations, so be prepared to wait in long-ish lines.
What to order: Charlie Bowl, Chicken French Toast
Address: 2153 W 4th Ave, Vancouver, BC V6K 1N7
Website | Instagram | Facebook
10. Nook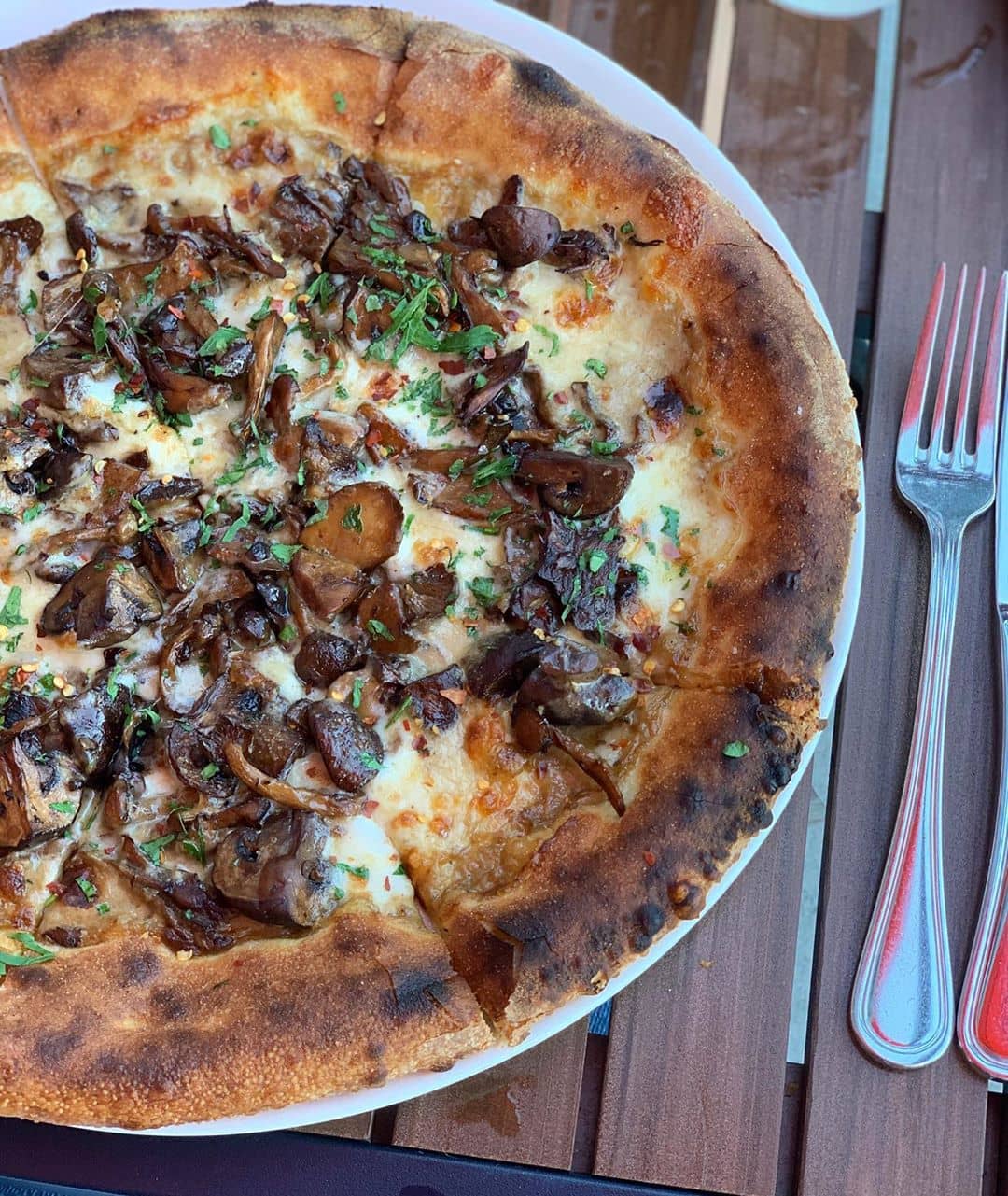 They made it to our Best Pizza Places in Vancouver, and definitely live up to their name! Nook is one of those popular Italian spots you will love to frequent. It's a place to relax with friends, enjoy a wonderful meal, and have fun.
Start off with some antipasto, the meatballs in tomato sauce are super yummy. If you love pasta, go for their Rigatoni Arrabbiata, or some Orecchiette with Italian sausage, rapini, and fennel seeds. If pies are your thing, the Ricotta is a must-try, and the mushroom veggie pizza is another crowd puller. Round off with a sweet sampling of Chocolate Budino, or melt-in-your mouth vanilla pannacotta.
What to order: meatballs in tomato sauce, Rigatoni Arrabbiata, Orecchiette, Ricotta, mushroom veggie pizza, Chocolate Budino, vanilla pannacotta
Address:
-1525 Yew St, Vancouver, BC V6K 3E5
Website | Instagram | Facebook
11. Mr. Red Cafe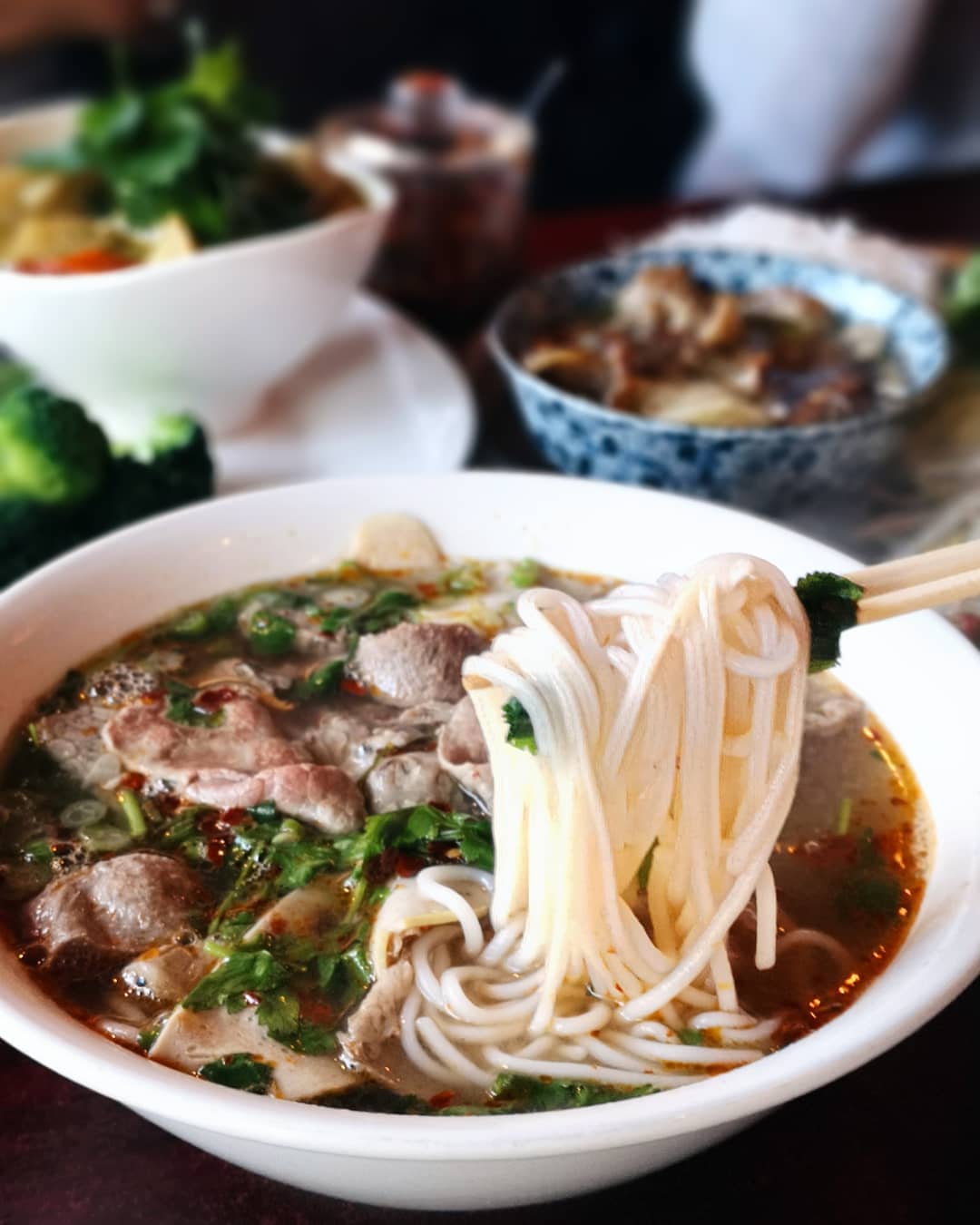 You can't get more authentic than generations of a Vietnamese family passing down their recipes to create one beautiful never-ending menu, offering a handful of only the yummiest of yummy choices. Mr. Red Cafe is just that spot, and they are a must-try if you aren't an ardent fan already.
We, like many of Vancouver's Asian-craving foodies, love their Bún Bò Lá Lốt but there's more than enough on the menu to satisfy your second, third, and seventeenth visit back.
Fun to know, you can catch the owners at Hanoi Old Quarter on Victoria Drive!
What to order: Bún Bò Lá Lốt
Address:
-2680 West Broadway, Vancouver
Website | Instagram | Facebook
12. Bangkok City Cafe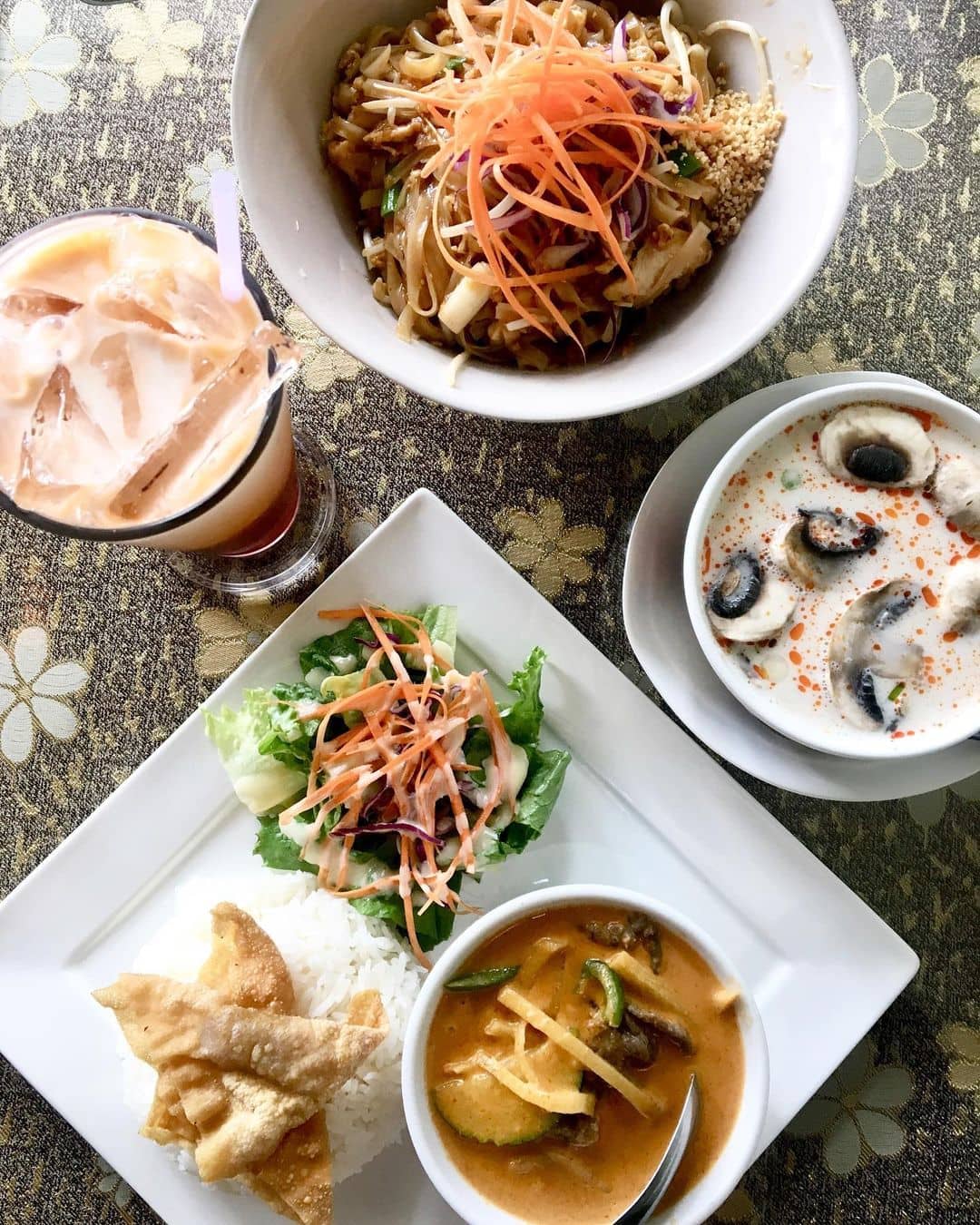 Experience the delectable flavor of Bangkok at this beautiful contemporary cafe which serves some mouth-watering Thai dishes and super friendly staff.
If salads are your thing then Som Tum Salad should be on your order list. With thinly sliced papayas served along with tomatoes and some freshly roasted peanuts, this salad is one of their best-sellers.
Apart from that, try their Barbeque Chicken, which is cooked deliciously in their in-house Thai sauce and served with a sauce that accentuates the flavors really well.
Do not skip the Green curry served here as it is definitely going to leave you delighted by its truly authentic flavor, perfect richness with a balanced level of spiciness.
What to order: Som Tum Salad, Barbeque Chicken, Green curry
Address: 2953 West 4th Ave, Vancouver BC V6K 1R3
13. Mamalee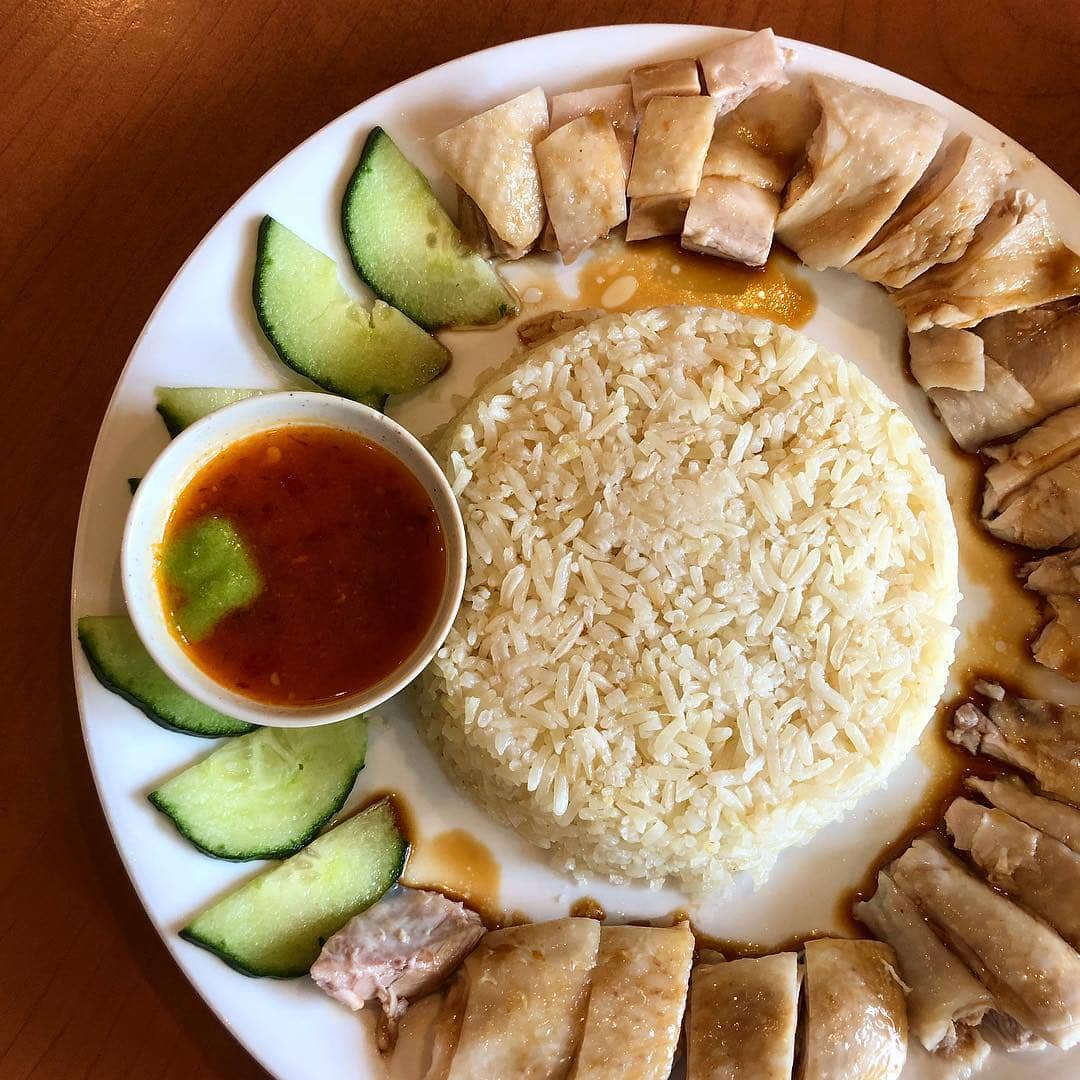 The popular restaurant, Mamalee can be found on West Broadway in Kitsilano. Recommended for its authentic Malaysian cuisine, this amazing family-run cafe is sure to ring your taste buds to life with their exquisite herbs and spices and fresh food. Combining care, quality and originality, Mamalee should be on the bucket list of anyone looking for a profound dining adventure with an authentic Malaysian perspective.
Mamalee is known for its Hainanese Chicken. This delightful blend of Chinese tradition and Malaysian complexity is served boneless with either rice or noodles. Also try out another favorite at this restaurant, the Laksa Noodle Soup, a rich coconut and curry flavoured dish, available in chicken, beef, fish and vegetarian.
What to order: Hainanese Chicken, Laksa Noodle Soup
Address: 3144 W Broadway, Vancouver, BC V6K 2H3
14. Green Leaf Sushi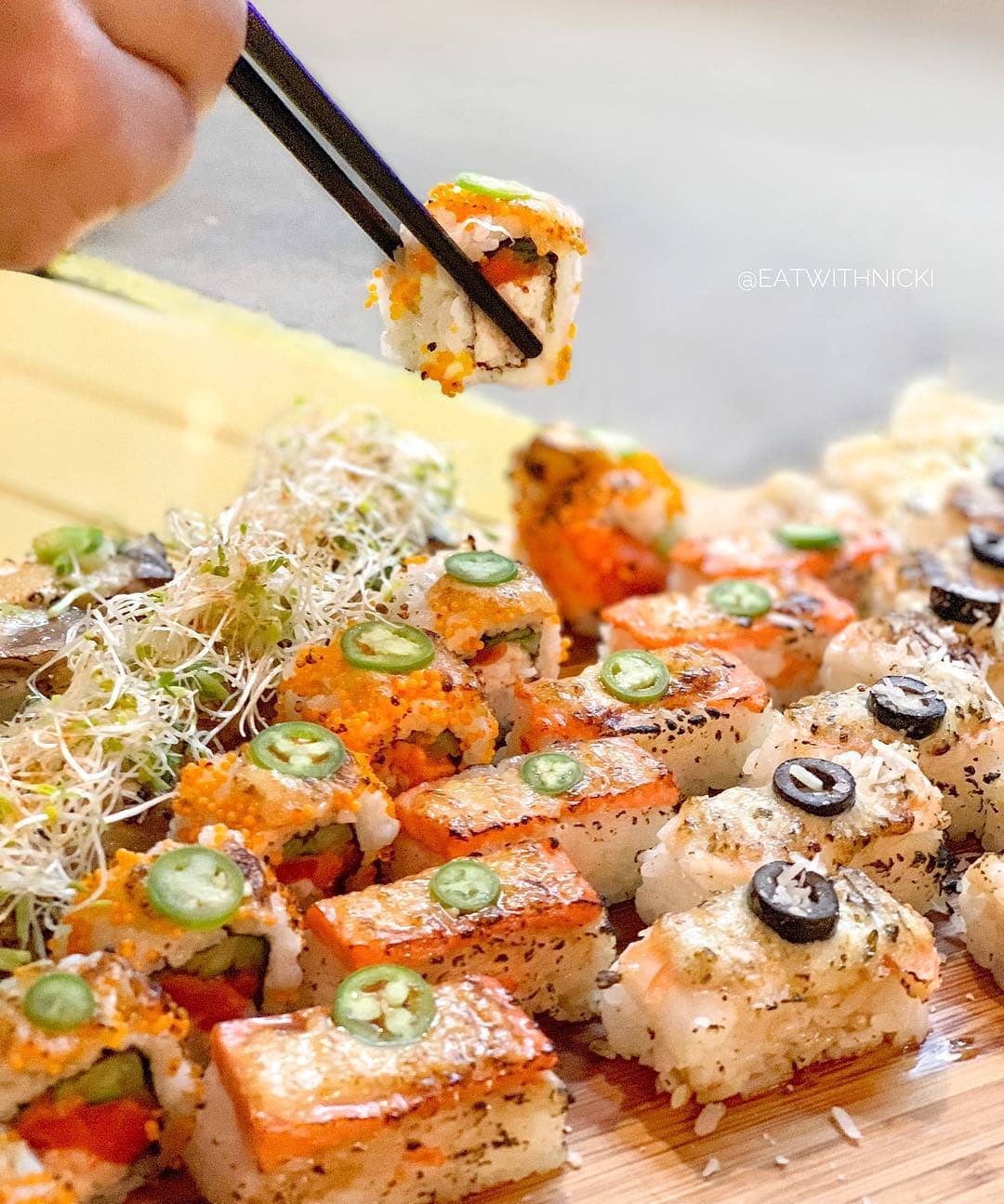 Sushi joints are super popular all over Vancouver. Among them, is Kitsilano's own Green Leaf Sushi that is highly recommended by Sushi lovers in the city. Intentionally casual and friendly, you'll feel right at home sampling the best that Green Leaf has to offer. With friendly service, uptempo and reasonable pricing, this is one restaurant that has customers returning for more.
Try out their unique Japanese Tornado Omelette, consisting of Japanese style fried rice, covered with a whipped omelette and topped with creamy jalapeno sauce. All the sushi here is fresh and the accompanying sauces are exceptional, however they do make a mean signature Aburi Sushi Combo. Their Tuna Tataki Salad is fresh, full of flavor and texture. A perfect balance of salad, fish, and toppings.
The next time you crave some excellent Japanese nouvelle cuisine, give Green Leaf Sushi a shot
What to order: Japanese Tornado Omelette, Aburi Sushi Combo, Tuna Tataki Salad
Address: 3416 W Broadway, Vancouver, BC V6R 2B3
15. Baroness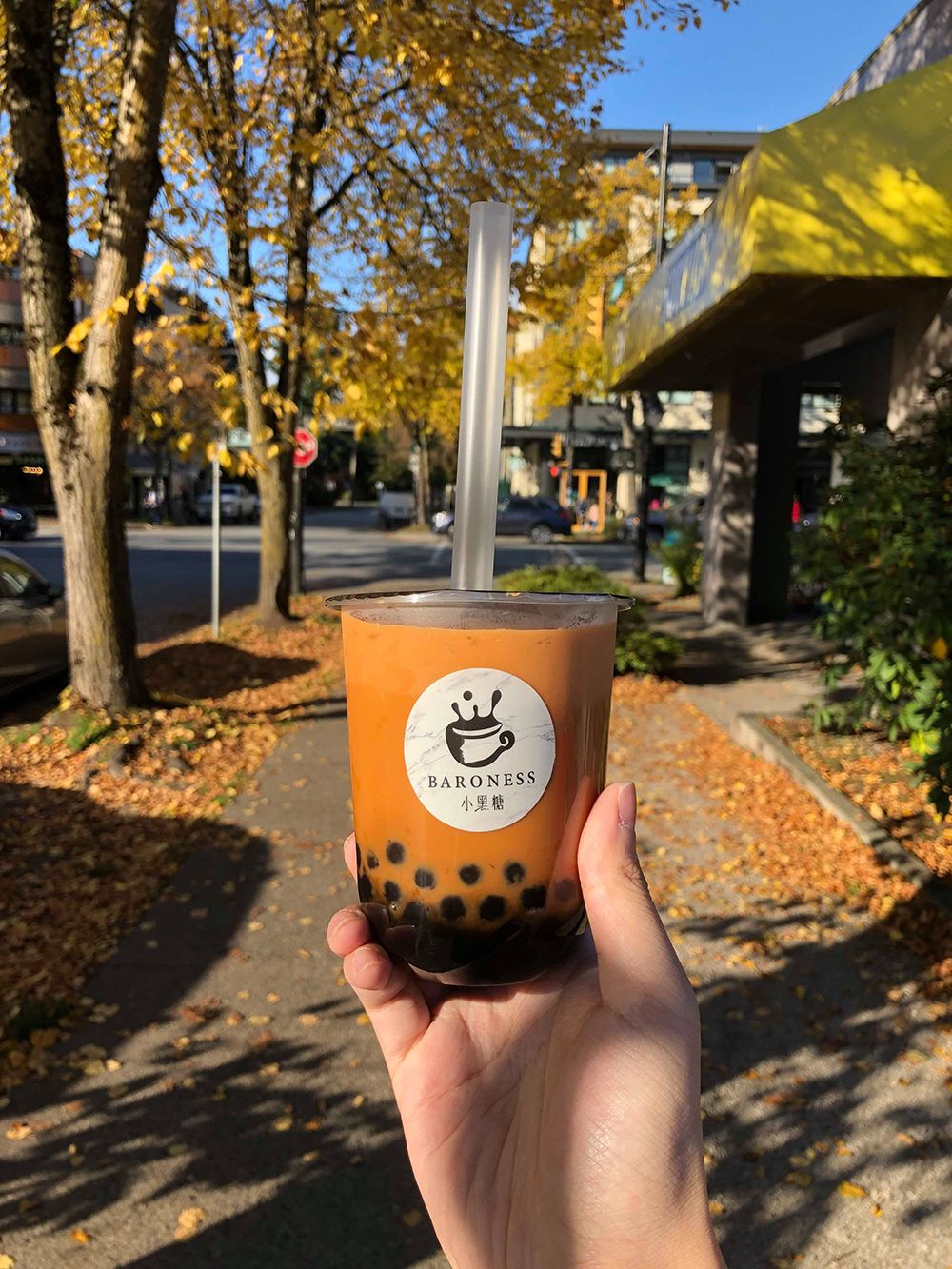 Are you looking for a great tasting Bubble Tea fix, with smooth and chewy pearls of tapioca to refresh your spirit? Head to the trendsetting Baroness and enjoy one of their 30+ freshly brewed teas, all with amazing texture and flavor.
Baroness is renowned for their brown sugar bubble teas, and pearls with amazing smoothly chewy texture. The Purple Yam Milk is something you should try, and for sure their amazing Thai Style Brown Sugar Milk made from oat milk, which has fast become one of their hottest sellers. If you're a fan of creamier tea, then that's the one you want to opt for. There's also marvelous Black Tea Series with an array of toppings for the bolder tea drinkers.
Be sure to stop by at Baroness. It's well worth the visit!
What to order: Purple Yam Milk, Thai Style Brown Sugar Milk. Black Tea Series
Address: 2790 W Broadway, Vancouver, BC V6K 3Z2
That it! From this list, you'll surely find food in Kitsilano near you that you'll be satisfied. And if you're looking for more great places to eat at, check out this list of the absolute best Vancouver restaurants to eat at.
The following two tabs change content below.
Latest posts by Noms Magazine (see all)