For such a compact city, Vancouver has a vibrant food scene where there are SO many great restaurants and dishes to munch on. But with so many choices and only so much space in your stomach…it's a pity not to enjoy the best of what Vancouver has to offer.
So whether you're visiting Vancouver for a few days or a local Vancouverite who've finally been enlightened about how amazing food is in your life, we've created a tailored list of the best and must-eat Vancouver foods. These are the dishes, the treats, and the restaurants around Metro Vancouver that no doubt should be on your Vancouver food bucket list and itinerary.
This is our secret list we send to relatives and friends who are from out town. Enjoy this local's guide to the best food in Vancouver BC.
*Noms Members are part of our exclusive paid membership. Only food spots we personally recommend are accepted as members. 
1. Holy Trinity from Phnom Penh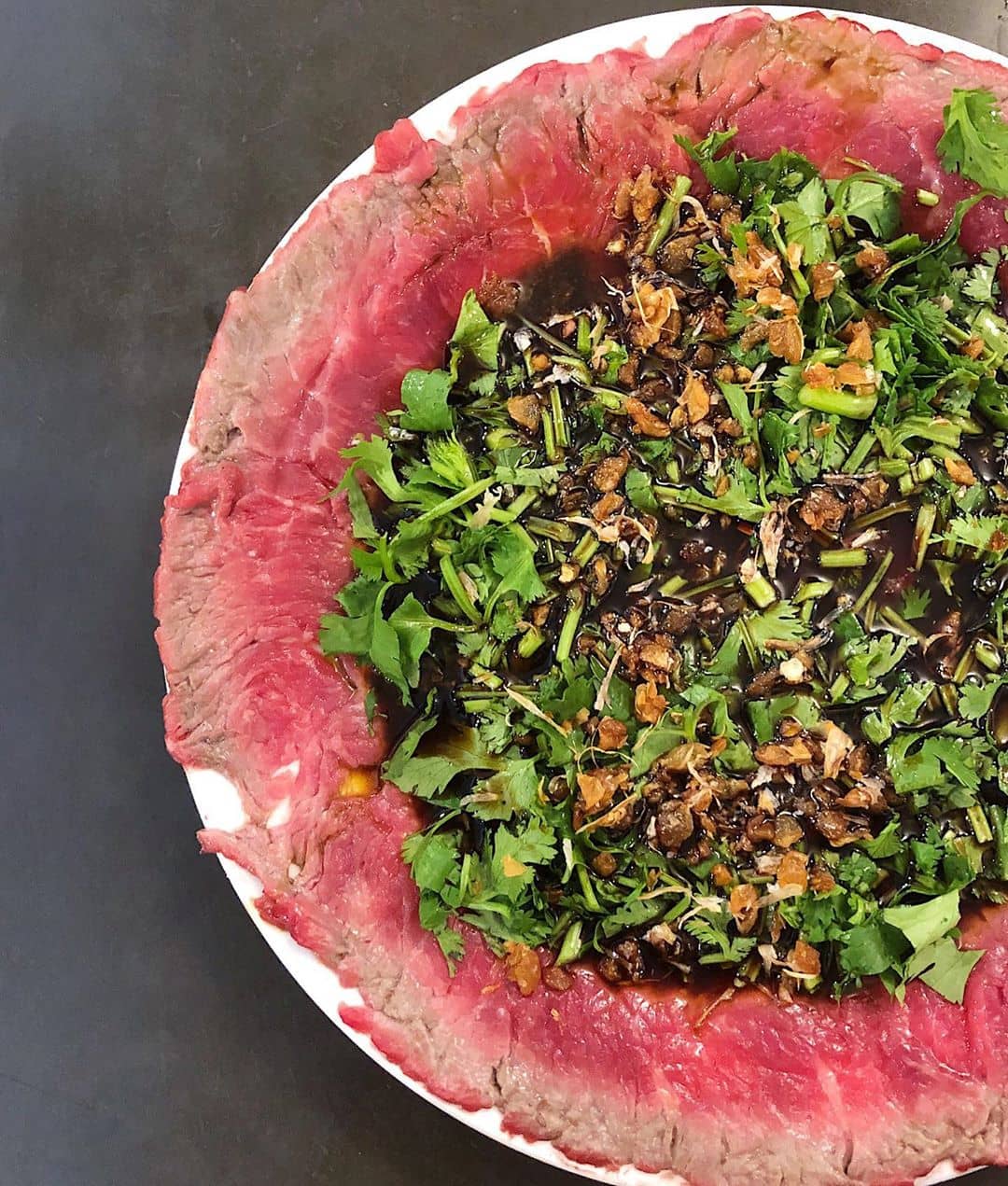 Vancouver Chinatown's Phnom Penh is an award-winning restaurant ("Best South East Asian Dining") that serves Cambodian and Vietnamese dishes that are greasy, flavourful, and yes, hella delicious.
As every true Vancouverite will tell you, the real deal here is ordering Phnom Penh's "Holy Trinity" of Butterbeef, Deep-Fried Chicken Wings, and Beef Luc Luc. The term "Holy Trinity" has been coined by locals themselves and has slipped in the city's urban dictionary.
You'll be very content just ordering these 3 dishes.
This place is a definitive must-have restaurant experience if you are a first-timer to Vancouver and admire Asian dishes. For locals, it can be an easy go-to solution for bringing guests and visitors for an impressionable, delectable treat totally worth every penny.
Pro tip: If you panic at the idea of long waits to get your food order, make an order in advance. OR grab your squad so you unlock reservations (party of 8 or more) and dine-in.
Address: 244 E Georgia Street, Vancouver, BC V6A 1Z7
2. Creampuffs from Beta5 Chocolates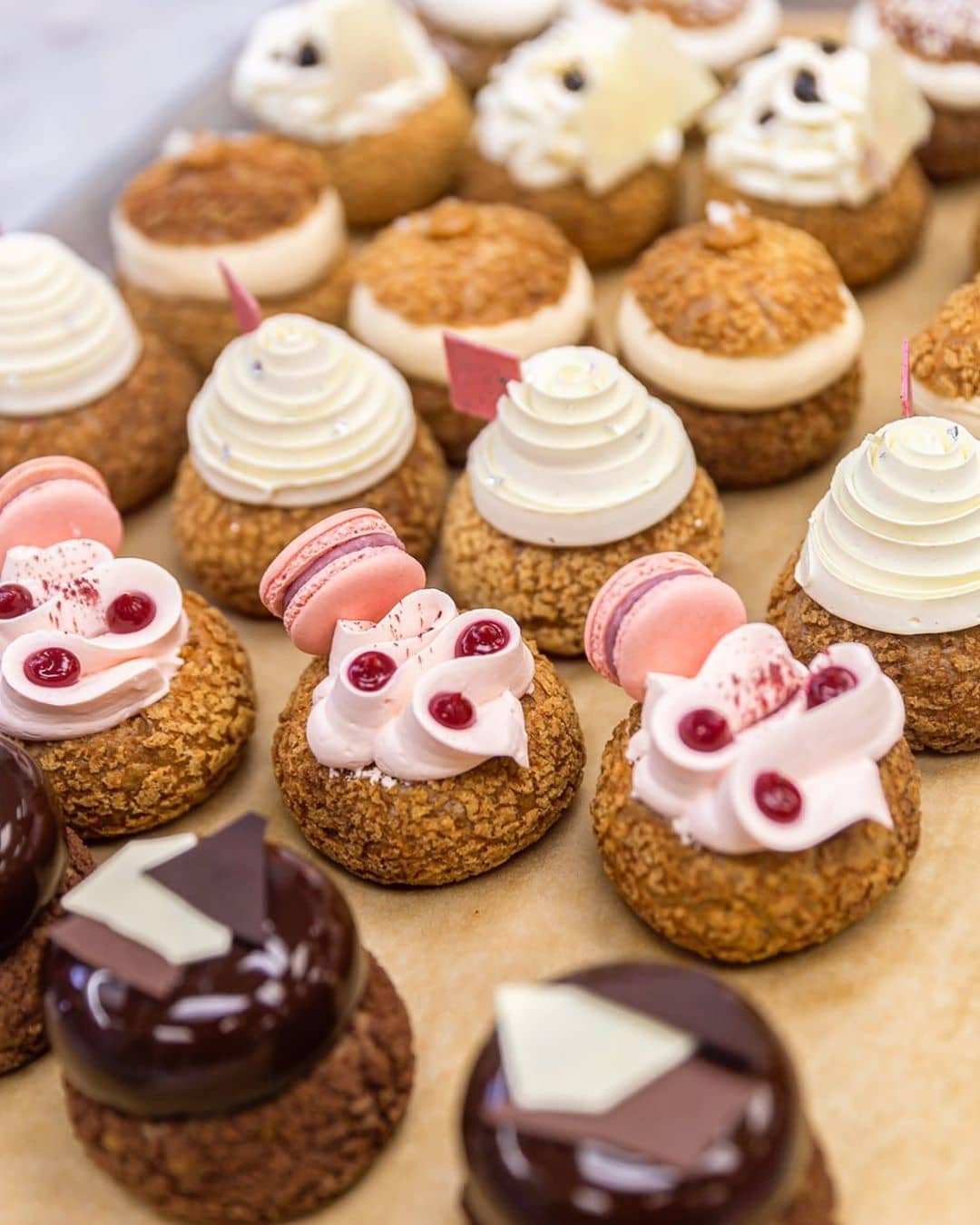 If sweets is your weakness, navigate your course towards Mount Pleasant's Beta5 Chocolate. This is the ultimate bakery to satisfy your sugary needs by ordering some of their heavenly and delectable cream puffs. The nice soft creamy fillings of the Beta5 puffs come in all the flavours you can imagine (how can you say no to lychee rose or Vietnamese coffee?). But if you are not sure which one, start with the classic Vanilla or Variations of Chocolate.
Besides refined cream puffs, at Beta5 you can satisfy your sweet tooth with their trademark chocolates (ie. Whole Cherry, Tropical Crunch, Sparkling Praline and Thai Mango) or unique chocolate bar collection (ie. Noodle Bar, Peppermint Crunch).
Pro-tip: Call in the morning and order in advance if you're gunning for a seasonal puff so can guarantee you get the goods.
Address: 413 Industrial Avenue, Vancouver, BC
3. Ice Cream from Earnest and Elephant Garden Creamery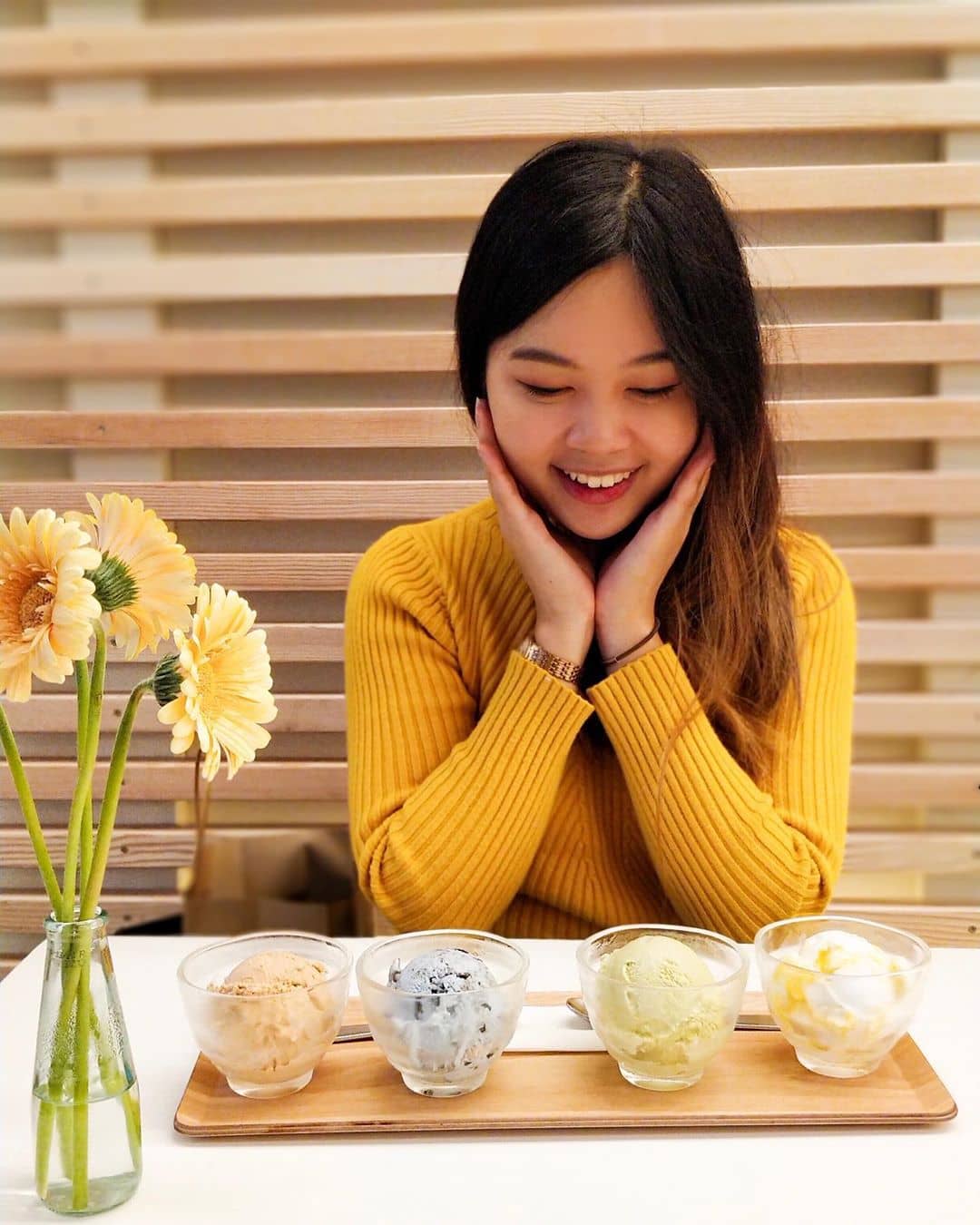 If you are an ice cream aficionado, head to any of the Earnest Ice Creams. Here you can combine fan favourites "Salted Caramel" "Whiskey Hazelnut" or "London Fog"–and these are merely the regulars. You can also stumble upon Blueberry Cheesecake, Cherry Chip or Maple Walnut or one of their seasonal flavours. Vegans will also love it for there is a plethora of vegan options.
Pro tip: Grab a pint to skip the long line during the hot seasons.
You also won't make a mistake if you have a flight at the Commercial Drive's Elephant Garden Creamery either. The Mango Coconut Sticky Rice is the real bomb and a local favourite. But don't limit to this. Their White Choco Raspberry Rose, Vietnamese Coffee, Milk Tea, or Cookies N' Cream Monster might be as equally enticing to try.
With so many yummy flavours to choose from…a flight is the only answer to your struggles.
Earnest Ice Cream Locations:
-1485 Frances St, Vancouver BC
-127 W 1st St, North Vancouver, BC
-3992 Fraser St, Vancouver, BC
-1829 Quebec Street, Vancouver, BC
Elephant Garden Creamery Location:
2080 Commercial Drive, Vancouver, BC, VPN 4B2
4. Salmon Oshi Aburi Sushi from Miku or Minami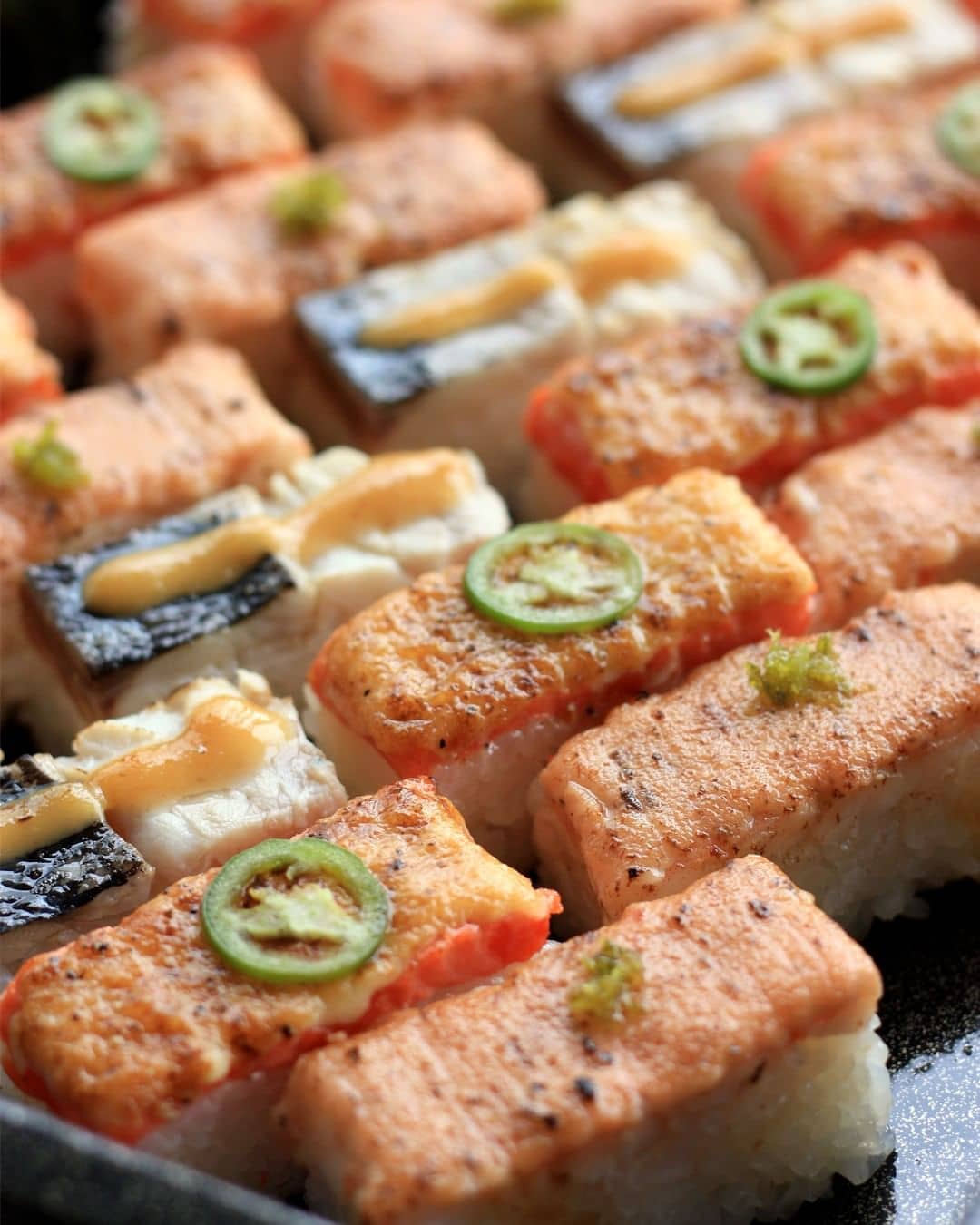 Downtown Vancouver's sister restaurants Miku and Minami are the perfect spots to devour some authentic, Aburi-style sushi. In 2008, Miku first introduced the Aburi cooking practice to Vancouver, which means the sushi gets flame-torched and its taste is distinctively changed. Minami in Yaletown quickly followed suit.
Their trademark dish, available at both restaurants, is the Salmon Oshi Sushi: a delicious pressed BC wild sockeye salmon with jalapeño and Miku sauce that will simply make you crave for more.
Tip: If you're already going to dine fancy, don't skip out on the dessert. Specifically the Green Tea Opera Cake.
Miku Location:
70-200 Granville Street, Granville Square (Canada Place Way and Howe Street), Vancouver, BC, Canada V6C 1S4
Order Online: Uber Eats
Minami Location:
1118 Mainland St, Vancouver, BC V6B 2T9
6. Fried Chicken from Downlow Chicken, Wu Fung Dessert & The Frying Pan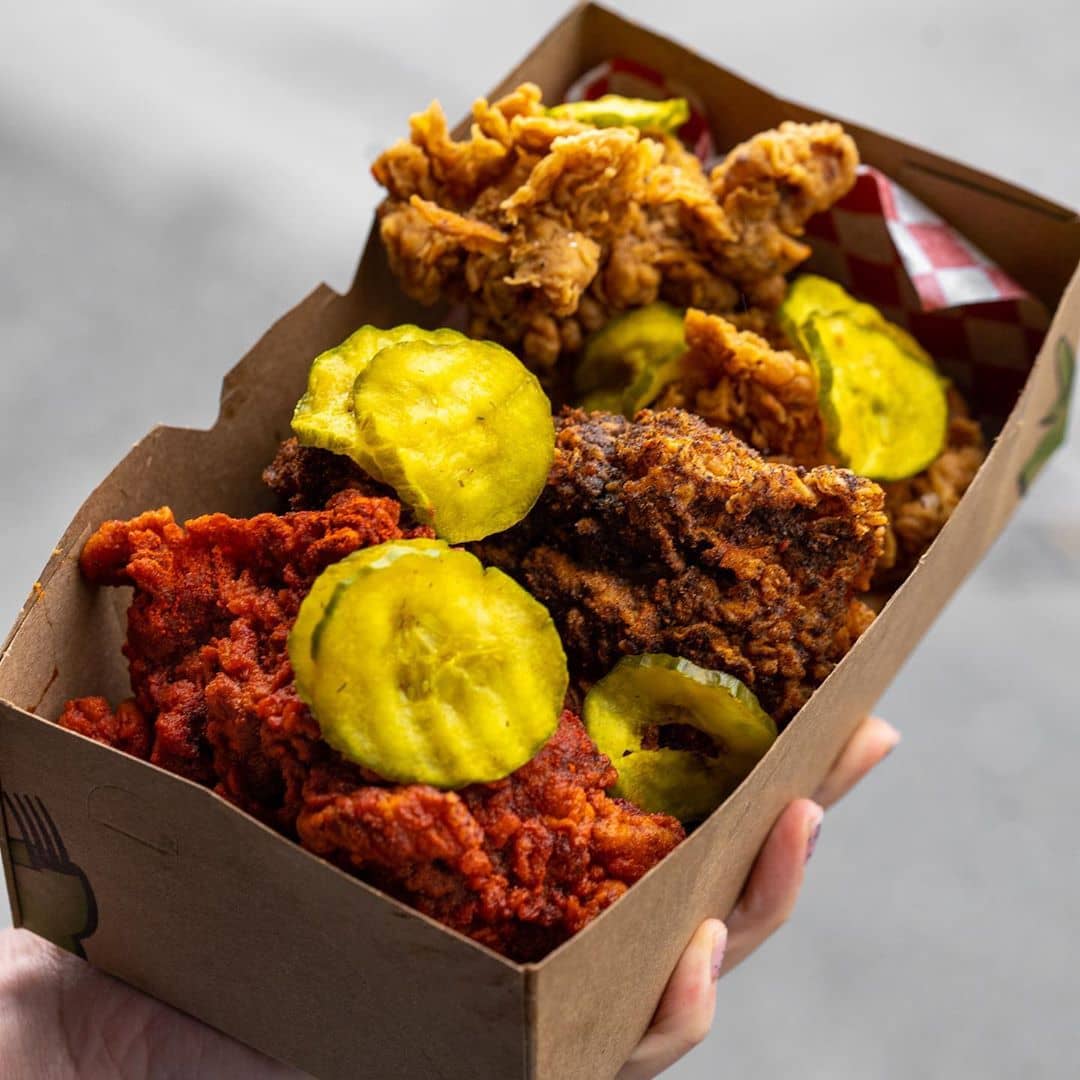 When it comes to fried chicken, Downlow Chicken is the spot of town. Say its name to any local and their eyes will light up. Its long lines are also testament to its winning food. Downlow's delectably juicy boneless chicken thigh is its signature dish, characterized by the crispy skin synonymous with any fried chicken worth savoring. It's best ordered with the DL sauce (a spicy mayo-based sauced) drizzled delicately on top and cornbread on the side.
Another place where they prepare top-notch chicken wings, intricately-marinated and golden-colored, is at Wu Fung Dessert. One of the many gems located in Aberdeen Centre's bustling food court. [Cash only]
If you are looking for something more spicy, catch the Frying Pan food truck or at their Gastown storefront. Here you can grab a fried chicken sandwich with chilli oil and extra toppings such as marble cheese, pan-fried egg or Korean kimchi.
Tip: Get an order of their bulgogi fries as well.
Downlow Chicken Shack
905 Commercial Drive, Vancouver, BC
Wu Fung Dessert Location:
3220 – 4151 Hazelbridge way, Aberdeen Centre, Richmond, BC
Frying Pan Location:
Truck: (check Instagram to confirm location)
Store: 60 W Cordova St, Vancouver, BC V6B 1C9
7. Waffles from Medina Cafe & Nero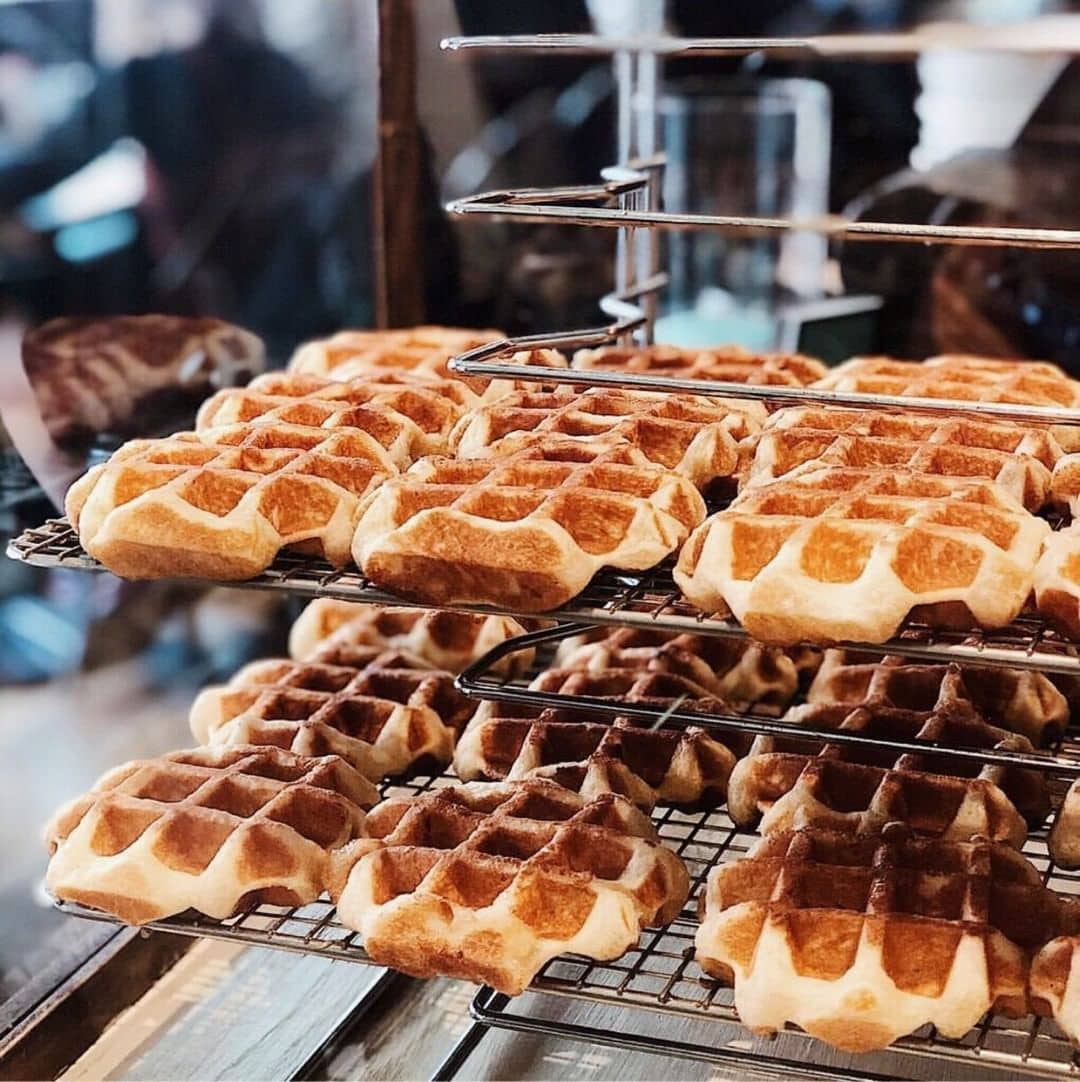 The best waffles in the world are, of course, Belgian waffles, and in Vancouver you have two places where you can get one.
Downtown Vancouver's Cafe Medina first opened in 2008 and might well be your beloved weekend brunch location. Liège waffles are featured on their menu, and you can choose from a variety of compelling-to-try toppings such as white chocolate pistachio rosewater, milk chocolate lavender, raspberry caramel or mixed berry compote or cremè de fruit de passion.
At Nero you have even more options, including Liège and Brussels style waffles. Their waffles combine local ingredients with specialty ones brought from Belgium. Flavours: both sweet and savory, from strawberries to spicy tuna, to orange mousse, avocado and caramelized banana. It's definitely a hardship deciding which waffle.
For the homey feel, check the Robson shop. For a more modern and spacious seating, hop into their Seymour location.
Medina Cafe Location:
-780 Richards St., Vancouver, BC, V6B 3A4
Nero Locations:
-1703 Robson St, Vancouver
-1002 Seymour St, Vancouver
8. Pasta from Savio Volpe & Pepino's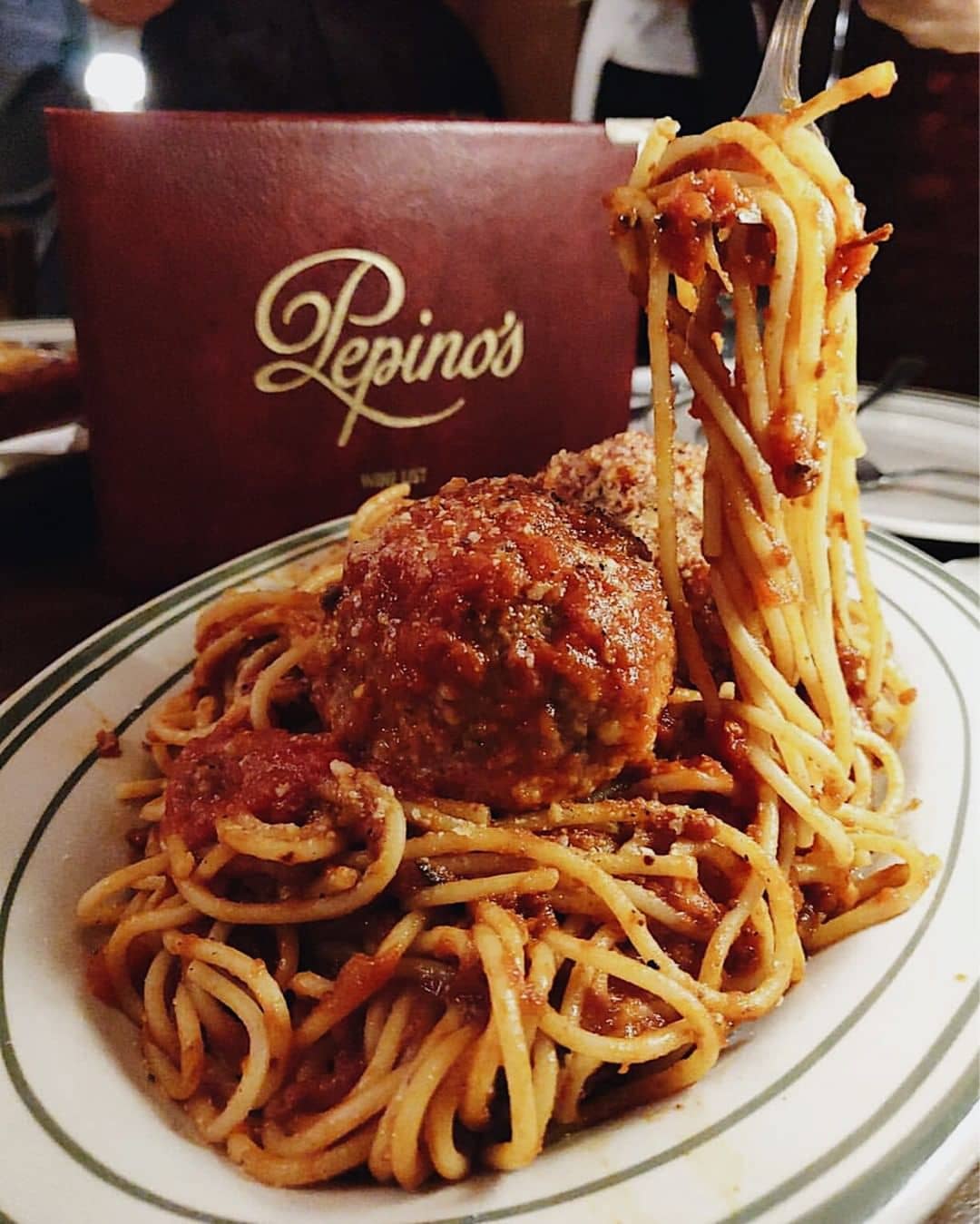 To get a taste of the best Italian-style pasta in Vancouver head to Savio Volpe or Pepino's.
At Savio Volpe they make their own pasta in-house, and it's always fresh and tasty. You'll stumble upon some wild combinations on the menu such as tortellini with squash, ricotta, brown butter, hazelnuts and sage, or cavatelli with cauliflower, dried tomatoes and garlic.
For the best spaghetti head to Commercial Drive's Pepino's Spaghetti House, where you can have some of the classics such as Spaghetti Bolgnese. It's homey, it's cramped, it's dark, it's everything you'd want when you're looking for some darn good Italian. Try also their Spaghetti with meatballs (massive balls ?), Spicy Penne alla Vodka or Lasagna Vegetariana. While you're there, get their Tiramisu.
Osteria Savio Volpe Location:
615 Kingsway, Vancouver, BC, V5T 3K5
Pepino's Spaghetti House Location:
631 Commercial Drive, Vancouver, BC V5L 3W3
9. Japanese Hot Dog from Japadog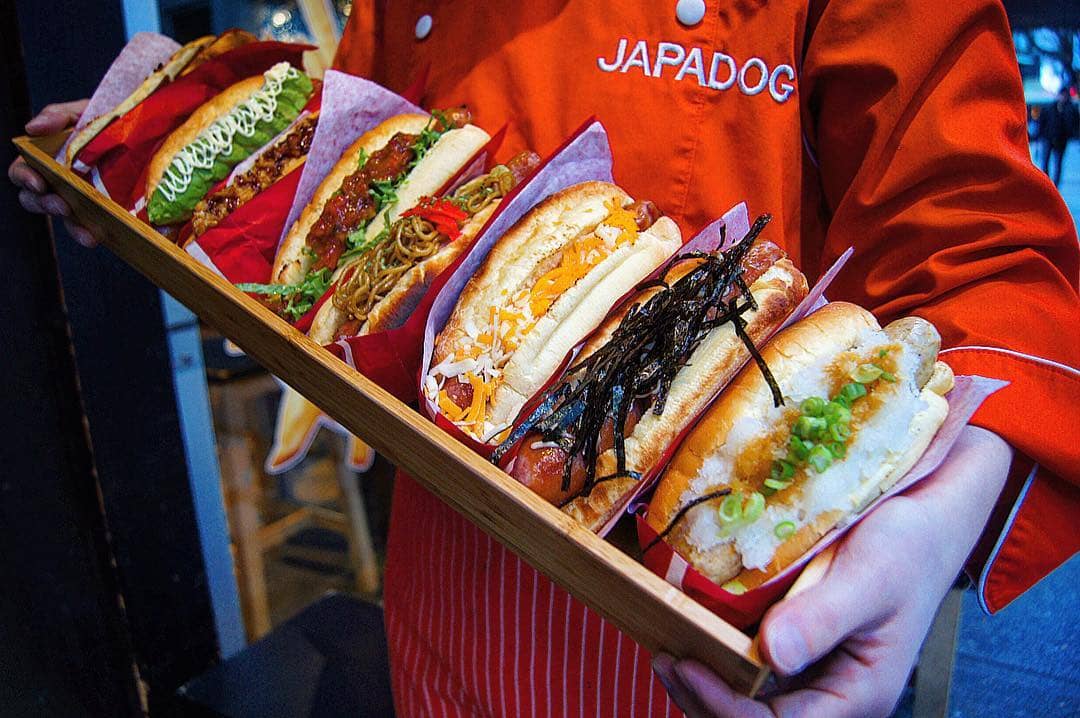 As food lores reveal, the first hot dog ? was sold on the streets of New York by a German immigrant, somewhere around the year 1870. However, Vancouver's tastiest hot dog is neither German or American. Japadog is a hot dog business started in 2005 by a Japanese couple who have moved to Canada. They have one store downtown Vancouver along Robson Street as well as few more hot dog trailers where you can buy some of their signature Terimayo Hot Dog with Teriyaki sauce, mayo and seaweed.
Also recommended: their Okonomi transformed into a hot dog (a juicy Kurobuta sausage topped with bonito flakes) or perhaps their Yakiniku Rice, which is flavoured rice with BBQ style beef on top of an arabiki sausage. Yummy!
Store Location:
899 Burrard St, Vancouver, B.C.
10. Tacos from Sal y Limon & Maizal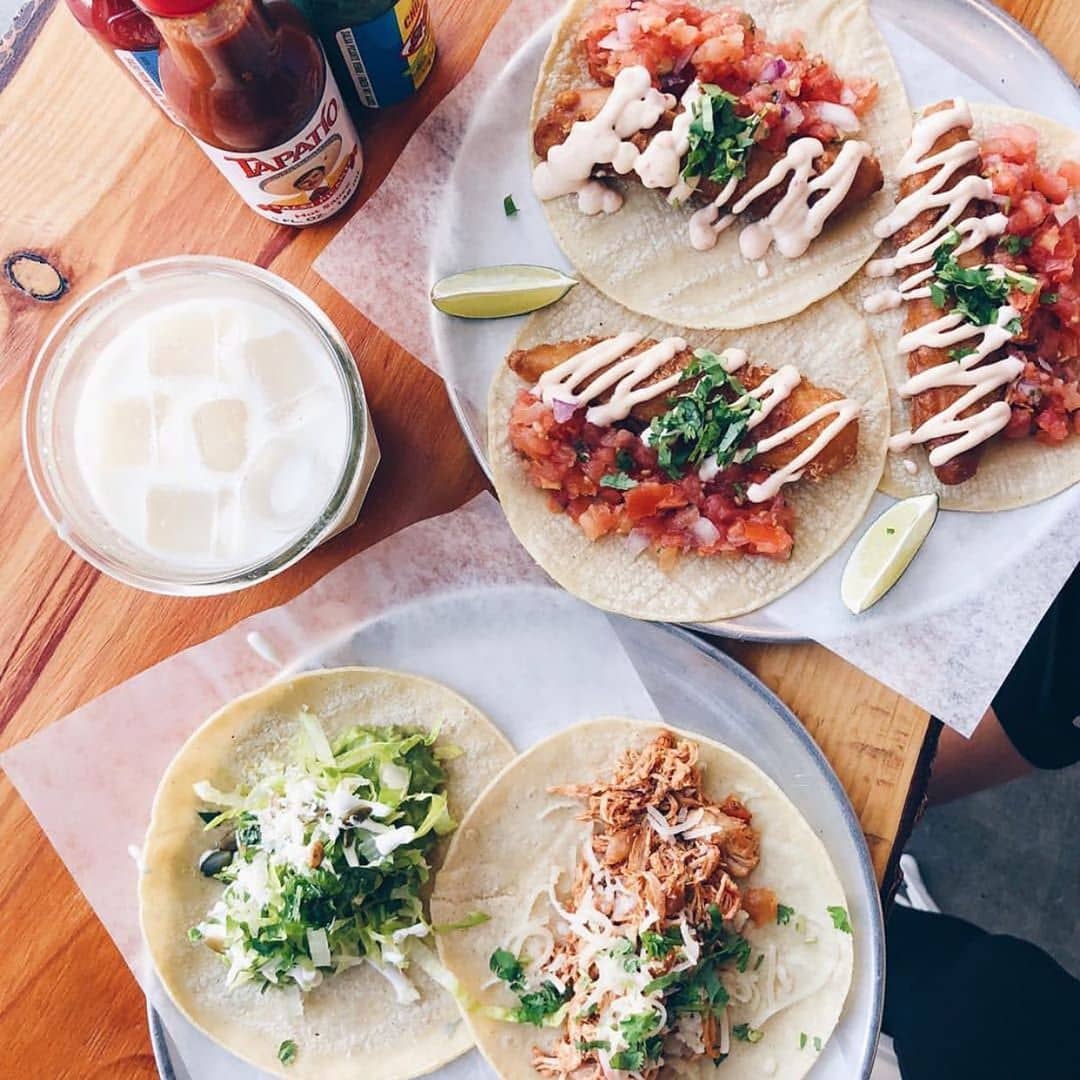 If you're looking for a taste of Mexico ? in Vancouver, head to Sal y Limon. Their restaurants are friends and family-friendly and their tacos are exquisite. The Al Pastor taco comes with marinated pork and pineapple; their Carne in Salsa Verde includes beef in green sauce. Other taco options combine roast lamb or Mexican sausage. It's cheap, affordable, and most importantly: it hits the spot.
Maizal in Mount Pleasant is one more place that serves madness of a taco. Try their Carnitas which combines braised pork, pork rinds, and guacamole. The Pescado one wraps a deep-fried battered cod, chipotle mayo and pico de gallo. If you wish to tone down on meat, Plantain is served with roasted plantain, rice, beans, pico de gallo, sour cream and fresco cheese.
Bonus points for their tortillas. They are always fresh and you can even see how they are prepared at the restaurant's front counter. Oh and housemade Horchata.
Make sure to say hi to Rodrigo when you're there. Nicest man ever.
Sal y Limon Location:
#5, 701 Kingsway St., Vancouver, BC V5T 3K6
Maizal Location:
2815 Main St, Vancouver, BC, V5T 3G1
Website | Instagram | Facebook
11. Hy's Steakhouse Cheese Toast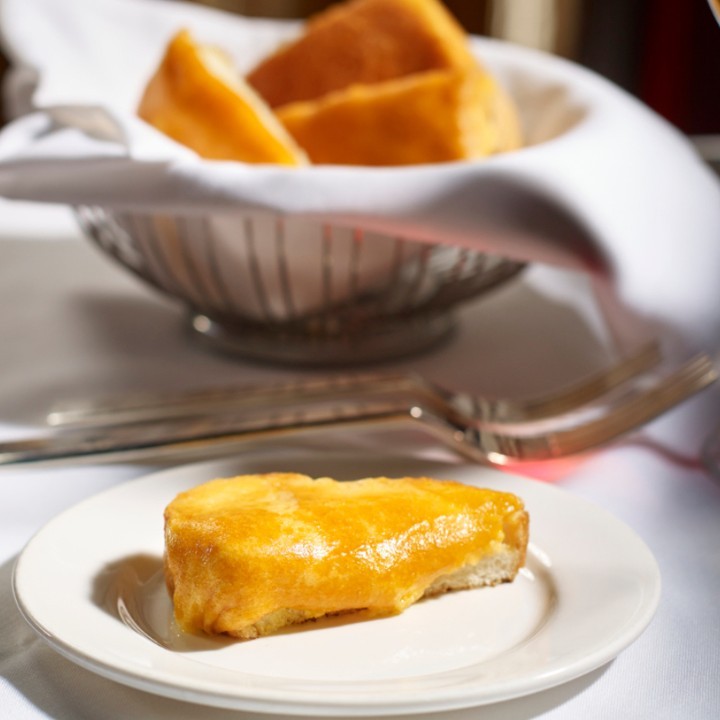 Hy's has been offering quality steaks for over 65 years, serving diners the finest cuts, cured and flavored to perfection, along with the freshest ingredients. Once step into Hy's space, you'll be seduced by its dark mahogany, rich colors, textures, and intimate lighting combined to create an upscale, luxurious atmosphere.
This decadent restaurant is most famous for its Cheese Toast For Two, every guest would love to start their meal with this wonderful dish! And since Hy's specializes in steaks, don't hesitate to go for one of their prime steaks, which are aged for 28 days or more. Especially the melt-in-your-mouth 10z New York Steak or 22oz Porterhouse.
Their Roast Rack Of Lamb is no less impressive, pair it with a glass of red wine and you're all set! Remember to save room for their Belgian Chocolate Bourbon Cake, which is also the most divine dish at Hy's, just after the Cheese Toast!
What to order: Cheese Toast For Two, Belgian Chocolate Bourbon Cake, Hy's Prime Steaks, Roast Rack Of Lamb
Address: 637 Hornby St, Vancouver, BC V6C 2G3
Website | Instagram | Facebook
12.  Croissants and Peanut Butter Cookie From Beaucoup Bakery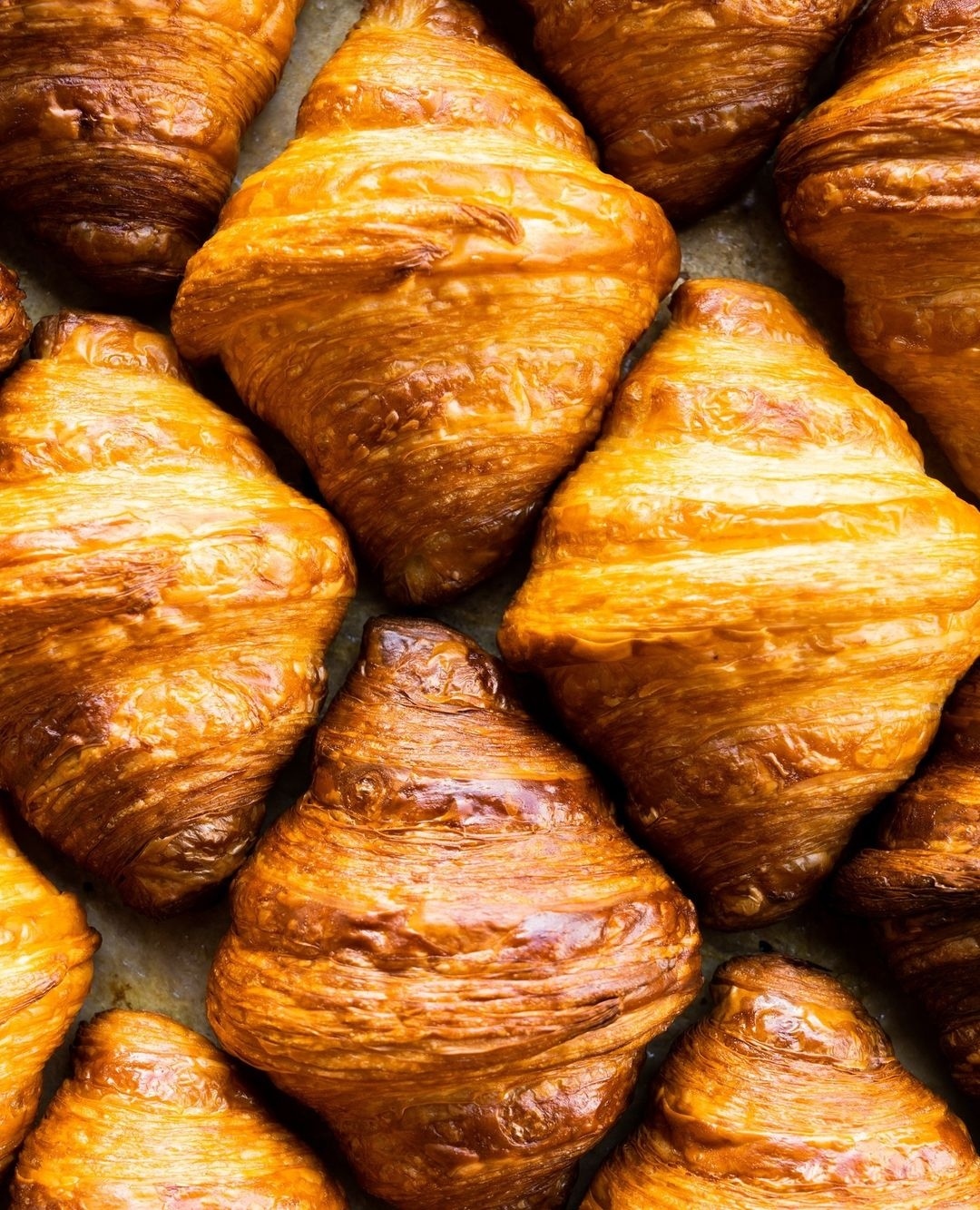 When mentioning the truly French-inspired baked goods in Vancouver, Beaucoup Bakery is always a top-of-mind choice for the locals. Being home to the neighborhood's best croissant, you'll also experience other delicious pastries, seasonal tarts, cookies, and decadent cakes that they take pride in.
Since the croissants are raved about by every local Vancouverite, we encourage you to try their Croissant section, from the Butter Croissant to Chocolate Almond Croissant. The most popular one is infused with local honey, filled with almond frangipane and fresh banana slices, and then topped with rye crunch, honey caramel, and crushed banana chips.
Their croissants are not the only thing locals are in love with…their Peanut Butter Cookie Sandwich is also to die for. This cookie is huge as it is filled with peanut buttercream inside and made with chunks of peanuts on the crumbly outside.
They also have a plant-based option called PB Squared that has a gluten-free raspberry jam filling. It is in a category of its own. Is it a cookie? Is it a sandwich? Well, it is both and Vancouverites are not complaining about it.
What to order: Butter Croissant, Chocolate Almond Croissant, Citrus Scroll, Tropical Scone, Peanut Butter Sandwich Cookies
Address: 2150 Fir St, Vancouver, BC V6J 3B5
Website | Instagram | Facebook
13. Doughnuts from Lee's Donuts, Mello, and Their There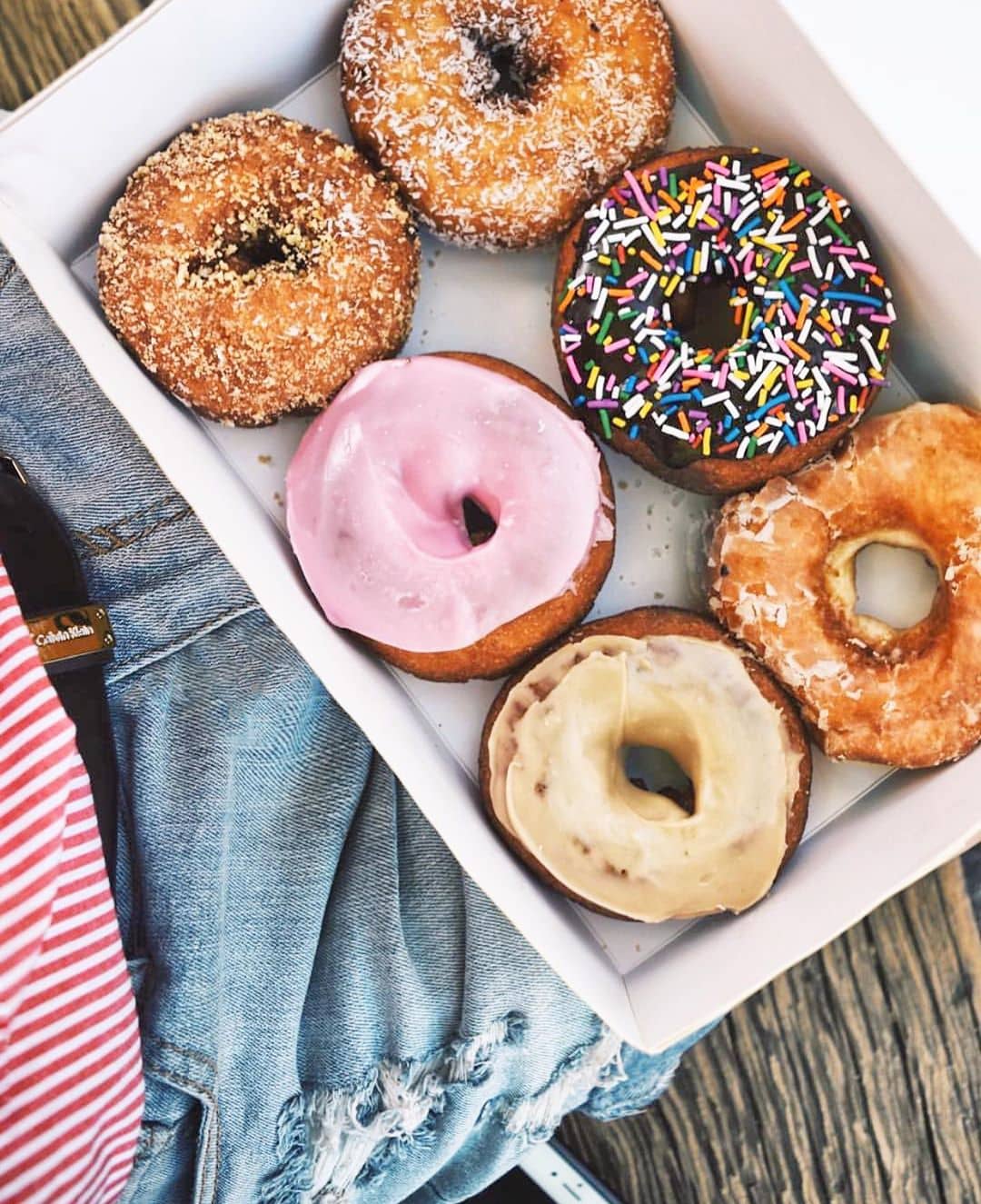 Whether by some chance you watch Netflix's "Breakfast, Lunch & Dinner" with David Chang, you might have caught that episode when Vancouver's very own Seth Rogan takes chef Chang to Lee's Donuts on Granville Island and the two help their munchies there. This is a mom and pop bakery shop, serving classic donuts since 1979 and they have an ample of yummy donuts to choose from.
Getting donuts from Mello is like getting an instant shot of cheer! Located in Chinatown, their bright and cheerful interior (it's all a pretty Mello yellow) will lift even the lowest spirits, and their rich, fluffy and oozing with creamy goodness brioche donuts are not something many can resist.
Hands down one of the most popular bakeries in Vancity, Their There, located in beautiful Kitsilano is the kind of stylish and funky coffee and pastry shop that makes people line up for a taste of any and everything they have to offer. Especially those soft, fluffy and heavenly donuts made from Mochi based and Crueller based dough!
The mochi donuts are the bomb, and you cannot miss out on trying them if you haven't yet. Soft, chewy and with a perfect sugar crisp on the outside.
Lee's Donuts Location:
Granville Island Public Market, 1689 Johnston St., Vancouver
What to order: Chocolate Crunch, Butter Crunch, Honeydew, Maple Iced, Cinnamon, Lemon Cheesecake
Mello:
223 E Pender St, Vancouver, BC V6A 2T9
What to order: Lemon Curd, Tiramisu, Strawberry and Cream, Matcha
Their There:
2042 W 4th Ave, Vancouver, BC V6J 1M9
What to order: Raspberry Cheesecake Mochi, Chocolate Mousse Donut, Crème Brulee, Chocolate Hazelnut
Website | Instagram | Facebook
14.  Ramen from Ramen Danbo & Maruhachi Ramen (+garlic chips)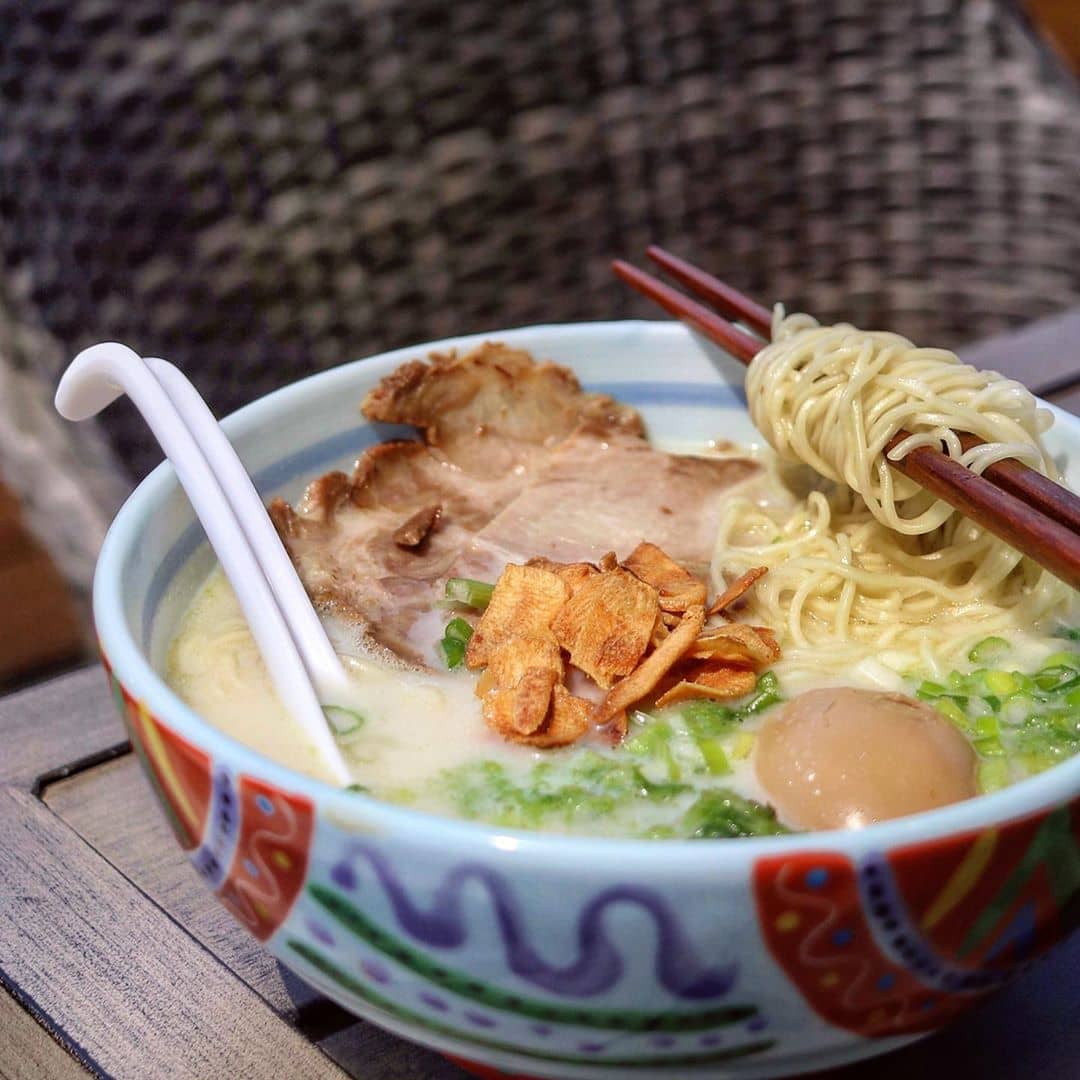 If you want to warm your belly with a luscious, authentic Japanese ramen, the best Vancouver spots are at Ramen Danbo and Maruhachi. 
When Danbo went international, it opened its first overseas diners in Vancouver. Unlike other ramen shops, at Danbo you have the power to uniquely customize your whole noodles (thickness and firmness) and broth (thickness, amount of lard, and spice).
Their signature ramen dish is the Tonkotsu classic with pork broth. Or you can also get a taste of their Shio Ramen with a gentle salt-umami taste or the Negi-goma Ramen with white sesame oil, specialty-roasted sesame seeds and fresh scallions.
Maruhachi also serves first-class ramen and have four locations around Vancouver. Their bowls are simple and yet delicious. This chain is very picky when it comes to the ramen-making process. They make everything from scratch and use basic flour and eggs to make their noodles. Their ramen is always fresh as is their fantastic garlic chips. Don't miss Maruhachi's signature creamy chicken broth (Toripai Tan) if you visit here. 
Pro-tip: go at off-peak hours to avoid the lines.
Ramen Danbo Locations:
Kitsilano: 1833 West 4th Avenue, Vancouver, BC Canada, V6J 1M4
Robson: 1333 Robson Street, Vancouver, BC Canada, V6E 1C6
Maruhachi locations:
Westend: 780 Bidwell St, Vancouver
Central Library: 270 Robson St, Vancouver
Metrotown: 5278 Kingsway, Burnaby
Maruhachi Gaiden: 2858 Main St, Vancouver
Richmond: 2780 No. 3 Rd, Richmond, BC V6X 2B3
Instagram | Facebook | Website
15. Checkmate Caesar from Score on Davie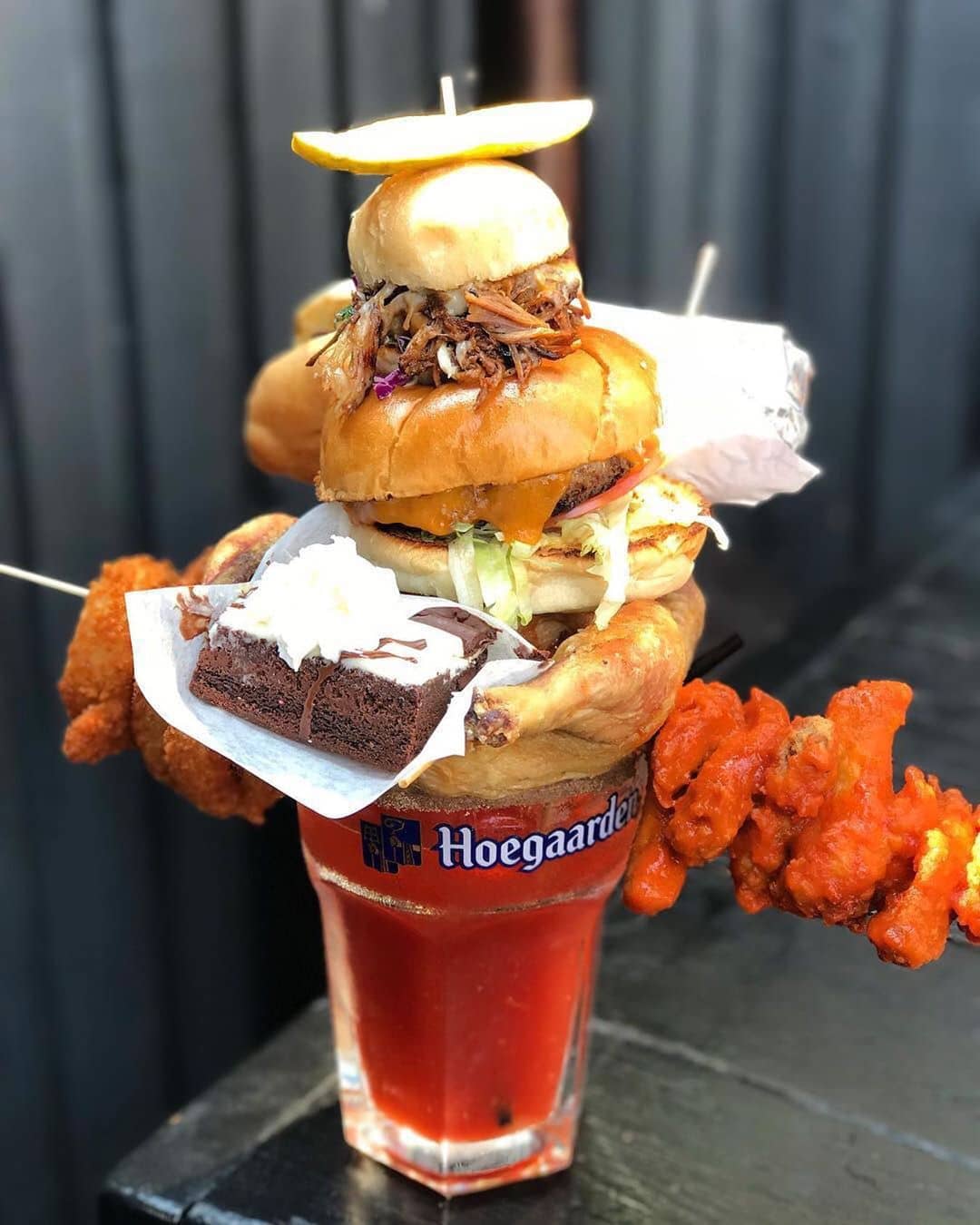 Its size is outrageous. It's meant to be split between two people but will anyway up your cholesterol levels. Score on Davie's Checkmate Caesar weighs 4 ounces and just might deserve a Guiness record. The minute you get it, it becomes your beloved guilty pleasure to feast on.
This outstanding Caesar order costs $60 and will checkmate you with its fried mac and cheese balls, corn dogs, cheesy nachos, beef burgers full with tasty fixings, a peanut butter pie and a fried chicken with bacon and pickle on the top.
Address: 1262 Davie St, Vancouver, BC V6E 1N3, Canada
16.  Truffle Siu Mai & Squid Ink Ha Gao from Chef Tony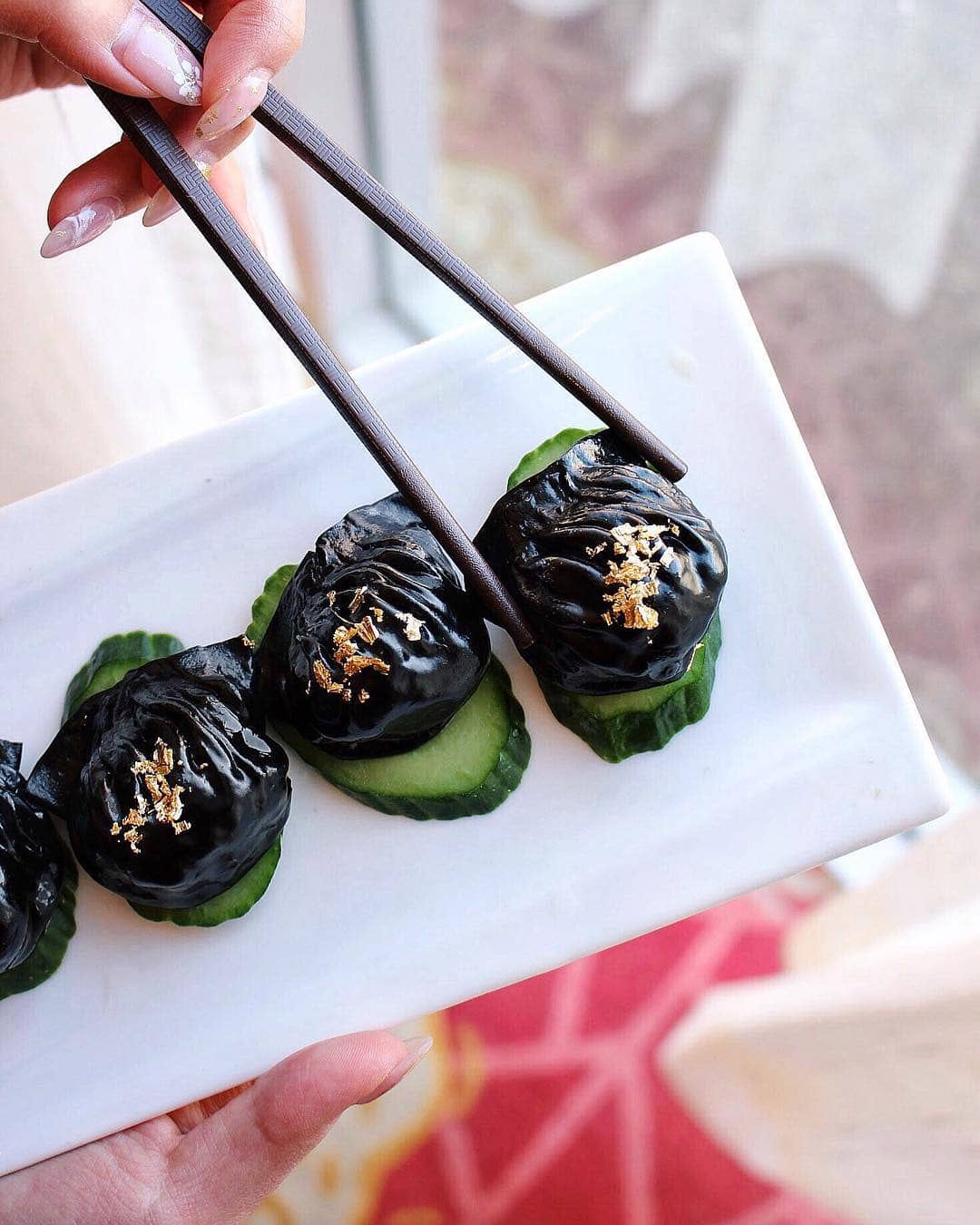 Richmond's Chef Tony restaurant is a marvel seafood restaurant, run by distinguished Chinese-Canadian chef Tony He, and where you can order some of the best dim sum bundles of joy.
Unpretentious from the outside, it's a different world once you step inside Chef Tony's. There are crystal chandeliers hanging from the ceiling and facing the sets of rounded tables covered with white sheets, as well as other eye-popping interior assets such as a lone, blue-glowing pillar in the middle of the main dining room.
The restaurant's menu reveals a real food extravaganza, and two items are a must, the Truffle Siu Mai and Squid Ink Ha Gao. It's safe to say these are going to be the boujie-est Siu Mai and Ha Gao in your life. The first bundle makes for small, distinctive meaty bites stirred by the genuine truffle used in it. Matsutake mushrooms in the second one, make for an unusual choice but is done so well–it's simply mouth melting.
Pro-tip: avoid peak hours if you don't want to wait 40 mins for a seat.
Address: 101-4600 No.3 Road, Richmond, BC
17. Cake & Matcha Madness from Trafiq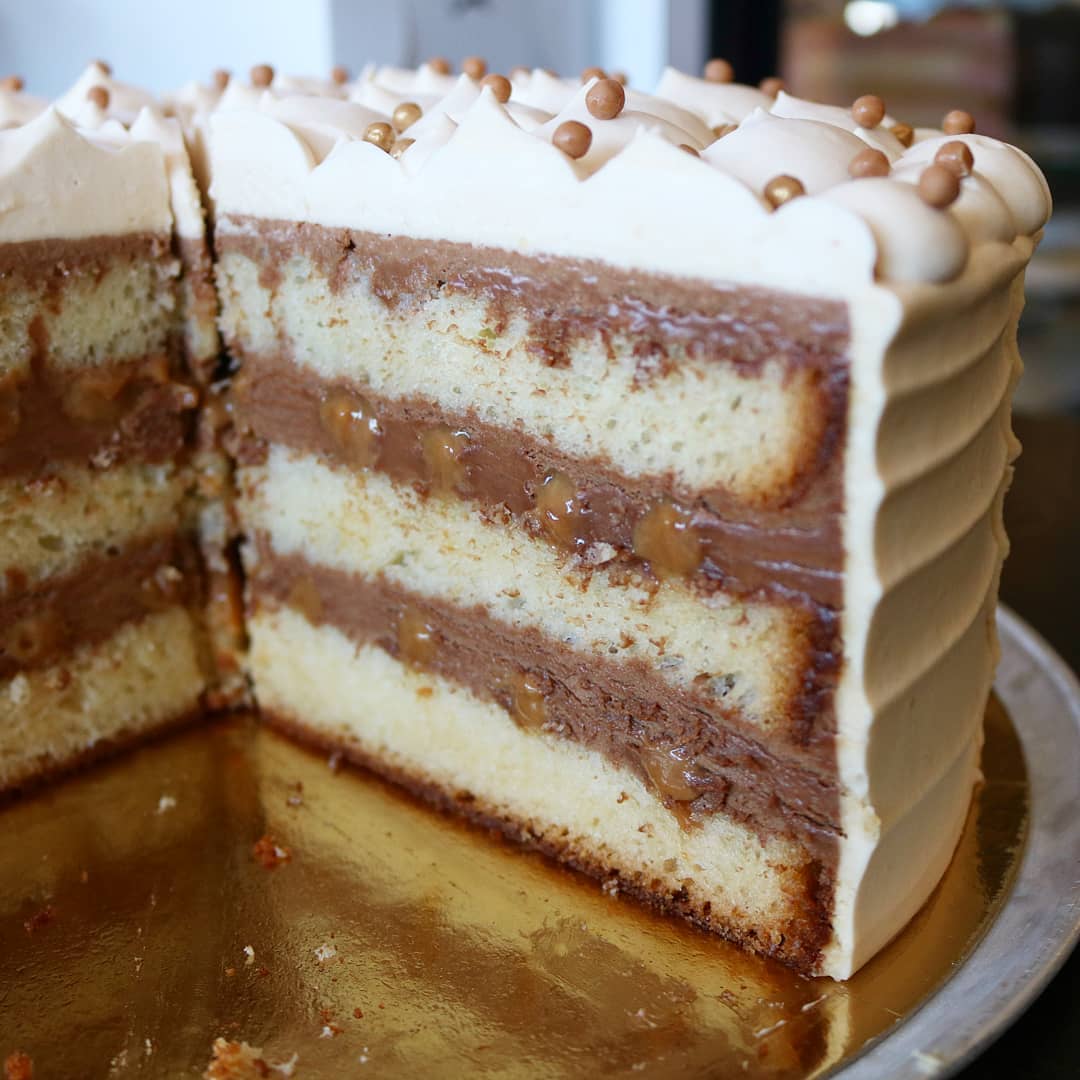 A warm and roomy corner on Vancouver's bustling Main Street, Trafiq Bakery & Cafe makes for a perfect spot to drop by for a coffee break, breakfast or lunch… or to be straightforward, their insanely good Salted Caramel Cake and Matcha Tart. Trafiq specializes in their own variety of house-made buttery croissants, pastries, sandwiches and bread, but it's the above two that are breaking the ceiling.
If a single salted caramel cake is not enough for you, they even cater tiered cakes (6" cake on top of a 10" one). It's a dynamite choice for any occasion you might have pending. Some of their other cakes include Lemon Lavender, Earl Grey, and Carrot Cake.
For die-hard matcha fans, go hunting their Mucho Matcha tart, which, unfortunately is only baked in super limited quantities during certain months. Watch for the notice on their Instagram if you wanna grab a bite. The tart perfectly blends matcha almond cream, matcha pastry cream, and matcha cream.
Tip: go early if you want to A.) get a spot and B.) get that salted caramel cake.
Address: 4216 Main St., V5V 3P9 Vancouver, BC
Order Online: Website
18. Banh Mi at Banh Mi Saigon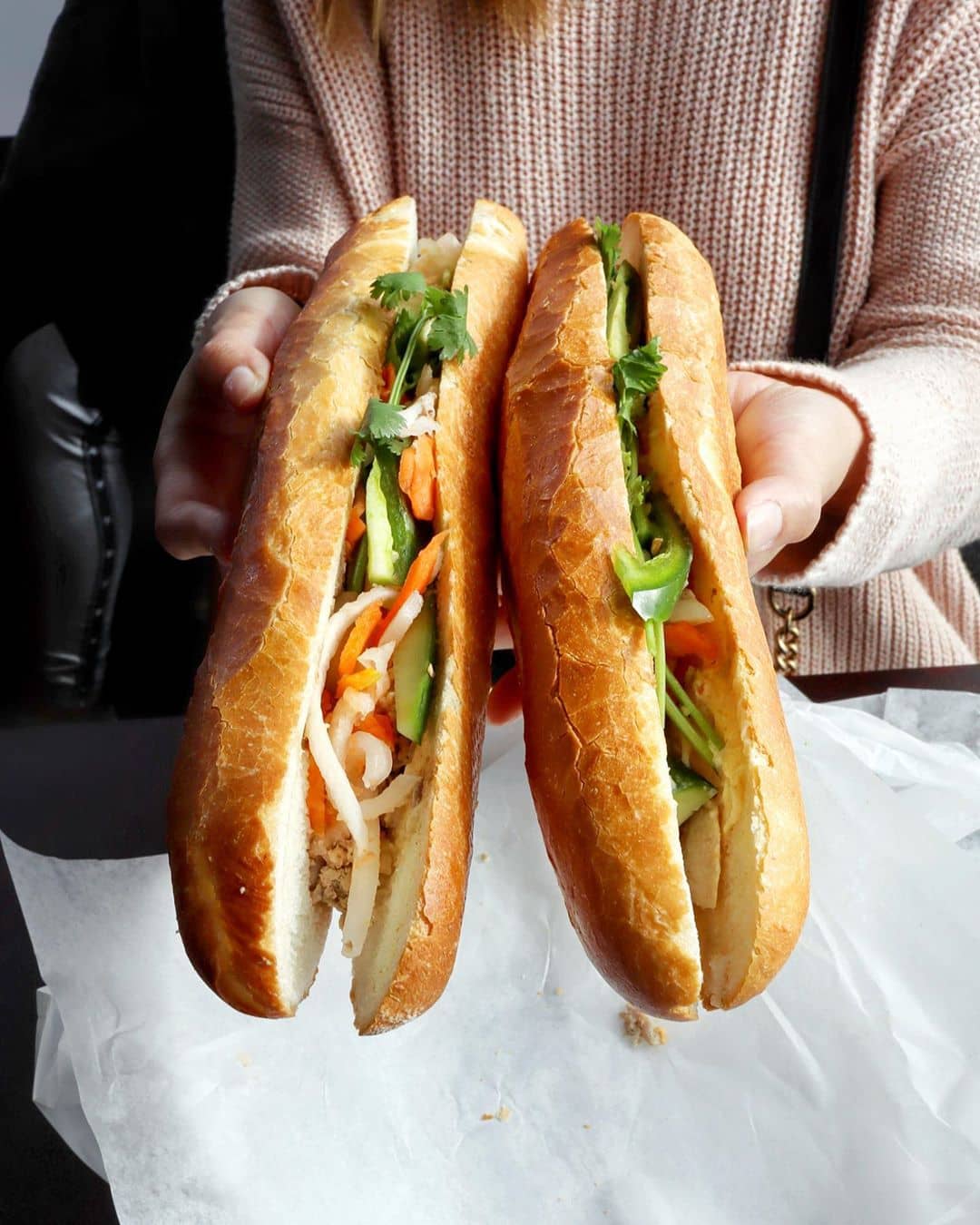 For the best Vietnamese sandwiches in town head to Banh Mi Saigon on Victoria Drive. It's a tiny, family-owned store where it's best to make a take-away order; it has an established reputation and a stable flux of visitors.
Order their house special Banh Mi and inside the delicious baguette you'll find an appealing mix of ham, meatballs, Vietnamese meatloaf, cheese and vegetables like carrot, cilantro, pickled radish and cucumber. Make an order as large as ten sandwiches and you'll get one for free.
Whether you decide to sit down and enjoy your Banh Mi on the spot, order a cup of Vietnamese Iced coffee. You won't regret it.
Address: 5397 Victoria Drive, Vancouver, BC V5P 3V6
19. BBQ Pork & Roasted Pork on Rice from HK BBQ Master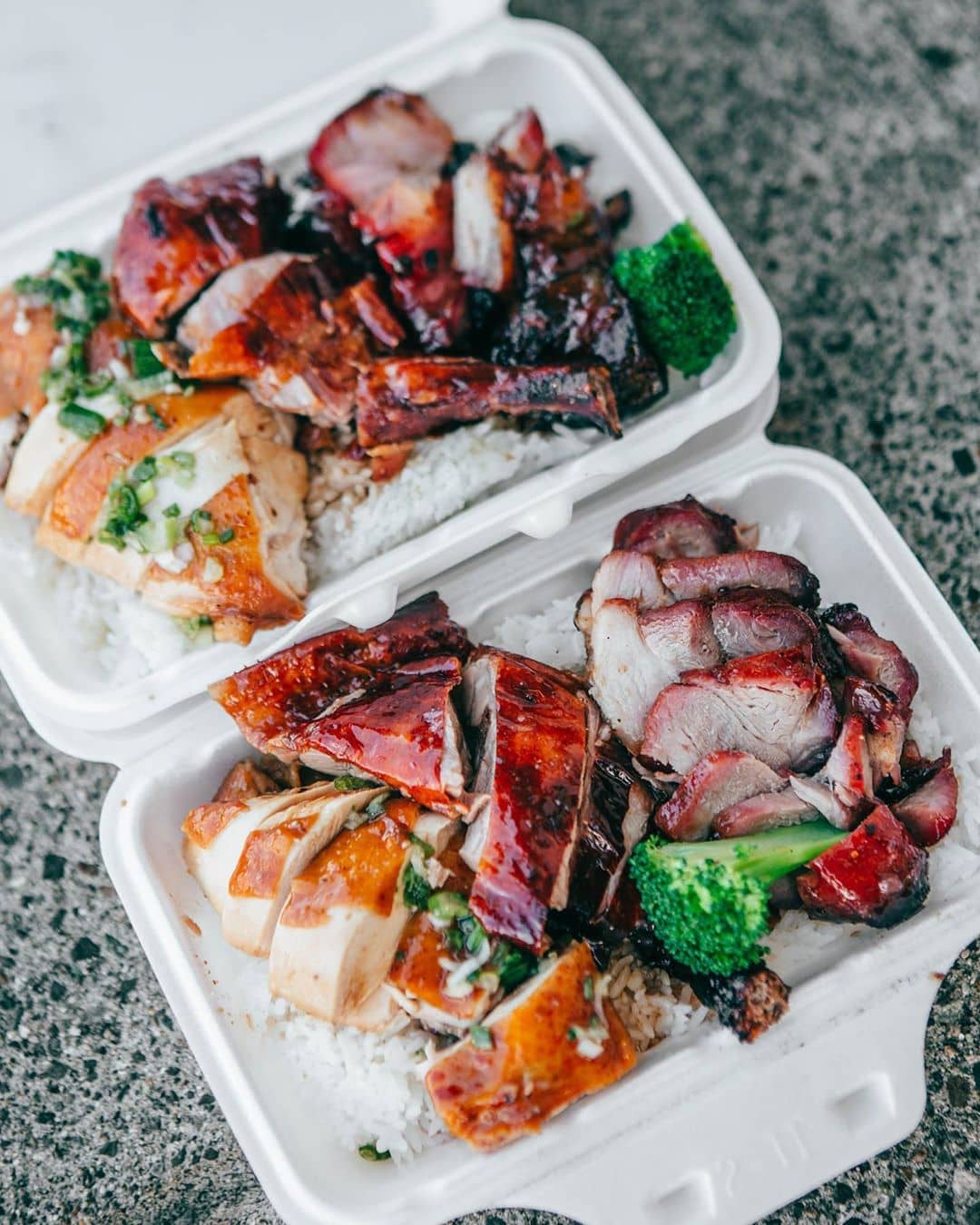 Tucked into the parkade of a Canadian Superstore, this Chinese BBQ shack is one of the very few Chinese places you'd want to return to again and again. Not to boast but HK BBQ Master has also made it to our Ultimate Vancouver Food Bucket List.
When at HK BBQ Master, everybody starts with the BBQ Pork on Rice. Sounds like a simple enough dish, right? The pork is cooked to perfection and comes out melt-in-the-mouth tender, with crunchy and flavorful skin. Even the soy sauce flavoured rice is spot-on, you'll wonder how rice could be so yummy!
Pro Tip – ask for half fat and half lean for your meat, which gives you a perfectly juicy, enjoyable texture.
If you happen to get their BBQ Duck and/or BBQ Spare Ribs, consider yourself lucky because these two dishes always sell out quickly, and you may have to reserve them ahead of time.
What to order: BBQ Pork, BBQ Duck, BBQ Spare Ribs
Address: 4751 No. 3 Road, Richmond, BC V6X 2C4
20. Brunch At Northern Cafe & Grill 
A hole in the wall at a location you don't expect! 
Past the train tracks, the metal chain fence, and piles of wooden beams is a non-discreet staircase…that will lead you to this local gem that looks like an old school diner.  
Owned and operated by the Mah family since 2008, you'll find hearty brunch items (those hashbrown shreds were 👌), Chinese food, and good vibes here (they are so nice!).
P.S. expect a wait on weekends!
What to order: Wonton Soup, Northern Deluxe Burger, Ham Eggs Benny
Address: 1640 E. Kent Avenue South, Vancouver, BC
Website | Instagram | Facebook
21. Ikura with Quail Egg Nigiri from Sushi by Yuji
For having a bit of some more traditional Japanese seafood delicacies, check-in at Sushi by Yuji. It's a warm place with a relaxing, laid-back atmosphere and expansive menu options.
What you must order once at Yuji is their Ikura with Quail Egg Gunkan. They have a lot of nigiri options, as well as sushi rolls and sashimi. But Ikura with Quail Egg Gunkan and Negitor Quail Egg Gunkan is definitely their winning ones.
Expect a meteoric sensation as you devour this one in your mouth.
Pro tip: Make a reservation before you go since spots are limited.
What to order: Ikura with Quail Egg Gunkan, Negitoro with Quail Egg Gunkan, Shiro Roll
Address: 2252 Kingsway Vancouver, BC V5N 2T7 at Kensington-Cedar Cottage
22. Newtown Pork Bao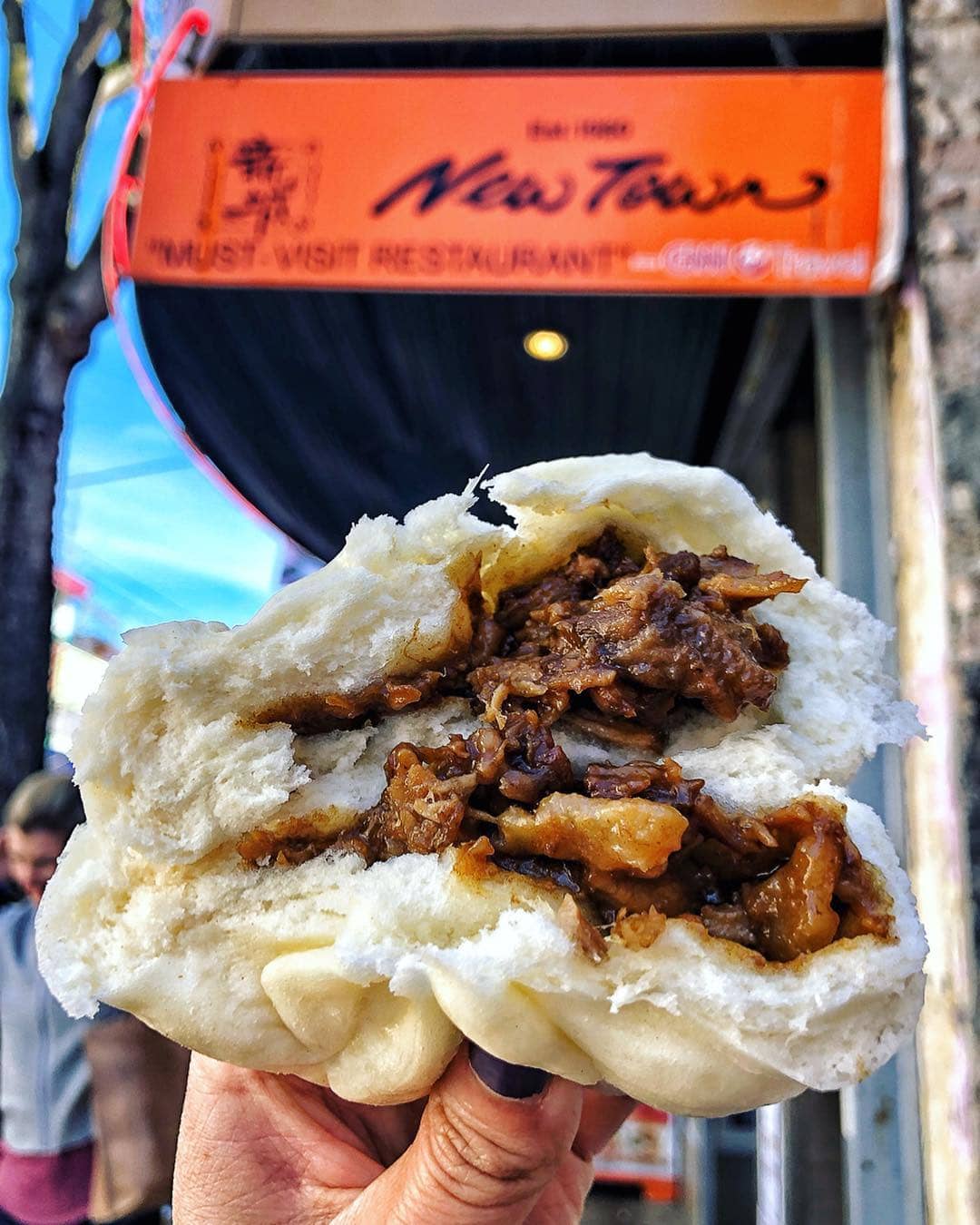 For more than 40 years, Newtown Bakery & Restaurant has been a locals' favourite in downtown vancouver for serving heavenly delicious Chinese baked goods and pastries. With a casual decoration and home-y ambiance, everything about New Town is so comforting and easy-going.
The most famous item (aside from their award-winning Apple Tarts) to try must be the Pork Bao (or the Char Siu Bao) with a soft-chewy steamed bun, stuffed with savory pork fillings and mushrooms that can make you "wow" from the first bite. Or their Chicken Deluxe (or Bola Bola), Pork Dumplings, and Shrimp Dumplings are always in demand!
End your meal right with their Mango Pudding, an elegant treat that is fresh and light, yet still feels like comfort food.
What to order: Pork Bao, Bola Bola, Minced Pork & Vegetable Bao, Pork Dumplings, Shrimp Dumplings
Address: 148 E Pender St, Vancouver, BC V6A 1T3
23. Hainanese Chicken from Mamalee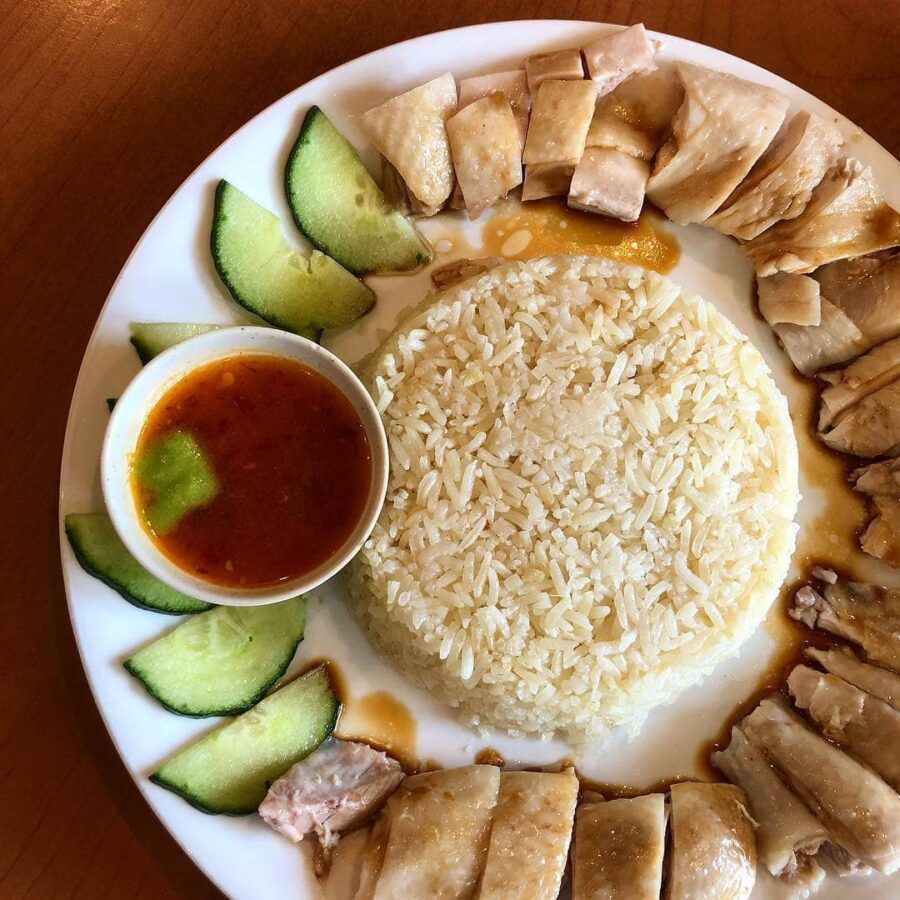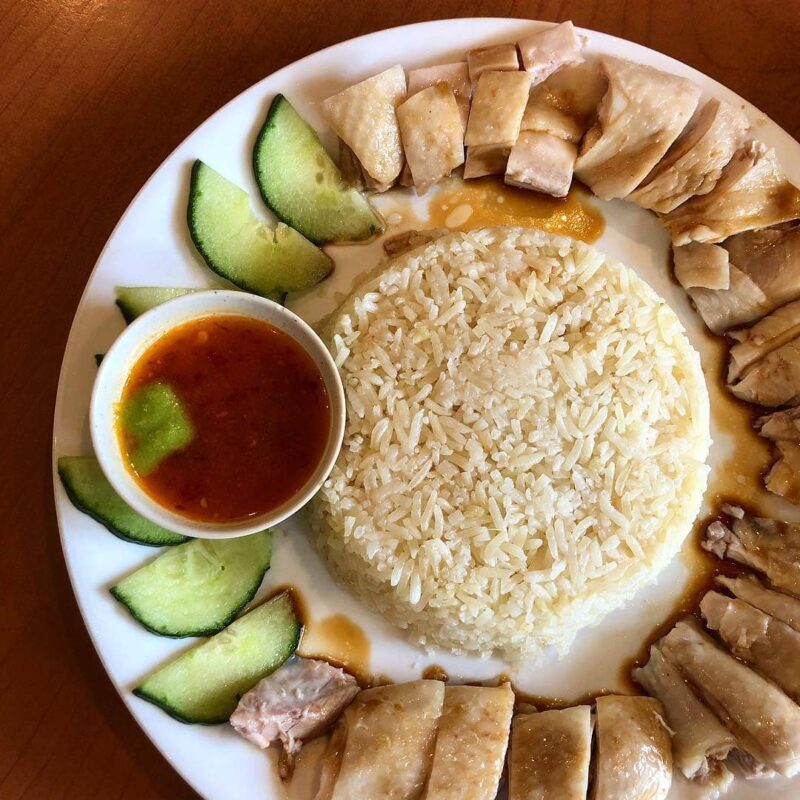 Hainanese Chicken is a delectable, Southasian dish–a golden coloured chicken served boneless and often accompanied by seasoned rice, along some sauce options and cucumber. Preparing it involves a delicate boiling process.
Get the best bites of it at Mamalee. The first serves this Malaysian treats and is a family-owned gem on Broadway street. At Mamalee, you can opt-in between Hainanese Chicken Laksa Noodle, Hainanese Chicken Noodle Soup and Hainanese Chicken Chilli Sauce. 
Mamalee location:
3144 W Broadway, Vancouver, BC V6K 2H3, Canada
24. Omurice with Hayashi Sauce from Dosanko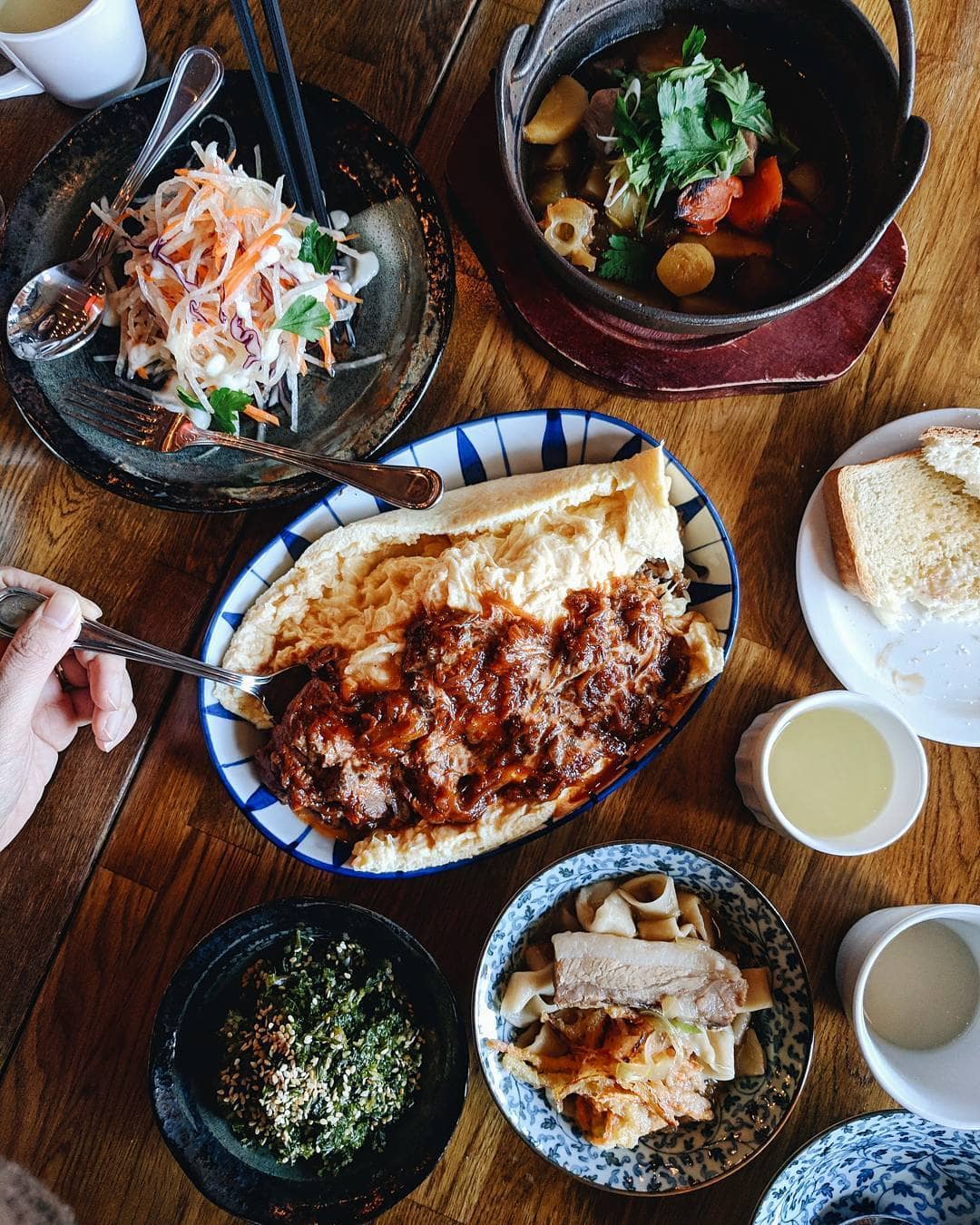 It's like food from the Japanese grandma I've never had.

Chef & Co-owner Nathan Lowey
Although situated in the…not so appealing part of downtown Vancouver, Dosanko is worth the trouble. It's homey. It's simple. It's comforting. And that's why we're in love with Dosanko.
The most thrilling dish here is their OmuRice. The plate is a combo of fried rice, topped with a perfectly cooked Japanese omelette and tomato sauce. The show starts when the omelette is sliced down the middle infront of you. It's a spectacle.
Recommend going extra and cementing your OMG feelings by opting for the Hayashi (beef) sauce with it.
When you're there, say hi to owners Nathan and Aki. They're the sweetest.
Address:
566 Powell St Vancouver
Order Online: DoorDash | Uber Eats
25. Lobster Roll from Joe Fortes Seafood & Chop House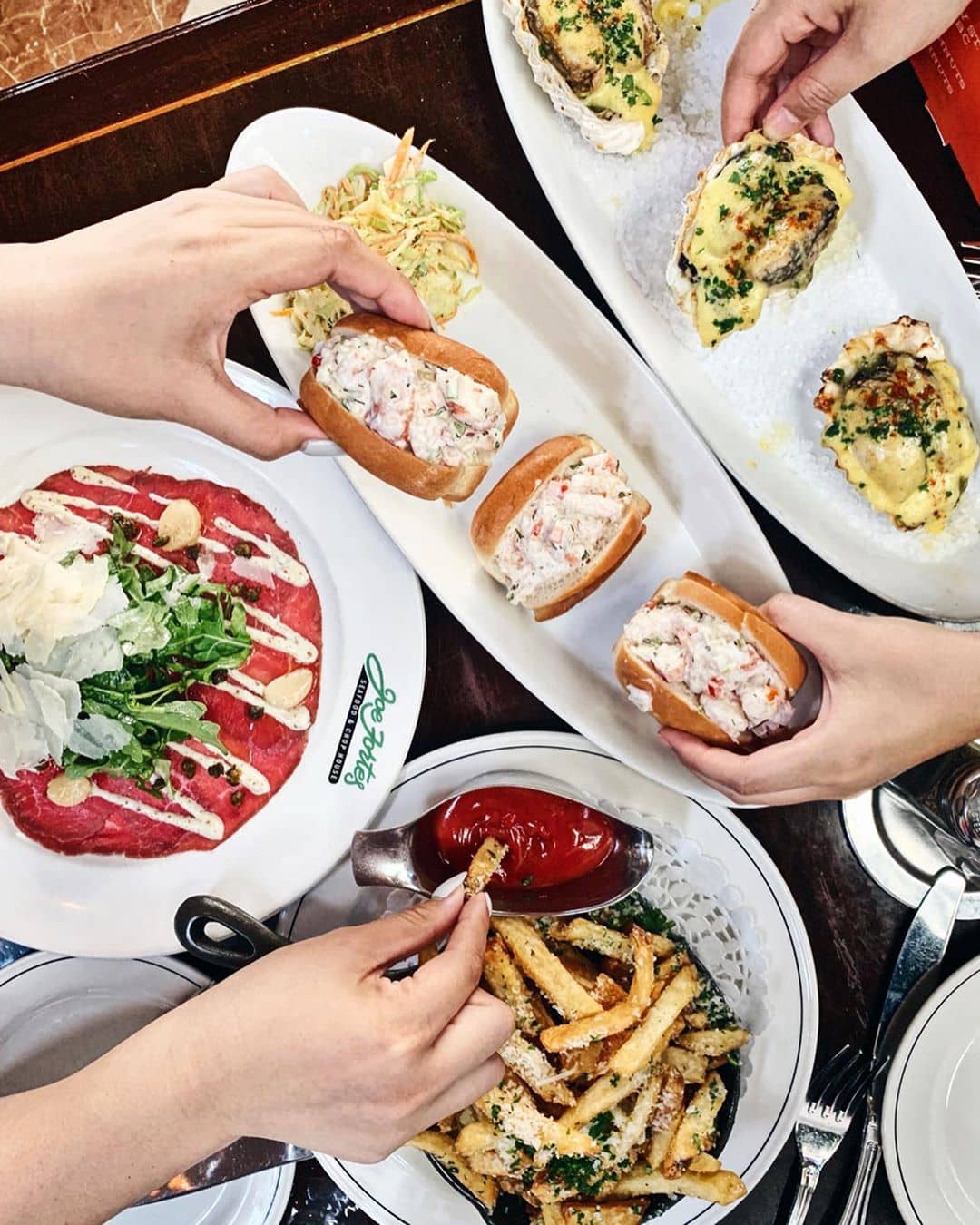 At Joe Fortes, the lobster roll is to die for. The Robson Street restaurant's rolls are invariably fresh and tasty and you can combine with some tasty bread with truffle oil plus a good quality glass of wine.
Go earlier and catch the bar's happy hour, the perfect after-work activity. Go later, you may even catch some live music adding to the overly joyous ambiance of the place.
P.S. they also have a stellar patio during summer
Location: 777 Thurlow St, Vancouver, British Columbia V6E 3V5, Canada
26. Tiramisu Bingsu from Passion 8 Dessert Cafe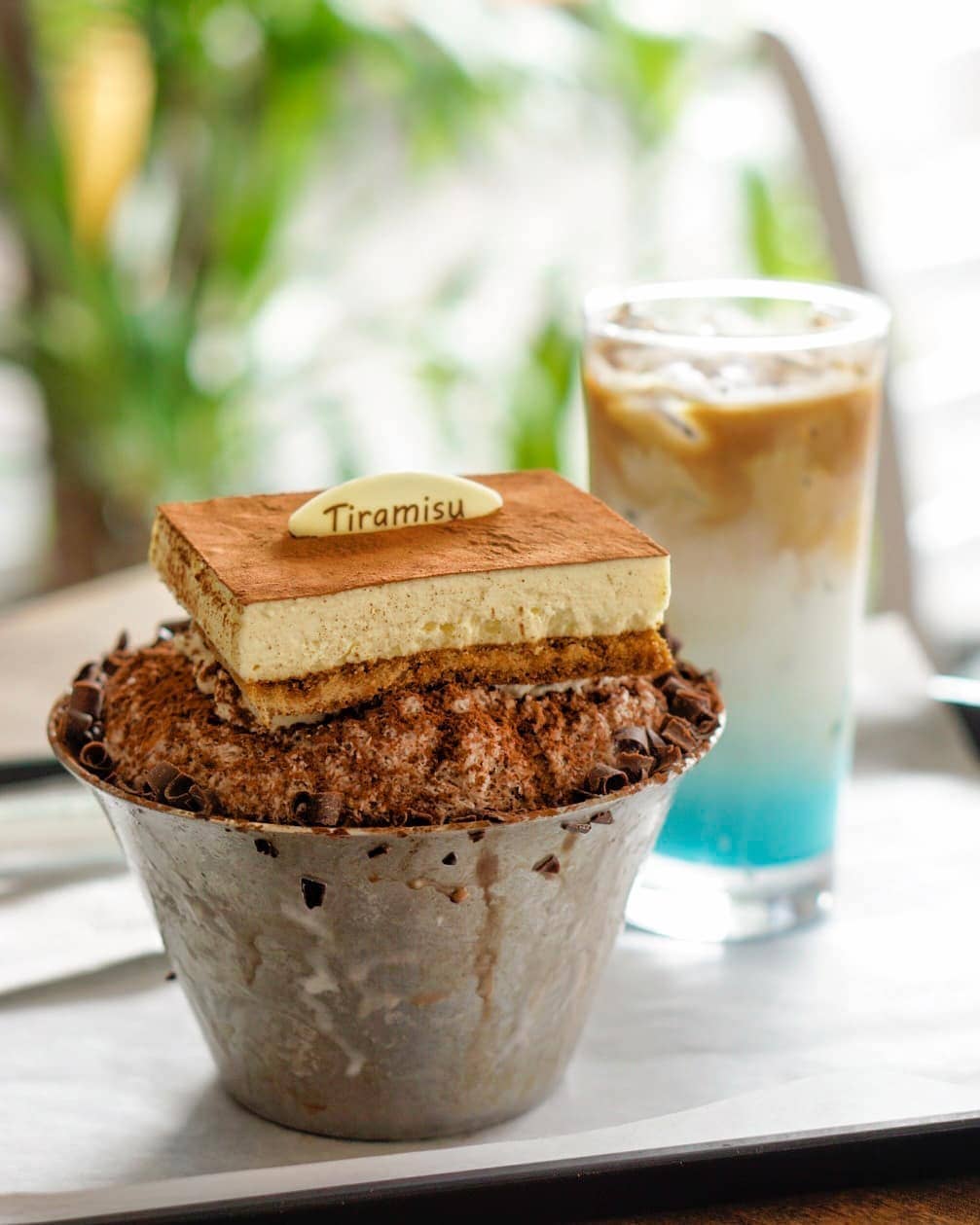 Resume your search for mouth-watering Vancouver sweet delights at Passion8 dessert cafe. You'll be surprised by how inventive they get here with their Korean-style treats that you can down alongside a nice cup of coffee.
Order a Tiramisu Bingsu–it's exquisite, creamy , fluffy and appetizing.
Pro-tip, pour the espresso around the cake, not on top to avoid embarrassment and a big mess.
Address:
-3010 Cambie St., Vancouver, BC V5Z 2V9
-403 North Rd, Coquitlam, BC V3K 3V9
27. Special Fish Cake Soup or Special Crab Cake Soup Pho from Bun Cha Ca Hoang Yen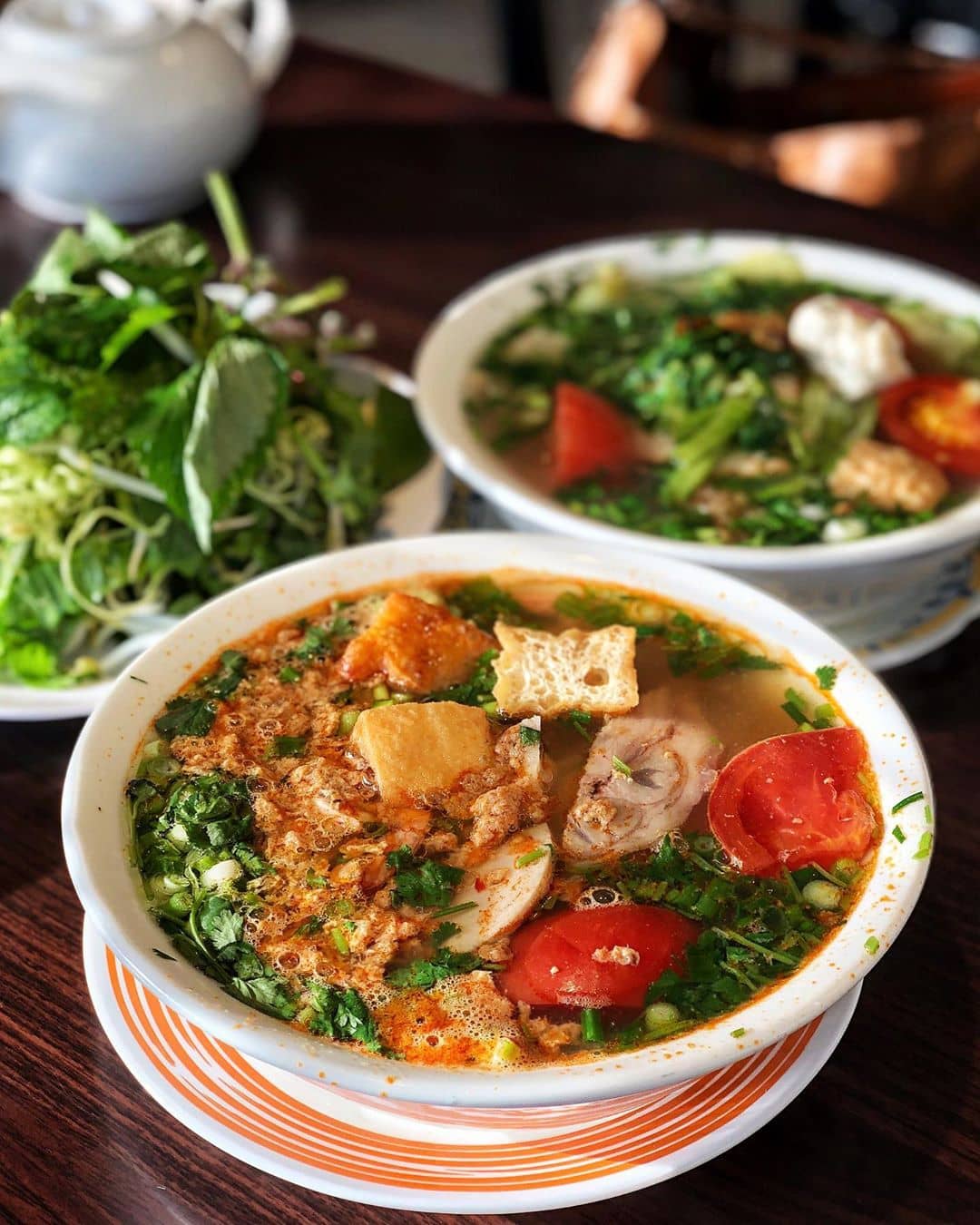 For a final stop of Vietnamese food in Vancouver, choose Bun Cha Ca Hoang Yen. Try their Special Fish Cake Soup (Bun Cha Ca Dac Biet #24) brimming not only with fish cake but also with tofu, tomatoes, garlic, dill and other herbs.
Also take their Special Crab Cake Soup pho (Bun Rieu #23) which sports pork, shrimps and tofu. Both dishes have vermicelli noodles, too.
At the end of the day, you need to try both to see which side you lean – team #23 or team #24.
Tip: either go early or off peak hours to avoid the lines.
Address: 5155 Victoria Dr, Vancouver, BC V5P 3V1
28. The Deep Cove Cocktail from Botanist Dining
Feeling thirsty after reading all these best of the best Vancouver treats? Now it's time to freshen up with a Deep Cove Cocktail from Botanist Dining. Decorated with wavy cucumber ribbons, mixing island gin, sea buckthorn liqueur and blue algae syrup in its contents, and served attached on an intricate chunk of wood, this cocktail gets as botanical as it can.
Yes, it's true, this cocktail is also perfect for your Instagram feed, and you are likely to reach out for your phone as soon as you see it nearing your table. More importantly, enjoy every sip of it.
Address: 1038 Canada Place, Vancouver, BC V6C 0B9
29. Lido Pineapple Bun
Lido is the real deal when it comes to authentic Hong Kong restaurants and a popular breakfast spot in Richmond. And if a restaurant can be super famous for just one item, then Lido will mostly be known for their delicious Pineapple Buns (bolo bao). Don't miss this casual yet lovely spot whenever you're around! In case you can't read the menu in Chinese only, don't hesitate to get help from the staff.
Always have their fresh and tasty Pineapple Bun, this is what you came for! Don't forget to get it with the slab of salted butter to really get the full experience! Being soft, slightly sweet, and topped with a golden crunchy, crumbly crust, you'll know why people are lining up for this baby!
Try to get your buns early or else you'll have to wait for 20 minutes for the next batch.
The Egg Tarts seem to be very popular as well, flaky, creamy, and delicious, sometimes they are sold out faster than the buns. Don't forget to wash it all down with a cup of Hong Kong Milk Tea, so wholesome!
What to order: Pineapple Bun, Egg Tart, Hong Kong Milk Tea.
Address: 4231 Hazelbridge Way, Richmond, BC V6X 3L7
30. Xiao Long Bao at Shanghai Dimsum House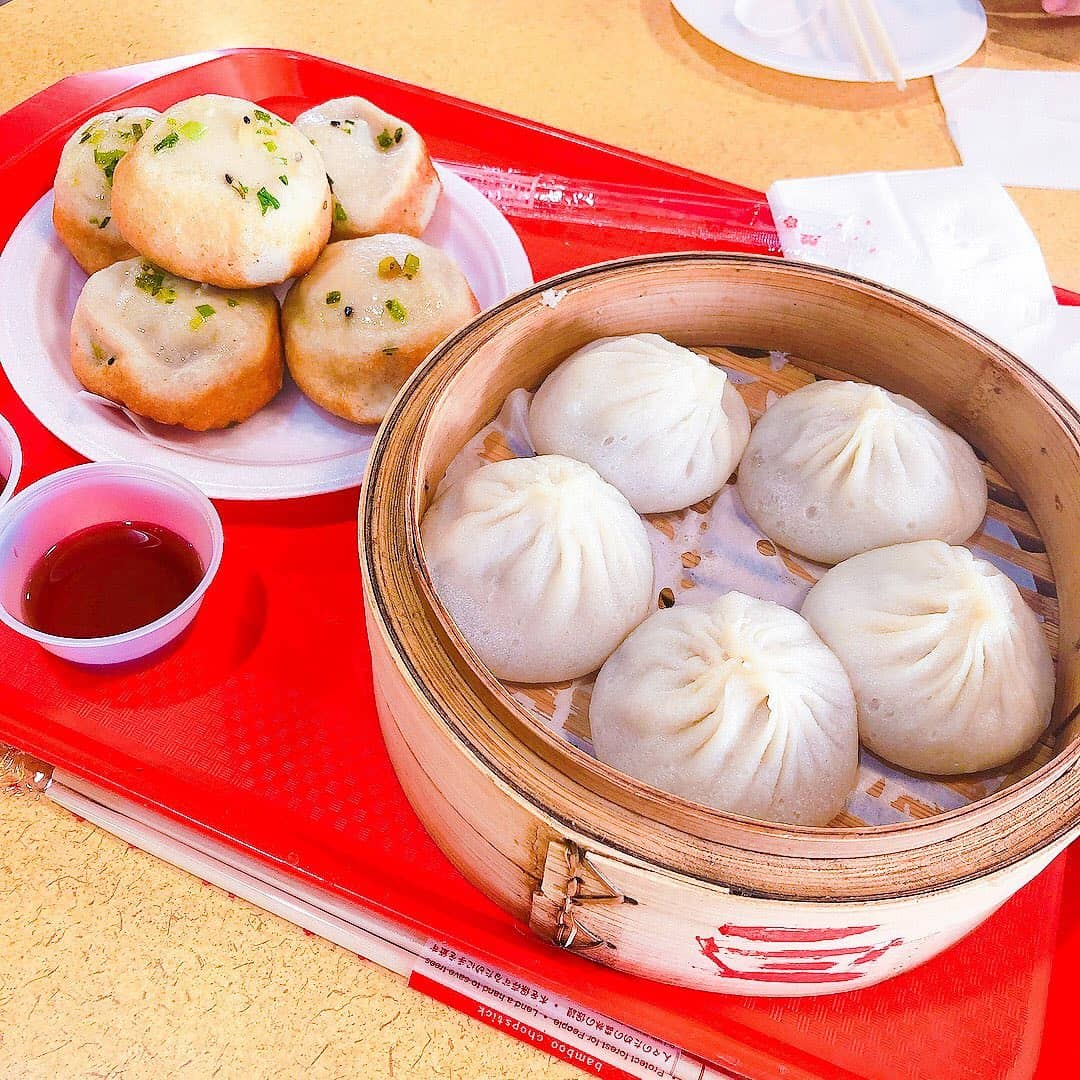 Located in the Burnaby Crystal Mall Food Court, Shanghai Dimsum House isn't a spot anyone should miss if you love flavour and authenticity in your food. This spot is super popular with locals and you'll see a line form during the rush hours. When you give them a try, you'll know why.
Straight up, get the Xiao Long Bao (steamed mini pork buns Shanghai-style) because they make the BEST in Burnaby. Not only do you get to see it be freshly wrapped in front of you at the stall, it is no doubt the most popular item here (and they sell like hot cakes). For $7 you get 5 of these delicious steaming soup baos.
What to order: Xiao Long Bao
Address: 4500 Kingsway, Burnaby, BC V5H 2B1 (at the corner of crystal mall food court)
31. KBBQ at Kook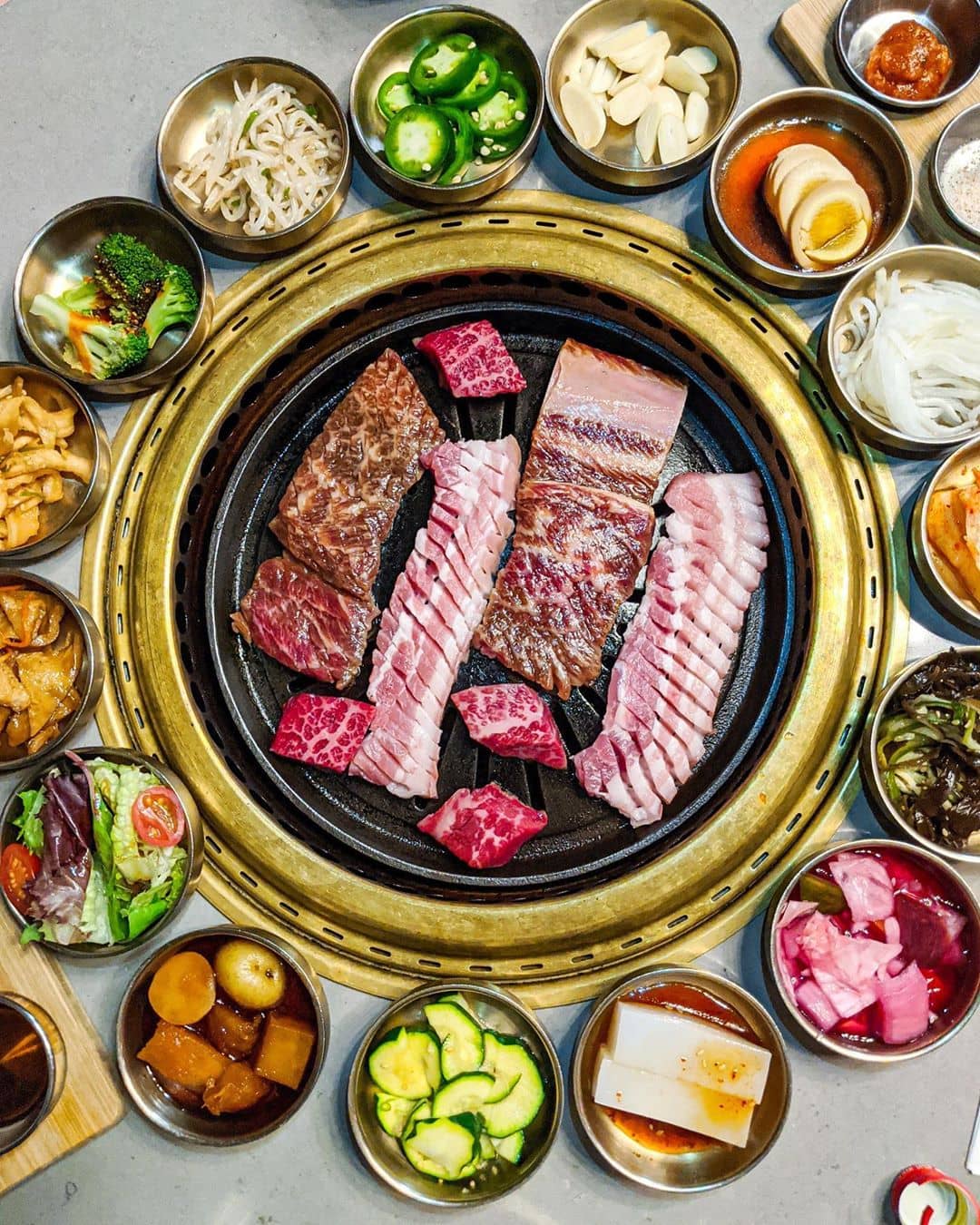 This upscale restaurant has got a modern decor, is very spacious, and feels nothing less than a bar. The services are great and they even have a service bell at each table. You know the place is great when it is hard to get a reservation and earned a mention in our best Korean Restaurants in Vancouver.
This restaurant serves fifteen different types of Banchans and we are not even kidding! Trust us, your dining table is going to look nothing less than a painting palette because of all the colorful Banchans! The Prime Beef Rib, Spicy Pork, and the Bulgogi Beef are must-haves. The meat is just so good that you won't be able to get over its flavor and the quantity is amazing too. You can also have your BBQ prepared in case you are not in the mood to bbq. Also, they have got multiple BBQ combos, so make sure you have a look at them before ordering.
What to order: Prime Beef Rib, Spicy Pork, Bulgogi Beef
Address: 2800 E 1st Ave #211A, Vancouver, BC V5M 4N9, Canada
Website | Instagram | Facebook
With such a diverse and attractive food scene, you can never get hungry once in Vancouver. We've now told you about the must eat restaurants and items where you can munch on some of the most delicious Asian treats, seafood specialties, genuine Italian pasta or best local sweets.
Whether you want to sit down in a fancy restaurant and have your meal prepared by some of the city's well-renowned chefs, or grab something on the go from any of those pleasant-smelling street food corners, this bucket list is all yours to explore and experiment with.
As any local will also tell, Vancouver is a true food destination that goes beyond our top-quality sushi and you certainly won't be disappointed. For more delicious food, check out our list of the absolute best restaurants in Vancouver or our neighbourhood guidebooks.
Hope you'll enjoy what's on offer every bit as we have.
What Foods Is Vancouver Famous For?
If you are a first-time visitor in Vancouver, you might be looking for suggestions. The good news is that Vancouver is notorious for foods that we bet are not better anywhere else.
When in Vancouver, try to grab all these foods and surprise your tastebuds. And yes, Vancouver has many delicious culinary dishes other than just seafood. Here are the foods you should try in Vancouver: 
-Seafood – must try!
-Sushi
-Salmon
-West coast oysters
-Fish and chips
-Dungeness crab
-Japadog
-Pizza (butter chicken pizza)
-Pasta 
-Nanaimo bar
-BeaverTails 
-Poutine
Is Food Expensive in Vancouver?
There is a widespread belief that food prices in Vancouver are exorbitant. Apart from the high rent, Vancouver is also notorious for food prices. Typically, most visitors and residents find the groceries and staple ingredients to be comparatively expensive. It is also worth mentioning that Vancouver is one of the most expensive cities in Canada. 
When it comes to dining out, the costs are high if you choose to visit a posh restaurant. Expect to spend north of $30. But this shouldn't discount the fact that there are good restaurants available at a medium budget. All you need to have is a list of such places.
How Much Is A Meal in Vancouver, Canada?
Whether you are going for a vacation or planning to settle in Canada, it would be wise to calculate per meal prices. The meal prices in Vancouver, Canada, can vary significantly based on the kind of restaurants you choose. But, the average cost of food in Vancouver is around $34 CAD for a day. However, they can vary between $30 and $150. 
Most people claim that getting breakfast in Vancouver is cheaper than lunch or dinner. Also, street food and fast food prices in Vancouver are much lesser than in sit-down restaurants.
What Are the Must Eat Places in Vancouver?
Like any other city, there are some restaurants in Vancouver that are a must-visit. Most of these must-eat restaurants are centrally located. As a result, even if you are a first-time visitor, you won't have difficulty finding them. If you are visiting for a short span, you might want some handpicked suggestions. These are the must-eat places in Vancouver: 
-Phnom Penh
-Beta5 Chocolates
-Earnest Ice Cream
-Miku Japanese Restaurant 
-The Frying Pan 
-Medina Cafe 
-Savio Volpe
-Japadog
-Sal y Limon
What Are the Must-Eat Foods in Vancouver?
Food lovers want to make the best culinary experience out of their vacations, no matter where they go. There are must-eat foods you should try in Vancouver. Put them straight away on your Vancouver to-do list. Here's a list we have curated for you: 
-Creampuffs from Beta5 Chocolates 
-Fried Chicken from LA Chicken, Wu Fung Dessert & The Frying Pan
-Holy Trinity from Phnom Penh 
-Ice Cream from Earnest and Elephant Garden Creamery 
-Pasta from Savio Volpe & Pepino's 
-Salmon Oshi Aburi Sushi from Miku or Minami
-Tojo Roll (California roll) from Tojo's
-Waffles from Medina Cafe & Nero