Also known as Vancouver's Little Italy, Commercial Drive (or more commonly called 'The Drive') is an art-centric neighbourhood with charming boutiques and classic pubs, vibrant cafes, traditional delis and gelato shops, and a vibe all its own.
It's a place to spend a relaxing day strolling around soaking up the colorful atmosphere, shopping at chic boutique stores, and dropping by some of Vancouver's coolest restaurants, cafes and bars for a leisurely meal.
We've put together a list of some of Commercial Drive's best restaurants, cafes, shops, and stays, so keep reading to see what's in store on your next visit.
Best Restaurants in Commercial Drive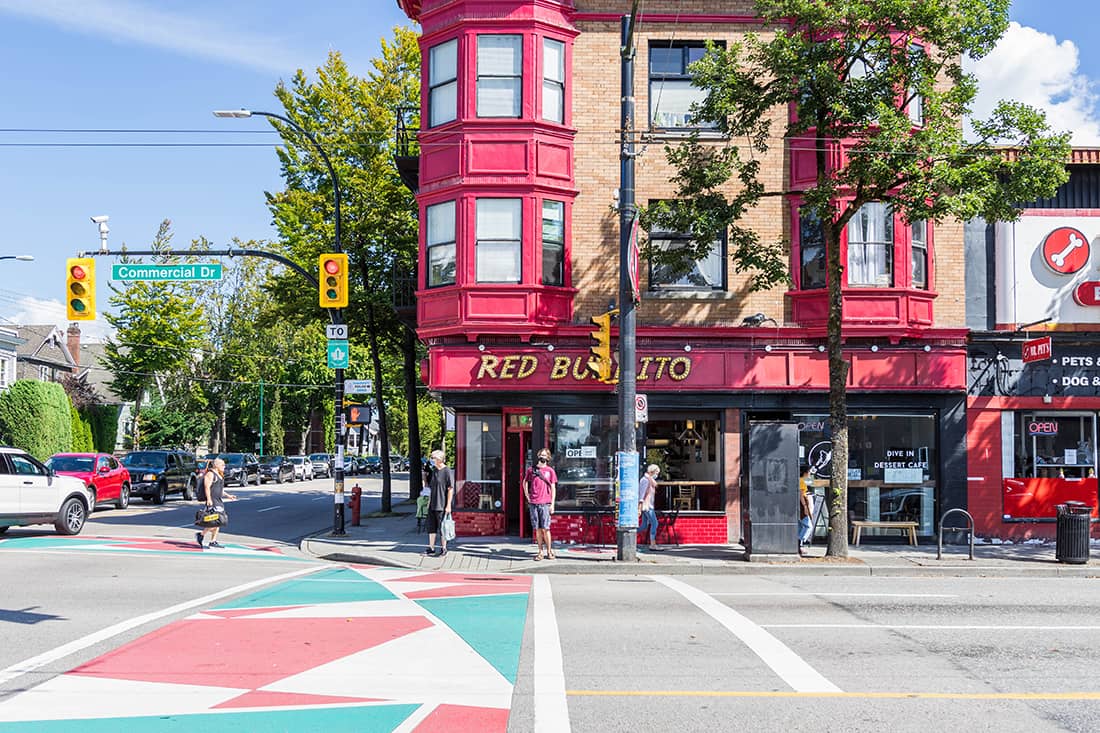 When it comes to food in Commercial Drive, there is an incredible range of choices from traditional Italian, authentic Vietnamese, Indian and so much more. Deciding where to go for a leisurely afternoon lunch, or a dinner with friends can be tough.
We've put together a list to help you make the right choice for some enjoyable dining experiences.
Downlow Chicken Shack
#bestinvancouver #popular #recommended #friedchicken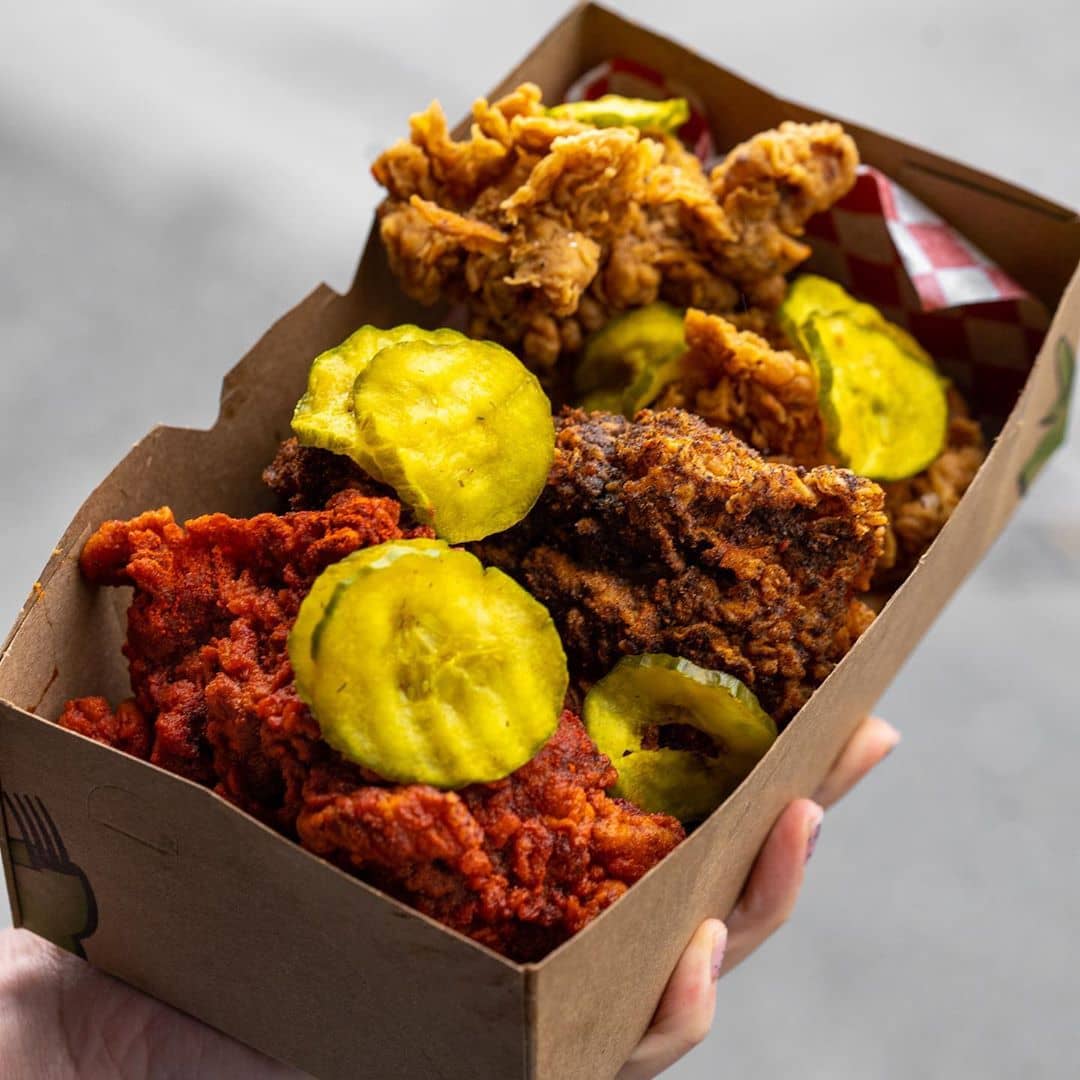 Sometimes, we all just feel like sinking our teeth into some juicy and succulent fried chicken. If that happens with you, one place you should definitely try out on Commercial Drive is Downlow Chicken Shack. They do fried chicken, and they do it extremely well! With freshly delivered chicken, range free eggs, and buns warm from the oven, this restaurant is the "go to" place for many Vancouerites' fried chicken fixes.
Try out their Cannibal Lecter, a fried chicken breast with added crispy chicken skin and a fried egg, served in a bun. All their sandwiches can be had with either white breast meat or dark thigh meat. For a newer experience, try out their take on Chicken and Waffles, with smoked jalapeno honey mayo. They do have several different levels of spice and the servers are helpful enough to guide you and offer advice.
Protip: Due to its popularity, be prepared to wait for 30 minutes to an hour. Call for reservations if you are in a hurry.
What to order: Cannibal Lecter, Chicken and Waffles
Address: 905 Commercial Dr, Vancouver, BC V5L 3W8
Bombay Kitchen & Bar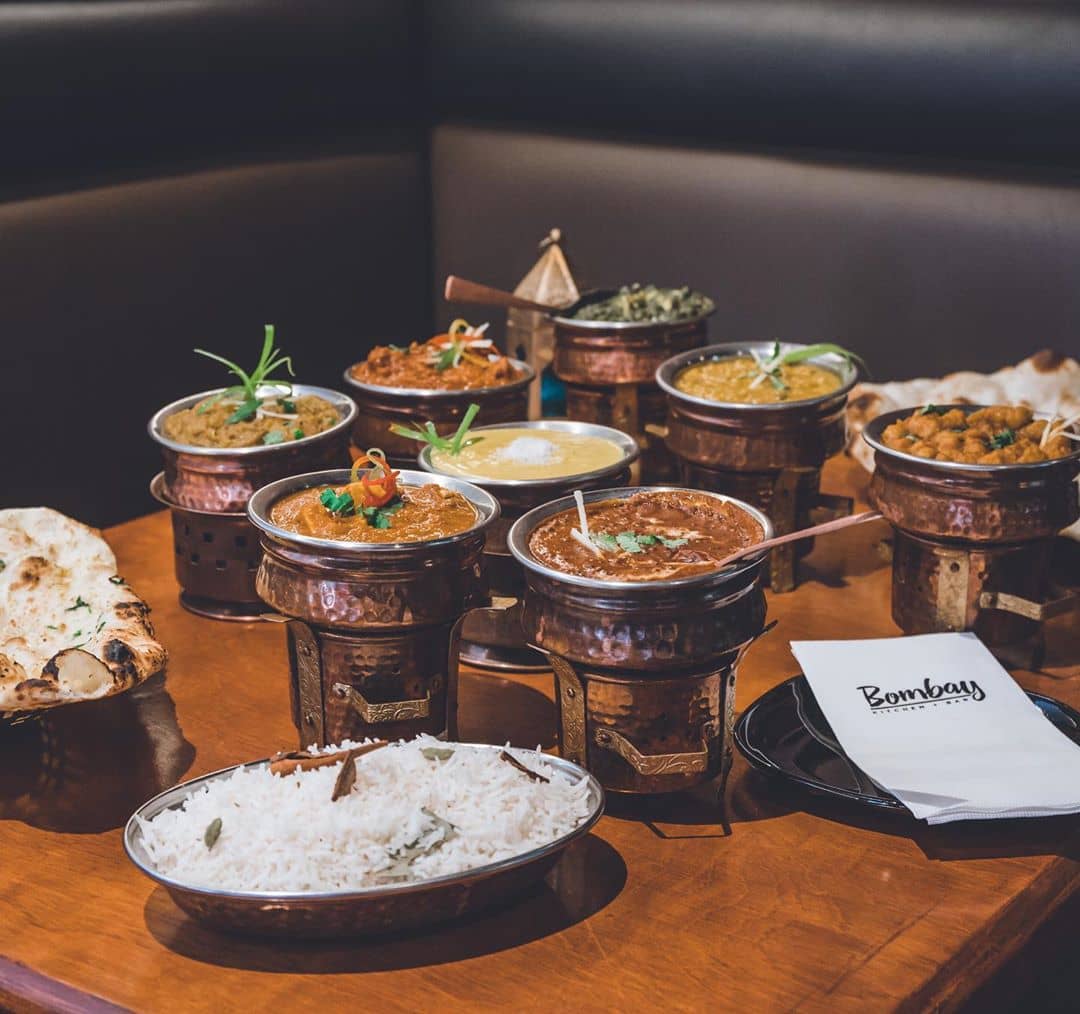 Have you ever heard the term 'desi food' and wondered what it meant? Desi literally means 'local' and refers to people from SouthEast Asia. We all know the folks from that entire continent take their food seriously, and we also know that strong tradition (and massive scoops of love) lies at the root of every Asian Chef's culinary creations. If you're up for a serving (or two) or that, then look no further.
Located on Commercial Drive, Bombay Kitchen is Vancouver's answer to authentic desi food, served with ethnic flair.
If you like barbeque, the Mixed Grill is a sampler of chicken, lamb, fish and prawns, all marinated and cooked in a tandoor (a cylindrical clay oven.) There are a wide range of curries, vegan options, and house specials all served with piping hot naans (flatbread) and rice. Their Butter Chicken with garlic naan is a huge favorite among patrons, who also frequently order the dish along with aloo ghobi (potato and cauliflower) and bindhi (okra).
What to order: Mixed Grill, Butter Chicken
Address: 1018 Commercial Dr, Vancouver, BC V5L 3W9
Kishimoto Japanese Restaurant
#bestinvancouver #recommended #sushi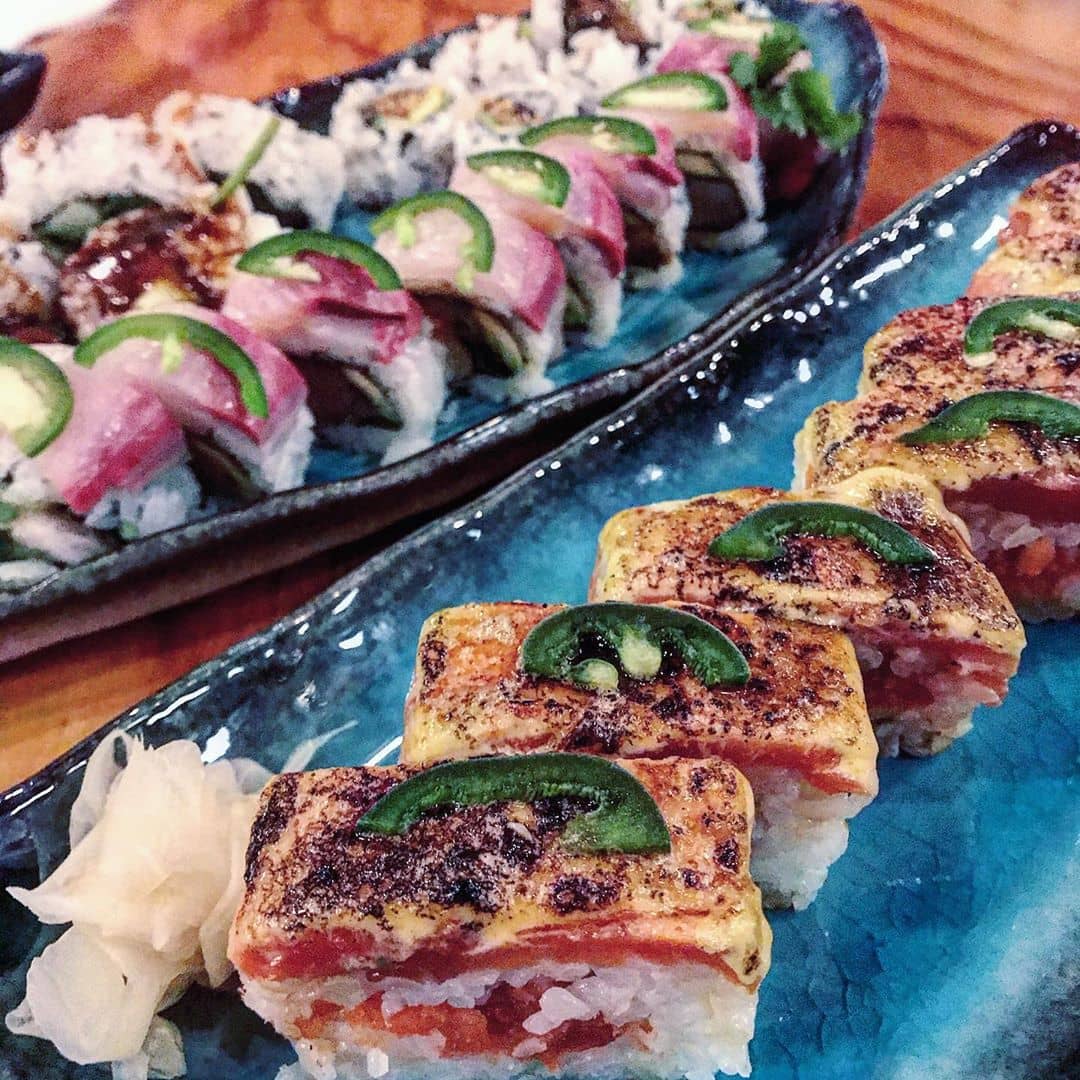 Located on Commercial drive, Kishimoto is Vancouver's answer to authentic Japanese cuisine. The owner and main man in the kitchen, Chef Akira Kishomoto creates a wide range of authentic and tasty Japanese food. The amazing aspect of this award-winning eatery, is the tender care shown towards creating the perfect dish with a lot of detail given to presentation and artistic flair.
Try the fresh and elegantly presented sashimi and sushi, or indulge yourself in a seafood medley with their famous smoked oshi, salmon belly, bluefin tuna, snow crabs and various other fish, either locally sourced or imported from Japan.
If you are in an adventurous mood, try out Kishimoto's sake. Served either hot or cold, it's a wonderful accompaniment to their food. Don't miss out on dessert either. Either the Yuzu or Tempura Ice Cream is a unique way of rounding off your Japanese dining experience.
The restaurant is closed on Mondays, and be prepared for a waiting line as this place is extremely popular.
What to order: smoked oshi, salmon belly, bluefin tuna, snow crabs, sake, Yuzu or Tempura Ice Cream
Protip: Arrive early, or book a table and take a walk down Commercial Drive. The servers will text you when your table is ready.
Address: 2054 Commercial Dr, Vancouver, BC V5N 4A9
Marcello Ristorante & Pizzeria
#bestinvancouver #popular #recommended #pizza #awardwinning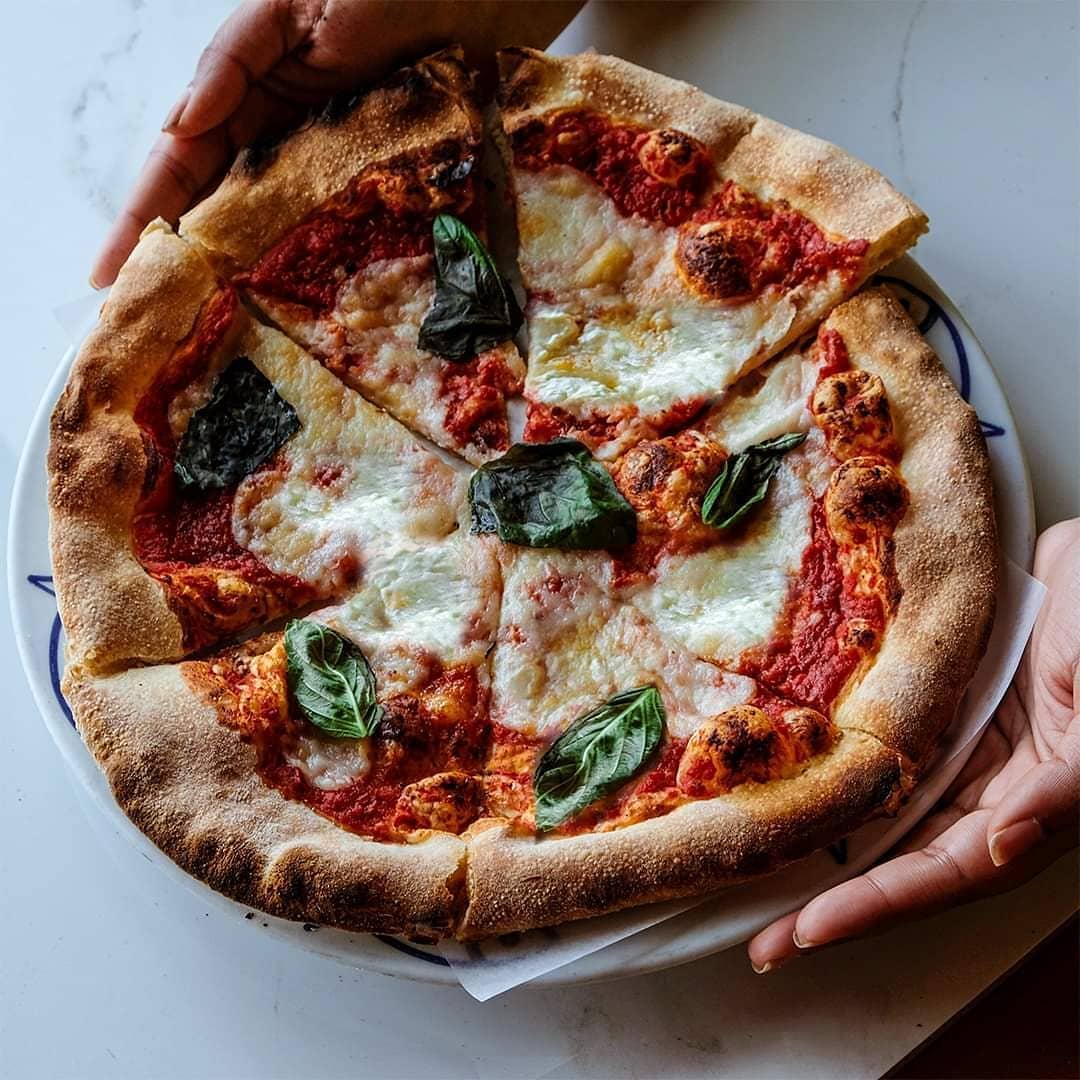 A neighbourhood favorite, Marcello Ristorante & Pizzeria serves authentic and classic Italian dishes, including wood-burning oven pizzas. With outdoor seating, a full bar, and a large dining hall with floor-to-ceiling windows that look out onto vibrant Commercial Drive, Marcello's combines old world Mediterranean warmth and sunny décor with an inviting atmosphere that appeals to anyone looking for a comfortable and relaxing setting.
Their pizza list is extensive to say the least, and invokes a lot of debate as to which are the best pizzas here. The Specialty Pizzas are a must try and you can choose between their Funghi Con Tartufo (cheese, mushrooms, truffles), Prosciutto Crudo (Italian cured ham, fresh mozzarella, tomatoes) or the spicy Carciofi Salsiccia (Spicy Italian sausage, artichokes, fresh mozzarella, tomatoes). In the vegetarian Specialty Pizza, the Melanzane E Pomodorini (Eggplant, Italian sun-dried tomatoes, fresh mozzarella, tomatoes) is a big favorite.
Pasta lovers should definitely sample one of either the Linguine Alla Vongole (Clams in white wine sauce), Linguine Ai Basilico E Pancetta or the Gnocchi Ai Quattro Formagii.
What to order: Funghi Con Tartufo, Prosciutto Crudo, Carciofi Salsiccia, Melanzane E Pomodorini, Linguine Alla Vongole, Linguine Ai Basilico E Pancetta, Gnocchi Ai Quattro Formagii
Address: 1404 Commercial Dr, Vancouver, BC V5L 3X9
The Lunch Lady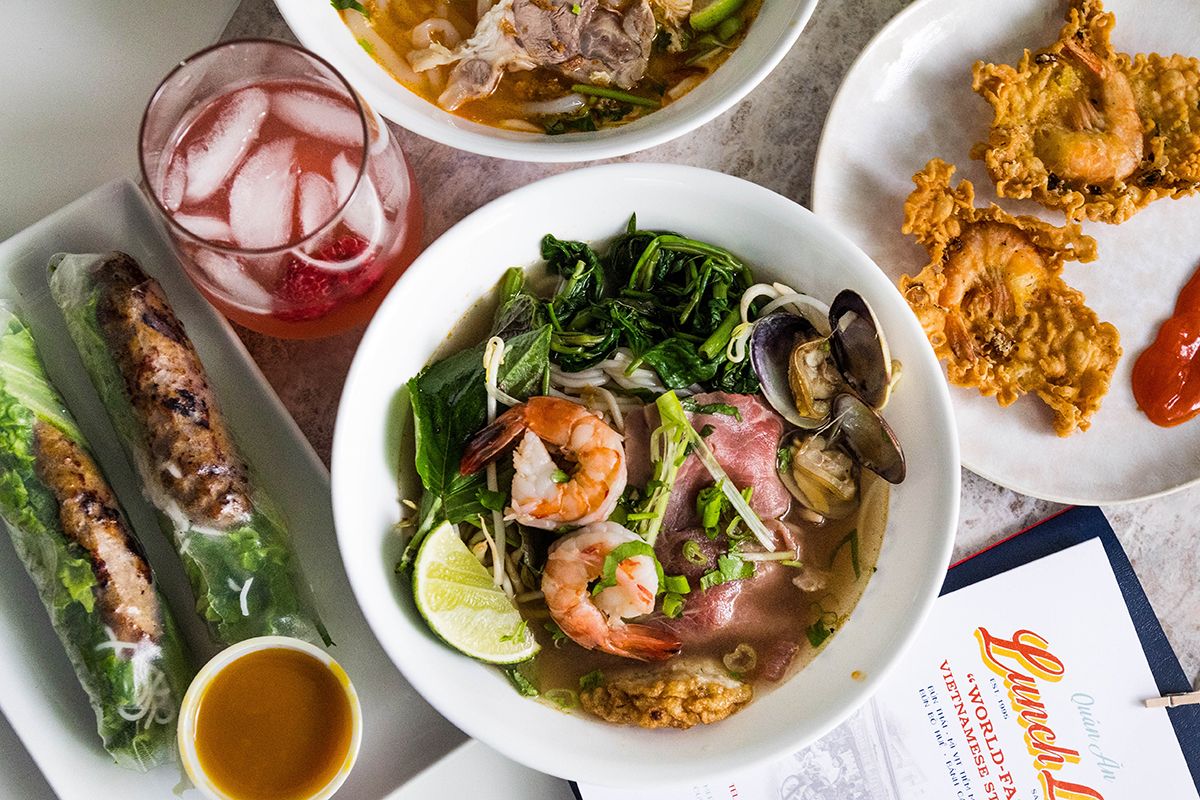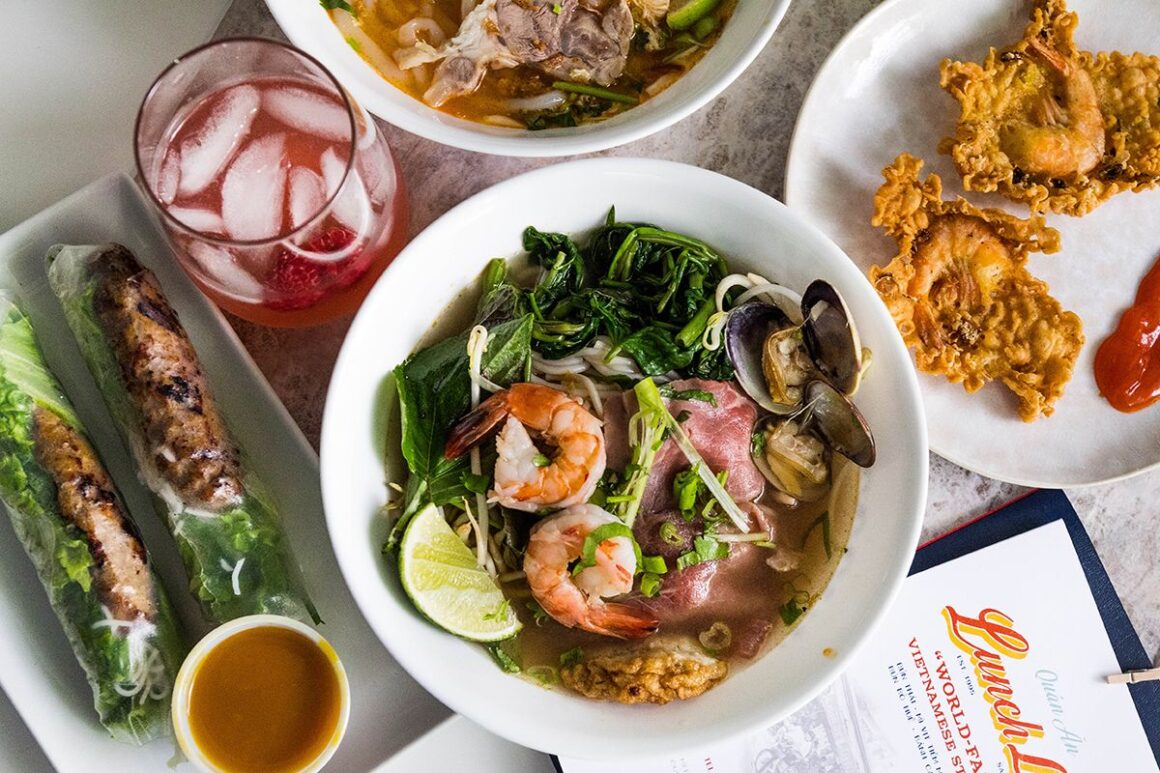 Direct from Vietnam, the legendary "Lunch Lady" brings an exquisite Vietnamese street food fused to the heart of Commercial Drive. This spot is a true gem and a hot new favourite among Vancouver's foodie population.
Try their crispy yet juicy Chili Prawns along with the pork skewers for starters. The Roasted Marrow and Spring Rolls are also popular for their umami taste and flavor. For the main course, the Garlic Fried Noodles and Steak Luc Lac are divine! The Churros Cà Phê Sữa Đá, which consists of coffee sugar dusted cruller, dulce de leche, mixed with homemade Vietnamese coffee gelato is not to be missed for dessert. We mean it. Don't miss out on that!
If you're lucky, might make it in time to grab their daily special pho, which rotates each day!
Note: Be prepared for a wait. Leave your name & number at the front and take a short stroll around the Drive.
What to order: Chili Prawns, Roasted Marrow, Spring Rolls, Garlic Fried Noodles, Steak Luc Lac, Churros Cà Phê Sữa Đá
Address: 1046 Commercial Dr, Vancouver, BC V5L 3W9
Absinthe Bistro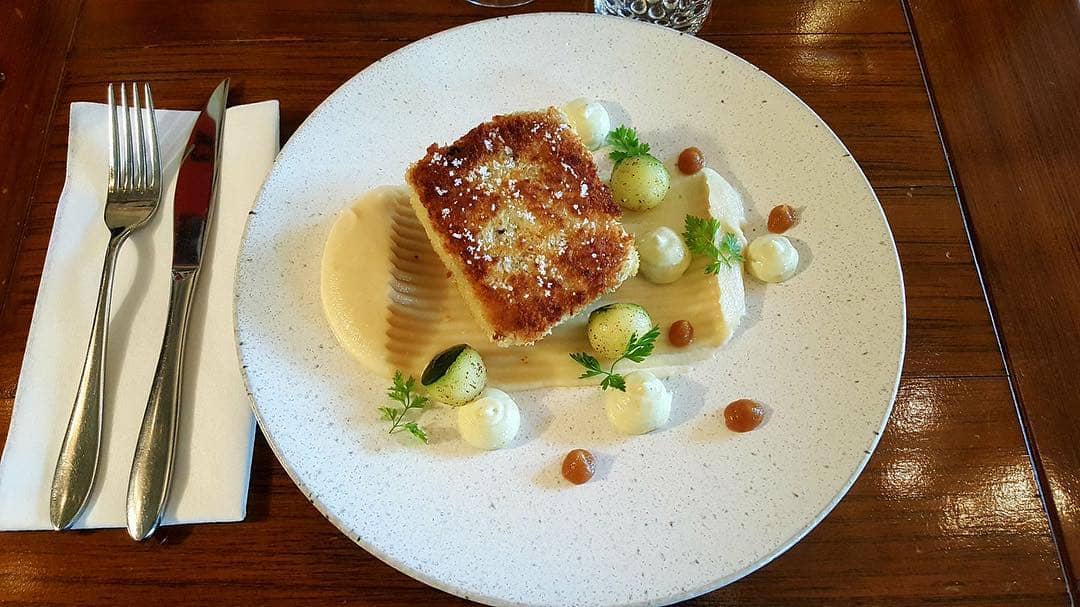 Fine dining and French food come alive in Vancouver at Absinthe, a classy and welcoming bistro, where customers can discover a taste of France right here on Commercial Drive. The owners, a husband-wife team do a fantastic job of making you feel welcome and ensuring your experience is a positive one.
Absinthe has a simple menu; three starters, three main courses, and three desserts to choose from. The really cool thing about this spot is that their menu changes every couple of weeks, so prepare to be surprised with a set of new dishes each time you visit. There are three choices on their fixed price options. Either starter and main course, dessert and main course, or starter, main course and dessert for the whole French experience.
As the name suggests, Absinthe is served here as well, either as a Drip or a Cocktail. There are also many other choices of liquor, but you should definitely try an Absinthe Citrus, Black Fairy or The Hemingway cocktail as these are quite popular over here.
What to order: Absinthe Citrus, Black Fairy, The Hemingway
Address: 952 Commercial Dr, Vancouver, BC V5L 3W7
Kulinarya Filipino Eatery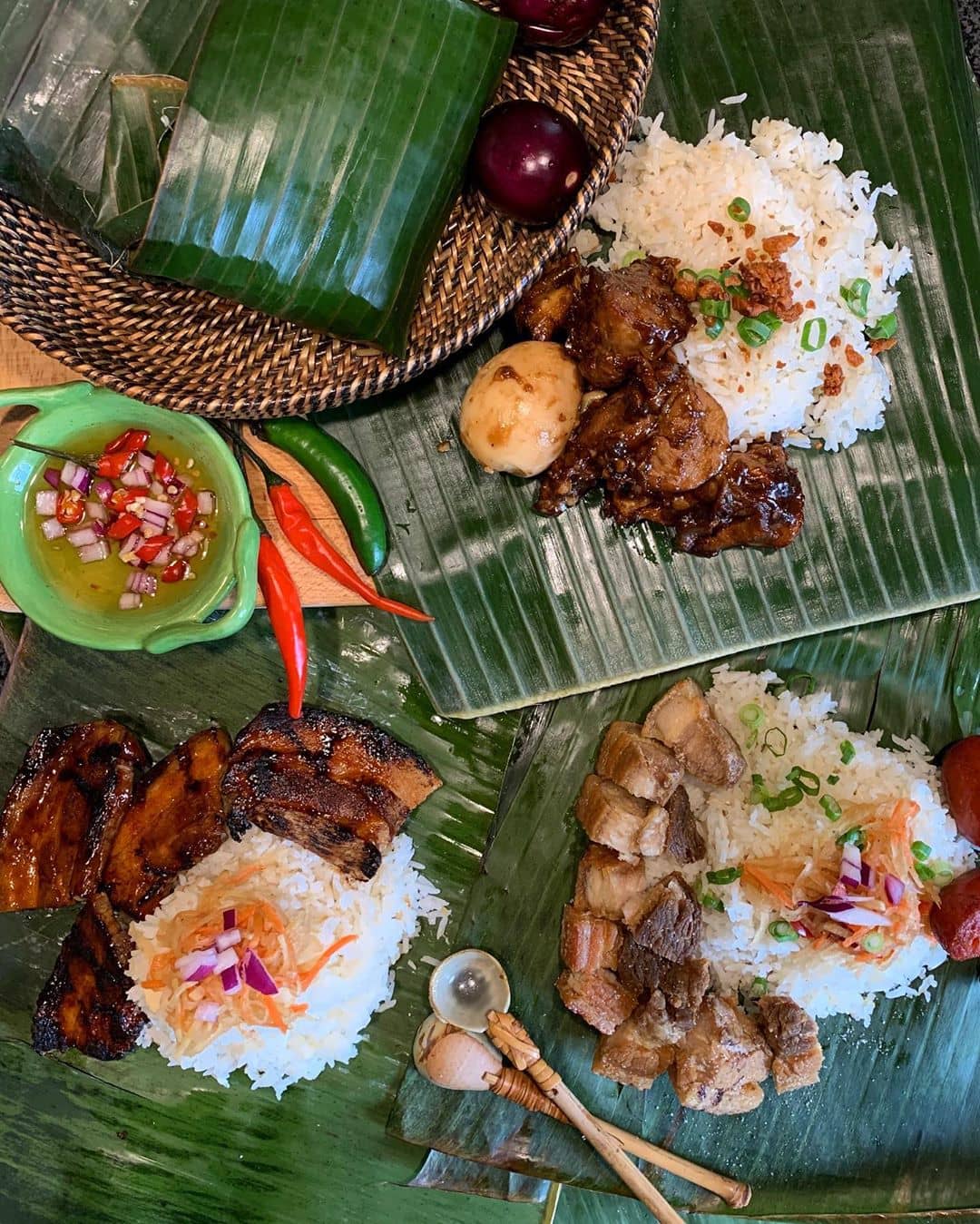 If you're looking for home cooked style Filipino food in Vancouver, then Kulinarya is the place to go for fresh and authentic Pinoy food. Located in the heart of Commercial Drive, this cozy and friendly restaurant has a wide range of delicious and original Pinoy dishes. Though Filipino food generally consists of a lot of meat and seafood, Kulinarya has a varied vegetarian menu and gluten free options as well.
For appetizers, start off with the Okoy or Pork BBQ skewers. Both are light, full of flavor and set the mood for a long feast afterwards. For a main course try the Fresh Lumpia or Crispy Pata or Kare-kare, each favorites of the loyal customers that frequently show up here.
Protip: Filipino cuisine is big on late breakfasts or brunch. Kulinarya gets filled up pretty fast for their breakfast menu, so arrive early.
What to order: Okoy, Pork BBQ, Fresh Lumpia, Crispy Pata, Kare-kare
Address: 1134 Commercial Dr, Vancouver, BC V5L 3X2
Ginger Sushi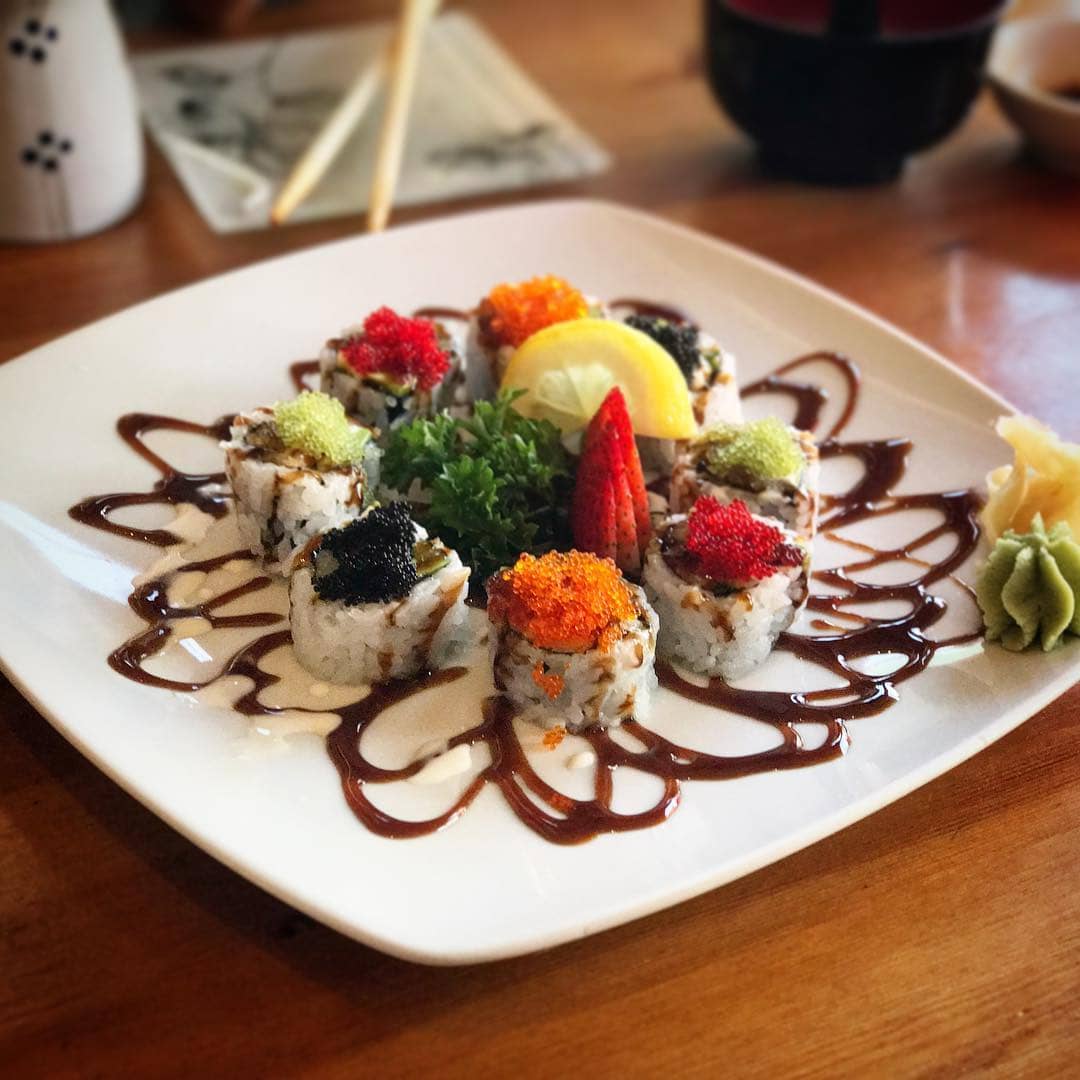 If you ever find yourself on Commercial Drive and are in the mood for some Japanese cuisine, try out Ginger Sushi. Known for its fresh ingredients and authentic Japanese flavors, this cozy and intimate restaurant makes some of the best sushi in Vancouver. Open seven days a week for lunch and dinner, this popular spot is always packed with dine in guests, and a queue for takeaways.
Ginger Sushi has an extensive menu. You should try their sushi, which is fresh and accompanied by a variety of sauces. They have a range of appetizers, soups, salads, and tempura to choose from. This spot is famous for its teriyaki, donburi, sashimi and Nigiri. So, be sure to sample some of those treats too!
Also, try the Rainbow Roll or the Deep-Fried Spicy Tuna Roll, which are both favorites here. Or, with such a huge list to choose from, order some tempura and sushi to start with and then choose whatever you're in the mood for. No matter what you order, you will definitely be satisfied.
What to order: teriyaki, donburi, sashimi, Nigiri, Rainbow Roll, Deep-Fried Spicy Tuna Roll
Address: 1437 Commercial Dr, Vancouver, BC V5L 3X8
Sopra Sotto Pizzeria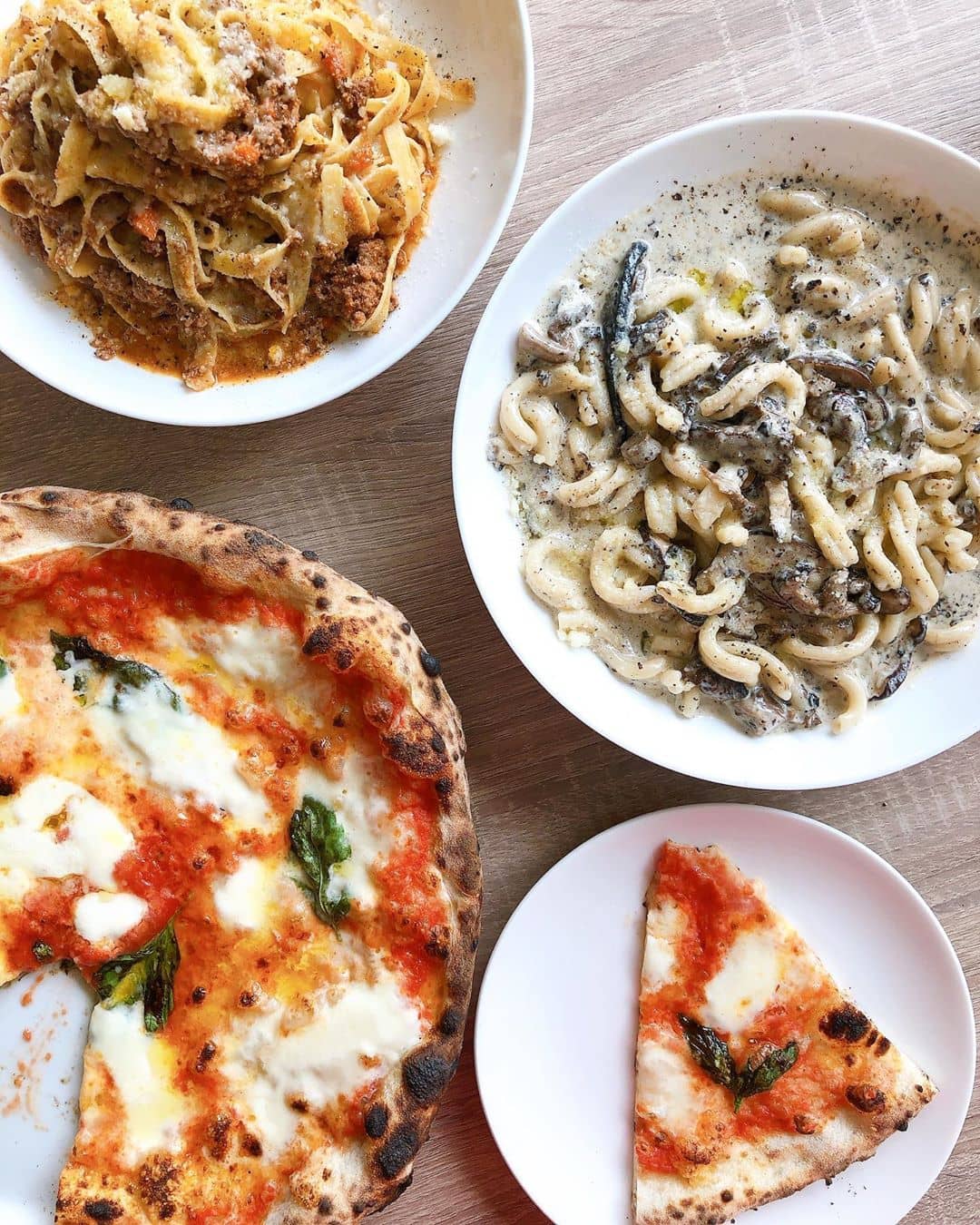 Sopra Sotto is a unique Italian restaurant that carefully blends contemporary and traditional styles to create simple yet natural Italian cuisine. As the name suggests, (Sopra Sotto means high and low) there is a rustic yet elegant design to both the outdoor patio and indoor seating area.
Known for their homemade, hand-tossed dough, the pizzas here are traditional and authentic. The Diavola (devil) and the Salsiccia (sausage) are both on the spicier side for those of you who want a bit of spice in your food. The Vegetariana is loaded with roasted zucchini, eggplant, cherry tomatoes, olives and topped with a mix of mozzarella and grana. A must try for any vegetarian.
Protip: Italian food goes extremely well with wine. The servers here are very helpful and will let you know which wines will pair best with your order.
What to order: Diavola, Salsiccia, Vegetariana
Address: 1510 Commercial Dr, Vancouver, BC V5L 2Y7
La Mezcaleria
#bestinvancouver #popular #tacos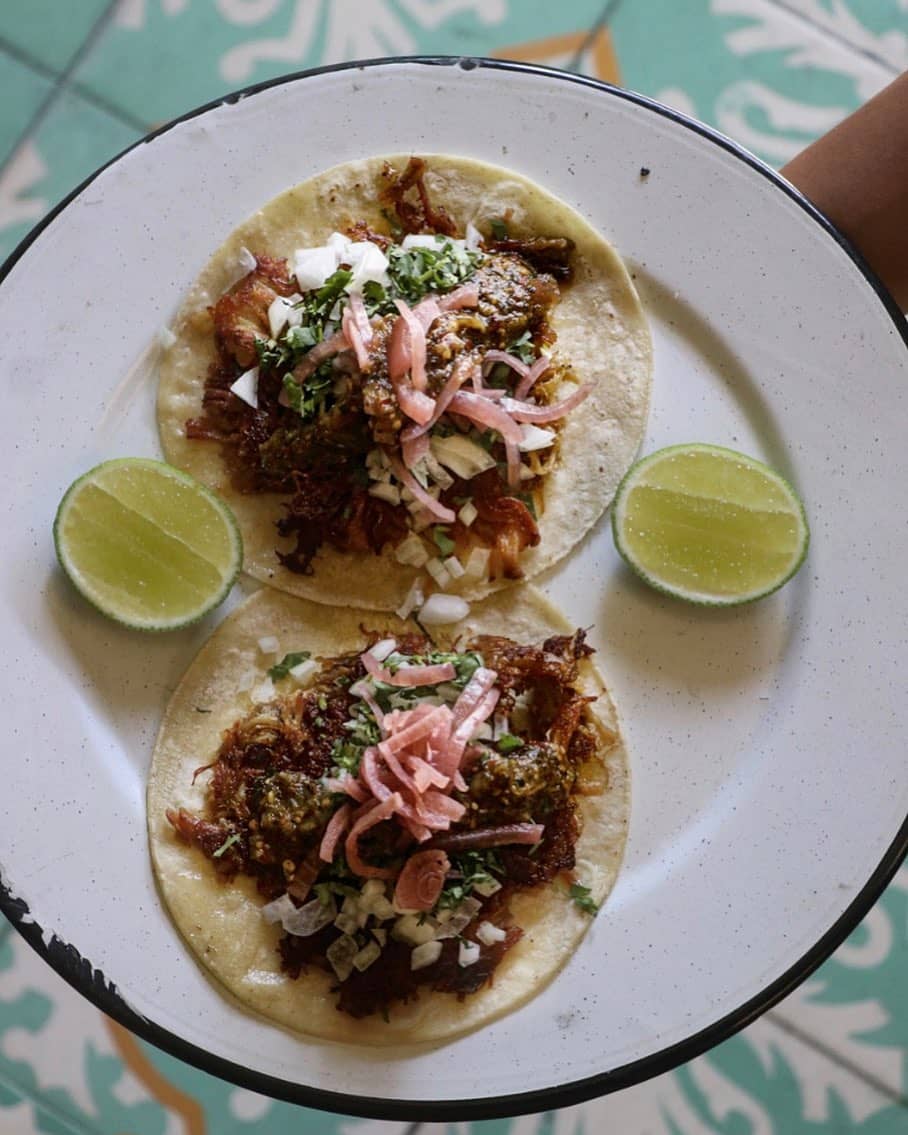 For a truly authentic Mexican food extravaganza in Vancouver, look no further than La Mezcaleria on Commercial Drive.
The ambience at this restaurant is filled with tasteful décor, and Mexican music playing in the background. The servers are informative, friendly, and always ready to guide you through the various dishes and drinks on offer. Choose from a huge variety of mouthwatering fajitas, tacos, and mezcal and tequila cocktails to truly enjoy a taste of traditional Mexican cooking.
Sample their famous Quesos Fundidos, Mezcaleria's signature molten cheese fondue served in a volcanic stone bowl. Be careful not to burn yourself as this dish is hot, hot, hot! Or, try their guacamole, fish ceviche, or Aguachile, as starters with a range of Mezcal flights to choose from. For the main course, give their enchiladas, burritos or quesadillas a shot.
If you fancy a lighter treat, order from their wide range of over fifteen versions of authentic and yummy tacos.
Go truly Mexican and order the traditional pairing to your spicy dishes – a Silver Tequila Margarita.
What to order: Quesos Fundidos, uacamole, fish ceviche, Aguachile, enchiladas, burritos, quesadillas
Address: 1622 Commercial Dr, Vancouver, BC V5L 3Y4
The Cannibal Cafe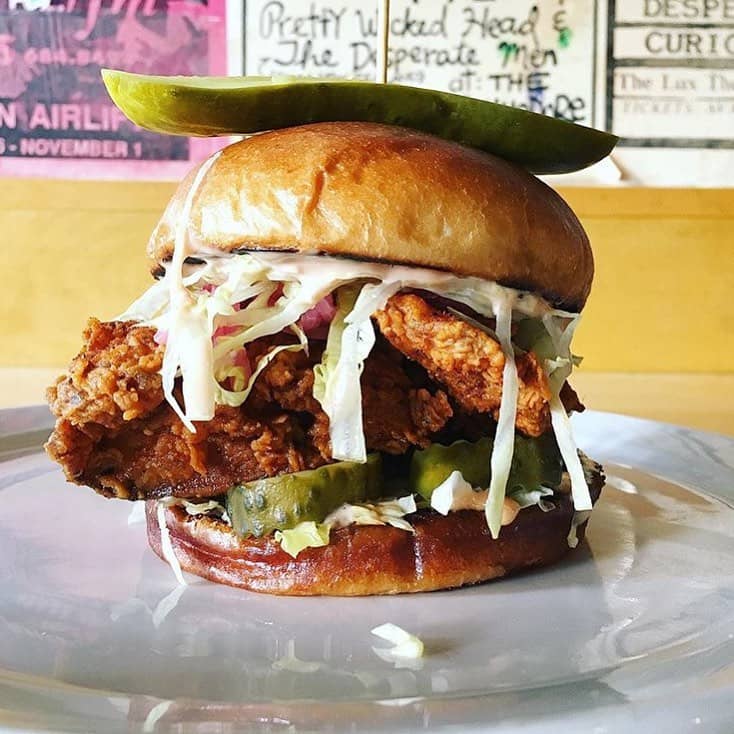 If you ever find yourself craving some good old fashioned burgers, fried chicken, and a whole lot of fun, then grab a few friends and take a stroll down Commercial Drive in Vancouver, and stop at The Cannibal Cafe. You will love the ambiance in this 80's and 90's themed restaurant, and will appreciate the friendly and professional service that makes it one of the more popular spots on Commercial Drive.
The Cannibal Cafe boasts juicy and smoky grilled burgers and some delicious full-of-flavor fried chicken. Known for their clever (and naughty) take on naming their food, be prepared to control your laughter while you order the "Bad Mother Clucker," or "What the Cluck Wings" or "Mother Cluckin' Fried" that are all names for various fried chicken. And, the fun doesn't stop there! All that chicken is available in 4 levels of spice, namely: Mild, Medium, Hot (and I kid you not) Hot AF!
Protip: Try the "build your own burger" option to make a burger exactly to your taste. They are extremely generous with their toppings.
What to order: "Bad Mother Clucker," "What the Cluck Wings" "Mother Cluckin' Fried"
Address: 1818 Commercial Dr, Vancouver, BC V5N 4A5
Belgian Fries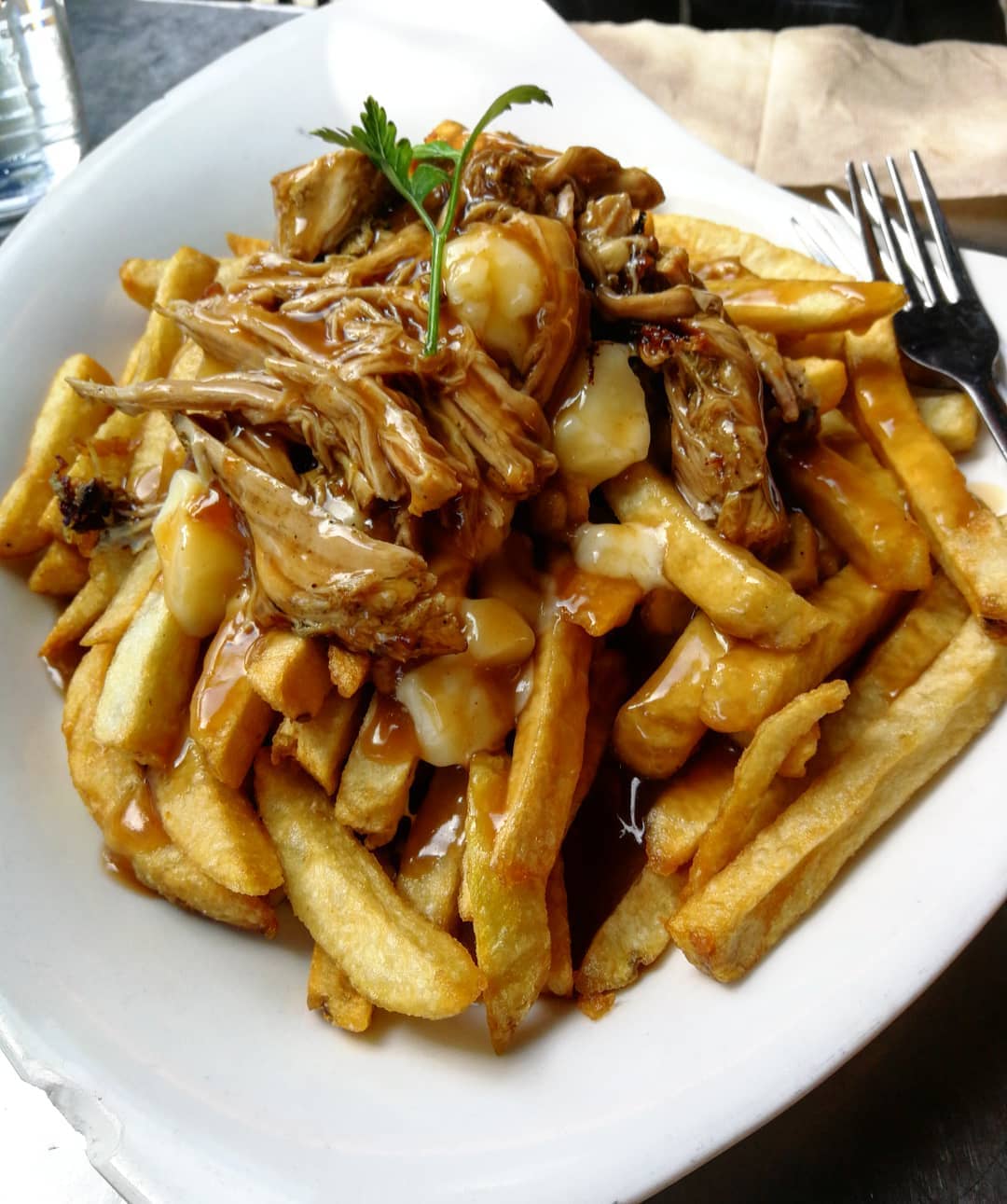 Tucked away on Commercial Drive is a restaurant that has over 15 unique poutines, gravy-soaked fries and an assortment of Canadian comfort food in the form of burgers, sandwiches and fish and chips. With its fast service, generous portions and fair prices, Belgian Fries is one of Vancouver's "go to" restaurants for large parties.
Order the fish and chips where you have a choice of cod, salmon or halibut. Or, try out their range of Pulled Pork, Smoked beef or Chicken sandwiches that are a big hit. The burgers are made with hand pressed patties and grilled to perfection; juicy and flavorful. A must try! All sides are served in large sizes and include the most amazing Batter Fried Pickles, War (Dutch style peanut satay fries), Frites (Indonesian spiced fries) and jumbo-sized hot dogs.
Don't forget to treat yourself with dessert, a decadent choice of either a scoop of ice cream or a Mars bar, both heavily coated and deep fried. Yummy!
What to order: fish and chips, Pulled Pork, Smoked beef or Chicken sandwiches, Batter Fried Pickles, War, Frites, ice cream or a Mars bar
Address: 1885 Commercial Dr, Vancouver, BC V5N 4A6
Fire Pizza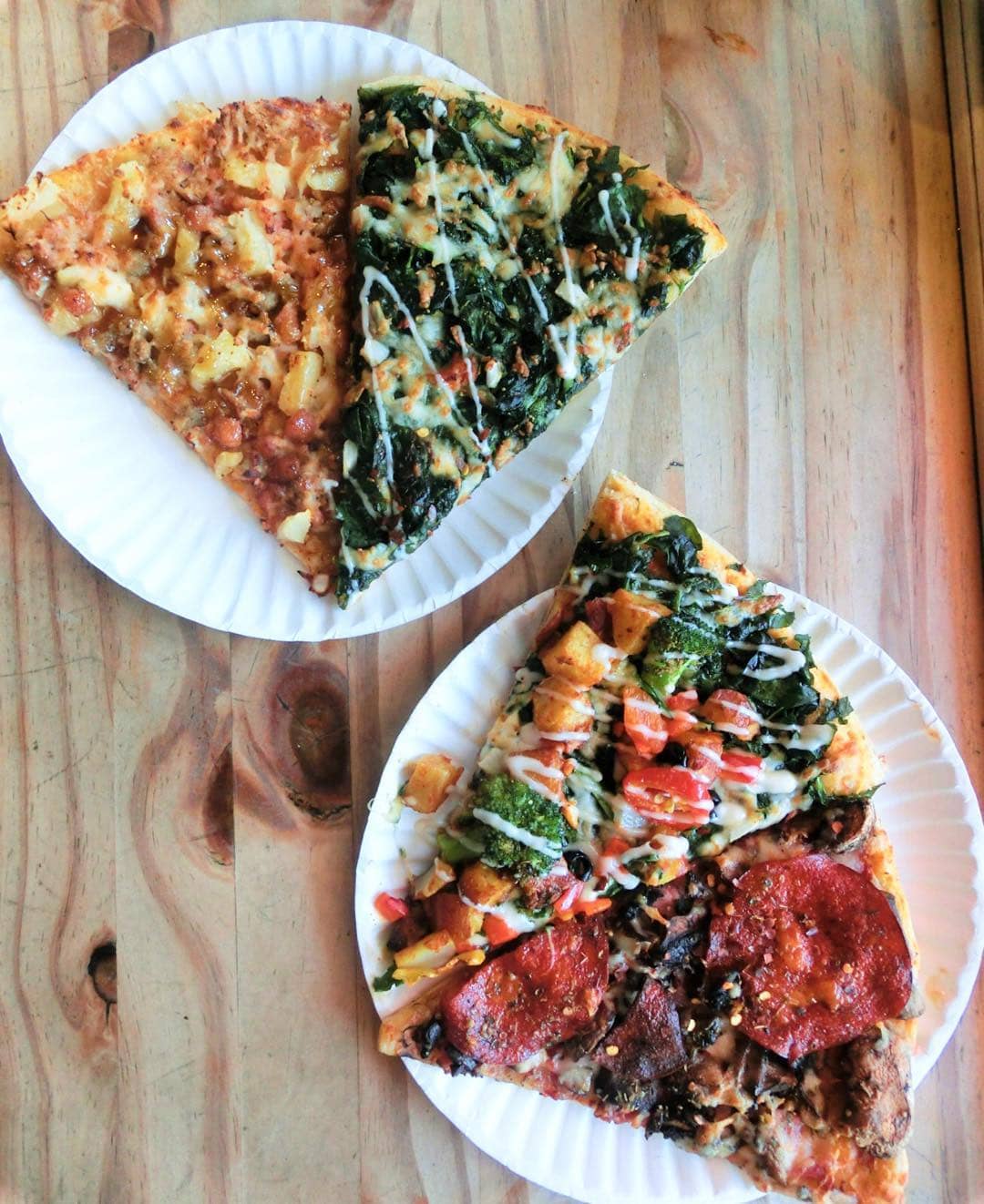 For anyone who ever wanted their pizza stuffed with toppings, Fire Pizza on Commercial Drive is the place to go in Vancouver. These folks load their delicious crusts with a ton of toppings and cheese and will happily put on any extra toppings you ask for.
In the mood for some whacky uniquely topped pizza? Try the healthy Stir Fry Veggie option topped with broccoli, red peppers, onions, spicy baby mushrooms, roasted potatoes, garlic spinach, sliced black olives. Want meat? Give the Meat Lovers a try, filled with pepperoni, ham, Italian sausage and yummy bacon bits. Or maybe order a few different slices to indulge yourself. Choose between their famous Honey Garlic Pork, loaded Pepperoni, or Chicken Bacon Ranch, and Spinach and Feta pizzas.
Tip: If you're a late-night snacker, this spot stays open late and is perfect for grabbing a delicious slice of pizza to satisfy your cravings.
What to order: Stir Fry Veggie, Meat Lovers, Honey Garlic Pork, Pepperoni, Chicken Bacon Ranch, Spinach and Feta
Address: 1918 Commercial Dr, Vancouver, BC V5N 4A7
Best Falafel Commercial Drive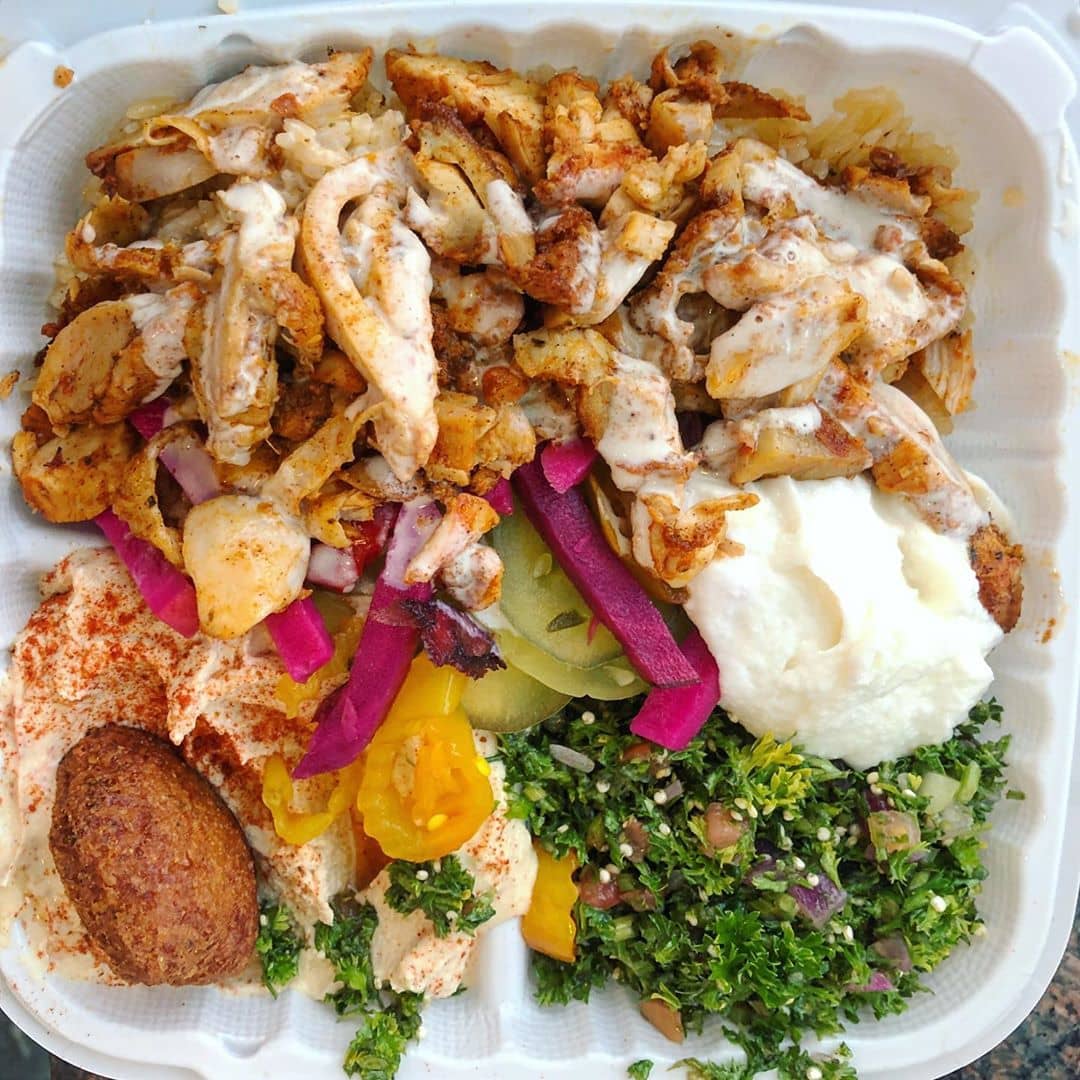 If you are on the lookout for some authentic middle eastern food, or even just want to grab a quick bite when you're passing through Commercial Drive, then Best Falafel is the way to go. Rated among the top 10 falafel spots in Vancouver, this simple yet elegant diner is the stop for many hungry commuters in Vancouver. You can order their shawarmas or falafels and either take them to go or sit outside the window on a bench and enjoy the piping hot, flavoursome food.
Try out their Chicken Shawarma, that can either be had as a wrap or plated. The lamb donair is excellent and as authentic as Lebanese food can get. There are many vegetarian options also available and filled with flavour, an array of salad options, and various sauces from tahini to Tzatziki and pomegranate that you can experiment with.
All items on the menu are prepared fresh and on the spot. The diner has a quaint, simplistic feel and is extremely clean and welcoming. A definite must try if you are in the mood for some spicy Middle Eastern cuisine.
What to order: Chicken Shawarma, lamb donair
Address: 2013 Commercial Dr, Vancouver, BC V5N 4B1
Sula Indian Restaurant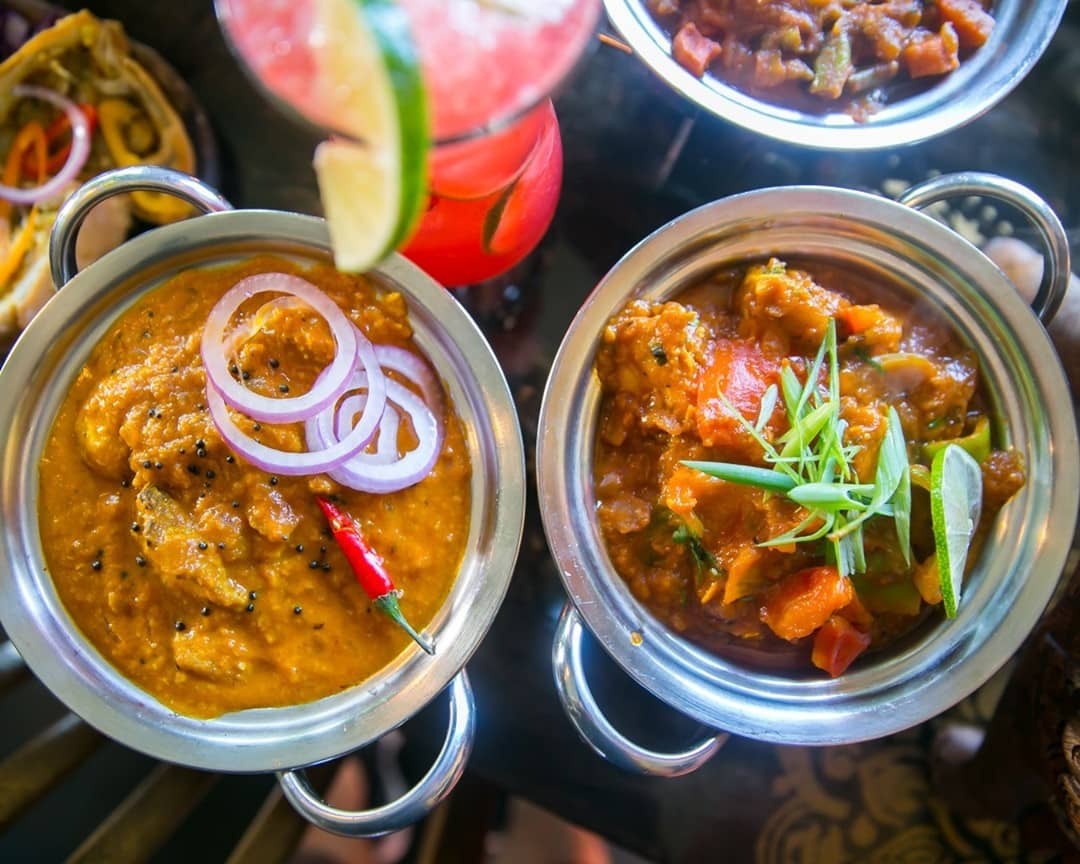 For easy comfort in dining, a floral garden atmosphere, and tempting dishes from the east, you'll have to look no further than Sula. This award-winning Indian restaurant is among the top favorites of many locals and visitors of The Drive, and offers traditionally made dishes from the states of Rajasthan, West Bengal, Kerala, Goa and more.
When you're there, enjoy browsing through their extensive menu and discover an array of incredible dishes full of flavorful herbs and spices. Try one of their Tandoori delights like the Haryali Herb Tikka, or some Tandoori Fish. Go for a curry in lamb, chicken or beef, or a delicious homemade Paneer tossed with bell peppers in a thick tomatoey sauce.
Protip: Their vegan Mango Coconut Rice Pudding is to die for!
What to order: Haryali Herb Tikka, Tandoori Fish, curry, Paneer, Mango Coconut Rice Pudding
Address: 1128 Commercial Dr, Vancouver, BC V5L 3X2
Best Cafes in Commercial Drive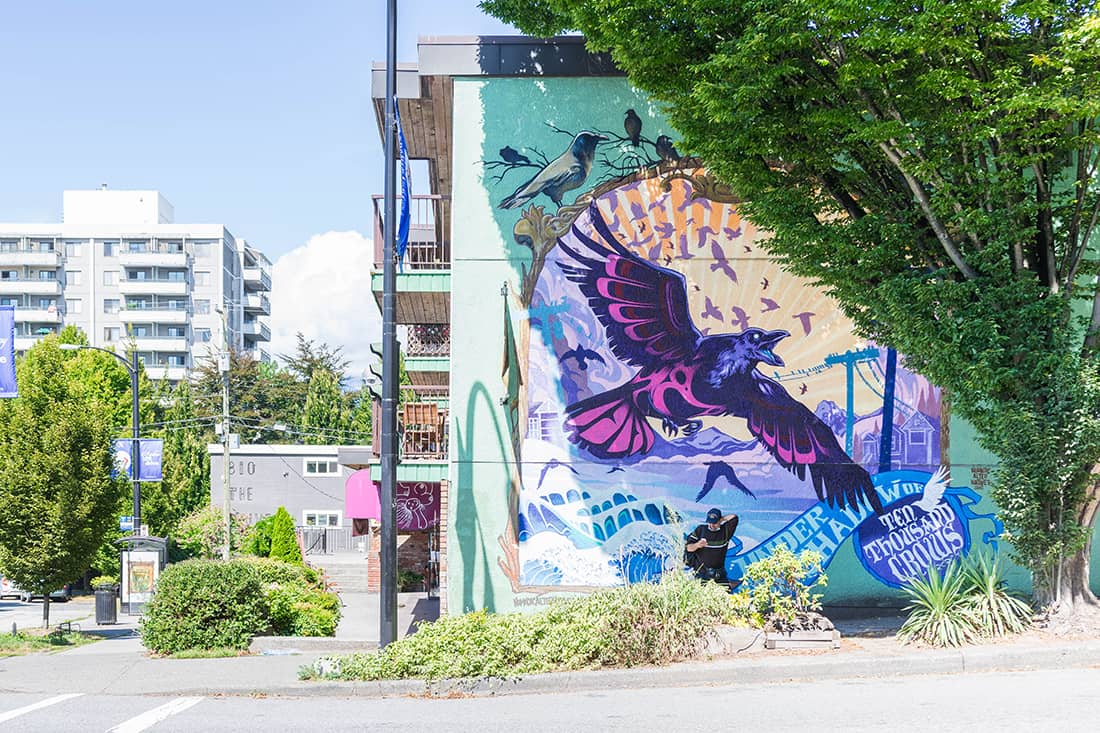 Sip an espresso, bite into a decadent pastry, enjoy a light al fresco lunch, and stop for a creamy gelato after. Let The Drive soothe your soul.
Commercial Drive hosts some of the finest cafes in the city, and we've put together a list of the best ones just for you.
Moja Coffee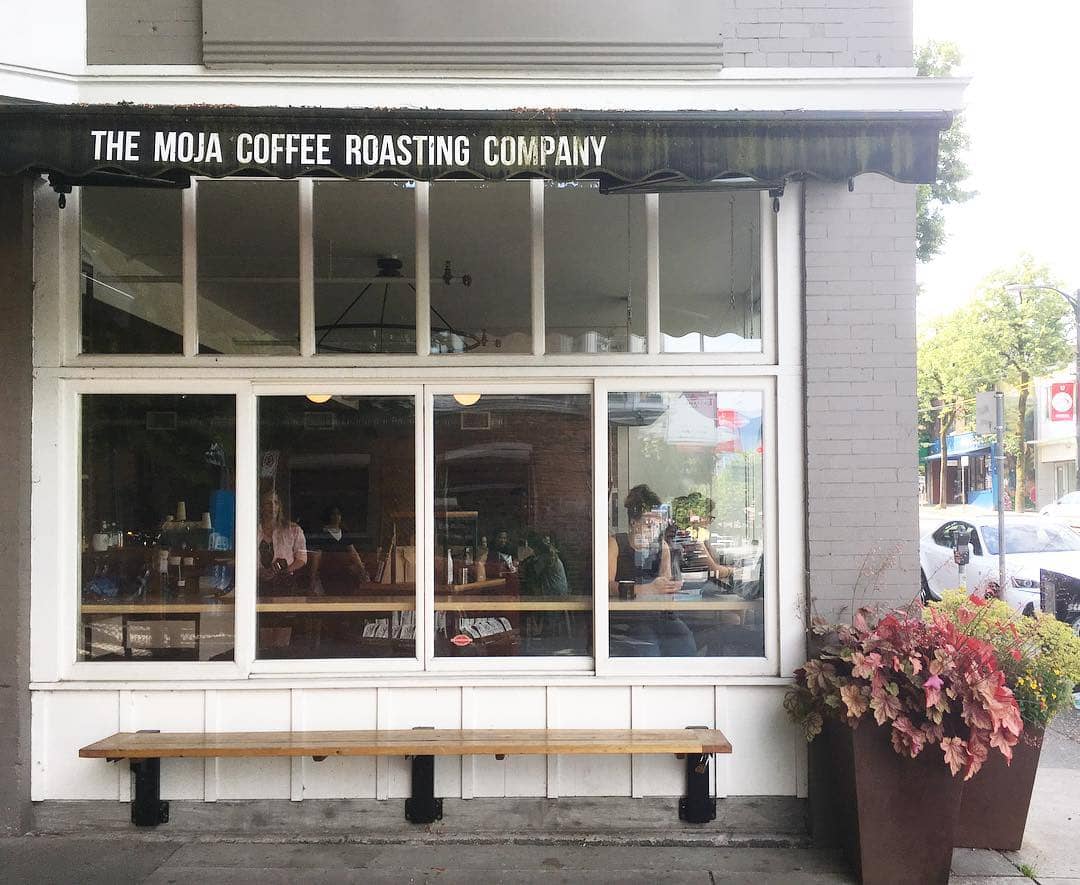 Moja Coffee is among the leading coffee bean roasters and suppliers in Vancouver. They serve freshly roasted and ground coffee in their trendy café, along with delicious pastries and croissants delivered from Thomas Haas. At the back of this delightful cafe, is a huge glass window where you can see the roaster machines at work.
The cafe does nine different coffees, and each is flavored to perfection with their unique blend of coffee beans. The lattes and cappuccinos are firm favorites among locals and visitors, while the more serious coffee drinkers favour the Americano and Drip Coffee. Pair your coffee with a double-baked almond croissant or the popular ham and cheese croissant.
Fun Fact: Moja Coffee is mainly a retailer and sells their coffee beans in bags along with some really cool "DIY At Home" equipment. What a great gift for the coffee-lover in your life!
Protip: Happy hour is between 1 pm and 3 pm, where their espresso drinks are at half price.
What to order: lattes, cappuccinos, Americano, Drip Coffee, almond croissant, ham and cheese croissant
Address: 1102 Commercial Dr, Vancouver, BC V5L 3X2
LIVIA Sweets
#bestinvancouver #popular #bakery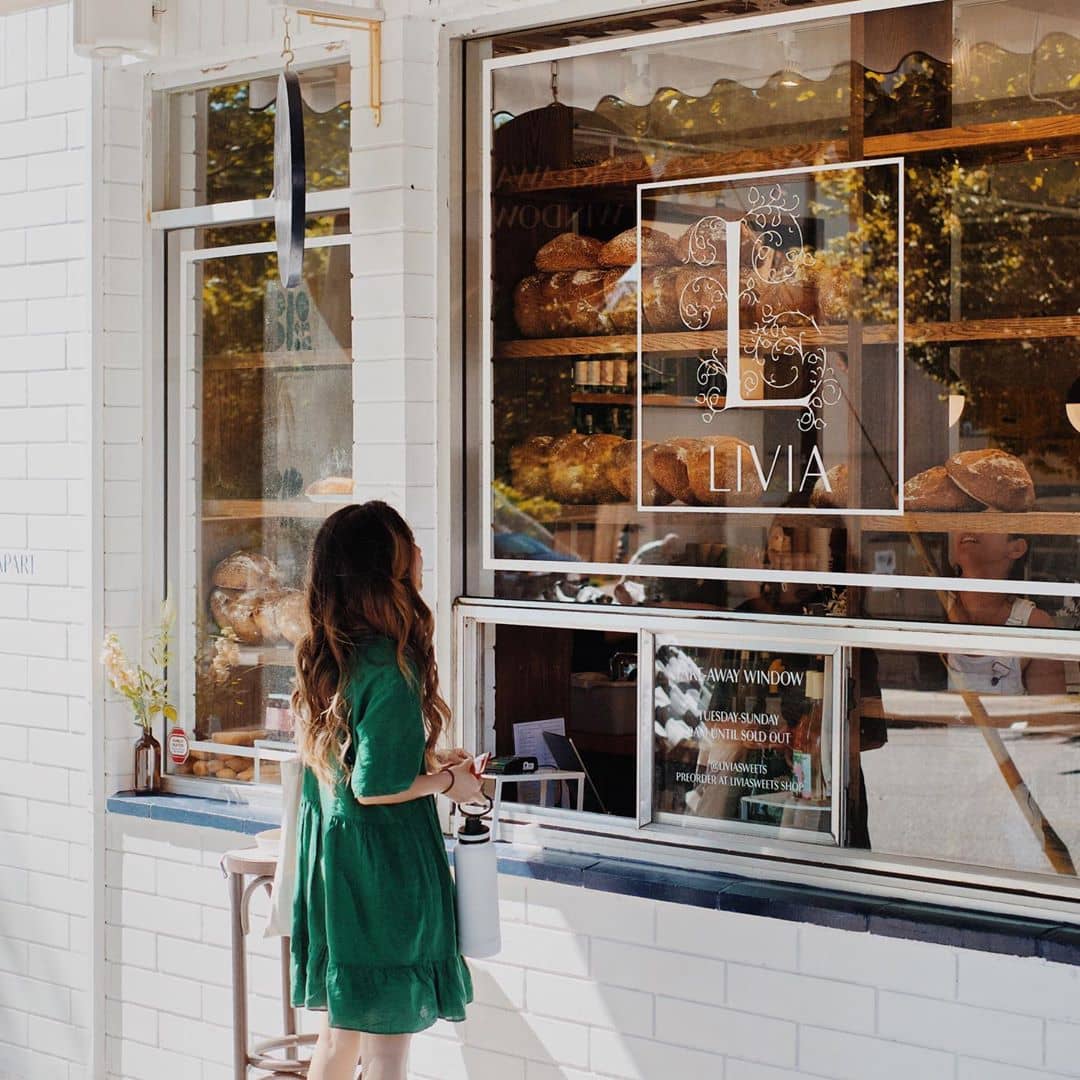 There are quite a few family run establishments on Commercial Drive. Amongst them is Livia Sweets, the popular bakery/cafe run by husband and wife duo Claire Livia Lassam and Jordan Pires.
On the menu there are breakfasts and lunches that lean towards upscale French cuisine. Locals and visitors enjoy their evenings at Livia, where they get to feast on fresh and imaginative pastas with wine.
You cannot miss out on their delicate pastries and croissants, fresh from the oven. The lemon pistachio Danish and the rhubarb Danish get special mentions since they both sell out very fast and are heavenly. For a great breakfast, the polenta is rich and creamy and paired well with local mushrooms, a poached egg and grated cheese. Also, the breakfast sandwich is very popular at Livia's. For lunch their menu changes frequently, and like quaint Parisian cafes, Livia's displays their menu for the day on a charming chalkboard.
P.S. their patio is super cute too!
What to order: lemon pistachio Danish, rhubarb Danish, polenta, breakfast sandwich
Address: 1399 Commercial Dr, Vancouver, BC V5L 3X5
Elephant Garden Creamery
#bestinvancouver #popular #recommended #icecream #bucketlist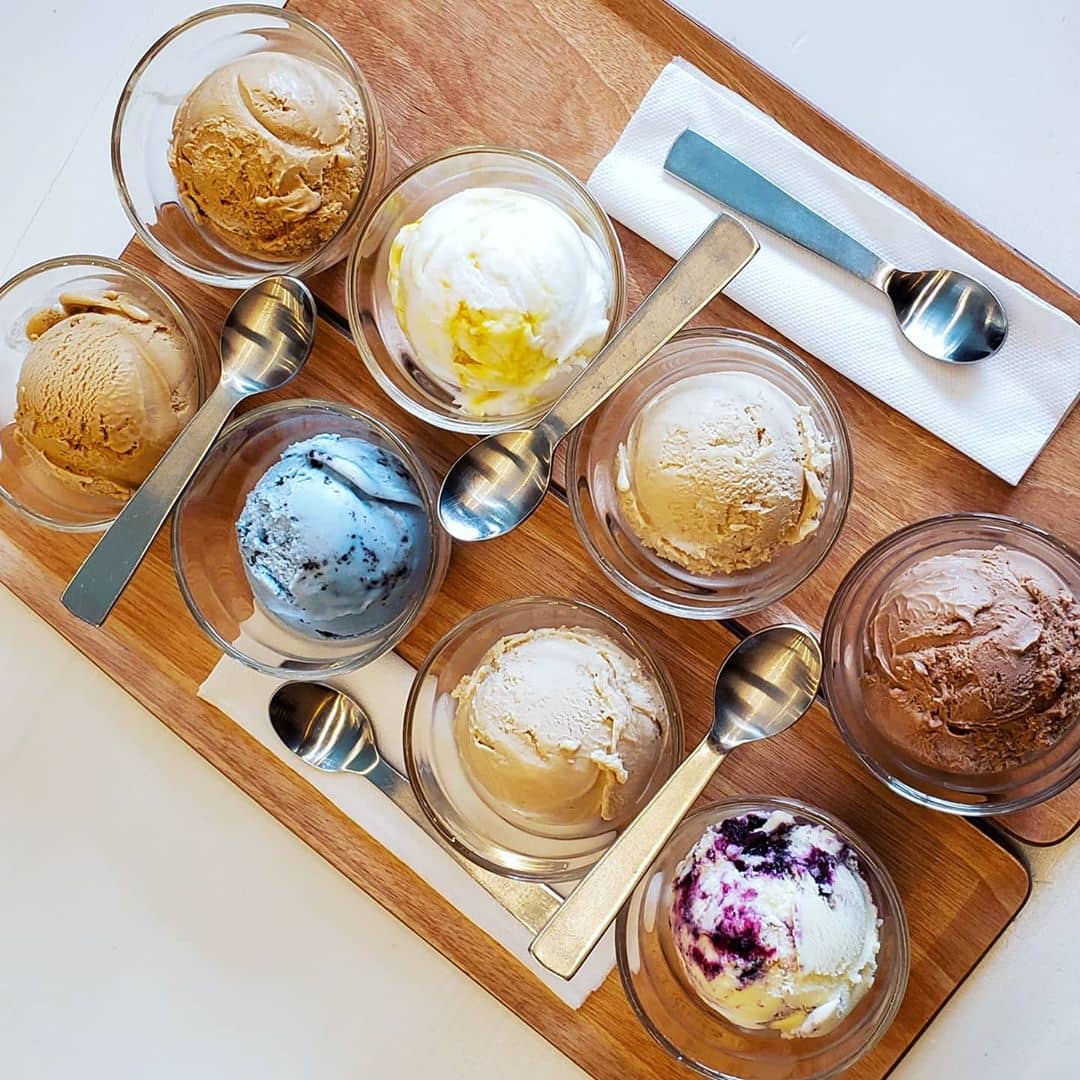 In the midst of vibrant spots out on stylish Commercial Drive, there is one cafe that stands out with its super minimalistic atmosphere and superbly Asian flavour, and that is none other than Elephant Garden Creamery.
Is it just ice cream though? Yes, but not just any ice cream. Owned and headed by the dynamic brother-sister duo Bruce and Betsy, this gorgeous spot is a hot favorite among Vancouverites and visitors alike for their generous servings and incredible range of flavors that are undoubtedly Asian.
With over a dozen flavors to choose from on any given day, Elephant Garden Creamery encourages customers to try a flight of four sample scoops of your choice.
Address: 2080 Commercial Dr, Vancouver, BC V5N 4B2
Joe's Cafe Bar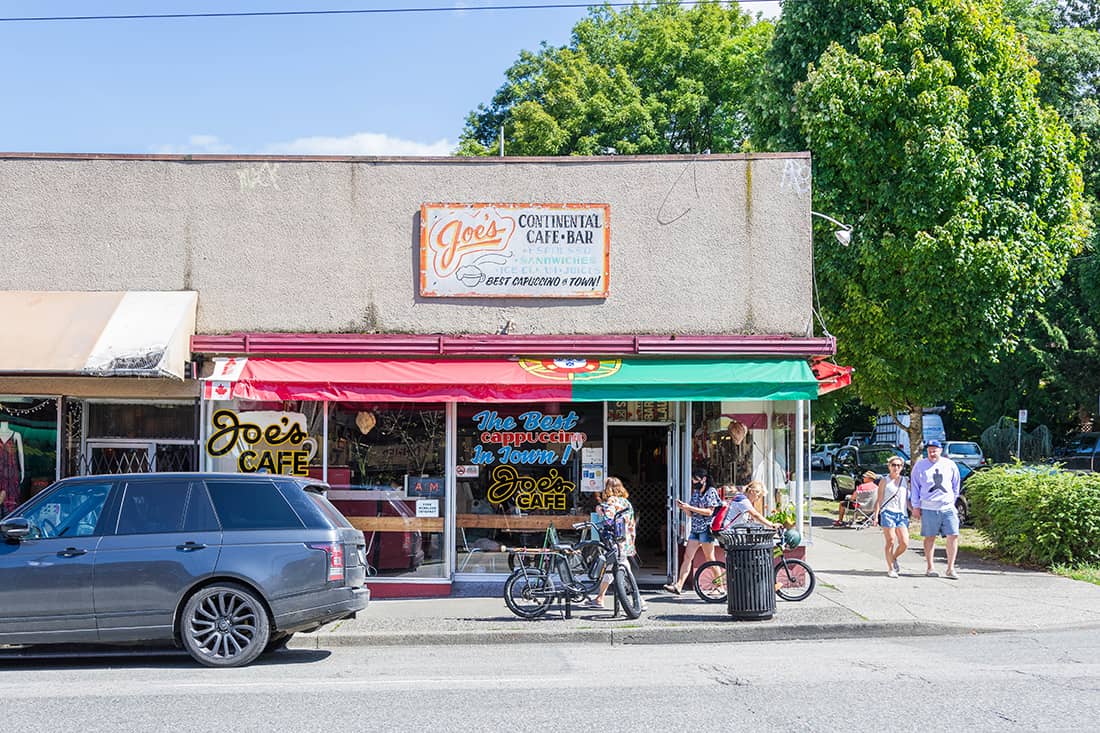 Take a trip down memory lane and visit Joe's Café Bar. Founded in 1976, Joe's has been the ultimate hangout for the serious coffee lovers, football enthusiasts, multicultural travelers, and the trendy jet setters of the 70' and 80's.
Run by a group of Old Portuguese owners who have four things in common; love of great coffee, watching football in the café (and occasionally screaming at a foul on the screen,) good quality food with a Portuguese undertone, and most importantly, making you feel welcome at their café.
The décor is strictly old school. This is where you want to drop by, relax, and enjoy their popular cappuccino or espresso. Maybe grab a bite of their Rueben or Monte Cristo sandwiches, and an assortment of pastries. They also do hot Portuguese dishes which are yummy!
Tip: This is a fun spot to hang out with the family. The café is clean and spacious, with plenty of seating and pool tables in the back. There is an adjoining room with billiards for folks who love that, arcade games for the kids, and pinball for the connoisseur.
With an unpretentious charm and welcoming atmosphere, Joe's is bound to be an experience worth trying out.
What to order: Rueben or Monte Cristo sandwiches
Address: 1150 Commercial Dr, Vancouver, BC V5L 3X2
Dolce Amore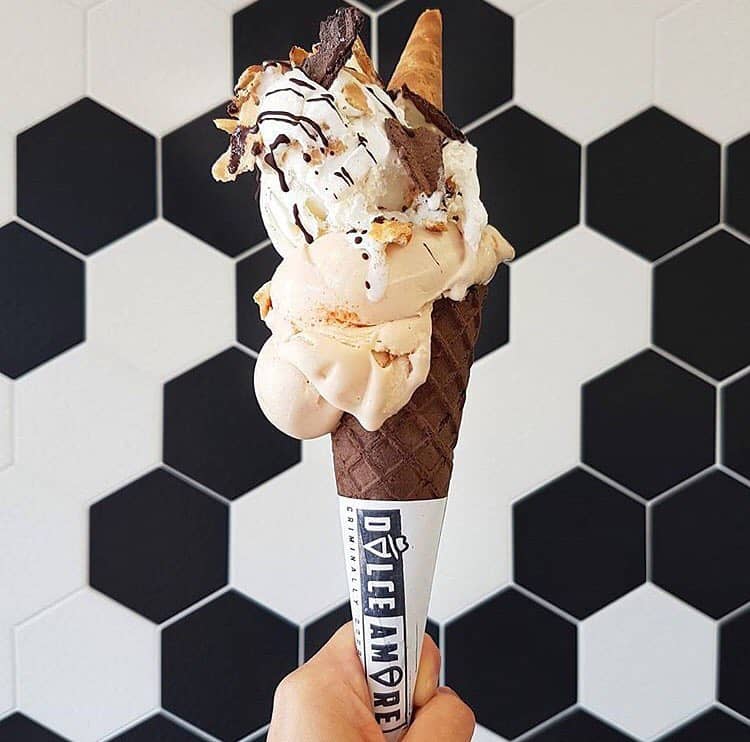 For the best gelato in Vancouver, Dolce Amore at The Drive ranks high on anyone's list. With rich and creamy gelato and fresh fruity flavors, this spot always has lines of customers just waiting to get in and grabe a scoop.
The interior of Dolce Amore is gorgeous and aesthetically pleasing with a monochrome backdrop of black and white. Also known for their freshly baked goods, coffee, and yummy cheesecake, the servings here are generous and the staff go out of their way to help you enjoy a relaxing cafe experience.
It's difficult to choose from over thirty gourmet flavors of gelato, but if you had to, then give the Double Chocolate Mint or Ginger-Peach-Apricot a try. For die hard chocolate lovers, the Extra Dark Chocolate on a chocolate waffle is not to be missed. The Blueberry Cheesecake, Panna Cotta and Tiramisu are big favorites with regulars who keep returning for their gelato fix.
Protip: If you find yourself at Dolce Amore at a time when there are really less people, ask the server and they will let you sample as many flavors as you want to.
What to order: Double Chocolate Mint, Ginger-Peach-Apricot, Extra Dark Chocolate, Blueberry Cheesecake, Panna Cotta, Tiramisu
Address: 1588 Commercial Dr, Vancouver, BC V5L 3Y2
Oh Sweet Day! Bake Shop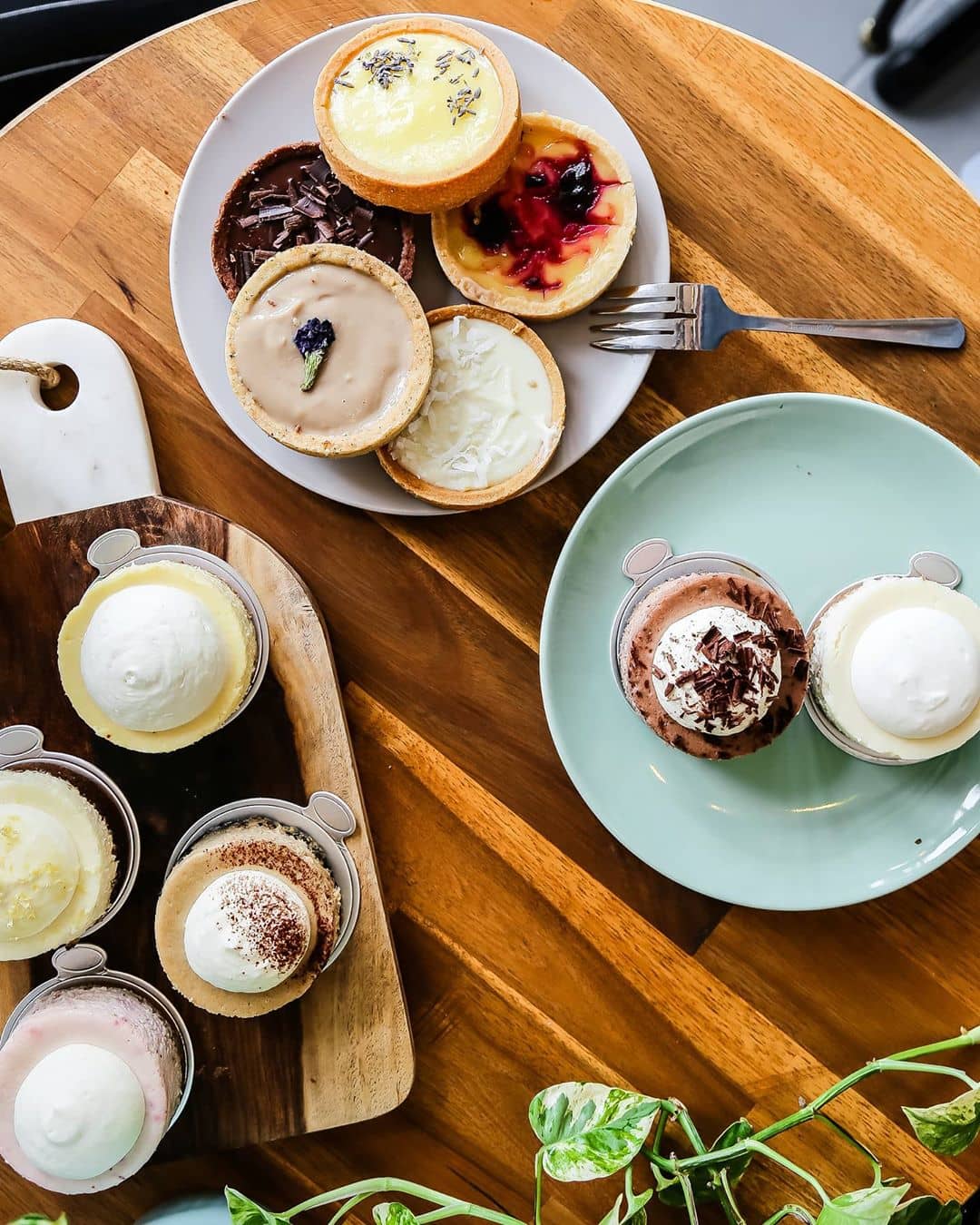 On their website, Oh Sweet Day says they make the best cheesecake in Vancouver, and you know, they could very well be right. This charmingly dainty bake shop located on Commercial Drive, produces some of the softest and tastiest cakes in the city.
Try their Chocolate Raspberry Shortbread Tartlet. The crust is crumbly and chocolatey but not too sweet, and the topping is devilishly decadent. The salted caramel carrot cake is another favorite. All the cheesecakes are fresh and rich, but the Espresso Cheesecake with chocolate ganache really stands out along with their delightful fresh take on the Earl Grey Cheesecake. They also make mini cheesecakes with the gluten free options, so be sure to let them know if that's your preference.
Fun Fact: if you pick five mini cheesecakes, Oh Sweet Day will give you the sixth for free, because they're cool like that.
What to order: Chocolate Raspberry Shortbread Tartlet, salted caramel carrot cake, Espresso Cheesecake, Earl Grey Cheesecake
Address: 1706 E 1st Ave, Vancouver, BC V5N 1B1
Cafe Calabria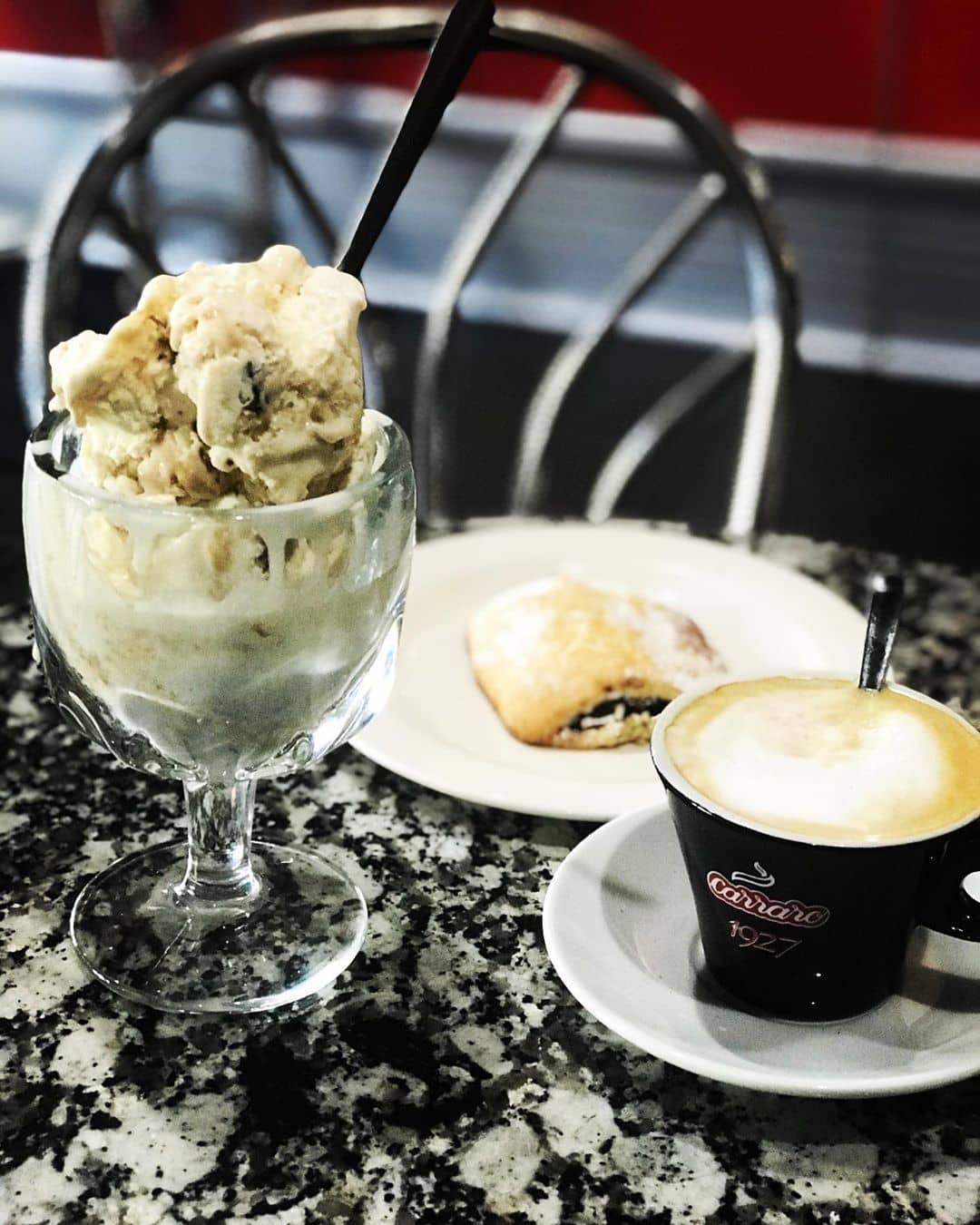 One of the oldest coffee houses in Vancouver, this authentic Italian cafe has been serving coffee and other delicious fare for over thirty years. They serve genuine Italian coffee, a unique custom blend created by Francesco Murdocco over 30 years ago. Its authentic Italian flavour made Cafe Calabria's coffee popular among The Drive's Italian community, and everyone else who visits. Calabria is also known for their variety of paninis to satisfy meat lovers, cheese lovers and vegetarians.
The decor is very Italian, beautiful and super cool too. Their walls are adorned with stunning pictures and photos of famous Italians actors and singers. And, if you're an old-school music lover, you'll enjoy the classic sounds playing inside the cafe when you visit. All the great like Sinatra, Dean Martin, and more.
When you get to the menu, try the Eggnog Latte, an autumn and winter seasonal blend of milk and eggnog, plus a shot of espresso. Not to be missed is the Frank's Special Panini, made up of cappicollo, mortadella, mozzarella cheese, eggplant, lettuce, tomato and served in a toasted fresh home style panini. For vegetarians, or anyone with a craving for rustic Italian pizzas, try the Torta Rustica. It has spinach, onions, red & green sweet pepper, black olives, parmesan, and mozzarella cheese. Seriously divine in taste, so don't miss out!
What to order: Eggnog Latte, Frank's Special Panini, Torta Rustica
Address: 1731 Commercial Dr, Vancouver, BC V5N 4A4
Fratelli Authentic Italian Baking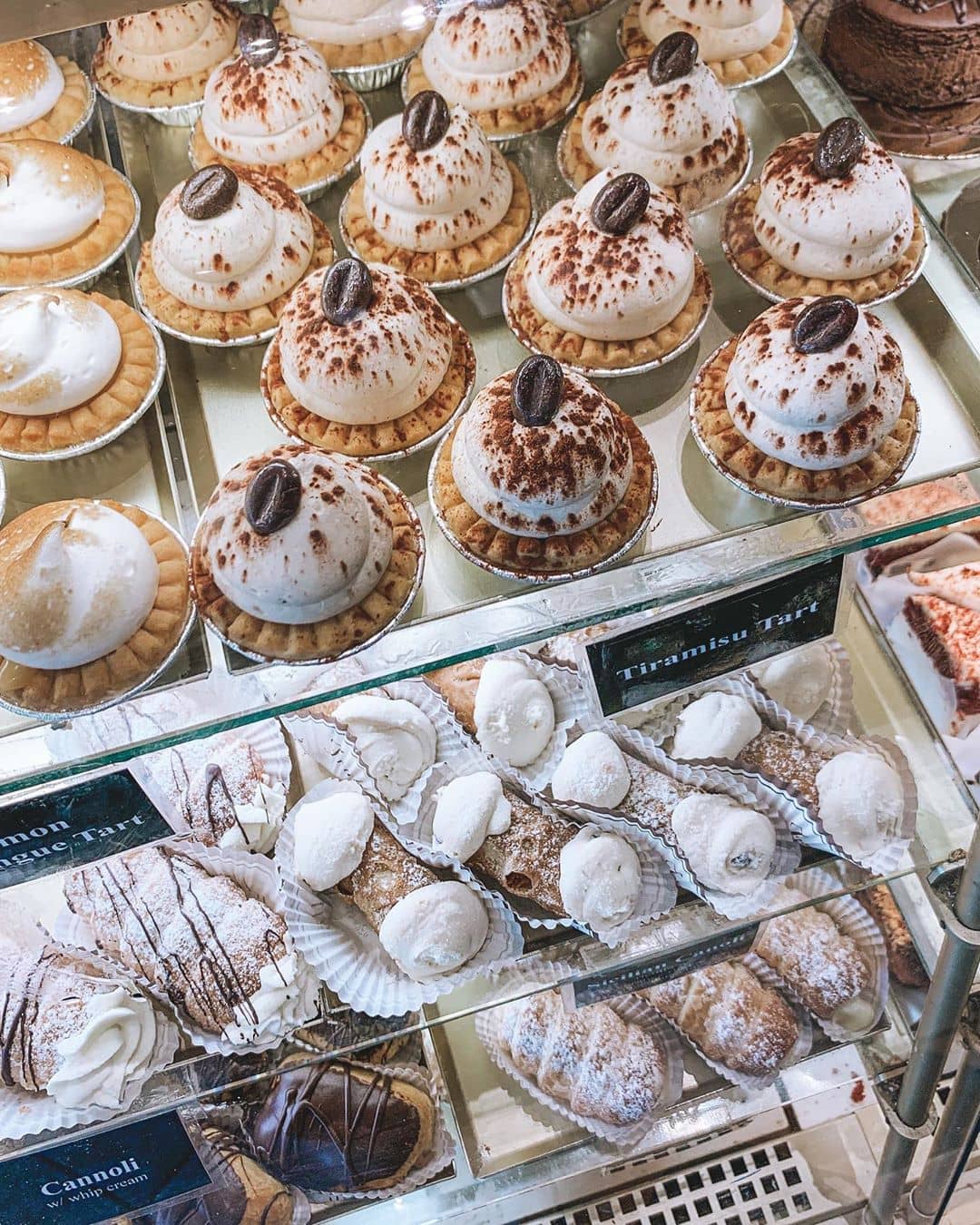 This award-winning-bakery in Vancouver enjoys a reputation for making delicious treats with a smile! You can come in for a quick sweet treat and a coffee, or to order a specialty cake for an upcoming celebration. Using original recipes and fresh ingredients, Fratelli's is Commercial Drive's answer to some of the best authentic Italian baking.
Their famous Saint Honore cake is made with a layer of puff pastry on the bottom, topped with a layer of white sponge cake, Bavarian cream, buttercream, and Vermouth. On top is a delicious combination of whipped cream and Bavarian cream-filled puffs dipped in chocolate.
Besides specializing in artisan cakes, Fratellis also makes pastries, breads, cookies, cupcakes, biscotti, flan, pies and breakfast treats. They try to live by the standard that if you can describe it, they can make it.
What to order: Saint Honore cake
Address: 1795 Commercial Dr, Vancouver, BC V5N 4A3
Spade Coffee & Spirits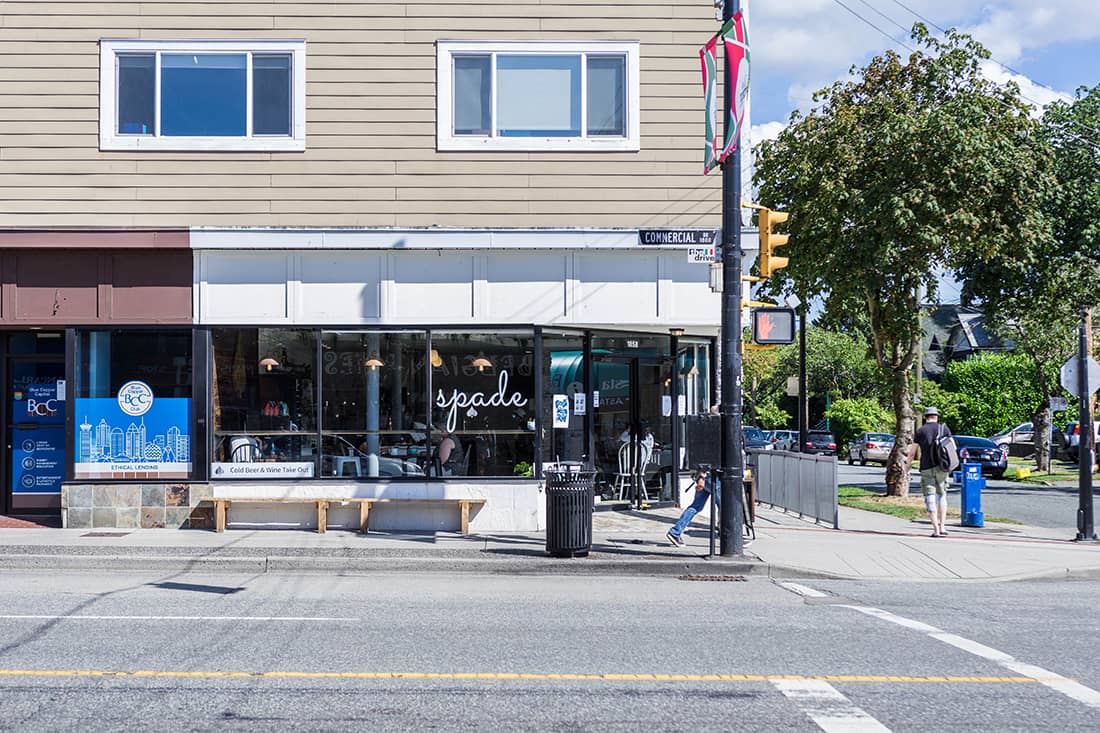 Looking for more good coffee and Italian cuisine? An elegant cafe where conversations ebb and flow? Where the meals and drinks change according to the time of day? Then Spade Coffee Spirits is the place for you! This beautifully designed cafe-bistro brings an eclectic blend of authentic Italian flavour to Vancouver's vibrant Commercial Drive neighbourhood.
Try the pistachio-and-almond frangipanes, or their roasted cauliflower with ricotta, charcuterie and cheese boards, and gnocchi with squid ink. Their Porchetta On Toast is a big seller, consisting of shaved porchetta, romesco, arugula, pickled red onion, green mayo, and served on sourdough bread. There is a big selection of veggie options starting with the popular Triple B Delight, a tomato tortilla wrap filled with fresh black beans, beet, quinoa, spinach, green mayo, yellow pepper and mozzarella.
Open seven days a week, for breakfast, brunch, lunch and dinner, Spade's is an easy hangout for those looking for some casual fun and great food.
What to order: pistachio-and-almond frangipanes, roasted cauliflower, Porchetta On Toast, Triple B Delight
Address: 1858 Commercial Dr, Vancouver, BC V5N 4A5
Best Drinks in Commercial Drive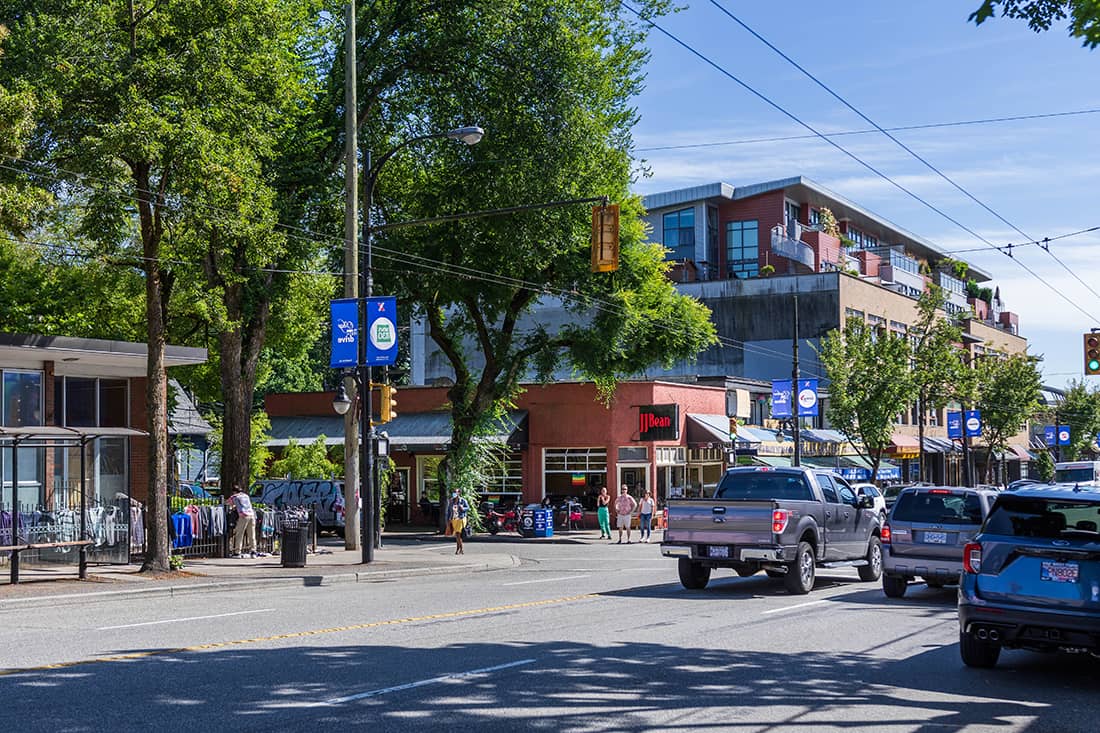 Wine with everything? Or, maybe some beer? Cocktails? A bar, a pub, a night out on the town. There's that cool and boozy side of Commercial Drive you ought to discover too. We've got a list you can check off as you go live it up, and drink it down!
BierCraft Tap and Tapas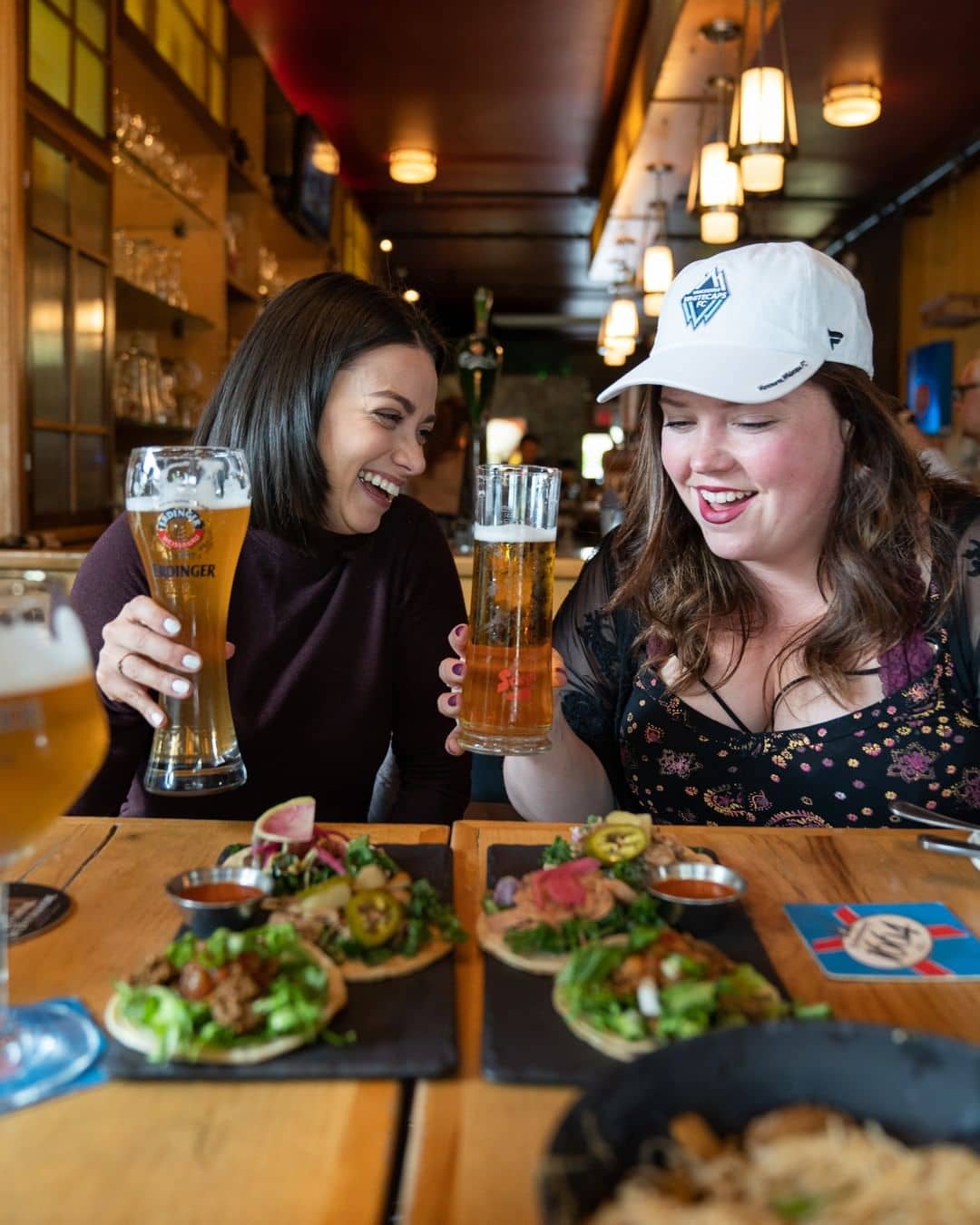 When out on the town with friends, a place to kick back and enjoy some good beer is usually on the agenda. So, if that's what your plans are when you're visiting Commercial Drive, head on over to BierCraft Tap and Tapas for a laid-back atmosphere, wonderful service, and of course fantastic beer!
This Belgian bar with its classic European brew pub interior, offers over 40 craft beer on tap. There's a lot to choose from, but don't hesitate to ask your server for recommendations. The staff here are a well-spring of beer knowledge and will be happy to guide you through your evening. But, the drinks list doesn't end there. You can opt for some house wine, or ciders, and even non-alcoholic drinks.
The menu holds an assortment of food options, from daily specials like Mussel Mondays, Taco Tuesdays, and Wing & Wine Wednesdays, to share plates and a range of appetizers and even soups. Opt for some Chipotle Buffalo Chicken Wings, Belgian Frites, or Tacos. For something heavier and more hearty to complete your evening, order a Roast Beef Dinner, or Dan Dan Noodles.
Tip: BierCraft is also a great place to stop for a leisurely brunch, and their Happy Hour draws a great crowd too.
What to order: Chipotle Buffalo Chicken Wings, Belgian Frites, Tacos, Roast Beef Dinner, Dan Dan Noodles
Address: 1191 Commercial Dr, Vancouver, BC V5L 3X2
Havana Vancouver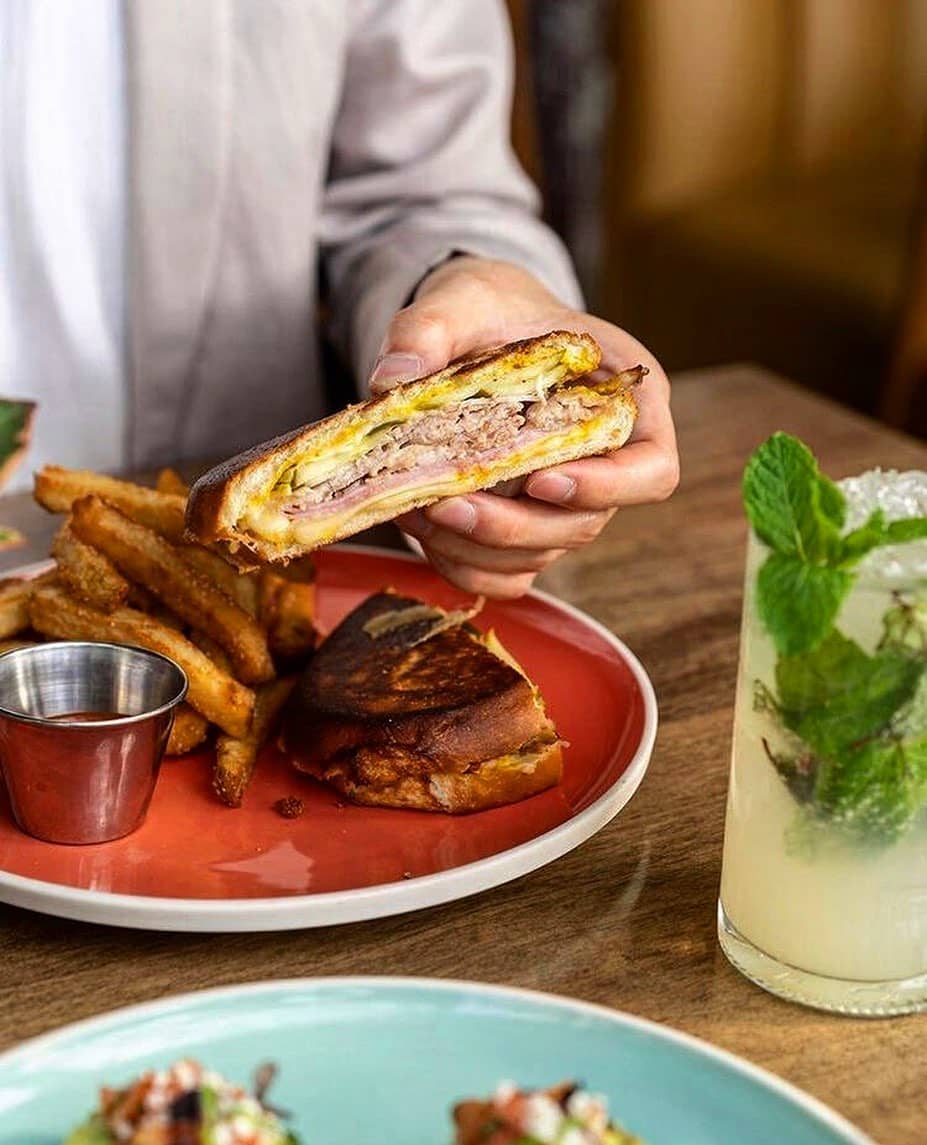 A warm and inviting atmosphere filled with laughter and cheer, soulful music, amazing drinks and flavorful food. If that's what you see when you look around on your night out in Commercial Drive, you'll know you're in the famous Havana Vancouver.
When you're at Havana, grab a patio table and settle back into an evening that will ease your troubles away and leave you with some great memories. Enjoy a delicious cocktail (the Beer Colada is fab!) or choose from a selection of Margaritas, Sangria and Mojitos. There's also a great selection of Reds and Whites to choose from.
For some great light bites to accompany your drinks, try the Cheesy Poblano & Corn Dip, or their Triple Cooked Fries. Heavier options include the super popular Commercial Club (stuffed with buttermilk marinated fried chicken breast, bacon, buttermilk slaw, bread & butter pickles in a buttered brioche,) or their famous House Porchetta. There are some delicious bowl options on the menu as well, so try those out if you enjoy a deeply hearty meal with your drinks.
What to order: Margaritas, Sangria, Mojitos, Cheesy Poblano & Corn Dip, Triple Cooked Fries, Commercial Club, House Porchetta
Address: 1212 Commercial Drive, Vancouver BC
Fets Whisky Kitchen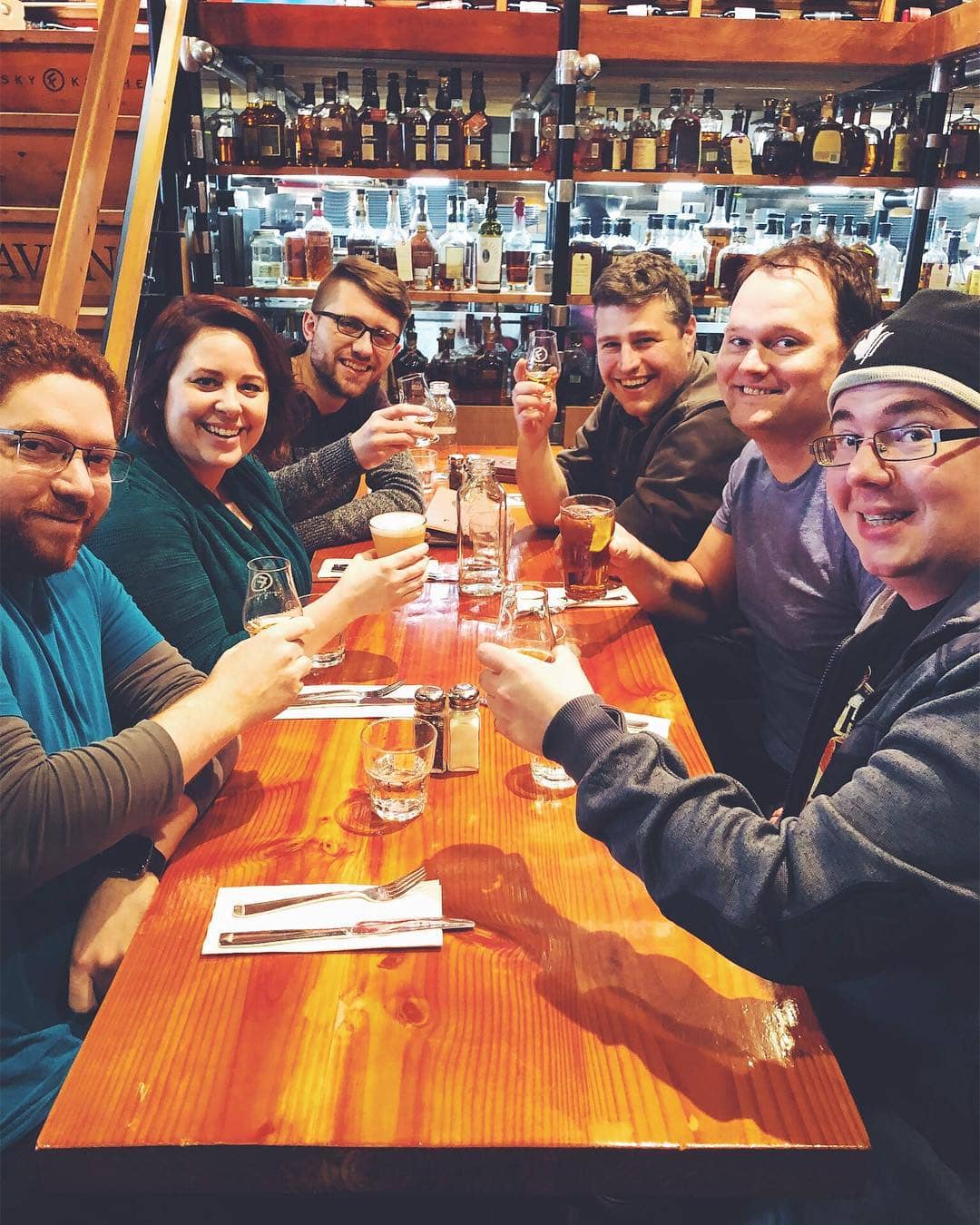 Whiskey, more whiskey, and even more whiskey. Scotch, blended, Canadian, Bourbon, Japanese, or Rye. They've got it all, and more. Much more! If there was ever a bar designed for the whiskey enthusiast, Fets Whiskey Kitchen on The Drive is it. Cozy, trendy, and a must visit. Grab your whiskey-loving friend, and just go enjoy a 'spirited' and fun evening.
Try a smooth whiskey cocktail, or check out the whiskey menu which is color coordinated by country and taste. Indulge yourself with some great food served bar-style. Fish & Chips, Chicken Quesadilla, and of course Southern Fried Chicken are super hits.
Protip: This is one place you're going to want to go with your phone battery loaded up. There's a 15 foot wall stacked with bottles and bottles of every whiskey imaginable. Take a boozy shot for your Instagram Story!
What to order: whiskey cocktail, Fish & Chips, Chicken Quesadilla, Southern Fried Chicken
Address: 1230 Commercial Drive, Vancouver BC
Bar Corso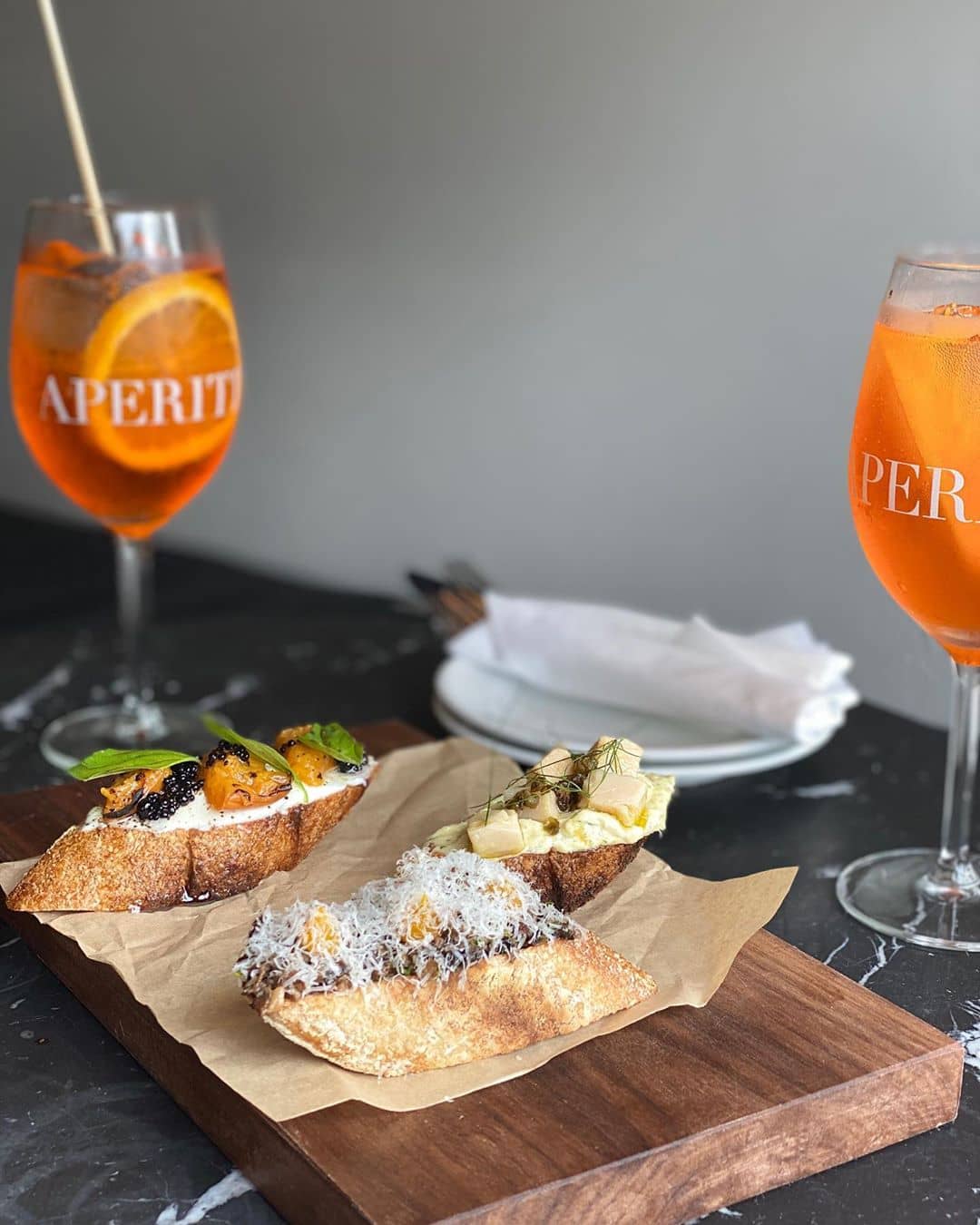 Cozy comfort, superb service, and a wide selection of Italian cocktails and drinks, Bar Corso is the perfect spot to start off your evening out on The Drive. Offering delightful tastes of Italy from their atmosphere to their food, the vibe at this spot is stylish, laid-back and fun. It always draws a crowd, and is a glittering gem in Vancouver's treasure chest of bars and nightspots.
Enjoy a round or two of Grappa or Amaro, or a perfectly blended Negroni packed with delicious flavors of sweet vermouth and campari. Nibble on their signature Crostino (the Roasted Apricot with whipped Ricotta and Balsamic is divine!) or opt for one of their share plates. There's a huge variety available, including slow cooked meatballs with Sunday sugo and parmigiana reggiano.
Tip: Bar Corso is a wonderful place to entertain guests in casual comfort.
What to order: Grappa, Amaro, Negroni, Crostino
Address: 1566 Commercial Drive, Vancouver BC
Best Shops in Commercial Drive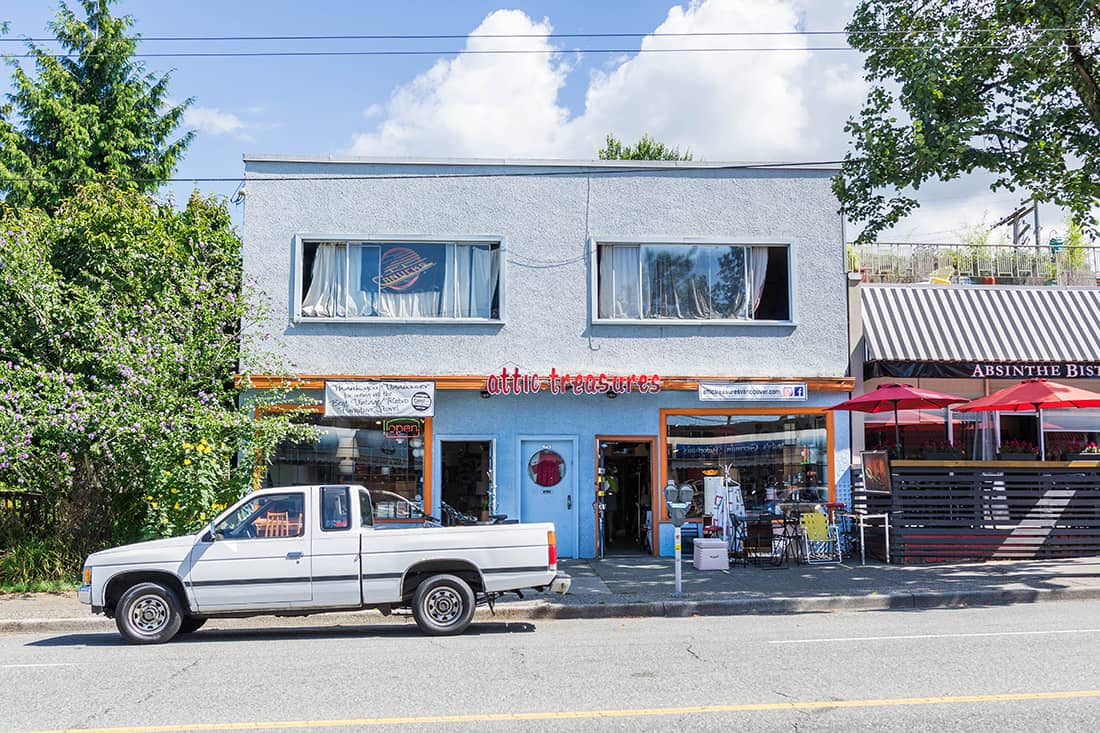 The colorful and vibrant shops on The Drive are a big reason people love to visit. Stores feature beautiful and artistically inclined items that catch the eye, gorgeous novelty gift items, and an eclectic range of furniture, clothing, and more. It's a place you'll want to spend an afternoon shopping and snagging a few treasures to take home.
We've put together a shortlist for you to check out when you're up for some retail therapy.
Attic Treasures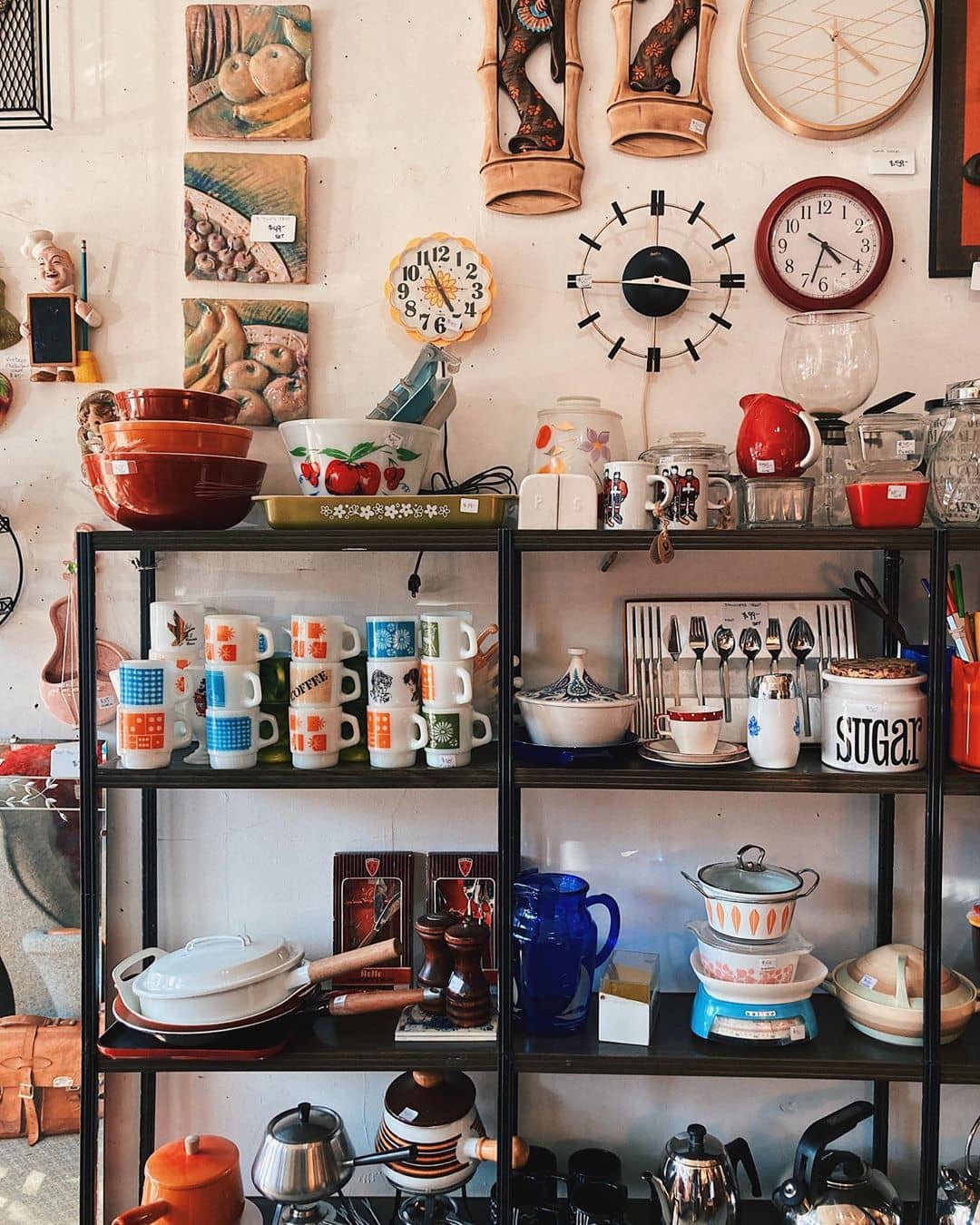 Furniture shopping can be daunting, but what if there was a store that offered only a pleasure-filled shopping experience?
One gem that stands out in the shopping arena of Commercial Drive, is the delightful and award-winning Attic Treasures. This Mid-Century Modern furniture store is one that acquires their treasures right from their own neighbourhood, spruces them up, and offers it to customers at amazing prices.
If you love all things vintage, then this is one store you'll want to stop and browse through during an afternoon out. And, buy, buy, buy!
From classy Danish Teak Bookcases and Snyder Maple Desks, to vintage pottery, stoneware, hand painted lamps and whimsical chakware, there will surely be something at Attic Treasures that will appeal to the antique-enthusiast in you.
A great place to pick up a rare and timeless gift for a loved one.
Address: 944 Commercial Dr, Vancouver, BC
Mediterranean Speciality Foods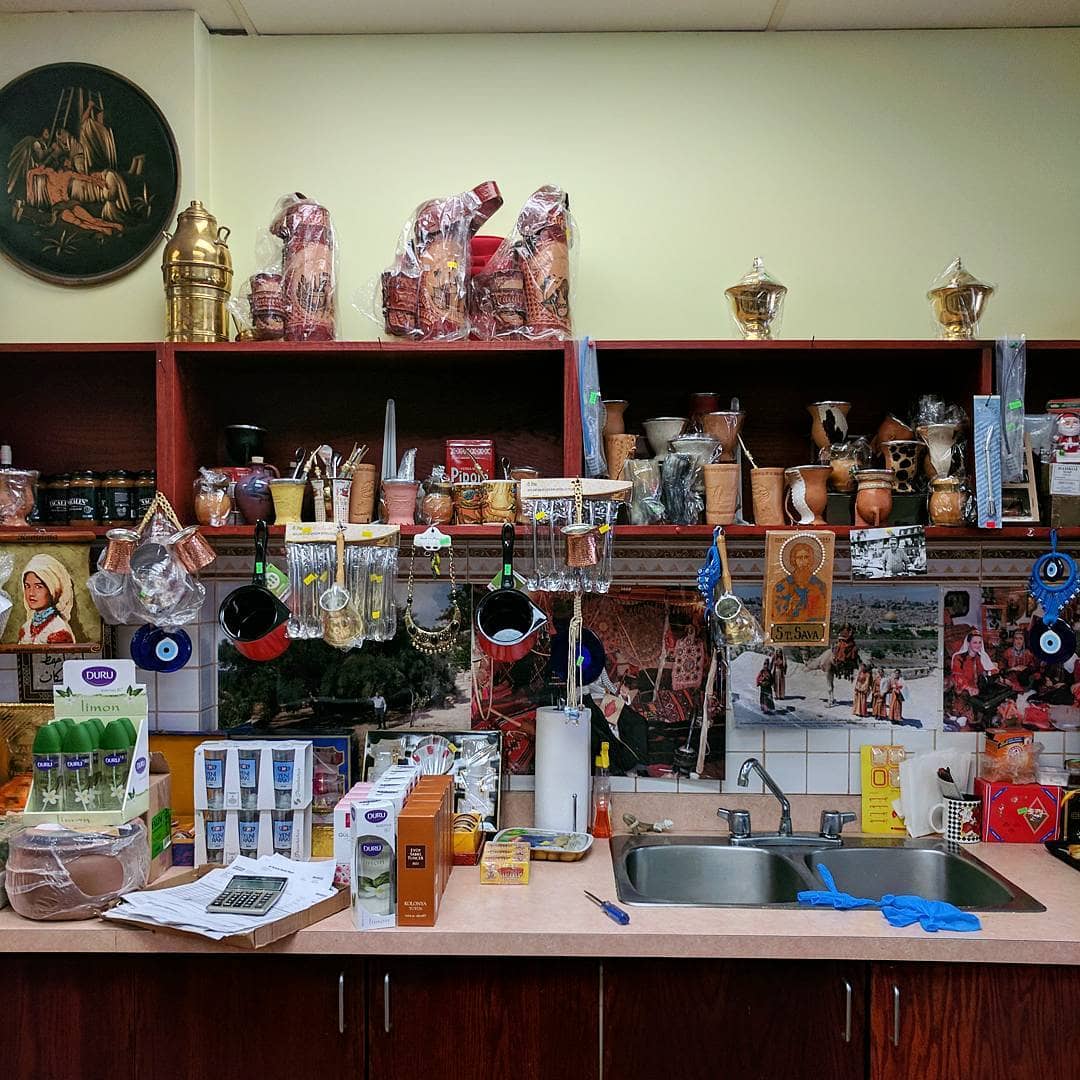 Looking for the perfect Baklava? How about gorgeous Hummus? If you are, then there is a gem waiting just for you the next time you visit Commercial Drive.
Step into Mediterranean Speciality Foods and be transported. This wonderful store is jam-packed with amazing products ranging from pulses and grains, olives and oils, dried fruits and nuts, and a wide selection of sauces, pastes and frozen items.
It's also a deli, so be sure to check out the variety of meats they offer (with canned options) as well as pickles and spices. The dairy section is something no one likes to miss out on, and of course the tempting bakery is stocked full of amazing Turkish Delights, sweets, and super fresh pastries.
Tip: After you shop your heart out, grab one of their to-die-for spinach rolls and enjoy a lovely light lunch.
Address: 1824 Commercial Dr, Vancouver, BC
Paranada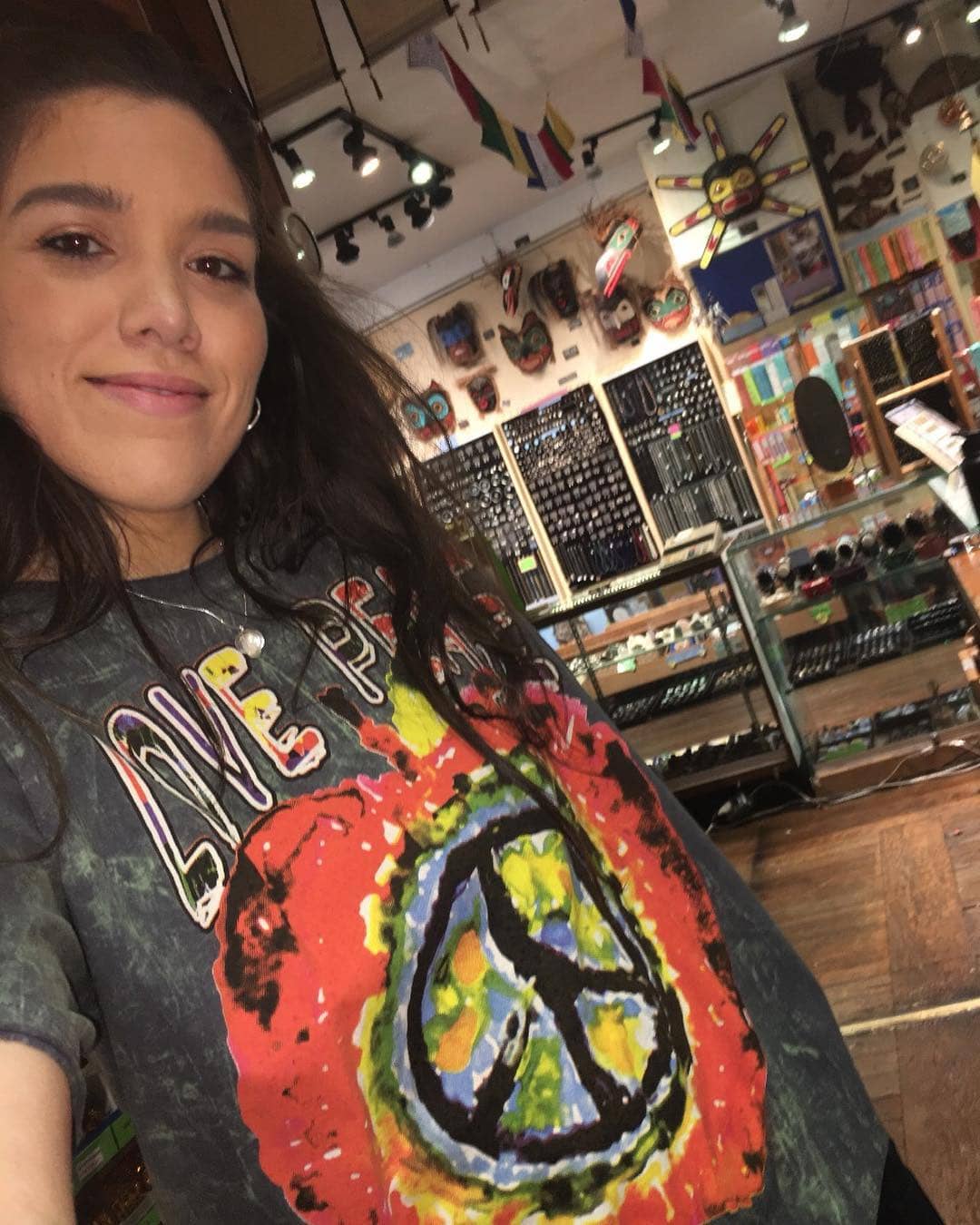 For some wonderful ethnic apparel, accessories, and even musical instruments, Paranada on The Drive is an ideal place to shop.
Hosting a rage of products manufactured in India, Nepal and Indonesia, this is a delightful store to browse through and pick up quality pieces like embroidered hats and bags, knitted sweaters, scarves, incense and scented oils, and hand-loomed clothing in silks, cotton, hemp, banana, and flax fibres.
Check out their variety of hand-crafted musical instruments from the east, and especially their collection of intricately hand-crafted and carved drums.
Address: 1505 Commercial Dr, Vancouver, BC
Exposure Home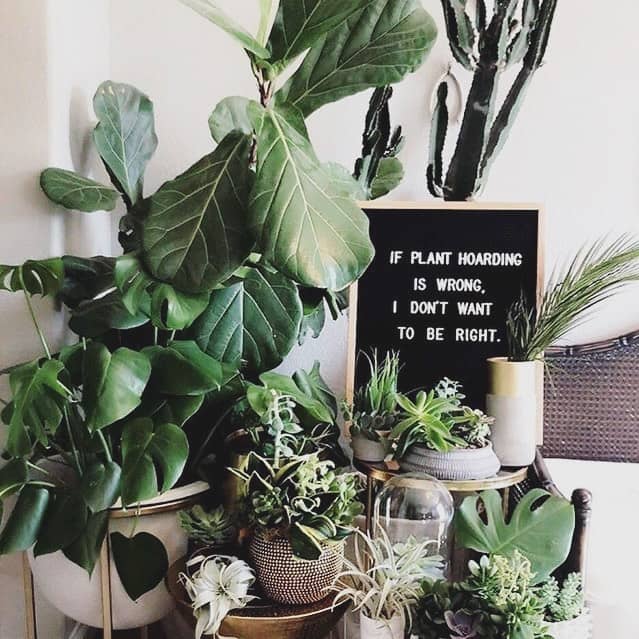 For a truly delightful and soothing shopping experience on The Drive, you won't need to look beyond Exposure Home.
Boasting an eclectic mix of furniture and home decor, many hand-crafted and eco-friendly, this is one great place to shop for that perfect gift, or acquire pretty pieces to embellish your home. Bird cages, door knockers, jars, glass containers and more are dotted around the shop, and you're sure to stumble upon a must-have as you browse.
Looking for that perfect flirty dress? A casual top? Some sparkly jewelry? Exposure Home also offers a range of apparel, footwear, and accessories, including hats, scarves and gloves.
Tip: Check out their umbrellas. They are super cute and stylishly chic!
Address: 1616 Commercial Dr, Vancouver, BC
Best Stays in Commercial Drive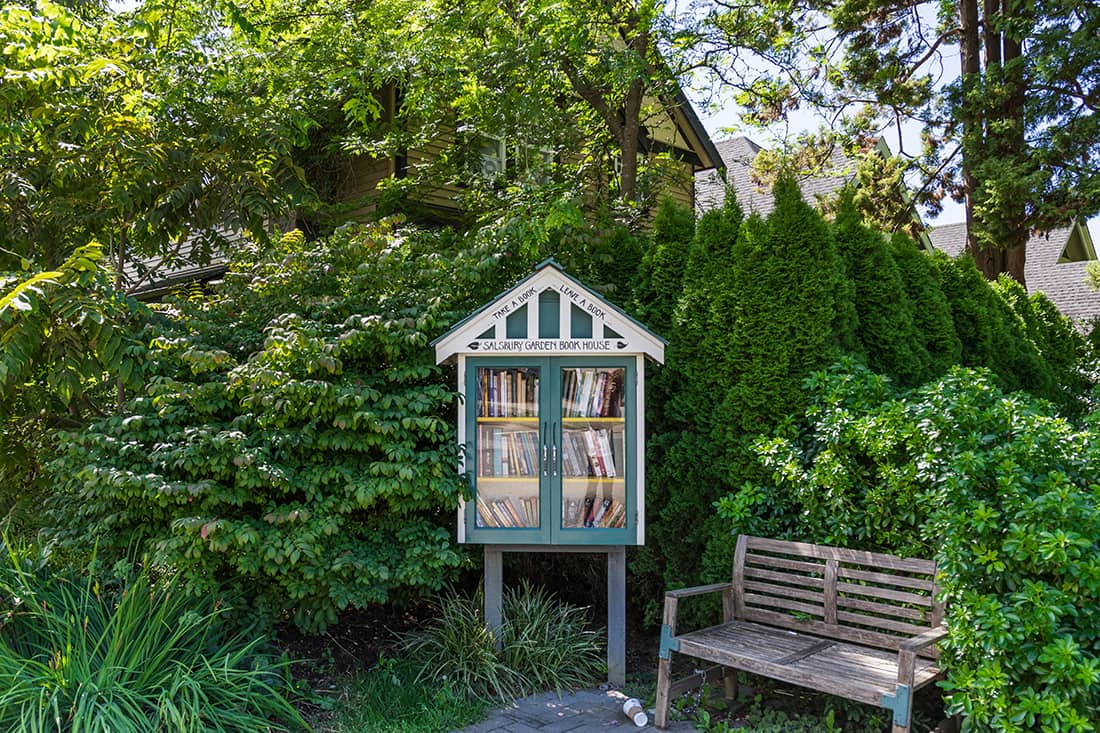 If you're planning to stay a few days, or more, then finding accommodation in Commercial Drive may be a daunting task. But, for every kind of traveller, there is always something at VRBO or other rental accommodations.
Here's a map for you to easily find suitable accommodation when you're visiting.
Commercial Drive is full of vibrant color and a true zest for life. It's one of the more beautiful feathers in Vancouver's cap, and rightly so. From the people to the culture, it is special. It's also definitely not a place anyone should miss out on visiting.
If you've been here before, or if you're visiting for the first time, The Drive is a wonderful neighbourhood full of treasures to keep discovering.
---
This article contains links that may pay us a small commission if you choose to use our links, but at no extra cost to you. All funds will be used to support our team and to create more content for you.
The following two tabs change content below.
Latest posts by Noms Magazine (see all)