Kitsilano – a relaxed fit neighbourhood with a wide range of attractions, including beach and parks, and surrounded by beautiful mountains.
From sun-seekers to people-watchers, this beachfront community is a popular local hangout spot, and it comes as no surprise that you can find quite a few amazing patios here.
Following are some of the best Kitsilano patios you can lounge at in this beachside paradise.
1. Oddfish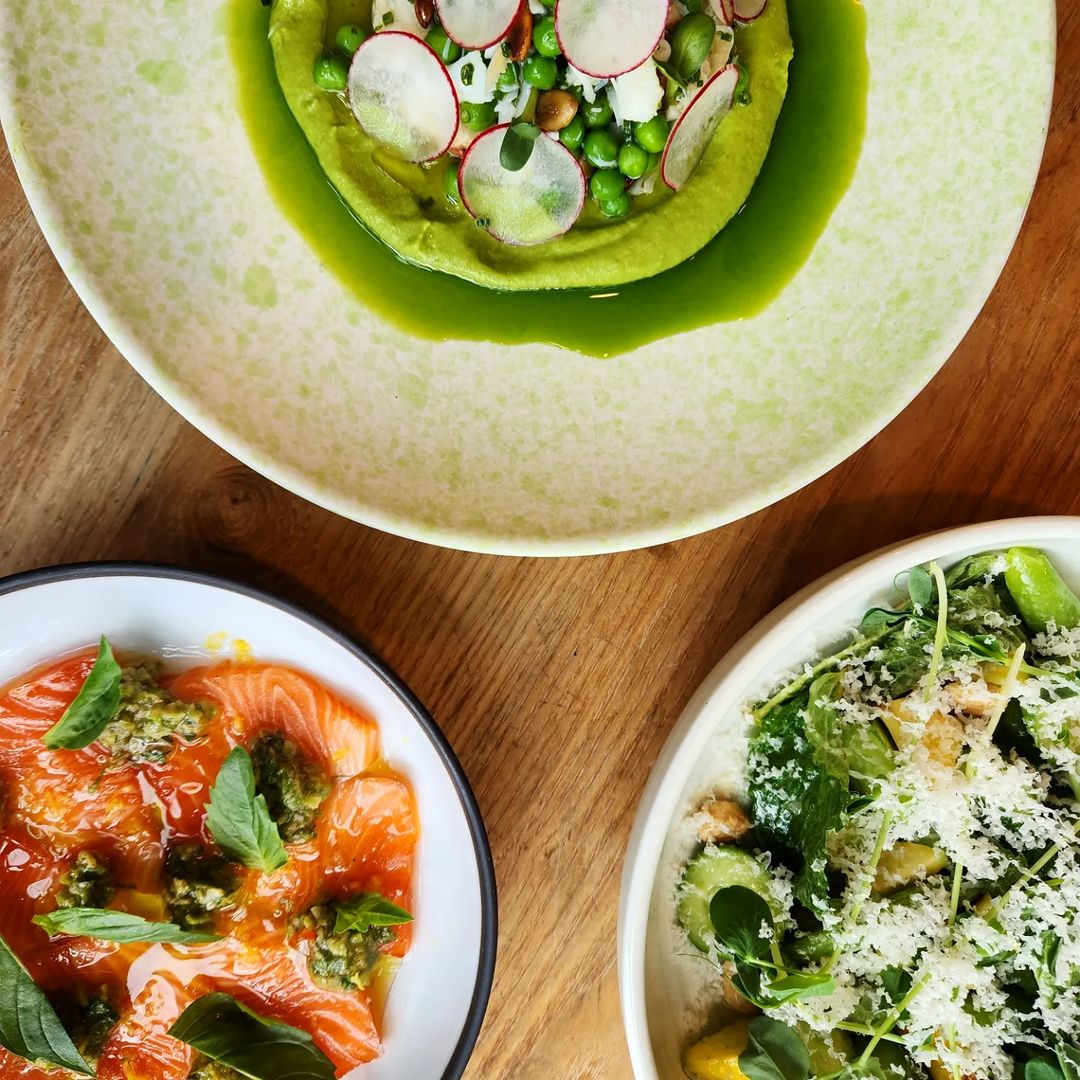 A fish and veg restaurant that has earned a rightful place on our Best Seafood Restaurants in Vancouver list, Oddfish has a daily-changing menu featuring local and seasonal produce. The restaurant's patio is excellent to enjoy Vancouver's sunny days with some fresh oysters, pasta, and a glass of wine.
Without an ounce of doubt, you should try their fresh shucked Oysters on ice with mignonette and lemon.
Once that's done, try their popular Sourdough with seaweed butter. The seaweed butter is salty with a meaty flavour to it and tastes extraordinary on the sourdough.
The Spaghetti Vongole, made with white wine, clams, and garlic, is simple yet a real treat.
Of course, their desserts are seasonal too; but, if you could get your hands on their Dark Chocolate Tart, DO NOT miss it!
What to order: Oysters, Sourdough with Seaweed Butter, Spaghetti Vongole, Dark Chocolate Tart
Address: 1889 W 1st Avenue, Vancouver, BC V6J 5B8
Website | Instagram | Facebook
2. Yuwa Japanese Cuisine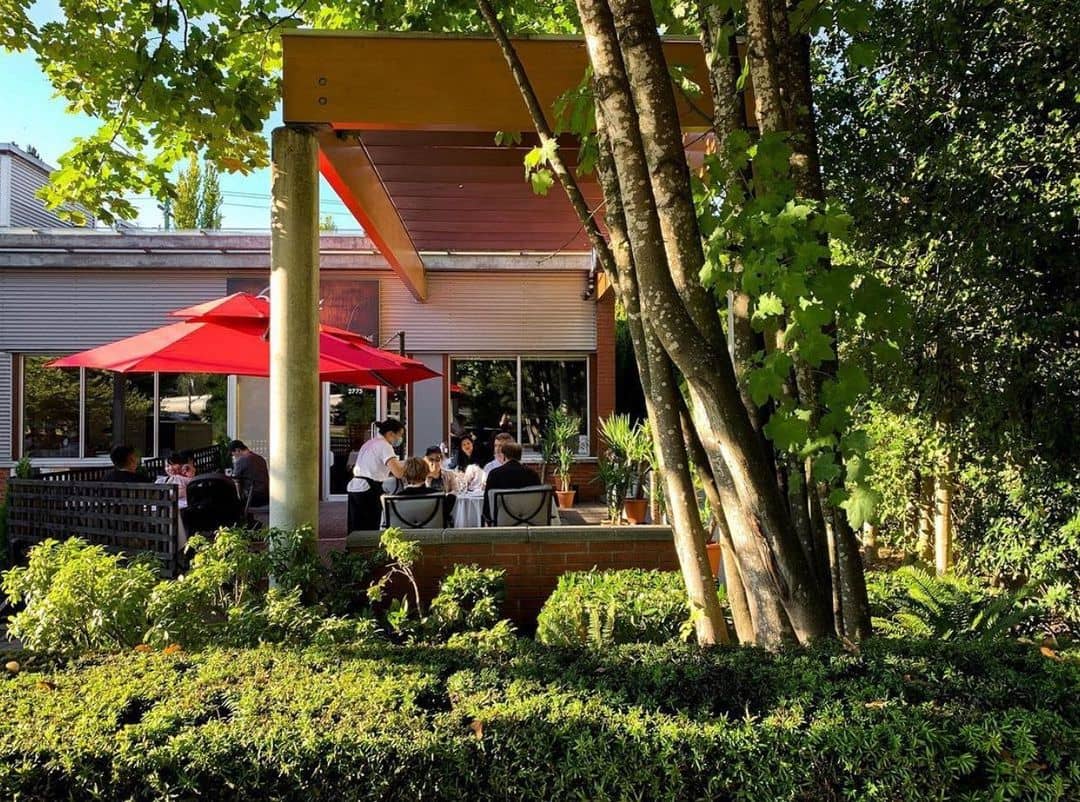 Adhering to the classics, Yuwa brings you authentic Japanese cuisine using the best local and seasonal ingredients. Their heated patio is elegant and beautiful to enjoy spring and summer evenings under the stars.
The Seasonal Assorted Tempura comes with 3 pieces of tiger prawn tempura and 4 pieces of seasonal vegetable tempura. The tempura batter is light and crispy, and both the shrimp and veggies taste great, especially when paired with the salty and savoury matcha salt and sweet soy dashi stock.
The Bluefin Tuna Chutoro is fatty, buttery, deep in flavour, and just melts in the mouth.
The Sockeye Salmon Sanshozuke is a premium preparation. Fresh, buttery, and delicious sockeye salmon tartar is served in sanshozuke dressing, which adds sweet, spicy, and savoury notes to the tartar. A second layer of texture is added by the lightly deep-fried onions and pine nuts, and the taro root chips on the side act as the perfect scoop for the creamy tartar.
And then there's the Chicken Kara-age, which never ever disappoints.
What to order: Seasonal Assorted Tempura, Bluefin Tuna Chutoro, Sockeye Salmon Sanshozuke, Chicken Kara-age
Address: 2775 W 16th Avenue, Vancouver, BC V6K 4W7
Website | Instagram | Facebook
3. Chewies Oyster Bar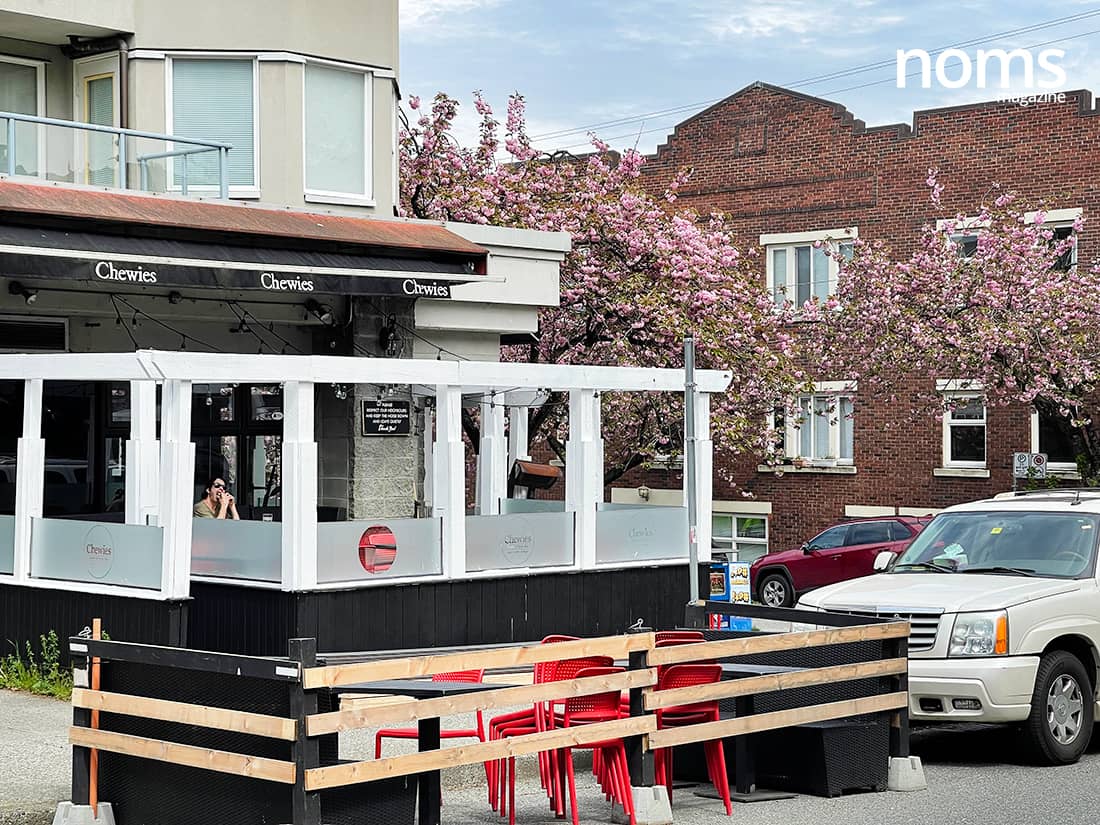 A group of highly skilled chefs and shuckers make the backbone of Chewies Oyster Bar, a local favourite when it comes to quality seafood, New Orleans-style soulfood, loud and fun atmosphere, and unparalleled service.
Pop into the restaurant when you're on your way to the beach, or after a long and fun beach day, and enjoy some fresh oysters on their patio. Fully lit up, the vibe in the patio is even more beautiful during the night, making it an ideal spot for date nights too.
Now, don't let anybody tell you otherwise; when you visit Chewies, you should start with their Fresh Shucked Oysters. Squeeze a little bit of lemon, add some freshly grated horseradish, and don't forget the house red wine mignonette before savouring the plump and springy oysters. The mignonette sauce is just perfect because it lets the oysters shine without overpowering them.
For a hearty plate of food, go with the Fried Chicken & Grits. You get crispy on the outside and perfectly juicy and tender fried chicken on a bed of cheesy and sharp jalapeno cheese grits. Drizzled with Chewies' honey butter, the dish tastes extraordinary.
What to order: Fresh Shucked Oysters, Fried Chicken & Grits, Jambalaya
Address: 2201 W 1st Avenue, Vancouver, BC V6K 3E6
Website | Instagram | Facebook
4. Delara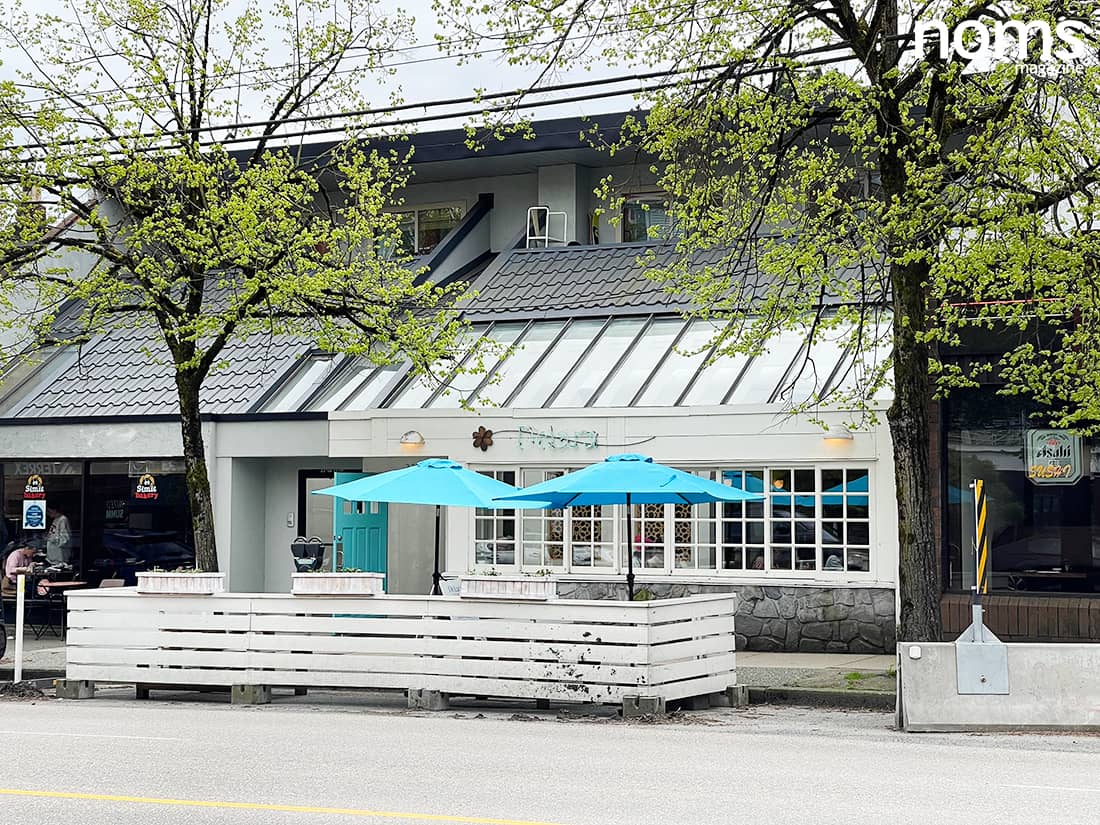 A modern Persian restaurant, Delara is the brainchild of Chef Bardia Ilbeiggi, featuring a seasonal menu that pays tribute to the chef's Iranian roots. While the Michelin-rated restaurant is calm and serene, the blue umbrellas-covered patio is a much-loved dining spot here (weather permitting!); and even if the weather isn't on your side, pick a seat next to the large glass window for a pleasant time.
Start with Mina's Chicken and Barley Soup, a recipe of the chef's mom, which is hearty, robust, and nourishing.
When you enter Delara, you're most likely to smell the beautiful fragrances of cinnamon and saffron; that's the signature aroma of their ever-popular Braised Beef Gheymeh. The beef is slow-cooked and grilled, which makes it juicy and tender, and it is served in a spicy and tangy lentil-based stew, which is simply too good, especially when eaten together with the crispy potato sticks and saffron rice.
If you're there for brunch, don't miss the Kookoo Sabzi Sandwich. These herby fritters with walnuts and barberries taste marvellous nestled between a seedy sandwich bread along with tangy mayo, fresh greens, and feta.
And for dessert, there's nothing like Delara's Turmeric and Orange Cake. Filled with strong fruity, nutty, and spice notes, this is definitely a slice of sunshine on a plate!
What to order: Mina's Chicken and Barley Soup, Braised Beef Gheymeh, Kookoo Sabzi Sandwich, Turmeric and Orange Cake
Address: 2272 W 4th Avenue, Vancouver, BC V6K 1N8
5. Fable Kitchen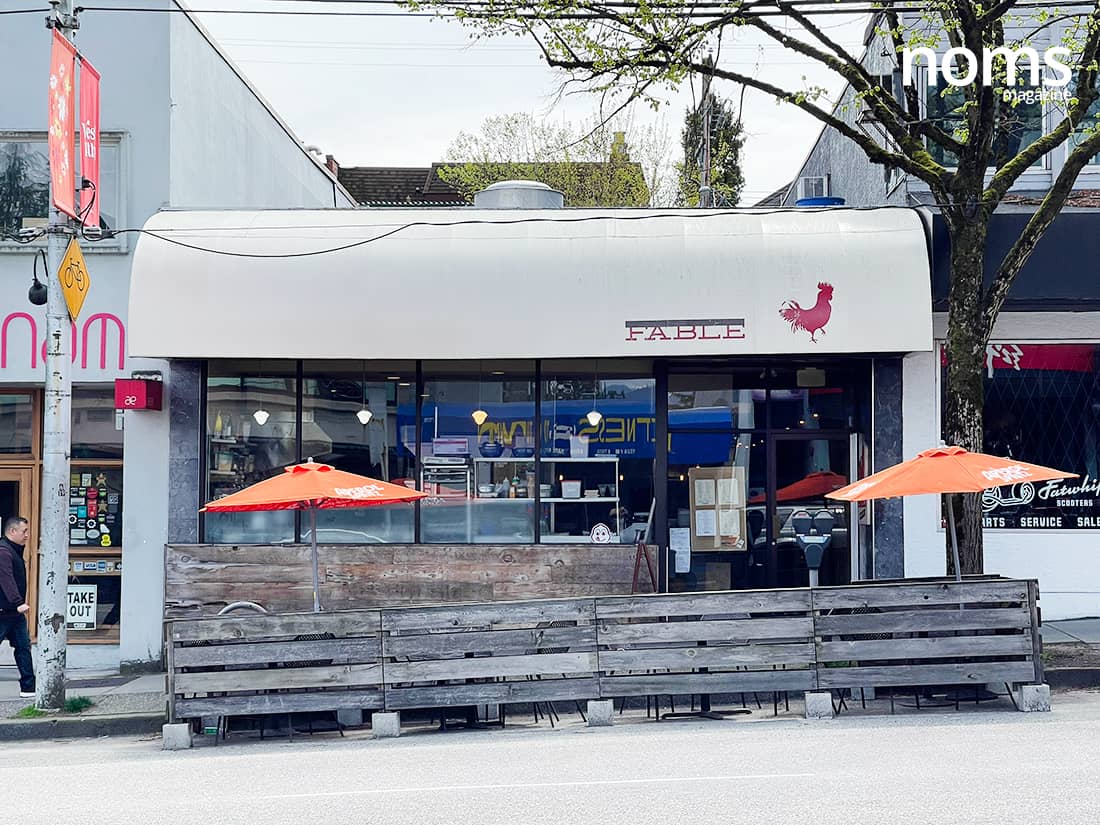 Located in the heart of Kitsilano, Fable Kitchen is a popular farm-to-table restaurant serving the locals for over a decade. Also a Michelin-rated eatery, the place serves locally sourced food and craft cocktails, and is a great location to entertain friends and family, thanks to its lively, cosy, and comfortable atmosphere.
The Chickpea Fritter is so delicious, you'd want to get second and third servings! Part of the credit goes to the vegan curry mayonnaise, which simply elevates the humble fritters to an exciting new level.
Served with tagliatelle, earthy mushroom jus, and parmesan foam, the Duck Meatball is a divine creation! Cutting into the meatball releases all the flavourful juices into the pasta, making it absolutely indulgent and satisfying, and the meatball itself is moist, warm, and flavourful.
Make sure that you hit Fable Kitchen for brunch, just to enjoy their fabulous Johnny Cakes. These are cornmeal pancakes topped with bbq pulled pork, tomato jam, and pickled jalapenos. Everything on the plate is superbly balanced in terms of texture and flavour, and you get a perfect bite of deliciousness until the last bite.
And then there's the Loaded French Toast. Choose between apple jam and poached apples, or fudge sauce with graham cracker crumble, depending on how indulgent you want your meal to be, and enjoy away!
What to order: Chickpea Fritter, Duck Meatball, Johnny Cakes, Loaded French Toast
Address: 1944 W 4th Avenue, Vancouver, BC V6J 1M5
Website | Instagram | Facebook
6. Las Margaritas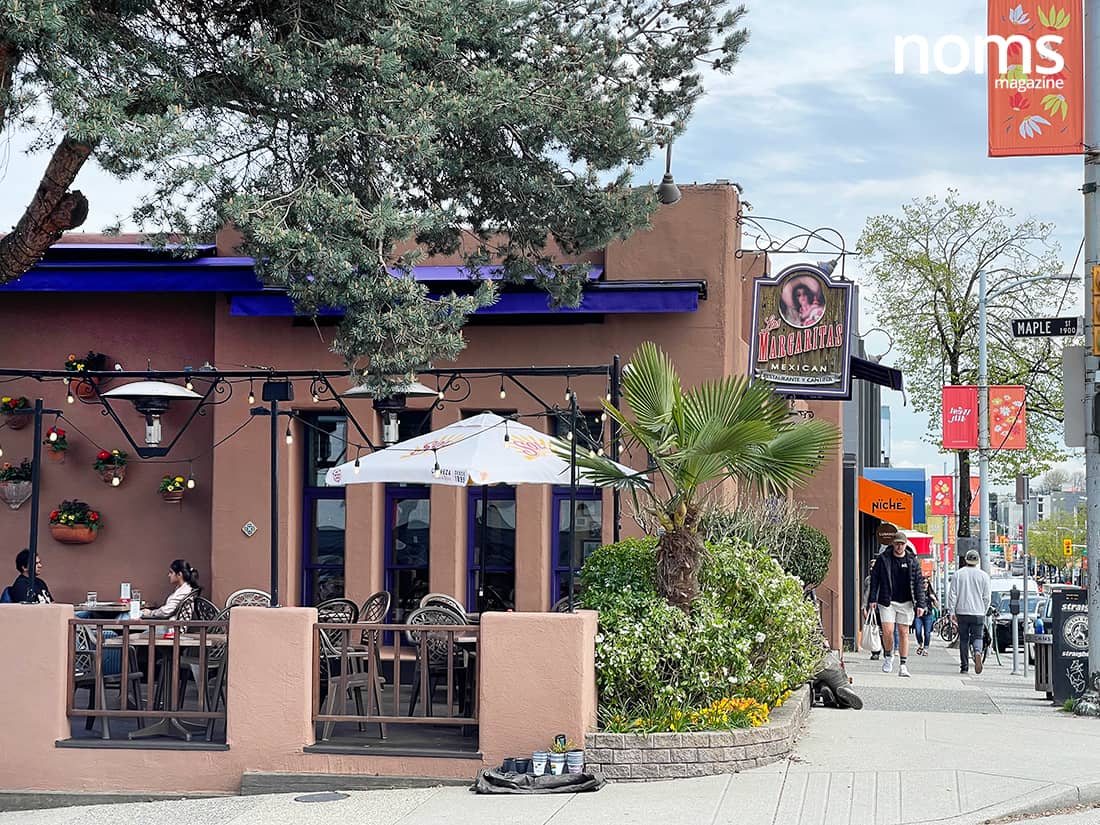 Operating since 1994, Las Margaritas is one of Kitsilano's classics, serving Southern Californian-style Mexican dishes. With large blue windows, umbrella-covered tables, and tall trees swirled with warm serial lights, the patio at this cantina is voted one of the best in Vancouver, and is perfect for a brunch or dinner date.
The Enchilada Verde is a customer favourite here. Loaded with chicken and covered in tomatillo sauce, the enchilada is then topped with cheese and sour cream and baked to achieve this amazing texture and consistency, and the sauce adds an enjoyable tanginess to the dish. Not to mention, the refried beans and Mexican rice on the side are super tasty too.
Burrito Divorciado is not just a beautiful-looking burrito, but one that tastes awesome too! While the pork carnitas filling inside is juicy, citrusy, and pleasantly spiced, along with their delicious Mexican rice and refried beans, the ranchero sauce and chili verde sauce on top add different dimensions of flavours to the burrito. Overall, the burrito comes packed (quite literally!) and is extremely delectable.
The Chimichanga, served hot and juicy, is another popular dish at Las Margaritas. It is so delicious that it'll make you a regular here!
To cool down all the rich flavours, do get yourself a Pina Colada.
As for dessert, nothing beats warm Churros with chocolate sauce.
What to order: Enchilada Verde, Burrito Divorciado, Chimichanga, Pina Colada, Churros
Address: 1999 W 4th Avenue, Vancouver, BC V6J 1M7
Website | Instagram | Facebook
7. Local Public Eatery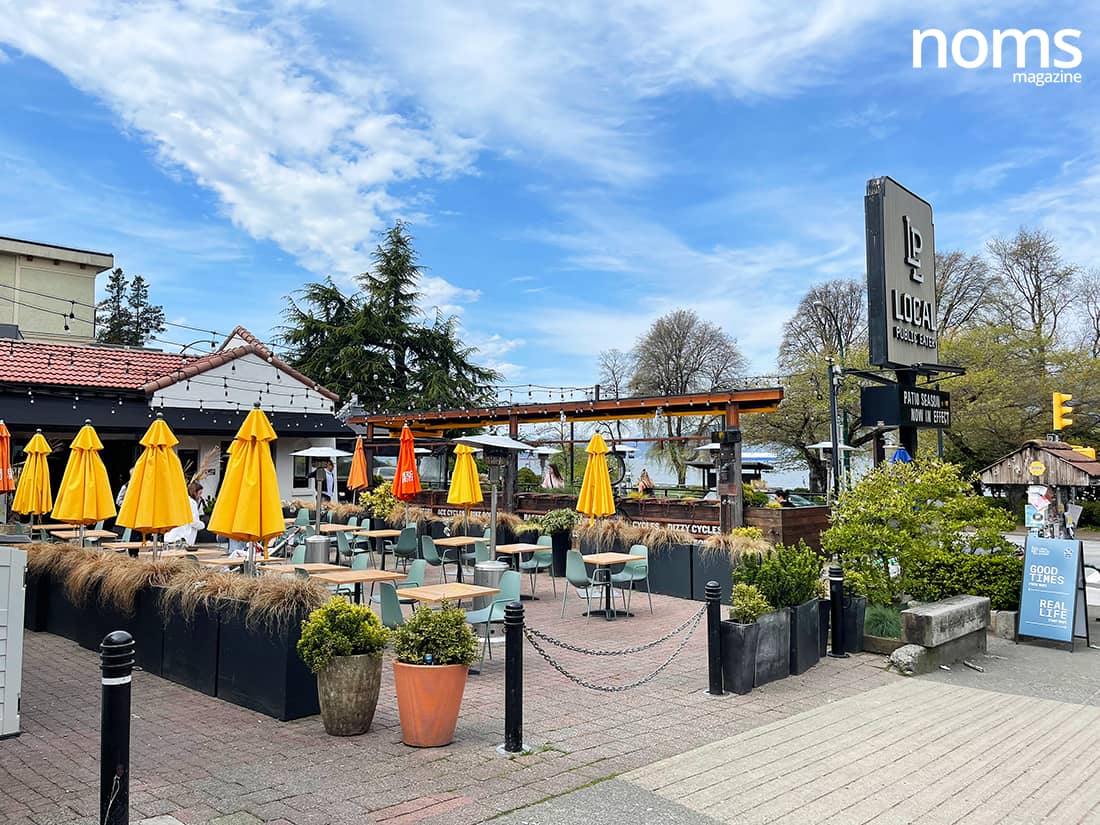 Located just a stone throw's away from Kits beach, Local Public Eatery is a popular neighbourhood eatery with cool beachtown vibes. The patio here is one of the most happening places in town and is almost always full during the patio season. A fun and friendly atmosphere paired with great food makes this Kitsilano patio a winner.
Nothing is more satisfying than a good-ol fried chicken, and LPE is famous for its Local Fried Chicken (LFC). You can pair this yum creation with two types of sauces – hot honey with sliced pickles, or dragon glaze with peanuts and scallions.
Yes, they're both distinctly delicious, but we just love the hot honey combination – it's finger-licking good!
The Shrimp Dumplings are an excellent starter. With sufficient shrimp filling, these steamed dumplings also come drizzled with spicy mayo and ginger and garlic sauce, which make them so good, you'll think twice before sharing!
LPE also serves some BOMB burgers, like the Truffle Cheeseburger. With a beautifully cooked, house-made patty topped with Swiss cheese, truffle jam, red onion, miso mayo, and arugula, this burger is beyond perfect.
And their Peanut Butter & Chocolate Cup will be the fairytale ending to your beachside patio meal!
What to order: Local Fried Chicken (LFC), Shrimp Dumplings, Truffle Cheeseburger, Peanut Butter & Chocolate Cup
Address: 2210 Cornwall Avenue, Vancouver, BC V6K 1B5
8. Sophie's Cosmic Cafe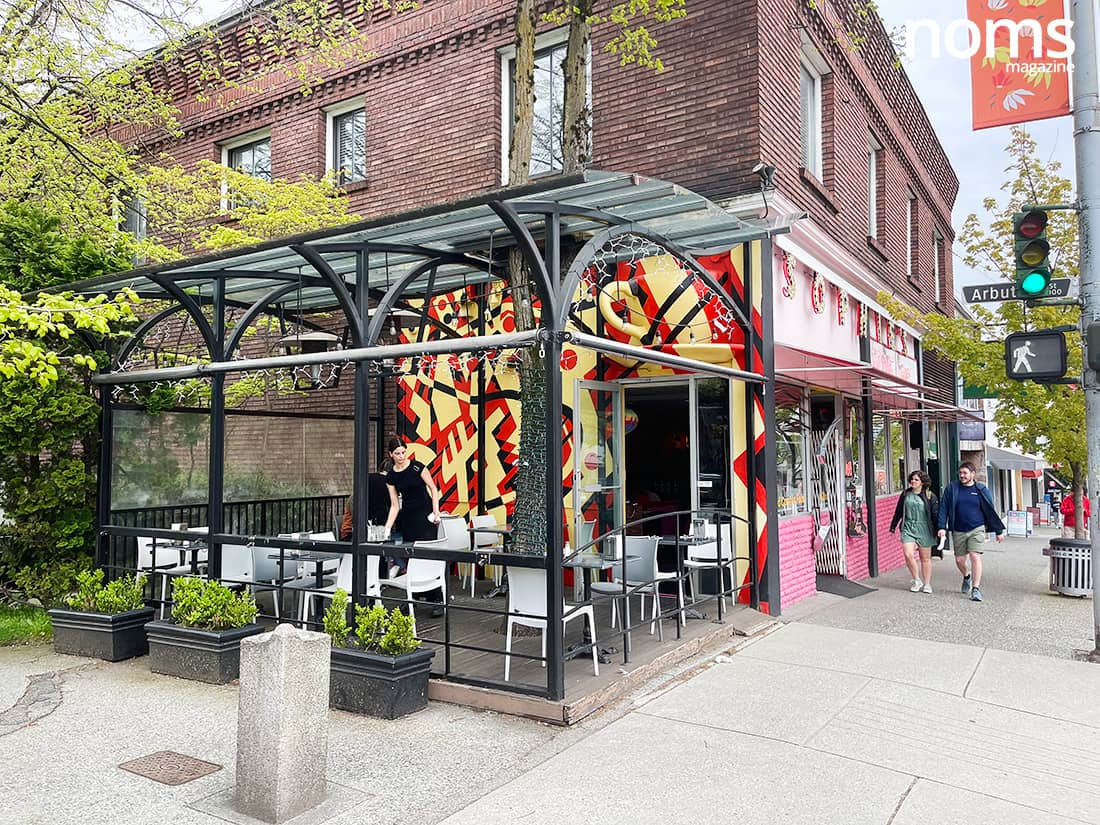 Celebrated since 1988, Sophie's Cosmic Cafe is one of the very few restaurants to stand the test of time and is widely known for its breakfast and lunch offerings. As much as we like the eclectic, retro, old-school charm of the restaurant's interior, the colourful outdoor patio, also decorated with beautiful artwork, hits the spot just right!
Sophie's bennies are crowd-pleasers. Served on an English muffin with two perfectly poached eggs, homemade hollandaise, and breakfast potatoes, Benedicts with Ham is the perfect brunch fix! The breakfast potatoes need a special mention because the addition of spring onions makes them taste exceptional.
While the Deluxe Beef Burger is likely to be any burger lover's obvious choice, we urge you to step back, trust us, and go with Sophie's Nut & Vegetable Deluxe Burger (yes, a vegetarian burger!).
The burger comes with Sophie's legendary vegetarian patty, which is crunchy on the outside and juicy on the inside, and tastes absolutely irresistible with the homemade fruit chutney. The burger is messy – just how a burger should be – and will easily convert the carnivore in you.
Get yourself a glass of their thick milkshake to make your order complete. Our recommendation – Cookies & Cream Milkshake.
What to order: Benedicts with Ham, Deluxe Beef Burger, Sophie's Nut & Vegetable Deluxe Burger, Cookies & Cream Milkshake
Address: 2095 W 4th Avenue, Vancouver, BC V6J 1M7
Website | Instagram | Facebook
9. The Cider House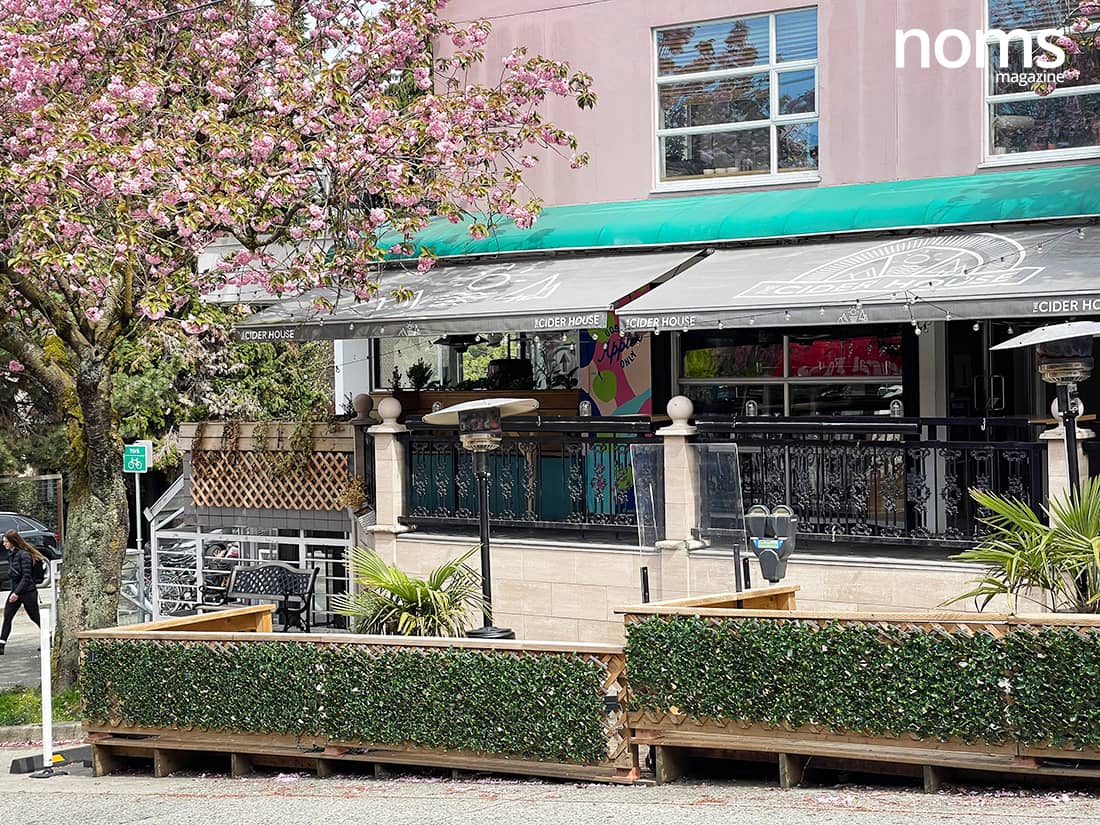 A local watering hole and the first cider taphouse of Western Canada, showcasing dozens of ciders, craft beers, local wine, and more from local makers, The Cider House is also a full-serve restaurant serving 100% plant-based light bites, snackables, healthy plates, and a lot more. Safe to say, their ciders are best enjoyed on one of their patio tables.
The Sausage Sandy from their Brunch menu is killer! A vegan sausage patty is sandwiched between an English muffin along with a lot of different elements including tofu scramble. Surprisingly, all the elements work really well together, and the secret sauce contributes to the deliciousness as well.
The Cider House Burger is a similar preparation but with a "beef" style patty and tastes equally delicious.
Try their Jackfruit Tacos and you'll wish everyday was taco tuesday. The jackfruit is prepared pulled carnitas style and tastes glorious.
How can you not drink cider at The Cider House? You can notice their cider cocktails making it to every table; so, do try one, like the refreshing Lychee Gimlet.
One other must-try drink is their Mulled Cider. Add a shot of salted caramel whiskey to it, and enjoy the fabulousness.
What to order: Sausage Sandy, Cider House Burger, Jackfruit Tacos, Lychee Gimlet, Mulled Cider
Address: 1602 Yew Street, Vancouver, BC V6K 3E7
Website | Instagram | Facebook
10. East Is East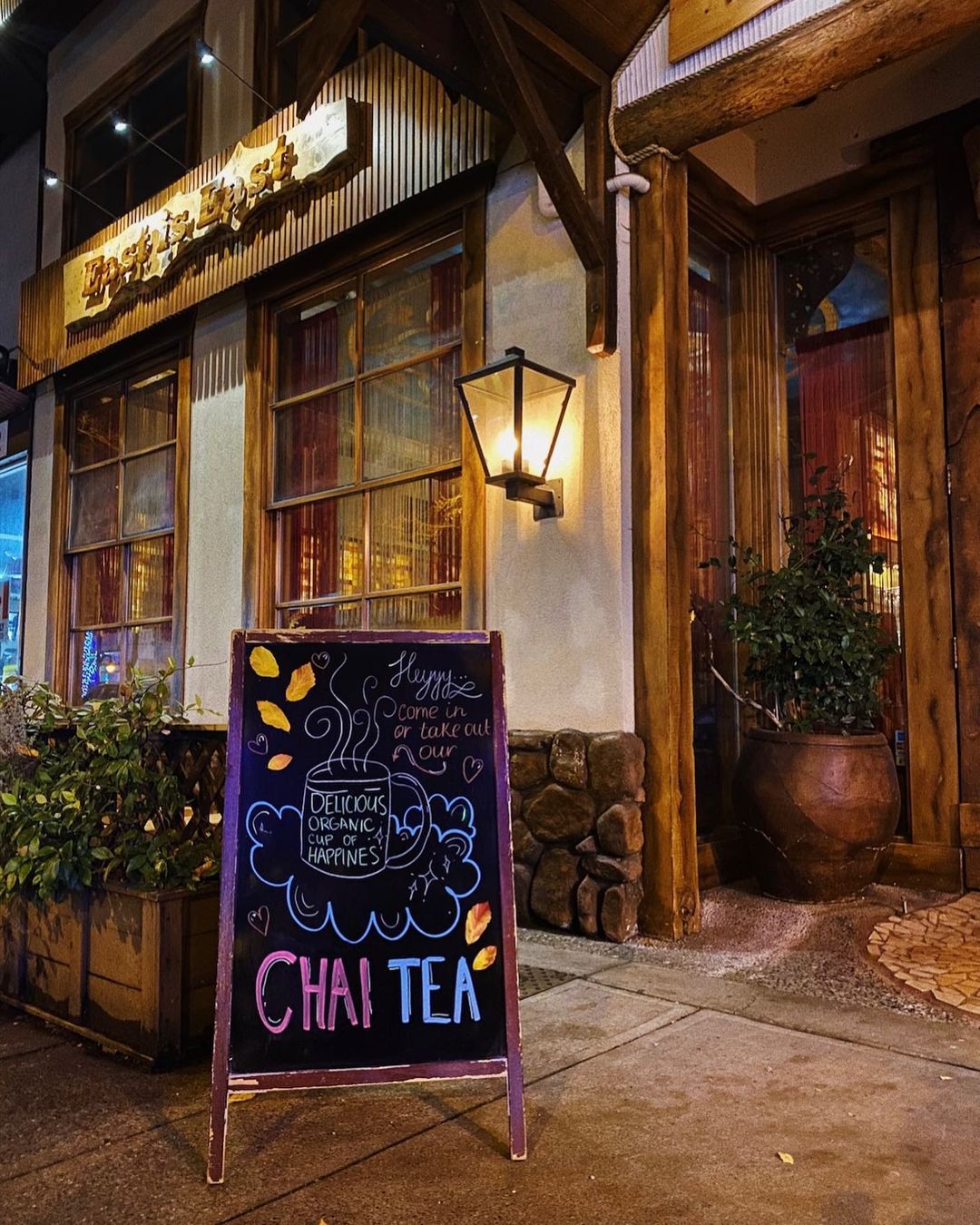 Get ready to go on a culinary journey across Arabia in East Is East, a lively and vibrant place serving diverse Eastern cuisine. With live music, performance, mind-blowing food, and an exclusive Chai Lounge, this place on Main Street will stun you in every way possible.
Their roti rolls have faithful followers. For vegetarians, there's The Gypsy, which has a flavour-packed eggplant and squash filling, in a slightly crispy and soft roti. The filling is generous, and the Dahl on the side is beautifully spiced up and tastes divine.
For non-vegetarians, there's The Mughal – juicy and delicious pieces of chicken in a creamy, silky, and herby sauce. It's celestial!
The Silk Route is a sublime creation of marinated miso salmon baked in a green lentil, coconut, and basil curry. The curry is creamy and earthy and makes the salmon taste exquisite.
The Mango Chicken Rice Bowl is an extremely scrumptious bowl. For your base, you can choose between Afghan Rice, Basmati Rice, and Mixed Greens; we love the sweetness of the Afghan Rice (with raisins and carrots) paired delectably well with the spicy mango sauce and creamy roasted chicken.
What to order: The Gypsy, The Mughal, The Silk Route, Mango Chicken Rice Bowl
Address: 3035 W Broadway, Vancouver, BC V6K 2G9
Website | Instagram | Facebook
11. Lucky Taco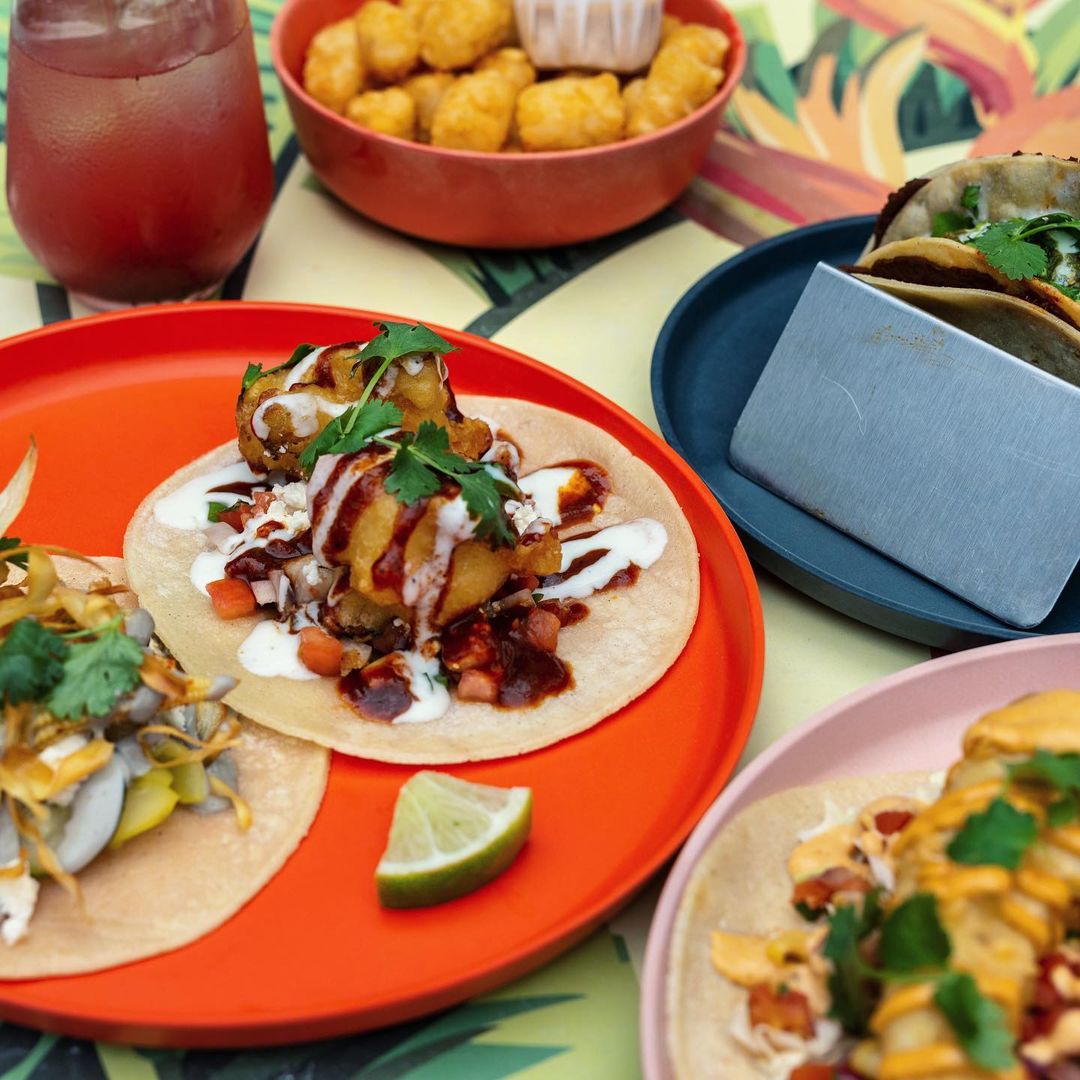 A semi-authentic taqueria – a Mexican restaurant specialising in tacos – Lucky Taco is located just steps from the beach, offering dishes made with local seasonal produce.
The place boasts one of the best-looking covered patios in Kitsilano; painted in beautiful pink, the patio is fully covered, heated for when the weather requires, and lights up during the night, offering a memorable patio dining experience.
The Crispy Cauliflower taco has light and crispy tempura-battered cauliflower, along with spicy, tangy, and smoky Mexican bbq sauce, fresh pico de gallo, and tangy, creamy, and sweet agave lime crema. The flavours here are well-balanced, and this simple vegetarian taco will make your taste buds dance with happiness!
If you love seafood, try the Camarones. This taco has pan-seared prawns, jalapeno, pineapple salsa, and other fresh elements. The prawns are fresh, plump, and perfectly cooked; the jalapeno contributes a little heat, and the pineapple salsa gives it a tropical twist.
For meat lovers, there's the Carne Asada, and Barbacoa, each enticing us equally with their unique flavours.
Save some room for dessert, for their tasty Churros with chocolate dip.
What to order: Crispy Cauliflower, Camarones, Carne Asada, Barbacoa, Churros
Address: 1685 Yew Street, Vancouver, BC V6K 3E6
12. Their There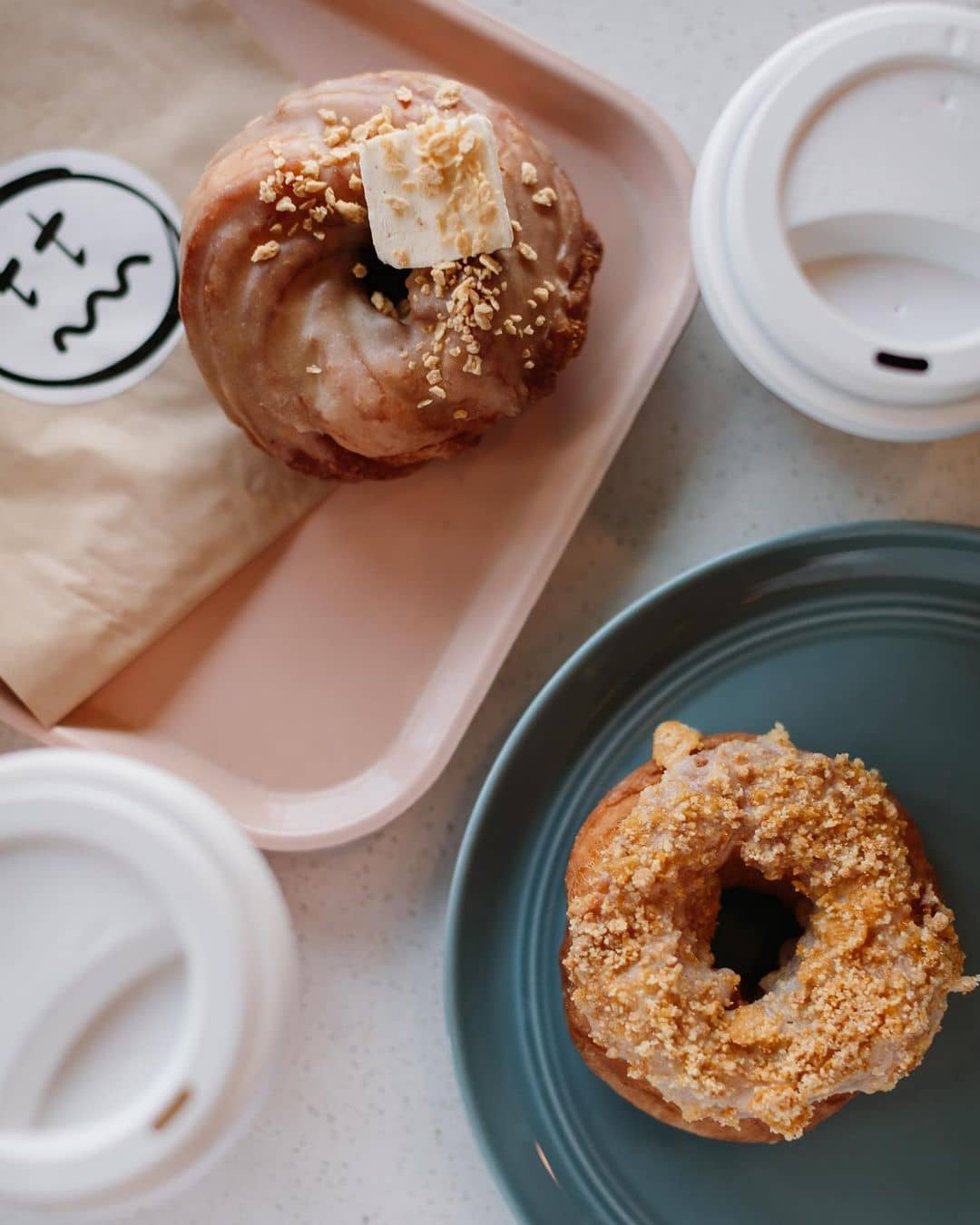 Whether you're after a midday cold beer, or a filling sandwich close to evening, Their There is the place to be. The curbside patio here is ideal for grabbing a quick bite and drinks during the day, or to spend a relaxed evening with friends enjoying good food.
The Buttermilk Fried Chicken Sandwich is a classic and a constant hit. You get a huge piece of fried chicken inside a bouncy and fluffy bun; the chicken comes fried just right and is moist in the middle, and the honey mustard pickles work really well in this sandwich.
You can enjoy the same fried chicken as Fried Chicken & Waffles. The jalapeno maple syrup gives the dish a spicy/sweet kick, which adds incredible flavour to the crispy and juicy chicken and the fluffy waffle.
Add a portion of Tater Tots to your order, at an extra cost, of course, but you'll be glad you did.
Their There has one of the most unique and impressive pastry menus. Made fresh every morning, their pastries and mochi doughnuts taste out of this world, especially their popular flavours like White Rabbit Mochi, Milky Matcha Mochi, and Cereal Milk Mochi.
As for drinks, the Tiramisu Coldbrew will make you go "Wow!"
What to order: Buttermilk Fried Chicken Sandwich, Fried Chicken & Waffles, Tater Tots, White Rabbit Mochi, Milky Matcha Mochi, Cereal Milk Mochi, Tiramisu Coldbrew
Address: 2042 W 4th Avenue, Vancouver, BC V6J 1M9
Website | Instagram | Facebook
When it's patio season, you cannot miss any chance of soaking up the sunshine, and the best way to do it is to grab a bite and a drink on one of Vancouver's best patios.