Looking for the best Granville Island restaurants? Well, you've come to the right place!
Whether you're just visiting Vancouver or a long-time local, Granville Island is no doubt a popular destination when the good weather gods bless the city. After all, who can resist amazing water views, artsy shops, and good noms all in one spot? Not many people.
And when it comes to good noms, we've compiled the 13 best Granville Island restaurants to dine at and what to order at each below. Just for you.
This article contains affiliate links where we may get a small commission if you click on the link and purchase. No extra cost is added to you.
🥦 Get a VIP tour and access to the Granville Island Market!
1. Vancouver Fish Company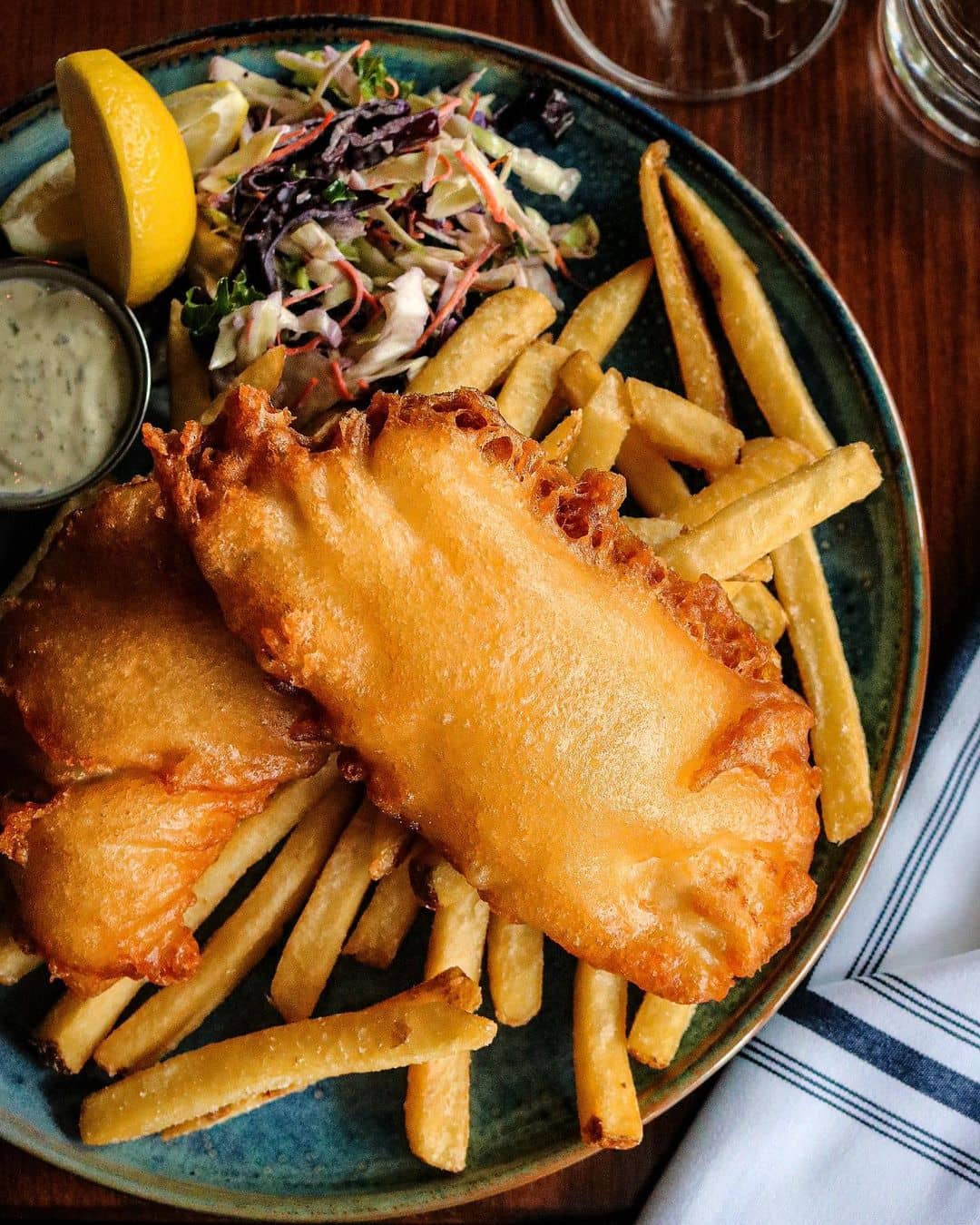 A glittering gem on Granville Island is undoubtedly The Vancouver Fish Company. Living up to its name, this lovely waterside spot offers guests all day dining, including Happy Hour and a Late Night Menu. This is the perfect place for a gathering of friends, family, or even date night.
The star of this spot is no doubt their award-winning Fish & Chips. This is THE spot in Vancouver to grab it. Unlike other spots, the fish here is perfectly fried and not overly battered. Now combine that with some stellar fries and you'll be dreaming of this meal again and again!
The oven-roasted Sablefish is also delish and is accompanied by braised rainbow swiss chard, chorizo, smoked clams, and heirloom-tomato consommé. If you're a shellfish fan, try the Scallops, or Lobster, or indulge yourself and order one of their amazing Seafood Trios. Finish off with a speciality Irish Coffee, a Rum Chata Latte, or a divine Espresso Martini.
What to order: Sangria, Maple Walnut Prawns, Fish & Chips, Seafood Trios, Irish Coffee, Rum Chata Latte,
Address: 1517 Anderson St, Vancouver, BC
2. Alimentaria Mexicana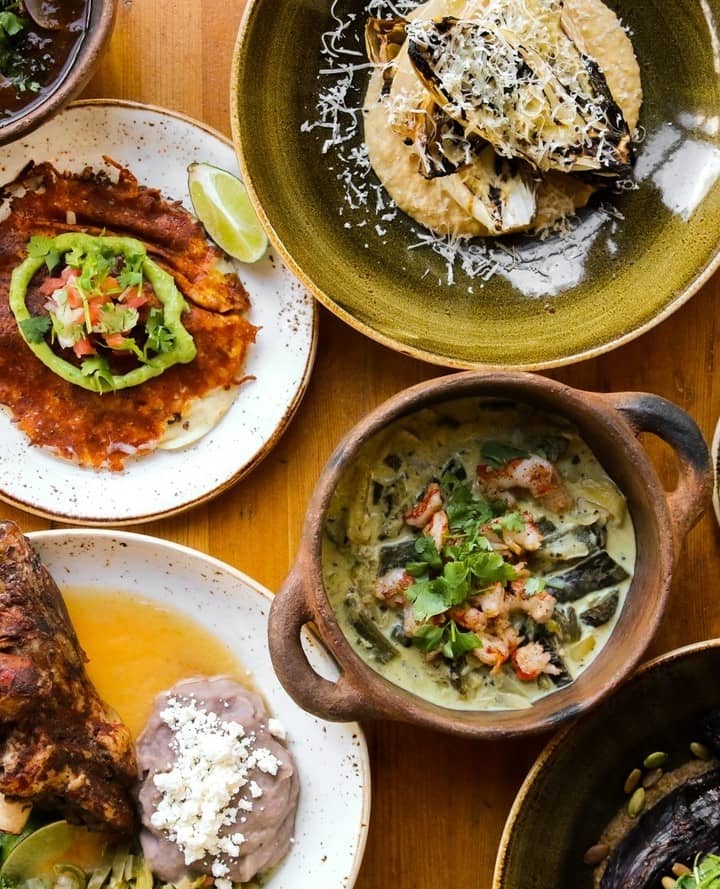 Not many places that big emphasis on the stories their food tells or the source of the ingredients. This casual – yet deliberate – Mexican spot makes both of these things happen, which makes it a refreshing experience for all those that walk in.
From their cocktail straw umbrellas down to the colorfully painted walls and the scrumptious dishes, it's all about Mexico and fun. Add that to the patterned dress walls of lively colors and the ambivalent lighting, and you've got the full-on Mexican dream!
Best believe that their food is just as good as their interior! Their Churros are just pure delight. It's homemade and the sweetness of the chocolate plus the taste of the bread is mouthwatering. Their Halloumi & Grilled Cactus is the bomb and missing this means you're missing out on A LOT. The flavours, the texture, it just leaves you with a bang. The green nopal leaves cooked in salsa plus the chunky and rich cheese? We couldn't ask for anything more!
Always go for their Albacore Tuna Ceviche. Served with good chunks of fresh fish, it's a total winner. The chips are already filling to the stomach, especially with their thickness. It has lots of interesting flavours that are to die for. Lastly, try out their Sopes with Bone Marrow. Truly oozing with the richness of the marrow, you're going to be obsessed!
What to order: Churros, Halloumi & Grilled Cactus, Mushroom Tostada, Albacore Tuna Ceviche, and Sopes with Bone Marrow.
Address: 1596 Johnston St, Vancouver, BC
3. The Sandbar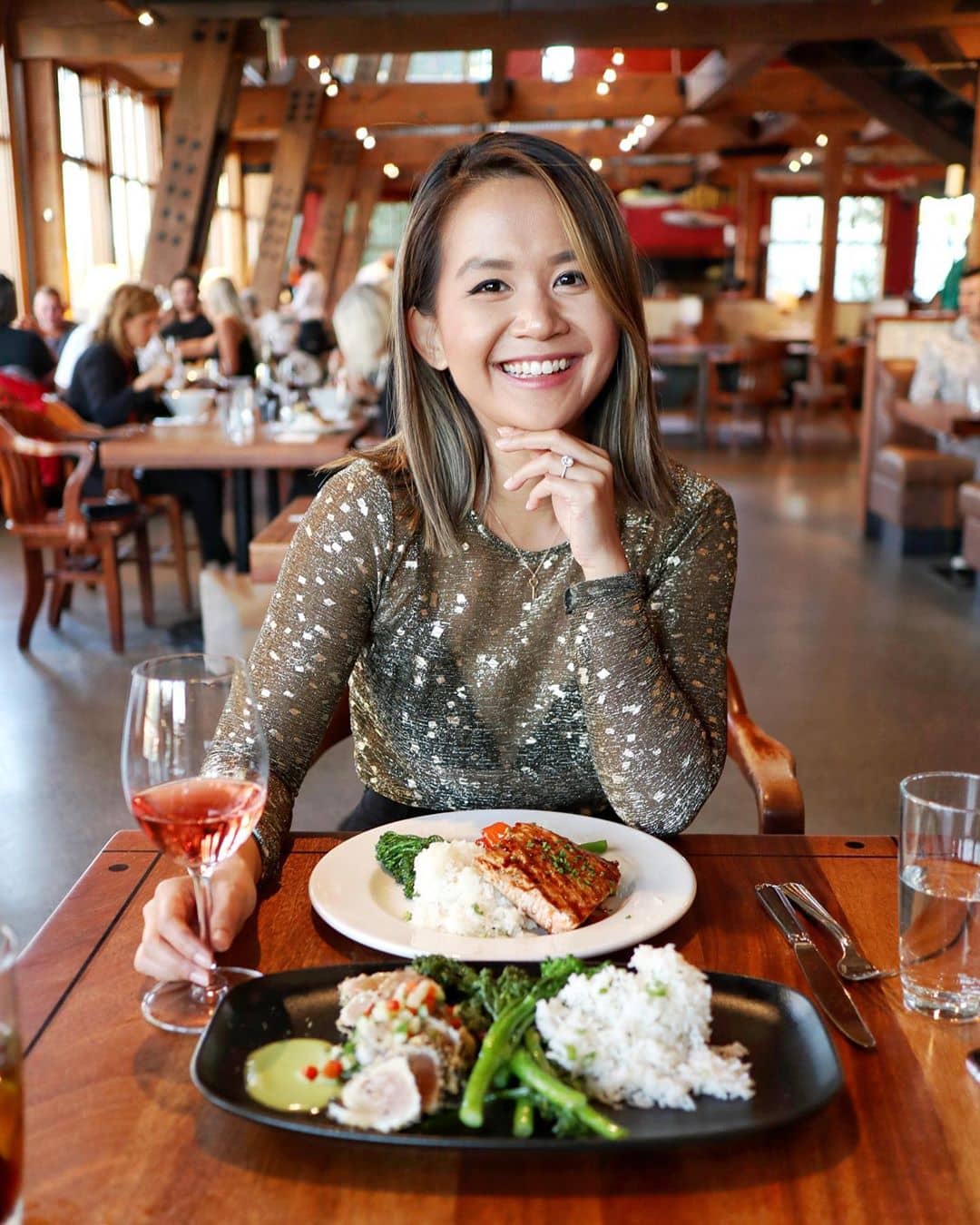 Whether you're looking for a great lunch or dinner option while you're visiting Granville Island, The Sandbar comes highly recommended by both locals and visitors alike. Set right beside the water and offering stunning views from their patio, and equally good ones from their classy nautical themed interior, this is one restaurant you don't want to miss out on experiencing.
The Sandbar has a great menu that has separate seafood, vegan, and gluten-free options. Enjoy a taste of some Dungeness Crab Cakes, or yummy Har Gow for starters, go for the Wok Mussels, or The Sandbar Tower, which is a fresh and chilled seafood feast.
Pair your meal with some wine or cocktails, or even beer from the tap.
What to order: Dungeness Crab Cakes, Har Gow, Wok Mussels, The Sandbar Tower
Address: 1535 Johnston Street, Creekhouse #102, Vancouver, BC
Website | Instagram | Facebook
4. Afghan Horsemen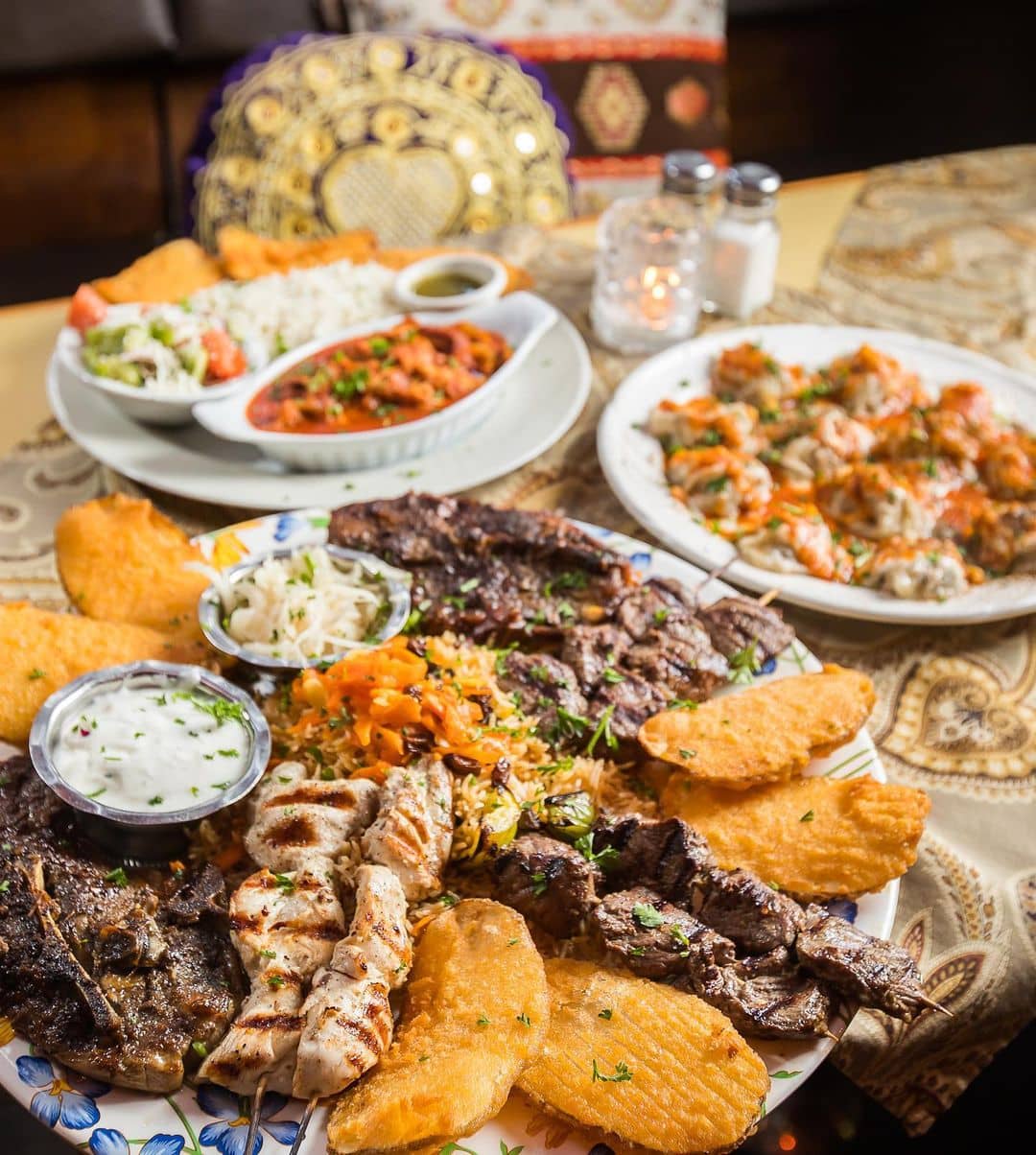 Afghan Horseman is the first Afghanistan restaurant in Canada and has been operating since 1974. You can tell that the vibe and ambiance of Afghanistan culture is truly alive in their interior. The different colourful lights, the artistic and cultural patterns, and the large paintings truly make for an authentic ambiance.
Get their Kebab Platter Delight, it has a bit of everything! It's presented well and has bursting flavors of spices that you will love. After this platter, you're going to have a full stomach and full of appreciation for Afghanistan cuisine! Also give their Pakawra a try. It has the best texture with the perfect crunch and the Chaka dip gives it the extra kick it needs!
Another appetizer you have to get is their Mantu. It's basically an Afghanistan dumpling and they taste like heaven in the mouth. The herbs and spices linger to the taste, making it incredibly savory!
Their Lamb Shoulder Chop is nothing but excellence on a plate. Perfectly cooked plus the taste has that phenomenal fall-off-the-bone deliciousness. It's definitely not a flavor you taste everywhere, it's going to make you anticipate more and more.
What to order: Kebab Platter, Pakawra, Mantu, and Lamb Shoulder.
Address: 1833 Anderson St #202, Vancouver, BC
Website | Instagram | Facebook
5. Lee's Donuts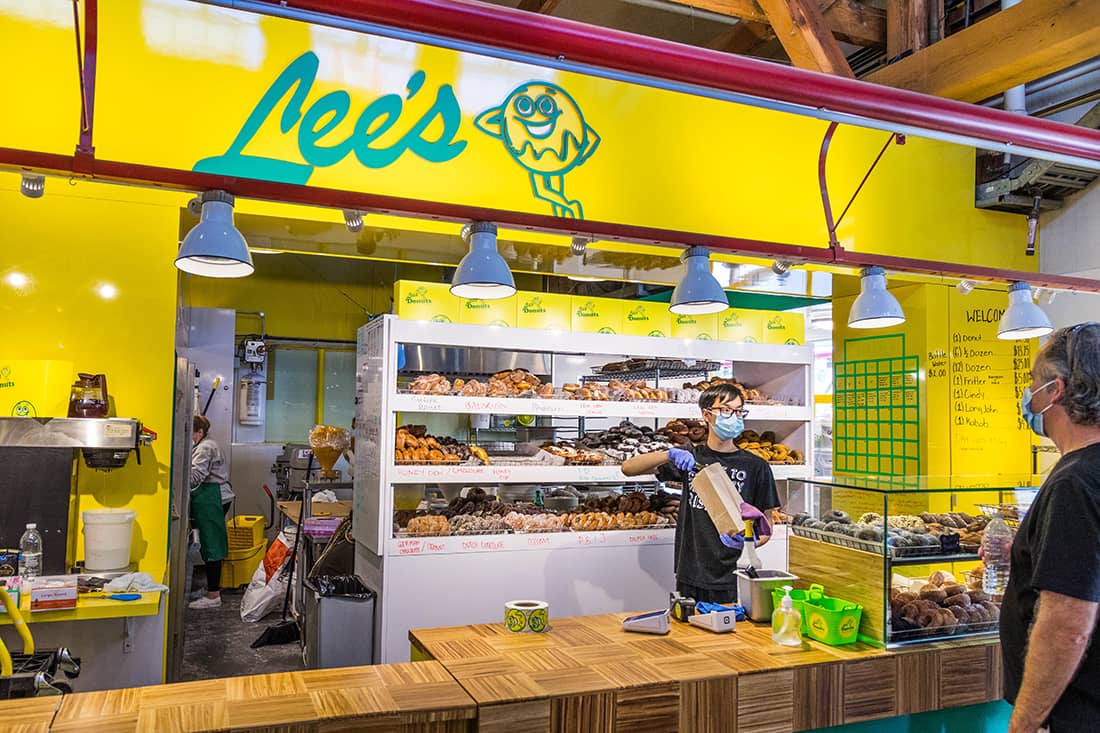 If you're strolling along Granville Island's Public Market and see a long line, you're probably heading towards Lee's Donuts. So, queue in and get ready for an amazing sweet treat in the form of classic and melt-in-your-mouth donuts made fresh.
The menu is extensive and packed with sweet temptations. We recommend you try the Blueberry Filled, a Chocolate Cake Donut, or their famous Maple Iced Rings. Whatever you choose here will take you to donut heaven, so go ahead, indulge sweet tooth, and don't forget to take a box home!
What to order: Blueberry Filled, Chocolate Cake Donut, Maple Iced Rings
Address: Granville Island Public Market 1689 Johnston St, Vancouver, BC V6H 3R9
Website | Instagram | Facebook
6. Dockside Restaurant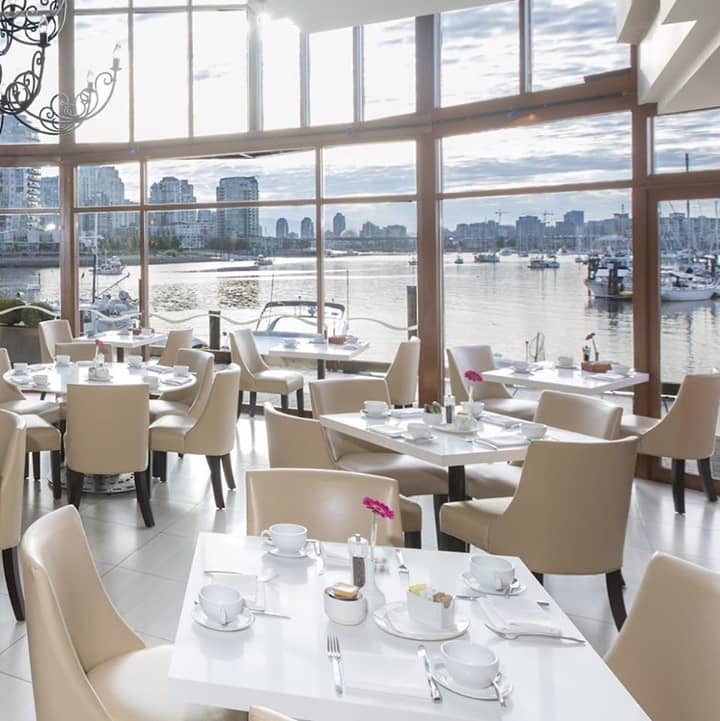 Go fancy and head to Dockside Restaurant on Granville Island for a memorable dining experience. Located right by the water, this spot offers gorgeous views of the harbour, classy atmosphere, and food that is casually classic, yet perfection on a plate.
Whether you're there for brunch, lunch or dinner, try their Knotty Garlic Bread for starters, and go for a nice warm potato salad. The BBQ Baby Back Ribs are fantastic, and you don't want to miss out on their Grilled Humboldt Squid. Pair off with a glass of red or white for a more enjoyable meal. Round off with a sweet Skillet Brownie, some Carrot Cake, or freshly fried mini Donuts.
What to order: Knotty Garlic Bread, potato salad, BBQ Baby Back Ribs, Grilled Humboldt Squid, Skillet Brownie, Carrot Cake, mini Donuts
Address: 1253 Johnston Street, Vancouver B.C
7. Chau Veggie Express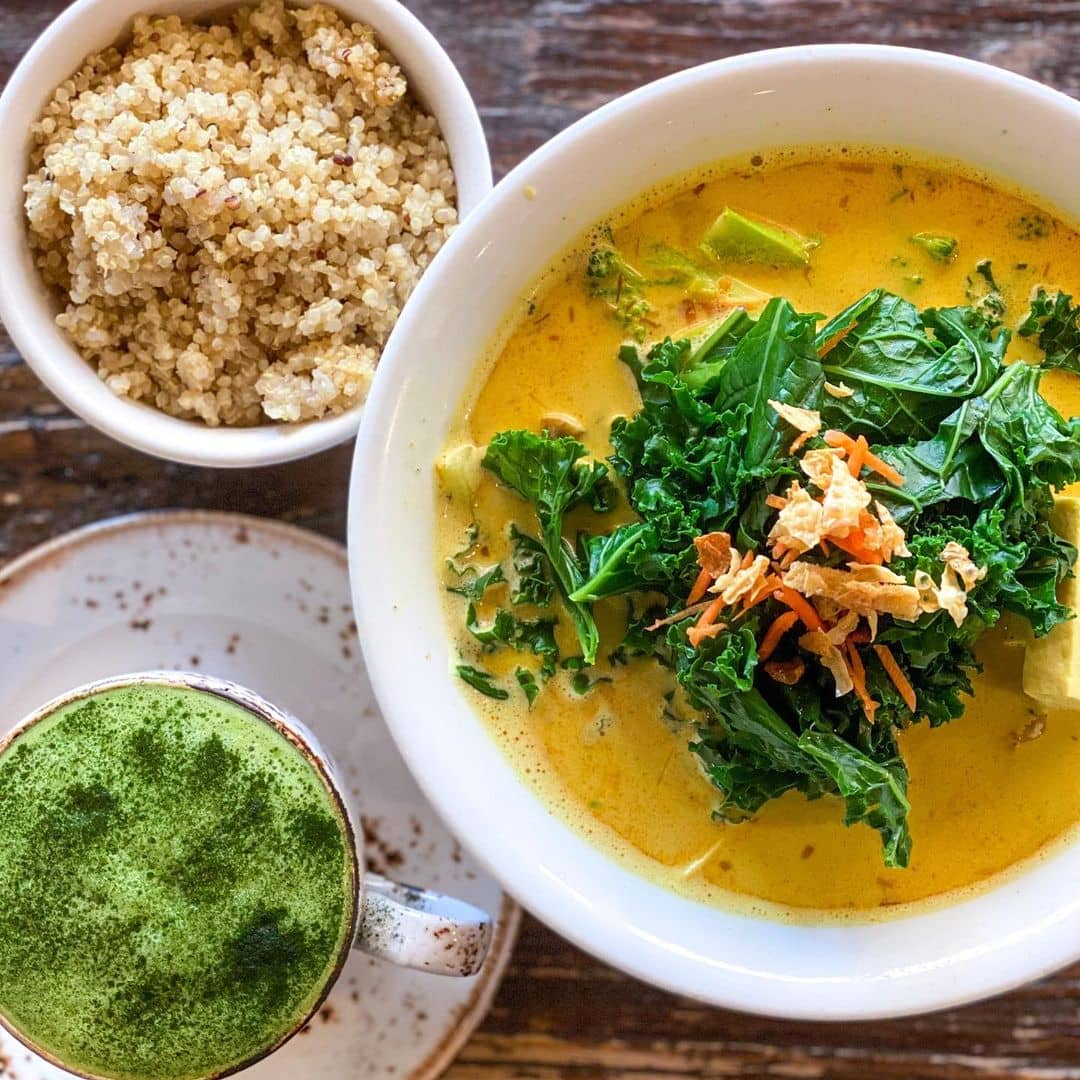 For a unique and delightful Vietnamese vegan experience, the one place you need to stop at in Granville's Public Market is Chau Veggie Express. This is an adorable and cute spot to stop by for quick service, great variety, and a wholesome and delicious lunch.
Try their signature Golden Temple Soup, a light turmeric coconut curry broth with seasonal veggies, organic tofu, beancurd, mushrooms, taro, yam, kale and herbs. The dish is served with your choice of quinoa, wild rice or rice noodles. The Nonla Crispy Rolls are also a must-try, wrapped in rice paper and stuffed with a, kale, mung beans, taro, organic tofu, garlic, shallots, sesame, vegetable filling, and lemon vegan "fish" sauce.
What to order: Golden Temple Soup, Nonla Crispy Rolls
Website | Instagram | Facebook
8. Popina Canteen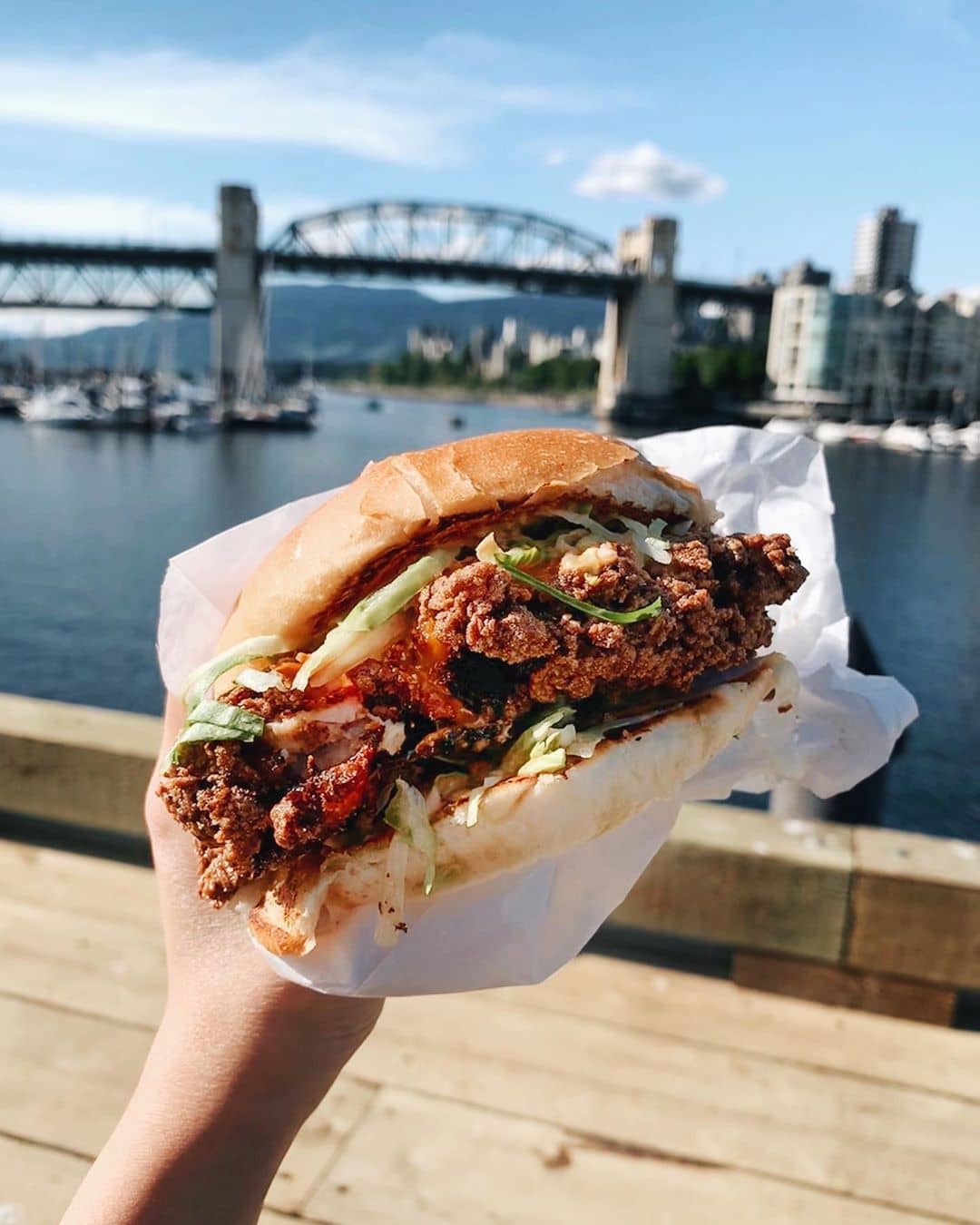 Set right on the water's edge, this popular and delightful eatery doesn't just boast stunning views, but also an array of mouth-watering items all made from scratch. Try their 8oz Double Cheeseburger with a secret sauce, or opt for a Crispy Free Run Chicken Sandwich for a crunchy and juicy treat.
We recommend you save room for their signature Puffcream, available in a range of flavors and toppings.
What to order: 8oz Double Cheeseburger, Crispy Free Run Chicken Sandwich, Puffcream
Location: Ferry Dock Granville Island, Vancouver, BC
Website | Instagram | Facebook
9. The Keg Steakhouse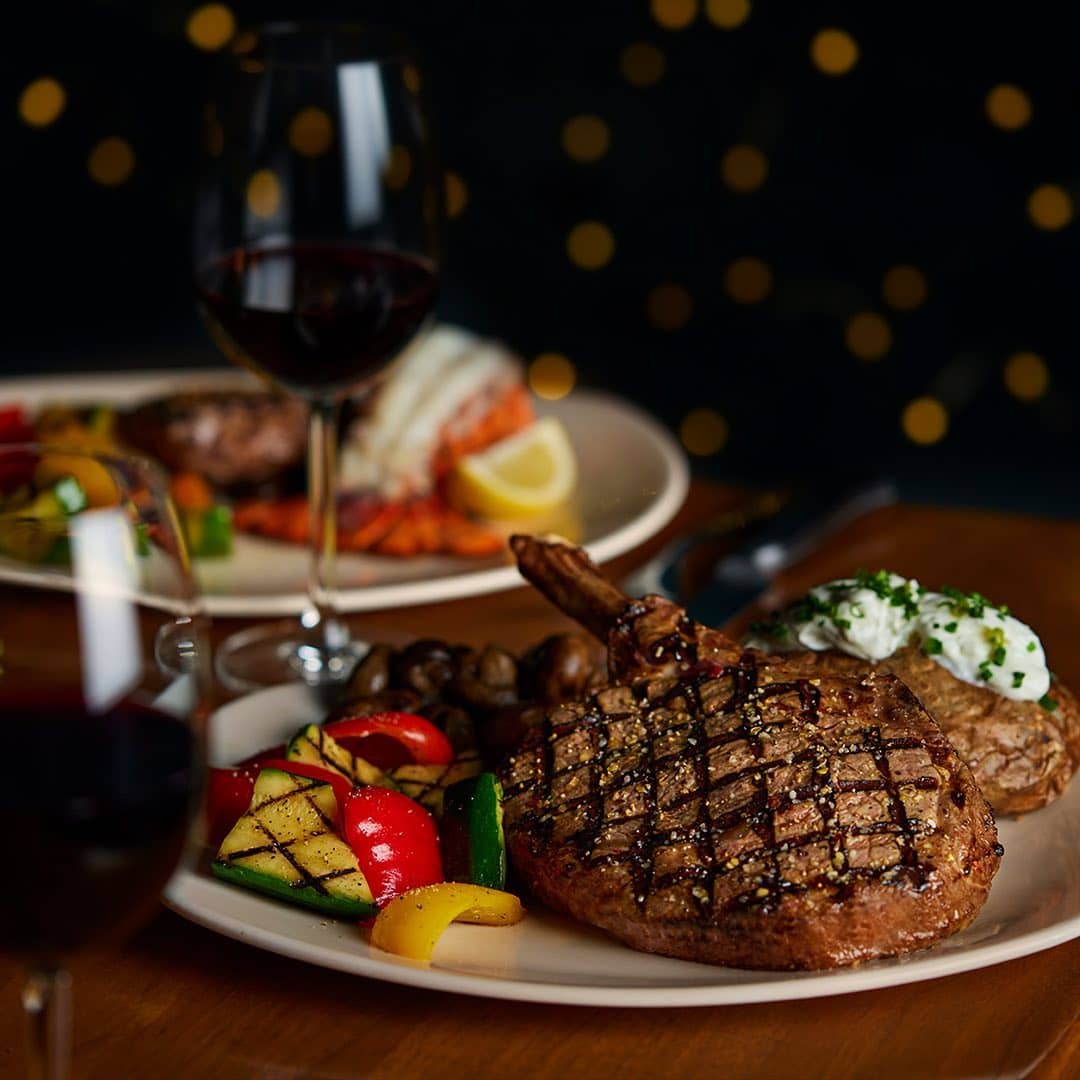 No eatery list is complete without the mention of good steakhouse, and this one wouldn't be either if we didn't talk about The Keg Steakhouse & Bar. This spot is spacious yet cozy, with booths and great low lighting. There is an air of comfort and warmth, and the need to feast on good solid food. Dine in and you won't be disappointed.
The menu at The Keg is extensive, but we highly recommend a couple of appies, like the scallops and bacon, and maybe the Baked Brie. For your main, there is a ton to choose from, and if you're there for steak, then the Prime Rib, and the Peppercorn New York (12oz of crusted striploin, with a whisky sauce) is the way to go. Add some grilled jumbo shrimp, or King Crab to your steak and make it more special.
And to end off your meal – no matter what – get yourself a slice of their Billy Miner Pie. You won't regret it.
Tip: The Keg has a great Kids Menu if you're dining with your little ones.
What to order: scallops and bacon, Baked Brie, Prime Rib, Peppercorn New York, jumbo shrimp, King Crab, Billy Miner Pie
Address: 1499 Anderson Street, Vancouver, BC
10. Sen Pad Thai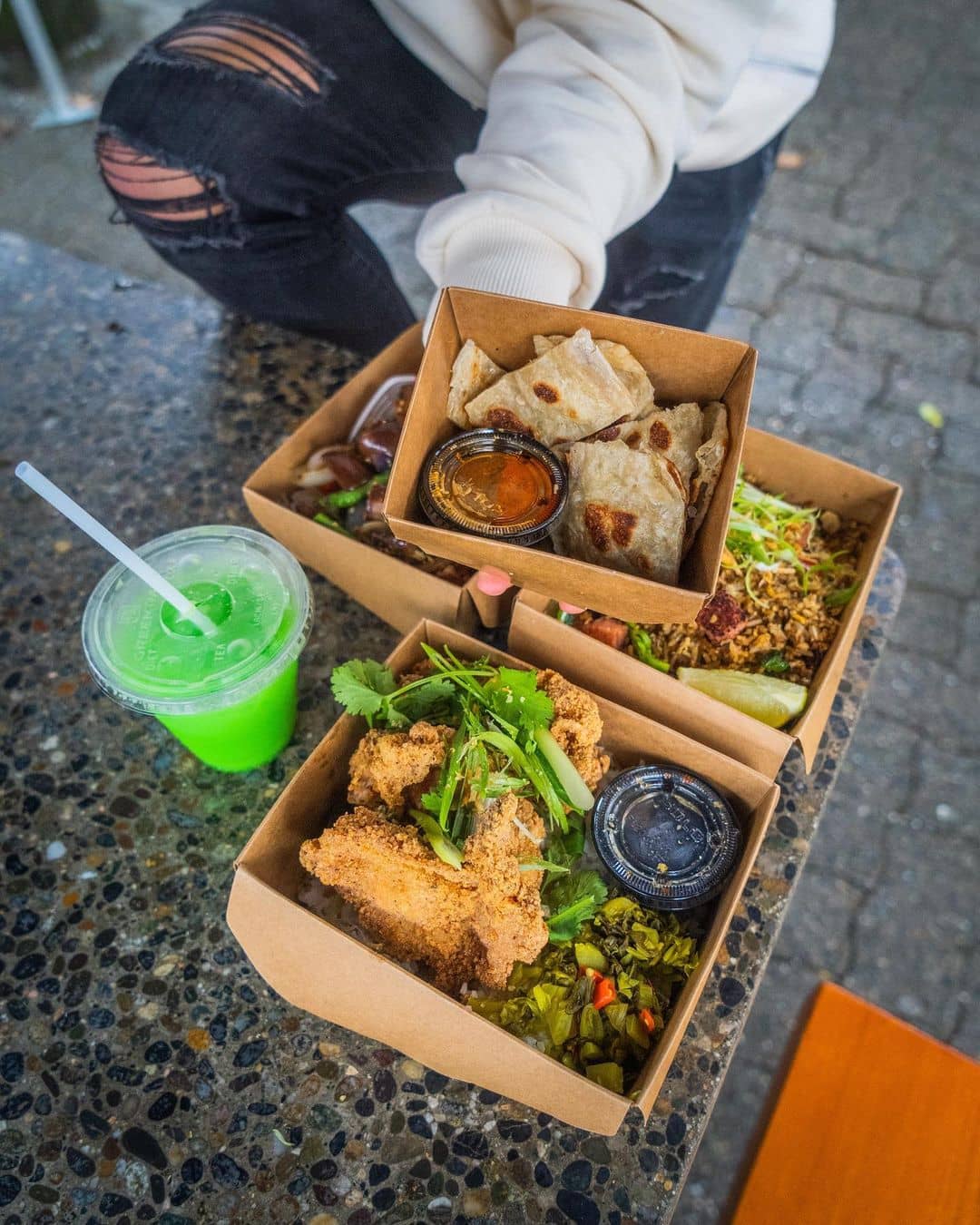 Yes, you read that right! Delicious stir-fried Pad Thai noodles just bursting with flavour and waiting for you to dig in. When you're in Graville's Public Market and craving some Thai food, Sen Pad Thai is the place to stop and treat yourself to mind-blowing savory goodness.
If you're a meat lover, go for the Pad Siew Beef, or for a seafood option try the Prawn Pad Thai. Another popular dish on the menu is the Crispy Pork with Rice, which is seriously just amazing. For a lighter snack, opt for some Crispy Chicken Wings, or a Fried Cauliflower Salad. Wash it all down with some cool Thai Iced Tea, or grab your choice of some Asian Soda.
What to order: Pad Siew Beef, Prawn Pad Thai, Crispy Pork with Rice, Crispy Chicken Wings, Fried Cauliflower Salad, Thai Iced Tea, Asian Soda
11. Siegal's Bagels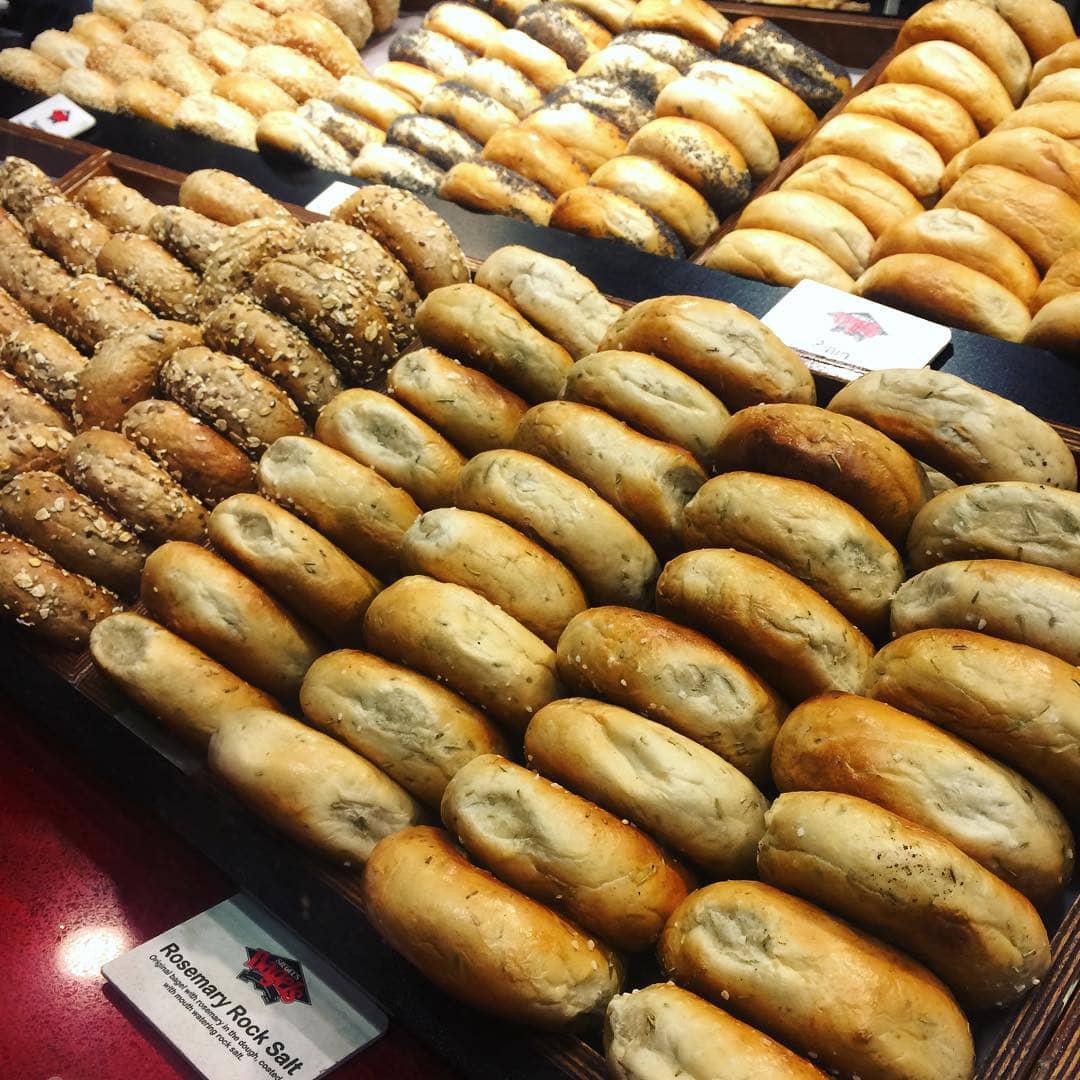 f you get to Granville Island's Public Market early, and are looking for good breakfast options, then head to Siegel's Bagels for a boost of morning energy. They serve a wide array of freshly baked bagels in a variety of flavours, great breakfast sandwiches, as well as regular sandwich options, and deli items.
Try their signature Big Breakfast Bagel that comes packed with cream cheese, smoked meat, lettuce, tomato, green pepper, red onion, egg and cheddar. The toasted Bagel with salami and egg is also delicious, or you can opt for a non-breakfast Turkey Breast, and Tuna Salad. For something less fancy but equally yummy, go for a Cinnamon Bagel, or the hotseller Rosemary Rocksalt Bagel.
Protip: Be sure to check their list of gorgeous Cream Cheese flavours for your bagel.
What to order: Big Breakfast Bagel, Turkey Breast, Tuna Salad, Cinnamon Bagel, Rosemary Rocksalt Bagel
12. Blue Hat Bistro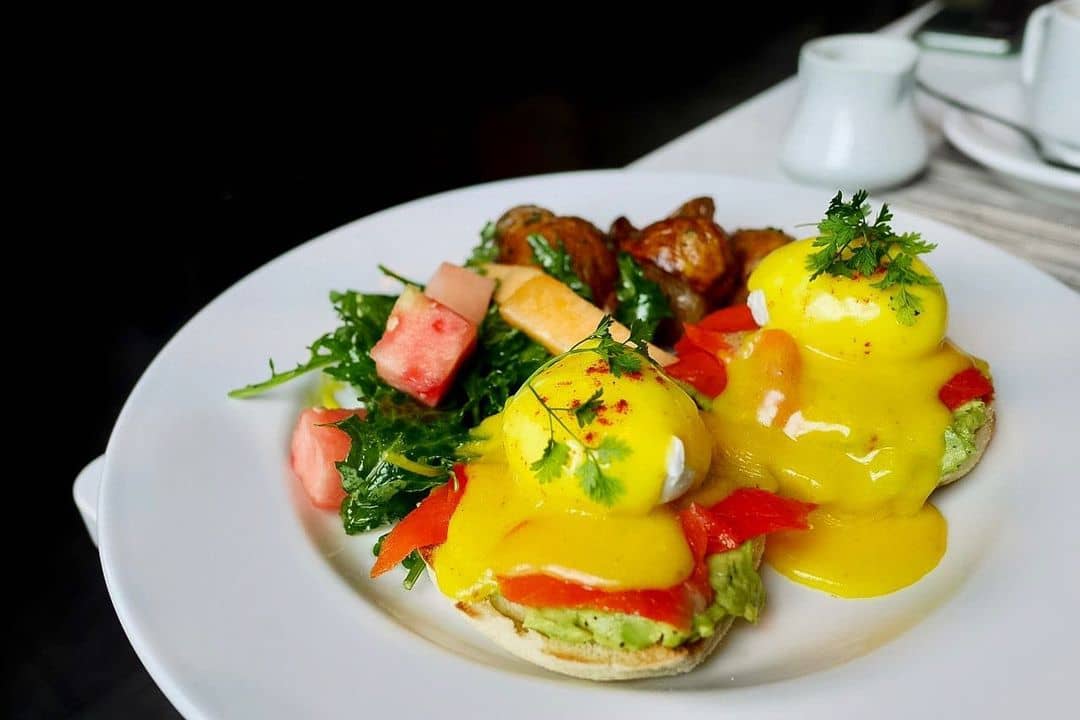 Blue Hat Bistro is a fun and stylish bar/bistro located at Pacific Institute of Culinary Arts in Granville. This rare gem serves gourmet cuisine prepared by budding professionals, and hosts seasonal menus.
Start your meal with some Fresh-shucked Pacific Oysters, or Local Farm Greens. For your main try the Pan Roasted, Fraser Valley Porchetta, some Fettuccine 'Aglio e Olio,' or a sherry glazed Grilled New York StripLoin. Finish your meal with a scoop of house-made ice cream, a slice of Citrus Cake, or Chai infused Pana Cotta.
What to order: Fresh-shucked Pacific Oysters, Local Farm Greens, Pan Roasted, Fraser Valley Porchetta, Fettuccine 'Aglio e Olio,' Grilled New York StripLoin,
Address: 1505 W 2nd Ave #101, Vancouver, BC
13. Sprig Contemporary Greek Kitchen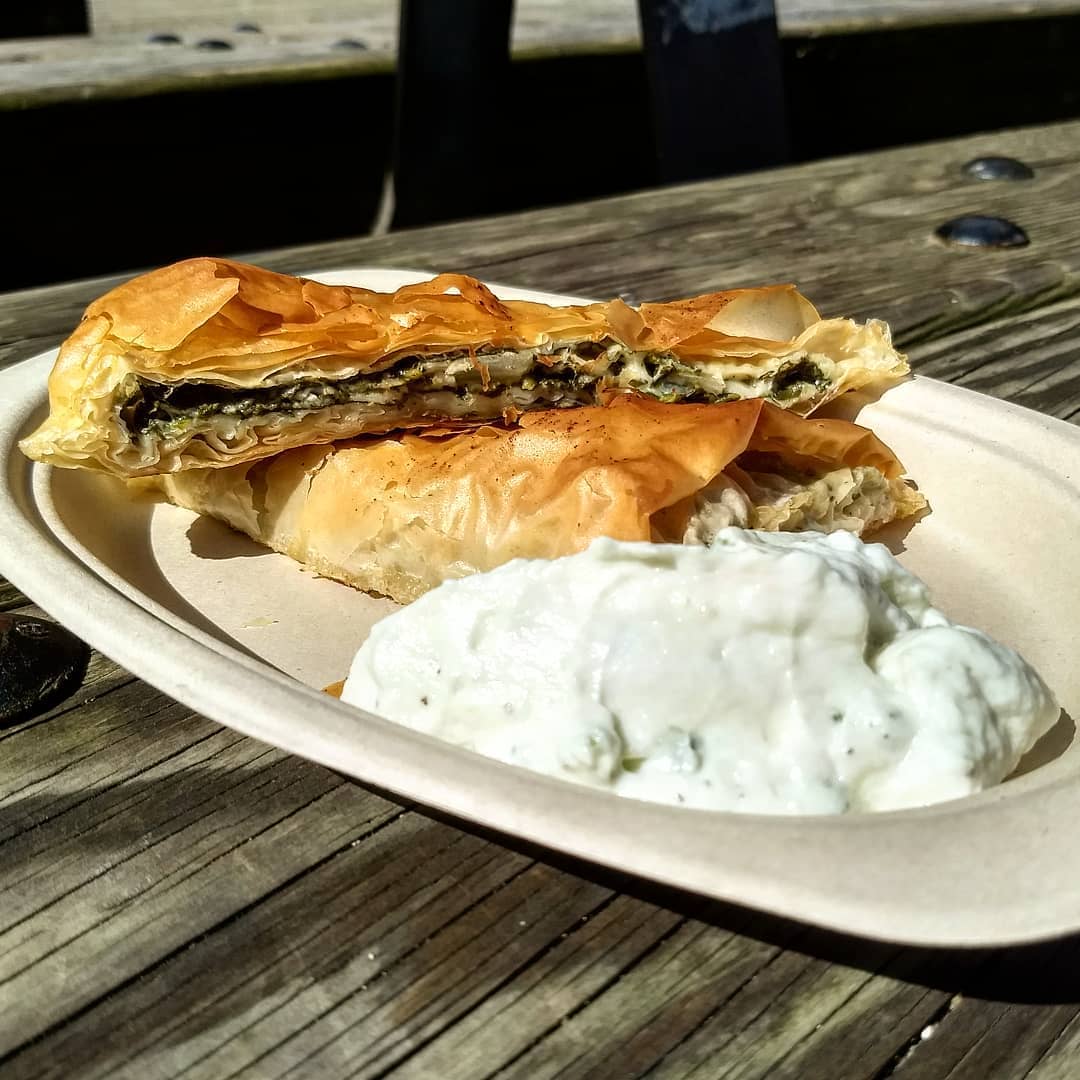 Craving Greek food?
Well Sprig inside the Public Market will surely do the trick! This family-operated spot has been around for 18 years, serving incredible Mediterranean food. Sprig is known for its fantastic food made from house-made sauces, great value and really kind staff.
People rave about their delicious falafel wraps and is a must get! Why? Cause it is tasty, incredible portion of falafels, and fresh greek yogurt that will make your heart sing in content.
What to order: falafel wrap, chicken wrap, lamb plate
Address: 111-1689 Johnston Street, Vancouver, BC V6H3R9
There you have it for the 10 best restaurants in Granville Island. Since you're already here, you should know that there's more to this popular spot than just great eats! Don't believe it?
Check out our Granville Island Neighbourhood guidebook to let you in on all the deets of drink spots and stores to hit up!
How We Create Our "Best" Lists
All Noms Magazine's "best" lists are created using multiple factors and signals to help readers find the best restaurants, things to do, and places to stay at. Some of these factors and signs include personal experiences, correspondence with locals, and compiling experiences from review sites.
Each list is also created to be balanced (in terms of price, cuisine type, ambiance, and more) as possible. This means that the lists are not specifically created in ranking order. You should be comfortable picking from any of the spots on the list and generally have a good time. But of course, YMMV (your mileage may vary) and everyone may have different experiences/palates.